I have long considered myself a beer nerd but when I went to the Champagne region of France, I knew I had to convert to taste some of the world's most prestigious drinks.
This is a guide that details the best Champagne tours in Reims– it will explain what to expect as well as showcase the best Champagne tour in Reims for your style and budget.
Are you planning your trip to Reims last minute?
Be sure to book your accommodation and champagne tours in Reims ahead of time to ensure availability!
🇫🇷 Top recommendations for tours in Reims:
🛌 Top recommendations for accommodation in Reims:
🚗 Looking for the best way to get around Reims? Click here to check rental car rates for France!
Champagne Tours in Reims: How to Book the Perfect Tasting and Tour
If you stumbled upon this guide, you probably have chosen a trip to the exquisite Champagne region of France and are looking to book a Reims Champagne tour that you'll enjoy and remember for years to come.
I was no different as I was planning my trip there.
A self-proclaimed beer expert, I literally knew nothing about Champagne except that it was delicious and that you could only call something made in the Champagne region 'Champagne'.
Realistically, I knew more about Brut IPAs than I did about Brut Champagne.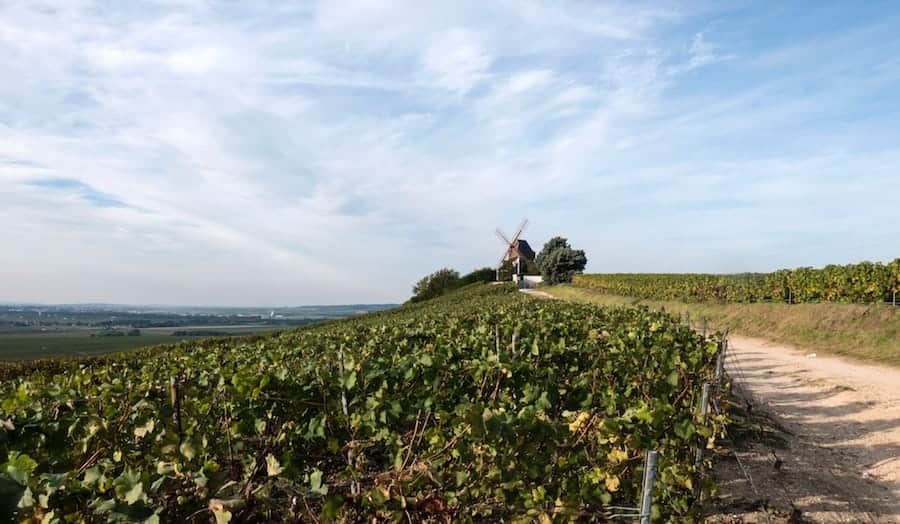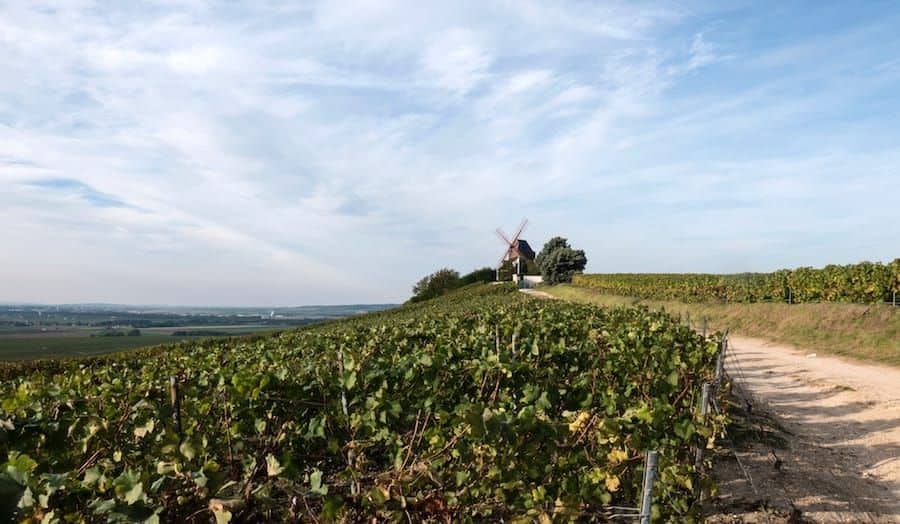 When I went to this renowned region of France, I knew that I had to book a Champagne tasting in Reims.
It was easy enough to find Champagne tours from Paris, but I needed to explore the region myself and see what I could do from Reims, the unofficial capital of the region.
This guide will help you pick the right Champagne tour in Reims for you and will let you know what will help you prepare for your trip, including what to wear and learn beforehand.
The tours include visiting the big houses such as Moet to visiting small family-operated Champagne houses.
The tours mostly depart from Reims Central Station unless otherwise stated.
If you found this article but already have your Champagne tours and tastings booked, check out my guide to the best things to do in Reims to keep you occupied.
Facts about France's Champagne Region and Reims
To be called Champagne, the grapes and drink must originate from the Champagne region (although now known as Grand Est).
This is protected under international law as the drink is vitally important to the culture and heritage of the region.
To match the prestigious reputation of the drink, the area is one of the best places to visit in France and essential to anyone's France itinerary.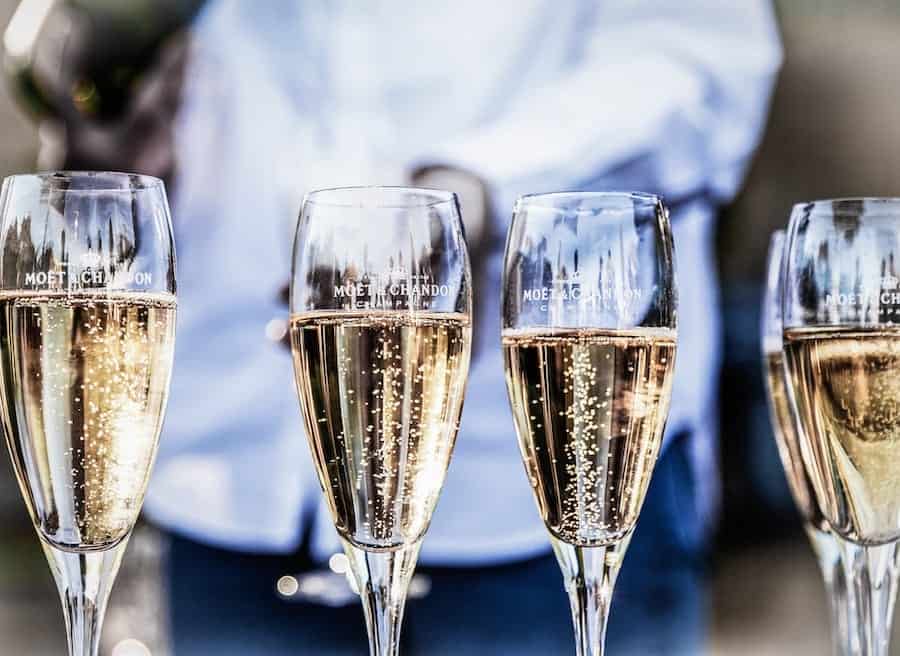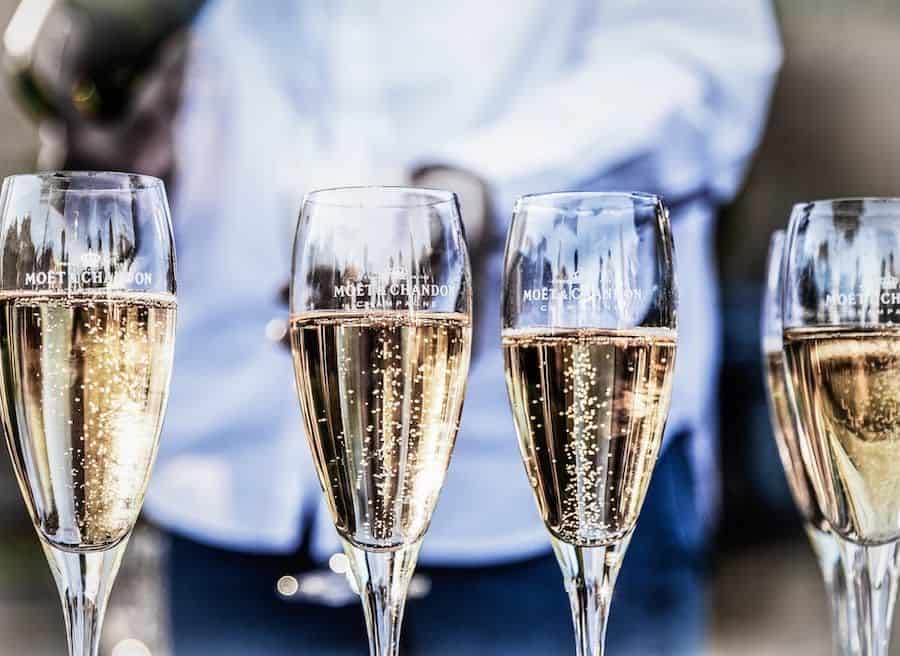 There are three commonly grown grapes in the Champagne region: Pinot Noir, Chardonnay, and Pinot Meunier.
The growth of these grapes is often contracted out to local farmers who are required to maintain certain standards of grapes.
The region is split into five different sections, all producing a variety of different grapes depending on the growing conditions.
The regions are Aube, Côte des Blancs, Côte de Sézanne, Montagne de Reims, and Vallée de la Marne.
The main towns/cities in the region are Reims and Épernany and Reims is where you will find most of the major Champagne houses.

When is the Best Season for a Champagne Tour and Tasting?
It is possible to visit the Champagne region at any point of the year, however, during winter you will find it is quieter and the variety of tours available might be fewer than in the summer months.
I went on my Reims Champagne tour in February; the weather was pleasant enough that being outside wasn't unbearable and there weren't really any crowds.
During the harvest period, you may also find that due to the volume of work needing to be done by the farmers, the tours might be impacted.
However, as harvest periods vary each year, it is not easy to tell when this will be but it will generally be between August and September.
Full-Day Champagne Tours From Reims
The best thing about taking a full-day Champagne tour from Reims is that you are already in the heart of Champagne country which really cuts down on the driving distances and times.
This allows for more time to learn about bubbly and the local traditions and culture surrounding this illustrious tipple. To find out more, check the tour options below:
Small Group Tour to Epernay and Moet & Chandon
This small group tour will take you on an adventure through the history of Champagne, including a visit to the final resting place of the father of Champagne, Dom Perignon, in the charming UNESCO village of Hautvillers.
The tour will take the scenic route between locations, cruising through the various vineyards of the region.
You will pay a visit to Epernay, a famous Champagne town, with the beautiful Champagne Avenue.
You will also enjoy a tour and tasting session at Moet & Chandon, one of the most prestigious houses and a household name around the world.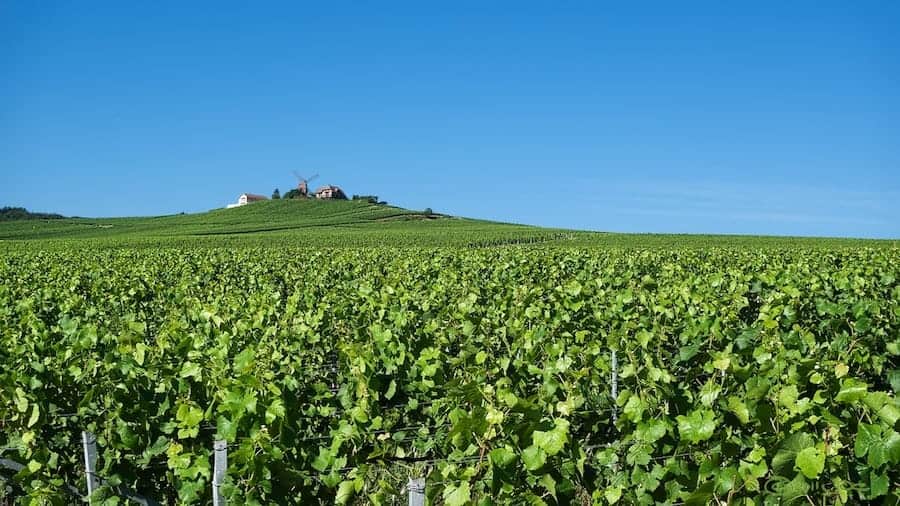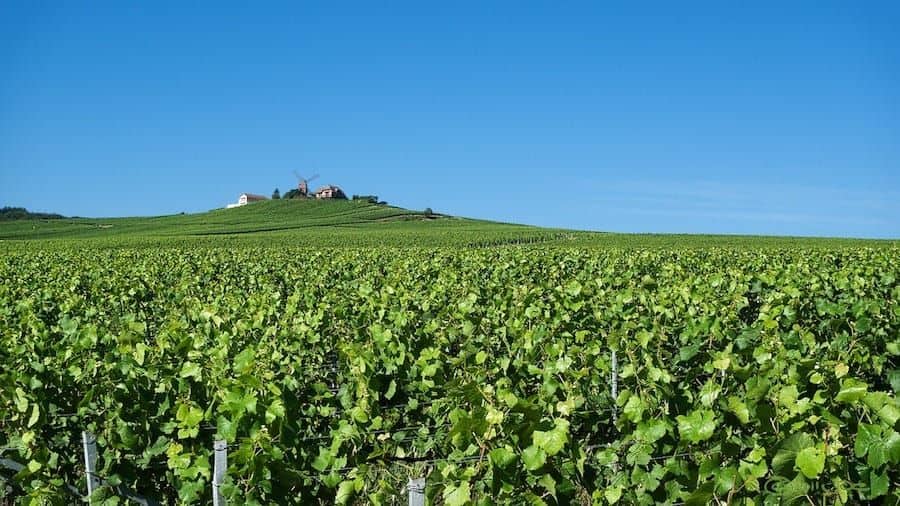 After a spectacular lunch paired with the perfect Champagnes and wines, you will visit a boutique Champagne house that is still family-run and focuses on small batches of Champagne.
The Champagne tour in Reims lasts around eight hours and includes being picked up from Reims Central Station forecourt by the tourist information spot.
The cost includes lunch, entrance fees, and tasting plenty of lovely Champagnes.
⇒ Click here to check tour prices, dates, and itinerary details
Reims and Epernay Small Group Day Trip
Tour the world's most prestigious Champagne houses with this small group Champagne tour of Epernay and Reims.
You will enjoy tastings at Taittinger along with Moet and Chandon and you will be taught all about the grapes that are used in producing these fine examples of Prestige Champagnes.
You will also get to experience stunning beautiful Epernay and Champagne Avenue.
This guided tour will take you around Reims, where you will see plenty of the famous Champagne houses in Reims and its surrounding.
This tour lasts around seven hours and will pick you up from Reims Central Station.
During the high season, you may find that due to availability issues, the Champagne houses might be switched with a different prestige house.
⇒ Click here to check tour prices, dates, and itinerary details
Veuve Clicquot and Boutique Winery Full Day Tour
Drink in the history of Champagne with this one-day tour where you will visit historical Reims and one of the world's first UNESCO World Heritage Sites.
During the tour of Veuve Clicquot, you will head into their impressive cellars which have also received UNESCO status.
At a small family-run winery, you will learn the art of tasting Champagne and how to fully appreciate the complexity of flavors.
While enjoying your Reims Champagne tasting, you will also enjoy regional specialties, such as Reims ham, local cheeses, and special pink biscuits that pair delightfully with a glass of bubbly.
During this tour, you will see the difference in production styles from the large commercial houses to small family-run businesses.
The tour is around 9 hours in length and includes lunch as well as tours included in the price. The tour will pick you up from the Central Station in Reims.
⇒ Click here to check tour prices, dates, and itinerary details

Prestige Vineyards and Family Winery Tour
Head out to the world's premier vineyards where you will see some of the most sought-after grapes being grown for the likes of Moet & Chandon.
You will learn all about the production of Champagne on a large scale with a tour of Moet & Chandon while sipping a lovely morning glass of Champagne.
Over lunch, you will taste more amazing Champagnes paired with local foods all while soaking in the beauty of a restored chateau.
After lunch, you will experience the other side of the Champagne industry with a visit to a family-run house, where more rustic methods are used to produce Champagne.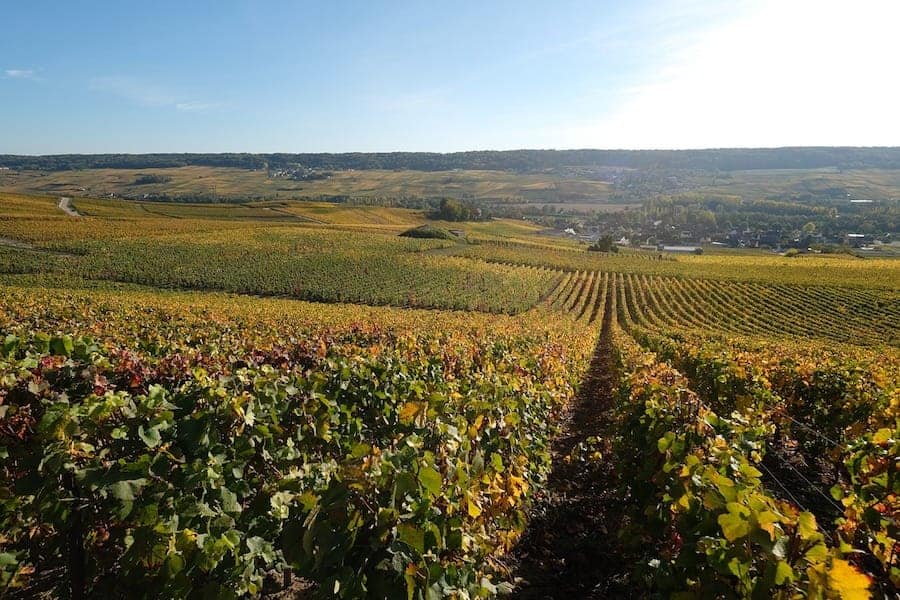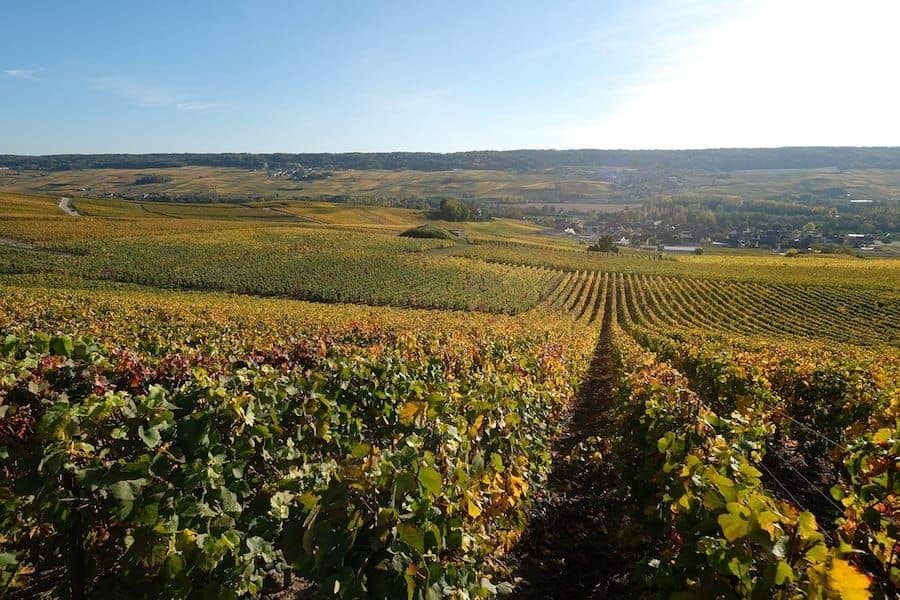 You will be picked up from the Central Station in Reims for this nine-hour tour. Everything is covered by the price of the tour, including all entrance fees.
⇒ Click here to check tour prices, dates, and itinerary details
Short Champagne Tours in Reims (and Around)
Short Tour of Ay
If you are traveling through the area but not looking to do a full-day tour, you can make your way to the town of Ay which is a 30-minute train ride from Reims.
Once in Ay, you can enjoy a 90-minute tour of the cellars in a historical Champagne town.
After heading into the depths of the cellars to learn all about the production and storage of Champagne, you will be rewarded with a glass of the delicious stuff itself.
You will need to make your own way to Ay for the start of the tour where you will meet at Pressoria – Voyage sensoriel au coeur du Champagne. There is free parking in the area for those who are by car.
⇒ Click here to check tour prices, dates, and itinerary details
Reims Champagne Tasting Course
Spend a morning tasting impressive Champagnes from some of the best Champagne houses in Reims.
You will spend two hours learning all about how to taste Champagne, how to identify the different aromas and flavor profiles, and how to open and store Champagne properly.
In addition, you will also become an expert on its history and how it is produced.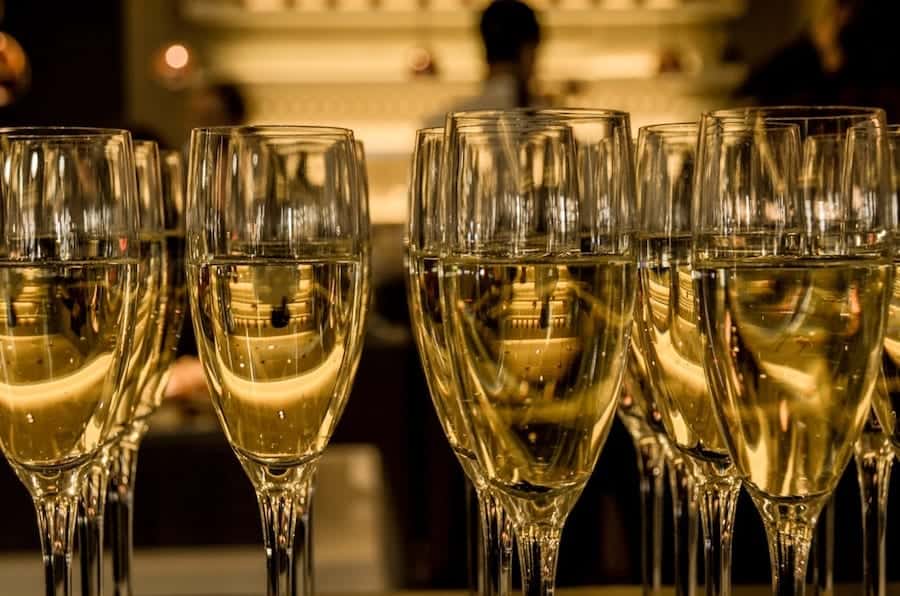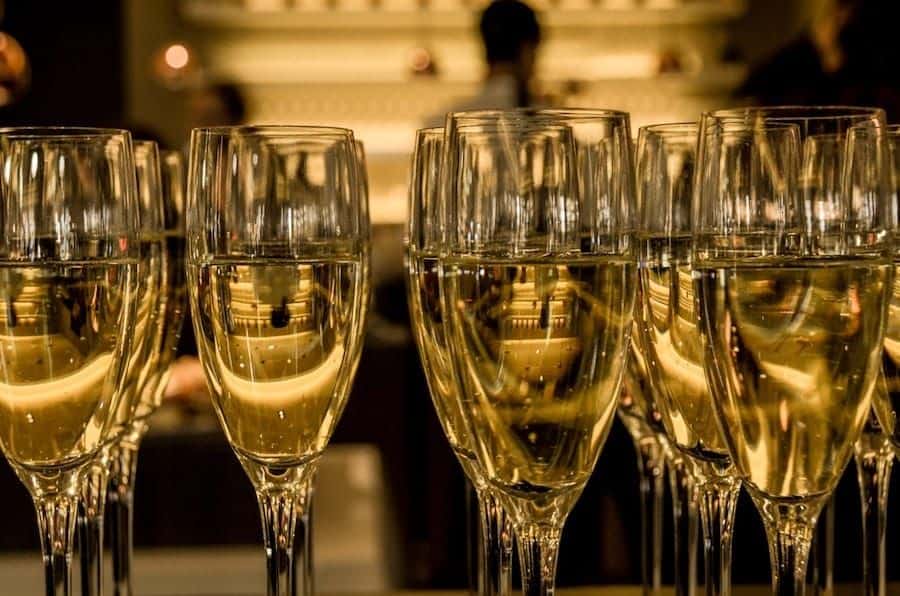 Once you have become a fully-fledged expert, you will enjoy a small tasting of three Champagnes paired with amazing local snacks.
You will need to meet at the Trésors de Champagne and the tasting will last two hours and include three glasses of Champagne and the tasting workshops.
⇒ Click here to check tour prices, dates, and itinerary details
Things to Know Before Going on a Champagne Tour in Reims
I have to admit, before going on a Champagne tour in February, I had absolutely no idea about Champagne or how it was made. I have done plenty of brewery tours and this was nothing like it at all.
From the complexity of grape growing to how weather patterns change the quality of grape crops, everything was something completely foreign to me.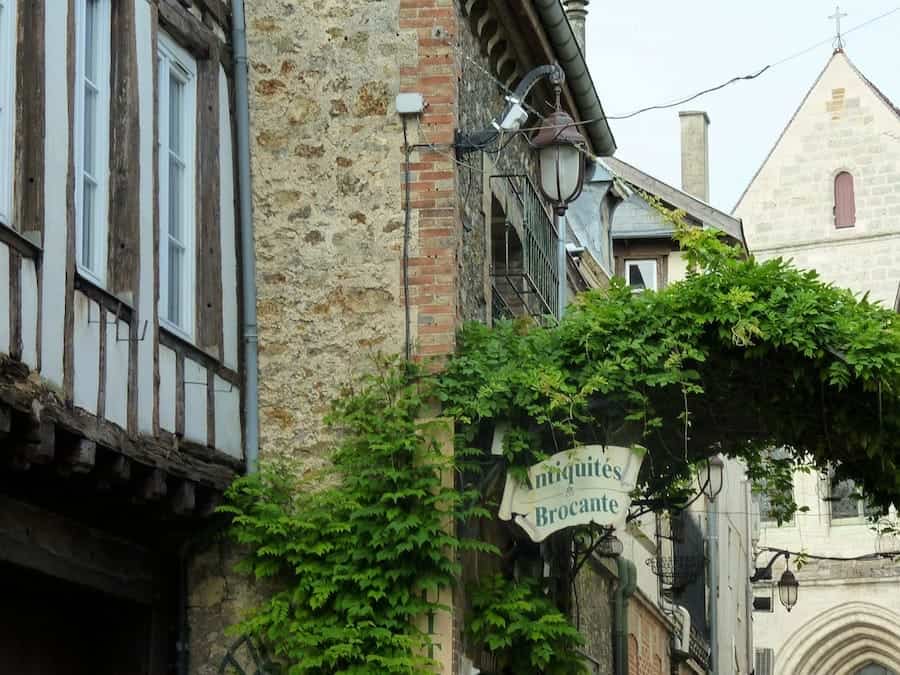 Here are some great tips to prepare yourself for learning all about Champagne:
⇒ Learn the history of the region. Europe's turbulent history has impacted this region significantly.
These hard and tragic times happened and they are not dwelled upon during the tour it was touched upon only because other members of the tour I was on asked about the topic.
I say it's worth reading up on before you go on a Champagne tour. You can learn more about the history of the region with this book.
⇒ Try to know a bit about Champagne. Many people on the tour will know a lot about Champagne and it can a little intimidating, especially for a novice like myself.
Take mind the guide welcomes questions… but it is still cool to do a little research beforehand.
This book has some great information about Champagne and the process.
⇒ Dress appropriately. Even though Champagne is luxurious and the houses are ornate, wearing your finest cocktail dresses and tuxedos will not be the most comfortable way to tour the cellars.
A few people on my tour wore 'Instagrammable' clothing for this… but let's be honest, walking around in high heels and ridiculous hats is not ideal for touring cold and moldy Champagne cellars.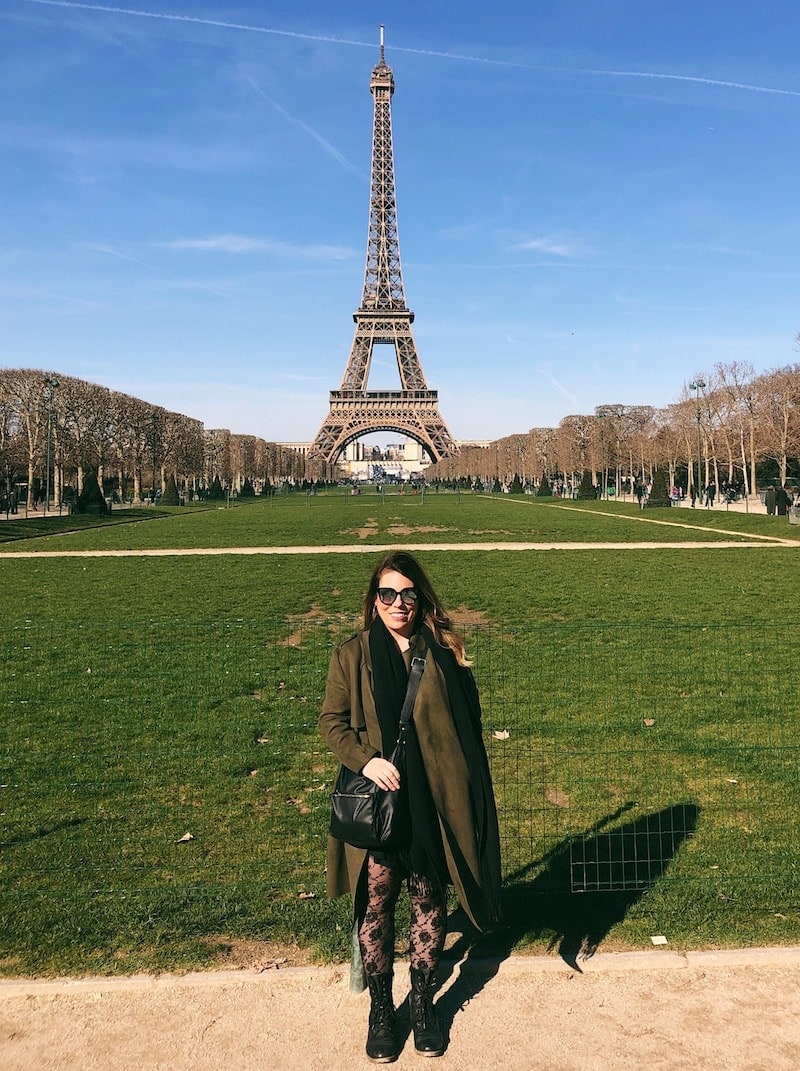 Dressing nicely is advisable as it may get you an extra glass of champagne or two but comfort and practicality are just as important as you will be down in cold, dank cellars.
Good footwear is a must especially if you will be out in the vineyards, I suggest these vegan Dr. Martens they are comfortable and versatile and easy to dress up while keeping one eye on practicality.
⇒ If you're in France, you can never go wrong with a French phrasebook. Click here to see my favorite phrasebook for travel.
Where to Stay in Reims
There are no shortages of places to stay in Reims and there are places to suit everyone's budget and price range.
I stayed in an aparthotel by the Mumm Champagne House called Appart Hotel Reims Champ De Mars. However, there are plenty of other awesome places to stay in the center of the city.
>> Click here to check rates and availability in Reims
Have you ever been on a Champagne tour in Reims? If so- please let me know how your experience was in the comments and feel free to add any additional tips!
More France Travel Guides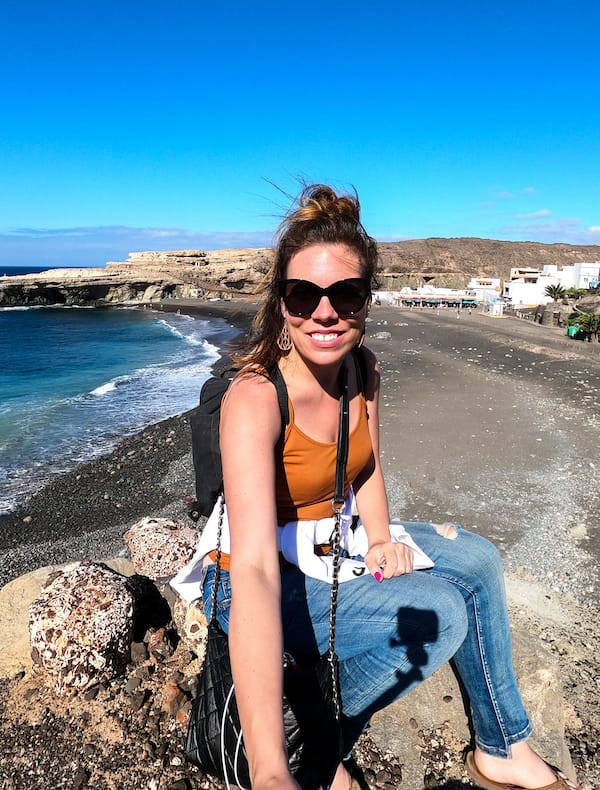 Megan is a travel blogger and writer with a background in digital marketing. Originally from Richmond, VA, she now splits her time between Frankfurt, Germany and Arctic Finland after also living in Norway, Armenia, and Kazakhstan. She has a passion for winter travel, as well as the Nordic countries, but you can also find her eating her way through Italy, perusing perfume stores in Paris, or taking road trips through the USA. Megan has written for or been featured by National Geographic, Forbes, Lonely Planet, the New York Times, and more. She co-authored Fodor's Travel 'Essential Norway' and has visited 45 US states and 100+ countries.