Michigan is one of the best places to visit any time of the year… and these are some of the best places to visit in Michigan (so be sure to add them to your bucket list)!
Are you planning your trip to Michigan last minute?
🚗 Renting a car in the USA: Discover Cars is our top pick for rental cars in the USA and abroad! They have several add-ons and also offer full-coverage insurance as an option. They also have a huge inventory of cars to choose from – something suitable for every traveler!
🇺🇸 Visiting any US National Parks along the way? Get your National Parks Pass for only $79.99 here!
🛌 Booking a hotel in the USA: We use Booking.com for all hotels in the US – many also offer last-minute cancelation.
Of course, it's most famous for its wintertime destinations full of activities for skiers and snowboarders, but even if you just want to enjoy the state's nature or check out all the sites the state has to offer, you're in for a great adventure!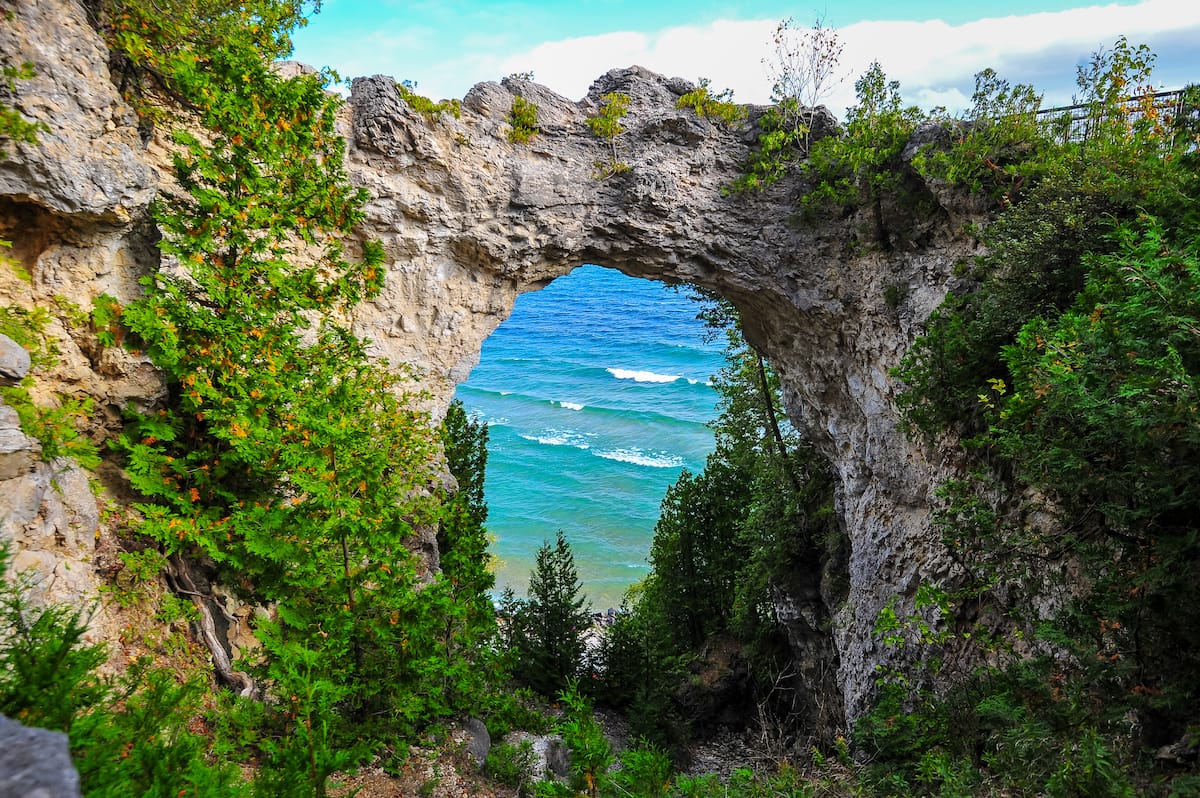 If Michigan is next on your travel bucket list, you've come to the right place!
We've compiled a list of the best places to visit in Michigan with something for everyone, whether you love an outdoor adventure or you want to dive deep into history and culture.
Did we miss any incredible Michigan destinations? Let us know in the comments. Thanks!
Best Places to Visit in Michigan
1. Estivant Pines Nature Sanctuary
Estivant Pines Nature Sanctuary is home to one of the last old-growth white pine stands in Michigan. It's a beautiful place to unwind and enjoy a relaxing time in Michigan along with stunning nature views.
There are two main trails for visitors to explore – you can either choose one of them or go through both, as those two trails come together to form a 2.5-mile hike.
The first one, the Cathedral Grove loop, features the largest and oldest giant white pines that have heights of around 125 feet and are 300 years old.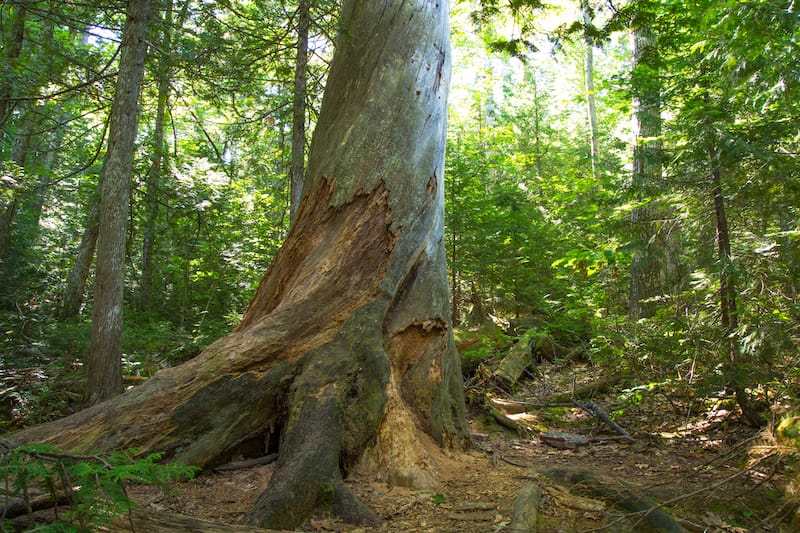 The other trail covers an area of 1.2 miles and trees like large pine, maple, and oak.
Apart from the greens, another treasure of the forest is the presence of more than 85 bird species, like woodpeckers, hawks, and red crossbills.
2. Saugatuck
Saugatuck is an artsy beach town with a lot of farm-fresh food, shopping, and more.
One of the best times of the year to visit this Michigan town is over the summer.
During that time, the town is full of live music and packed with numerous ways to spend a weekend or a vacation to the fullest.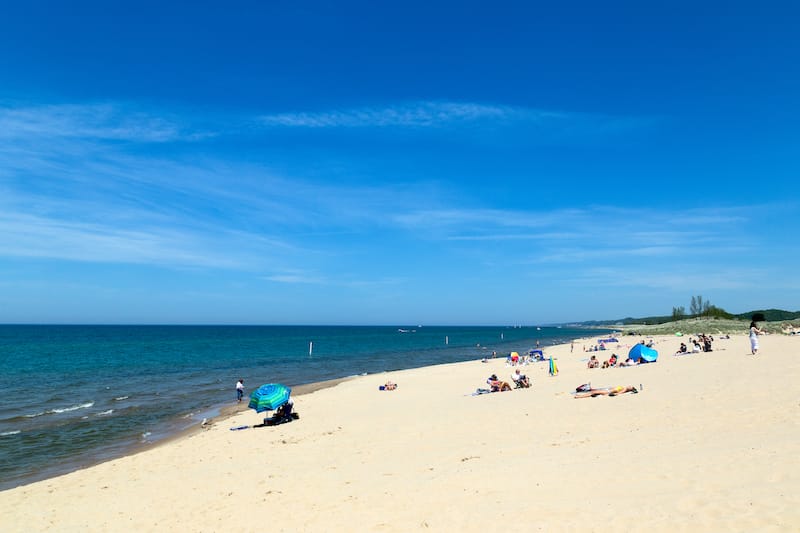 If you're a beach lover, Oval Beach is a must-see for you, and for those more into exploring the waters themselves, a river cruise to enjoy the stunning sunsets of Lake Michigan will be a memorable experience.
Other features of the town are its shopping district, Mount Baldhead with its panoramic views, the tasty wine at Fenn Valley Vineyards, or fancy meals at Pennyroyal Cafe & Provisions or Bowdie's Chophouse.
3. Traverse City
If you're looking for a small-town travel destination in Michigan, Traverse City can totally be your go-to. It combines beaches, vineyards, skiing areas, and amazing nature, and that's just a part of it.
Something that makes this place stand out is that it's full of activities both in the summer and winter.
The warm months are great for hiking or biking in places like the Miller Creek Nature Preserve or Traverse Area Recreation and Transportation (TART) Trail, while the winter is like a huge playground here.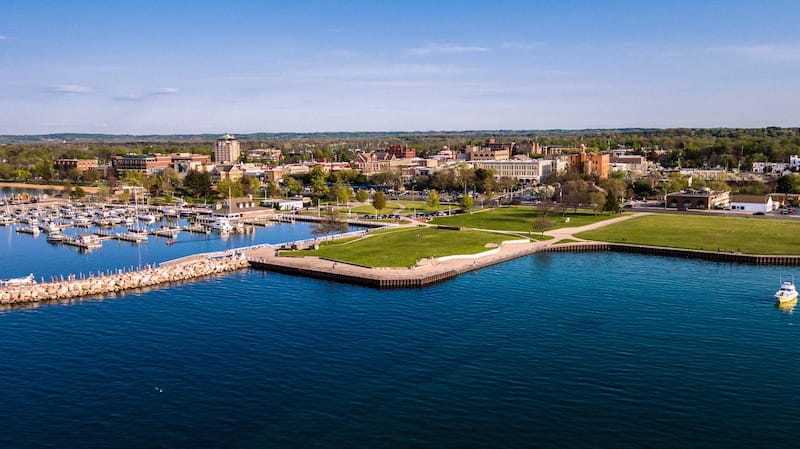 You'll find many opportunities for cross-country skiing, snowshoeing, downhill skiing or snowboarding, snow tubing, ice skating, ice fishing, and so much more.
In addition, the city also prides itself on its high-quality dining options (including farm-to-table restaurants with locally-sourced menus) and about 40 different vineyards, wineries, and tasting rooms.
4. Petoskey Area
Petoskey Area is the ultimate center of breathtaking scenery and outdoor recreation, not just in Michigan, but in the US!
The main things to do here are centered around adventure sports, biking, golf, and water recreation.
Here you can instantly get an adrenaline rush through zipline and county-wide adventures, and even skydiving.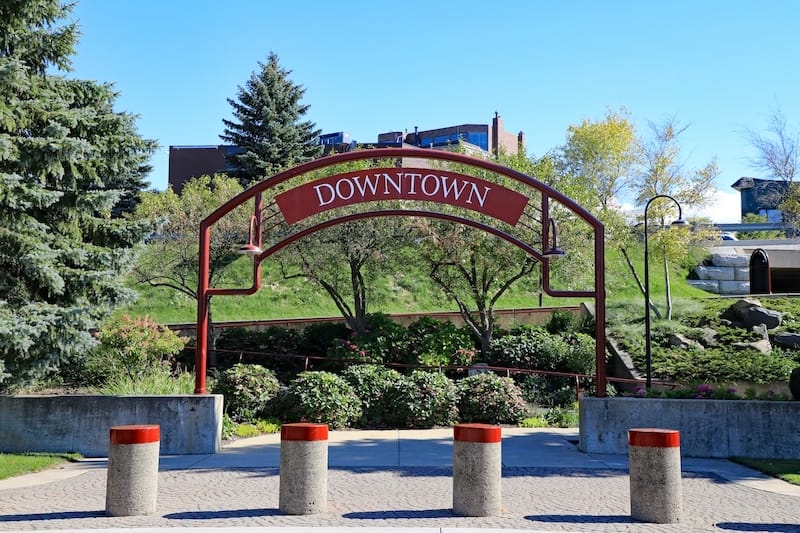 When it comes to water-related activities, visitors also have a wide choice of activities starting with canoe or kayak trips through the Bear River.
This area is known as Michigan's winter funland. That's because the state's best ski areas- Boyne Highlands, Nub's Nob, and Boyne Mountain- are all located here.
They add up to around 160 downhill runs, which is pretty awesome, right? For other winter sports, the area is also popular for cross-country skiing, snowshoeing, and ice skating.
5. Sleeping Bear Dunes National Lakeshore
Sleeping Bear Dunes is a beautiful place combining inland lakes and lush forests. It occupies 35 miles of gorgeous Lake Michigan beaches, two big islands, and massive sand dunes.
The hottest days of the summer season are the best time to enjoy the sunny beaches of this area or go for a long and refreshing tube, raft, canoe, or kayak ride along the Platte River.
Another good way to keep you entertained while exploring is a bike ride on the Sleeping Bear Heritage Trail, which is relatively flat.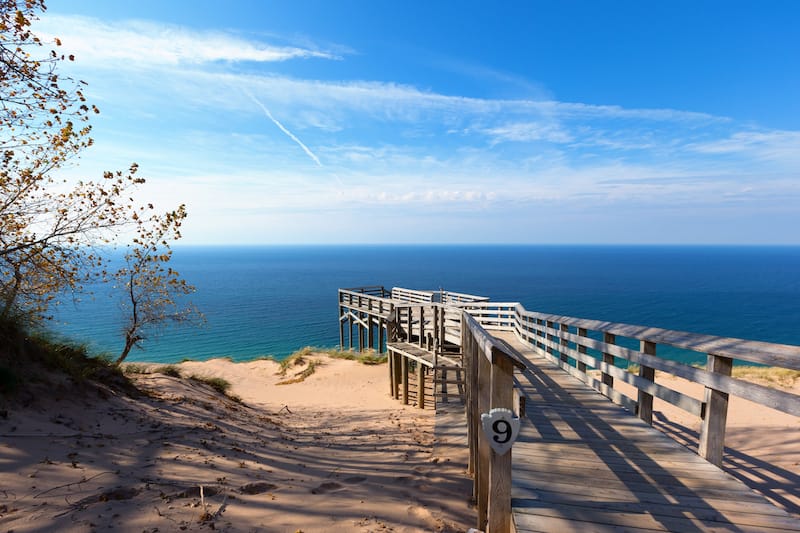 On your way to Glen Arbor, you will pass past the old logging community of Glen Haven and D.H. Day Campground.
Also, don't neglect the chance to explore the history and culture here too. Some of the must-sees are the Glen Haven Historic Village, the Port Oneida Heritage Center, and the Maritime Museum.
6. Escanaba
Escanaba, also known as Esky, is a port city with a population of around 12,000 people.
Some of the most popular sites in the city are the Escanaba Public Library, the locally-famous Drifters Family Restaurant, and the Upper Hand Brewery.
After exploring the city, you can devote some time to nature as well and walk or snowshoe (if you're visiting in winter) along the Haymeadow Falls and Trail.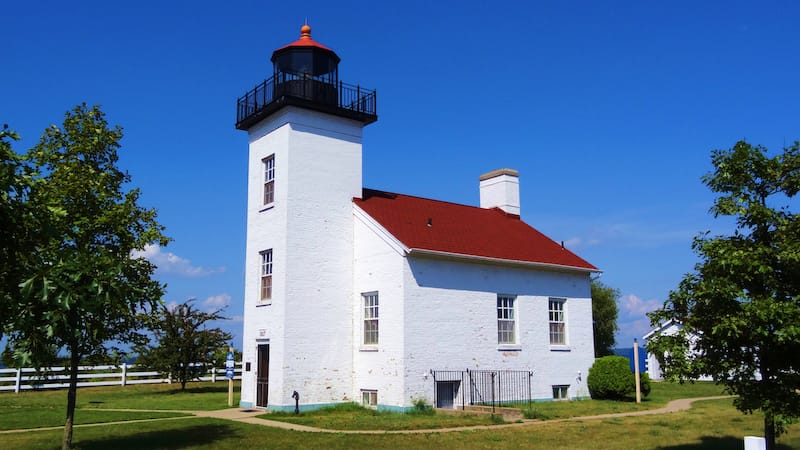 Another trail that's worth checking out is the Peninsula Point Lighthouse and Interpretive Trail. Be sure to climb to the top of the 40-ft Michigan lighthouse and enjoy the fantastic views!
History enthusiasts will enjoy a visit to Fayette Historic State Park and the town sites, which is a short distance from Escanaba.
It is situated on a beautiful oasis and includes around 20 historic buildings, a visitor center, exhibits, guided tours, and more.
7. Sugarloaf Mountain
Sugarloaf Mountain grants some of the best views in the Upper Peninsula. Getting to the top does not require any special skills as it's quite an easy hike.
On your way to the top, you'll be accompanied by a forest canopy featuring century-old trees.
When you approach the peak of the mountain, the trail switches to wooden stairs to guide visitors to the special observation deck.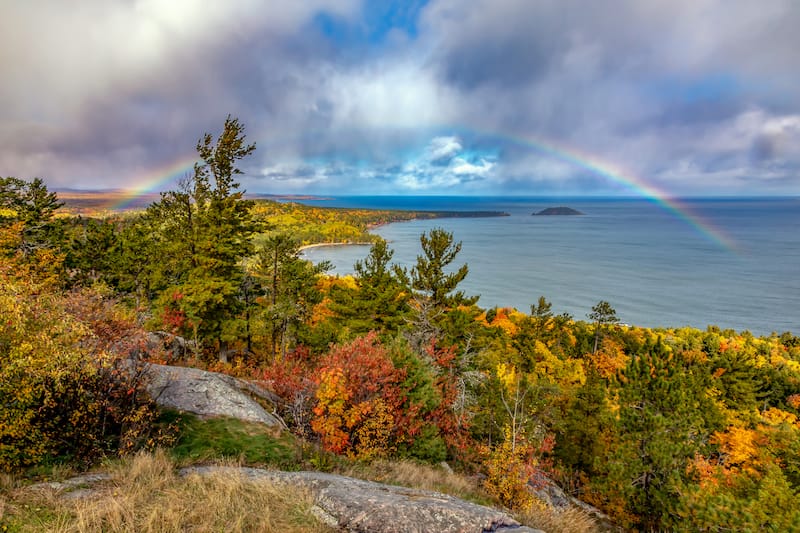 The views from there include Lake Superior, Presque Isle Park, Marquette, Hogsback Mountain, and Little Presque Isle. Also, be sure not to miss the stone monument here.
It commemorates assistant scoutmaster Bartlett King. It was built for his mother by his troops so that she could see from her home on Marquette's Arch Street.
8. Mackinac Island
Mackinac Island is known as one of the best vacation spots in Michigan. The town is most famous for the Mackinac Island Fudge, historic Fort Mackinac, bike tours, diverse shopping, and plenty of dining options.
Here in Mackinac, visitors have a choice to explore the historic forts, one-of-a-kind golf courses, horse-drawn carriage tours, and so much more.
You can begin exploring the island by hiking up to Fort Holmes, the island's highest point, or you can discover the town right on the waters via kayak, sailboat, or sunset cruise.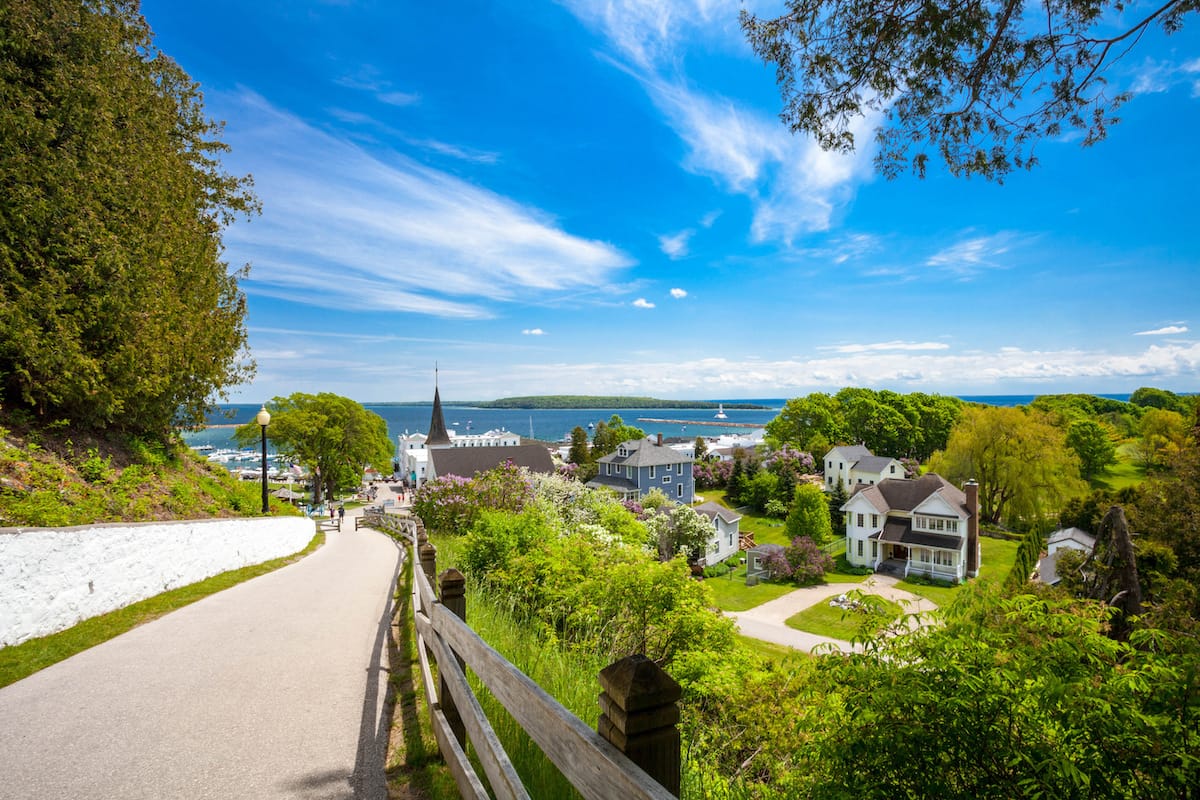 Something worth trying in this car-free, historic area is a horse-drawn carriage tour that will take you back in time.
Speaking of history, museums like the Biddle House, the two historic military forts, and examples of beautiful Victorian architecture are musts for your visit to Mackinac.
9. Pierce Stocking Scenic Drive
The Pierce Stocking Scenic Drive is a 7.4-mile drive that swings through the Beech-Maple Forest, sand dunes, and, most importantly, provides breathtaking views of the Glen Lakes, Sleeping Bear Dunes, and Lake Michigan.
The list of possibilities for recreation here includes taking a dune trek along the Cottonwood Trail or stopping for a picnic at one of the drive's picnic spots.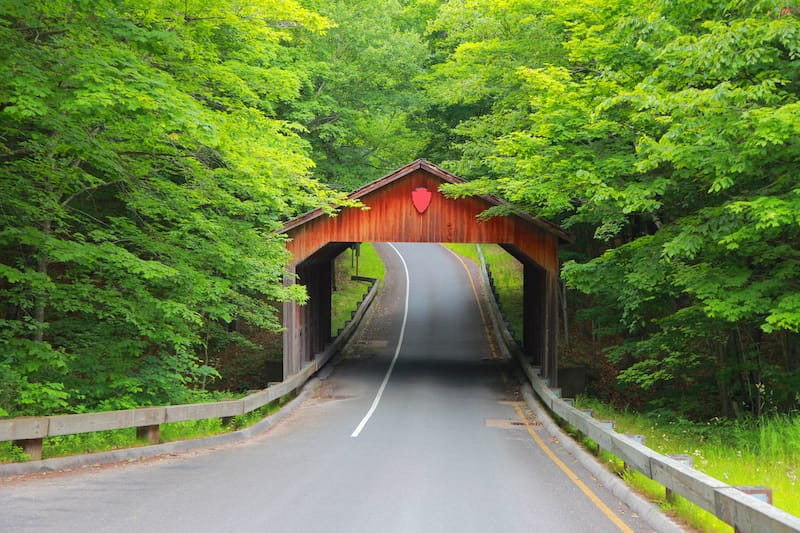 On the pathway, you'll see some world-class vistas that will make your Michigan trip unforgettable.
Apart from the adventure, you also have the option of taking tours with interpretive guides who'll make your trip educational. too. There are no fees for the guides.
10. Manistee
Manistee is home to 25 miles of sandy Lake Michigan beachfront, three harbors, inland lakes, 270 miles of rivers, and four-season fishing.
The area is now very much into agriculture and farming, but at the same time has a lot to amaze its visitors with.
Manistee is a true heaven for those who are extra-loving of nature.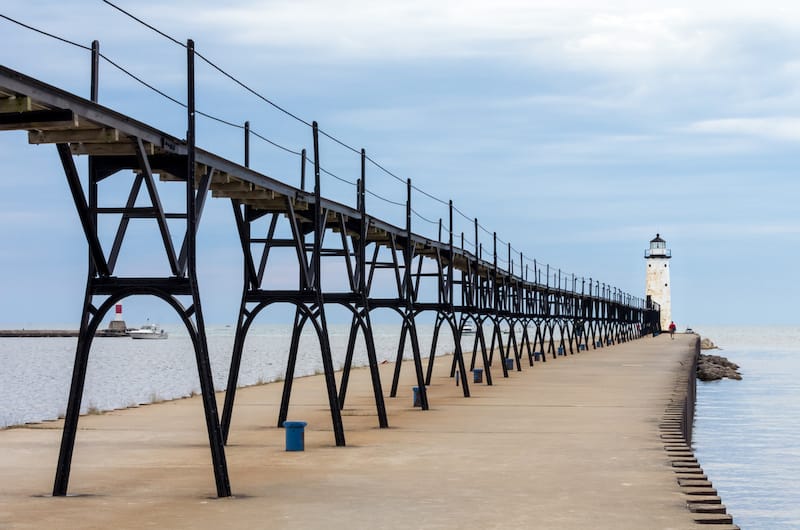 After getting into places like the Arcania Marsh Boardwalk, Bullfrog Highway, Magoon Creek Park, and First Street Beach, it's hard to imagine what place can be more unwinding!
Keep in mind that you can combine the relaxation with some adventure and education as well via visiting the prominent Arcadia Area Historical Museum, Iron Fish Distillery (Michigan's first farm distillery), or taking a unique tour around Manistee County to further explore the nature of the historic spots.
11. Frankenmuth
Frankenmuth is home to great festivals, events, restaurants, shopping, and lots of fun.
One of the first must-do activities here is to experience Frankenmuth's Bavarian culture.
The German classic meals, the architecture at River Place Shops, and the taste of Frankenmuth Brewery and Prost Wine Bar & Charcuterie will make you nostalgic if you've ever been to Germany!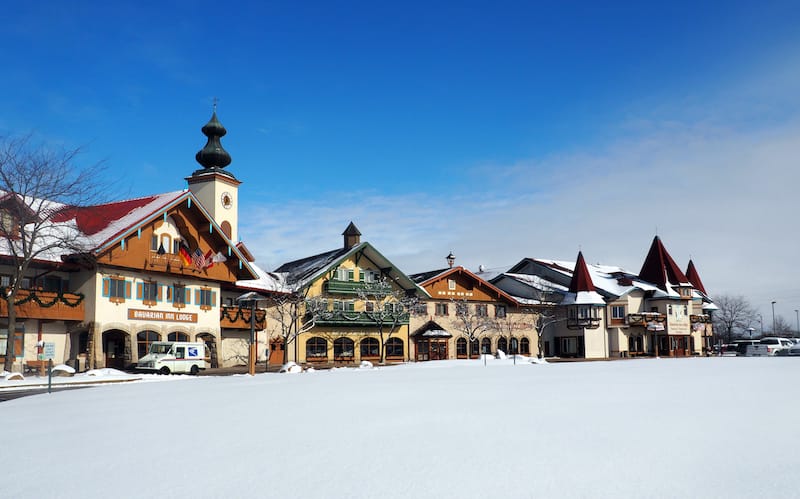 Looking for a Christmas Wonderland in Michigan? Well, everything you can dream of is at Bronner's Christmas Wonderland, which is located in Frankenmuth and is the largest Christmas store in the world.
Visitors can also entertain themselves by heading to the Cass River for kayaking or a boat tour, eating at the Bavarian Inn Restaurant, having fun at the waterpark or zip lines, and more.
12. Isle Royale National Park
If your ultimate goal is to run from the sights and sounds of busy cities, Isle Royale should be at the top of your list.
This beautiful natural area is surrounded by Lake Superior and is a great place for recreational activities like hiking, boating, kayaking, backpacking, canoeing, and scuba diving.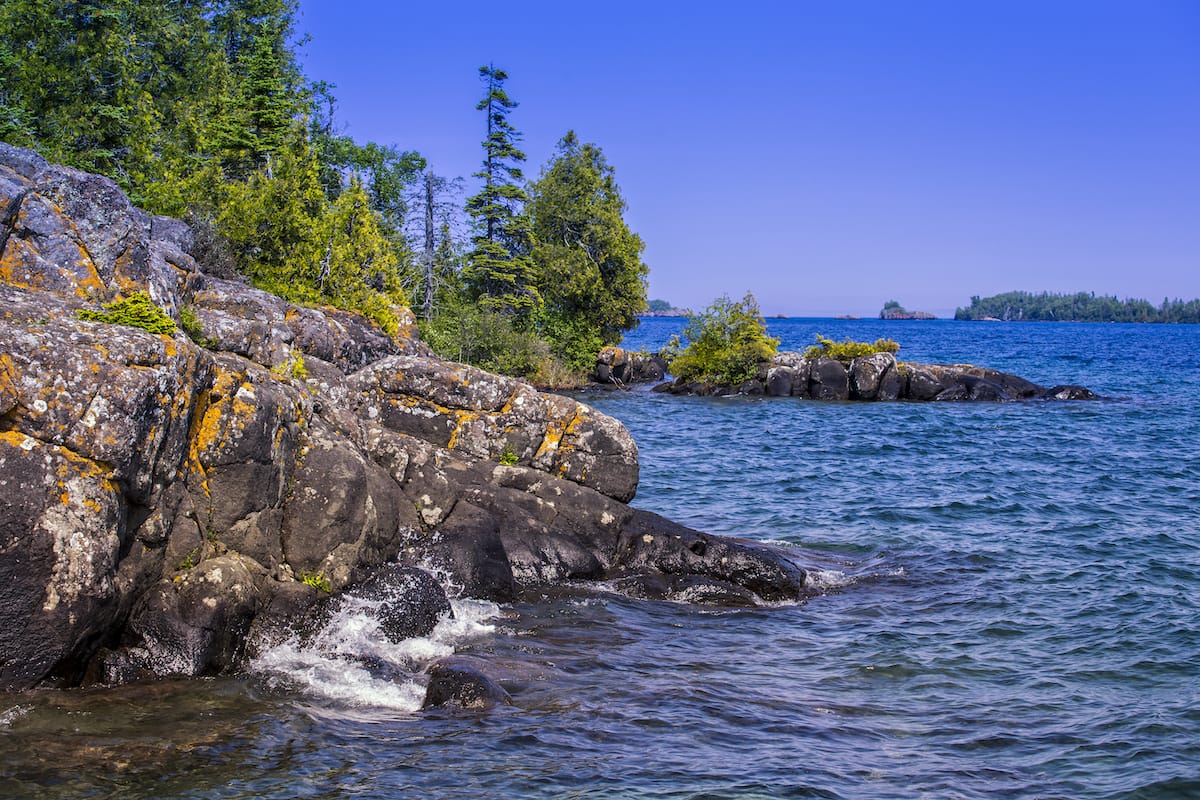 Those who enjoy camping have the opportunity to enjoy 36 campgrounds that come with tent sites, a water source, and outhouses. If you love hiking, you also won't be disappointed as there is a wide range of hikes between 1 and 10 miles.
The most-visited trails are Grace Creek Overlook, the hike to Suzy's Cave, and Stoll Memorial.
Lastly, another way to spend a day here is a trip to Rock Harbor, offering hiking, paddling, fishing, guided tours, and ranger programs.
13. St. Ignace
St. Ignace was a thriving center for the fur trade in the 17th century and is known to have a long Native American history.
Nowadays, a seasonal farmers' market, incredible shopping and restaurants, fascinating day trips, and cruises are all available in this charming town in northern Michigan.
All the fun and relaxing activities here are split between outdoor recreation and cultural sites.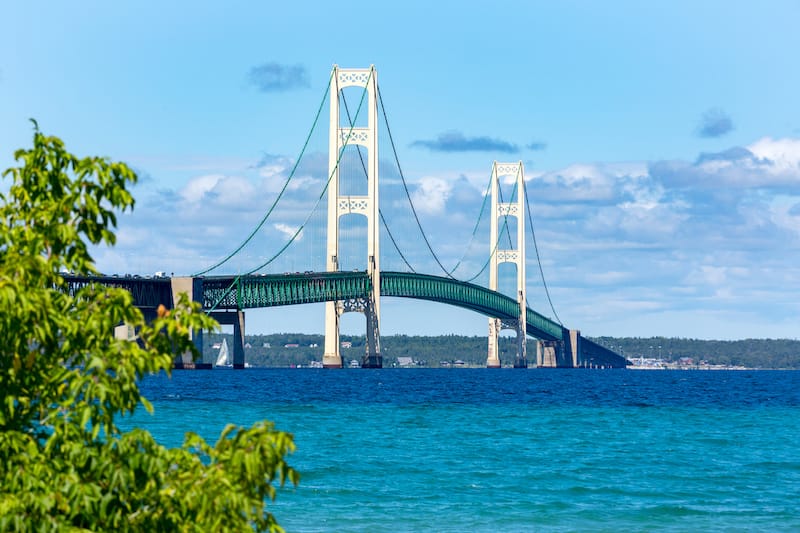 Straits State Park, for example, is a great place to start the exploration of St. Ignace. The main trail reaches the viewpoint of Mackinac Bridge, which is a must-see.
Other sites you better not miss here are the breathtaking Castle Rock, the Fort de Buade Museum with its high cultural importance, the Biddle house with stories about the fur trade, and the Mackinac Island State Park with a few gardens and museums.
14. Ann Arbor
Ann Arbor is a mixture of a university town, a culinary point, and a tech hub combined with rich arts and culture.
Ann Arbor is also home to many exciting festivals and events. The themes of various celebrations include art, culture, theater, sports, and music. Make sure to check the official events page before visiting the city.
In case you happen to be here during the fall or blooming spring, let's say you're lucky because locations such as Nichols Arboretum on U-M's campus, Scio Woods Preserve, and Hudson Mills Metropark in Dexter offer stunning sights full of colors.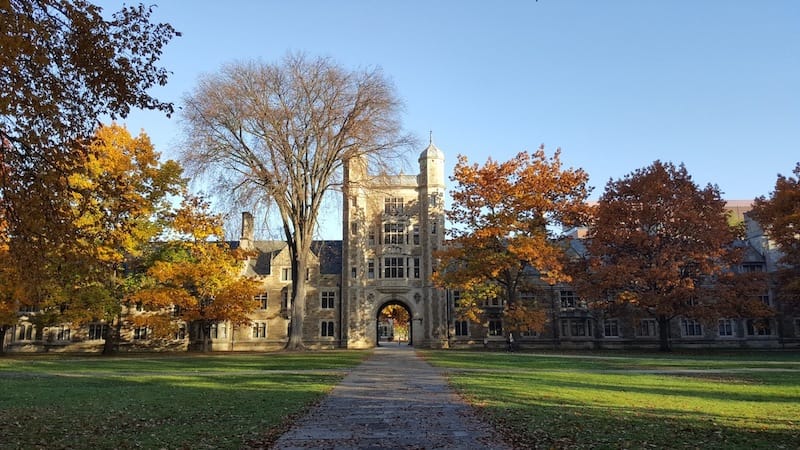 You can also get some more fantastic views of nature via a tour down the Huron River. Kayaking, canoeing, or paddleboarding adventures await you here.
Lastly, many people enjoy the breweries and eateries here, too. Some of the best-rated places are Corner Brewery, Arbor Brewing Company, Seva, Le Dog, and Monahan's.
15. Grand Rapids
Once known as America's Furniture Capital, this city is now the cultural and economic center of West Michigan. It is an easy day trip from Chicago and other nearby cities!
The list of things to do in Grand Rapids starts with the Frederik Meijer Gardens & Sculpture Park, which has many gardens and galleries.
The Downtown Market with its farmers' markets; and museums such as the Urban Institute for Contemporary Arts, the Gerald R. Ford Presidential Museum, and the Grand Rapids Public Museum, telling the story of Michigan's people and history.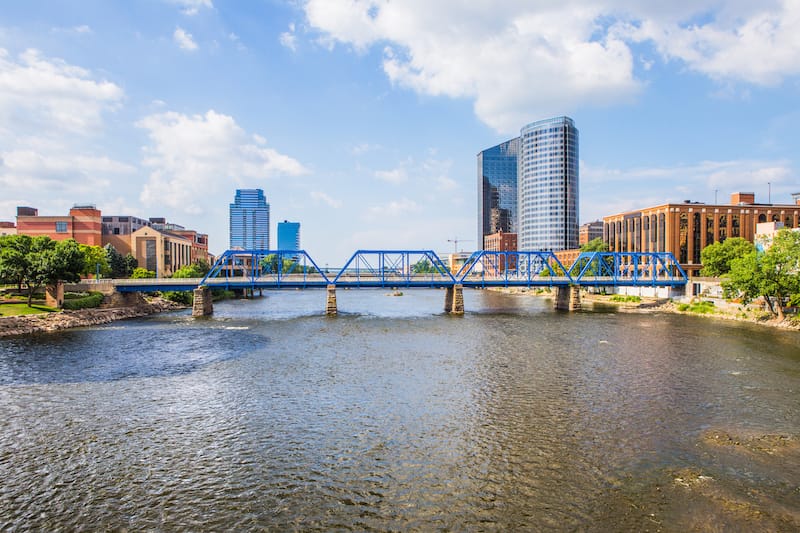 Grand Rapids is also known for its delicious restaurants and eateries, so foodies will have a great time here. The Sovengard, The B.O.B., and Butcher's Union are the most popular choices.
History buffs also will surely not be left disappointed after visiting the Meyer May House, designed by Frank Lloyd Wright and built in 1908, or the Heritage Hill Historic District, which was the first neighborhood in the city.
16. Kalamazoo
No matter if you're into food, culture, or beautiful downtown scenes, Kalamazoo claims to be the host of it all.
Start your vacation in the downtown city. It has six distinctive districts, including the outdoor Kalamazoo Mall, a bunch of restaurants, nightclubs, breweries, and specialty shops.
Any vintage car fans should not miss the chance to be at the Gilmore Car Museum – a 90-acre historic campus where automotive history is brought to life right in front of your eyes.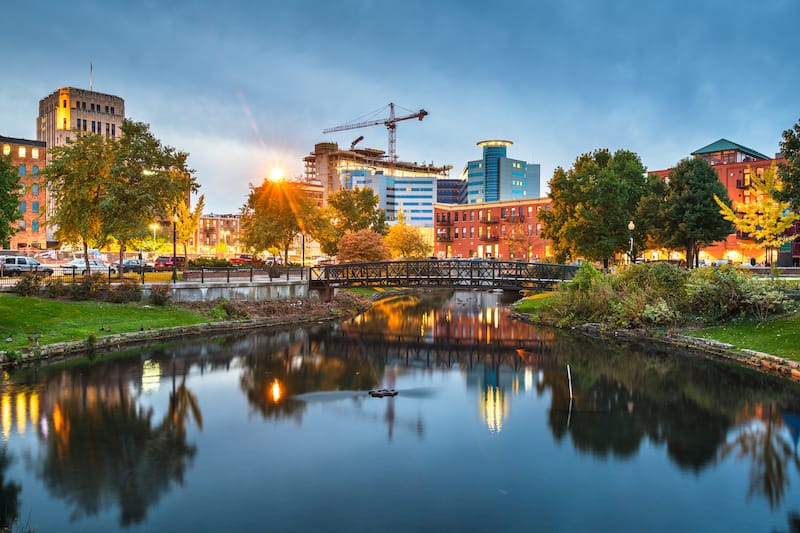 For those who want to get in touch with nature, go for a picturesque bicycle ride or visit the Kalamazoo Nature Center, which has been recognized as one of the nation's best nature centers.
After exploring the area, stop at one of the eateries, like Artisan Sandwich Company, Canal Street Cafe, or Burger Bros.
17. Pictured Rocks National Lakeshore
Are you looking for a true nature getaway? Get excited, because you found it!
Pictured Rocks National Lakeshore is a haven of beautiful beaches, towering sandstone cliffs, northern forests, and hundreds of miles of trails.
There are year-round outdoor activities available here. Pictured Rocks have some of the state's best hiking opportunities.
The most visited trails are Sand Point Marsh Trail, going through the park's beautiful wetlands, and Grand Sable Forest Trail, featuring a walk through a maple woodland and around old agricultural fields.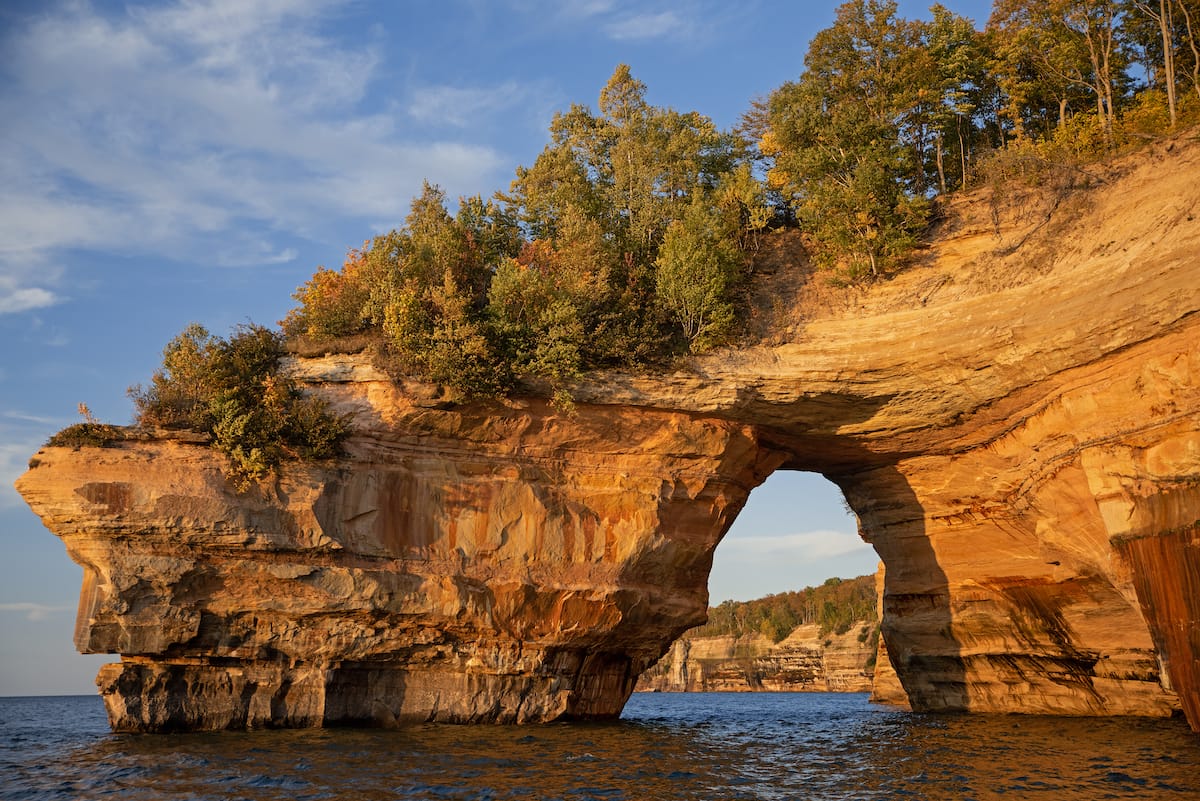 Apart from hiking, there are 14 designated backpacking-camping areas, boating tours, and a range of fishing options. Also, don't forget about the many swimming and diving opportunities.
The clean waters of Lake Superior can be enjoyed by swimmers, although they are sometimes pretty cold.
Visit this area in the winter, too. Almost all winter-related activities are possible here, including snowshoeing, cross-country skiing, snowmobiling, ice climbing, ice formation viewing, winter camping, and ice fishing.
18. Detroit
What's a visit to Michigan without a stop in Detroit? As one of Michigan's most vibrant, cultural, and charming cities, Detroit has something for everyone, whether you're looking for artsy coffee shops, cultural museums, or hip festivals.
Start your trip off by visiting some of Detroit's museums, including the Motown Museum, featuring some of R&B's greatest legends, and the Museum of Contemporary Art.
Detroit is also home to four major sports- hockey, football, basketball, and baseball, so there's never a shortage of games!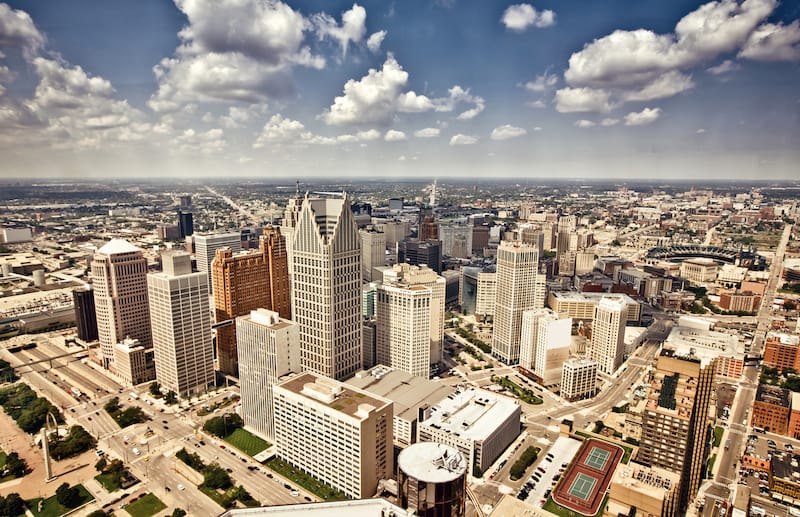 Head over to Comerica Park during baseball season to catch a game or two, and did we mention that the park also has a Ferris wheel?
For those who want to get in touch with nature, Belle Isle Park is the place to be! This 1,000-acre park is surrounded by the Detroit River and offers visitors plenty of recreational activities for enjoying the day outside.
There are many things to do in Detroit that will keep all travelers occupied on their trip!
19. Thorne Swift Nature Preserve
The Thorne Swift Nature Preserve includes various attractions for visitors, including 950 feet of the Lake Michigan coastline with 300 feet of public beaches, the Elizabeth Kennedy Nature Center, boardwalk trails, a dune observation platform, and seasonal guided tours.
There are two famous trails here: the Balsam Trail and the Beach Trail. The first one, Balsam, covers a distance of one-half mile and has a walkway leading to the Dune Observation Deck.
Sunsets here are said to be indescribably beautiful.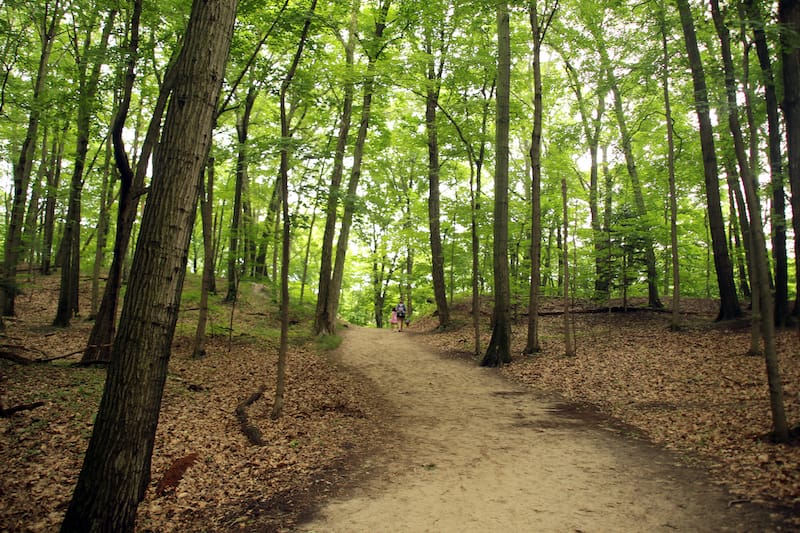 In contrast, the Beach Trail runs a quarter-mile from the Nature Center to 300 feet of gorgeous beach. This isolated beach is quite popular among swimmers and picnickers.
The operating hours of the preserve are from 10 am until half an hour after sunset, and it's open daily.
20. Lansing
Famous for its car manufacturing roots, Lansing is not too big but is home to everything you need. It's a welcoming town with a lot of culture and history, as well as lots of interesting activities taking place.
You can travel back in time and explore the area's culture at the R.E.
Olds Transportation Museum or Michigan History Museum, which features Prehistoric Native American stories and various exhibits on Michigan's role in the nation's history.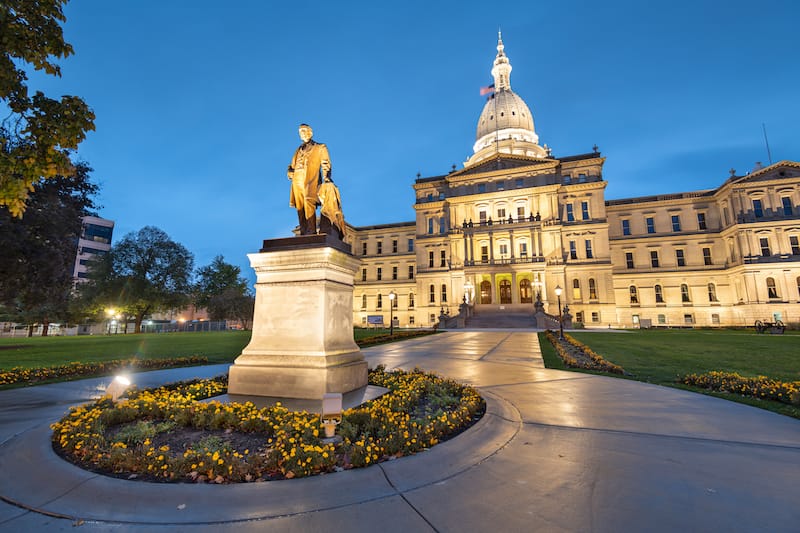 Also, devote some time to check out public art and murals here. Lansing has four separate arts districts, each with its own set of galleries and sculpture walks ranging from traditional to avant-garde.
Lansing's one other famous attribute is its events. There are more than 60 of them taking place all year round, with themes ranging from the Nordic Fire Festival to the Michigan Blues Fest.
21. Shiawassee National Wildlife Refuge
The Shiawassee National Wildlife Refuge is considered to be one of Michigan's largest and most productive wetland ecosystems.
The Bad, Flint, and Cass Rivers run into the Shiawassee River, resulting in a beautiful destination for complete relaxation.
The wetland attracts a lot of wildlife, migratory fowl, shorebirds, and songbirds.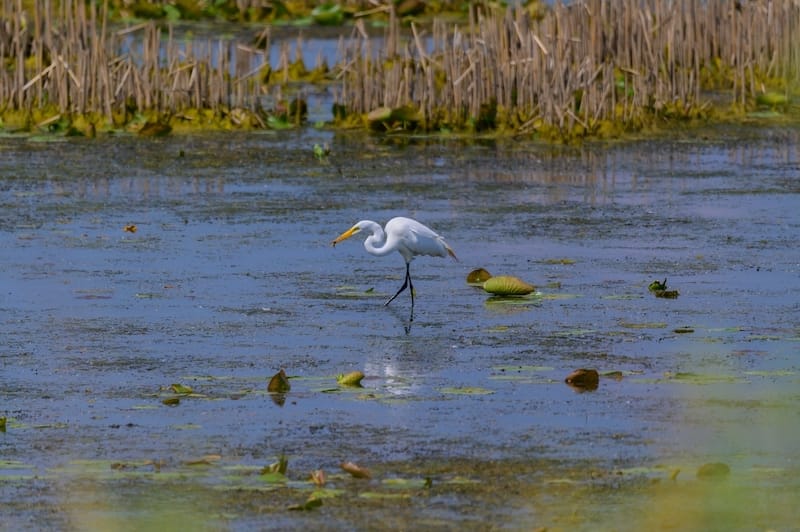 If you're into exploring some animal life, this is the place to be because views like close-ups of bald eagles and white-tail deer are available from a wildlife viewing tower and platforms, which are equipped with spotting scopes.
Those looking for other types of recreation can entertain themselves with mountain biking, hiking, and cross-country skiing on 12 miles of trails. Hunting, fishing, and boating are popular pastimes, too.
22. Tecumseh
Tecumseh is one of Michigan Territory's original pioneer settlements, so it has strong historical roots.
You can start exploring the area with a quick food tour that can be accompanied by Tecumseh's Taste Experience, where four food spots join to help you get acquainted with Tecumseh's taste.
One popular activity here is golfing. Some of the best places to try golfing that promise a great experience are the Hantz Golf Club of Tecumseh, Raisin Valley Golf Club, and Stone Mountain Family Fun Center.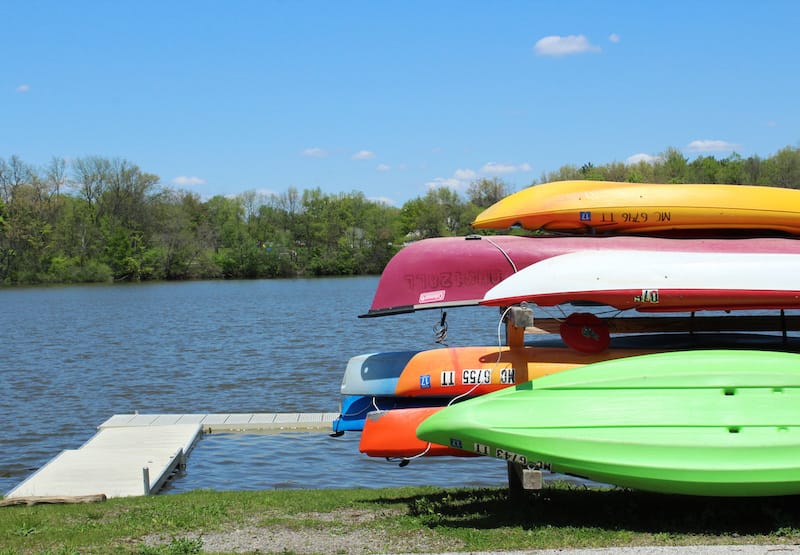 After you've had enough time to explore the insides of the town, take a short ride to visit places like Hidden Lake Gardens, a conservatory, and a botanical garden inviting visitors to enjoy nature to the fullest, and Southern Michigan Railroad, which is especially great during the fall foliage.
23. Saginaw
Saginaw is home to sites such as the Shiawassee National Wildlife Refuge and Saginaw Valley Rail Trail, and not only. It's a city rich with opportunities, culture in the form of art museums, and more.
One unique activity that is definitely worth trying out is a visit to one of the most authentic Japanese tea houses in the Midwest, the ​​Japanese Cultural Center, and Tea House.
You should also not miss out on the boat tours that provide stunning views of the surrounding town and nature.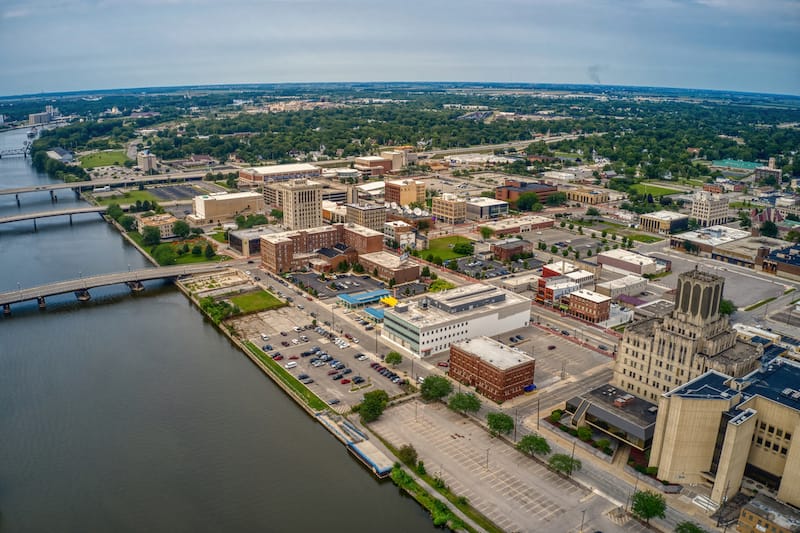 Lastly, don't forget to check out some of the town's most prominent historical and cultural sites, such as the Saginaw Art Museum, a mansion with Italianate grounds and a permanent collection spanning 4,500 years of history, or Gingerblue Gallery, featuring international and local artists and a variety of mediums.
Did we miss any amazing places to visit in Michigan?
Let us know your favorite places in Michigan in the comments. Thanks!
More Michigan Travel Guides
Pin this Michigan Destinations Guide