Are you going to be spending a weekend in Denver soon? This guide tells you how to make the most of 2 days in Denver, including some amazing day trips, places to eat, and more!
If you have any tips for this Denver itinerary, let us know in the comments! Thanks!
Are you planning your trip to Denver last minute?
Below are some of the top tours, hotels, and more to help you plan your trip to Denver!
Top Experiences and Tours in Denver:
Top Hotels Denver:
The United States is an extremely large country spread out across 48 (mainland) states. Traveling from one state to the next can feel like stepping into an entirely new country and culture. With so many to choose from, it can be daunting to narrow down the options!
Well, today I will plead my case for why a visit to Denver, the capital city of the state of Colorado, should be on your list.
This is meant to be a first-timer's Denver itinerary – showing you the best of how to spend two days, or a weekend in Denver (or longer if you can!).
This is a guest post from Kara at Happening in Denver.
Two Days in Denver Itinerary for First-Timers
Denver has pretty much anything a person could want for a vacation destination. All major sports, amazing outdoor recreation, a booming music scene, world-class shopping, and delicious and eclectic restaurants.
Plus, add in the majestic Rocky Mountains and everything that comes along with that.
Seriously, what more could you want??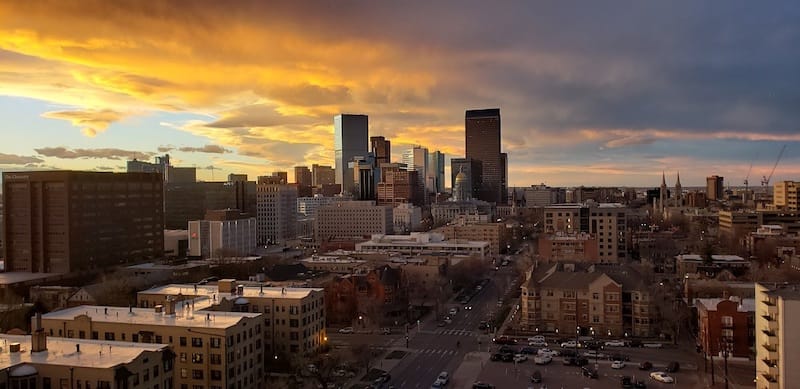 But all those options can make it tough to narrow down. I may not be a "native" (it's a Colorado thing), but I've loved living here for over 15 years.
So let me handle this one for you. Here's a perfect weekend Denver itinerary for a first-time (but not last-time) visitor.
Denver Itinerary Day 1
Hello and welcome to Denver! We've got a jam-packed Denver itinerary, so I hope you're ready for it.
Breakfast and Explore Downtown Denver (Morning)
They say that breakfast is the most important meal of the day, and that's especially true when you have a busy day ahead. It really is one of the best things to do in Denver if you want to start the day off right!
Head on over to Sam's No 3 in downtown Denver and they'll get you fixed right up. Sam's is Denver's most beloved diner, and they have been around for ages.
After a fuel-up, it's time to explore all downtown Denver has to offer! As a first-time visitor, you'll for sure want to check out Denver's famous 16th street mall.
It's a one-mile pedestrian mall filled with shops, restaurants, food trucks, street performers, people-watching, and more. It also conveniently has a free shuttle that runs along the mall in both directions.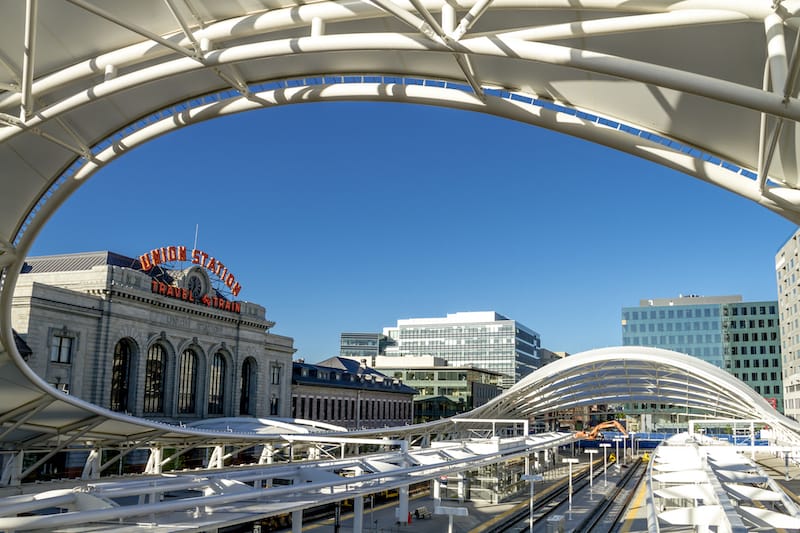 Which will make it easy to continue along and check out Denver's Union Station. It's a historic landmark in downtown Denver that was formerly forgotten and has since been beautifully restored into a Denver hot spot.
And also be sure to stop by the Colorado State Capitol Building. You can admire its distinctive gold dome (yes, it's real!) and take a photo on the steps at the point that is exactly one mile high, in the mile-high city.
Craft Beer Tour (Afternoon)
Denver (and Colorado in general) is quite well-known for having a robust beer culture. Not only do we have the world's largest brewery (Coors) headquartered here, but the state is consistently ranked high for craft breweries per capita as well.
This means if you're a beer lover, you've basically just arrived in beer-lover-heaven. So be sure and save a slot on the agenda for a brewery tour in Denver. You have options on how to go about it!
You can do a self-guided stumble by curating your own craft brewery tour. The Denver Beer Trail is an excellent resource for putting this together.
Or you can let someone else do the hard part for you, and take one of many pre-arranged Denver brewery tours. There are many companies to choose from, but Denver Microbrewery Tours comes very highly rated.
Larimer Square (Nighttime)
Larimer Square is arguably Denver's most important and historic block. It served as the business center for the city way back when.
And it has since been protected and restored so it can continue to be enjoyed today. They even dress her up really pretty with strings of twinkling lights hung above the street.
It's a small, but beautiful block that you must check out. The dining scene here is on point, so plan to have dinner here. Osteria Marco is a personal favorite, and some of the best Italian food you can get in Denver.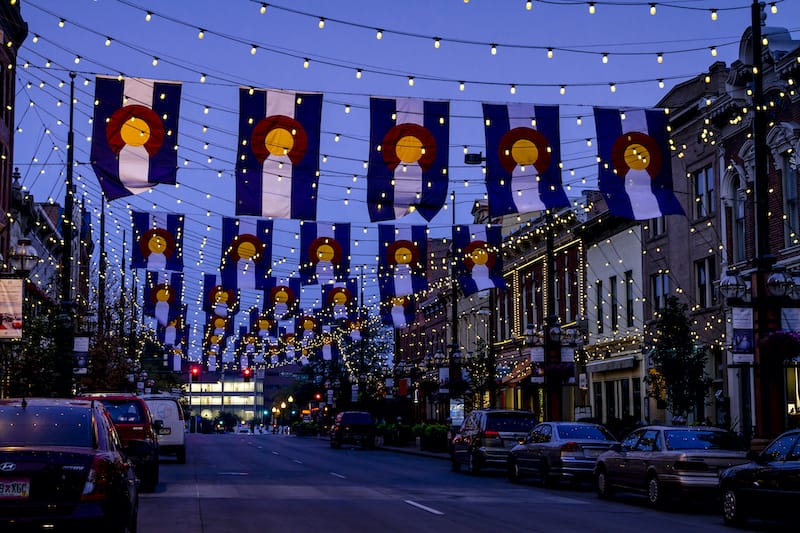 After dinner, you can continue the Larimer Square adventure by catching stand-up at Comedy Works, Denver's best comedy club.
Or treat yourself to some after-dinner libations! Nearby Green Russell is a speakeasy that feels like you're stepping back into time with their ambiance and classic cocktails.
Denver Itinerary Day 2
Wake up, it's day two in Denver! Hopefully, you're well-rested for another jam-packed day of exciting Denver happenings.
Boozy Brunch (Morning)
If there's anything that consistently brings Denverites out in droves…that thing is brunch. Are we late sleepers, or early drinkers?
Can't say for certain, but brunch is so popular in Denver that you can easily wait upwards of an hour (or more) just to get seated during peak times.
But lucky for you, I have been doing years of independent field research on brunch in Denver. And I have narrowed it down to simply the best brunch spots Denver has to offer (my personal favorite is The Lobby).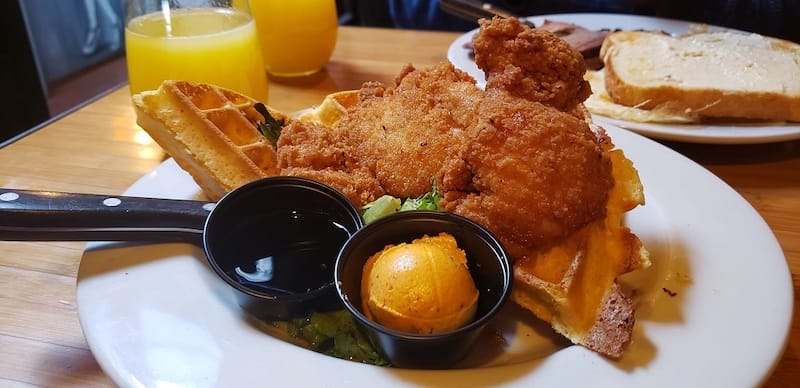 Explore the RiNo Art District (Afternoon)
Once an industrial "up and coming" neighborhood, River North (also known as RiNo) has now officially arrived. It's downtown adjacent but offers more of that hipster / industrial-chic vibe.
This neighborhood is full of arts, culture, craft breweries, amazing restaurants, and more.
So what exactly should you do with your time here? Take a stroll and admire the beautifully colored street art pieces.
Or you can pop in and out of the many art galleries. But be sure and time lunch to coincide with checking out Denver's new food hall and gourmet market scene. In RiNo, you have your choice between Denver Central Market or The Source.
And if you didn't get enough beer yesterday, or mimosas this morning, there are plenty of amazing watering holes in RiNo as well. You can visit craft breweries like Great Divide or Epic Brewing. Or you can check out Denver's urban winery, Infinite Monkey Theorem.
And if you're the type of person who wants it all, pop into First Draft Taproom where you pour whatever you want and they charge you by the ounce. Great for trying out lots of different options!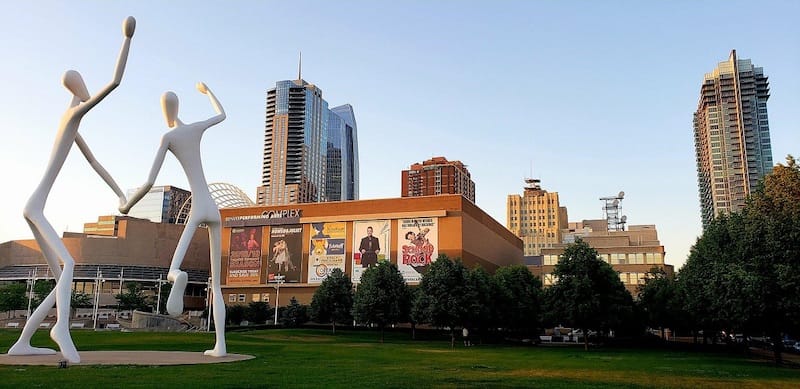 Denver Sports (Nighttime)
Denver is a huge sports city. Maybe it's because we have a home team across every major league sport? I can't say for sure why, but I do know that Denver takes sports quite seriously. Whether that's cheering from the stands, or from a barstool.
And because we have a team across all sports, the chances are high that at least one of our teams will be in season no matter what time of year you visit.
However, if you visit during baseball season…you should definitely catch a Rockies game at Coors Field. The outfield opens to the west, with the mountains as the backdrop, and you'll never see a prettier sunset.
Baseball: Colorado Rockies played at Coors Field
Football: Denver Broncos played at Empower Field at Mile High
Basketball: Denver Nuggets played at the Pepsi Center
Hockey: Colorado Avalanche played at the Pepsi Center
Lacrosse: Colorado Mammoth played at the Pepsi Center
Soccer: Colorado Rapids played at Dick's Sporting Goods Park
More Than 2 Days in Denver?
When it comes down to it, two days in Denver is simply just NOT enough time to really dig into the local scene. So, if you find yourself with more than two days…fantastic! Here are a few additional items to beef up your Denver itinerary:
Visit Rocky Mountain National Park
Of all the attractions in Colorado, Rocky Mountain National Park (RMNP) is certainly up there in terms of popularity. I haven't personally crunched the numbers but with four million annual visitors a year…I think it's safe to say it's pretty darn popular.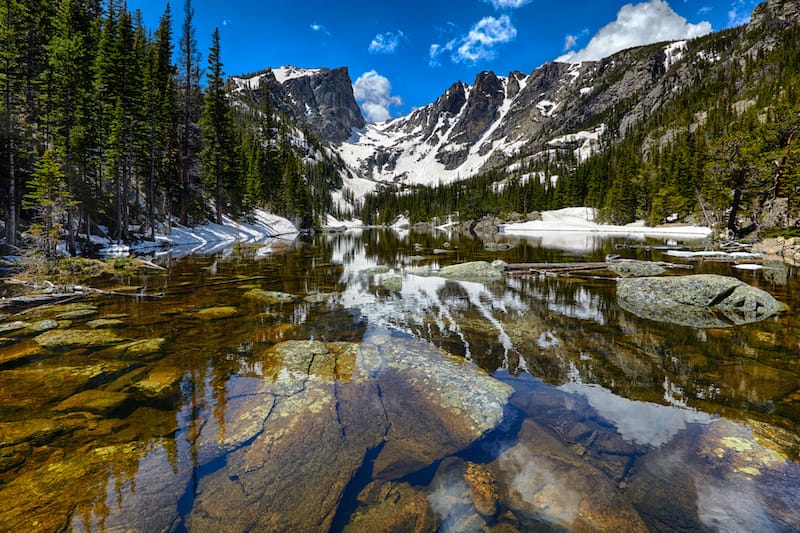 The park consists of over 400 square miles of mountain environments, world-class hiking, camping, climbing, and more. It's clear to see why it's so popular!
If you're a person who loves the outdoors, your Denver itinerary will love the addition of a day trip to RMNP. It really is one of the best Denver day trips and an essential place to visit when there!
While not too far from Denver, this is one where you will need a car to visit. The drive takes about 90 minutes, and the fee to enter the park is $25 per vehicle, per day.
Hit the Slopes
With the Rocky Mountain range in our backyard, it should come as no shock that Colorado has some really killer options for outdoor winter recreation.
And while you have to get out of Denver properly in order to enjoy the mountains (and thus would need a car), it's 100% worth it.
Many of the most popular ski resort areas are at least two hours (or more) drive from Denver. And that's not accounting for mountain traffic – which is just like city rush hour traffic except on the side of a mountain.
However, if the slopes are calling your name, here are some of the best options near Denver:
Loveland Ski Resort (~1 hour drive) – closest and not too busy
Arapahoe Basin (~1:30 hour drive) – longest season in Colorado
Winter Park Resort (~1:30 hour drive) – Winter Park Express train from Union Station straight to the base village
Keystone Ski Resort (~1:30 hour drive) – extensive night-skiing
Catch a Concert at Red Rocks
If you consider yourself a music fan, then chances are good that you've heard of Denver's famed Red Rocks Amphitheater. Many would agree Red Rocks is one of the best outdoor music venues in the world. Some would argue it is the best.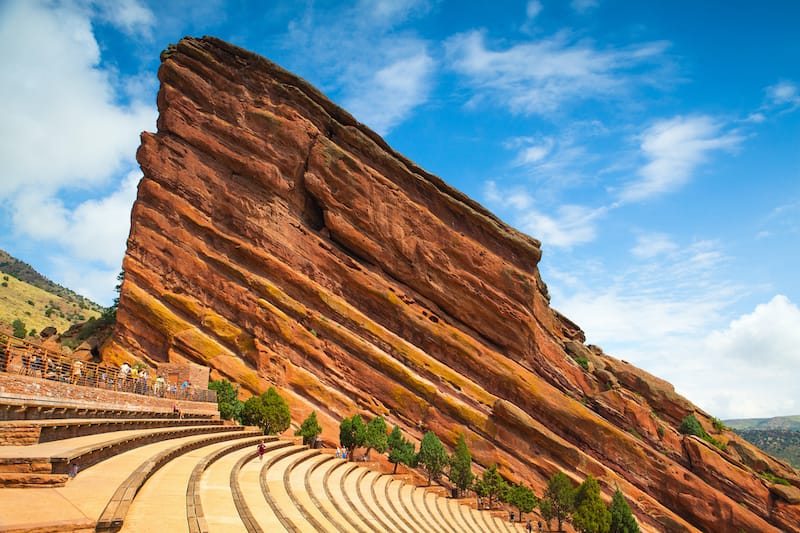 Located just 10 miles west of Denver, Red Rocks amphitheater was built smack in the middle of a rock formation.
On either side of the stadium seating area large, tilted rock formations, which help create the most incredible naturally occurring acoustics imaginable.
Concerts and events are happening at Red Rocks almost year-round, but naturally, the calendar gets more jam-packed during warmer months.
Where to Stay in Denver
Denver is a city with no shortage of amazing accommodations to fit whatever budget you're working with. Below are a few of the best options, covering everything from hostels to luxury. Here are some of the top Denver accommodation picks:
And with that, you are now armed with all the information necessary to explore Denver like a pro! Knocking out this itinerary will ensure an amazing first-time trip to Denver.
However, I'm sure you will find that one trip is simply not enough to experience all Denver has to offer! Time to start working on your next Denver itinerary.
Have more time in Denver? Check out some of these amazing day trips from the city, including Garden of the Gods or Breckenridge, one of the most popular ski towns in Colorado! Visiting Steamboat Springs in winter is also an awesome idea!
PIN IT FOR LATER!