Everyone in the US knows how much we love our weekend escapes from the chaos of city life! These are the best weekend trips from Portland, Oregon.
One thing that amazes me about Oregon is truly how many awesome places there are within the state itself.
And, given the size, you can actually visit many of them as weekend getaways from Portland and other cities in the state.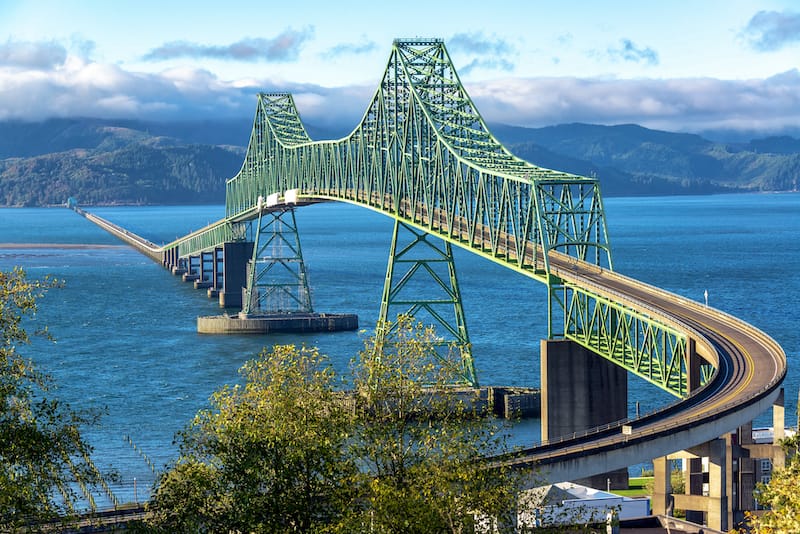 This is not a conclusive list, of course, as it would ramble on forever! But, these are some of the best Portland weekend getaways for those looking to leave the city for a few days.
Please let us know your top picks and ones we missed in the comments! Thanks!
Weekend Getaways from Portland – Map
To add this map to your Google Maps account, click the 'Star' icon next to the map name. You can then view it on your cell phone or computer by heading to your Google Maps account, click the menu and add it to 'Your Places'.
Best Portland Weekend Trips
Below, you will find some incredible weekend trips from Portland, including reasons to visit the destination, how long it takes to get there, and some top things to do in the place.
Crater Lake National Park (Oregon)
Distance: 232 miles
Driving Time: 4 hours 13 minutes
One of the most underrated national parks in the United States focuses on Crater Lake and this park is for sure one of the must-visits when you're in the state.
The lake itself was created after an explosive eruption and the collapse of Mount Mazama and is now considered to be the deepest lake in the United States.
It delivers some truly amazing views from a few vantage points like the Sun Notch Viewpoint, which has the best view of Crater Lake's other island, Phantom Ship Island.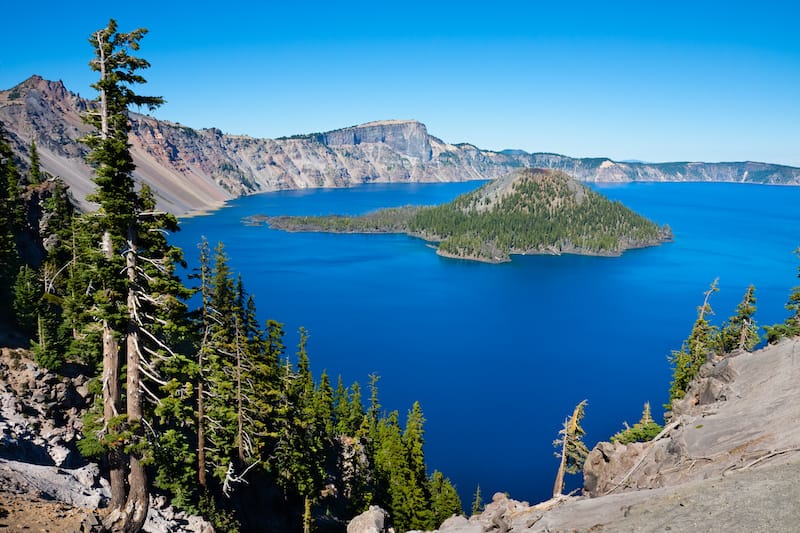 One of the best attractions at Crater Lake National Park is actually driving along Rim Drive – a 33-mile loop that encircles the entire lake and is one of the most incredible national park roads in the country.
If you love taking boat trips in these kinds of locations, then don't miss your chance to get to Wizard Island – a cinder cone that rises 763 feet above Crater Lake.
When it comes to hiking, Garfield Peak is one of the best. It's a steep 3.6-mile roundtrip, promising stunning views of the lake and the surroundings.
There are also plenty of winter activities at Crater Lake to keep you occupied any time of the year.
If you're looking for weekend accommodation in the area, check out our quick guide on the best places to stay near Crater Lake.
Cannon Beach (Oregon)
Distance: 80 miles
Driving Time: 1 hour 29 minutes
Regardless of whether you're looking for a relaxing beach weekend or a hiking trip along the stunning Oregon coastline, Cannon Beach is an excellent choice of a weekend getaway when you're in Portland.
One of the famous attributes of the beach that also makes it super famous is Haystack Rock. The vast size and stunning position of this rock formation have even been featured in the movie The Goonies!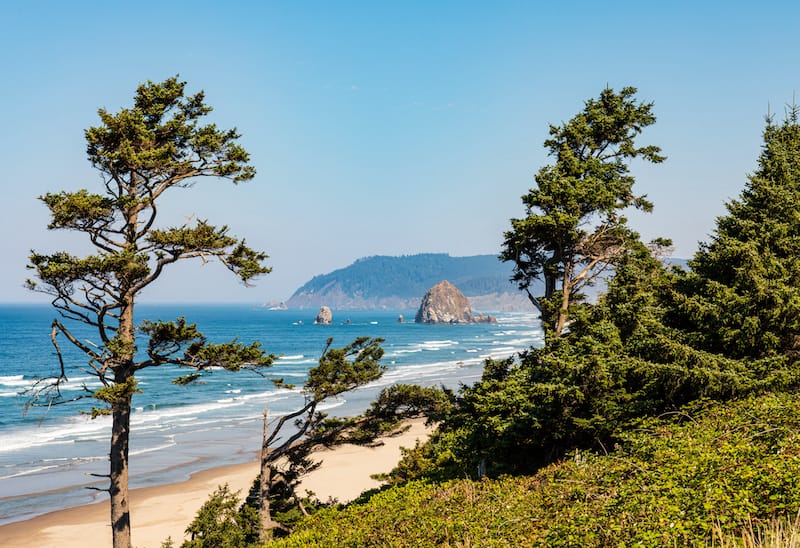 From watching the sunset to flying a kite to enjoying a beach picnic, the activities around Cannon Beach are aplenty. In case you're in a mood for hiking, then definitely head to Ecola State Park, which covers 9 miles of coastline between Cannon Beach and Seaside.
There are many hiking trails in the territory, all of them offering marvelous views of the Pacific Ocean.
As for vantage points, Hug Point is one of the most well-known amongst travelers. It's a 7-minute drive south of Cannon Beach.
Hiking along the coast is a perfect way to see waterfalls, tide pools, and caves. There are also plenty of accommodation options in Cannon Beach.
Astoria (Oregon)
Distance: 98 miles
Driving Time: 1 hour 46 minutes
Known for its long history in the fishing and fur trade, Astoria is bordered by both the Columbia River and the Pacific Ocean.
The Astoria Riverfront, which is lined with restaurants and local canneries, is one of the first places you should stop when in Astoria.
The Astoria Riverfront Trolley runs from the months of March to September and is a cheap, yet enjoyable way to get around this part of town.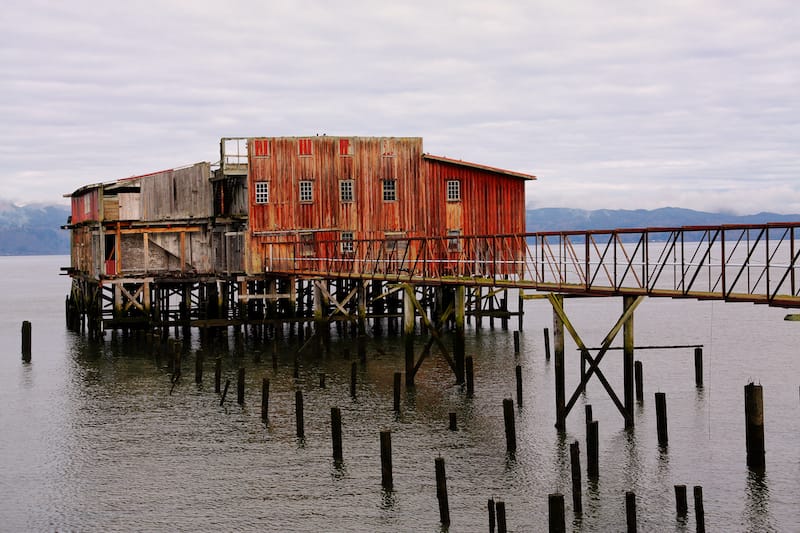 Another exciting attraction in the Oregon city is the Columbia River Maritime Museum. It features the most extensive collection of Pacific Northwest maritime artifacts in the world, from various geological to cultural and historical aspects of the Columbia River.
There is also one piece of living history in downtown Astoria – the Captain George Flavel House Museum.
It's operated by the Clatsop Historical Society and was designed in the mid-1880s for businessman and bar pilot Captain George Flavel.
It has been meticulously preserved from the time when Flavel and his family lived there.
Mount Rainier National Park (Washington)
Distance: 156 miles
Driving Time: 2 hours 58 minutes
Mount Rainier National Park is situated in southeast Pierce County and northeast Lewis County. It is the highest peak in the Cascade range and is surrounded by valleys, subalpine meadows, waterfalls, and 91,000 acres of old-growth forest.
One of the activities that is loved by many visitors of the park is the hike along the Sourdough Ridge Trail, especially at sunrise. It features spectacular mountain views of alpine meadows full of colorful wildflowers.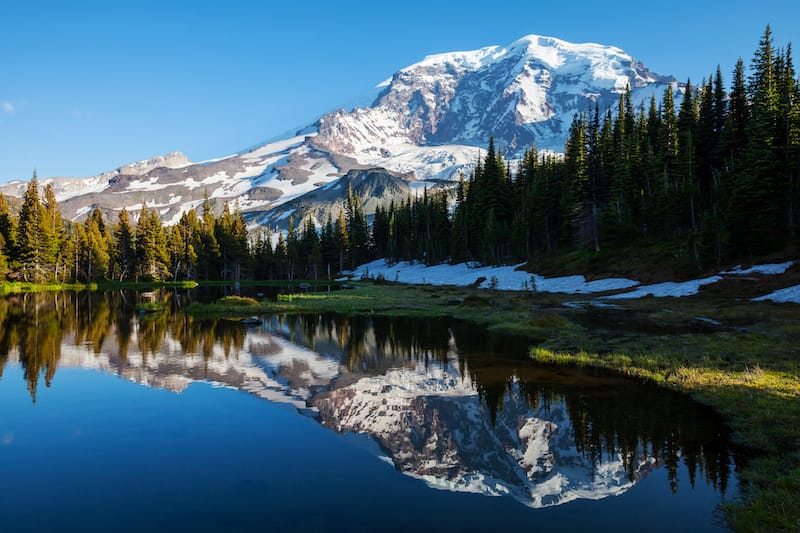 Those who appreciate trains and love scenic rides through the foothills must check out the Mount Rainier Scenic Railroad in Elbe.
During the tour, you're given a brief history of the city and, more importantly, breathtaking views of the area.
When it comes to amazing views, Myrtle Falls cannot be left off of your park itinerary! It's less than a mile walk from the Henry M. Jackson Memorial Visitor Center at Paradise to Edith Creek along a paved nature trail.
Take a short hike down an unpaved pathway and look back up at the mountain and Edith Creek Bridge for the best view of the falls. Mount Rainier is definitely one of the most beloved national parks in the US!
Click here to find some of the most charming cabins near Mount Rainier to call home for the weekend.
Smith Rock State Park (Oregon)
Distance: 145 miles
Driving Time: 2 hours 57 minutes
Deep river canyons and rock climbing opportunities are some of Smith Rock State Park's best lures. Be prepared to see a lot of people hiking with their ropes when there!
Hiking along trails is also a popular activity in the park, as there are 12 official routes. The most famous hike is Misery Ridge Loop, which helps you pass by Monkey Face and see the Crooked River from above.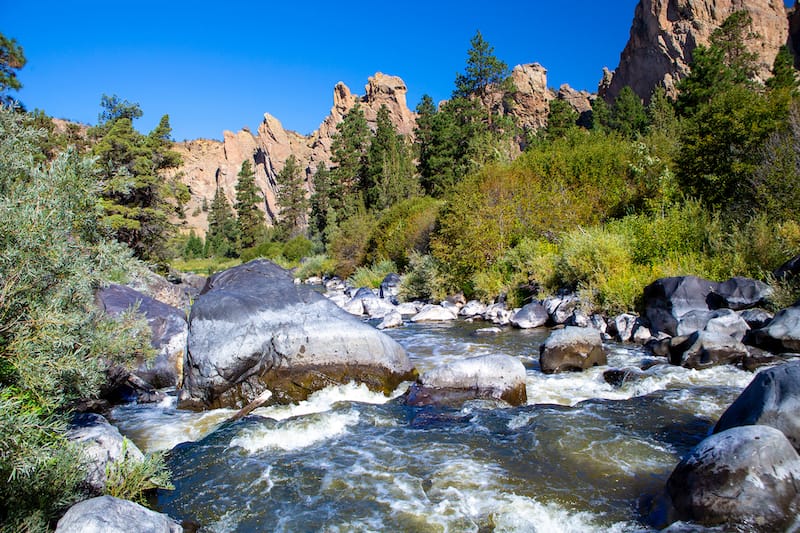 Apart from these, Smith Rock State Park also offers a variety of mountain biking trails. The most well-known ones are Canyon Trail, Homestead Trail, and Summit Trail. Note that some of these can be a bit difficult for beginners.
Camping is excellent here, too. One of the campgrounds, The Bivy, offers a perfect spot for those keen to watch the sunrise in the morning.
The only disadvantage of camping at the park can be the excessive crowds, so prepare for that! But, the area surrounding is home to some of the best small towns in Oregon, making a visit even more appealing!
The Dalles (Oregon)
Distance: 87 miles
Driving Time: 1 hour 26 minutes
The Dalles is the county seat of Wasco County in Oregon. It's the largest city on the Oregon side of the Columbia River outside of the Portland Metropolitan Area.
The area is rich with many museums and cultural sights, such as Fort Dalles Museum and Anderson Homestead, and Columbia Gorge Discovery Center & Museum. A road trip through the Columbia River Gorge is so perfect!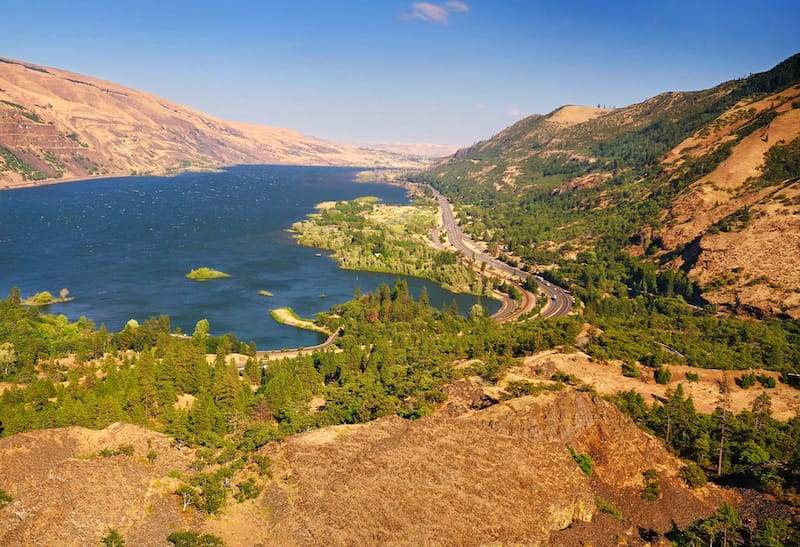 The first one is in the ruins of the Fort Dalles military complex, which was built in 1856 and represents a picture of what life was like in Oregon during the 1800s.
A rather fascinating place in The Dalles is the historic Columbia River Highway State Trail. It was designed as the first scenic highway in the United States, which now also features a series of three hiking trails and a cycle path.
The historic road was designated a National Historic Landmark in 2000, and the trail was then designated as a National Recreation Trail in 2002.
Olympic National Park (Washington)
Distance: 162 miles
Driving Time: 2 hours 48 minutes
Olympic National Park is all about an extra amount of wilderness, a variety of distinct habitats, glacier-capped mountains, and old-growth rainforests. Overall, the park covers nearly a million acres.
One of the most famous places in the park is the Hoh Rainforest. It's a fairy tale type of forest with lush, green wonderland covering the surface and with annual rainfall ranging from 140 to 170 inches.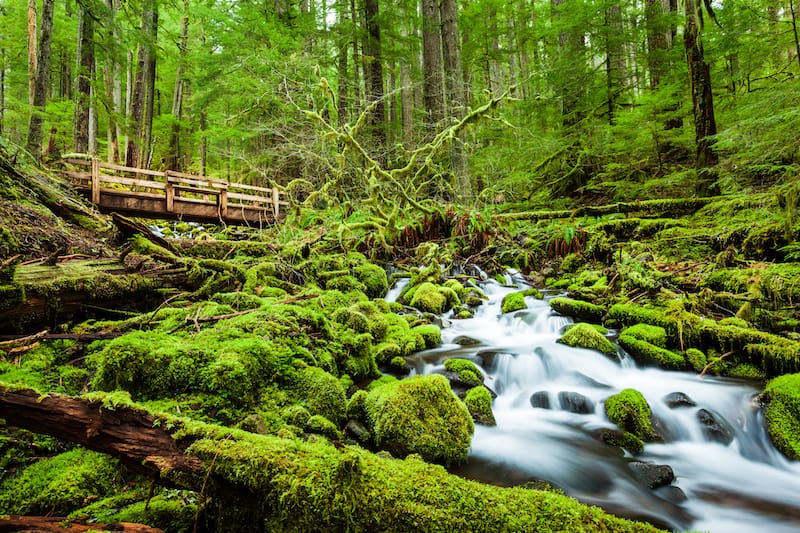 If you're not afraid of heights, take a pit stop at High Steel Bridge, which is a fascinating detour on your way to the Olympic Peninsula. You can see the breathtaking blue water in the gorge below, as well as a waterfall. Don't forget to bring your camera here, because the view is surely worth it!
There are tons of things to do in Olympic National Park, but one place that should not be missed in any case is Hurricane Ridge.
The view from the visitors center is genuinely breathtaking, but you can also take advantage of one of the many picnic tables in the area.
Exploring the surrounding hiking trails in Olympic National Park is also a fabulous way to connect with the unique scenery and fall in love with this area of the US!
If you're looking for accommodation near Olympic National Park – there are plenty of cabins and apartments available nearby in Port Angeles and beyond.
Columbia River Gorge (Oregon and Washington)
Distance: 33 miles
Driving Time: 33 minutes
While we touched upon some places that technically fall into this area in the guide, the Columbia River Gorge is large and worth visiting or road tripping to on a weekend away from Portland!
The river forms a border between Washington and Oregon and you will find several worthy stops along the gorge. It is a federally protected area and has varying climates, elevations, and ecosystems along it.
There are even 13 types of endemic wildflowers in the gorge!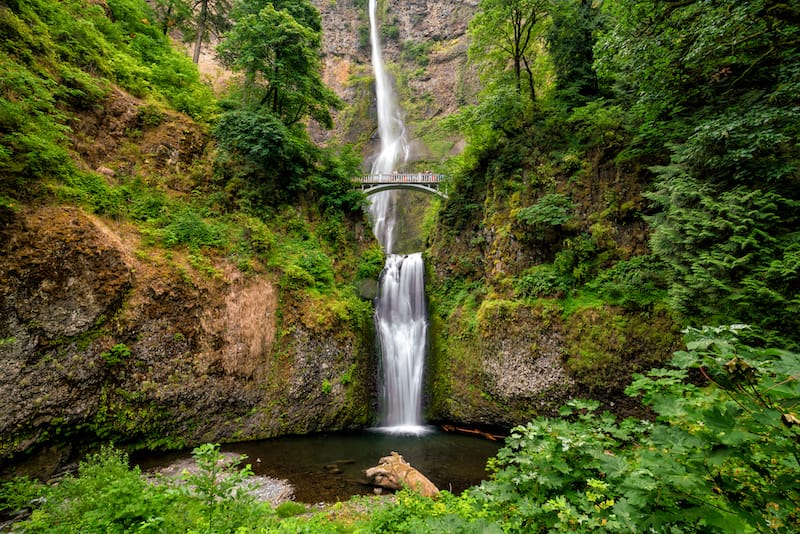 This is a renowned place for hiking, fishing, water sports, and biking. You will find over 90 waterfalls on the Oregon side of the gorge and you can drive along the Historic Columbia River Highway, where several of them are located. In fact, Multnomah Falls, one of the most famous waterfalls in the United States, is located here.
While the area can be visited technically as a day trip from Portland, we recommend finding a cozy cabin and staying for a few nights and taking in the sights of the natural scenery.
Leavenworth (Washington)
Distance: 288 miles
Driving Time: 4 hours 49 minutes
The German-esque town of Leavenworth is one of the best weekend trips from Portland even if it is quite a far drive! It is the gateway to the Enchantments.
Mountain biking at Stevens Pass is among the list of the best things to do in the Washington town. There are plenty of trails available for both professionals as well as beginners. If you don't love biking, there are plenty of hiking trails, too!
The number of trails in and around Leavenworth is a lot, but you can start with the most famous and accessible ones, like Icicle Ridge or Sauer Mountain.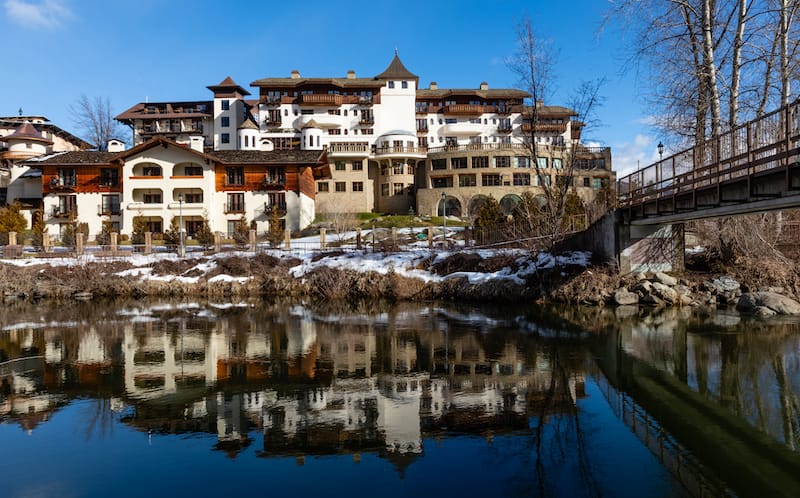 In case you desire something different from hiking and biking, then note the availability of delightful hot springs up in the mountains, not far from Leavenworth. To get there, you'll need to take a 1.5-hour hike to the hills, with snowshoes definitely.
And, visiting Leavenworth in winter is one of the most popular experiences in the PNW during the colder months. There are many cozy cabins near Leavenworth that will make your stay completely unforgettable.
Umpqua National Forest (Oregon)
Distance: 142 miles
Driving Time: 2 hours 51 minutes
Priding itself on having the tallest and undeniably beautiful waterfalls, Umpqua National Forest is a unique place with its diverse ecosystem.
The forest contains approximately 350 miles of scenic hiking trails, allowing you can discover the raw nature up close and personal. There are plenty of activities available for outdoor enthusiasts such as biking, skiing, fishing, kayaking, camping, and hiking.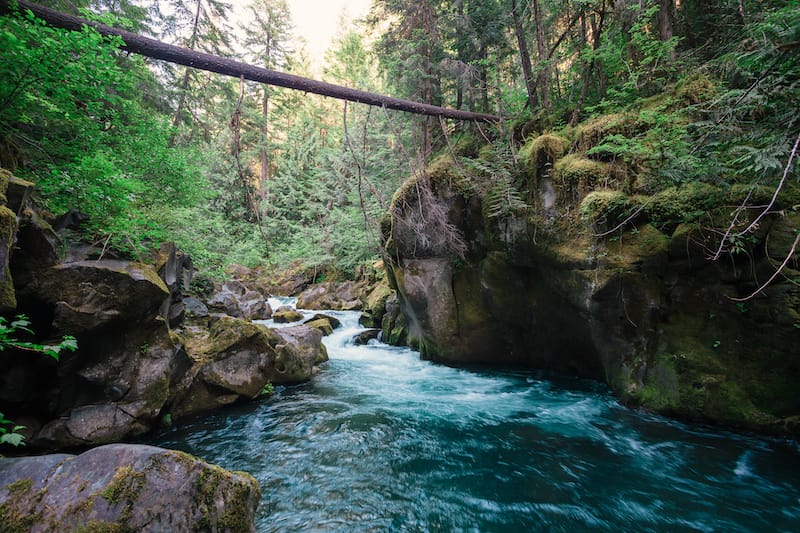 When it comes to hiking, you can test out Susan Creek Falls Trail, Fall Creek Falls Trail, or the Watson Falls Trail, all of which feature waterfalls along the route.
After hitting the trails, don't miss out on the famous Umpqua Hot Springs Trail, a short trail and climb that leads to geothermal hot springs. Resting your legs in the terraced pools, you can enjoy a spectacular view of the Umpqua River.
Bend (Oregon)
Distance: 165 miles
Driving Time: 3 hours 19 minutes
Bend provides adventure without the buzz typical to a big city, and that's mostly attributed to its high-quality restaurants and breweries. It's located 150 miles southeast of Portland and is a burgeoning city break destination in the US!
One of the things Bend is most famous for is its selection of breweries. It has more craft breweries per capita than any other place in Oregon!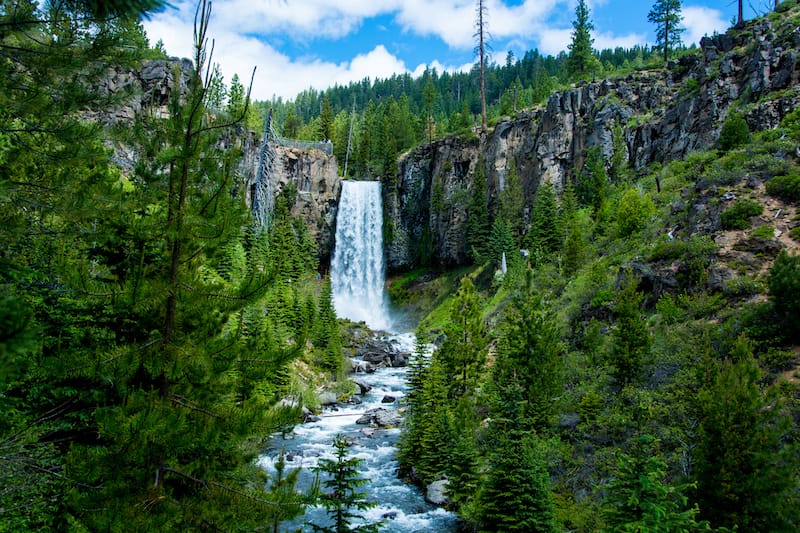 Aside from that, the best things to do in Bend are in its surrounding nature!.
The wintertime is great for skiers and snowboarders flocking to Mt. Bachelor, while summertime is famous for rafting, kayaking, mountain biking, fishing in a Cascade lake, hiking to a waterfall, or even playing frisbee on Mt. Bachelor. You will even find many winter rentals there!
The road trip to Bend from Portland is also a blast. You'll find many beautiful sights along the way, but one can't-miss one is the hike to the Tamolitch blue pool. It sits on the McKenzie River National Recreation Trail and is an Oregon bucket list must!
Bend is one of the best weekend getaways from Portland for those who want to escape the big city for a quieter, yet still fun alternative!
Mount Shasta (California)
Distance: 360 miles
Driving Time: 5 hours 47 minutes
One of the most famous California landmarks is Mount Shasta and you can visit it as a long weekend getaway from Portland if you're looking for a trip filled with nature and adventure!
Located in Siskiyou County, CA, the city sits not too far from the summit of the volcano. One of the best things to do in the area is to go hiking. The Spring Hill Trail is popular as is the area around Sisson Meadow.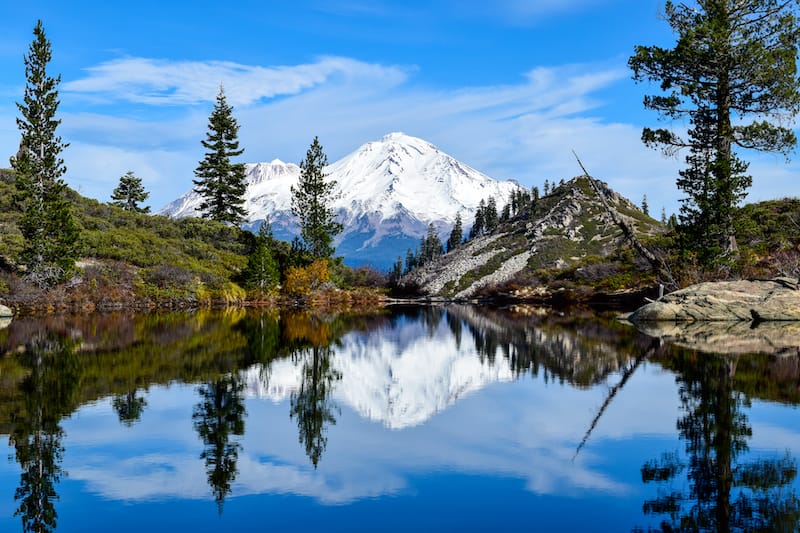 During the winters, Mt Shasta Ski Park opens up for those looking to do a little skiing and snowboarding and it is one of the top resorts in Northern California. If you're seeking a rainy day activity, head to the Mt. Shasta Sisson Museum in town.
In the region, you will also find some of the best waterfalls in California!
Painted Hills (Oregon)
Distance: 202 miles
Driving Time: 4 hours 7 minutes
Located in Wheeler County, the Painted Hills are easily one of the most beautiful weekend trips from Portland. The geologic site is one of the 3 units of John Day Fossil Beds National Monument in Oregon. The other two units are Clarno and Sheep Rock.
Spanning over 3,132 acres, it is situated just 9 miles NW of Mitchell, OR. They are considered to be one of Oregon's 7 Wonders.
The Painted Hills offer beautiful hues as the area was previously a river floodplain. There are colored layers that will just take your breath away. There are many marked trails within the area where you can visit and walk around.
Painted Hills gets just under 100,000 visitors annually and is one of the best places to visit in Oregon.
What are your favorite weekend trips from Portland? Let us know in the comments!
More Oregon Travel Resources
Pin this Weekend Trips from Portland Guide