Are you planning a trip up north and looking for the best New England state parks to visit? This guide covers some of the best – while the region lacks national parks, it has no shortage of stunning scenery to enjoy!
Did we miss any of your favorite state parks in New England? Let us know in the comments! Thanks!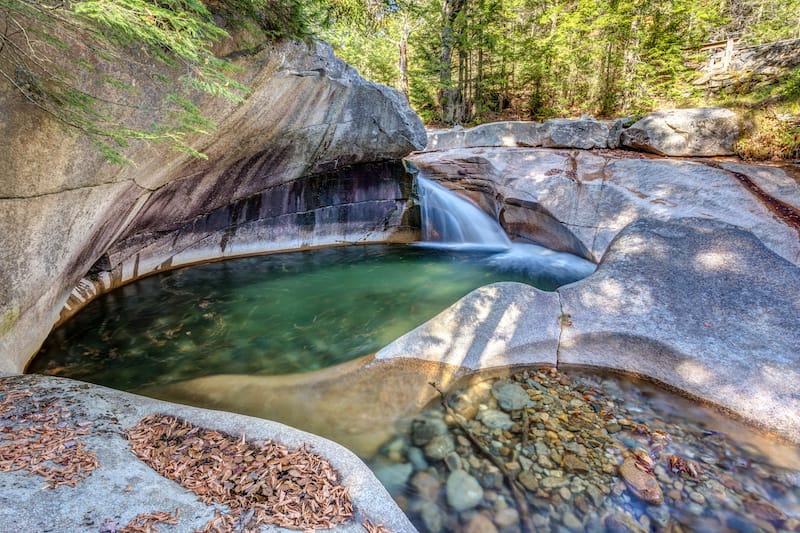 New England is a region in the northeastern part of the U.S that offers some of the most scenic views of the Atlantic coastline. It consists of six US States — New Hampshire, Massachusetts, Rhode Island, Connecticut, Maine, and Vermont.
New England has some of the best state parks that you can find in the United States. If you're considering visiting the area, here are some of the best state parks to explore.
Whether you're looking to hike, camp, or enjoy water-based activities, there are plenty of options. And honestly, you havenʻt lived until youʻve explored Maine, Massachusetts, and Vermont in the fall!
Each of them offers beautiful views, countless activities, and worthwhile experiences that create long-lasting memories.
New England State Parks
Cardigan Mountain State Park (New Hampshire)
Cardigan Mountain State Park is a beautiful scenic park that spans over 5655 acres. Located in New Hampshire, this state park is famous for its numerous hiking trails leading to the west slope of Mount Cardigan.
There are 15 trails in the park, so you have plenty of places to explore and hike. One of the most used and loved trails is the Mount Cardigan Loop Trail, which leads to the summit. If you want a scenic view, it's a must-do.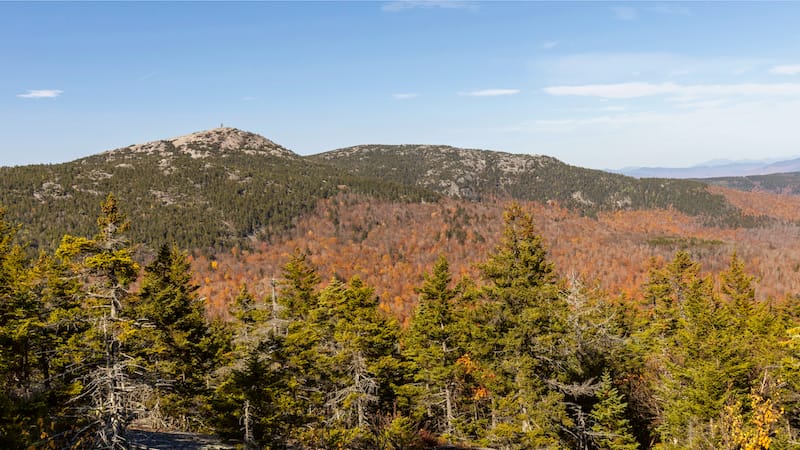 The summit is a 3121-foot treeless granite structure that gives you some of the top views of the west-central part of New Hampshire, Mount Monadnock, Camel's Hump in Vermont, Pleasant Mountain in Maine, and the glorious White Mountains.
The trails snake through the classic hardwood forest which consists of yellow birch trees, American beech, and sugar maple.
There are picnic tables and restrooms, mostly concentrated along the entrance of the West Ridge Trail for your convenience.
Franconia Notch State Park (New Hampshire)
Located at 260 Tramway Drive, Franconia, New Hampshire, Franconia Notch State Park is the place to visit if you're an avid adventurer.
You can do all sorts of thrilling activities like swimming, boating, camping, snowmobiling, downhill skiing, and of course, hiking. There are also historic sites, scenic geology sites, and much more!
The New Hampshire State Park is in the heart of the White Mountain National Forest and is the home of the well-known Old Man of the Mountain.
Disclaimer: Unfortunately the Old Man fell down after a stormy night.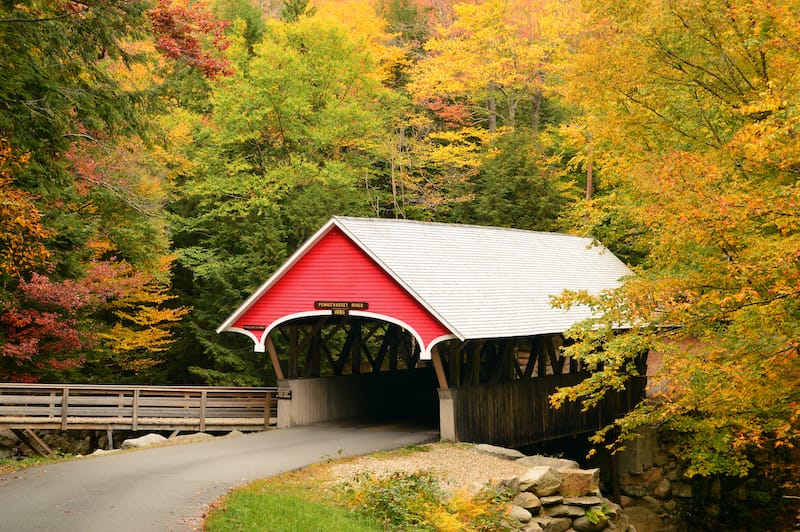 It's the same 'Great Stone Face' that Nathaniel Hawthorne immortalized in his book. Apart from the spectacular scenery, it's one of the reasons why so many people visit the place.
The park features a unique pathway that starts from the Flume Gorge and ends at Echo Lake. You can ride the aerial tramway located at Cannon Mountain, hike on the Appalachian Trail, or bike on the Recreational Trail.
Overall, the park has 29 trails that vary in length. There are plenty of kid-friendly trails, so make sure to get them some suitable children hiking shoes.
Pawtuckaway State Park (New Hampshire)
Located in Nottingham, New Hampshire, Pawtuckaway State Park spans over 5500 acres of land, which offers many beautiful landscapes that possess something for everyone to do.
It also has a family beach right next to the lake, so you can try all types of water sports like swimming, boating, canoeing, and kayaking.
There are also numerous hiking opportunities, with trails that lead to exciting places like a mountaintop fire tower, an unusual boulder field, or a long marsh. This is the ideal place for people who love adventures!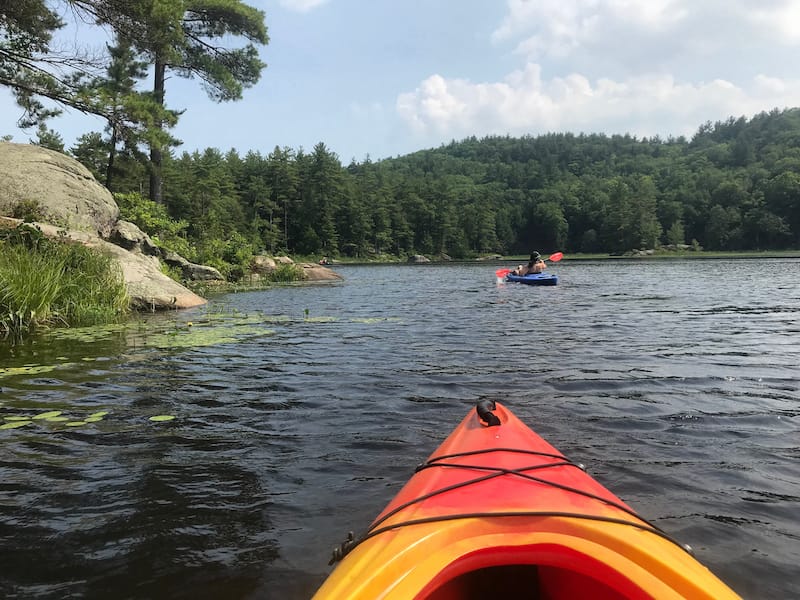 A 2.4-mile-long trail takes you to the summit of South Mountain and offers you a panoramic view from the tower. South Mountain Lookout Tower Trail and Boulder Trail are some of the most popular paths.
Other than these, there are almost 20 moderate trails in the park that are between 1.5 to 11.8 miles long.
Odiorne Point State Park (New Hampshire)
Odiorne Point State Park is situated in Rye, New Hampshire. It's known for having one of the most beautiful, diverse, and colorful natural settings along the New Hampshire coastline.
If you like nature and just want a day where you can relax and enjoy a day with your family and friends, you need to check out this New England state park!
The park offers many activities like boating, hiking, mountain biking, and snowshoeing. The site has picnic tables, so you can have a nice lunch along the stunning blue ocean and rocky shore.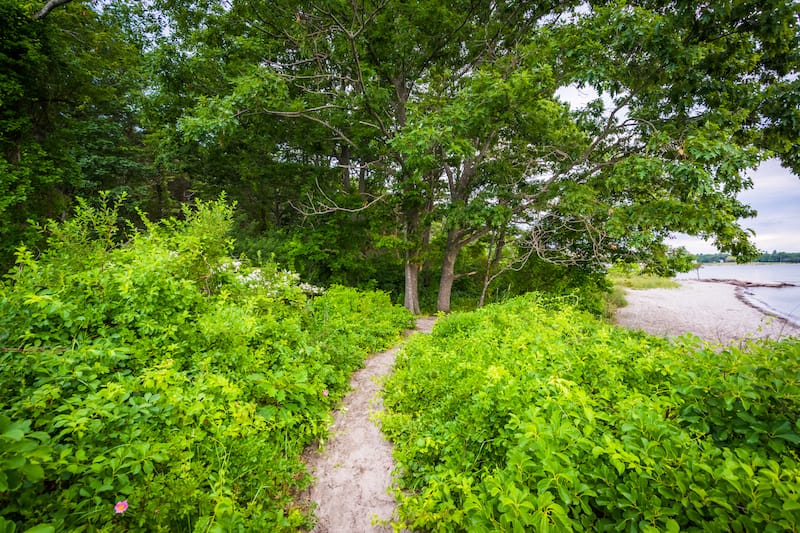 The extensive network of trails snakes through thick vegetation and crosses the entirety of the park. Its most famous trail is the Odiorne Point Loop Trail which is 3.9 miles in length.
The trails also lead to the Seacoast Science Center which exhibits the nature and history of Odiorne.
Moose Point State Park (Maine)
Moose Point State Park in Maine is the ideal place to enjoy a lazy afternoon picnic and bask in the sun. It's situated off US Route 1 and is famous among tourists for its gorgeous coastline and easy hiking trails.
The place contains three accessible hiking trails — the Bug Spruce, Meadow, and Moose trail. Each of them is 0.5 miles long or less and meanders through the forest edge as well as the shore.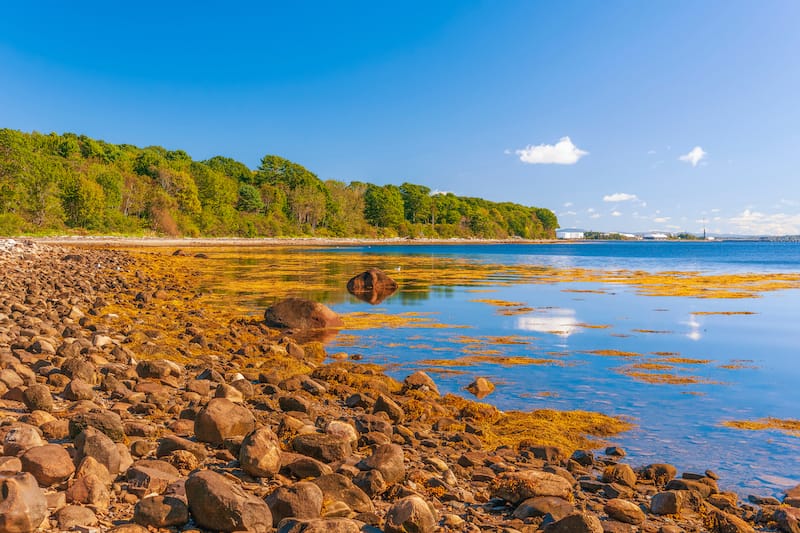 The trails are easy to cover for both adults and children. You can find picnic tables, grills, a playground, and gazebos nearby.
The place offers a scenic coastal view of the great Penobscot Bay. You might not want to leave the park after seeing the striking blue, pink, and orange hues over the bay. If you're looking for a perfect picture, take it at sunset.
Baxter State Park (Maine)
Baxter State Park is based in Piscataquis County in Maine. It's a gorgeous piece of land situated in the North Woods, and it's centered around the tall Mount Katahdin.
Its area spans over 209,501 acres, making it one of the biggest state parks in the area, and is undoubtedly one of the best destinations in Maine.
What makes the park unique is not only its vastness but also its wilderness. The park has many large mammal species like white-tailed deer, lynx, black bear, and moose.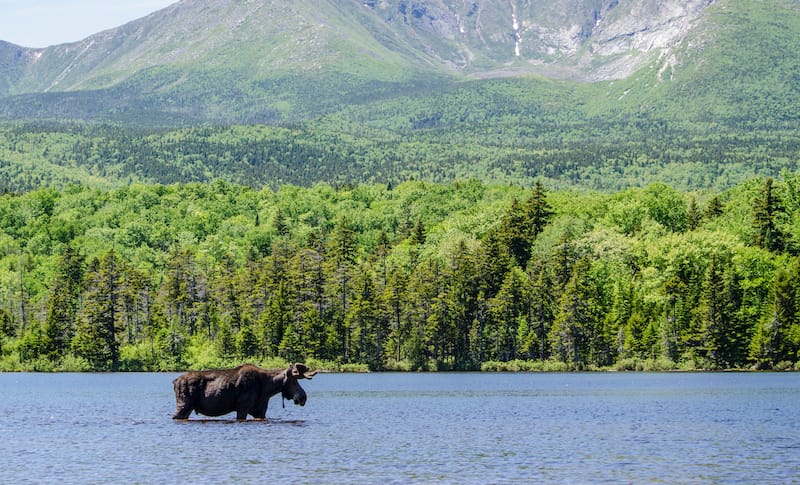 Birdwatching is also a common activity observed here. When it comes to plants, the park contains almost 857 species of plants, and it holds the title of having the greatest concentration of rare, and endangered plants in Maine.
It has many bodies of water, so if you like to swim or fish, you'll like this place! The park also offers adventures like rock climbing around the Chimney Pond.
You can also go for a hike! There are many pathways all across the park. There are nine easy trails, 57 intermediate trails, and 22 difficult ones.
Camden Hills State Park (Maine)
Situated at 280 Belfast Road, Camden, Maine, the Camden Hills State Park is a signature site that offers spectacular panoramic views of Camden itself, Penobscot Bay, and all of the islands surrounding the area.
If you're lucky, you might even spot Cadillac Mountain on a clear day!
The park offers trail activities and camping all around the year. If you plan on camping during the winter, consider buying a tent with a stove jack to be more comfortable in the cold weather.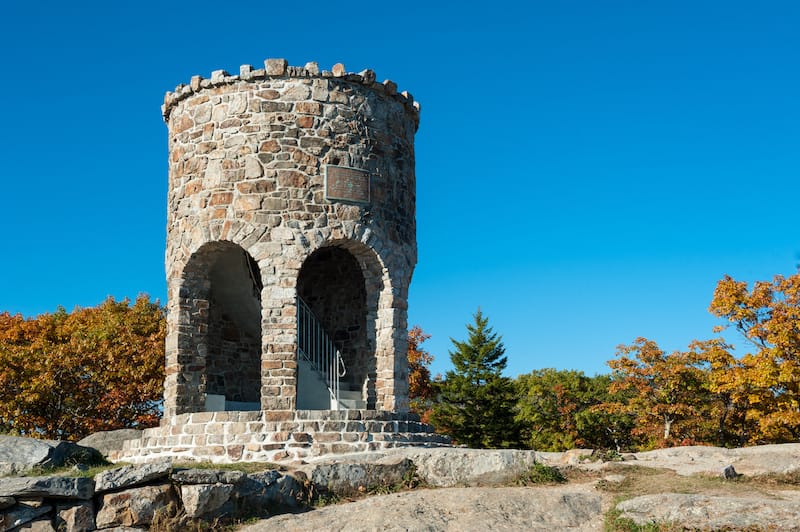 You can bike on the trails or camp with a group of friends. The place also possesses many picnic tables so you can have a lovely meal with your family here as well. Cross-country skiing, hiking, and snowshoeing are some of the most common activities that visitors can enjoy.
The park contains almost 20 hiking trails. Zeke's Trail is perfect for people who want to burn off a few calories.
It's 1.3 miles long and leads from the Multi-use trail to the Ridge trail. However, if you want to get to the top and have the finest views, visit the Megunticook Trail.
This park is a fantastic alternative to Acadia National Park, where crowds are swarming during the summer months. You are also close to some of the most famous lighthouses in Maine when visiting!
Nickerson State Park (Massachusetts)
Nickerson State Park is in Brewster, Massachusetts. It's a state-owned recreation center that spans over 1900 acres.
Freshwater swimming, vast campsites, and paved bicycle trails are some of the activities that have made this park one of the most popular options in Massachusetts.
The 8-mile bicycle trail leads you to the long 22-miles Cape Cod Rail Trail. Though the path is long, it is worth hiking through. The paved trail snakes through six of Cape Cod Towns and gives you the most amazing views.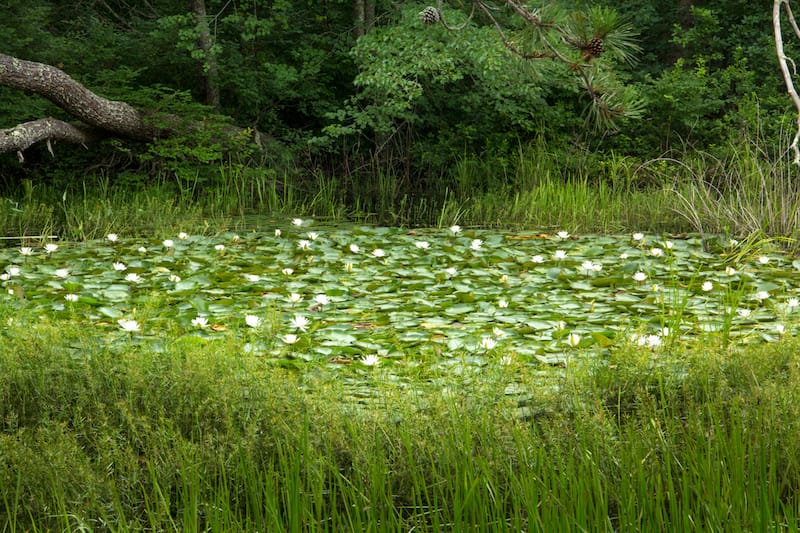 Other trails take you on a journey through the woods and the many ponds, so you can forget all about the hustle-bustle of city life (it is one of the best Boston day trips)!
Other activities offered include boating, cross-country skiing, horseback riding, canoeing, and kayaking. The place also homes an amphitheater, boat ramp, playground, restrooms, and a site for RV dumping.
Natural Bridge State Park (Massachusetts)
Natural Bridge State Park is found in North Adams which is in the northwestern part of Massachusetts. The place is named Natural Bridge because of its natural bridge of white marble, made of 550-million years old bedrock marble.
The area also woodland walks, an aesthetic marble quarry, and views of a white marble dam.
The bridge spans over Hudson Brook and passes through a 60-foot gorge. You can either fish or hike through the picturesque quarter-mile chasm.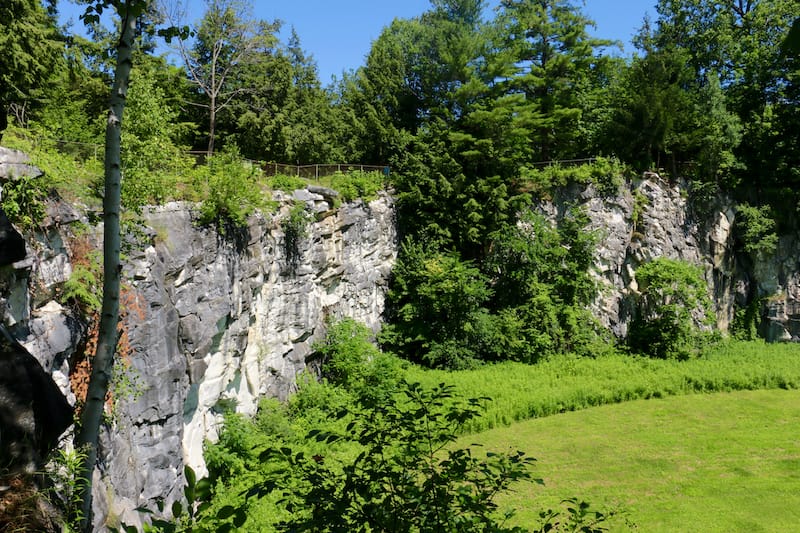 If you're new to the area or not too comfortable exploring alone, you can take a tour with the park experts! They take you to all of the fascinating places and explain how these wonders were formed.
The park includes picnic areas and grills, so it's ideal for an outdoor lunch or dinner with your family and friends. This is one of the best places to visit in October in the USA!
Robinson State Park (Massachusetts)
Robinson State Park is a public recreational area located in two towns — Agawam and Westfield in Massachusetts. It's a vast 1025 acres piece of land that includes the Westfield River. Watersports are one of the primary reasons why people visit.
The place also includes bicycling paths, hiking paths, and activities like mountain biking, cross-country skiing, and canoeing. It contains seven hiking, river, and wildlife trails. If you're looking for a lively, adrenaline-inducing adventure, then this is the place to go.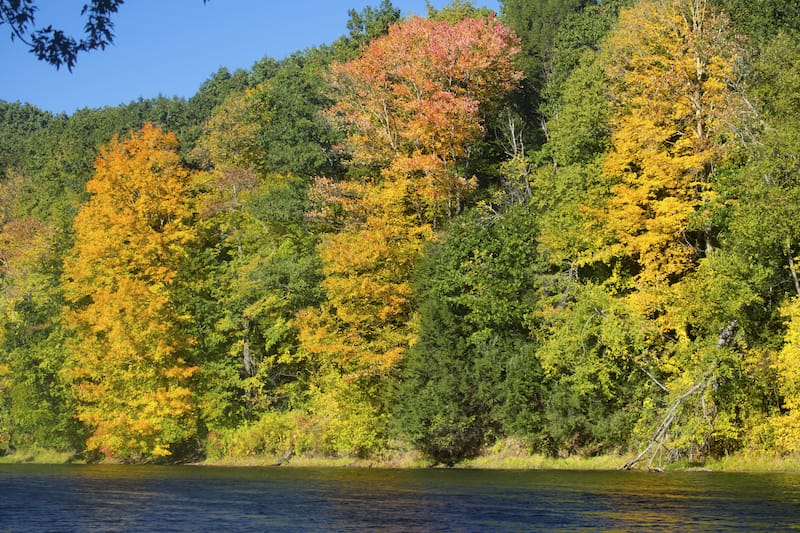 You will find picnic tables and fireplaces near the Trestle and Provin Mountain Picnic areas perfect if you just want to relax and take a breather.
Colt State Park (Rhode Island)
Consisting of lawns, curving drives, and stone walls, Colt State Park is one of the best places to visit if you like picnics, biking trails, and attractive bay views. The park is spread over 464 acres of land in the area of Bristol in Rhode Island.
You can explore miles of the beautiful land by riding a bike through its trails. It is also known as the 'Gem' of the State Parks System. It offers one of Narragansett Bay's best views, so make sure you bring a camera with you when you visit this place.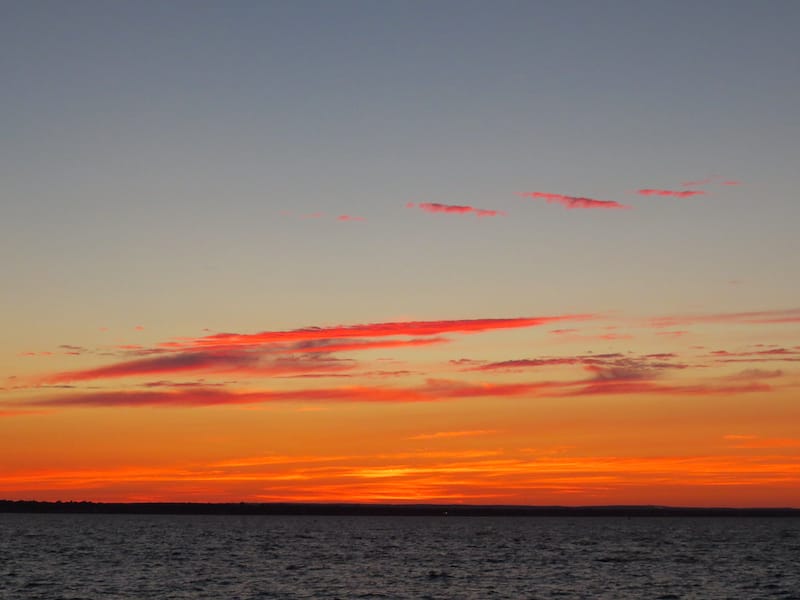 The place is open all around the year, and you can maneuver your way through the groomed fruit trees, manicured lawns, and blooming flower bushes.
It also displays huge playfields, a museum, an open-air Chapel-by-the-Sea, and six picnic groves.
Devil's Hopyard State Park (Connecticut)
Situated in East Haddam, one of the cutest towns in Connecticut, Devil's Hopyard State Park is a 1000-acre state park well-known for numerous activities like hiking, picnicking, camping, and bicycling.
A myth says that a Devil accidentally got his tail wet, and then he stomped the holes in the ground in anger. Large potholes formed in the rocks near the falls, and hence the name 'Devil' originated.
The name 'Hopyard' comes from the belief that hop fields and a malt house were located in the area during the 18th century.
The park also houses some of the best trails in Connecticut. Overall, there are eight different paths in the area, some of which are as long as 4.5 miles, and each has a different difficulty level.
Lake Waramaug State Park (Connecticut)
If you love open spaces and fresh air, then you are in for a treat. Lake Waramaug State Park is a public recreational space around 95-acres big and situated on the northwest shore of Lake Waramaug. The park is in a town called Kent in Litchfield County, Connecticut.
The park offers camping, picnicking, car-top boating, kayaking, canoeing, and swimming. There are a total of 76 sites in open and wooded settings for camping in the area.
Although, if water sports are not your thing, then you can also go for a hike. You can walk your way up to the Pinnacle and witness a scenic view of the lake.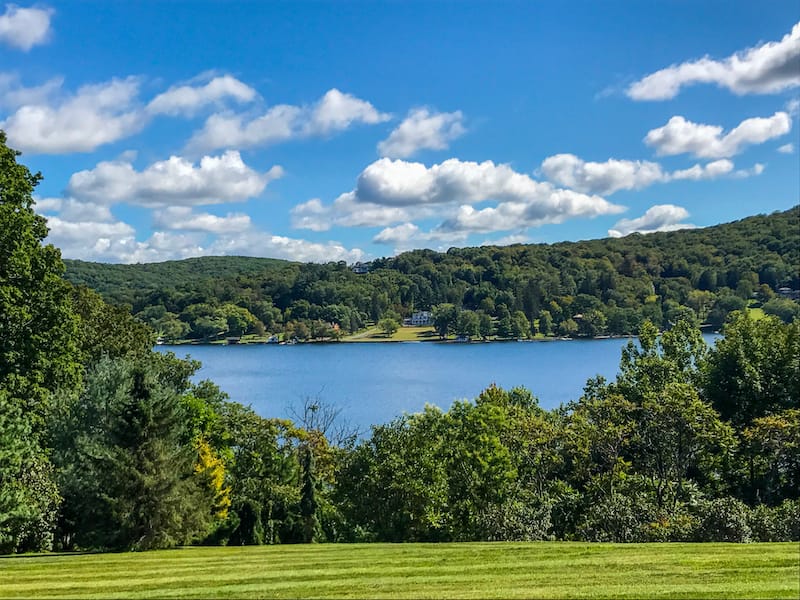 You can also bike along the trails! There are several narrow roads along the lake, which make it perfect for biking.
Have you ever visited any of these New England state parks? Let us know the most beautiful state parks in New England that we missed in the comments! Thanks!
Bio: Mark Evans is a summer camp outdoors guide and camp consultant. He routinely takes kids and adults on camping and hiking trips. He also helps parents find the perfect summer camp for their children. You can find him over at SummerCampHub.com.
Pin this State Parks in New England Guide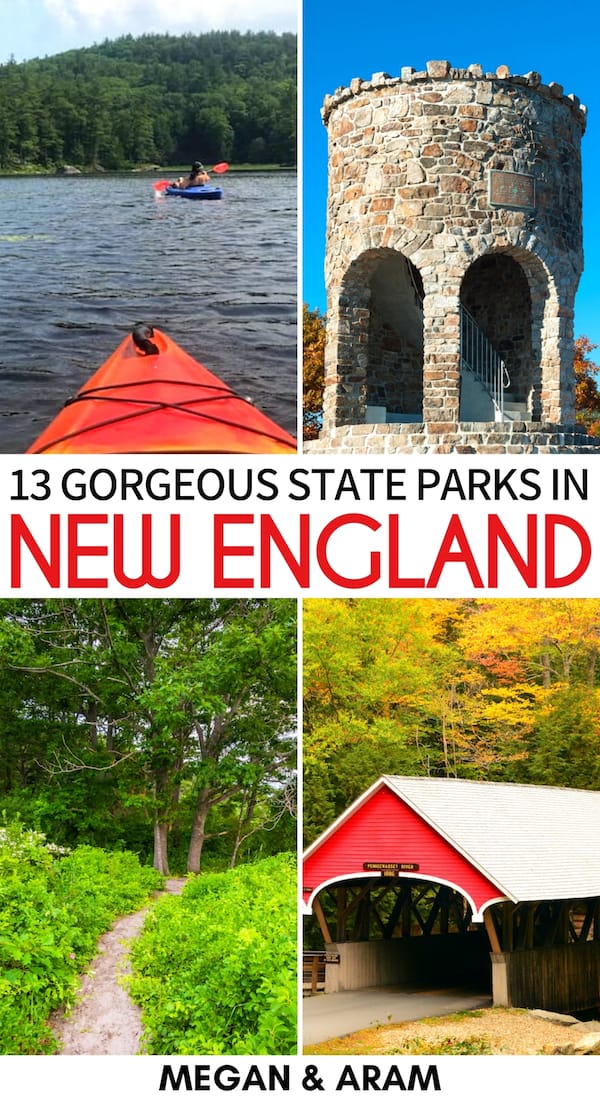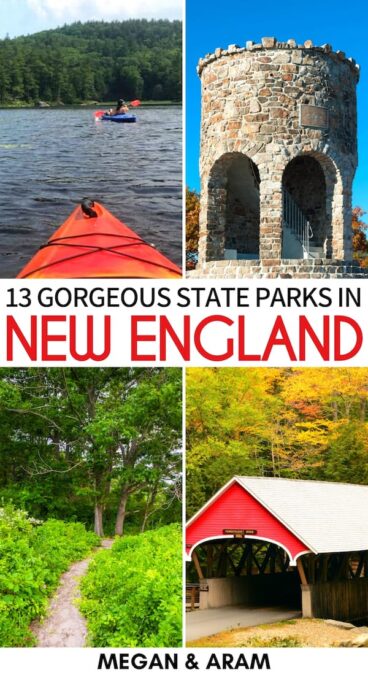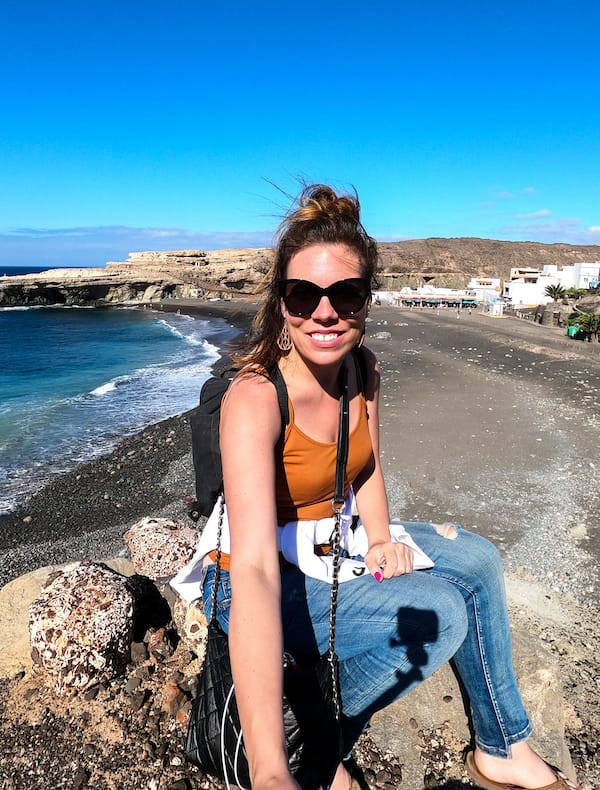 Megan is a travel blogger and writer with a background in digital marketing. Originally from Richmond, VA, she now splits her time between Frankfurt, Germany and Arctic Finland after also living in Norway, Armenia, and Kazakhstan. She has a passion for winter travel, as well as the Nordic countries, but you can also find her eating her way through Italy, perusing perfume stores in Paris, or taking road trips through the USA. Megan has written for or been featured by National Geographic, Forbes, Lonely Planet, the New York Times, and more. She co-authored Fodor's Travel 'Essential Norway' and has visited 45 US states and 100+ countries.