Are you looking for the best beaches in New England to add to your trip itinerary? These New England beaches are a great start!
From remote coastal locations to some of the most popular beaches in the region, there is something to offer every traveler!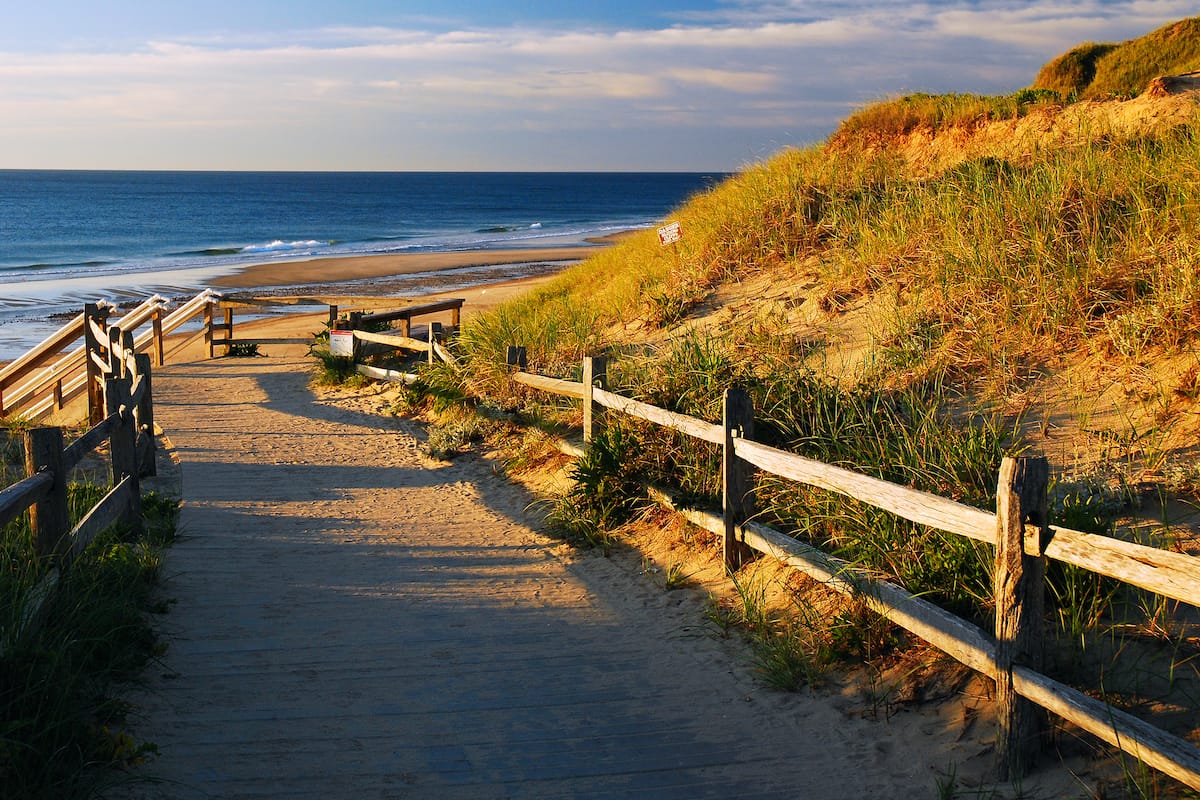 Did we miss any of the most beautiful beaches in New England? Let us know in the comments. Thanks!
Best Beaches in New England
Coast Guard Beach (Massachusetts)
Coast Guard Beach is a small beach on Cape Cod. The beach boasts amazing views and has a sandy coast. It's a great place to spend any day of the week and makes for an ideal family outing.
Walk along the beach all year round but don't forget a waterproof jacket! Take a dip in the cold waters of the ocean, but make sure to check with a lifeguard first to see if it's safe.
Catch a fish and cook it up yourself over your bonfire on the beach. Feel free to use an outdoor grill as well!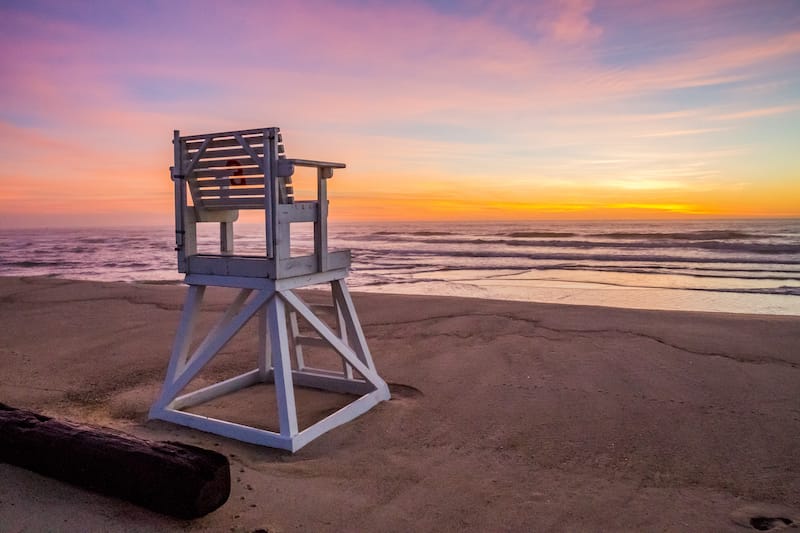 There are many activity companies that offer guided tours at this beach and even a number of Scavenger Hunts like the Cape Cod Caper Scavenger Hunt.
That said, most people just like to walk along the beach and enjoy themselves without any help from anyone else, so most activity companies don't get much business from this area.
There are no hotels that are near this beach, so vacationers will have to stay somewhere else. There are many wonderful hotels in towns near this beach such as Inn At the Oaks. However, it's best to check each one out and see what you like best.
East Beach (Massachusetts)
East Beach is located in Martha's Vineyard and is another one of New England's best beaches.
This beach boasts stunning views of lighthouses and offers a beautiful beach to lay out on. There are lifeguards present here during the summer months and parking is plentiful.
East Beach is a family-friendly beach with a quaint New England charm. There are many things to do in East Beach and the surrounding area, so you are sure to find something fun and exciting that you will enjoy.
Depending on which time of the year you visit, there will be certain events that take place while you are there.
For example, the towns near East Beach have a Christmas Parade every December and there is also an annual American Legion Convention that takes place every August.
Mohegan Bluffs Beach (Rhode Island)
Mohegan Bluffs is a great place for families to take their children because the water is relatively shallow for a long way out, making it perfect for wading and swimming. The water also stays pretty warm here year-round.
This area is rich in wildlife and has some endangered species living here. We recommend getting a good pair of binoculars as you can see birds flying above the ocean or perched on rocks and trees.
The beaches are protected by state laws so you will have to obey certain regulations in order to stay safe here.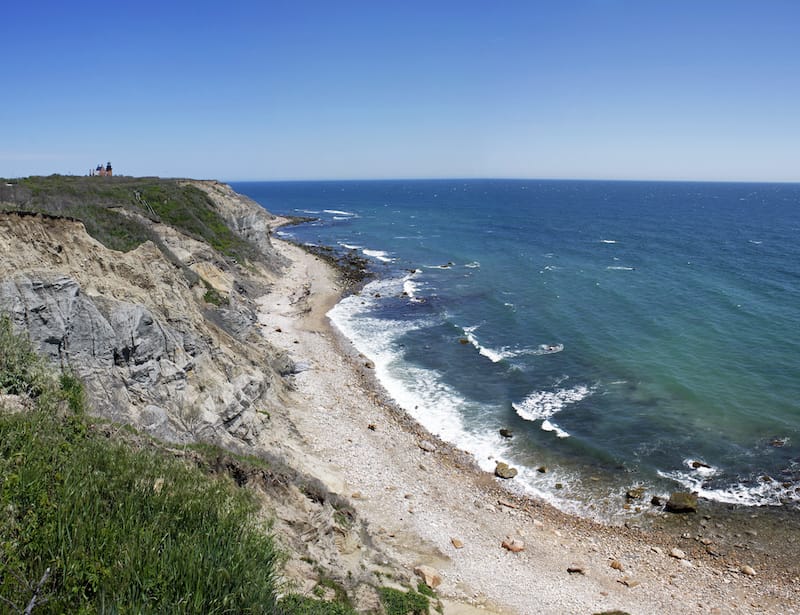 Tidal pools are also found along this stretch of sand where you can observe marine life at close range. You can also go fishing if you have a license for this. The small surf break at the base of these cliffs makes it a good spot to try surfing too.
Parking can be an issue as this beach gets crowded during the summer months but that shouldn't discourage you from visiting Mohegan Bluffs if you're looking for a good time!
Hammonasset State Park (Connecticut)
As the largest of Connecticut's state parks, Hammonasset State Park in Madison is ideal for guests looking to enjoy clean beaches and an array of outdoor activities.
The park is also home to the Meigs Point Nature Center, where guests can learn about the ecology and history of the area.
The park features saltwater tidal marshes, forested wetlands, and a variety of upland habitats. It also protects one of the state's largest areas of coastal sand dunes.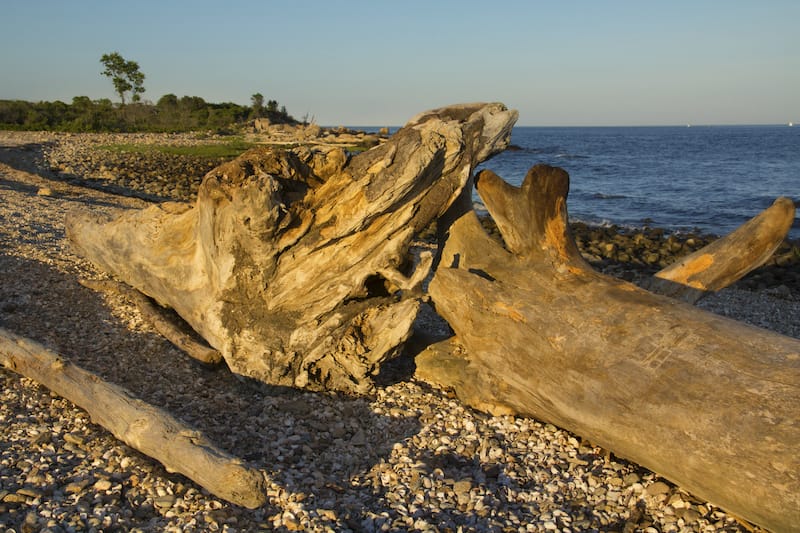 The beach, which has a promenade that extends along the shoreline, hosts numerous events throughout the summer, including several different craft shows.
Facilities include bathhouses with showers, bluefish river, boardwalk, carousel, camping area (1-week max), food concession stands, gift shop, 400-site campground open mid-May until mid-Oct., marina with moorings and launches available, mile-long beach with lifeguards on duty during summer months.
The park has an interpretive center located on the Meigs Point Nature Center and this truly is one of the best state parks in New England to visit (and one that has epic beaches)!
Siasconset Beach (Massachusetts)
Siasconset Beach is at the southern end of Nantucket Island and is a great place to spend the day. There are many things to do including swimming, fishing, and boating.
The beach is also a great place for picnics, bird watching and nature walks. In addition, there are many activities in the area including parasailing and whale watching. Siasconset is also the home of a historic lighthouse that dates back to 1808.
Any time of year is a great time to visit Siasconset Beach. It is a beautiful sight both in summer and winter but it does close in the fall due to bad weather conditions.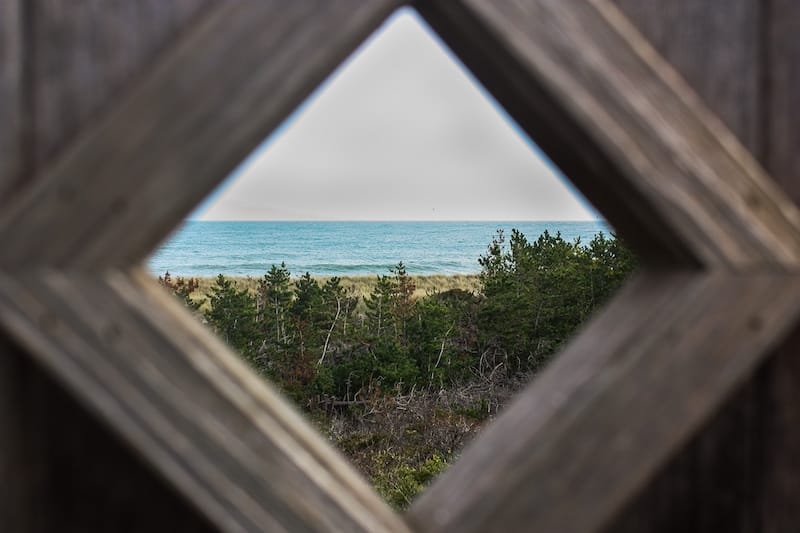 If you plan on visiting during the fall or winter months you will want to be sure that you have plenty of warm clothing on hand as well as food that will not spoil easily.
There are several different accommodations in this area including hotels and bed & breakfasts. There is no camping allowed at this location so if you are planning on staying overnight you will need to find accommodations nearby.
When planning your trip be sure that you check out local government websites for information on safety regulations at the beach such as lifeguard locations and parking restrictions – these can vary depending upon the season.
Tisbury Great Pond Beach (Massachusetts)
Tisbury Great Pond Beach is located in the town of Tisbury, Massachusetts. Tisbury is a small town located on Martha's Vineyard and has a strong history as a commercial fishing village.
Tisbury Great Pond Beach is open to the public and parking is free. There are many things to do in the area and there are several hotels nearby if you plan to stay overnight.
There are many activities companies that offer guided tours of the region, including whale watching and kayaking tours. Just make sure you have all of your outdoor and adventure gear with you!
Safety regulations are strictly enforced at this beach and no glass containers or pets are allowed on the beach.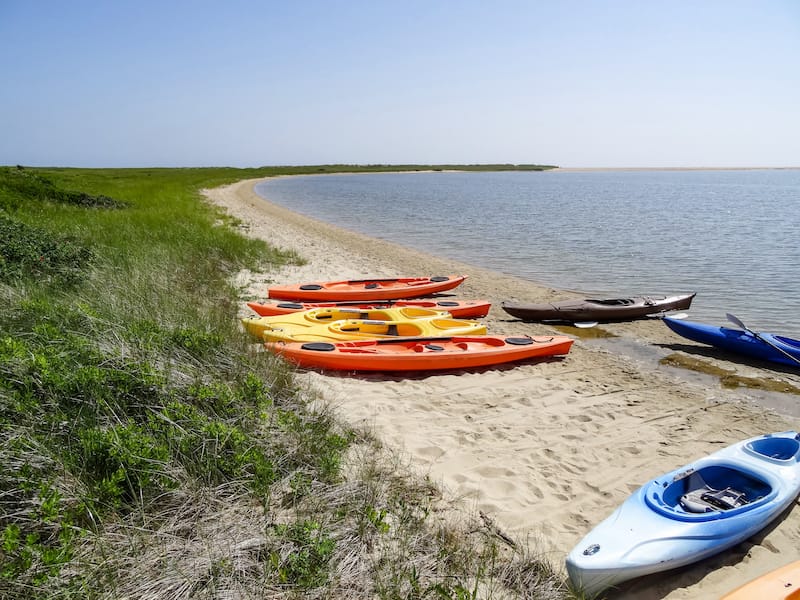 This beach on Tisbury Great Pond is not just a great place to swim, but also an ideal spot for kayaking and paddleboarding. The beach has restrooms and outdoor showers, as well as picnic tables and grills for visitors who want to take advantage of the natural surroundings.
Over 400,000 people visit this beach each year so be sure to get there early to find parking and have time to walk along the shoreline or enjoy a picnic lunch before heading back home.
Visitors come from all over the world to see what Tisbury Great Pond Beach has to offer and you won't be disappointed with your visit here!
Ogunquit Beach (Maine)
Ogunquit Beach is a wonderful site for swimming and other water sports such as kayaking and canoeing in addition to fishing when visiting Maine.
The beach is located on the Atlantic Ocean and features beautiful sand dunes along with many activities nearby such as biking trails, restaurants, shops, and more.
Ogunquit Beach also boasts an amusement park with rides for young and old alike. At night, you can enjoy live entertainment at various venues like The Ogunquit Playhouse or The Ogunquit Opera House.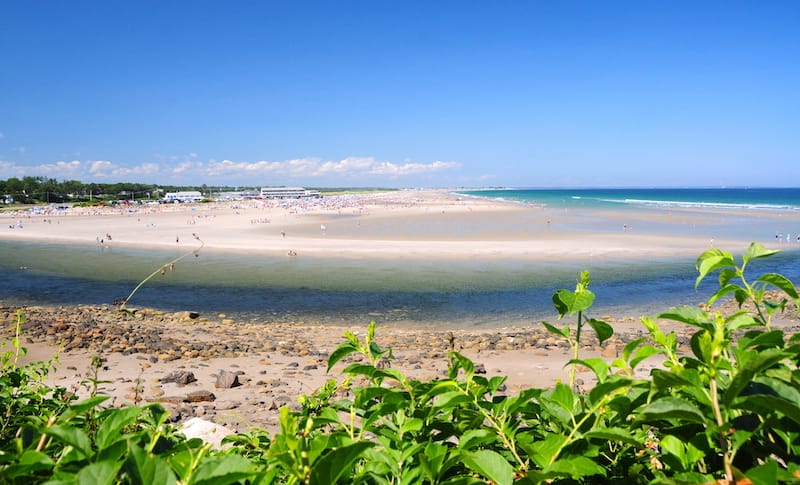 The downtown area is just steps from Ogunquit Beach, so you can wander around its quaint shops after a day of playing in the sand.
If you're hoping for a bit of relaxation during your stay, look no further than Barrett House Victorian Bed & Breakfast Inn.
Offering comfortable accommodations and fine dining options within its walls, this seaside B&B offers a great place to rest up before heading back out to explore all that Ogunquit has to offer.
Plum Island Beach (Massachusetts)
Plum Island Beach is a small, quiet, family-friendly beach located on Plum Island Point. It is ideal for a day trip or weekend getaway.
The beach offers scenic views of the Elizabeth Islands as well as peaceful sunsets over the ocean. There are no lifeguards on duty, but there are facilities such as restrooms, public phones, and dumpsters located at the beach.
Tide pooling is a popular activity at Plum Island Beach; visitors can see marine animals along the rocky coast during low tide. Another popular activity is birdwatching; visitors can spot osprey, egrets, and eagles in the surrounding area.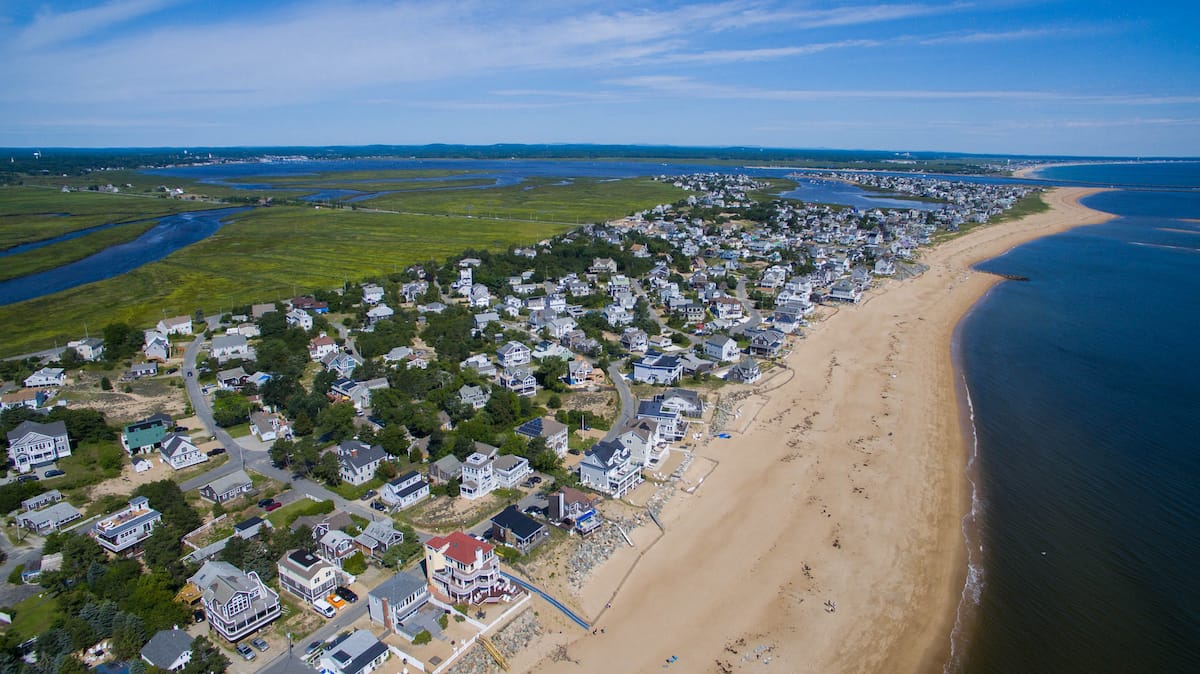 The nearby town of Newburyport has many restaurants with outdoor dining and live music for an evening out. Nearby attractions include Fort Phoenix Park and Plum Island Light House.
For those looking for accommodations close to Plum Island Beach, there are several places to stay nearby including Ocean House Bed & Breakfast and Lighthouse Inn Bed & Breakfast.
Sand Beach (Maine)
Sand Beach may not be the largest one in Maine (it is only 290 yards long) but it sure is one of the most beautiful. Located near one of Maine's cutest small towns, Bar Harbor, it is located on the famous Mount Desert Island.
The island is also famous for being the home of Acadia National Park, one of the most visited national parks in the US.
The beach is famous for its tide variations and you will find several shell fragments on the beach that have been created over time by the surf.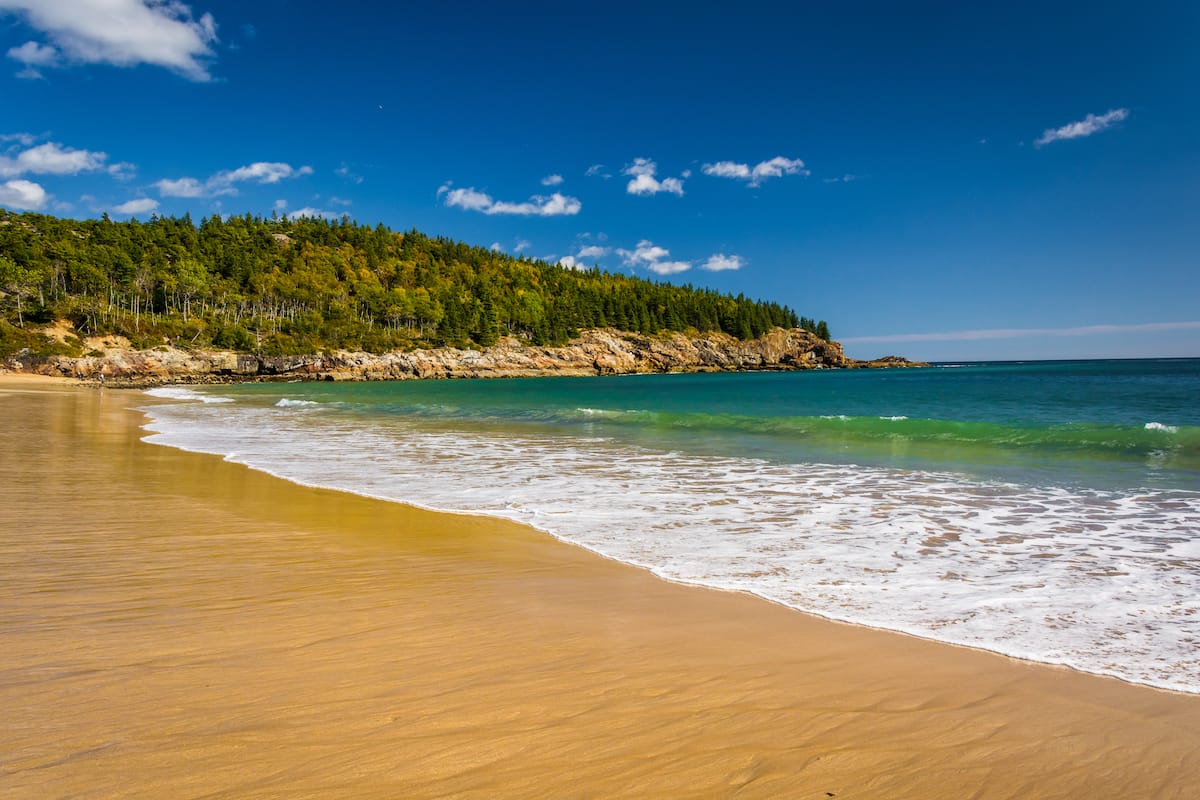 In order to access the Acadia National Park beach, you must go via Park Loop Road south of the entrance fee station. This is all in Bar Harbor.
You can visit the beach during the winter or the summer… but please note that dogs are not allowed on the beaches from May 15 until September 15.
At Sand Beach, you will find restrooms, parking (wheelchair accessible but please note that the beach is not), and changing rooms. This is truly one of the best places to visit in Maine!
Singing Beach (Massachusetts)
Singing Beach is a beautiful and popular beach in Plymouth, Massachusetts that's renowned for its "singing sands." It truly is one of the best day trips from Boston as it is only 45 minutes away.
Tiny quartz crystals in the sand reflect and amplify the sound of the waves so that it sounds like you're standing next to a waterfall.
It's hard to predict when this phenomenon will occur, some days it sings and others it doesn't, but if you're lucky enough to hear it, you'll be amazed.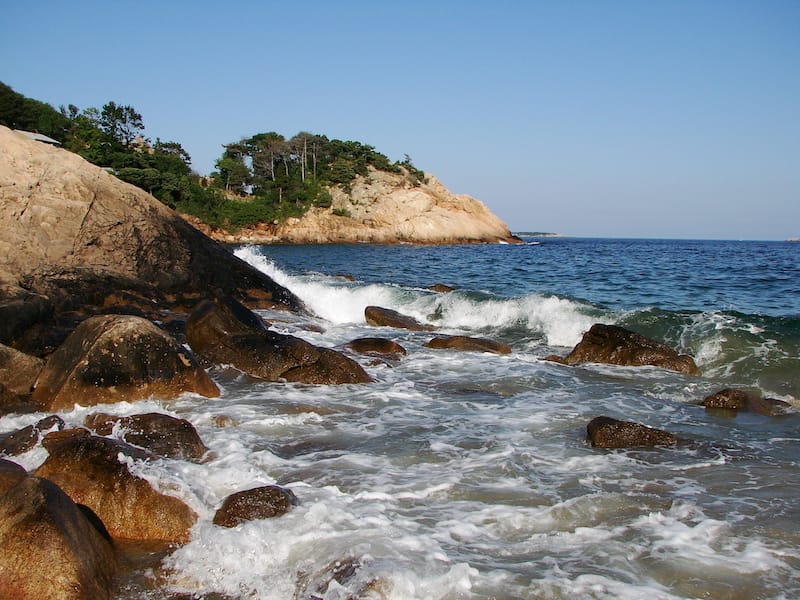 It is a popular destination among bird watchers, who come to spot the birds that frequent the area including common loons, herring gulls, and eider ducks. Singing Beach offers many fun things for people to do during their visit.
Visitors can go clamming or crabbing on the nearby flats before returning to the beach for some time in the sun.
There is a wide variety of hotels within close proximity to Singing Beach including The Dunes' Edge Resort & Motel and Wood Bay Inn.
Singing Beach is located in Cape Cod National Seashore which means it is under regulations from both the town and national governments. The beach is open every day of the year except Christmas Day from 8:00 A.M. until sunset.
Plymouth Beach (Massachusetts)
Plymouth Beach is a great place to vacation and it has lots of things to do. Plymouth was settled in 1620 by the pilgrims and today it's a popular vacation spot. In the summer months, people flock to the beach.
Plymouth is a historic seaport town where you can explore the Mayflower II ship or check out Plymouth Rock.
Today, Plymouth is home to many hotels and activity companies.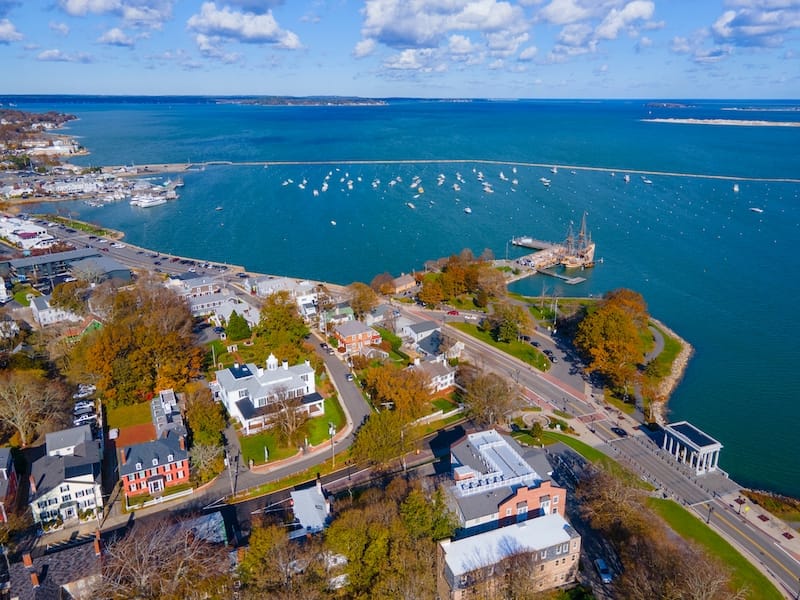 The town is also very safe. If you are planning a trip there, keep in mind that there are some regulations regarding what you can do on the beach and when you can be there.
If you're looking for somewhere to stay while you visit, consider Plymouth Harbor Hotel.
This luxury hotel offers incredible views of the harbor from its rooftop deck as well as from each room. It's so popular that you'll need to book your stay up to a year in advance!
Jenness State Beach (New Hampshire)
Jenness State Beach is located in the town of Rye, New Hampshire in the northeastern part of the state.
It is one of three beaches in the state that allow dogs on the beach year-round. Jenness State Beach is named for Dr. Benjamin Jenness, who was a physician to President Grover Cleveland.
Tucked in along a mile and a half of Rye Harbor, this beautiful beach attracts sun lovers and surfers alike.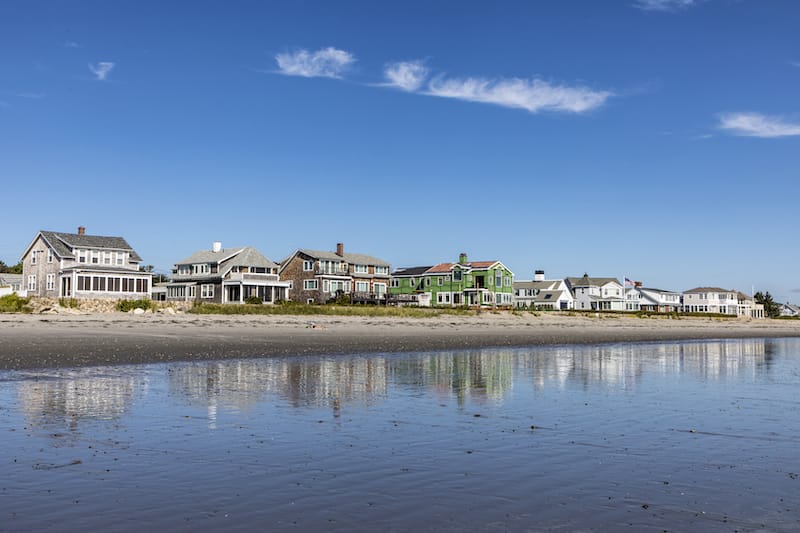 The beach has many amenities including showers, restrooms, lifeguards, and a playground area. During high tide, there are no swimming areas or lifeguard stands available to visitors.
The visitors center at Jenness State Beach provides information on parking, activities, and amenities as well as fun facts about the area.
There is also a gift shop where you can purchase souvenirs, snacks, and last-minute items before heading back out to enjoy your day at the beach.
Dogs are allowed on Jenness State Beach from sunrise to sunset all year long. They must be leashed at all times and cannot be left unattended. Dogs must remain on paved walkways and cannot dig holes or disturb wildlife in any way.
Crane Beach (Massachusetts)
Crane Beach is a beautiful beach located on the Atlantic Ocean in Massachusetts. The beach boasts a sweep of sand that extends for over two miles, as well as a salt marsh area near the entrance to the beach.
The town of Ipswich owns this pristine and popular stretch of beach. Its sandy bottom makes it an ideal place for families with children to swim, sunbathe and enjoy the Atlantic Ocean.
Crane Beach is named after John Crane, who was an original settler at Ipswich and built his home on the property near the ocean. He is believed to have been a fisherman, supplying fish to ships that sailed into the harbor.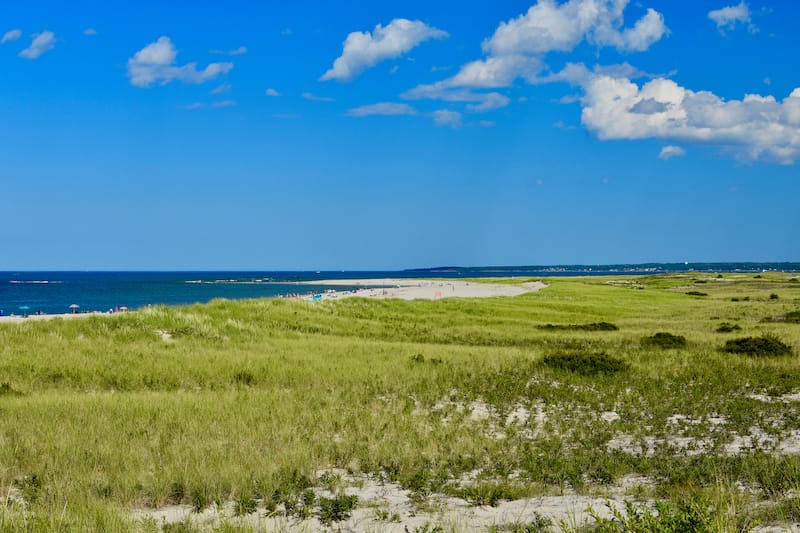 Crane Beach is known for its clear, calm water, and travelers say that it is one of their favorite beaches in New England. It is known for its abundance of shells and marine life such as sea urchins and starfish.
The water temperature can be cold in the winter months but still warm enough during the summer months to make swimming enjoyable.
Travelers say that it's a great place to watch a sunset or enjoy the views from the bluffs above where many bird species can be spotted.
Duxbury Beach (Massachusetts)
Duxbury Beach is a great little beach town that has grown considerably in recent years. This area is located near Plymouth, Massachusetts, and is about 30 miles south of Boston. It's a favorite spot to watch the sunset after catching some rays at the beach.
One of the best things to do in Duxbury is to play golf. There are many golf courses in the area, and these courses range from public courses to private courses. The public courses include the Duxbury Beach Golf Course, which has been open for over 40 years.
This famous course has a large 9-hole course, as well as a new driving range and putting green. The Duxbury Beach Golf Course is located near a number of hotels that you can stay at while visiting Duxbury.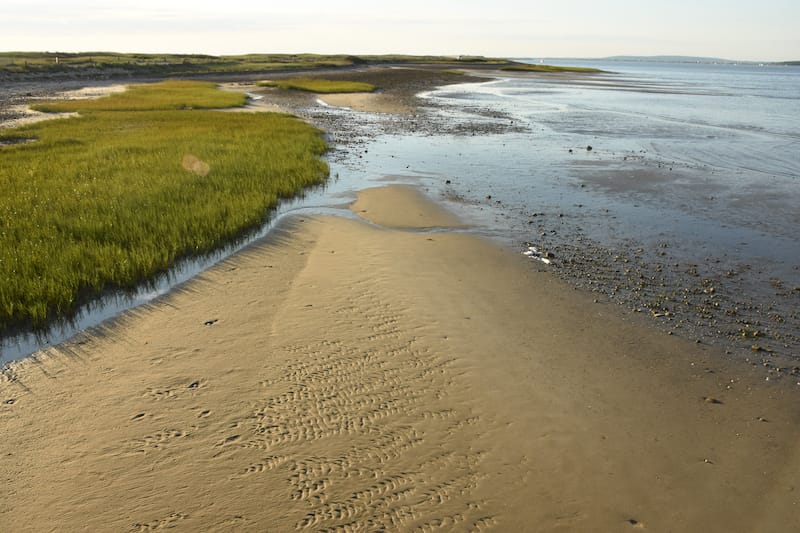 If you are looking for places to stay when visiting Duxbury, check out the Holiday Inn Express, Bay View Inn and Hotel, or The Inn at Duxbury.
Duxbury Beach is also home to a number of activity companies that offer everything from surfing lessons to yoga classes. These activity companies are great for kids because they allow them to learn new skills while also having fun.
There are many safety regulations in place at these companies because it is important that everyone stays safe while enjoying their time in the water.
Calf Pasture Beach (Connecticut)
With its half-mile of beachfront, Calf Pasture Beach is Norwalk's most popular summer destination. The beach is open from Memorial Day through Labor Day from 10:00am to 6:00pm daily.
The beach offers a variety of recreational activities for all ages, including swimming, sunbathing, picnicking, and fishing.
There is a children's playground located on the beach and a seasonal snack bar with patio seating overlooking the water. In addition to the main beach area, there are also two volleyball courts and an observation deck.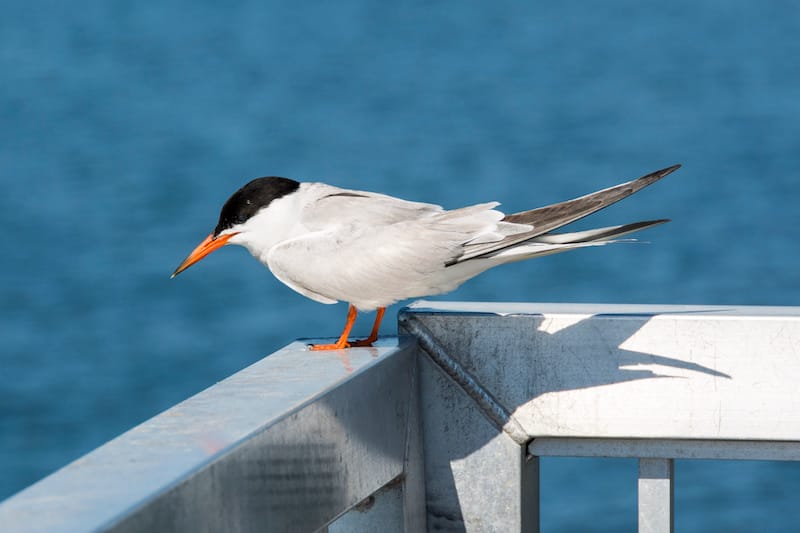 The beach is staffed by lifeguards who are trained in water rescue and first aid. All swimmers must comply with the posted safety regulations.
Calf Pasture Beach also hosts various events throughout the summer season which include concerts on Wednesday evenings and movies on Friday evenings.
Marconi Beach (Massachusetts)
Marconi Beach in Massachusetts is a popular destination for vacationers from all over the US. Many who visit the area choose to stay at one of the nearby hotels.
These rooms often come with amenities that help guests have a relaxing and enjoyable time. In fact, some even have access to things like hot tubs, swimming pools, and more!
There are plenty of activities you can do when you're in Marconi Beach. One of the most popular is a visit to the beach itself. This beach features sand dunes and white sandy shores with a wide expanse of beaches.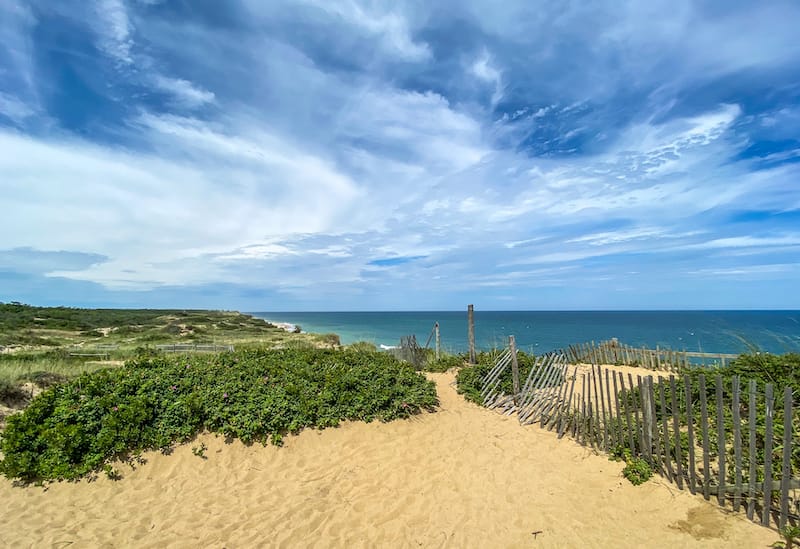 Visitors can enjoy many activities like windsurfing, sailing, swimming, fishing, and picnicking at this location. This is a great place to watch the sunset or get some exercise by walking along the water's edge. You can also swim or go boating if you like.
You can choose to do more than just relax on this trip. There are also many companies that offer outdoor adventures such as jet-skiing, kayaking, and more! Be sure to check out these companies before booking an excursion of your own.
What are the best beaches in New England, in your opinion? Let us know your favorite New England beaches in the comments. Thanks!
More New England Travel Guides
Pin this New England Beaches Guide