If you're venturing to Whitefish, Montana for vacation, good choice!
This is a guide to the best things to do in Whitefish, Montana – from skiing to flyboarding and beyond!
Are you planning your trip to Whitefish last minute?
If youʻre booking your trip to/from Whitefish last minute, we have you covered. Below are some of the top tours, hotels, and more!
Top Experiences and Tours in/from Whitefish:
Top Hotels in Whitefish:
Duck Inn Lodge (Mid)
The Pine Lodge on Whitefish River (Budget)
Whitefish may not be at the top of one's Montana bucket list if they aren't looking for a skiing vacation or trip to Glacier National Park.
However, it is one of the hippest places to visit in Montana and deserves to be more than just a base for the surrounding area and activities.
Located in Flathead County, it is home to around 6,300 people and it has been consistently ranked as one of the best places to live in the United States (even by the New York Times!)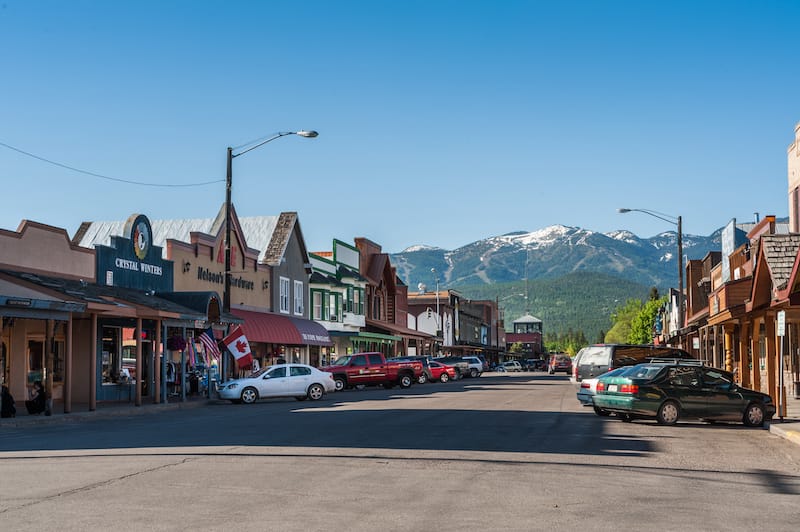 The downtown is home to many of the exciting things to do in Whitefish – from craft beer to guesthouses and more.
Its idyllic setting below the majestic Montana mountains makes every corner a vantage point and it is not hard to understand why visitors are so impressed by the place!
Nevertheless, there is plenty to see in Whitefish. The town is surrounded by some of North America's most renowned nature, including one of the most visited national parks in the US, Glacier National Park.
You will also find lakes, waterfalls, hiking trails, and a fabulous ski resort. This guide will showcase what to do in Whitefish if you plan on using the city as a base for your Montana trip.
Please let us know if you have any questions or any of your own tips for visiting Whitefish. Feel free to pop them in the comments below!
Whitefish Things to Do – Map
To add this map to your Google Maps account, click the 'Star' icon next to the map name. You can then view it on your cell phone or computer by heading to your Google Maps account, click the menu and add it to 'Your Places'.
What to do in Whitefish (and Nearby)
Here are the top things to do in Whitefish, Montana – including some natural attractions in Whitefish as well as places to eat in the town and area.
1. Whitefish Mountain Resort
Whitefish Mountain Resort is a ski resort located at The Big Mountain right outside of town.
The entire mountain is divided into three regions that enabled the activity area to be more distributed and available to a larger number of tourists.
Out of the three regions, two regions are equipped for high-speed skiing. Whitefish Mountain Resort was opened for skiing back in 1947.
There are eleven chairlifts at Whitefish Mountain. There are also three surface lifts at the resort. In total, you will find ninety-three runs, the longest being 3.3 miles and is called Hellfire.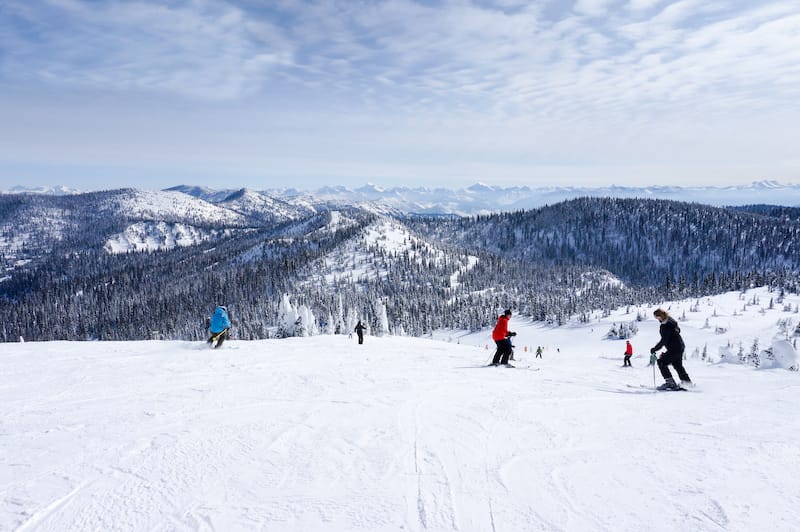 Whitefish Mountain Resort receives over 300 inches of snowfall annually, so it is not hard to see why it is one of the top places to ski in Montana (and the western United States).
If you're looking for additional information about Whitefish Mountain Resort, be sure to check out their website.
2. Enjoy Craft Beer in Whitefish
One of the best things to do in Whitefish is to head to the bar! There are plenty of ski bars around the city but for craft beer and socializing, we definitely recommend checking out Bonsai Brewing Project.
Although closed throughout the winter, they are open from Wednesday – Sunday from 12pm until 8pm the rest of the year. It is a great stop on a Montana brewery road trip!
Their craft beer menu is exciting and you will find everything from a milkshake session IPA to a Bretta Saison barrel that is aged for a year. The brewers truly are innovative and keen on using local ingredients to make a truly unique beverage.
They also have a kitchen on-site that serves everything from burgers to hot dogs to sandwiches and more. It has more of that elevated 'pub' vibe when it comes to food and locals love it just as much as the beer.
But… one of the coolest things about Bonsai is that they also have interesting events going on and it is just truly the hub of culture in Whitefish. You can find them at 549 Wisconsin Avenue in Whitefish.
3. Whitefish Lake State Park
Whitefish Lake State Park has twenty-five campsites that offer a variety of tent only and RV camping opportunities, plus a new hike-bike campsite that is convenient for cyclists traipsing the nearby Great Divide route.
Often overshadowed by Glacier National Park, this is definitely a can't-miss natural spot for Montana visitors!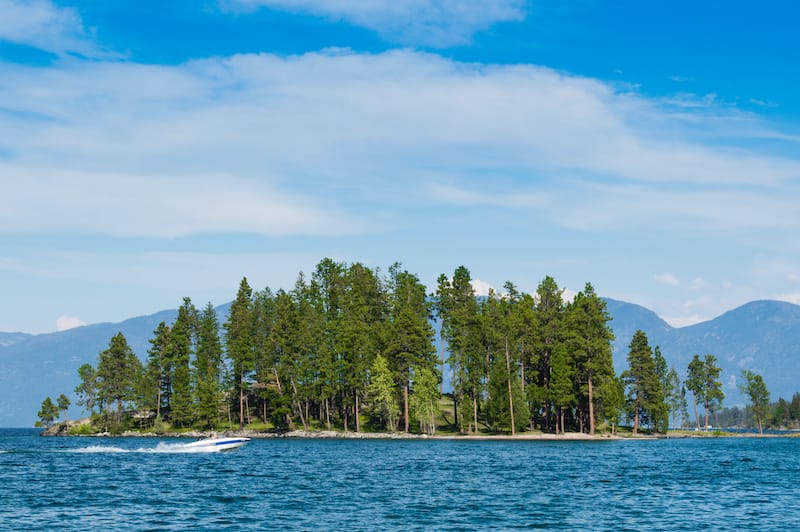 Call the park manager for specific inquiries about the hike-in/bike-in site. The RV, or trailer size, limit is 40 feet in length if you're looking to haul that into the park.
Please note: trains regularly travel by and stop temporarily adjacent to the campground. Boating, swimming, camping, and fishing are popular activities and the lake is rarely windy, so it provides ideal conditions for water-skiing.
4. Stumptown Art Studio
Stumptown Art Studio is a non-profit organization in Montana. It remains a site where anyone can arrive and express themselves in the artistic world.
People venture there to learn, as well. Stumptown was established in 1995 in Whitefish. It is a community art center and it serves everyone of any age, profession, or any background to come and explore their artistic side irrespective of the fact whether they are experts or not.
Since its birth, Stumptown has offered summer camps, art masterclasses, workshops, after-school art clubs, and more!
As a traveler, you will enjoy their gallery nights and be able to take home a handmade souvenir. Check their website for additional information.
INTERESTING FACT: Locals may refer to Whitefish as 'Stumptown'. It was given this name after the area's trees were cleared to make room for the train station, essentially leaving 'stumps' behind.
5. Go Dog Sledding near Whitefish
Located just minutes from Whitefish is Dog Sled Adventures Montana, a family-owned outfitter that has around 130 Alaskan huskies that are ready to run!
This is the perfect family activity and they host everyone from babies to senior citizens.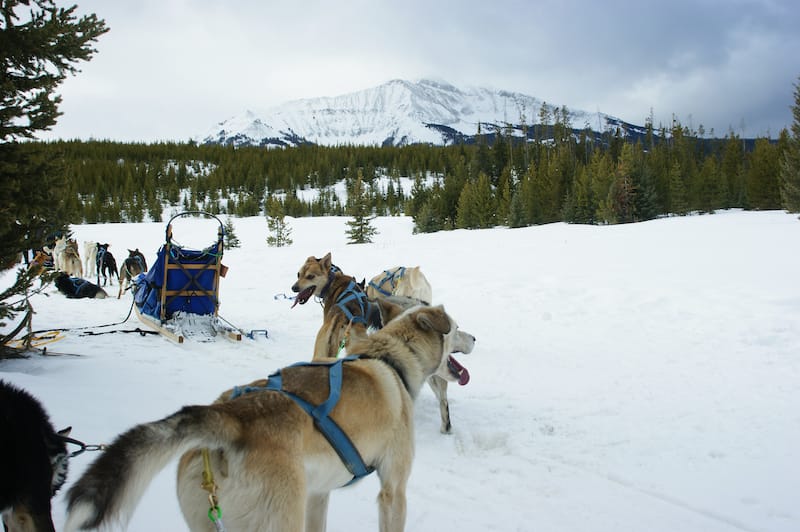 They are located at the footstep of Stillwater State Forest and right beside Glacier National Park and the adventure is an unforgettable experience.
After you go dog-sledding and through the pristine Montana wilderness, you will come back to the cabin where you can enjoy a cup of hot cocoa and homemade cookies.
Naturally, this is an activity to do in winter in Whitefish… so plan accordingly. For more information, check their website.
6. Sunti World Art Gallery
In 2013, this gallery was purchased by Sunti and Erica Pichetchaiyakul which was basically a church built in 1905 in Montana.
The primary purpose of bringing about the gallery to life was to share their love for foreign cultures and diversity.
You will find everything from Cambodia Khmer carvings to Indian Zardozis to American-made raku.
It truly showcases some of the most beautiful pieces from various places across the world. Numerous artists have displayed their work at Sunti World Art Gallery, including many national and international artists.
Along with the art gallery, there is a café as well where one can sip a cup of coffee while viewing the arts at the display. The coffee is definitely worth a try – as they offer single-origin, fair trade, organic coffee from the northern hill tribes in Thailand.
You will find Sunti World Art Gallery at 345 Spokane Avenue in Whitefish. Check their website for additional information.
7. Les Mason State Park
Another fantastic natural place to visit in Whitefish and its surrounding area is Les Mason State Park. This Montana state park is renowned for its idyllic spot on the shores of Whitefish Lake.
There is 585 feet of sand and gravel along the shore and it is a fabulous place to go swimming or partake in any of the nearby activities. There are also many picnic tables in the park.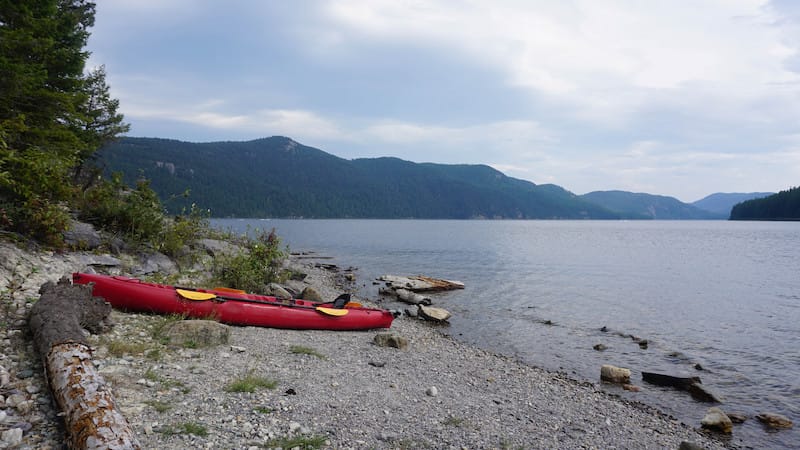 If you're keen to try your hands at kayaking or SUP, you can rent equipment at the concessionaire called Sea Me Paddle Kayaking Tours, Inc.
They are open during the summer months. and you can find out more information on Facebook.
In Les Mason, you will find parking, toilets, boat rent, and more.
8. Enjoy Montana Coffee Traders
Back in 1981, Montana Coffee Traders began roasting in northwestern Montana, and is still a force to be reckoned with today!
Today, they offer beans to take away as well as a full espresso bar, drip coffee, and cold brews. You will also find some small eats inside.
You can enjoy their delicious beans and brews at The Mercantile at the Roastery at 6810 Hwy 93 South. They are open Mondays through Fridays from 8 am until 2 pm.
9. Go Hiking in Whitefish
One of the best things to do in Whitefish is to take to the trails. It really is one of the top reasons to visit the small Montana town!
There are many places to go hiking near Whitefish and one of our top picks is The Whitefish Trail, a network of user support trails built by the community that contains over 43 miles of surface trails and 12 trailheads and connectors.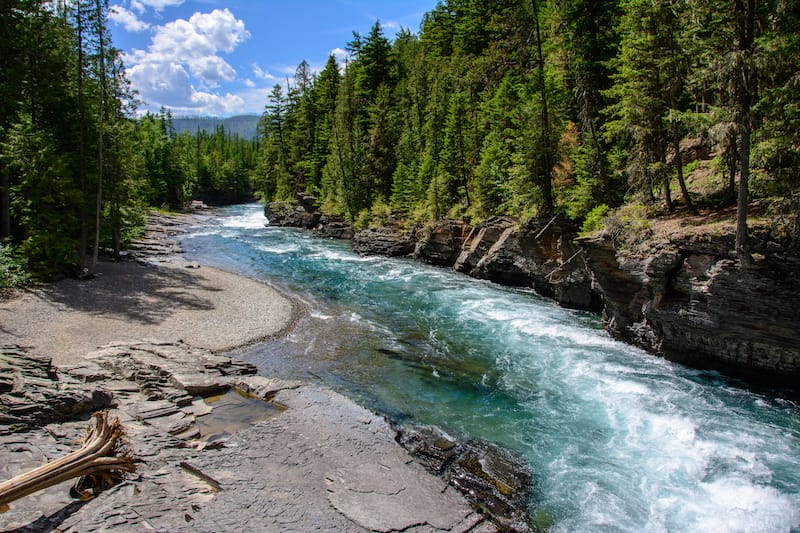 All of this is located in the lush forests surrounding Whitefish and the trails are perfect for hiking, biking, horseback riding, running, and walking your dog.
Some of the most popular trailheads on The Whitefish Trail are:
Lion Mountain: located close to Whitefish, it offers loop options and scenic views. It is a 3-mile loop.
Big Mountain: located below Whitefish Mountain Resort, it is open year-round and takes you through Haskill Basin. It transforms into a cross-country skier's paradise in winter. It is 5.5 miles long.
Spencer: this covers over 2,500 acres and contains over 30 miles of trails. It is popular amongst cyclists and equestrians.
10. Indulge at the Best Whitefish Restaurants
Another wonderful thing about traveling to Whitefish, Montana is that you will be greeted with some tasty food at the many restaurants in Whitefish.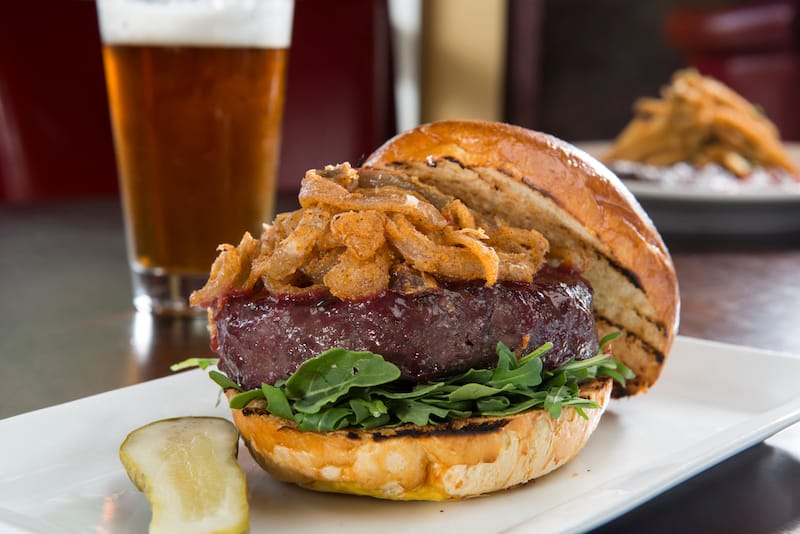 You will find everything from delicious breakfast to outdoor dining (with insane views) to fresh salmon, and more. Here are some of the top Whitefish restaurants that will make eating one of your favorite things to do in Whitefish:
Tupelo Grille: elk meatloaf sliders are a signature there. They also have live music and delicious cocktails!
Whitefish Lake Restaurant: go there for the views and stay for the incredible food!
Cafe Kandahar: elk carpaccio and other local delicacies make this Whitefish restaurant a must-visit.
Pig & Olive: located in the Stumptown Marketplace, they offer a variety of sandwiches using local ingredients but they also have a variety of other tasty dishes – like their onion ring corndog.
LouLa's: great at any time of the day and renowned for their pies.
Piggyback BBQ: a restaurant run by a Texan that has adapted regional BBQ styles from throughout the US into the perfect Montana blend.
There are plenty of tasty other places to eat in Whitefish… so just do your research and find some places that utilize local ingredients (because they are fantastic in Northwest Montana)!
11. Go Flyboarding
Flyboard of Montana is located in the Whitefish region and it is a certified water sports service and accessories provider. One can book the services prior and make reservations by calling on the contact details provided on their official website.
It was the idea of Justin Heyne who himself is a big fan of water sports and wanted to incorporate that passion into an exciting activity in the local area.
Flyboarding has become one of the most popular activities in Whitefish and you will be assisted by an instructor that is renowned for getting people flying in under just ten minutes!
This is only open from March until October, but. it is open 7 days a week from 9 am until 9 pm and they do offer military discounts. To reserve your spot, call (406)261-5921.
12. Glacier National Park
And, of course, this list wouldn't be complete without suggesting an adventure in Glacier National Park, the likely reason you are visiting Whitefish in the first place!
Glacier National Park is one of the most underrated national parks in America and is absolutely epic no matter what time of the year you decide to plan a trip there.
Winter in Glacier National Park is fantastic for those that love cold weather, snow, and skiing. Summer in Glacier National Park is a wonderful time of year for those that love hiking, climbing, and picnics out in nature.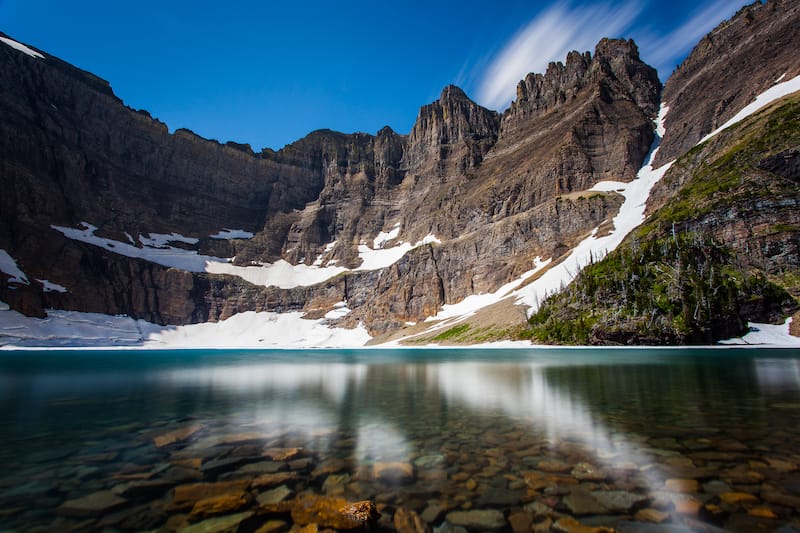 Some of the top attractions in Glacier National Park are Lake McDonald, Logan Pass, Avalanche Lake, Saint Mary Lake, Ginnell Glacier, and more!
Visiting Glacier National Park is one of the essential things to do in Whitefish, Montana when you're visiting the town.
>> Be sure to secure an America is Beautiful Pass for only $79.99 before you go! It grants you access to over 2,000 US sites!
Lodging in Whitefish
There are plenty of options for where to stay in Whitefish. Whitefish and the area have some of the best Airbnbs in Montana, in fact! Below are some of our top picks for Airbnbs in Whitefish that you should bookmark for your upcoming trip!
⇒ Stillwater View Camper (RV living in Whitefish from $129/night)
⇒ Artists' Loft in downtown Whitefish (gorgeous condo in Whitefish from $141/night)
⇒ Ski lodge with hot tub (private room in Whitefish from $74/night)
If you're simply looking at the best hotels in Whitefish, you can see the top-rated ones here.
We hope that our guide of things to do in Whitefish helped you plan your trip to the resort town in northwest Montana. If you have questions or tips about awesome landmarks in Whitefish, please leave them below!
More Montana Travel Inspiration
Best Things to Do in Whitefish – Pin for Later