Are you looking for one of the best weekend trips in the US? This 2 days in San Diego itinerary will help you plan your escape!
Are you planning your trip to San Diego last minute?
If youʻre booking your trip to San Diego last minute, we have you covered. Below are some of the top tours, hotels, and more!
Top Experiences and Tours in San Diego:
Top Hotels in San Diego:
Pendry San Diego (Lux)
Bayside Cove Chateau (Mid)
Holiday Inn Express San Diego (Budget)
Known as America's finest city, San Diego is home to stunning beaches, wonderful parks, beautiful attractions, and many historical points of interest.
It is a great place to enjoy sunny weather and delicious food throughout the year.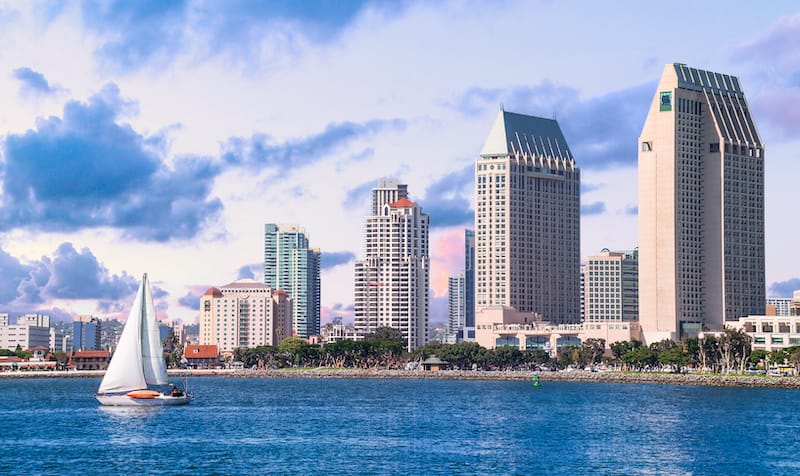 San Diego is not at all a cheap place in California. But, if you research properly and plan well in advance, a weekend getaway to San Diego won't break your bank!
No matter if you have just 2 days in San Diego, this itinerary will help you to get the most out of your San Diego trip.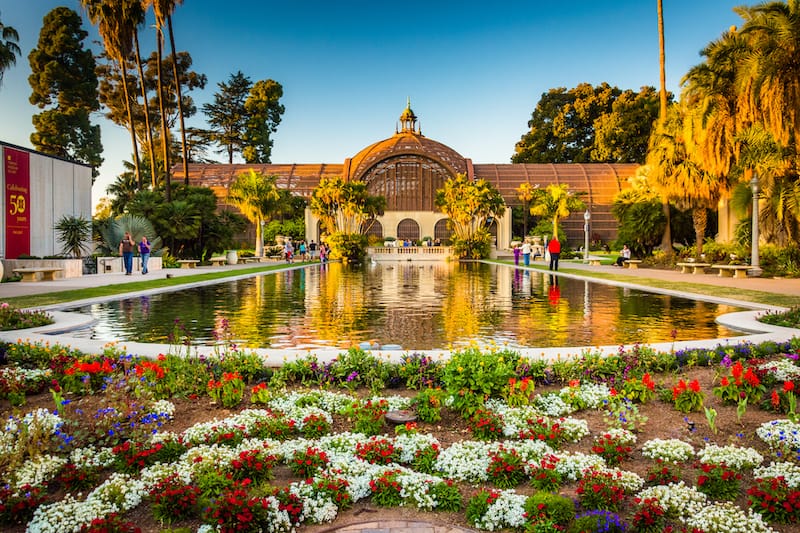 Best Time to Visit San Diego
Although you can visit San Diego at any time of the year because of its warm weather that hovers around 60 to 70 degrees, March through April and September through October are the best times to visit San Diego.
During this time, San Diego is warm, less crowded, and you can attend many festivals that are held throughout the city. However, June through August are the peak months when all the tourist attractions, hotels, and restaurants are the busiest.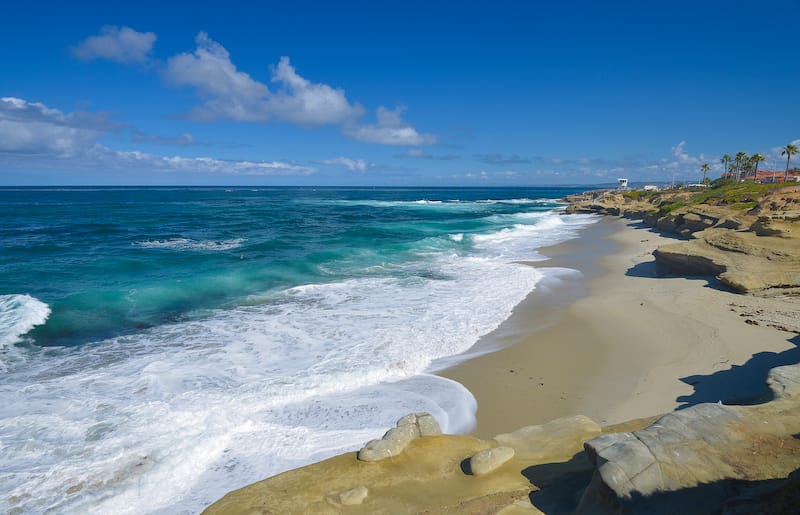 If you are looking for some great flight and hotel deals, visit San Diego during the low season between December and February.
During the winter months, the ocean's waters are too cold to swim but the crowds vanish and it is one of the best places to visit in the US during the winter.
How to Get to San Diego
The nearby airport is the San Diego International Airport which is just a few miles northwest of the city center.
This busy airport is well-connected with other parts of the country and the world. Take a bus or taxi from the airport to get to downtown San Diego.
If you are visiting on a day trip from Los Angeles, direct trains are available from LA Union Station and 3 other rail stations every 3 hours.
The Amtrak Pacific Surfliner takes around three hours to reach Santa Fe Station in San Diego. The train ride offers some of the best coastal views of Orange County.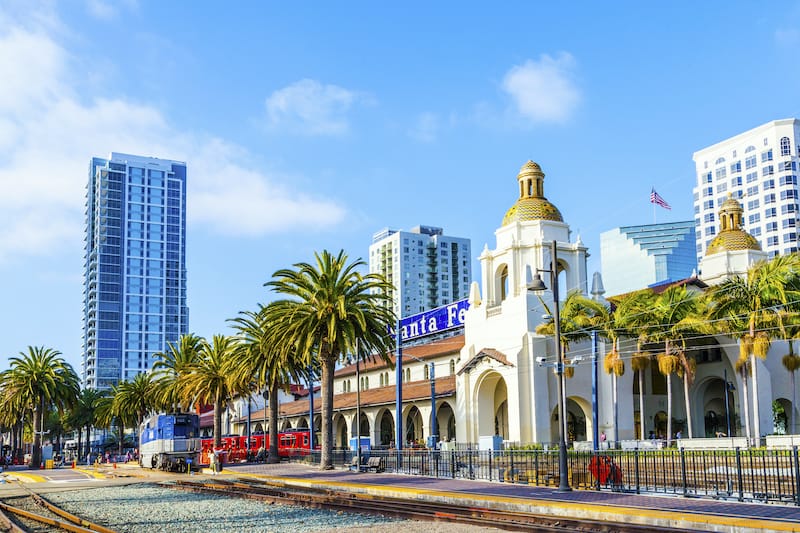 You can also drive your own car or rental car to get to San Diego from Los Angeles.
The route is very scenic and there are plenty of great places to stop between these two cities. I will recommend taking route I-5 to cover the 120-mile distance.
Don't want to drive? No worries! There are several bus companies such as Hoang Express, InterCalifornias, and LuxBus that run services to connect San Diego to other California cities.
Getting Around San Diego
Bus: San Diego's public transit is run by the Metropolitan Transit System (MTS) and has good coverage of San Diego city.
Visit MTS's official website to check the bus schedule and information related to bus fares. Purchase a day pass for $5 and enjoy your 2 days on the San Diego trip effortlessly.
Trolley: Trolley services are the most convenient way to get around Downtown San Diego as they stop at many tourist attractions.
Their service is very frequent (an average of every 15 minutes) and the cost of the day passes is the same as buses.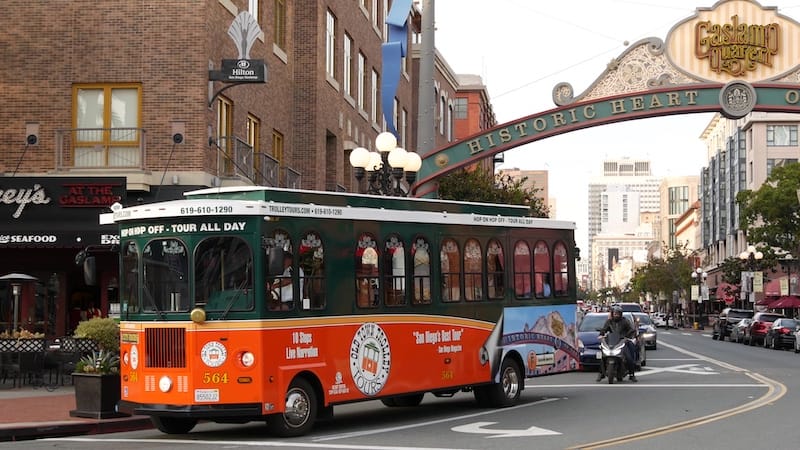 Taxis or Uber: Looking for a more comfortable way to get around the city? The metered taxi and uber both are available in San Diego.
Taxi charges hover around $2.50 per mile whereas uber charges are just $1.10 per mile.
If you have a plan to visit the suburbs of San Diego, you can drive your own car or rent a car which will give you additional flexibility.
Please note that parking can be difficult in some places during busy weekends and you have to pay for street parking in some places.
Two Days in San Diego Accommodation
There is no shortage of hotels near the Downtown and Old Town area.
From luxurious resorts to budget-friendly hotels and hostels, San Diego has numerous accommodation options for all types of travelers planning to spend two days in San Diego.
Near Downtown
Manchester Grand Hyatt San Diego: If you prefer to stay in Downtown San Diego, consider staying at this luxury resort hotel that features a Hyatt Lounge and Bar and stunning views of the San Diego Bay.
Guests can relax around the fire pit overlooking the bay. The resort has a tennis court, pool, and spa treatment facilities where you can relax with your family or groups after some local sightseeing.
The rooms are clean, spacious, and some offer bay views. The staff is very polite and their service is truly top-notch!
Near Mission Bay
Bahia Resort Hotel: Located just a five-minute drive from SeaWorld, this private 14-acre peninsula on Mission Bay boasts a private beach, outdoor swimming pool, and a hot tub for its guests.
If you are planning a romantic weekend getaway in San Diego, this resort is an ideal place for you.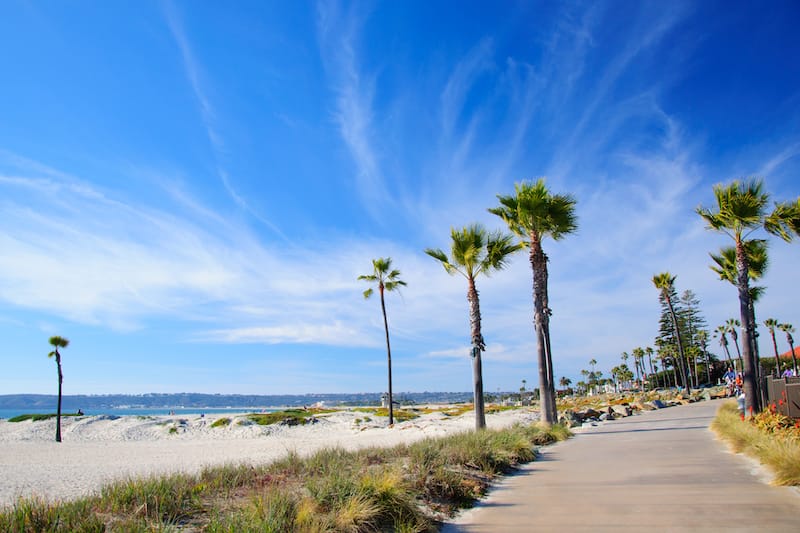 The resort is equipped with all the modern amenities including an arcade, tennis courts, gym, shuffleboard, beachfront cabanas, and a spacious patio where you can enjoy cocktails and fresh Southern California cuisine.
Where to Eat in San Diego
With the nation's best weather and excellent beaches, you will find a robust food scene in San Diego.
From popular Mexican cuisine to Japanese seafood items, there is a variety of different cuisines that you can try in San Diego.
Juniper and Ivy: Located in downtown San Diego, this restaurant offers a comfortable and cozy experience to its guests. They have lots of space indoor as well as an outdoor dining room.
They try to show their creativity in almost each food item and prioritize using local ingredients. Don't miss their French Onion Soup and Duck Leg Carbonara which are both very rich in flavor.
The portion is a good size and all of their dishes are extremely tasty.
The best part is that they rotate their menu on daily basis. So, if you like their dishes on your first day in San Diego, you can check out the restaurant on the second day to taste other delicious items.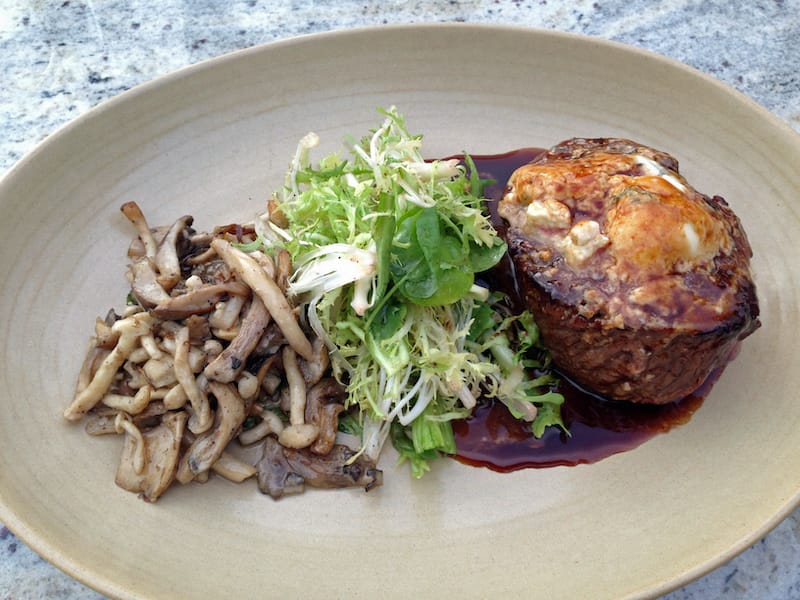 C Level: Located on Harbor Island, this upscale restaurant is an amazing waterfront dining option that could be perfect if you want to impress or surprise your special one with a romantic dinner.
They serve regional cuisine as well as Japanese cuisine.
Outdoor seating is available and all of their items are super delicious. Enjoy the San Diego skyline while trying their Fontina BLT Sandwich or Ahi Tuna Tartare with Taro Chips.
About This San Diego Itinerary for 2 Days
San Diego is the second-largest city in California and it has plenty of things to do and attractions to offer its visitors. Now the question may arise – "Are two days in San Diego enough?"
I would say 'Yes' and more specifically, it varies from person to person.
If you are planning to cover all the attractions of San Diego County in a more relaxing way, you should have at least three days in hand.
You can even visit San Diego in one day if you know the places well and have proper planning!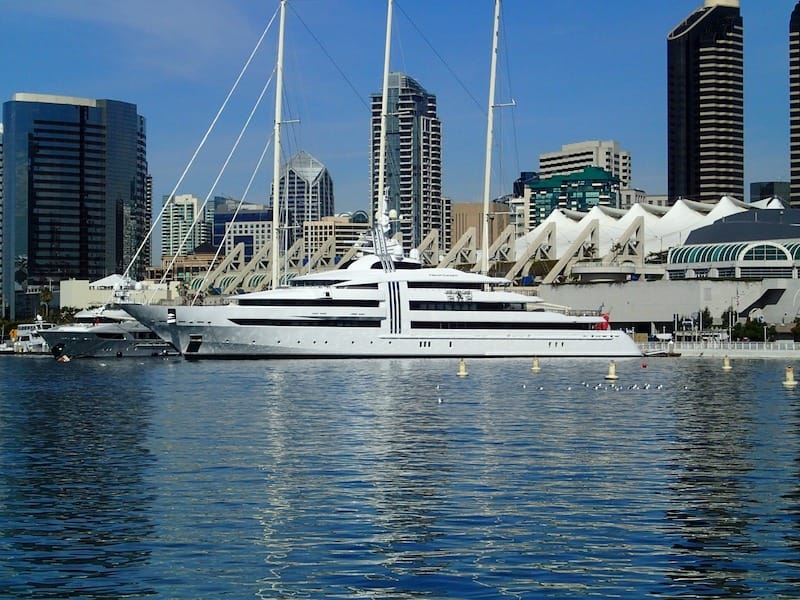 However, I definitely recommend spending 2 days in San Diego to get the best out of this California city.
Below, I have prepared a list of the best things to do in San Diego in such a way that you would get a mix of it all and a good introduction to the city.
I have split the San Diego itinerary into 2 days so that you can plan your trip in the most efficient way.
Best Things to do in San Diego in Two Days
Wondering what you should do in San Diego in 48 hours? It is a great place in the Golden State full of sightseeing and outdoor activities so we fill you in below.
It is not possible to cover all San Diego sightseeing and activities during a single visit.
On this SD itinerary, you will learn how to see the best of San Diego without missing any major attractions. Let us know what we may have missed in the comments!
Day 1
Old Town San Diego
Wander around the Old Town San Diego and learn about the old San Diego lifestyle and its culture through this neighborhood.
Explore the gardens, old buildings, colorful shops, boutiques, and numerous Mexican restaurants.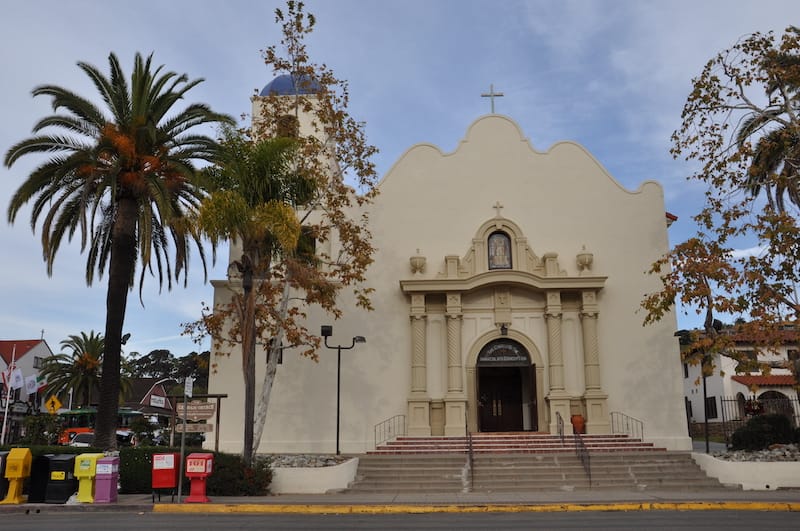 You can feel here the old colonial vibes in the Old Town. Don't miss the Whaley House Museum, one of the designated haunted houses in California.
Maritime Museum
The Maritime Museum has a large collection of historic vessels that includes steam-powered ships, sailing ships, and submarines. Some of these are originals and some are replicas.
Your mind will truly be blown when you see these historically significant ships and submarines.
The museum displays the world's oldest active sailing ship, the Star of India, and the deepest diving submarine in the world- the 555 USS Dolphin.
If you are with your kids, it is really fun to walk around the ships! Explore this museum at your own pace and learn more about these magnificent vessels and submarines by the signage that describes their information.
The light and sound exhibits on the Russian submarine and sea monster myths are also very interesting.
Seaport Village
A popular shopping and dining complex located on the Pacific Ocean, Seaport Village is a very beloved attraction for tourists. It features different types of restaurants with waterfront views, a variety of stores, and live musical entertainment.
If you are looking for free things to do in San Diego, Seaport Village is a must-visit!
Free public concerts on weekends and some weekdays are very common here and it is a fantastic option for the budget traveler.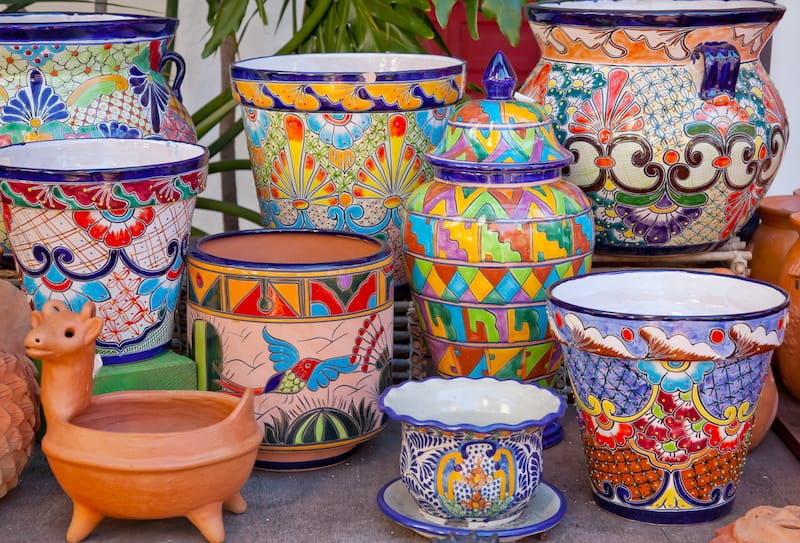 Gaslamp Quarter
After you've finished up with Seaport Village, head over to the iconic Gaslamp Quarter in Downtown San Diego. It is known for its gorgeous architecture and vibrant nightlife.
You can skip Seaport Village if you visit Gaslamp Quarter. Even though both places have a unique charm, if you are running out of time, end your first night in San Diego by exploring the Gaslamp Quarter.
Located at the heart of San Diego, this historical neighborhood is the hub of fine dining, art galleries, and entertainment.
You'll find here plenty of amazing pubs, rooftop bars, and live music entertainment to choose from. It is also home to some of the best coffee shops in San Diego.
If you visit Gaslamp Quarter in the fall, you can attend San Diego Film Festival.
Day 2
Coronado
When you are in San Diego, beach hopping is essential and Coronado is the best place to see some of the fantastic beaches of San Diego.
One of the most popular landmarks of San Diego is the Coronado Bridge.
This beautiful bridge is an architectural marvel that offers stunning views over the blue waters of Southern California.
There is no path for pedestrians, so you must have a car to enjoy the scenic drive to Coronado.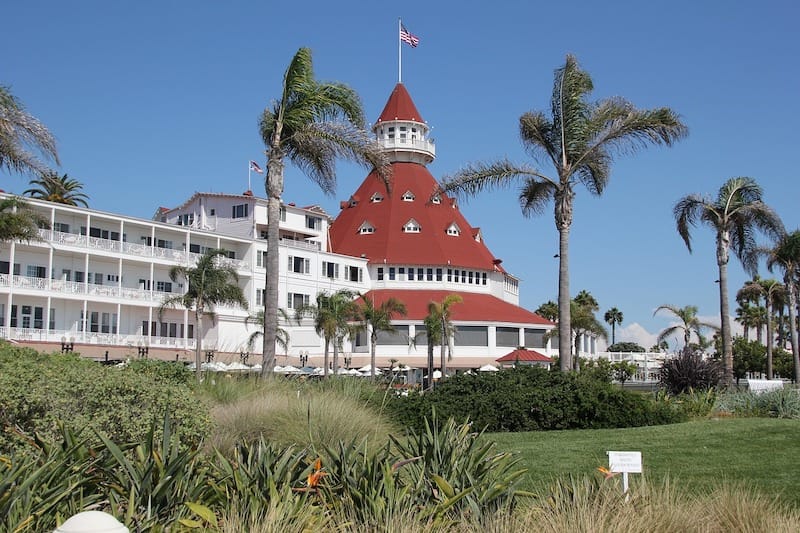 Coronado Beach is not only a beautiful white sand beach in San Diego, but it is also one of the best dog-friendly beaches in California. Start your second day in San Diego by strolling along the pristine shores.
Next, visit the famous Hotel Del Coronado. It is pretty expensive for most people to stay in, but its grand lobby, bars, and restaurants are open for all visitors.
Enjoy cocktails or a cup of coffee in one of the hotel's bars and cherish the spectacular views. It is one of the best seaside places in the state!
Balboa Park
If you're visiting San Diego for 2 days, you shouldn't miss Balboa Park. It is home to several museums, gardens, trails, shops, dining spots, and more.
There are so many things to see in Balboa Park that you can spend your whole day exploring. The Botanical Building features a wide collection of orchids and palms.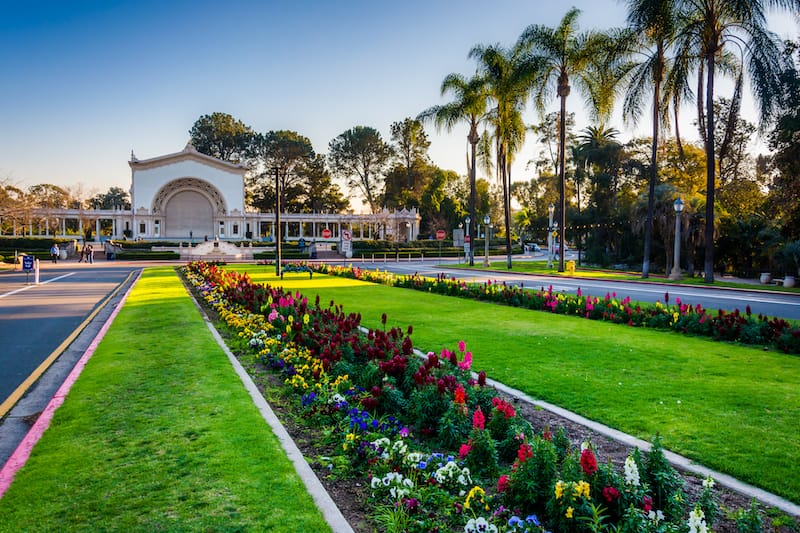 Don't miss the Desert Garden, Alcazar Garden, and the Japanese Garden when visiting. Grab a map from the Visitors Center and start walking through the scenic landscapes that include everything from lily ponds to desert gardens (and beyond!).
Enjoy the Beach at La Jolla
It is pretty much a crime to visit San Diego without visiting La Jolla!
It is one of the most beautiful beaches in San Diego and it offers plenty of water activities such as snorkeling, scuba diving, stand-up paddling, and kayaking. The beach is surrounded by cliffs and popular among surfers.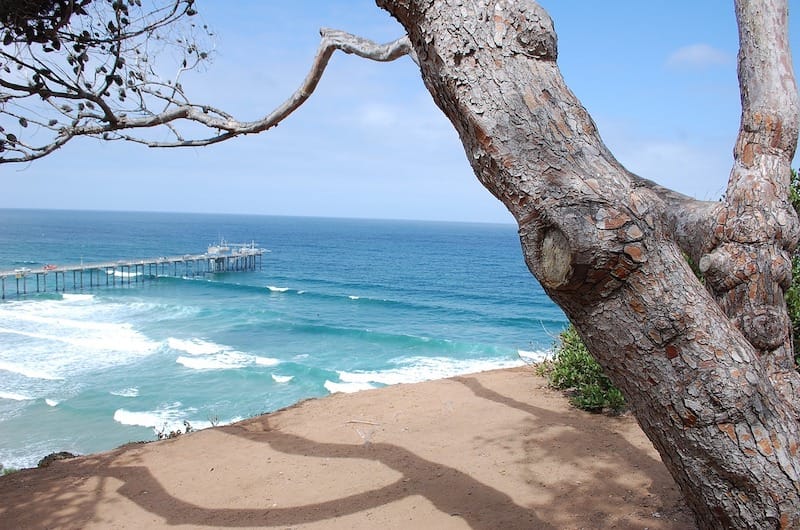 You will see sea lions and seals basking in the sunlight. After enjoying the shimmering sunset from La Jolla Cove, check out the local neighborhood that has a lot of boutiques, cafes, bars, and restaurants.
La Jolla is a very busy coastal town. Finding a parking spot could be very challenging during weekends and public holidays.
Tip: I highly recommend purchasing a Go San Diego Card for your 2 days San Diego trip. It provides free entrance to many top San Diego attractions. The Go San Diego Card will surely help you save some serious bucks!
What else would you include on this San Diego 2 day itinerary? Let us know your tips for 2 days in San Diego in the comments! Thanks!
Written by: Trijit Mallick from Budget Travel Buff
More Southern California Travel Guides
Pin this Weekend in San Diego Guide