If there is one state in the US where you could visit somewhere new regularly and see something totally diverse and different, it is California! These are the best small towns in California – perfect for a weekend getaway!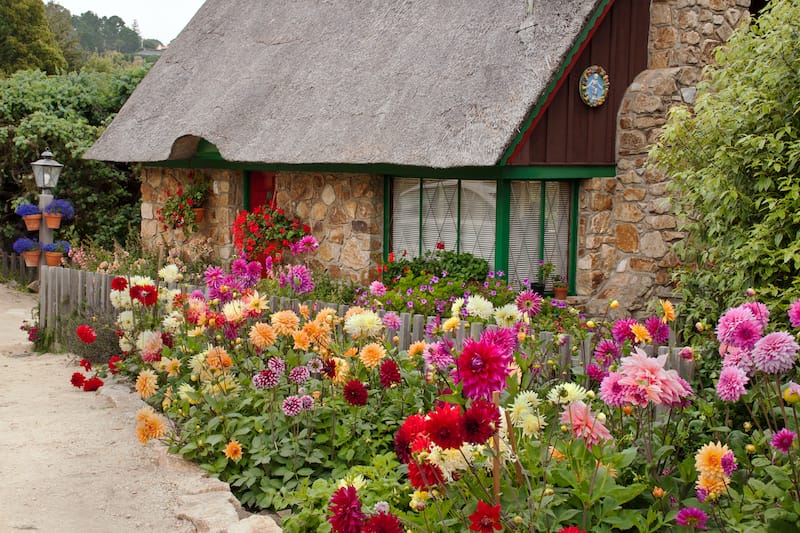 We could have made this list so long – there are so many worthy California small towns! We selected just a handful of great choices, so please drop your top picks in the comments! Thanks!
Best Small Towns in California
Morro Bay
Morro Bay is a small, charming town nestled on an unspoiled piece of California's Central Coast that offers plenty of activities amid a stunning natural setting.
Morro Rock, an ancient volcanic mound, is the city's must-see centerpiece landmark.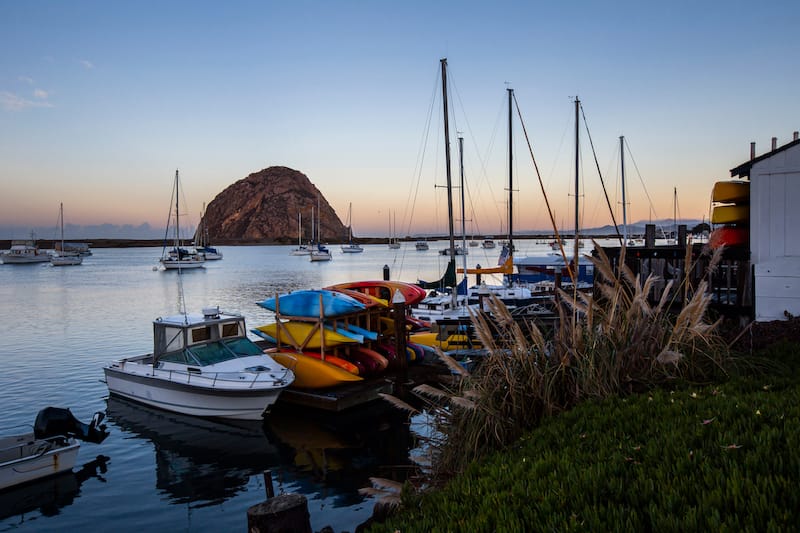 Nature lovers will enjoy visiting Montaña de Oro State Park for its hiking opportunities along the rugged coastal canyon, El Moro Elfin Forest for admiring stunted California live oaks, and Morro Bay National Estuary for exploring its rich habitat.
Enjoy the outdoors at Morro Bay State Park while hiking, birdwatching, mountain biking, or canoeing and dig deep into the city's unique culture in Morro Bay Maritime Museum.
Be sure to add bug spray and sturdy hiking boots to that California packing list if you end up visiting the local area surrounding Morro Bay!
It really is one of Californiaʻs best coastal towns!
Carmel-by-the-Sea
Known for its enchanting old-world ambiance, Carmel-by-the-Sea is a scenic destination where you will certainly get away from the real world!
The town is known for its pristine Carmel Beach, historic Spanish Carmel Mission, quaint artisan boutiques, courtyards, art galleries, etc.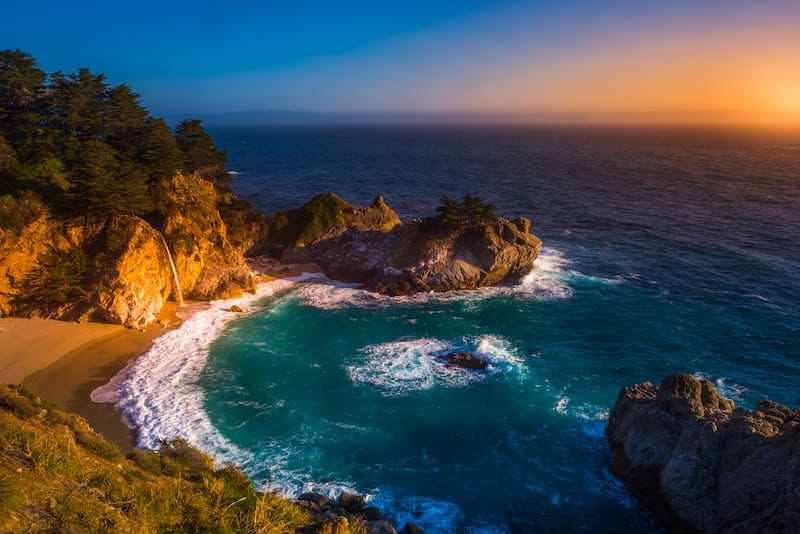 To take in the full beauty of the area, go kayaking at Carmel River State Beach or stroll along the stunning oceanfront Scenic Road. Appreciate the dramatic coastal scenery in Point Lobos State Natural Reserve, home to diverse flora and fauna.
You will definitely experience the town's real charm while strolling past fairy-tale cottages, exploring hidden passageways, and shopping on Ocean Avenue. If you're looking for what to do in Carmel-by-the-Sea, you will find something for everyone!
Solvang
The Golden State's historic Danish town will reward you with a laid-back atmosphere, rich heritage, and Danish icons.
Historic Old Mission Santa Inés and Bethania Lutheran Church are a few of Solvang's architectural gems that should not be missed.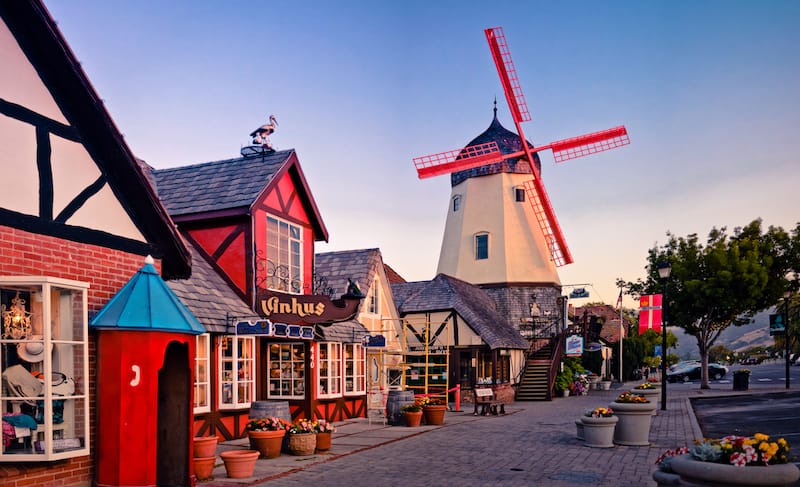 Discover Danish and American culture in Elverhoj Museum of History and Art, and Wildling Museum of Art & Nature, or take a guided horseback ride to explore Santa Ynez Valley for one-of-a-kind quaint vibes.
To mark your Solvang trip as a complete one, enjoy tasting the finest local wines from over 120 vineyards and enjoy a play under the starry sky at Solvang Festival Theater.
Paso Robles
Home to 40,000 acres of vineyards, Paso Robles is a well-known, world-class wine region that will amaze you with its rich agriculture, restaurants, stunning views, and one-of-a-kind outdoor activities.
Discover local heritage inside the Pioneer Museum, the world-famous Hearst Castle, and be ready to get a little bit tipsy after exploring wineries, craft breweries, and artisan distilleries.
Immerse yourself in the great outdoors while horseback riding through the vineyards with Central Coast Trailrides, boating or fishing at Lake Nacimiento, golfing at Castoro Cellars, ziplining, etc.
Visit Studios on the Park to awaken the artist within and take a perfect shot in front of the Paso Robles mural wall.
Avalon (Santa Catalina Island)
Avalon, Catalina Island's most bustling tourist destination, offers ample adventures for every taste.
Get adrenaline-fueled fun at Catalina Aerial Adventure, Zip Line Eco Tour, discover Catalina's wilderness with Bison Expedition and get spooky vibes with Haunted Catalina Ghost Tours.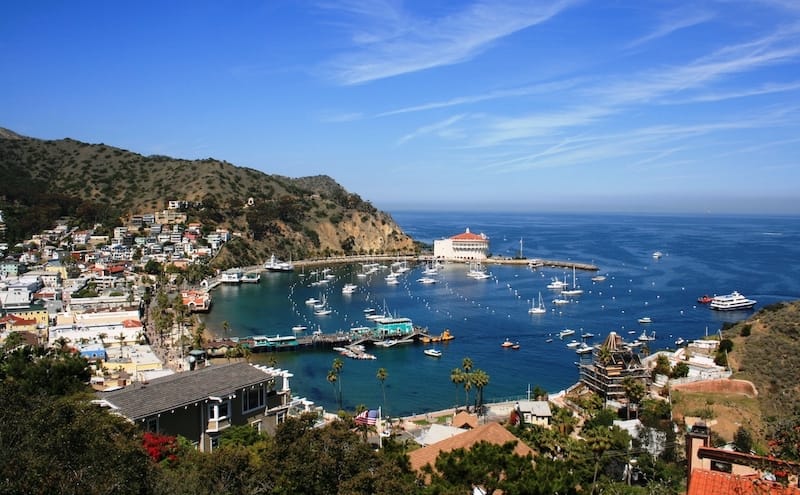 For a more laid-back trip, browse through shopping boutiques or rejuvenate at the spa center. Delve deep into Island's unique history by strolling through Catalina Island Museum or step back in time by exploring Avalon Theater and Casino's world-famous ballroom with an exquisite Discover the Casino tour.
Don't miss taking a ride on a Cyclone powerboat to discover two harbors nestled on Catalina's west coast. This is one of the best weekend getaways from Los Angeles!
San Juan Capistrano
Quaint San Juan Capistrano, a hidden gem nestled in Orange County, is a perfect option for a laid-back weekend getaway.
Come appreciate the historic architecture of Mission San Juan Capistrano and Mission Basilica San Juan Capistrano, and wander through Los Rios Historic District to witness the oldest neighborhood in the state of California.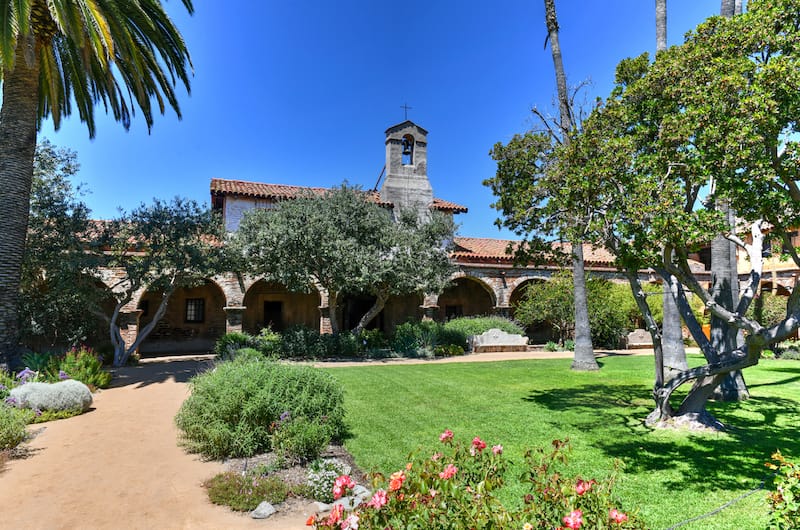 Ronald W. Caspers Wilderness Park is a must-visit spot if you're keen to discover the California town's stunning flora and fauna.
Let the kids loose in Los Rios Park and head to learning more about the area's rich heritage in O'Neill Museum. Don't miss seeing Montanez Adobe and Capistrano Train Depot before leaving.
Los Alamos
Experience real old western vibes in this tiny town of Los Alamos that time forgot!
This charming small town in California has become a true destination for wine and food lovers, so get ready to encounter the finest wineries on every corner and get an authentic taste of local flavor in Pico (or try freshest bread and pastries at Bob's Well Bread Bakery).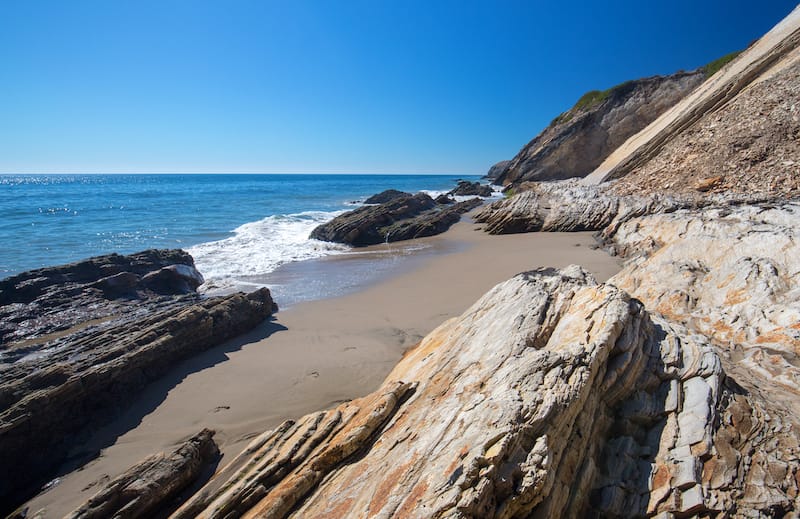 For unique treasures, stroll around Bell Street and browse through the antique shops in Los Alamos Depot Mall.
Outdoor enthusiasts will love hiking at Gaviota State Park, biking with Santa Barbara Wine Country Cycling, and exploring Santa Ynez Valley with an educational Solvang Heritage Audio Tour.
Arcata
Arcata offers you a scenic retreat amid a breathtaking natural setting allowing you to get a closer look at the geographical wonders that Northern California has to offer.
Learn more about the ecological impact of marshes in Arcata Marsh and Wildlife Sanctuary and explore towering redwoods at the Arcata Community Forest.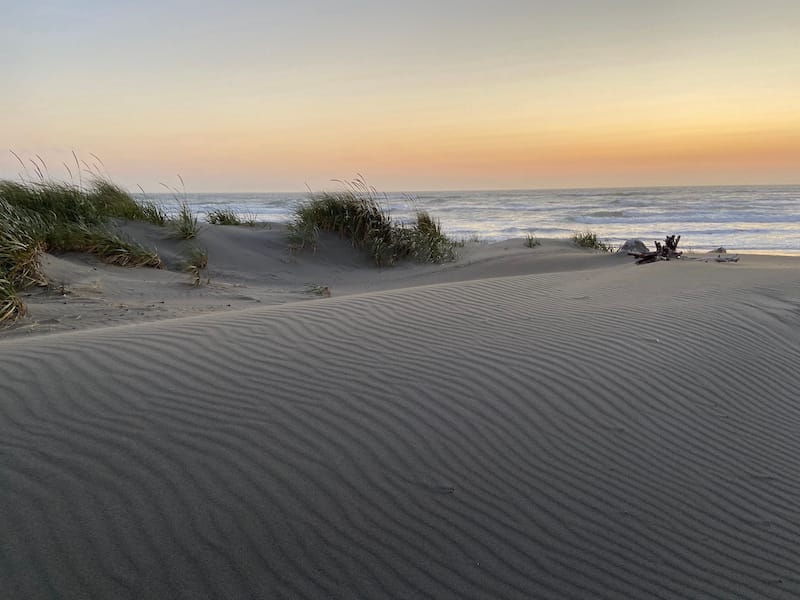 Get to experience a curated selection of freshest local produce at Arcata Farmers' Market.
For family-friendly adventures, head to Humboldt State University Natural History Museum to take part in various educational programs, enjoy classic films and new releases in the historic Arcata Theater Lounge, or go kayaking, canoeing, and boating in Mad River Beach County Park.
If you're looking for a getaway kind of close to Arcata, head about 30 minutes north to Fern Canyon. To get there from the town, you will drive through beautiful redwood forests (even scenes from one of the Jurassic Park movies were filmed here)!
St. Helena
St. Helena, with its magnificent vineyards and five-star dining experiences, offers everything you need to make your visit a luxurious and unforgettable one.
Explore St. Helena's culinary scene at Market, Gott's Roadside, Press, and discover the secret of award-winning wines at Duckhorn Vineyards, V. Sattui Winery, Del Dotto Estate Winery & Caves, or Beringer Vineyards.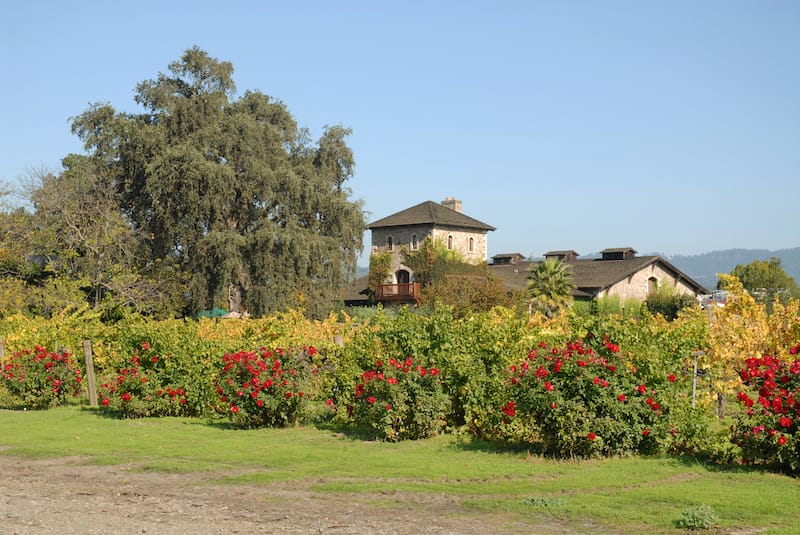 Take in the great outdoors at Moore Creek Park, where you can go wildlife watching, hiking, and biking along 15 miles of scenic trails.
Art lovers will certainly appreciate the urban art of local and national artists of the 20th and 21st centuries at the Christopher Hill Gallery.
Ojai
Ojai is another picturesque location on this list that will allow you to reconnect with nature, enjoy a laid-back vacation, and experience true bohemian vibes while wandering around charming downtown.
If you love art, you will enjoy visiting Beatrice Wood Center for the Arts or Dan Schultz Fine Art Gallery and Studio. Shop around Ojai's funky artistic side, check out Cercana, Poppies Arts & Gift, and FiG Curated Living and pick unique treasures for your loved ones.
Los Padres National Forest, Ojai Meadows Preserve, Ventura River Preserve are a few of the must-visit spots for those eager to discover Ojai's rich flora and fauna.
Capitola
Capitola is a quaint beach town that will amaze you with its colorful Venetian cottages, beachfront stores, fabulous restaurants, and plenty of recreation activities.
Go riding the waves, play volleyball, and sunbathe on Capitol City Beach, or take stand-up paddleboarding and surfing lessons with Capitol Beach Company.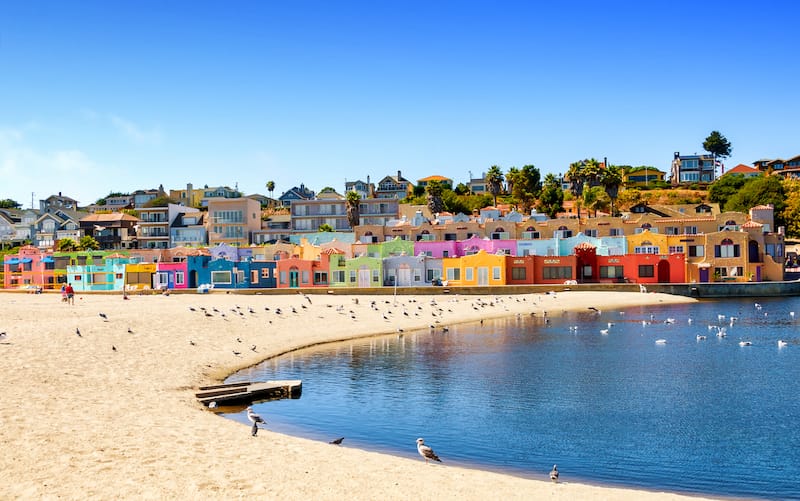 Dig deep into the past of Capitola in Capitola Historical Museum, where you'll learn more about the area's social and cultural history through various past exhibits.
Adventure lovers will enjoy hiking, camping, and swimming in New Brighton State Beach, while foodies can appreciate the local taste at Margaritaville, Caruso's Tuscan Cuisine, or Shadowbrook.
If you love coffee like us, be sure to stop at Cat & Cloud Coffee! You can find it nearby at 3600 Portola Dr in Santa Cruz.
Sausalito
Nestled just a few miles away from San Francisco, this picturesque seaside town offers a serene retreat for those appreciating the good life.
Discover the dramatic scenery of Sausalito from the water by taking a ferry ride from the San Francisco Ferry Building, which rewards you with spectacular views of the Golden Gate Bridge along the way.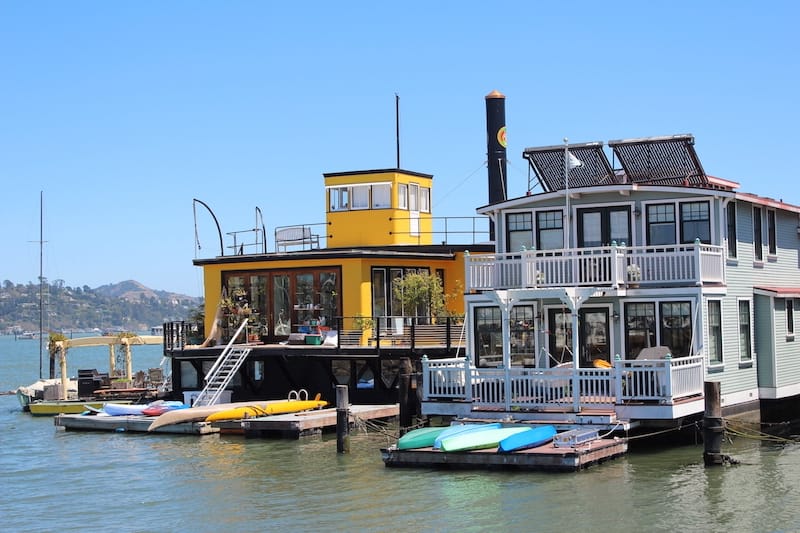 Breathe in the fresh ocean air and take in the stunning views of San Francisco at Marin Headlands, and get the perfect opportunity to view the entire Bay-Delta system under a single roof in the U.S. Army Corps of Engineers Bay Model.
San Clemente
Plenty of activities await you in San Clemente, a small and charming coastal town known for its surf culture and perfect waves.
Explore the breathtaking coastline while hiking on San Clemente Beach Trail and stroll along San Clemente Pier to admire the mesmerizing sunsets over the Pacific.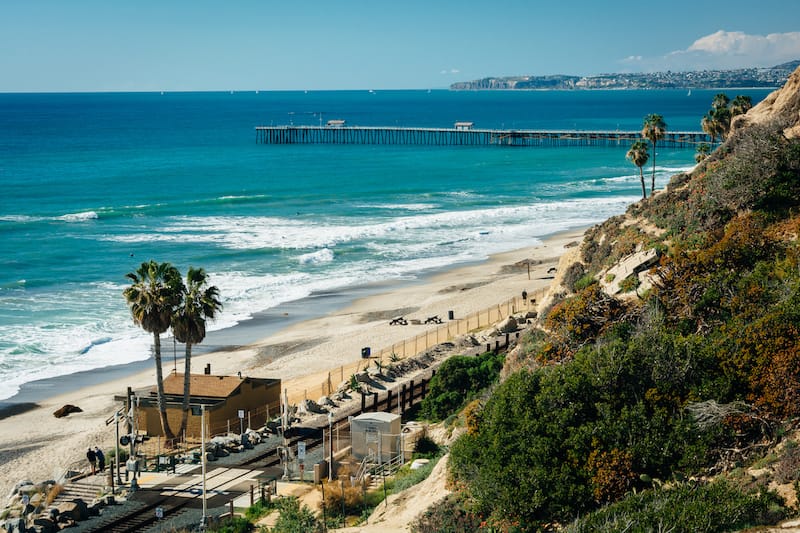 Kids will certainly enjoy playing at Courtney's SandCastle Universal Playground. Spend a day outdoors at San Clemente State Beach and practice your surfing skills at San Clemente Surf School.
Checking out the shops and eateries on Del Mar Street is a perfect way to round off your day.
Coronado
Coronado is a sunny resort city that will leave you in awe with its award-winning beaches, rich history, and vibrant community.
Your first stop should be Coronado Beach, a well-known spot for swimmers, surfers, and sun lovers, backdropped by the iconic Hotel del Coronado.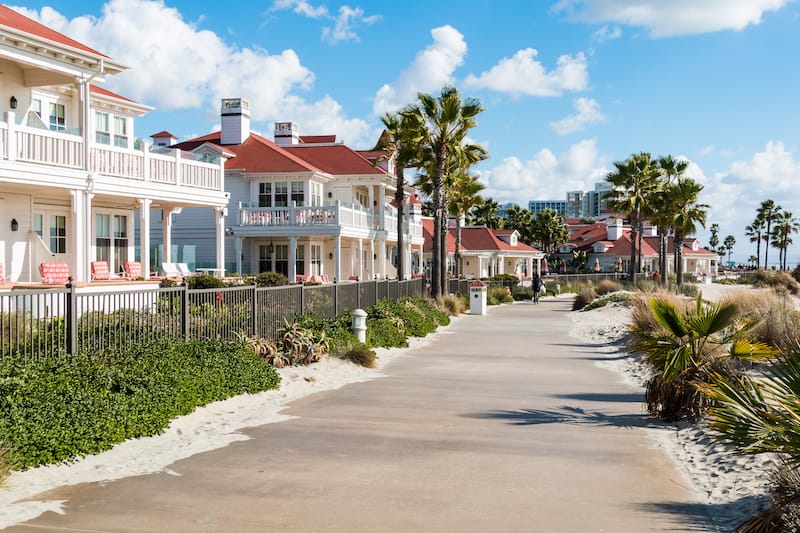 Take time to tour this historic building, and step back in time while admiring the classic Victorian architecture.
Level up your dining experience, go shopping amid the most breathtaking setting, and rent kayaks, bikes, surreys at Coronado Ferry Landing.
After spending a day in the water at Glorietta Bay Marina, head to Coronado Museum of History and Art to discover Colorado's colorful past.
South Lake Tahoe
If you're an outdoor adventure enthusiast looking for a heart-pumping experience, then South Lake Tahoe should be your top pick. During the winter months, you may enjoy alpine skiing on the slopes of Squaw Valley or Heavenly Ski Resorts at this world-renowned location.
If you're not into skiing, then try to get the bird's-eye view from Heavenly Gondola.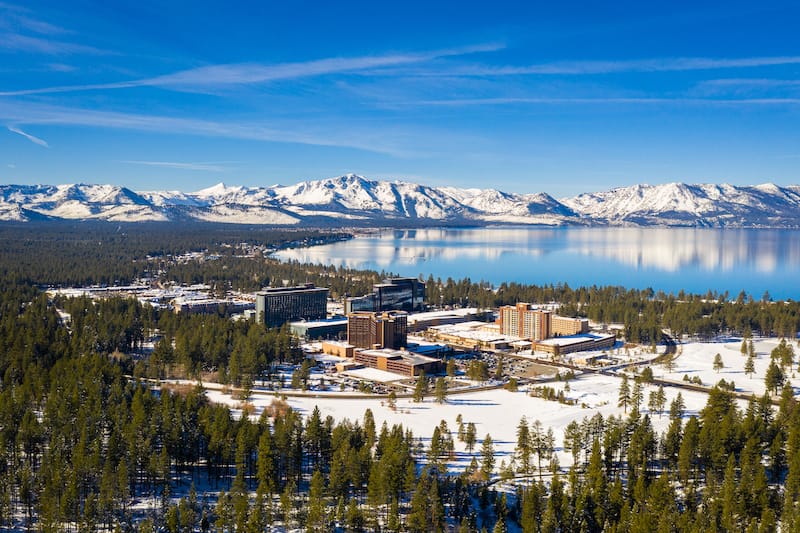 Kayak in Emerald Bay State Park or go picnicking in D.L. Bliss State Park, or Kings Beach. Hop on the Lake Tahoe Cruise boat and get ready to take in the mesmerizing views of stunning pine forests and snow-capped Sierra Nevada mountain peaks.
Did we miss any of the best small towns in California in this guide? Please let us know in the comments! Thanks!
More California Travel Guides
Pin this California Small Towns Guide