Are you looking for a place to get away in Arizona that is charming and has less hustle and bustle than the cities? This guide includes some of the best small towns in Arizona!
There are many Arizona small towns worth visiting, whether they are nestled in the mountains or in the middle of the desert. We included a variety of cute towns in AZ to help you pick your favorite!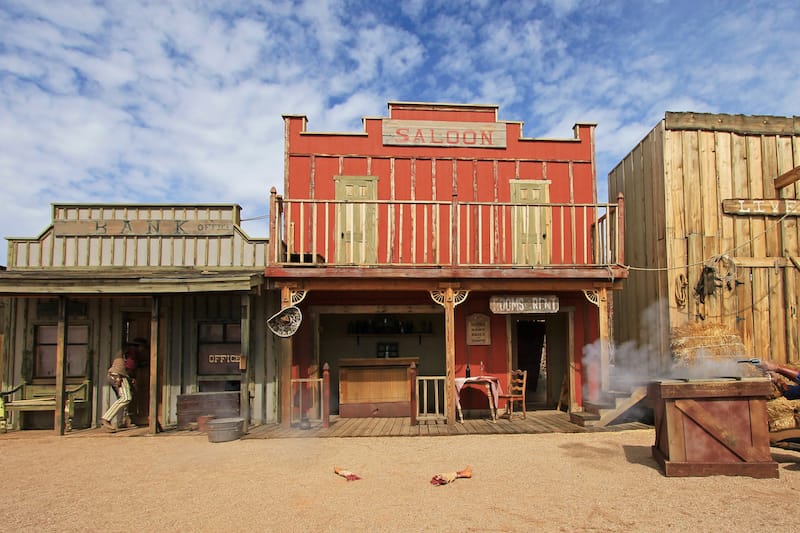 Did we miss any of the best small towns in AZ? Let us know in the comments. Thanks!
Best Small Towns in Arizona
Bisbee
Bisbee is the place to go to if you want to live that fantasy of visiting a real-life frontier town in the American Wild West.
It's located in Cochise County. Bisbee is a little town that is highly liberal and accepting. The pricing here is reasonable and the weather is pleasant all year round.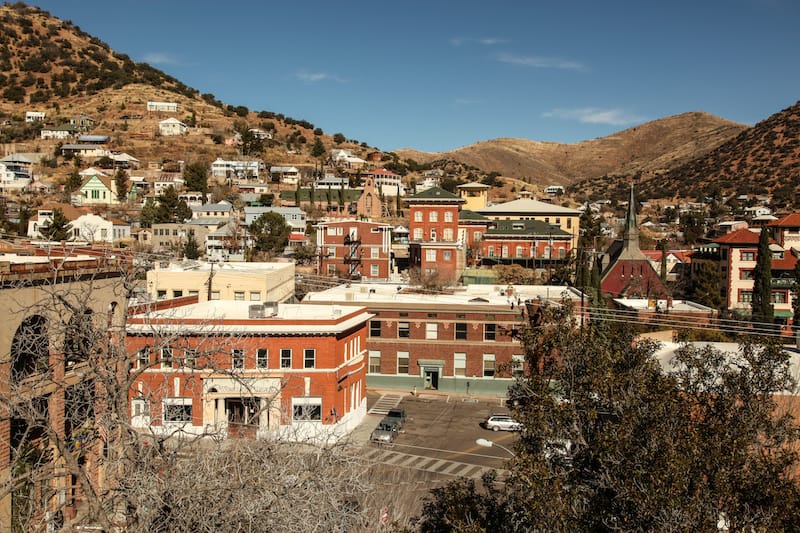 Walking down Main Street, you might feel like you're in some kind of a Western movie. The town has a variety of fascinating structures, including the Cochise County Courthouse (an imposing Art Deco structure) and many Victorian-style townhouses.
The downtown area still has a vibrant cultural environment, most of which is due to its popularity as a hippie and artist hangout in the 1960s.
The views here alone make this place an appealing destination to visit!
Williams
Williams is located on the famous Route 66, West of Flagstaff and in Coconino County. It's a popular stopover for visitors, with numerous motels, restaurants, and pubs to accommodate them.
This small town is well-known as the Southern Terminus for the Grand Canyon Railway. It's how travelers from the downtown station get to the world-famous location.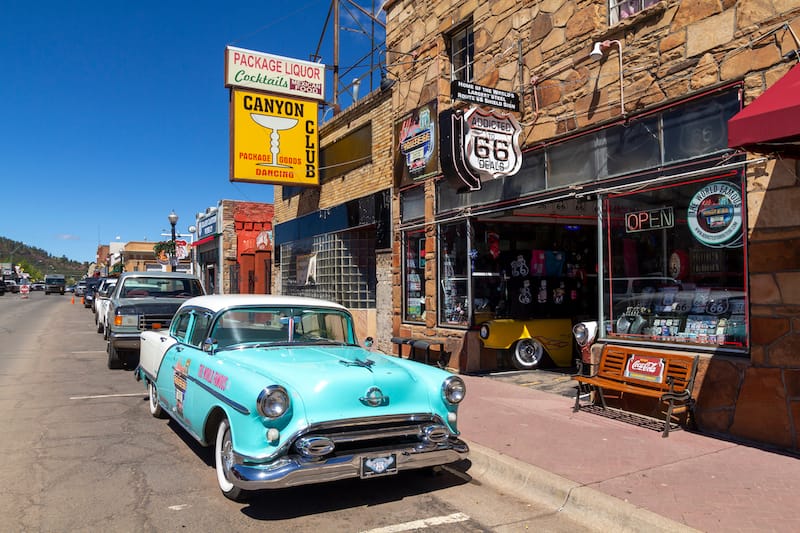 Even though Route 66 is not used anymore, its essence still lives on this site. The recommendation is to stop by the Williams Depot to see a steam train before walking the historic business district.
If you want to feel the experience of the past, stay at the Lodge on Route 66 before traveling over to South Rims Wine & Beer Garage.
The list of most visited places here also includes the Bearizona Wildlife Park and Pete's Rt 66 Gas Station Museum. Consider checking them out as well.
Jerome
Jerome, founded in the late 1800s, prospered as a boomtown due to substantial copper mining and is now one of the best places to visit in Arizona.
The town is located on Cleopatra Hill in Yavapai County. It overlooks the Verde Valley and has beautiful panoramic views.
Jerome is a National Historic Landmark, which makes it an ideal destination for history fans. If you're interested in ghost stories, Jerome is also known as a haunted place.
Get yourself into the Gold King Mine and Museum, which is a real-life ghost town.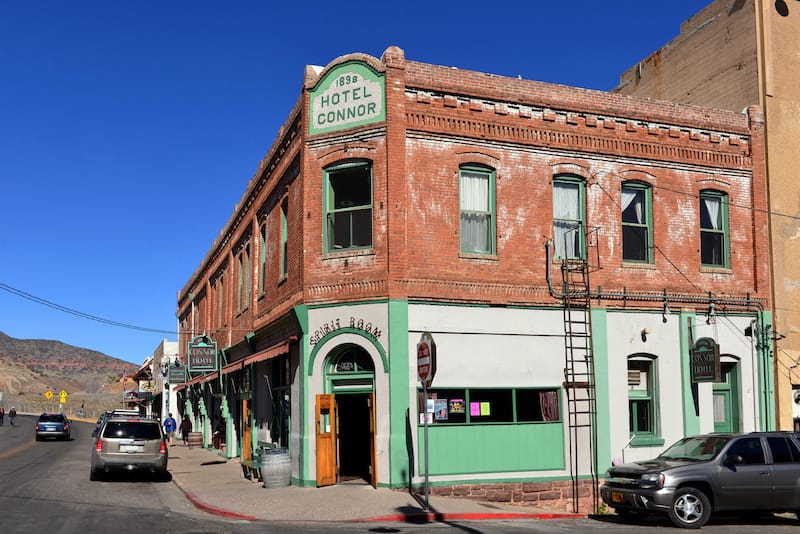 After that, you most certainly will not want to hear any creepier stories.
Here you can visit the art galleries and choose a coffee shop where you can spend your spare time. Or, if you're interested in wineries, visit the Bitter Creek Winery and explore it.
An alternative would be visiting the Jerome State Historic Park or the Jerome Historical Society Mine Museum (this one is for all those history enthusiasts out there).
Patagonia
Patagonia is a small town in Arizona's Santa Cruz County. It had a population of 913 people according to the 2010 census. Patagonia grew as a trading and supply center for nearby mining and ranches in the mid-19th century.
Nowadays, it's a tourist destination, retirement community, as well as an arts and crafts center. It is a top weekend destination from Phoenix.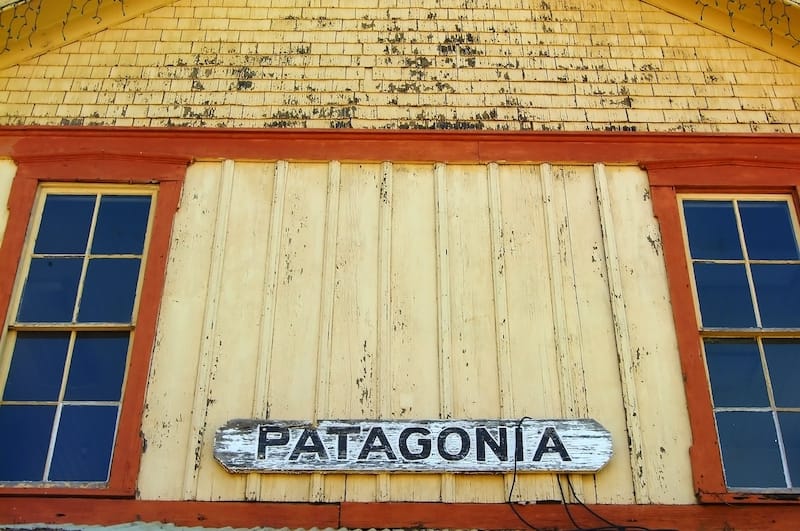 Located at nearly 4,000 feet elevation between the Santa Rita and Patagonia Mountains in the riparian corridor of Sonoita Creek, according to visitors, this town is astonishingly rich in both natural and human assets, which is the main reason why tourists stay and return here.
There are quaint coffee cafes, vintage cowgirl bars, and extremely unique retail establishments.
Also, if you're interested in birding, consider that according to the book "Fifty Places to Go Birding Before You Die: Birding Experts Share the World's Greatest Destinations", this town is a must-visit.
Arcosanti
Arcosanti in Yavapai County is a remarkable town as it has been under development since 1970. It's a projected experimental town with a molten bronze bell casting business.
It was created to show how urban circumstances may be improved while reducing the negative influence on the environment.
The structures here are a reflection of arcology – architecture and ecology – for a town that is both humanistically functional and environmentally friendly. If you enjoy taking photographs of unique architecture, you will enjoy roaming around here.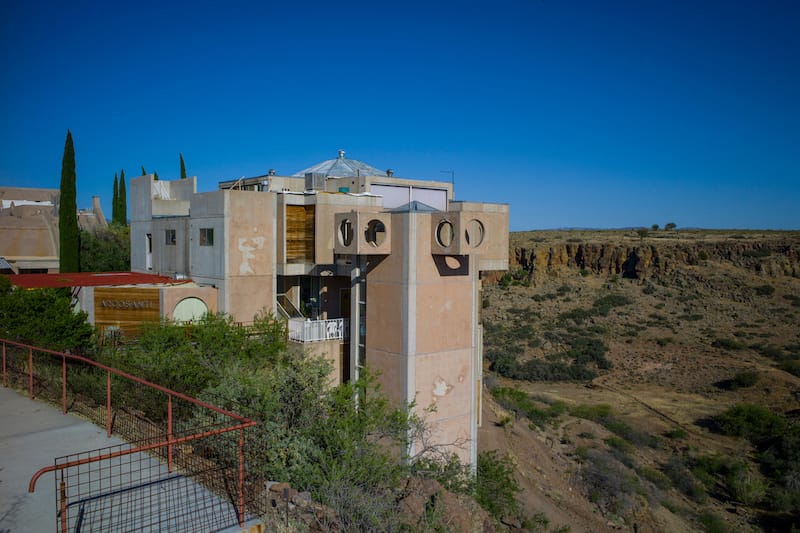 Existing structures at Arcosanti are intended to begin to meet a community's full range of needs including a five-story tourist center/café/gift shop, a bronze-casting apse, a ceramics apse, two massive barrel vaults, a communal swimming pool, and much more.
Workshops on arcology, urban planning, art, and design are all activities you can choose to entertain yourself while in Arcosanti.
Lake Havasu City
Lake Havasu City is a city in Mohave County, on the eastern shore of Lake Havasu along the Colorado River border of California and Arizona. It's 2.5 hours south of Las Vegas in Nevada and 4-5 hours east of the Los Angeles area.
Lake Havasu City is situated on the northern and western edges of the Sonoran Desert and is rich in biodiversity providing a wide range of magnificent experiences.
With its historic London Bridge, gorgeous lake, great weather, and interesting annual events, the area attracts almost a million people each year.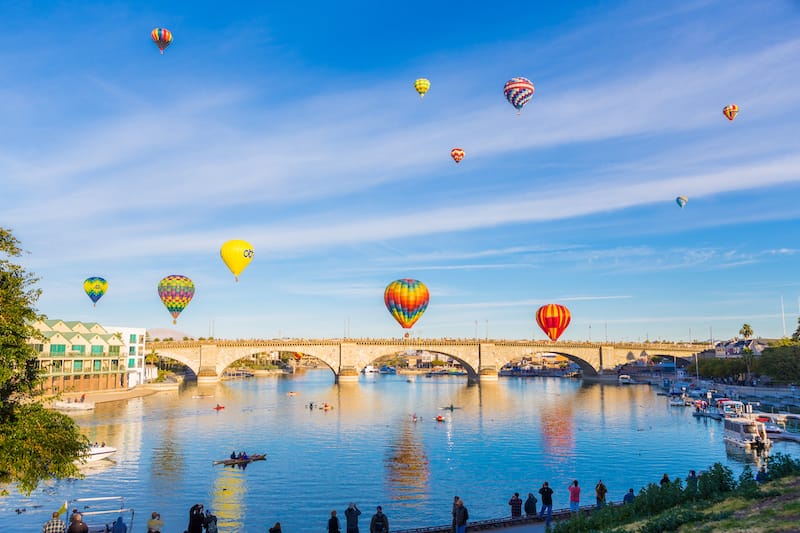 Fishing, skiing, kayaking, and house boating are just a few of the watersports available along the gorgeous coastline.
Beautiful beaches, off-road routes, undeveloped river segments, campsites, and hiking routes are also available for visitors to explore.
Moreover, if you're looking for bass fishing, note that Lake Havasu is on the list of the top 100 best bass fishing lakes in America. It is great for capturing huge and smallmouth bass. It is an excellent weekend getaway from Tucson and Phoenix!
Tombstone
Tombstone is a famous western historic town that is firstly associated with gun fighting but has much more to it. It was Arizona's most productive silver area and was once a mining center.
However, as that source of revenue dried up long ago, Tombstone now mostly relies on tourism.
East Allen Street's boardwalks are dotted with shops, saloons, and restaurants, and it's well worth a visit. Another site to visit is the Cochise County Courthouse, which has now been turned into a museum.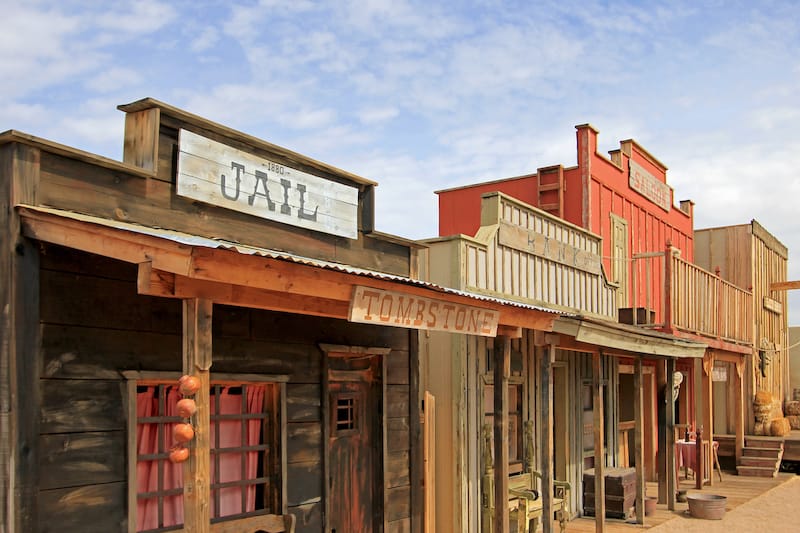 The shootout at the O.K. Corral is one of the most iconic episodes in the American Wild West, which happened in Tombstone. The event took place a few doors down at a vacant property owned by Wild West photographer C.S. Fly, not at the O.K. Corral.
Lastly, the world's largest rose shrub, established in 1885 and recognized by the Guinness Book of World Records, is also located there.
Cave Creek
Cave Creek (not to be mistaken with the Cave Creek town in the Chiricahua Mountains) is located in Maricopa County and conveniently positioned 27 miles northeast of Phoenix. So, it's pretty close to a big metropolis, yet the life inside this town is still quite peaceful.
Take your walking shoes to Cave Creek Regional Park or Cave Creek Trail Rides if you want to go hiking or horseback riding.
After spending some energy and wanting to eat somewhere, get to Tonto Bar and Grill for some very delicious meals.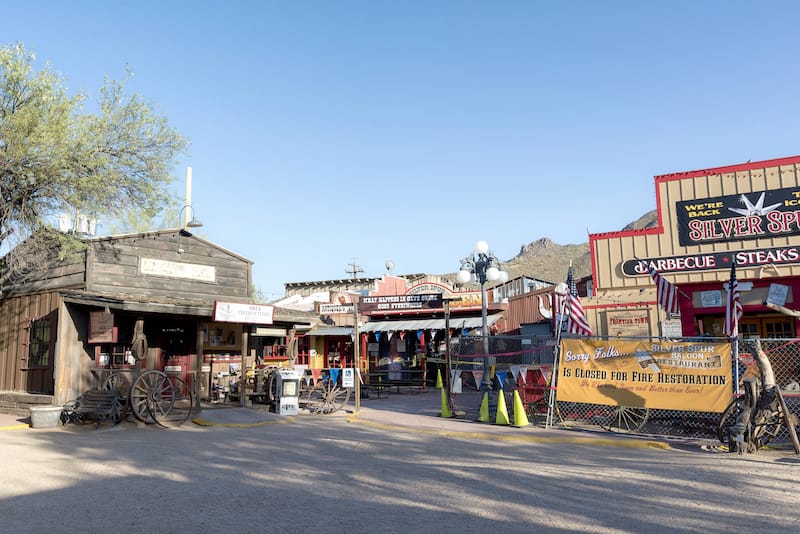 The location of Cave Creek makes it a great place where you can reconnect with nature, without spending a considerable amount of time just traveling to the destination.
Greer
If you want to run away from extremely high temperatures, visit Greer!
It's an unincorporated settlement in Apache County, near the White Mountains. This hamlet, which is surrounded by the Apache Sitgreaves National Forest, has a rich history.
It was founded in 1879 by Mormon pioneers from Utah.
As it's located close to the lakes in the Little Colorado River basin, Greer has a significantly warmer climate and is a true paradise for nature enthusiasts. It is also close to the border of New Mexico.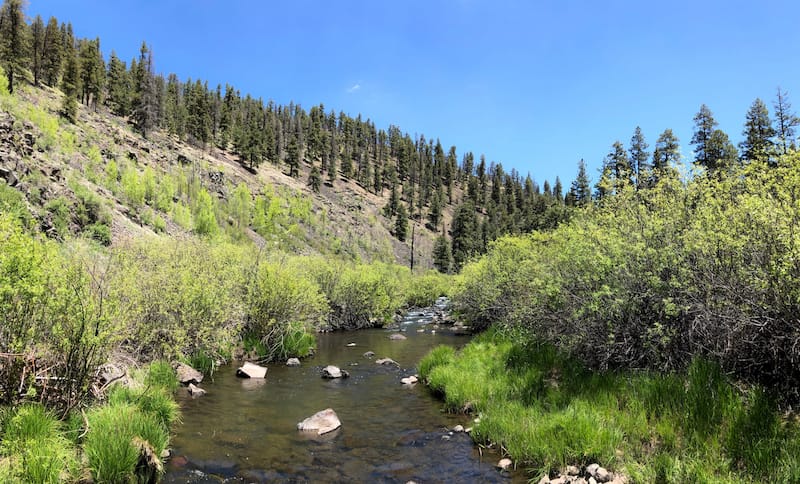 In the wintertime, visit Sunrise Park Resort. It's a popular ski resort and a great way to spend a vacation on the slopes. Enjoy the snow-covered mountains, fresh air, and take some beautiful shots of nature.
Globe
Bricks and mortar lovers will surely enjoy walking around the town of Globe.
Globe is in Gila County and was formed as a mining site. Since the 1980s, its downtown district has been listed on the National Register of Historic Places, and mining along with tourism continues to play an important role in the town's economy.
The town has also been linked to the Apache Kid and Geronimo, two of the criminals who escaped the O.K. Corral shoot-out and ended up in Globe.
Overall, this place has a rich and authentic Wild West history, with stories of murders, stagecoach robberies, outlaws, and more.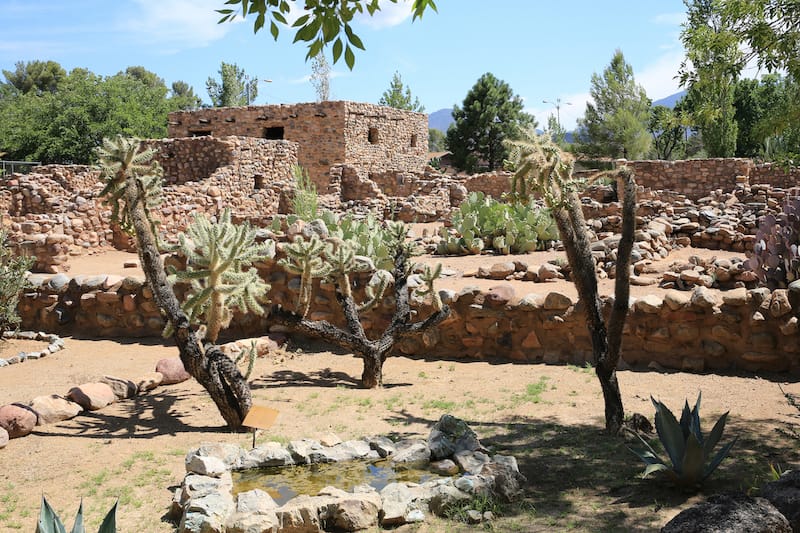 When in Globe, it's recommended to take a walk through the Gila County Courthouse and Jail, which is now the Cobre Valley Center for the Arts.
Just walking around the city, you'll notice a range of beautiful architecture, from Georgian Revival and Neoclassical to Beaux-Arts.
Payson
Payson is located in northern Gila County. The geographic location of this town is near to the center of Arizona, giving Payson the title of "The Heart of Arizona".
It's surrounded by the Tonto National Forest and is a haven for outdoor enthusiasts all year round. Unlike Arizona's drier desert parts, the city has a mild Mediterranean climate.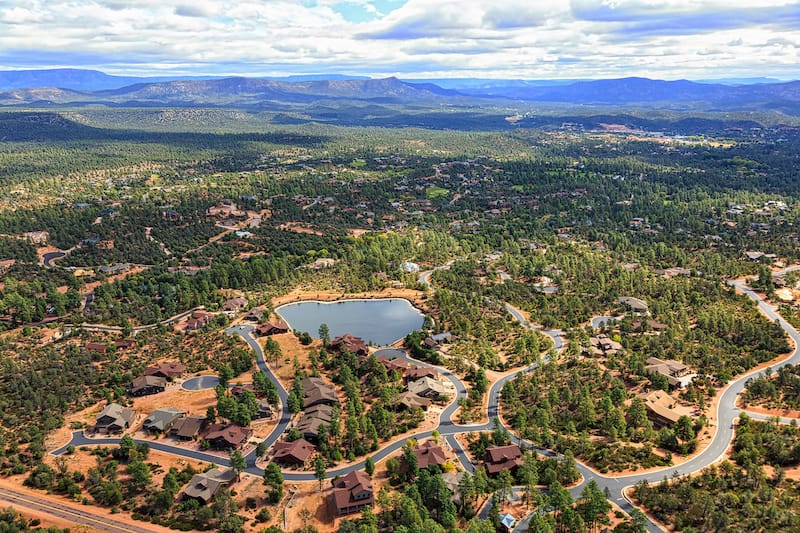 The region offers a wide range of outdoor activities, including fishing, hiking, horseback riding, as well as rock and crystal collecting.
You can see the Tonto Natural Bridge (the world's largest known travertine natural bridge), enjoy some golfing at the nearby country clubs, or test your luck at the Mazatzal Casino.
Winslow
Do you know the lyrics from The Eagle's song 'Take it Easy'? The one that goes like 'I was standing on a corner of Winslow, Arizona…'
In the past, the ancient town of Winslow was a Route 66 community. Elegant hotels like the famous La Posada, can be found in Winslow. Winslow has retained some old-fashioned charm and hospitality despite being a little off the beaten path.
Visit the Meteor Crater and check out the Painted Desert and Petrified Forest, one of the most underrated national parks in the US. All of them are located outside the town but are certainly worth the time to get there.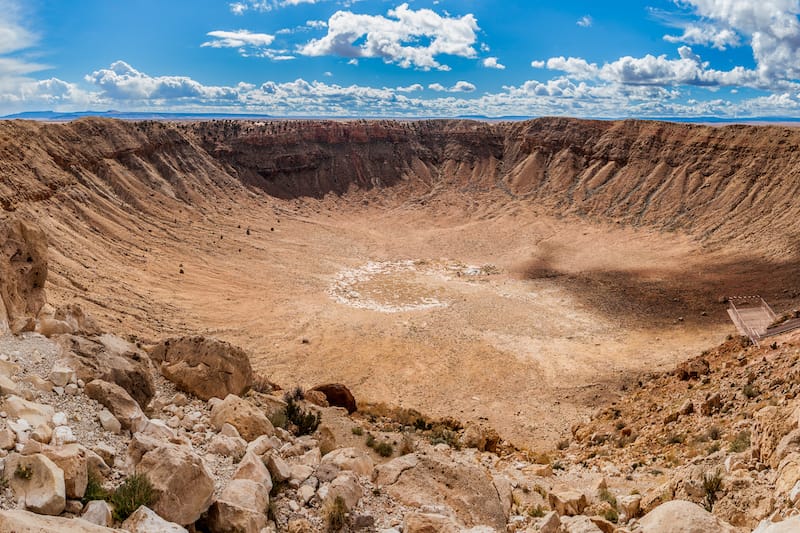 The desert setting is ideal for taking beautiful photos. You may always unwind at night at "Standin on The Corner Park."
Alternatively, you can attend the annual Standin' On The Corner street festival in Winslow if you're lucky enough to be in Winslow during September.
Tubac
Tubac was the first Spanish colonial fortress in Arizona before the O'odham Uprising.
The Arizona town was repopulated by miners, farmers, and ranchers in the 1800s after the Spanish left. Today, it's known as an artists' colony.
The town of Tubac suggests exploring the 100+ galleries, shops, and restaurants. The main leisure here is visiting Tubac Presidio State Historic Park (it's the centerpiece of the town).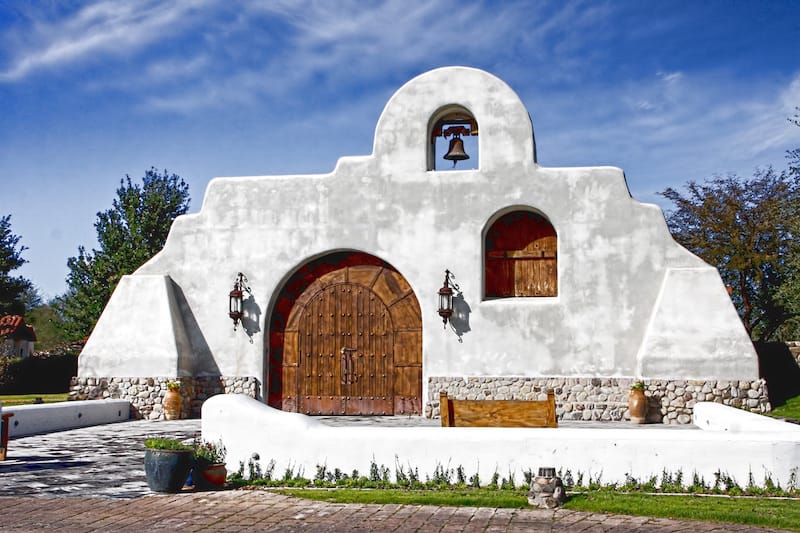 The north and south sides of the town have their unique attributes. The Titan Missile Museum is about 20 minutes north of Tubac. This place will most likely scare you a lot if you have any knowledge of the Cold War.
The south side, on the other hand, has the Mission Tumacácori, which is located 3 miles south of Tubac.
It's a national park, where you can take a guided river walk tour or a stroll along the Santa Cruz River from Tumacácori to Tubac.
Page
Not the biggest city in Arizona, Page is still home to some pretty amazing sights. It's a great spot for adventurers to explore slot canyons, lakes, and other natural wonders.
And, Antelope Canyon is one of the best things to do in Page. To explore the canyon, you must take a tour, which is not that cheap (around $40+ per person) and requires reservations.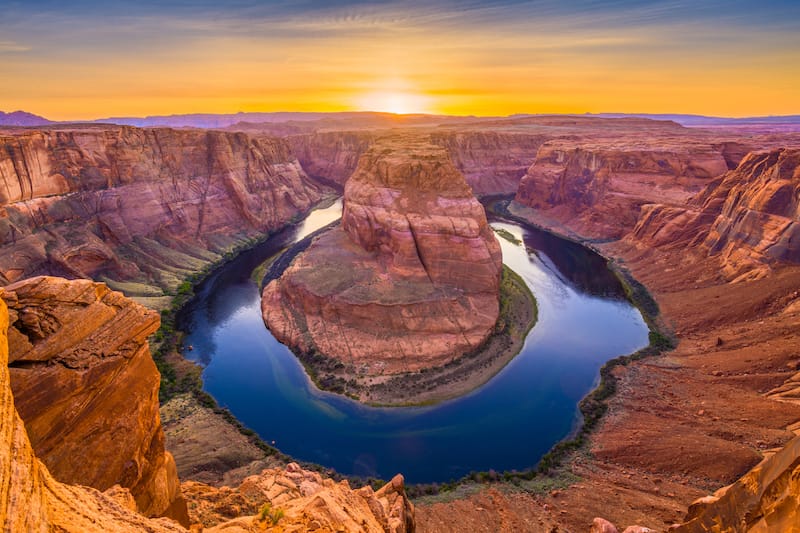 Upper and Lower Antelope Canyon are the most well-known parts of the canyon. These are both in the same region, and it's up to you to decide if you want to visit both or just one of them.
Other than the canyon, you can spend a few hours kayaking or stand-up paddleboarding on Lake Powell. You can also enjoy the sunset at Horseshoe Bend, which is a very unique and beloved place in Page.
For the latter, be prepared to see and "fight" a lot of crowds but it is also a nice place to see some sights near the Grand Canyon, one of the most popular national parks in the USA.
This is an easy day trip from Sedona, Flagstaff, and many other places in Arizona!
Wickenburg
Founded by a German man by the name of Henry Wickenburg, this town is one of those places that feel like walking straight into the past.
A gold strike on the Colorado River drew a slew of prospectors to the area in hopes of making fortunes (H. Wickenburg was one of the first prospectors).
The town is situated on the northern edge of the Sonoran Desert, just below Arizona's mountainous country.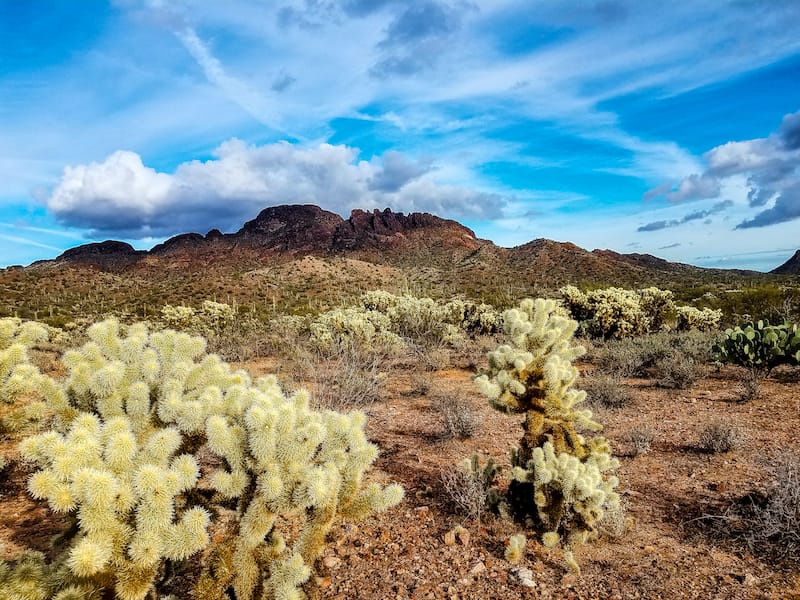 Overall, Wickenburg is famous for its wide-open space, fresh air, team roping capital of the world, dude ranches, tourism, and medical services sector. The desert is alive with amusing and soul-satisfying pleasures.
The area of Hassayampa River drew miners from all over the world and supplied ideal soil for farming and ranching.
Now, the Nature Conservancy owns the reserve, which is a lush riparian region with year-round water flow and hiking trails that give visitors a sense of direction around the property.
Did we miss any of the best small towns in Arizona? Let us know your favorites in the comments!
More Arizona Travel Resources
Pin this Arizona Small Towns Guide