Are you looking for some of the cutest small beach towns in California? This guide has you covered!
From the rugged coasts of the north to the surf towns of the south, you will find plenty of amazing California small beach towns regardless of where youʻll be traveling from!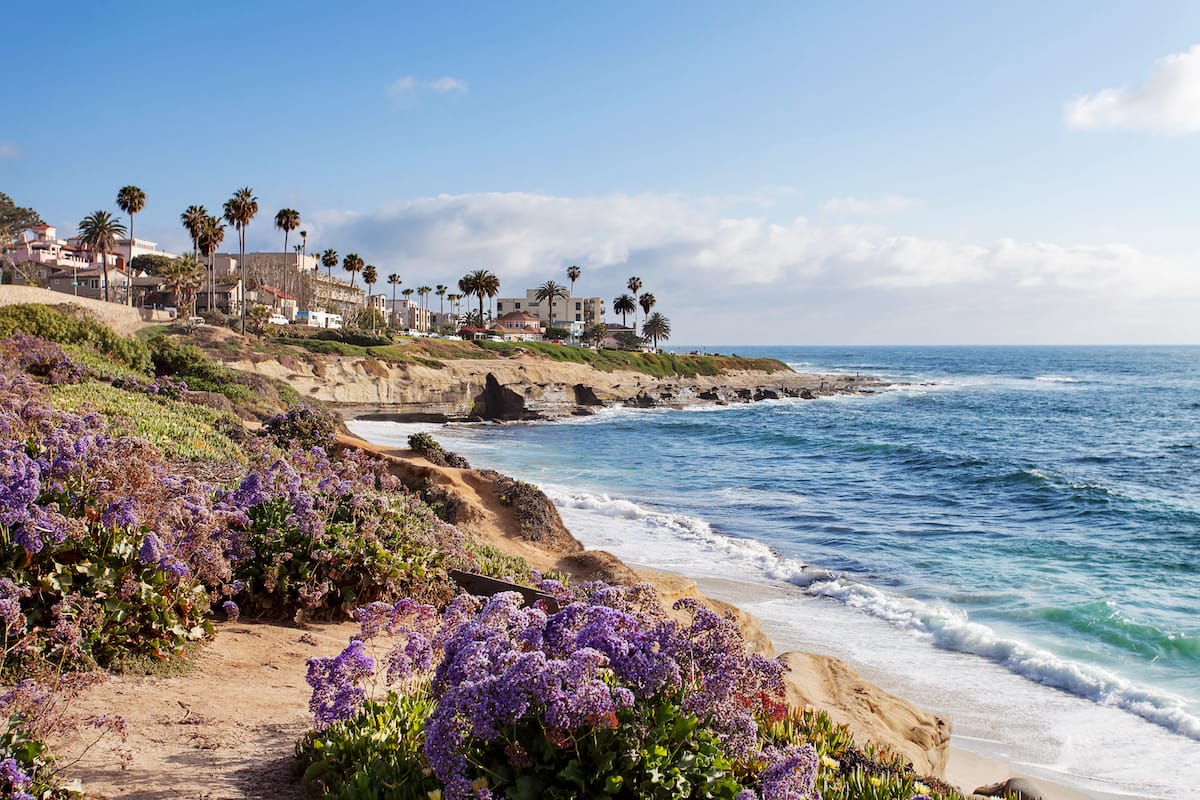 Did we miss your favorite small beach town in CA? Let us know in the comments. Thanks!
Best Small Beach Towns in California
Fort Bragg
Fort Bragg is a small coastal town in California that has plenty of picturesque ocean views and attractions.
The town is home to gorgeous beaches and state parks, including Pudding Creek Beach, Glass Beach, Seaside Beach, Mendocino Coast Botanical Gardens, and MacKerricher State Park.
Hiking is also popular in the area, particularly along the Fort Bragg Coastal Trail.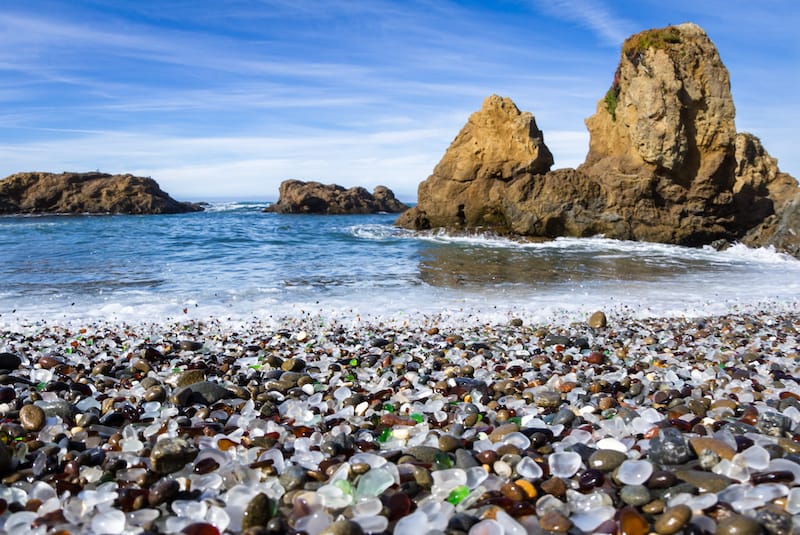 The 8-foot wide coastal trail is paved and accessible for everyone. If outdoor activities aren't your thing, Fort Bragg is also known for its museums and art galleries, including the Sea Glass Museum, which used to be home but now offers colored sea glass displays, the Guest House Museum, built entirely of local redwood and now the headquarters of the town's historical society, and the more fun Triangle Tattoo & Museum, which features exhibits and artifacts on tattoo history.
Finally, try the favors of the town at North Coast Brewing Company, Cowlicks Handmade Ice Cream, and Headlands Coffeehouse.
Capitola
Capitola is a famous tourist destination is the oldest beach resort on the West Coast. The local must-visits are Capitola City Beach, situated along Monterey Bay, and New Brighton State Beach.
Both offer plenty of outdoor activities like surfing, sunbathing, bird-watching, fishing, hiking, and camping.
If you're a novice surfer, visit Capitola Beach Company, offering surf and stand-up paddleboarding lessons. Capitola's list of sites and attractions is endless.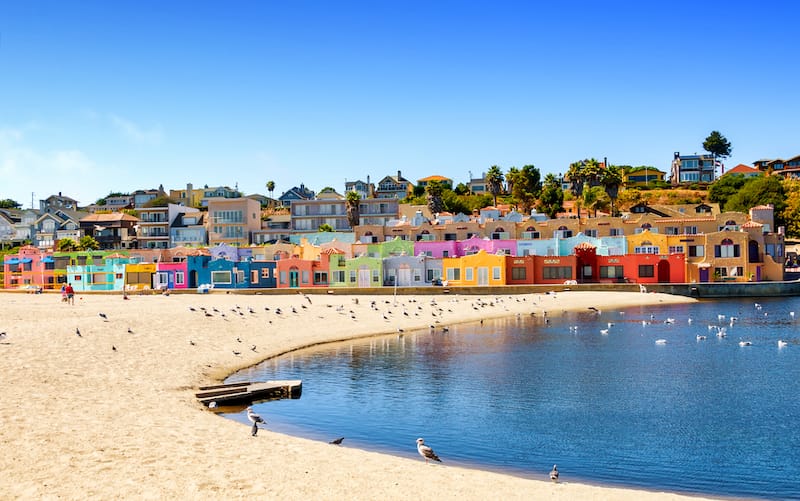 For wine connoisseurs, you should absolutely not miss a visit to the Armida Winery, Cork and Fork, or Capitola Wine Bar and Merchants.
Another must-see is Sante Adairius Rustic Ales, which offers a tasting room and unique old-world-style ales.
There is also no shortage of delicious restaurants in Capitola, with some favorites among visitors including Caruso's Tuscan Cuisine and Margaritaville.
History buffs can learn more about the town at the Capitola Historical Museum, which features all kinds of rotating exhibits.
Finally, if you want to go on a nice shopping trip, stop by Capitola Mall or Brown's Ranch Marketplace for a variety of local and well-known shops.
Avalon
Located on Santa Catalina Island, Avalon always attracts visitors with its rich history and natural treasures.
In addition, Avalon is the perfect spot to participate in a wide variety of outdoor activities, such as hiking, biking, ziplining, and swimming.
This seaside destination is especially popular due to its charm and gorgeous views.
Crescent Avenue is the main stop in Avalon. Also known as Front Street, where you will be able to check out the town's beaches, restaurants, and shops, as well as architectural gems like the Serpentine Wall.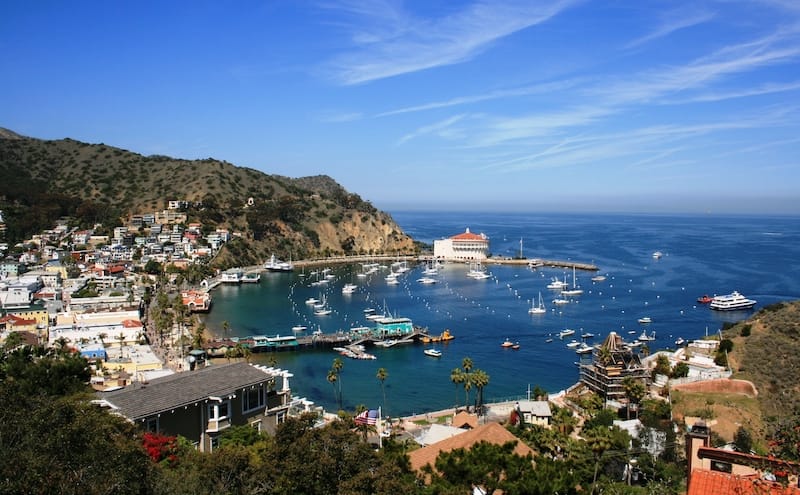 You can also take an ocean tour with the Catalina Island Company. The tours all launch from the Green Pier. Descanso Beach Club is another popular spot among tourists.
It's the only beachside bar and restaurant in Catalina and one of the only places where you can have a drink in your hand and your toes in the sand! It really is one of the best day trips from Los Angeles!
For an educational tour, check out the Catalina Island Museum full of historic exhibitions and collections. The museum is open every day from 10 am to 5 pm.
Arcata
Arcata is situated on Humboldt Bay and boasts historic architecture, natural wonders, and great eateries.
The Plaza is located in the heart of the town, featuring restaurants, coffee shops, restaurants, bars, and other entertainment venues.
You can also stop by here to check out the farmers' market between April and November.
Another favorite among locals and tourists is the Minor Theater, which is one of the oldest movie-only theaters in the country.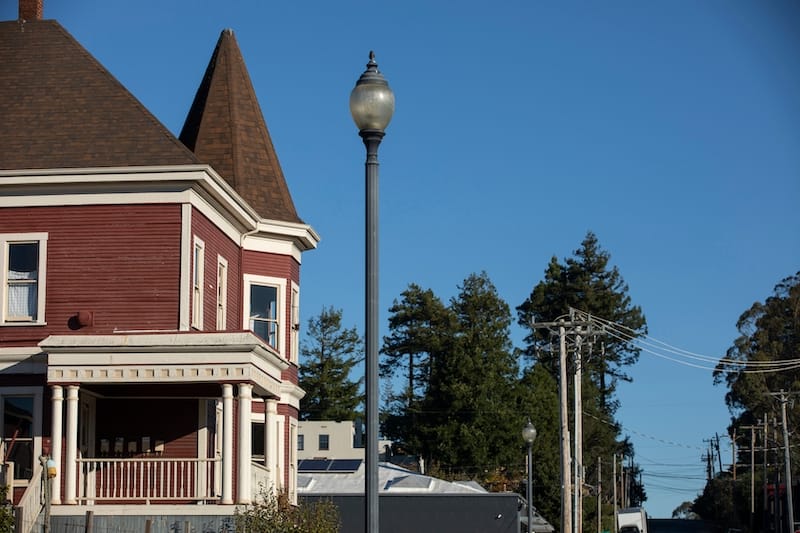 In addition, the people of Arcata are known for their love of nature. Be sure to check out the Arcata Marsh and Wildlife Sanctuary. Aside from the exhibitions here, the park is popular for hiking and biking as it boasts over 5 miles of trails.
Thousands of people also travel here every year for birdwatching because the sanctuary is home to over 300 species.
Don't forget to enjoy the local flavors at the Alchemy Distillery, Wrangletown Cider Company, and Los Bagels.
As a bonus, you can enjoy a game at Humboldt Crabs Baseball or enjoy playing golf at Baywood Golf and Country Club.
Laguna Beach
This small coastal town is one of California's most famous– and for good reason. Laguna Beach boasts plenty of beautiful beaches, coves, and eclectic art galleries.
Your first stop here should be Main Beach, which features tide pools and a boardwalk. As you walk along the boardwalk, you will be able to reach Heisler Park.
You can also check out Crystal Cove State Park, which has a designated underwater park. Surfers can catch the waves at Aliso Beach Park.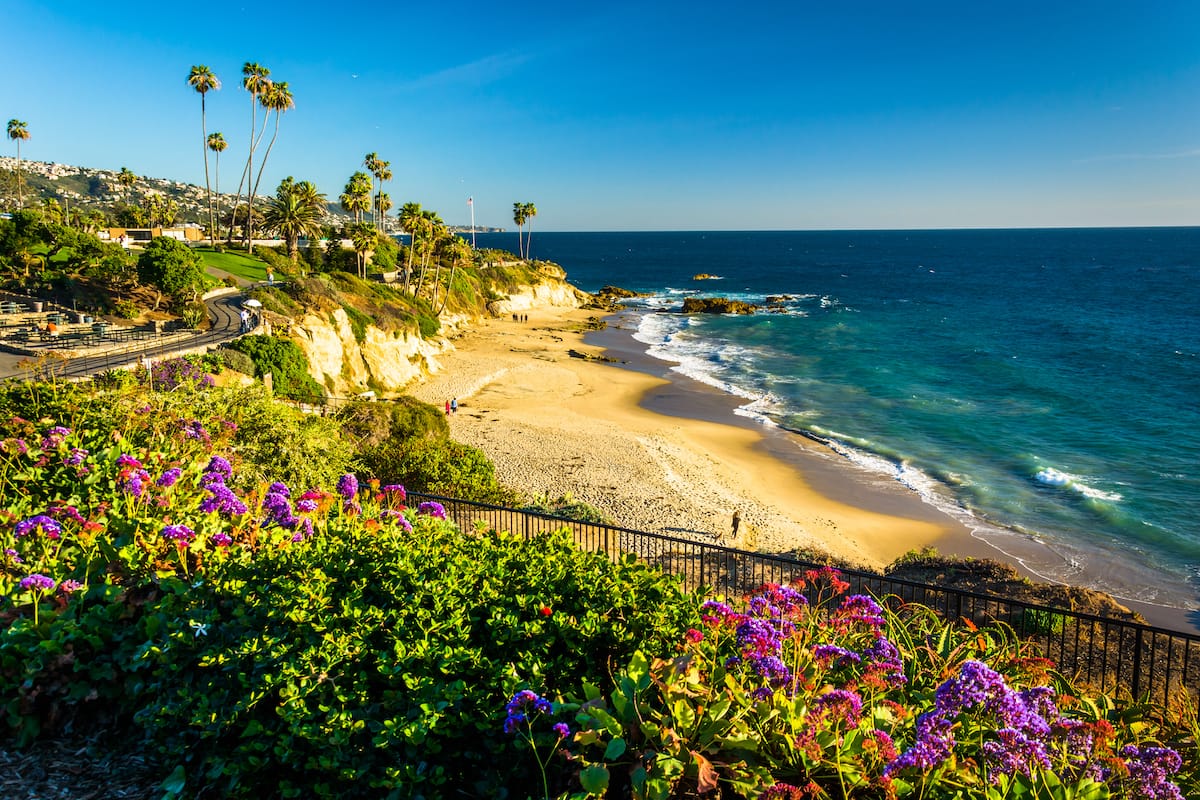 Outside of the beach, you can check out the town's stunning nature, as it is home to over 20,000 acres of wilderness. Here, outdoor lovers can experience mountain biking and hiking trails.
Visitors can also go on whale watching tours or enjoy one of the many art festivals taking place all year round.
You can enjoy annual festivals, including the Sawdust Art Festival and Festival of Whales.
In addition, the Laguna Beach Trolley offers free transportation along the South Coast Highway.
Oxnard
Oxnard is a bustling ocean town with excellent beaches, well-preserved historic buildings, great dining, and lots of shopping places.
First, check out Channel Islands Harbor, which is a favorite spot among tourists and locals with opportunities for sportfishing, parasailing, and whale-watching.
You can also visit Mandalay Beach if you want to get in touch with nature, as the beach does not offer any facilities and you can explore the local flora and fauna.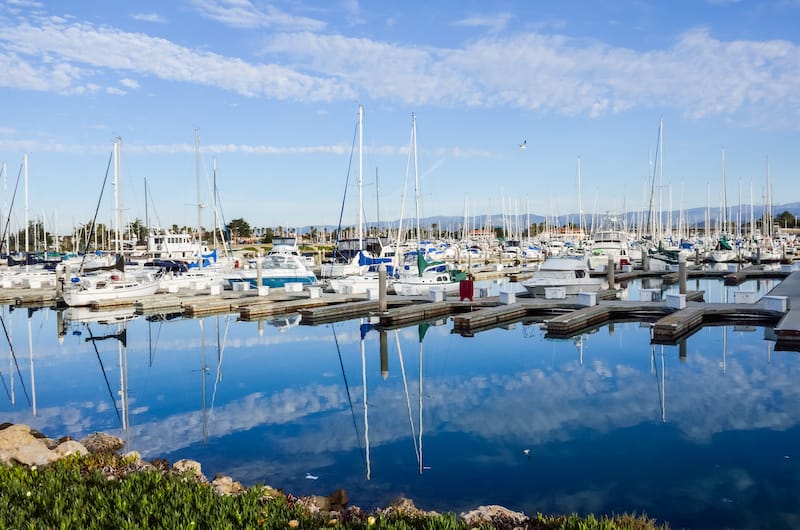 Oxnard State Beach and Park, with blooming wildflowers, dunes, picnic tables, barbecues, and paved pathways, is another one of the gems of Oxnard.
Along the Pacific Coast, you can relax in Oxnard Beach Park, which has plenty of picnic tables, grassy lawns, and views of the Channel Islands National Park.
Art lovers can also take a visit to the Carnegie Art Museum, which displays contemporary California art.
Cayucos
Cayucos is the perfect place to escape your busy lifestyle. Located along the Estero Bay in central California, Cayucos is a great place to get away from the heat of California's metropolitan areas.
Start your trip from downtown and visit Ocean Avenue, where you'll find antique shops, great restaurants, and hotels.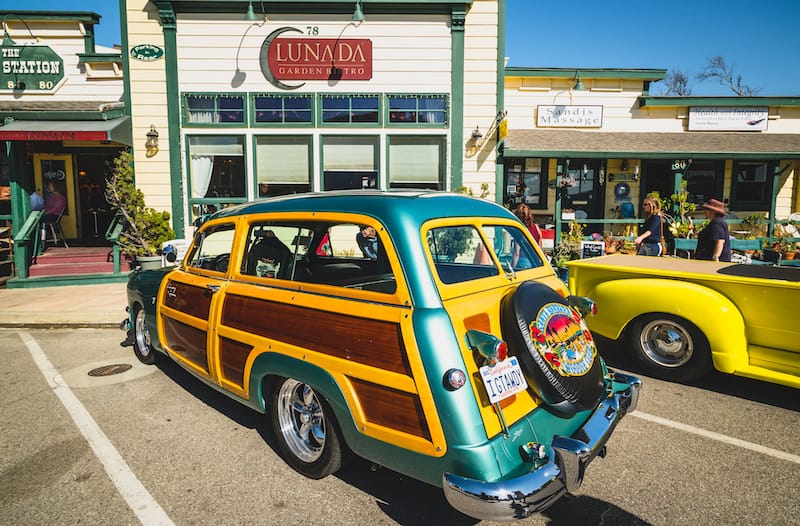 For historical sights, check out the Cayucos Tavern and Card Room. For antiques, gardens, and home goods, attend Remember When and Remember When – Too.
Take a walk along Cayucos Pier to capture the magnificent views of the Pacific Ocean. Wine connoisseurs will especially enjoy Cayucos due to its multiple wineries and wine tasting options.
La Jolla
The affluent coastal town of La Jolla boasts abundant opportunities for outdoor activities and recreation.
One of the most popular spots in La Jolla is the Torrey Pines State Natural Reserve, which is known for its hiking trails along with pine trees and sandstone canyons.
You can also try out the two golf courses at the Torrey Pines Golf Course, which offers stunning views of the sea.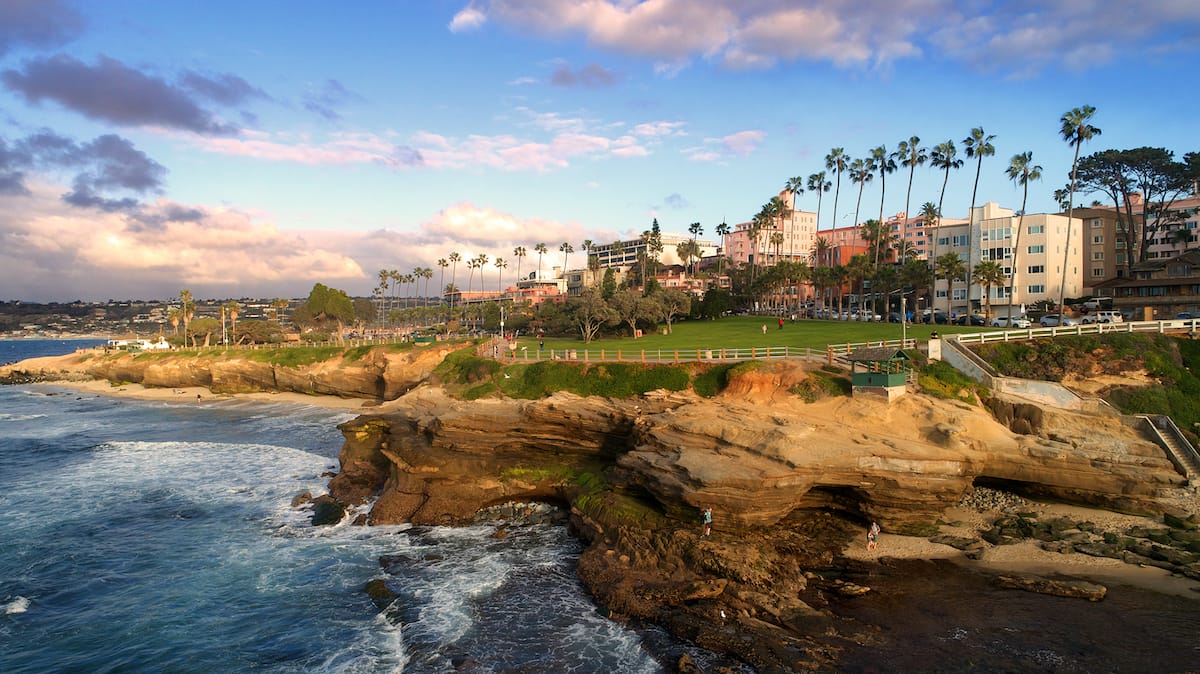 Also be sure to visit the Shell Beach tide pools, which crabs and anemones call home. Shopaholics can also enjoy the boutiques and restaurants in La Jolla Village.
Art lovers should make it a point to check out the Museum of Contemporary Art, which features American and European art, sculptures, photography, paintings, and more.
Shelter Cove
The tranquil seaside town of Shelter Cove will take you back in time. It has a lot of things to offer for outdoor enthusiasts. Being located on the Lost Coast, Shelter Cove is isolated from the rest of California.
The town boasts fabulous parks with bike paths, pedestrian walkways, wining and dining, and so much more. Be sure to take a hike along the Lost Coast.
You can also go fishing or check out the tide pools at Black Sands Beach.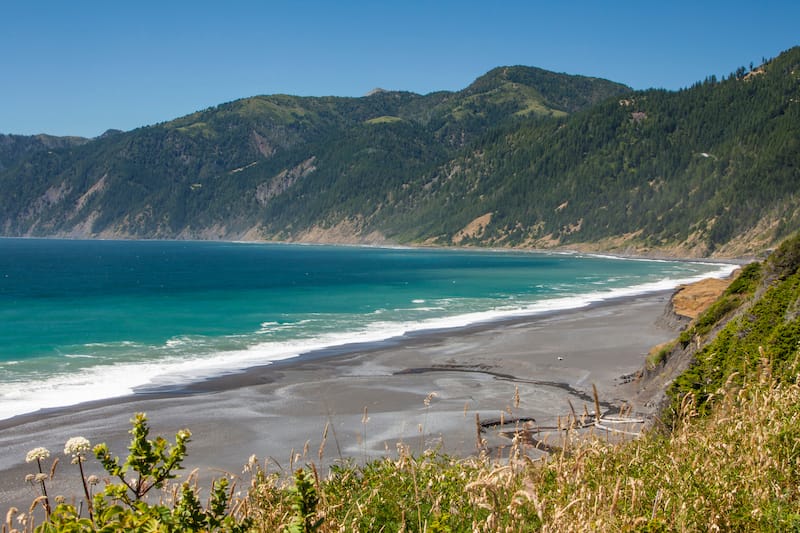 The town also has plenty of local resorts and campgrounds for those who want to spend the night out in nature. If you enjoy golfing, you can test your skills at the Shelter Cove Golf Course.
Finally, you can check out one of the town's gems, the Cape Mendocino Lighthouse.
Davenport
Located along Highway 1, the tiny town of Davenport will unexpectedly surprise you. Once a bustling whaling village, today is a perfect place to have a peaceful, slow weekend.
The main attraction of the town is Davenport Beach with Shark Fin Cove and the famous swing. Take a walk along the beach and enjoy the breathtaking scenes.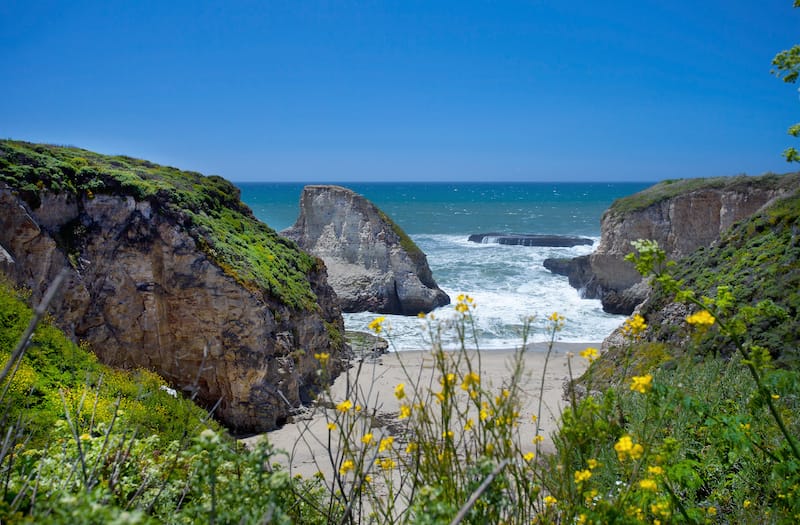 Also, don't forget to take your camera with you for some amazing photos! Bonny Doon Beach is also a must-see with cliffs, rock shelves, and large sand areas.
If you've already enjoyed the beaches, check out Bonny Doon Vineyard Tasting Room or take a wine tour of the Santa Cruz Mountains.
Looking for a place to stay? Look no further than the Davenport Roadhouse Inn, which not only offers affordable accommodations, but also a lovely restaurant, bar, and cafe, all packed with delicious and fresh options.
Encinitas
Encinitas is known as one of the best surf towns in the world. It also has the nickname "Flower Capital of the World" due to its immense gardens. Even cooler- Encinitas grows poinsettias, the Christmas flower, more than anywhere else in the world!
To see more of Encinitas' flowers, be sure to visit the San Diego Botanic Garden, which has 4,000 types of plants from all over the world.
Along with surfing opportunities, visitors can enjoy various attractions, restaurants, and shops.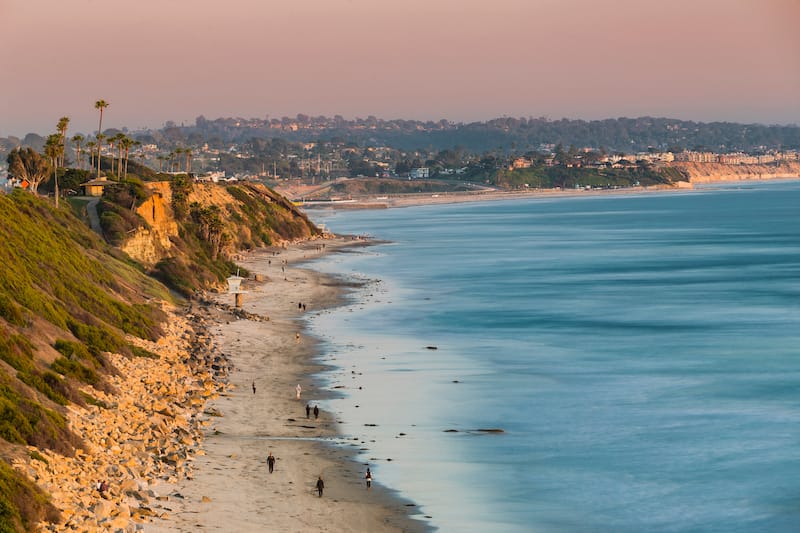 The most popular beach is Moonlight Beach, boasting tennis courts, kids' playgrounds, and a snack bar. For dining, be sure to check out the Pacific Coast Grill, which offers fresh seafood, views of the ocean, and amazing margaritas.
You can also try authentic Italian cuisine at Vigilucci's Trattoria Italiana. If you want to go back in time, check out the popular coffee shop Pannikin Coffee and Tea.
Don't take your computer with you because the shop doesn't have Wi-Fi! Finally, if you want to get your surf up, check out Swami's Beach.
Avila Beach
One of the most relaxing spots in California, Avila Beach should certainly be on your list of the top places to visit.
Ocean activities, delicious food, great hikes, wildlife watching, and scenic trails are just a few of the town's attractions.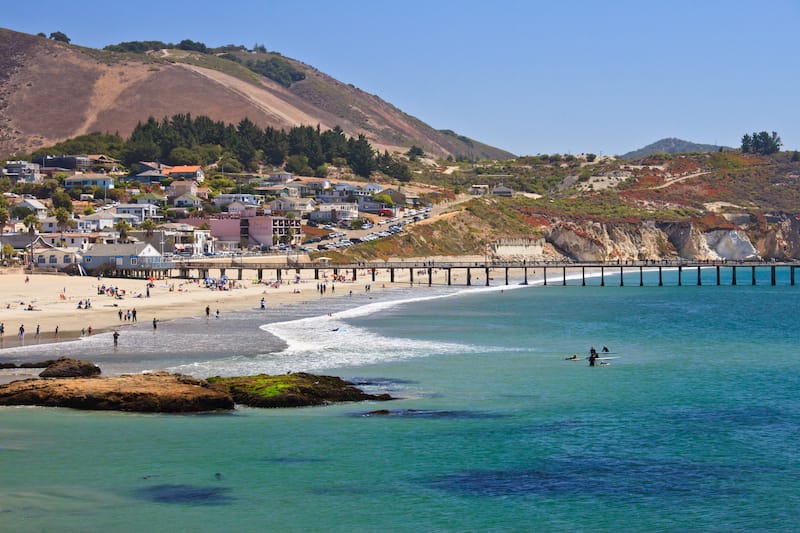 The right place to kick off your adventure is right on Avila Beach. Children will love Avila Beach Park and the park swings. You can also take a walk along the beach pier.
Another popular way to explore the town is cycling, as Avila Beach boasts some of the best cycling paths along the coast. You can rent a bike and check out the Bob Jones Trail. To grab a bite to eat, check out the Woodstone Marketplace or Secret Garden.
In the summer months, visit the Avila Beach Farmers Market for fresh produce.
Cambria
Cambria is a seaside village on California's Central Coast, known for its rocky cliffs, sandy beaches, and Monterey pines.
Cambria draws tourists from all over the country to enjoy local attractions and gorgeous nature. Cambria is home to one of the most beautiful beaches in California, Moonstone Beach.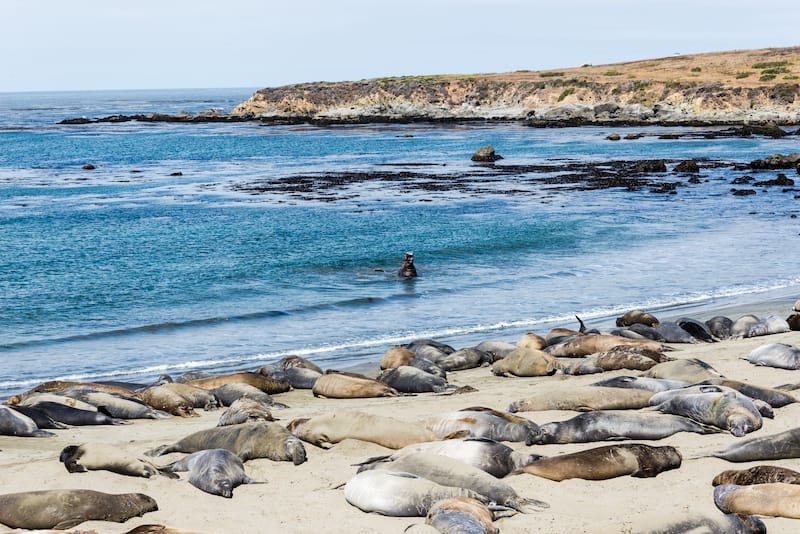 It gets its name from the shiny gemstones that line the beach. Be sure to take a stroll along this peaceful beach, explore the tidal pools, and watch the sea life.
You can also explore the beach right on the back of a giant Clydesdale horse if you're brave! Another must-see is the Fiscalini Ranch Preserve, which boasts hiking trails and a local avocado-ranch.
Finally, don't forget to check out Hearst Castle, an amazing work of architecture built by William Randolph Hearst.
Carmel-by-the-Sea
Meet Carmel-by-the-Sea, a small seaside town with Victorian buildings, hidden passageways, scenic beaches, art galleries, and restaurants. Start your trip at Carmel Beach and Ocean Avenue, an excellent beach with myriads of activities.
Be sure to check out the whimsical fairytale cottages on Ocean Avenue, which the small town is especially known for.
Don't forget to dip your toes in the beautiful white sand of Carmel Beach! Enjoy the Seventeen Mile Drive that stretches through Pebble Beach Resort and Pacific Grove and boasts fantastic scenes.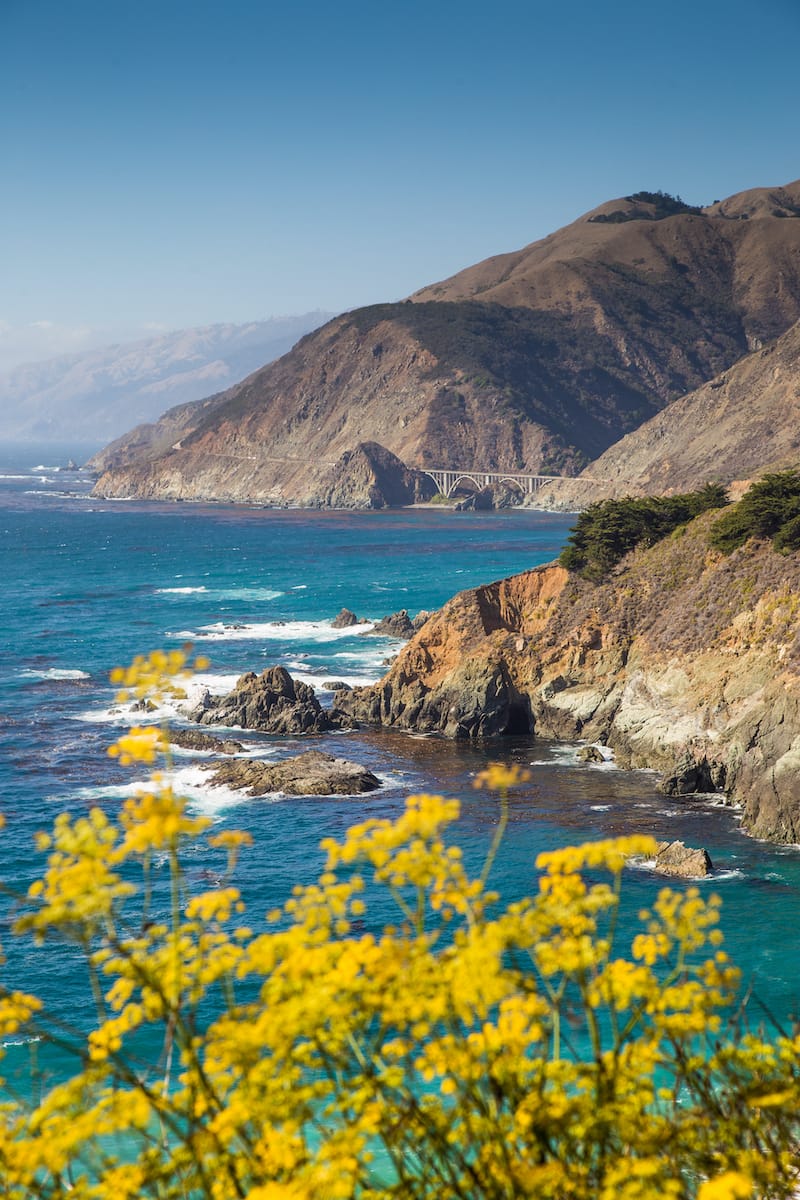 Many photographers, hikers, and birdwatchers also love checking out the Point Lobos State Reserve. It's considered to be the crown jewel of California's state parks and boasts visitors from all over the world.
Finally, be sure to embark on the walkable wine tasting experience, where you can check out over 20 wine tasting rooms.
San Clemente
You'll find San Clemente halfway between Los Angeles and San Diego with gorgeous beaches, ocean and mountain vistas, and world-class surfing opportunities.
Referred to as "The Spanish Village by the Sea," San Clemente is especially known for its stunning coastlines and sunny weather.
Check out any of its beaches for activities like swimming, bodyboarding, surfing, fishing, whale watching, and diving. You can also visit the heart of the town, Del Mar Street, offering brand stores, boutiques, art galleries, coffee shops, restaurants, and wine bars.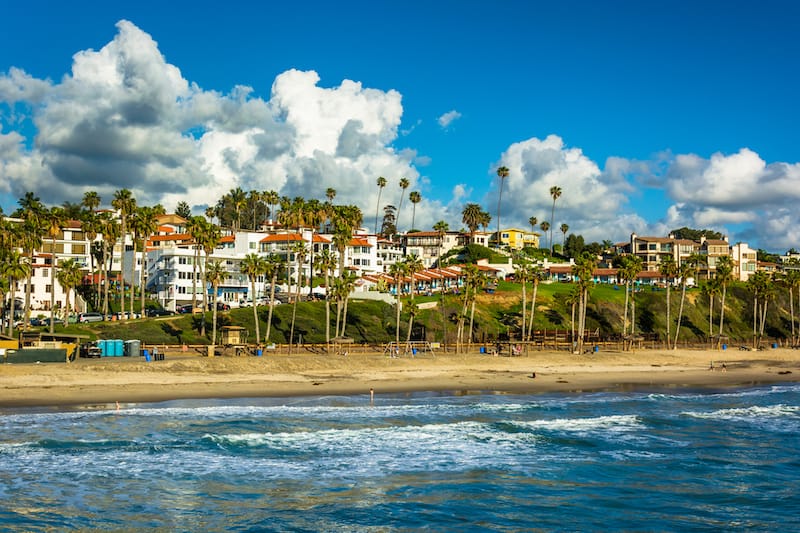 To enjoy the coastal views, walk or bike the San Clemente Coastal Trail. The Outlets at San Clemente are another great spot to stop by if you want to try shopping in Orange County.
If you're more into history and culture, stop by the Casa Romantica Cultural Center and Gardens, a beautiful property meant to be a Spanish village by the sea. You can check out events here such as workshops, lectures, and festivals, too.
Bodega Bay
Bodega Bay is the very place where Alfred Hitchcock's famous film The Birds was shot.
This small fishing town boasts a rich history with gorgeous nature and delicious food. The best place to start your trip is Doran Beach, where you can participate in activities such as fishing, swimming, hiking, biking, and horseback riding.
You can also check out Bodega Head, a rocky peninsula, to see the migrating whales and seals.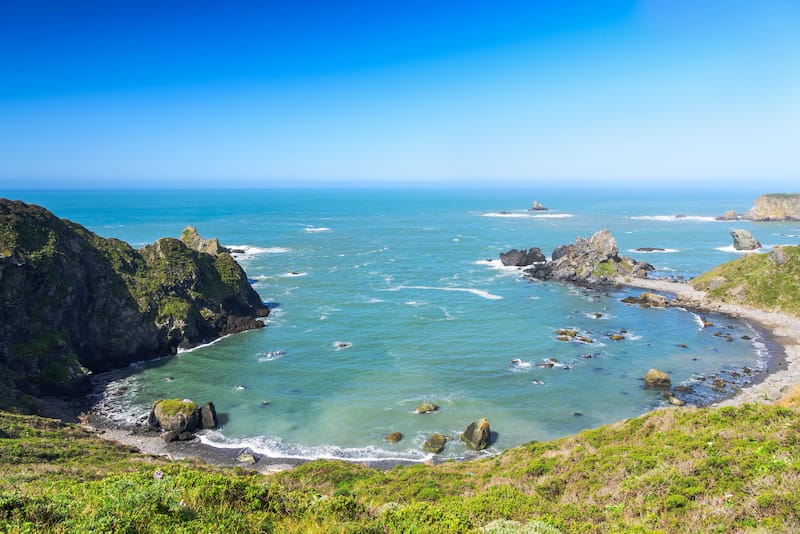 The thriving center of the town is the Bodega Harbor, where you can feel the marine atmosphere and taste local seafood. Situated beside Bodega Harbor, Bodega Dunes is a popular campground for you to spend the night under the stars.
If you have kids, they will love stopping at Candy & Kite's. Here, you can find a wide selection of kites to fly, as well as some delicious salt water taffy and novelty candy.
Carpinteria
This peaceful California beach town is ideal for those looking for small-town vibes. The town is known for its stunning beaches, which are often considered to be even better than those in Santa Barbara.
Some beaches to visit include Carpinteria State Beach, Padaro Beach, and Carpinteria City Beach.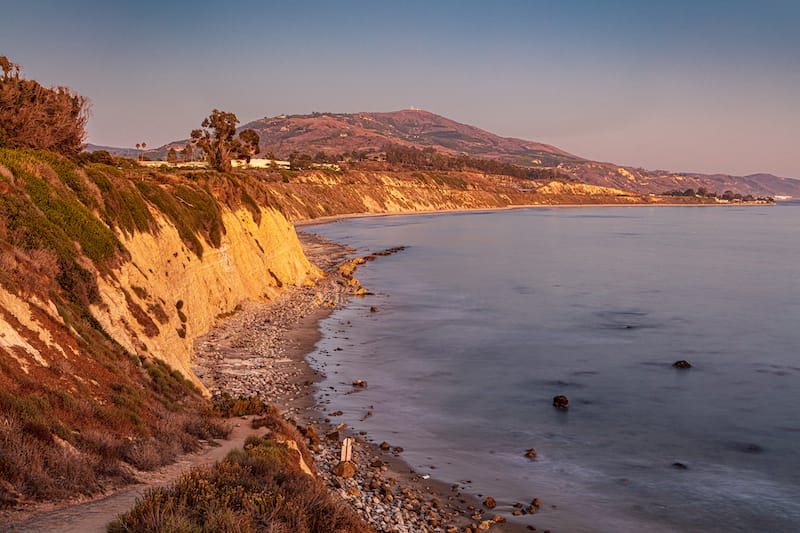 If you want to get your surf on, go to Rincon Beach. Linden Avenue is the main tourist attraction here. It is a classic Californian street with palm trees, great shops, eateries, and bicycle lanes.
Carpinteria is also known for its casual eateries and dining options.
The Spot is a favorite among local tourists for its delicious burgers and milkshakes. If you would like some amazing Mexican food, check out Reynaldo's European & Mexican Bakery.
In addition, be sure to take a guided tour and see the famous alpacas.
Morro Bay
Situated on scenic Highway One, the small California coastal town of Morro Bay has a unique atmosphere and character.
Marked by the ancient volcanic plug known as Morro Rock, Morro Bay is a gorgeous spot to enjoy the outdoors and some delicious food, too.
This coastal town has beaches stretching from north to south, as well as plenty of hiking trails for those who enjoy a relaxing hike.
In addition, be sure to check out Embarcadero, which is a street located on the waterfront marked with many types of shops and restaurants. The restaurants located here are picture-perfect due to their fresh food and waterfront views.
Be sure to check out Dutchman's Seafood House, a family-owned restaurant with its own dock where fresh seafood is caught for the meals.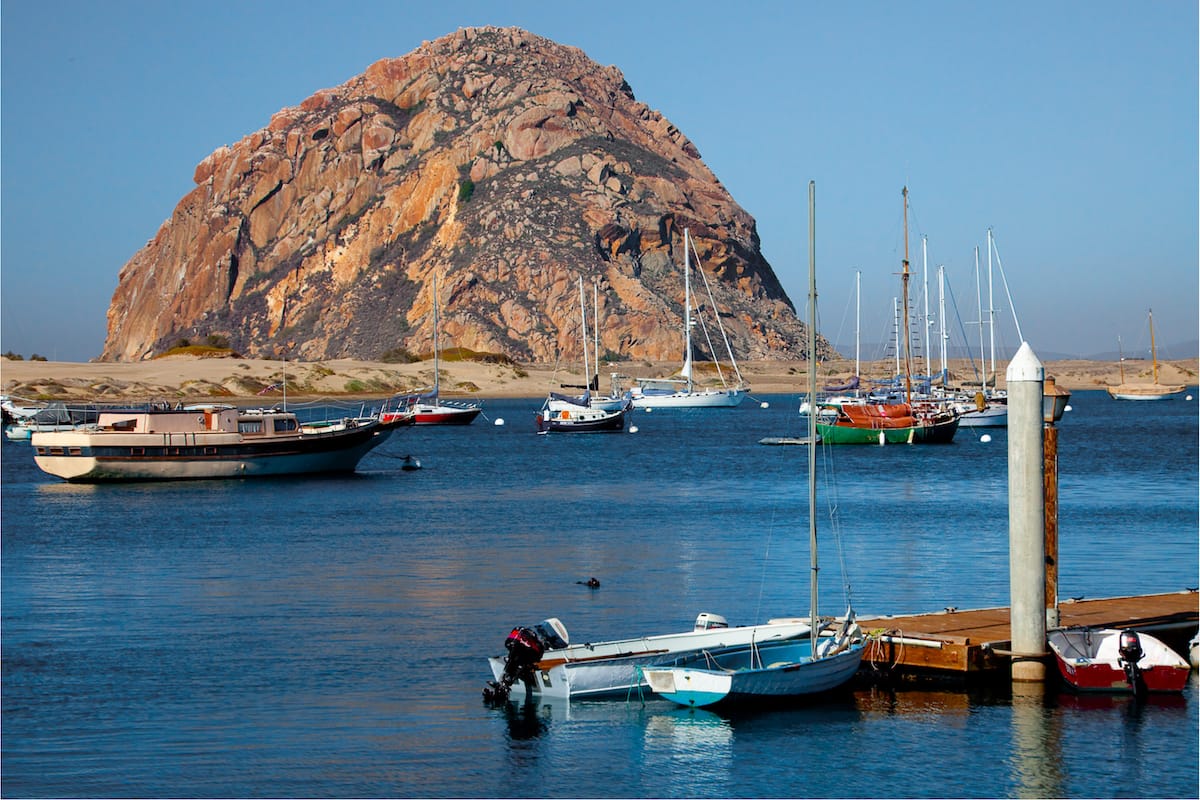 It's also recommended that you try the amazing creme brulee French toast at Frankie & Lola's. You can also try the freshly brewed beer at Three Stacks and a Rock Brewing Company.
If you want to spend more time in the town outdoors, take your time and explore Morro State Park with a lagoon and saltwater marsh.
Here, you can also try out fishing, hiking, or birdwatching. Finally, you can go on a guided tour of the small town at Sub Sea Tours and Kayaks.
Did we miss any of your favorite small beach towns in California? Let us know in the comments. Thanks!
More California Travel Guides
Pin this CA Small Beach Towns Guide