Montana is a gorgeous state known for its unmatched snowy mountains and alpine hiking trails. There are also so many cute small towns in Montana worth visiting in addition to those mountains and trails!
Every outdoor adventure lover needs to make a trip to this northern state at least once to experience the beauty Montana has to offer.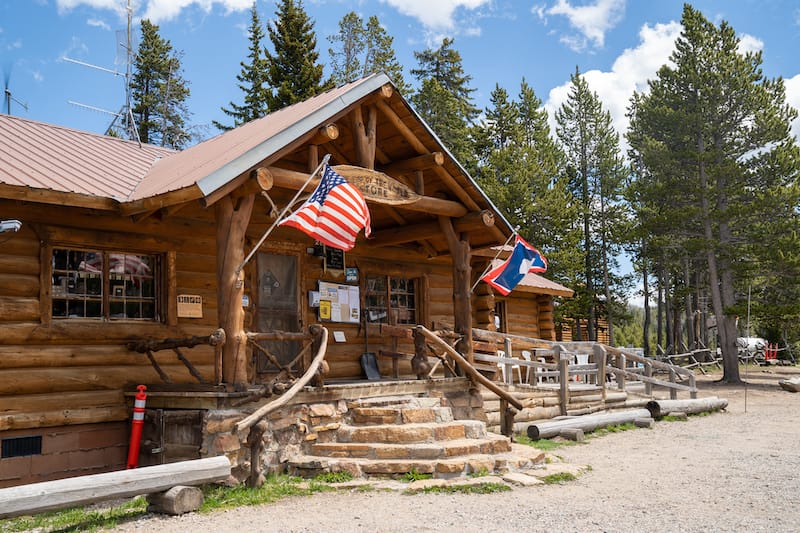 Nicknamed "The Treasure State," you're sure to feel like you found a pot of gold when you discover its unspoiled landscapes.
From everything from national parks to mountains to delicious restaurants, you're sure to find exciting new activities and experiences in Montana.
Here are some of the best small towns in Montana that are largely undiscovered by tourists (and some that are definitely discovered!), which make for the perfect adventure.
Best Small Towns in Montana
Polson
Polson, located in the green hills and mountains of Montana, is a small town with a laid-back atmosphere and hospitable residents.
History buffs have the opportunity to learn more about Polson's history in the Flathead Historical Museum. There, you can find notable historical artifacts such as antique tools, boats, and recreations of local homes and schools.
If you want to go on an adventure, boating and fishing are especially popular in the area. For this, you can spend a day by the water at Sacajawea Park.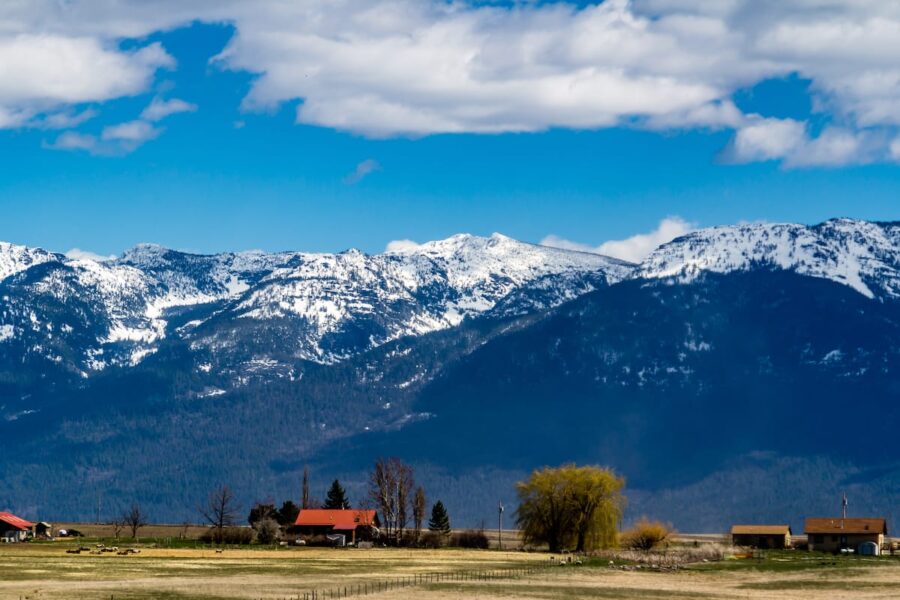 Of course, if you feel like lounging around, Sacajawea Park is a great place for that, too.
Polson is also known for its yearly Cherry Festival, which takes place every July or August for several days and is completely dedicated to the delicious fruit. Be sure to check out the website for all the latest information on activities that will be available at the festival.
Golf lovers should practice their swing at Polson Bay Golf Course, which also offers breathtaking views everywhere you look.
Hamilton
Hamilton, known as a mountainous region of Montana, is an excellent destination for outdoor lovers.
Explorers from all around the country travel to Hamilton for some fishing, hiking, and all-around adventures. Some of the most popular hiking trails are Trapper Peak, Blodgett Canyon, and Bass Creek.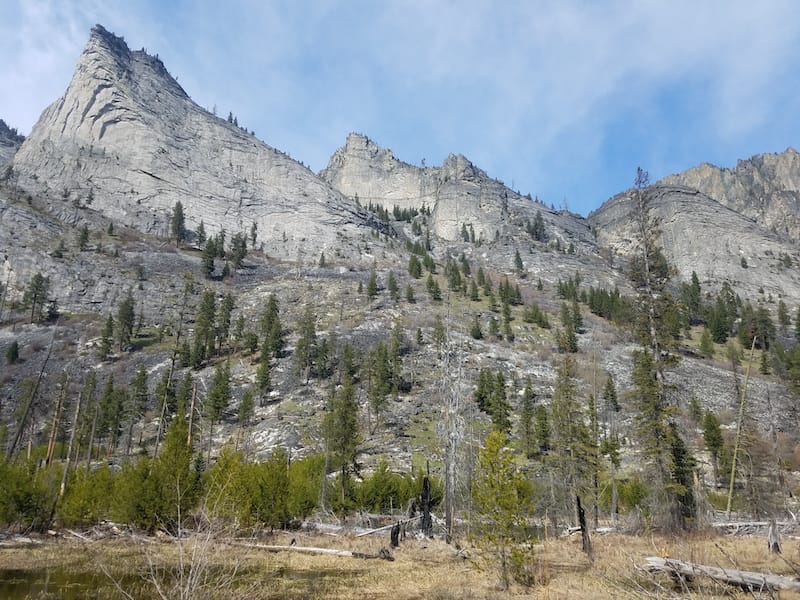 In addition, the Bitterroot River is known as the dry fishing paradise, where anglers come for some quality fishing.
Daly Mansion is a must-visit place for history lovers while visiting the historic town. The mansion belonged to Marcus Daly, the city's founder, and tours are available for exploring and learning more about its history.
Phillipsburg
Philipsburg is a small town on the Pintler Veterans Memorial Scenic Highway. The city attracts many visitors for its picturesque surroundings and unique resources such as sapphire gemstones found all around its shops.
If you have a strong sweet tooth, don't skip the chance to visit The Sweets Palace, located downtown. The candy shop has an old western interior that creates a great atmosphere.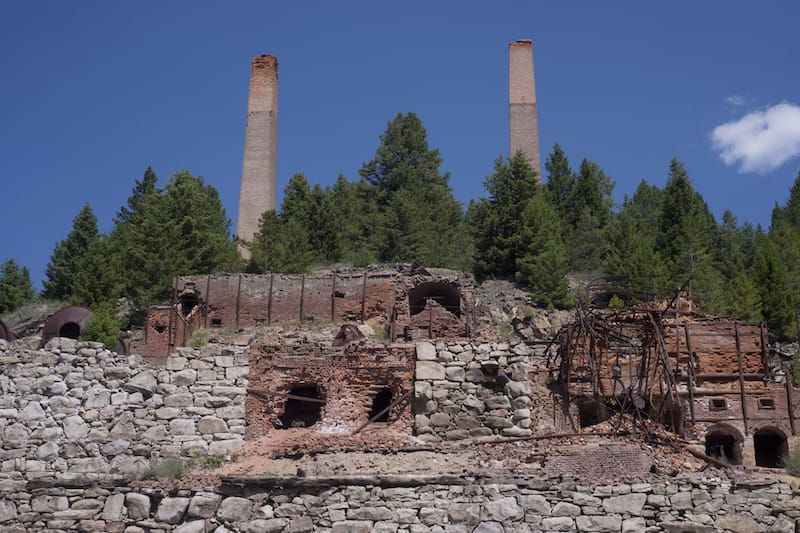 The town is also filled with places for outdoor enthusiasts. In the southern part of the city, Georgetown Lake is known for its sparkling waters where you can have a relaxing time.
In addition, the town is surrounded by the Beaverhead DeerLodge National Forest, which also offers plenty of hiking trails.
Anaconda
Located in Southwest Montana, Anaconda is known as one of the most historic towns in the state.
If you want to explore the town's history, visit the Anaconda Smelter Stack, a 585-foot tall tower constructed as part of the region's booming copper mining industry.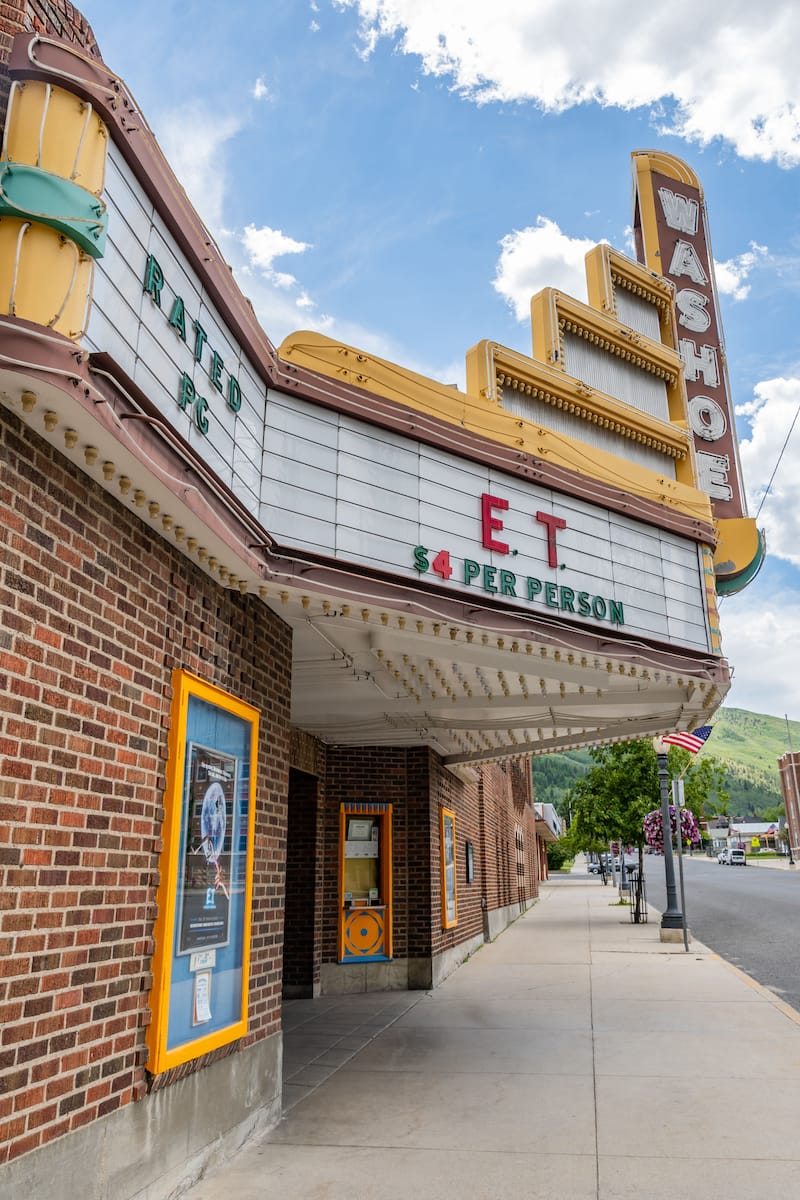 Tours are not available; however, head to Anaconda Smoke Stack State Park, where there are concrete patios to check out views of the tower.
For some outdoor fun, drive through the Veterans' Memorial Scenic Highway, where you'll find skiing areas and massive lakes along the way, such as Georgetown Lake, a fun place for a weekend outing.
Troy
Located on the banks of the Kootenai River, the lowest point of Montana, Troy, is the perfect destination for outdoor lovers where to enjoy some fun activities.
Be sure to check out the Ross Creek Scenic Area, where you can take a stroll and explore the grove of giant and ancient western red cedars. There are many salmon, bass, and trout in the rivers and lakes nearby, which anglers are sure to enjoy.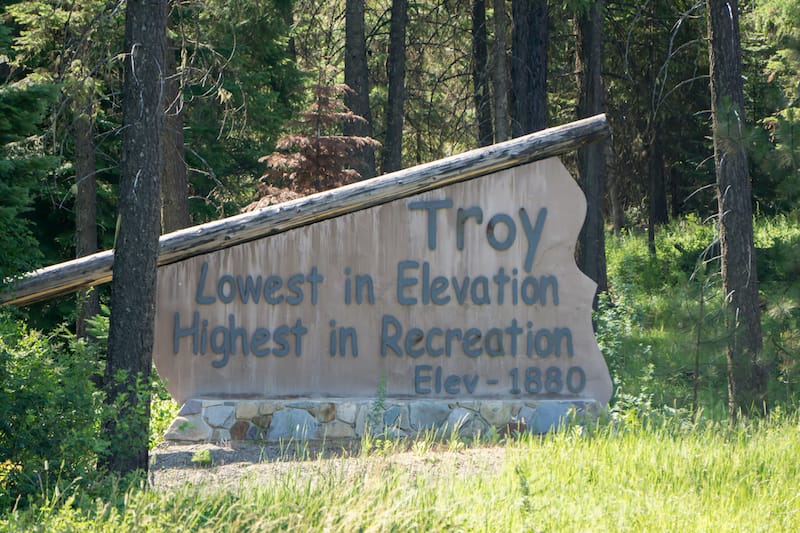 While you're here, make sure you visit Kootenai Falls, which is the largest waterfall in Montana.
After which, head to the swinging bridge, which is just downstream from the falls. It connects to other hiking paths, so it is a must-visit place for hikers.
West Yellowstone
Near the Wyoming and Idaho border, West Yellowstone is the perfect destination for adventure seekers.
First things first, visitors should head to Yellowstone National Park, which is filled with unique hiking trails, beautiful views, and geysers shooting water 100 feet into the air.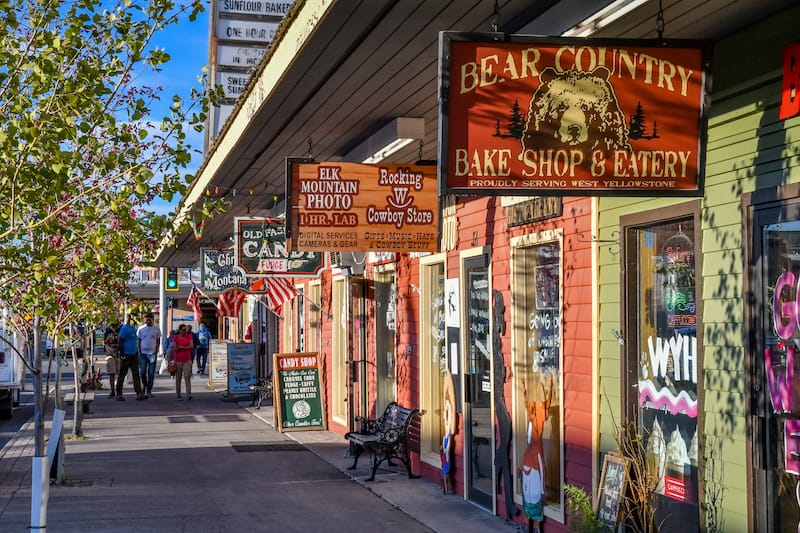 If you are visiting during the winter season and are a fan of skiing, then you must visit the Rendezvous Ski Trails. Suitable for all skill levels, it is an excellent place for some snowy adventures. Ski gear is available in the local gear shops.
Lastly, enjoy the sunset at Hebgen Lake, where you can also do some fishing. West Yellowstone is also a popular place to base yourself for exploring Yellowstone (and even Grand Teton)!
Red Lodge
Located in the Beartooth Mountains of southern Montana, Red Lodge is an incredible place for some outdoor fun.
The town is famous for its Beartooth Scenic Highway. The road consists of curves that take you to the scenic overlook at the summit, where you'll be greeted by peaks in the mountain that are over 12,000 feet high.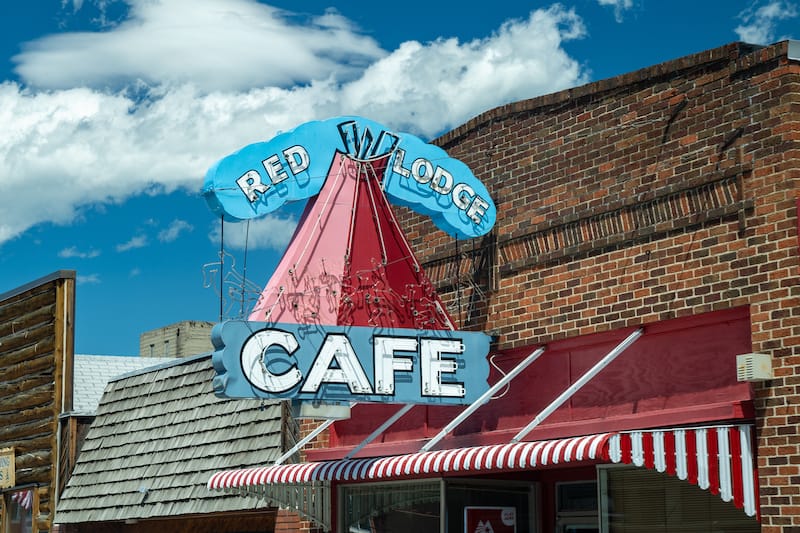 During the winter, the road is closed for cars, and that's when you can have some fun and explore the views with snowmobiles, skis, or snowshoes.
Besides that, downtown is lively with a variety of bars, restaurants, and shops. During your stroll, take time and explore the historic architecture of the town.
Big Sky
Big Sky is a community in the Rocky Mountains of Montana, and it's the perfect place for adventure fanatics.
It is home to one of the best ski resorts in the country, Big Sky Resort. Located around Lone Peak with 5,800 acres, it's a paradise for ski lovers.
After the snowy season passes, the chairlifts serve hikers and mountain bikers for their activities.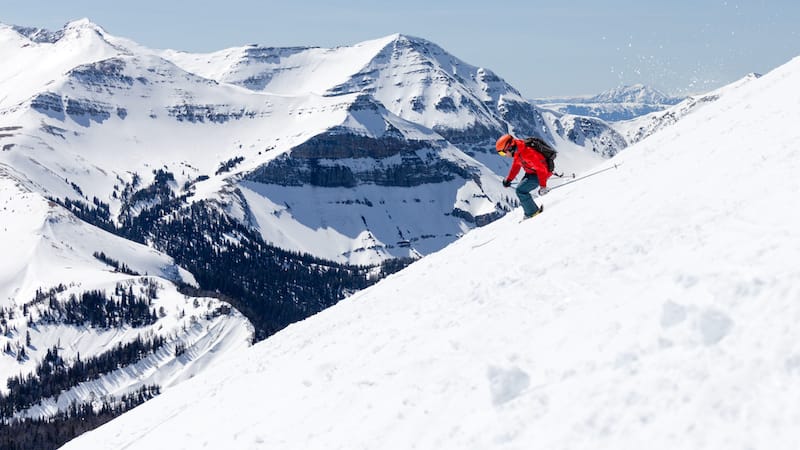 Hikers have the opportunity to hike to Ousel Falls, which is very short. The hike is only 1.6 miles round-trip and takes around 45 minutes in total, which makes it perfect for people of all skill levels.
When you reach the end, be sure to spend some time photographing the 100-foot Ousel Falls with its spectacular scenery.
In addition, anglers can happily visit Blue Ribbon Waterways, where they'll have the time of their lives fishing.
Livingston
Livingston, known as a lively mountain town with wild western decor, arts, and Hollywood glamor, is a place where everyone will find something they enjoy.
One of the main activities visitors enjoy is taking a stroll down Livingston Main Street. It is due to the town's Western-style stores, restaurants, boutiques, and art galleries that it has such a positive reputation.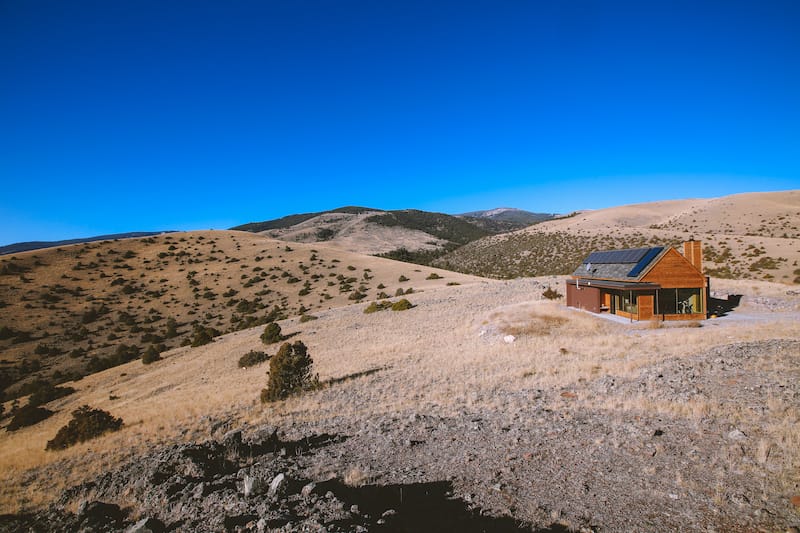 Art lovers should visit Parks Reece Gallery or Danforth Museum of Art for some surreal take on natural art.
For a fun day trip, visit Chico Hot Springs for some relaxing pool time and a massage.
To finish your spectacular day, grab a drink at Murray Bar, which is a favorite of both visitors and locals to have some cocktails and enjoy local bands.
Cooke City
Some smaller cities have a charm about them that you can't find in larger towns. Cooke City especially has that small-town charm that makes visitors fall in love with it at first sight.
The town is famous for the road that connects it to Red Lodge. It has been deemed "the most scenic drive in America." It is every outdoor lover's dream to be there because of the wilderness surrounded by national forests.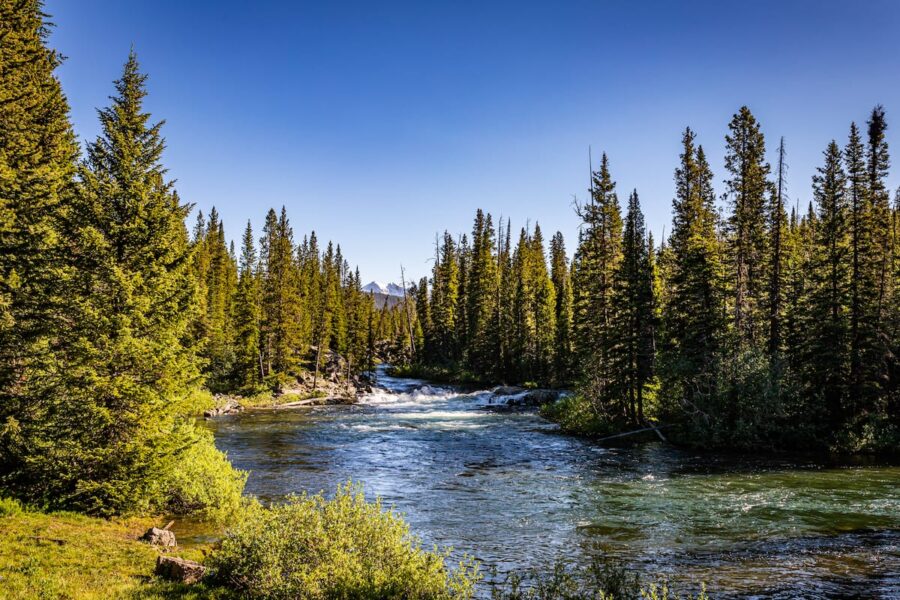 If you want to go back in time, visit the Cooke City Store. The store is filled with historical items that you'll learn more about while visiting. The store also sells fishing licenses and sporting goods for your planned activities.
Whitefish
Located in Flathead County, northwest Montana, Whitefish is known for its outdoor activities and Rocky Mountain appeal. And, of course, it is also the gateway to Glacier National Park, one of the most visited national parks in the US.
Skiers have the chance to visit one of Montana's best ski resorts, Whitefish Mountain Resort.
On-site, you'll also find Shuttle Network, which transports people to the slopes throughout the winter season. During the summer, the resort is perfect for hiking, mountain biking, and an atmospheric adventure park.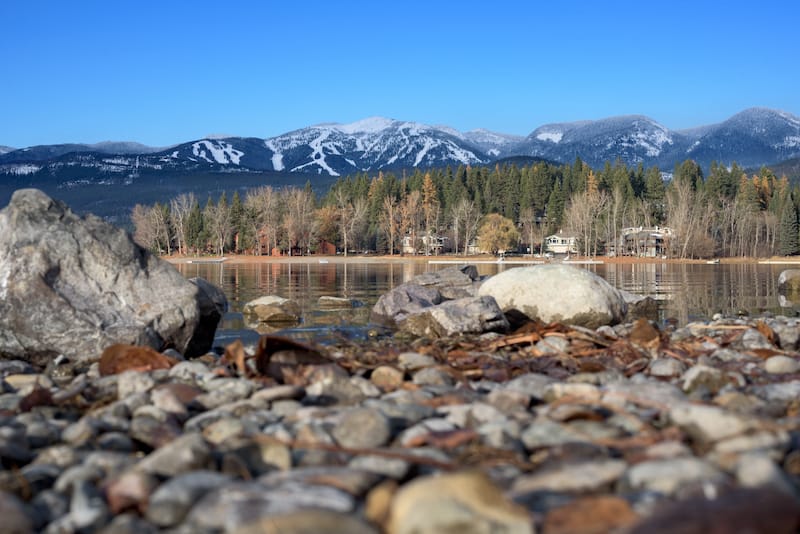 A perfect place for a day trip is Glacier National Park, where you'll find lush alpine fields, densely forested backdrops, and picturesque mountains. It is an epic place during all seasons, including winter!
And of course, visiting downtown Whitewash is a must.
It is the perfect place to spend a day packed with boutiques, antique stores, and restaurants. Some restaurants worth visiting include Tupelo Grille, Zucca Bistro, and Amazing Crepes.
Whitefish is also one of the best places to base yourself for exploring the mountains and Glacier NP.
Big Timber
Big Timber is one of the most popular tourist destinations in Montana. The town is full of scenic views and is packed with activities for every interest group.
If you're a history buff, head to the Crazy Mountain Museum, where Big Timber's rich history lies. Outdoor lovers should visit the Natural Bridge State Park to check out the park's beautiful hiking trails.
Here, you'll also find the spectacular Natural Bridge Falls, which is also a popular site for fishing.
Enjoy some delectable food at the Timber Bar & Grill. What makes the place unique is that it sources all its ingredients locally, so you can treat yourself to some delicious local food.
Anglers can also get away for a day of fishing in the Yellowstone and the Boulder River.
Choteau
Choteau is a beautiful city and the county seat of Teton County, Montana. It has the perfect mixture of scenic views, outdoor activities, and cultural sites.
Hikers can enjoy a gorgeous day hike along the Rocky Mountain Front. For shorter walks, take a stroll around Freezout Lake, where you'll also spot some shorebirds and hike up the A.B Guthrie Trail.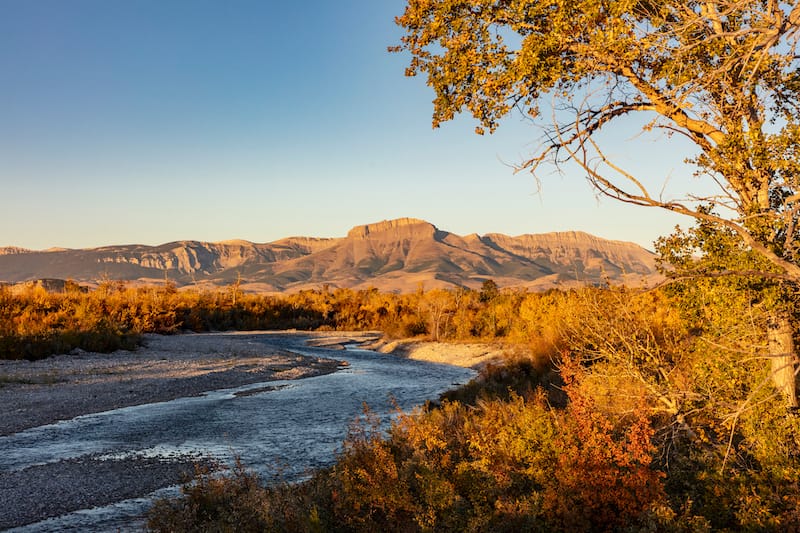 If you want to visit a unique place, head to the Dinosaur Center and visit their museum to see the world's largest life-size mounted dinosaur skeletons.
Choteau is also known for its amazing restaurants. Some of the most popular options include the Log Cabin Cafe, John Henry's Restaurant, and Outpost Deli.
Fort Benton
Surrounded by beautiful landscapes, Fort Benton is a lovely place to visit. It's considered to be the second oldest settlement in Montana, so the town is packed with history.
To expand your knowledge about Fort Benton, visit the Missouri Breaks National Monument Interpretive Center. Here, you'll learn about early fur traders, the steamboat era, and the Montana gold rush.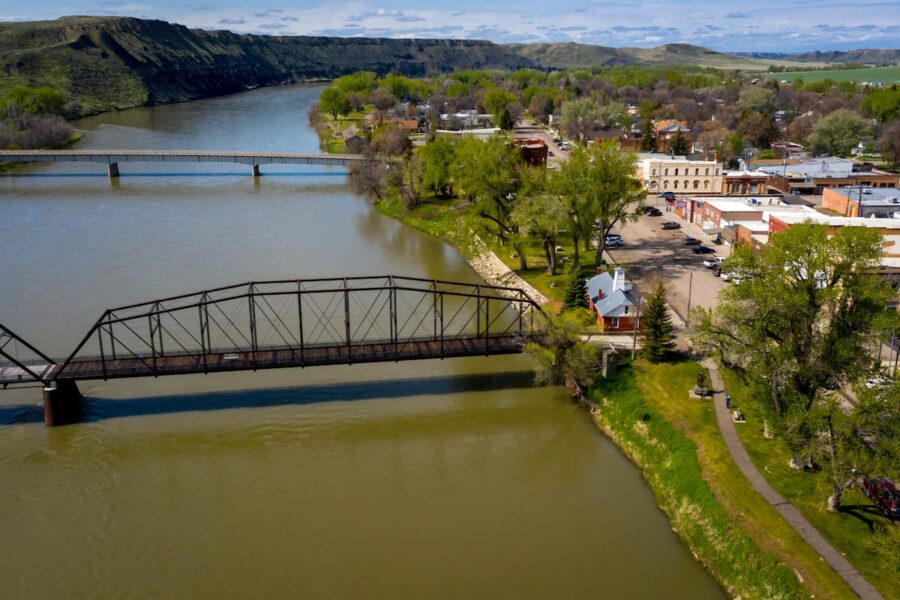 Historic Landmark District is another location for history buffs where visitors can learn about the exciting history of the US frontier town.
Nature lovers who want to canoe, fish hunt, and enjoy the picturesque landscape from the water should visit the White Cliffs. In the warmer months, you can also enjoy camping in the area.
Lewistown
With its nature and circling sceneries, Lewiston is the perfect place to be introduced to Montana's western way of life.
To get to know the city, take a stroll through downtown Lewistown, where you'll find buildings that are on the National Register of Historic Sites, including the Silk Stocking and Central Business Districts.
History buffs should visit the Central Montana Museum filled with artifacts that showcase the past of Lewiston.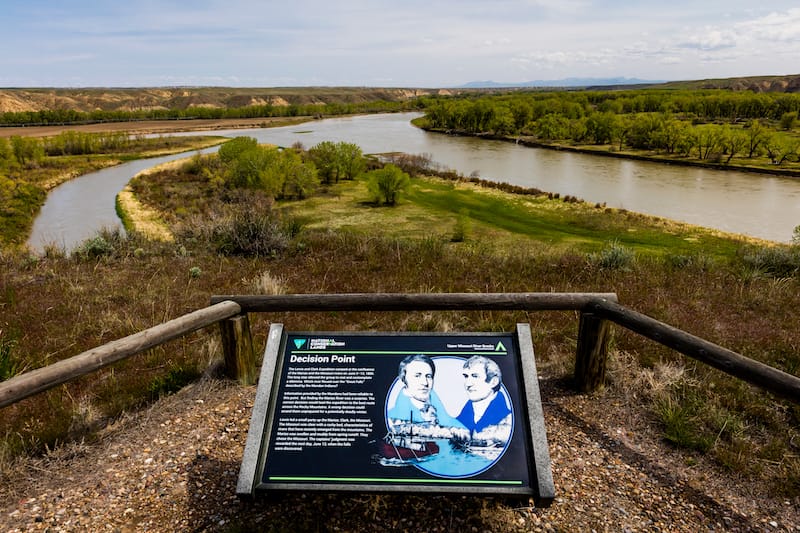 The town is also known for its blue-ribbon trout fishing destinations such as Big Spring Creek.
During the winter, adventure lovers have the opportunity to enjoy some snowmobiling. Judith Gap is the perfect place for that.
Stevensville
Stevensville is a town in Ravalli County, Montana. It's a city where tourists can enjoy a stroll along the charming Main Street and check out local shops and restaurants.
A beautiful place to visit during your trip is St. Mary's Mission. It is a historical complex that features a restored chapel, log house, and a Salish museum where visitors can learn about the area.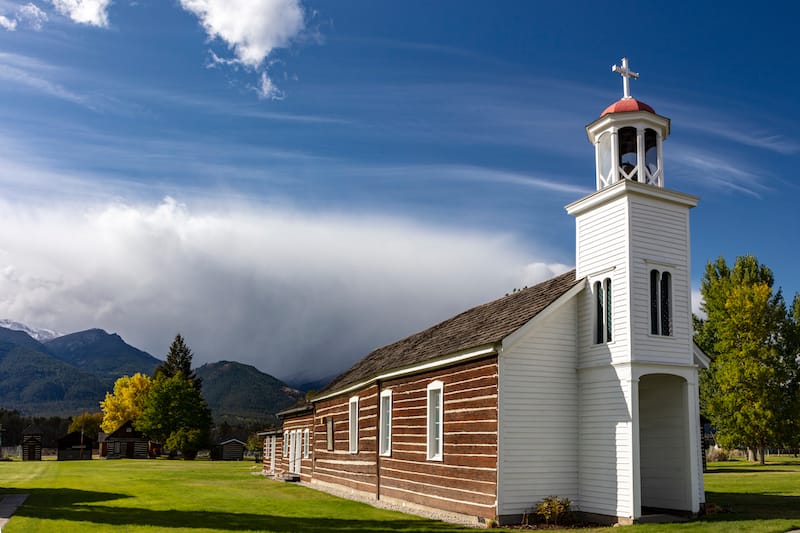 Hikers can also enjoy a hike in St. Mary Peak, one of the Bitterroot Mountains' most accessible peaks that has an elevation of more than 9,000 feet.
If you want to go fishing, head to the Fishs Eddy O., where you'll have a day full of fun and new experiences.
Dillon
Located in Beaverhead County, Dillion offers a wide selection of recreational opportunities, scenic drives, and historical sites. Visitors can visit Bannack State Park to go back in time to the Gold Rush era.
The park offers tours and nearly thirty campsites to learn about the area's history and experience the beauty of nature.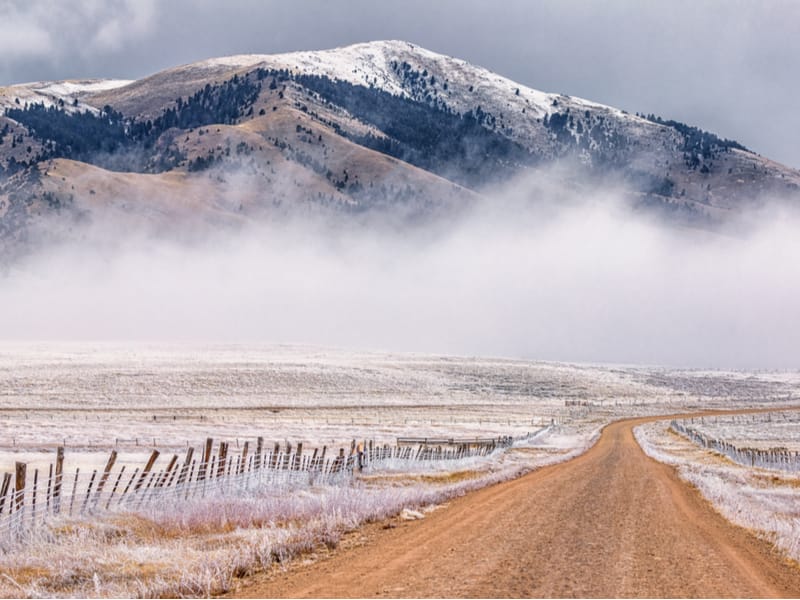 Anglers can enjoy their day in one of Montana's premier fishing rivers, Beaverhead River. Guides are also located on-site, offering anglers to try their luck against Montana's wild trout.
To try some quality local beer, head to the Beaverhead Brewing Company. The brewery's purpose is to offer a diverse selection of beers that appeal to a broad range of beer drinkers.
Cut Bank
Cut Bank is a beautiful tiny town nestled against the majestic Rocky Mountains. It gets its name because it is located right near the gorge of Cut Bank Creek.
It is also less than an hour from Glacier National Park. The park is a lovely place to appreciate some time in and enjoy the crystal clear lakes and forested mountainsides.
Fishing enthusiasts will have the chance to enjoy some fishing in Cut Bank.
You can also check out the town's guided fishing trips, camping, and birding experiences, as well as the Cut Bank Creek Brewery for some delicious beer and the Cut Bank Golf and Country Club for some golfing.
Hikers will love the Lewis & Clark Trail because it offers beautiful views as it winds through mountains and plains.
Ennis
Located in Madison County, Montana, Ennis is a beautiful town to spend some time in.
It is a must for visitors to have a drink of Authentic Montana Moonshine at Willie's Distillery, located on the gorgeous Madison River. The distillery is famous for its Montana moonshine, Honey Moonshine, and Bighorn Bourbon.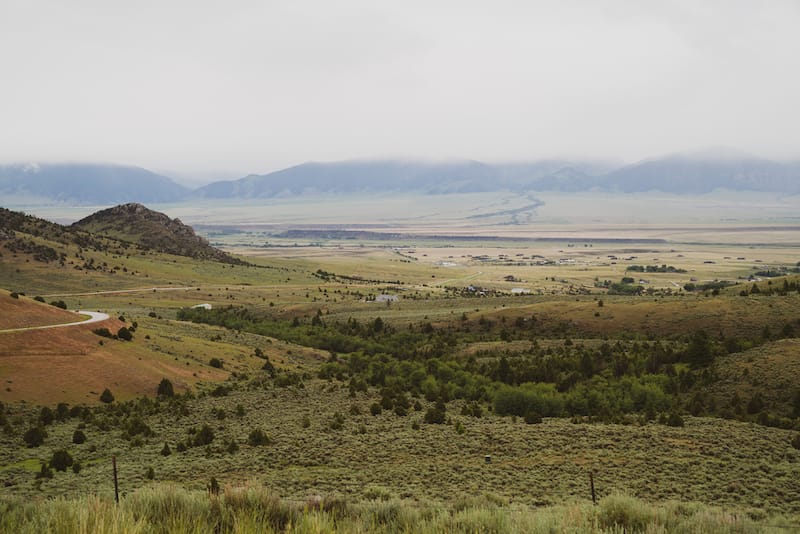 Taking an outdoor art tour would be an experience to remember in Ennis. The town is known for its cowboyish feel, hence it has breathtaking art that represents the local western culture.
Ennis is also known for its golf course surrounded by mountains, featuring picturesque views that amaze every golfer.
Did we leave out any of your favorite small towns in Montana? Let us know in the comments!
More Montana Travel Guides
Pin this Montana Small Towns Guide