Are you looking to take some of the best day trips from Boston on your upcoming trip? This guide covers some diverse (and amazing!) Boston day trips to add to that itinerary!
Are you planning your trip to Boston last minute?
If youʻre booking your trip to Boston last minute, you may want to book your tours and hotels ASAP to ensure availability!
🇺🇸 Best day tours, tickets, and activities in Boston:
🛌 Our favorite places to stay in Boston:
The Revolution Hotel (affordable and hip!)
Omni Boston Hotel at the Seaport (rooftop pool!)
🚗 Looking to travel around Boston independently? Click here to check MA rental car rates!
The city of Boston is extremely diverse and it really packs a punch for travelers all over the world… but, there is more to Boston than means the eye.
There are top-notch universities, US history (and lots of it!), and more in this New England city. You will also find incredible food and some of the best day trips from any city in the country.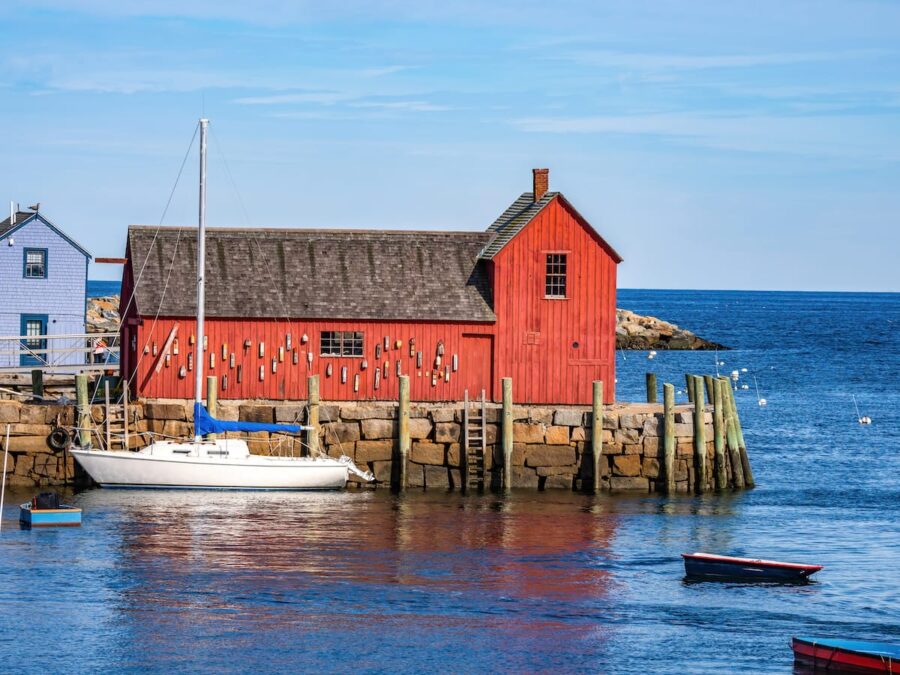 This guide covers the best places to visit near Boston and day trips that will make your trip even better. And, some of these trips are a bit longer and are better done as weekend getaways from Boston.
Did we miss any fantastic day or weekend trips from Boston? Let us know in the comments. Thanks!
Boston Day Trips (Within 2 Hours)
Whale Watching in Boston
Spending time out on the water whale watching is a leisurely way to spend part of your day outside Boston.
The great news is that you don't even have to travel very far – many whale-watching ships depart directly from Boston Harbor.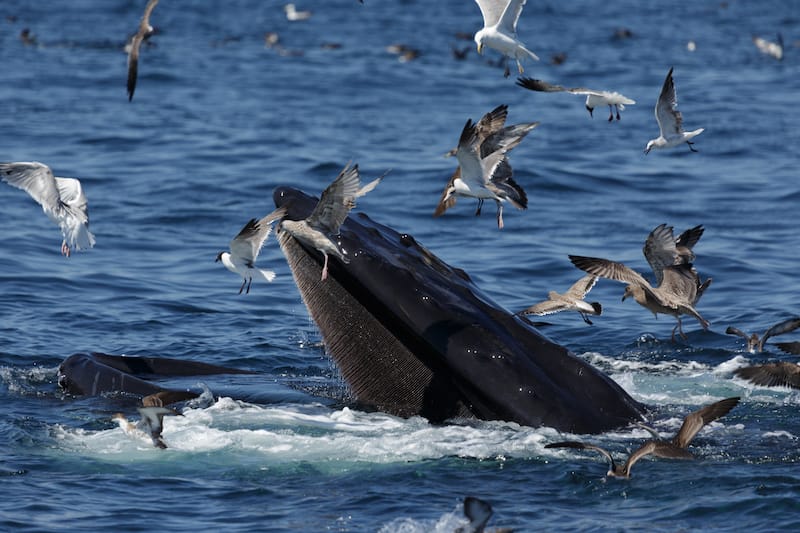 The best months to go whale watching in Boston are from May to October, which is when many people choose to visit Boston anyway.
There are a number of tour companies that offer the opportunity to get up close and personal with the ocean's most magnificent creatures – prices generally start around $60 per person for adults.
>> Click here to check whale-watching tour rates and availability
Salem
Location: Massachusetts
Distance from Boston: 24 miles (35 minutes)
Founded in 1626, Salem is one of the oldest towns in the United States. It is certainly best known for the 1692 Salem Witch Trials.
Most people visit in the fall for its October Haunted Happenings festival, however, Salem is fantastic to visit year-round.
While witches capture much of the visitor's imagination, Salem is also home to spectacular architecture, world-class museums, and historical sites that showcase its long legacy.
When you first arrive, be sure to request tickets for the Salem Witch Museum. You will often get a zoned entry time for several hours later.
Depending on when your entry is, spend some time exploring the Salem Heritage Trail, a self-guided tour of historic Salem that begins with a brief film at the National Park Service Visitor Center.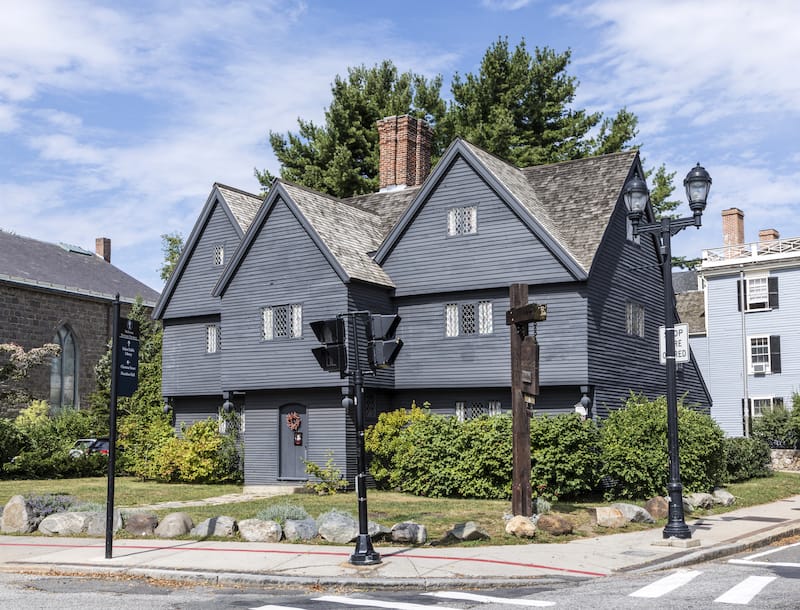 Be sure not to miss the House of the Seven Gables, the oldest house in New England; the Witch House, the only remaining house from the Witch Trials period; and the Burying Point and Howard Street Cemetery, the town's 2 largest cemeteries, where the victims of the witch trials are buried.
The Peabody Essex Museum is also absolutely worth a visit.
Salem is only about 40 minutes away from Boston, making it super ideal for a day trip. It's definitely easiest to take the commuter rail from Boston's North Station – just hop on the Newburyport-Rockport line.
Be sure to take advantage of the frequently discounted "all you can ride" tickets for $10 if you're visiting on a weekend.
If you do decide to drive, it's a short distance, but beware that you could hit a decent amount of traffic and the parking situation is very challenging.
The commuter rail stops a mere few blocks from downtown and runs on a schedule, approximately every hour.
Providence
Location: Rhode Island
Distance from Boston: 51 miles (1 hour)
Providence is the highly underrated capital city of Rhode Island, the smallest state in all of the USA. What it lacks in size, it makes up for in gastronomy, culture, history, and attitude.
One of the best things to do in Providence is to visit the RISD (Rhode Island School of Design) Museum. RISD is one of the leading art schools in the entire country, and the museum showcases the work of its students.
You can see everything here from textiles and blown glass to paintings and hand-crafted jewelry.
Strolling around the old colonial streets of the East Side or exploring vintage shops and hip restaurants on the West End are also popular things to do.
Be sure to stay for lunch and dinner, so you have twice the opportunity to check out some of the best restaurants in Providence.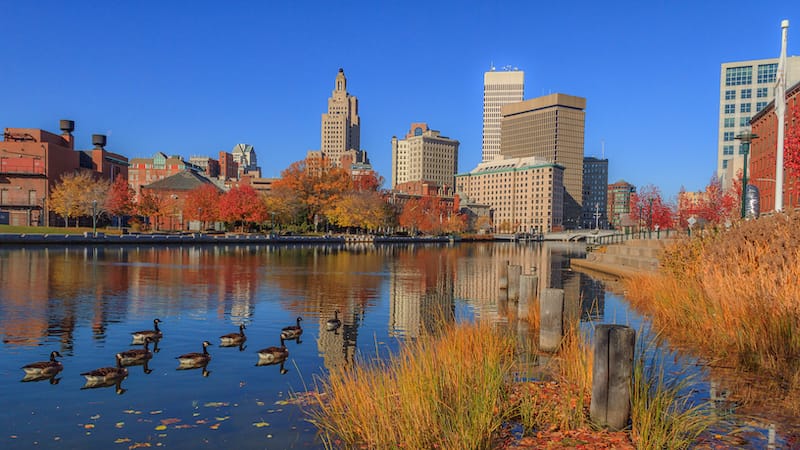 If you happen to be visiting on a Saturday in the summer months, be sure to check out Waterfire. Waterfire is an event exclusive to Providence, where fires are lit along the center of the Providence River.
Street vendors and performers are eager to show off their crafts and menus as you stroll around Waterplace Park. If you want a really special experience, gondola rides are available on the river as well.
Providence is extremely pedestrian-friendly, though public transportation is prevalent and reliable. The fastest way to come from Boston is to take the train, which takes under 30 minutes and leaves you in the city center.
Driving or taking the bus are also options, these will take around 50 minutes to an hour.
There are parking garages in downtown Providence for a fee or you can find metered parking on some streets. You WILL get a ticket if you don't feed the meter, though!
Rockport
Location: Massachusetts
Distance from Boston: 43 miles (49 minutes)
Rockport is a perfect place for a day trip as it's a quaint, seaside village just under an hour north of Boston.
It's on the tip of the Cape Ann peninsula, making it a great place for a boat ride to enjoy the views from the water. Or, enjoy the beautiful tapestry of boats surrounding the village.
One of the most famous sites is the red fishing shack with buoys hung on one side called Motif Number 1.
The name is believed to have come from an artist and it's certainly a view that's quintessential New England, drawing art lovers in for a visit.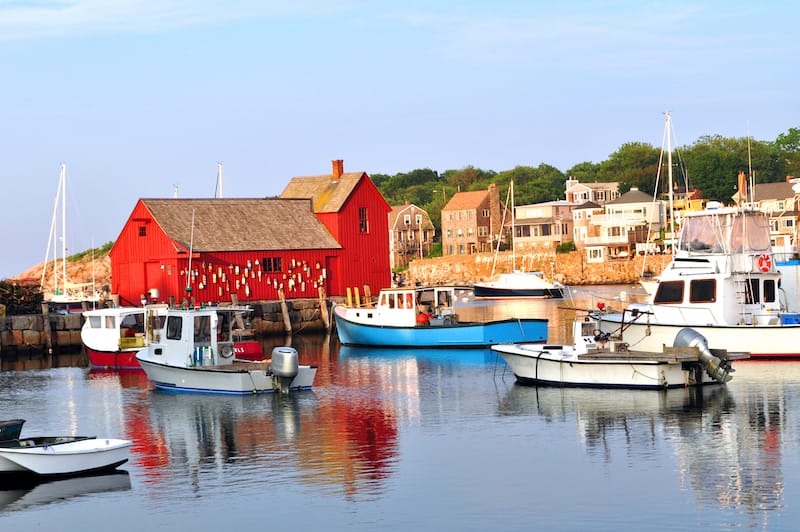 Walk to the nearby Front Beach or wander the many shops in the town.
Most are small and independently owned with an eclectic mix of offerings. Rockport is an artist colony and you'll see lots of amazing galleries around town as well.
Get a "lobstah," as the locals call it, or a lobster roll at Roy Moore Lobster Co. and enjoy it with sea views.
Then, walk out onto the rock jetty at the end of the picturesque Bearskin Neck to enjoy the waves crashing around you.
Head back into town for handmade ice cream at the adorable little Ice Cream Store. You'll love this quaint small town that's so representative of coastal New England.
Hampton Beach
Location: New Hampshire
Distance from Boston: 52 miles (57 minutes)
Given the fact that New Hampshire's coastline is less than 20 miles long, you can be sure that Hampton Beach is jam-packed with beach-oriented activities.
The whole place is a fun, diversified mix of vacationing families and partying college kids. The first time I visited here, I was a partying college kid myself, as I went to a university not too far away.
Hampton Beach boasts a long stretch of white, soft sand with waves that fluctuate from barely-there to surf-worthy.
Directly behind the beach is a wide 'boardwalk,' where you can find shops, restaurants, bars, arcades, and food trucks with plenty of options to accommodate everyone in your group.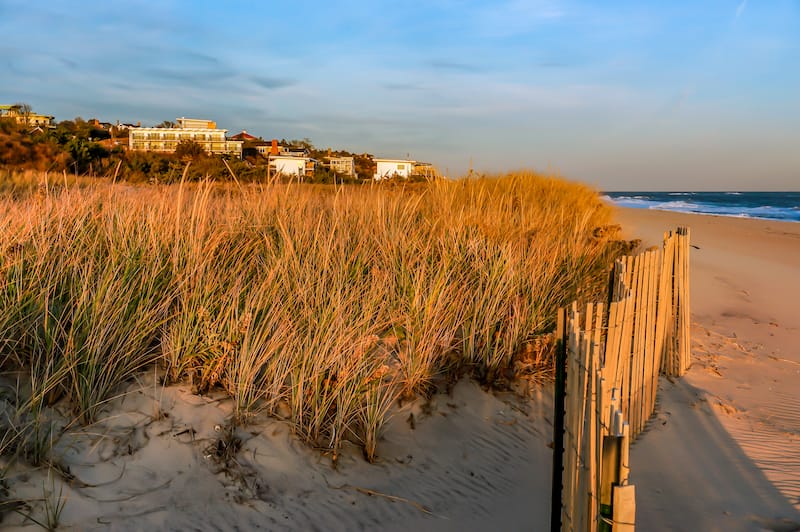 Another place worth visiting is the Hampton Beach Casino. This place has tons of fun options for shopping, food, and entertainment.
There are arcade games, a water slide, indoor miniature golf, and souvenir shopping.
The preferred (and fastest) way to get to Hampton Beach from Boston is driving. This takes just under an hour.
However, if driving isn't an option, take a train to Newburyport from North Station, and a short 20-minute taxi ride from Newburyport.
This option takes just under an hour and thirty minutes.
Concord & Lexington
Location: Massachusetts
Distance from Boston: 19 miles (32 minutes)
For history buffs, a day trip from Boston to Lexington and Concord is nothing short of perfection.
These two towns are perfectly positioned to visit both during a day trip from Boston and give incredible insight into the start of the American Revolution.
In fact, this is where it all began, at the Battle of Lexington and Concord when the Minutemen courageously fought for America's freedom from Britain.
In addition to American historical sites, a popular stop in Lexington is Wilson Farm. The farm has a great selection of prepared foods, cheese, fresh fruits, and freshly baked confections.
Bring a backpack in case you want to picnic at Walden Pond, Henry David Thoreau's famous sanctuary.
At Walden Pond, you can take a dip or discover the remnants of Henry David Thoreau's home. A walk around the pond will take roughly an hour.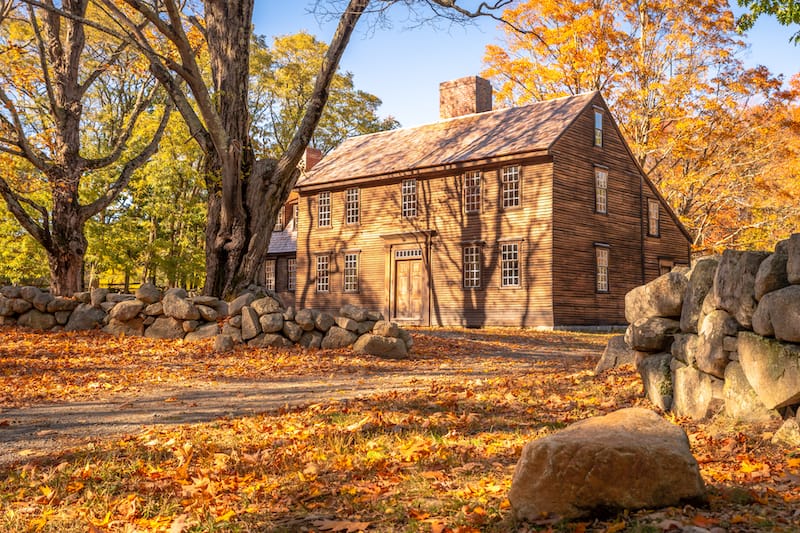 Be sure to visit Lexington Green, where the first battle between the Minutemen and Redcoats transpired. This stunning green is right in the center of Lexington and is brimming with history.
Take some time to stroll through the center, exploring shops and eateries.
Minuteman Historical Park in Concord is where you can explore battlefields and monuments, and perhaps see a reenactment if your timing is right.
Coming from Boston, this day trip is only a 20-minute car ride. If you're limited to public transportation, you can take the subway and then a bus, which will take you about an hour and twenty minutes.
Plimoth Plantations
Location: Plymouth, Massachusetts
Distance from Boston: 40 miles (47 minutes)
Another absolute gem for lovers of yesteryear, Plimoth Plantation is essentially a living history museum.
Ever wondered what life might have been like for the first pilgrims who arrived in America?
Plimoth Plantation is where you will see first-hand. Travel through time to Massachusetts in the 17th century as you explore, learn, and experience.
The open-air museum includes a replica of the Mayflower, a small village, a working water-powered mill, and a replica of a Native American settlement.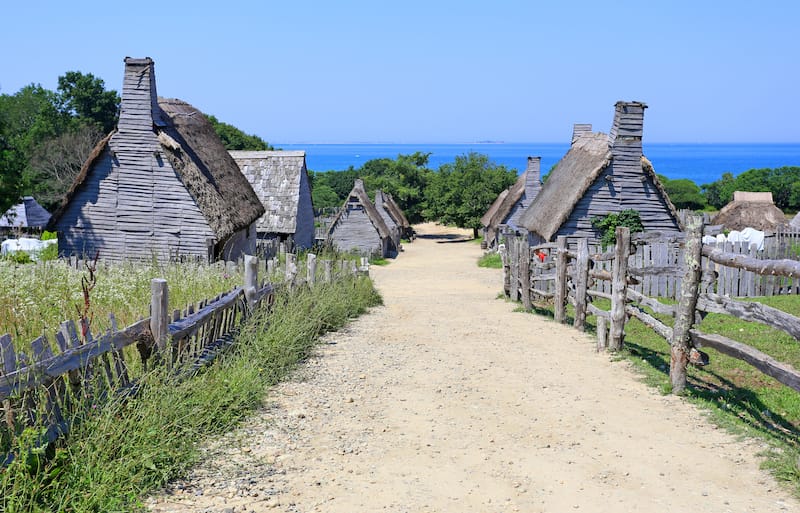 There are actors who portray people living during this time, actual livestock that would have been used, working farms, and more.
In the Native American (Wamponaug) settlement, there are no actors, but Native American people who are dressed in traditional period clothing.
They speak in modern terms and give incredible insight into the complex relations between the pilgrims and the Native Americans.
The museum is open from March through November.
The easiest way to arrive from Boston is to take a bus to Plymouth and then a short (less than five minute) taxi ride to Plimoth Plantation. The entire journey takes just over an hour. Wear your walking shoes!
Portsmouth
Location: New Hampshire
Distance from Boston: 63 miles (1 hour 10 minutes)
Located on New Hampshire's Seacoast region right along the border with Maine, Portsmouth is a must-see in New England and an eminently doable day trip.
Located just over an hour's drive from Boston, Portsmouth was incorporated into the colony of New Hampshire in 1653 and served as the seat of government and a bustling shipping hub for many years.
Today, due to New Hampshire's lack of sales tax, the popularity of Portsmouth as a shopping destination continues.
Driving is likely the best way to get to Portsmouth from Boston, and there is a lot of parking available for only $2 per hour, which is quite reasonable.
The best thing to do in Portsmouth is to just walk around and take it all in. Meander around the sublime waterfront of Prescott Park and marvel at the period architecture that prevails all over town.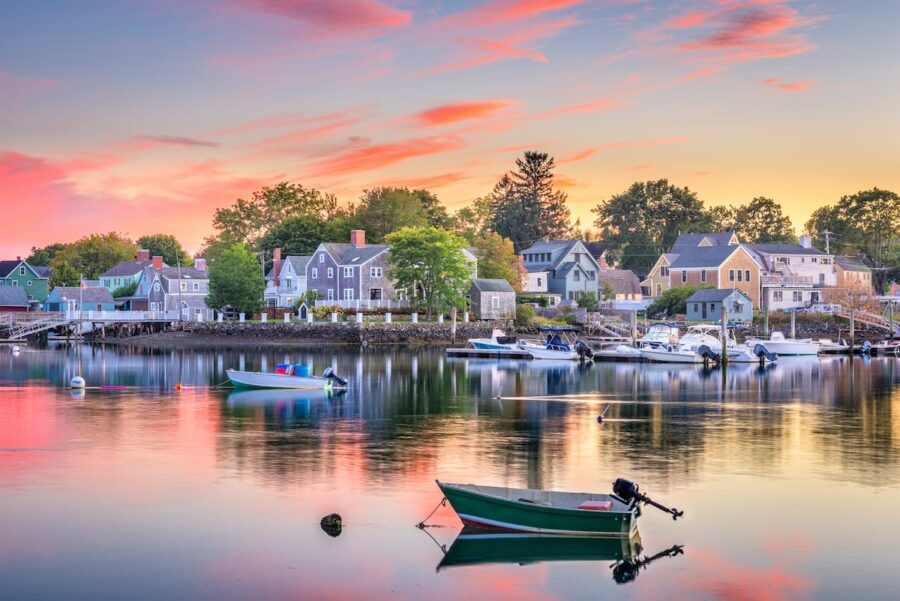 Or, pop into the nearby Strawbery Banke Museum, which has lovingly preserved 40-period buildings from the 17th through 20th centuries. Spend time people-watching, shopping, and dining in Market Square.
This is the main hub of the town, filled with delightful boutiques, ice cream parlors, and cute lunch options.
Don't miss the beautiful North Church, and stick around the area to hear buskers perform.
If you're in the mood for another museum in the afternoon, the USS Albacore Museum has much to offer maritime history aficionados, or perhaps consider crossing the border into Kittery, Maine, just across the bridge.
Old Sturbridge Village
Location: Massachusetts
Distance from Boston: 60 miles (1 hour 6 minutes)
Old Sturbridge Village is an open-air, living history museum that makes for an easy day trip from Boston. Here, you'll find true-to-form replicas of New England life in the early 19th century.
Old Sturbridge has antiquated buildings, functioning farms, educational exhibitions, and sprawling grounds to explore.
Similar to Plimoth Plantation, there are actors that are adorned in period costumes and act as an interpreter into early rural New England life.
This is a fully immersive experience that allows for a greater depth of understanding of the era.
Before or after your museum experience, take a little time to explore Sturbridge itself. Sturbridge has fostered a seamless amalgam of contemporary comfort and authentic charm.
The small, enchanting town has a wide variety of shopping, restaurants, and outdoor activities to enjoy.
From Boston, it's fastest to drive, taking just around an hour. If you are using public transportation, take a bus to Sturbridge and then a 4-minute taxi ride, or leisurely walk, to Old Sturbridge Village.
This is a popular day trip in New England and worth a full day!
Bristol
Location: Rhode Island
Distance from Boston: 65 miles (1 hour 21 minutes)
Bristol, Rhode Island is a classic New England coastal town. It is located on a peninsula nestled between Narragansett and Mount Hope Bays, offering stunning views throughout town.
Bristol has an extensive history, including the oldest continuous Fourth of July celebration in all of the United States!
If you happen to be in the area during Independence Day, do yourself a favor and take a day trip from Boston to experience this timeless celebration.
There are plenty of things to do in Bristol year-round, however. Blithewold Mansion, Colt State Park, and the East Bay Bike Path are popular tourist stopovers.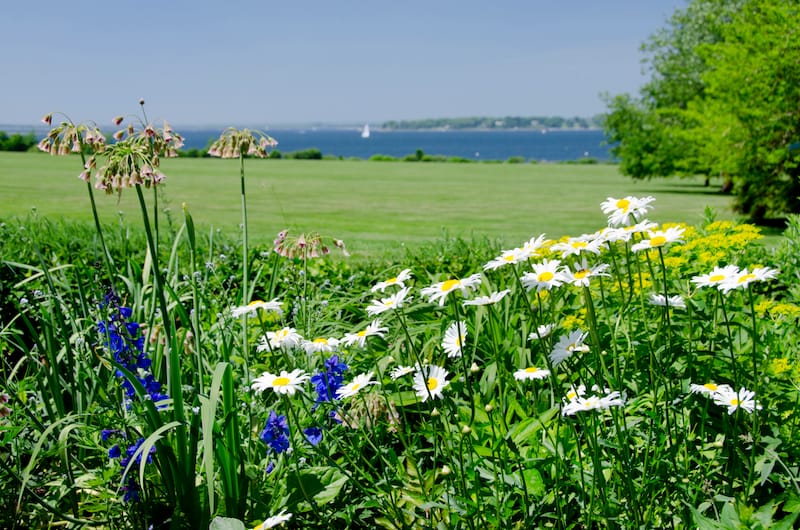 There are delicious restaurants in town and quaint coffee shops to sit and people-watch. Bristol maintains its "Main Street America" vibe with colonial estates, tree-lined streets with stone sidewalks, and old town storefronts.
Getting to Bristol from Boston is quickest by driving, which takes just over an hour.
If you're taking public transportation for your Boston day trips, you can take a train to Providence followed by a bus to Bristol, putting you there in about an hour and a half.
New Bedford
Location: Massachusetts
Distance from Boston: 59 miles (1 hour 16 minutes)
New Bedford is a coastal city in southern Massachusetts. Its ideal harbor location made it the heart of the fishing and whaling industries in the 19th century.
New Bedford was once the world's premier whaling port, and, for a short while "the city that lit the world," due to its whale oil production.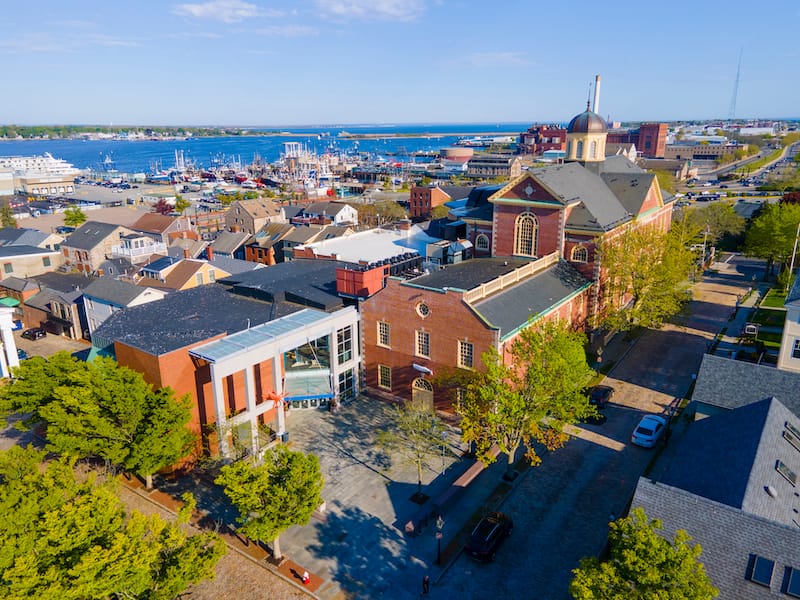 You'll find the waterfront full of narrow cobbled streets and alleys, historic buildings, and fine dining restaurants. The Whaling Museum is an absolute MUST when visiting New Bedford.
The best way to reach New Bedford from Boston for a day trip is to take a bus. It takes roughly the same amount of time as driving (approximately an hour and fifteen minutes), and this way you won't have to deal with parking.
Lincoln Ice Castles
Location: North Woodstock, New Hampshire
Distance from Boston: 130 miles (1 hour 58 minutes)
Ice Castles is an internationally acclaimed attraction found in four cities throughout North America, one of which is ideally situated for a day trip from Boston – Lincoln, NH.
The event is created using millions of icicles that are meticulously placed by expert ice artists. The castles include (somewhat garish) LED-lit sculptures, carved ice tunnels, slides and luges, fountains, and more.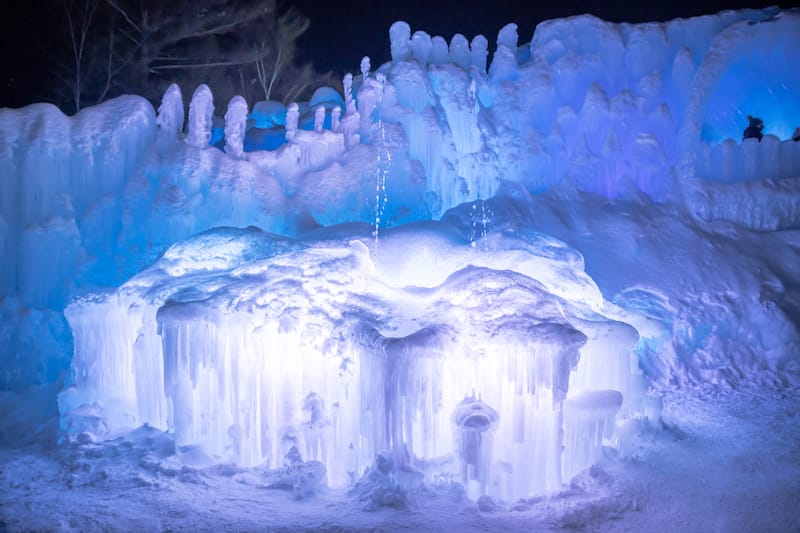 The attraction is open in times of COVID, however, restrictions are in place. Masks are required to be worn throughout the ice castles, and groups have to maintain a difference of six feet. Only one-way traffic is permitted through tunnels and crawl spaces.
Lincoln, NH is about a two-hour drive from Boston. If taking public transportation, a bus will take around three hours.
Portland
Location: Maine
Distance from Boston: 114 miles (1 hour 54 minutes)
Portland is the largest city in Maine by population and is located just about 100 miles north of Boston. It's one of the best day trips from Boston, allowing you to explore the quintessential New England vibes that Maine exudes.
Portland is a coastal city with a dense concentration of boutiques, eateries, museums, art galleries, tours, and more. There's so much packed into this small city, it's easy to spend more than a day here.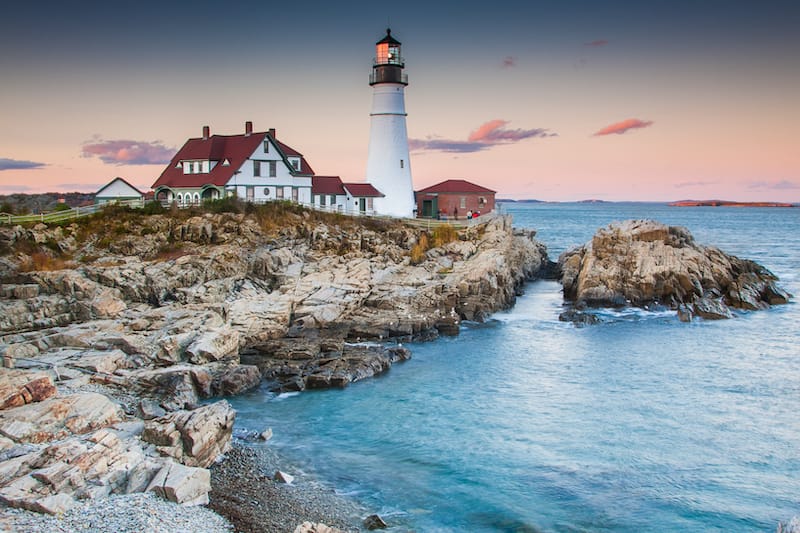 Some of the most popular attractions in Portland, aside from strolling around the harbor and admiring the views (and the famous lighthouse!), include the Museum of Art, the Observatory, Victoria Mansion, and the Old Port.
Driving to Portland from Boston takes under two hours, however, if you're taking the train it'll take two and a half hours. The bus is slightly cheaper and takes two hours and ten minutes.
Kennebunkport
Location: Maine
Distance from Boston: 91 miles (1 hour 41 minutes)
Kennebunkport is a seaside town in Maine. It is one of the most popular tourist destinations in the state and is well-known for its shopping, character, and beach access.
The center of Kennebunkport is very pedestrian-friendly. Sidewalks are wide, crosswalks are abundant, and window shopping is promoted. There are many art galleries, restaurants, and local shops to explore.
Another popular thing to do in Kennebunkport is to visit its many beaches. The best are Kennebunk Beach, Gooch's Beach, Mother's Beach, and Parson's Beach.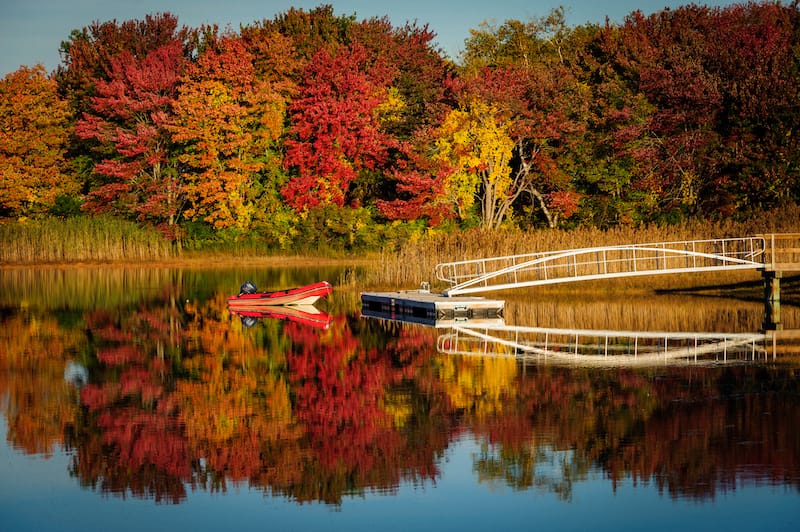 While driving from Boston can get you to Kennebunkport in under two hours, if you are taking a bus or train it will take just over two hours.
Kennebunkport is a popular day trip in New England, and its close proximity to Boston makes it an easy one. However, if you opt to stay overnight in Kennebunkport, you will find plenty of accommodation options!
While these last four options are doable as a day trip, I strongly recommend spending a night or two if you are taking public transportation.
Boston Day Trips (2-3 Hours)
Provincetown
Location: Massachusetts
Distance from Boston: 116 miles (2 hours 13 minutes)
Located at the easternmost point in Massachusetts, Provincetown is located right at the tip of Cape Cod. It's home to a burgeoning artist community, boasting a huge number of galleries and boutique shops.
Provincetown (or, P-Town as it is affectionately referred to by locals) is extremely keen on tolerance and acceptance, paving the way to it becoming a premier LGBTQ holiday destination.
Grab an afternoon cocktail and hit up a 'tea party'! Drag shows are a super-fun way to spend an evening as well.
Its remote and peaceful location also makes it a great family destination. There are white sandy beaches that are ideal for sunbathing or playing in the surf.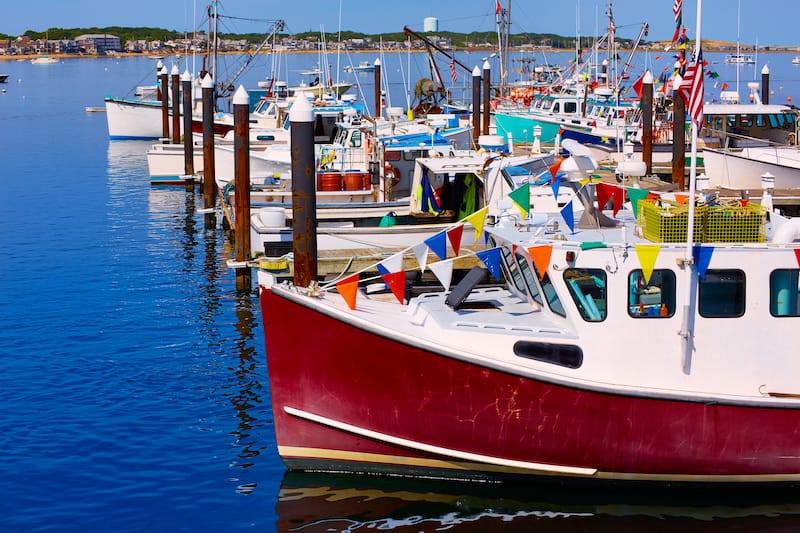 Race Point Beach is frequently listed among the top beaches throughout the country. I personally don't love swimming on the Cape due to the presence of sharks but to each her own.
Getting to P-Town from Boston is half the fun. From the World Trade Center Pier, you can hop right on a ferry that will take you directly to Provincetown.
If you take the earliest ferry there and the latest ferry back, you'll get about nine hours in town, which is fine for a day trip. You'd arrive around 10:30 and depart at 19:30. Be sure to check the schedule in advance to avoid any surprises.
Martha's Vineyard
Location: Massachusetts
Distance from Boston: 90 miles (2 hours 35 minutes)
Martha's Vineyard is a large(ish) island located off the Cape Cod peninsula. Like many seaside locales on the east coast, it was once a whaling center.
Today it's a popular vacation destination for the upper elite and celebrities alike.
Martha's Vineyard comprises six small towns, each with its own personality and selection of restaurants and accommodations. There's a shuttle service that can take you between towns if you don't have a car or feel like riding a bicycle.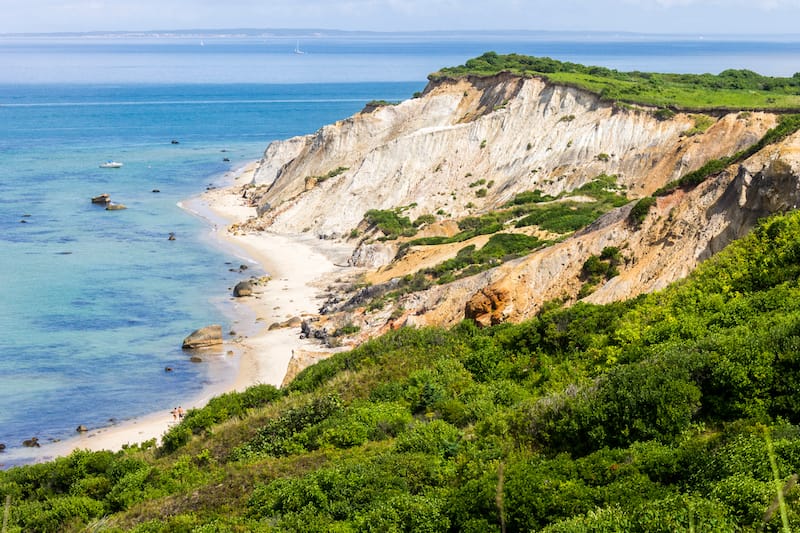 Popular things to do on Martha's Island include visiting the Gay Head cliffs at Aquinnah, Moshup Beach, and Menemsha, where you can see the sunset over the water – one of the few places on the east coast where this is possible.
If your level of ambition is high, Martha's Vineyard is doable as a day trip from Boston. I suggest spending at least a night, so you're not rushing and can blend with the laid-back nature of the island.
It's ideal for a weekend getaway. From Boston, drive to Woods Hole to catch the ferry. The drive takes an hour and a half, the ferry takes forty-five minutes.
A bus is available to Woods Hole which takes an hour and forty-five minutes.
>> Click here to check day tour rates to Martha's Vineyard
Nantucket
Location: Massachusetts
Distance from Boston: 100 miles (must take a ferry)
Nantucket is the second main vacation island destination in Massachusetts. The island provides peaceful harbors, impressive cliffs, soft-sand beaches, old lighthouses, dramatic mansions, and quite a few of its own limericks!
Fun things to do in Nantucket include visiting Bartlett's Farm for flowers, produce, and baked goods. The island is home to beautiful lighthouses and cliffs to explore.
And simply walking around the quintessential town center with an ice cream cone makes for a perfect evening. If you want to get out on the water for a day, charter a fishing boat and see what you can catch for dinner!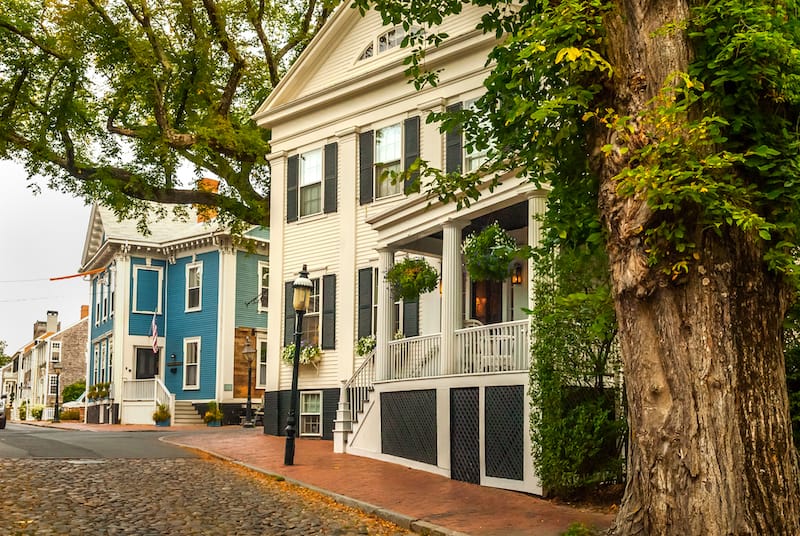 Although it's further from Boston, if you ask me which I prefer between Martha's Vineyard and Nantucket, I'll always opt for Nantucket. They both emit a slightly elitist atmosphere, but I find it less so in Nantucket.
That being said, it's definitely smart to not cram this one into a day trip – a weekend getaway from Boston is ideal.
From Boston, drive to Hyannis, which takes an hour and a half. From there, the ferry will take just over two hours. If traveling by bus from Boston to Hyannis, it will take longer.
New York City
Location: New York
Distance from Boston: 217 miles (4 hours 1 minute)
I don't think NYC needs much of an introduction, it's a city that literally everyone in the world has heard of. The Big Apple has a ton to offer.
It'd take much longer than a day to see it all, but you can certainly see the highlights on one of the most ambitious day trips from Boston.
NYC has so many things to see and do, it'd be impossible to list them all. Highlights for a first-timer might include the Empire State Building, Times Square, or the Statue of Liberty.
These are super-touristy, however, and you can find way cooler hidden gems in NYC (in my humble opinion).
There are countless museums, the UN Headquarters, world-class restaurants and speakeasies, Central Park, Brooklyn Botanical Gardens, and more.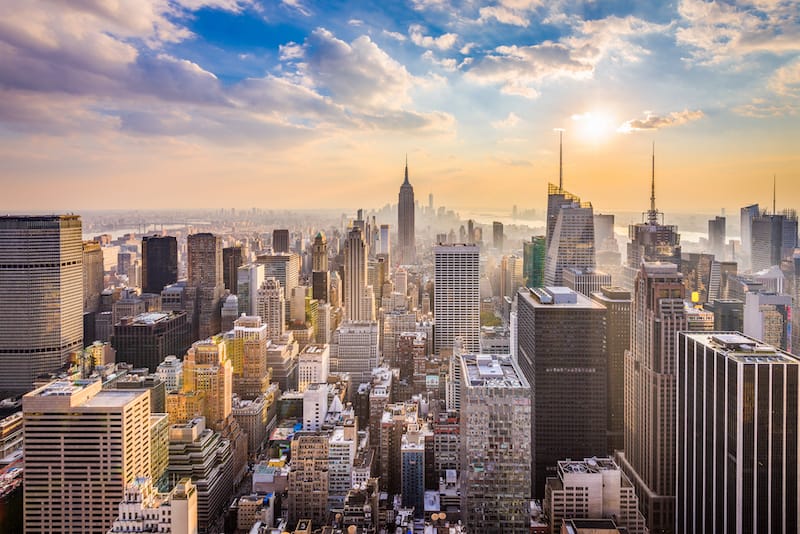 One of these days I'll get around to publishing a compilation of the most unique things to do in NYC – I lived in Brooklyn for a while and have quite a few personal favorites.
Taking a day trip from Boston to NYC requires a bit of discipline. To make the travel time worthwhile, get up early for the 5:05 train, which will put you in NYC around 8:45 (there is also a 6:05 option that gets you there an hour later).
I never mind the early trains because they're easy to sleep on. Returning to Boston, depart NYC at 19:00 to get back to Massachusetts before midnight.
If you want to experience a taste of some of NYC's nightlife, there's also a 2:40 train, which takes longer but you will sleep, that arrives in Boston at 8:00, just in time for breakfast.
Kripalu Center
Location: Massachusetts
Distance from Boston: 133 miles (2 hours 13 minutes)
For the ultimate day of relaxation and reprieve from the hustle and bustle of Boston, Kripalu is an excellent option.
Situated in Stockbridge, in the Berkshires, Kripalu offers daily programs that include meals, yoga, meditation, and other activities on their gorgeous, sprawling grounds.
Popular activities include kayaking, hiking, canoeing, dance classes, workshops, and more. The daily programs are always changing but usually start fairly early in the morning.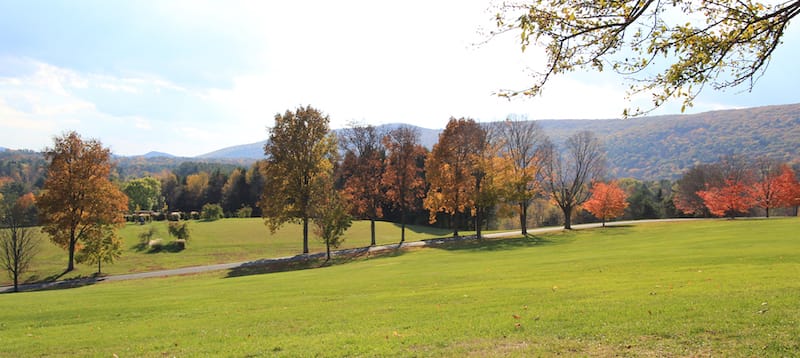 In this case, your best option would be to arrive in Stockbridge the evening before and spend the night, either at an independent hotel or at Kripalu (which can admittedly be quite expensive). Programs are available here.
Driving to Kripalu from Boston takes about two and a half hours, more if you're restricted to public transportation.
White Mountain National Forest
Location: New Hampshire
Distance from Boston: 176 miles (3 hours )
White Mountain National Forest attracts millions of visitors each year for phenomenal hiking, snow sports, and camping exploits in the stunning White Mountains.
With over 1,000 miles of trails, snowmobile trails, and more than 20 refined campgrounds, the New Hampshire forest has plenty to entertain with!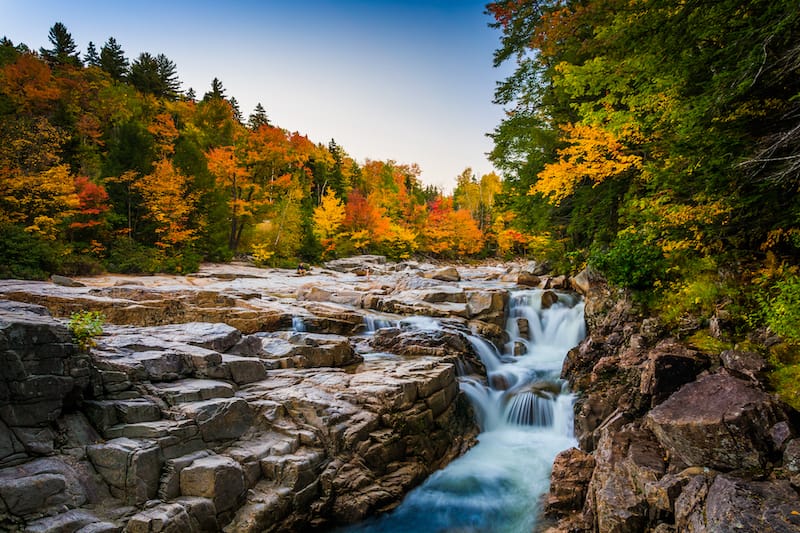 From Boston, White Mountain National Forest is most easily accessible from North Conway, New Hampshire. Driving will take around two and a half hours and is the suggested way to travel.
Public transportation takes longer and makes a day trip difficult. There are plenty of lodging options in North Conway if you'd like to spend the night, or camping is also available. There are also many amazing state parks nearby!
Best Places to Stay in Boston
If you're sticking around Boston and not turning any of the aforementioned trips into overnighters, you will need a great hotel to crash at!
Below are some of our top picks for the best hotels in Boston for your trip!
Did we miss any amazing day trips from Boston on this guide? Let us know your favorite Boston day trips in the comments below. Thanks!
Additional New England Travel Guides
Pin this Day Trips from Boston Guide