Alaska is a state brimming with cool places to visit! This guide showcases some of the best small towns in Alaska – from seaside communities to islands and beyond!
Did we miss any of the cutest Alaska small towns? Let us know in the comments!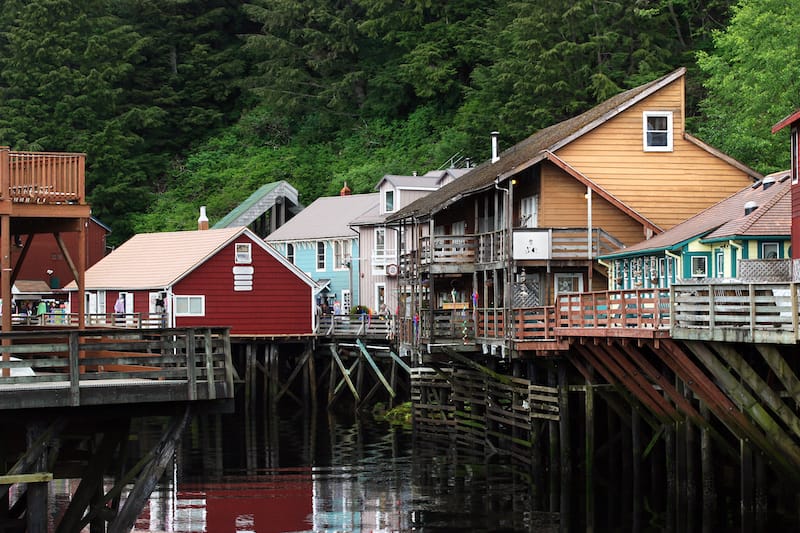 Best Small Towns in Alaska
Girdwood
The town of Girdwood lies 40 miles south of Anchorage, Alaska's largest city and home to the state's largest airport.
The destination, which is surrounded by lush forests, is the ideal place for nature lovers to visit to get the most out of their trip to Alaska.
Girdwood attracts a large number of tourists each year who come to admire Alaska's breathtaking scenery from above. As a result, taking the Alyeska Aerial Tram is a must!
The tram ride takes 3-7 minutes and goes up over 2,300 feet to the summit of Mount Alyeska.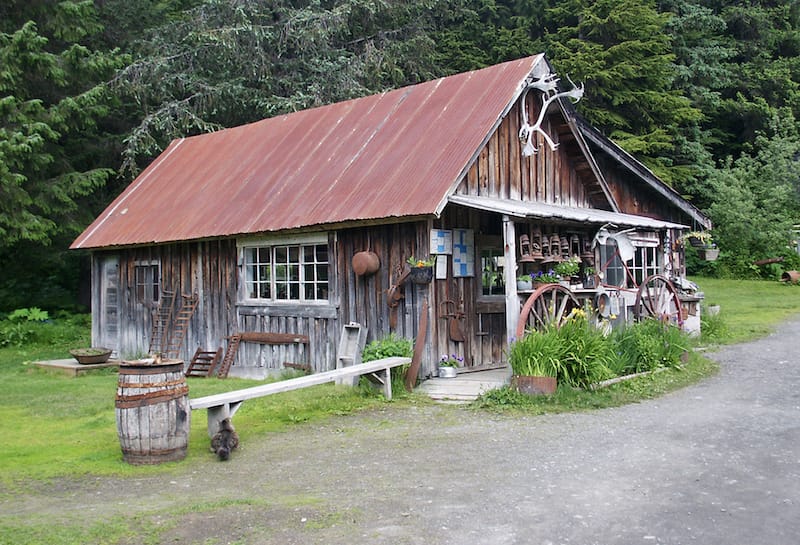 Alpine Air Alaska, offers flightseeing trips for visitors looking to discover more about the town's history and facts. It's the ideal activity for adventure seekers and is suitable for all ages.
The North Face Trail, on the other hand, is designed for those who enjoy a challenge!
The Crow Pass Trail, which has an Alpine lake nearby, is another place where nature enthusiasts can go. Girdwood's hiking trails provide a wide range of terrain, from glaciers to dramatic waterfalls.
One of the top things to do in Girdwood is to take a Prospector Tour of the Crow Creek Gold Mine.
Established in 1896, this place is renowned as one of the most famous hydraulic gold mining operations in the state! It's definitely worth a visit if you're in Girdwood.
How to Get to Girdwood
Girdwood, located about 40 miles south of Anchorage, is an easy 45-minute drive on AK-1.
You can also take the train to Girdwood from Anchorage.
Homer
Homer is famous for its fascinating history but has since become one of the best small towns in Alaska for its creative spark and scenic views. The town is also famous for its artistic community and galleries.
Pratt Museum is a must-see for art enthusiasts. It is mostly focused on Alaskan native cultures and natural history.
The museum also offers stories about the Kachemak Bay region and provides a good insight into the area's history and more.
Ptarmigan Arts and Fireweed Gallery are also worth visiting for art lovers. They are well-known for their artistic programming, which includes music, theater, filmmaking, and dance.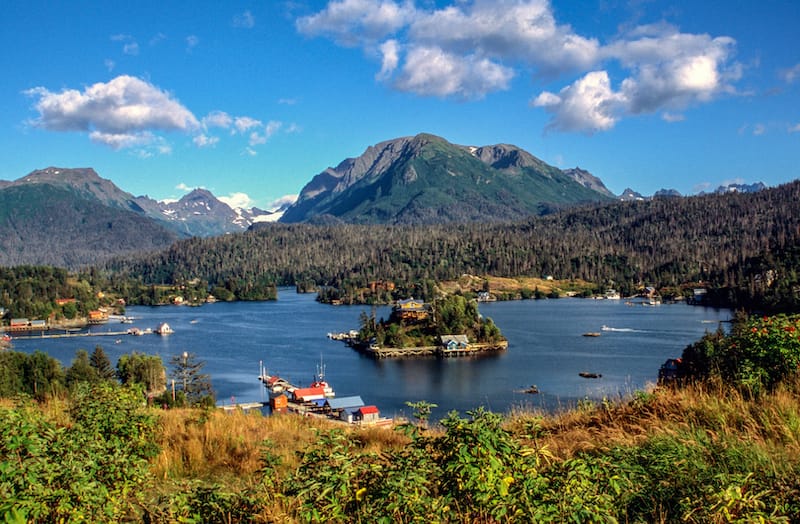 Don't miss a trip to Broken Oar Oyster Bar, a restaurant that offers mountain views and serves the freshest oysters pulled directly from Kachemak Bay.
Another can't-miss place to visit in Homer is Kachemak Bay State Park, Alaska's first designated park, which is located on the opposite side of the bay from the city. Glaciers, mountains, hiking trails, and paddling can all be enjoyed here.
Poot Peak, Humpy Creek, Grewingk Glacier, China Poot Bay, and other treasures can be found in the park.
How to Get to Homer
Homer is located 223 miles south of Anchorage, which takes about 5 hours to drive on the AK-1.
Or, you can fly into Homer with a direct, 50-minute flight from Anchorage on Ravn airline.
Valdez
Valdez is the perfect spot for picture-perfect views, since it sits at the head of a fjord on Prince William Sound, surrounded by some of the world's tallest mountains.
Day cruises, kayaking, fishing, and numerous hiking trails are among the many options available to visitors.
Travelers may find many day cruises in this town, including one to the Columbia Glacier, which is one of the world's fastest-moving glaciers. Valdez Glacier Lake, in the Chugach Mountains, is the place to go if you want to encounter another glacier.
Visitors will be amazed during the winter months as the lake transforms into a snowy spectacle! During the summer, guests can join the Anadyr Adventures guides for a kayaking adventure.
There are numerous hikes to choose from in and around Valdez, beginning with the Dock Point Trail for a quick and easy trip. It has a lovely view of Harbor Cove and the wetlands of Duck Flats.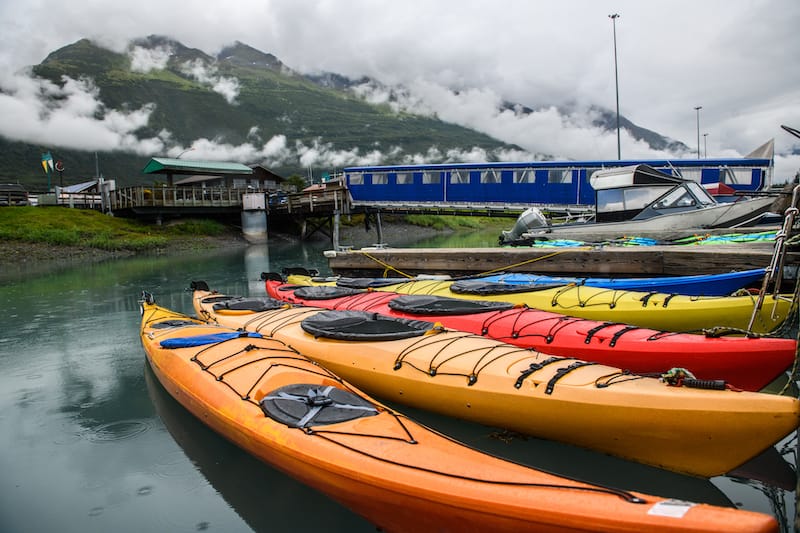 Travelers can also take advantage of beach access. The Shoup Bay Trail, which has two paths depending on what the hiker chooses, is another challenging hiking route.
Path A is a 4-hour round trip; Path B, on the other hand, is not for the faint of heart, since it takes about 10 hours to complete and is fairly challenging the entire way through!
Valdez is also a great place to visit if you enjoy winter sports like Sno-Cat skiing, heli-skiing, snowboarding, and more.
Professional guide services like Alaska Rendezvous Guides, Alaska Snowboard Guides, Black Ops Valdez, and Valdez Heli-Ski Guides are available there.
How to Get to Valdez
Valdez is located about 300 miles driving from Anchorage, which takes about 5h15m to drive.
Other options include driving or taking the train from Anchorage to Whittier, about 60 miles away.
From Whittier, you can take a ferry directly to Valdez. Alternatively, you can fly from Anchorage to Valdez on a direct 50-minute flight.
Sitka
When the United States bought Alaska from the Russians in 1867, Sitka was designated as the state's first capital.
The town is praised for having some of Alaska's richest history, as well as magnificent beauty and wildlife. There are many things to do in Sitka to keep you occupied!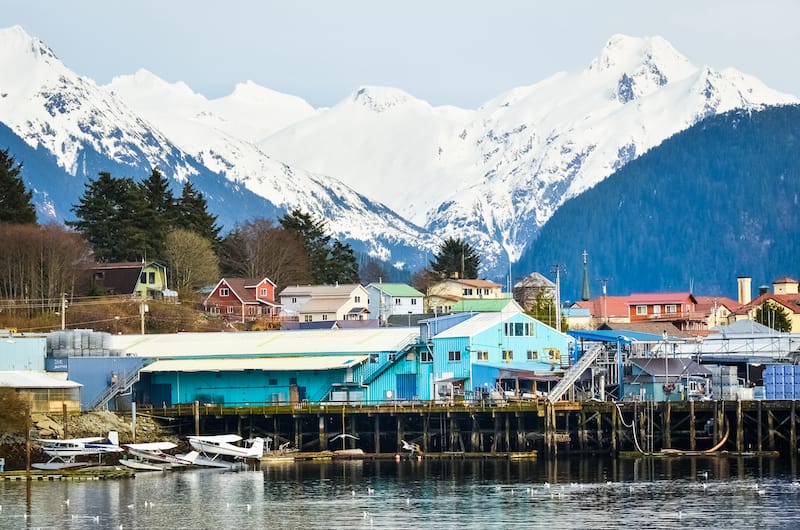 Visit the Sitka National Historical Park and St. Michael's Cathedral to acquire a better understanding of the Alaska town.
If you want to learn more about the native culture, visit the Tlingit clan house to observe traditional dances and hear stories told by them.
Kayaking is another option for visitors who want to explore the waters of Sitka. For travelers who prefer these kinds of activities, Sitka Sound Ocean provides guided trips and expeditions!
How to Get to Sitka
Sitka is only accessible by air or water, as it is not connected to Alaska's main road system. By ferry, it takes approximately 9h30m from Juneau to Sitka.
Private ferries and cruises also often go to Sitka. By plane, Alaska Airlines flies to Sitka from Seattle, Anchorage, Fairbanks, Juneau, and Ketchikan.
Delta Air Lines also has seasonal summer flights from Seattle to Sitka.
Talkeetna
The small town of Talkeetna is situated between Alaska's largest city of Anchorage and North America's tallest mountain, Denali.
During the winter months, travelers enjoy activities such as cross-country skiing, snowboarding, and snowmobiling. North Shore Cyclery is a center that provides these activities to travelers.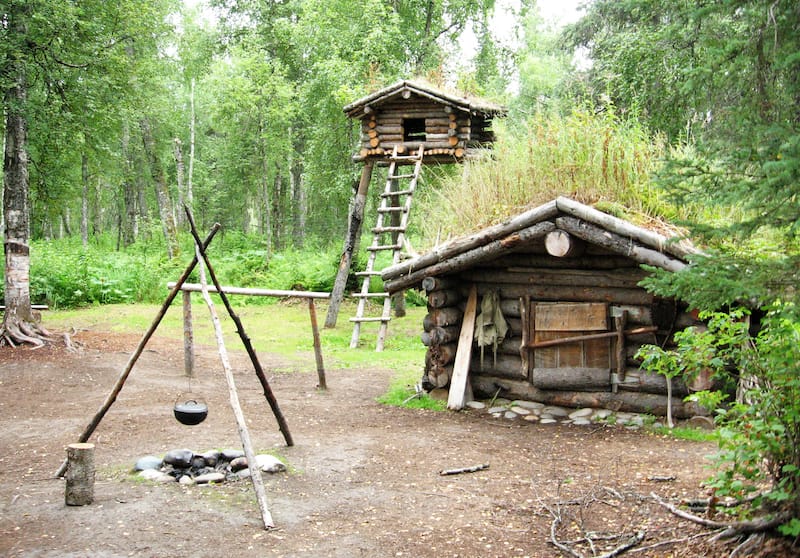 There is no 'right' time to visit Talkeetna. In summer, you can hike and in winter and shoulder season, you can witness the northern lights.
Alaska is also renowned for surviving primarily on the resources provided by nature. People can see how sauces, sweets, and syrup are prepared from local birch sap by visiting Kahiltna Birchworks.
Denali Brewing Company, Alaska's second-largest brewery, is also well worth a visit.
How to Get to Talkeetna
Talkeetna is easily accessible from Anchorage. It lies 113 miles north which takes about 2 hours to drive.
Alternatively, you can also take a bus or train from Anchorage to Talkeetna.
Petersburg
Petersburg is known as "the town that fish built." Peter Buschmann, a Norwegian immigrant, lived in Petersburg and built a cannery, sawmill, and docks; hence the name 'Peter'sburg.
Clausen Memorial Museum is the location to go for travelers interested in the town's history. The museum has a large collection of Alaskan artifacts.
Exploring the harbors and witnessing the finishing fleet, such as Petersburg's South Harbor, is a must when visiting this small town in Alaska.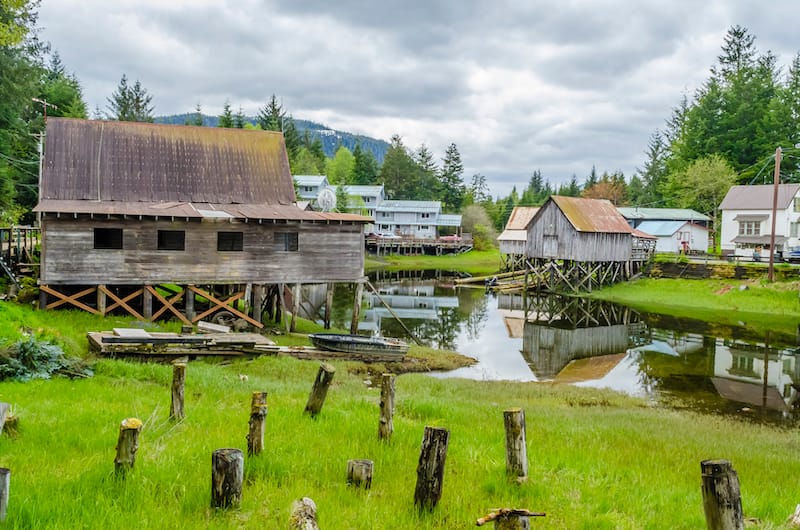 Sandy Beach is also a must-see for those who want to go tide-pooling, explore the beach, and take in the magnificent view across the water at low tide.
Visiting LeConte Glacier by boat is also a must for travelers to this town in Alaska – you can find amazing tidewater glaciers there!
How to Get to Petersburg
Petersburg is another island town only accessible by water or air. The state ferry from Juneau takes approximately 8 hours.
By air, Alaska Airlines has a twice-daily jet service to Petersburg from Seattle, Washington, and Anchorage, Alaska.
There are more options if you choose to charter a private boat or plane as well.
Skagway
Skagway, located in Alaska's Panhandle, is a historic city that attracts millions of visitors each year. The area is known for its magnificent train rides and the abundance of scenery located there!
White Pass and the Yukon Route Railroad are two of Alaska's most popular itineraries by train.
The train travels 20 miles from the coast, providing passengers with breathtaking views of the mountains, waterfalls, tunnels, and other natural wonders.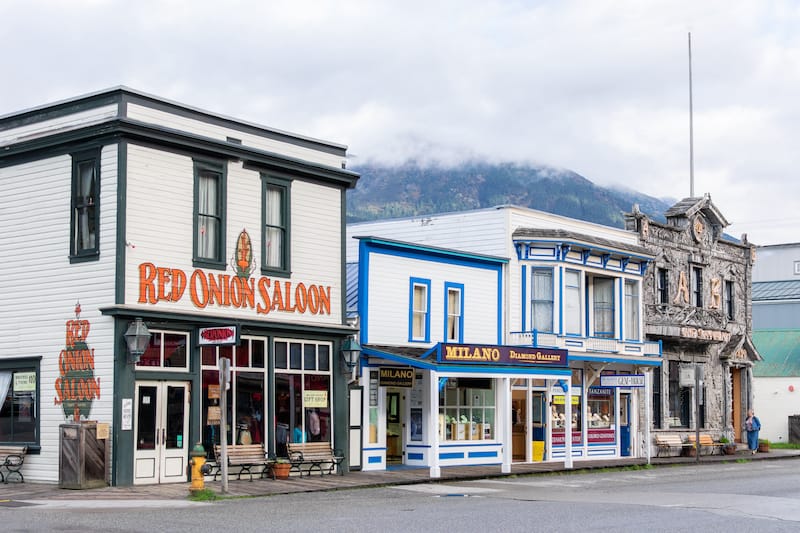 If you enjoy outdoor activities, try a day hike to Yakatuania Point, Reid Waterwall, or Dewey Lake – all should be on your Skagway trip if you're a nature lover!
Those interested in learning more about the town's history can take a tour of Skagway's National Historic District, which will transmit them to 1898 and immerse them in the Klondike Gold Rush.
How to Get to Skagway
You can drive, fly, or ferry into Skagway. From Juneau, the ferry takes about 8 hours. The fastest way to get to Skagway is to catch a commuter flight from Juneau or Anchorage.
Finally, you can drive into Skagway on the Klondike Highway coming from Canada. The drive from Whitehorse, Yukon is about 110 miles and takes 2h15m.
Note you will need a passport (and visa if necessary) to take this route since you cross the Canada/US border.
Wrangell
Wrangell is ideal for outdoor enthusiasts, like most other destinations in Alaska, as it offers hiking, kayaking, canoeing, fishing, and other activities.
Such activities are available at the Ketchikan Kayak Company, Beecher Pass State Marine Park, and Southeast Exposure Outdoor Adventure Center.
The Alaska Vistas is also a must-visit for travelers. It is a region where adventurers can explore the outdoors on their own… but be prepared that this is not for a novice naturalist!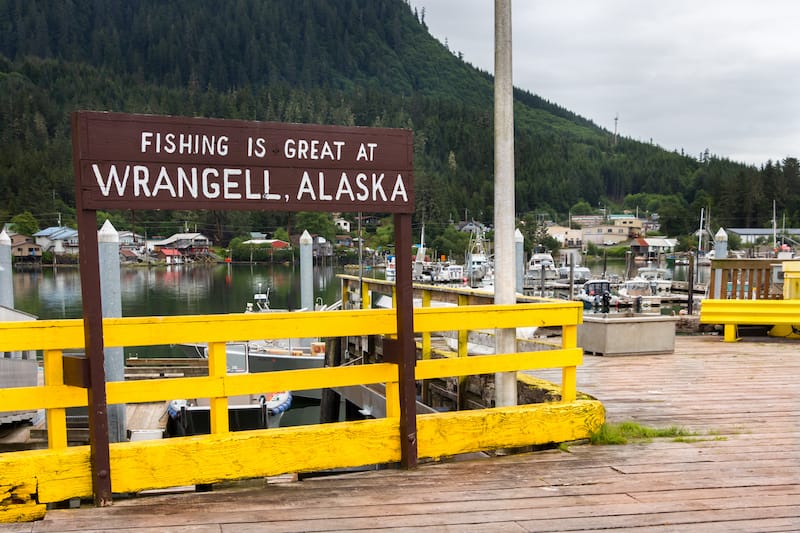 Alaska Charters & Adventures is a great place to keep in mind if you're looking for a bespoke tour of the area.
And, if you're keen to learn more about the history of Wrangell, then be sure to check out the Wrangell Museum.
Round off your trip by partaking in one of the most popular activities in the AK town – fishing! Night N Gale Charters offers tailored Salmon, Rockfish, and Halibut excursions.
How to Get to Wrangell
Wrangell, on Wrangell Island, is only accessible by boat or plane. The easiest way is to fly in. Alaska Airlines offers service to Wrangell from Anchorage, Juneau, Seattle, Petersburg, and Ketchikan.
The Alaska Marine Highways operates ferry services, and there are other charter ferries and plane services available as well.
Seward
With its spectacular surroundings, Seward is one of Alaska's oldest and richest towns (and is seaside)!
You can easily explore Kenai Fjords National Park while visiting Seward and see Exit Glacier and many other incredible attractions!
Hikers also have the choice to have a guided ice-hiking and climbing tour offered by Exit Glacier Guides. Every 4th of July, you can partake in the Mt. Marathon foot race!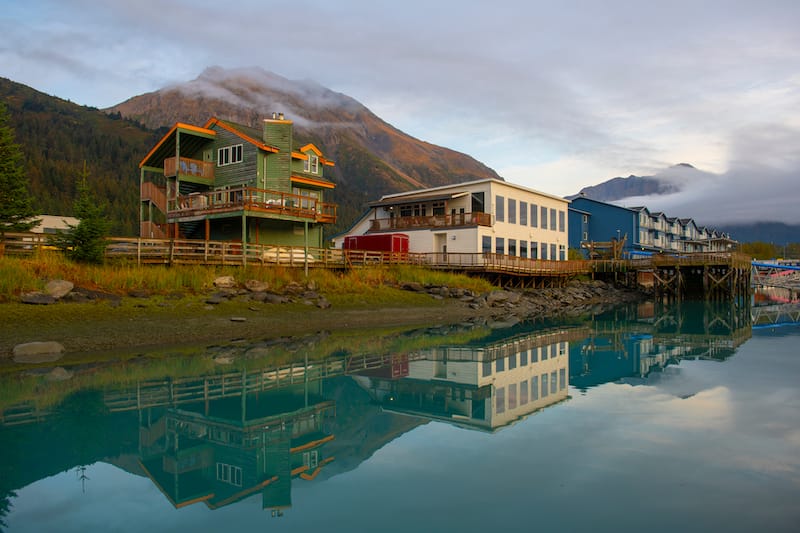 Exploring Seward's waterways by water taxi is a simple and affordable way to get around. Cain's Head is a location that you can take a water taxi to if you want to check out a historic WWII fort.
How to Get to Seward
Seward does have a small airport that you can fly into via charter planes, but most people arrive in Seward by land.
Anchorage is 127 miles away and it takes about 2h30m to drive to Seward. There are also daily train and bus options from Anchorage.
Ketchikan
Ketchikan, on the state's southeastern coast, is a popular cruise destination and one of the cutest small towns in Alaska. It boasts striking scenic views and amazing vistas over the coast.
Totem Poles are a must-see for those keen to learn more about the Indigenous history and culture of Alaska, and the Totem Heritage Center is an educational and interactive place to learn more.
Additionally, the Southeast Alaska Discovery Center will provide you with additional information about Ketchikan. And… there are many walking tours of Ketchikan that you can take when there to learn more!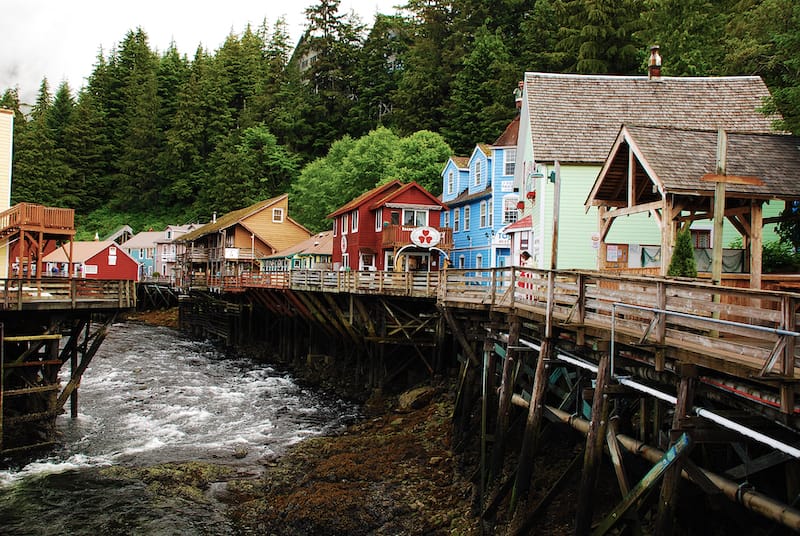 And what could be more thrilling than soaring over the city? Tourists can take Helicopter Air Alaska's Flightseeing tours to experience the majestic mountains, lakes, and waterfalls.
Hiking in Tongass National Forest, the United States' largest forest, is a must for nature lovers. For adventure seekers, booking a zipline trip with Alaska Canopy Adventures will be a memorable experience.
This is one of the can't-miss destinations in Alaska!
How to Get to Ketchikan
Ketchikan is only accessible via air or sea. Both Alaska Airlines and Delta Air Lines fly into Ketchikan, and it's only a 90-minute flight from Seattle, Washington.
You can also get to Ketchikan on the Alaska Marine Highway ferry, private charter, or cruise ship. It's about a 7-hour ferry from Prince Rupert, Canada, or 36 hours from Bellingham, Washington.
Kodiak
Perhaps not a small town, per se, but Kodiak is the largest island in Alaska and it can feel like a small town. The place is epic for nature enthusiasts and is often called 'the Emerald Isle'.
Joining a Fishing Charter will provide you with infinite angling opportunities since Kodiak has so many lakes and rivers to choose from. And, of course, you will be surrounded by the sea.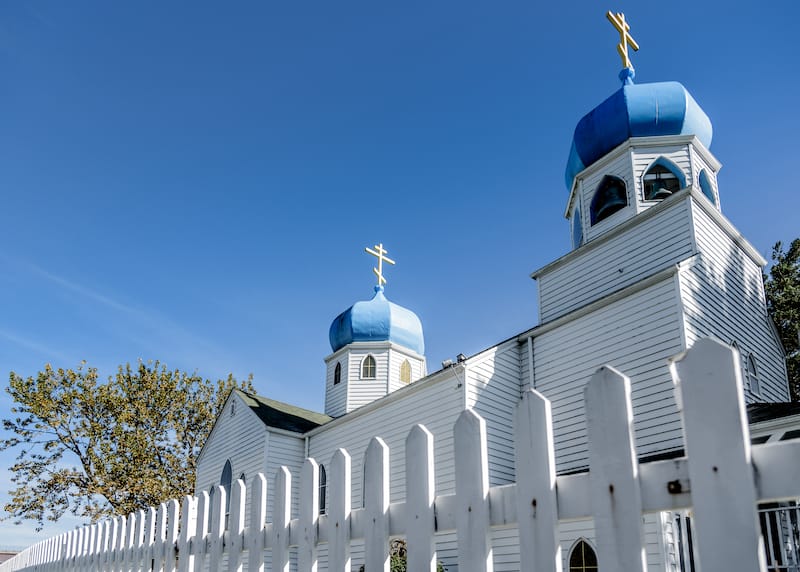 It would be a pity to visit Kodiak and miss out on seeing some of the world's most incredible animals. Kodiak is a fantastic place to go whale watching and you can join a boat trip while there to do just that.
It is essential to visit the museums in Kodiak and learn more about the history of this island.
The Alutiiq Museum and the Maritime Museum will help you learn about Kodiak's history, including details about its Indigenous community.
How to Get to Kodiak
To get to Kodiak town on Kodiak Island, you must fly in or take a boat. By ferry, you can drive 4 hours from Anchorage to Homer (or take a 50-minute flight on Ravn airlines), then take the 9h30m ferry from Homer to Kodiak.
By air, it's a quick one-hour flight from Anchorage on Alaska Airlines.
Cordova
Cordova is a town in the Gulf of Alaska that is located on Prince William Sound. The town, like any other Alaskan town, has sensational nature, activities, and seafood! There is also a very robust history there.
The Copper River Delta and Godwin Glacier are amazing places to hike and enjoy Cordova's beautiful greenery.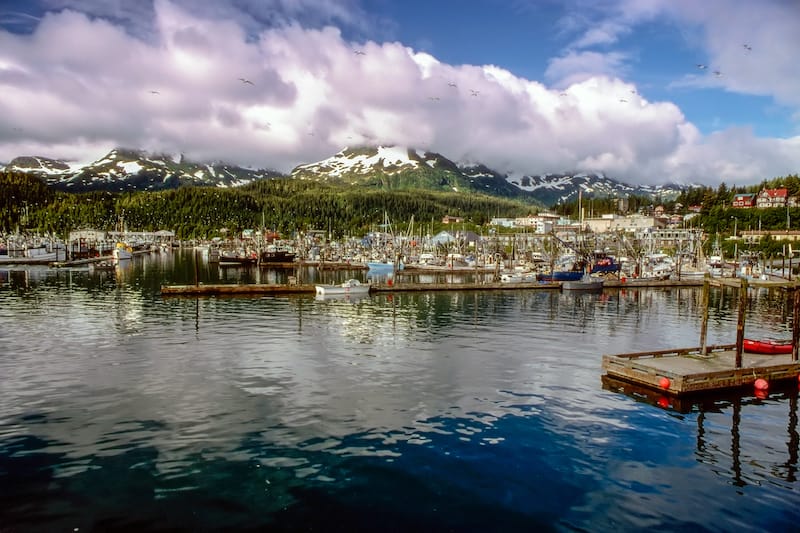 The town has a few places to eat when you are there, including the Little Cordova Bakery, Harborside Pizza, and Baja Taco.
Cordova is also home to several local businesses where you can buy countless cultural garments. One place to check out when there is Knot Crazy.
How to Get to Cordova
Cordova is another town not on a connected road system, therefore you can only get there by plane or boat. Alaska Airlines flies directly to Cordova from Anchorage and Yakutut.
You can also take an Alaska Marine Highway Ferry. It's a 6h45m ferry ride from Whittier to Cordova.
Eagle
Located 6 miles west of the Canada/Alaska border is Eagle – with its many log cabins and clapboard houses, you should definitely visit this charming AK town on the south bank of the Yukon River.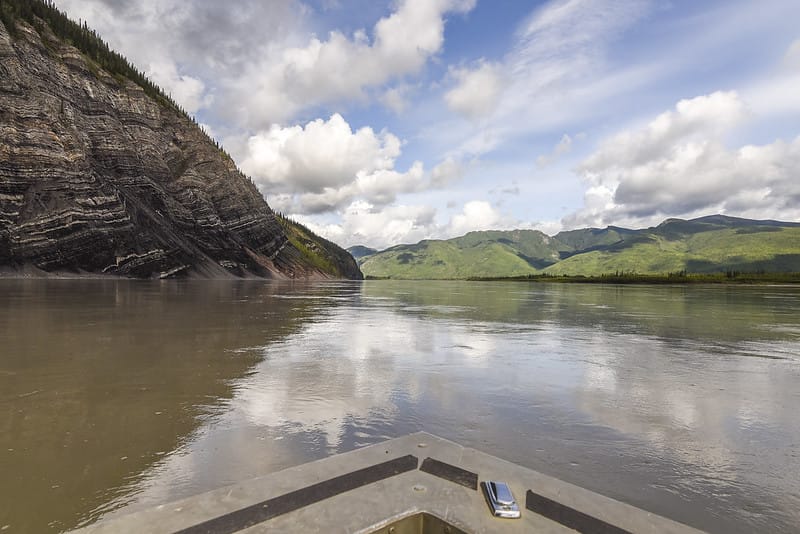 Eagle is renowned for its extensive museum system, and history buffs can learn more about the town by taking tours of Wickersham's Courthouse, Eagle City Hall, the Log Church, Amundsen Park, and other landmarks through the Eagle Historical Society.
Visitors can also learn more by taking a tour of the Yukon-Charley Rivers National Preserve. This will help them learn more about the history and present of Eagle.
How to Get to Eagle
Eagle is accessible by road or air. In the summer, you can drive from Tok, which is the closest large community about 170 miles away.
Because the road is partly paved, and partly gravel, this drive takes about 4h45m. If you want to start in Fairbanks, this adds another 3 hours on.
Note that the Taylor Highway is closed in the winter from Oct 15 to mid-April, which closes highway access into Eagle. In the winter it is only possible to fly in by small plane.
Ester
The Fairbanks, Alaska Metropolitan Area actually includes the town of Ester.
Tourists can find many small businesses in town, such as jewelry makers, hand-crafted soap makers, and local artists. It is also the home of many painters, photographers, and sculptors.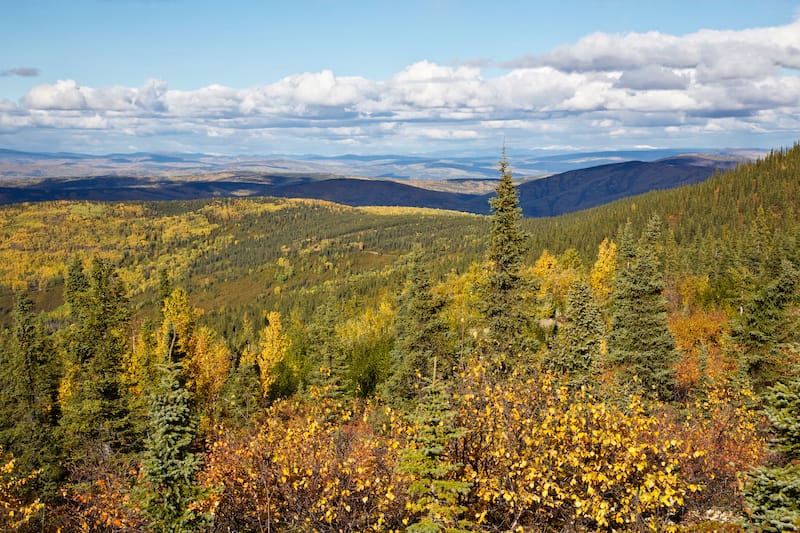 Another thing you will find there are exciting festivals such as the Angry Young & Poor and The Fairbanks Summer Folk-Fest.
Travelers will also enjoy visiting Pioneer Park, which makes you feel like you've become part of a fairytale!
Avid hikers will enjoy the Ester Dome, which allows people to learn more about the flora and fauna of the area. For cycling enthusiasts, this trail can also be used for mountain biking.
How to Get to Ester
As Ester is a suburb of Fairbanks, it's easily accessible by car. It's only a 15-minute drive outside of the city center.
Gustavus
Gustavus, a small town in the Hoonah-Angoon Census Area, is a lovely place where people come to escape the chaos of everyday life! This is the gateway to Glacier Bay National Park, one of the most beautiful national parks in the US.
World-class fishing, wildlife sightings, and several hiking opportunities are just a few of the things you can do when visiting!
Tourists can enjoy some of the best kayaking in the world in Gustavus. Kayaking is available at Spirit Walker Expedition and Alaska Mountain Guides (& Climbing School), among other places.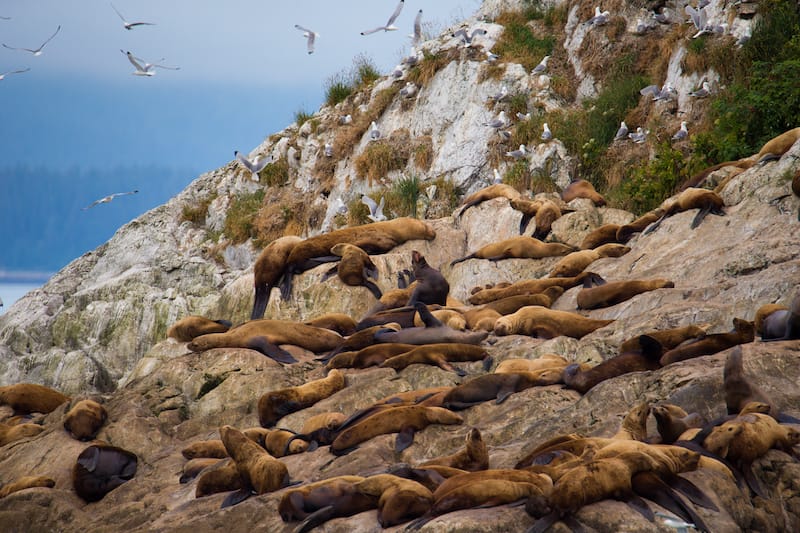 Strawberry Point Tours offers van excursion tours that are ideal for first-time guests who wish to learn more about the town.
Seaside Tent Campground offers opportunities for camping for those looking to get out into the wild when there. Golfers will also find a place to play a round at Mt. Fairweather Golf Course.
How to Get to Gustavus
Gustavus is not connected to a main road system, so you must fly or sail in. Alaska Airlines offers a quick 35-minute flight from Juneau to Gustavus only in the summer season.
Otherwise, you'll need to look into charter plane options. By sea, you can take the Alaska Marine Highway ferry twice a week from Juneau, which only takes 4h30m.
There are several cool small towns in Alaska worth visiting and this only scrapes the surface!
What are some of the Alaska small towns we missed? Let us know below! Thanks!
More Alaska Travel Guides
Pin this Alaska Small Towns Guide