Seattle is best known for its rain and the winters can be super rainy as well! These are the best day trips from Seattle in winter, including a variety of destinations to choose from!
Are you planning your trip to Seattle last minute?
If youʻre booking your trip to Seattle last minute, we have you covered. Below are some of the top tours, hotels, and more!
Top organized day trip options from Seattle:
9-hour day trip to Leavenworth (my #1 pick for a winter day trip!)
Snoqualmie Falls and Seattle winery tour (another top-rated day trip!)
Top Lodging Options in Seattle:
We include Washington destinations that are islands, some covered in snow, and some for the avid skier and snowboarder and we also threw in two places that are over 3 hours away from Seattle.
We recommend these as weekend trips from Seattle during winter.
While they can be enjoyed as a day trip, it can be a grueling trip for some unless you have someone joining who is keen to do all the driving!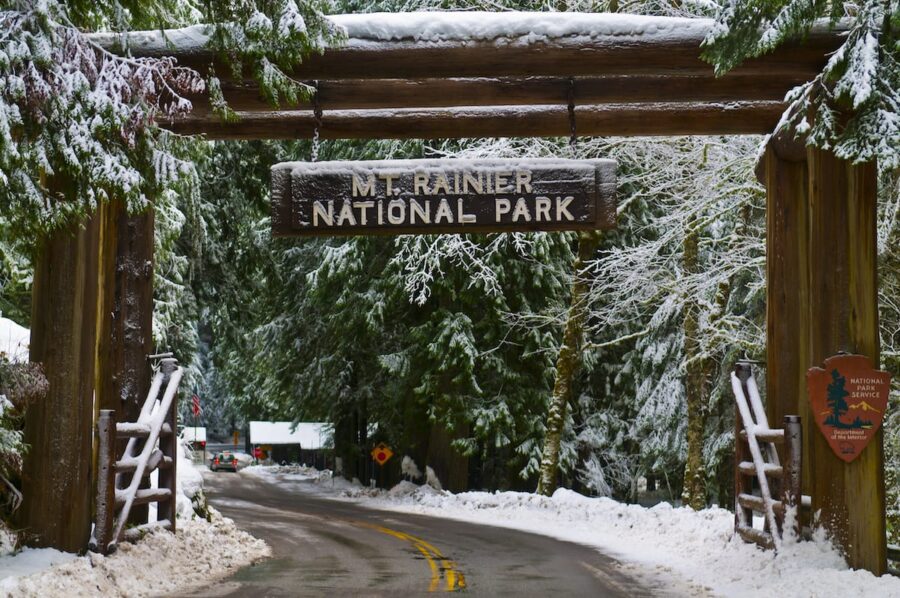 Did we miss any of your favorite winter Seattle day trips? Let us know in the comments!
Day Trips from Seattle in Winter
1. Take a Day Trip to Leavenworth
Distance from Seattle to Leavenworth: 134 miles (2 hours, 15 minutes)
If you are after real-life places that are straight-up winter wonderlands, then Leavenworth should be your top pick!
This gorgeous city knows how to bring out that festive spirit by organizing various annual holiday events, one of which is the Bavarian Ice Festival.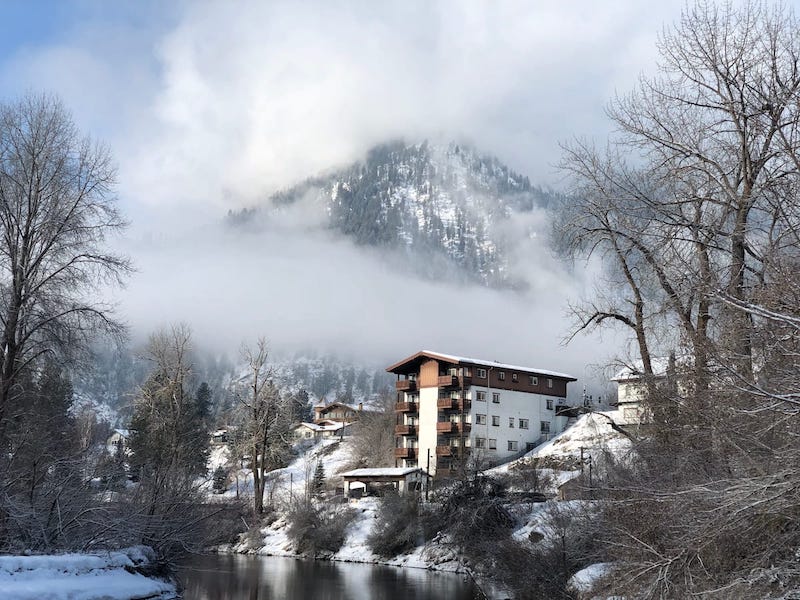 Stroll around to admire the stunning Bavarian decor and enjoy exciting winter activities. You can try frisbee sweep, ice cube scramble, or see amazing fireworks during Bavarian Icefest.
You can also take part in this 9-hour Leavenworth day trip which takes you through the Cascade Mountains and allows you to take in the stunning views of Stevens Pass, the Skykomish River, Bridal Veil Falls, and Deception Falls.
This tour gives you two hours to explore the city's wine shops and art galleries, witness the old gold mining town, and admire Snoqualmie Falls.
>> Click here to book a trip from Seattle to Leavenworth
2. Enjoy a Wine Tasting + Snoqualmie Falls
This tour is a perfect option if you don't have a car but want to get out of the city for a little bit!
You'll have a relaxing day sampling delicious food and wine while seeing some of the breathtaking beauty of the Pacific Northwest on this wine-tasting and waterfall tour. Starting from Seattle, you'll head into the foothills of the Cascades, driving past lush farms and winding through scenic rural roads.
You'll even be able to spot some familiar locations from Hollywood productions like Twin Peaks and The Vanishing.
You'll stop at two different wineries where you can warm up with wine tastings of some of the top local wines.
In the afternoon, the tour will stop at the gorgeous Snoqualmie Falls, which is truly stunning with a dusting of winter snow.
On the way back to the city you'll stop at Boehm's Swiss Chocolate Factory, where you can top off your amazing day by tasting European-style gourmet chocolates.
>> Click here to check tour rates and availability
3. Visit Bellingham and Mt. Baker
Distance from Seattle to Bellingham: 90 miles (1 hour, 25 minutes)
Who doesn't love sledding or skiing down the mountain covered with epic amounts of snow?
Mt. Baker gives you that chance and allows winter sports junkies to enjoy all of the area's adrenaline-fueled winter activities, such as skiing, snowboarding, cross-country skiing, and snowshoeing.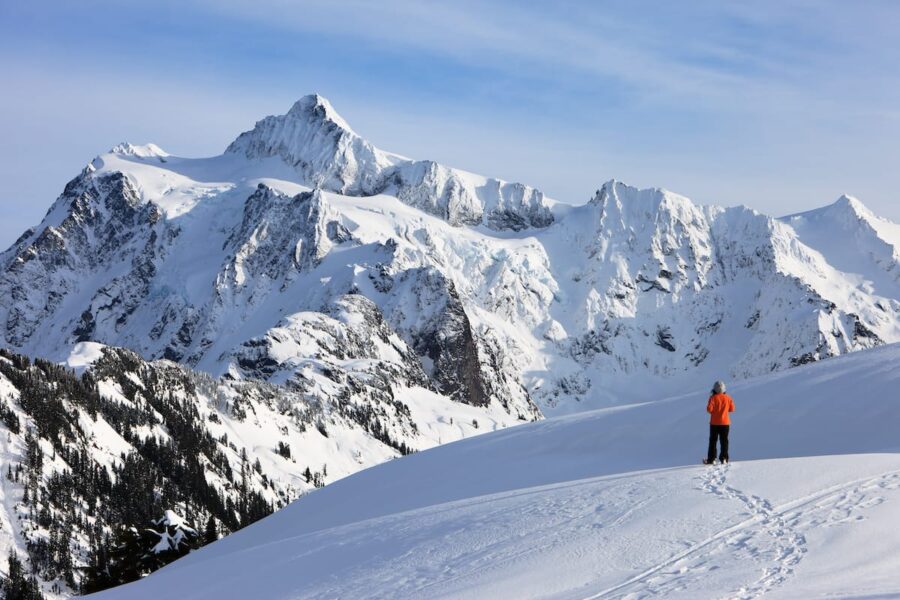 Be sure not to miss the Legendary Banked Slalom races held annually since 1985. You can also witness the thrilling snowboarding contest at Mount Baker or try it yourself.
Holiday spirit is guaranteed in downtown Bellingham, which offers the Lynden Lighted Parade to admire the wonders of the season, as well as the annual Holiday Port Festival to enjoy local performances.
Visit the Christmas-themed Bellingham Symphony to listen to traditional carols and be prepared for special surprises along the way!
To get a true taste of the local cuisine, don't forget to head there for Bite of Blaine, an annual event offering mouth-watering samples from Blaine and Birch Bay. Bellingham is one of the best day trips from Seattle in winter because it really has everything for visitors!
4. Visit the San Juan Islands
Distance from Seattle to the San Juan Islands: 90 miles north (requires ferry)
The three main San Juan Islands, Lopez, Orcas, and San Juan, offer a perfect winter retreat for those keen to escape the daily hustle and bustle and indulge in this tranquil winter paradise.
Get in touch with nature and experience some local history while hiking and biking on the scenic trails across nature preserves and rocky bluffs.
Stroll around Hummel Lake, admire the historic Cattle Point Lighthouse, or challenge yourself by climbing the island's highest point at Moran State Park.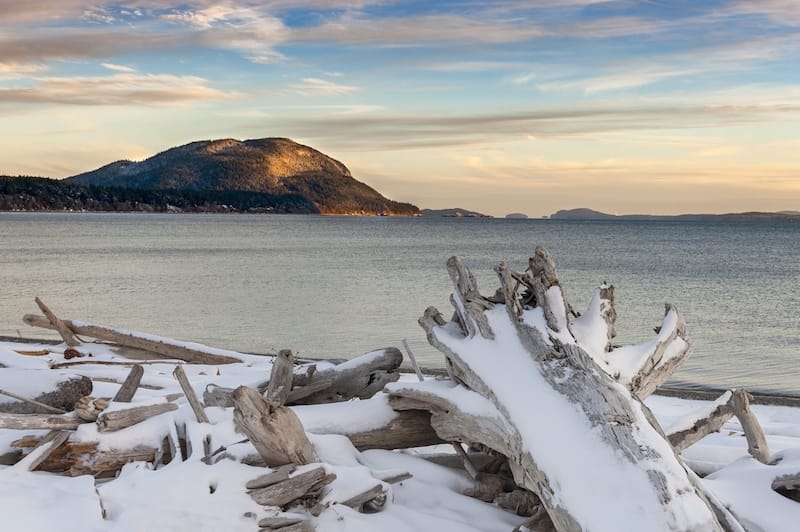 For additional entertainment, visit the Whale Museum to explore the Salish Sea's diverse ecosystem or check out the San Juan Museum of Art to marvel at fine visual art.
Animal lovers can take part in various whale and wildlife watching programs to get up close and personal with the largest creatures in the sea! This is one of the most underrated places to visit in the United States.
5. Go Snowshoeing at Mt. Rainier National Park
Distance from Seattle to Mt. Rainier National Park: 81 miles (1 hour, 40 minutes)
Your trip to Washington State won't be complete without a jaunt to Mt. Rainier National Park!
The Washington national park is a fantastic winter getaway destination that offers plenty of scenic trails to enjoy the winter wonderland and majestic views of Mt. Rainier.
Starting from Paradise Lodge, Alta Vista Snowshoe Trail is an easy, one-mile loop trail that is perfect for families with kids.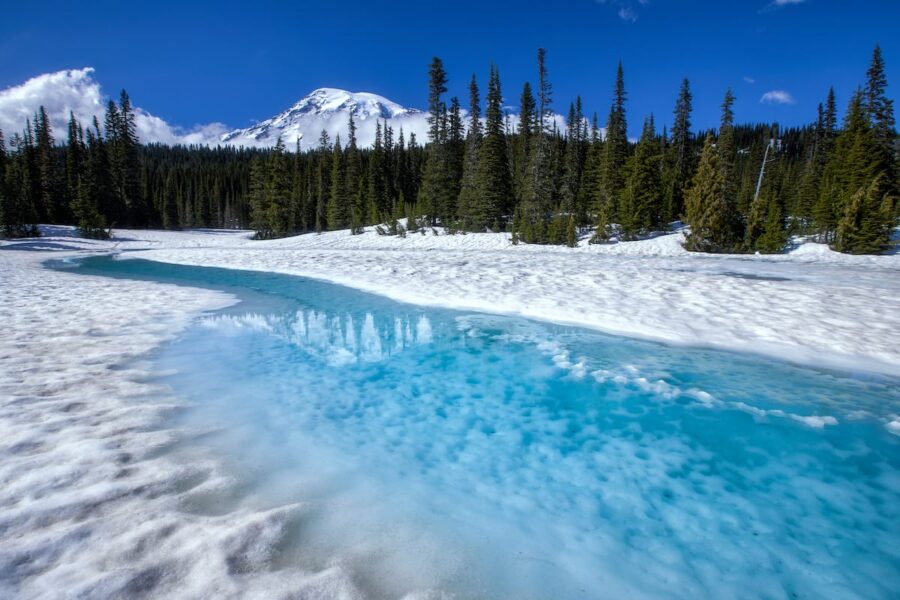 If you are into all-day adventures, then try the moderately difficult 8.6-mile High Hut SnowshoeTrail, 6.1 mile Twin Lake Snowshoe Trail, or the 8.2-mile Dalles Ridge Snowshoe Trail, which offers 6-8 hours of snowshoeing with charming mountain, lake, and dense forest scenery.
In case you didn't bring your snowshoeing gear with you, then visit Whittaker Mountaineering in Ashford or White Pass Sports Hut in Packwood to find not only snowshoeing gear, but also ski and snowboard rentals.
6. Visit the Long Beach Peninsula
Distance from Seattle to Long Beach Peninsula: 172 miles (3 hours, 7 minutes)
Winter on the Long Beach Peninsula makes this the perfect place to escape crowds, indulge in PNW tranquility, and enjoy surrounding natural wonders.
One of the must-do things on the beach is definitely storm-watching with its jaw-droppingly huge swells.
Watching crashing waves beneath the gorgeous Cape Disappointment Lighthouse makes it a true one-of-a-kind wintry experience.
Hike along the 8.5-mile Discovery Trail to explore surrounding windswept dunes, transitional wetlands, and lush coastal forests.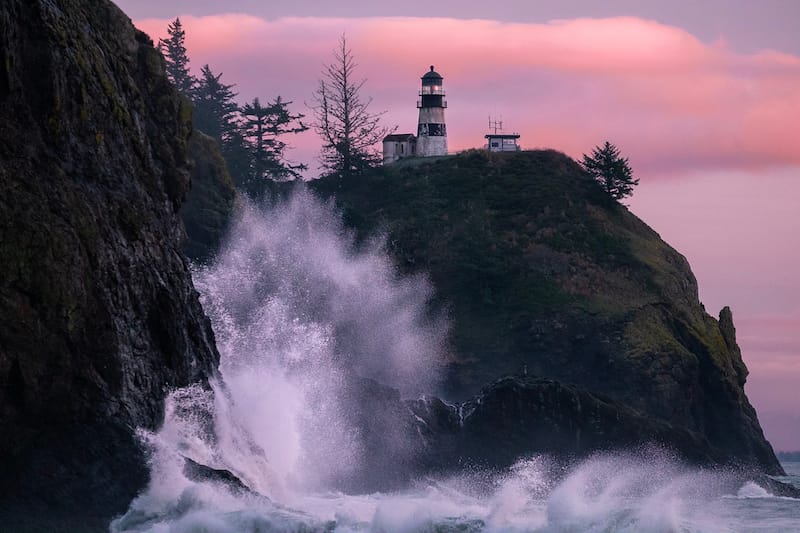 Visit Lewis & Clark Interpretive Center to learn more about the Corps of Discovery or dig deep into the area's rich heritage in the Columbia Pacific Heritage Museum.
Also, note that razor clam harvesting becomes a common practice during the winter season, making the Washington Coast the perfect place to enjoy this local specialty!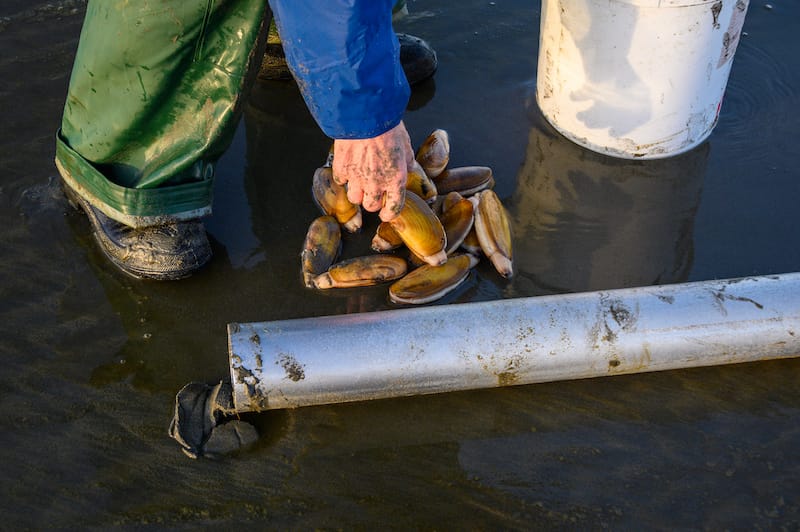 This is not only a great Seattle day trip but it is also a fantastic weekend escape from Portland!
7. Go Skiing at Stevens Pass
Distance from Seattle to Stevens Pass: 85 miles (1 hour, 36 minutes)
Spanning over 1,125 acres of diverse, skiable terrain for every skill level, Stevens Pass is a true paradise for skiers and winter sports enthusiasts.
Take in the full spectacular splendor of snow-blanketed Cascade Crest while enjoying the deep powder and steep slopes surrounded by trees tucked in the mountains.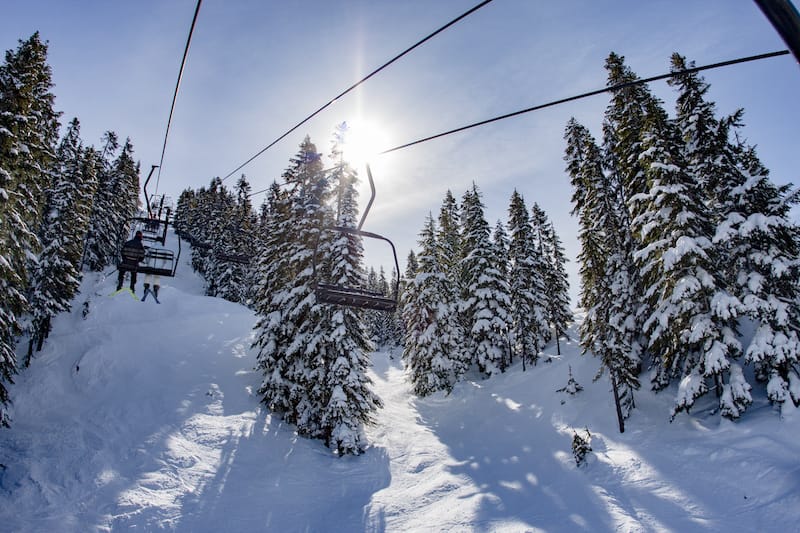 If you didn't bring ski gear with you, you can find top-quality rentals at Fall Line Sports or The Edge. Get your daily dose of adrenaline while trying glade and bowl skiing through Cowboy and Big Chief Mountains.
For a one-of-a-kind, heart-pumping experience, try riding under the lights during the evening hours.
If you get hungry, no worries – there are plenty of delicious food options available at Stevens Pass!
Check out Cascadian Kitchen and T-Bar Cafe for a quick break or visit Iron Goat Pizza Station to try delicious traditional pizzas.
8. Plan an Overnight at Iron Springs Resort in Copalis Beach
Distance from Seattle to Copalis Beach: 133 miles (2 hours, 23 minutes)
Settled between the Columbia River and the Strait of Juan de Fuca, Iron Springs Resort at Copalis Beach is an amazing getaway location for those eager to take in the stunning scenery of the Pacific Ocean during winter.
Plan yourself a winter overnight trip from Seattle to Copalis Beach with your loved one to stay at one of their newly renovated cottages nestled on a cliff along the rugged Washington coast.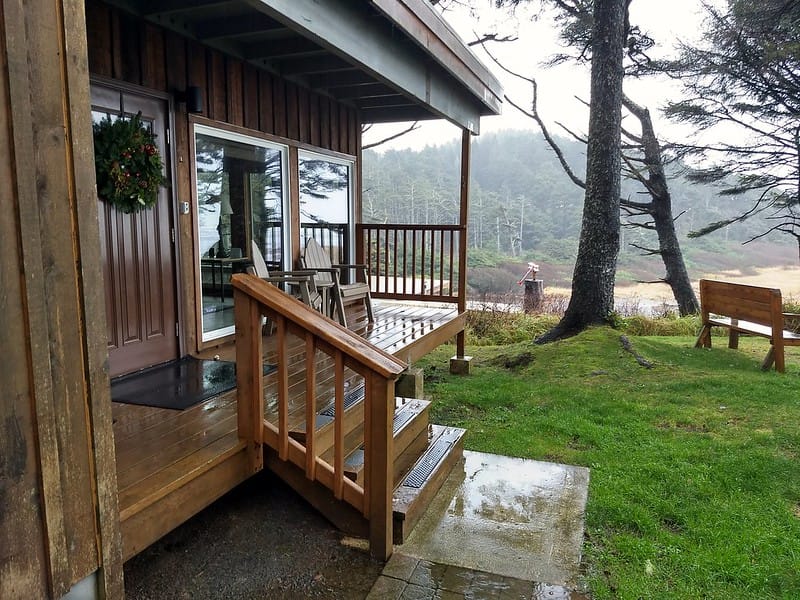 You can certainly feel the classic charm of each cabin while having the opportunity to enjoy a modern and comfortable overnight getaway.
Temperamental winter swells make it the ideal location for winter storm watching cozied up with a glass of hot tea and plenty of blankets!
Be ready to plunge into peace and return fully rejuvenated after a night at Iron Springs Resort at Copalis Beach.
>> Click here to book a stay at Iron Springs Resort
Address: 3707 Highway 109, Copalis Beach, WA 98535
9. Escape to Olympic National Park
Distance from Seattle to Olympic National Park: 111 miles (2 hours, 4 minutes)
Olympic National Park transforms into a proper winter wonderland during the winter months and it is one of the top places to visit in Washington all year round, including during winter. It is also one of the most visited US national parks!
Take in the picturesque views of the park and Olympic Peninsula while cross-country skiing at Hurricane Ridge Ski and Snowboard Area.
It features a rough downhill ride with no marked trails allowing you to try snowshoeing, downhill skiing, snowboarding, and tubing.
If you are after dramatic scenery of crashing waves, then the Pacific Coast offers you a front-row seat to enjoy storm watching, one of the best things to do in Washington in winter!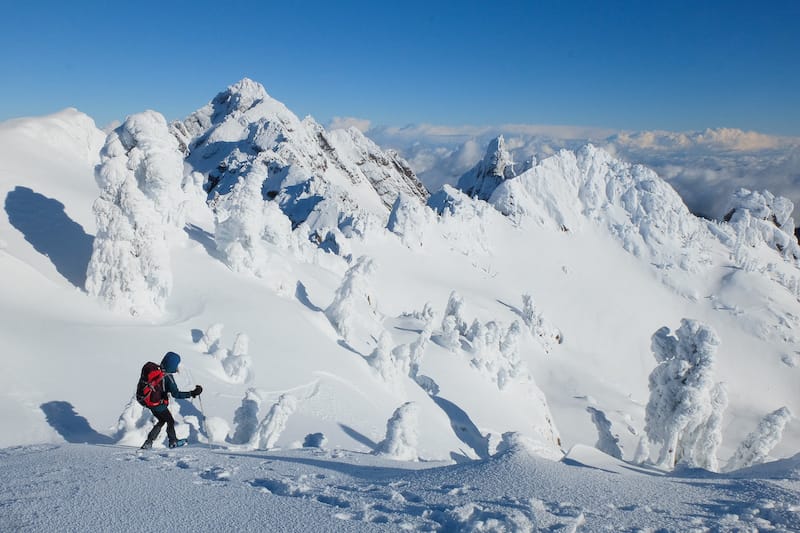 If you are a thrill-seeker, you can walk along the beach during low tides, and if not, you can marvel at huge swells from two nearby resorts (Kalaloch Lodge and Quileute Oceanside Resort & RV Park).
Get away from the snow and enjoy lush greenery by walking through the gorgeous Hoh Rainforest and driving through Quinault Rainforests which come alive during the wet winter season.
You will find several hikes in Olympic National Park that are suitable for winter, too!
10. Chill Out in Port Townsend
Distance from Seattle to Port Townsend: 58 miles (2 hours, 15 minutes, includes a ferry) or 111 miles, (2 hours, no ferry)
Port Townsend is the ideal choice for winter travelers who are looking for ample winter opportunities and don't care for heavy snowfall deeper in the region.
This is also the gateway to the Olympic Peninsula, which, as noted above, is one of the best day trips from Seattle during winter!
Delve deep into the history of Fort Woden in the Puget Sound Coast Artillery Museum or reconnect with nature by visiting Chetzemoka Park and Fort Worden State Park.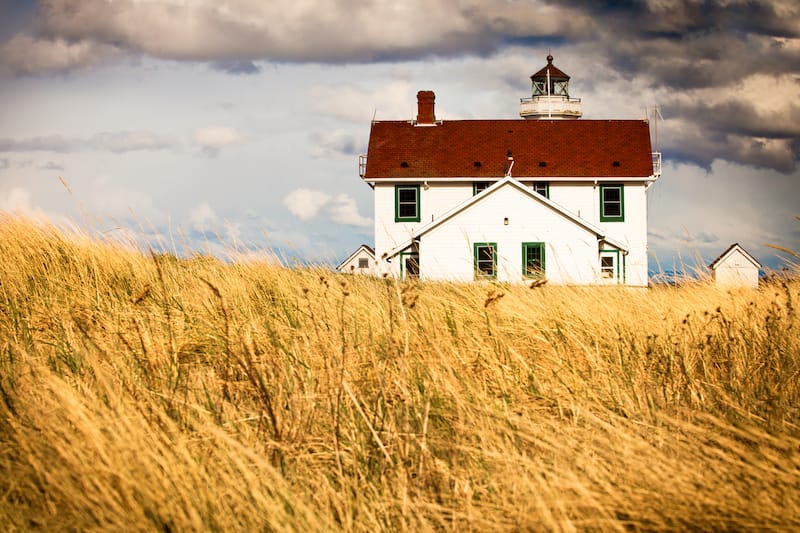 Hike the scenic trails of Fort Worden or cycle the Larry Scott Memorial Trail to marvel at the surrounding natural wonders.
Many winter festivals are held during the winter season to guarantee you will be filled with the festive holiday spirit, such as Fort Worden's New Year's Events, Victorian Open Parlor Tours and Yuletide Brass Ball, etc.
For some relaxation and nature therapy, enjoy storm-watching at Port Townsend Bay or stroll from Point Hudson to Point Wilson during low tides.
11. Spend at Weekend at Lake Chelan Winterfest
Distance from Seattle to Lake Chelan: 215 miles (4 hours, 45 minutes)
Experience Washington's winter wonderland at the Lake Chelan Winterfest like never before with spectacular views of Lake Chelan, nestled between snow-capped mountains and glacier-fed waters.
Save the date of January 12-21, 2024, and be ready to enjoy 2 outstanding firework shows, witness breathtaking ice sculptures, and take a Winterfest button or two as a unique souvenir.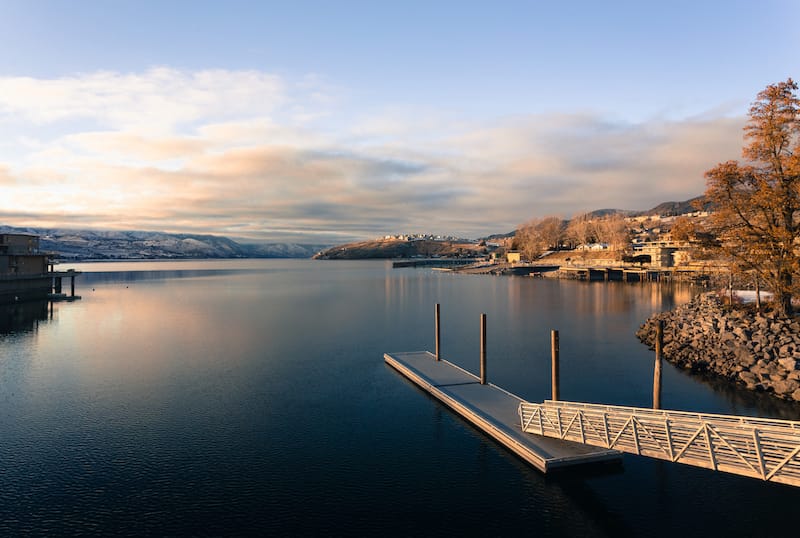 Winter sports enthusiasts can check out nearby Echo Ridge Nordic Ski Area, which offers 25 miles of snowshoeing, cross-country, single-track, and skate skiing.
Don't miss the Red Wine & Chocolate wine event held every February to taste the area's signature wines.
Hop on a boat to get to Stehekin for a remote winter getaway or visit the Lake Chelan Nordic Ski Club yurt to enjoy a hot soup and warm up around a cozy fire.
To be honest, this is more of a weekend trip from Seattle in winter. It is nearly too long for a day trip unless you don't mind a lot of driving!
We recommend staying overnight in Wenatchee and checking the area out there too!
12. Visit America's Car Museum in Tacoma
Distance from Seattle to Tacoma: 33 miles (35 minutes)
Noted as one of MSN's 10 Best Automotive Museums worldwide, America's Car Museum – Lemay is a dream destination for collectors and auto enthusiasts.
The 165,000 sq. ft area features everything from galleries, banquet halls, and car storages to 12 rotating exhibits, a cafe, and a 3.5-acre show field.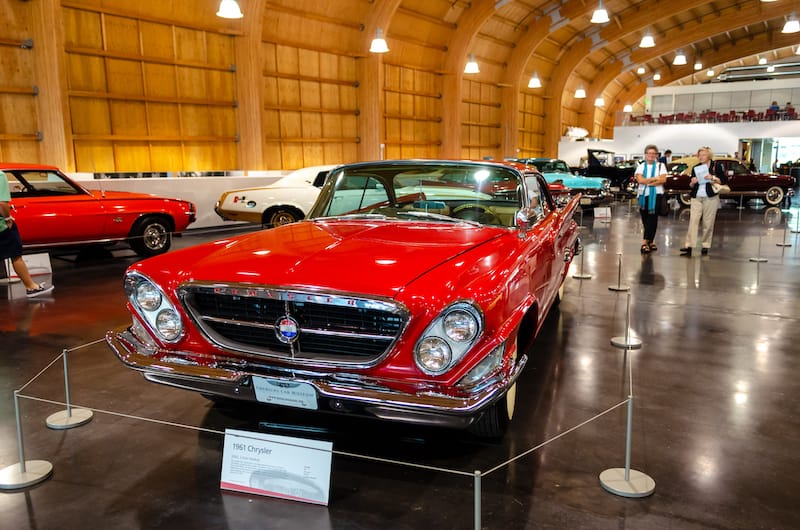 Visit the museum to delve deep into the history and technology of the automobile and discover its influence on American culture.
Here, you can find many of America's automotive industry gems and celebrate the United States' special relationship with the automobile along with your family.
The ACM center also offers many educational programs for all students, giving them an opportunity to explore future directions in automobile technology, design, and product development.
Address: 2702 E D St, Tacoma, WA 98421
13. Relax at Finnriver Farm and Cidery
Distance from Seattle to Chimacum: 48 miles (1 hour, 54 minutes, includes ferry) or 101 miles (1 hour, 43 minutes, no ferry)
Experience the art of farming (and cider!) and feel the real spirit of a vibrant regional community at the historic Finnriver Farm and Cidery.
It is the perfect activity that is a great half-day trip after you take a walking tour of Seattle.
When visiting, you can certainly witness traditional and fresh approaches to the production of hard cider and fruit wines, something that Washington does exceptionally well and is famous for!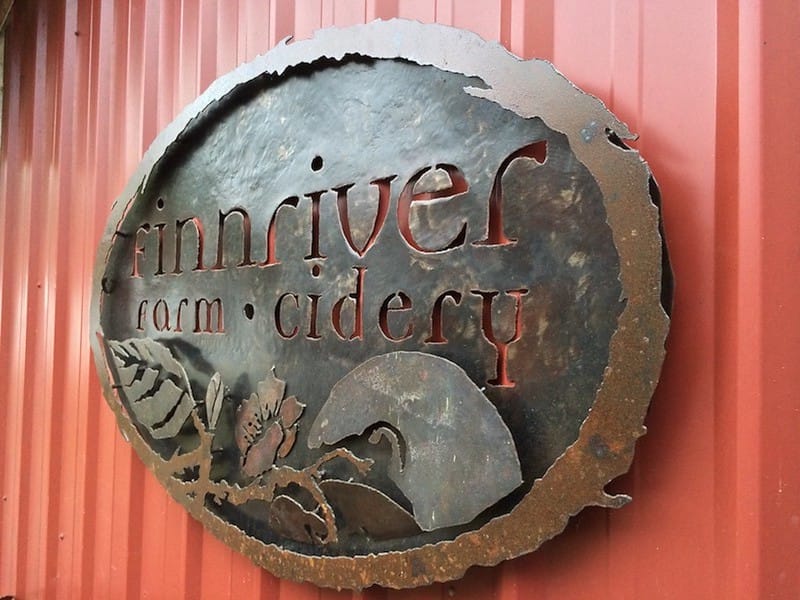 Visit their Cider Garden, which is open year-round to enjoy guided cider tastings, take part in seasonal orchard tours, and get a real taste of the area's local food.
Guests will have the special opportunity to purchase limited-edition Finnriver hard ciders and fruit wines, which are present only in the farm's tasting room!
This is one of the best Seattle day trips in winter for those looking to chill out and support a smaller, local business.
Address: 124 Center Rd, Chimacum, WA 98325
14. Go Snow Tubing at Snoqualmie Pass
Distance from Seattle to Snoqualmie Pass: 53 miles (53 minutes)
If you are after some winter thrills, then you should definitely head to Snoqualmie Pass for memorable snow tubing adventures. The park is 500 ft long and has a 40 ft vertical drop, perfect for some thrilling rides.
It features more than 20 tubing lanes during the peak season and offers a covered lift to take you back to the starting point (you can also walk your way up in case you want a good reason to get in a winter workout)!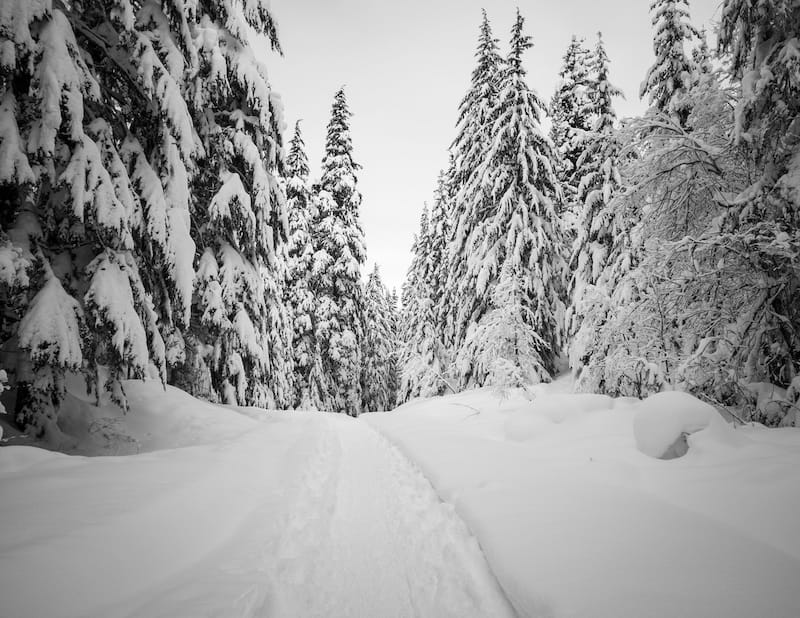 Make sure to visit during the weekdays if it is possible to avoid waiting in line. Just note that you can't buy tickets at Tubing Park, so keep that in mind when planning your trip.
Don't forget to take part in the Spring Splash event held at the end of the season!
15. Take a Winter Day Trip to Whidbey Island
Distance from Seattle to Whidbey Island: 35 miles (1 hour, 10 minutes, includes ferry)
Plan your next winter trip to Whidbey Island to immerse yourself in the complete harmony and peace of a rainy winter.
If you are into art and thirsty for some creativity and inspiration, definitely check out the many art galleries lined up on the First Saturday Langley Artwalk.
Visit Whidbey Art Escape, the Whidbey Art Gallery, Island Art Glass, and the Cloudstone Foundation to find various antique items, jewelry, paintings, carved stones, glass art, etc.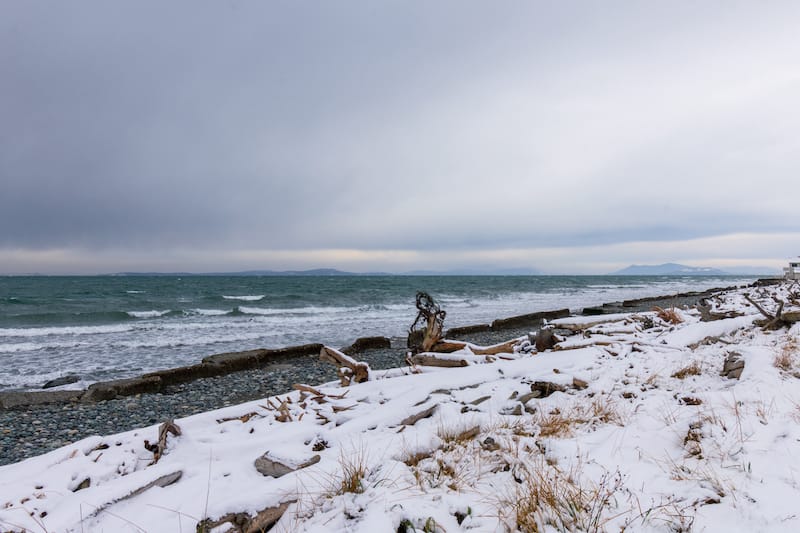 Spend your evenings listening to live music performed by the ​​Saratoga Orchestra or enjoying the vibrant theater scene at Whidbey Island Center for the Arts.
Level up your dining experience by visiting the Front Street Grill or Frasers Gourmet Hideaway, or simply enjoy a glass of wine or craft beer at Bayview Taproom or Blooms.
16. See Snow Geese at Skagit Flats
Distance from Seattle to Skagit Wildlife Area: 59 miles (1 hour)
Identified as an Important Bird Area by the National Audubon Society, Skagit Wildlife Area is a real bird paradise and a must-visit if you have more than just a weekend in Seattle.
The area is home to 50,000 snow geese, 10,000 trumpeter and tundra swans, and countless dabbling ducks during the winter season.
Get ready to marvel at one of Washington's most breathtaking events by taking a winter walk on the popular Wylie Slough, Big Ditch, and Fir Island.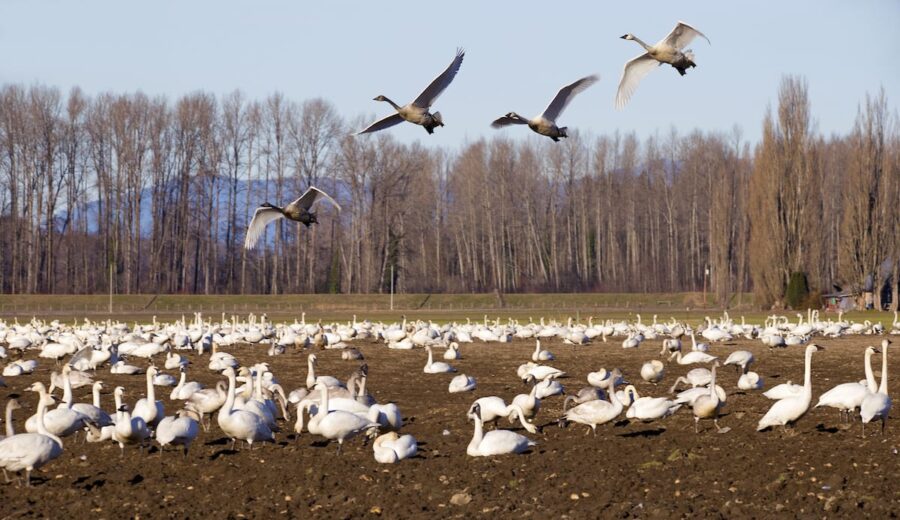 Here, you can witness the return of thousands of migrating birds to the Skagit Valley, the area that is renowned for the Skagit Valley Tulip Festival.
However, the Wildlife Area will also give an opportunity to learn more about these birds and their migration journey, which is a great Seattle winter day trip for children.
Just note that hunting season begins from October to January, and it is recommended to avoid visiting during that period… opt for later in the winter season into early spring.
17. Take a Small Group Tour to Mt. St. Helens
Distance from Seattle to Mt. St. Helens: 155 miles (2 hours, 39 minutes)
If you are after one-of-a-kind scenery, then this small-group tour to Mt. St. Helens should be on your PNW bucket list. Hop in an SUV with your friends and head to witness the majestic snow-capped Mt. St Helens.
This 8,365-foot-high mountain is one of the volcanic Cascade Range peaks. Mt. St. Helens is packed with secrets that you can discover during this 8-10 hour-long trip and it truly is a Washington icon.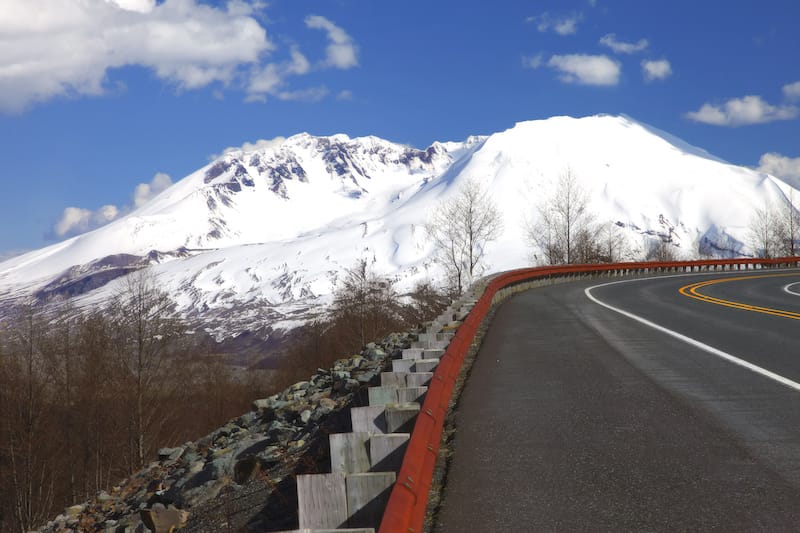 The tour allows you to get a close-up view of the volcano, where you will get the chance to experience the real history of it and listen to mesmerizing stories about its eruption in 1980.
You can also explore this gorgeous natural wonder's geology, dig deep into its past, and learn more about its crucial role in the area's culture.
>> Click here to take a tour to Mt. St. Helens from Seattle
18. Stay Nearby at Bainbridge Island
Distance from Seattle to Bainbridge Island: 10 miles (57 minutes, includes ferry)
Immerse yourself in the tranquil winter beauty of the Pacific Northwest by visiting Bainbridge Island.
Outdoor enthusiasts will certainly appreciate the spectacular natural scenery at the Grand Forest, Gazzam Lake, and Battle Point Park.
Get the real taste of the city's signature wines at Amelia Wynn or Eleven Winery, or visit Bainbridge Organic Distillers or Highside Distilling to try the finest spirits.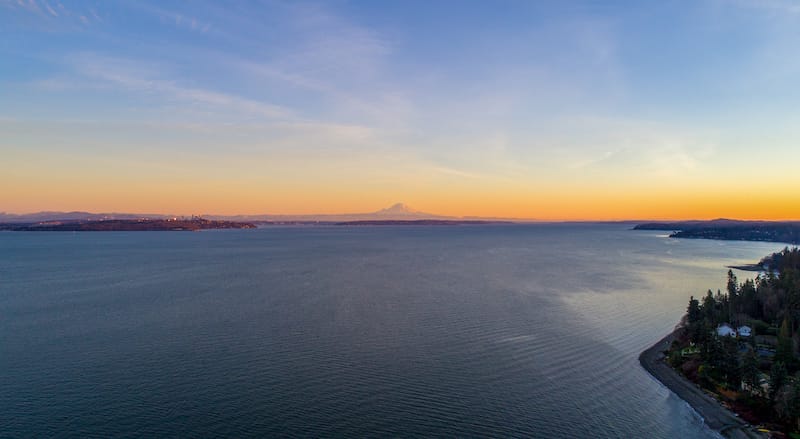 Your Bainbridge Island tour won't be complete without a trip to the picturesque Bloedel Reserve, a serene,150-acre botanical garden.
Round off your day by admiring regional art at the Bainbridge Island Museum of Art or enjoying well-produced plays at Bainbridge Island Performing Arts.
Did we miss any of your favorite day trips from Seattle in winter? Let us know your top Washington places to visit during the winter months!
Additional Washington Travel Guides
Pin this Seattle Winter Day Trips Guide