Are you looking for the best things to do in Las Vegas in winter? This guide has you covered!
Are you planning your trip to Vegas last minute?
Below are some of the top tours, hotels, and more so that you can plan your Las Vegas trip early!
🌵 Top Experiences and Tours from Las Vegas:
🛏️ Top Hotels in Las Vegas:
🚗 Looking for the best way to get around Las Vegas? Click here to check rental car rates for Nevada!
We detail how to spend winter in Las Vegas, including the best attractions, day trips, and more!
The guide will also answer your questions about the weather in Vegas in winter.
Did we miss anything you'd like to know about spending winter in Vegas? Let us know in the comments!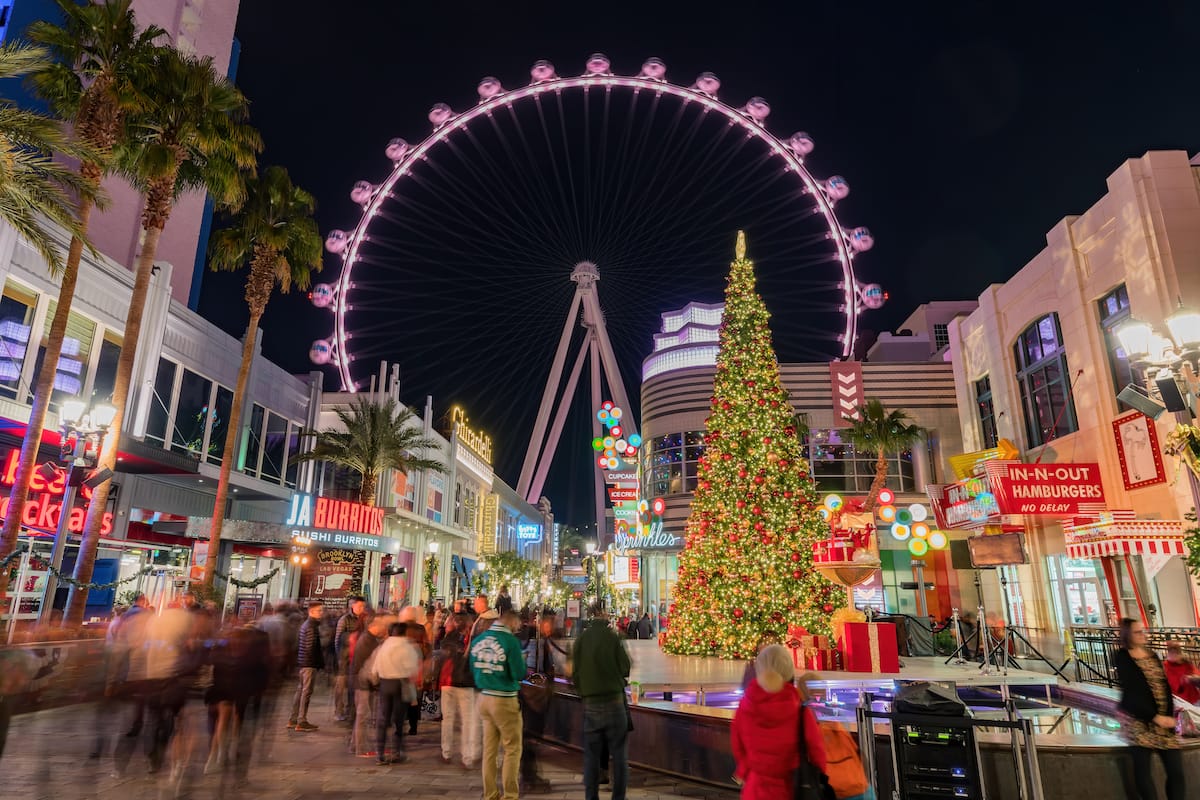 Las Vegas Winter Quick Info
Average Winter Temperature in Las Vegas
As Las Vegas was built on the Mojave Desert, it's safe to say that Vegas is comparatively warm most of the year.
It can drop below freezing at night in the winter, but the days are sunny and pleasant, making it a good spot to get away from the harsh winters if you live somewhere that gets cold.
Las Vegas in December: high: 60°F, low: 27°F
Las Vegas in January: high: 59°F, low: 28°F
Las Vegas in February: high: 66°F, low: 33°F
Las Vegas in March: high: 72°F, low: 39°F
Does it Snow in Las Vegas?
For the vast majority of the year, Las Vegas is sunny and dry. This means that Las Vegas almost never sees snow.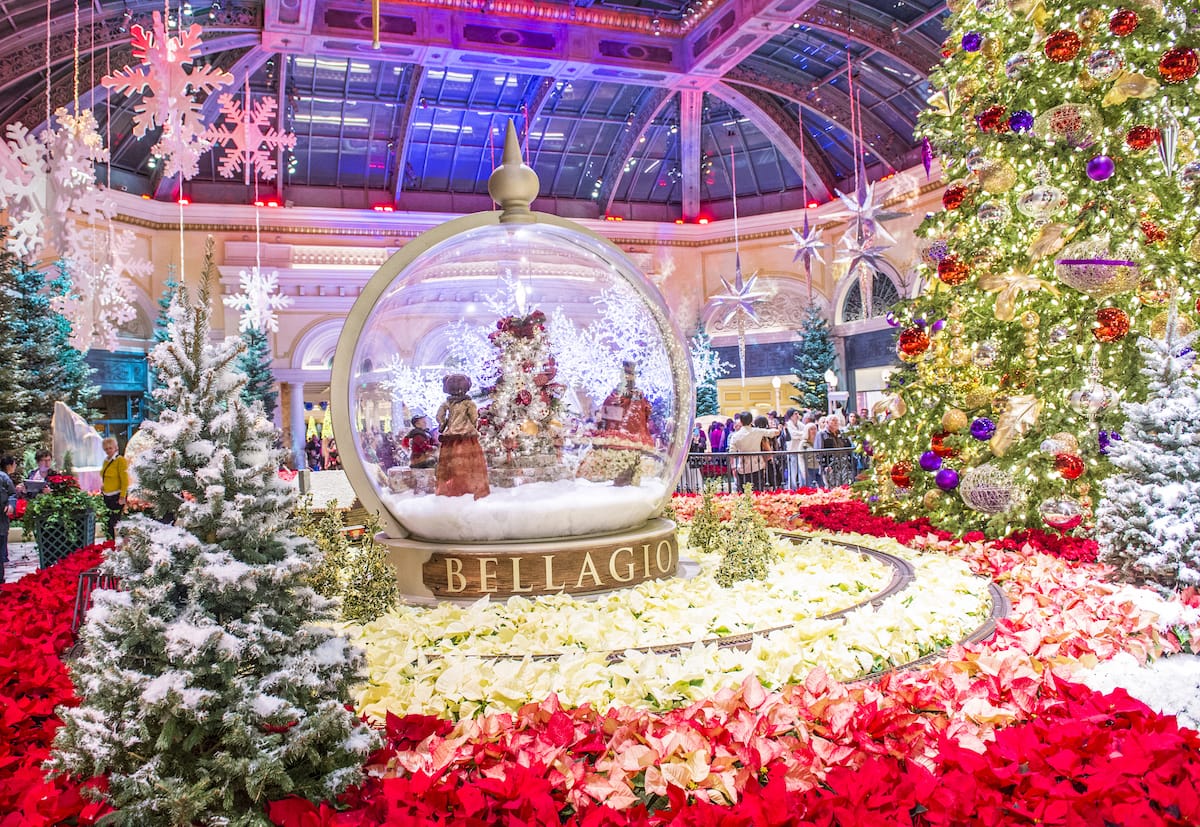 There may be snow in the mountains surrounding the city as opposed to in the city itself.
Best Things to Do in Las Vegas in Winter
1. Visit the Bellagio Conservatory and Botanical Gardens
Bellagio Conservatory and Botanical Gardens is undoubtedly one of the locations that make Las Vegas an attractive tourist destination.
Every season, the 14,000-square-foot Botanical Gardens are transformed into a fairytale by talented Horticulture and Engineering teams of 120.
You can find each season's breathtaking sights accompanied by season-specific scents, sounds, and colors.
Though the scenes are changed throughout the year, the team always replants and repurposes the plants.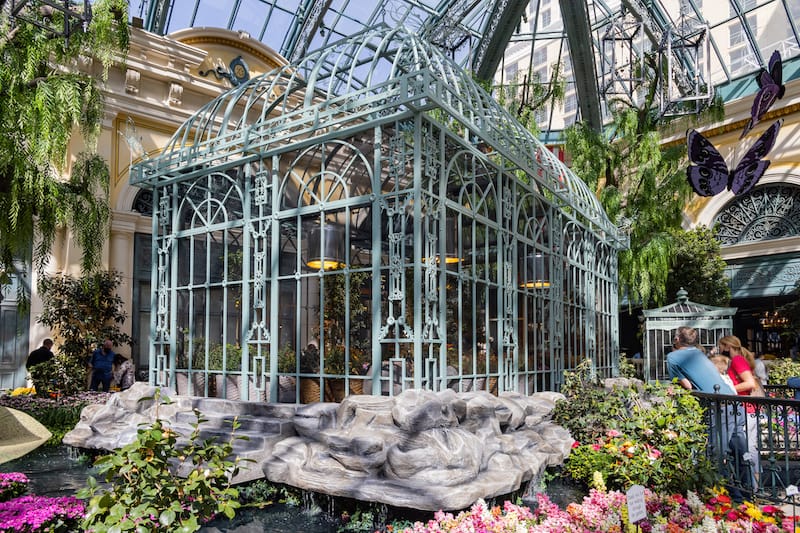 While in spring you will find fabulous cherry blossoms surrounding you and colorful and fragrantly smelling flowers in summer, in the autumn, you will marvel at the combination of orange and yellow, brown and gold.
Following Thanksgiving weekend, gardens are remade for the Christmas season, with a unique display for Lunar New Year.
Though the gardens are one of the most significant components of Bellagio, the entrance is free and open 24/7.
Address: 3600 S Las Vegas Blvd, Las Vegas
2. Catch a Show at the Downtown Las Vegas Events Center
Vegas is like a party you will never want to end. It is famous for its entertainment opportunities that will make your trip there unforgettable.
Downtown Las Vegas is the original hotspot of spectacular events, stiff drinks, the most mesmerizing hotels, and fancy casinos. It is renowned in the US for such!
Here you will get your chance to attend the best music festivals, from pop to heavy-hitting rock shows. The Downtown Las Vegas Events Center has become a year-long entertainment destination in the heart of the city.
It offers a number of music or sports events and adrenaline-filled watch parties that make your experience in Vegas incredible.
It is just steps from the Fremont Street Experience, the main venue of downtown, with 120,000 square feet of space, and it hosts the most exciting events that make Vegas a place to remember.
Working Hours: All week from 8:00 AM to 1:00 AM
Address: 200 S 3rd St, Las Vegas, NV 89101
3. See The Holiday Lights at the LINQ Promenade
The LINQ Hotel, Casino, and Promenade is Caesars Entertainment's $550 million hotel, located in one of the most famous entertainment districts right in the heart of Vegas, next to the well-known Strip.
It will become the most unforgettable experience of your whole trip to Vegas. The LINQ Promenade is a 1,200-foot-long pathway along the resort's southern edge, nestled by restaurants, bars, and outdoor shopping options.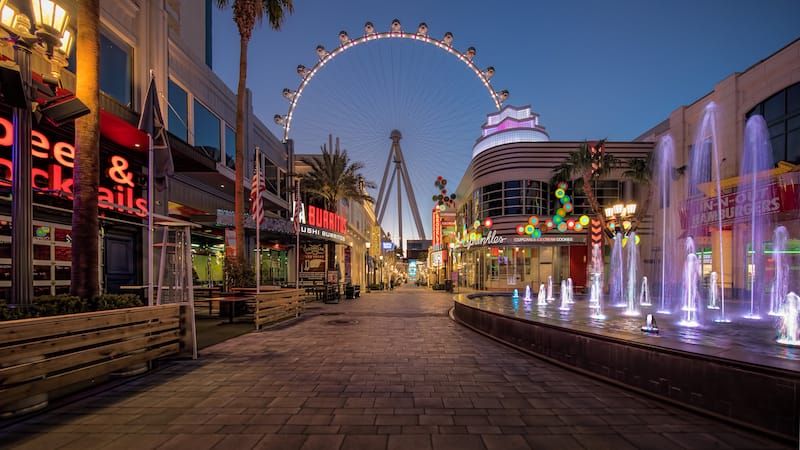 It is especially stunning during the holiday season when thousands of lights decorate the whole pathway, and the 30-foot-tall Christmas tree at the LINQ Promenade provides a majestic view for taking photos.
Rolling on the High Roller Las Vegas Observation Wheel will become the gem of your LINQ Promenade experience.
It's the largest observation wheel in North America, and during the 30-minute revolution, you'll be amazed by the view from 550 feet height.
Working Hours: open 24 hours
Tickets price: start from $18.50.
Address: 3545 S Las Vegas Blvd, Las Vegas
4. Take a Day Trip to Red Rock Canyon
Everyone talks about Las Vegas' crazy city life and entertainment opportunities, but it's also worth discovering the majestic nature of Nevada.
The famous Red Rock Canyon features a 13-mile scenic drive, hiking and trails, plants and wildlife, geology, camping, cultural resources and much more.
During your day trip from Vegas to Red Rock Canyon, you'll be able to discover the unique nature and marvel at the views.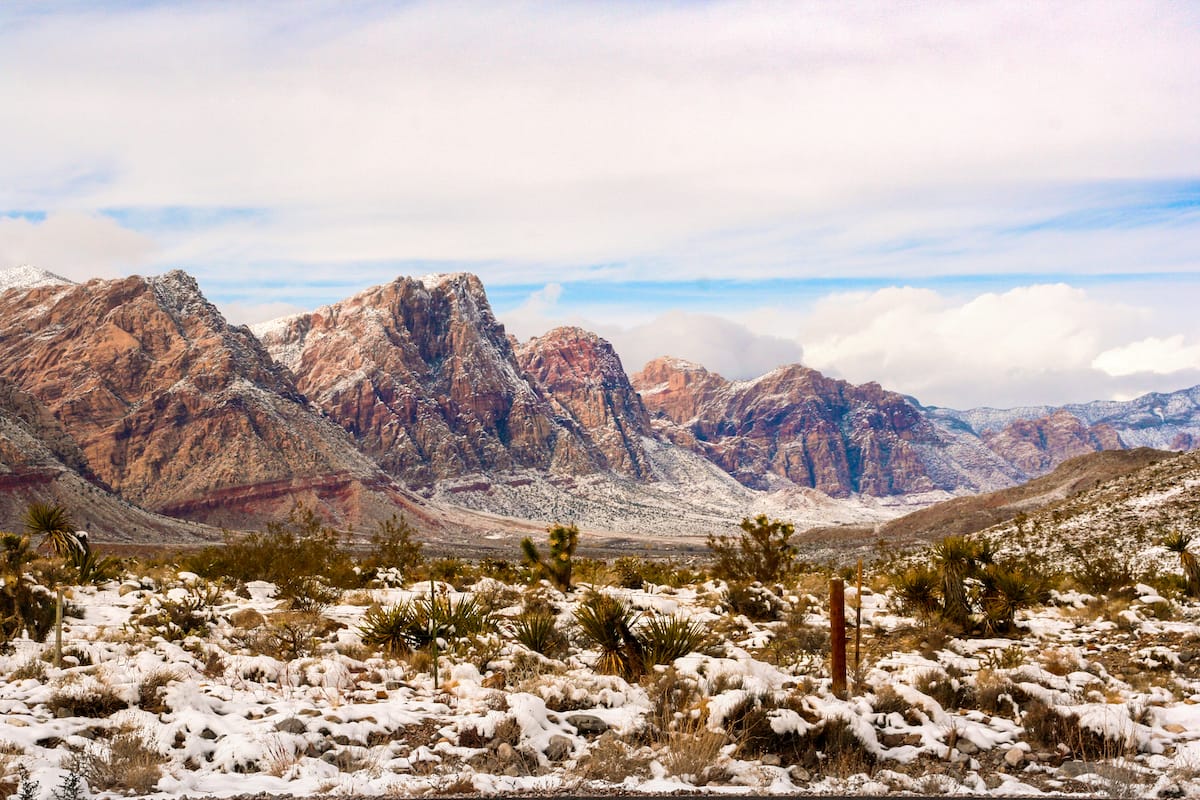 While taking to the hiking trails, you will also get a chance to explore Native American petroglyphs on the rocks or meet local creatures nestling in the Red Rock Canyon, such as tortoises.
You will get more information about the National Conservation Area in the Visitor's Center, where indoor and outdoor exhibitions are available.
If you are fond of adventures, then you'll be more than happy to experience the climbing or camping opportunities offered by the Visitor's Center.
5. Check Out the Mob Museum
If you want to get some mystery from your stay in Las Vegas, then the Mob Museum is one of the destinations you need to have on your wish list.
The building is an immaculately restored former U.S. Post Office and Courthouse from the 1930s.
It's the National Museum of Organized Crime and Law Enforcement where you can dig into details of numerous historical events and intriguing tales that explore "good and bad guys" who impacted U.S. history and society.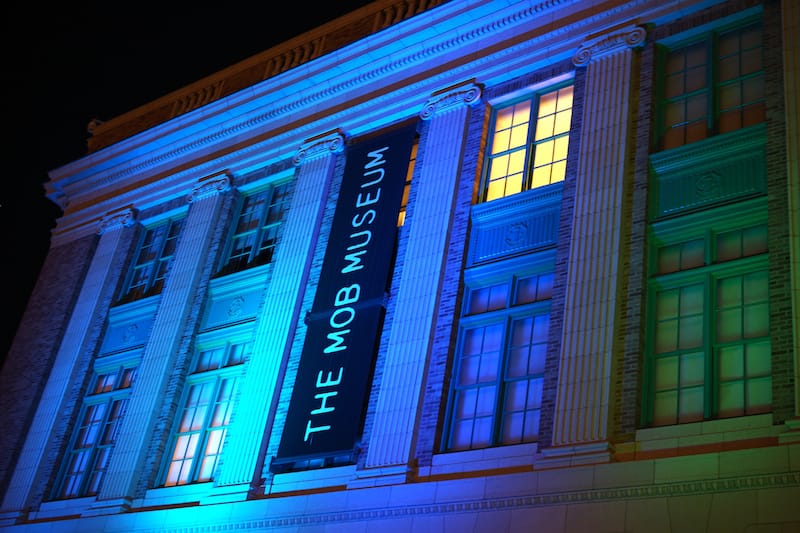 The Mob Museum blends intrigue with explanation through four expertly-curated floors of interactive exhibits, multimedia displays, exciting artifacts, and pop culture myths.
Here you can also discover the so-called Underground Speakeasy and Distillery, designed in the 1920's Prohibition period style when alcohol was forbidden, and the nation tried to satisfy its thirst in hard-to-find speakeasies.
Working Hours: from Monday to Friday – 9:00  AM to 9:00 PM, from Saturday to Sunday – 9:00 AM to 6:30 PM
Tickets price: start from $30.
Address: 300 Stewart Ave, Las Vegas
6. Fuel Up at Vesta Coffee Roasters
Vesta Coffee Roasters is one of the best coffee shops in Las Vegas, having two branches in two different busy areas of the city.
Thus, if you're a coffee lover and want to try specialty coffee in Vegas, then Vesta is the location you need to visit.
You can choose from around twenty coffee options and enjoy the fine roast. Every crop is roasted to its "sweet spot," making your experience unique.
Besides coffee, you can enjoy a variety of pastries, toast, sandwiches, and even soups here. Sometimes the coffee shop is crowded, so it's also a good idea to just take away your cup and stroll around the city exploring its unique character.
Vesta Coffee Roasters also allows you to purchase packs of their own blends from grounded beans from Mexico, Colombia, Ethiopia, Kenya, etc. Thus, you can also take the "taste of Las Vegas" with you.
Address: 1114 S Casino Center Blvd #1, Las Vegas
7. Take a Day Trip to Death Valley National Park
Visit one of the hottest locations on the earth during your winter holidays to enjoy the cool days and marvel at the snow capping the high peaks.
Death Valley is 282 feet below sea level and is the lowest point in North America. Death Valley National Park charges an entrance fee year-round, and the fee per vehicle is $30.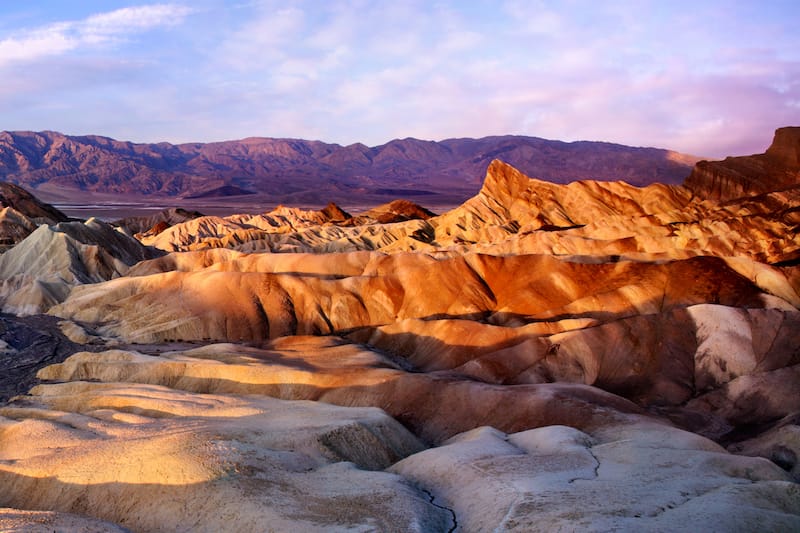 At Death Valley National Park, you can stroll around the majestic Eureka Dunes and enjoy the sunrise from Zabriskie Point, marvel at the technicolor of kaleidoscopic cliffs at Artists Palette, and take stunning shots at the Lee Flat Joshua Tree Forest.
Besides discovering the breathtaking nature at Death Valley, you can also arrange your stay at luxury hotels or simple tent cabins and enjoy delicious food at numerous fine restaurants.
Visiting Death Valley in winter is the best time to go there to escape the hot summer months!
Note: As of October 2023, multiple roads in DVNP are still closed due to storm damage. Check the National Park's website for up-to-date information on any closures.
8. Go to a Vegas Golden Knights Ice Hockey Game
If you need more entertainment, then you can attend one of the games of the Vegas Golden Knights.
You will enjoy a fantastic ice-hockey game right in the middle of Vegas. You can book your tickets beforehand on the Vegas Golden Knights' official website and enjoy the game at its host arena called T-Mobile Arena, with around 20,000 seats available.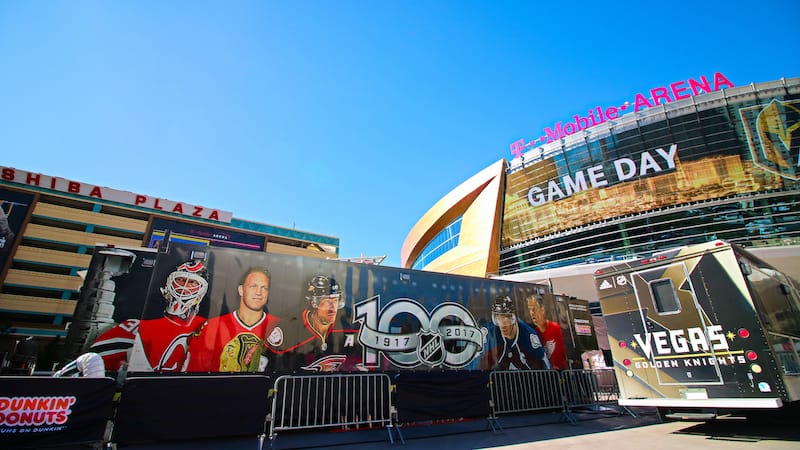 Usually, the games are scheduled for evening hours, so you have plenty of time to discover Vegas during the daytime.
If you are a team fan by any chance, then you will get an excellent opportunity to purchase Vegas Golden Knights game-used equipment and memorabilia from the shop in the arena, and if you are just a hockey fan, then the themed merch available in the store will catch your attention.
Address: 3780 Las Vegas Blvd S, Las Vegas
9. Ski at Mt. Charleston
Visiting Mount Charleston during your winter stay in Las Vegas will be one of the best decisions.
You will escape from the desert and enjoy the breathtaking winter nature covered by white snow.
If you want to enjoy sledding, making snow angels, or building a snowman, it's better to visit on weekdays to avoid crowds.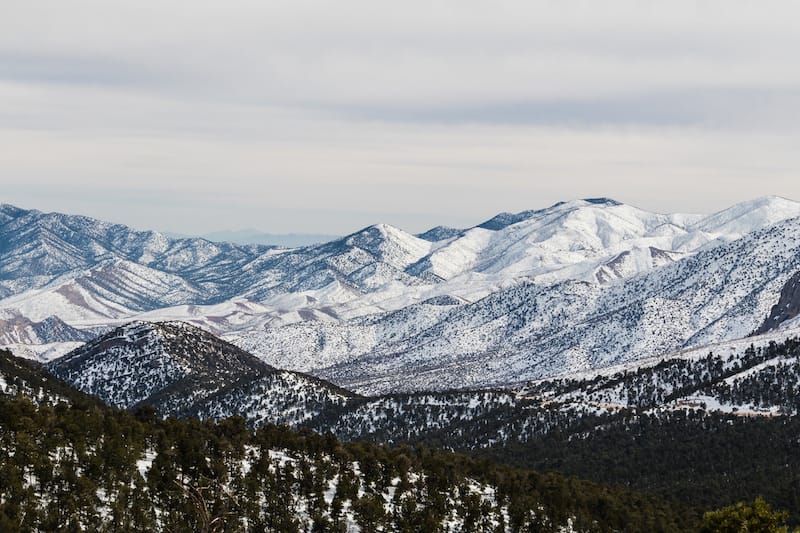 Adventures will wait for you, especially at the Lee Canyon Ski & Snowboard Resort in Lee Canyon, where you can go tubing, skiing, or snowboarding. Equipment rentals are available on the spot.
Here you can also take several professional lessons from a coach, ensure mountain awareness and develop the foundational skills to ensure a fun-filled future on the slopes.
Location: Mt Charleston
10. Drive Through Valley of Fire State Park
Just one hour from Las Vegas, you will appear in a geological wonderland of sandstone painted in shades of yellow, red, orange, and pink.
Because of its colors, the well-known state park was called Valley of Fire and was submerged under the sea thousands of years ago.
Over time the sea slowly receded, and this became a vast sand dune dessert. Erosion from rain and wind crafted the incredible sandstones with vibrant colors that visitors can spot even when driving through the valley.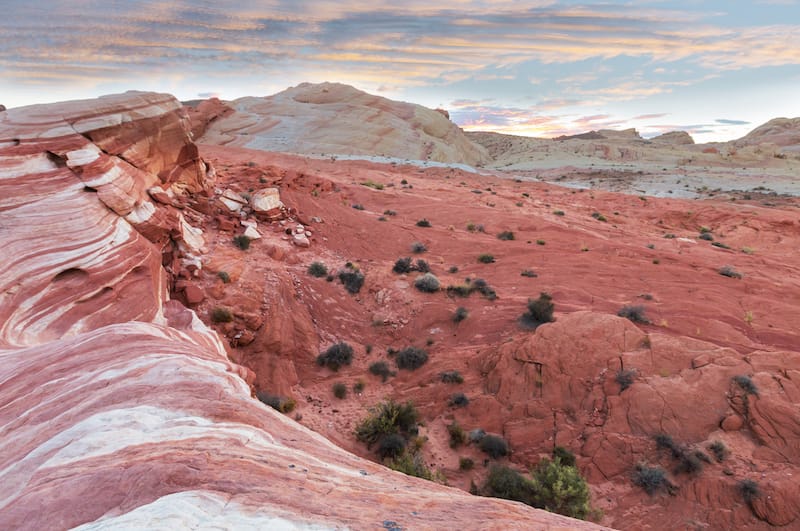 Throughout the valley, you may see various petroglyphs dating back more than 2,000 years. You can climb the staircase at Atlatl Rock to see the best-reserved petroglyphs in Valley of Fire State Park.
You can also get advice on these Las Vegas hiking trails in the state park visitors center.
The most famous hiking trails that are good for everyone are Mouse's Tank and the Rainbow Vistas, that end with a climb onto a giant hill for a panoramic view over the Valley of Fire.
Address: 29450 Valley of Fire Hwy, Overton
11. Go Ice Skating at the Cosmopolitan
High above the Las Vegas Strip, you will find a winter wonderland during the holiday season.
Boulevard Pool at Cosmopolitan transforms into a 4,200-square-foot ice skating rink each holiday season.
The magical park, surrounded by the sparkling lights of Vegas, is considered one of the best ice skating rinks in the USA.
Your experience here will become even more unforgettable when you see the snow showers that happen every 30 minutes during select times throughout the season.
Tickets, which include all-day access and skate rental, are $30.
After this experience, you can continue immersing in the Christmas mood at the Chalet nestled next to the rink decorated by the festive décor, comfortable seating, and a toasty oversized fire pit at the center.
Here you will be able to enjoy warm cocktails, s'mores, and breathtaking views, which will let you take Instagrammable shots.
Working Hours: from Monday to Friday – 4:00 PM to 11:00 PM, from Saturday to Sunday – Noon to 11:00 PM
Entrance Fee: $30
Address: Boulevard Tower, 3708 Las Vegas Blvd S Level 4, Las Vegas
12. Tour the Hoover Dam
The Hoover Dam is considered one of the marvels of American engineering that produces hydroelectric power and water for irrigation feeding from the Colorado River.
While you can discover a lot of stuff when visiting the Hoover Dam, the Mike O'Callaghan-Pat Tillman Memorial Bridge is one that you'll marvel at and even walk through if you are not afraid of heights.
This spot is also an excellent opportunity for taking pictures.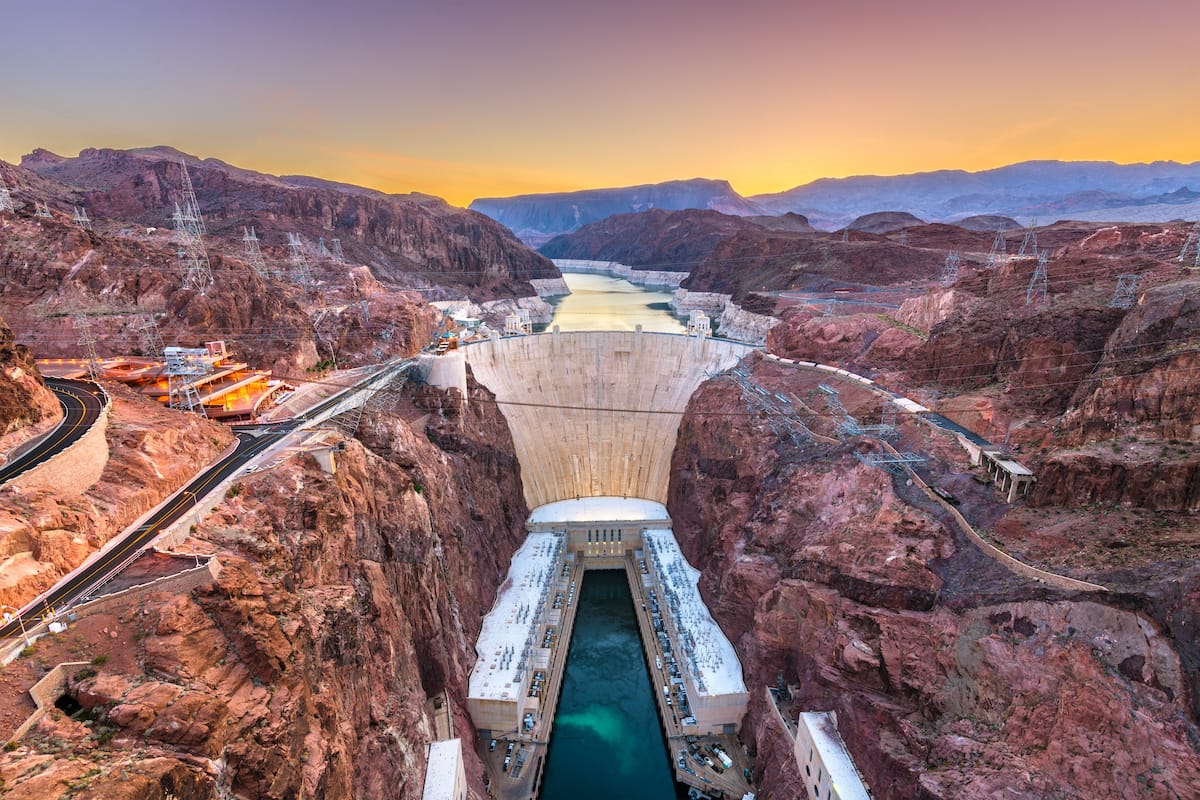 You can take Hoover Dam guided tours just for $30 and discover the hidden parts of the dam and the power plant by passing through the tunnels.
However, if you are short on time and budget, you can skip the tour and just stroll over the Top of the Dam for free, marvel at the vistas opening from there, see the breathtaking geographic features, and be amazed by the Colorado River flowing through the red rocks.
>> Click here to book a Hoover Dam Day tour from Las Vegas
13. See the Bellagio Fountains show (with Holiday Music!)
Almost every city in the world has its symbol. Guess what the symbol of Las Vegas is? Undoubtedly, that's the fountains at the Bellagio.
The display spans over 1,000 feet, with water soaring as high as 460 feet into the air. The fountain display takes place every 30 minutes from 3:00 PM to 6:30 PM and every 15 minutes from 7:00 PM to midnight.
You will be amazed by the fountain show and its music, especially during the holiday season, when the whole area is decorated with Christmas lights and ornaments, and the fountain dances under the most-beloved Christmas hits.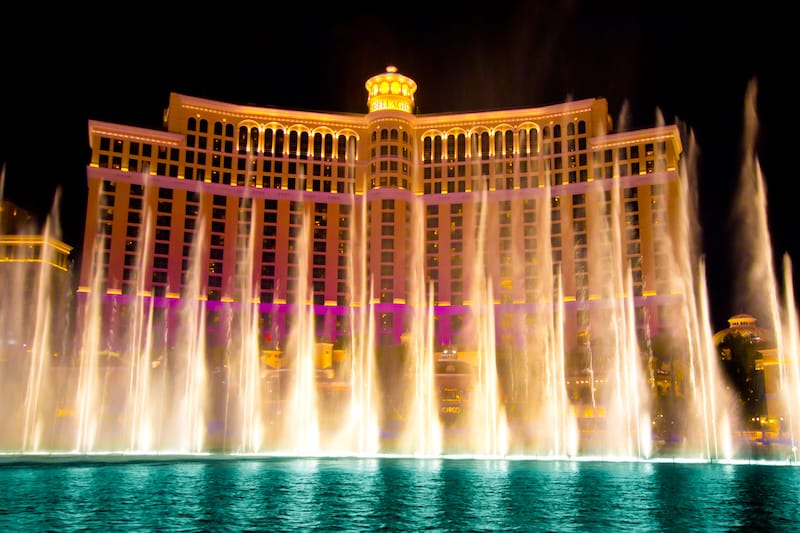 Once you want to organize an unforgettable evening in Las Vegas by enjoying its beauty and some delicious food, then you better reserve a table at the number of restaurants available in Bellagio, mentioning the fountain view.
Also, don't forget to take a shot next to the colorful and majestic fountains as a memory from Las Vegas.
Address: 3600 S Las Vegas Blvd, Las Vegas
14. Go Kayaking at Emerald Cave
During your stay in Vegas, you can be entertained not only by the various spots in the city but also outside of it.
The half-day Emerald Cove kayak tour may become one of your favorite memories from your trip.
The 4-5 hour tour starts in the morning with a hotel pickup option available.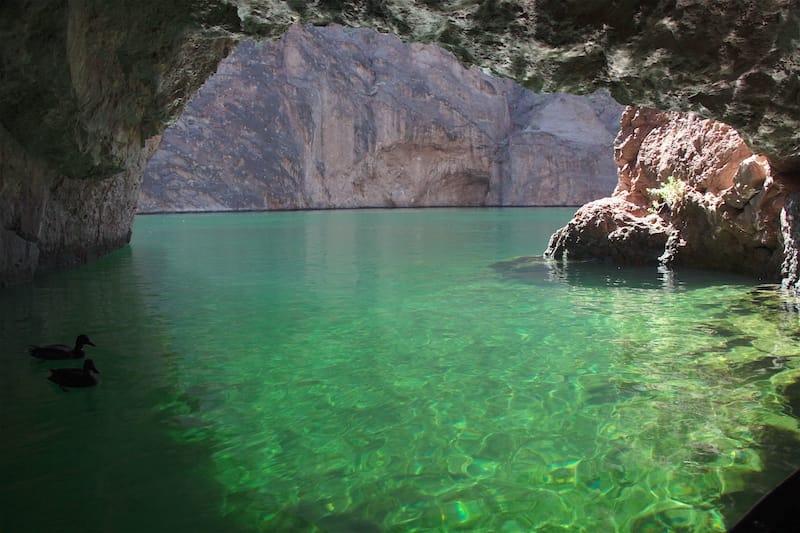 The group of 15 meets up at Willow Beach in Arizona, and when getting fitted for your kayaks, your paddling adventure through the crystal clear Colorado River starts.
During the tour, you will stop twice for snacks, swimming, sightseeing, or taking pictures. Once you reach the Emerald Cave, you'll understand where it derived its name.
It's a hidden gem surrounded by the most beautiful rocks. During the whole tour, you'll be guided by a professional guide who'll teach you how to paddle and enjoy a relaxing experience you won't forget.
>> Click here to book a half-day Emerald Cove kayak tour from Las Vegas
15. Shop at the Downtown Container Park
Las Vegas is full of entertainment and joy. Downtown Container Park near the well-known Fremont Street is a unique, open-air shopping, dining, and entertainment center with something for everyone.
The hero of the park is the giant Mantis, which speaks around 20 languages. Every evening, it is awakened by a drum circle celebration that the public is welcome to attend and see the massive fire flames thrown from the Mantis reaching six stories high.
On the lawn at the park, you can enjoy different concerts, Lego blocks, graffiti walls with an illuminating "DTLV" sign, a checkers board, lounge chairs, and much more!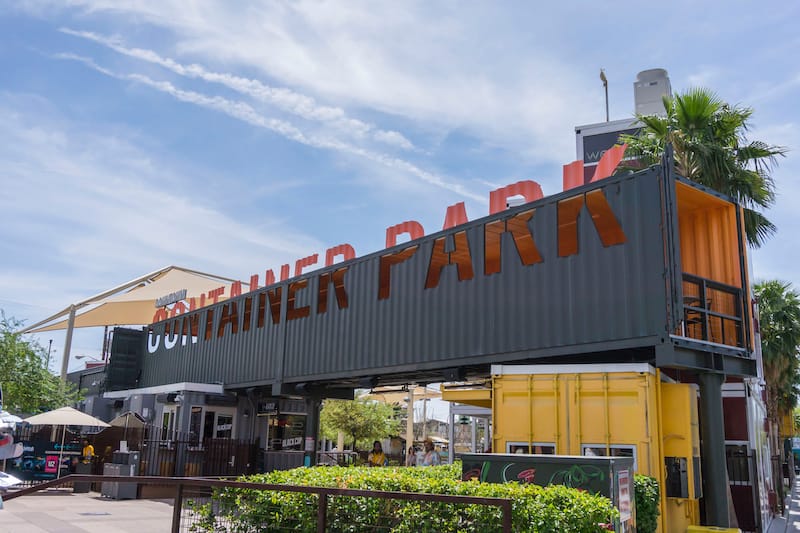 A variety of retail stores will let you find outstanding gifts for your loved ones while strolling around the park.
At the end of your visit, you can also enjoy some delicious dishes offered by the number of restaurants and cafes operating there.
Working Hours: from Monday to Friday – 11:00 AM to 1:00 AM, from Saturday to Sunday – 10:00 AM to 1:00 AM
Address: 707 E Fremont St, Las Vegas
16. Indulge at Tacos El Gordo
Once in Las Vegas, you can try dishes from the different kitchens of the world, but Tacos El Gordo is a place that will amaze you for sure.
It's a family-owned business that has operated for 40 years already with ten different branches.
The authentic Tijuana-style tacos will be one of the most delicious experiences you have ever had.
You can choose from around ten types of tacos made from spiced pork, grilled beef, or even beef tongue on a corn tortilla and match them with quesadillas or fries with your preferred toppings.
With every bite, you will taste the fresh flavors mixing and delivering a unique Tijuana experience. The place is also famous for its Mexican fountain drinks and sodas.
Address: 3041 S Las Vegas Blvd, Las Vegas
17. Do a Chocolate Tasting with Christmas Lights at Ethel M Chocolates
Make your stay in Vegas even sweeter and brighter during the holiday season.
Many visitors miss this destination, but Ethel M Chocolate Factory and Cactus Garden is a magical place worth visiting during Christmas.
The brand is owned by the famous Mars Incorporated, which also owns M&M's and Snickers. Ethel M offers excellent chocolate and wine tasting for 21 and over guests.
You can choose Classic Chocolate Tasting or Limited Edition Holiday Chocolate Tasting, both paired with fine wine.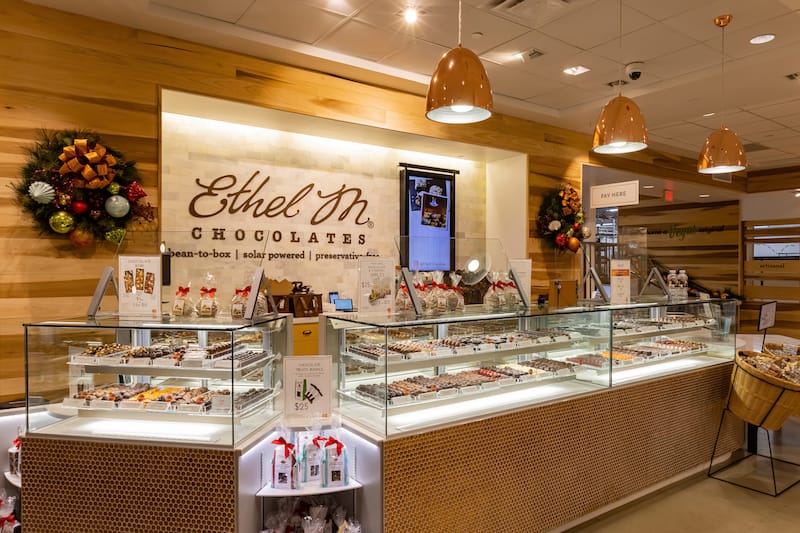 During the session, you'll learn the subtleties of chocolate tasting and flavor identification. The premium chocolate-tasting experience for adults costs $25, or choose the chocolate and wine pairing option for $35.
Besides tasting, you can enjoy the sparkling Christmas lights in the largest Cactus Garden in Nevada and take pics that will complete your Christmas mood.
Don't forget to grab freshly made sweet treats from the store for your friends packed in nice Christmas boxes.
Address: 2 Cactus Garden Dr, Henderson, NV 89014
18. Enjoy the Neon Museum
Whenever we say Las Vegas, most of us imagine the board with red neon symbolizing the city name written on it.
In Vegas, you can even find a museum presenting neon symbols from different periods of history.
The Neon Museum Las Vegas was founded in 1996 and is a non-profit organization committed to collecting, preserving, studying, and exhibiting iconic Las Vegas signs for educational, historical, arts, and cultural enrichment.
In the outdoor area, you can find more than 250 exhibits illuminated after sunset, making it the perfect location for photoshoots.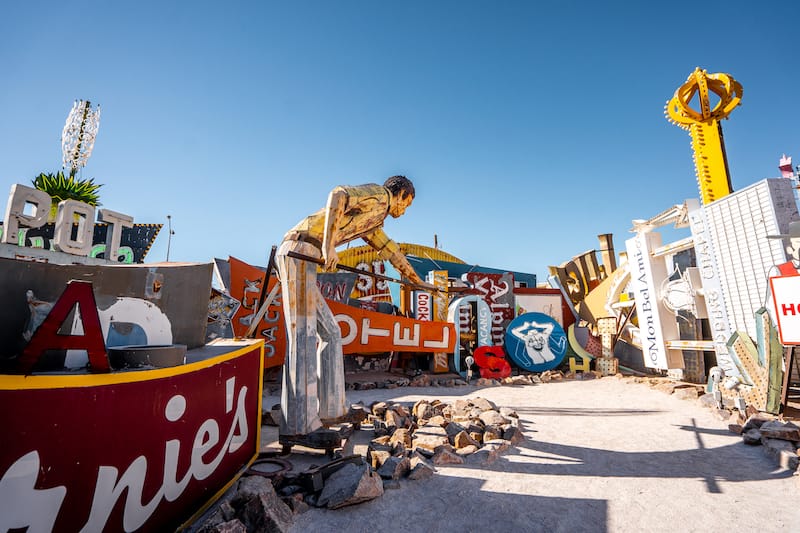 During your tour through the museum, the interpreter will tell you the stories behind each display, its creator, where and when it was made, and its role in Las Vegas' remarkable history.
If you consider visiting the museum, you better purchase the tickets online beforehand to avoid frequent sell-outs. Tickets for your most colorful experience start from $20.
Working Hours: all week from 2:00 PM to 10:00 PM
Address: 770 Las Vegas Blvd N, Las Vegas, NV 89101
Did we miss any amazing things to do in Las Vegas in winter? Let us know your favorite winter in Vegas activities in the comments!
Things to Do in Las Vegas in Winter (On a Map!)
🗺️ HOW TO USE THIS MAP: You can use your fingers/mouse to zoom in and out. To get more info about a place, simply touch/click the icons. Want to save this map for later use? Click the '⭐' by the map title and it will add it to your Google Maps account (Saved > Maps or 'Your Places').
Where to Stay in Las Vegas
More NV + Las Vegas Travel Guides
Pin this Winter in Vegas Guide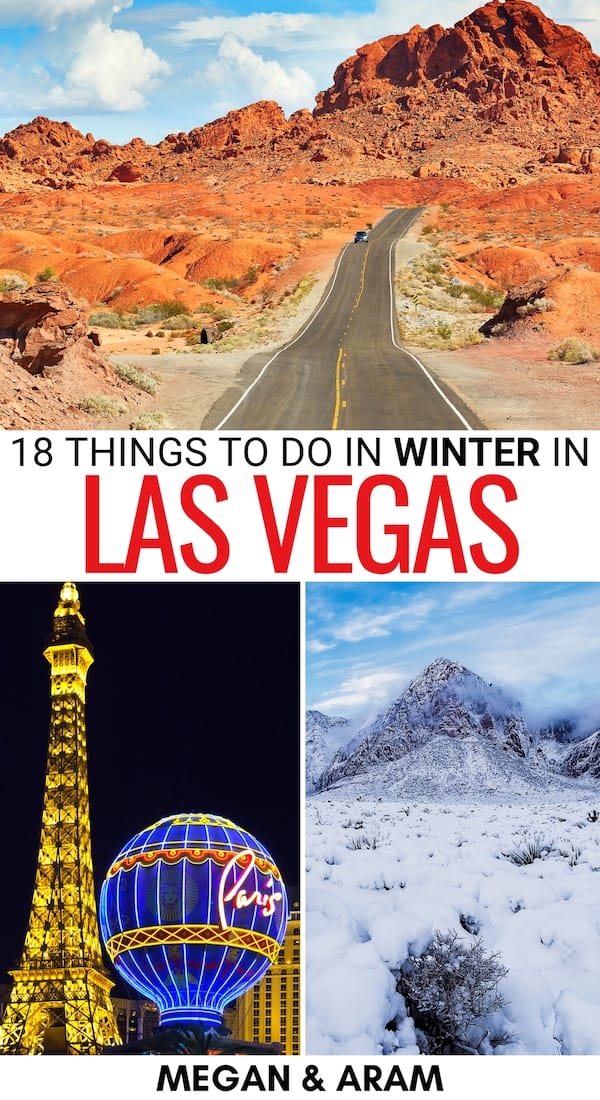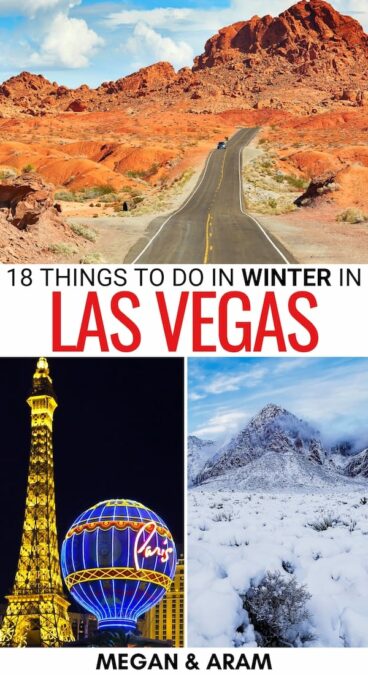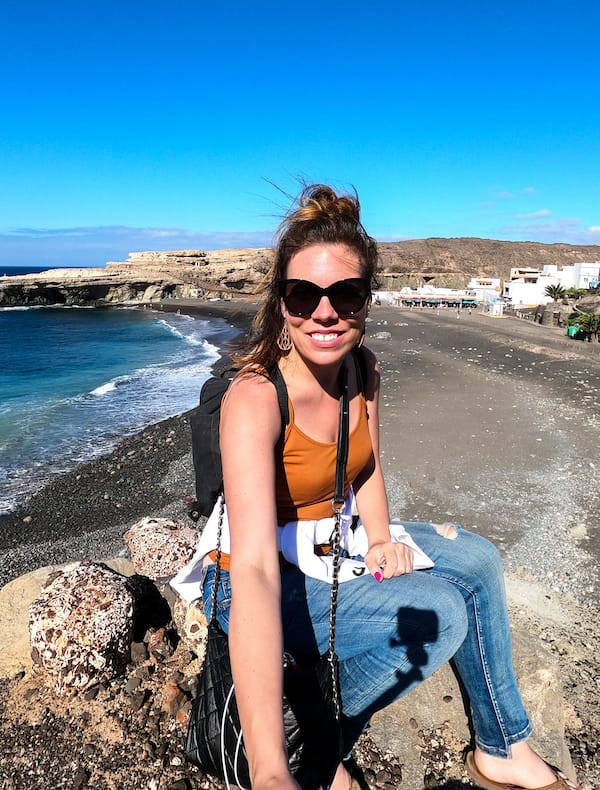 Megan is a travel blogger and writer with a background in digital marketing. Originally from Richmond, VA, she now splits her time between Frankfurt, Germany and Arctic Finland after also living in Norway, Armenia, and Kazakhstan. She has a passion for winter travel, as well as the Nordic countries, but you can also find her eating her way through Italy, perusing perfume stores in Paris, or taking road trips through the USA. Megan has written for or been featured by National Geographic, Forbes, Lonely Planet, the New York Times, and more. She co-authored Fodor's Travel 'Essential Norway' and has visited 45 US states and 100+ countries.