Leavenworth, Washington is one of the coolest places to visit on the West Coast of the US (and such a unique place)! This is a guide to the best things to do in Leavenworth in winter, including food, winter activities, and more!
Did we leave out anything you should be on your itinerary for winter in Leavenworth? Let us know in the comments!
Are you planning your trip to Leavenworth last minute?
Be sure to book yourself a hotel well ahead of time as the winter in Leavenworth can be a bit busy!
Top tour option in Leavenworth:
Top lodging options in Leavenworth:
Icicle Village Resort (our #1 pick – great for kids and/or couples!)
Before we get into the fun winter activities in Leavenworth, we discuss a little practical information if you're planning a winter trip there!
At the very end of the guide, you will find our recommended things to pack, where to stay, and more!
Leavenworth Winter Tips + FAQ
Below is a quick guide to some things to know before visiting Leavenworth during the winter!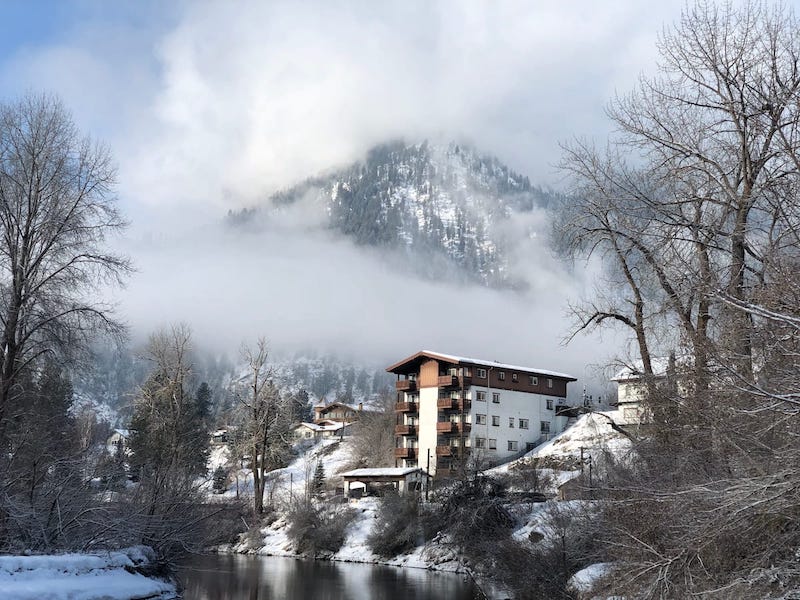 When is it Winter in Leavenworth?
In Leavenworth, the winter season typically starts in mid-November and lasts until the end of February. While snow is prevalent outside of that, we will be referring to winter as December, January, and February throughout this guide.
Average Snowfall in Leavenworth
Leavenworth annually receives approximately 89 inches of snow and the snow permits you to do several winter activities like snowshoeing, snowmobiling, winter hiking, and more!
Winter Temperatures in Leavenworth
Below, you will find the average winter temperatures in Leavenworth, Washington (month by month).
Leavenworth in December: Highs around 34F, lows around 21F
Leavenworth in January: Highs around 34F, lows around 20F
Leavenworth in February: Highs around 43F, lows around 22F
On average, the Washington town gets about 202 sunny days annually.
How to Get to Leavenworth from Seattle
Seattle is located approximately two and a half hours away from Leavenworth and you can get there via your own car, bus, and train. It is a must-visit if you have more than just a weekend in Seattle in the winter months!
Usually, you will find a daily bus departing Seattle for Leavenworth. Click here for up-to-date information.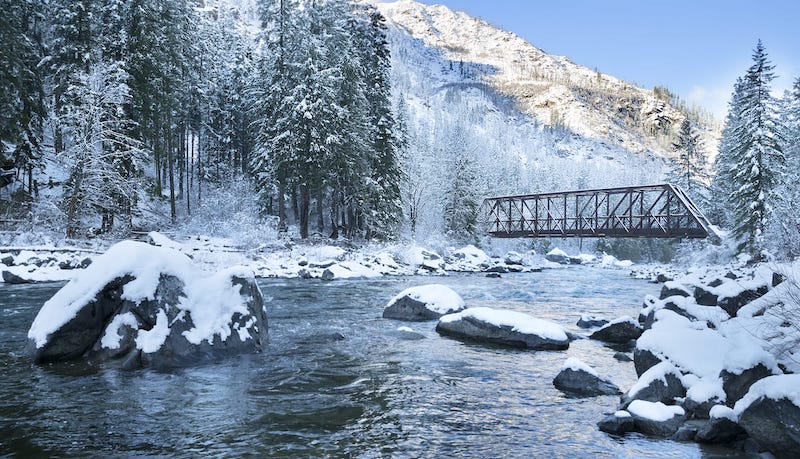 Best Things to Do in Leavenworth in Winter
1. Go Snowshoeing in Leavenworth (and Nearby)
Snowshoeing is one of the most popular winter activities in the area and you'll find fantastic trails in and around Leavenworth to do the activity!
Choose between trails provided by local businesses or managed by the US Forest Service and explore the peaceful and tranquil Washington forests and vast meadows.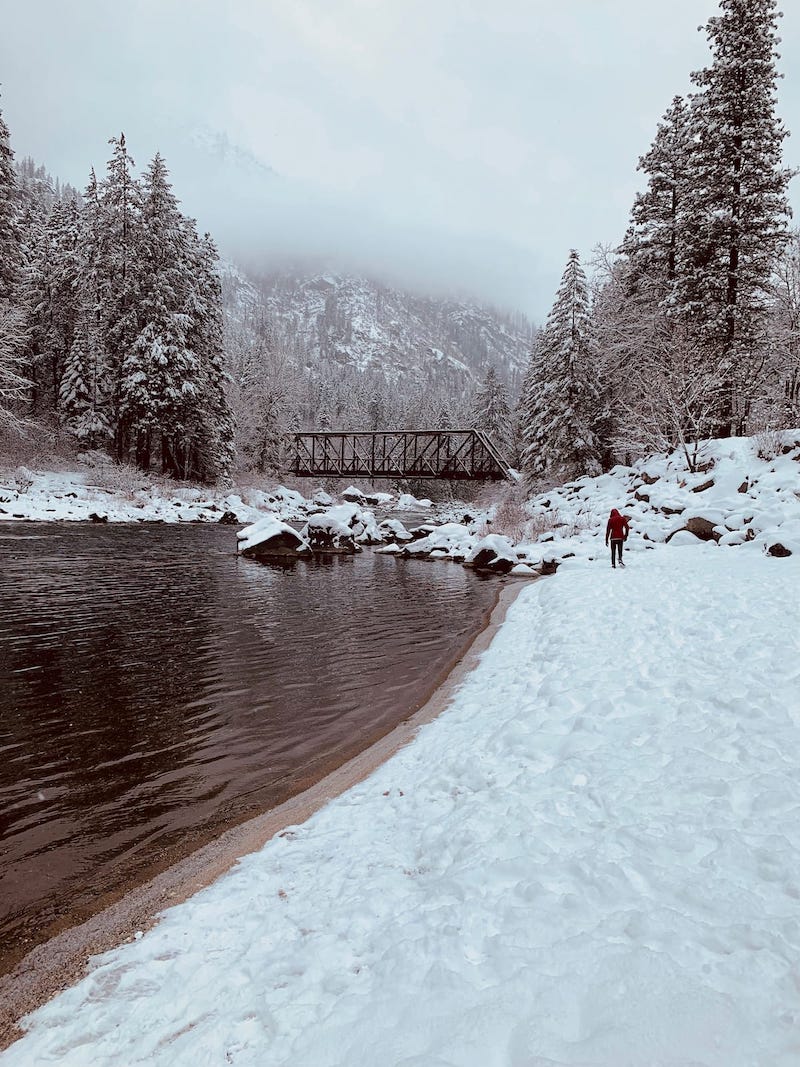 The area provides both groomed and ungroomed trails of various difficulties. If you're seeking a more leisurely trek, an easy stroll alongside the creek, or within the forest, check out the following trails:
Eagle Creek
Hatchery Creek
Icicle River Snowshoe Trail
Icicle Road
Leavenworth Ski Hill Snowshoeing Trails
Little Wenatchee Road
Wenatchee River Road
Those seeking a more adventurous trip, consider the ungroomed trail at Chiwaukum Creek. You'll see many tributaries flowing into the Wenatchee River along your snowshoe journey!
2. Check Out Lake Wenatchee State Park
Lake Wenatchee State Park has a variety of winter recreation opportunities ranging from sledding, cross-country skiing, snow camping, to snowshoeing.
The area manages four sno-parks, including South Park, North Park, Nason Ridge, and Chiwawa. They provide more than 50k groomed ski trails and 12 miles of snowshoe trails.
South Park has 12k groomed trails running through the forest, along the lakeshore, and above the Wenatchee River. The North Park offers 5.3k of scenic groomed trails, a peaceful alternative to the bustling trails of the South Park.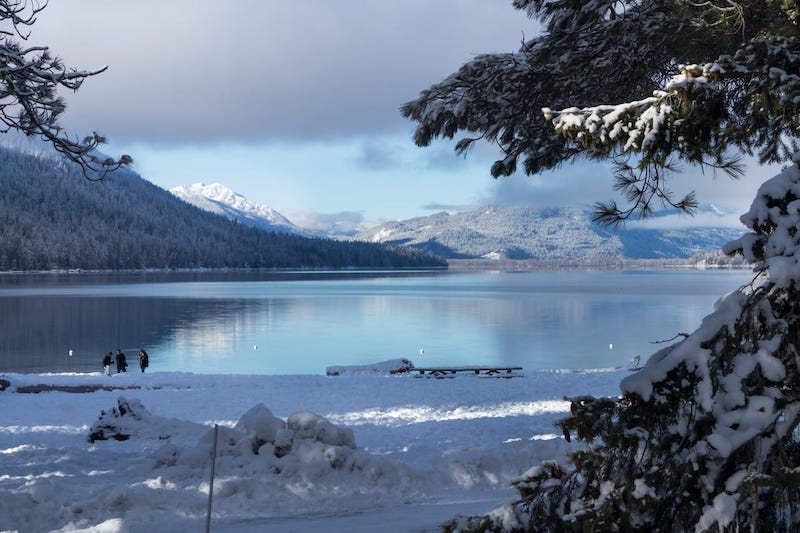 The groomed trail system of Nason Ridge will bestow you with panoramic views of Lake Wenatchee and the Cascade Mountains.
Chiwawa sno-park includes the 8k groomed See and Ski trail and the 6k groomed Squirrel Run trail. As a bonus, a winter camping area is available in South Park.
3. Get Festive at the Christkindlmarkt
You can enjoy the many festivals organized in the Bavarian-style village, but the most important of all is the Christkindlmarkt! This annual Christmas market, held during Thanksgiving weekend, will be the perfect start to your holidays.
The cherished Leavenworth tradition takes place in Front Street Park and also in the Festhalle. Explore Christkindlmarkt, enjoy some delicious Bavarian food, buy handmade arts and crafts, and enjoy live music in the Gazebo.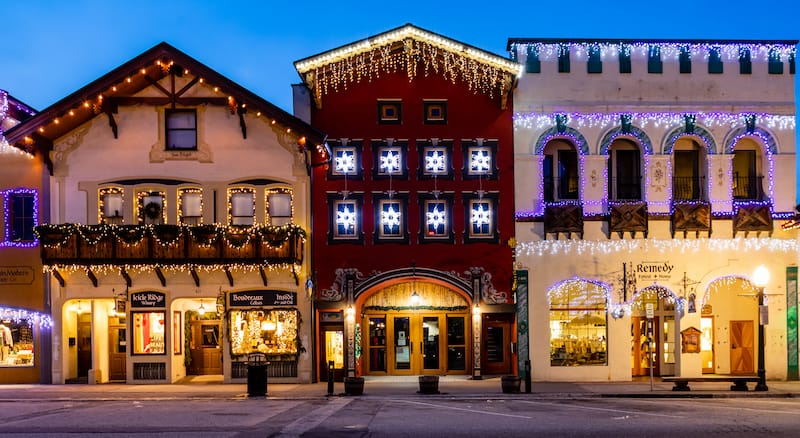 Your youngsters will like the Lantern Workshop where they can decorate their lanterns with festive supplies and participate in the Lantern Parade.
Don't miss the Christkindlmarkt Welcome Ceremony organized on Friday and Saturday nights. The program includes the Bavarian Brass, Leavenworth Alphorns, and the Bavarian tradition of Böllerschützen.
4. Play Around at the Bavarian Ice Festival
As a winter destination, Leavenworth has plenty of things to offer. One of the prominent events organized in the town is the annual Leavenworth Ice Festival!
Also known as the Bavarian Icefest, it welcomes visitors with a wide range of exciting winter activities. Immerse yourself in the Bavarian atmosphere and enjoy the outdoors provided during the festival.
Explore the snow sculpture displays, take part in ice-themed games like the frisbee sweep, ice cube scramble, and stick around to see the stunning fireworks.
Children will love taking the opportunity to try out snowboarding and skiing at Stevens Pass Grom Playground.
On the more festive side of things, you'll also find a snowmobile sled pull, live ice carvings, a snowball toss, ice fishing, snowshoe demo day at Ski Hill, and more.
5. Go Snowmobiling in Leavenworth
Leavenworth boasts a thousand acres of snowmobile territory with magnificent nature views. Visitors can rent snowmobiles and plan their journey through this amazing destination!
At Leavenworth Snowmobile Rentals, you can choose your snowmobile and head to the trail!
The most famous places for snowmobiling in Leavenworth (and nearby) are Sugarloaf and French Corral Loop. You can also join many of the guided tours organized by local providers.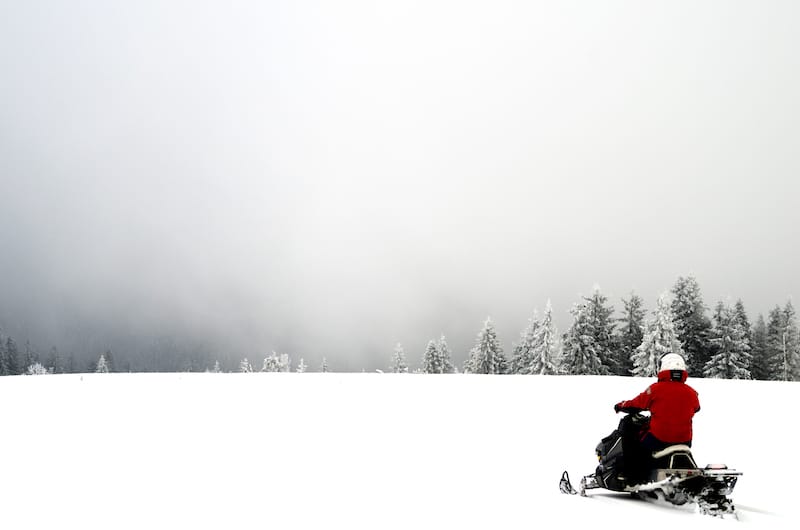 For first-time snowmobilers and families, Suzy's Slip and Slide is a perfect choice offering great trails with snow land views.
Intermediate or advanced riders can choose among Mile High Extravaganza, Grandpa's Rockers, Sno Cone, and Starlight Express.
A unique adventure is offered by Moonlight Dinner Ride, with a fireside dinner in Beaver Creek Lodge at the end of your trip.
6. Warm Up with Bone Broth Soup at Yodelin
Try the heartiest food in the area at the most environmentally-friendly restaurant in the area, Yodelin.
Established in 2016, the restaurant offers mountain cuisine from burgers to power salads and amazing bone broth soups. The restaurant boasts ten special beer taps if you're wanting to refresh with a local craft beer!
You'll find an extremely healthy and flavorful menu, covering fish broth soups, rice bowls topped with salmon or chicken, and sandwiches including a Vietnamese banh mi sandwich.
There are also plenty of options for vegetarians, like homemade veggie burgers. The star of the menu is the homemade fish broth.
As a bonus, the restaurant has a beer garden overlooking the Wenatchee River. Enjoy your bowl of broth and beer with a view! And if you're lucky, you'll have a chance to take part in different festivals and musical events organized at the restaurant.
Address: 633 Front St #1346, Leavenworth, WA 98826
7. Visit the Blue Spirits Distillery Tasting Room
After a day of adventure in Leavenworth in winter, there's nothing better than to have a couple of drinks at one of the local wineries, breweries, and distilleries!
Blue Spirit Distillery welcomes visitors with various spirits, including gin, whiskey, rum, and tequila. By visiting Blue Spirits on Front Street where you will get to try the best craft spirits and enjoy live music.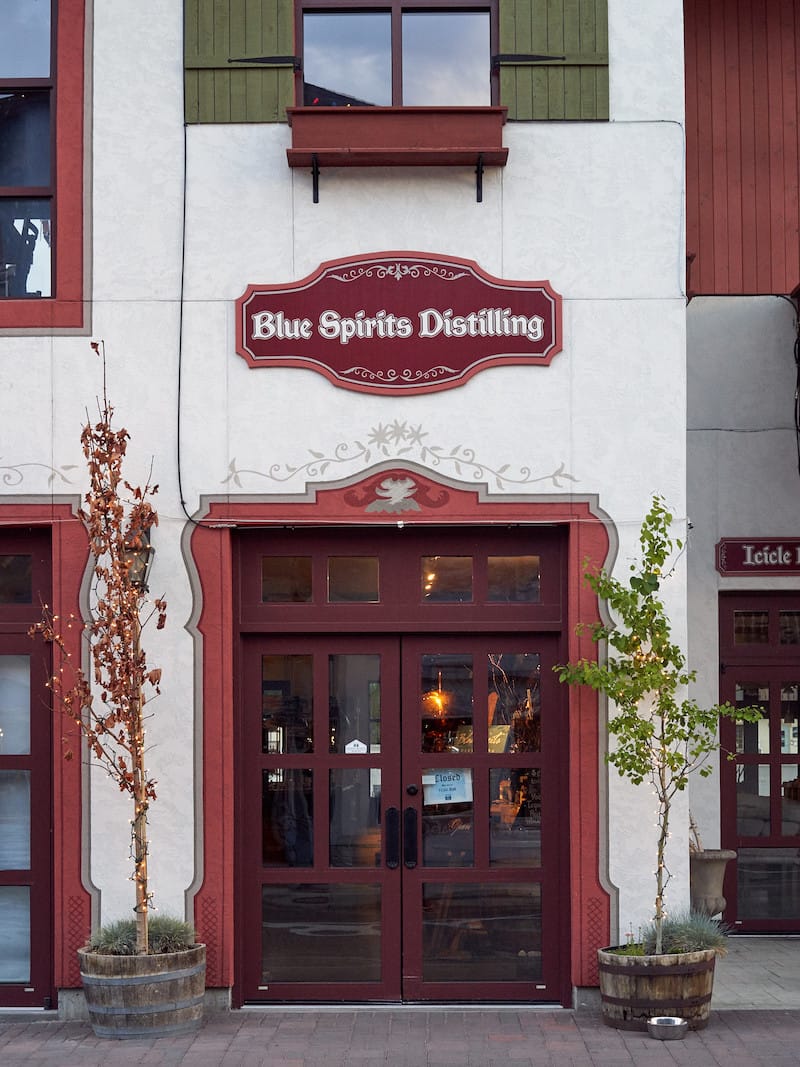 The distillery is especially famous for its infused vodkas made from Lake Chelan water. If you want to have a short tasting, visit the newly opened Blue Spirits Distillery Tasting Room, located in the center of downtown.
You can stop there, taste their famous pickle vodka, and enjoy some small bites and professionally crafted cocktails.
Address: 1310 US Hwy 2, Leavenworth, WA 98826
8. Go Snow tubing at Lt Michael Adams Tubing Park
Another popular winter activity you must not miss is snow tubing! This is a perfect family, solo, or group adventure! Visit LT Michael Adams Tubing Park, sit in your rented tube, and cruise down the slopes!
The rope tow will pull you to the top and then send you gliding down the hill. You don't need any special skills to be able to do this activity, so it really is the perfect thing for families or groups of people!
The recommended minimum age for kids is 8. Dress accordingly and please note that ski boots are prohibited. You can't buy tickets ahead of time, either.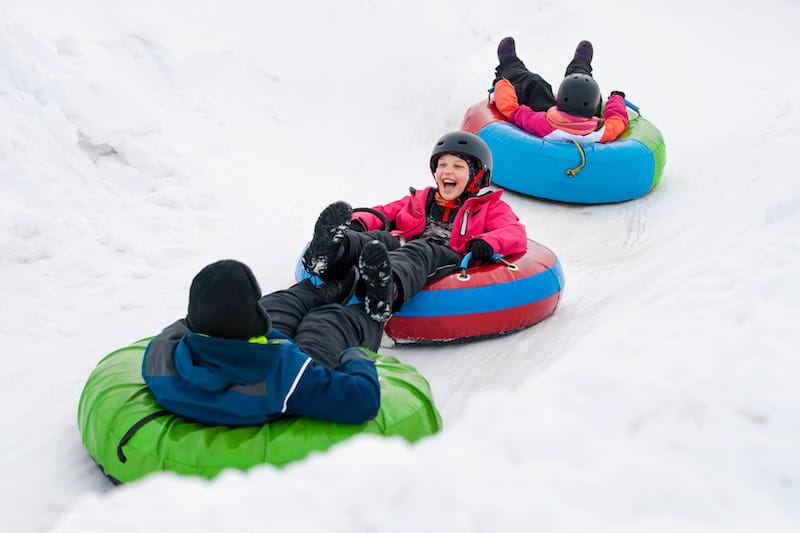 Tickets will be available at the ticket booth as soon as you arrive at Ski Hill. Purchase your tickets, grab your snow tube, and head off!
At the end of your journey, stop at the Ski Hill Lodge and have some snacks and hot chocolate to warm up.
Address: 10701 Ski Hill Drive, Leavenworth, WA 98826
9. Take the Snow Train to Leavenworth
If you want an organized way of visiting Leavenworth during winter, join one of the train trips organized by Alki Tours! The winter journey starts from Seattle aboard a special, chartered Amtrak train.
Once on board, relax and enjoy your continental breakfast, listen to strolling musicians, magicians, and even Santa. You'll travel through the Cascade Tunnel, the second-longest in North America, and eventually reach the Bavarian-style village.
Soak up the Christmas atmosphere as you're surrounded by festive entertainment, food booths, sleigh rides, and a village that resembles a sea of lights!
In the evening, the train will take you back home, and you'll have a cozy dinner on your way.
10. Visit the Village of Lights Christmastown
Leavenworth is known as one of the best Christmas towns in the USA. Every year, this small mountain village comes alive with festive lights and holiday spirit!
Experience the magic of the lighting festival in Leavenworth. Watch half a million lights sparkle around you, enjoy the music and Christmas entertainment, and meet strolling carolers and holiday characters.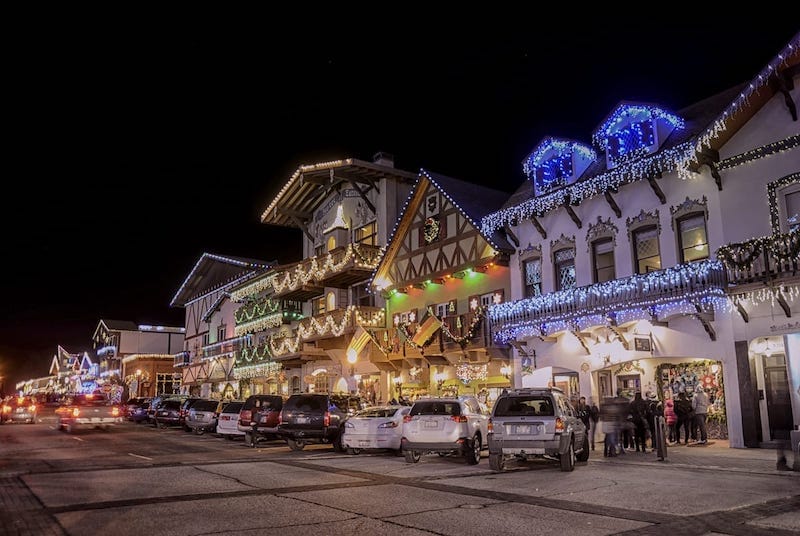 A month-long celebration also contains a Gingerbread House competition, gift wrapping station, Krampus night, an opportunity to win a Christmas tree loaded with gifts, and Santa's costume displays.
You can also take a sleigh ride with the kids. If you get hungry after your adventures, visit the Sausage Garten to try a selection of homemade sausages.
For a larger dinner, stop at Sulla Vita. Kids will love visiting the Gingerbread Factory!
11. Go Nordic Skiing in Leavenworth
Leavenworth boasts one of the best Nordic skiing opportunities in Washington. The town provides four trail areas with various levels of difficulty. We've listed the most popular of them below!
The Icicle River Trails are great for beginners. Hidden at the base of Icicle Canyon, it offers magnificent views. Nordic lessons are also available.
Located along the scenic Wenatchee River, the Golf Course trail network has intermediate terrain and stretches through the groves of huge pines.
Skill Hill boasts more advanced Nordic trails. The paths are winding in the forests and will take you to the historic Ski Hill Lodge. In addition, over 3 miles of lit skiing is available at Skill Hill.
Not far from downtown, you'll find Waterfront Park, consisting of around 2 miles of free Nordic skiing, with groomed trails and a dog-friendly area.
12. Stop by the Nutcracker Museum
You'll be amazed at the extensive collection of German Nutcrackers housed at the Leavenworth Nutcracker Museum! Seven thousand nutcrackers of various shapes and sizes are on display there!
The museum boasts professional tools and amateur designs. You'll find wooden toy soldiers, Victorian silver tableware, metal crackers, and more. Explore the many ways of nut-cracking, from direct pressure to percussion.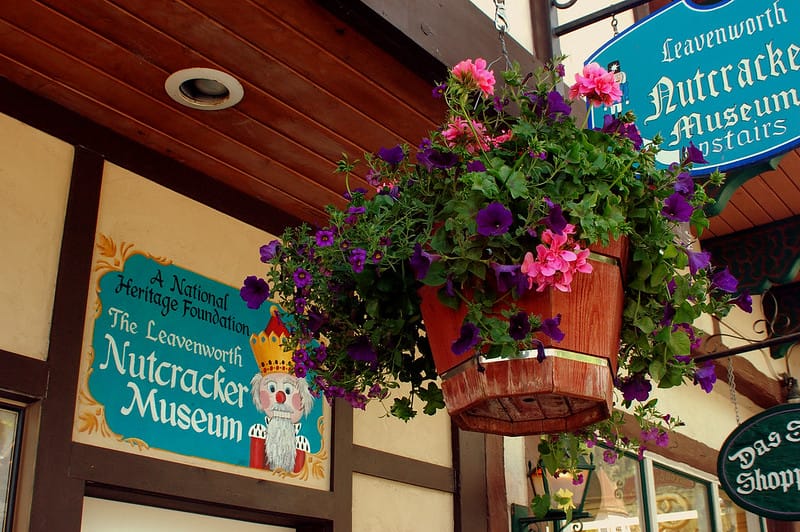 Discover thousand-year-old nutting bowls, the Asian Betel cutters, precious ivory, and porcelain. The museum aims to provide information on the origins of nutcrackers, as well as the nutritional value of nuts.
You'll also learn about the ballet instructor, the founder of the museum Arlene Wagner and her famous collection. Children are welcome here.
Address: 735 Front St, Leavenworth, WA 98826
13. Drink Craft Beer in Leavenworth
Celebrate some of the most delicious beer in the west in the Bavarian-style village, Leavenworth. Below are a few of the best craft breweries in Leavenworth that you should head to!
Icicle Brewing Company produces creates some award-winning beers with a supply of local ingredients. Their beer is crafted with excellent malt, yeast, and hops.
The necessary water comes directly from Icicle Creek and it truly does create a superior flavor to that of beer in many other places! Enjoy the beer-tasting experience in the tasting room with snacks like warm Bavarian pretzels and cheese plates.
At the tiny local Doghaus Brewery, you'll find a dog-friendly tasting room and will have a chance to choose among many beers created right at the spot.
The mission of the company is to provide a good beer, entertainment, and a friendly atmosphere to its visitors. If anything, go for the dogs! Okay… and the delicious beer!
14. Check Out the Reindeer Farm
Located in the mountains of Leavenworth, the local reindeer farm aims at preserving these unique animals. Take an hour-long tour of the farm and get acquainted with these beautiful creatures of the north!
Leavenworth Reindeer Farm is the only place where you can feed, pet, and learn more about reindeer. Once you arrive, you'll get some refreshments and have an educational presentation. Important safety information will also be provided.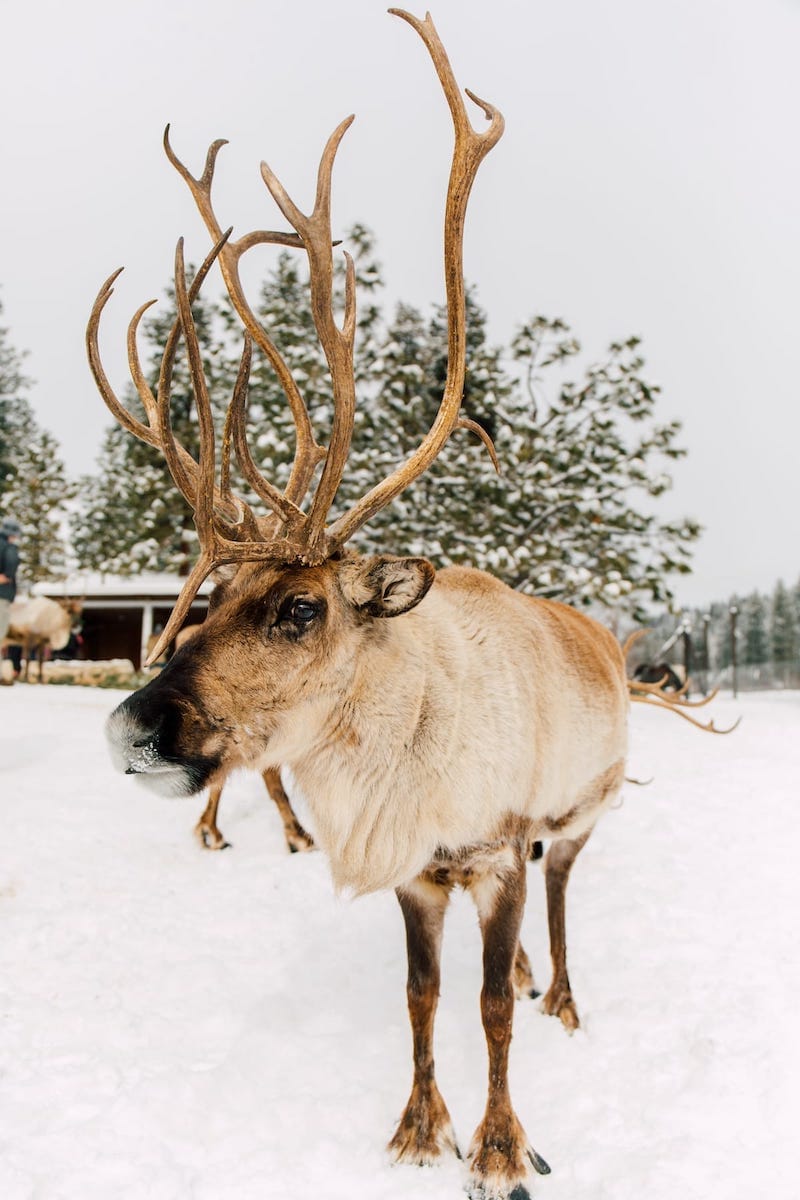 Now, you're ready to meet the reindeer in person! The reindeer aren't shy- they'll come up and eat right out of your hand. You will have the chance to pet them and interact with them in person.
The animal farm also has horses, chickens, bunnies, and a little play area with a beautiful barn.
Address: 10395 Chumstick Highway, Leavenworth, WA 98826
15. Take a Day Trip to Lake Chelan Winterfest
Lake Chelan boasts year-round events, but one of the most popular is the iconic Lake Chelan Winterfest. This is the largest winter festival organized in the area.
The Winterfest will take place from January 12-21 in 2024! Visit downtown Chelan and Manson to enjoy weekends full of fun and entertainment.
You'll find live music, wine tastings, incredible ice sculptures, firework shows, activities for kids, and a huge beach bonfire. Children will love the ice slides, hot chocolate, scavenger hunts, horse carriage rides, and apple bin train rides.
If you're brave enough, take the icy plunge into Lake Chelan at the Polar Bear Splash. And while you're in the area, don't forget to check out the numerous winter activities like skiing, tubing, and snowboarding.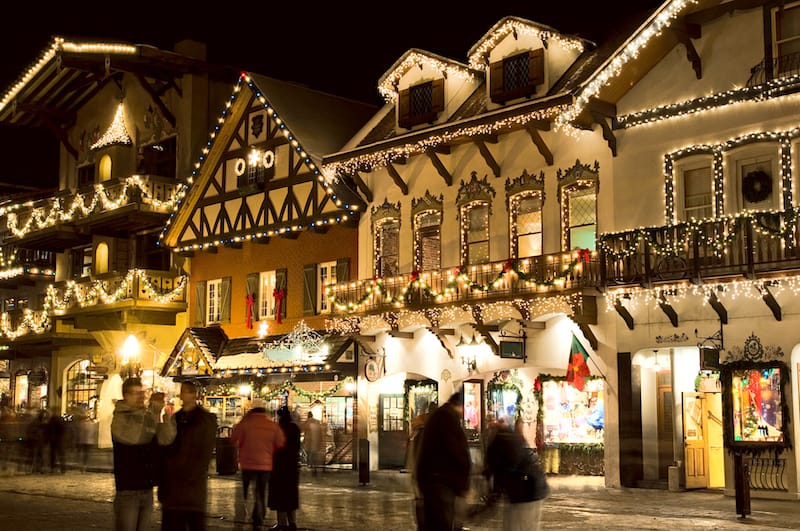 Where to Stay in Leavenworth
If you're seeking the best place to stay in Leavenworth, you can check out our Airbnb guide here. Alternatively, here are some awesome places to call home for your trip!
More Washington Travel Guides
Pin this Winter in Leavenworth Guide!