Sedona, Arizona remains one of the most popular vacation spots in the United States among visitors from all across the world. And you will find many amazing day trips from Sedona, making the entire area worth your visit!
Planning your trip to Sedona, AZ last minute?
If youʻre booking your trip to Sedona last minute, we have you covered. Below are some of the top tours, hotels, and more!
🇺🇸 Top Experiences and Tours in Sedona:
🛌 Top Hotels in Sedona:
🚗 Visiting Arizona independently? Be sure to book your rental car ahead of time to ensure availability!
These Sedona day trips are diverse and offer something for everyone. From the big city to ghost towns and places that will transplant you to the old west – you definitely need to include some of these on your Sedona itinerary!
Because we know that longer escapes are all the rage right now, we have also included some destinations that are better as weekend trips from Sedona rather than a day trip!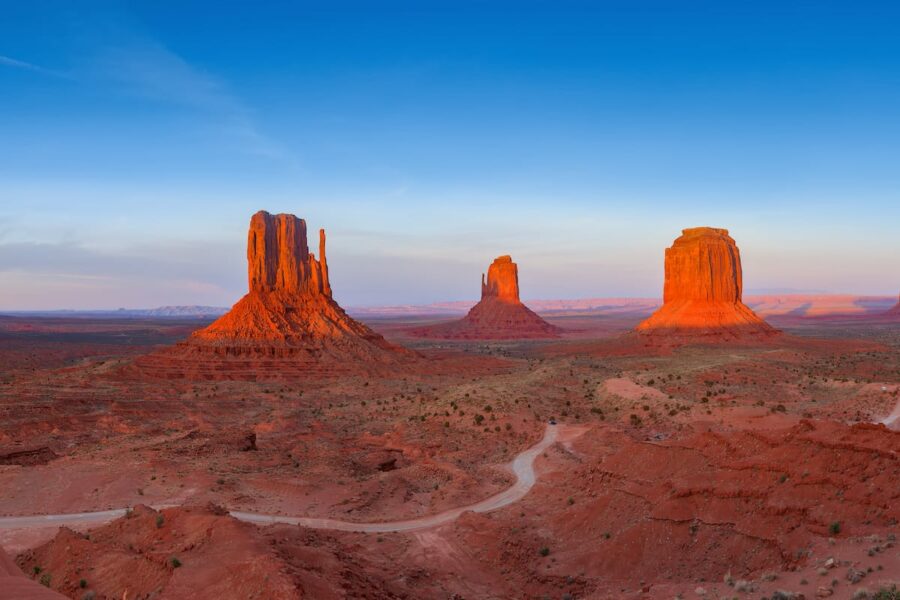 Did we miss any of the best day trips from Sedona? Let us know your favorite places near Sedona in the comments.
And if you are short on time, donʻt forget to check out our guide to the best things to do in Sedona! Thanks!
Best Day Trips From Sedona
1. Sunset Crater Volcano National Monument
The Sunset Crater Volcano National Monument covers 3,040 acres in Arizona, welcoming visitors to enjoy a wide variety of outdoor activities like driving, hiking, and biking.
The history of the area dates back to around 1,000 years ago when the volcano ​​erupted, sending lava and gases into the air and forming what is now known as the Sunset Crater Volcano.
Nowadays, the area is popular among those who are looking to enjoy the great outdoors.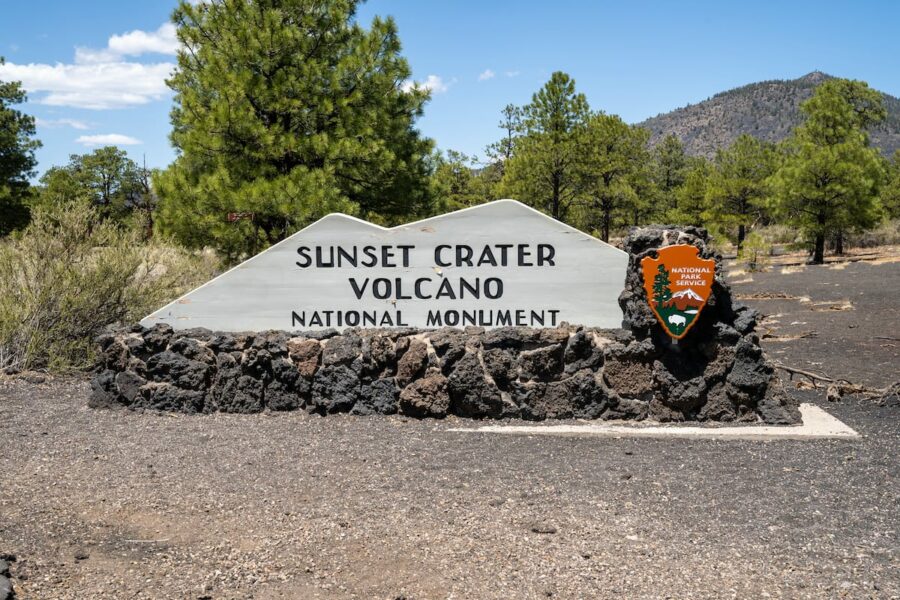 Recreational options here include driving or biking through the sites or challenging yourself to pass hike trails of lava flows. In case you're interested to learn more about the ecology and history of the area, you may take a guided tour here too.
You might also want to check their website to see whether or not there are any events and programs scheduled at the time of your visit.
Distance from Sedona: 47.9 miles
Driving Time: 1 hour, 6 minutes
2. Kartchner Caverns State Park
Kartchner Caverns is another great option for a day trip, but letʻs be honest, it is best visited as a weekend getaway from Sedona instead! It is home to the world's longest stalactite formation.
During your visit, check out the world from another angle as you get acquainted with the magical world of caves. This limestone cave is located in Benson, Arizona, just a short distance from Tucson.
Once here, you can choose one of the tours offered to see the discoverer's original trail or check out the amazing and colorful formations.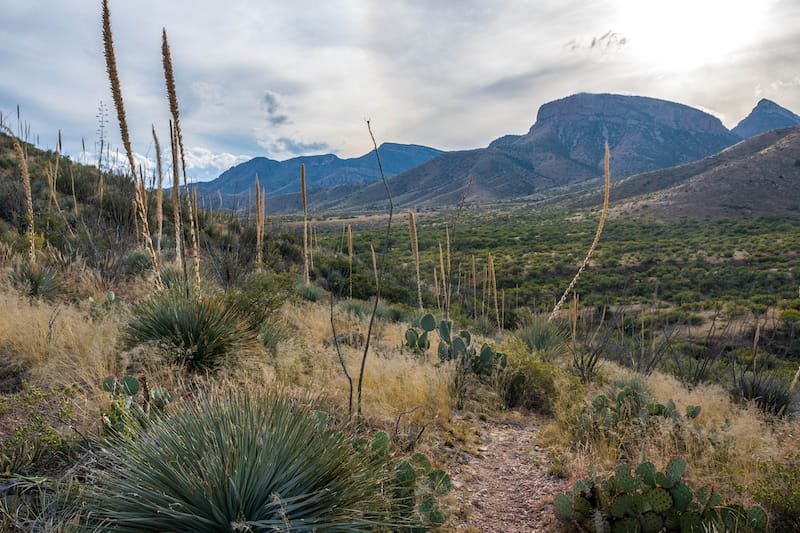 At Kartchner Caverns, you can also freely enjoy the abundant wildlife around you.
Aside from the caves, be sure to check out the hiking trails. One of the trails that you shouldn't miss is the Ocotillo Trail, which is 3.2 miles long in total.
And, as the name suggests, you'll meet a lot of ocotillo plants along your way. Alternatives are the Guindani Trail and the Foothills Loop Trail.
Distance from Sedona: 281.2 miles
Driving Time: 4 hours, 18 minutes
3. Prescott
Prescott is famously known as one of the most beautiful and historic destinations in Arizona, and that's what makes this place a perfect getaway from Sedona.
When it comes to natural landscapes, it's really hard to beat Prescott. At an elevation of 5,200 feet above sea level, Prescott features magnificent views of granite mountains, lakes, and meadows full of wildlife.
All seasons are awesome here, so no need to stress about when to visit (though the months of January and February are arguably the best).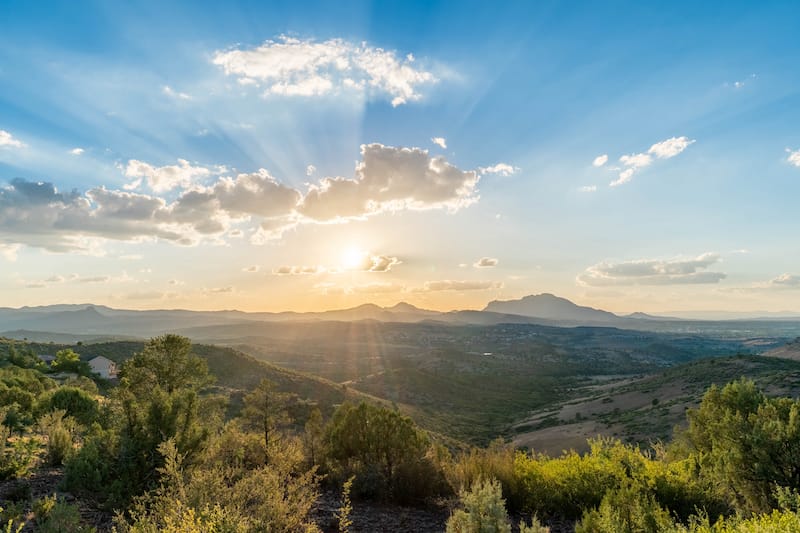 The must-see places in Prescott include Watson Lake with its picturesque rock formations, the historic downtown of Whiskey Row, Phippen Museum known for unique artwork collections, and much more.
In case you want to get closer to nature, your go-to should be either Thumb Butte Hike, promising the most picture-perfect views of Prescott National Forest, where you can partake in a variety of outdoor activities.
Distance from Sedona: 67 miles
Driving Time: 1 hour, 28 minutes
4. Oak Creek Canyon
Abundant with green nature and beautiful rock formations, Oak Creek Canyon is a spectacular place that has all chances of impressing you.
Be sure to check out the Oak Creek Canyon Vista before getting right into the canyon. The vista gives visitors a stunning, birds-eye view of Oak Creek. Be sure to have your camera ready!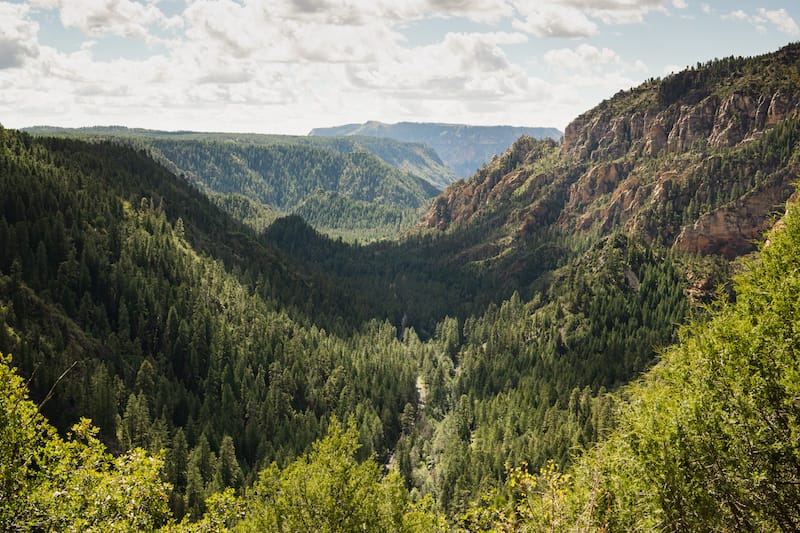 One of the most famous activities here is Jeep tours. You can experience the well-known Broken Arrow Trail in Sedona on ​​a 4WD vehicle or take a tour that combines a Jeep tour and a horseback riding experience.
Alternatively, you can spend your day trip hiking the tourist-loved Bell Rock or Cathedral Rock Trail, which is known to be one of the most photographed places in the area.
Distance from Sedona: 4.3 miles
Driving Time: 8 minutes
5. Lowell Observatory
The Lowell Observatory claims to connect people with the universe. It not only educates visitors but also provides them with the opportunity to discover and explore astronomy to the fullest.
Lowell Observatory was established in 1894 and has the title of being one of the oldest observatories in the US.
You can get a general admission pass and enjoy the 127 years of astronomical exploration, follow in the footsteps of the man who found Pluto in 1930, discover planets, distant gas clouds, participate in seminars and tours, and so much more.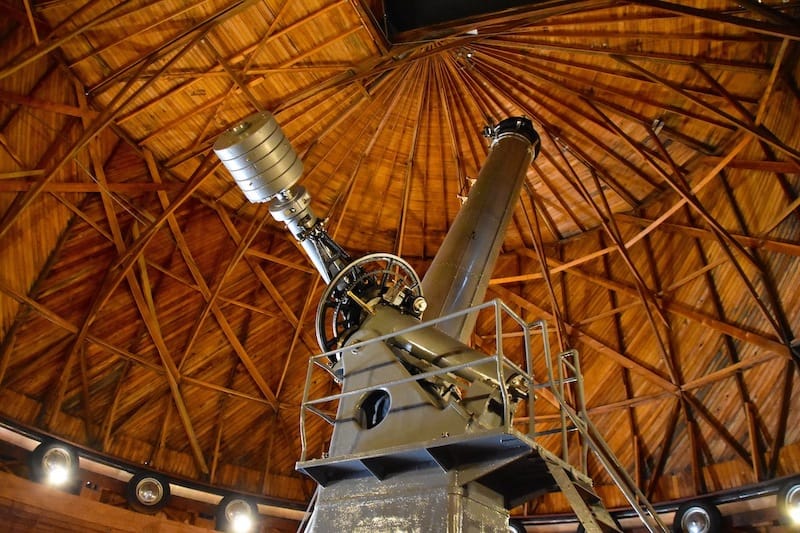 The ticket price for adults ranges between $22 to $29 (for general admission).
In case you're interested to explore the universe through a powerful 24-inch Dyer Telescope, then get premium access and enjoy a customized experience as you've never had before!
Distance from Sedona: 30.3 miles
Driving Time: 50 minutes
6. Flagstaff
Located in the mountains of northern Arizona, Flagstaff is a great day trip location no matter what season you're in the area.
With that said, spring and summer are specifically awesome with all of nature in bloom and warm weather. Flagstaff is full of hiking trails and stunning rock formations, but there is much more to it than that.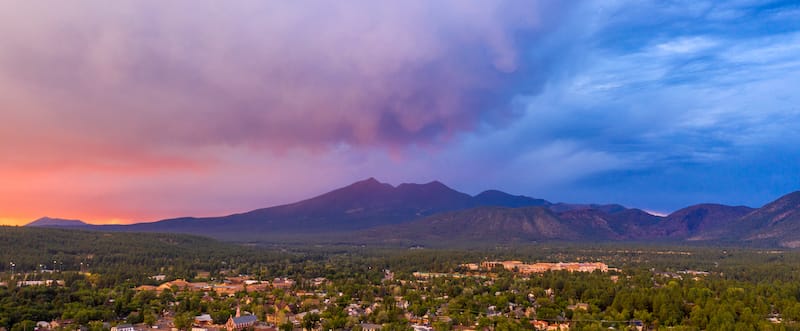 Your trip to Arizona will get more colors once you visit places in Flagstaff like the Museum of Northern Arizona, the downtown area with its shops and bars, Flagstaff Extreme Adventure Course, and more.
In case your getaway goal is to spend as much time in nature as possible, then be sure to check out either the Arboretum at Flagstaff, which has more than 700 species of trees and flowers, or Coconino National Forest with famous red rock canyons.
Distance from Sedona: 29.5 miles
Driving Time: 49 minutes
7. Montezuma Castle National Monument
Operating since 1906, Montezuma Castle National Monument is dedicated to preserving the Native American culture and is the third National Monument with this mission.
Spending a few hours of your day trip here will help you discover artifacts and cultural treasures coming from ancient times.
You can take part in a 1/3-mile self-guided walk, which takes you past an astonishing 5-story cliff residence, through a lovely sycamore forest, and up to one of Arizona's few perennial streams.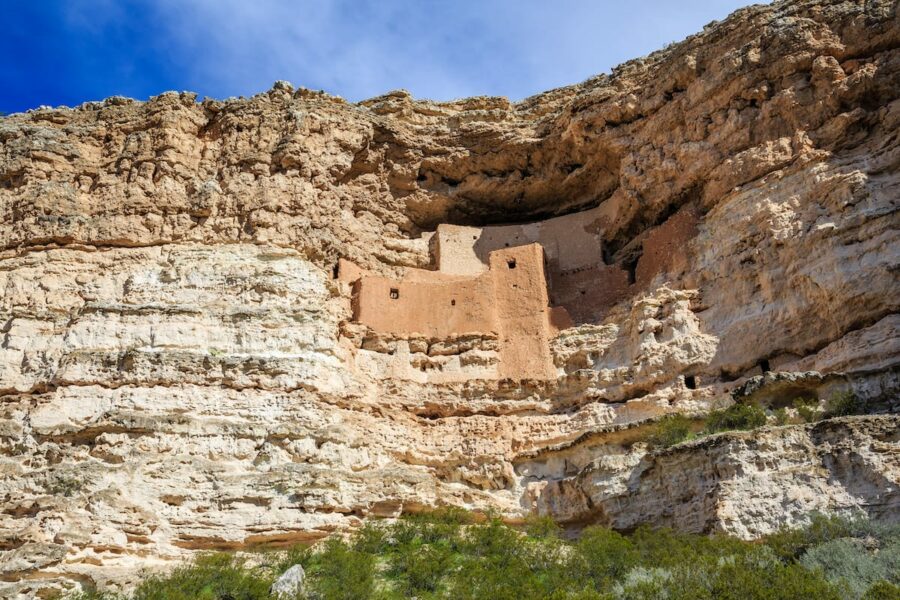 Additionally, here you'll encounter a magnificent oasis that was used by the Sinagua people over 600 years ago.
There are also special events and ranger programs taking place from time to time.
Another bonus is that you can also bring your fluffy companion with you and explore the remarkable legacy of the people of the Verde Valley.
Distance from Sedona: 25.1 miles
Driving Time: 36 minutes
8. Grand Canyon National Park
If you're looking for a day trip from Sedona and you've never been to or didn't fully experience the Grand Canyon, then what are you waiting for?
This destination should be number one on your list. In case you feel like there is a lot to see and you won't manage it all by yourself, then you can participate in a small tour to get a very personalized experience.
During your trip to the Grand Canyon, you'll encounter the picture-perfect sights of canyons, lava fields, volcanos, ruins, and more. It shows why this is one of the most visited national parks in the US!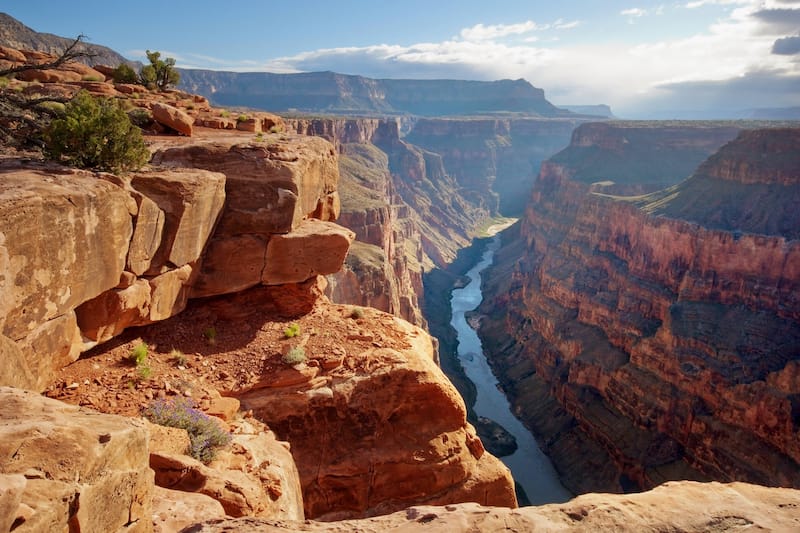 While here, you can also visit the fascinating ancient Wupatki National Monument, lava fields at the Sunset Crater Volcano National Monument, and stops at the East Rim and South Rim to admire the truly breathtaking views.
For those visiting for the first time, note that the day might seem to be long but the memories and feelings after seeing the Grand Canyon will surely stay with you for the rest of your life!
>> Click here to check tour rates and availability
Distance from Sedona: 113.7 miles
Driving Time: 2 hours, 6 minutes
9. Tlaquepaque
Tlaquepaque (Tla-keh-pa-keh) is a famous art, culture, and shopping hub in Arizona. This unique, 19-century-like village feels like a small part of Mexico in the heart of Sedona.
The village is located near Inn Above Oak Creek.
This authentically fashioned place has more than 45 distinct shops, and around 20 galleries, and in general, is known to have something that will be suitable for everyone.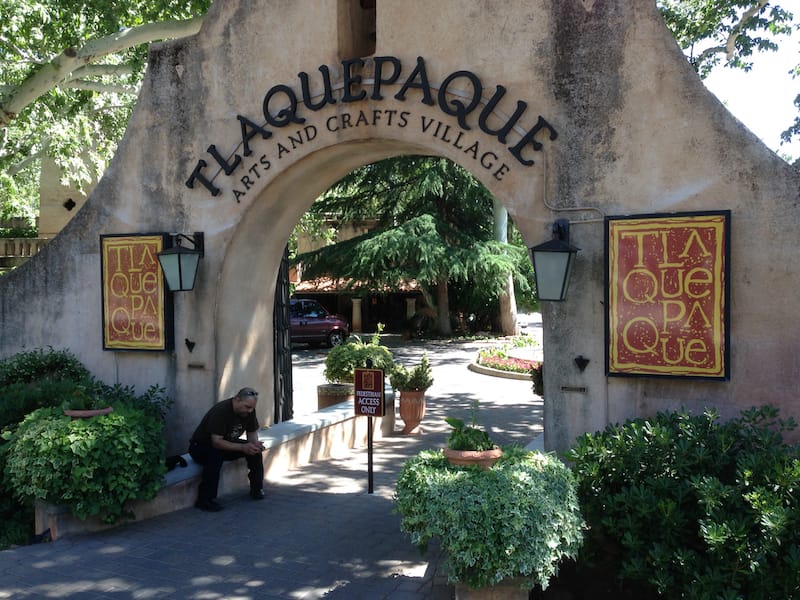 It's a village full of the spirit of traditional fiestas and various events. Time spent here is going to be hard to forget because just like the name suggests, it has the "best of everything."
Here, visitors can also enjoy the charm of the village center, which was originally intended to be an artist community and is now full of lovely artistic touches, original artwork, and architectural pieces.
Distance from Sedona: 0.6 miles
Driving Time: 2 minutes
10. Antelope Canyon
Antelope Canyon will leave you speechless! Not only is it one of the most famous slot canyons in the world, but it also is the most photographed slot canyon in the American Southwest.
You can start by exploring the Oak Creek Canyon via the National Scenic Byway and take in some views of the Painted Desert's volcanoes.
Once at the canyon, take a few minutes to experience the magical vistas of the narrow slot canyons, and remember to take some good shots on your camera.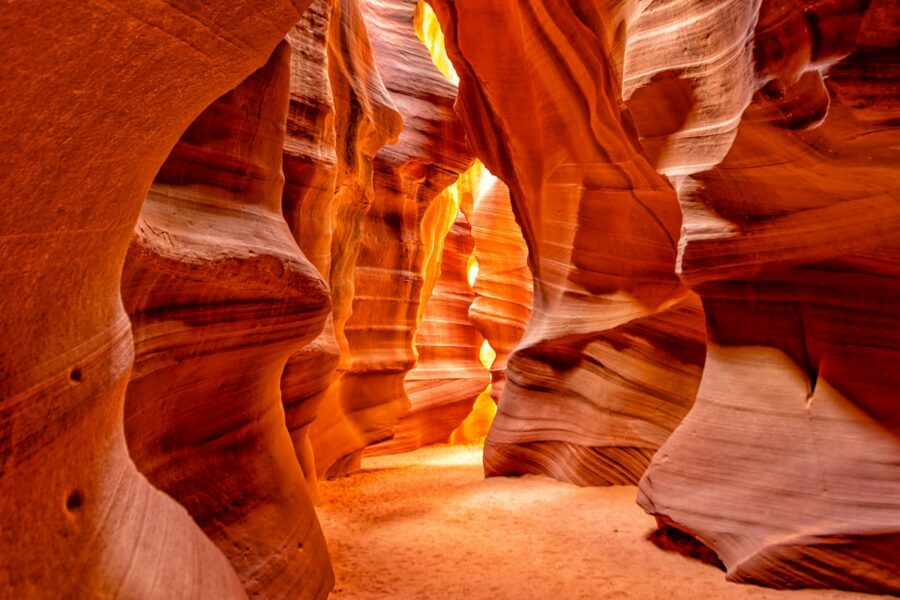 For an even more memorable experience, the tour also suggests checking out the Cameron Trading Post, enjoying a spectacular view of Lake Powell on one side and the depths of Glen Dam Gorge on the other while having lunch, or hiking to Horseshoe Bend for spectacular views of the Colorado River.
>> Click here to check tour rates and availability
Distance from Sedona: 160.7 miles
Driving Time: 2 hours, 51 minutes
11. Verde Canyon Railroad
Another great day-trip tour is the Verde Canyon Railroad journey. This is an awesome way to see the region's natural and cultural treasures and take a ride on a vintage train.
Guests will get to see some unique views of the Arizona Desert and Verde River, old mining areas, SOB Canyon, and the 150-foot-tall bridge.
In addition, if you're attentive enough, the wildlife here will amaze you too, with bald eagles, hawks, and antelope.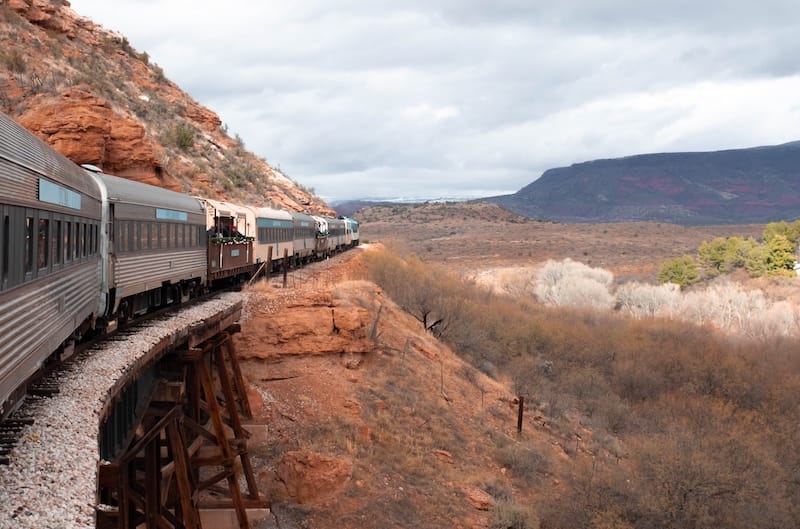 The train ride is around 20 miles and takes around 3.5 hours. The rail cars are in vintage style and beautifully blend with the red rock magic that's outside of the train.
When here, you might also want to check out the nearby John Bell Railroad Museum which features all you need to know about the railroad.
>> Click here to check tour rates and availability
Distance from Sedona: 23.1 miles
Driving Time: 33 minutes
12. Sonoran Desert
The Sonoran Desert is not your typical, only-sand type of desert. In fact, it's one of the lushest landscapes in the southwest United States and Tucson is a great base to explore it.
The desert has an area of more than 30 thousand acres and 225 miles of trails and is one of the best places to visit near Tucson. While we donʻt recommend this as a day trip, it is certainly one of the best Sedona weekend trips!
One awesome way to explore the area is to experience the Gateway Trail. You can start the hike early in the day and enjoy the tranquility of the area and the beautiful sunlight rising from the McDowell mountains.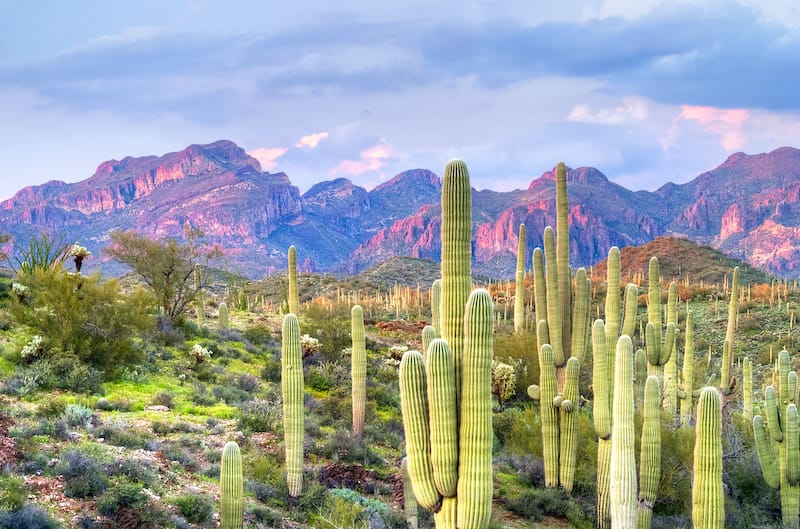 For hiking, you can also choose trails of Pinnacle Peak Park, Camelback Mountain, Regional Park, and more. There are some amazing hiking trails in Saguaro National Park, too.
On your way, be ready to meet the extraordinary flora and fauna of towering saguaro cacti, lacy mesquite trees, geckos, Gambel's quail, and more.
The pristine fields of the Sonoran Desert can also be explored by off-road desert tours, horseback riding at MacDonald's Ranch, and even via a hot air balloon. Honestly, we really do recommend spending a weekend in Tucson and the surrounding desert!
Distance from Sedona: 226.8 miles
Driving Time: 4 hours, 9 minutes
13. Phoenix
Phoenix is a desert metropolis full of sunshine year-round! You can kickstart your day trip by hiking in the area of desert preserves. More than 124 miles of trails are accessible from 40 trailheads.
You can then carry on with a celebration of Phoenix's unique culture and history through visiting sites like the Pueblo Grande Museum, Heritage Square and Science Park, Phoenix Center for the Arts, and the Musical Instrument Museum.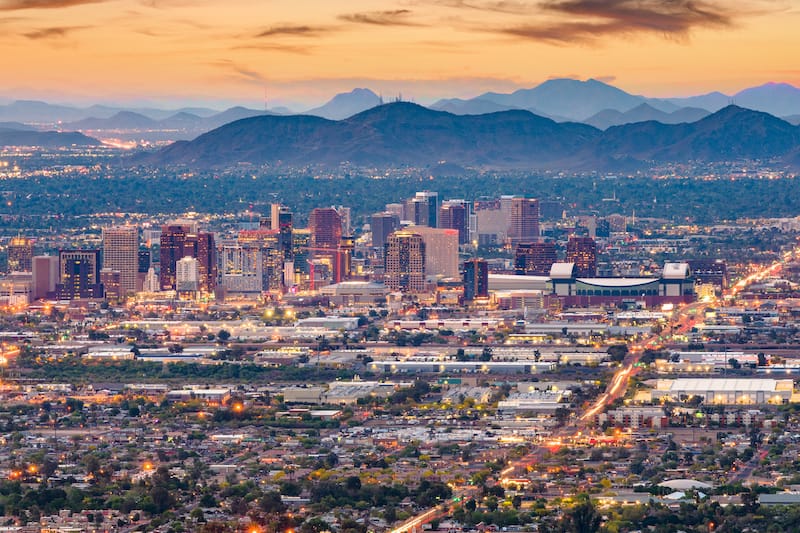 In case you happen to be a golf fan, get excited because you'll surely find a luxurious golf course in Phoenix.
To get away from city buzz, an option would be a visit to Papago Park, which is a short distance away from downtown but hosts the Hole in the Rock – the city's most famous landmark.
If you are visiting for longer, be sure to check out some of these amazing Phoenix weekend trips!
Distance from Sedona: 116.7 miles
Driving Time: 1 hour, 59 minutes
14. Wupatki & Sunset Crater National Monument
Wupatki is located in northern Arizona between the Painted Desert and the ponderosa highlands. It's easy to distinguish because of its unusual setting and it is also a great day trip from Phoenix, Sedona, and other places in the state.
It's known that during the early 1100s, when temperatures were colder, the forefathers of today's Pueblo villages built a hub of trade and culture.
This location reflects the ancestors' footprints of the Hopi people and now is home to around 800 ruins.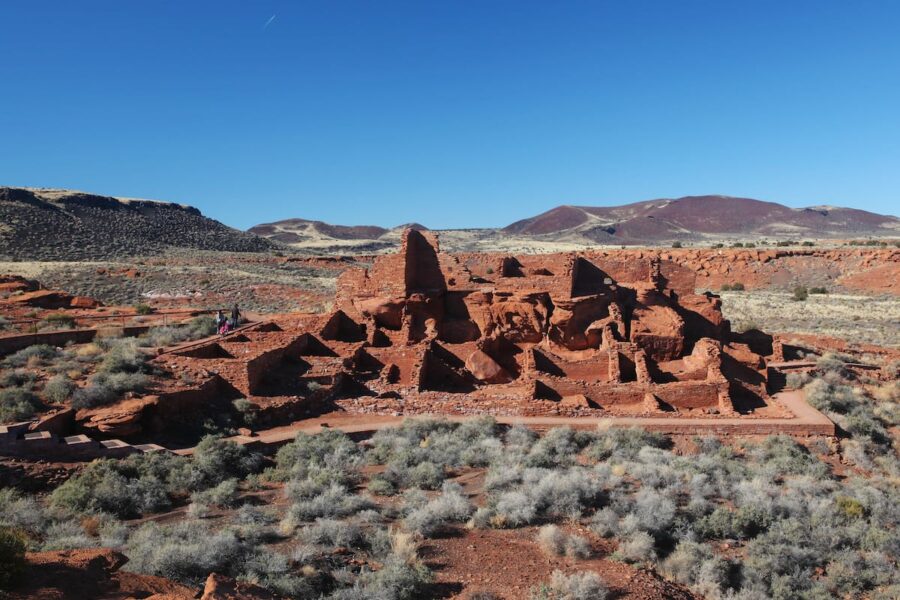 At the time, the area was a spot of intense cross-cultural interaction among different Native American cultures. According to the Hopi people, the spirits of those who lived and died here are still present.
Most people who visit this place agree on its spiritual feel, and that's what makes this location an absolute must-see!
The entry fee to both the Wupatki and Sunset Crater Volcano National Monuments is $25.00 per vehicle, $20.00 for motorcycles, and $15.00 for bikers and pedestrians.
Distance from Sedona: 59.6 miles
Driving Time: 1 hour, 15 minutes
15. The Apache Trail
The Apache Trail got its name from the Apache tribe who originally used the trail to navigate through the Superstition Mountains.
It's located through the Superstition Mountains and Tonto National Forest and links Apache Junction at the edge of the Greater Phoenix area with Theodore Roosevelt Lake.
The trail stretches 40 miles, for the most part, it is unpaved but has magnificent scenery of mountains around it with stunning forests and blue lakes.
Generally, the more well-known and scenic part of it is the western half.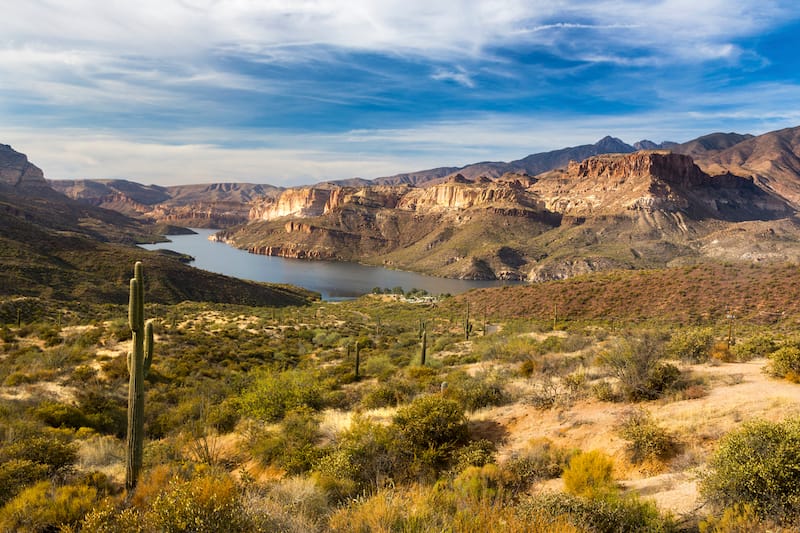 It's worth mentioning that large parts of the trail are now closed. Around 18 miles from Apache Junction to Tortilla Flat are the only parts still open to vehicular traffic.
The area accessible by foot is only around 13 miles and it goes from the marina to Roosevelt Dam.
Keep in mind that driving on the trail is not recommended for large RVs, SUVs, or caravans.
Distance from Sedona: 144.1 miles
Driving Time: 3 hours, 8 minutes
16. Mogollon Rim
Located high in Sedona, Mogollon Rim is a picture-perfect place that leaves probably all of its visitors hugely impressed with a blend of red rock formations and lush greeneries.
You can access Mogollon Rim through Schnebly Hill Road, which is known to be one of the most scenic roads in all of Sedona.
You can get here either in your own car or take one of the many Jeep tours that are offered. There is an option for hikers too. It is even a great activity if you are visiting Sedona in winter!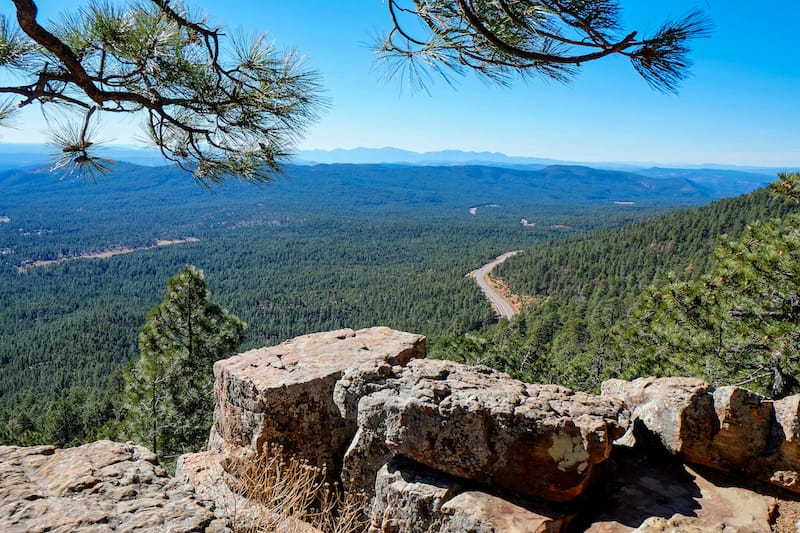 If you want to feel closer to nature while exploring the magnificent vistas, note that there are ​​hiking trails along the rim (trailheads situated along Schnebly Hill Road).
Schnebly Hill Road is not accessible during the winter months due to the snow on the rim. The pass to the area costs $5 for a day.
Distance from Sedona: 118.5 miles
Driving Time: 2 hours, 19 minutes
17. Verde Valley Vineyards
This Verde Valley Vineyards tour is calling out all the wine connoisseurs out there! Verde Valley Vineyards is the ultimate location for a wine tour from Sedona that welcomes a variety of tourists each year.
You can tour the best local wineries in the area.
Along with the extra-good quality wine, these places also offer picnic spots, tours to the barrel rooms and production facilities, and tell the history of what it takes to make wine in the state of Arizona.
Notably enough, the largest winery in the Verde Valley was good enough to make 70 varieties and win more than 50 awards.
When visiting, you can buy or test the wine, check out the area of the vineyard, and enjoy some panoramic views of the mesmerizing Arizona landscape.
>> Click here to check tour rates and availability
Distance from Sedona: 287.9 miles
Driving Time: 4 hours, 42 minutes
18. Monument Valley
Monument Valley is an extraordinary site that surely deserves a full day to be explored! The sandstone rock formations here reach heights of 400 to 1,000 feet.
This natural treasure is known to be on the list of the most photographed places on Earth (and definitely the United States).
You can take a tour to get to know this area, but try your best to manage everything in a day.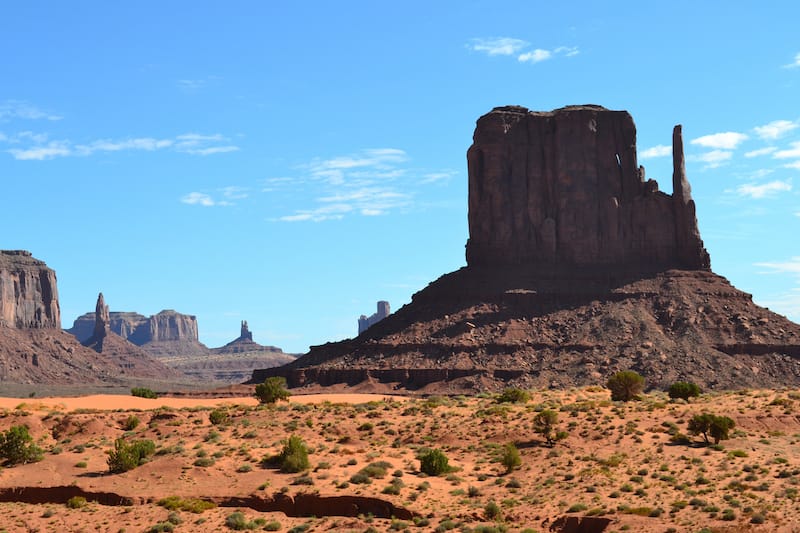 A comprehensive tour can include passing the road to the heart of Monument Valley, checking out the stunning views from John Ford Point, and learning some information about the culture and history of the area.
The high mesas and towering buttes situated conveniently in this one-of-a-kind desert land await your arrival! Don't miss it!
>> Click here to check tour rates and availability
Distance from Sedona: 200.7 miles
Driving Time: 3 hours, 29 minutes
19. Route 66
They say that if you're not a Route 66 fan, then you most probably just haven't visited Route 66. This road was historically built to connect the important cities of Los Angeles and Chicago.
This route passes through an abundance of old highway towns and roadside attractions.
The pathway crosses red stone mesas of New Mexico, the desert along the Colorado River, and even the wooded Kaibab Plateau to provide views of the magnificent Grand Canyon.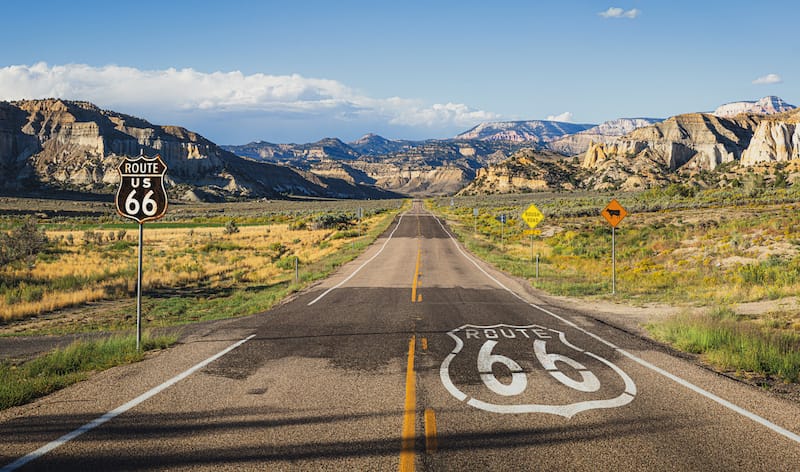 There are a few places you might want to keep an eye out for, including Painted Desert and Petrified Forest National Park (such an underrated US national park!), Sunset Crater, Seligman, and the hole of Meteor Crater.
If you're a history buff, be sure to check out sites such as Oatman, a gold mine plus a ghost town, and Kingman, which was a power plant but is now a museum.
20. Cottonwood
Cottonwood is undoubtedly one of the best sites in the area for food and wine lovers and it is one of the coolest small towns in Arizona!
You might want to start your day in the historical downtown, which will be the source of learning a lot about the spirit of this town.
Speaking of culture and spirit, ​​Old Town Center for the Arts is the place to get to know more about local traits, music, and theater.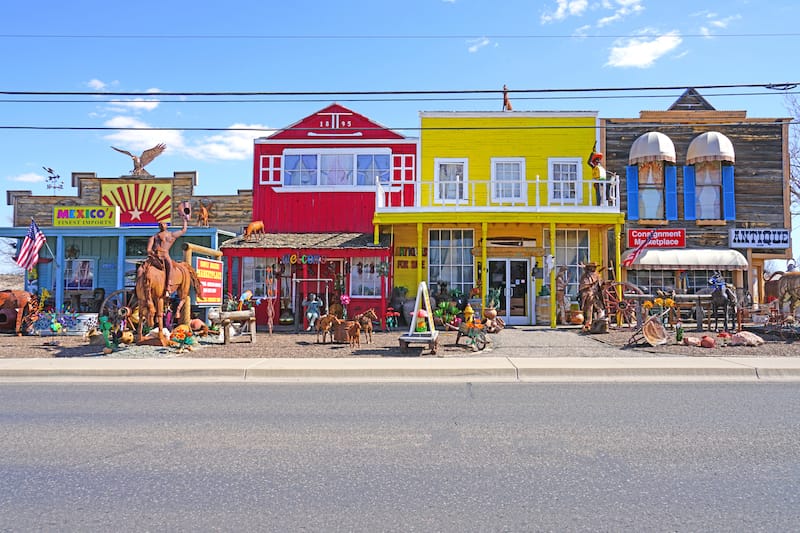 Other absolute must-sees in Cottonwood are the Clemenceau Heritage Museum, covering the history of not only Cottonwood, but also the people of the Verde Valley, and the Tuzigoot National Monument with remnants of the 11-century village.
For outdoor activities, the most visited sites are Mingus Mountain, the Verde River, and Dead Horse Ranch State Park.
So, from local historical sites to amazing outdoor vistas, Cottonwood has all you need to stay entertained during your day trip!
Distance from Sedona: 19 miles
Driving Time: 25 minutes
Did we miss any of your favorite Sedona day trips? Let us know what you think the best day trips from Sedona are in the comments. Thanks!
More Arizona Travel Guides
Pin this Sedona Day Trips Guide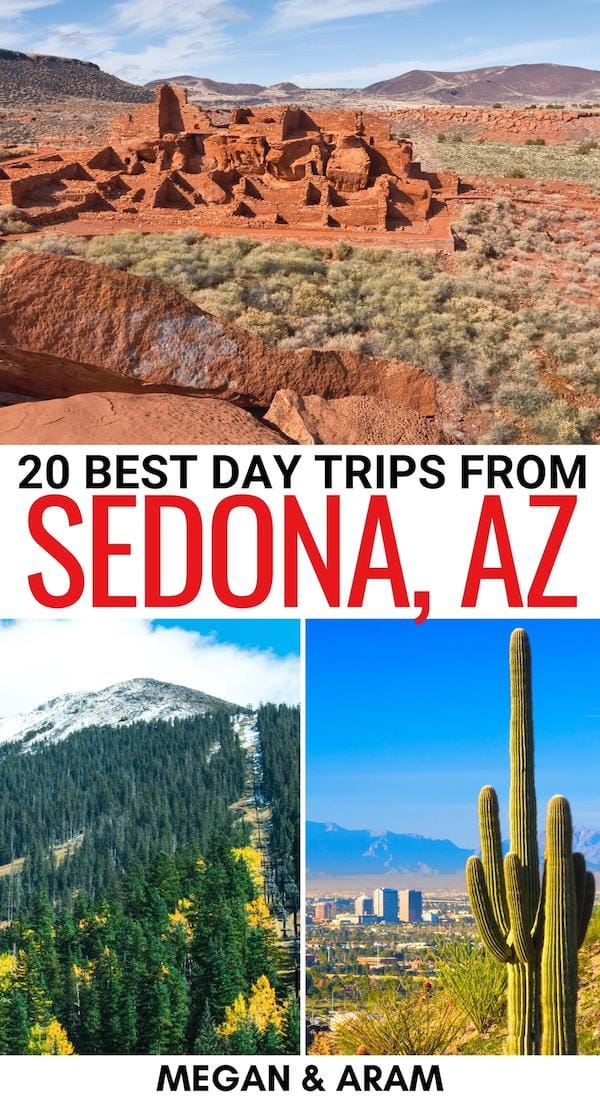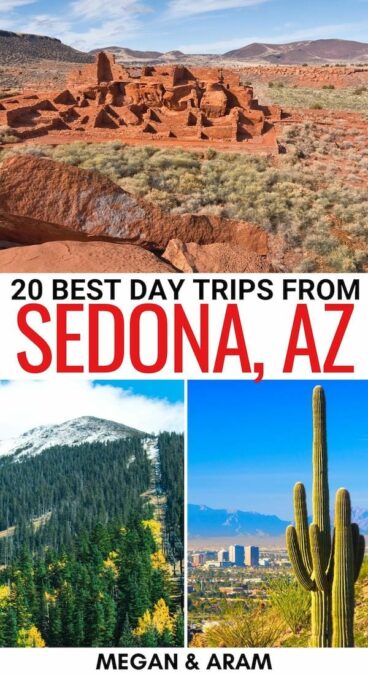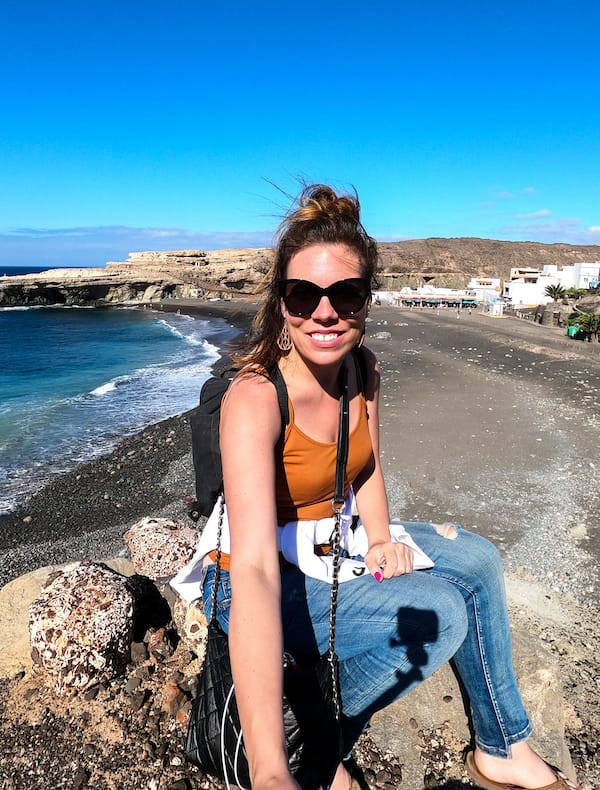 Megan is a travel blogger and writer with a background in digital marketing. Originally from Richmond, VA, she now splits her time between Frankfurt, Germany and Arctic Finland after also living in Norway, Armenia, and Kazakhstan. She has a passion for winter travel, as well as the Nordic countries, but you can also find her eating her way through Italy, perusing perfume stores in Paris, or taking road trips through the USA. Megan has written for or been featured by National Geographic, Forbes, Lonely Planet, the New York Times, and more. She co-authored Fodor's Travel 'Essential Norway' and has visited 45 US states and 100+ countries.