There are so many cool places to visit during winter on the West Coast but one of the most beautiful is definitely Lake Tahoe. This is a guide about all the great things to do in Lake Tahoe in winter.
Are you planning your trip to Lake Tahoe last minute?
Top Tours and Activities in Lake Tahoe:
Top Hotels & Lodging in South Lake Tahoe:
Top Hotels & Lodging in North Lake Tahoe:
Northstar California Resort (Truckee's best place to stay!)
Squaw Creek Resort (6 miles from Olympic Valley)
While skiing in Lake Tahoe is one of the most famous things to do there, you will find so much more beyond skiing! These Lake Tahoe winter activities show you just that!
We have included organized activities to help you maximize your winter trip to Tahoe but also some things you can do indoors in case you've grown a bit tired of the cold and snow.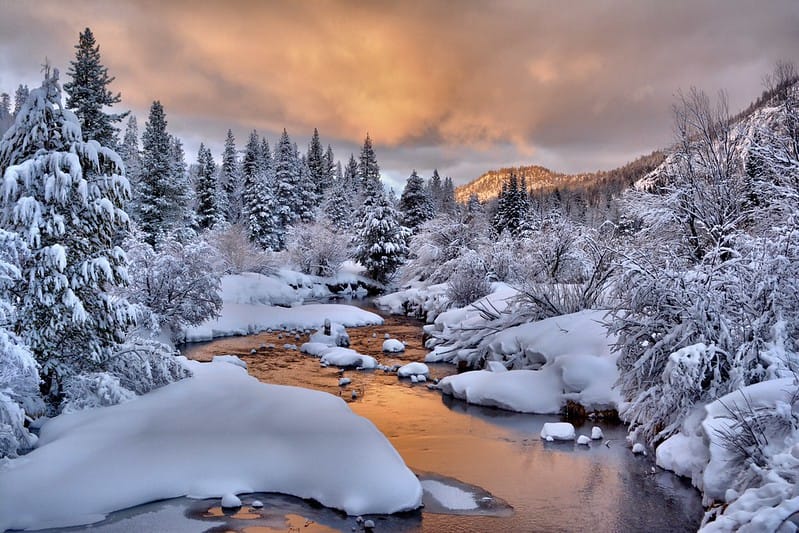 Did we miss any cool things to do during winter in Lake Tahoe? Please let us know in the comments!
Where is Lake Tahoe?
Lake Tahoe is just that – a lake. So, in this guide, we reference several cities, resorts, and communities surrounding the lake and we try to individually specify where each is located.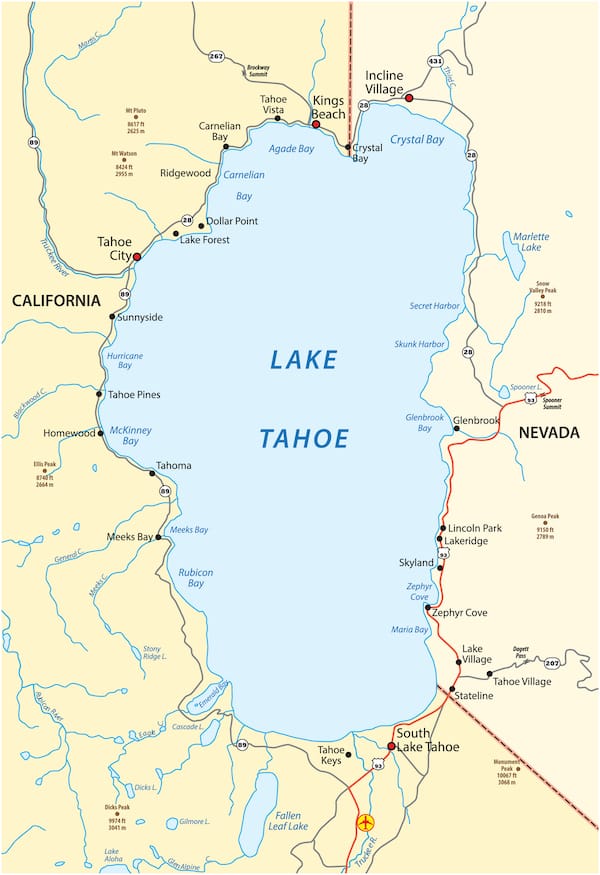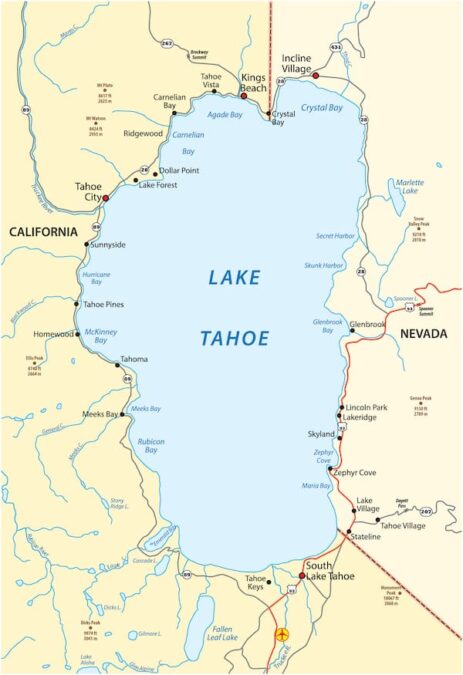 The lake divides California and Nevada both and most often, you will hear places called 'South Lake Tahoe' or 'North Lake Tahoe' (or Tahoe North/South).
The south is filled with bars, sandy beaches, and a lot of development. The north, on the other hand, is far quieter and a better option for those looking for a chilled-out getaway.
In the south, you will find many casinos (Nevada side), restaurants, and nightlife spots.
In the north, you will find far fewer places to eat, drink, and gamble, making it the perfect spot to try out mobile online casinos like the ones on Time2Play and perhaps book a beautiful cabin where you can cook your own food.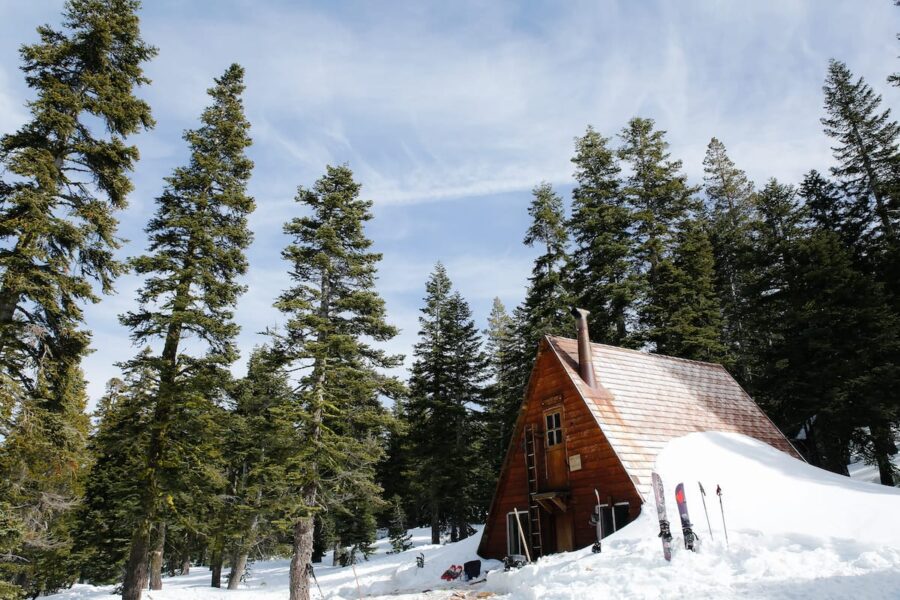 We have divided some of the main resorts and cities you will see in the north and south below to give you an idea for booking accommodation.
North Lake Tahoe
Incline Village
Sunnyside/Tahoe City
Kings Beach
Crystal Bay
Tahoe Vista
Truckee (largest city in Tahoe North)
Carnelian Bay
South Lake Tahoe
South Lake Tahoe (largest city around Tahoe)
Meyers
Stateline
Zephyr Cove
Glenbrook
Emerald Bay
Markleeville/Kirkwood area
Reasons to Visit Lake Tahoe in Winter
One of the primary reasons to visit Lake Tahoe in December, January, or February is to take advantage of the skiing there!
It has some of the most famous ski resorts in the United States and is renowned for its development of winter sports!
Outside of winter sports and activities, there is a lot to do. Reno is close by, and South Lake Tahoe is easily one of the coolest cities in the country with some of the best coffee, craft beer, and restaurants in Lake Tahoe.
Below, you will find plenty of things to do in Tahoe in winter, including some activities that are organized for you to make the trip a breeze.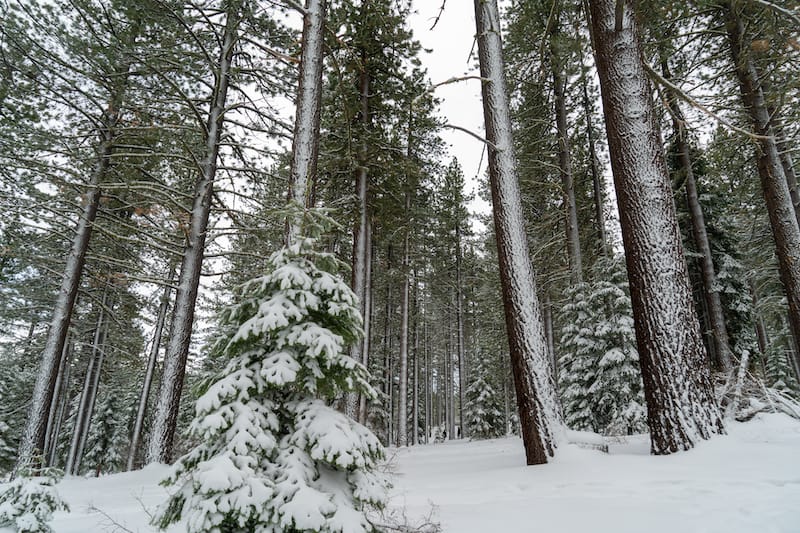 We also include some tips about what to expect during a Tahoe winter, from the average temperature and snowfall to what is open/closed during this time.
How to Get to Lake Tahoe
The closest (commercial) airport to Lake Tahoe is Reno-Tahoe Airport and it is about 45 minutes from the area if you're heading into North Tahoe.
If you happen to be driving there, you can take the Amtrak California Zephyr line that goes through Truckee daily on its journey from California to Colorado.
Alternatively, you can drive there from any which direction!
When is it Winter in Tahoe?
To be honest, winter in Tahoe arrives when it arrives but it usually starts in November/December and lingers on until April/May.
For the sake of this guide, we discuss it as though it is when Tahoe ski season is and that is December – April. But, please note that the resorts are often open until May.
How Cold Does it Get in Lake Tahoe
Lake Tahoe is COLD. But not unbearable if you dress appropriately.
The temperatures will naturally vary depending on where you go around the lake, but since most people do head to South Lake Tahoe or a ski resort, we will list the average temperatures for South Lake Tahoe to give you a jist of things.
South Lake Tahoe in November: Highs of 49F, Lows of 28F
South Lake Tahoe in December: Highs of 42F, Lows of 22F
South Lake Tahoe in January: Highs of 42F, Lows of 23F
South Lake Tahoe in February: Highs of 44F, Lows of 24F
South Lake Tahoe in March: Highs of 48F, Lows of 28F
South Lake Tahoe in April: Highs of 55F, Lows of 31F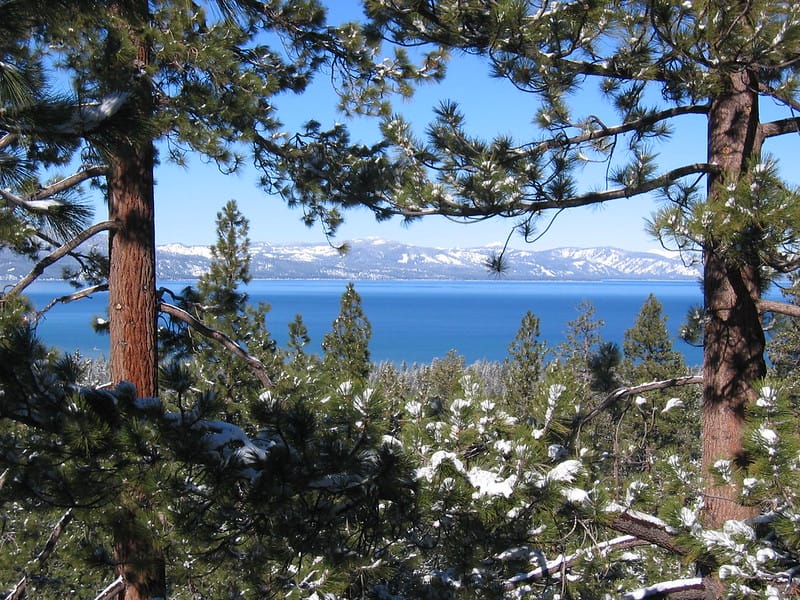 Does it Snow in Lake Tahoe?
Yes. A lot.
Of course, snowfall averages will differ around the lake, but overall, Lake Tahoe receives about 215 inches of snow annually. This is about 18 feet in total.
The higher you go, the more snow. You can find anywhere from 300-500 inches annually at high elevations.
The amount of snowfall that comes during winter sure does make summer in Lake Tahoe a welcomed relief!
What to Wear in Lake Tahoe in Winter
One great thing about visiting Lake Tahoe during winter is that you can always expect it to be snowy and cold.
This makes packing easier and you don't particularly have to take into not knowing what the weather will be like:
Here are my recommendations for what to wear and bring to Lake Tahoe in winter:
Note: I am a huge fan of REI for all of my winter gear in the US, but I also love throwing minimalistic Scandinavian brands into the mix. I am listing an array of my favorite winter gear below.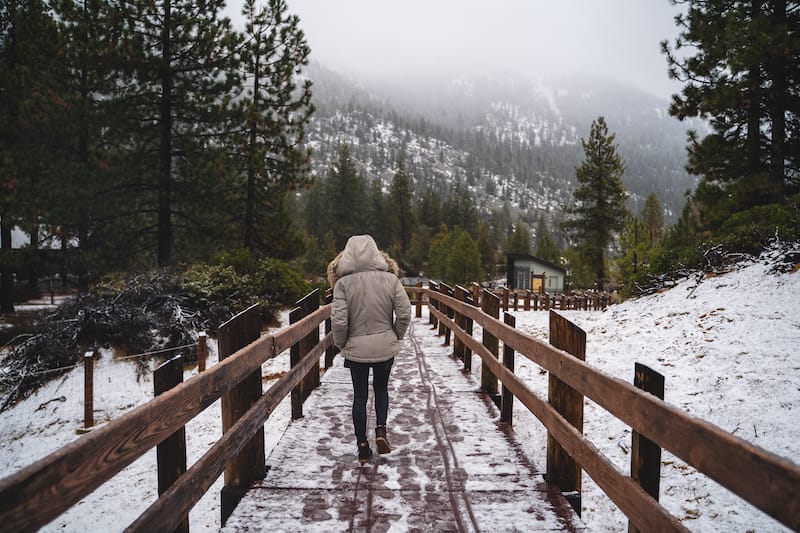 What to Pack for the Lake Tahoe Winter (Gear & Miscellaneous)
There are a few non-clothing items that I highly recommend bringing with you when you visit Lake Tahoe:
Things to Do in Lake Tahoe During Winter
Go Tubing at Tube Tahoe
Conveniently situated on Highway 50, Tube Tahoe is the home of winter fun for the whole family. At over 500 feet in length, the eight professionally groomed tubing lanes at Tube Tahoe are some of the longest in the area.
And, thanks to its snowmaking system, conditions on the hill remain great all season long!
What sets Tube Tahoe apart is its super-friendly staff and Instagram-worthy views of Echo Summit and Mount Tallac. Admission includes a high-quality, hard-bottom snow tube that will have your heart pounding as it races down the lanes.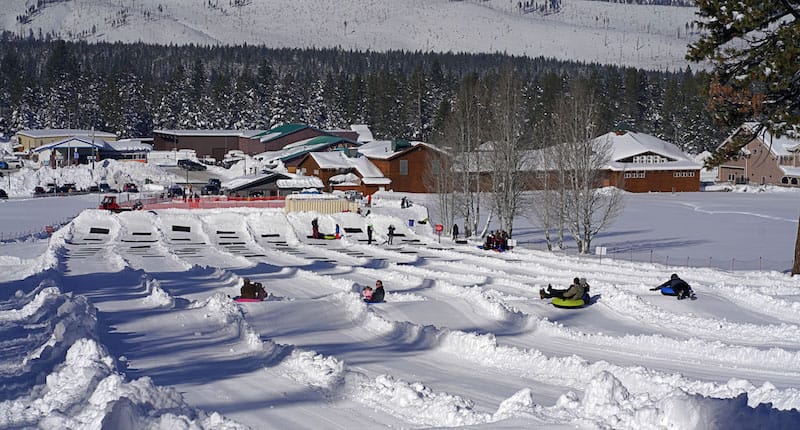 Reduced pricing is available for children (ages 6 – 12), mini-tubers (ages 3 – 6), and spectators (non-riders).
This year, Tube Tahoe is also introducing online reservations (mid-week only) and an annual park pass. When you visit their site, be sure to sign up for discount notifications and updates.
Sightseeing Cruise of Emerald Bay
Admire the magnificent views of Emerald Bay and South Lake Tahoe by joining a two-hour sightseeing cruise.
Sail seven miles across the scenic beauty of the lake to the breathtaking views of Emerald Bay, one of the most photographed places in the world.
You'll find panoramic scenes of the snow-peaked mountains, Fannette Island, Vikingsholm Castle, Eagle Waterfall, and the Rubicon. The captain's historical narratives on local facts and figures will make your journey complete.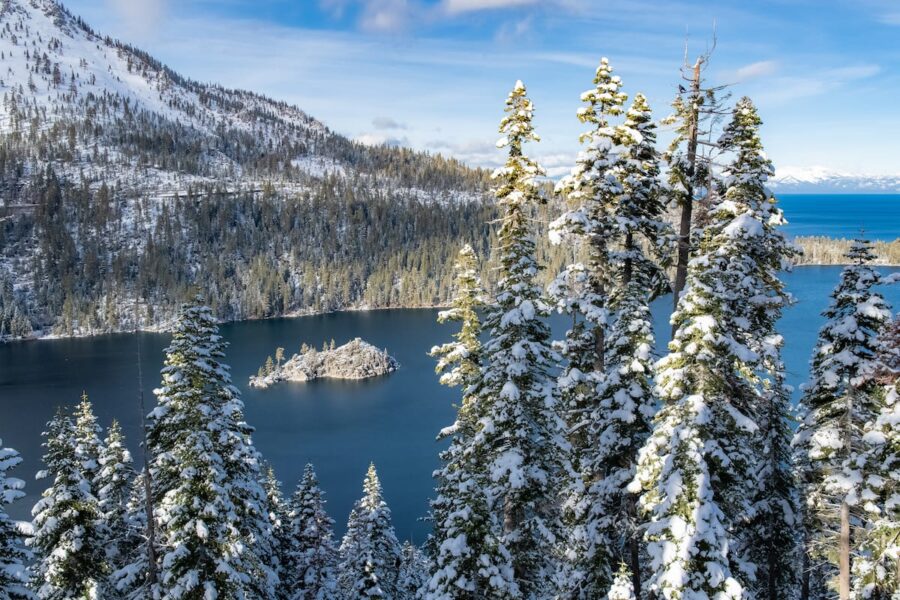 You may book your cruise at sunset or during the day. If you've chosen the sunset option, relax and enjoy the magnificent scenery on the horizon.
Try different snacks and beverages onboard. Be sure to take your passport or ID card, sunglasses, and sunscreen.
>> Click here to book a cruise to Emerald Bay
Take a Photography Tour
A unique way to experience the natural wonders of Lake Tahoe is to join a photography tour. Have a great time snapping amazing photos and diving into the surrounding nature.
Led by a professional photo guide, the visitors will learn to shoot in the outdoors, will get acquainted with the history of the area, and will most definitely have a chance to enjoy the scenic landscapes.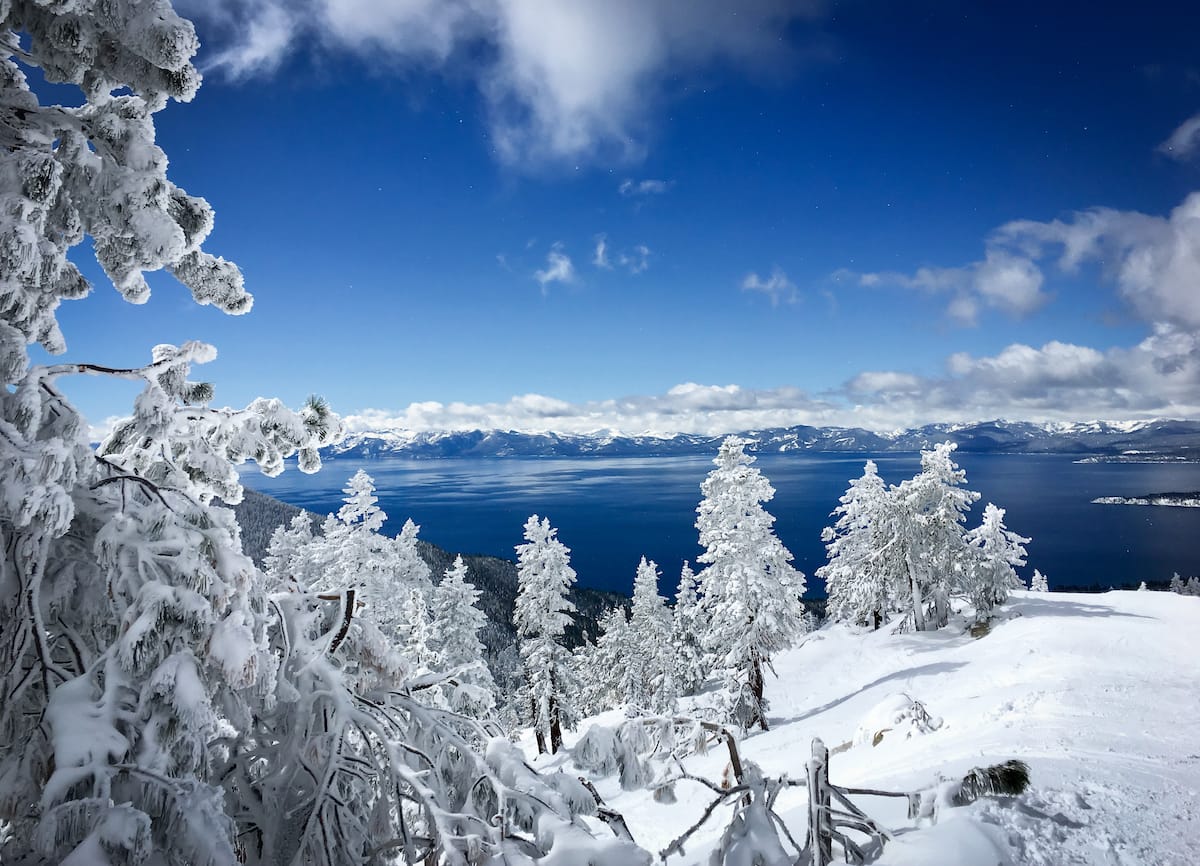 You may choose between the half-day Ultimate Scenic Tour featuring Emerald Bay and a beach with views of Mt Tallac, or the full-day Grand Tahoe Around the Lake Tour, circling Lake Tahoe.
This is a small group tour, and the number of participants is limited to six so that everybody will have a somewhat personal tour.
>> Click here to sign up for a photography tour of Lake Tahoe
Ice Skating in Lake Tahoe
Lake Tahoe welcomes travelers with its perfect winter recreational opportunities and one of the most beloved things to do in Lake Tahoe during winter for people of all ages is ice skating!
Fortunately, the area has plenty of places where you can throw on some skates and take to the ice.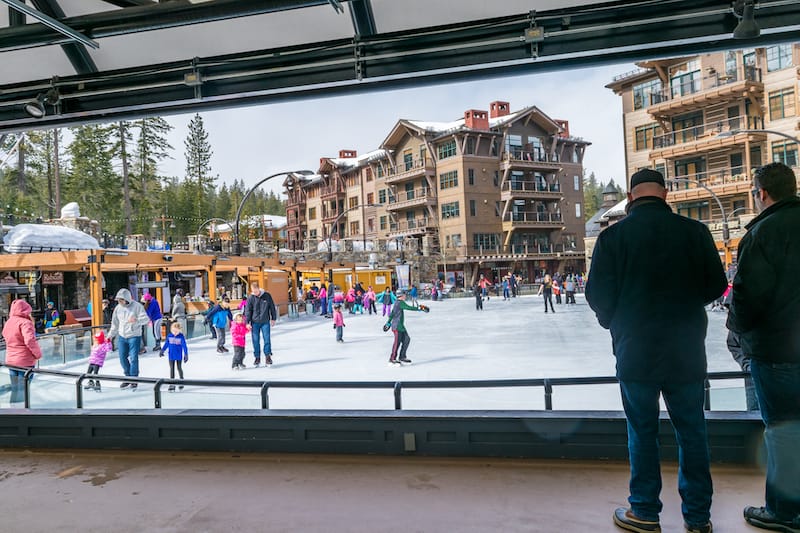 Be sure to check out Heavenly Village, which has an outdoor ice rink… the only one on the South Shore.
Take a break from skiing or shopping and get all the necessary gear rented if you don't have your own so that you can enjoy a bit of ice skating in Tahoe.
Another place to go ice skating is at the South Lake Tahoe Ice Arena. It provides year-round fun on a full-size regulation NHL ice rink.
The arena has ice-skating, hockey, and curling opportunities. It also has plenty of room for private parties and organizes lessons for visitors.
Skiing in Lake Tahoe
The iconic ski region of Lake Tahoe is known for being the largest cross-country ski area in America. There are ski resorts, both cross-country and downhill, in every area near the lake.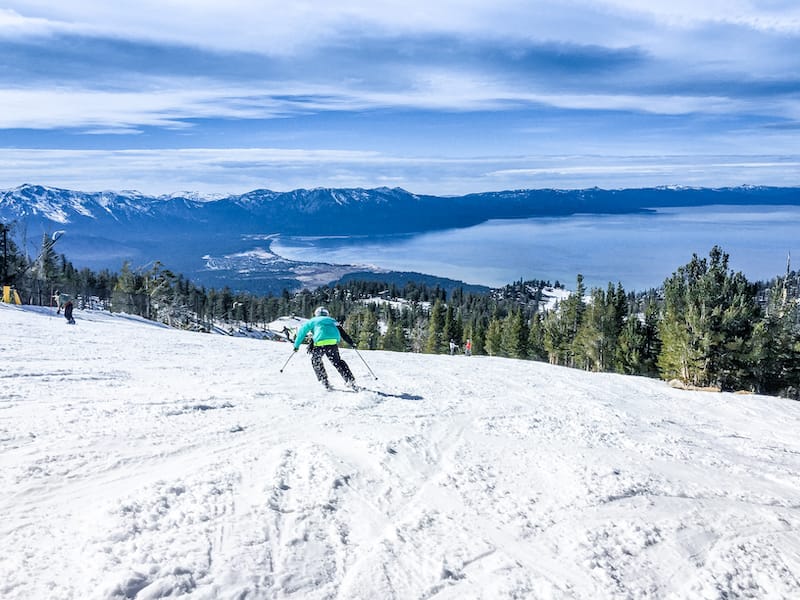 Here is a quick glance at the top ski resorts in Lake Tahoe (before we tell you why you should go skiing there!), including some great family ski resorts.
Ski Resorts in Lake Tahoe
There are several ski resorts surrounding Lake Tahoe and some are in California while others are in Nevada.
Below are some of the top resorts and where they are located:
Squaw Valley (Olympic Valley, California)
Sugar Bowl Ski Resort (Norden, California)
Heavenly Ski Resort (South Lake Tahoe, California right on the border)
Homewood Mountain Resort (Homewood, California)
Sierra-at-Tahoe (Twin Bridges, California)
Diamond Peak Ski Resort (Incline Valley, Nevada)
Northstar California (Truckee, California)
Kirkwood Ski Resort (Kirkwood, California)
Mount Rose (Reno, Nevada)
One of the most famous is Squaw Valley. This is a world-class ski and European-style village that was home to the 1960 Winter Olympics.
With over 3,600 acres of skiable terrain, 29 ski lifts, and more than 170 trails, the resort exudes that cozy atmosphere you'd want from a mountain town! Skiers will find fantastic alpine scenery along with various skill-level trails, bowls, and chutes.
You can also have an epic skiing adventure at the highest skiable area, Heavenly Mountain Resort. This is a unique resort with 34 miles of groomed cruizers, 1,600-foot plunges in the canyons, and the most dramatic tree skiing in North America. It spans over 4,800 acres and boasts 97 trails.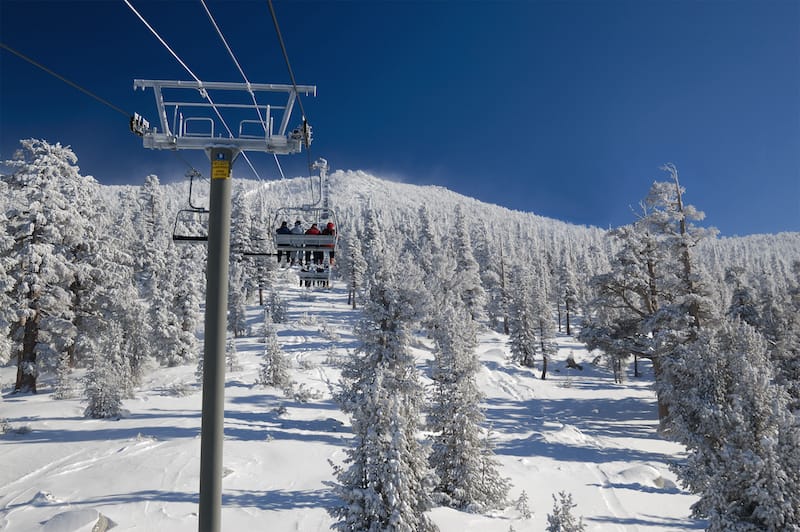 The next stop is Northstar, offering 3,170 acres with 100 trails, suitable for intermediate and beginner skiers. Experience park-style skiing, the beauty of nature, and the tradition of après-ski at Northstar.
You'll find the longest snow season at Alpine Meadows Ski Resort. With more than 100 trails spread over 2,400 acres, this hospitable resort is perfect for mountain adventurers of all ability levels.
Another great Lake Tahoe ski resort is Kirkwood. Loved by the locals, the complex features steep slopes and deep powder. The resort covers 2,300 acres of terrain and is one of the best ski areas in the entire region.
The family-owned Sugar Bowl attracts winter sports enthusiasts looking for an adrenaline-filled experience. It includes 1,650 acres of skiable terrain with a 1,500-foot vertical drop.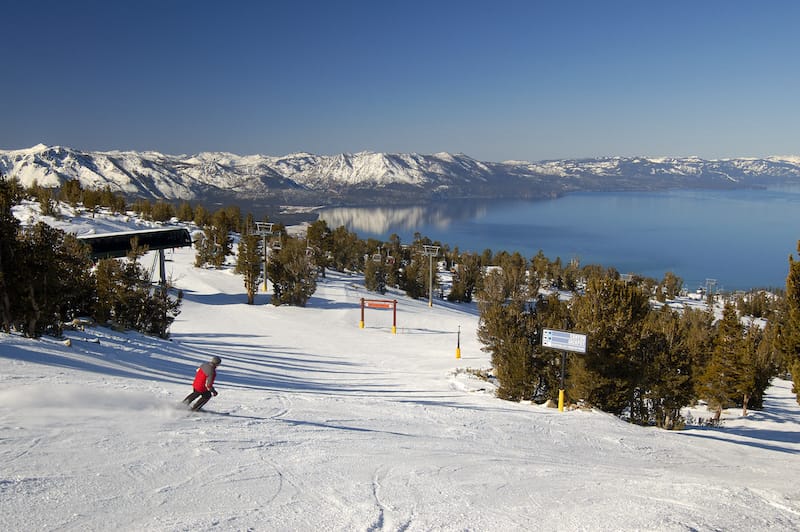 And last but not least is Diamond Peak, known for black diamond runs and magnificent views of Lake Tahoe. The resort boasts incredible tree skiing through its 655 acres.
Snowshoeing in Lake Tahoe
A fantastic option for those who want to experience winter actively is snowshoeing. Lake Tahoe has a great selection of snowshoeing tours and areas to enjoy it in, such as many of the ones listed below.
Mountain Rose offers two areas for enjoying your snowshoeing adventure: Tahoe Meadows, situated slightly off of Mt. Rose Highway, and Chickadee Ridge, located on the west end of the Meadows.
Check out the Spooner Backcountry area, including both Spooner Lake and Marlette Lake. Dive into the solitary atmosphere of the forest and enjoy lovely views.
Find exceptional snowshoeing at Carson Pass, home to some of the most spectacular vistas in the area.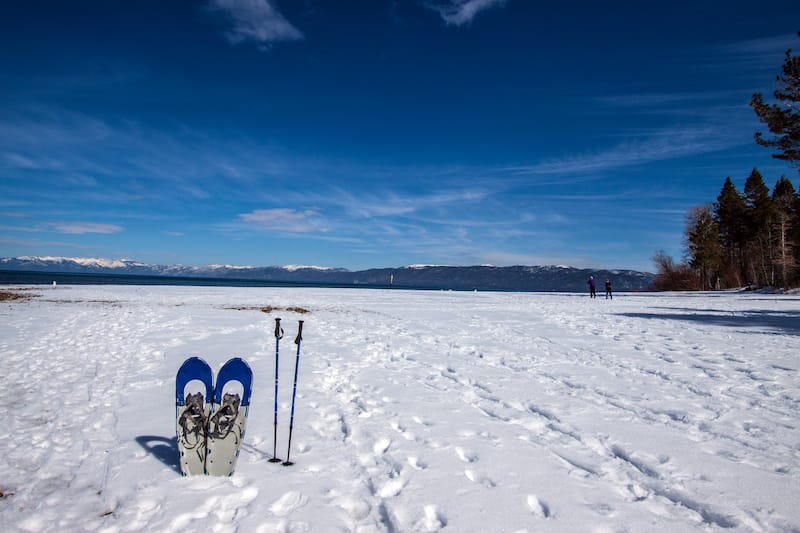 Another popular snowshoeing spot in Lake Tahoe is Camp Richardson.
Discover more than 6 miles of trails with incredible views of the lake. Rentals and lessons are available at the Mountain Sports Center, located within the camp.
You'll also find some of Lake Tahoe's best snowshoeing at Northstar Resort, home to over 40 miles of trails for all skill levels.
You can have hot drinks at warming huts along your way or join stargazing snowshoeing excursions for unforgettable memories.
As a bonus, join a private tour and hike in Tahoe National Forest to Pauly's Point on a secluded winter trail. Enjoy the iconic vistas of Alpine Meadows, Squaw Valley, and the Sierra Crest throughout your trip.
>> Click here to book a snowshoe hike in Lake Tahoe
Electric Bike Tour along the East Shore Trail
Have an awesome ride along Lake Tahoe's incredible coastal trail. This self-guided half-day tour will take you through the breathtaking scenery of the Sapphire Jewel's popular shoreline path.
Relax and enjoy your trip on comfortable electric bikes. Kick-off at Incline Village, cruise along the scenic shoreline and end your trip at Sand Harbor, Tahoe's amazing state park.
Your ride will be safe and away from traffic, as bike paths are available throughout the entire journey. Note, all the riders must be of age 18 or over and have traditional bike riding skills.
Don't forget your camera to capture the panoramic views. Helmets, bike locks, and racks with bungees are available.
>> Click here to book a Tahoe electric bike tour
Take a Hot Air Balloon Ride in Carson City
Hot air ballooning is another unique way to admire the natural treasures of the area. Join this guided hot air balloon tour and soar high above the Carson Valley, where you'll meet incredible scenery and wildlife.
The balloons are operated by professionals with two decades of experience that will take you to the most interesting sights and provide a historical background of the area.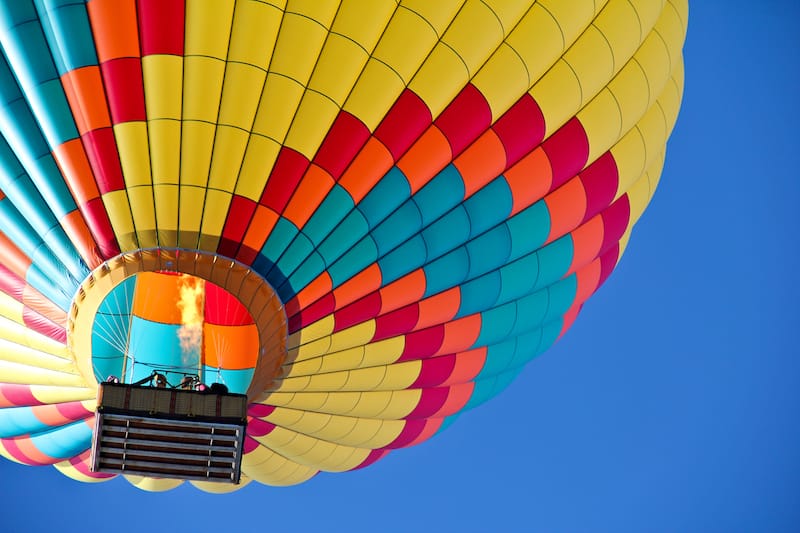 You'll relish in the stunning scenery of the Carson River, Carson Range, and the Sierra Nevadas where you'll get to admire Jobs Peak, and if you're lucky enough, you'll see Lake Tahoe over the mountains.
The hot air balloon ride lasts for one hour and is not suitable for pregnant women or children under 7.
>> Click here to book a hot air balloon ride in nearby Carson City
Snow Tubing in Tahoe
Looking for a way to embrace winter in Lake Tahoe? Give snow tubing a try! You'll find plenty of optimal places for tubing in the Tahoe South area.
Below are some of our top picks! Adventure Mountain is located on the top of Echo Summit and provides various snow activity options, including tubing.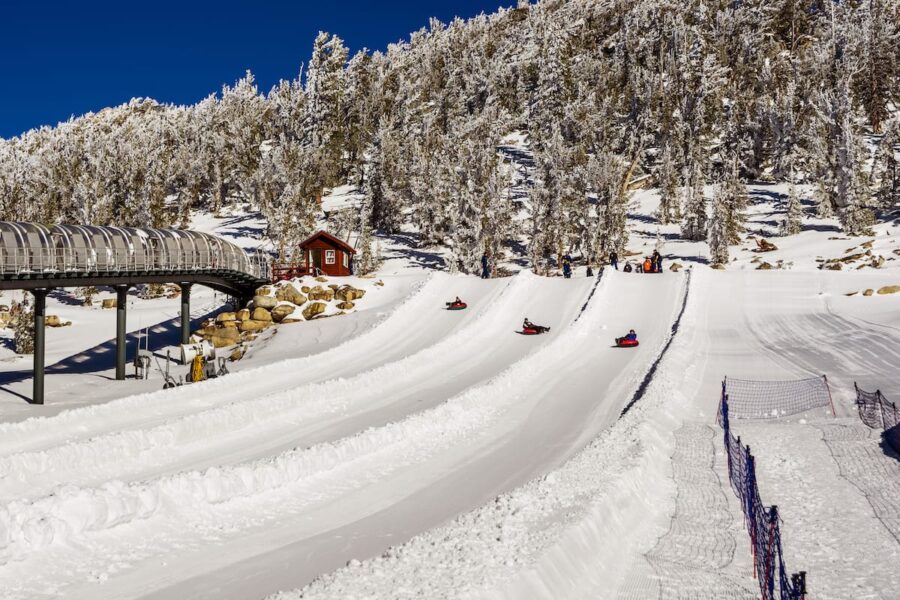 This family-owned and operated resort boasts fifteen groomed sledding runs at an elevation of 7,350 feet above sea level.
Another spot for family recreation is Blizzard Mountain, offering two rope-tow tubing lanes, snowball kits, outdoor fire pits, and picnic tables.
Heavenly Adventure Park is a place where visitors can combine a gondola ride with a bit of tubing.
For those who want to try snowmobiling along with hillside tubing, Tahoe Snowmobile Tubing Hill is the right place to start.
Snowmobiling in Lake Tahoe
Explore the winter in Tahoe at your own speed! Join one of the snowmobiling tours offered by various companies in the area and enjoy a thrilling adventure.
We've selected several options for places where you can go snowmobiling in Lake Tahoe.
Lake Tahoe Adventures has been providing backcountry snowmobile tours for more than twenty years. Experienced guides organize snowmobiling tours into the wild Sierra highlands and back.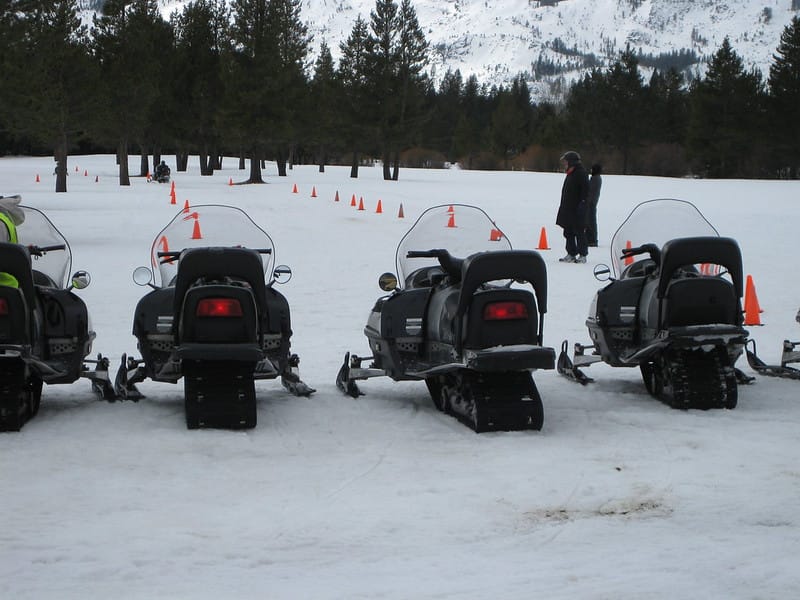 They also offer two-hour Hope Valley Snowmobile Tours, stretching throughout the best snowmobiling backcountry in Tahoe. Those looking for a more adventurous ride can head over to Zephyr Cove Snowmobile Center.
The tour starts from the Spooner Summit area and offers incredible views of Lake Tahoe from the Tahoe Rim Trail.
Relax at a Spa
Lake Tahoe boasts various excellent spas to slow down and take a break on your trip. Some of the top-rated spas in Lake Tahoe are listed below and why you should visit each!
Have a full day of whole-body wellness or a half-day journey into total relaxation at Stillwater Spa.
With sixteen treatment rooms and two couples' sanctuaries, the spa offers massages, wraps, facial treatments, and waxing. The center is located at the Hyatt Regency Resort, in Incline Village.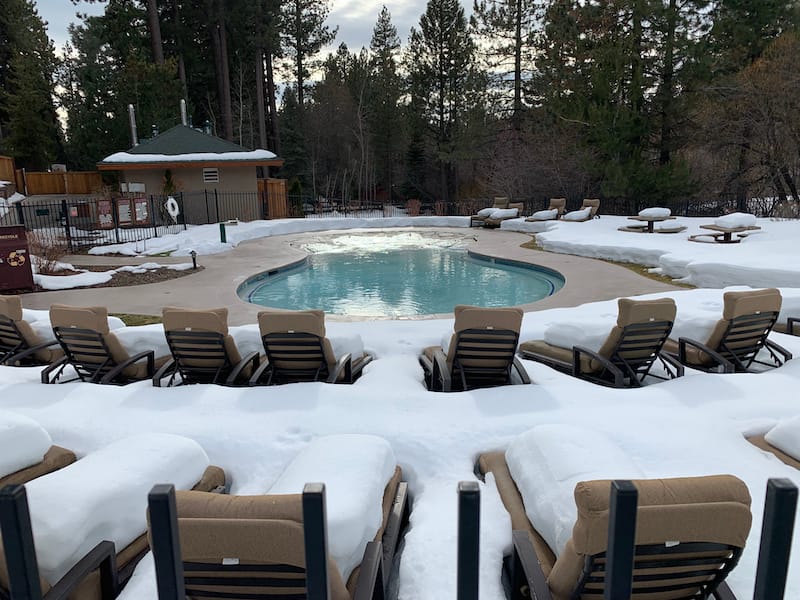 Another option that is rated as one of the top five resort spas, offering numerous massages, body and skincare treatments, and a tranquility room is the Spa at Squaw Creek where you can enjoy a peaceful day of pampering.
Also check out Trilogy Spa with deep therapeutic massages, aromatherapy, body scrubs and wraps, botox injections, and their Lighthouse Spa specializes in Ayurveda-inspired massages and body treatments.
Warm-up with a Coffee in Tahoe
Traveling beneath snow-covered mountains, there's nothing better than to come together and warm up with a warm cup of coffee.
Lake Tahoe boasts local coffee roasters where you can grab a cup of joe amongst some of the most breathtaking scenery you will ever witness!
Let's dive into the unique world of Tahoe's coffee scene! In the heart of South Lake Tahoe, you'll find a small roastery and coffee shop, Black Cabin Coffee.
Sourcing their beans from co-op farms with sustainable farming practices, they produce varieties with original flavors.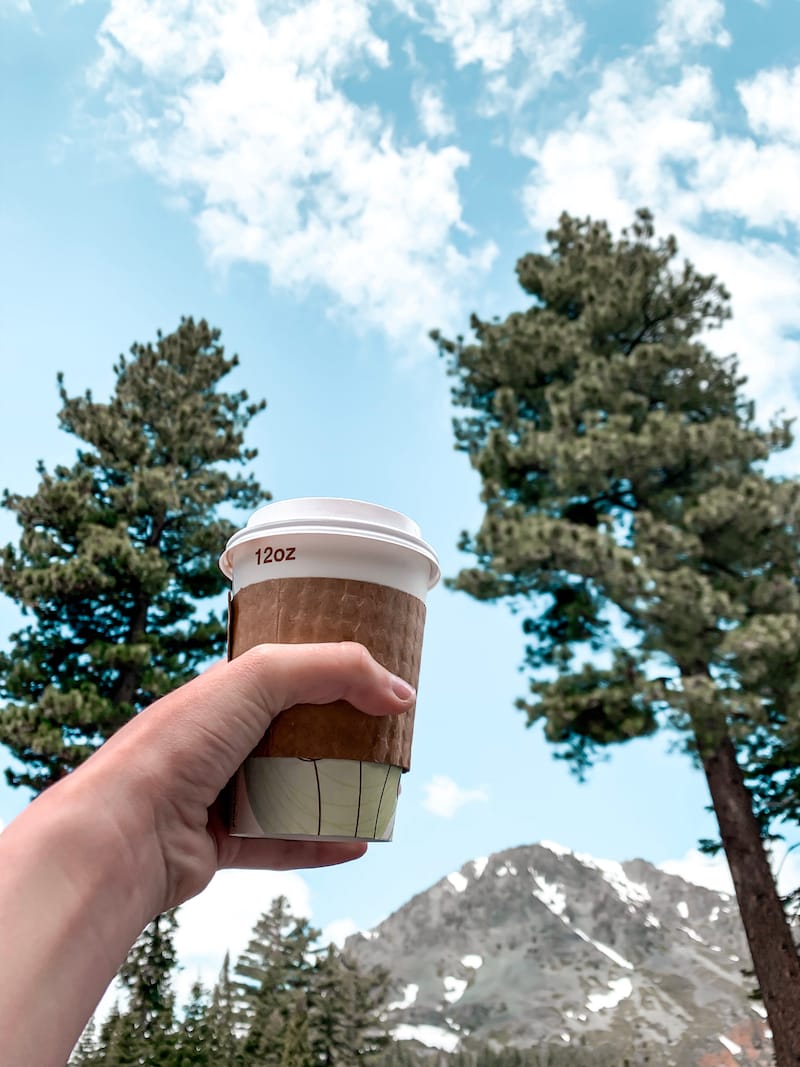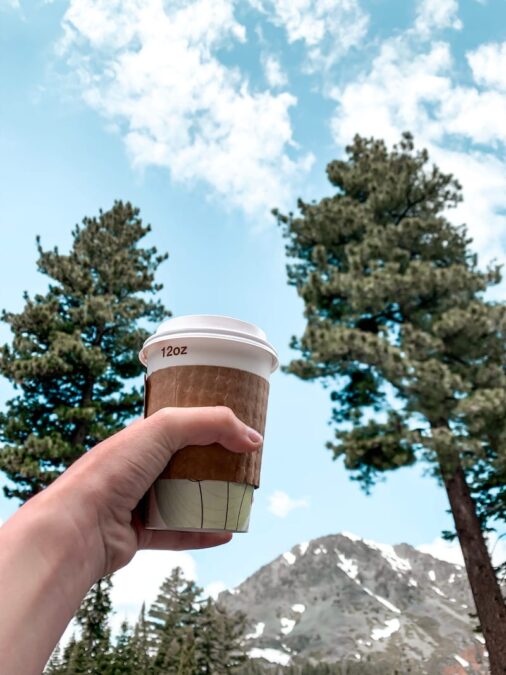 Another great choice to taste unique coffee is the family-run Bare Roots Coffee Roasting Company.
Also, be sure to stop by Drink Coffee Do Stuff for excellent coffee selections sourced high from the mountains in various parts of the globe.
And try perfectly crafted high-quality coffee varieties at the family-operated Clyde's Coffee Roasting Company.
Cross Country Ski in Lake Tahoe
One can't imagine winter in Lake Tahoe without cross-country skiing!
Take a guided tour through the frozen wonderland scenery provided by Rainbow Mountain Ski & Snowboard Shop and enjoy your Lake Tahoe Nordic skiing adventure.
The rental package includes all the necessary equipment to explore the snowy trails of the Sierra Nevada.
Their professional team will supply the gear best suited to you, such as boots, bindings, skis, and poles, and you'll also be provided with the tips appropriate for your skiing level and maps of the area.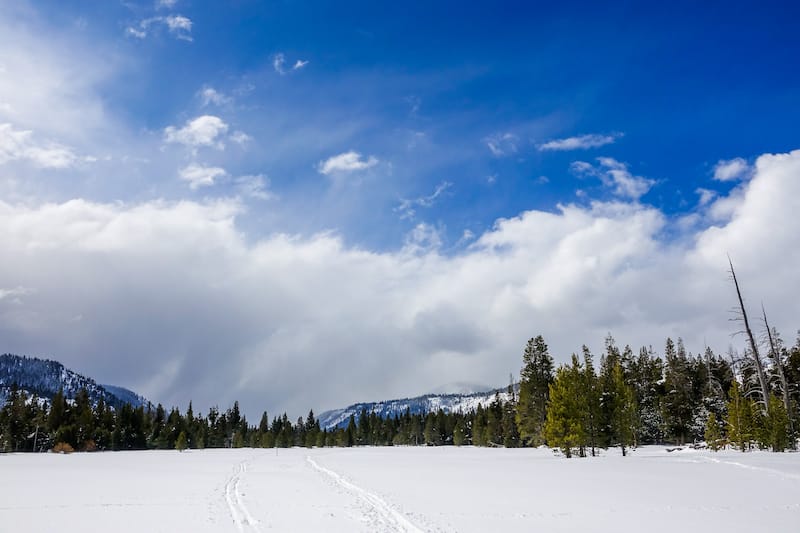 Once you're ready, kick-off to experience the best cross-country skiing either in the backcountry or on dedicated terrain.
You can visit Kirkland Resort, admire its groomed trails or cross the open meadows to enjoy mountain vistas before taking a break at a warming hut.
And don't forget to return your equipment at the end of the rental period!
>> Click here for XC ski rentals in Lake Tahoe
Helicopter Tour of Emerald Bay
Explore Emerald Bay from above and take in incredible views of the Sierras and the lake.
The journey stretches through destinations like Fallen Leaf Lake, Cascade Lake, Taylor Creek, Pope Beach, and breathtaking Emerald Bay surrounded by mountains.
Weight limits apply. The maximum weight per passenger is 250 lbs, and the maximum weight of all passengers combined must not be more than 500lbs.
Passenger weights must be accurately provided at the time of booking. Any passenger weighing 300 lbs or more will not be allowed to fly because of aircraft limitations.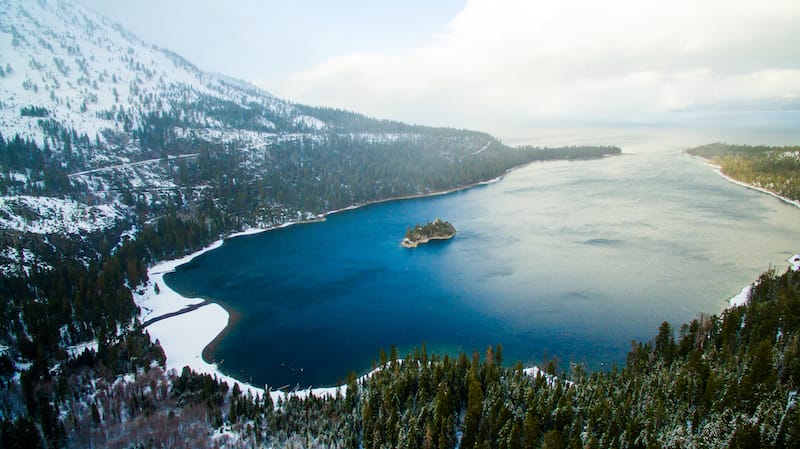 The tour also includes noise-reducing headsets and narrations by a professional pilot. To start your helicopter tour, head to the Lake Tahoe Airport, find the office of the company on the left side of the main area.
You'll meet your pilot, have a short safety briefing, and board the aircraft.
>> Click here to take a helicopter tour of Emerald Bay
Explore Craft Breweries in South Tahoe
After an overwhelming day in the snowy landscapes of Tahoe, the best way to unwind is a pint of local craft beer. Below are some of the best spots to immerse yourself in the South Lake Tahoe beer atmosphere.
Recently opened South Lake Brewing Co introduces plenty of taps, the most famous of which are Angora IPA and Marlette Blonde.
Another new brewery is Lake Tahoe AleWorX, offering walks through the brewing process and a fabulous selection of brews.
Try their Cali Common, made with fresh Lake Tahoe water, along with small bites and pizzas. The Hangar is a taproom and bottle shop offering 30 rotating taps fitting any taste.
A local favorite is Sidellis, introducing unique flavor combinations like Mangoana and the Nut'Hella.
Where to Stay in Lake Tahoe
To be honest, there are many places to stay around Lake Tahoe, and where you choose to stay depends on what you want from your trip!
We have selected some highly recommended places to stay in both Tahoe North and Tahoe South.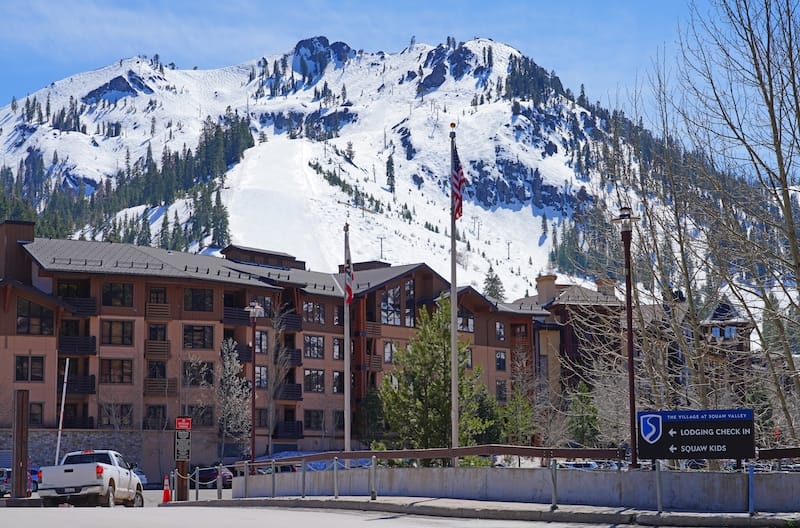 Lodging in North Lake Tahoe
You won't find as many places to stay as in the south, perhaps, but you will definitely find enough to be able to find suitable accommodation for your trip!
Here are some of the top places in North Lake Tahoe:
Lodging in South Lake Tahoe
You will find well over 100 places to stay in the South Lake Tahoe area from rustic cottages to motels and beyond.
Below are some of our top picks!
Have you ever visited Lake Tahoe in winter? Let us know your top things to do in Lake Tahoe in winter below! Thanks!
You Might Also Like…
Pin this Winter in Lake Tahoe Guide