Are you looking to visit Arches National Park in winter? This guide will help you plan that trip!
Are you simply seeking the best tours from Moab to see Arches (and Canyonlands) on your trip?
Here are some of the top-rated Arches / Moab tours:
Arches National Park is one of the most visited US national parks and it is just as spectacular during winter as it is during the warmer months.
This travel guide will inform you of all the awesome things to do in Arches National Park during winter, including lodging and the best Moab Airbnbs, the best hikes, winter activities, park information, and more!
Reasons to Visit Arches National Park in Winter
Arches National Park is one of the most beautiful parks to visit in winter (seriously!).
The most popular time to visit Arches is during spring and fall, which are more temperate compared to the scorching summers but warmer than the depths of winter.
If you have any tips for an Arches National Park winter trip, please drop them in the comments to help future travelers!
However, while winter weather in Arches may not be the most predictable, the sheer lack of crowds makes it one of the best times of the year to visit.
The quietness of the park is perfect for those hoping to photograph the beauty of Arches National Park in winter. During the peak season, it is not uncommon to have to wait in line for your opportunity to take a photograph of some of the extraordinary structures and it is unlikely that your shot will be clear of people.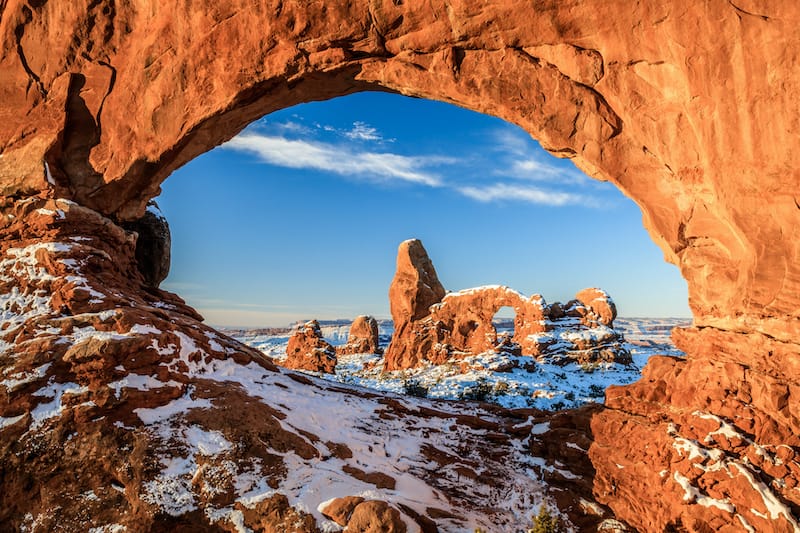 Thankfully, despite its high altitude, the park rarely sees heavy snowfall and the entire park is accessible throughout the whole year.
However, because of smaller crowd numbers, some of the facilities at Arches National Park close for the offseason, but you will still find plenty to do and see within this incredible US national park.
Arches is also a great destination from so many places out west and should be thrown onto road trip itineraries. We especially using the park to break up the road trip from Colorado to California (and many more)!
Quick Facts about Arches NP
Location: Utah
Size: 76,679 acres
Annual Visitors: 1,663,557 (in 2018)
Established: April 12, 1929
Closest big city: Moah, UT
Arches National Park Highlights: Delicate Arch, Landscape Arch, Balanced Rock, Fiery Furnace, Double Arch, Corona Arch, Slickrock Bike Trail, Devil's Garden Trail, Ute Petroglyphs
When is it Winter in Arches National Park?
Winter in Arches National Park lasts from the beginning of December until early March. While the weather is tolerable during the winter months, it is still cold. Thankfully, there is little chance that winter weather will close the park, roads, or trails.
This alone makes Arches National Park one of the best US national parks to visit in December, January, and February.
How Cold Does it Get in Arches National Park? (Temperatures & More)
Temperatures in winter are much cooler than the oppressive summer temperatures.
Generally, between December and March, the temperatures fluctuate between 30°F (-1°C) and 50°F (10°C). During the night temperatures drop even further to lows of 18°F (-8°C), with the cloudless night skies allowing any heat built up during the day to dissipate.
Here are the average temperatures for Arches National Park in December, January, and February:
December: Highs of 5C/41F, Lows of -7C/20F
January: Highs of 5C/40F, Lows of -8C/18F
February: Highs of 9C/49F, Lows of -4C/25F
Does it Snow in Arches National Park?
Yes, it does snow in Arches National Park, although not often. When it does snow, it tends to be a light covering that melts fairly quickly.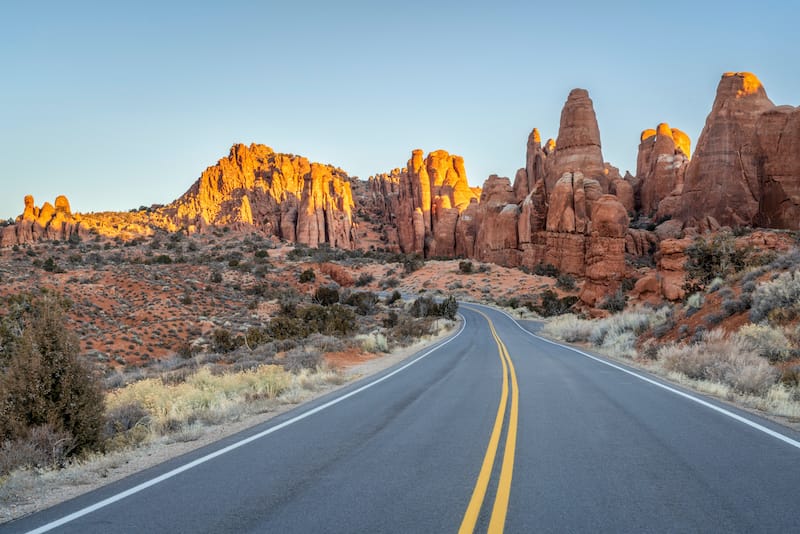 Snow is unlikely to ever close the park or any of the roads within the park. However, some trails can be a little riskier if there is snowfall, especially the parts that are shaded throughout the day.
Along with occasional Arches National Park snowfall, there is also the chance of rainfall in the park.
What to Wear When Visiting Arches National Park in Winter
One great thing about visiting Arches in winter is that it is never extremely cold, so you can just wear layers and take them off accordingly. However, you still need to pack some winter gear!
Here are my recommendations for what to wear and bring to Arches National Park in winter:
Note: I am a huge fan of REI for all of my winter gear in the US, but I also love throwing minimalistic Scandinavian brands into the mix. I am listing an array of my favorite winter gear below.
Waterproof shoes / hiking boots (especially if you're hiking and the weather is not favorable… I have been using these Keen Targhees for over 10 years… no joke!)
Hat (I have heaps but my favorites are from Libertine-Libertine and Samsøe & Samsøe)
Gloves or mittens (I prefer mittens but not always practical for activities)
Comfortable socks (I am the blister queen)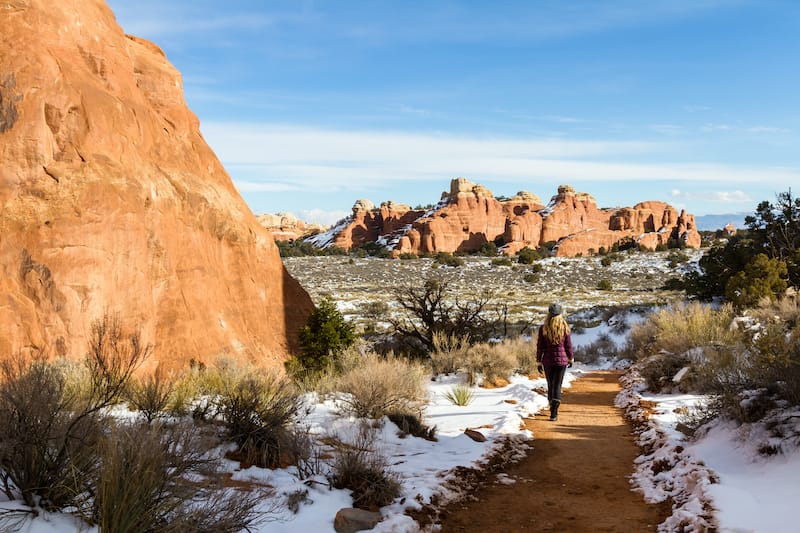 What to Pack for Arches National Park in Winter (Gear & Miscellaneous)
There are a few non-clothing items that I highly recommend bringing with you when you visit Arches National Park:
Things to Know Before Traveling to Arches National Park in Winter
Visiting Arches National Park in winter is a relatively stress-free experience, thanks to the lack of crowds and somewhat favorable weather.
However, there are still a few things that you should know before planning your winter trip to Arches National Park.
While the weather is rarely extreme, overnight snowfall can mean that roads can be closed in the mornings, as they will need to be cleared of snow. While they do close for short periods of time due to snow, it is typically cleared quickly and all roads should be open within a few hours of heavy snowfall.
READ ALSO: Things to do in Zion National Park in winter
Daytime temperatures are cold but pleasant, while during the night, they can plummet well below freezing. If you are planning to camp within the park or enjoy star gazing, it is important to bring warm clothing suited for the extreme cold and to let people know you plan to visit the park at night.
The hiking trails in Arches National Park are usually in fairly good condition but can get slippery when the snow becomes compacted or icy from other hikers. If youʻre hiking in Arches National Park with kids, be sure they are equipped for the hike too!
Always keep an eye on your footing and have a Plan B ready in case you do not feel safe undertaking the hike. Although, usually the mid-day sun does a good job at melting any lingering snow and ice.
Facilities Open In Arches National Park (Winter)
The visitor center at the park remains open nearly all year, closing only for Christmas Day. However, those visiting in winter will find that there are reduced hours during the low season.
Between November and March in Arches National Park, however, there are no ranger activities. If you wish to speak to a ranger they will be available at the visitor center and will offer up helpful advice on hikes and general information about the park.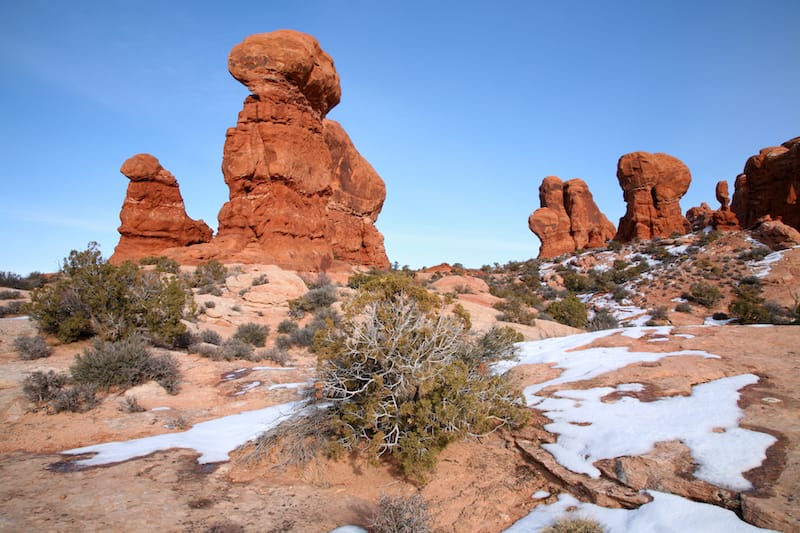 There is a year-round campsite within the park that offers 25 spots available on a first-come, first-served basis, so you will need to get in there early to avoid disappointment… especially toward the end of winter.
Things to Do in Arches National Park during Winter
Thanks to Arches National Park's desert-like climate, the park is fully accessible year-round, and pretty much everything you could want to do in the high season is available to do in the winter.
The following activities are some of the best places to visit and things to do in Arches National Park during winter.
Delicate Arch
Delicate Arch is one of the most iconic sites in the whole of Utah. People from around the world head to Arches National Park to view the stunning rock formation, and during the summer months, huge crowds make the 3-mile round trip hike to take in the site.
One of the biggest rewards of completing this Arches National Park hike in winter is the chance that you might get to enjoy Delicate Arch on your own (or at least with fewer crowds).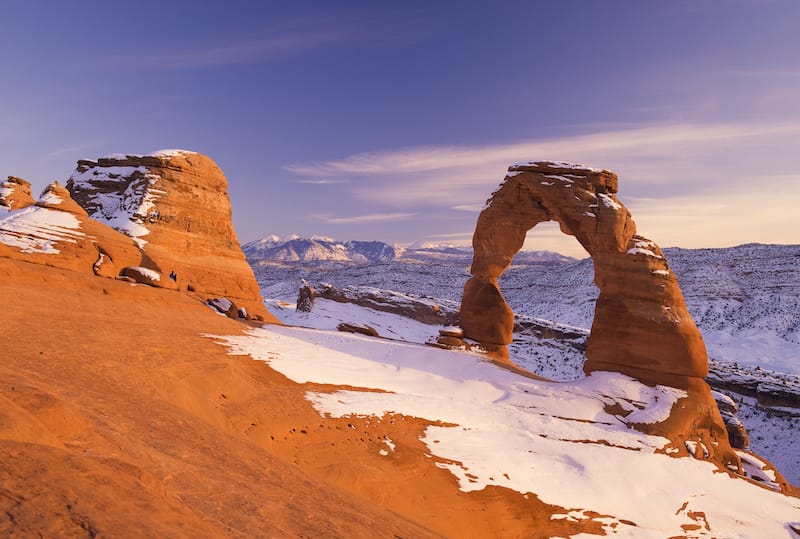 The lack of crowds means that you can snap photos at your leisure and take in the scenic views without the pressure of being around hundreds of people waiting for their turn to take a picture.
If you are lucky, you will be able to see the arch covered in snow and with gorgeous views around it, creating a unique landscape where the orangey-brown rock contrasts beautifully with the white snow.
The hike to Delicate Arch is not difficult and is about 1.5 miles each way. The middle section of the hike tends to be a little more shaded from the sun and you might need to adjust your clothing layers and attach crampons on your hiking boots, especially if it has snowed recently.
When you have finished taking in the views of Delicate Arch, you will need to follow the same path back to the beginning of the trail.
Park Avenue View Point
Park Avenue View Point is easily reached via the short Park Avenue Trail. The mile-long trail in Arches National Park will take you past some of the fantastic monolith rock formations in a canyon.
The trail is one of the first you will encounter in the park, just 2.5 miles away from the visitor center and it is open year-round.
Starting from the car park, there is a 320-foot path to the beautiful viewpoint that looks down through the canyon. From the viewpoint, you can carry on down into the canyon and enjoy more of the epic rock formations within the canyon itself.
READ ALSO: Best national parks to visit in February
If you chose to tackle the whole trail, it is a 2-mile hike that shouldn't take much longer than an hour and 30 minutes. There are no actual arches within the canyon but the imposing monoliths are breathtaking in their own right. The hike is a good warm-up before attempting some of the more challenging ones within Arches.
Arches Scenic Drive
Arches Scenic Drive is an amazing 36-mile drive that winds its way through the park, taking in some of the best and most fantastic landmarks in Arches National Park and some stellar viewpoints.
Take as much time as you need to complete the drive that contains some of the park's most famous attractions such as Balanced Rock, which is easily visible from the roadside or a 0.3-mile walk from the trail start.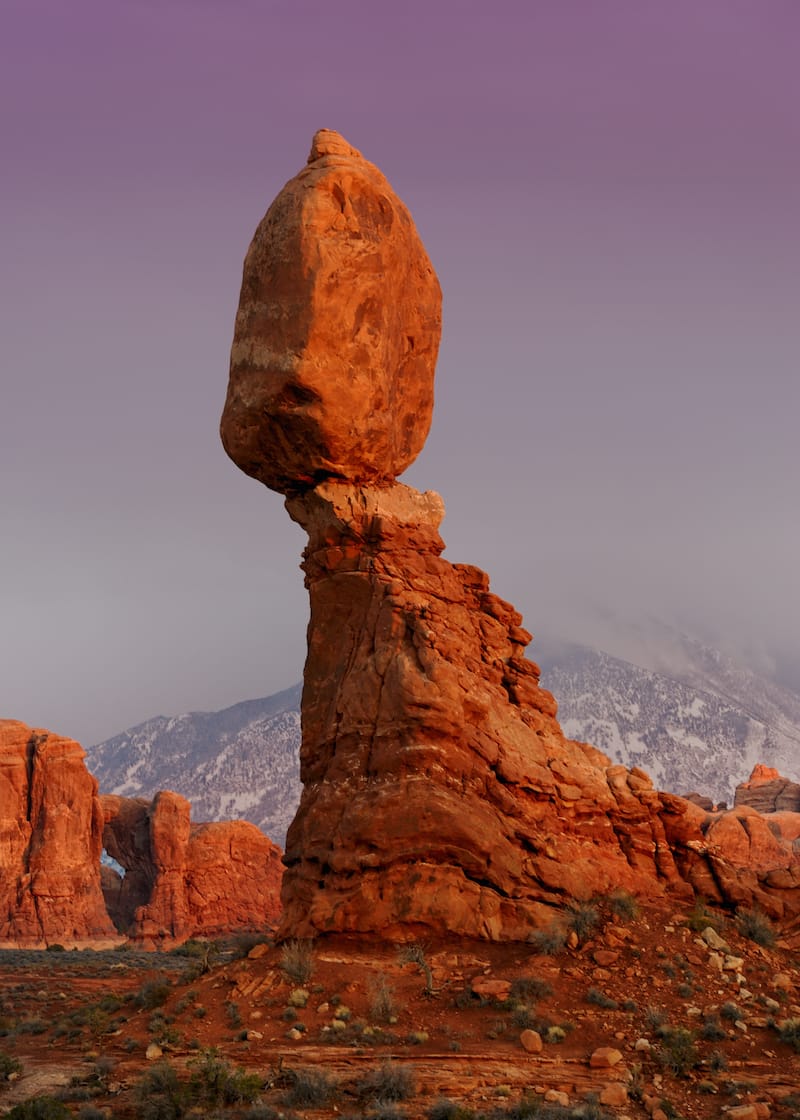 From the Window Section of the drive, you can reach the Double Arch, the tallest arch in the park and only a 0.7-mile walk from the road.
While the route is only 36 miles long, it can take up a good chunk of your day as you will no doubt want to stop and take in the sublime beauty of the park. During winter, it is best to start off early as you will be limited by the amount of daylight.
If there has been heavy snowfall, you should expect road closures although normally by midday, most snow will have melted or been plowed off the road.
Pretty much all of the trails start from the scenic drive so you will need to complete sections of the drive in order to reach the hikes. If you plan to do some of the multi-mile hikes, it is advisable to split the drive up over multiple days.
Devils Garden Trail
For those looking for a lengthy hike that will take up most of the day, the Devils Garden Trail is the perfect option. The trail passes by 7 of the park's most impressive arches, more than any other trail and the hike can be tailored depending on your fitness level and time available.
Devils Garden Trail is a large 7-mile loop, with various little offshoots to explore the 7 arches along the way. The first arch along the trail is the giant Landscape Arch that miraculously suspends itself through the air.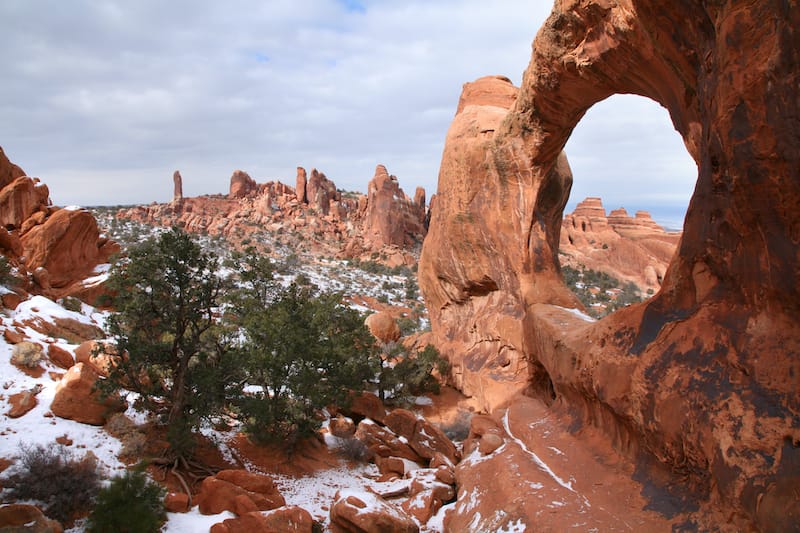 The path to reach Landscape Arch is an easy walk that takes around an hour, but from that point onward, the rest of the loop is more challenging as you set off on the "primitive trail". As you work your way along the primitive trail, you will need to take little detours to reach arches such as the Navajo or Pine Tree Arches.
The hike is not for the faint-hearted and to reach the Double O Arches, you will need to cross a thin strip of rock with drops on both sides. However, the views from the trail will keep your mind off of the scarier parts of the route.
READ ALSO: Best national parks to visit in January
The descending sections of the Arches hike can get a little messy, so I recommend wearing high-quality clothing that you don't mind getting dirty.
During the winter months, to complete the Devils Garden Trail, you should allow yourself a whole day, and while the route is a loop, if it becomes too challenging or you feel you are losing daylight, there is no harm in just coming back the way you came.
Photography in Arches National Park
One of the best activities to enjoy Arches National Park in winter is by photographing it. Typically during the summer months, the park is incredibly crowded and the chance of getting a clear shot without people in it is very slim.
Thankfully, in winter, you can find days when fewer than 2,000 people are visiting the park. The Delicate Arch at sunset is one of the most sought-after photos and even in winter can be a little crowded but there is a very good chance you will have ample time to take a few shots and enjoy the beauty as well.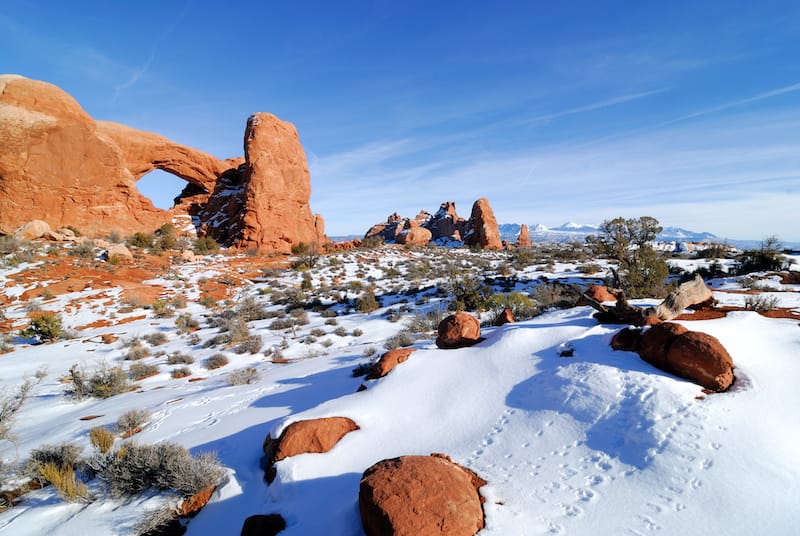 If you are fortunate to visit when snow is on the ground, there is a beautiful contrast between the white of the pristine snow and the bedrock, making for otherworldly photos. For the best lighting, head to the park early in the morning or for golden hour just before sunset.
For those willing to brave the cold of a desert night, night photography in Arches NP is outstanding. It is often possible to view the Milky Way hovering just above the Delicate Arch and with the correct camera settings, you can attempt to capture both the stars lighting the night sky and the arch itself.
READ ALSO: Should you visit the Bonneville Salt Flats?
Stargazing in Arches National Park
Arches National Park is home to some of the darkest skies in America and it is famous for its plentiful stargazing opportunities. The park is open 24 hours a day and there is no better night-time activity than heading into the park and venturing off the road a bit to look up into the night sky.
On clear and moonless nights, they estimate that you can see over 2,500 stars above the park. The Utah national park is one of the best places to spot and enjoy the beauty of the Milky Way.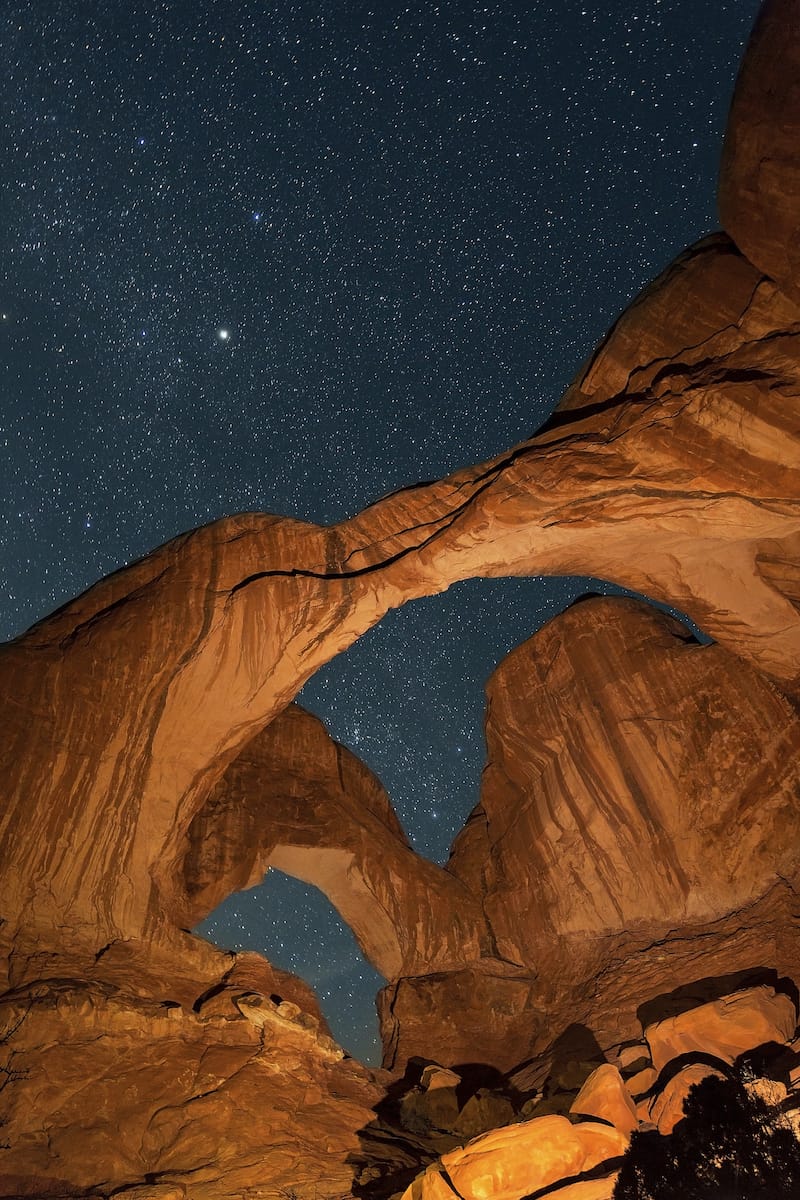 For the best stargazing, you will need to head north into the park away from any built-up areas, where light pollution will not reach you. From there, go on one of the shorter trails such as Balanced Rock or Panorama Viewpoint, where you will be able to enjoy both the beauty of the park and the night sky.
Once you have found your spot, it will take 20-30 minutes for your eyes to adjust to the darkness. During this time, you want to avoid anything that creates light, such as flashlights or cellphone screens, as you will lose your ability to see in the dark.
READ ALSO: Amazing US national parks to visit in December
If you are planning to head on one of the longer trails such as the Delicate Arch Trail, it is a good idea to invest in a red-light flashlight, which will help light up the trail without impacting your night vision.
Finally, it is important to wear warm clothes because when night falls, so do the temperatures in Arches National Park… which will likely plummet below freezing. Also, take note of the clarity in the skies to ensure they are clear enough for stargazing in the first place.
Arches National Park Winter Lodging
Hands-down, the best place to stay for a trip to Arches National Park is in Moab, Utah. It is located close to the park and close to Canyonlands National Park.
Here are some of the best hotels in Moah to stay for a trip to Arches National Park in winter.
Winter Camping in Arches
There is only one campground in Arches National Park and it is called Devils Garden Campground. During the winter in Arches NP, you will need to make a reservation at the campsite, however, and you can learn more about it here.
If you're seeking campgrounds in Moah, there are plenty to choose from! If you're camping and are not a member of Hipcamp, also be sure to use our code here to receive $10 off your first booking!
Here are our favorite Hipcamp verified campgrounds in and near Moab:
Click here for a review of why you should be camping with Hipcamp!
Airbnbs in Moab (and Nearby)
Another fantastic option of a place to stay in Moab since there are many Airbnbs there! This allows you to easily come and go at your own pace and feel like you're home in the Utah city! Here are some of the best Airbnbs in Moab, Utah:
Should You Book a Trip to Arches National Park in Winter?
In conclusion, YES, we think Arches National Park in winter is a fantastic choice and one you will also be happy with!
However, this is an incredible park to visit year-round! Click here if you're on the hunt for other US national parks to visit in January and the other winter months!
ABOUT THIS LAND
Arches National Park is on the unceded land of the Ute (Núu-agha-tʉvʉ-pʉ̱) people. We ask you to join us in acknowledging their community, their elders both past and present, as well as future generations.
We also acknowledge that Arches NP was founded upon exclusions and erasures of many Indigenous peoples, including those on whose land these US National Parks are located.
⇒ Do your research before visiting National Parks and places in the US. Native Land and Whose Land are good starting points.
⇒ Hire Native guides when possible and encourage National Parks and government organizations to start hiring them.
⇒ Donations matter. Part of the proceeds from this blog is donated monthly to the Native Women's Wilderness.
Additional National Park Reading
Here are some of our month and season guides to visiting US national parks. Be sure to check them out!
Additionally, you might be interested in our other Utah national parks and attraction guides below:
Pin This Arches Winter Travel Guide