Utah isn't the most popular spot on everyone's travel bucket lists, but that should definitely change. Moab, Utah is a destination that you shouldn't miss when visiting Utah. These are the best things to do in Moab, Utah!
Moab is known for its gorgeous natural landscapes and national parks, making it a nature lover's and photographer's paradise in the United States.
Ideal for visiting in the spring and fall, the Utah city is also popular for its perfect outdoor activity opportunities, including hiking and mountain biking.
Also, due to Moab's close proximity to sites like Arches National Park and Canyonlands National Park, it's especially popular as a place to stay among people who want to tour these sites. In short, a trip to Moab is guaranteed to be unforgettable.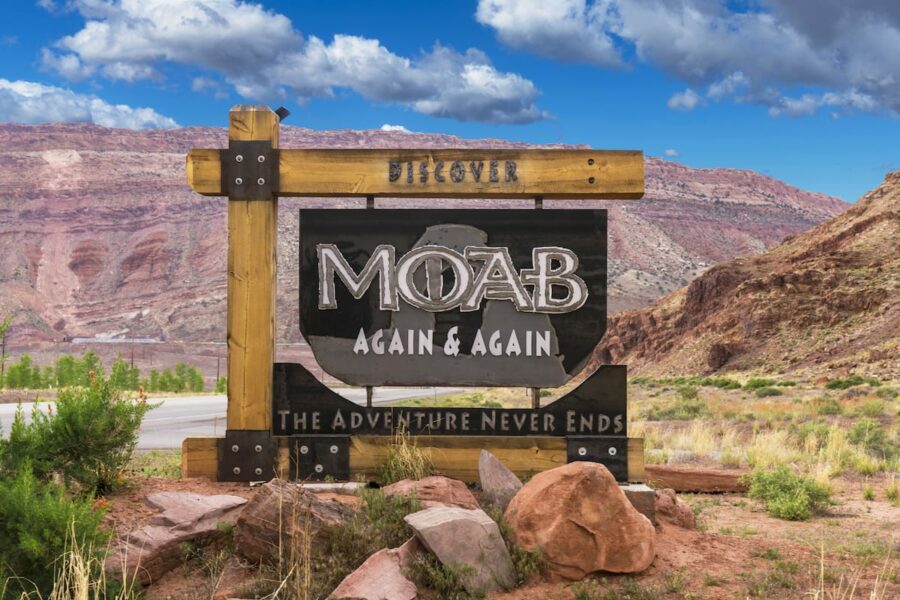 Here is what to do in Moab when you find yourself in the city – if we missed any of the best attractions in Moab (or nearby!), let us know in the comments! Thanks!
Best Things to Do in Moab
1. Explore Arches National Park
Arches National Park is a must-see for everyone visiting Moab, as it is home to the world-famous Delicate Arch and much more.
It is located about 5 miles north of Moab and includes the world's biggest concentration of natural sandstone arches.
Although the park has an area of more than 75,000 acres containing over 2,000 arches, it also boasts an amazing array of other geological structures.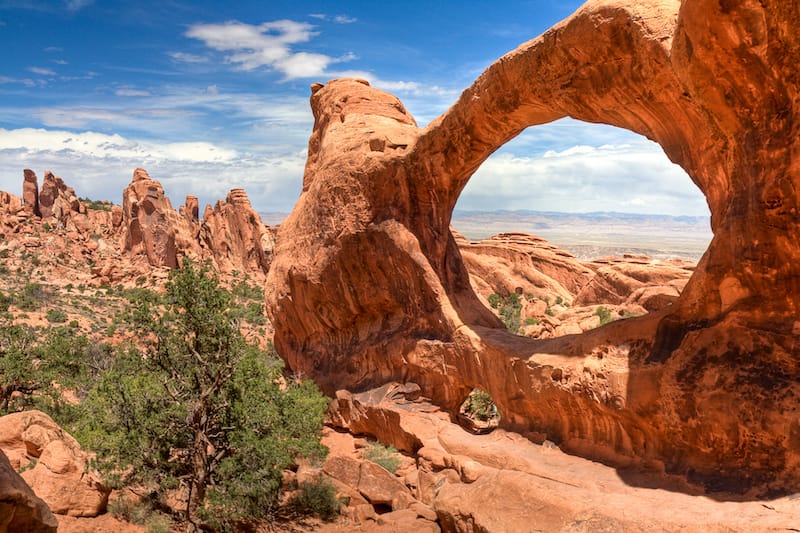 Some of the best places for taking photos are Balanced Rock, Turret Arch, Double-O arch, and more.
Many of the park's major sites are accessible through a paved scenic route, and it is open even if you're visiting Arches National Park in winter.
The park is very popular among hikers as they can pick from a range of pathways from short twenty-minute treks leading to the park's greatest arches to much longer hikes leading to less crowded locations.
2. Visit Canyonlands National Park
Canyonlands National Park is Utah's largest national park. The park is divided into four districts: Needles District, Maze District, Island in the Sky District, and Rivers District.
From Mesa Arch or Grand View Point, there are a lot of beautiful sights in Canyonlands. The most convenient method to see the park is to go to the Island in the Sky district, which is situated approximately 32 miles from Moab.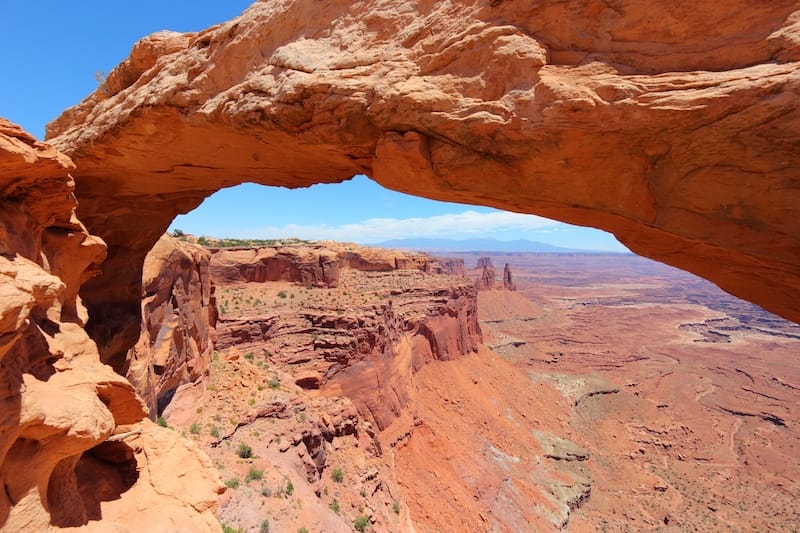 Along the paved scenic route, Island in the Sky offers various pull-outs with amazing views.
Backcountry locations are accessible by hiking paths and four-wheel-drive roads that will take you on some of the overland paths among massive cliffs and towers.
3. Go Rafting in Moab
When visiting Moab, one of the best activities is a rafting trip on the Colorado River. This guided rafting adventure has no restrictions for age and skill levels.
During the tour, you begin with a short ride up the Colorado River and stunning views of canyon walls and towering rock spires. Here you see the Colorado River's Fisher Towers and Professor Valley.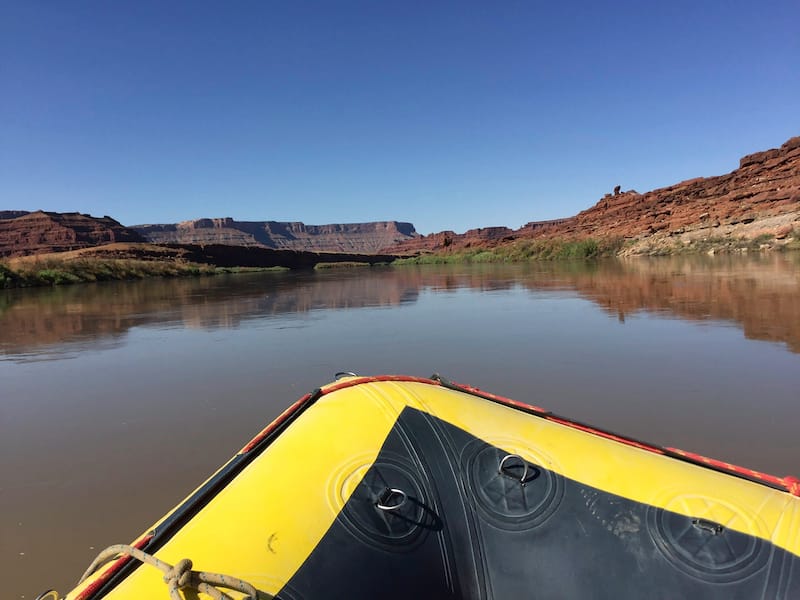 While rafting, the guide will introduce you to the history of the area. Overall, the trek is around 7 miles long and includes a few splashy rapids.
Note that you can choose the lunch option to enjoy a buffet-style meal during your trip. Once the tour is completed, the shuttle will return you to Moab.
>> Click here for rates and availability
4. Go Swimming at Ken's Lake
With clear and calm waters, Ken's Lake, located only 10 miles south of Moab, is ideal for boating, swimming, and fishing. It is the perfect place to combine adventurous hiking with mid-day swimming sessions.
One of the greatest advantages here is the very large campground near the lake. It's a popular option for a good, low-cost holiday.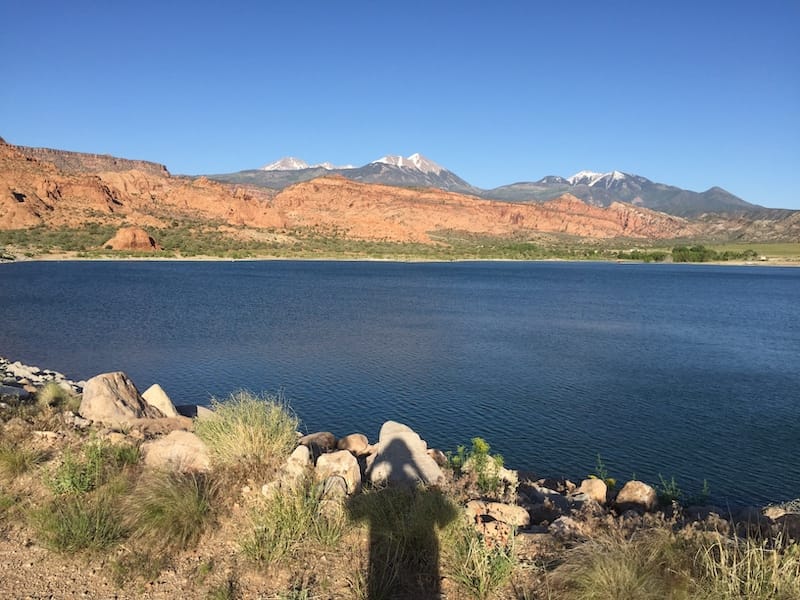 Just be attentive and book your camping area ahead of time, since the campground reservations usually fill up quickly.
Campsites vary in size and some are large enough to accommodate even the largest RVs. Group sites, picnic areas, barbecues, a pavilion, garbage cans, grills, and hiking trails to the lake are all available in the campground.
5. Discover Dead Horse Point State Park
Although the name does not sound pleasant, Dead Horse Point's landscapes are picturesque and beautiful. Especially for those who enjoy admiring the sunset, this park should definitely be on your bucket list!
The slow evaporation of ancient seas shaped the park's landscape, leaving behind a vista of huge cliffs and breathtaking desert landscapes with an area of 5,362 acres.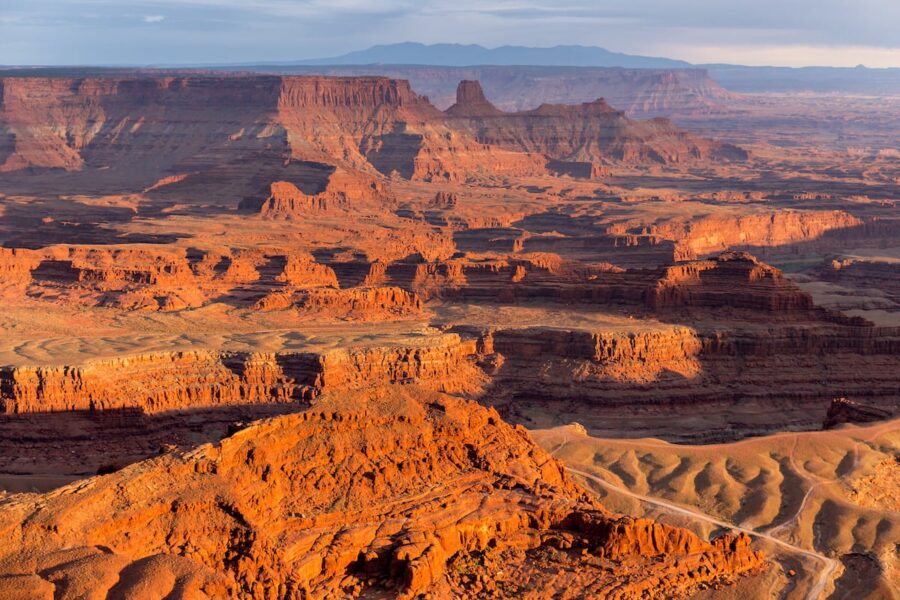 The park features several breathtaking viewpoints, picnic areas, a campground, a visitor's center, a 9-mile loop hiking track, and a mountain bike trail with loops with varying levels of difficulty.
Note that Dead Horse Point State Park is known to have much fewer visitors than either of the surrounding national parks, resulting in shorter lineups and less crowded parking lots.
So, for those trying to do something in Moab without the crowds, this is one of the best options.
>> Book a boat trip to Dead Horse Point State Park from Moab
6. Stop by the Moab Brewery
Moab Brewery, founded in 1996, is the region's only microbrewery, serving a variety of ales on tap as well as root beer.
The brewery is located on Main Street in Moab. It has a popular restaurant that serves classic dishes in pub-style like steaks, burgers, chicken, pasta, and more. This is a favorite place for locals and tourists for both the brewery's products and socializing.
The Moab Brewery is a great refreshing stop no matter if you choose to have a cool drink of their popular Dead Horse Ale or award-winning Rocket Bike American Lager. You can also get a variety pack to take with you.
7. Take a 4×4 Tour in Moab
In Moab, visitors have the opportunity to drive a 4×4 UTV through the Hell's Revenge Trail on a guided trip to the Colorado River.
Having a duration of 2.5 hours, this exciting experience takes you 300 meters above the Colorado River, allowing you to enjoy breathtaking views of Arches National Park.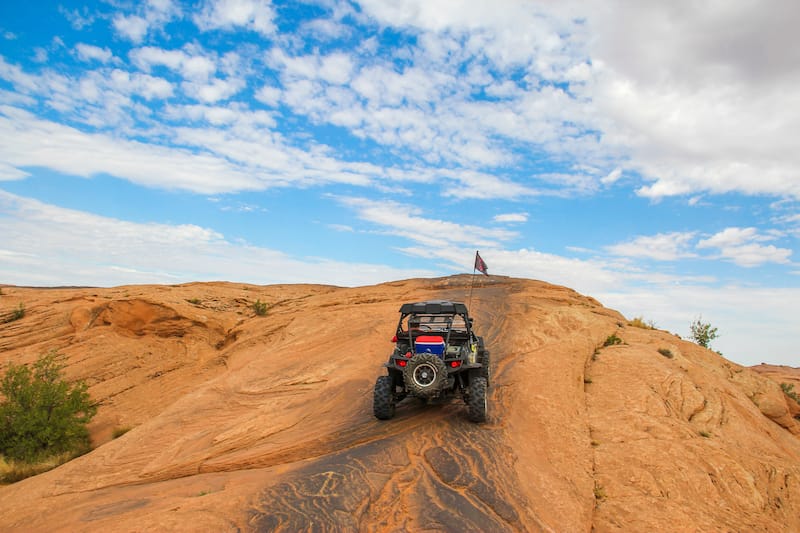 Sand dunes, red rock hills, and snow-capped mountains guarantee a thrilling adventure. Note that during the tour, you'll be following the guide in new and easy-to-drive UTV/SXS vehicles.
The trip is suitable for families with children (at least 3 years old) and every tour includes refreshments. Also, note that all drivers must be at least 18 years old and have a valid driver's license.
>> Click here for rates and availability
8. Take in the Views at Hell's Revenge
If you're interested in finding a trail with magnificent cliff edges, beautiful scenery, and difficult climbs, Hell's Revenge is probably the best option in Moab.
Hell's Revenge intersects the Slick Rock Trail in a few locations, providing a different type of challenge for outdoor motorheads with the 4X4 buggy. It offers spectacular views of the La Sal Mountains, Arches National Park, Colorado River gorge, and Moab Valley.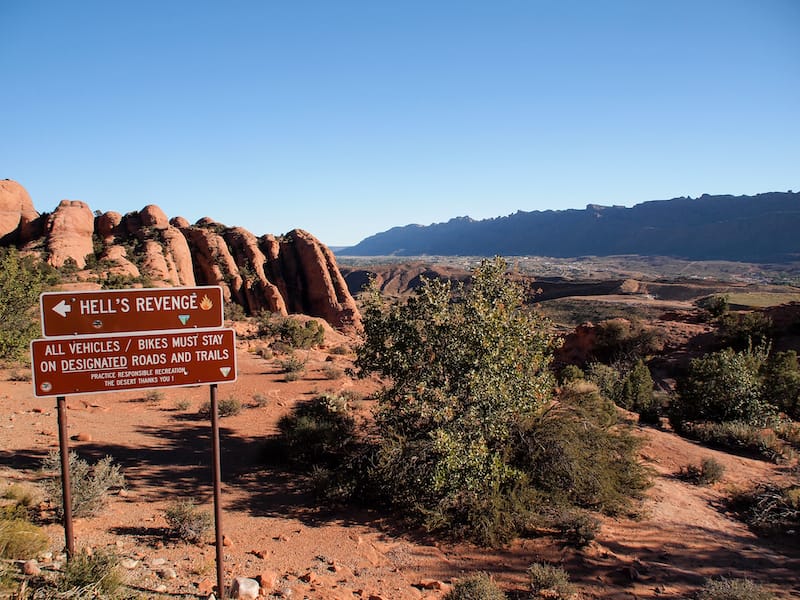 There are 2 challenges along with Hell's Revenge: the Tip-Over Challenge and Rubble Trouble. The first one is a short rock hill with a sandy foundation that needs precise handling, while the other features enormous loose rocks and narrow ledges.
This is the ultimate trail to enjoy premier slick rock hiking, biking, and 4WD.
>> Book a 4WD self-drive tour to Hell's Revenge
9. Visit the Moab Museum of Film and Western Heritage
The Moab Museum of Film and Western Heritage and the Red Cliffs Lodge are part of Red Cliffs Ranch, which was settled in the late 1800s. It's worth mentioning that Red Cliffs Lodge is an excellent base for all kinds of adventures in Moab.
Formerly known as White's Ranch, Red Cliffs Ranch continues to serve as a working ranch today, raising cattle and horses. Many films have been shot in the location of the ranch.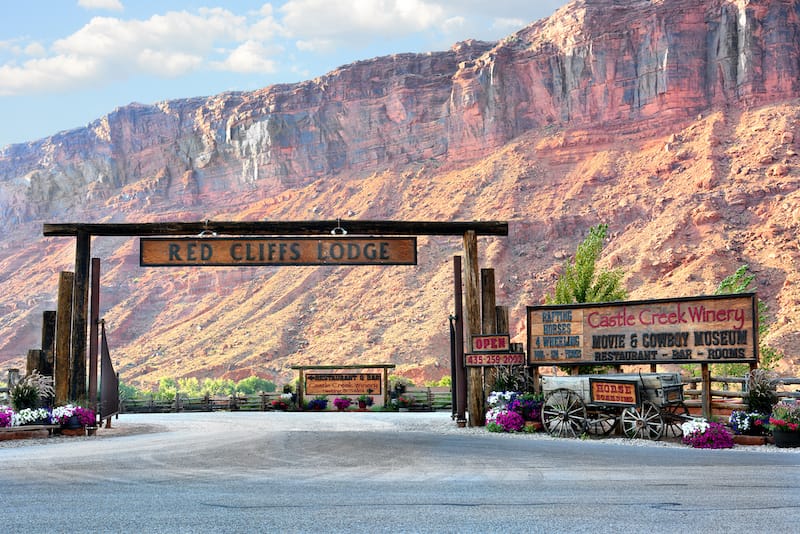 This museum tells visitors the story of Utah's rich film history through books and memorabilia, and even better, visiting the museum is completely free of charge.
10. Drive the La Sal Mountain Loop Road
La Sal Mountain Loop Road goes through a variety of spectacular landscapes in canyon country, and the entire loop is about 60 miles long. Overall, it takes about 3 hours to complete.
The La Sal Mountains are the second-highest mountain range in Utah and are located only 20 minutes away from town. They provide a contrasting landscape from the red slab rocks of southeast Utah.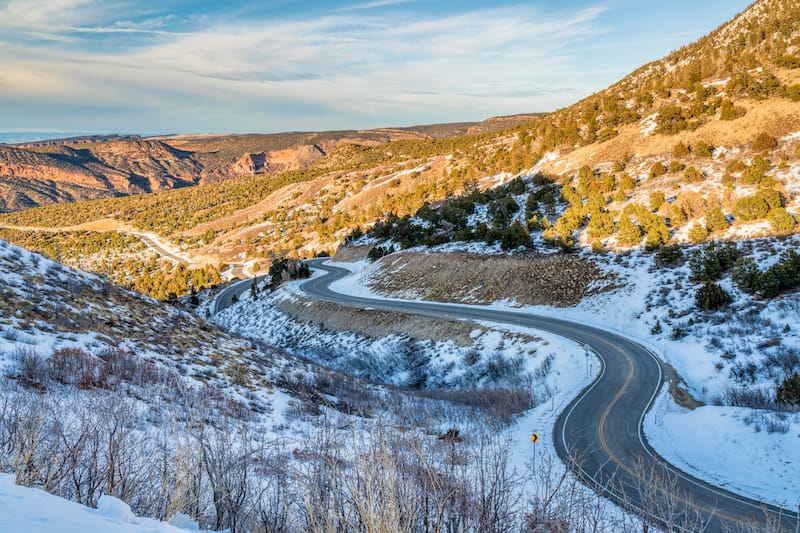 You'll miss a lot of Moab's colors if you don't visit this area. There are several hiking and mountain biking trails as well as scenic campgrounds. Moreover, a few picturesque lakes and streams in La Sal provide excellent trout fishing.
11. Enjoy the Spanish Valley Vineyard and Winery
Spanish Valley Vineyard and Winery is the place to enjoy wines from Moab's own vineyards. The winery is located just 5 minutes south of town.
It specializes in estate-bottled single-vineyard wines, meaning that the winery handles the complete process from grape growing to fermentation and bottling.
The history of the vineyard goes back to more than 40 years ago when it was established as part of a Utah State University agricultural experiment.
The dry, rocky soil of Moab is known to produce delectable white German varietal wines. When you visit the winery, you can expect tastings, sales, and tours, and even the option to host your special occasion.
For those who want to get the whole experience, the winery has a bed and breakfast option.
12. Check Out Faux Falls
Faux Falls is the place in Moab where the desert meets a beautiful waterfall. Interestingly enough, the waterfall is a man-made structure.
A diversion tunnel under Brimley Ridge diverts the water from Mill Creek, and the water then runs through Faux Falls and into Ken's Lake.
From the start to the end of the trailhead, the trip takes anywhere from 30 minutes to several hours. Altogether, the hike is around 200 yards of walking in each direction.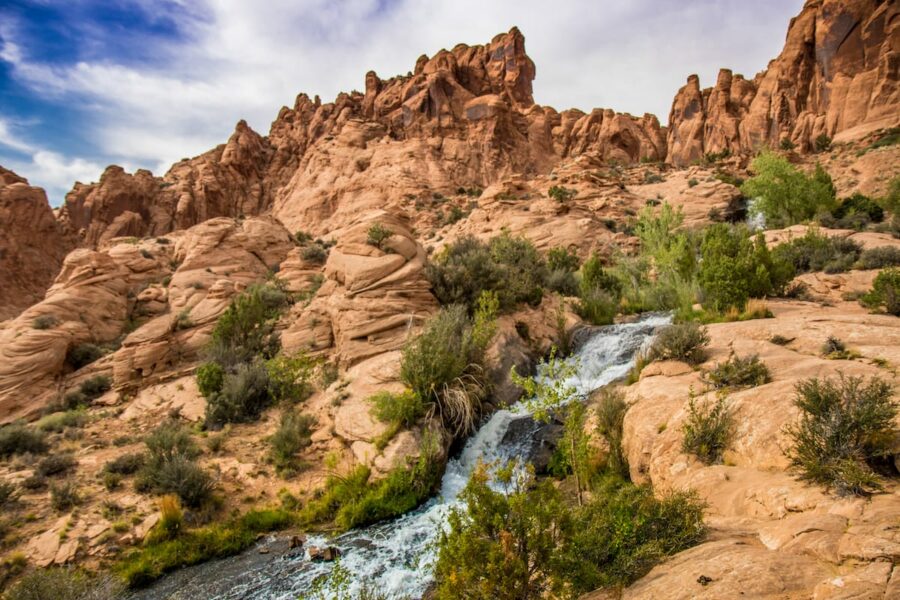 Reaching it requires just a short climb that leads to a stunning desert waterfall. The hike is not difficult, and there is no need for any specific equipment.
So, it's accessible for both kids and adults. To make the most out of this place, don't forget to bring your swimwear and take a lot of cool pictures.
13. Go Ziplining in Moab
Sandstone cliffs and canyons above Moab combined with zipline ropes are something daredevils should not miss!
If you happen to visit Moab between March to November, then you should definitely go ziplining. The Raven's Rim Moab zipline tour begins with a thrilling 4×4 ride.
There are 6 ziplines, promising you to feel like a natural bird of prey swooping in for a landing.
The duration of the trip is nearly two hours. Here, you can enjoy spectacular views of the 13,000-foot La Sal Mountains while the Colorado River bends through Moab Valley and into "The Portal" to the west.
This is also one of those locations where you better not forget your camera!
14. Go Back in Time at Moab Giants Dinosaur Park
Along the Dinosaur Tracks Trail at Utah's real-life Jurassic Park, you will have the opportunity to walk where dinosaurs once walked.
If you want to take your dinosaur knowledge out of the books and actually see where these beasts once roamed, the Dinosaur Trail and Interactive Tracks Museum are well worth the visit.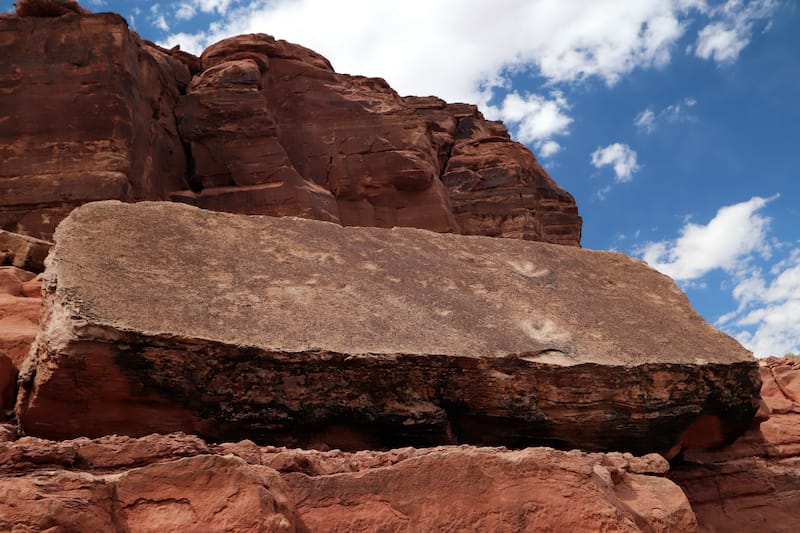 With being open-air and Jurassic rock layers, this place does its best to make visitors feel the real spirit of dinosaurs.
Walk down Dinosaur Trail, Dig it Out at the Dino Playground, or Paleo Camp, or get surprised in the 5-D virtual aquarium.
Moab Giants Dinosaur Tracks Museum also offers impressive displays for dinosaur enthusiasts of all ages.
15. Go Stargazing with RedRock Astronomy
The desert is one of the best places to see and admire the beauty of a sky full of stars. If you live in a city, you likely haven't seen stars like this before.
By going on a tour with RedRock Astronomy, visitors are invited to gaze at far-off planets, galaxies, star clusters, nebulae, and other cosmic sights.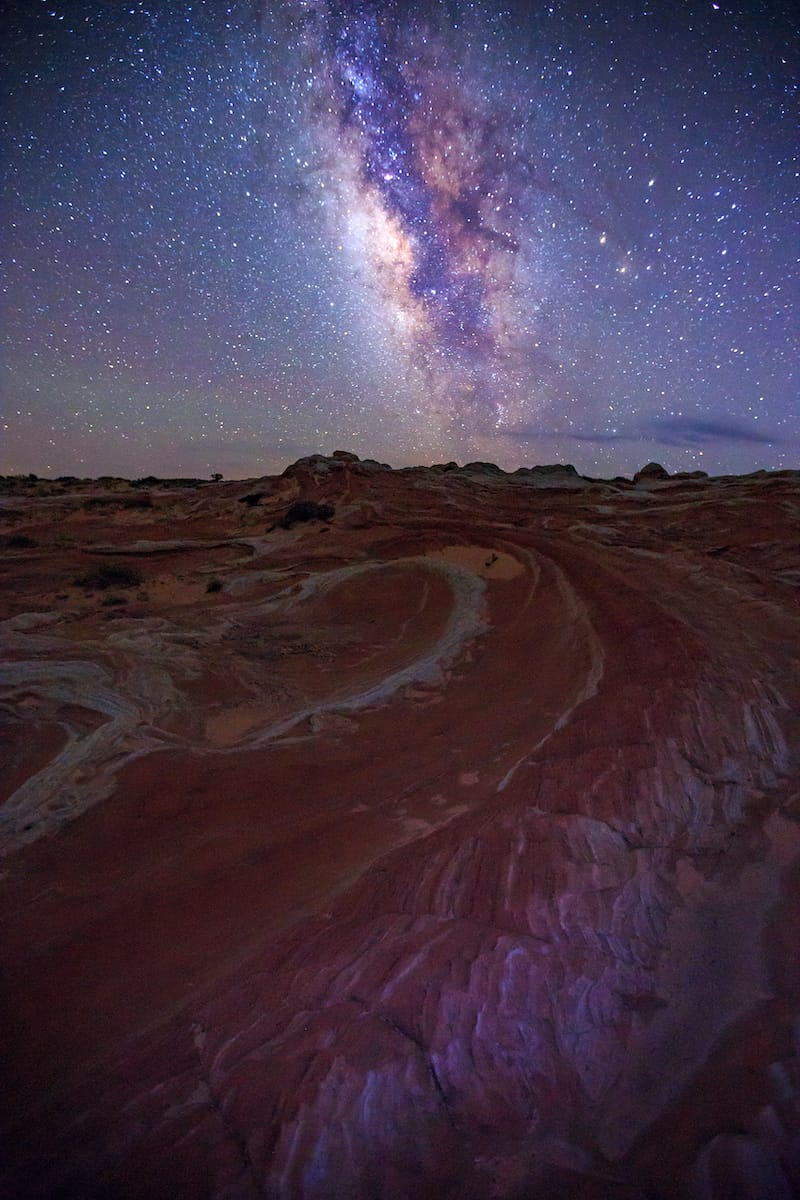 Gazing at the Milky Way from the desert where there is no pollution or urban settings will guarantee one of the best stargazing experiences. This is also an excellent choice if you're looking for something romantic to do in Moab.
The destinations are 20 to 25 minutes away from Moab's city lights. The guide does more than just show guests constellations with a laser pointer. All of this is done using the highest quality telescopes and other tools.
>> Click here to book your Utah stargazing trip
16. Go Bird-Watching at Scott Matheson Wetlands Preserve
Consisting of 875 acres of wetlands, Scott Matheson Wetlands Preserve is one of several bird-watching destinations in the Moab area and it's easily accessible from Moab's downtown.
The arches, canyons, mountains, and wetlands around Moab are home to birds that are distinctive to the Southwest. More than 200 birds, amphibians, and mammals have been spotted at the preserve.
Every season is great for going bird watching here and it's accessible all year round. However, according to many, migration season is the best.
The walk to the preserve is a 0.6-mile, lightly-trafficked loop trail located near Moab. The trail is good for all skill levels and it's suitable for not only birdwatching but also for hiking and walking.
17. Explore the Shafer Trail
Shafer Trail is one of the best jeep trails in Moab. It's a terrifying drive and dirt-and-gravel adventure located in Canyonlands National Park's Sky district.
Shafer Trail is also quite well-known in the area. The hike here is relatively easy and takes about 2.5 hours. Once upon a time, Native Americans used the trail to reach the tops of the mesa.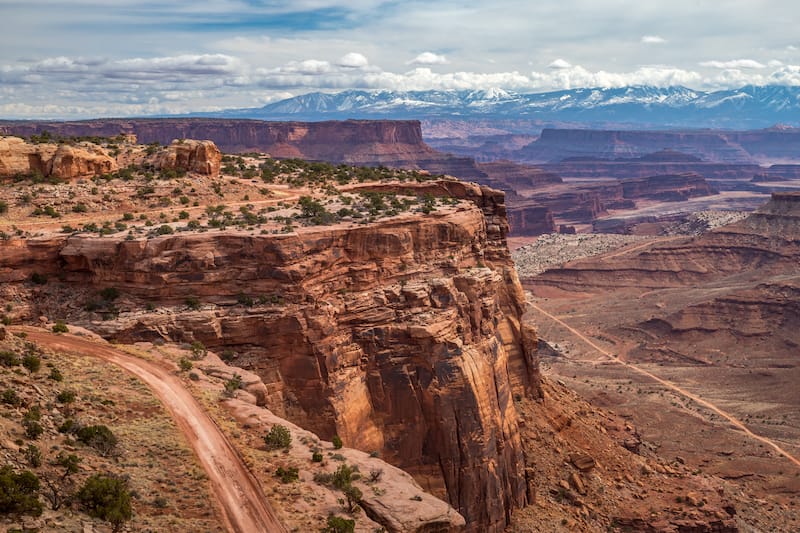 Then, it was used by sheepherders, and then trucks used the trails to move uranium. Now, it is used as a backcountry road for those seeking a thrilling adventure.
This trail gives views of the Colorado River, Thelma and Louise Point, and the La Sal Mountains, which are just breathtaking.
But note that Shafer Trail is not for the faint of heart or those who have a fear of heights or roads close to cliffs.
18. Hike the Fisher's Towers Trail
Fisher Towers, located 30 minutes from Moab, are magnificent rock structures worn by fascinating patterns that cannot be seen elsewhere.
This hike follows an easy trail to a rider overlooking them. Take your camera or phone with you as you're going to want to take a lot of photos. The towers, which are made of Moenkopi and Cutler sandstones, are periodically scaled by rock climbers.
The trail is open all year and is generally used for hiking, running, and nature walks. This trail is also open to dogs, although they must be kept on a leash.
Just make sure you're not hiking beneath climbers and be cautious on hot summer days, as the area has only minimal shade and it usually gets extremely hot.
Visiting Moab in Winter?
Utah is one of the most beautiful places to visit in the winter, and Moab is certainly no exception. In fact, many people prefer to visit Moab in winter because there aren't as many crowds.
It's a lot slower in the winter than in the warmer seasons, but that doesn't mean you shouldn't make it a point to visit.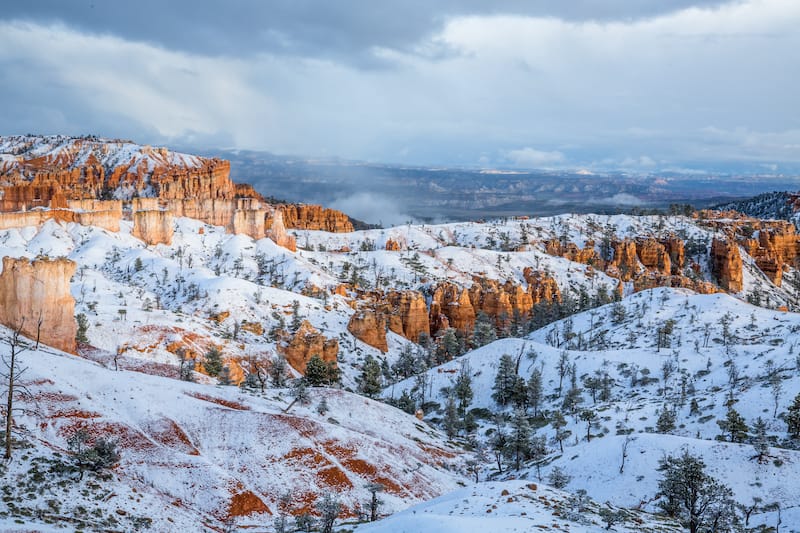 The La Sal Mountains are one of the most popular places to visit in Moab during the winter because of all the activities one can do in the beautiful snow.
Cross-country skiing, snowshoeing, mountain biking, and winter hiking are among the most popular activities. Aside from that, you can also go shopping and dining.
Check out the delicious barbecues, pizzas, coffee shops, and more dotted throughout Moab.
You can also check out Main Street's bookshops, ceramic shops, art galleries, and more. In short, don't let the cold weather stop you from visiting this gorgeous town!
Where to Stay in Moab
You will find several options for where to stay in Moab, including the hotels listed below. Just be sure to book ahead to ensure you secure a space, especially during the high season!
Did we miss any of your favorite things to do in Moab? Let us know the top Moab attractions and places to visit in the comments. Thanks!
More Utah Travel Guides
Pin this Moab Things to Do Guide