Sedona is one of the gems of the American Southwest. And a trip to Sedona in winter is an epic idea and you will find plenty to do despite the cooler temperatures!
Planning your trip to Sedona last minute?
If youʻre booking your trip to Sedona last minute, we have you covered. Below are some of the top tours, hotels, and more!
🇺🇸 Top Experiences and Tours in Sedona:
🛌 Top Hotels in Sedona:
Luxurious Red Rock Vista Villa (private villa!)
Red Rock Luxury (apartment-style – great for families)
🚗 Visiting Arizona independently? Be sure to book your rental car ahead of time to ensure availability!
This is an Arizona travel guide for the best things to do in Sedona in winter. It includes memorable tour options, museums, fantastic hikes, and many travel tips for the season!
Did we miss anything that you would recommend doing during winter in Sedona? Let us know in the comments!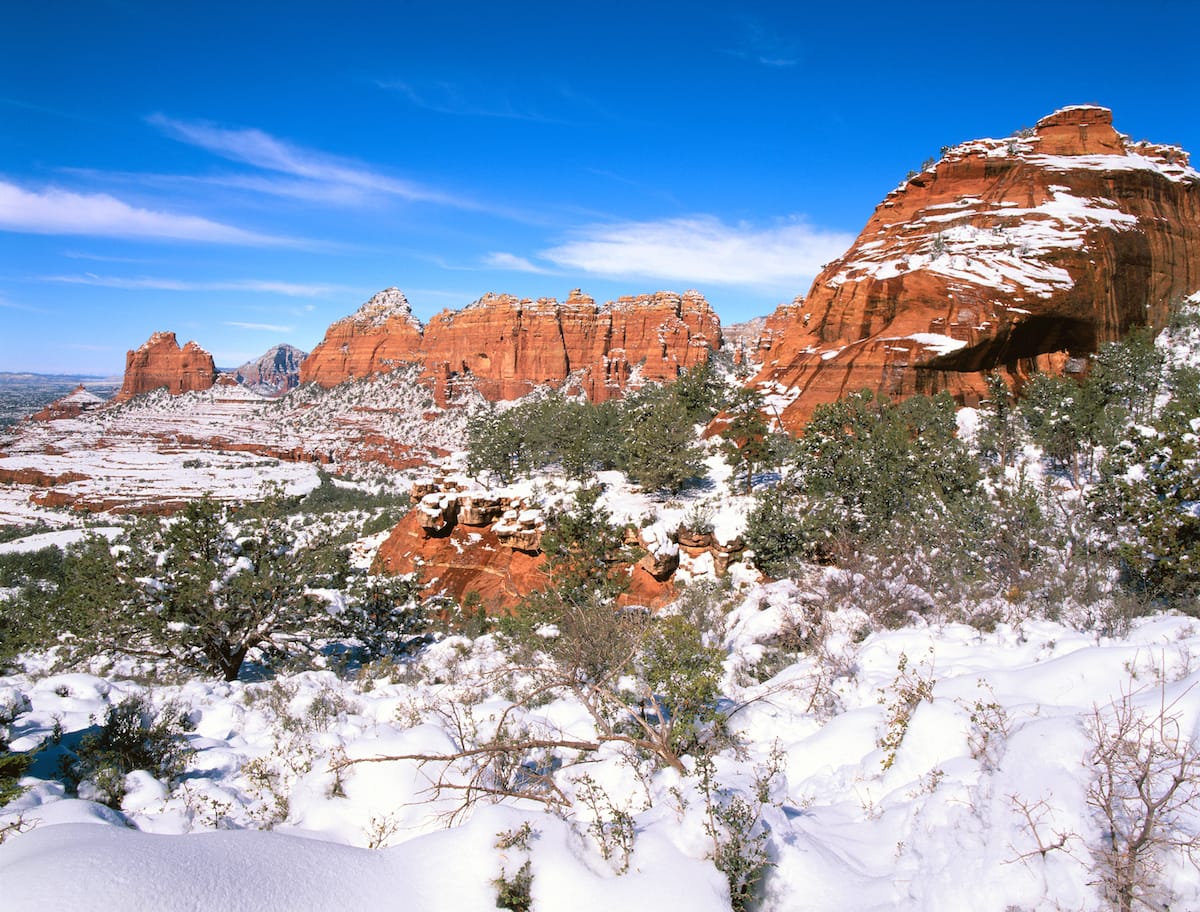 Winter Weather in Sedona
Does it Snow in Sedona during Winter?
The winter season in Sedona starts at the end of November and can be considered to be quite moderate. Snowfall is possible during December, January, and February.
Heavy snowfall is uncommon in Sedona, yet you can still see a light dusting on red rock formations.
Sedona sees 11 inches of snow on average annually. Expect freezing temperatures during the night, just like any desert in the USA.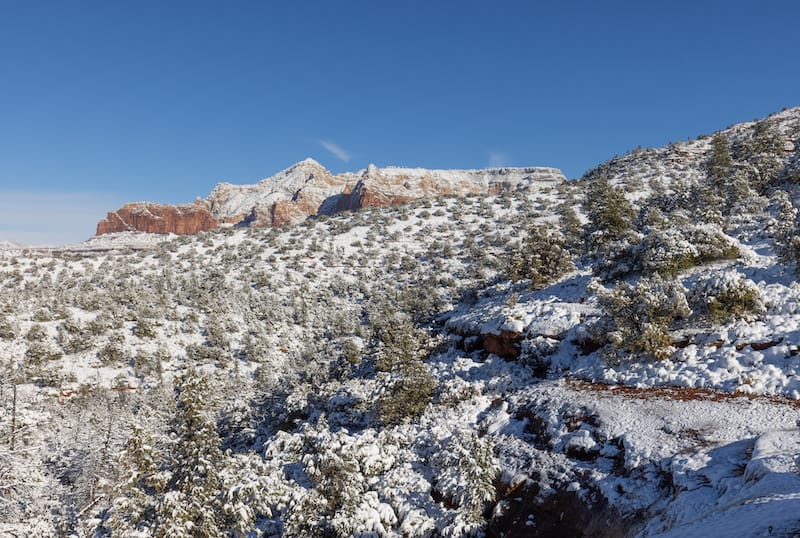 Average Winter Temperatures in Sedona
The average winter temperature in Sedona ranges from 40-60F during the day to 11-20F during the night.
You can see a breakdown below of the average winter temperatures for December, January, and February.
Sedona in December: highs around 60F, lows around 34F
Sedona in January: highs around 60F, lows around 34F
Sedona in February: highs around 64F, lows around 36F
Best Things to Do in Sedona in Winter
1. Go Winter Camping in Sedona
If you are after a one-of-a-kind experience and mesmerizing views, then you should definitely go winter camping in Sedona.
Don't get me wrong, there are many cool Airbnbs in Sedona, but there is just something about camping under the stars.
You will find a great campsite located north of Sedona in the Coconino National Forest in Oak Creek Canyon.
It is called the Manzanita Campground and it only allows tent camping.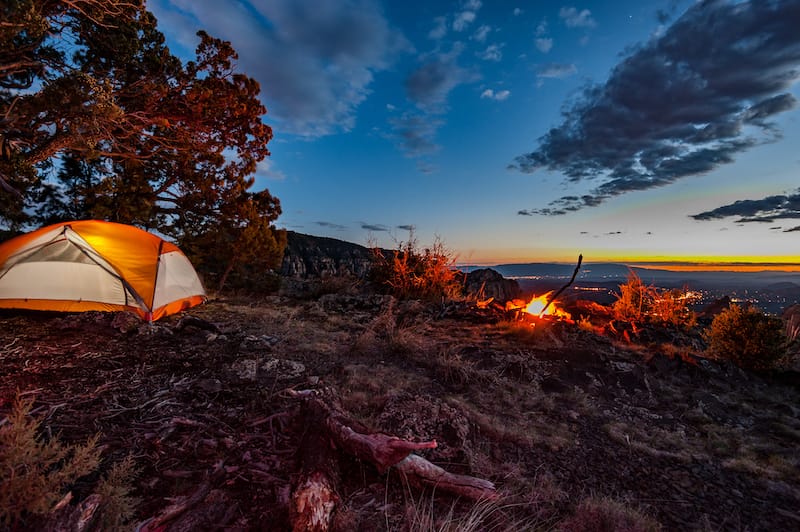 Sedona's winter camping gives you the great opportunity to discover the allure of the desert during the winter months.
Just note that nights can be quite chilly, so come prepared with zero-degree sleeping bags, insulated jackets, and thermals.
Address: 5900 N State Rte 89A, Sedona, AZ 86336
2. Get Adventurous on a Canyon ATV Tour
This Sedona Canyon ATV tour is the perfect match for adrenaline junkies who are keen to discover West Sedona's mesmerizing beauty onboard an ATV.
The canyon features 100 miles of trails, so your guide will customize your chosen 30-miles trip depending on your interest and skill level.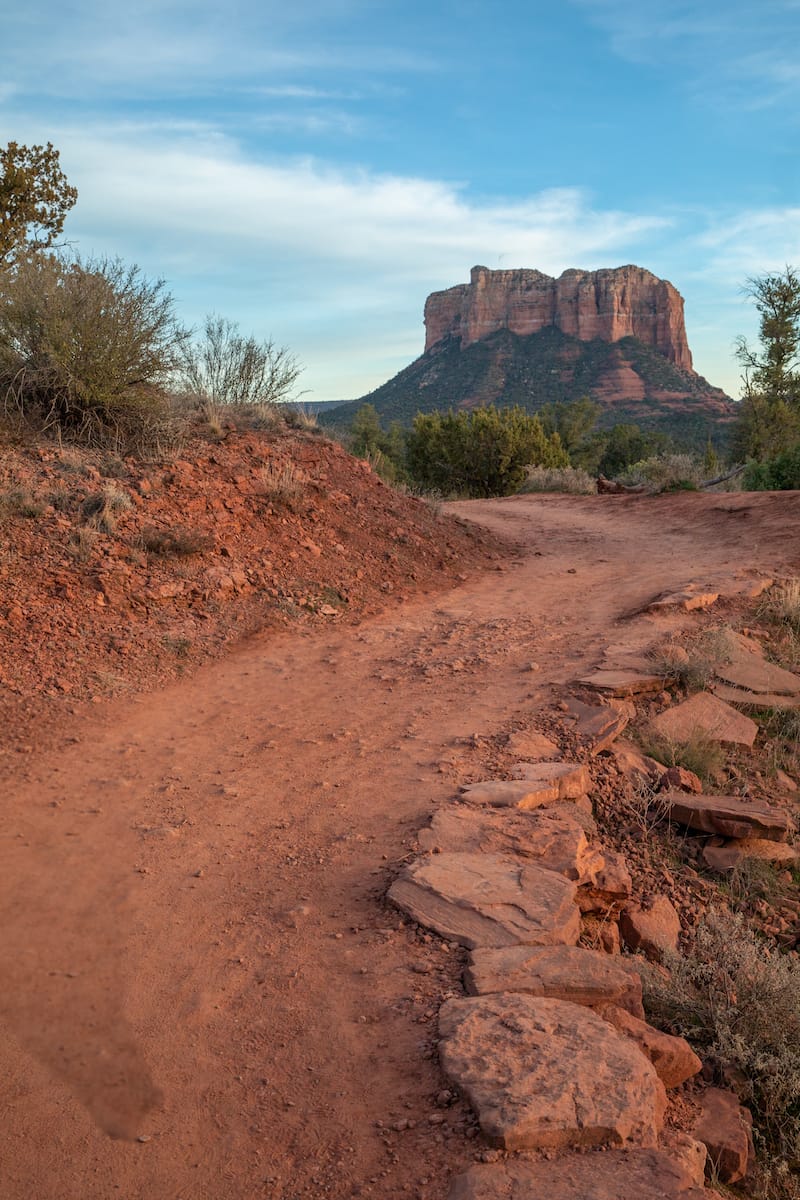 This 3-hour-long tour will take you to admire the breathtaking vistas of Verde Valley and allow you to take in the stunning views of Sedona from the top of 800ft high Skeleton Bone Mountain.
You will get a chance to see an antelope running beside your ATV during the ride, and don't be shocked when you get to witness various locations famous for being the main AZ destinations where over 40 movies were filmed!
>> Click here to check rates for this Canyon ATV Tour
3. Take a Scenic Rim Pink Jeep Tour
Have you ever wanted to witness postcard-perfect scenery from 2,000ft up while aboard a pink Jeep Wrangler that looks like it's straight out of a cartoon?
If so, then this Mogollon Rim Jeep tour should be on your bucket list.
A comfortable and luxurious Jeep Wrangler will take you through an impressive rugged terrain to admire the magnificent vistas of Sedona's lowland deserts and Ponderosa pine forests.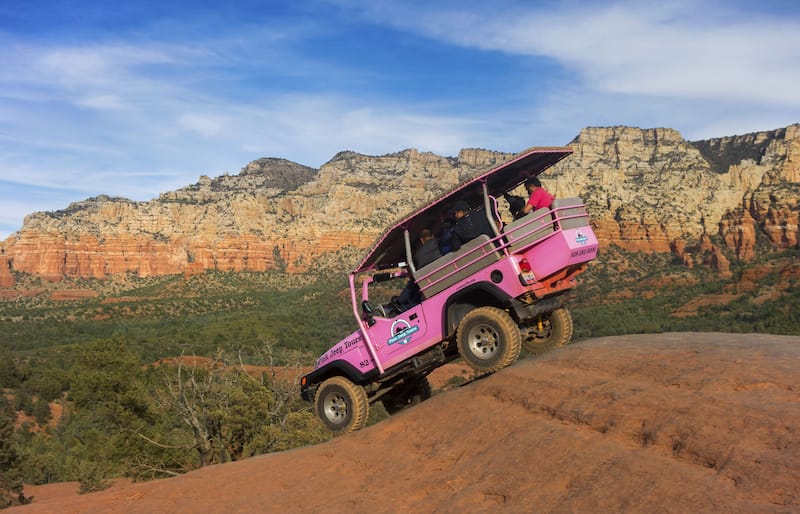 An on-board tour guide will help you pinpoint all the significant places and learn more about Sedona's astonishing red rock formations.
Some hypnotic scenery awaits you from the high mountains, so don't forget to take your camera with you for one-of-a-kind photo opportunities.
>> Click here for rates for a Scenic Rim Pink Jeep Tour
4. Shop for Native American Crafts at the Kachina House
Get a great dose of creativity and awaken the artist within by visiting the Kachina House. It is one of the best things to do in Sedona at any time of the year… not just in winter!
The museum is home to Native American crafts and art, where you can find plenty of hand-crafted pottery art, antique dolls, jewelry, and artifacts created by Indigenous people of North America.
In the Kachina House, you can explore their culture and history by witnessing their unique art filled with passion.
If you are looking for the perfect rare gift for your loved ones, then you should definitely check out their showroom.
Address: 2920 Hopi Drive, Sedona, AZ 86336
5. View the Tlaquepaque Christmas Lights
Prepare to 'ooh and aah' at the stunning Christmas decorations at Tlaquepaque, an art and shopping village named after the Mexican village Tlaquepaque ("best of everything").
Witness the village spring to life during several holiday festivities held throughout December, but make sure not to miss the Festival of Lights, a signature winter event held on December 11th.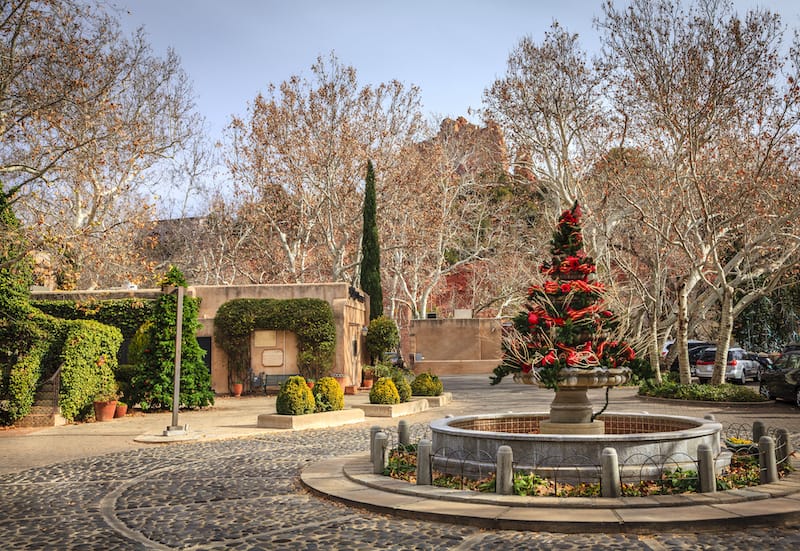 This highly anticipated holiday event makes Tlaquepaque a real-life fairytale destination and offers the lighting of 6,000 luminarias, lively musical entertainment, free cider, and even the visit from Santa making it the perfect Christmas event for families.
6. Take a Canyons and Cowboys Jeep Tour
This Canyons and Cowboys Jeep tour will make you experience the old cowboy ways of Sedona and marvel at the mesmerizing landscape while onboard a comfortable Red Rock Jeep.
This 2-hour long tour will take you through 7 majestic canyons and lead you to the historic Dry Creek Basin, allowing you to feel true western vibes and appreciate the Native spirit of Sedona's stunning landscape.
Get goosebumps by listening to creepy murder stories at the old "Van Derin" cabin.
Your guide will help you dig deep into the history of Sedona's early settlers and learn more about unique red rock formations.
>> Click here for rates for a Canyon and Cowboys Jeep Tour
7. Spend Your Night Stargazing in Sedona
If you love witnessing mesmerizing starry skies, constellations, and even the Milky Way, then this Nighttime UFO & Stargazing Tour should be on your Sedona winter bucket list!
Get chills while listening to the stories of unexplained phenomena and tracking nocturnal activities with your UFO guide, or discover strange hovering objects above Sedona by yourself.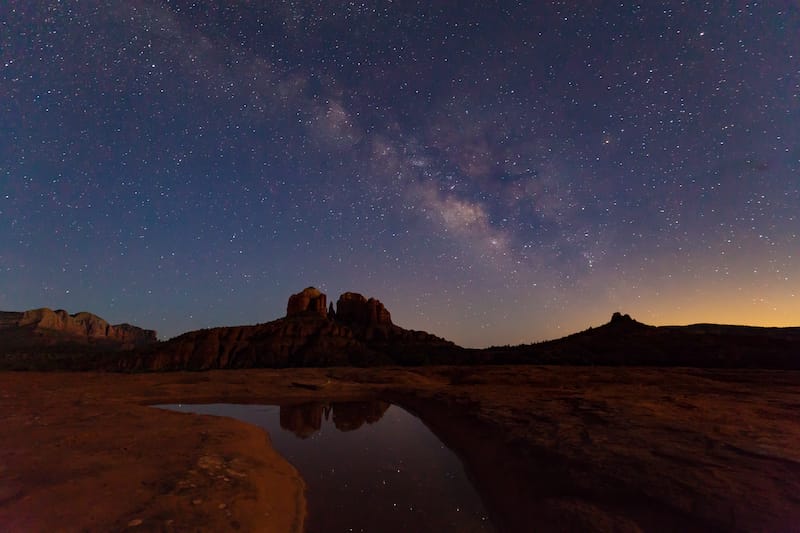 Be ready to be stunned by Sedona's starry skies and explore its mysteries with night vision goggles.
This one-of-a-kind tour will certainly change how you perceive the night skies forever and guarantee you unforgettable memories! It is a great thing to do with children, too!
>> Click here to take a Stargazing and UFO tour in Sedona
8. Visit a Spa in Sedona
Clear your mind with unparalleled relaxation and rejuvenate your skin at one of Sedona's top spa destinations.
Book a spa day in Mii Amo to indulge in refreshing treatments and practice mindfulness or visit Bellametrics, which specializes in permanent makeup.
Take a moment for yourself to escape from your daily routine, relax, disconnect and pamper in Namti Spa, which offers high-quality massage therapy, energy healing, medi-spa skin rejuvenation, nail care, etc.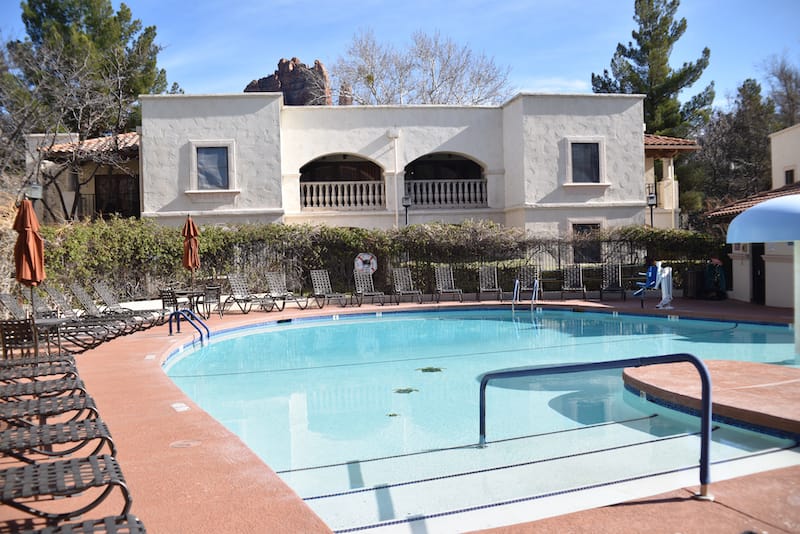 Sedona's New Day Spa is another must-visit spa center in Sedona that uses organic, wildcrafted, and Indigenous products in all of its restorative facials, body treatments, and spa rituals.
9. Discover Sedona's Craft Beer Scene
Your Sedona trip won't be complete without a visit to some of the area's best breweries.
Try Nut Brown Ale at Oak Creek Brewing Company to experience the unique taste of Sedona's oldest craft brewery's signature beer, or visit the Sedona Beer Company to taste the best beer made from ingredients right from the Verde Valley.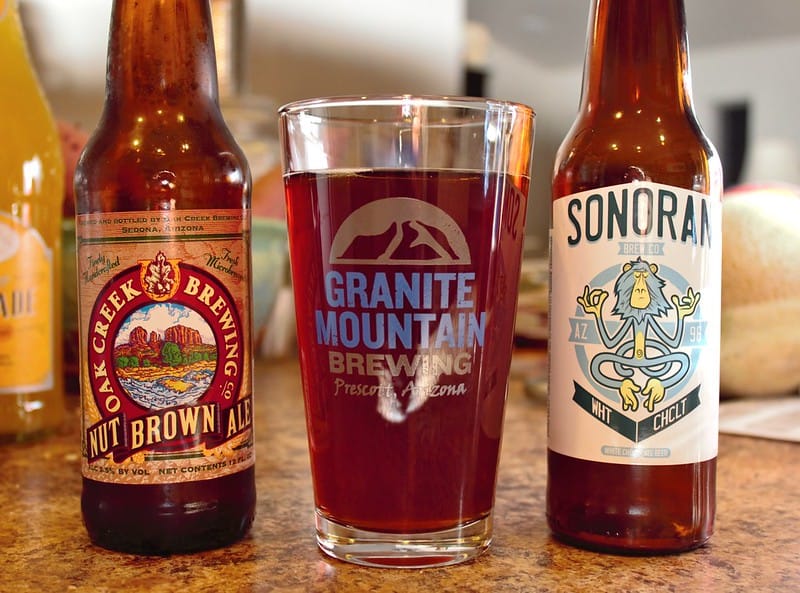 You can also visit Shorebird and Elote Cafe to try local craft beer and get a real taste of Sedona's cuisine while enjoying the stunning red rock views in the background.
10. Take a Sedona Jeep Tour (the Most Popular Excursion!)
Hop aboard a Jeep and get ready to take in the mesmerizing views of the 1,500 ft towering cliffs of Oak Creek Canyon and its surrounding gorgeous natural scenery.
A custom-built Jeep will take you through the Canyon, allowing you to marvel at its otherworldly landscape, and help you discover why it is often referred to as the Grand Canyon's smaller cousin.
The tour also allows you to admire the top of the Colorado Plateau by climbing 2,000 ft along its south rim.
This 1.5 hour-long guided tour along a paved road will make you learn more about Sedona's natural centerpiece's geological and anthropological history while ensuring a smooth and comfortable ride.
>> Click here to check rates for a Sedona Jeep Tour
11. Join an Inflatable Kayak Adventure in Sedona
Enjoy Sedona's stunning outdoors while floating in comfortable inflatable river kayaks on the wild Verde River.
The meet-up location for this 5-mile self-guided trip is the Beasley Flats River Access Point parking area, which lasts 2.5-3.5 hours and is perfect for all skill levels.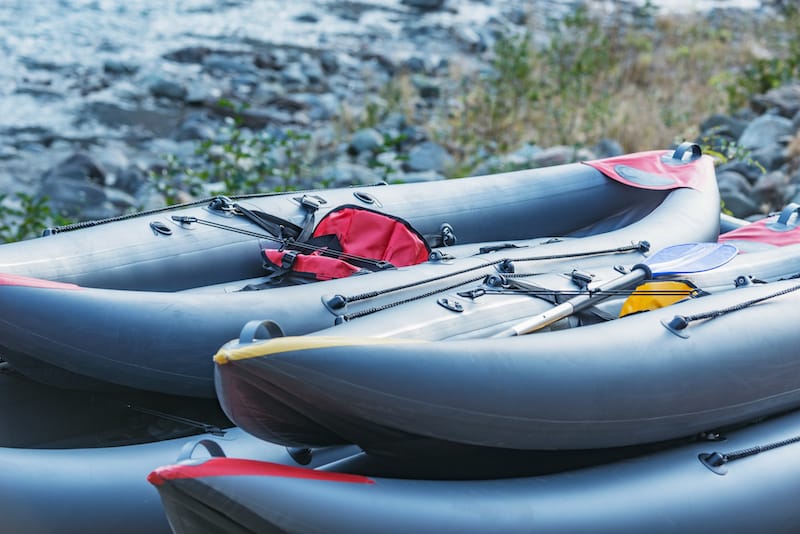 Don't worry about the gear since Verde Adventures provides everything you need. Expect to see the rich wildlife along the way, such as deer, beaver, blue heron, etc.
Just note that available dates for your inflatable kayak adventures are February 12 to November 28th. Click here to learn more!
12. Visit an Award-Winning Sedona Winery
Your Sedona trip won't be complete without a visit to Sedona's award-winning wineries nestled on the southern section of Red Rocks.
Feel like a local by visiting Winery 1912, Caduceus Cellars, or Javelina Leap Winery and sample the incredible selections of Sedona's winemakers.
If you are keen to delve deep into Sedona's winemaking heritage and discover it from another perspective, then make sure to take part in Bliss Wine Tours.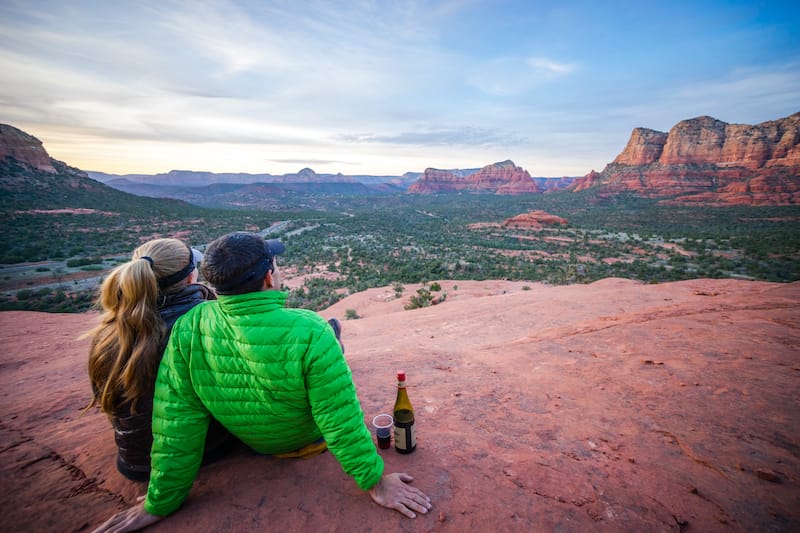 It is Sedona's most luxurious tour that will take you through well-known vineyards, help you sip a flight of some of their award-winning red and white wines, and chat with wine experts.
>> Click here to take a Sedona winery tour
13. Enjoy the Verde Canyon Railroad Trip
Take in the region's natural and cultural treasures aboard the Verde Canyon Railroad, which offers a 4-hour round-trip train ride through Verde Canyon and Sedona's breathtaking wilderness. It is one of the best day trips from Sedona!
Take a ride along the scenic Verde River on either a vintage train car or open-air platform car to marvel at 360-degree views of Verde Valley and surrounding unspoiled views of Arizona's wildlife and dramatic geology from large panoramic windows.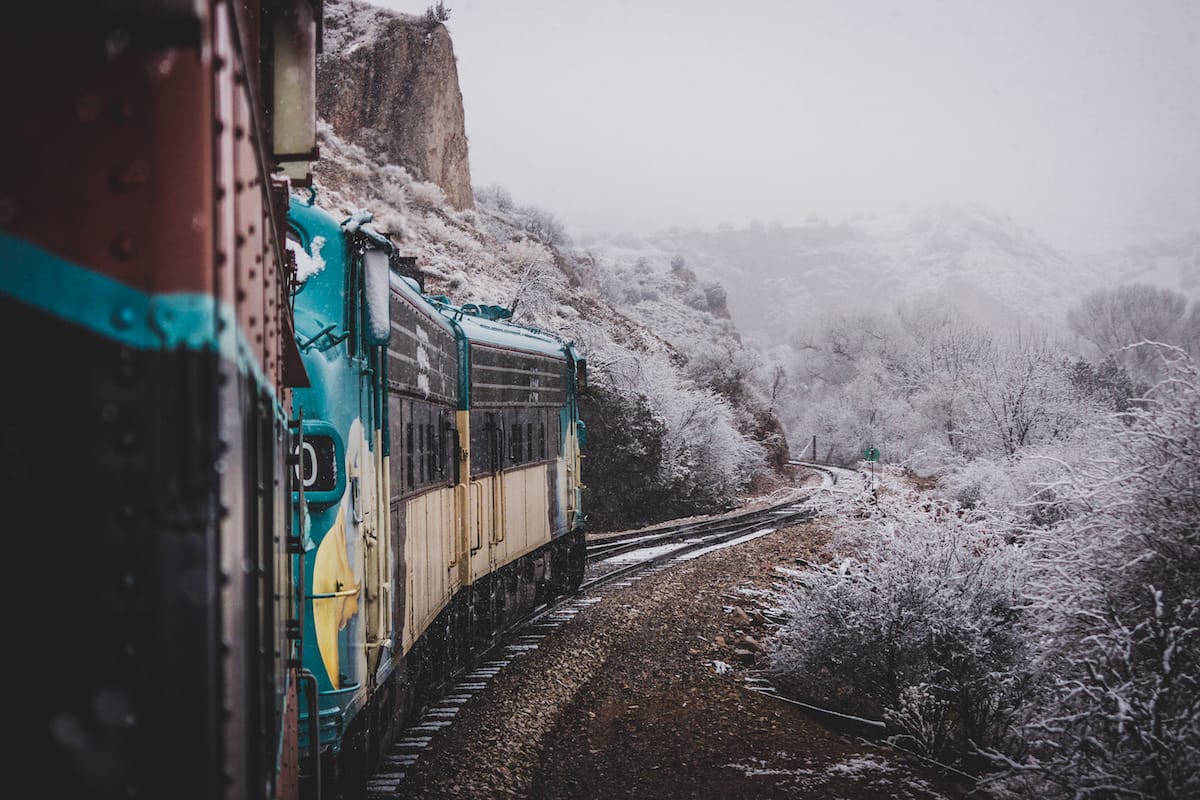 Get ready to pass through a century-old, 734-foot tunnel and admire the otherworldly scenery of the Arizona desert, Sinagua cliff dwellings, high-desert flora and fauna, Verde River, and historic mining sites along the way.
>> Click here to ride the Verde Canyon Railroad
14. Take a Helicopter Tour of Sedona
If you are keen to experience the full splendor of Arizona's mesmerizing desert landscape, then taking this Dust Devil Tour is a must-do activity for you!
This scenic air tour will take you through Sedona's famous red rock formations, where you can get a bird's eye view of ancient Anasazi cliff dwellings.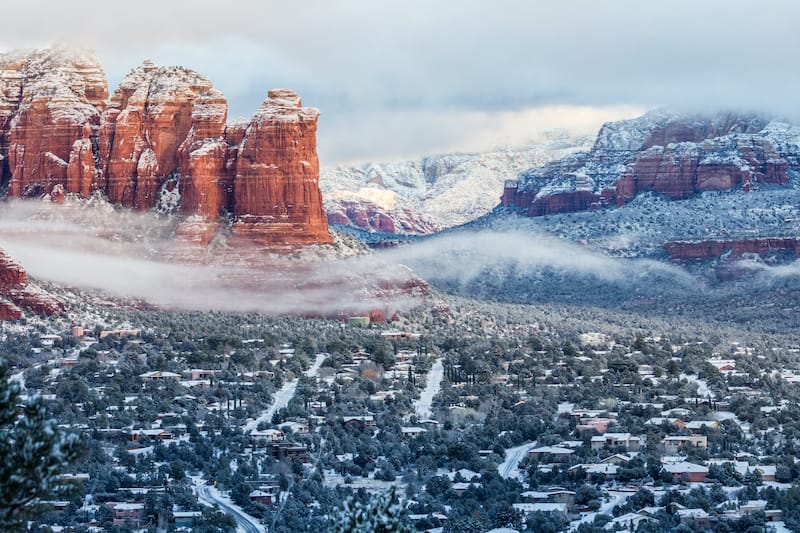 Skilled and knowledgeable pilots will make your tour an entertaining and educational one, helping you learn more about the area's rich natural history while you get to marvel at its highlights.
Don't forget to take your camera with you to snap stunning pics of the most breathtaking scenery… Sedona in winter is truly a spectacle!
>> Book your Sedona Helicopter Tour here
15. Visit the Sedona Heritage Museum
The Sedona Heritage Museum offers a true step back in time where you can explore the rich heritage of the Sedona area.
The small museum is set inside a former apple farmer's house, and nearby, you can find a replica tent house and a renovated movie set building.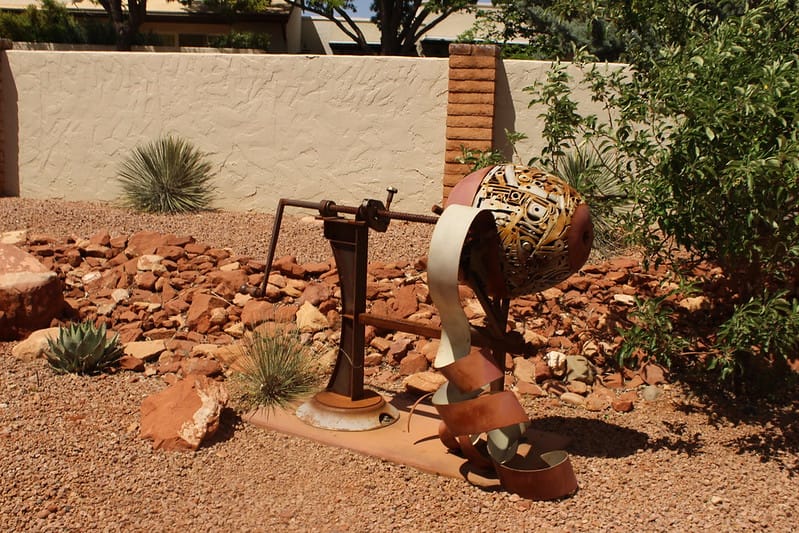 Get ready to discover the area's wine-making industry, art history, cowboy life, and orchard industry by taking part in various educational programs and audio tours, or travel back for a moment to Sedona's movie-making era in the movie-set building.
Don't forget to check out the gift shop and enjoy a picnic with a backdrop of the red rocks! It will make for a great souvenir to remind you of your weekend getaway!
Address: 735 Jordan Rd, Sedona, AZ 86336
16. Hike the Cathedral Rock Trail
Cathedral Rock Trail offers another scenic hike that will take you through Sedona's sweeping scenery.
This is a 1.2-mile heavily trafficked out and back trail that features quite a bit of challenging sections but trust me, the final views of Cathedral Rock and surrounding breathtaking views are well worth the effort.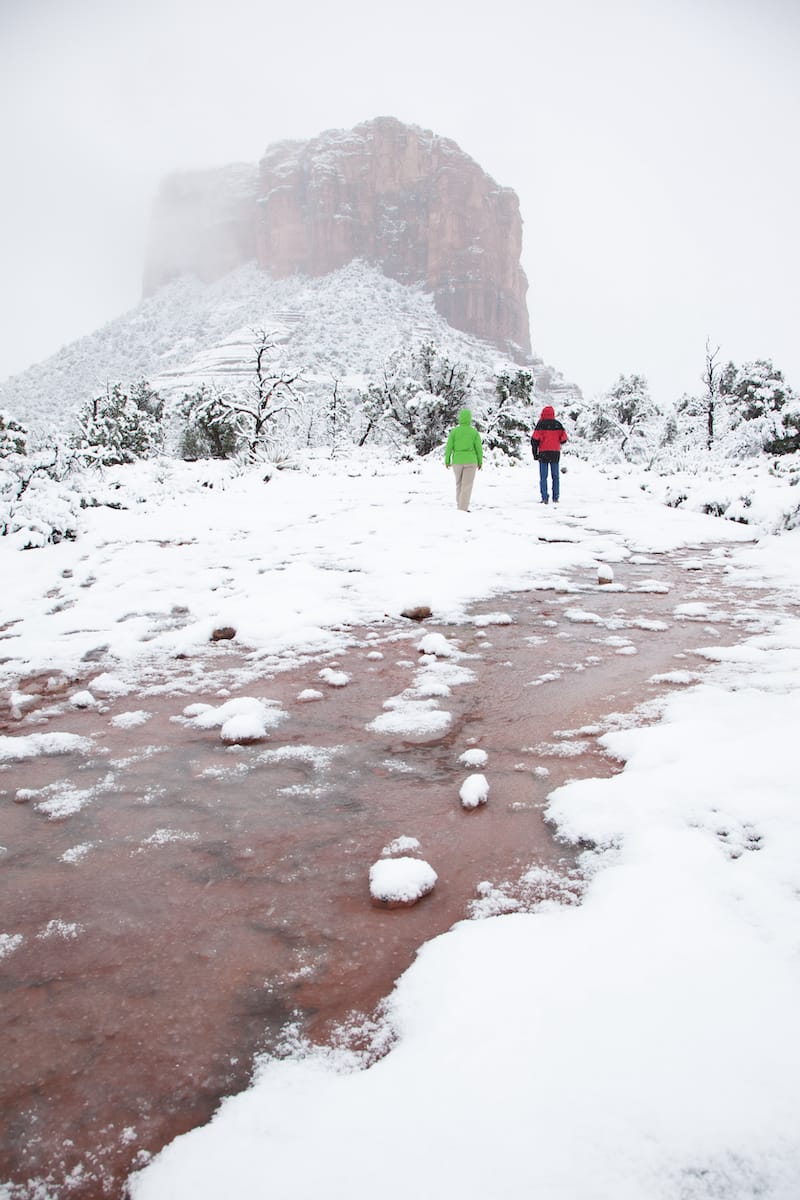 Just note that if you are planning your hike during the winter months, you need to be well prepared and have sound footing since some of the scrambling points can become slippery.
17. Take to the Bell Rock Path Trail
The Bell Rock Path Trail is a 3.6-mile heavily trafficked loop trail that offers mesmerizing views of Red Rock Country.
This moderate trail will reward you with stunning views of Bell Rock, Courthouse Butte, and other magnificent landmarks along the way.
The major part of the pathway has a wide and hard surface; just note that the final part has a gradual ascend to the top of Bell Rock which can be pretty challenging.
You will find an observation zone on the west side of Bell Rock, perfect for families with kids.
18. Discover the Boynton Canyon Trail
If you are after one-of-a-kind scenery, then hiking the 7.3-mile Boynton Canyon Trail should be your top pick!
As one of 4 famous vortex sites, the moderate Boynton Canyon Trail will take you through a deep box canyon, where you can admire red rock formations, lush greenery, and rich wildlife along the way.
The trail is open year-round and offers dramatic scenery changes every season. Expect to witness mysterious scenery during the winter months, when shady parts of the trail are swallowed by thick layers of snow or ice.
Just note that if you decide to go for a hike after winter storm conditions, make sure to dress in extra layers since, unlike sunny desert sections, the shady parts can be quite chilly.
19. Hike the Soldier Pass Trail
Explore Sedona from another side by hiking, horseback riding, and biking on the Soldier Pass Trail.
Nestled in Coconino National Forest, Soldier Pass Trail is a moderate 4.3 mile heavily trafficked loop trail.
The trail leads you to Red Rock Secret Mountain Wilderness, takes you past a massive sinkhole called Devil's Kitchen, Soldier Pass cave, and finally to mesmerizing Seven Sacred Pools.
Where to Stay in Sedona
You will find numerous places to stay in Sedona. Below are some of our top picks!
There are so many cool things to do in Sedona in winter even though many people think to visit during the shoulder seasons.
We hope that this guide detailed some of the best activities during winter in Sedona. If we missed any – let us know in the comments, please!
More Arizona Travel Guides
Pin this Winter in Sedona Guide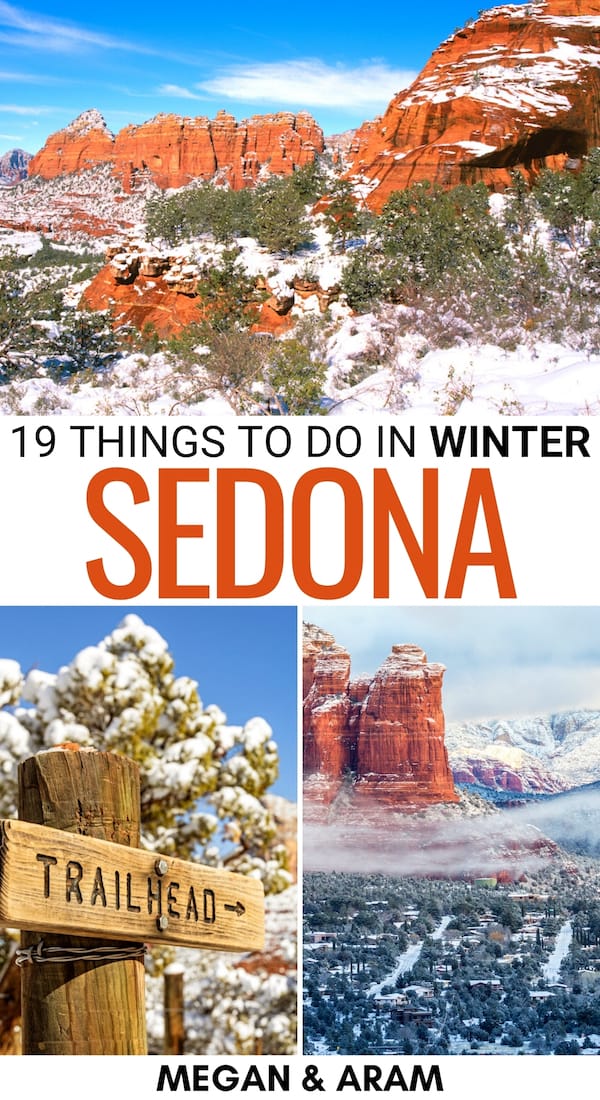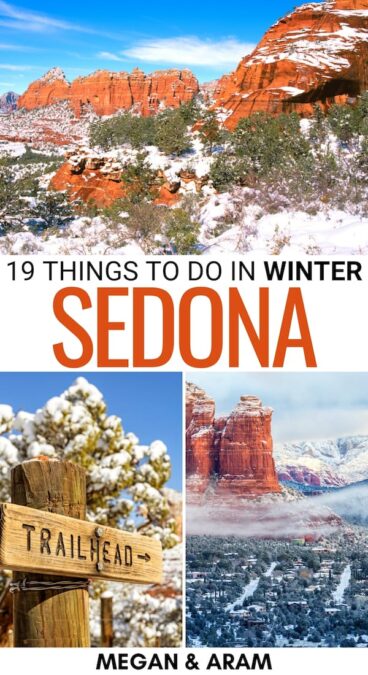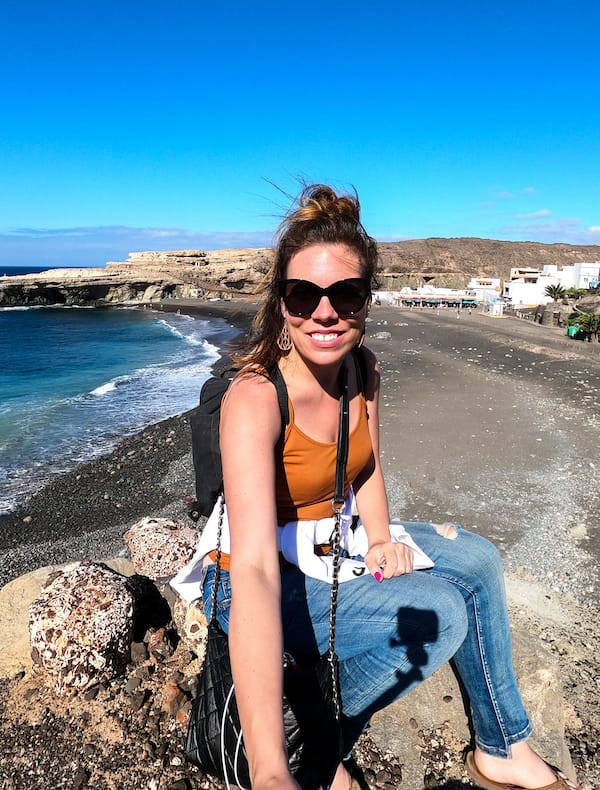 Megan is a travel blogger and writer with a background in digital marketing. Originally from Richmond, VA, she now splits her time between Frankfurt, Germany and Arctic Finland after also living in Norway, Armenia, and Kazakhstan. She has a passion for winter travel, as well as the Nordic countries, but you can also find her eating her way through Italy, perusing perfume stores in Paris, or taking road trips through the USA. Megan has written for or been featured by National Geographic, Forbes, Lonely Planet, the New York Times, and more. She co-authored Fodor's Travel 'Essential Norway' and has visited 45 US states and 100+ countries.