Without a doubt, Italy is one of the top spots on most people's bucket lists. And these day trips from Sorrento are absolute bucket-list additions for your Italy trip!
Are you planning your Amalfi Coast trip last minute?
Below are some of the top tours, hotels, and more! These include many Sorrento day trips!
🇮🇹 Top Experiences and Tours on the Amalfi Coast:
🛌 Top Amalfi Coast Accommodation and Lodging:
🚗 Looking for the best way to get around the Amalfi Coast? Click here to check rental car rates for Italy!
With Sorrento being near some of Italy's top sites like Naples, the Amalfi Coast, and Mount Vesuvius, your itinerary will be packed with adventures.
Here are some of the top Sorrento day trips you can take. Did we miss any of the best day trips from Sorrento? Let us know in the comments!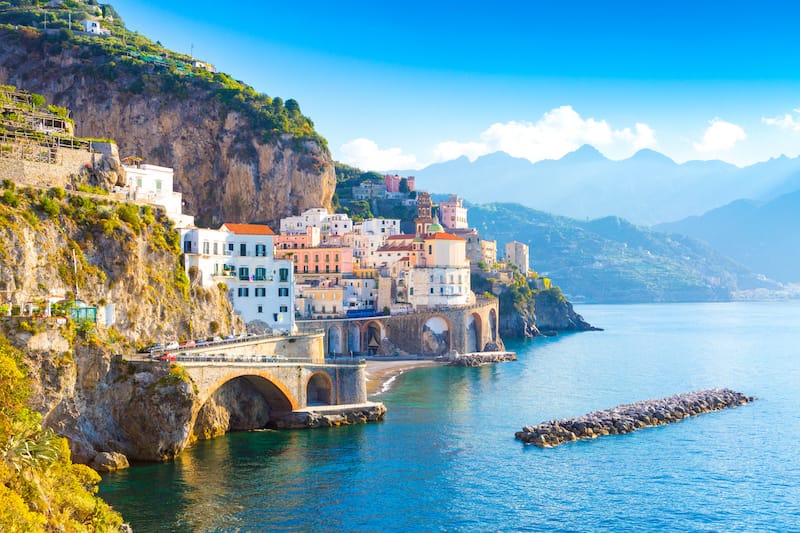 Best Day Trips from Sorrento
1. Naples
Distance from Sorrento to Naples: 48.9 kilometers
Driving Time: 56 minutes
Change Sorrento's stunning views with no less impressive landscapes of Naples. Regardless of whether you visit Naples in winter or in summer, it is going to blow your mind!
Located 42km from Sorrento, Naples can be reached by train, ferry, taxi, or shuttle, and no matter which one you choose, your journey will be spiced up with spectacular views.
The heart of Naples is its centro storico, boasting world-class architecture and churches with walls richly covered in frescoes.
But the real treasure is hidden underneath the city streets and that is when you truly discover that this is one of the most beautiful cities in Italy.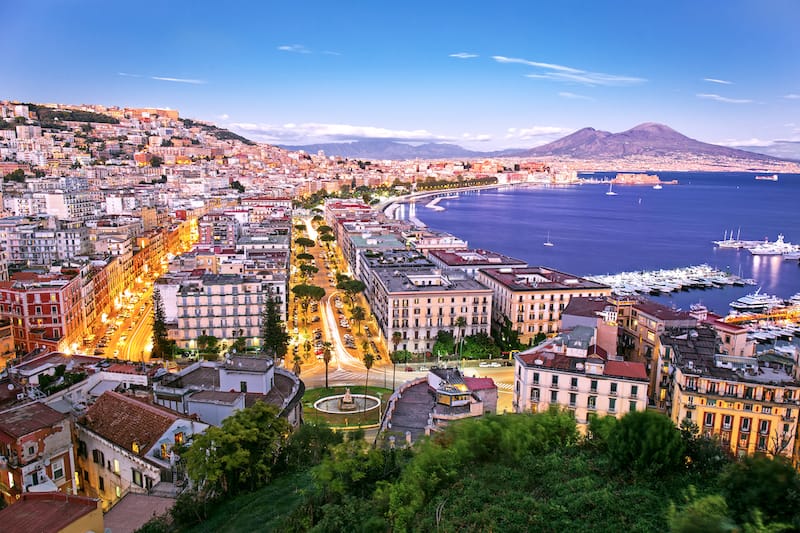 The San Gennaro Catacombs are a 280-mile underground network built by Greeks in the 4th century BC that are still open today. Spread over two levels, the lower tunnel contains over 3,000 burials with a unique atmosphere.
You will see Roman aqueducts, catacombs, frescos, rainwater reservoirs, and shelters used during WWII.
Find the most significant collection of ancient remains of Greek and Roman times in the Naples National Archaeological Museum, displaying much of the Pompeii and Herculaneum excavations.
If you plan to visit Naples on a cruise ship (and not stay overnight), you will first see an impressive castle rising on the hill.
The 13th-century Castel Nuovo has survived the centuries and is in perfect condition with five circular crenulated towers.
Change historical sites with local vibes in Santa Lucia, a district with narrow cobbled streets, craft shops, cafes, and restaurants. Take a half-day trip there and fall in love with its charm!
If you have a little extra time in the city, be sure to sign up for a Naples pizza making class!
2. Pompeii
Distance from Sorrento to Pompeii: 26.5 kilometers
Driving Time: 40 minutes
One of the main reasons that Sorrento is worth visiting is that it is central to so many remarkable historical sites. And one of them is Pompeii!
Nature, art, history, and mystery come together in a spectacular way in Pompeii, promising a thrilling and unforgettable experience.
Getting to Pompeii is very simple- it is only 17km and it only takes 20 minutes to reach the world-renowned site. The bustling Roman city was completely buried under the ashes of Mount Vesuvius in 79 AD.
The 25 meters of ash preserved the city that was rediscovered 1,800 years later with its paved streets, temples, graffiti, bathhouses, and more.
You will have a chance to explore the most significant things of 160 acres of the archaeological site.
Here you will find the oldest known amphitheater in Ancient Rome, built in 70 BC. This magnificent structure could hold about 20,000 people and was meant for gladiator games.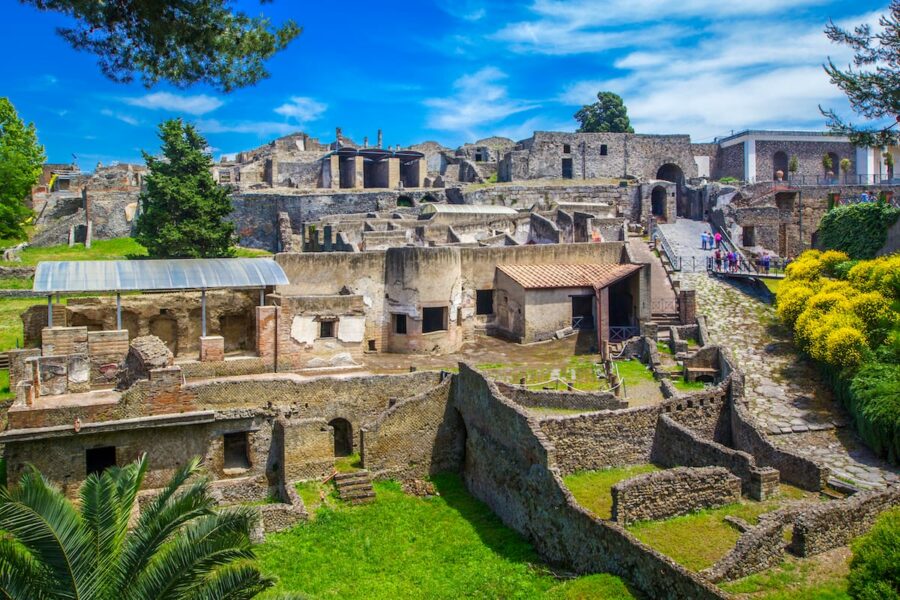 The center of Pompeii is the Forum with the Temples of Apollo, Venus, and Jupiter, grand Forum Baths, and an epic panorama of Mount Vesuvius. Who knew that this unreal beauty could be destructive?
No less impressive things to see are the Gladiator Barracks with decorated walls, columns, and 120 inscriptions.
Villa Dei Misteri is your next destination, a secret place where girls held rituals and rites for Dionysus, the god of wine. Here you will see the finest ancient wall painting perfectly preserving all the original colors.
Finally, the precious things to see in Pompeii are the final moments of people before they were forever buried under the ashes.
3. Mt Vesuvius
Distance from Sorrento to Mt Vesuvius: 48.4 kilometers
Driving Time: 1 hour, 6 minutes
Mount Vesuvius has dramatically changed this part of Italy. Two volcanic events, the 79 AD eruption of Pompeii and Herculaneum and the 1944 eruption made Vesuvius one of the world's most dangerous volcanoes.
The slopes around Vesuvius are home to over 600,000 people, which has become Vesuvio National Park since 1955.
Located 45.8 km (road distance) from Sorrento, you can get to Mount Vesuvius in four ways; train, shuttle train, taxi, or rent a car.
Most of the tours to Vesuvius take a whole day to explore the territory with vineyards and the volcano crater as well as participate in wine tasting.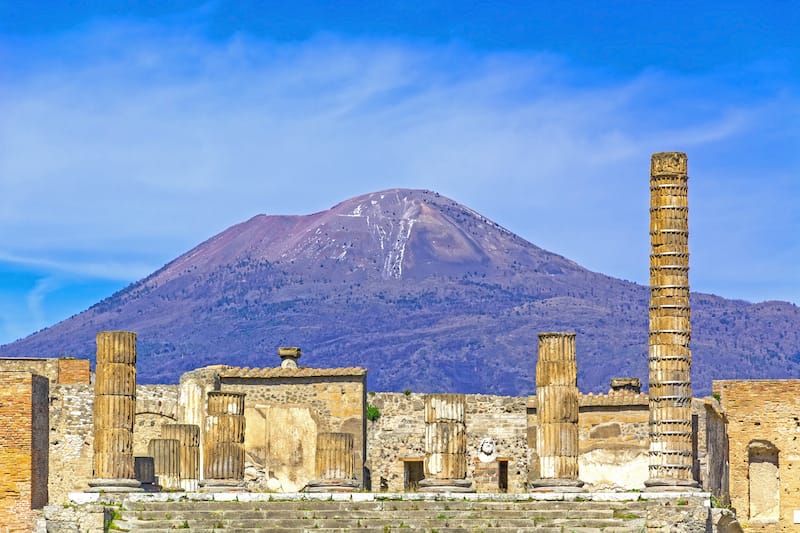 You will take the Gran Cono 4 km trail to explore the territory. It is an easy 2-hour hike up Mount Vesuvius with a little elevation and spectacular views over the Bay of Naples.
Though not a loop around the entire volcanic rim, you will still be able to see the crater from the viewpoint. There will be cafes to rest and have refreshing drinks on your way.
For longer hiking, you can take one of the 11 new paths of the Vesuvius National Park with a total length of 54 km, all taking to Mount Vesuvius from different starting points.
After your exciting climb to the volcano, head to the Lacruma Christi winery in the shadow of Vesuvius to sample the best wine and the original flavors of the mineral-rich volcanic soil.
4. Positano
Distance from Sorrento to Positano: 15.7 kilometers
Driving Time: 33 minutes
Positano is a favorite short trip from Sorrento where you can stop to enjoy pretty pastel-colored houses perched on the cliffs, overlooking the deep blue sea and the beautiful coastline.
Only 15 km from Sorrento, Positano is one of the three most beautiful villages on the Amalfi coast you can reach by ferry, bus, or car.
Upon arriving in Positano, the first thing to do is walk down to Spiaggia Grande, the largest beach with colorful terraces and tiny houses built one over another.
You may go to the smaller Fornillo Beach for a more secluded and relaxed atmosphere… it really is one of the best things to do on the Amalfi Coast!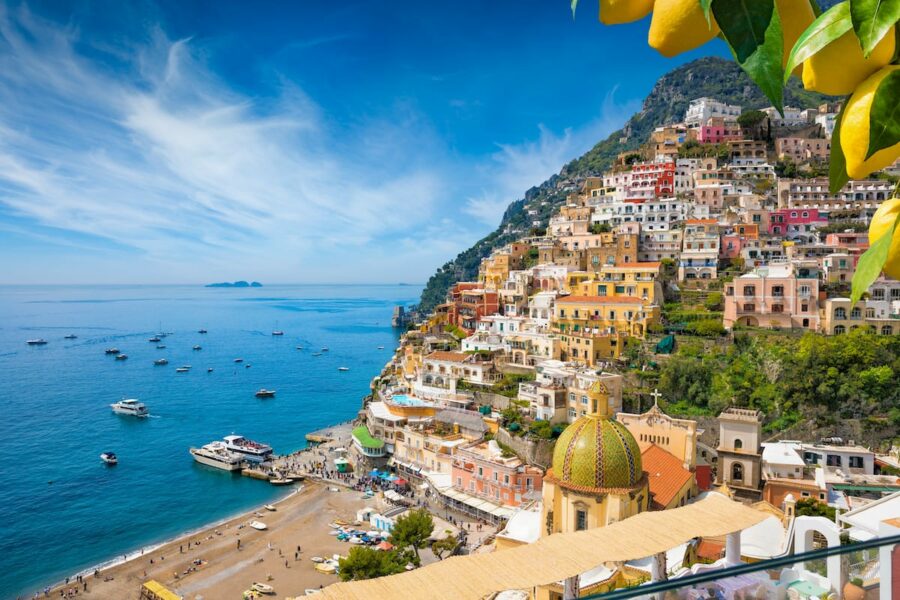 While walking throughout the village, you will see a beautiful mosaic-tiled dome of the Church of Saint Mary of the Assumption overlooking the sea.
Take a walk to the church to enjoy the surroundings and explore the historical monument. Another great thing about Positano that guests love is the Music in the Rocks club on the eastern part of the Spiaggia Grande beach.
The party tunes have been banging out here since 1972, and you will also have a chance to party in a cave.
Finally, rent a scooter to simply drive about the village, across the small art galleries, shops, and cafes on cobbled alleys.
In one of the alleys higher up on the mountain, you will see a cozy Cafè Positano, a lovely place decorated with flowers and a view to die for.
5. Capri
Distance from Sorrento to Capri: 16 kilometers
Driving Time: 30 minutes (requires a boat!)
Capri has been an inspiration to artists, writers, and emperors. Today it is considered one of the most beautiful islands in the world, bringing together history, culture, and natural beauty.
Located 16 kilometers from Sorrento, the island with its sun-soaked shores offers a fascinating 30-minute ferry trip to explore whitewashed buildings, the Grotta Azzurra sea cave, the town of Capri, Anacapri, cute restaurants, and boutiques.
Some of the best things to see in Capri are Giardini di Augusto, beautiful gardens with lovely statues, terraces overlooking the sea, and the Faraglioni rocks.
By the way, Faraglioni, the symbol of Capri, is worth special attention. You can watch the three massive rocks rising from the sea by walking along Via Tragara or cruising close to the cliffs.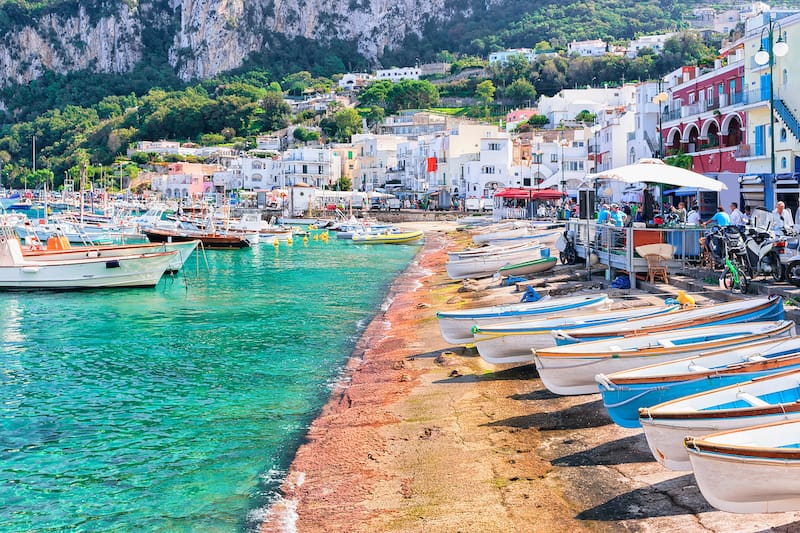 Another fantastic adventure not to miss in Capri is Via Krupp, a real jewel and a crazy ride along the narrow twisted path.
There are massive rocks hanging over your head on one side, and there is the endless blue sea and the sky on the other side. If the road is closed because of the danger of falling rocks, you can still enjoy the view of the road from the Giardini di Augusto.
Still looking for some amazing views? Climb up Mount Solaro on the chairlift, where you will be able to catch the whole panorama.
Take your time to have coffee in La Canzone del Cielo café and walk back down following the signs of Cetrella hermitage, a chapel in the mountains. Back in the town, taste the legendary gelato in Buonocore Gelateria.
6. Salerno
Distance from Sorrento to Salerno: 55.5 kilometers
Driving Time: 1 hour, 1 minute
Neighboring Naples and Sorrento, Salerno is often overlooked.
However, it is a lively coastal city and a spectacular tourist destination that brims with historic beauty, with the unique vibe of the old town to its promenade, washed with night lights.
Salerno can be a wonderful one-day trip that can easily be reached by bus or train.
After strolling about the old town streets and admiring the medieval architecture, head to Parco Naturale Diecimare, a protected area with a rich diversity of flora and fauna.
Here you will have several trails to explore the park: Sentiero Natura (nature trail), Sentiero del Bosco (woods trail), Sentiero del Falco (falcon trail), and Sentiero dei Due Golfi (trail of the two gulfs).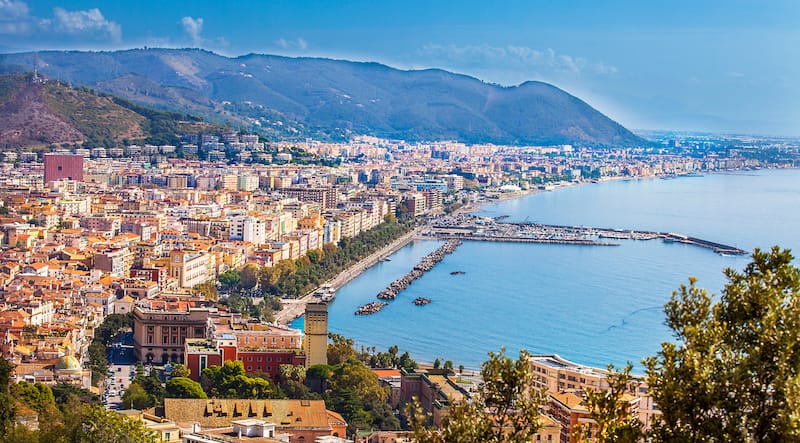 Change the views of the park with another no less impressive panorama of Giardino della Minerva, Salerno's botanical garden that cultivates plants for therapeutic purposes.
Here you will see 382 species of plants and stroll in a beautiful park with fountains and vine-covered pergolas.
Salerno is known for its vibrant nightlife known as the "Movida." Show up after 9:00 pm, and you will find streets crowded and people hanging out.
If "Movida" isn't your thing, stroll along the longest Lungomare promenade and stop in Nettuno to taste the best gelato in town. And, of course, don't forget about the beaches of Salerno.
Here you will find one of the few sandy beaches on the Amalfi Coast, and La Baia is one of them to enjoy the soft sand and the clear, calm waters.
7. Herculaneum
Distance from Sorrento to Herculaneum: 40.2 kilometers
Driving Time: 49 minutes
While Pompeii is Southern Italy's historical and most famous Roman town, Herculaneum is another city to the south of Naples destroyed in the same eruption of Vesuvius.
Your tour to Sorrento will be incomplete without a day trip to Herculaneum, an hour's drive that passes through the picturesque landscapes of Naples.
As soon as you arrive at the archaeological site of Herculaneum, you feel like you have traveled back in time.
Vesuvius buried a city and 6,000 people under its molten lava that waited a thousand years to be found again. Almost all the details of everyday life – food, textiles, and wooden furniture remained intact.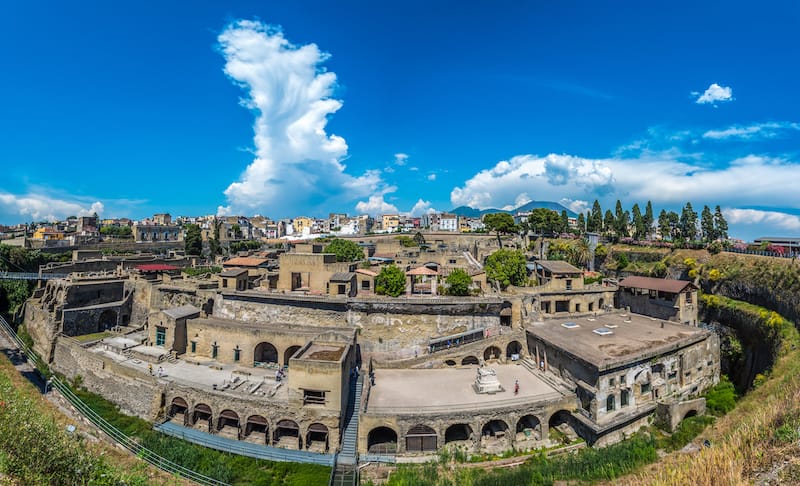 Herculaneum is smaller and less crowded than Pompeii, so you will have a chance to see all the houses and buildings open for visits.
Here you will find Sacello Degli Augustali, a shrine dedicated to Hercules, later renamed Augustali after Octavian Augustus.
The more recent excavations discovered a public bathhouse with mosaic floor and prints of dolphins.
One of the most colorful places in the Herculaneum is the House of the Neptune Mosaic with a well-preserved mosaic wall. Walking from one building to the other, you will see ancient shops with pots, ovens, baking pans, and mills.
8. Procida
Distance from Sorrento to Procida: 84.8 kilometers
Driving Time: 2 hours, 11 minutes (requires a boat!)
The smallest island on the Campanian Archipelago, Procida has an area of less than two square miles. However, Procida's small size has not stopped it from being named Italy's Capital of Culture in 2022.
Colorful buildings, narrow alleyways, unspoiled beaches, waterside cafés, and a pretty harbor have made it a location for numerous films, including Il Postino and The Talented Mr. Ripley.
To visit Procida Island, you can take a ferry and have a beautiful 30-minute cruise to the Marina Grande Procida, the main harbor where most trips start.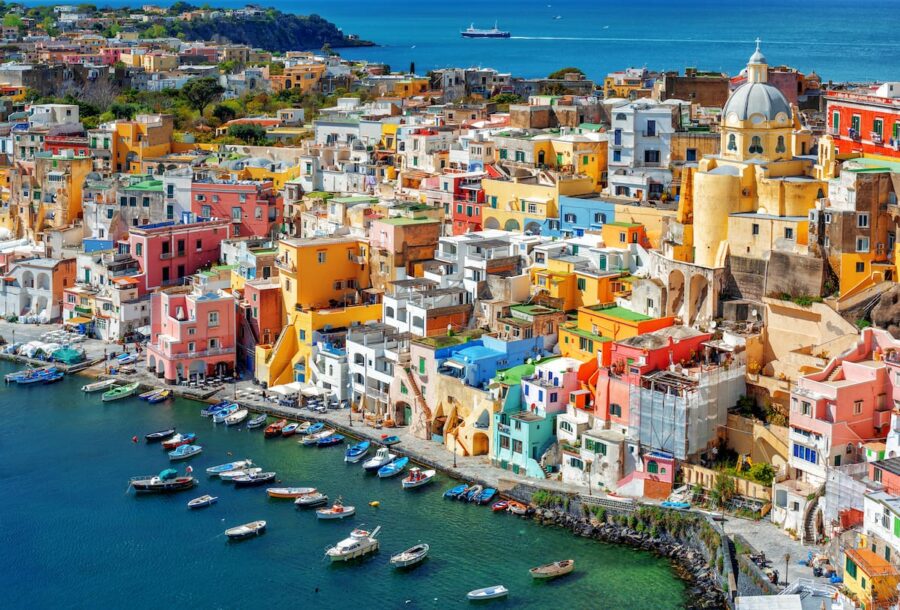 The colorful island with houses stacked next to each other has its unique laid-back vibe. Stroll along the harbor to see the 11th-century Abbey of San Michele Arcangelo and a small museum.
Continue your tour to the high point of the island, Terra Murata. It is a small fortress-like village with narrow streets, fortress walls, and Palazzo D'Avalos, a palace that served as a prison and now is turned into a museum.
To catch the best Mediterranean sunset, head to Chiaiolella Beach, known for its volcanic sand and rock foundations and shallow waters.
Your final stop on Procida Island is the fishing village of Marina Chiaiolella with a seafront promenade and a wonderful place to taste local seafood. This is one of the best off-the-path places in all of Italy!
9. Ischia
Distance from Sorrento to Ischia: 95.6 kilometers
Driving Time: 2 hours, 30 minutes (requires a boat!)
Ischia is the largest volcanic island in the Bay of Naples, with six towns packed with so many fantastic things to do. It deserves at least a day trip from Sorrento!
The island, home to La Mortella Gardens, is located on the Tyrrhenian Sea and can be reached on a ferry.
The island is all about crystal clear waters, caves, and rock features like Spiaggia di Cava Grado.
Still, Ischia is mainly visited for the historic thermal baths and outdoor spas with mineral springs, steam baths, and saunas. The most popular thermal pools are Poseidon and Negombo with their private beaches.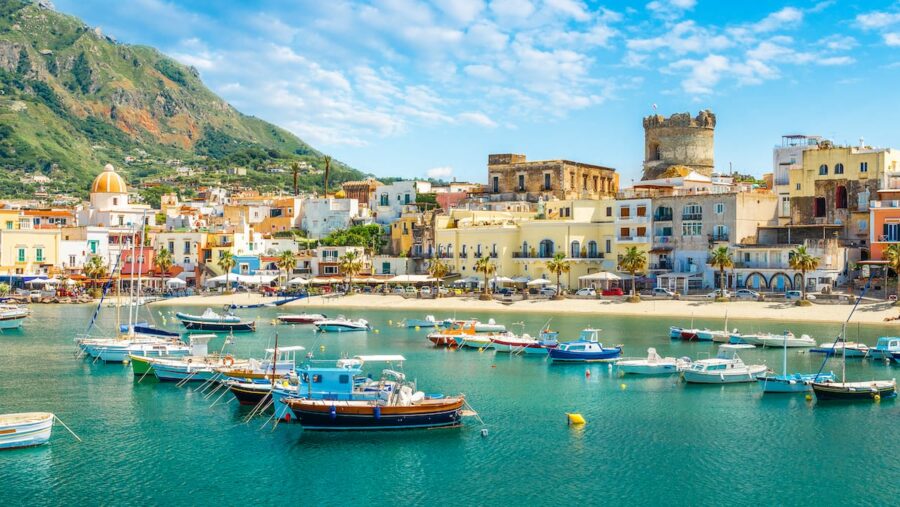 Once you arrive in Ischia, a panoramic view will open up before your eyes; Giardini la Mortella, a beautiful garden carved into the volcanic rock.
It is full of flowers and exotic plants, a tea house, a Thai-style pavilion for meditation, and an outdoor amphitheater hosting summer concerts.
Ischia is also a popular destination for hiking, and one of the best trails to see the island's surroundings is a hike to Mount Epomeo.
The strenuous walk will need more effort, but you will be rewarded with gorgeous views. If you are looking for a hidden gem to visit for spring break or during summer vacation, check out Ischia!
10. Ravello
Distance from Sorrento to Ravello: 38 kilometers
Driving Time: 1 hour, 16 minutes
Located atop a hill more than 1,200 feet above the Mediterranean and far from the crowds of Amalfi and Positano, Ravello is a hidden treasure of the Amalfi Coast.
The quickest way to get from Sorrento to Ravello is by ferry or bus; you will enjoy an hour of beautiful drive both ways.
The iconic town on the Amalfi Coast is set upon a rocky cliff overlooking the deep blue sea with lush groves, villas, vineyards, and terrace gardens.
All local historical villas are separate attractions, so you will probably spend a good portion of your day wandering about villas.
Still, one of the villas that deserve your special attention is the Villa Rufolo and its gardens.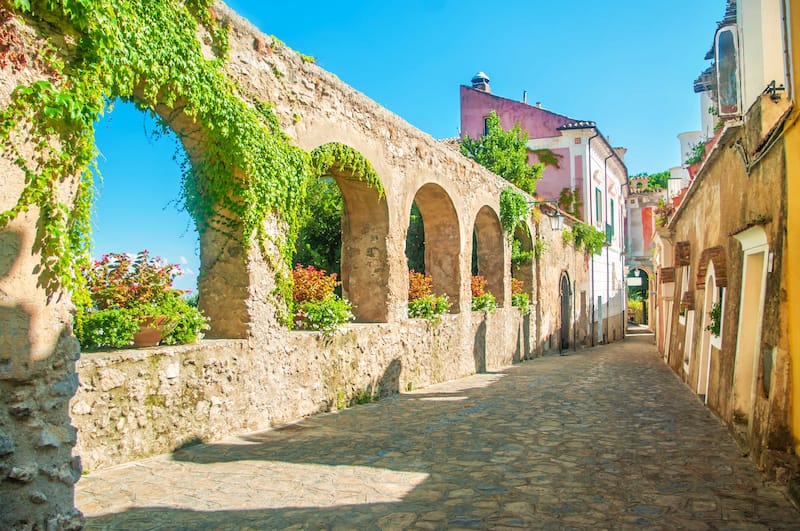 The enchanting stroll will take you to a 13th-century villa, the largest on the Amalfi Coast, with bedding plants blended into the architectural elements. The villa's terrace opens one of the most show-stopping views in Italy.
From Ravello, you can take a short hike to the secluded Minori village, descending a long staircase. Just follow the signs and take your time to enjoy nature.
Back in the town, have a romantic dinner at L'Antica Cartiera overlooking the Mediterranean from above.
11. Amalfi Town
Distance from Sorrento to Amalfi: 31.2 kilometers
Driving Time: 1 hour, 1 minute
The scenic Amalfi Coast, a stretch of high coast in the south of Italy known for its panoramic views and breathtaking scenery, is home to the small town of Amalfi.
An easy and picturesque trip from Sorrento to Amalfi town will take about an hour (32 km) via ferry or bus, and it is definitely worth your time.
Located between the water and the mountains, Amalfi, with vertical cliff-clinging colorful houses, is simply a gorgeous place to enjoy the sea and medieval architecture.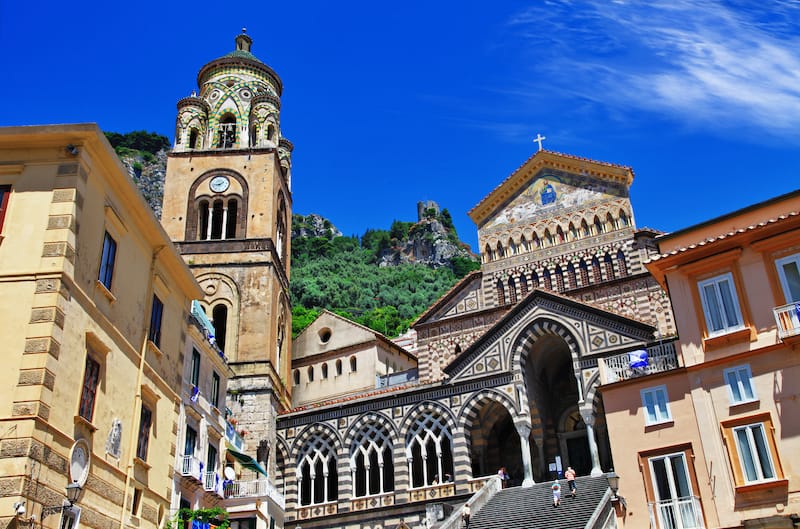 Your tour of Amalfi starts in the harbor with medieval watchtowers, the ancient city gate leading to the Duomo Square, and Duomo di Sant'Andrea cathedral.
Amalfi is about narrow alleys, stacked houses, little shops, and splashes of colors like neighboring villages and towns.
For a refreshing swim in the sea, go down to the Amalfi beach to enjoy the blue waters of the Gulf of Salerno and have fresh fried seafood in Cuoppo restaurant if you are hungry.
One thing not to miss in Amalfi is a musical show held every Wednesday and Saturday at Arsenale di Amalfi.
The performance tells about the history of the town in a passionate way to give you goosebumps.
12. Path of the Gods Hiking Trail
Distance from Sorrento to Path of the Gods: 48.9 kilometers
Driving Time: 54 minutes
The Path of the Gods (or Sentiero Degli Dei) is a clifftop trail above the Amalfi Coast and one of the most picturesque places in Italy.
If you have visited Naples, Sorrento, or Capri, be sure to take a stroll along the Path of the Gods first to soak up the beauty of nature.
For centuries, the Path of the Gods has provided pristine views of the Amalfi Coast, surrounded by secrets and legends of the old world. Today it is a real treasure for hikers.
The main territory of the hike is 6.5 km between the villages of Bomerano and Nocelle.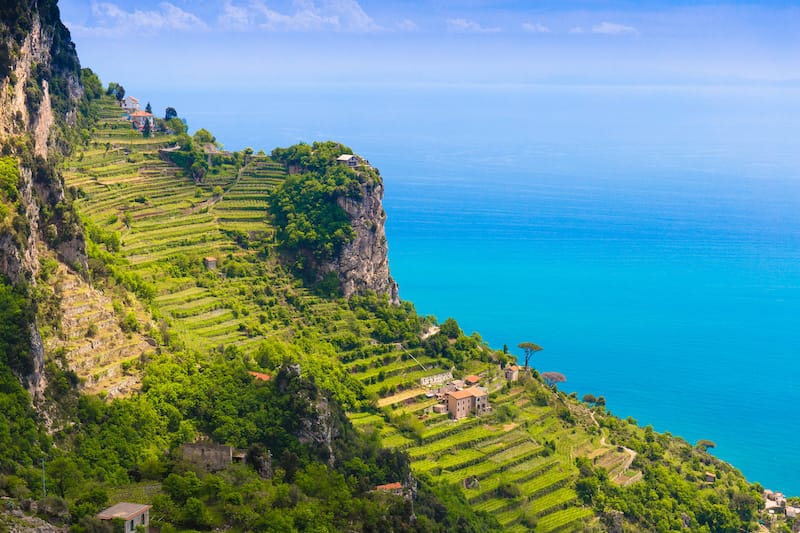 The hike is of moderate difficulty, but it can always be turned into a bigger adventure by starting the hike at Praiano and finishing in Positano (8km trail).
The steep staircases of the trail connect those towns; you will pass over 1,500 steps. Bomerano is the best starting point for hiking through the diverse topography.
The trail is marked with red and white signs. It gets challenging to pass the Vallone Grarelle with several ascents and descents, but the panorama will make you forget about any difficulty.
You will come across artifacts, caves, and carved stone abodes left by early travelers or, as legends say, by gods who used to descend to the shores to meet sirens.
13. Paragliding near the Amalfi Coast
Glide over the hills of the Amalfi Coast with beautiful views of the water, the islands of Ischia and Capri, and Mount Vesuvius on this great paragliding tour, the perfect Sorrento day trip for adventurers!
On this tandem flight, your guide Antonio will teach you the fundamentals of paragliding before taking off from the top of Mount Castelgiorgio, which has a height of 612 meters (5,100 feet).
The flight lasts approximately 30 minutes depending on wind conditions, and you will land either on the top of Castel San Giorgio or on the shores of the Sarno River.
You can book this tour anytime throughout the year and enjoy the thrilling and memorable experience of soaring over the hills with the wind in your hair!
>> Click here to check rates and availability
Did we miss any of the best day trips from Sorrento? Let us know your favorite Sorrento day trips in the comments! Thanks!
More Campania Travel Guides
Pin this Sorrento Day Trips Guide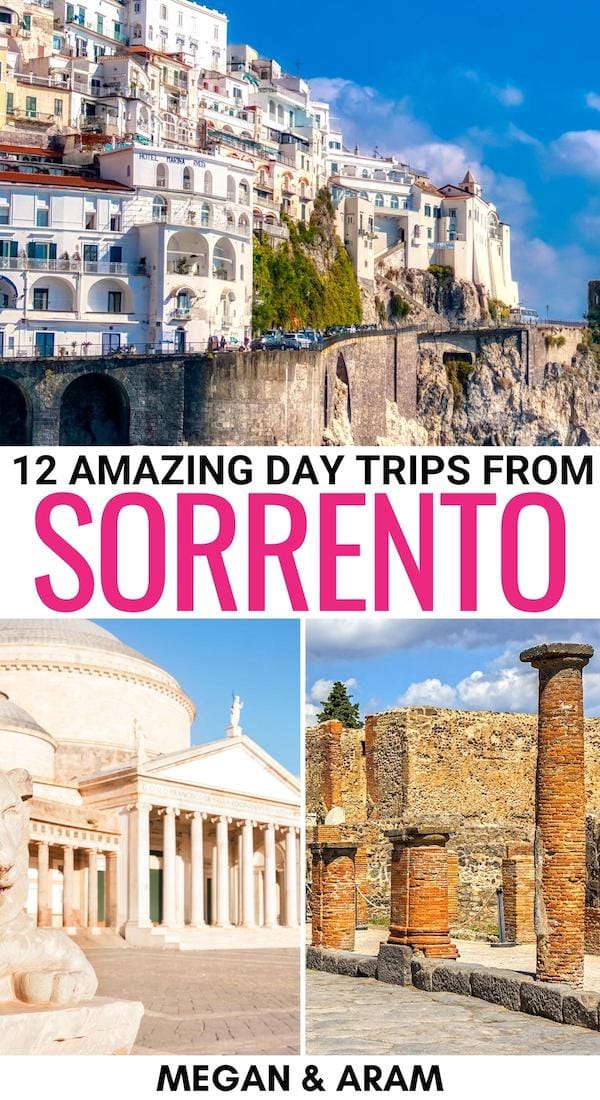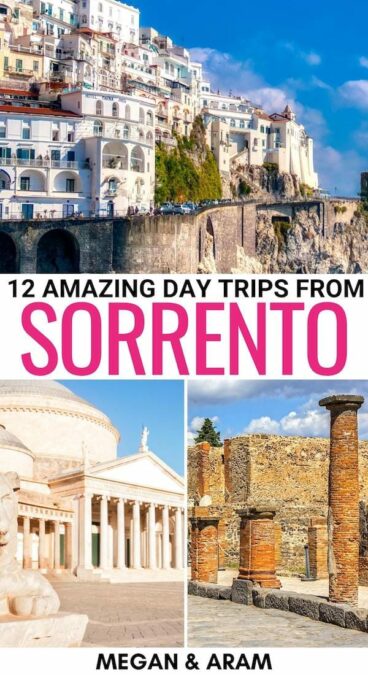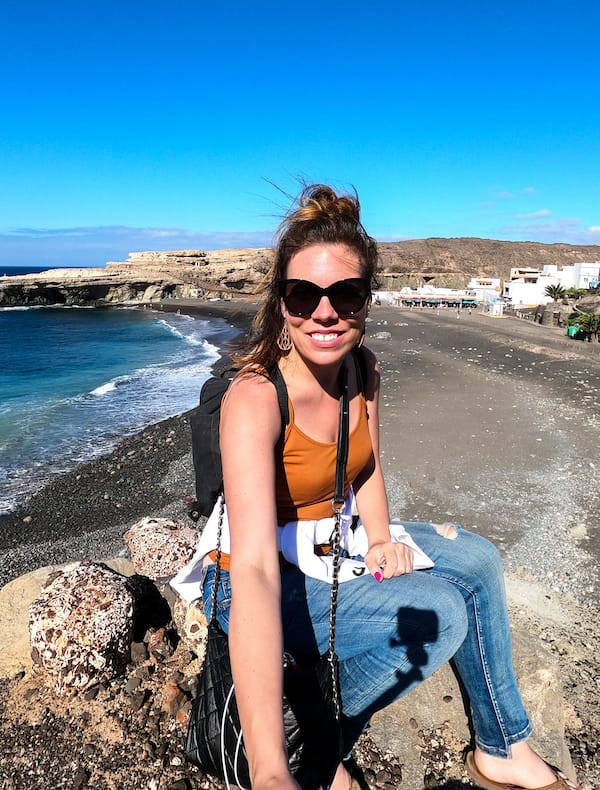 Megan is a travel blogger and writer with a background in digital marketing. Originally from Richmond, VA, she now splits her time between Frankfurt, Germany and Arctic Finland after also living in Norway, Armenia, and Kazakhstan. She has a passion for winter travel, as well as the Nordic countries, but you can also find her eating her way through Italy, perusing perfume stores in Paris, or taking road trips through the USA. Megan has written for or been featured by National Geographic, Forbes, Lonely Planet, the New York Times, and more. She co-authored Fodor's Travel 'Essential Norway' and has visited 45 US states and 100+ countries.