Are you looking to book a Santorini catamaran cruise on your trip to the gorgeous Greek Island? If so, keep on reading!
Are you planning your trip to Santorini last minute?
If youʻre booking your trip to Santorini last minute, we have you covered. Below are some of the top tours, hotels, and more!
🇬🇷 Top Experiences and Tours in Santorini:
🛌 Top Hotels in Santorini:
🚗 Visiting Santorini independently? Be sure to book your rental car ahead of time to ensure availability!
A catamaran cruise in Santorini is one of the best and most popular tours you can find on the island and it is a must to book one when you're visiting!
I've always wanted to take this Santorini excursion and enjoy the scenery of the volcanic island from the sea. I also wanted to make sure I was able to do it at sunset!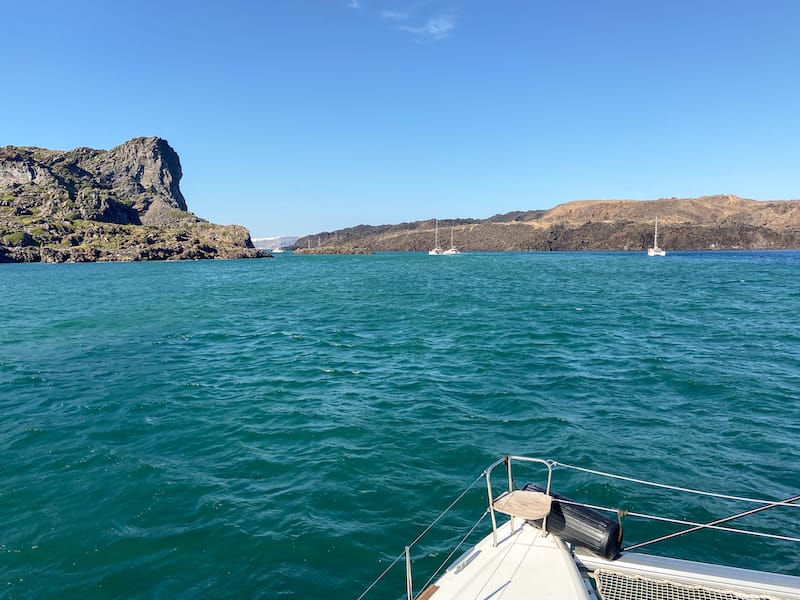 While I had done a catamaran tour previously on other islands, including Mauritius, I hadn't seen the sunset from a boat before, so it was definitely one of my main reasons for booking this specific tour!
In addition, Santorini is known for its dramatic rocky beaches and beautiful limestone white buildings dotted along the sea and one of the best things to do in Santorini is to see them via boat!
This guide will tell you how to take the best Santorini catamaran cruise and will break down my experience with this activity, which I will certainly never forget!
How to Book a Santorini Catamaran Cruise
Duration: 5 hours
Pick-up: Your accommodation
Meeting Point: Vlycháda Marina (they will take you there)
Language: English, Greek
⛵ CLICK HERE TO BOOK!
I definitely recommend planning your trip to Santorini in advance because it's an extremely popular destination, especially during the summer months!
Visiting Santorini and not taking this amazing catamaran tour was not an option for me, so I made sure I secured my slot ahead of time with Manawa.
First of all, I made sure that I booked a premium catamaran tour, where the number of people was limited to approximately 20 depending on the seasonality.
BOOK HERE: Santorini Sunset Catamaran Cruise
Also, I booked the tour that started at midday so I could see the sunset. There are other options for tours that you can choose from.
The tour organizers make sure you will visit or observe the most popular sights in Santorini including the Red Beach, the White Beach, the Venetian Lighthouse, and the Indian Rocks up close.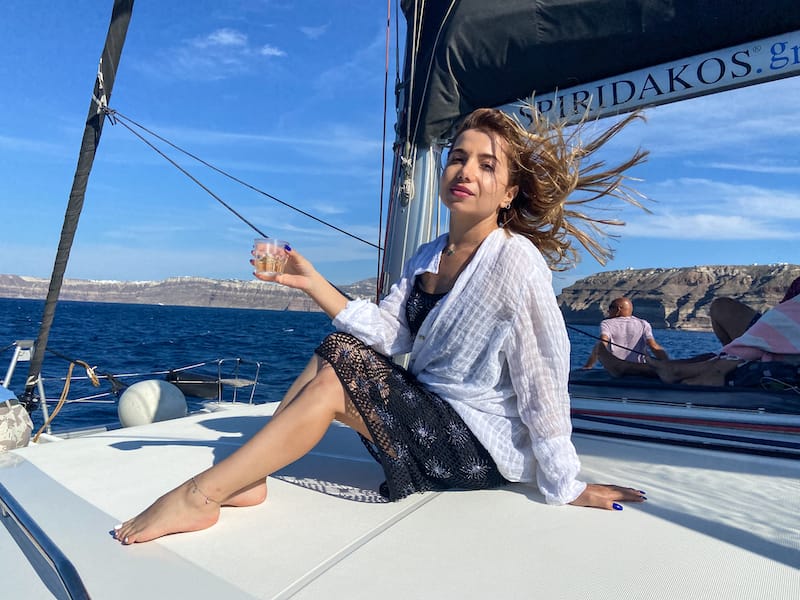 You will have a great opportunity to swim and snorkel in the crystal clear Aegean Sea, including near the island of Nea Kameni while swimming in volcanic hot springs with sulfurous waters.
The boat passes by Imerovigli, Firostefani, Old Port, and Fira, and you can see the cliffside towns of Oia from afar.
During your trip, you will be served local wine, and for dinner, the staff will serve traditional and international dishes including BBQ.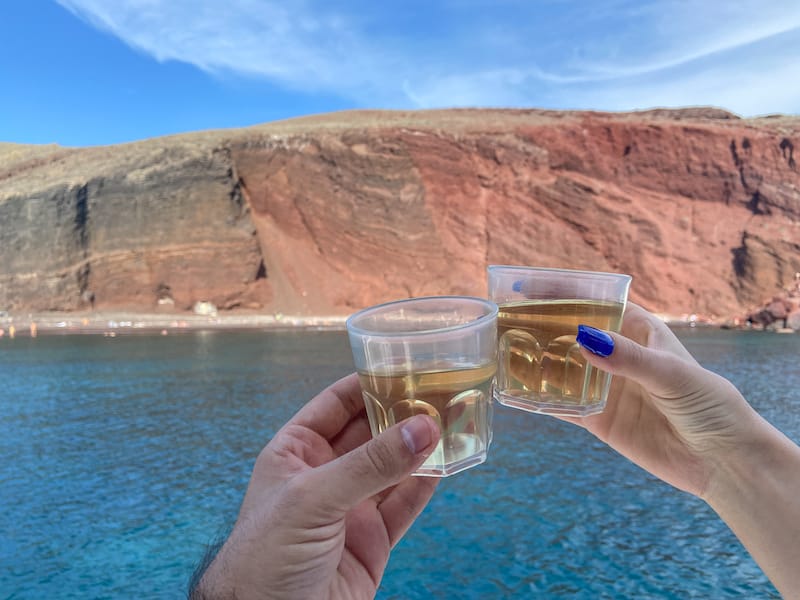 The tour is organized in a way that you can enjoy it, relax, and catch the moment when the catamaran drifts into the sunset surrounded by amazing scenery.
I will provide more details below.
My Experience on the Santorini Catamaran Tour
Pick-Up at the Hotel
All of the guests are picked up from their hotels in an organized fashion.
After getting picked up from my hotel by a minivan, they drove us and the other participants to Vlychada Marina, where the tour departed from.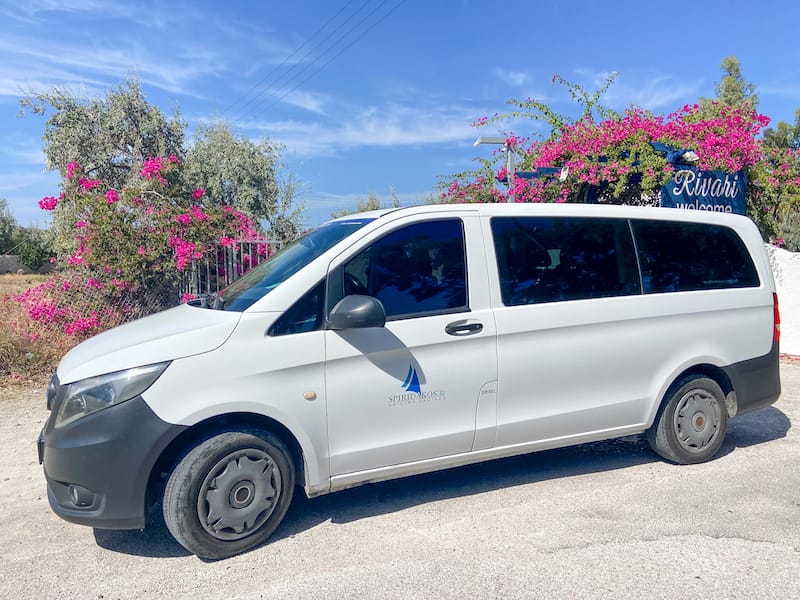 Everything was easy and they were on time!
Arriving at Vlychada Marina
You will arrive at Vlychada Marina with the other tour participants. It is located in Vlycháda village, which is especially popular for its black beach, Vlychada Beach.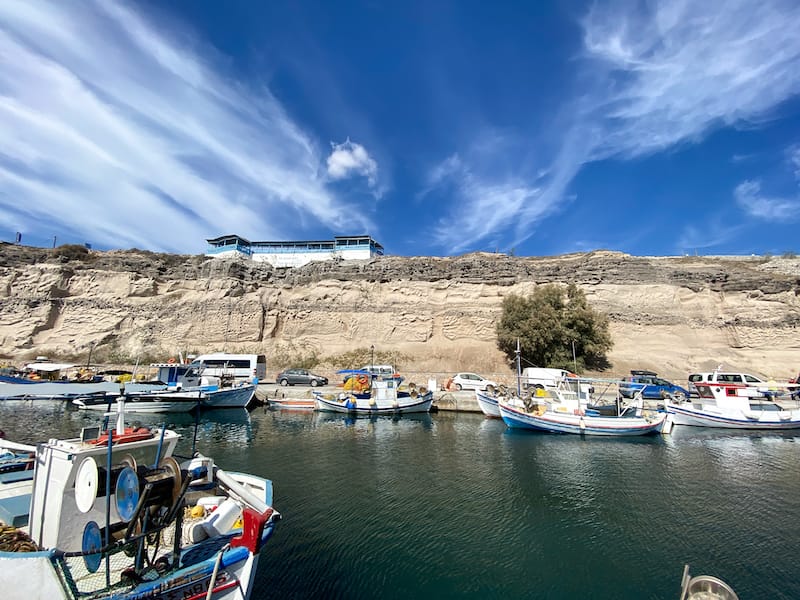 The tour organizers will wait for you at the port. After meeting the staff members, you will be escorted to the catamaran.
After getting on board and before taking off, the staff will do a fast and informative brief on what to do and what not to do on the catamaran, as well as how to get the most out of your experience.
Santorini Sunset Catamaran Tour Highlights
Red Beach and White Beach
Then, the ship will set sail, so get comfortable on this wonderful catamaran and get ready to see beautiful scenery and landscapes.
The first stops will be at Red Beach (before continuing on to White Beach). These are some of the most famous beaches in Santorini.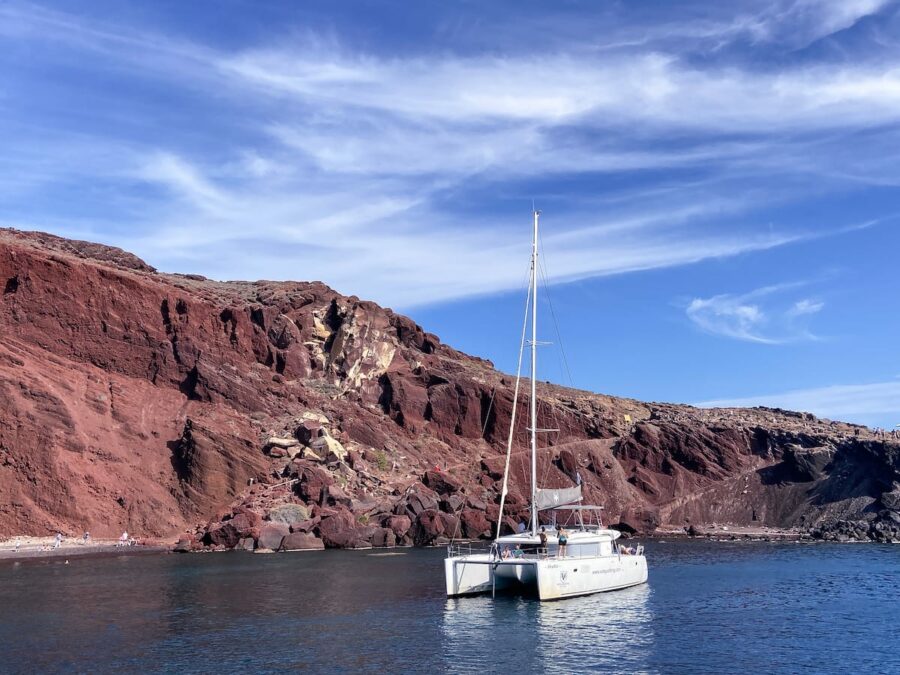 Red Beach is probably one of the most beautiful and mysterious-looking beaches on Santorini because of its bright red color and dramatic shapes caused by volcanic eruptions.
The beach is located near the historical village of Akrotiri village, which is also located at the famous historical site of the Akrotiri Excavations.
The catamaran will stop right next to the beach where you can swim, enjoy served wine, and take photos on this amazing volcanic beach.
After Red Beach, you will approach a totally different beach- White Beach.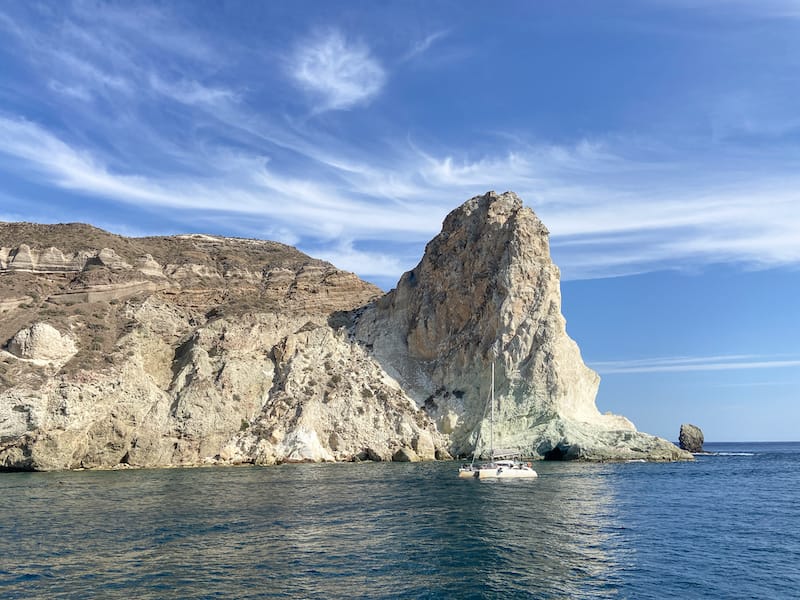 The water is exceptionally crystal clear on White Beach. Your catamaran will also pass by this beach and provide you with the opportunity to explore.
A fun fact about White Beach is it's actually not that white!
BOOK HERE: Santorini Sunset Catamaran Cruise
You will think it is white because of the volcanic sand, which is actually a shade of gray.
The black pebbles in this small cove are near white surroundings, and that contrast visually makes the black pebbles look whiter.
Akrotiri Lighthouse
While you are sipping local delicious wine and enjoying the sea breeze, you will pass by the 19th-century Akrotiri Lighthouse situated on the top of the huge cliff that is visible from everywhere.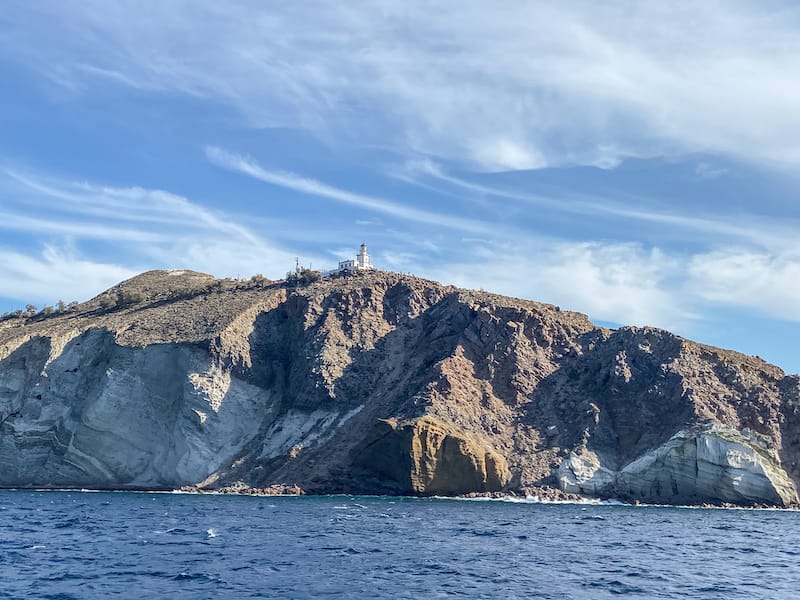 You will feel amazed as the catamaran passes around the big rocks, enabling you to see the lighthouse from different angles.
Island of Aspronisi
How cool is it to know that you will pass by an uninhabited area located in the Santorini caldera?
In the 2nd millennium BC after a huge Minoan eruption, the island of Aspronisi was formed. You will pass by it and have the opportunity to take many pictures of the island.
One of the most exciting spots that you will see during this tour is the Nea Kameni uninhabited volcanic island in the Santorini archipelago caldera. It was formed around 1570 after many volcanic eruptions.
BOOK HERE: Santorini Sunset Catamaran Cruise
There, you can see a gathering of many boats and catamarans because of the hot spring, which causes the water to be warmer.
This provides you with the opportunity to swim in a unique and warm environment.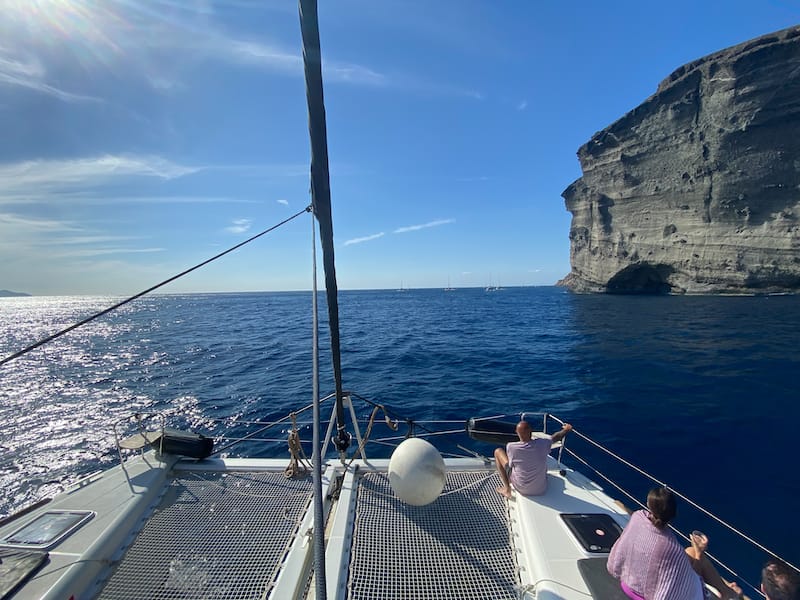 I couldn't resist, so I had to try it! With the help of the staff, who also gave me a float for swimming, I dove into the water and after several meters, I felt that the water was getting warmer.
Make sure to not miss out on this unique experience and enjoy the volcanic bath during your tour.
For your information, the staff also provides you with towels if you don't have your own!
Enjoying Delicious Food on the Boat
After all of these "exhausting" activities, on the way back our catamaran stopped near White Beach and the staff prepped the buffet for us.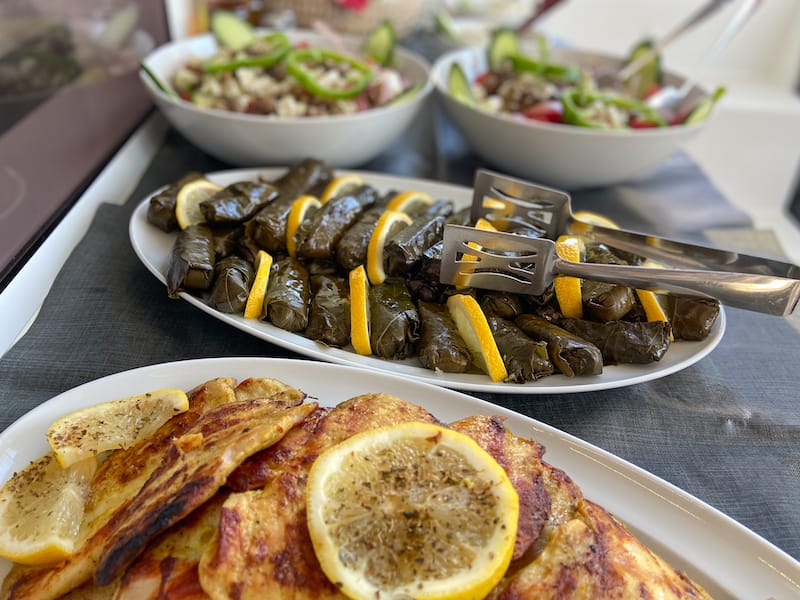 At the beginning of the tour, they will ask you what food preferences you have, such as if you are vegetarian or have specific food allergies.
Get comfortable, grab your wine, BBQ, and different sauces, and enjoy your supper while the catamaran drifts slowly near the beach.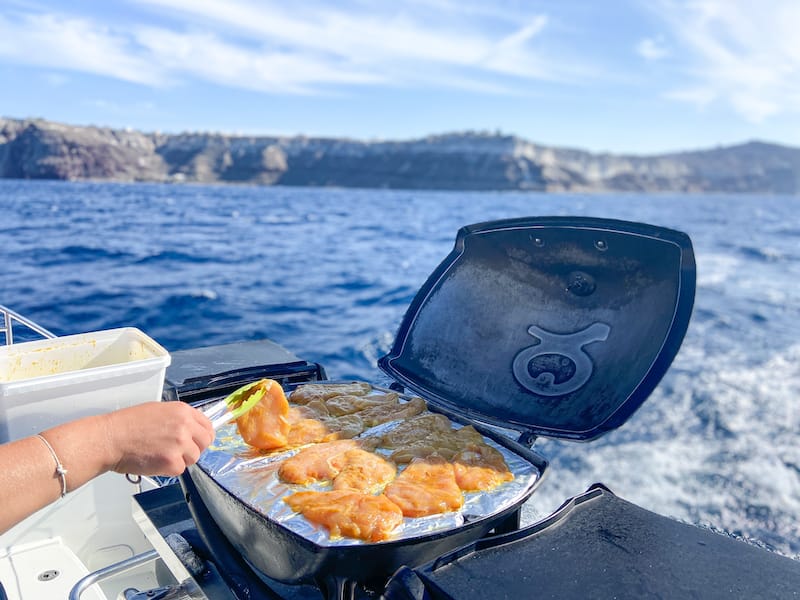 It was incredible to eat delicious food while checking out the beautiful scenery.
Sunset on the Catamaran
Finally, it was the moment that I was waiting for from the get-go- the opportunity to see one of the most beautiful sunsets.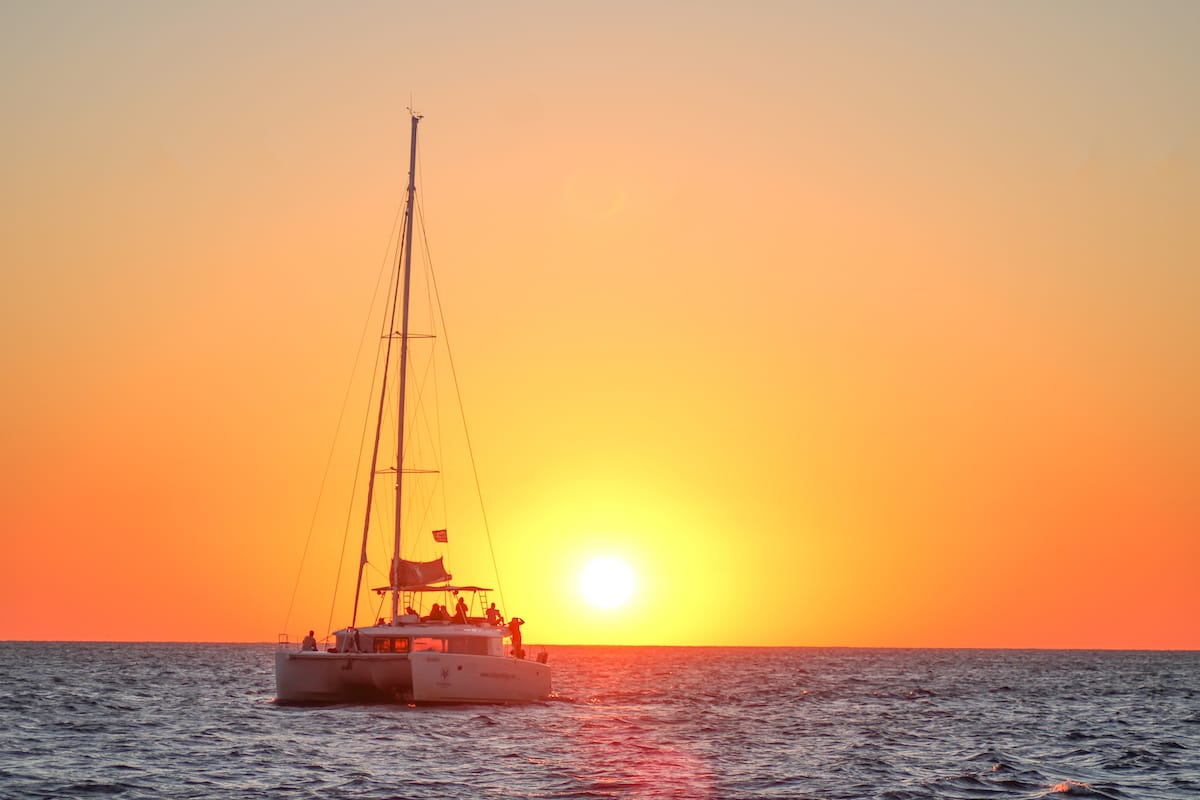 The boat stopped the engine and opened the sail as the wind took the catamaran forward.
The sunset exploded into colors of red and yellow across the horizon. As the sun set into the sea, I felt that I was becoming more connected with nature.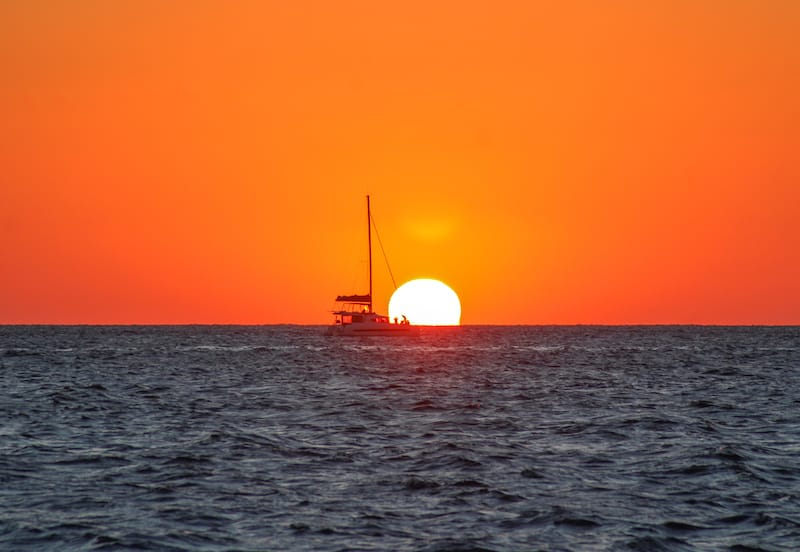 This was an unforgettable feeling, and that is why I recommend booking this tour and experiencing this amazing Santorini sunset.
Heading Back to Santorini
After you return to the port of Vlychada Marina, your guide will escort you to your driver, who will take you back to your hotel.
It was an exhausting, yet relaxing day at the same time (as contradicting as that may sound). I would love to do it all over again!
Best Time to Book a Santorini Catamaran Trip
If you're considering booking this trip, please do note that it is available all year round!
But, the weather may play a factor. It was pretty windy when I went in autumn. And at times, it was a bit chilly.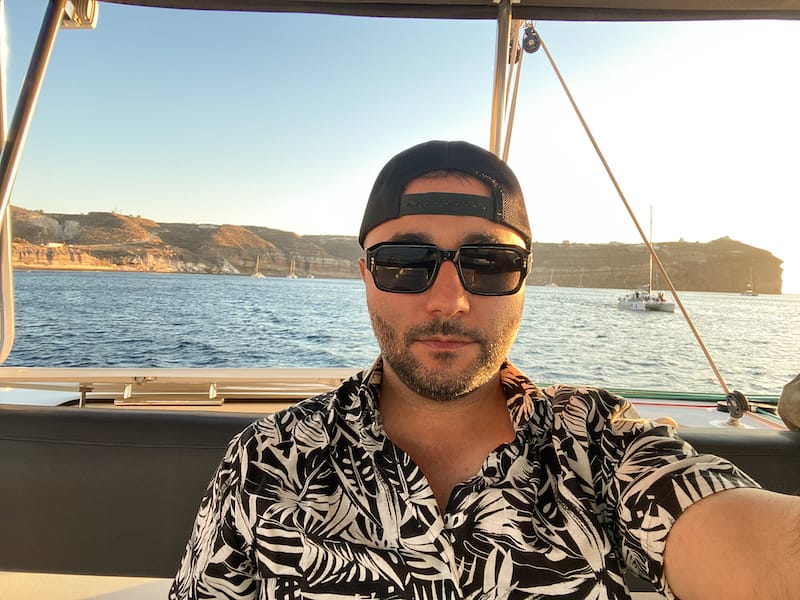 Visiting Santorini in winter? Definitely bring a jacket if you take the tour!
Who Should Take This Tour?
I think this tour is perfect for nearly everyone!
However, if you suffer from seasickness, it may be a bit of a struggle although the water wasn't too rough (but it was windy)!
It is not a tour for those with mobility issues, however.
What to Pack for Santorini Catamaran Tour?
Make sure to bring your sunglasses, a high SPF sunscreen, a jacket or a blazer (if you are taking this tour in autumn as I did), and a towel.
However, if you don't have one, the staff will kindly provide you with one.
We hope we answered all of your questions before you book your Santorini catamaran cruise! Let us know in the comments if you have any further questions.
More Santorini Travel Guides
Pin this Sunset Cruise in Santorini Guide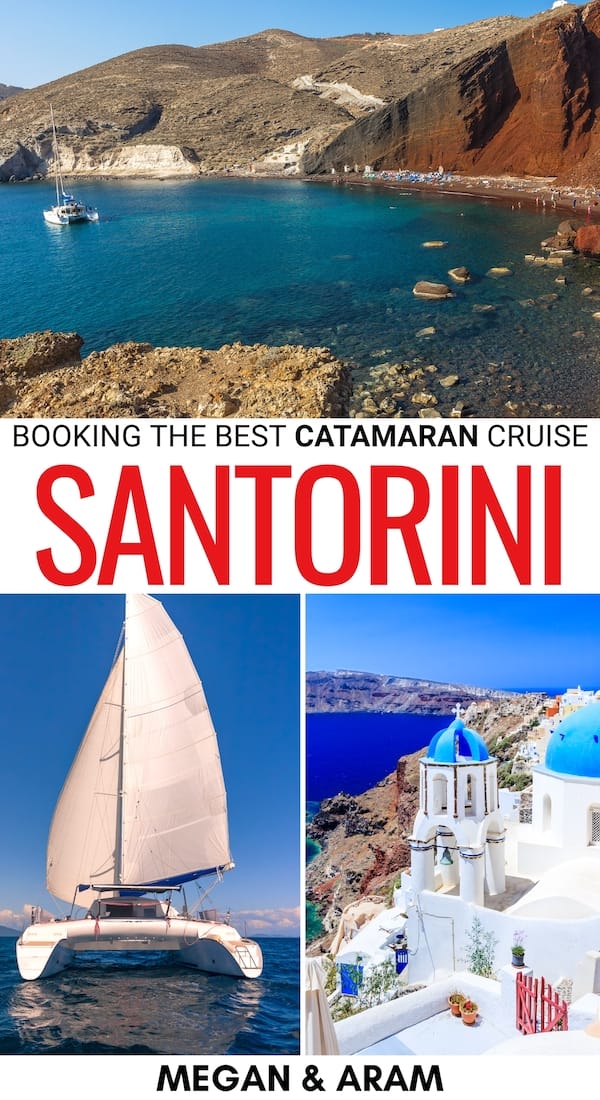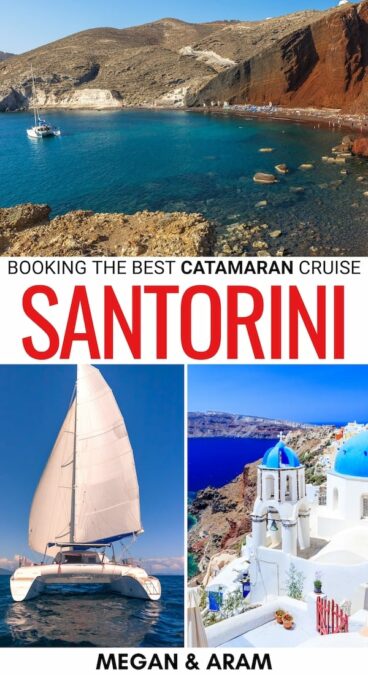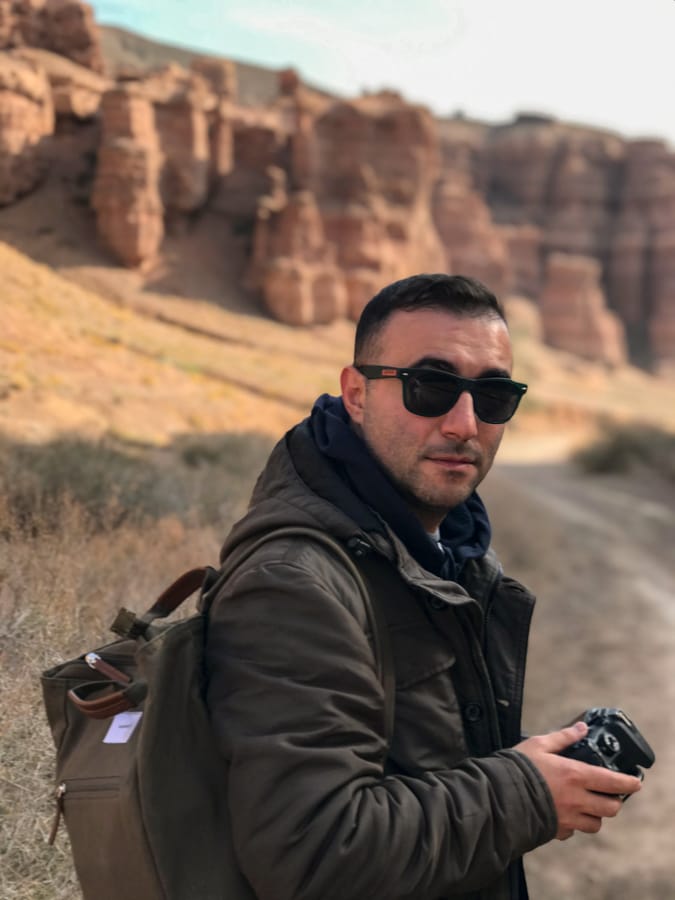 Aram is a travel blogger and writer from Armenia who spends his time between Spain and his home country. He is passionate about music and football (the European kind) and covers a lot of Western European destinations on the blog. Aram is a laidback traveler who enjoys meeting new people and finding the best food in each city that he visits (hence his frequent trips to France, Italy, and Greece!). He has been featured in (or written for) Forbes, BBC, The Guardian, Fodor's Travel, and more.