Santorini, Greece is easily one of the most famous travel destinations in the world.
And these are the best beaches in Santorini (helping it earn that title)!
Are you planning your trip to

Santorini

last minute?
Be sure to book your accommodation and tours in Santorini ahead of time to ensure availability!
Here are our top recommendations for tours in Santorini:
The Greek island typically lands toward the top on many travel bucket lists and when you finally make it there, you will see just why!
These gorgeous Santorini beaches, white domes, and delicious food make Santorini a dream vacation for many!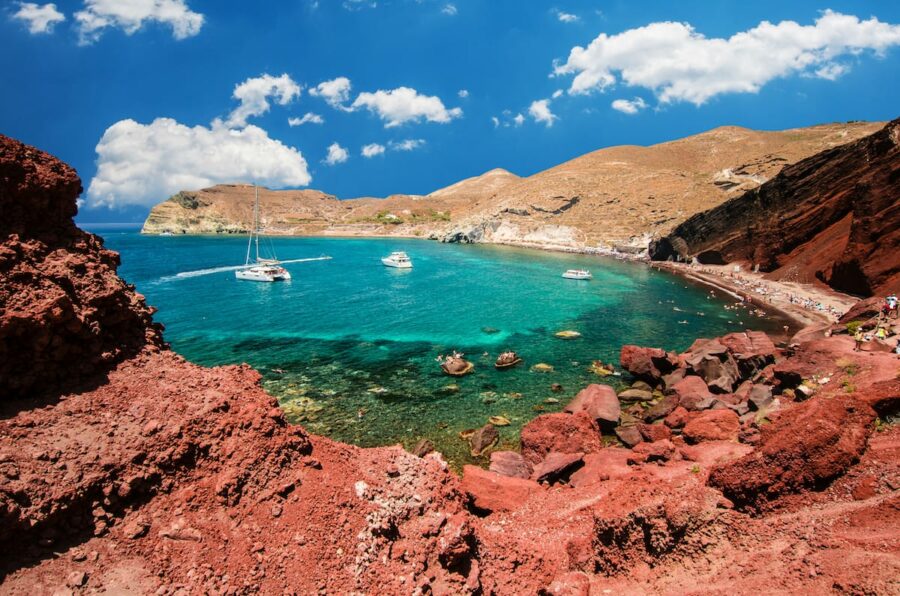 Did we miss any amazing beaches in Santorini? Let us know in the comments. Thanks!
Best Beaches in Santorini
Red Beach
Nature is always a wonder, and seeing things that are naturally unnatural to the eye, is really a treat!
If you are in Santorini and are exploring its many beaches, make sure to visit Santorini's Red Beach.
Why "red", you may ask? The name comes from its bright red sand – that's right, the sand at this beach is red!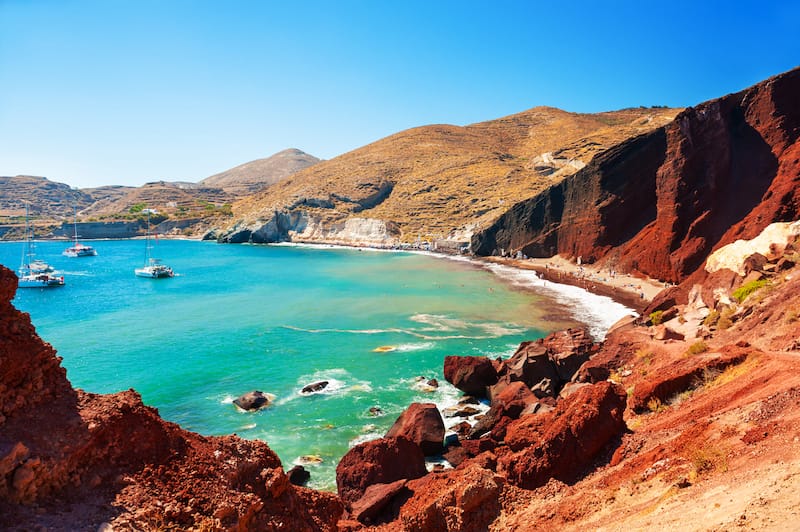 The volcanic eruptions of the past have led to the magnificent formation it has today.
The rocks are mainly black and red and the sand has interesting colors in it with mostly shades of red, however.
To visit this beach, you have to go to the southern part of the Greek island, in Akrotiri Village, just 20 minutes away by car from Fira Town, which you can reach by taking a boat as well, as there are always boat tours taking place in Santorini.
Perivolos Beach
Perivolos Beach is one of the most famous places to visit in Santorini, known for having the most cosmopolitan and lively beach resort on the island.
One can easily find something to do at this beach, as it's always humming with a plethora of awesome activities available for the public.
Perivolos Beach is also renowned for its black lava sand, which, again, is due to Santorini's history of volcanic eruptions.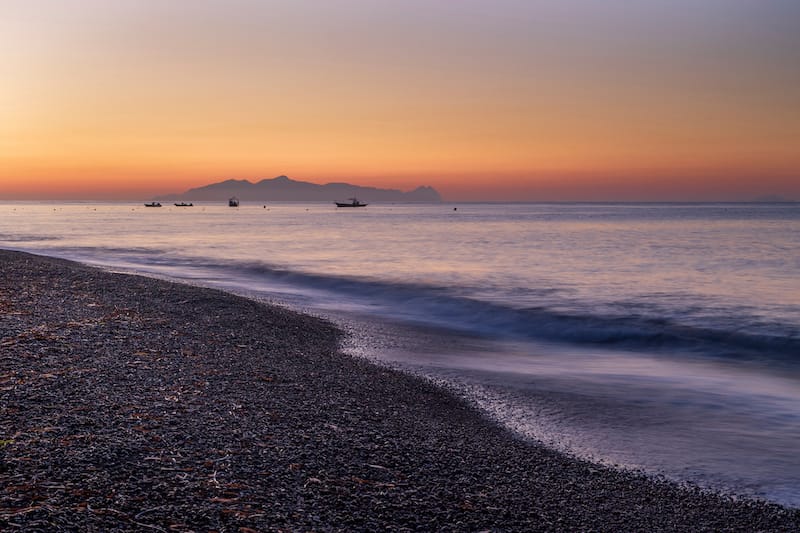 Some of the activities you can do here are playing beach volleyball, going on a Santorini jet ski tour, and scuba diving.
If you want to visit Perivolos Beach, you can definitely go, as it's only three kilometers away from Perissa, located on the southeastern coast of the island.
This is easily one of the beaches you will visit if you're Cyclades island hopping by boat!
Kamari Beach
Kamari Beach is one of the most visited beaches on the island, and for good reason! It is also a great place to Enjoy Santorini Holidays with Voyage Privé website!
Despite being five kilometers long (among the three longest beaches in the world), it is one of the cleanest and has been awarded the Blue Flag for being so.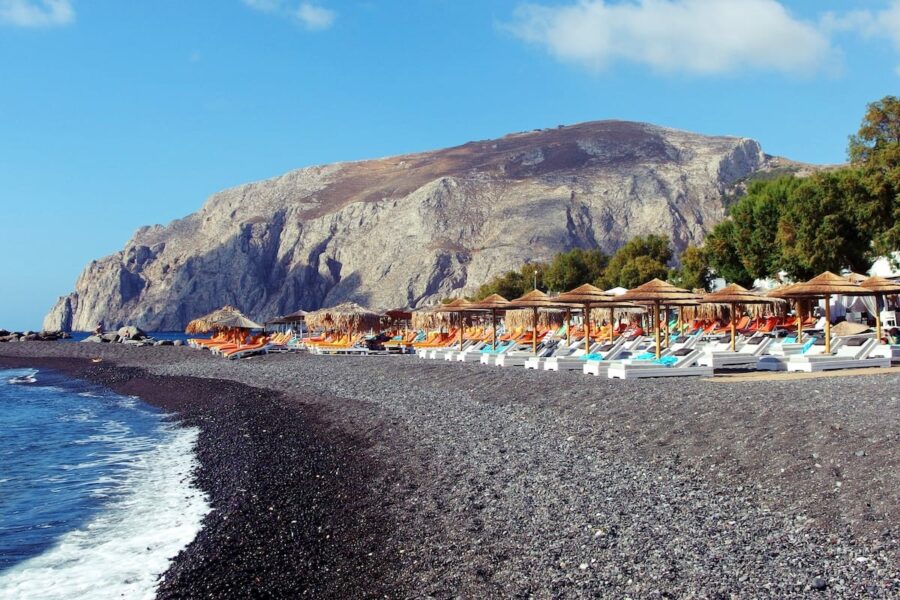 There is also another reason why this beach is the most visited: Kamari Beach is at the foot of the ancient Mesa Vouno Mountain.
For the history buffs out there, this is a real treat because this mountain is where the archeological site of Ancient Thera is located.
Kamari Beach is located on the seaside of the village of Kamari and is very close to the airport.
Mesa Pigadia Beach
Are you tired of vacationing in crowded areas, going to the beach surrounded by tons of people, and not being able to fully relax during a time designated for pure relaxation and tranquility?
If this sounds like you, then you definitely have to check out Mesa Pigadia Beach.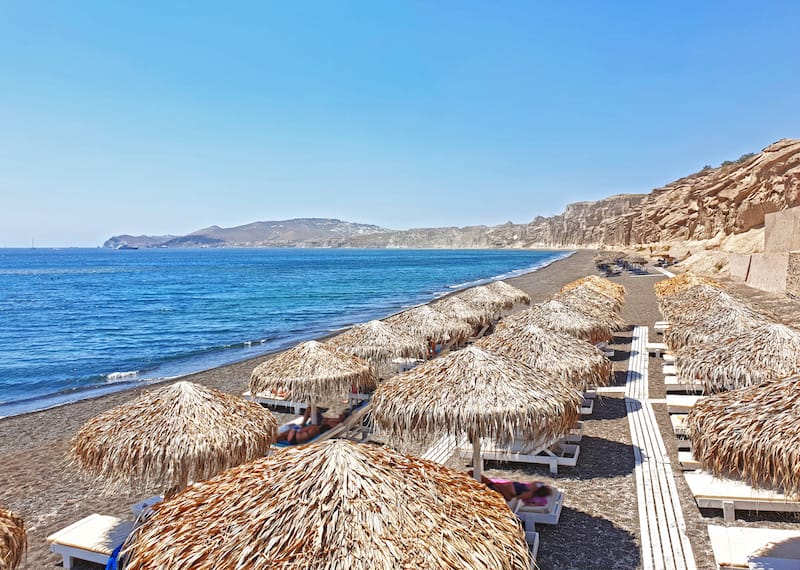 Here, you can easily avoid the chaos that comes with vacationing on an island, and steer clear of the cosmopolitan beaches, as this is more of a calm and peaceful kind of beach, with not as many visitors as the rest.
The beach is also great if you want to go biking, as the dirt road is nearby and safe for cyclists.
If you want to visit this beach, you can go via rental car or bus to Akrotiri.
Baxedes Beach
Baxedes Beach is one of those beaches that gives a little more to focus on than just the beach itself. It really is a great addition to any Santorini itinerary!
The name has an interesting etymology that ties to what the beach has that make it stand out from the rest.
The name, "Baxedes", actually originates from the Turkish word, "Bax", which means garden.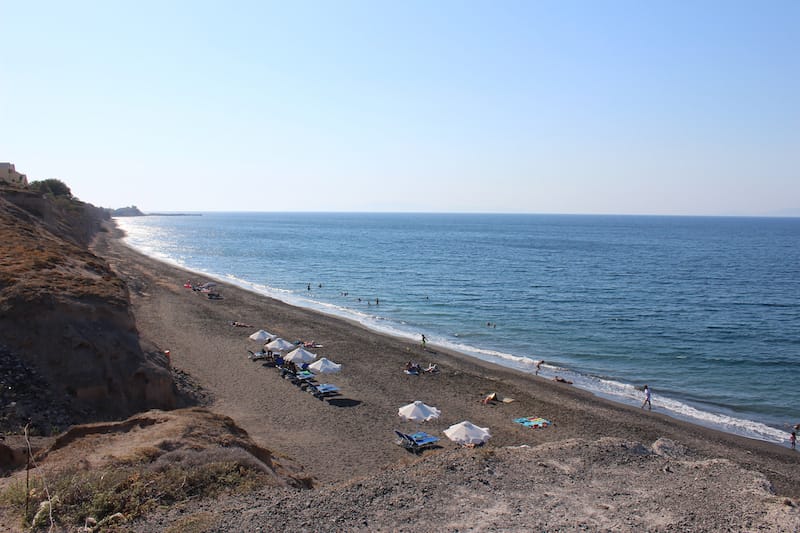 The reason why they named this beach, "Garden Beach" is because the locals have always grown fruits and vegetables there such as tomatoes, cucumbers, peas, eggplants, carrots, zucchini, lettuce, and melons.
Baxedes Beach is also perfect if you're traveling as a family, because the waters are fairly shallow, which makes it pretty safe for small children.
The beach is located east of Cape Mavropetra, at the height of Finikia.
Monolithos Beach
Monolithos Beach is almost as popular as Kamari Beach, just less crowded. It's perfect if you want to visit a beach that's a little less crowded and chaotic.
Monolithos Beach is ideal for families because of its shallow waters and playgrounds for young children to feel free and play in.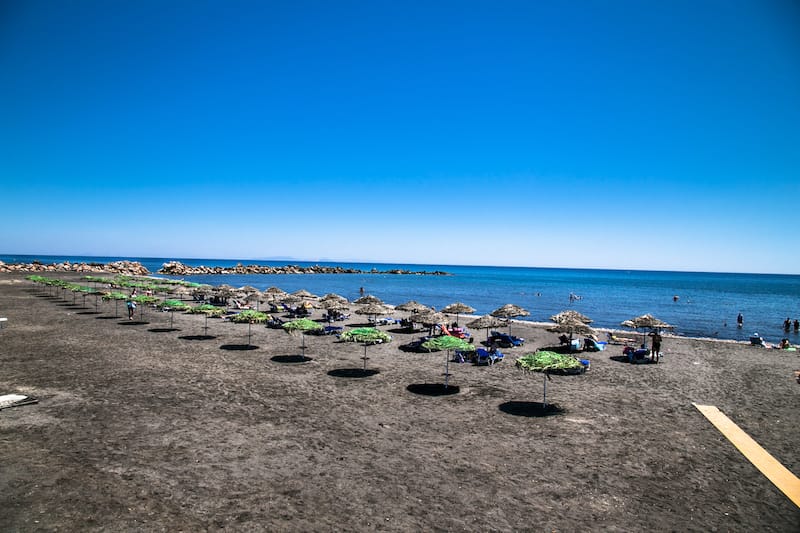 The beach got its name from the big rock upon which the church of Agios Ioannis was built.
Monolithos is divided into different areas where you can either choose to take part in a number of beach activities like volleyball, or you can rent a more secluded part of the beach and relax in privacy.
Exomitis Beach
Exomitis Beach is for those who want to get away and be completely isolated on their vacation. At this beach, most of the people who visit are the locals who live nearby, and not so much the tourists as it is pretty far from all else.
Exomitis stretches along the southeastern coast but, unlike the other beaches, it is not recognized. This is why it's not as popular.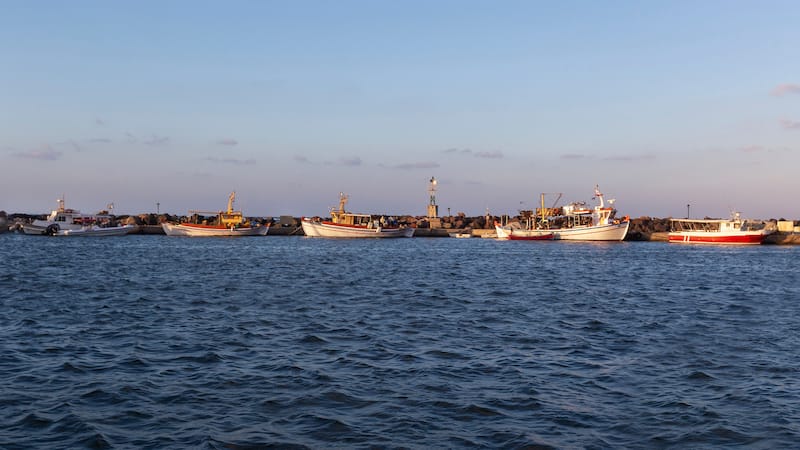 For people who don't need to stay somewhere with lots of expensive infrastructure, this is the perfect place to go as they can steer clear of crowds and have a calm, peaceful vacation.
The beach is flat and about 13 kilometers away from Fira. The best way to get there would be either by bus or a rental car.
Eros Beach
If you want to drink and party around a little while soaking in the sun and enjoying laying on the sands of the beautiful beaches, then Eros Beach is for you!
Eros Beach has the best beach bar, not only in Santorini but also in the entire Mediterranean!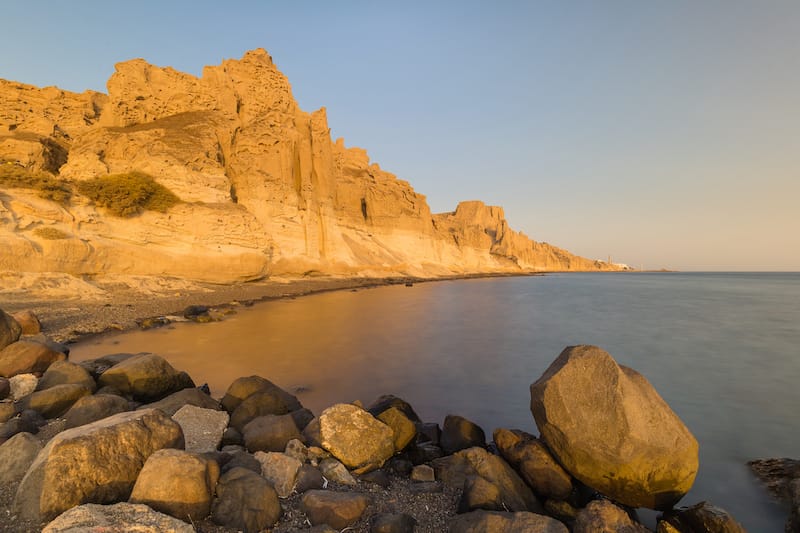 There are always many live events taking place at Eros Beach, and it's a great wedding destination as well. The beach is located in the southern part of Santorini, and in the coastal area of Vlychada.
It is nine kilometers away from Fira, and you can reach the beach by following the dirt road that leads to the parking area. It is a beautiful place to visit – even if youʻre visiting Santorini during winter!
Caldera Beach
Caldera Beach is for those who want to enjoy scuba diving and adventure in the deep blue sea.
This beach is full of clear waters but beware as it gets very deep, very fast.
One thing it's definitely known for is its scuba diving, which people come from all over to participate in.
The beach has black rocks covering its floors, once again, leftovers of the volcanic eruptions.
If you're planning a trip to this beach, please remember that bringing your own water shoes is recommended, as it can sometimes be difficult to walk without them.
Caldera Beach is not a touristic spot, so you can take that time to talk to the locals and relax away from the floods of tourists that often fill up the tiny island.
Vlychada Beach
Vlychada Beach is one of those beaches that visitors like to ride their yachts and boats on and hang out with their friends.
Taking yachts and boats out on the beach of Vlychada is what it's known for the most.
One of the things that make it stand out from the rest is its overwhelming amount of carved cliffs, which resemble that which a sculpture would have created.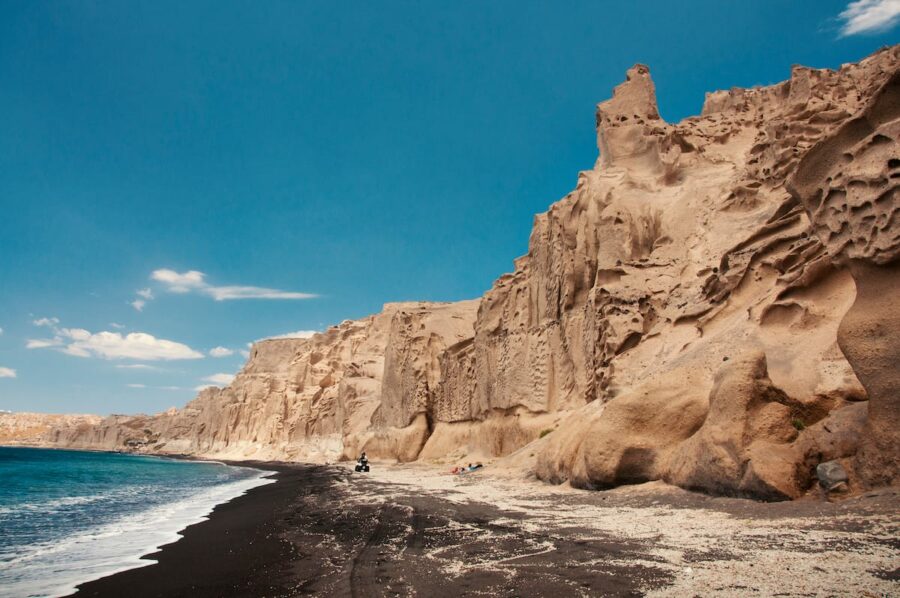 However, these are natural formations that are the remains of a natural process owed to a volcano.
Vlychada Beach is on the southern coast of the island, thirteen kilometers away from Fira.
On the beach, you can also visit the Tomato Industrial Museum if you're interested. There are also taverns where you can enjoy the local cuisine.
Pori Beach
Pori Beach is one of the quietest beaches in Santorini. The people who visit the beach are usually the local residents of surrounding villages.
It's a very calm beach, surrounded by reddish rocks which form a crescent, preventing huge winds from ruining a tranquil day on the beach.
Although the local residents are usually the ones visiting the beach, there are also some tourists who sometimes visit as well, so you wouldn't completely stand out if you were to go on down to Pori Beach.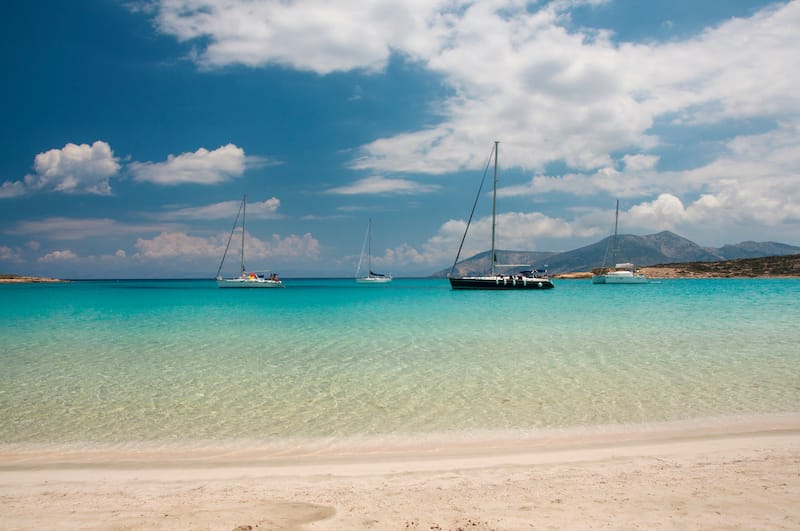 It's also a great opportunity to become acquainted with the locals and feel more like you're part of the area and less like an outsider.
The distance between Fira and Pori Beach is 10 kilometers, and you can get there by bike or car.
Agios Georgios Beach
This beach is one of the most "popularly unpopular" in Santorini. Why?
Agios Georgios Beach is unique in the sense that it's not the beach everyone usually picks first, and it isn't crowded with people whatsoever.
However, many celebrities have chosen to vacation at this specific beach in Santorini as they can maintain their privacy while still having a good time and staying away from all the crowds.
Because of this, Agios Georgios Beach is perfect for those who want a vacation in a more secluded area.
Agios Georgios is also a very clean beach with crystal clear waters, perfect for going on a casual swim.
If you want to visit, the beach is located on the southern tip of Santorini, on the east side, right after Perivolos.
Vourvoulos Beach
Once again, the wonder of nature is evident and absolutely beautiful on the beaches of Santorini.
Here on Vourvoulos Beach, you can take in the unique scenery of the plethora of rock formations created by years of erosion.
Paralia Vourvoulos Beach borders a port and charms its visitors with its simplicity.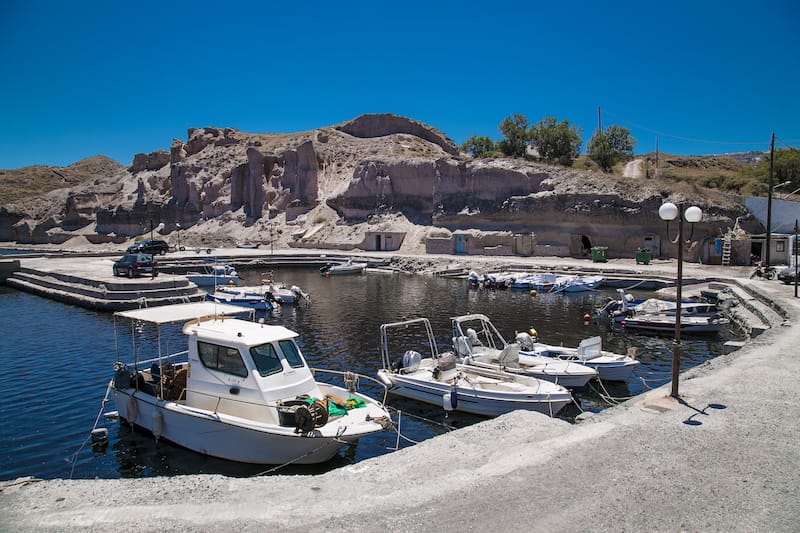 There are also guesthouses and hotels nearby, perfectly thought out for visitors to come and spend a couple of days in, to get away from the chaos of the city.
There are also restaurants around the beach (like Roza's), where you can drop in after a day of swimming and have a nice meal while enjoying the view of the sun setting over the horizon.
Ammoudi Bay
If beaches with fun activities and loads of different kinds of people are your thing, then you absolutely have to visit Ammoudi Bay.
There, you can check-in and see when the next boat tour is as there are always boat tours taking place.
During the boat tour, you'll have the opportunity of seeing the beautiful waters of Ammoudi Bay while also seeing Oia with a much better view.
The Bay itself is located just a few hundred steps below Oia.
Besides boat tours, if you want to grab a bite, then you don't have to look far or really search for a restaurant as the Bay is lined with seafood restaurants.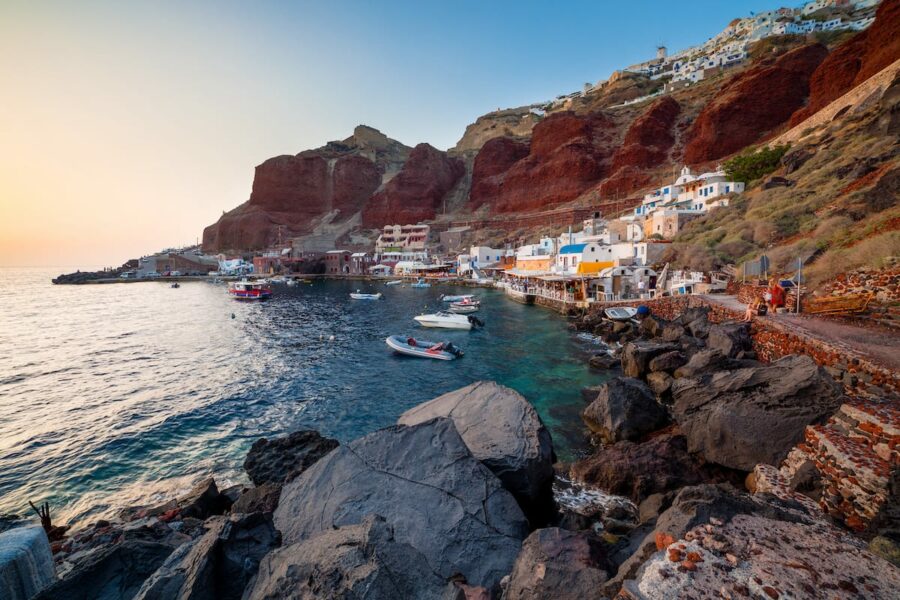 If you are looking for something more romantic, then make sure to take the sunset cruise in the evening. You can also look forward to relaxing in the hot springs as well.
If you want to visit, you should know that the hotels in Ammoudi Bay are the best in Santorini, and you can definitely spend a few days there!
Perissa Beach
Located thirteen miles from Fira on the southeastern coast of Santorini lies the beautiful Perissa Beach.
For those who love historical sites and exploiting the interesting culture of Greece, then Perissa will definitely be an interesting stop for you on your trip to Santorini as Perissa is the location of the eminent archeological site of Thera.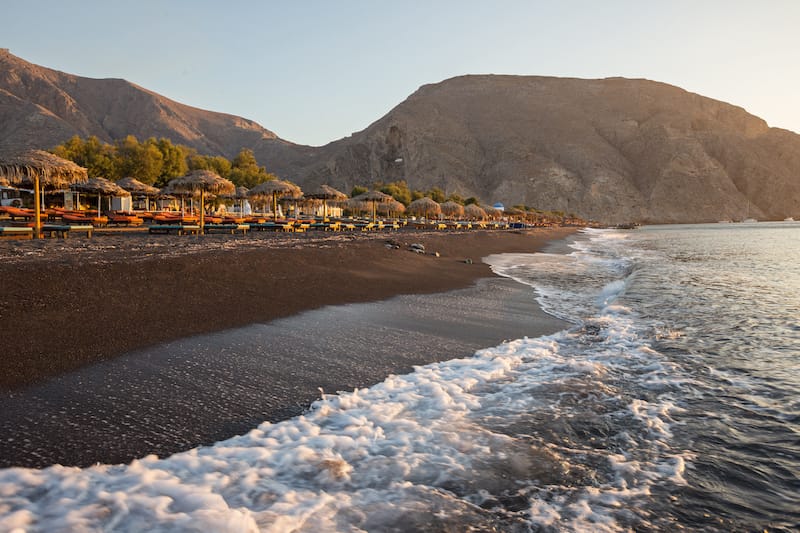 You can easily get to Perissa by bus or car.
Spend the day (or a couple of days) with friends and family admiring the scenery and exploring the historical places of the island.
Perissa Beach is a cosmopolitan beach full of lounging chairs and amenities, perfect for anyone who wants to have everything available and nearby while vacationing.
Xiropigado Beach
Located in the central part of the east coast of Santorini, Xiropigado Beach is one of the most subtle of the beaches.
The beach has no sunbeds, beach bars, or restaurants, so this is perfect for those people who simply want to relax on their own, away from crowds and cosmopolitan areas, and simply soak in all the sun and go swimming.
Xiropigado is just 2.5 kilometers away from the village of Vourvoulos, and you can easily get there by taking a car or riding a bike.
The nearest attraction is about 350 feet away from the beach and is the Taxiárchis Panormítis Church.
Right near the church, you can check out the four-star hotel with a swimming pool if you're planning to stay at the beach for more than a day.
Cape Columbo Beach
Located ten kilometers away from Thera, Cape Columbo Beach is the best one to go to with friends, and maybe even couples, although it isn't known for its abundant amount of romantic activities.
This isn't the best beach to go to if you have small children though, so keep that in mind.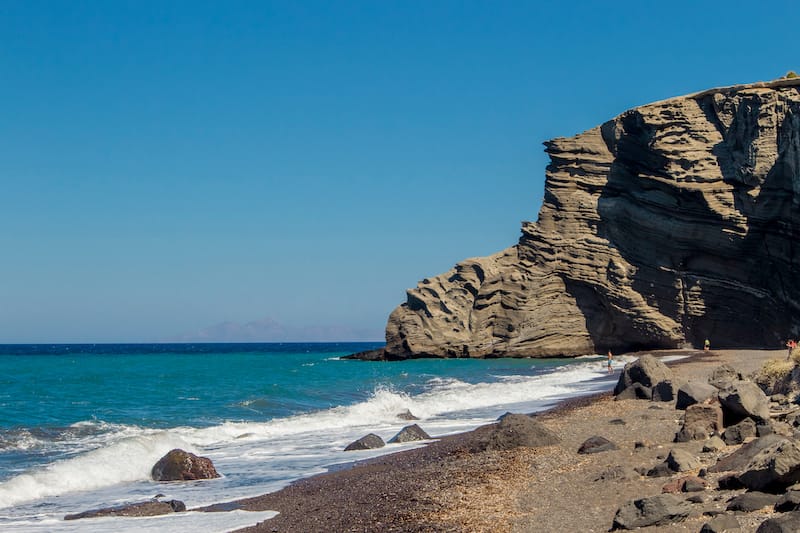 The depth of the water spikes very quickly and that could be very dangerous for young children and those who don't know how to swim very well.
With a picturesque shore and grayish-black sand, Cape Columbo Beach stands out from the others and is a great place to visit if you are looking for something more unique.
Gialos Beach
Enjoy a nice Mediterranean meal at the restaurant nearby after spending the day swimming on one of the more isolated beaches on the island.
Surrounded by plenty of vegetation and brown cliffs, Gialos Beach is truly a sight for sore eyes as it stands out from the rest with its unique look.
There are a limited number of tourists and amenities, ideal for those who want to relax under the Mediterranean sun and swim in the clear, blue sea.
There are also boat tours available, so before you visit Gialos Beach, make sure to check out the days and hours the tours will be available.
White Beach
White Beach (or White Sand as the locals call it) is famous for its stunning views, and, of course, the white sands that surround the turquoise-blue waters.
The scenery is impeccable, as not only is the sand white, but so are the high cliffs just above it.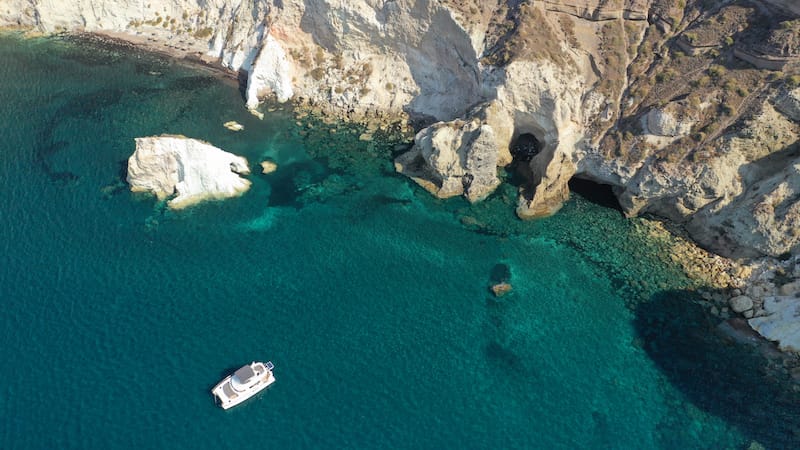 White Beach is also one of the more secluded beaches on the island, perfect for those who value their privacy and spending time alone with their loved ones.
The volcanic sand and black pebbles give the beach contrast against the white sands and cliffs. White Beach is located in the village of Akrotiri on the southwest coast of the island.
Armeni Beach
Armeni Beach is yet another beach located just below the amazing Oia.
You can reach the beach by foot, or, get this – by donkey ride!
Armeni Beach is just a couple hundred feet below Oia, so you don't have to travel long.
Also, make sure to check out the local taverns near the beach and experience the beauty of the tasty local cuisine.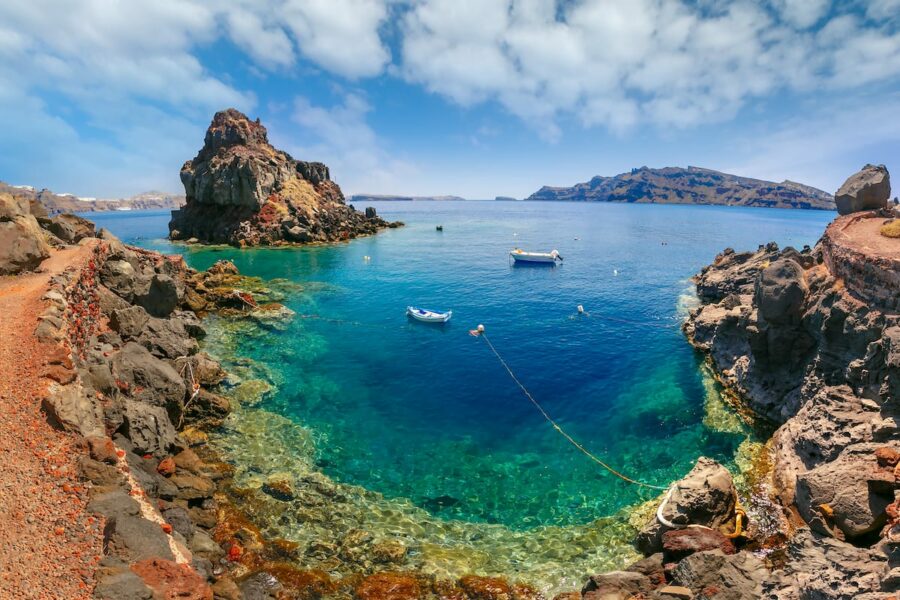 The beach isn't extravagant or particular in any way, but it does have a cozy vibe to it because of its charming, natural feel, and is the perfect place for relaxation.
Kambia Beach
Located about thirteen kilometers from the capital, Fira, on the southwest coast of Santorini, in the village of Akrotiri, Kambia Beach has a plethora of beach activities available for all its visitors.
You can go kayaking, go on a boat tour, or go jet skiing.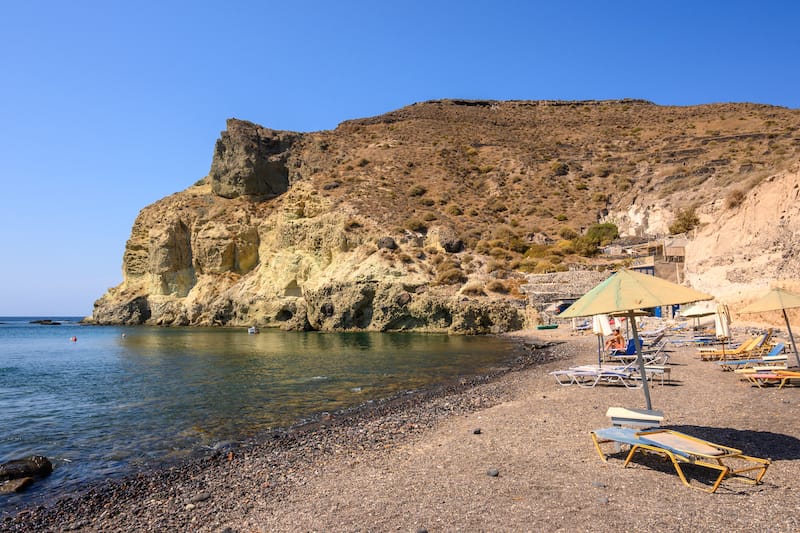 However, although it has a lot of activities you can take part in, the beach is fairly quiet and an ideal swimming spot, away from crowds and chaos.
The combination of great Greek food, along with the amazing views, and sounds of tranquil waters makes for a perfect day (or days) of pure relaxation.
To get to the beach, you can easily drive for about 15 minutes on a dirt road or even ride your bike there.
Did we miss any of the best beaches in Santorini on this guide? Let us know your favorite Santorini beaches in the comments! Thanks!
More Santorini Travel Guides
Pin this Santorini Beaches Guide