Are you looking for the best things to do in Sorrento, Italy? This gorgeous city on the Amalfi Coast is incredible – and this guide is here to prove it!
Are you planning your Sorrento trip last minute?
Below are some of the top tours, hotels, and more in Sorrento! These include many Sorrento day trip options.
🇮🇹 Top Experiences/Tours in Sorrento:
🛌 Top Sorrento Accommodation Options:
Sea Room Sorrento (Sorrento- I stayed here and loved!)
Palazzo Tasso (Sorrento)
Villa Monica B&B (Sorrento)
🚗 Looking for the best way to get around the Amalfi Coast? Click here to check rental car rates for Italy!
Below, we cover what to do in Sorrento for first-time visitors.
I have been to the city more than once and continuously go back as I always find something new to discover.
You will find plenty of Sorrento attractions, museums, day trips, tours, and more!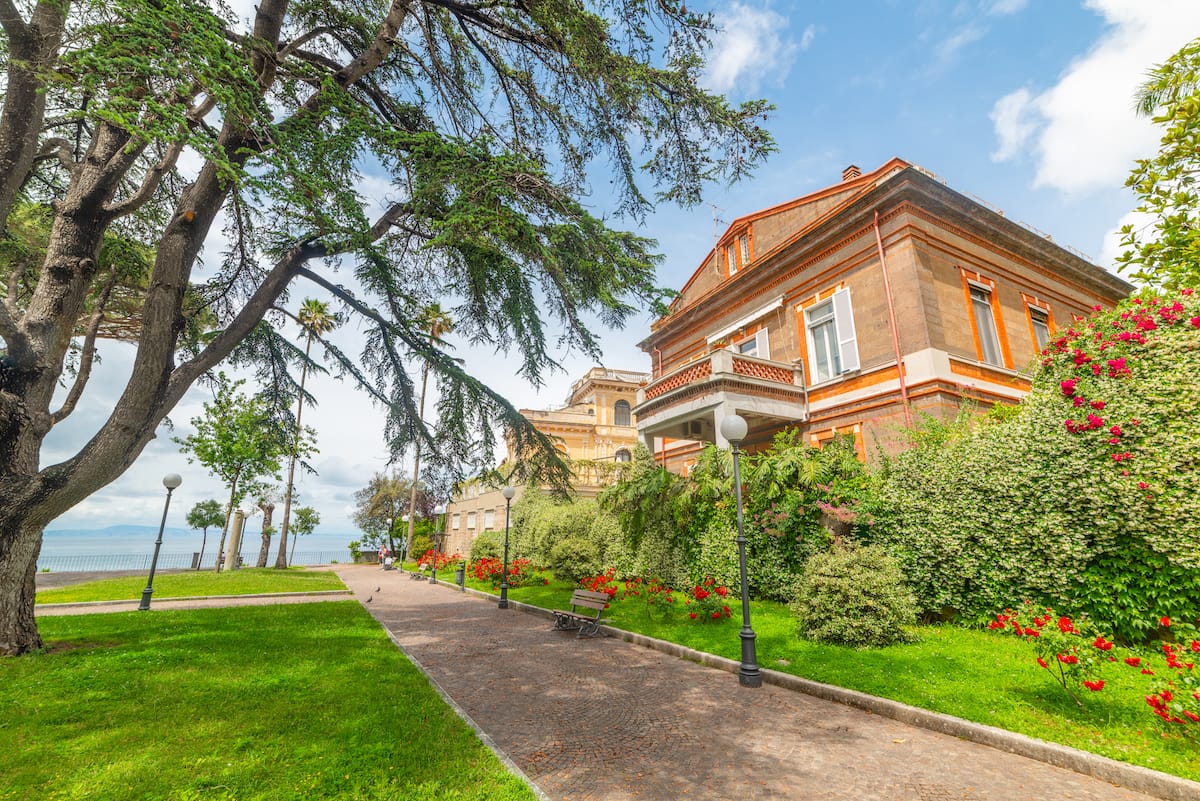 Did we miss any of the coolest places to visit in Sorrento? Let us know in the comments.
Best Sorrento and Amalfi Tours (to Maximize Your Time!)
If you're looking for something more organized when in Sorrento and the surrounding area, here are some awesome Amalfi tours you should check out.
These tours will help you maximize your time, which is especially important if you only have a short amount of time in the region! We listed a variety so that you can pick which one is most suitable for you (and many include multiple places!):
Best Things to Do in Sorrento
See the Bagni della Regina Giovanna
Bagni della Regina Giovanna is a real hidden gem along the Sorrento Peninsula.
It was named after Queen Giovanna D'Angelo of the Kingdom of Naples, who lived here from 1371 to 1435 and is said to have spent time with her lovers in the lagoon's secret corners.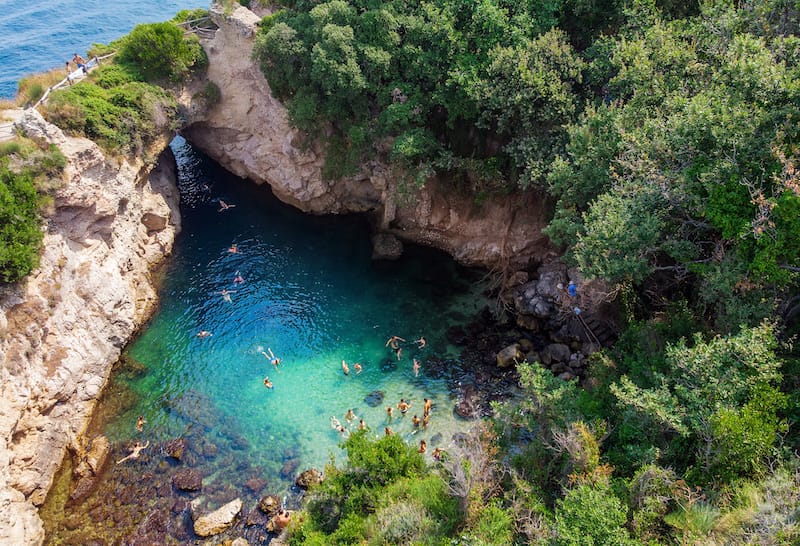 This beautiful emerald-green swimming hole is surrounded by rocks and connects to the sea by a natural arch.
The ruins of Roman ​​Villa Pollio Felice, dating back to the first century BC, stand on the rock where you can witness the former splendor of the structure with a picture-perfect backdrop of the gulf and the Sorrento Coast.
Address: Traversa Punta Capo, 80067 Sorrento NA
Take a Day Trip to Capri
A day trip to this rugged yet idyllic coastal town will reward you with the dramatic scenery of Marina Picolla, Villa San Michele, Giardini di Augusto, and Monte Solaro.
Hop aboard a small boat with Exclusive Capri Boat Tours, which allows you to soak in the mesmerizing island views from the water while savoring limoncello.
Cruise along the Sorrento coastline and see Blue Grotto, White Grotto, Green Grotto, a natural arch, the lighthouse of Punta Carena, and the Faraglioni rocks.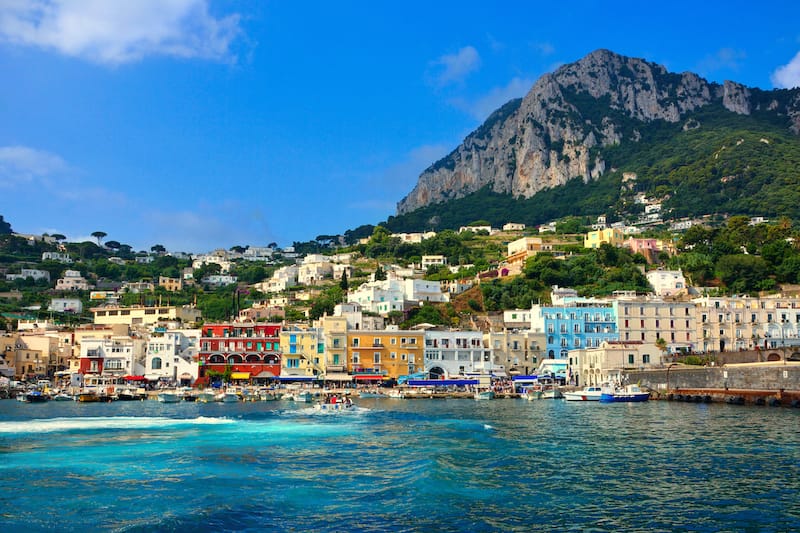 You'll also have an opportunity to go snorkeling and admire the rich underwater world in two different coves.
Enjoy a light lunch and continue exploring Capri on foot at your own pace for four hours before getting back on the boat.
>> Click here for Capri day rates and availability
Check Out the Cathedral of San Filippo and San Giacomo
The Cathedral of San Filippo and San Giacomo is another Baroque Roman Catholic church nestled on Via Santa Maria della Pietà.
Dating back to the 11th century and rebuilt in the 15th century in Romanesque style, the Duomo stands out with its grandiose architecture.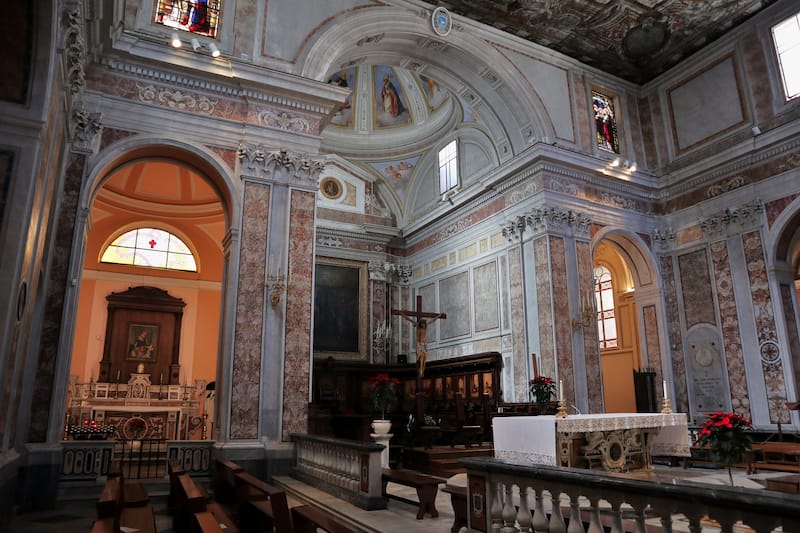 The stunning interior deserves special attention as it features three naves separated by pillars, intarsia choir stalls, and an ornate ceiling.
Inside, you can also find a lot of marquetry, 14th-century bas-reliefs, 16th-century furniture, frescoes, a statue of Pope John Paul II, paintings by notable Italian painters such as Nicola Malinconico and Giacomo del Pó, a bishop's throne, and the marble pulpit.
Address: Via Santa Maria della Pietà, 44, 80067 Sorrento NA
Try Sorrento Lemons
If there is one thing you shouldn't miss when visiting Sorrento, it's trying Sorrento lemons.
Named after the town of Sorrento, Sorrento lemons (also called 'Femminello') are one of the unique Italian ingredients often used in appetizers, first and second courses, side dishes, desserts, and most importantly, to prepare homemade limoncello.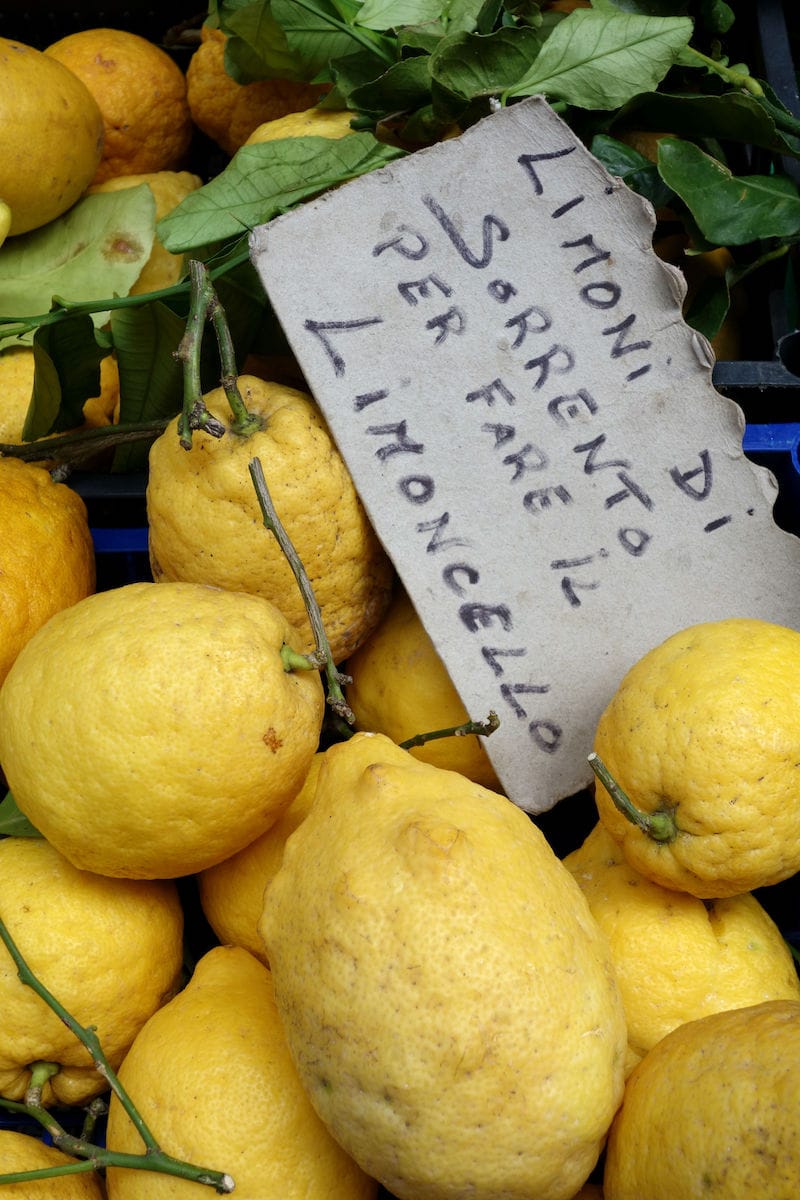 For a complete lemon experience, head to I Giardini di Cataldo, where you can take a stroll through a citrus orchard, explore the factory, and sip a glass of their iconic limoncello.
Visit the Marina Grande (and Marina Piccola)
Once a quiet fishing village, Marina Grande is now a popular tourist destination that draws visitors and locals alike with its colorful historic houses and golden sandy beaches.
The main highlights of Marina Grande are the Scala Fenicia (Phoenician Steps) which have linked the port on Capri and Anacapri for centuries, and the Maria Santissima Della Libera, also known as the Church of San Costanzo, which is the oldest church on Capri Island built in the 5th century.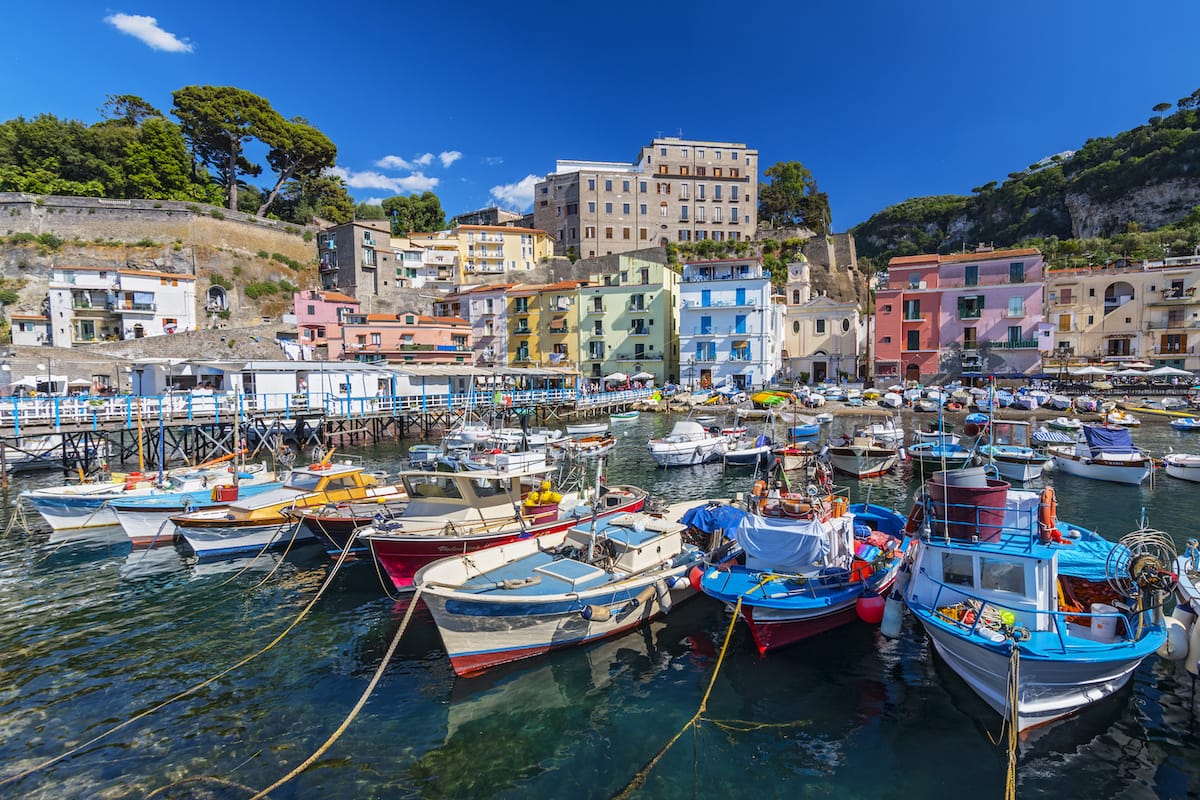 A small verdant promontory named Punta San Vincenzo separates Marina Grande from Marina Piccola, which is one of Sorrento's ports, where you can catch the ferries to Naples, Capri, Ischia, etc.
Make sure to take a break with a relaxing dip in the water, with the stunning backdrop of Faraglioni rock formations.
Go to the Basilica of Sant'Antonino
Once an early Christian martyrium, the Basilica of Sant'Antonino is the town's oldest church dating back to the 4th century, built by Bishop Sigifredo in 1014 as a collegiate church.
Named after Sorrento's patron saint Antoninus of Piacenza, it features Romanesque style architecture, while the interior is completed with the gilded ceiling, dark medieval paintings, frescoes by Camillo Gavasetti, canvases by Robert de Longe, "Coronation of the Virgin" by Gian Battista Trotti, and the odd display of two whale ribs by the front door.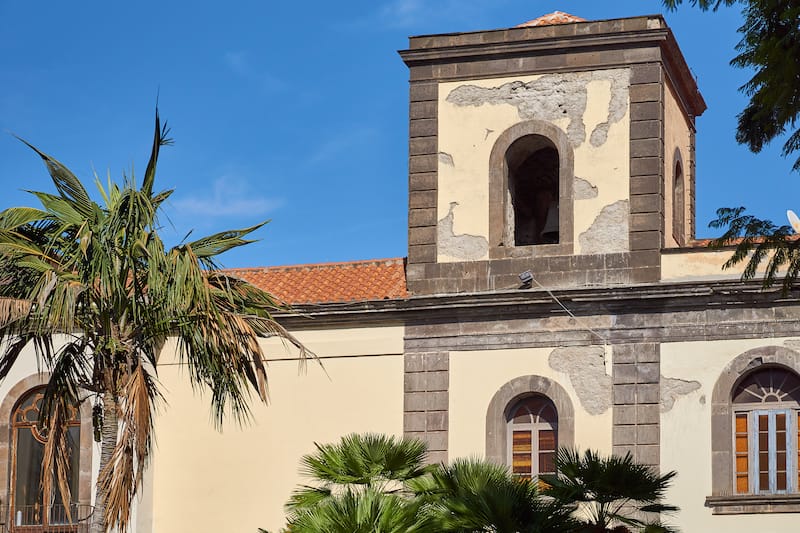 This Roman Catholic basilica is characterized by a large octagonal tower and preserves the saint's relics under the baroque interior in an 18th-century crypt.
Relax at the Bagni Salvatore
Escape the city's hustle and bustle in tranquil Bagni Salvatore, nestled along the beach club area of Marina Piccola at the end of the Sorrento peninsula.
Here you can enjoy the crystal clear sea, sun, and culture right next to the archeological ruins of the Agrippa Posthumous villa.
Bagni Salvatore stands out with its distinctive green and yellow striped cabins and features 3 large terraces of umbrellas and chairs.
Water junkies can rent pedal boats and canoes and indulge in the tranquility of emerald-green waters.
When hungry, order a delicious lunch from the beach's restaurant facing the splendid Gulf of Naples, which has a diverse menu offering everything from pasta to seafood mixed grill.
Address: Piazza Sant'Antonino, 80067 Sorrento NA
See the City Walls
Step back in time as you explore the ancient city walls of Sorrento, built to defend the city from Saracen attacks and invasions.
Dating back to the 16th century, the surviving remnants include mosaics, bones, and some ancient ruins of a once imposing defensive system, unearthed during excavations in 1921.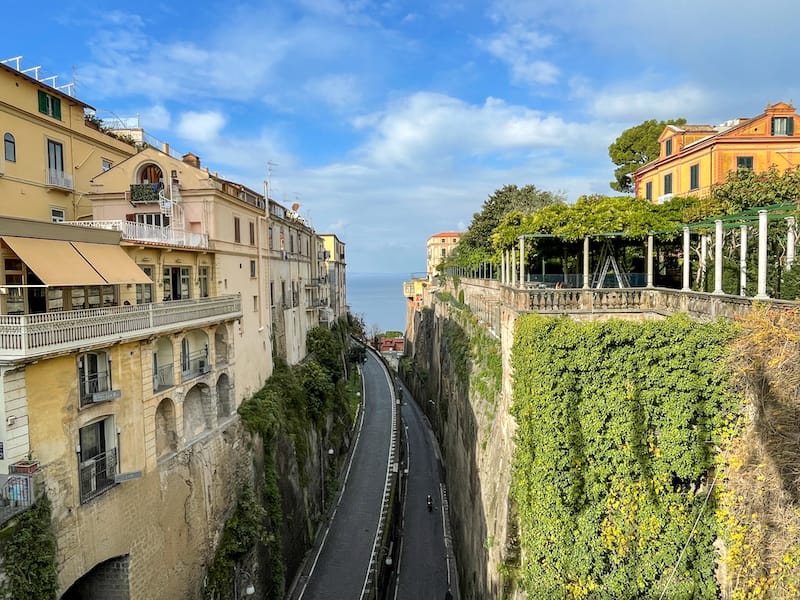 The walls, which date back to their Greek origins, had five entrance gates and two towers to defend two of them: Porta di Marina Grande and Porta Piazza Tasso.
Take a walk at the Parsano Bastion (part of the ancient walls) and you will be rewarded with sweeping views of the city from atop the walls.
Address: Via degli Aranci, 18, 80067 Sorrento NA
Have Lunch at Antonino Esposito – Pizza e Cucina
Indulge your taste buds with authentic pizza at Antonino Esposito Pizza e Cucina. Overlooking the breathtaking Marina Piccola, you can taste the signature pizza shaped by unique touches of world-class pizza master Antonino Esposito.
Spend an evening with your significant other on an outdoor terrace where mouth-watering pizza and enchanting sunset views will make your romantic date night an unforgettable one.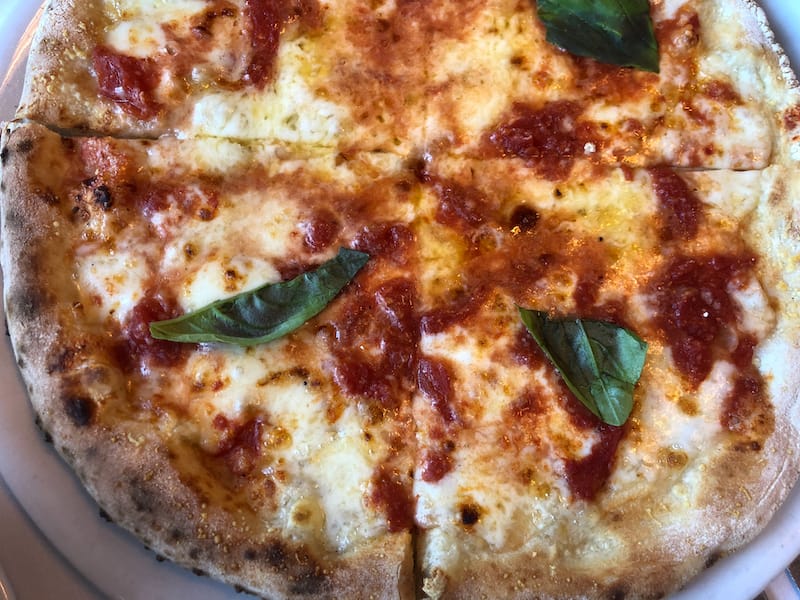 Besides offering a huge range of delicious pizzas, the diverse menu also includes gnocchetti alla Sorrentina, bluefish, fresh pasta, and many other traditional dishes from the Campania region.
Intimate ambiance, elegant decor, professional staff, unique scents and flavors, and a splendid setting will certainly guarantee a one-of-a-kind culinary experience.
Address: Piazza Marinai D'Italia, 2, 80067 Sorrento NA
Go Shopping on Via San Cesareo
Indulge in some good retail therapy at Via San Cesareo, one of Sorrento's main shopping streets since ancient times.
This narrow character-filled lane is packed with artisan shops, restaurants, bars, cafes, and limoncello makers.
Keep your eyes peeled for Sedile Dominova and Chiesa dell'Addolorata as you approach Piazza Tasso.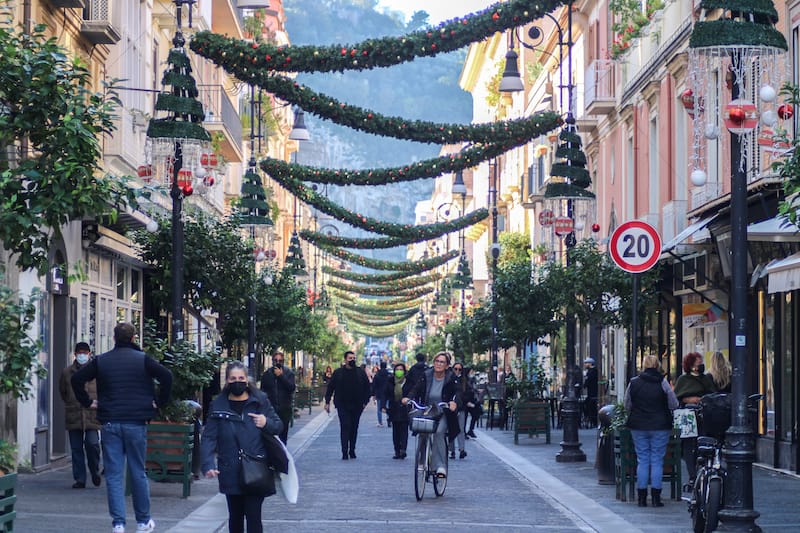 Stroll down Via San Cesareo to witness Neapolitan Baroque-style portals and façades dating back to the 17th-18th centuries, take in the sights and sounds of centro storico, and purchase local-made leather crafts, jewelry, wood inlay, ceramics, wines, and food.
Don't leave without sipping freshly-made limoncello, and make sure to get a bottle to take home to remember your beautiful Sorrento trip.
Address: Via S. Cesareo, 80067 Sorrento NA
Visit Pompeii and Vesuvius on a Day Tour
Discover the devastating side of Roman history by taking part in a day tour of the Pompeii ruins & Mount Vesuvius.
This 7-hour tour will take you back in time to 79 AD when Mount Vesuvius erupted and buried Pompeii under several feet of ash and rock.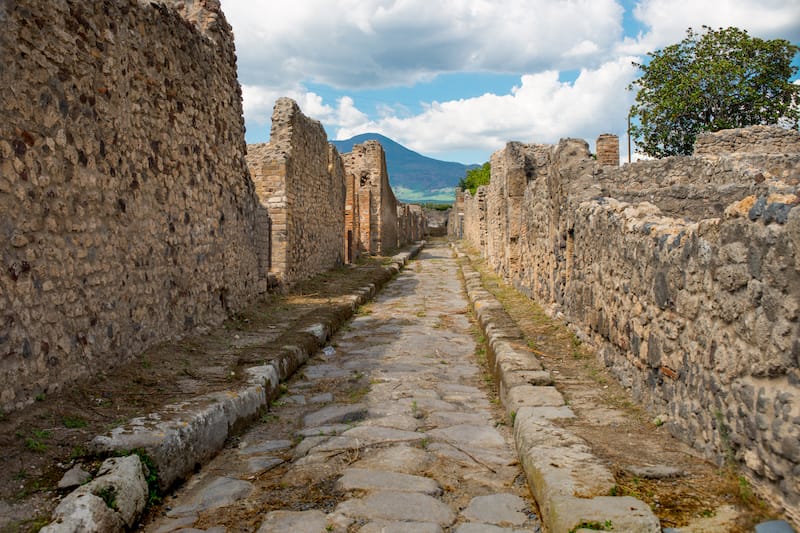 At this UNESCO world heritage site, you will learn more about Pompeii's Thermal Baths, Lupanare, the Forum, Greek Theater, and plaster casts of the bodies of Pompeii people.
You will then break for a typical Italian lunch at one of Pompeii's cafés. Once refueled, you can head out to walk around the crater and get a closer view of the mountain that destroyed the city.
>> Click here for Pompeii tour rates and availability
Peruse the Museo Archeologico
Housed in the spectacular Villa Fondi in Piano di Sorrento, the Archeological Museum of the Sorrentine Peninsula is the perfect place to dip into the history of Sorrento.
The museum is named after famous French archeologist and scholar George Vallet and features relics from the second millennium BC to the Roman age.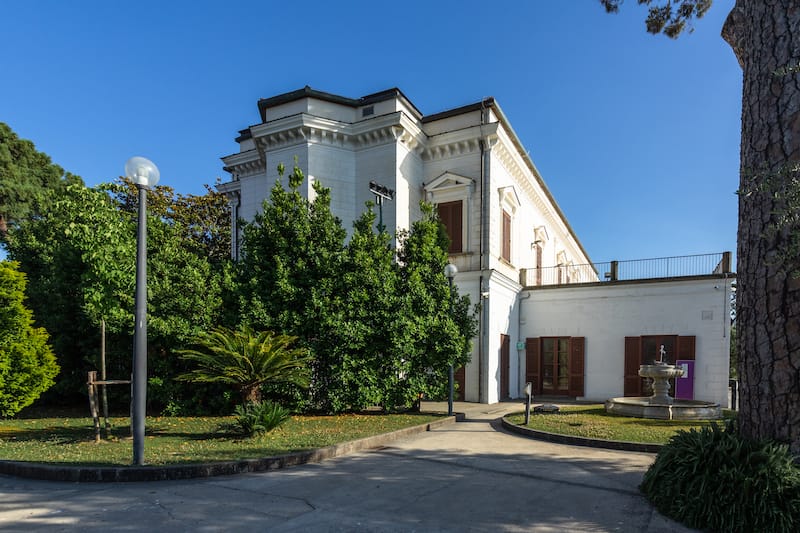 This beautiful 19th-century neoclassical-style villa was restored after a devastating earthquake in 1980 and now stands out with its unique stuccos, majolica, and frescoes.
The two-story museum is home to anthropomorphic steles, glass balsamariums, terracotta, 4th-century red-figure vases, stunning colossal female statues dating back to the Roman imperial era, the mosaic nymphaeum of 55 AD, and many other ruins found in the two necropolises of Vico Equense, Villa del Capo di Sorrento, and Villa of Pipiano.
Address: Via Ripa di Cassano, 1, 80063 Piano di Sorrento NA
Visit the Cloister of San Francesco
Nestled near Piazza Sant'Antonino and overlooking the Gulf of Naples, the Cloister of San Francesco was originally built as a monastery dedicated to St Francis of Assisi in the 7th century.
This architectural gem also features a Baroque-style church and cloisters built in the 14th century, showcasing different architectural styles from pre-Roman to Arabic to medieval.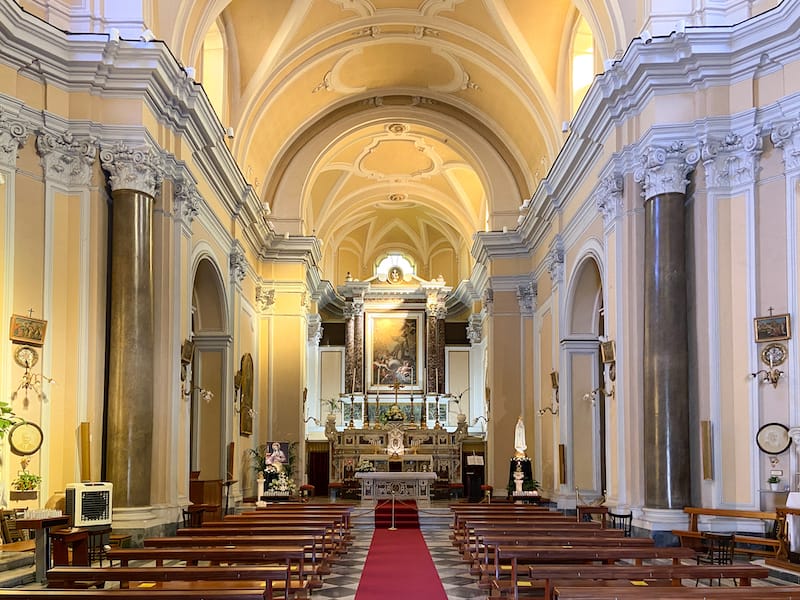 Take a stroll through this oasis of tranquility to admire gorgeous gardens packed with bougainvillea and trailing vines.
If you visit in the summer, you will be able to catch various art exhibitions and classical music concerts.
Address: Via S. Francesco, 12, 80067 Sorrento NA
Have an Aperol Spritz at Ristorante Bagni SantʻAnna
The open-air Ristorante Bagni SantʻAnna, positioned on the water's edge in Marina Grande, is a perfect spot to watch the sunset and enjoy delicious, fresh cuisine.
The menu has a great selection of seafood, pizza, salad, pasta, rice, and dessert.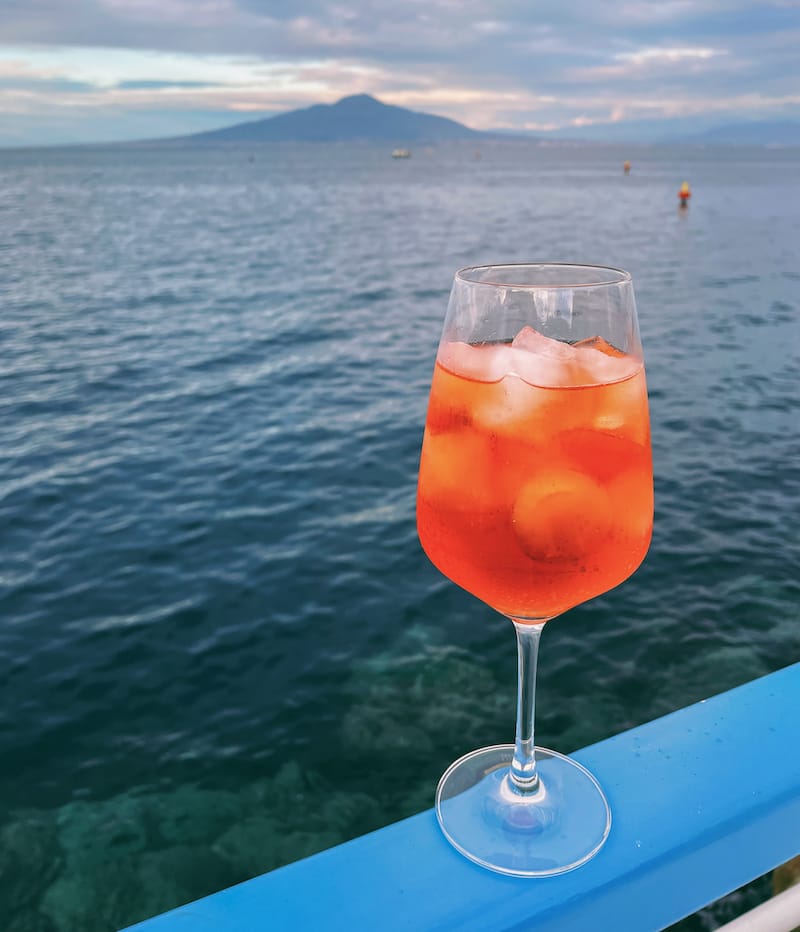 The dishes that are especially good here are the Moscardini alla Luciana, Veal loin Milanese, Paccheri with lobster, and Gnocchi Sorrento style, which then can be topped off with Strawberry Tart, or Babà Napoletano.
Round off your dinner at the bar, which offers coffee, ice creams, and cocktails, or spice things up in the afternoon at the Solarium, where you can order Aperol Spritz to enjoy while sunbathing and taking in the gorgeous sea views on the sun loungers.
Address: Via del Mare, 150, 80067 Sorrento NA
Enjoy Focaccia at Bistrot Lievitomadre Iommella
If you're looking to kick-start your day the right way, check out Bistrot Lievitomadre Iommella.
This organic cafe/bistro serves crispy croissants, great coffee, freshly made juices, sandwiches, pizza, gnocchi, etc., as well as offering pasta for sale. It's also a bakery, where you can get perfect homemade bread and pastries straight out of the oven.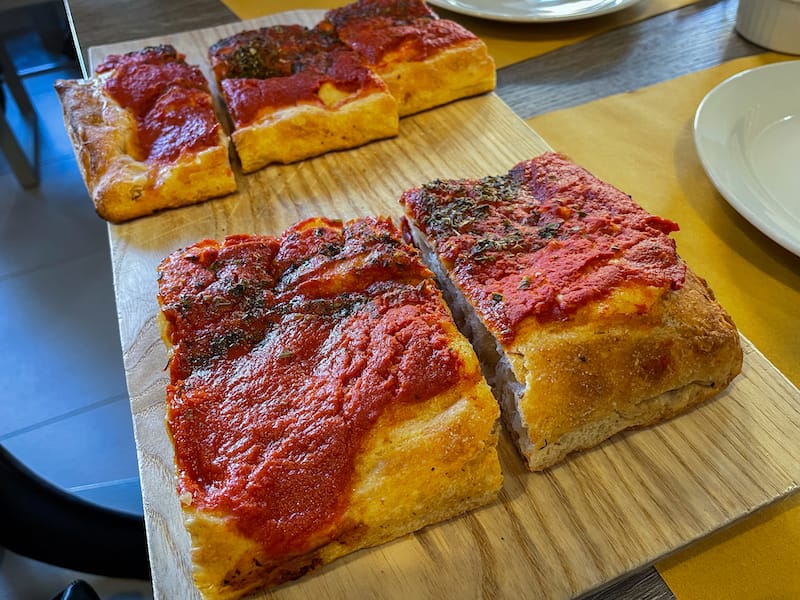 While here, be sure to taste their focaccia topped with tomatoes, local olive oil, and oregano.
This is a great place to get a healthy takeaway, or dine in and enjoy your homemade Italian breakfast, lunch, or dinner in the cozy atmosphere.
Address: Corso Italia 259 a/b, Sorrento
Have Dinner at La Locanda del Gusto
Level up your dining experience with traditional dishes from old Neapolitan cuisine at La Locanda del Gusto, just a few minutes from Piazza Tasso.
This place is well known for its friendly and professional staff, affordable prices, and cozy atmosphere.
Chef Carmen immerses you in the colors and flavors of Italian cuisine by offering mouth-watering gnocchi, ravioli, lasagna, and other pasta.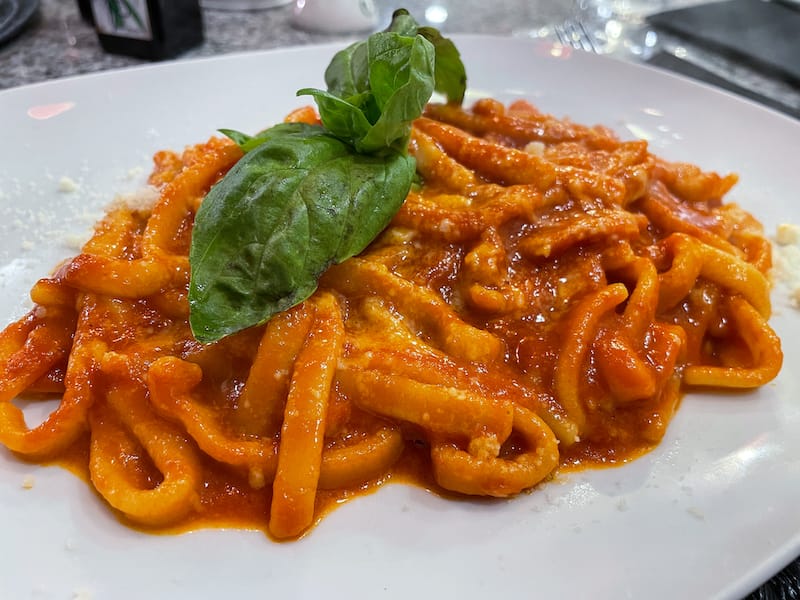 The diverse à la carte menu and a special menu change twice a week, allowing you to taste signature dishes made of typical seasonal ingredients.
Make sure to leave a little bit of room to savor a delicious tiramisu or panna cotta at the end of your meal.
Rent a Car and Road Trip around the Amalfi Coast
If you are after breathtaking Mediterranean landscapes, architectural gems, colorful buildings, charming towns, and lovely streets, then planning a road trip to Amalfi Coast is a must for you.
Marvel at the stalactite-filled Grotta dello Smeraldo (Emerald Cave), see Villa Rufolo, which inspired Wagner's magic garden of Klingsor in Parsifal, soak up the sun on Marina Grande Beach, admire Villa Cimbrone Gardens, and escape into nature in Vallone delle Ferriere.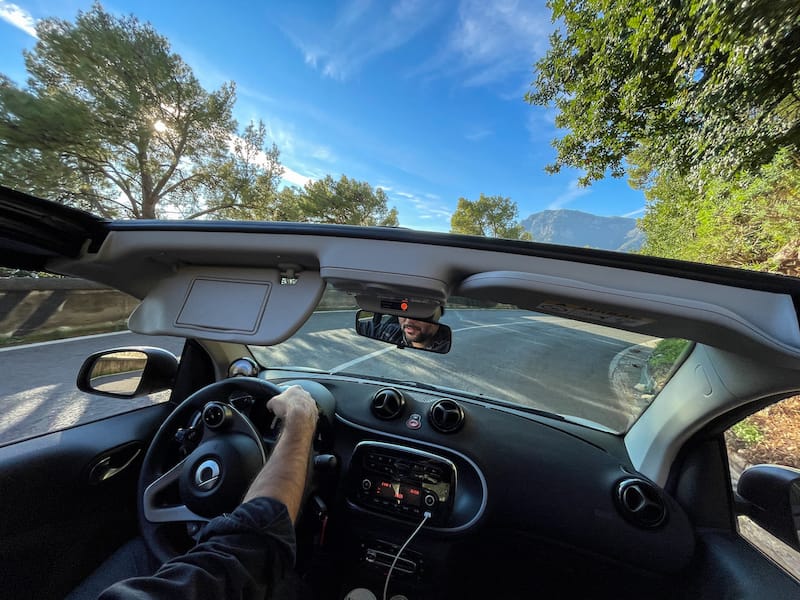 No Amalfi Coast trip would be complete without visiting Positano and the town of Amalfi, taking in mesmerizing views of the sea from the Valley of Dragons at Ravello, and walking the Sentiero degli Dei.
Cool-Off at David Gelateria
Those with a sweet tooth should put David Gelateria on their itinerary when visiting Sorrento.
This gelateria, nestled near the Circumvesuviana station and the Corso Italia (Sorrento's main street), has been serving delicious gelato to Sorrento for three generations.
Don't leave without trying Pan David, Sorrento Moon, Salty Gelato, and many other specialties, including fresh yogurt, crepes, mousse cakes, and waffles.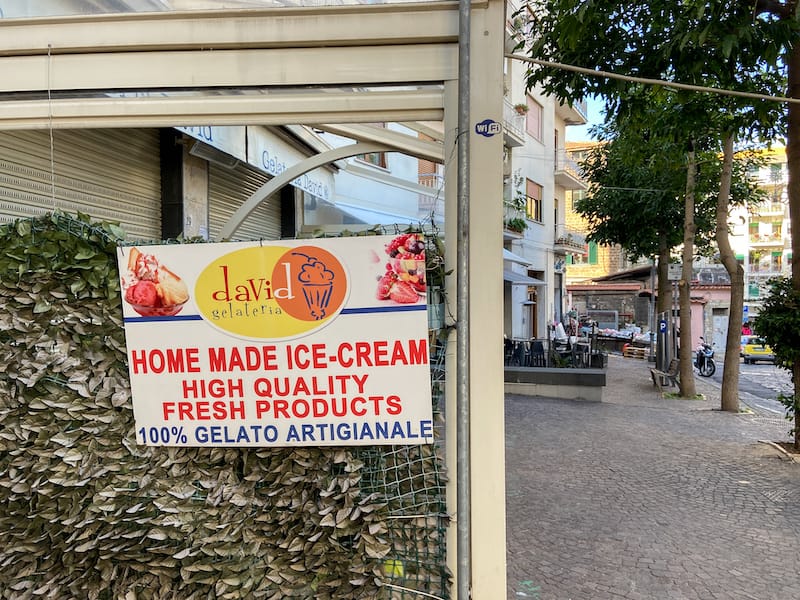 Level up your gelato knowledge by taking a course (offered in English) that teaches you the secrets of making homemade Italian gelato and other delicious desserts.
Address: Via Marziale, 19, 80067 Sorrento NA
Watch the Sunset with a Drink at La Terrazza
Talk about a place that is hard to find on the map! Aram found La Terraza when walking around one day and brought me back there for a sunset drink one evening.
The place is barely on a map but covers a spacious terrace overlooking the sea.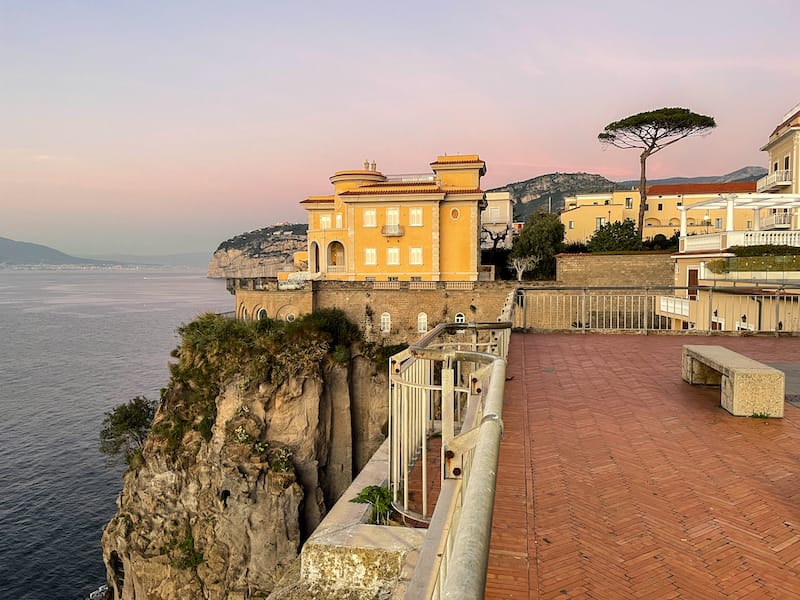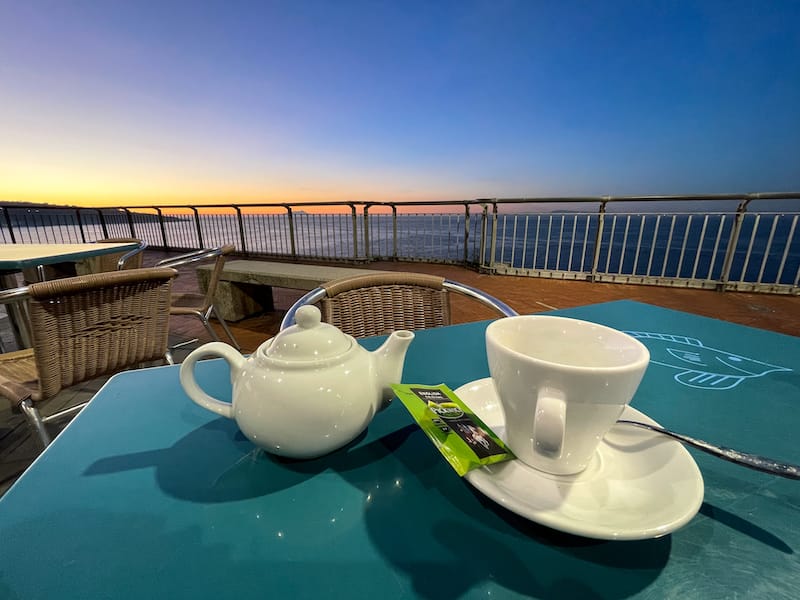 It is unassuming and nothing fancy, but we ordered coffee and tea after a long day on the Amalfi Coast and enjoyed an hour or two checking out dogs… and the sunset.
This is a great little stop for a coffee with views!
Address: Piazzetta Marinella 12
Sunbathe at Leonelli's Beach
Leonelli's Beach is the best beach club in Marina Piccola, allowing you to relax and enjoy a day on the Gulf of Sorrento.
Managed by the Leonelli family for three generations, the beach club is divided into two sections: a dark-sand beach and three solarium terraces.
The latter is equipped with deckchairs, cabins, sunbeds, and beach umbrellas, creating the perfect conditions to catch a tan.
After spending the whole day in the water and soaking up the sun, head to the on-site bar to enjoy cocktails or the seafront restaurant, which will treat you to delicious Sorrento and Campania-style culinary masterpieces, including seafood, pasta, and pizza.
Where to Stay in Sorrento
If you're looking for the top places to stay in Sorrento, here are a few of our favorites!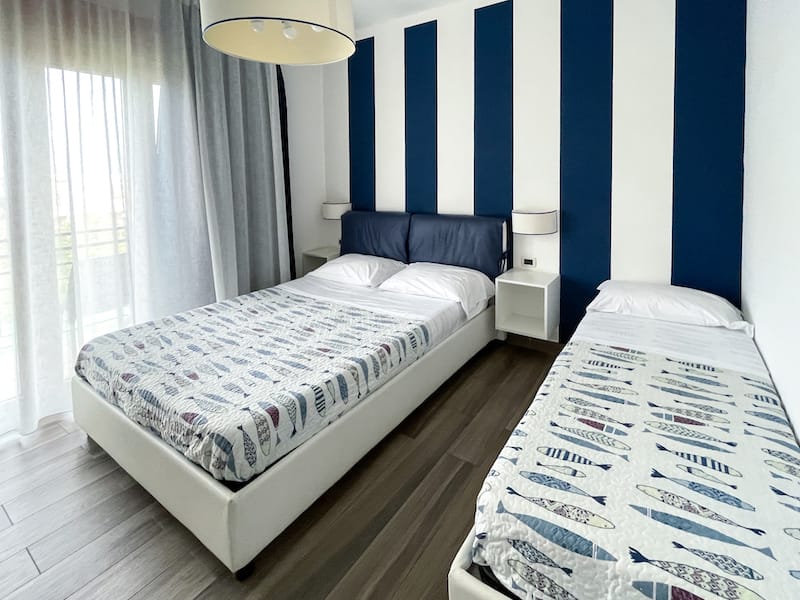 Did we miss any of the best things to do in Sorrento?
Let us know your favorite places to see in Sorrento as a first-time visitor! Thanks!
More Campania Travel Guides
Pin this Sorrento Things to Do Guide