Are you planning to spend 5 days in Santorini (or more)? This Santorini itinerary covers all bases of how to plan the epic trip, including what to do, where to stay, and more!
Are you planning your trip to

Santorini

last minute?
Be sure to book your accommodation and tours in Santorini ahead of time to ensure availability!
🇬🇷 Top recommendations for tours in Santorini:
✈️ Best Santorini airport transfer:
🛌 Top picks for places to stay in Santorini:
On the Cliff Suites (beautiful view!)
Charisma Suites (private pool!)
Antonia Hotel (excellent location in Fira!)
🚗 Looking for the best way to get around Santorini? Click here to check rental car rates for Greece!
Officially known as Thira, Santorini is one of the best-known Greek islands located in the southern Aegean Sea. It is part of the Cyclades archipelago and is renowned worldwide for its breathtaking beauty and stunning landscapes.
The island is a popular destination for travelers seeking a unique blend of natural wonders, ancient history, and picturesque villages.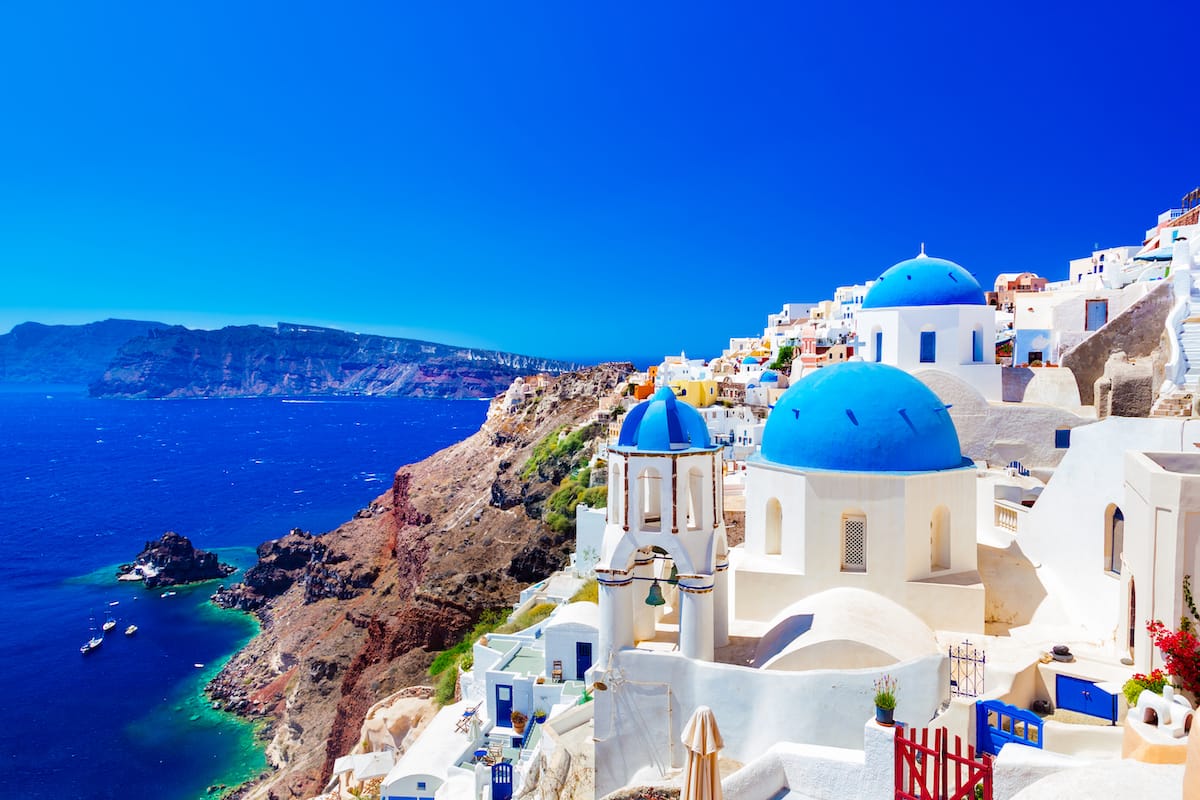 Although most travelers only devote 2 to 3 days to the island, spending more time in Santorini will be great to discover a lesser-known side of the island.
If you're planning to spend five days in Santorini, read on and discover the best ways to explore one of Greece's most beautiful destinations.
Where is Santorini and How to Get There
Santorini is one of the Greek Cycladic islands and is located in the southern Aegean Sea. It lies approximately 235km (145 miles) southeast of mainland Greece. The island is about 90.000 km2 (34.900 sq mi).
No matter what kind of transport you choose for getting to Santorini, it's always advisable to check the ferry and flight schedules in advance, especially during the high season, as they can be subject to changes and availability.
There are different transportation options to get to Santorini.
By Plane
Santorini (Thira) International Airport (JTR) is connected to major cities in Europe as well as to other destinations in Greece.
There are also daily direct flights from Athens. The journey by plane from Athens to Santorini is about 45 minutes.
By Ferry
The quintessential way to travel in Greece, Santorini is accessible by ferry from several ports in Greece.
The most common departure points are Piraeus (the main port of Athens) and Rafina. Ferry connections are available from other Cycladic islands, such as Mykonos, Naxos, and Paros too.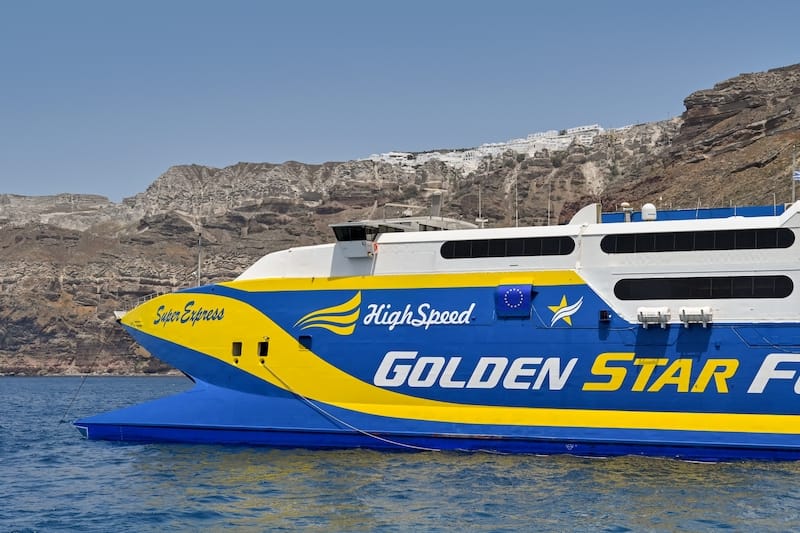 A journey by ferry can last from 2 to 7 hours, depending on the departure point and type of ferry you book.
By High-Speed Catamaran
High-speed catamarans and hydrofoils are faster alternatives to conventional ferries. They operate on certain routes and can significantly reduce travel time.
However, they tend to be more expensive than regular ferries and might not depart under unfavorable weather conditions.
How to Get Around Santorini
Once on the island, it's easy to reach your accommodation either from the port or the airport either by public bus or taxi.
Renting a Car in Santorini
A better alternative is to rent a small car or a scooter to explore the island at your own pace. Booking in advance will allow you to save money and guarantee that you get the car you prefer.
We use Discover Cars and love their customer service, rates, and full-coverage option!
>> Click here to check Santorini rental car rates
When is the Best Time to Visit Santorini
As locals always say, Santorini is always a good idea!
Moreover, unlike other smaller and less popular Greek islands, there are activities going on all year round. To put it bluntly, Santorini doesn't close for winter, so it's a great destination in any season.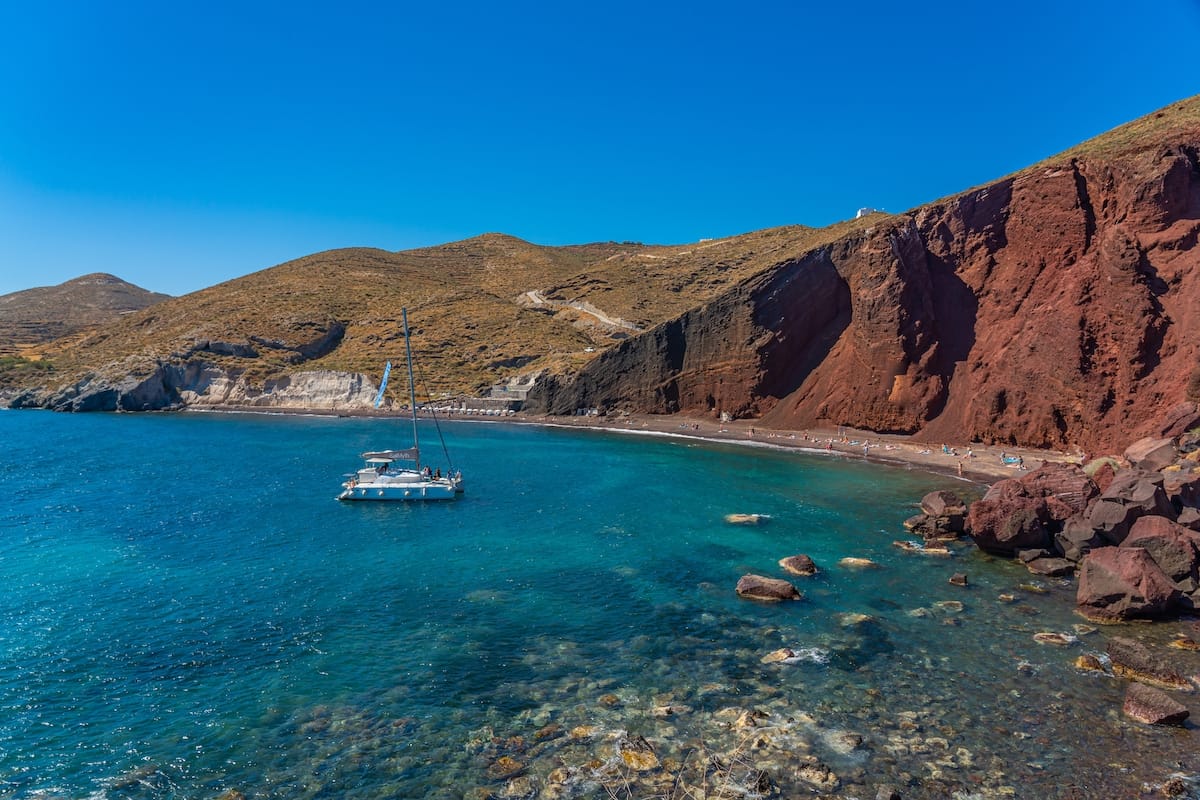 There's no "best time" to visit Santorini, however, you will enjoy it the most if -at the time of booking your trip- you also take into account what you hope to experience on the island:
Santorini in Summer (June to August)
Largely preferred by tourists from Europe and the US, this is the peak season. On the island, you'll find very hot and sunny days, with temperatures ranging from 25°C to 35°C (77°F to 95°F).
In summer, the island is bustling with tourists and the most popular attractions will be crowded, prices also go up in this season.
Santorini in Spring (April to May) and Autumn (September to October)
The shoulder season is the ideal moment to visit if you prefer milder temperatures and fewer crowds.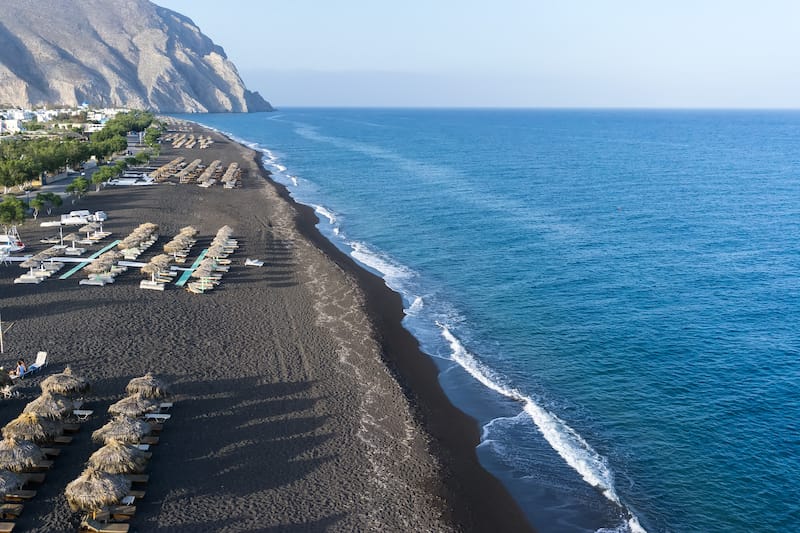 Temperatures can range from 18°C to 25°C (64°F to 77°F), pleasant enough to enjoy outdoor adventures and excursions at any hour of the day.
On the island, the atmosphere is more relaxing and prices are not as high.
Santorini in Winter (November to March)
Santorini experiences mild winters with temperatures ranging from 10°C to 15°C (50°F to 59°F), although, on occasions, you might encounter colder weather. The island becomes quieter and some attractions have reduced hours.
You might encounter a few cloudy or rainy days. In winter, you can participate in authentic festivals and learn about everyday life in Santorini.
Accommodation rates are more affordable, so visiting Santorini in winter can be an excellent idea for budget travelers!
Best Reasons to Visit Santorini
There are so many great things to do in Santorini that it should be high on your bucket list!
Santorini is one of the most visited destinations in Greece and for more than just one reason!
First of all, Santorini shelters some of the most incredible natural views you could imagine.
Its iconic Caldera offers panoramic vistas of the Aegean Sea and the neighboring volcanic islands while the sunset views are stunning.
Furthermore, Santorini is dotted with picturesque villages that exude traditional Cycladic charm, with their whitewashed houses, blue-domed churches, and narrow winding streets adorned with colorful flowers.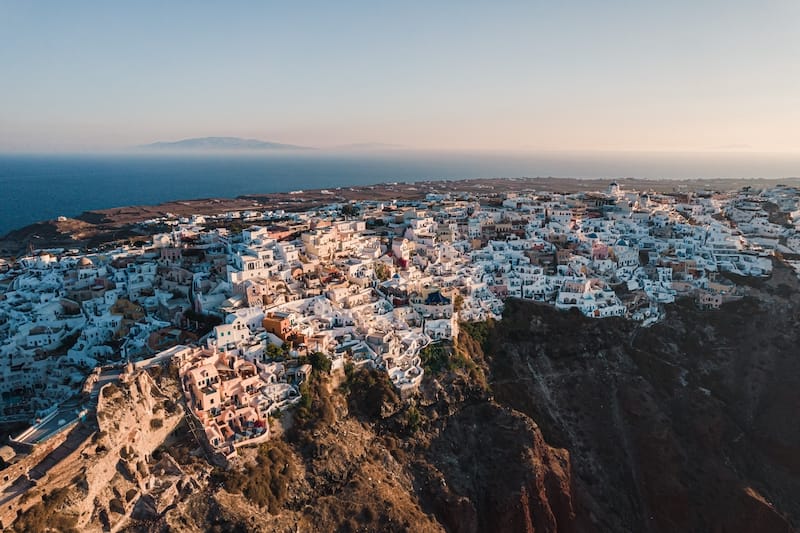 Five days on the island will be enough to go beyond popular settlements like Oia and Fira and discover hidden villages that are equally charming.
History buffs will find a place in Santorini too! The island's rich past becomes tangible in the many archaeological sites, ruins, and museums.
Although most people don't visit Santorini to go to the beach, there are some incredibly beautiful beaches in Santorini with unique traits and colors given by the volcanic origin of the island.
From the black shores of Perissa and Kamari to the spectacular Red Beach, the island's captivating landscape will leave you in awe.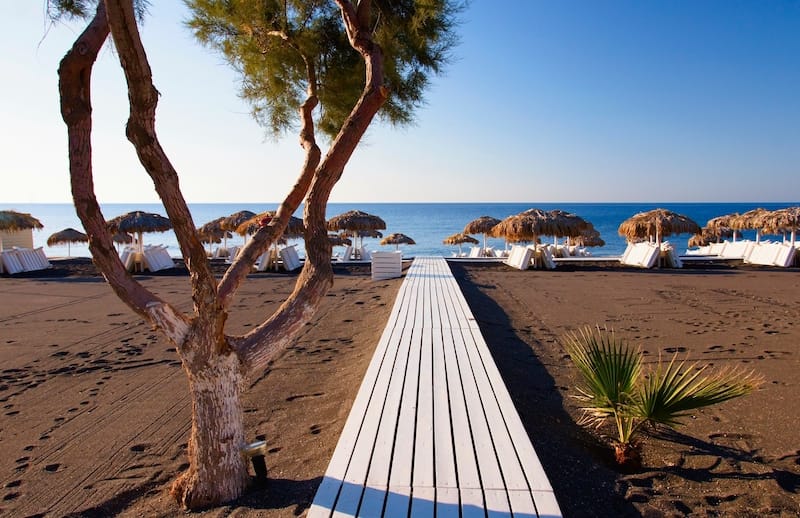 Finally, local culinary delights represent another powerful reason to visit.
Known for its exceptional local produce and delicious wines, in Santorini you can indulge in traditional Greek cuisine and pair your meals with the island's renowned wines,
Add to these incredible day trips to nearby islands and a unique romantic atmosphere, Santorini will be the perfect destination for a 5-day break in Greece.
5 Days in Santorini Itinerary
Santorini's combination of stunning natural beauty, ancient history, unique geological features, beautiful beaches, exquisite cuisine, and romantic sunsets make it a captivating destination.
Whether you're seeking relaxation, adventure, culture, or a romantic getaway, this 5-day Santorini itinerary will offer that magical experience you're looking for.
Here's a breakdown of these 5 days in Santorini itinerary:
Day 1: Explore the Capital
Day 2: Discover Oia
Day 3: Pyrgos, Akrotiri, and Red Beach
Day 4: Black Sand Beaches
Day 5 (optional): We propose different full-day activities and day trips easy to arrange from Santorini.
Day 1: Explore Fira (the Capital)
Start as early as you can and devote your first day in Santorini to the gorgeous capital, Fira. The settlement is a vibrant center and it's often crowded.
Head to the main alley in Fira for a relaxing walk with the Caldera in the background, over here, you will encounter exclusive boutiques and jewelry stores, as well as several art galleries exhibiting works by local artists.
It's never a bad moment to purchase souvenirs, and doing so on the first day will save the hassle of an always-stressing last-minute hunt for the perfect souvenir.
In Fira, it's also possible to visit some of the most iconic churches on the island.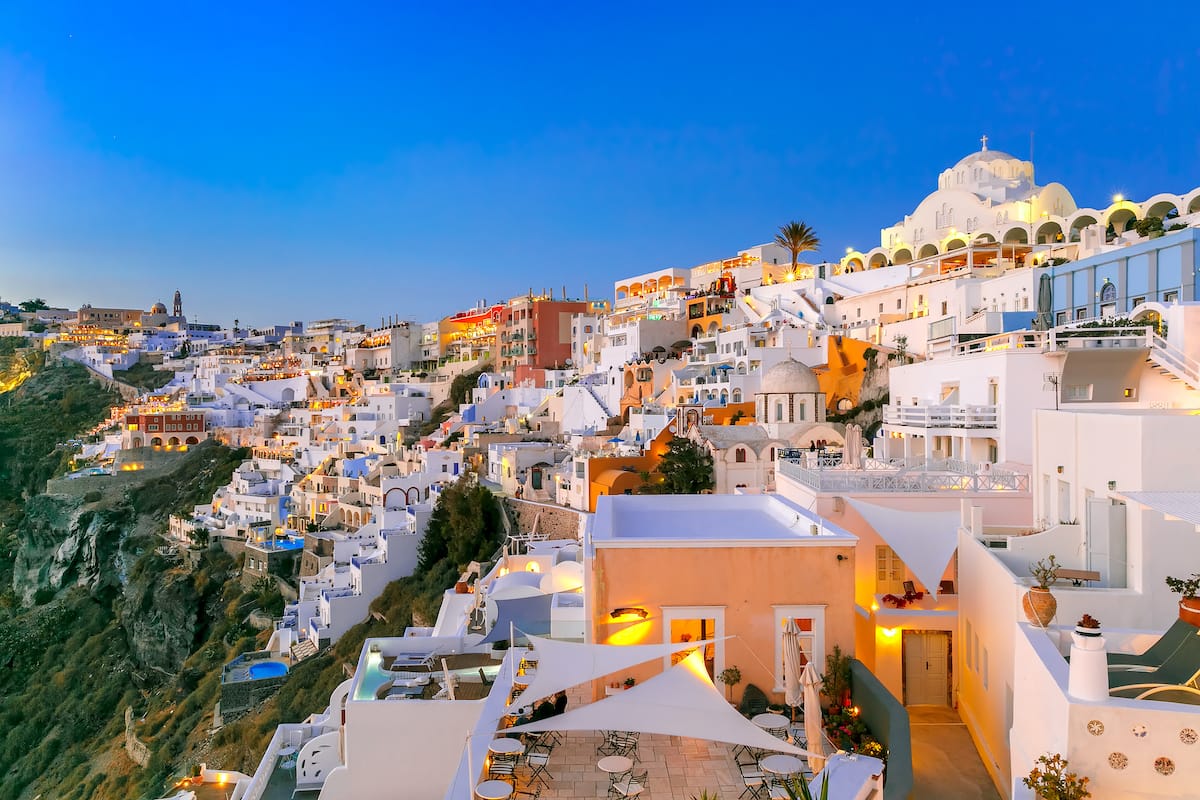 Explore Santorini's Cathedral, one of the most beautiful religious buildings in Santorini, with its distinctive whitewashed dome and impressive architecture.
Next up, the Catholic Church of Saint John is a small but picturesque church with a distinctive colorful dome and fantastic views of the sea.
Get lost in the colorful alleys of the settlement and soak in the beauty, there's a lot to see in Fira!
Budget travelers will be glad to learn that lunch in Fira can be either utterly expensive or quite affordable, depending on the location you choose.
Any bar or eatery facing the Caldera will charge for the views other than the dishes. However, if you head to the main square of Santorini, away from the center, you will find several affordable tavernas.
Our suggestion? Don't spend a lot of time or money on lunch. Grab a gyros on the go or sit for a quick Greek salad. Then continue your walk in the city and head to the Archaeological Museum of Thera.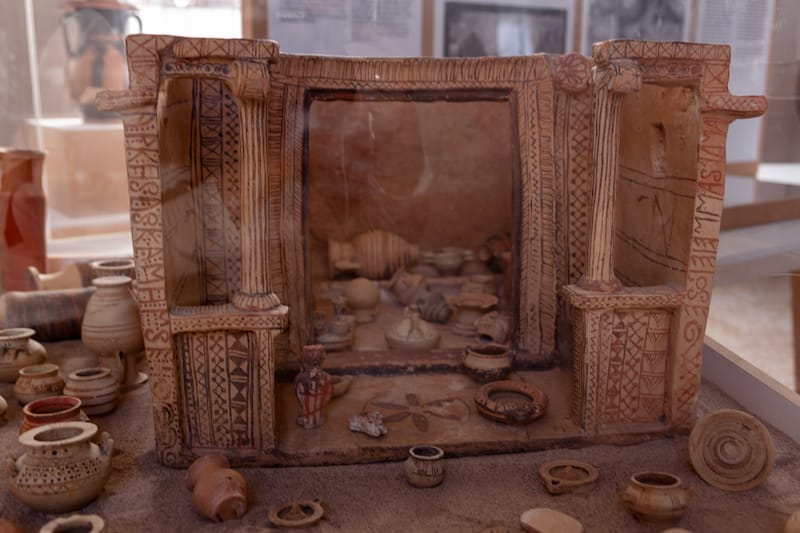 You can spend an hour or a bit more perusing this small but interesting exhibition if you want to discover the history of the island.
Over here, you will find objects dating back from the III millennium BC until the Classical period.
After checking out the museum, head to the nearby cable car station and your way down to Fira's port. The short is short but incredibly scenic and will offer a glimpse of the island's volcanic landscape.
Alternatively, you can hike down to the port and use the cable car to make your way back up to Fira.
Head to the Caldera for sunset, pick a nice bar with a view and enjoy a cocktail as the sun goes down over the sea. All places tend to get crowded at this hour, so plan ahead and choose a table early.
Take into account that the sun goes down quite late in summer (about 8.30 pm) yet, most venues are already full by 6 pm. If you don't intend to miss this experience, book a table in advance!
Should you stay in Fira? It's a good idea to choose Fira as your base for your time on the island. The capital of Santorini has a central location making it easy for travelers to move around and visit other places with short travel times.
Hotels in Fira
There are endless hotels in the area, here are my best picks for all budgets:
Luxury:
Mid-range:
Budget:
Day 2: Visit Whitewashed Oia
Arguably the most beautiful settlement on the island, Oia is located on the northernmost tip of Santorini, no more than a 20-minute car ride from Fira.
Over here, you will find a collection of charming streets with colorful homes and some of the nicest views on the island.
Oia is a settlement built on the steep slope of the Caldera, featuring narrow passageways, and traditional Cycladic houses, some of them carved into the rock
The harbor of Amoudi on the western side of the town is reached by steep stairs north of Fort Londsa; there are a few tavernas and a pebble beach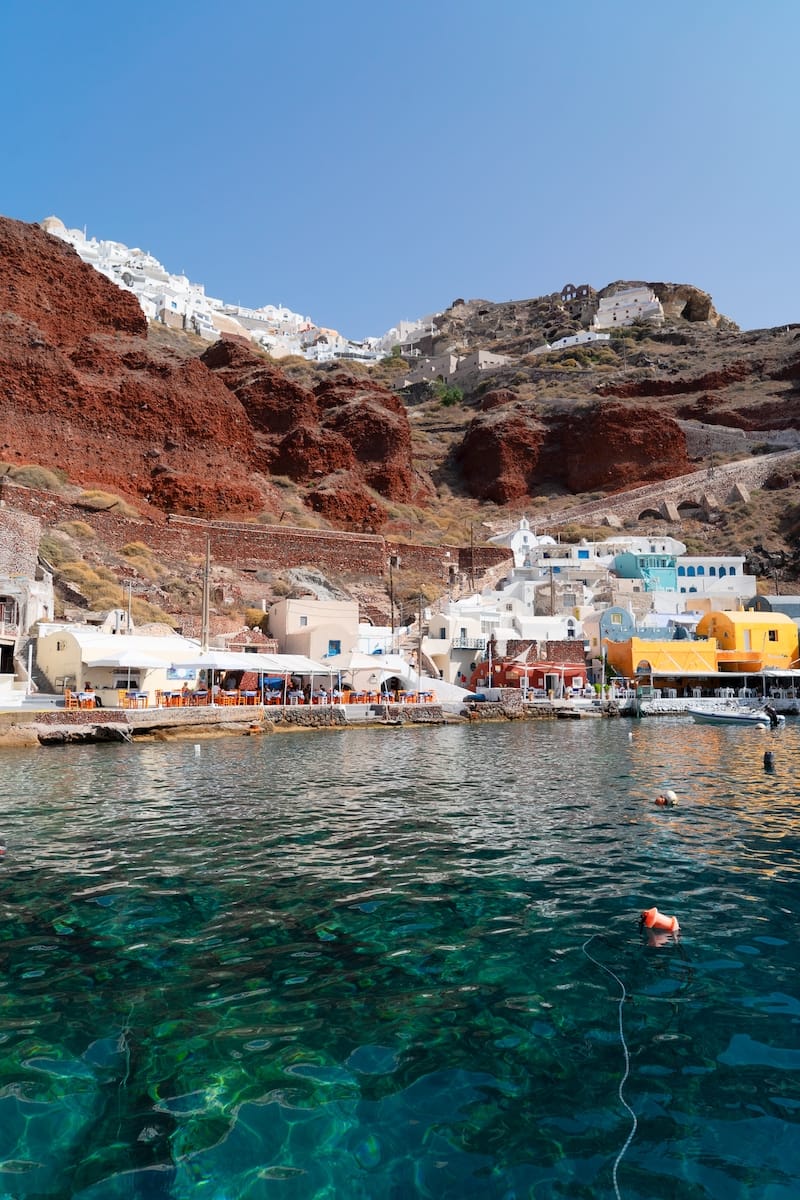 In Oia, you can visit the Naval Maritime Museum to learn about Santorini's maritime history or spend a few moments going through the books exposed in Atlantis, one of the most famous bookstores in Greece selling maps, magazines, and unique books, as well as other souvenirs from Santorini.
In the early afternoon, hike down to Oia's charming ancient harbor.
Located 350-400 meters under Oia, Amoudi is a small port below the cliff on the western side of the town. Over here, you can have a delicious seafood lunch and even go for a swim on the small pebble beach!
To take the most iconic pictures of Santorini, go back to the settlement and find a spot in the ruins of Oia's Old Castle, from here, you can check out the whole landscape of the settlement, its two ancient windmills facing the sea, and the shape of its churches.
It's a good idea to arrive early. The place can get really crowded in the afternoon since everyone wants a snapshot of Santorini's most breathtaking sunset spot.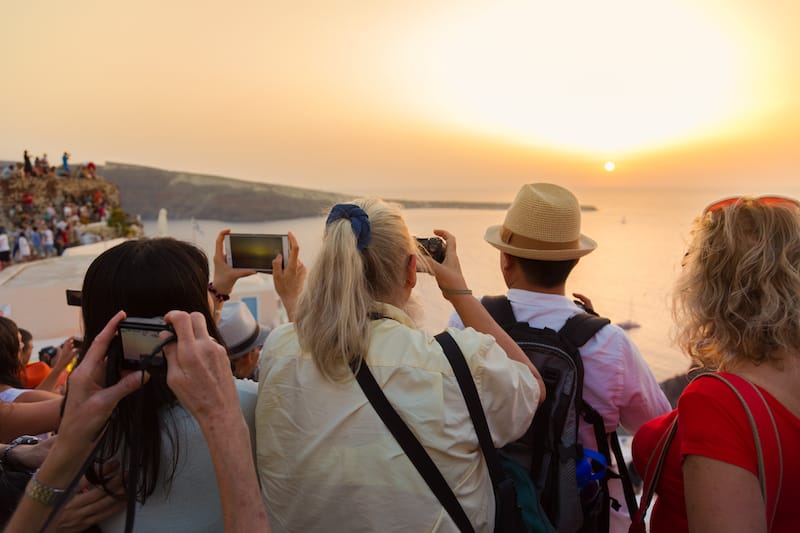 For that reason, it's always a good alternative to check out the sunset from the sea to enjoy a more exclusive experience. There are plenty of sunset trips available, this is the one we recommend.
Should you stay in Oia? Although Oia can be a bit more expensive when it comes to accommodation, the views are worth the extra expense.
Hotels in Oia
These are some of the best hotels in the settlement:
Luxury:
Mid-range:
Budget:
Day 3: Check Out Pyrgos, Akrotiri, and Red Beach
Start your third day early enough and head to the charming settlement of Pyrgos.
Located halfway between Fira and the southern portion of the island, Pyrgo was Santorini's former capital and today remains one of the most traditional settlements.
Home to another ancient castle as well as beautiful churches, Pyrgos is an off-the-beaten-track destination you should not miss.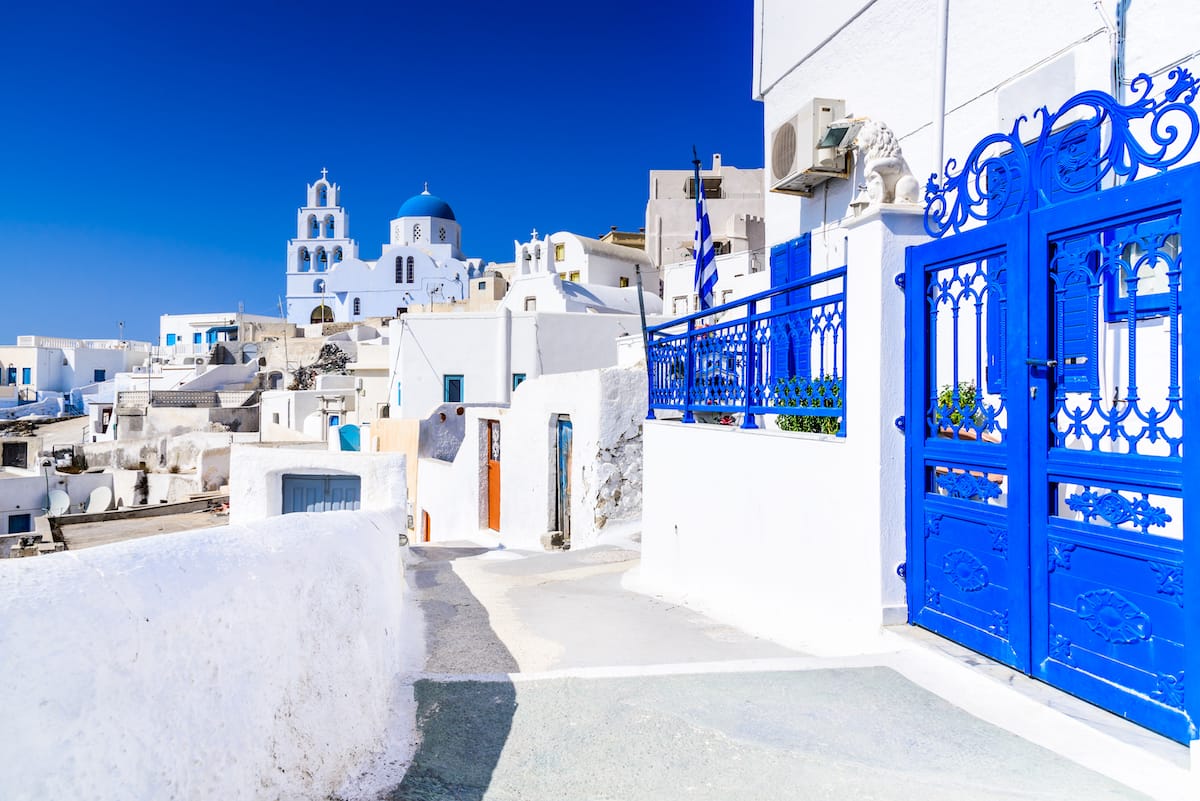 Since the village is located in a somewhat elevated position, the views of Santorini's rugged coastline from here are simply stunning.
Spend a couple of hours wandering the traditional alleys of Pyros, exploring the settlement.
Later on, find a local kafenio (coffee shop) for a short rest and order a bowl of fresh Greek yogurt with nuts and local honey. You won't forget the experience!
Later in the morning, drive to the coast to visit Akrotiri, probably the most important archaeological site on the island.
In Akrotiri, an ancient Minoan city remained preserved under volcanic ash for centuries. It got covered by volcanic ash more than 3500 years ago, just like Pompeii or Herculaneum in Italy.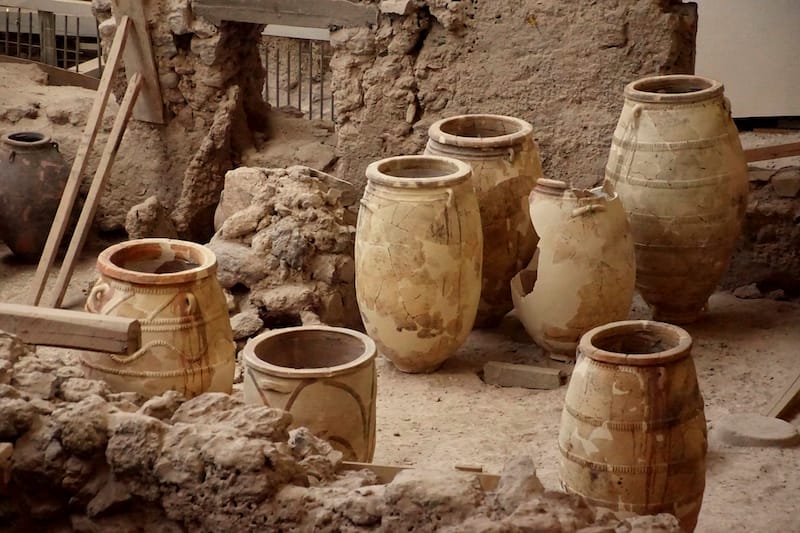 As a consequence, today it's possible to see well-preserved ruins and learn about the history and advanced culture of the ancient civilization that had a thriving economy based on international maritime trade with the nearby island of Crete, but also with other cultures in the Middle East.
You can have a traditional lunch in the old village of Akrotiri and then head to the nearby Red Beach.
Hike down the coast to admire the dramatic red cliffs that contrast with the pristine turquoise waters. On the beach, you can simply relax and soak up the sun, go for a swim, or even try snorkeling.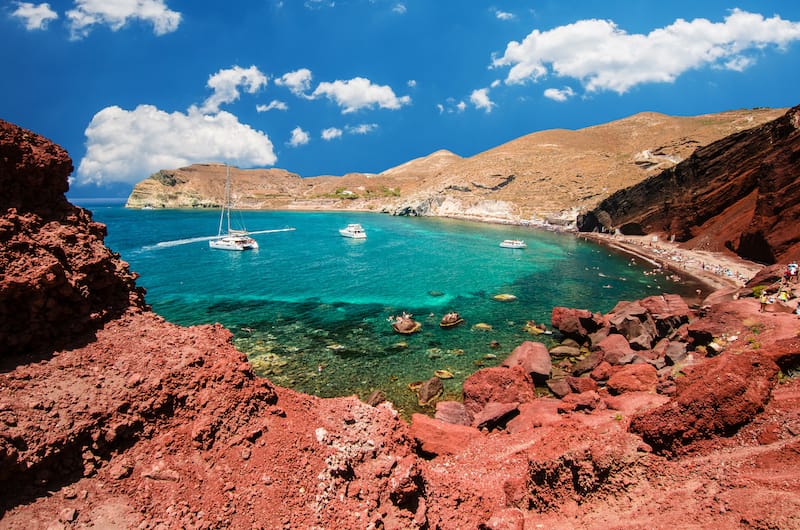 The underwater landscape in the area features a strange combination of volcanic rocks and lava formations that is truly spectacular.
Akrotiri's Lighthouse will offer you a completely different sunset landscape and then check out one of the many seaside tavernas around Akrotiri.
Should you stay in Akrotiri? The settlement offers a more laid-back vibe than other villages on the island.
When compared to Oia or Fira, Akrotiri feels like a completely different place and a stay in the area is perfect If you want to disconnect and relax.
Hotels in Akrotiri
These are some of the best hotels I recommend in the area:
Luxury:
Mid-range:
Budget:
Day 4: See Santorini's Black Sand Beaches
Spending a whole day exploring the island's back sand beaches can be a great way to rest and take a break. Perissa is one of the most beautiful beaches on the island and is located on the southern coast.
Perissa is the place you want to visit to chill out on the beach, experience one of the island's famous volcanic back beaches, or swim in the crystal-clear waters
All along the waterfront, you will find several beach bars, restaurants, and taverns where to taste anything you want, from eclectic cocktails to traditional Santorinian tomato fritters or fava, a delicious yellow split pea spread loved by locals and visitors alike.
In the afternoon, head to the southern beach of Vlychada to experience water sports or drive north to visit Kamari, another great black beach on the coast of Santorini.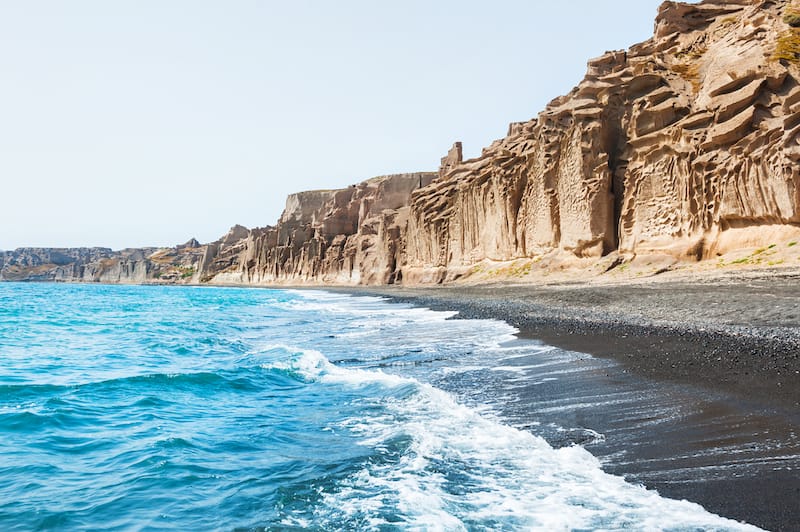 Kamari is an excellent place for shopping or a seaside meal and night entertainment. In this lively village, you will find plenty of cocktail bars and pubs where to relax and listen to music until quite late at night.
For a different afternoon, climb up the Kamari serpentine, one of the most breathtaking roads in Santorini to visit the settlement of Ancient Thera, located on top of the Messa Vouno mountain.
You can explore the ancient settlement but also admire the island from a unique perspective.
Should you stay in Kamari? Many travelers choose to stay in Kamari for several reasons. The place is well-located, just a few minutes from Fira (on the opposite coast) but also close to the airport.
It offers plenty of amenities, including bars, restaurants, and convenience stores, and there's a great selection of hotels for all budgets.
Hotels in Kamari
These are some of the best accommodation options in Kamari:
Luxury:
Mid-range:
Budget:
Day 5: Best Tours and Additional Things to Do in Santorini
There are plenty of interesting activities, visits, and day excursions to do on this last day, both in Santorini and on other nearby islands. These are some of our proposals:
For Adventurers
Hike along the Caldera. If you are a hiking enthusiast, you will enjoy hiking from Frita to Oia overlooking the Caldera. This journey offers panoramic views of the Aegean Sea, volcanic cliffs, and traditional villages along the way.
Don't forget to wear comfortable shoes, pack plenty of water, and avoid the hottest hours of the day.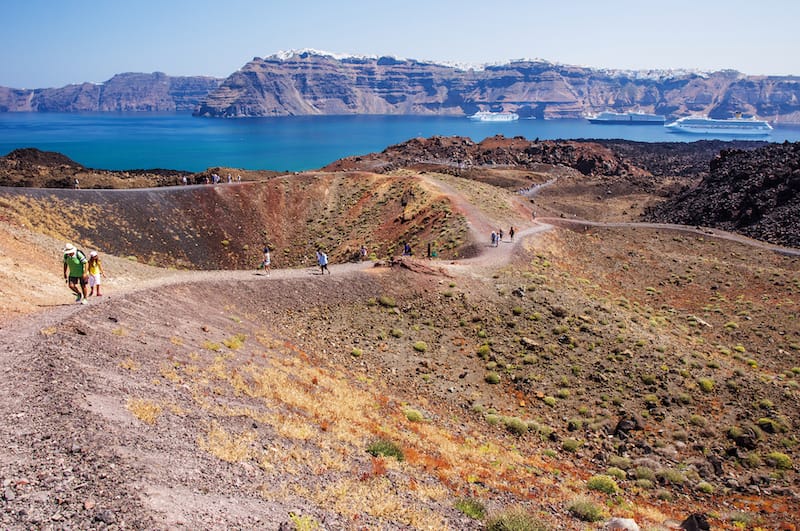 The hike can take from 2 to 4 hours, depending on your pace, so avoid leaving during the hottest hours of the day in summer, there's no shade along the trail.
You can do this hike on your own, or join a group led by an expert guide.
>> Click here to check rates for a guided hike
For Intrepid Travelers
Explore the volcanic island of Nea Kameni, located in the center of Santorini's caldera with a guided tour of the crater.
This is an incredible opportunity to witness the unique volcanic landscapes. The trip continues with a visit to the hot springs of Palea Kameni for a therapeutic mud bath or to swim in the warm waters.
>> Click here to check tour rates and availability
For Wine Lovers
Spend half a day exploring the famous Santorini vineyard, learning about winemaking, visiting different wineries, and tasting the best labels on the island.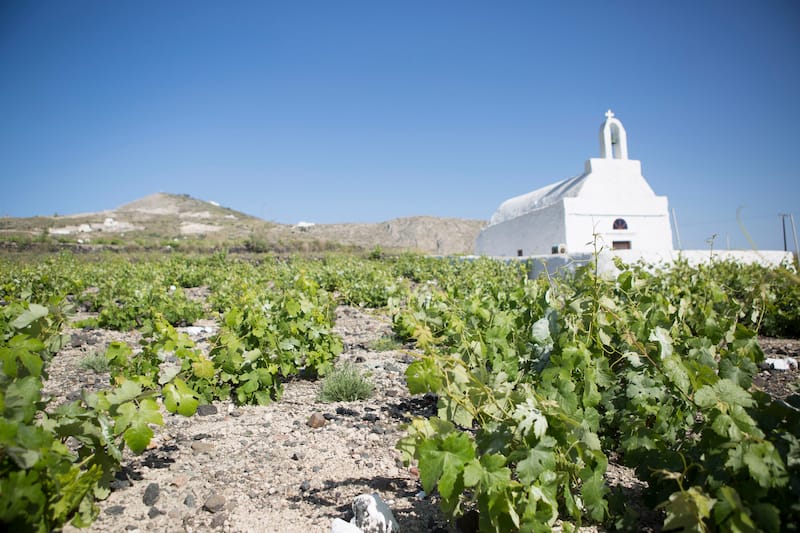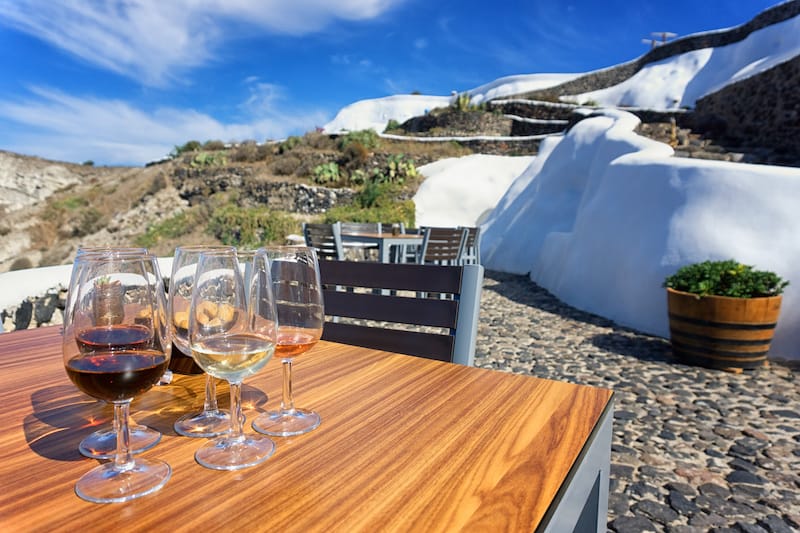 Discover the island's iconic dessert wine, Vinsanto, as well as other wine varieties made from the grapes grown on the island, Assyrtiko, Aidani, and Athiri. Since the experience includes food pairing, this is a great activity for foodies too!
>> Click here to check rates for this wine and food experience
For Families
Spending a morning exploring the remote beaches of the island while riding a horse can be an unforgettable experience, especially for small kids.
And even when this is an excellent activity for the whole family, it can also be a great thing to do for groups of friends and couples, guaranteeing stunning views and endless hours of fun.
>> Click here to check horseback riding rates and availability
For Photography Enthusiasts
Spend a whole day exploring the island with a professional photographer! This can be the most rewarding activity to do in Santorini if you enjoy capturing amazing landscapes with your camera.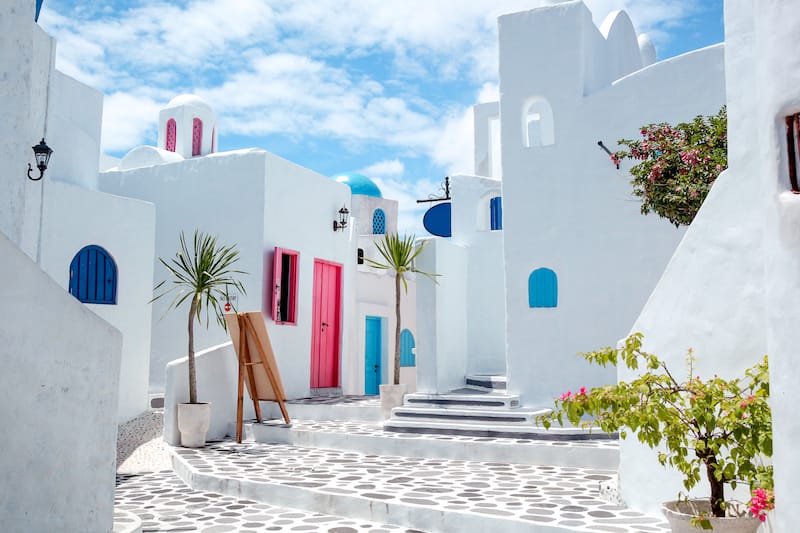 You'll see plenty of the best photo spots on Santorini on this tour!
>> Click here to check photography tour rates and availability
Nearby Islands
There are plenty of Cycladic islands to explore just a few hours from Santorini. Always remember to check the availability and schedules of ferries or tours in advance to plan your day trip effectively.
Day trip to Anafi: One of the islands closest to Santorini is Anafi, a lesser-known volcanic jewel with just one picturesque settlement and a very relaxing vibe.
The ferry route from Santorini to Anafi normally takes around 1.5 hours and the ticket is about €6.
Day Trip to Mykonos: Considered the most sophisticated island in Greece, Mykonos is a fun destination that you can visit after a short ferry ride from Santorini.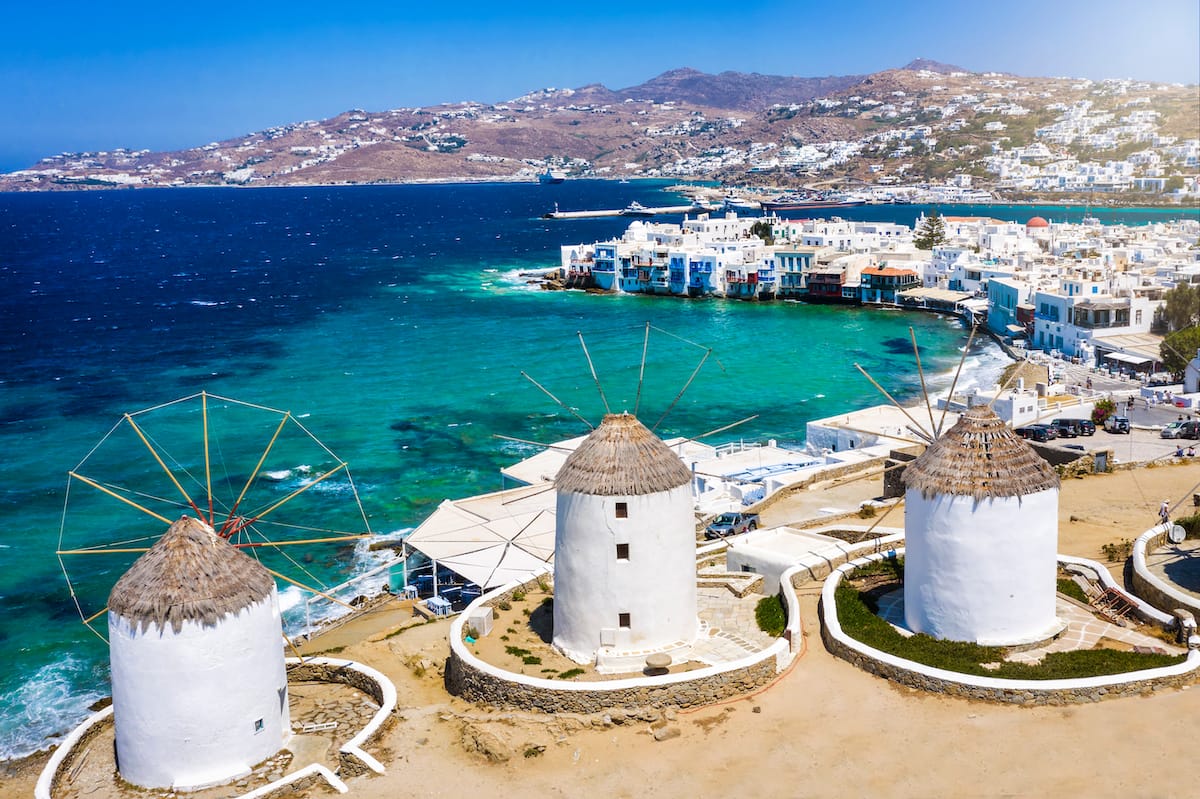 There are daily ferry connections all summer and the journey is about 2.5 hours.
Day Trip to Delos: If you are not a fan of crazy party islands, once at the port of Mykonos embark on an adventure into mythology and legend by boarding a boat to Delos Island. This is a small island but one of the most significant places to visit in Greece.
Located near Mykonos, Delos is one the most important archaeological sites in the country where you can admire well-preserved ancient ruins, including temples, houses, and theaters while learning about the island's significance as the birthplace of the gods Apollo and Artemis.
>> Click here to check Delos day tour rates and availability
Day Trip to Crete: Catch a ferry or book a guided tour from Santorini to the largest Greek island, Crete.
Explore the historical city of Heraklion, visit the ancient ruins of Knossos, and immerse yourself in the island's rich mythology and history.
There are usually 3-4 daily ferry crossings from Santorini to Crete (Heraklion).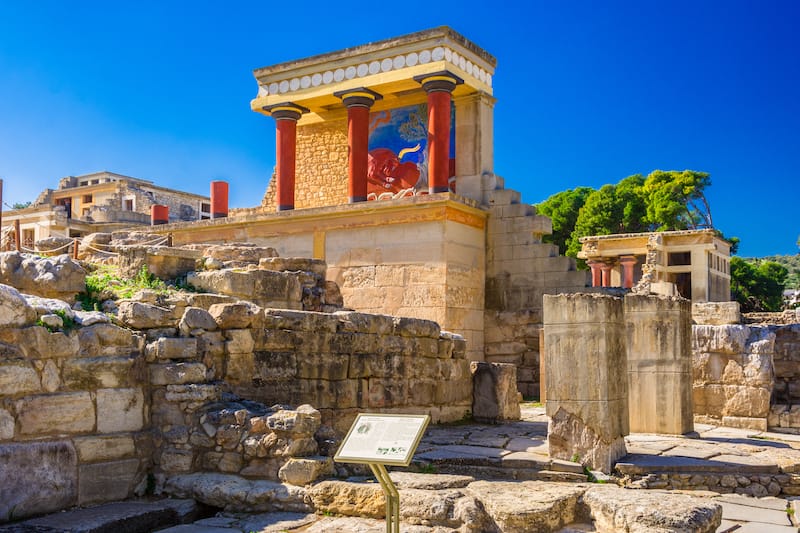 Day Trip to Naxos: Naxos is another nearby island that can be reached by ferry from Santorini. You can explore the charming old town of Naxos, visit the impressive Portara or relax on the island's beautiful beaches.
There are up to 6 daily ferry crossings from Santorini to Naxos in the high season and the journey is around 2 hours.
As you can see, spending five days in Santorini offers an immersive and unforgettable experience that showcases the island's unique beauty.
Five days give you ample time to explore, relax, and indulge in the island's breathtaking views, charming villages, ancient ruins, beautiful beaches, exquisite cuisine, and romantic atmosphere.
In the end, Santorini's allure lies in its ability to create lasting memories and enchant visitors with its romantic ambiance.
The island's captivating landscapes, coupled with the genuine warmth of its people, ensure that your five-day adventure on Santorini will be a remarkable and cherished experience.
If you have any suggestions for this Santorini itinerary, let us know in the comments!
More Santorini Travel Guides
Pin this Santorini 5-Day Itinerary