Are you looking for the best things to do with only 2 days in Krakow? This Krakow itinerary is here to help!
If you are planning to spend a weekend in Krakow, you will find plenty to keep you occupied!
From visiting historical churches and buildings to taking a day trip to one of the world's most somber places… Krakow is a fantastic city break.
This itinerary will hopefully help you plan your two days in Krakow.
Let us know what we missed! Thanks!
2 Days in Krakow Itinerary – Overview
This guide explains what to do in Krakow if you have two days. We've organized it as follows, starting first with a quick history of Krakow that will help set the context for a successful 2 day trip to Krakow!
Quick History of Krakow
Getting to Krakow
Where to Stay in Krakow
Day 1 Krakow Itinerary
Day 2 Krakow Itinerary
We end our Krakow 2 day itinerary with some suggestions on what to do in Krakow if you have a little more than 2 days and we share a few important items you want to be sure you take on your Krakow trip.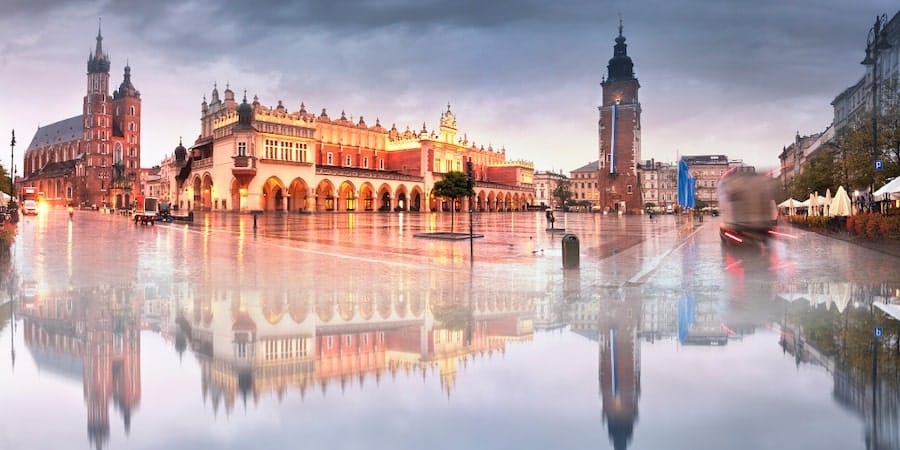 Quick History of Krakow (and some facts)
Krakow sits on the Vistula River and is the 2nd largest city in Poland behind Warsaw (the current capital city of Poland).
It is a very old city with settlements dating back to at least the 4th century although the town really came into prominence in the 10th century. Its official birthday, however, was June 5, 1257.
Krakow has served as the Polish capital at least three times over the years and boasts a population of more than 750k people.
Krakow has become a popular business hub as well as hosting engineering organizations for large companies like IBM and GE.
The town is known for being friendly, fairly safe, and picturesque. Many people speak English making it a popular destination for US tourists.
It's also typically very affordable with the local currency (the Zloty) generally having very favorable exchange rates.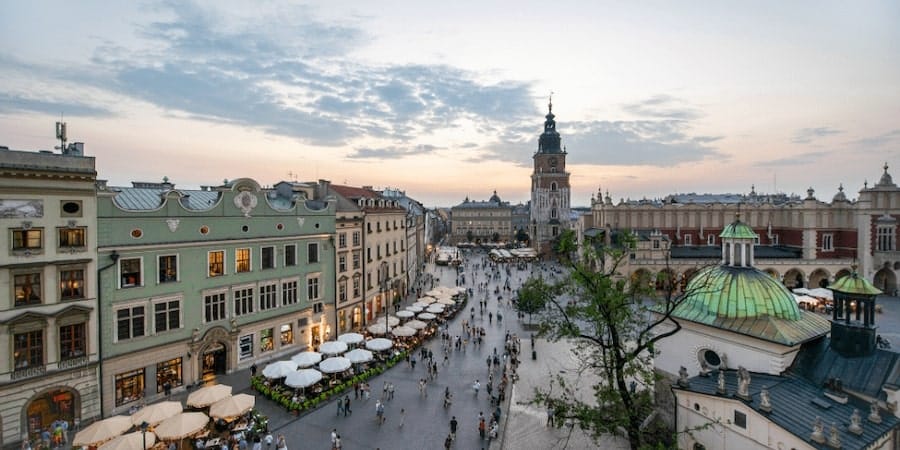 Getting to Krakow
John Paul II International Airport (KRK) is a modern and accessible airport.
Daily flights from popular airlines such as Lufthansa, Ryanair, LOT, KLM, EasyJet, and others provide travelers many options to travel to Krakow through major travel hubs like Frankfurt, Rome, London, Amsterdam, etc.
Because Poland is a part of the EU your customs process will be pretty easy when leaving the airport.
Travelers leaving the airport can pre-book a car service or grab a cab. Travelers can also use Uber directly from the KRK airport.
It is roughly a 25+ minute ride from KRK to the Krakow City Center. Lastly, travelers can take a train which runs every 30 minutes from the airport. This trip takes roughly 45 minutes or so and drops travelers fairly close to the city square (Rynek Główny).
Where to Stay in Krakow
Many well-regarded hotel brands have hotels in the Krakow area including popular brands like Hilton, Marriott, Radisson, Sheraton, and more.
Given the typical exchange rate between the USD and the Polish Zloty travelers can usually stay at a very nice hotel for a relatively low cost.
Here are a few recommendations for those interested in staying within walking distance of the City Square and a name-brand hotel:
Feature

: Walking distance to Wawel Castle and City Square

Price

: Affordable

Quality

: Great

Address

: 7 Powisle Street, Krakow, 31-101 Poland
Price

: Affordable

Address

: Straszewskiego St. 17, Krakow31-101, Poland
Holiday Inn Krakow City Centre
Price

: Very Affordable

Address

: Ul Wielopole 4, Krakow, 31-072 Poland
Unfortunately, there are no Hilton Brand hotels within easy walking distance of Krakow Old Town, which is a shame because as a Hilton loyalist I'd prefer to get my Hilton points AND sleep on my favorite Hilton mattress.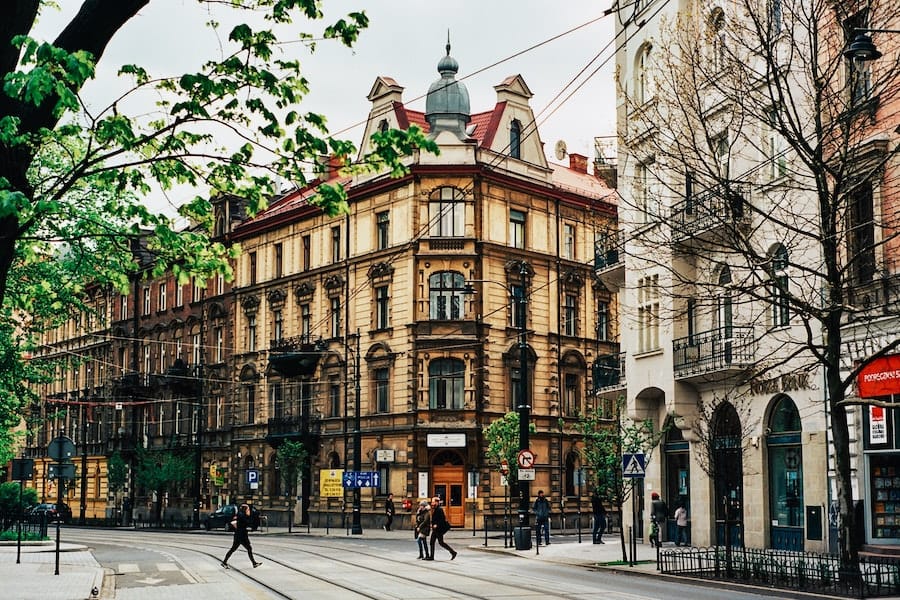 Krakow 2 Day Itinerary Overview
Here's a quick overview of our 2 Day Krakow Itinerary.
The approach we've taken in crafting this 2 day Krakow guide has travelers taking in the city center and key architectural sights on day 1 followed by the more emotionally exhausting visit to Auschwitz on Day 2 (which is a much longer visit anyway AND one you will need some time to decompress from).
We've also interwoven some must-eat Krakow foodie destinations along the way.
Here's how we break it down:
Day 1: Old Town Krakow Sightseeing
Jewish Quarter
Wawel Castle
Lunch at Pod Aniolami or Wesele
City Square – Rynek Główny
St Mary's Basilica
Dinner at Morski Oko
Day 2: Auschwitz
Auschwitz & Birkenau – Full Day
Dinner – Room Service at your hotel
Krakow Day 1
The first day of our 2 day Krakow trip starts in the old town part of Krakow – specifically in the Jewish Quarter. Krakow has one of the best old towns in Europe and it is essential to explore it first!
Everything on the day 1 itinerary is within walking distance which will allow you to experience Krakow in the best way possible.
While we've laid out some ideas for places to eat and key places to do some sightseeing be open and flexible with your plans.
If you find something interesting, stop and check it out. Sometimes, unplanned spontaneous stops make the best memories.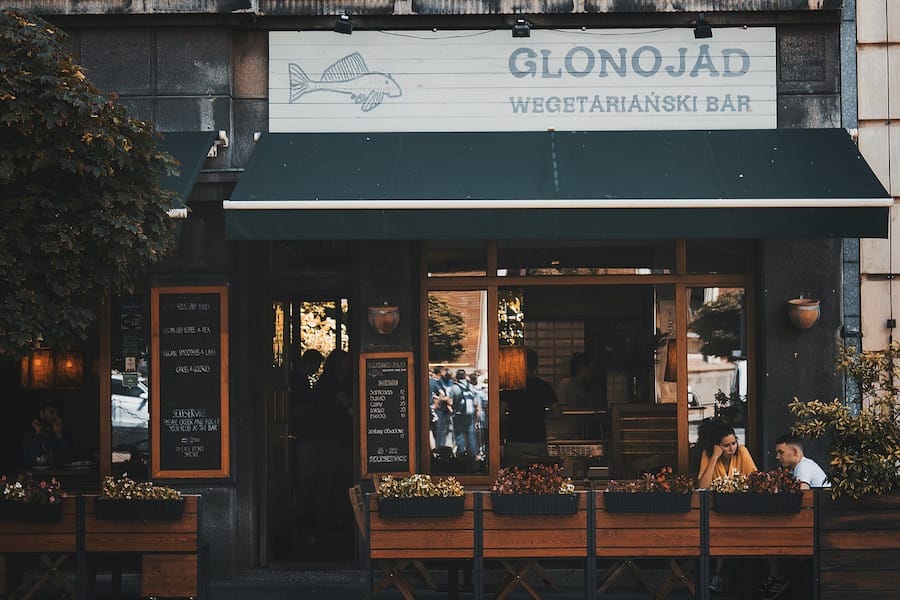 Be sure to have your phone or camera charged. Today is going to be full of amazing sights, many of which you will want to record for posterity's sake.
Breakfast at Beza Restaurant & Cafe
Before starting your journey to Auschwitz enjoy a great Polish breakfast at Beza Restaurant & Cafe. If needed, and depending on where your hotel is located, take an uber or cab to this eatery. It should be the last cab you need for the day.
Beza is a highly-rated cafe in the heart of the Jewish Quarter in Krakow. It offers simple and elegant breakfast options sure to get your day started right. And the coffee is pretty swell, too.
Location: Plac Wolnica 7, Kazimierz, Krakow 33-332
Jewish Quarter
The Jewish Quarter of Krakow is rich with history, much of it sad. Its proper name is the Kazimierz and it was a popular Jewish district for many many years – Jews were forced to live here outside of Krakow.
Be sure to walk along the Ulica Szeroka which is the main road that passes through the quarter. Old buildings with unique and ancient architecture dot this road along with many tasty eats.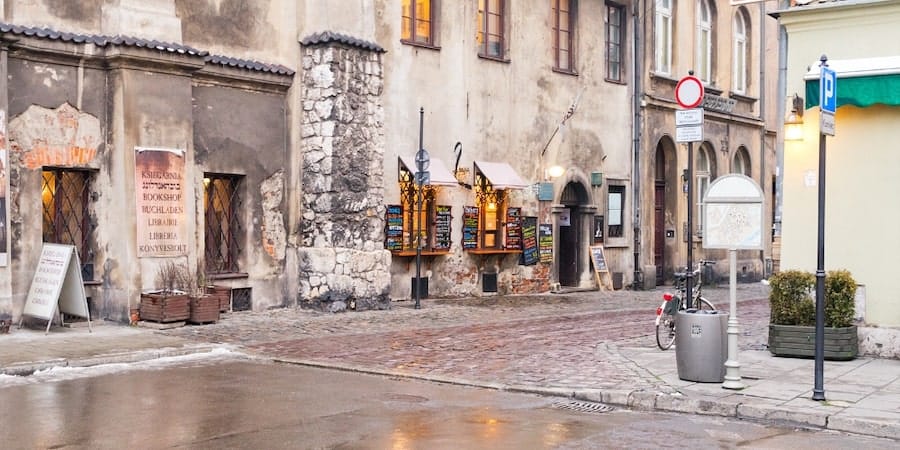 Give yourself about 2-3 hours to really get the most out of the Kazimierz. Be sure to visit Oscar Schindler's Enamel Factory on your visit.
Wawel Castle
Who doesn't love castles? The Wawel Castle is an astonishing piece of architectural majesty that dates back to the 1300s.
Its vast grounds provide visitors with many great photo opportunities and even better, a chance to learn about Polish history. This eclectic castle features architecture from many eras and is the largest Polish castle in existence.
Over the years, this castle housed many kings and other royal families while Krakow functioned as the capital of Poland.
From paintings to tapestries to bulwarks and other classic castle features a visit to Wawel Castle might well be the highlight of your 2 day Krakow trip.
Visitors can explore the grounds themselves or purchase a 2-hour guided tour.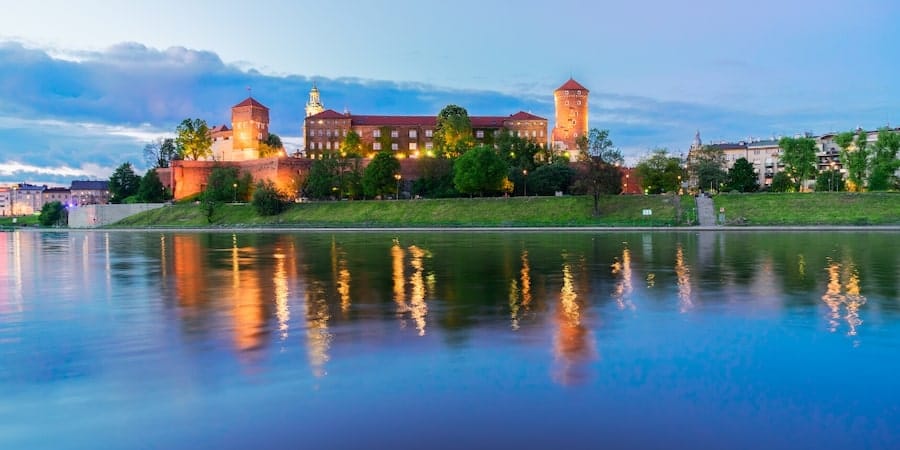 When done touring the castle your next stop is a short walk away. Grab a map and start heading towards the Rynek Główny, Krakow's massive city square. Grab some lunch on the way and check our suggestion, below.
Lunch at Pod Aniolami or Wesele
When you are done here start walking towards the City Square…it will only take you 15 minutes or so. We recommend you try one of these eateries which also happen to be on your route:
Pod Aniołami

is located on the main street you are likely to take as you walk from Wawel to the Main Square. The dining room is located in a cellar which adds to the ambiance and the fare is delicious.

Location

: Grodzka 35, Krakow 31-001

Wesele

, which is located in the city square, will give you a great view of the square while eating a great lunch.

Location

: Rynek Glowny 10, Krakow 31-042
City Square – Rynek Główny
The Rynek Główny is the largest old city square in all of Europe. This massive (truly, it is MASSIVE) square is ringed by ancient buildings, including the St Mary's Basilica (see our next stop, below).
In the center of this bustling square sits the Cloth Hall which houses a covered open-air market full of vendors hawking their local goods. This market is jam-packed with people and is a must-see experience.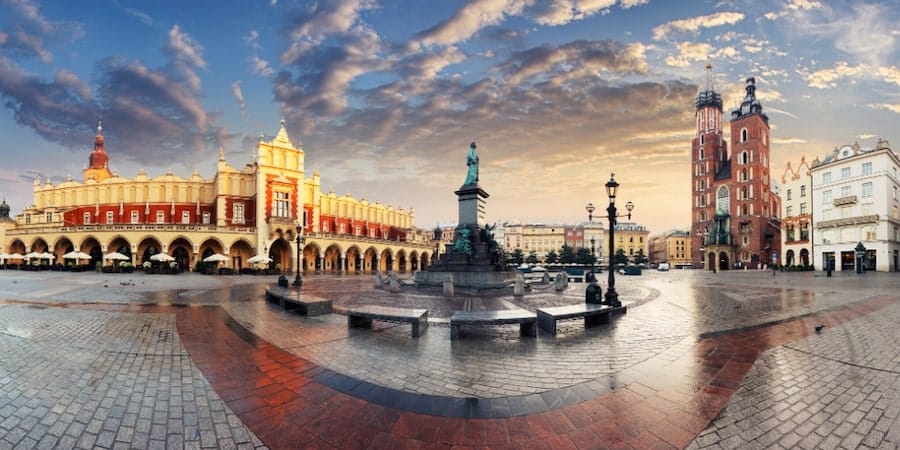 Grab a Polish pretzel from one of the vendors if you are feeling snackish and sit back and watch a street performer or pose for some amazing pictures for that Instagram feed.
St Mary's Basilica
On the far edge of the Rynek Główny sits a statuesque church that's worth a deeper look. St Mary's Basilica is an imposing Gothic-style church from the 13th century (that's old!).
This church stuns with its inspiring architecture, 26 altars, and detailed fine touches. Be prepared to stand in line to see it though – especially if you come during a busy season.
Be sure to listen for the famous Trumpet Call which is cut short in remembrance of the original trumpeter who was allegedly struck with an arrow as he tried to sound the warning of a pending invasion.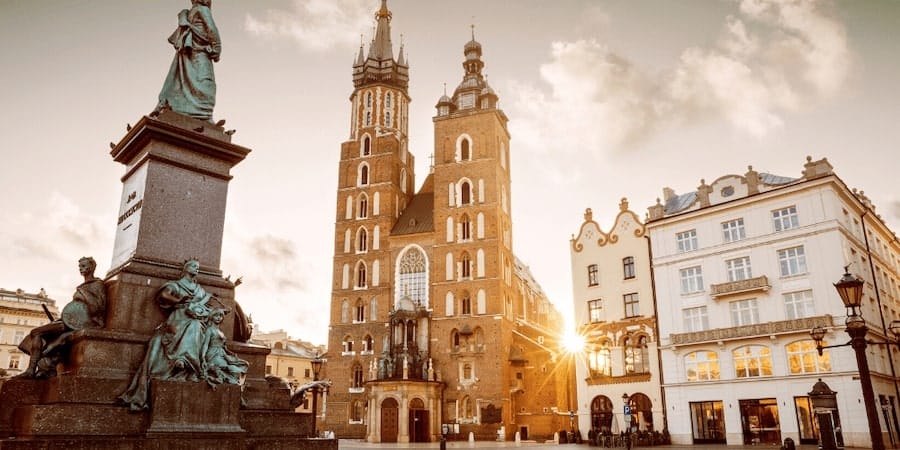 Dinner at Morskie Oko
Morskie Oko is an incredible and authentic Polish restaurant. This wood-lined eatery is tightly packed but full of tasty aromas, traditional Polish food, and excellent service. Be sure to try the potato pancake. So good!
Location: Plac Szczepański 8, 31-011 Kraków
Optional: Szara Ges
If the Morskie Oko isn't your cup of tea and you are looking for an even more upscale dining experience that still packs a Polish punch try Szara Ges. This place features eclectic decor unique to each dining room and treats diners to a one-of-a-kind experience.
The food is delicious and the best part is their "goose egg" dessert, a unique white chocolate egg on a cotton candy nest. Insane.
Location: Rynek Główny 17, 31-008 Kraków
Krakow Day 2
The second day of your 2-day trip to Krakow is mostly about visiting Auschwitz (and nearby Birkenau), the infamous and horrific concentration camps are where so many Jews were imprisoned and ultimately murdered.
It's a full-day experience and you will need a little time to get to & from the camps and some time to decompress afterward.
Breakfast at Guliwer
Before starting your journey to Auschwitz consider grabbing breakfast at the Guliwer which is located right off the Rynek Główny.
This authentic restaurant has tasty eats and a cool vibe. When you are done, start your transportation to Auschwitz.
Location: ul. Bracka 6, Krakow 31-005
Rest of Day 1 – Auschwitz & Birkenau
Auschwitz is a somber reminder of some of the deepest horrors inflicted upon the human race. Here the Nazis, during WWII, enacted their Final Solution to the Jews which essentially involved illegally incarcerating and killing them at scales and horrors never really seen before.
1.3 million people were sent to Auschwitz and 1.1 million of them were killed. Let that sink in. 1.1 million Jews. It's hard to fathom.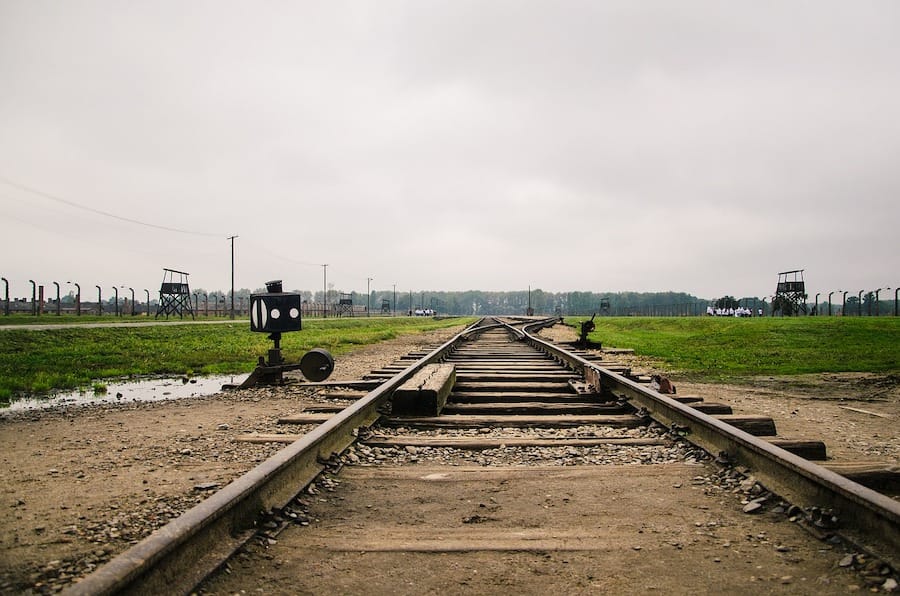 Auschwitz is something you need time for. First, it simply takes a good amount of time to get to, see, and get back. Secondly, given the subject matter, it's the kind of place you need to decompress from afterward.
Key Facts:
Auschwitz is free to visitors, but you can hire a guide. Alternatively, you can book a tour to learn more.

You will need transportation to / from the camp – it's about a 2+ hour train ride / bus ride or roughly 1+ hour cab / car ride
Lunch at Museum Bistro
It's quick and average, but it's your best choice for grub without leaving the museum.
Finish Up at Birkenau
Birkenau is a separate but nearby concentration camp and entails the 2nd part of your visit to this museum. Both are well worth seeing.
When you've wrapped up at Birkenau start your transportation back to your hotel as your 2nd day in Krakow winds down.
>> Click here to book a trip to Auschwitz Birkenau from Krakow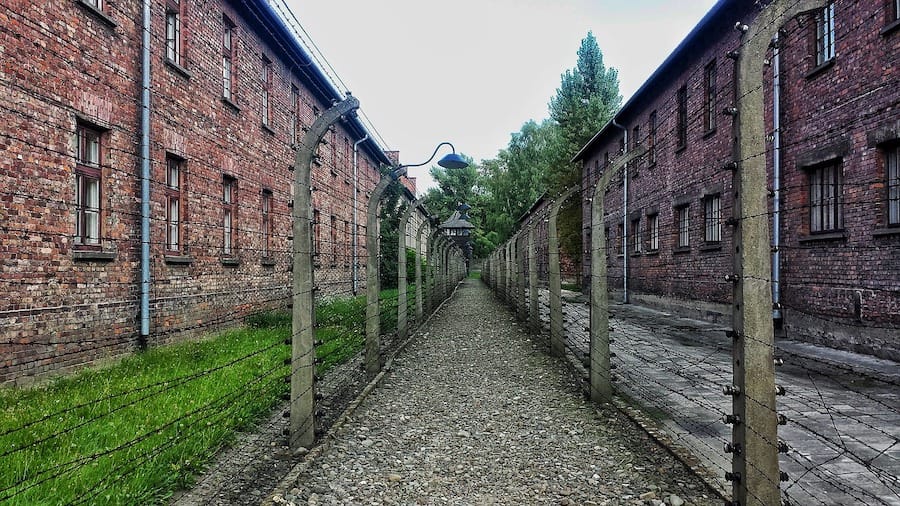 Room Service at your Hotel for Dinner
Given the difficulty of the subject matter you've just seen today, we recommend you skip a fancy restaurant and head back to the hotel to pack, decompress, and order some room service.
Auschwitz is a weighty subject and we know from personal experience your heart will be heavy. Take it easy on your last night in town.
3 Days in Krakow? Or More?
If you find yourself with more time there's much more to see and do in Krakow. This beautiful city is chock full of amazing sights, great eats, beautiful art, and much more. Here are a few ideas for a longer stay
Wieliczka Salt Mine
If you have an extra 3 hours (plus 30 minutes or so on either side of the tour) try to visit the Wieliczka Salt Mines which are a sight to behold.
Salt mining was a huge source of industry for the region and this incredible mine is so vast it's hard to really fathom.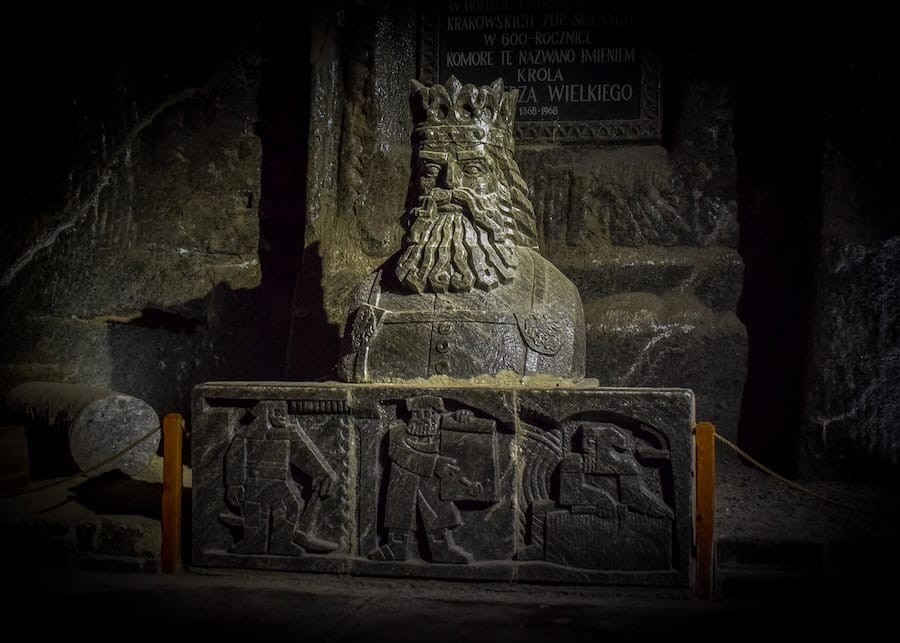 You just have to experience it. At nearly 330 meters deep you will find yourself taken aback by the warm humid air and the exquisite reliefs carved into the walls by bored miners. Well worth the visit!
>> Click here to book a trip to the Wieliczka Salt Mine
Visit the MOCAK – the Krakow Museum of Modern Art
The MOCAK (Museum of Contemporary Art in Krakow) is a wonderful art museum that emphasizes modern art. It has pieces from a variety of Polish artists and many other modern artists.
It's extremely affordable and if you find yourself with an extra 3 hours somewhere, give it a go. You won't be disappointed.
Location: ul. Lipowa 4, 30-702 Krakow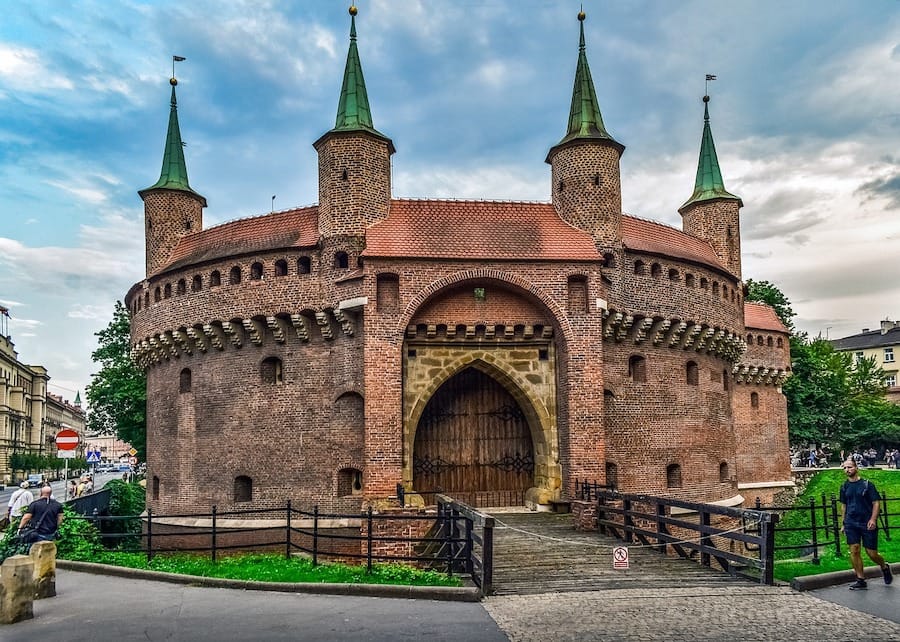 Final Thoughts About Spending a Weekend in Krakow
Krakow is an amazing city and perhaps one of the most unexpected European experiences a traveler can have. Once you've blown through the "biggies" on your Euro bucket list (Paris, London, Munich, etc) give Krakow a shot.
You won't be disappointed and if you can, be sure to get 2 days in Krakow or more! If you only have one day in Krakow, be sure to check out this guide to 24 hours in Krakow.
Happy traveling.
Bio: Jeremy is a frequent business traveler who spends more nights in hotel beds than he does his own bed. His business travel blog, the CBoardingGroup.com highlights the daily grind of the work traveler with business travel tips & hacks, humor, and travel gear reviews.
Business travel has taken him all over the globe (including Krakow!)…on the company dime, of course…and he can't complain one bit (although he still does).
More Poland Travel Guides
Pin this Krakow Weekend Trip Guide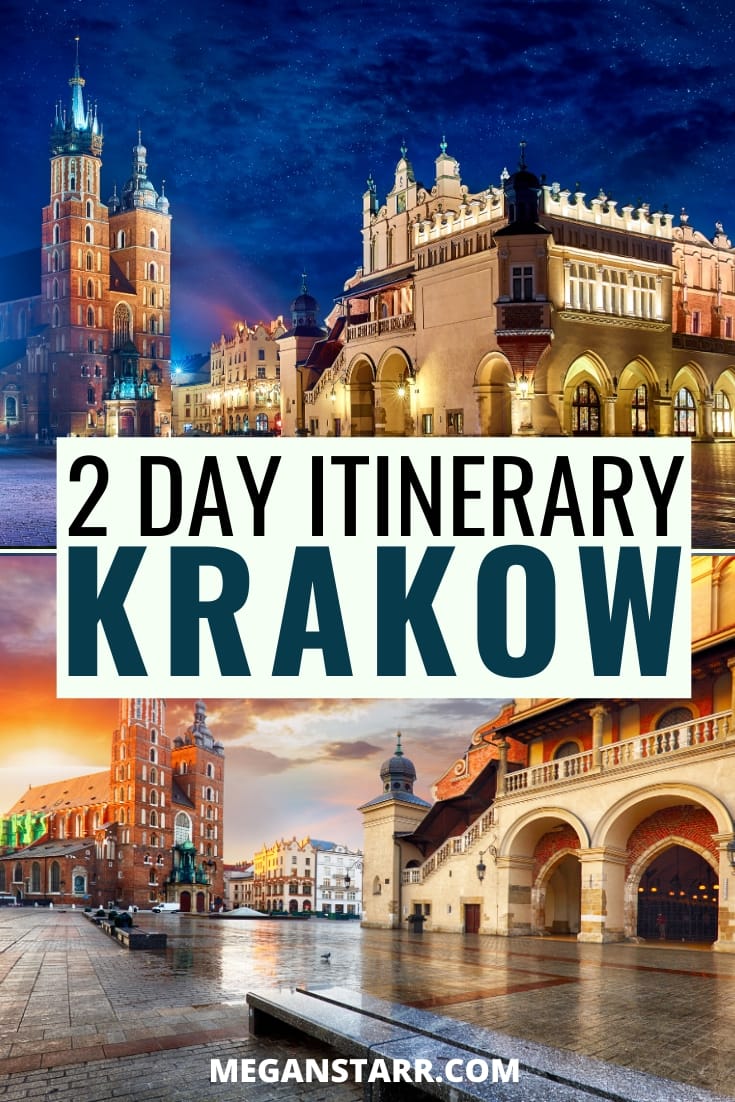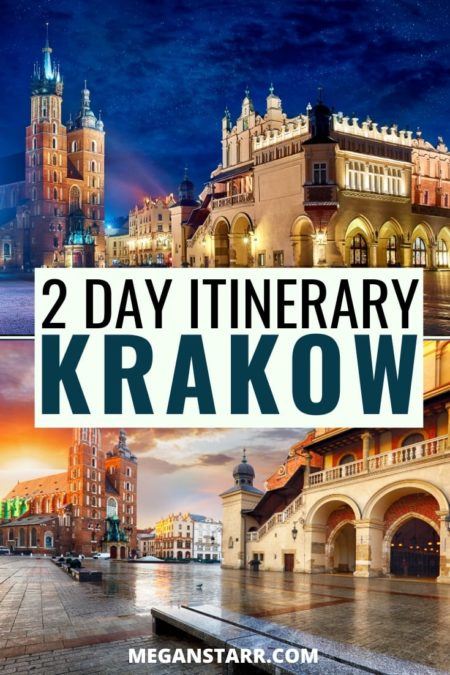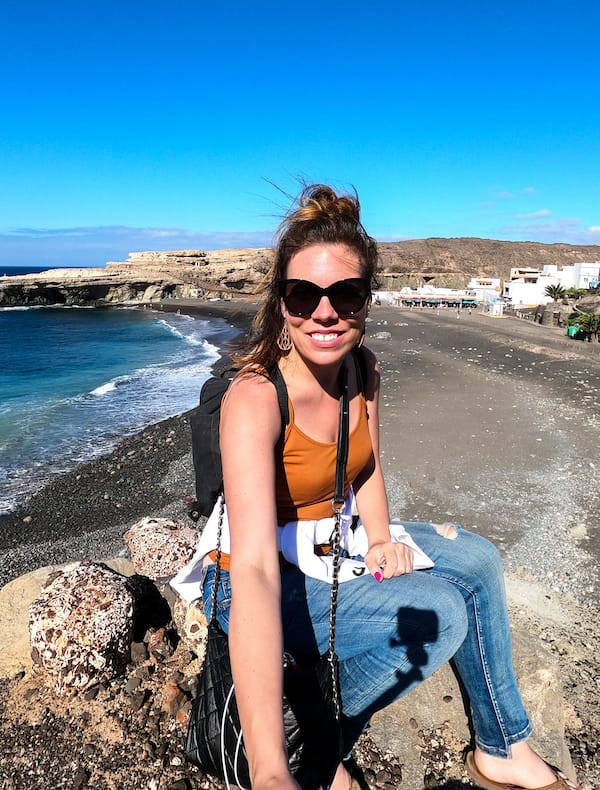 Megan is a travel blogger and writer with a background in digital marketing. Originally from Richmond, VA, she now splits her time between Frankfurt, Germany and Arctic Finland after also living in Norway, Armenia, and Kazakhstan. She has a passion for winter travel, as well as the Nordic countries, but you can also find her eating her way through Italy, perusing perfume stores in Paris, or taking road trips through the USA. Megan has written for or been featured by National Geographic, Forbes, Lonely Planet, the New York Times, and more. She co-authored Fodor's Travel 'Essential Norway' and has visited 45 US states and 100+ countries.