New Mexico is bound to soon have 'its moment'. These are the best places to visit in New Mexico – just proving how diverse and spectacular the state is!
This New Mexico destinations guide will include a bit of everything, from Albuquerque to White Sands National Park and many lesser-known destinations for your New Mexico bucket list.
Let us know which places in New Mexico we failed to mention in the comments!
New Mexico Destinations Map
To add this map to your Google Maps account, click the 'Star' icon next to the map name. You can then view it on your cell phone or computer by heading to your Google Maps account, click the menu and add it to 'Your Places'.
Best Places to Visit in New Mexico – The List
White Sands National Park
One of the craziest and most scenic places to visit in New Mexico is White Sands National Park, a park that is surrounded by the White Sands Missile Range.
White Sands only became popular in a mainstream kind of way in the last few years thanks in part to Instagram but this park in the Tularosa Basin deserves every bit of tourism it receives. It is mind-blowing.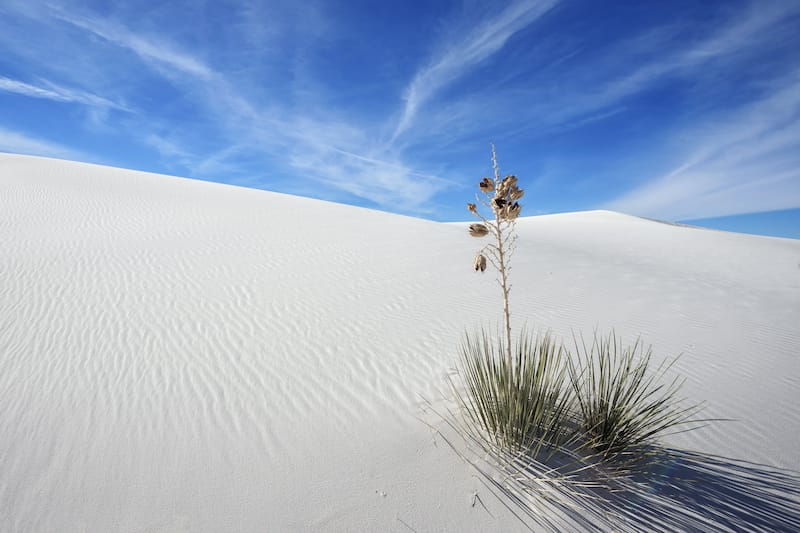 The park covers 145,762 acres and you will find fields of white sand dunes that are created from gypsum crystals there.
This is the largest dune field of its kind on the entire planet, making it one of the coolest destinations in New Mexico, without a doubt.
There are many species living in White Sands National Park, most of which are invertebrates (and 40 moth species, oddly enough).
Interestingly, this national park only gained status in December 2019 after being a National Monument for nearly a century. It is New Mexico's most visited national park.
Some of the wonderful things to do in White Sands National Park are picnicking, photographing, camping, and going sledding on the dunes. You can also take advantage of the hiking trails there.
If you're looking to plan a trip to White Sands, a great base is Ruidoso, a ski and outdoorsy town nearby. You will find many cool attractions in Ruidoso, making it a worthwhile stay!
Petroglyph National Monument
Petroglyph National Monument is one of the best places to explore in New Mexico, especially if you're interested in history and archeology.
This location was formed a few millennia ago, and it's unique mainly because of the extensive volcanic activity that takes place there.
When visiting, you'll find most of the petroglyphs located in the Boca Negra Canyon area, some of which are more than 3,000 years old!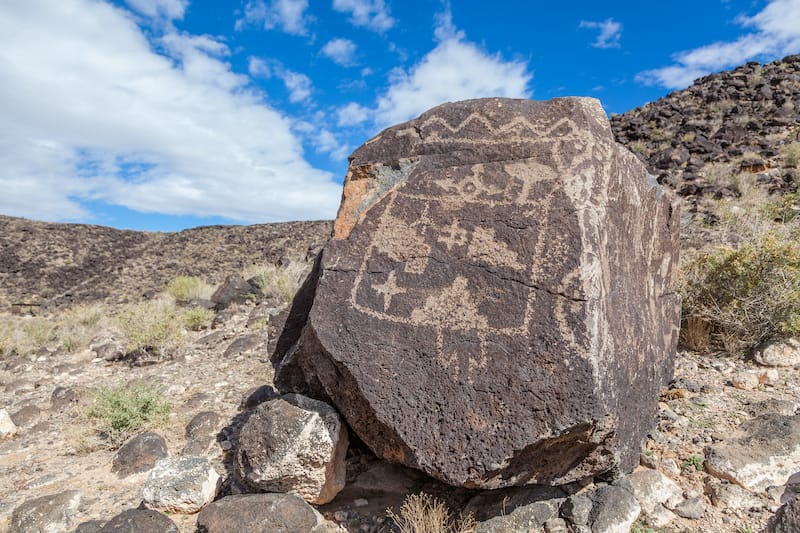 They were carved in the basalt, and there are approximately 20,000 of those within the park. If you decide to do some hiking in the area, you'll be able to see many petroglyphs on the trails.
This is easily one of the most underrated places to visit in New Mexico!
Ah-Shi-Sie-Pah (San Juan County)
Ah-Shi-Sle-Pah is located in San Juan County, New Mexico, between Chaco Canyon and the De-Na-Zin Wilderness.
This location incorporates impressively eroded giant rocks, multicolored badlands, weathered rock formations often referred to as hoodoos, and many other sights that are well-worthy to visit.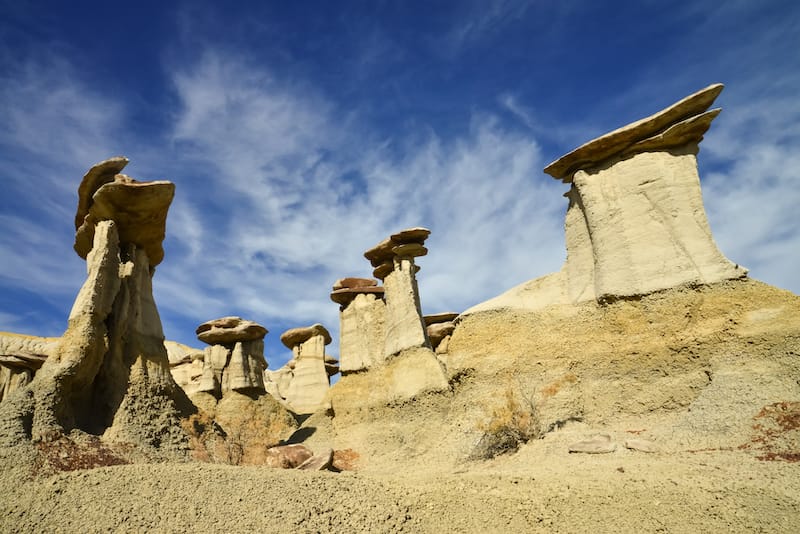 This place has some picturesque locations, and the particles that make up the soil there are geologically composed of layers of sandstone, shale, mudstone, and bituminous coal.
The animal and plant life there is vibrant, mainly due to its geologic age and climate.
Ah-Shi-Sle-Pah's most iconic sights are the hoodoo formations that are also referred to as fairy chimneys.
If rock formations aren't that interesting for you, exploring the wilderness study area is also an excellent option for visitors to this New Mexico landmark.
You can take a look at the dinosaur bones, petrified wood, and so much more!
Santa Fe
Santa Fe is one of the most beautiful cities in the United States and is a must-visit if you find yourself visiting New Mexico! The city is the capital of New Mexico but is merely the 4th largest with a population of just over 84,000.
Founded in 1610, it is technically the oldest capital city in the United States and it is also the state capital with the highest elevation (7,199 feet), which is pretty impressive.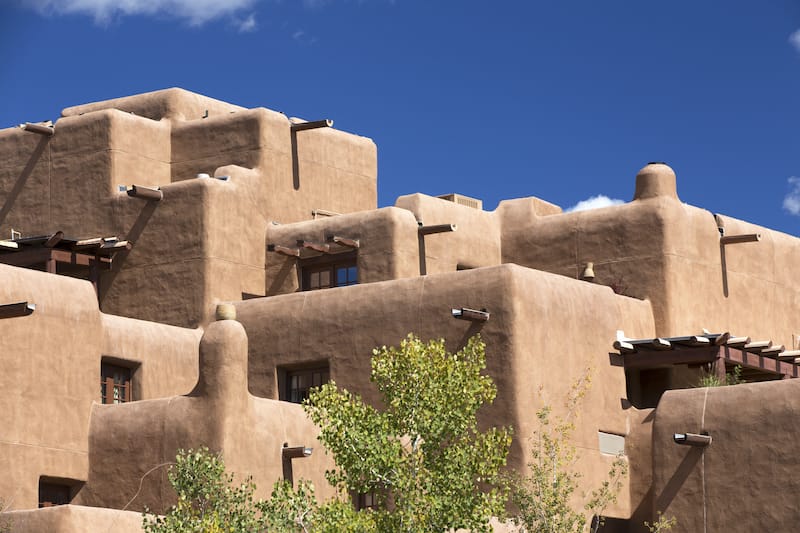 Santa Fe is renowned for its creative vibe and artistic history. It has even been recognized by UNESCO as one of their Creative Cities Network.
Throughout the city, you will find many art galleries and works and another notable thing about Santa Fe is that the city is known for its pueblo architecture.
Not only does Santa Fe have a thriving art scene, but it is also becoming a culinary capital in the US. Don't miss out on the fantastic day hikes from Santa Fe – some of them are epic!
Pecos National Historical Monument
Pecos National Historical Park occupies what was once one of the state's largest Native American villages. It was inhabited from the early 14th-century, with a population of over 2,000, until 1838. The park was extended to 6,600 acres in 1990.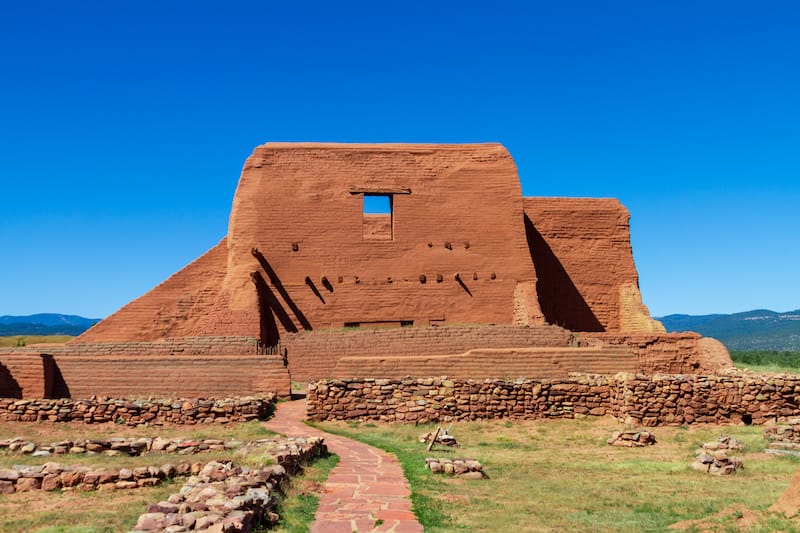 The visitor center provides exhibits and information about everything available in the park.
Also, it offers an Ancestral Sites Walking Tour, which is a 1.25-mile guided hike where you can get acquainted with evidence of the Natives who once inhabited the region and still do today.
Albuquerque
The city of Albuquerque, New Mexico is the state's most populous and the epicenter of most things happening.
The desert city is at the southern tip of the famous Rocky Mountains and its nicknames are 'The Duke City' and 'Burque'.
There are so many reasons to visit Albuquerque these days and one of the main events that lure in visitors is the International Balloon Fiesta that is the world's largest gathering of hot-air balloons taking place in October annually.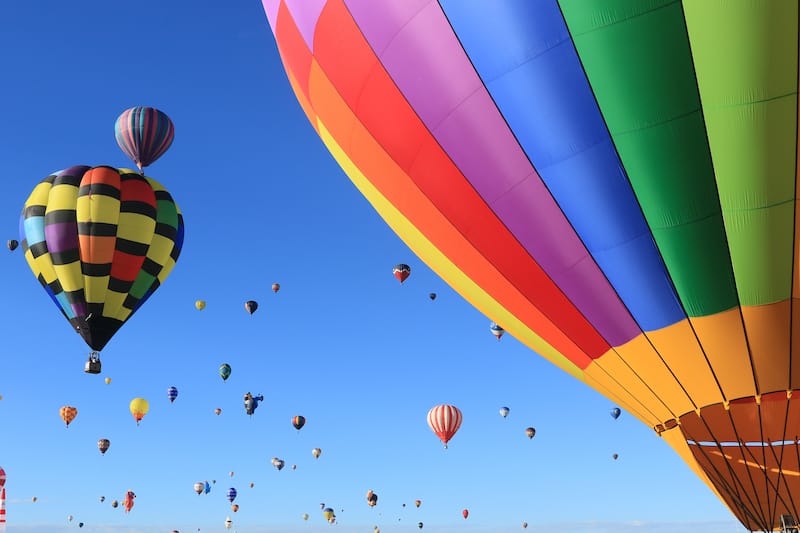 A fantastic thing about Albuquerque is that the city is home to many amazing museums such as the New Mexico Museum of Natural History and Science, the Indian Pueblo Cultural Center, Explora, and more.
You will find several incredible craft breweries in Albuquerque and places to enjoy authentic New Mexican cuisine.
Be sure to check out some of the fantastic day trips from Albuquerque as you will find several places within a short distance of the metropolis.
Don't miss out on all the fantastic hikes near Albuquerque too! The Sandia Mountains offer some of the best trails in the state and it will offer you views over the city.
Tse Bitai (Shiprock)
Having a height of 1500 feet, Tse Bitai, also named Shiprock, is one of the most beautiful and purely natural sites of New Mexico. It maintains great significance for the Navajo nation, and it is thought of as a sacred mountain.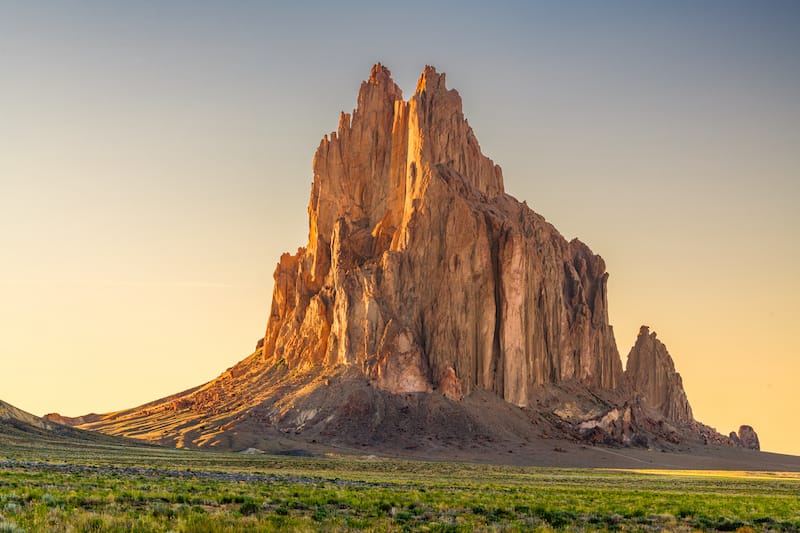 This spot has kept the attention of famous photographers, film producers, hikers, and just tourists, all thanks in part to its stunning views.
Roswell
Located in the southeast of New Mexico is the city of Roswell… probably a city you have heard about in some way, shape, or form.
New Mexico's 5th-largest city has just under 50,000 residents and is famous for its UFO incident.
While that 'UFO crash' took place about 75 miles away, the city became the site for early rocket work by Goddard, so the city always held great importance to those interested in aerospace engineering and ufology.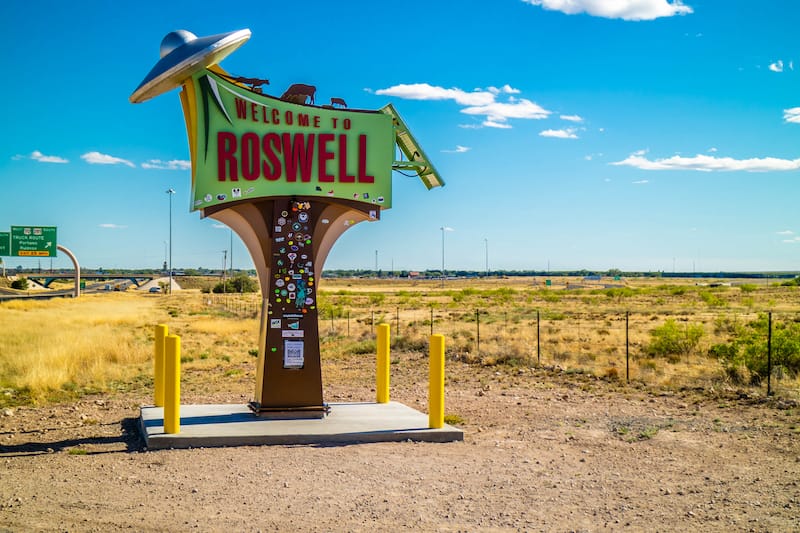 You can visit the International UFO Museum and Research Center when you're in Roswell, or you can just hang out and enjoy the delicious food scene there.
But, the UFO history makes Roswell a one-of-a-kind destination in New Mexico.
Carlsbad Caverns National Park
Carlsbad Caverns National Park sits in the gorgeous Guadalupe Mountains that are shared with Texas. Located in southeastern NM, this national park is famous for its show cave, Carlsbad Cavern, arguably the most famous cavern in the United States.
There are two places on the National Register of Historic Places within this park that spans just under 47,000 acres – the Caverns Historic District and the Rattlesnake Springs Historic District.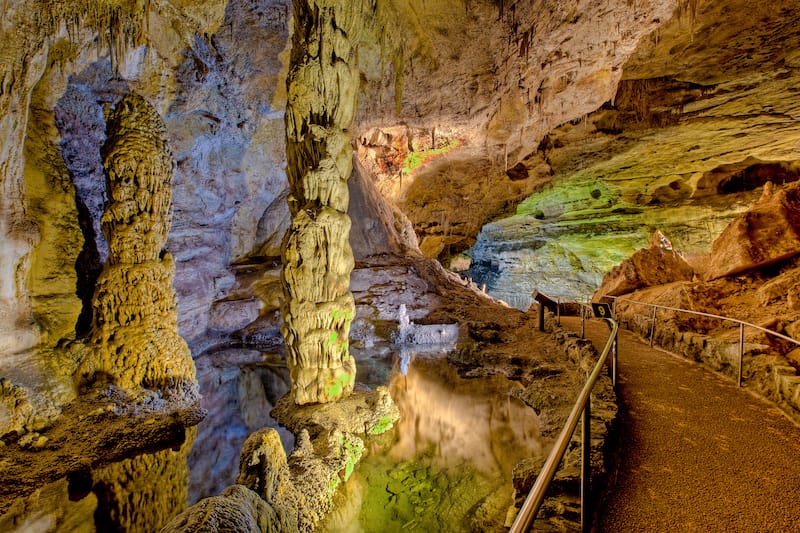 The most famous room inside of Carlsbad Cavern is called 'The Big Room' and it truly is a marvel! It is 4,000 feet long and 255 feet tall at its highest point.
It is the largest chamber in North America even though I thought the caverns in my home state of Virginia were a spectacle!
Some of the other things to do in Carlsbad Caverns National Park are to take advantage of the ten hiking trails that exist there.
Rattlesnake Springs Picnic Area offers a place to take a break and check out the 300+ bird species that call the place home.
This New Mexico National Park was established in 1930. This area of New Mexico is perfect for those looking to relax for a long period of time or even those enjoying van life!
Curious about life in a van? Click here to find out more – and how you can take your life on the road here in New Mexico!
Bandelier National Monument
Bandelier National Monument is located near Los Alamos, New Mexico.
It covers 33,000 acres of spectacular canyon and mesa land, including some of the Southwest's rarest and most fascinating ancient ruins.
This monument includes petroglyphs that date back 11,000 years. It is also home to volcanic landscapes and ruins that are quite prominent remains for archaeologists in the state and outside of its borders.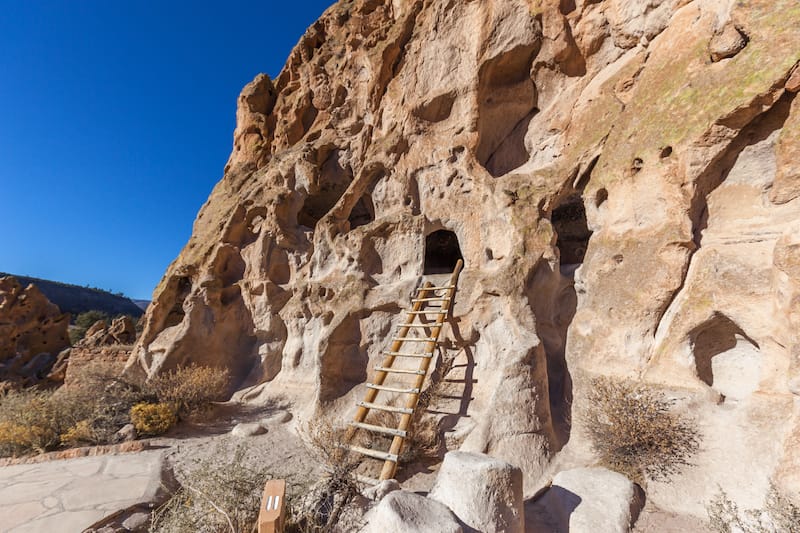 The 33,677-acre area is the former home of ancestral Pueblo people, and there are some impressive remains of the houses of Indigenous habitats that were carved from volcanic rock.
Aside from this, the park also has an educational museum, hiking trails, and campgrounds.
Bandelier is one of the best day trips from Santa Fe for history and nature lovers.
Fajada Butte
Fajada Butte rises 400 feet into the air and is situated within the Chaco Culture National Historical Park. This New Mexico attraction is yet another one of the best places to visit in New Mexico.
When visiting Fajada Butte, make sure you don't miss the chance to see the Sun Dagger, as it's an absolutely unique phenomenon of archaeoastronomy.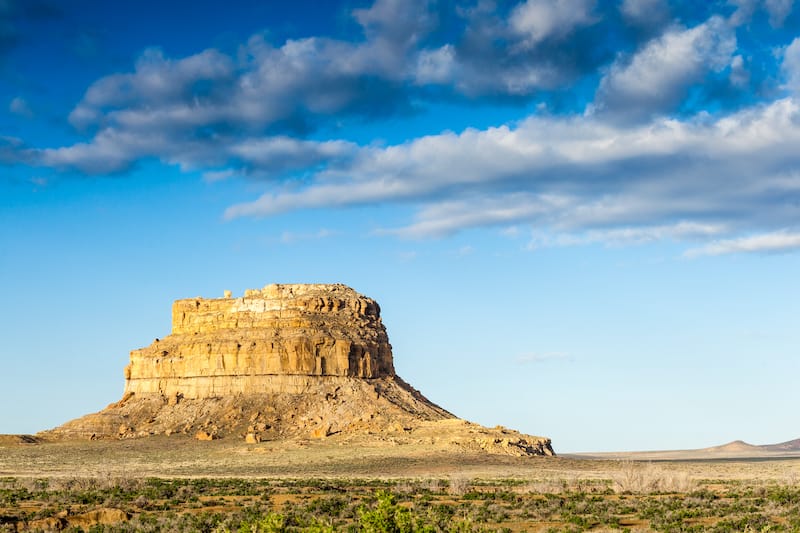 Archeological studies of Fajada Butte show that it had small cliff dwellings (even though there was no water source found), and those structures were in use during the 10th to 13th-centuries.
Also, the magnitude of this building project, with no apparent practical intent, suggests that Fajada Butte may have had some ceremonial significance for the people of Chacoan.
Four Corners Monument
The Four Corners Monument is a very popular place to visit in the US if you want to touch four states at the same time – Arizona, Colorado, New Mexico, and Utah all meet at this one point and it is the only place in the US where four states touch.
This is also a significant area because it is where two semi-autonomous Native governments have their boundary (Navajo Nation and Ute Mountain Tribe).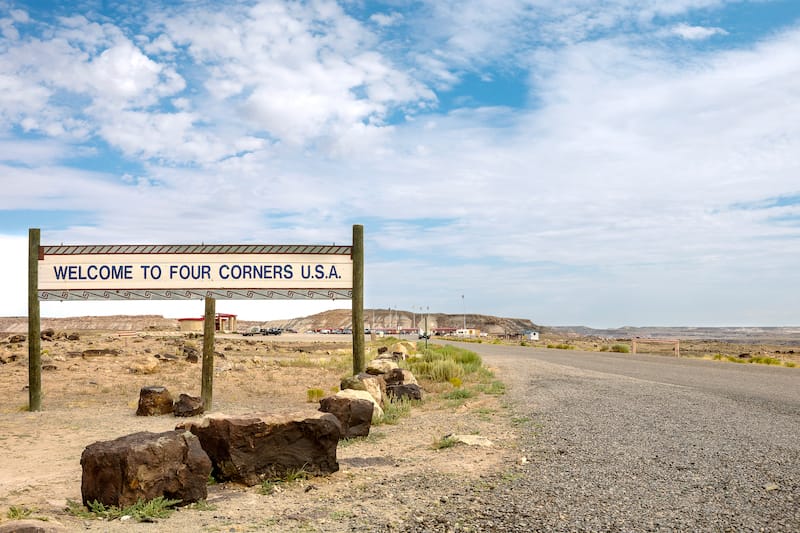 There is not too much to see right at the Four Corners Monument but the scenery in the area is just spectacular and worthy of a visit for that alone!
The monument is located on the Colorado Plateau and is one of the best places to visit in New Mexico (and is also a recommended end stop on a California to Arizona road trip).
Abiquiu (and the Ghost Ranch)
Ghost Ranch is located nearly 60 miles away from Santa Fe. With a spectacular landscape of red and yellow cliffs, the Ghost Ranch in Abiquiu, New Mexico, covers 21,000 acres of high rock walls, sparkling colors, and vast skies.
It was home to Georgia O'Keeffe and suggests a great set of activities, suiting all tastes like hiking, horseback riding, kayaking, and many others.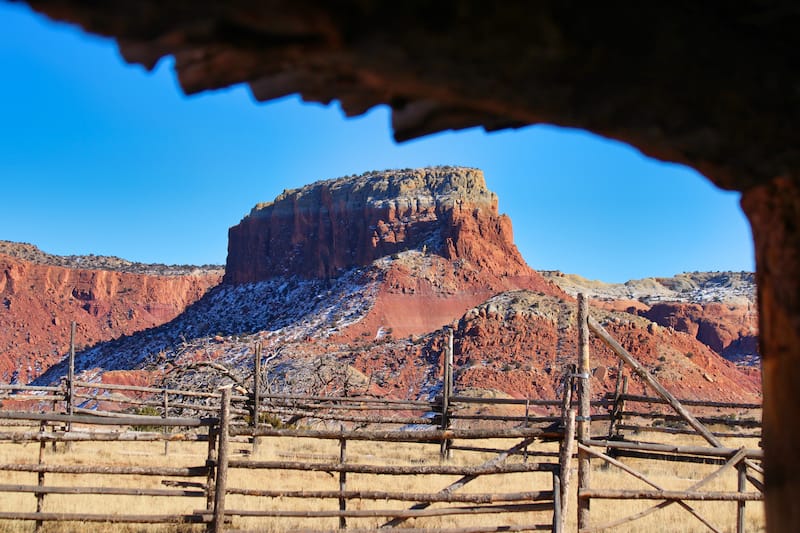 Abiquiu is a beautiful village situated close to Ghost Ranch. Having breathtaking views, there are quite a few things to learn about the Abiquiu region and a lot to discover if it ends up on your New Mexico itinerary.
Taos
Taos is a town in the north-central region of New Mexico and it originates from the Taos Language and means 'place of red willows'.
Founded in 1795 as a trading outpost for other communities in the region, today is a popular tourist spot and is known for its Taos Pueblo that has been occupied for nearly 1,000 years!
It is considered to be one of the oldest continuously inhabited places in all of the US.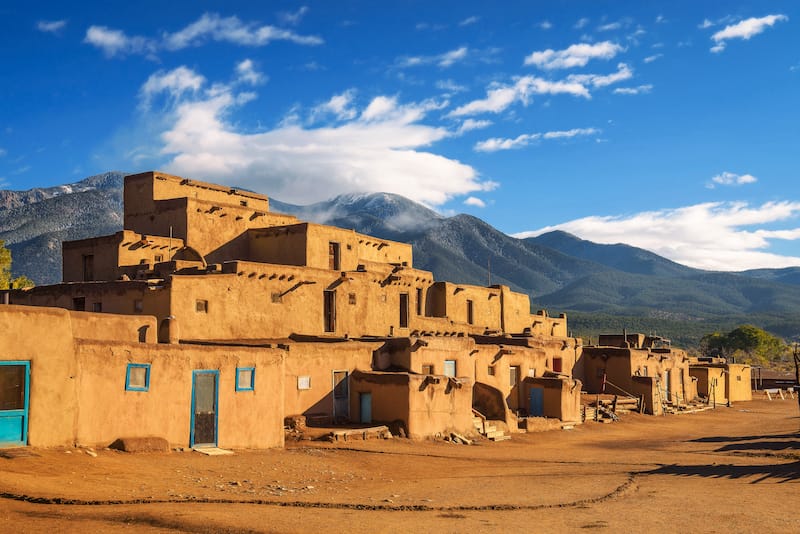 The Taos Pueblo was made a UNESCO World Heritage Site in 1992 and is a popular thing to do in the town and its vicinity. Another popular reason to visit Taos is its artistic community.
Lastly, people head to Taos to ski! It is the most famous place to go skiing in New Mexico and Wheeler Peak, New Mexico's tallest mountain, is located nearby.
There are four ski areas in Taos and you can also visit hot springs nearby. This is a can't-miss destination on a US skiing road trip itinerary!
Valles Caldera National Preserve
Valles Caldera (or Jemez Caldera) is one of the best places to visit in New Mexico for those that love mind-blowing nature.
Located in the northern part of the state, you will find so many cool natural phenomenons around Valles Caldera such as streams, fumaroles, volcanic domes, and hot springs.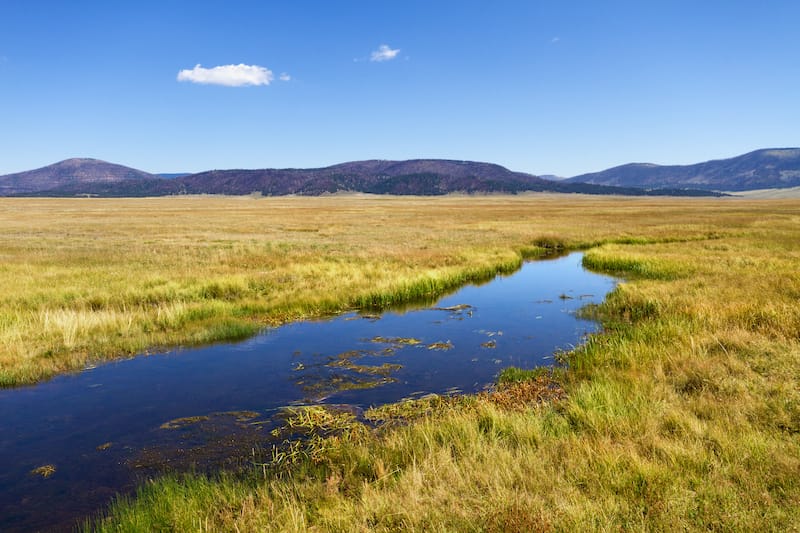 The highest point of the caldera is Redondo Peak (11,253 feet) and there are several grass valleys in the area.
One of the most notable things about this landmark in New Mexico is that it is a beloved filming location. The Lone Ranger, The Missing, Troublemakers, and many other films and TV shows have been shot there.
Kasha-Katuwe Tent Rocks National Monument
Kasha-Katuwe Tent Rocks National Monument showcases cone-shaped formations resulting from volcanic activity that happened approximately 6 to 7 million years ago, leaving pumice, ash, and tuff deposits that are nearly 1,000 feet thick.
It is located just 40 miles southwest of Santa Fe, and there are many signs along the way meant to lead the visitors to the geological site.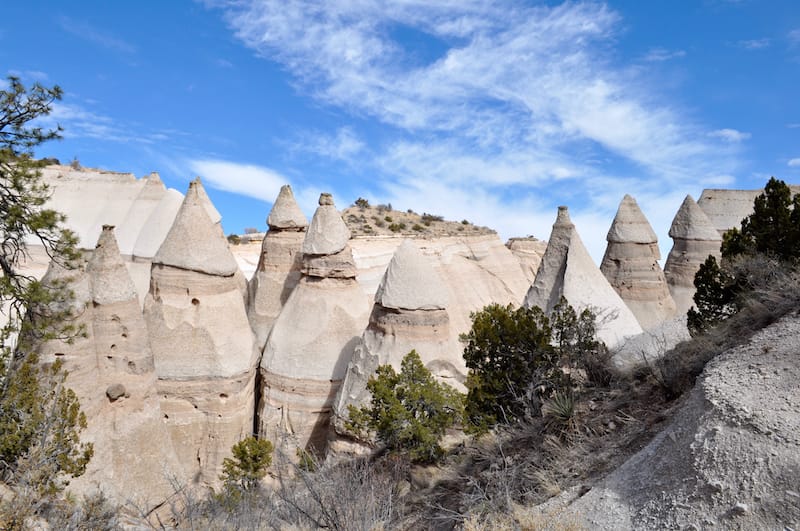 One of the most exciting activities to get busy with there are the hiking trails at Tent Rocks. There are two segments of the National Recreation Trail and a 3rd wheelchair-accessible loop.
One of the popular trails is the Cave Loop Trail, which is an easy 1.2-mile walk. There are also parts of this trail that are accessible for guests in wheelchairs.
Blue Hole in Santa Rosa
The naturally bell-shaped pool named the Blue Hole in Santa Rosa, New Mexico is 80 feet deep, and it's known for its stunning crystal clear water and constant temperature of 61 degrees.
As a result of this, the Blue Hole is considered to be the diving capital of the southwest.
There are a few historical sites worth visiting in the area, like Bless Me Ultima Park, Guadalupe Country Courthouse, Puerto de Luna, etc.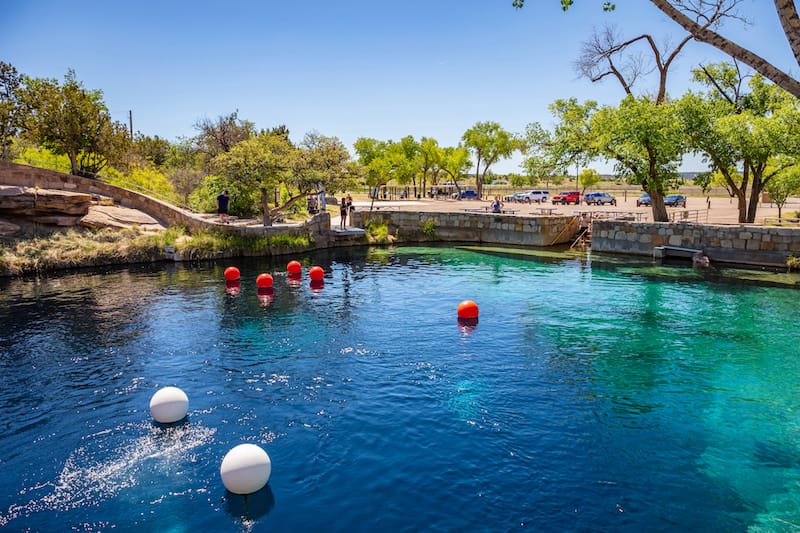 Notably, this New Mexico destination's main activities are created around water. The most famous ones are snorkeling, diving, or jumping off from different heights.
So, in the event that you love water and pools, don't miss your chance and go to the Black Hole at least once in your lifetime.
And Santa Rosa is also one of the best small towns in New Mexico to add to your itinerary!
Chaco Culture National Historical Park
This place is truly spectacular. Chaco Culture National Historical Park is situated in the northwestern part of New Mexico and is renowned for its high concentration of pueblos.
It has the most iconic collection of ancient ruins north of Mexico and between 950-1150 AD, Chaco Canyon actually was the cultural center for Ancestral Puebloans.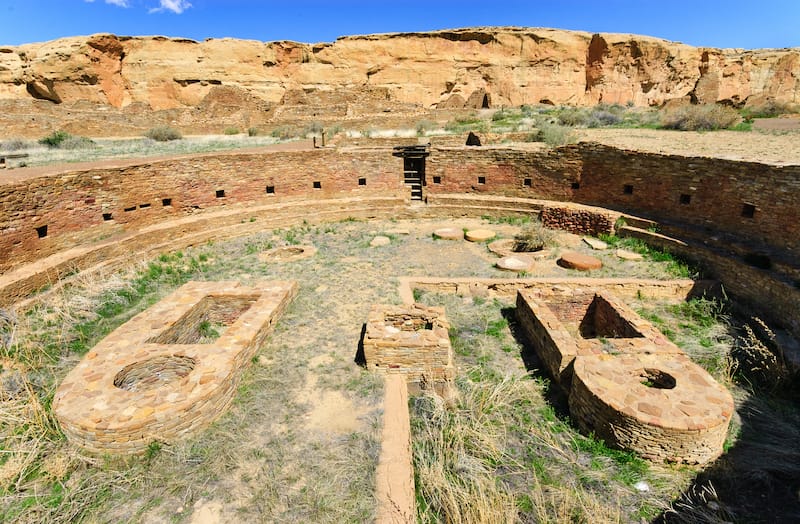 These sites are considered sacred by the Hopi and Pueblo people and this is truly one of the most underrated places to visit in New Mexico… and the entire United States.
Brazos Cliffs (and Chama River Valley)
Rising over 2,000 feet above the Chama River, this is one of the oldest mountain ranges found in New Mexico.
Also created mostly by volcanic activity, Brazos Cliffs rises to 11,405 feet and attracts many enthusiastic rock climbers and hikers.
The highest point of the range is Grouse Mesa; however, it's important to note that the Brazos Cliffs are private property, making the area access restricted without permission.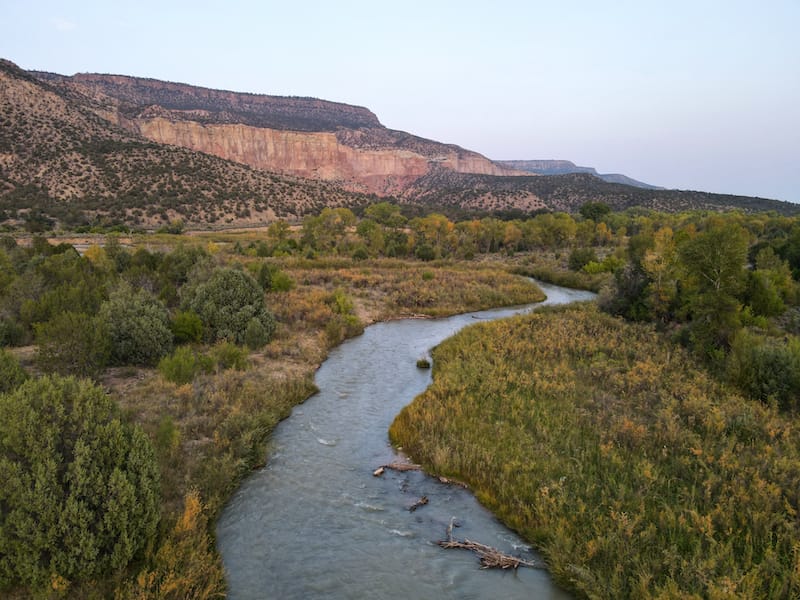 The cliffs incorporate three main parts, from west to east and they are the main Brazos Cliffs, the Brazos Box Canyon, and the Encinado Wedge.
Keep in mind that the best time to visit is the golden sunset hour when the lighting is just stunning!
Bosque del Apache Wildlife Preserve
Located in the southern part of New Mexico, Bosque del Apache Wildlife Preserve welcomes guests and impresses them with tens of thousands of birds!
The birds you can find there include sandy cranes, Arctic geese, and various kinds of ducks that gather at the national wildlife preserve every fall and stay there until the end of the winter.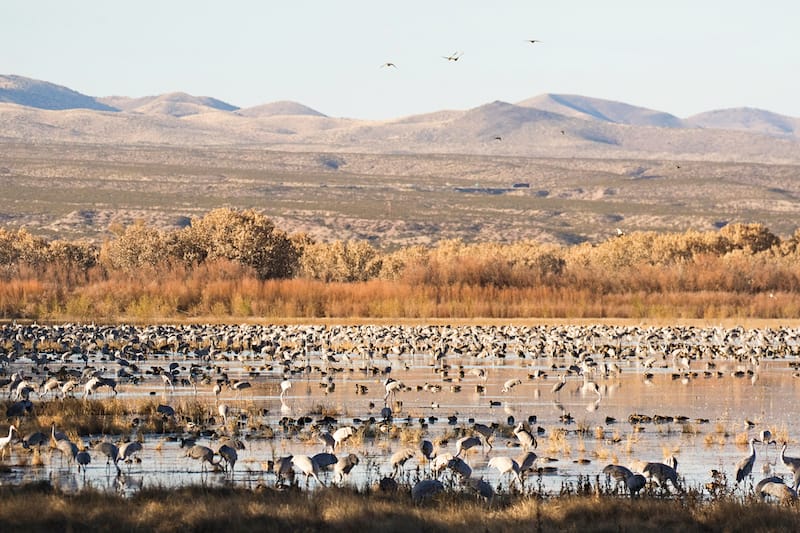 It's a great spot for photographers who can get a beautiful shot while the birds are taking off to fly. The reserve is open all year round, and visitors are free to enjoy walks or have a nice time while having a picnic.
Gila Cliff Dwellings National Monument
At the end of the 1200s, the Mogollon Community inhabitants agreed to establish the Gila Cliff Dwellings as a safe place and called it home.
They had the rooms designed, pottery made, and raised children in the cliff homes for around 20 years. However, then the Mogollon moved on, leaving the walls as evidence of the past.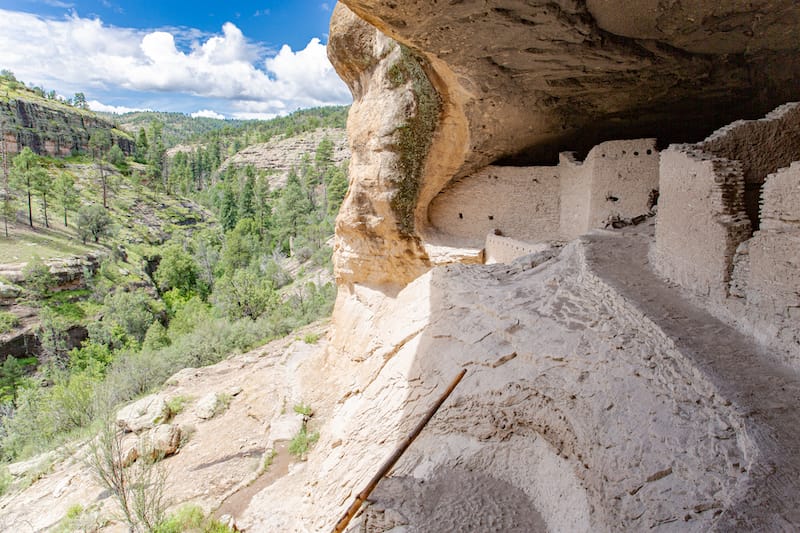 The Gila Cliff Dwellings National Monument is situated north of the old mining town of Silver City. There are 42 rooms in six caves, constructed on the cliff face by the Mogollon Natives around 1300.
By visiting the Gila Cliff Dwellings, tourists can learn more about the Mogollon culture and the area's natural history (everything is available in the museum visitor center).
Bisti Badlands
The Bisti Badlands are on the list of New Mexico's wonders. They are part of the 38,305-acre Bisti/De-Na-Zin Wilderness and are located in the Four Corners area of the state.
It will take less than an hour to get there from Farmington, NM, or 3 hours from Albuquerque.
This area was once a coastal swamp of an inland sea and was the home to many types of trees, reptiles, dinosaurs, and primitive mammals. Nowadays, it's a preserved record of the most unique scenery views in the Four Corners region.
There is an opportunity for visitors to camp there if wanting to stick around for a few days.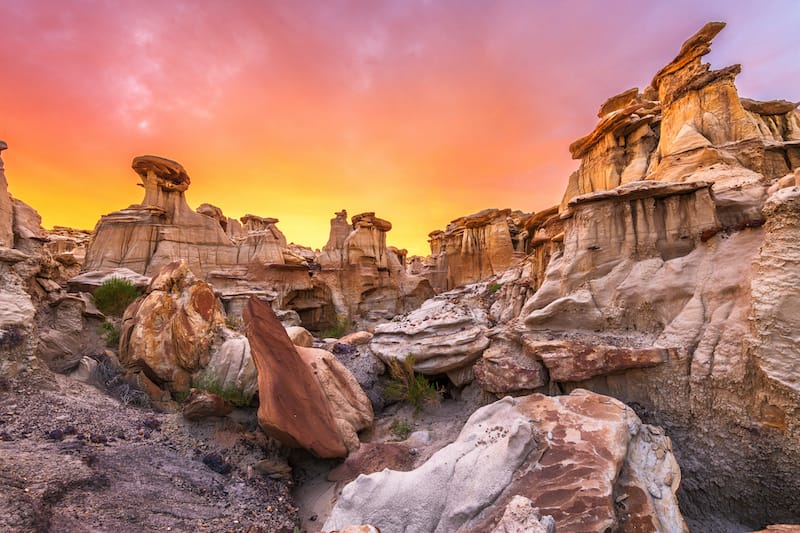 Being located 36 miles from the heart of Farmington, tourists coming to the New Mexico sight can discover the rarest landscapes found in the Bisti Badlands and will definitely leave the location feeling extremely inspired and longing for a trip back!
There are so many places to visit in New Mexico that you should consider and the state is best seen by taking a road trip there!
What are the best places to visit in New Mexico, in your opinion?
Please leave a comment below if you have any suggestions!
Additional New Mexico resources:
Pin this Guide to Places in New Mexico