Are you looking for the most action-packed, exciting way to spend 2 days in New Orleans? This weekend in New Orleans itinerary has you covered!
Are you planning your trip to New Orleans last minute?
Below are some of the top tours, hotels, and more in New Orleans!
Top Experiences and Tours in New Orleans:
Top Accommodation and Lodging in New Orleans:
New Orleans is an incredibly unique and diverse city; it should be on everyone's list of weekend getaways in the United States! The food is out-of-this-world good, like nothing you've ever had before.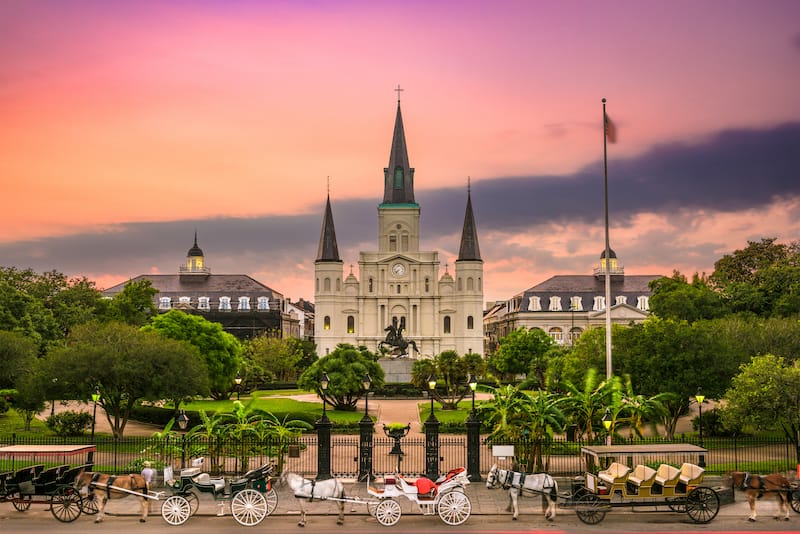 And there's, of course, the nightlife that makes NOLA famous. But there's also a vibrant history that makes New Orleans a truly one-of-a-kind destination.
If you're lucky enough to start planning a weekend trip to New Orleans, there are a few things you have to add to your To-Do List, including:
Experiencing NOLA's haunted history
Eating a po'boy from one of New Orleans' famed establishments
At least taking a peek at Bourbon Street
And so much more!
There are so many choices when it comes to how to spend your time in The Big Easy. Planning your trip can become overwhelming and it may be challenging to figure out when the best time to visit New Orleans is… but, we've done a lot of the legwork for you.
Just keep reading for what to do on your weekend in New Orleans… and laissez les bons temps rouler!
2 Days in New Orleans Itinerary
Building your itinerary for New Orleans isn't a challenge because there are so few choices, but quite the opposite. There's just so much to do. It's hard to pick!
But if you're interested in hitting all of the must-sees and must-dos, then we've got plans for you.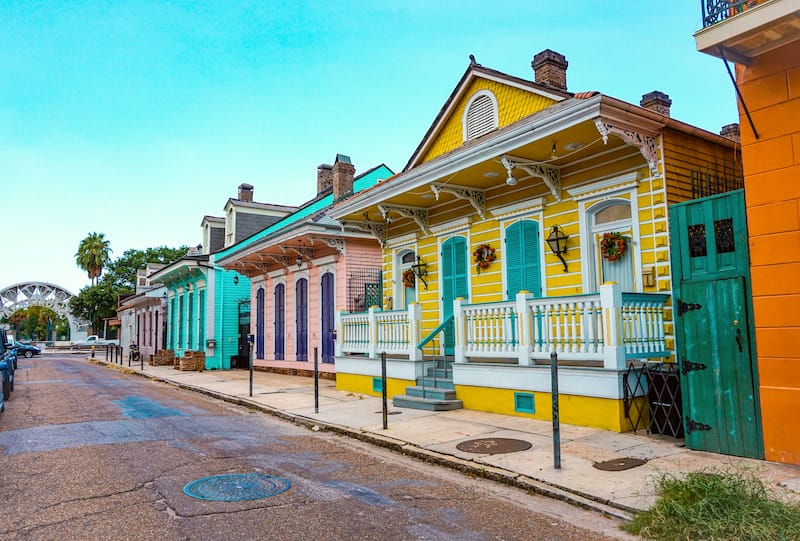 Up next, a complete day-by-day itinerary for your NOLA vacay, full of activities from the moment you get in on Friday afternoon to the second you leave on Sunday evening.
Friday Afternoon and Evening
Meals are going to be huge when you're visiting this city. The Creole cuisine that NOLA is known for is absolutely incredible. And there are so many restaurants that offer their spin on the classics that you'll want to pack in as many meals as possible!
But you can easily work off all the calories when you walk around and explore, so mentally prepare yourself for the culinary adventure of a lifetime.
For the sake of helping you absorb all this fantastic city has to offer, we'll start our plans on Friday afternoon.
Hit Bourbon Street First
If you haven't visited Bourbon Street before, Friday evening is an excellent time to test the waters. Saturdays can get a little crazy when people have been doing Bourbon Street things all day.
Friday is a little bit less intense, so you can gauge whether or not you want to return later in your trip or if you really just wanted a one-time experience.
Make dinner reservations at Galatoire's on Bourbon Street, one of New Orleans' most well-known fine dining restaurants since 1905. Be sure to follow their strict dress code. Men must wear a sportscoat.
The menu has been the same for years, full of classic dishes. If you get in late on Friday, you can always order from the to-go menu. You won't get the full experience, but you can at least say you've eaten here.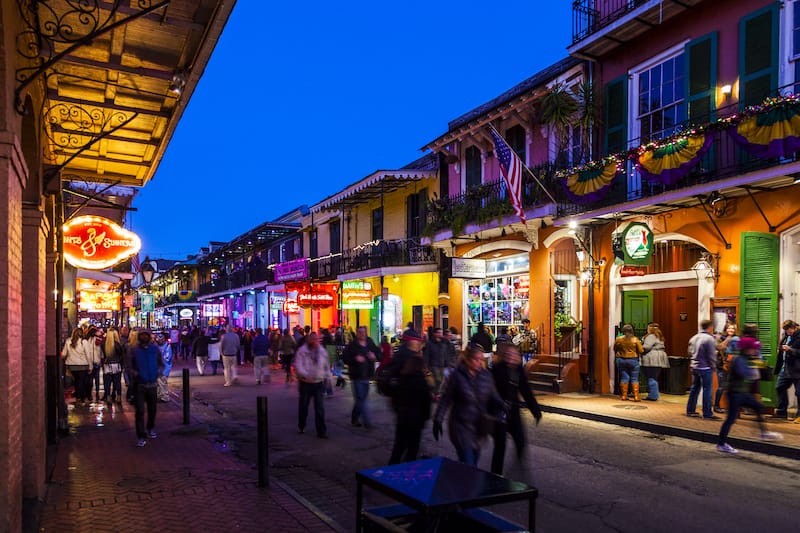 Make your way to Pat O'Brien's, another establishment that's been part of Bourbon Street for ages. You can hit the main bar inside or enjoy drinks on the patio.
Order a Hurricane (and water), one of New Orleans' most famous cocktails. But buyer beware, one is enough for most people- they're quite strong!
Depending on your mood, you might be done with Bourbon Street for the night. But if you're still ready for more people-watching and entertainment, you can venture down the street a little further.
Here are some other fun places to check out along the way:
Saturday
Your Saturday morning will depend on how late you stayed out on Friday. If you went all-in on Bourbon Street, you might need a little extra time to rest up.
Morning and Early Afternoon
Whatever time you decide to rise and shine, make your way straight to the French Market and Café du Monde. Order a cup of chicory coffee and some beignets, and you'll be ready for a full day of New Orleans ahead.
But here's a little tip: don't wear all black. Beignets are deliciously fried little clouds of dough covered in powdered sugar, and after eating them, you, too, will be covered.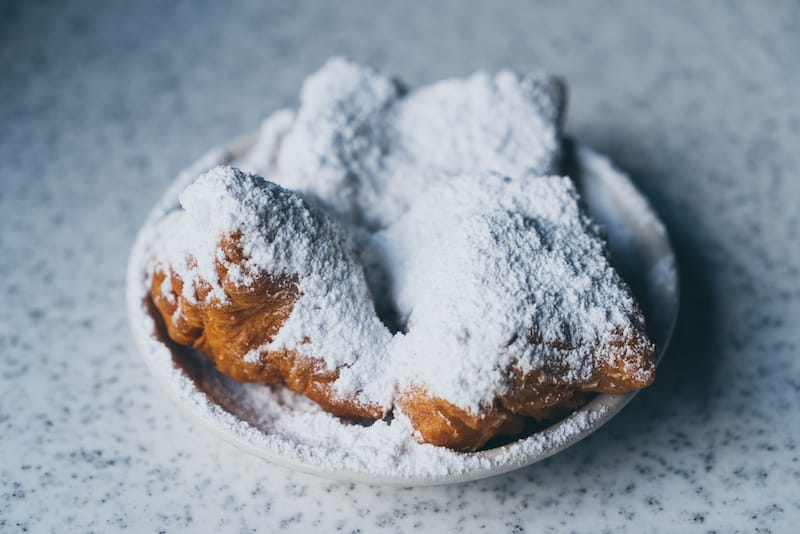 The market itself is full of unique snacks and kiosks, and you can spend as long or as little as you'd like browsing the promenade. You can find all kinds of neat souvenirs and fun knickknacks to take home.
Lunch
You might not even be hungry at this point, but again, there are things you have to try in NOLA. So you need to dive in and take full advantage.
Here are some New Orleans' classics that you have to try, but the choice is all yours:
… If you're in the mood for a simple yet magically delicious sandwich with crusty bread and perfectly crafted meat or seafood, you need a classic po'boy.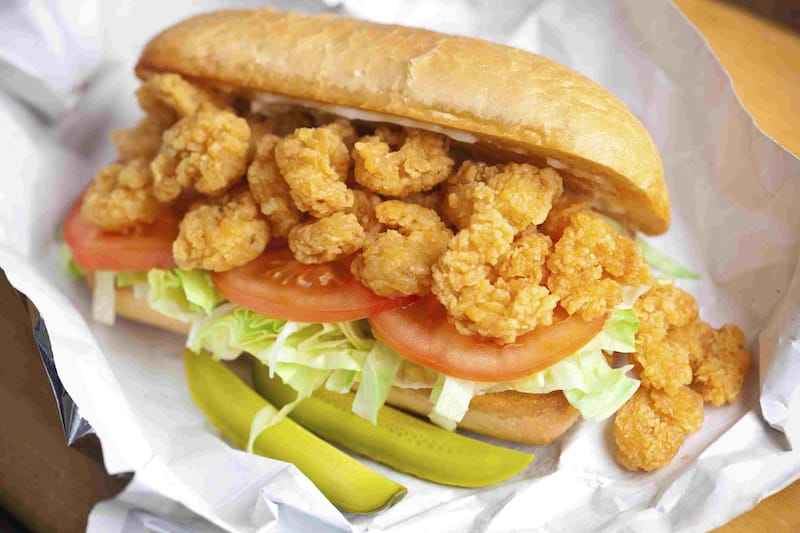 Most po' boys have the perfect combo of protein, a little bit of lettuce and tomato, plus the perfect remoulade sauce. Go to…
… If you're in the mood for another New Orleans classic handheld (kind of, it can get a little messy), stacked with flavor and crafted to perfection, is the muffuletta sandwich.
The standard has meats and cheeses, and tapenade infused with creole flavors, all on a round bread loaf. Go to…
… If you're in the mood for just a light snack in the form of a New Orleans specialty: raw oysters.
If you're a fan of oysters, few places do it better than The Big Easy. Go to…
If none of the options above works into your packed schedule or you're just not in the mood for any of these things, check out this list of best places to eat in New Orleans.
Afternoon and Early Evening Activities
If you're not in a food coma, Saturday afternoon is the best time to check out one of the city tours or do some exploring.
You can easily entertain yourself for hours by just walking around and seeing all the city has to offer, but having a plan can help make sure you hit all the right spots.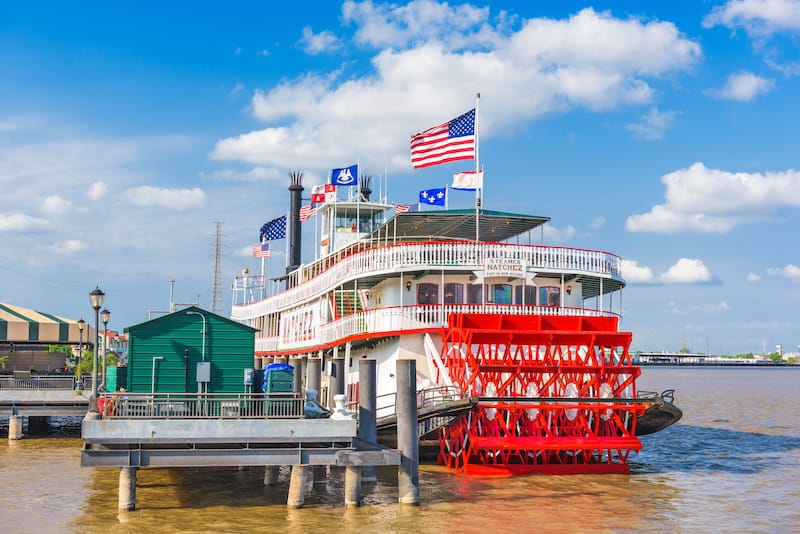 Here are some ideas for what you can add to your schedule for your Saturday afternoon in NOLA:
Dinner
Thankfully, New Orleans is a late-night town. If you're tired from your day of exploring, you can easily make late-night reservations. For your Saturday night special, you have two very different but very NOLA options.
If either of these options doesn't work out for Saturday night, check out some other restaurants that are also fantastic options.
Cochón
If you want to eat here, you'll need to make reservations as far in advance as possible. This restaurant and butcher is incredibly popular. It's also a great option for Sunday lunch, so keep that in your back pocket if Saturday night doesn't work out.
This is a modern NOLA establishment, with a delicious twist on Southern comfort food and Creole favorites. Ingredients are always fresh and locally sourced. Classic crawfish pie and fried alligator are two small plates made for sharing but so tasty you might not want to.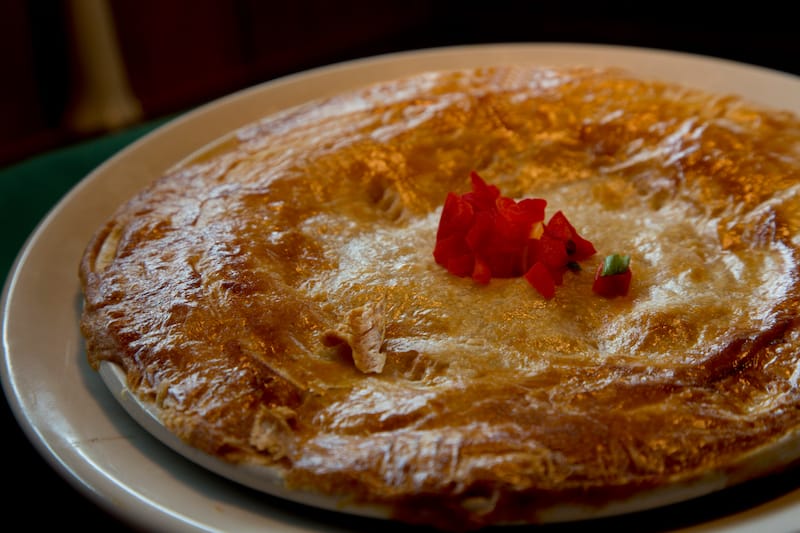 Commander's Palace
One glance at this restaurant, and you'll immediately feel like you're back in the late 1800s when Commander's Palace first opened its doors. New owners took over in 1974, but they stayed true to the original roots and didn't change much.
People come here for the age-old experience that's been built by famed chefs, like Emeril Lagasse.
Creole classics like turtle soup and gumbo are essential starters for any meal at Commander's Palace. You also have to try the prosecco poached crab.
And after you've eaten just about everything on the menu, because you will want to try it all, you're going to have to have dessert. The bread pudding… you just can't skip it.
But just like our previous restaurant, Commander's Palace is a great spot for brunch and lunch. So you can make reservations for Sunday before you leave if Saturday night isn't in the cards.
Sunday
If you have a late flight Sunday, or you've only got a short drive ahead, then you can make up some ground on anything you missed out on during your weekend.
As you already know, the two restaurants above are known for having great brunch and lunch options, or you can check out the best restaurants in New Orleans for other breakfast or brunch options. That leaves your afternoon open to squeeze in a few more activities.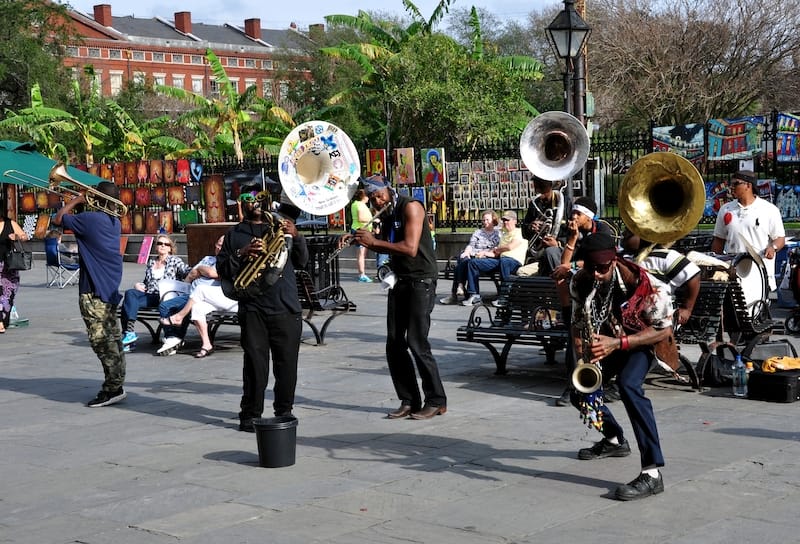 You might have enough time to book one of the tours you weren't able to do on Saturday afternoon/evening. But, if you're just looking to absorb a little bit more of New Orleans before you leave, here are a few things you can do quickly or adjust to your schedule:
Explore

Jackson Square.

There are all kinds of interesting finds, from shops to restaurants, and individual merchants, selling things that you can only find in New Orleans.

It's an area that's rich in history, including

St. Louis Cathedral.

Burn off some of the weekend's calories with a stroll down

The Riverwalk.

It's a beautiful place to walk and see more of NOLA's beauty, without all of the temptations. Yes, there are, of course, still plenty of shops and bars along the way, but not nearly as many as you'd find elsewhere.

If you have enough time, visit the

World War II Museum

. You'll need to book tickets ahead of time, so make sure you leave yourself enough time to make it through the entire museum.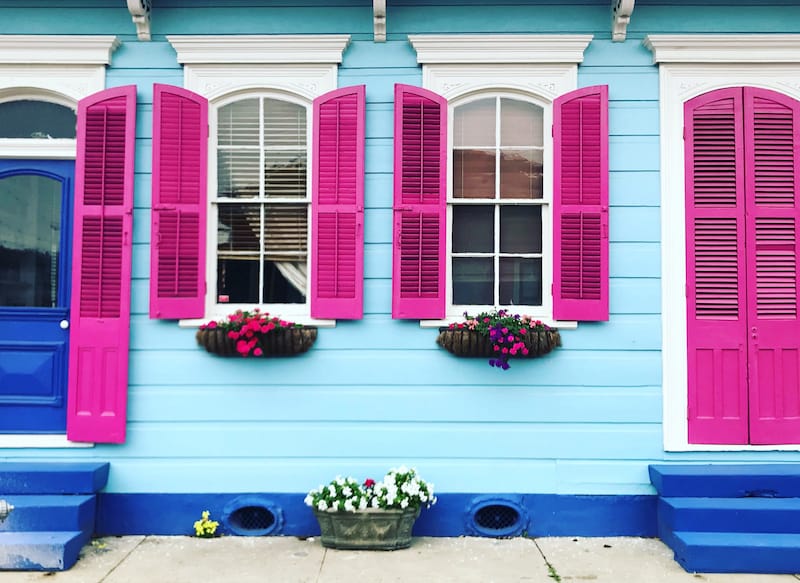 Where to Stay in New Orleans
Getting around New Orleans is relatively easy with all of the various transportation options available.
There are, of course, rideshare apps and taxis. But for something you can only do in NOLA, try the streetcars.
With the variety of ways to get around, it makes the "Where do I stay?" question a little easier, unless you prefer to stay within walking distance to the attractions on your list.
French Quarter Stays
If you're all about that party life, then clearly, the French Quarter is where you need to stay. Keep in mind. This isn't for everyone. It's definitely something everyone should experience at least once in their lifetime, but not everyone loves the sounds of a party while they're trying to sleep.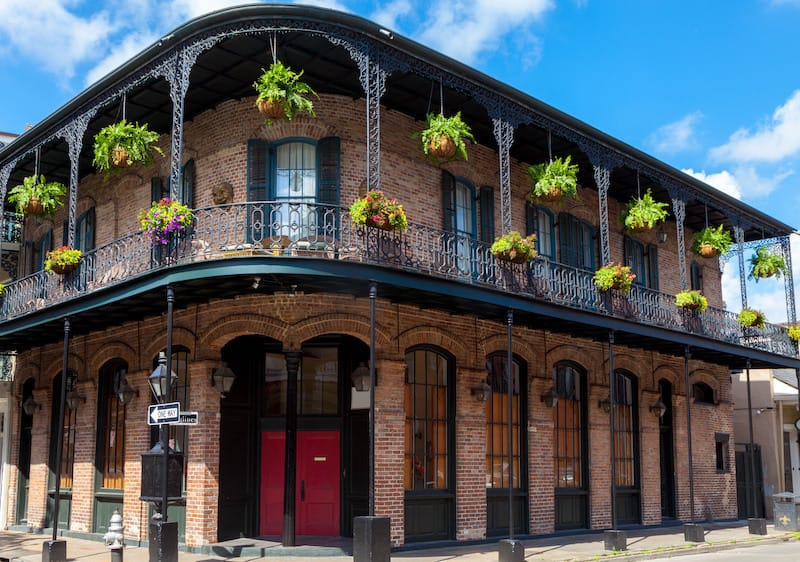 When you envision New Orleans, you most likely picture the Spanish architecture that's been shaped over time by the rich history of the city. That alone makes this area incredibly special.
But the activities and happenings around Bourbon and Royal Streets are a sight to be seen all on their own.
Here are some options for stays in The Quarter for those that want to go all-in on their NOLA experience:
Pros: Close to Bourbon Street, so still nearby; Not right on Bourbon Street, so slightly less noisy at night; Home to the incredible Carousel Bar & Lounge
Cons: Royal Street is still heavily populated at night; There are dangerous areas to walk through when getting back to your hotel; The building itself is beautiful, but the street and sidewalks aren't the cleanest
Pros: In the heart of The French Quarter; Rooms with balconies overlook Bourbon Street; Beautiful courtyard and pool
Cons: The sounds and smells of Bourbon Street are always present during your stay; A very crowded corner; sometimes it's annoying to get back into your hotel at night.
The Garden District
If you want to check out The French Quarter vibes on your own terms, this area is an excellent option with a quiet retreat to go back to at night. This area embraces all of New Orleans in the most positive way, with beautiful homes and quaint shops.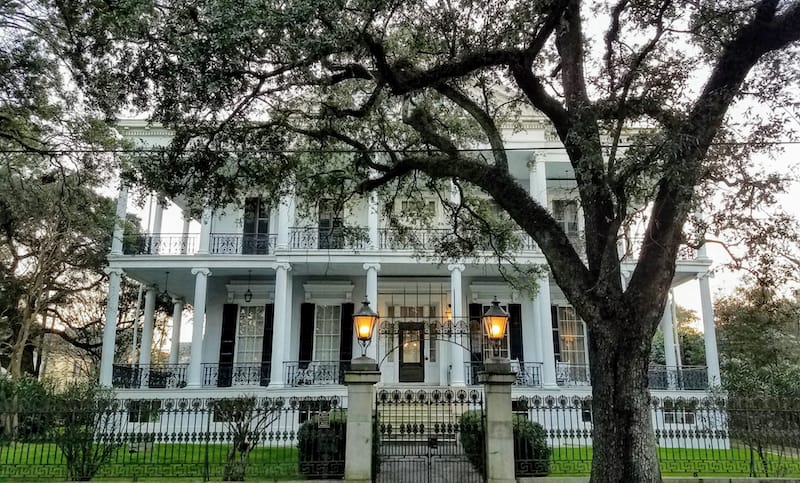 There's still plenty to see and do here, but it's much less of a wild and crazy atmosphere. However, you're just a trolley ride away, so you can quickly get back to Bourbon Street when you're ready.
If The Garden District seems more like your speed, then try one of these:
Pros: Right on the path for The Garden District walking tour; Quiet and clean
Cons: Books up quickly, especially during wedding season
Pros: Clean, no-frills rooms with everything you need for a comfy stay; Outdoor pool and garden space
Cons: Has everything you need but is a typical chain hotel, with no New Orleans ambiance
Pros: Kitschy and modern decor with lots of Insta-worthy spots; Rooftop bar; On-site food options; Known for spectacular service
Cons: There really aren't many downfalls to staying at this gem.
Other Great New Orleans Accommodation
If the location doesn't matter, you can explore other avenues for accommodations outside of the major tourist zones.
Rental Homes
If you'd prefer to have an entire house or condo, you might want to check out a vacation rental website, like Airbnb or VRBO. You can filter your results to find the exact accommodations that fit your needs.
Other Hotels
If you don't mind a little walk, there are still tons of options for hotels in the other areas surrounding the tourist hot spots. Here are some unique options that are definitely worth your consideration:
Le Meridien New Orleans:

This hotel is within walking distance to The Quarter, although it's not a walk we'd recommend doing at night. It's a smart hotel with all the modern updates.

Hilton New Orleans Riverside:

Another option is to be close to the action without being right in the middle of it. Here you're right next to the river and attached to the Riverwalk. As soon as you step out of the hotel, you're footsteps away from the streetcar, too.

Le Pavillon:

The environment at this downtown hotel is rich with classic New Orleans charm, right down to the haunted rooms. That's right; this hotel is rumored to be one of the most haunted spots in all of NOLA. So if you're not into sharing your space with spirits, this is not the spot for you.
Final Thoughts on a Weekend in New Orleans
There's much to see and do in New Orleans, and without a personal tour guide to show you around every minute, you might miss something. But not with this day-by-day itinerary full of restaurants and adventure that you won't want to miss. Enjoy your 2 days in New Orleans!
Did we leave out anything on this weekend in New Orleans itinerary? Leave us a comment and let us know!
* This post was written by Tina at The Tina Lifestyle. Click here to check out her Instagram page!
More Southeast USA Guides
Pin this Two Days in New Orleans Itinerary!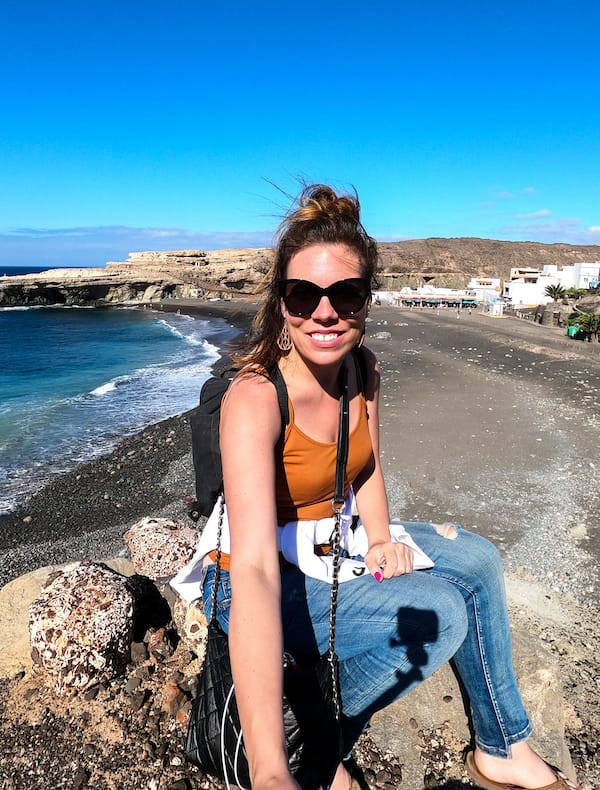 Megan is a travel blogger and writer with a background in digital marketing. Originally from Richmond, VA, she now splits her time between Frankfurt, Germany and Arctic Finland after also living in Norway, Armenia, and Kazakhstan. She has a passion for winter travel, as well as the Nordic countries, but you can also find her eating her way through Italy, perusing perfume stores in Paris, or taking road trips through the USA. Megan has written for or been featured by National Geographic, Forbes, Lonely Planet, the New York Times, and more. She co-authored Fodor's Travel 'Essential Norway' and has visited 45 US states and 100+ countries.