Wisconsin is a gorgeous state with so much to see and do! These are the best places to visit in Wisconsin – all perfect for every Wisconsin bucket list!
Are you planning your trip to Wisconsin last minute?
🚗 Renting a car in the USA: Discover Cars is our top pick for rental cars in the USA and abroad! They have several add-ons and also offer full-coverage insurance as an option. They also have a huge inventory of cars to choose from – something suitable for every traveler!
🇺🇸 Visiting any US National Parks along the way? Get your National Parks Pass for only $79.99 here!
🛌 Booking a hotel in the USA: We use Booking.com for all hotels in the US – many also offer last-minute cancelation.
Whether you're someone who prefers a city that never sleeps, a fun outdoor adventure, or a glimpse back in time for some history, you're bound to find it in Wisconsin.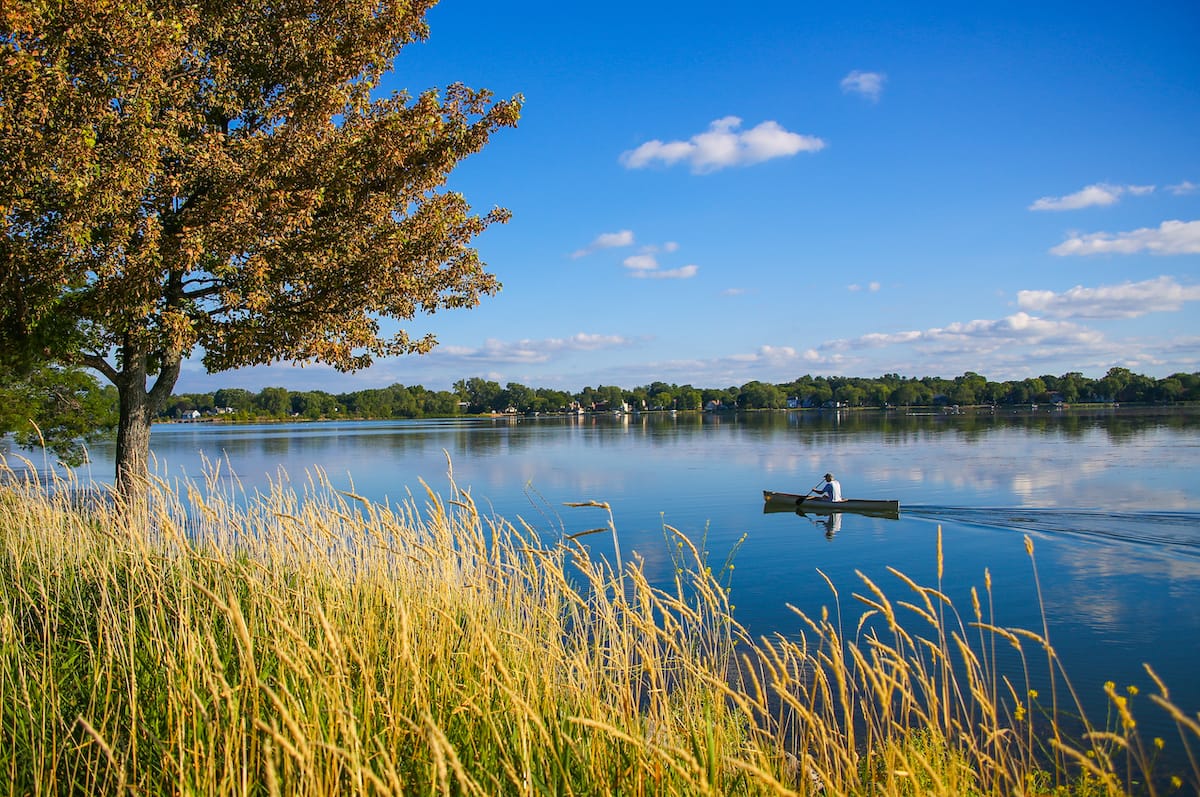 From the shores of the Great Lakes to the state's dense forests, adventure awaits in Wisconsin no matter what season you plan on visiting.
In this article, we've compiled a list of the best places in Wisconsin, each being something that anyone would enjoy.
Best Places to Visit in Wisconsin
1. Cedarburg
Located on a 2-hour drive from Chicago, Cedarburg is a fun place for a short getaway in Wisconsin.
It's well-known for its collection of European-style light-colored brick and limestone structures, many of which date back to the 19th century.
Cedarburg has several wooden covered bridges, including the Cedarburg Covered Bridge.
You can cross the bridge on foot (the only permitted way) and feel its historic spirit.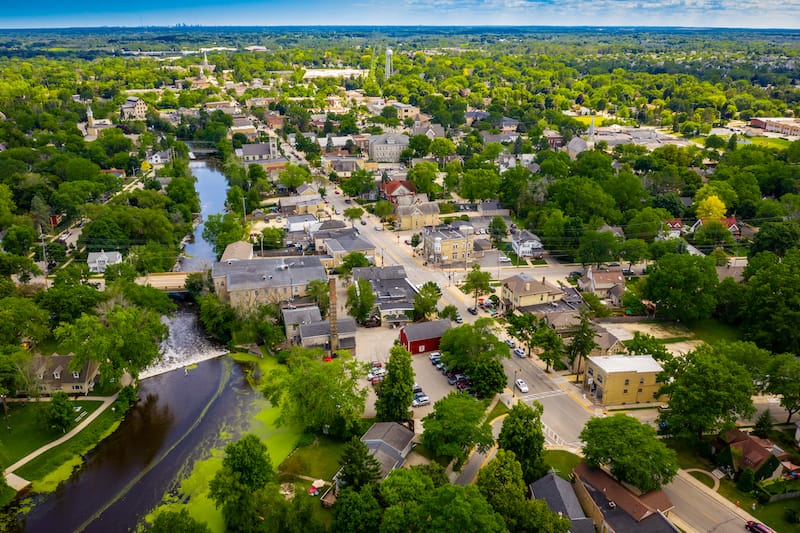 When in the area, you can also spend some relaxing time at the Covered Bridge Park, especially If you appreciate the region and want to go fishing, canoeing, or picnicking.
Carrying on with the historic and cultural attributes of the small Wisconsin town, visit the Cedarburg History Museum and the Cedarburg Art Museum to learn interesting stories and enjoy the stunning collection of artwork.
When in Cedarburg, you also should make it a point to visit the Cedar Creek Winery to grab a bottle of fine wine, shop at the Historic Shops of Cedar Creek Settlement, or hike the famous Ozaukee Interurban Trail.
2. Madison
Home to a fascinating culture and famous events, Madison is surely one of the best places to visit in Wisconsin.
One of this city's most unique characteristics is the fact that most of its beautiful buildings were constructed by Frank Lloyd Wright, who was born in Wisconsin.
There are a lot of things to do and sights to see in this city, so make sure to plan properly.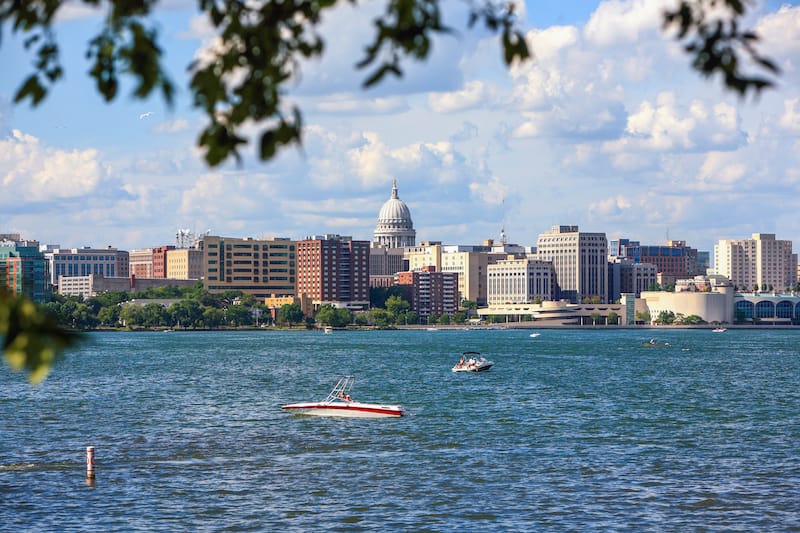 Some places that should not be missed are the Wisconsin State Capitol, Frank Lloyd Wright's Taliesin Estate, Olbrich Botanical Gardens, and the Madison Museum of Contemporary Art.
Museums are an inseparable part of this town!
Be sure to also visit the Chazen Museum of Art, featuring not only stunning exhibits but also a chamber music program.
In case you're more into other kinds of recreation, keep in mind the amazing water sports on the five lakes of Madison, music festivals like the Rhythm and Booms, or Blue Mounds State Park, which is perfect for camping, and hiking, and more.
3. Lake Geneva
Southeast Wisconsin is home to Lake Geneva, which is a lovely lakeside city with prominent history, world-class golf courses, water activities, shopping, and more.
Out of all seasons, winter in Lake Geneva is the most special.
Visitors can experience the Alpine Valley Resort's 90 skiable acres, cross-country skiing at Big Foot Beach State Park, and much more.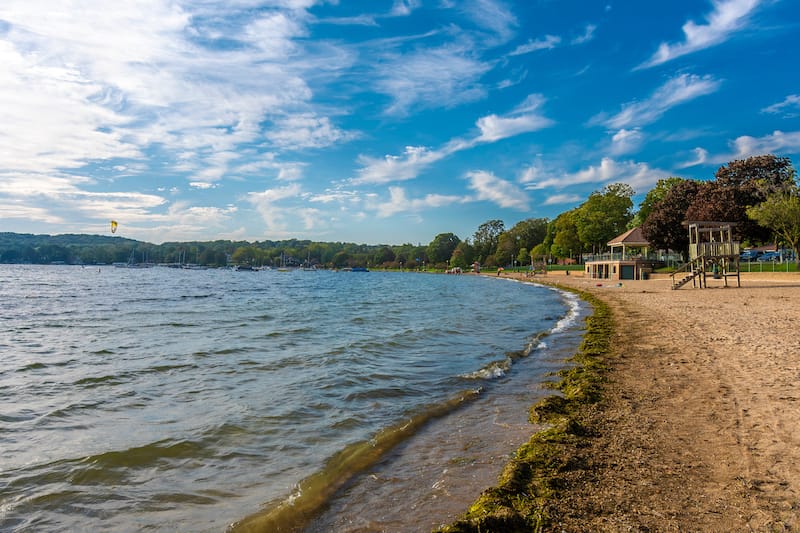 For those seeking some adrenaline adventures, Lake Geneva Ziplines and Adventures is the place to be.
Also, don't skip overtaking a downtown stroll! Check out the city's local restaurants and shops, and visit Scoops Ice Cream and Deli, which provides the area's famous Chocolate Shoppe Ice Cream along the shore.
Definitely plan a visit to renowned spots like Geneva Lake Museum, known to showcase local history, Tristan Crist Magic Theater, which features illusionary art, and Lake Geneva Cruise Lines, which offers the most unique sights around the city.
4. Green Bay
Being the smallest city in the US to host a professional sports team, Green Bay is known to attract many visitors with its epic local entertainment, wineries, art, culture, and history.
You may start your trip here from places like the Neville County Public Museum or Heritage Hill State Historical Park, where you'll learn how the area was settled and go back in time to the 1800s.
The historic Meyer Theater is also a must; you can either catch up with current performance or stop by to see its beautiful interior design.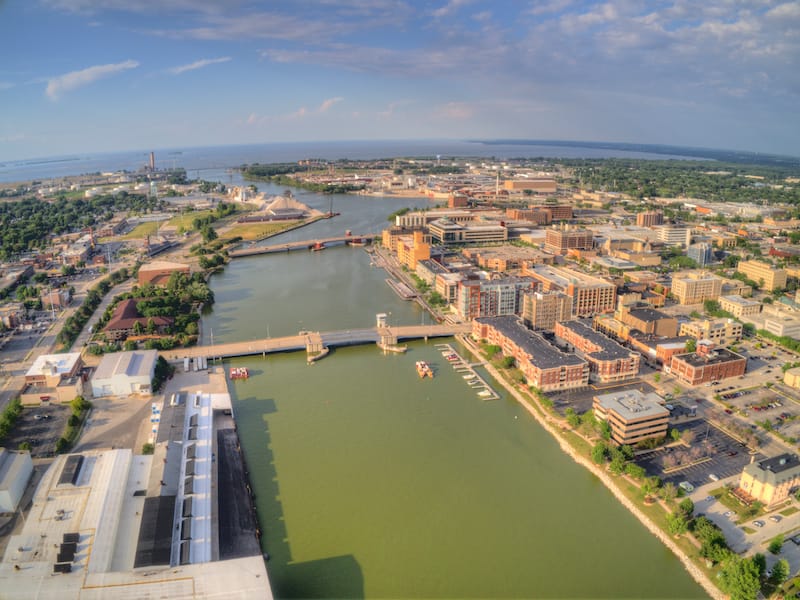 Once the history part is done, head over to the Titletown Complex, a 45-acre space made up of restaurants, entertainment venues, and retail shops.
The very best of Green Bay is centered there! Alternatively, visit the Automobile Gallery & Event Center for a fun, car-related experience, or the National Railroad Museum, which will teach you all about America's railroad history and locomotives.
5. La Crosse
Located on the Mississippi River, La Crosse is an awesome waterside city and a great getaway option offering a variety of entertaining activities.
There are two main options to explore La Crosse: from the river on a riverboat trip that departs at Riverside Park or from Grandad Bluff Park via several walking and hiking trails.
If you're a winter sports enthusiast and happen to be in La Crosse, don't waste time and head over to the Mount La Crosse Ski Area, where both amateurs and those who want an adrenaline rush will find winter entertainment.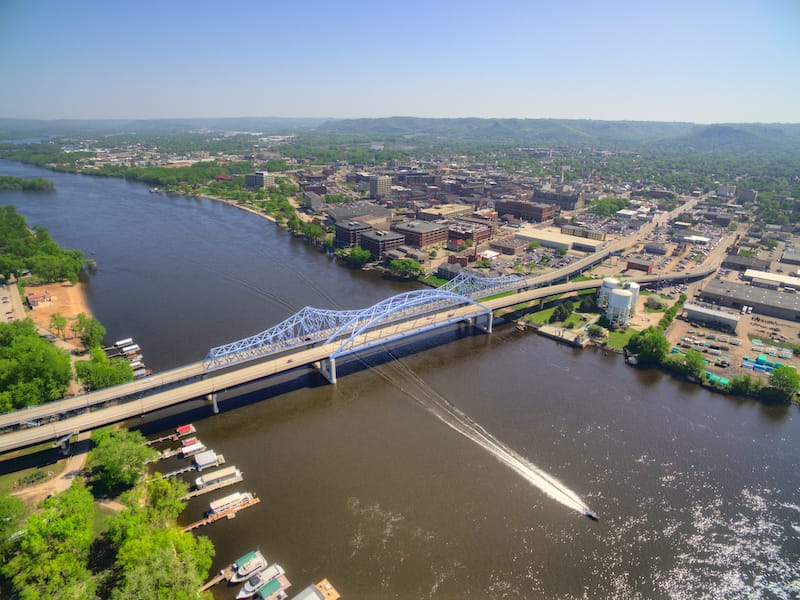 When exploring the downtown, don't skip a stroll through Riverside Park, which is not only a famous event venue but also a perfect place for a nice picnic.
Other must-see places here are the Dahl Auto Museum, with stories of the country's automobile manufacturing history, the multi-purpose Great River State Trail, Goose Island County Park, and Lake Onalaska.
6. Saint Croix National Scenic Riverway
Looking for a nice getaway in Wisconsin where you can enjoy waterfront activities?
The Saint Croix National Scenic Riverway is the place to go.
There are many water sports activities available here, with opportunities ranging from hiking and camping to river boating and ranger-led programs.
For paddling (kayak or canoe), you can either plan a day trip or make a big excursion for several days, or paddle in calm or more social settings.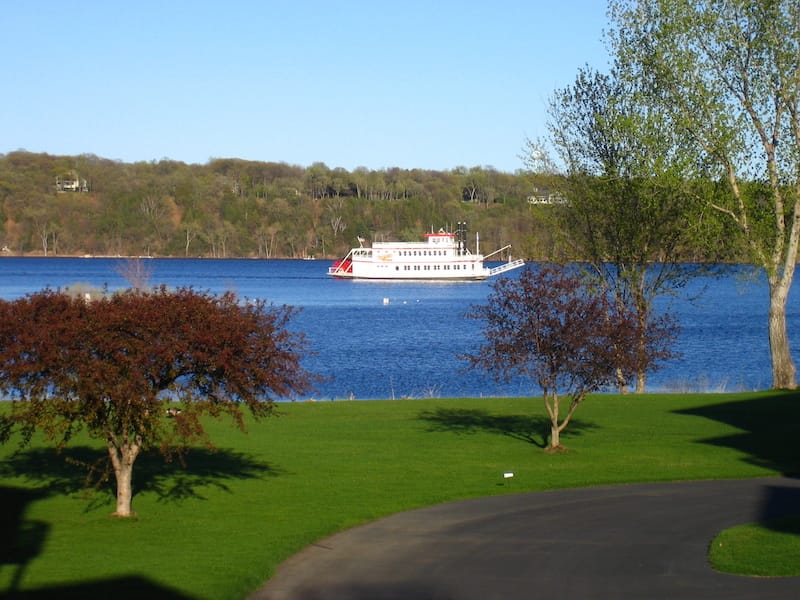 It's awesome for fishing, too.
With areas of the St. Croix River being fast and rocky, this is considered to be one of the best areas in the country for small-mouth bass fishing, for example.
If you wish to go camping, you can choose a site that suits your needs the best as there are different camping zones.
You can get from one campsite to another for multi-day trips, but note that the campgrounds are usually only accessible by boat.
7. Kenosha
As one of the smallest cities in the US, Kenosha surely has its place on the list of the most popular places to visit in Wisconsin.
Kenosha is home to a number of interesting museums.
One of the first must-sees is the Dinosaur Discovery Museum, which has the world's largest collection of meat-eating dinosaur skeletons.
The Kenosha Public Museum, meanwhile, houses the world's largest collection of wooly mammoth bones.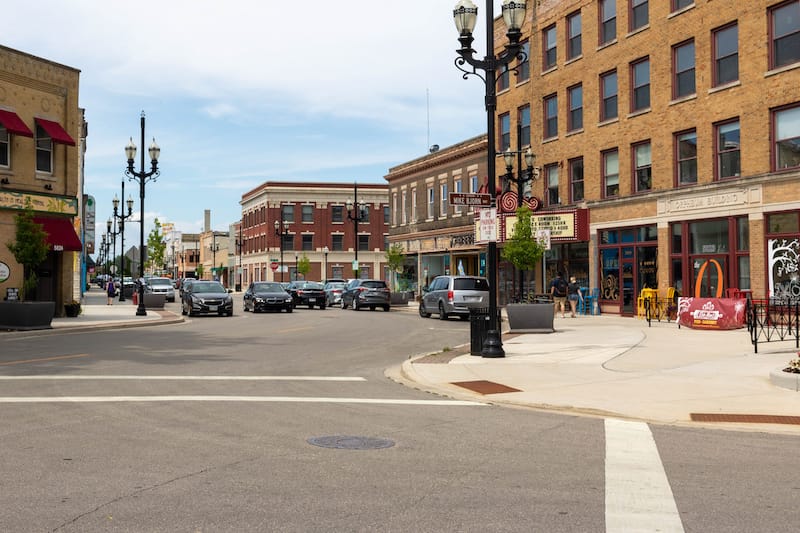 The Civil War Museum, located just next door to the Kenosha Public Museum, is the country's second-largest Civil War museum.
To get one step closer to nature, try exploring the Hawthorn Hollow Nature Sanctuary and Arboretum, which is centered around environmental education and sanctuary preservation programs.
One of the top attractions here is the historic streetcars.
You can go on a 2-mile scenic circular tour of the town, through two historic districts, the central business district, HarborPark, and the Lake Michigan shoreline via the streetcars.
8. Wausau
Wausau is a place of rich heritage, art, and pretty city parks.
Though it only has one-fifteenth of the population of Milwaukee, this city has many attractions that certainly won't leave you feeling bored.
This area typically gets twice the amount of snow than the average U.S. city, so winter activities, as you can guess, are the most popular here.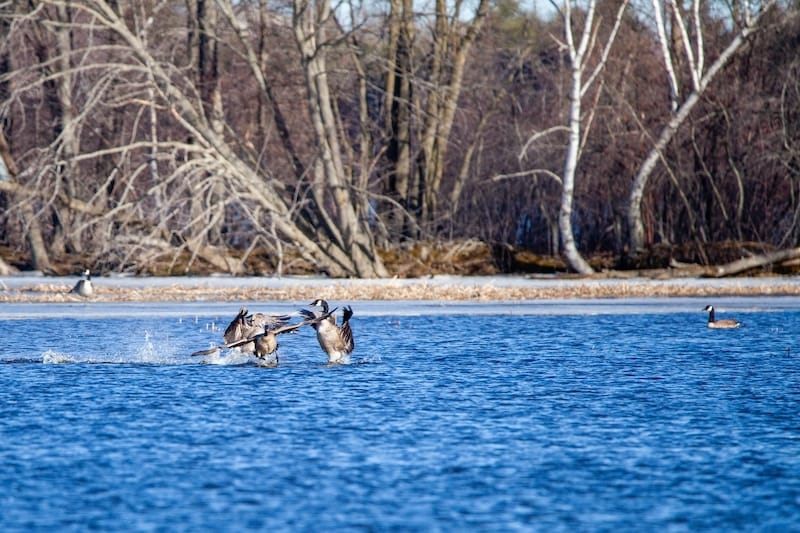 The Granite Peak Ski Area, Rib Mountain, and Sylvan Hill Park are the best-of-the-best spots for cross-country skiing, downhill skiing, ice fishing, ice skating, snowmobiling, snowshoeing, and more.
Wausau prides itself on the 37 beautiful city parks, the most visited ones being Wausau Whitewater Park (a top U.S. training site for canoeing and kayaking), Isle of Ferns, and Fall Colors.
Also, places and events like open-air farmers' markets, Monk Botanical Garden, random music festivals, Wausau Concert Band performances, the Beer & Bacon Festival, and the Festival of Arts are parts of the spirit of this city that you should get acquainted with.
If youʻre looking for cool places nearby to visit – check out Stevens Point!
9. Devil's Lake State Park
Devil's Lake is Wisconsin's most popular state park. With the lake as its main attraction, the area is an awesome destination for watercraft, hiking, climbing, fishing, sandy beaches, and much more.
Let's start with hiking.
The park offers around 30 miles to enjoy unique natural habitats, among which the National Ice Age Trail, East Bluff Trail, and the Tumbled Rocks Trail are the best based on the number of visitors they get yearly.
Also, plan ahead to rent a boat, canoe, or kayak to explore the stunning Devil's Lake.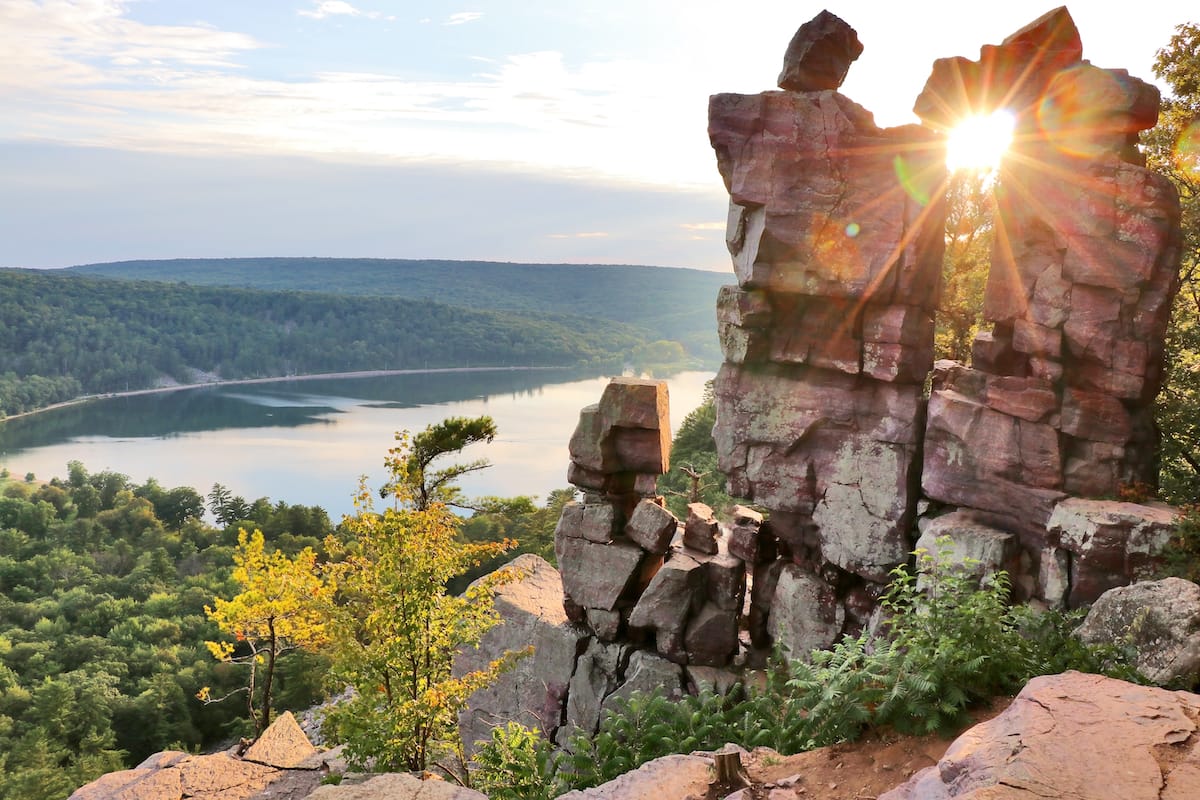 Go birdwatching or wildlife viewing as the place is home to around 40 species of mammals and more than 100 species of birds (and you'll definitely spot something that'll impress you).
Lastly, don't forget to take your camera with you to capture beautiful shots of the lake or some panoramic shots from higher spots.
10. Cave Point County Park
With amazing views of Lake Michigan and limestone cliffs, this park feels like nature's delight. Cave Point County Park is perfect for fishers, divers, and kayakers to experience views of many stunning underwater caverns.
To get the full experience, challenge yourself with a moderately difficult trail that connects the park to Whitefish Dunes State Park to the south.
Alternatively, reserve a kayak tour and see the caves and lake shoreline up close.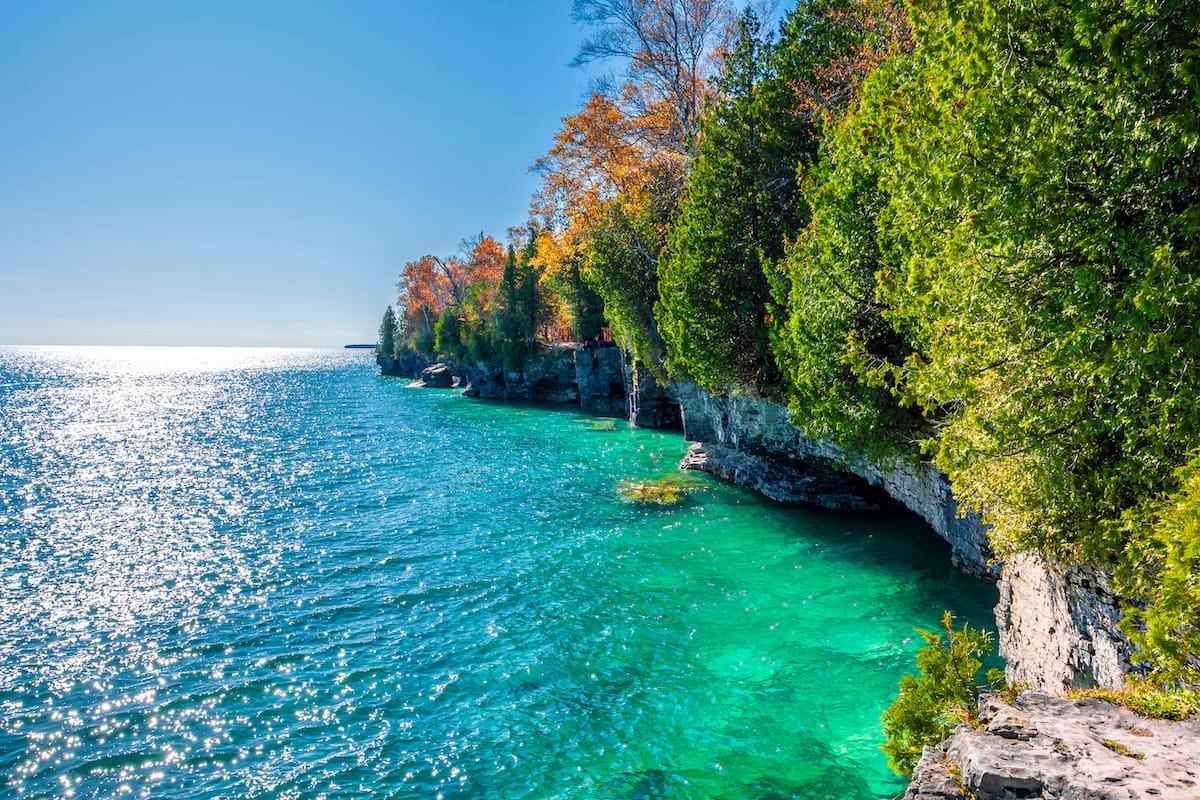 One thing out of the ordinary here is watching how big waves crash against rock formations during a storm. It's pretty mesmerizing to see, so try to catch that!
The views in the park are spectacular during the winter season too. The steady wave motion creates icicles that cling to the rock formations, resulting in a beautiful sight. Cross-country skiing is also possible on the trail, though it is not groomed.
11. Grandad Bluff Park
Grandad Bluff is the largest bluff in the La Crosse area, and it's famous for its picturesque views of the city.
It opens up vistas of Minnesota to the west and Iowa to the south, as well as stunning views of the Mississippi River Valley.
It's one of the highest points in La Crosse and offers recreation through coin-based binoculars, picnic areas, biking, and hiking trails.
In addition to taking in the spectacular scenery, you may explore several bluff-side hiking trails.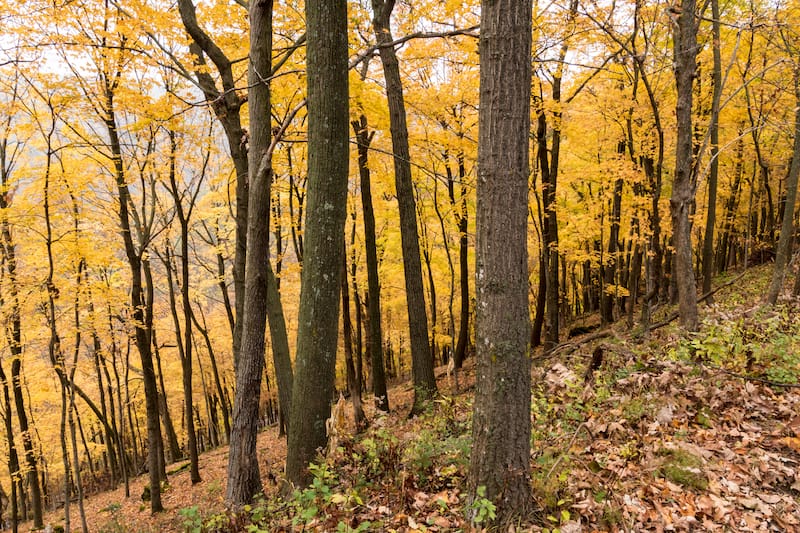 There are about 5 miles of trails that are mostly family-friendly and welcome pets too.
Once you feel like you need some rest, want to get a drink, or grab a quick bite of food, stop at either Alpine Inn or Bluffside Tavern.
12. Interstate State Park
Interstate State Park offers spectacular views of the river and the steep-sided valley known as the Dalles of the St. Croix, which is located along the scenic St. Croix National Scenic Riverway.
The Dalles of the St. Croix is the beautiful focal point of Wisconsin's oldest state park, so you can't really miss it.
When it comes to activities, there are plenty of options for snowshoeing, hiking, and cross-country skiing.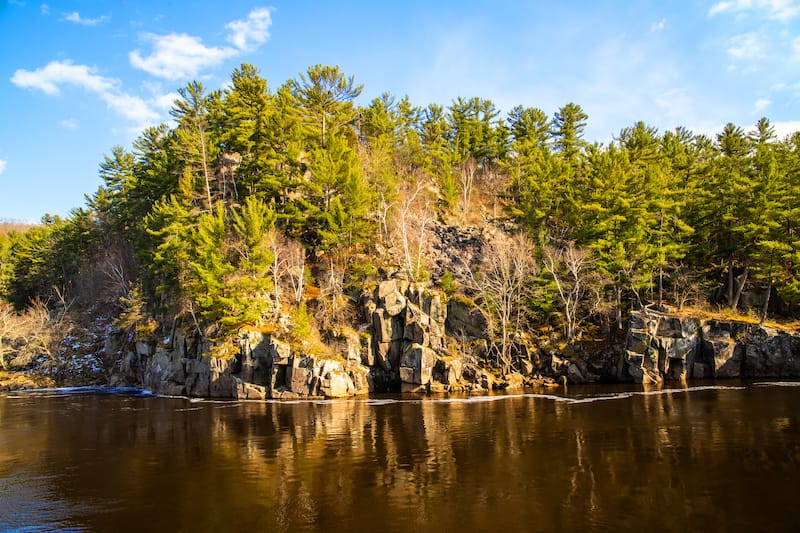 A notable place to be is the park's Ice Age Interpretive Center, which features a 20-minute film, images, paintings, and other information about the big glaciers of Wisconsin.
Within the park's 1,400 acres are three state natural areas that conserve distinctive glacier landforms and plant ecosystems.
Also, if you love taking epic selfies, demonstrate your skills on the Pothole Trail, where you'll find a selfie platform with a view of the Dalles of the St. Croix River.
13. Schoolhouse Beach
Schoolhouse Beach is an original shipping port and a protected harbor area.
The top activity here is, of course, swimming, which is followed by picnics and photography.
For those looking for a relaxing getaway to sunbathe and swim in clear waters, Schoolhouse Beach is the place to be! Have a nice swim and do a cute little picnic beside a fabulous setting.
After you've had enough of swimming, picnicking, and building cairns, you might want to consider taking short trips to spots like Jacobsen Museum.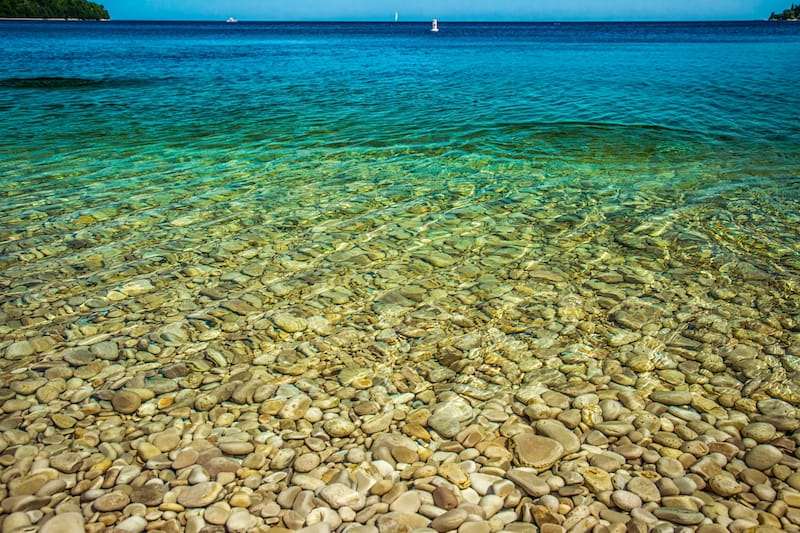 This visit-worthy museum, which is less than 2 miles from Schoolhouse Beach, houses a diverse collection of local natural and historical relics.
For your information, May through October is the greatest time to visit Schoolhouse Beach because you have the chance to enjoy the warm days of spring, summer, and autumn.
14. Milwaukee
Milwaukee is the most populous and culturally diverse city in Wisconsin and is famous for many reasons in the US!
It doesn't matter what you are looking for when going on a trip to Milwaukee because the city has it all!
You can start getting to know the city from the central marketplace where you'll be surrounded not only by shops full of local goods but also by a huge variety of eateries and breweries.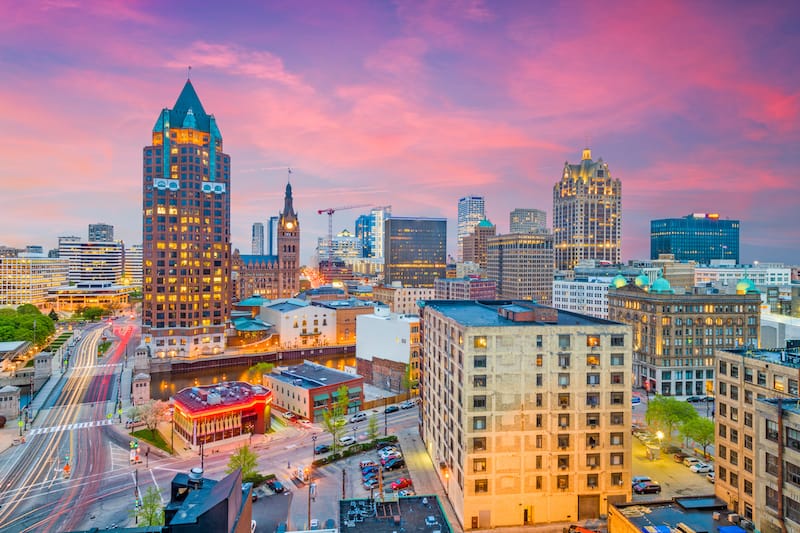 Do the 3-mile Milwaukee RiverWalk to get the most beautiful views of the city and river, as well as to explore the historical and architectural attributes via dozens of museums.
The most visited museums are the Milwaukee Art Museum, Harley Davidson Museum, and the Public Museum.
The Museum of Beer and Brewing is also a must.
Also, don't forget to check out the events taking place at the time of your visit as Milwaukee is famous for its musical and cultural festivals and celebrations like the Polish Fest, the Lakefront Festival of Art, the Dragonboat Festival, and more.
15. Hayward Lakes
Hayward Lakes is one of the most tranquil getaways in Wisconsin and a renowned fishing hub. Regarding the activities available here, the list is long and there is a lot to try!
If you enjoy biking, check out the City of Hayward Bike Trail, Sawyer County Roads, or on another 300 miles of bike trails.
Do a canoe or a kayak trip on ​​Namekagon Riverway or explore the beautiful woods and rolling hills via hiking trails.
Some of the best areas are the eight-mile Hospital Trail system, the Chequamegon National Forest, and the North Country Scenic Trail.
You can also spend the day swimming in some blue waters, fish in an area that is known to be home to world-record muskies and the Freshwater Fishing Hall of Fame, or enjoy an excellent winter vacation via snowshoeing, skiing, and snowmobiling.
16. Spring Green
The small Wisconsin town of Spring Green has a lot of activity options for those who seek some adventure when in Wisconsin.
Some places that should not be missed in Spring Green are the famous tourist attraction of House on the Rock; the Frank Lloyd Wright estate named Taliesin; the American Players Theater to enjoy more than a hundred performances in the outdoor amphitheater from June to November.
After checking out the main sights of the town, consider visiting Spring Green Preserve.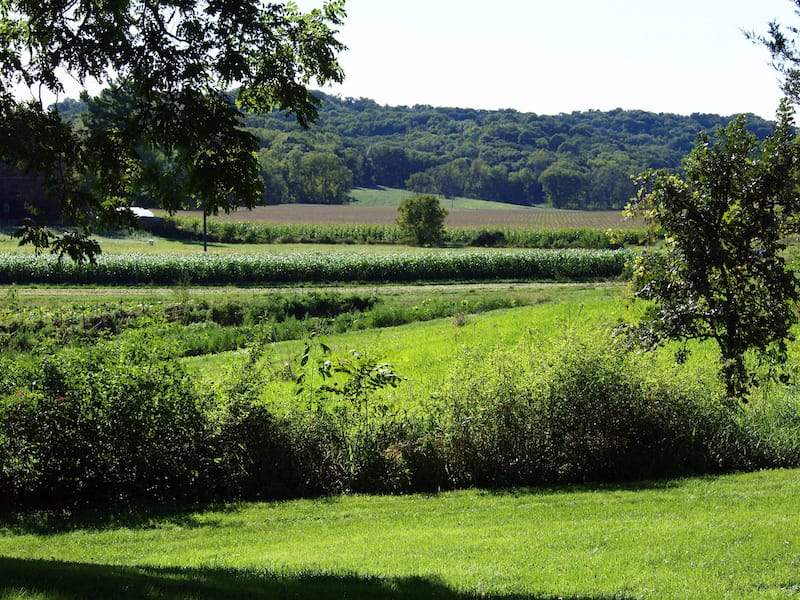 It has a pretty unique flora and fauna while also being a hub of recreational activities such as camping, hiking, riding motorcycles or ATVs, or skiing and snowmobiling during the winter.
If you want to combine nature and history, Tower Hill State Park is a great option to unwind but at the same time take in views of historical structures, like the Helena Shot Tower.
17. High Cliff State Park
Geology, history, and fun – that's what High Cliff State Park is about. Once you get to the destination, a bunch of typical, park-specific activities become available to you.
You can start off the day by the beach and have a good swim in the beautiful Lake Winnebago.
After that, you might want to take a good bike ride through trails that are full of thick trees and grasslands.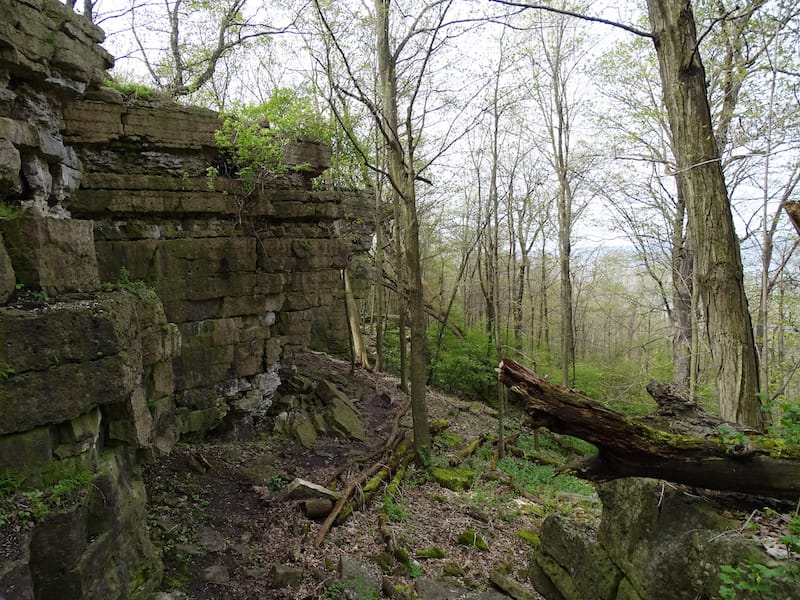 You can also check out activities like boating, canoeing, and kayaking, for which the park offers four developed boat launches.
Don't underestimate fishing and hiking here too. Both the lake and Butterfly Pond are full of largemouth bass, panfish, walleye, white bass, and perch.
For hiking, try out the Butterfly Pond Trail, the Lime-Kiln Trail, and the Red Bird Trail.
The last one leads to the observation tower and is best for panoramic views.
18. Eau Claire
Eau Claire is all about great music and stunning riverfront views.
An attribute that sets this town apart is the abundance of great music festivals that take place, the good ones being Country Jam, Eaux Claires, and Blue Ox Music Festival.
Eau Claire hosts many family-friendly attractions such as Carson Park, High Roller Skating Center, and Altoona Family Restaurant.
You better plan your whole itinerary beforehand because there are a lot of possibilities for family fun!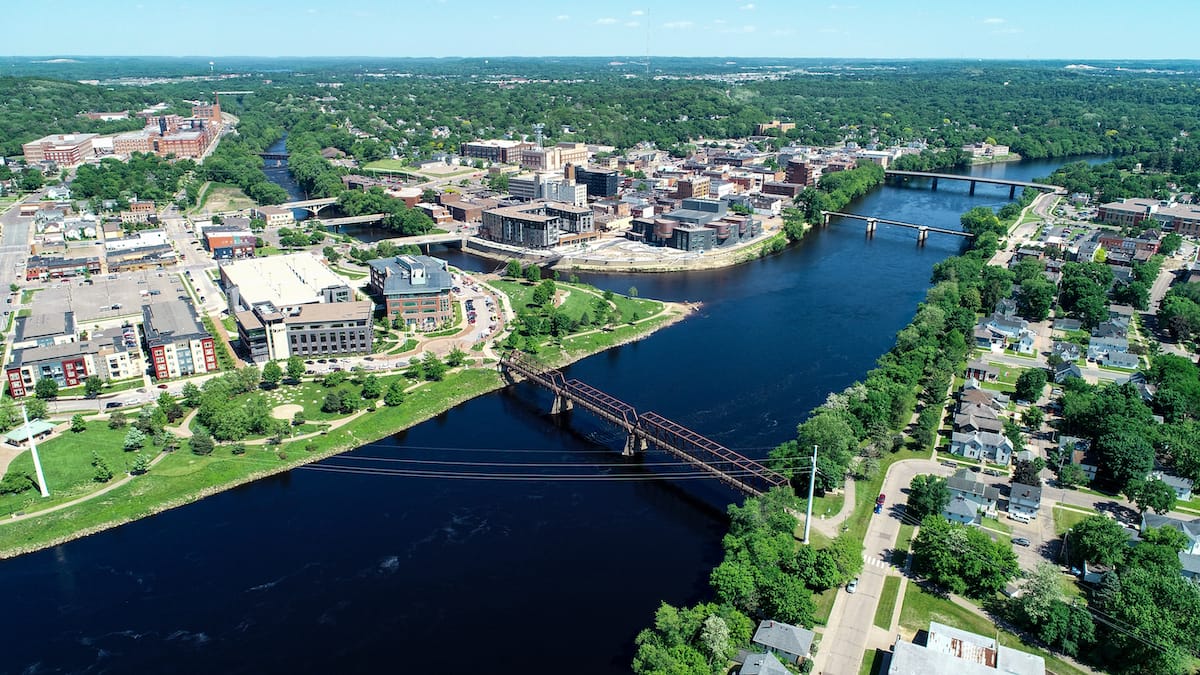 And the same goes for almost everything here. Even the downtown area is so rich with restaurants, bars, and shopping spots that you might need a whole day here if not two.
For art lovers, Pablo Center at the Confluence and other nearby museums in the downtown area is a must!
As far as outdoor activities, you can partake in therapeutic horseback riding at Trinity Equestrian, stroll around Chippewa River State Trail, or take advantage of the two rivers running through the town and paddle your way on the water trail.
19. Bayfield
Being the gateway to the Apostle Island National Lakeshore, Bayfield is where you can enjoy a great vacation while feeling close to nature.
The popular way to tour Bayfield is by cycling.
There are 20 cycling routes in Ashland and Bayfield counties open for all visitors to check out the scenic overlooks of the cliffs and greenery.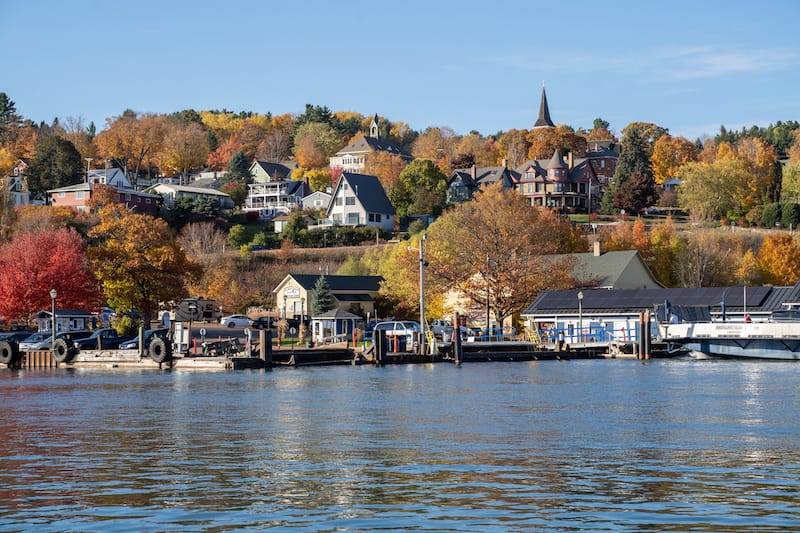 A typical stop here is the Big Bay State Park, where you'll find some sweet treats in bakeries or ice cream shops.
Relax and go on a kayaking tour to see the beautiful red sea caves on Lake Superior's shimmering waters. The kayaking sites here might be among the best you've ever seen!
If time allows, also take a ferry ride from Bayfield to Madeline Island and search for the local art gallery, historic antiques at the Bayfield Maritime and Heritage museums, or attend some exciting events like the Bayfield Race, Chautauqua Tent Shows, or Bayfield's Apple Fest.
20. Racine
Known to be a factory town and home to famous Danish pastries, Racine is another nice getaway option for Wisconsin visitors.
One of the first things worth checking out in this town is the Wind Point Lighthouse, which is open for tours and even welcomes private events.
Your next stop should be the Racine Art Museum.
It's the number one space for art in Racine, which houses 9,500 items and is Northern America's largest and most prominent craft collection.
To get close to the environment and nature, River Bend Nature Center is the place to be!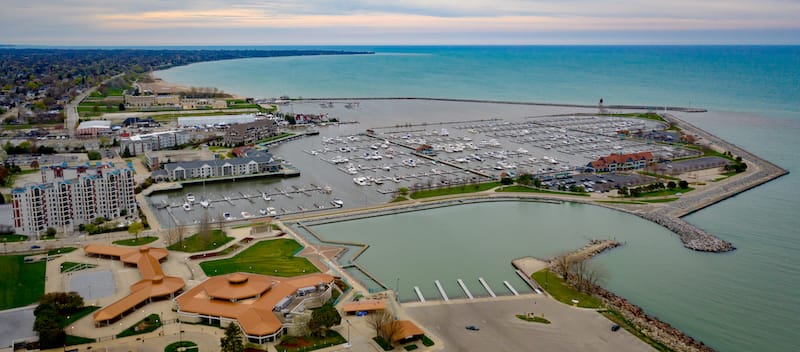 In addition to traditional hiking trails, there are ponds, river frontage, and equipment available for canoe and kayak renting.
Do not underestimate the history of the town, and be sure to pay a short visit to the Racine Heritage Museum.
The exhibitions here mostly are about factories that once operated in Racine, the role of the harbor, and how Frank Lloyd Wright is associated with this town.
21. Apostle Islands National Lakeshore
Apostle Islands National Lakeshore is a coastal park, consisting of 22 separate units (islands) and it is one of Wisconsinʻs best weekend getaways!
The ways to explore the area range from paddling a kayak and sailing through the islands to hiking and visiting historical structures.
As the distances between the islands are long enough, the recommendation here is to have a prior plan of what spots you're going to visit, taking into account the fact that transportation through the islands is possible through water only.
As you can guess, there are many cruises and tours offered on Apostle Islands.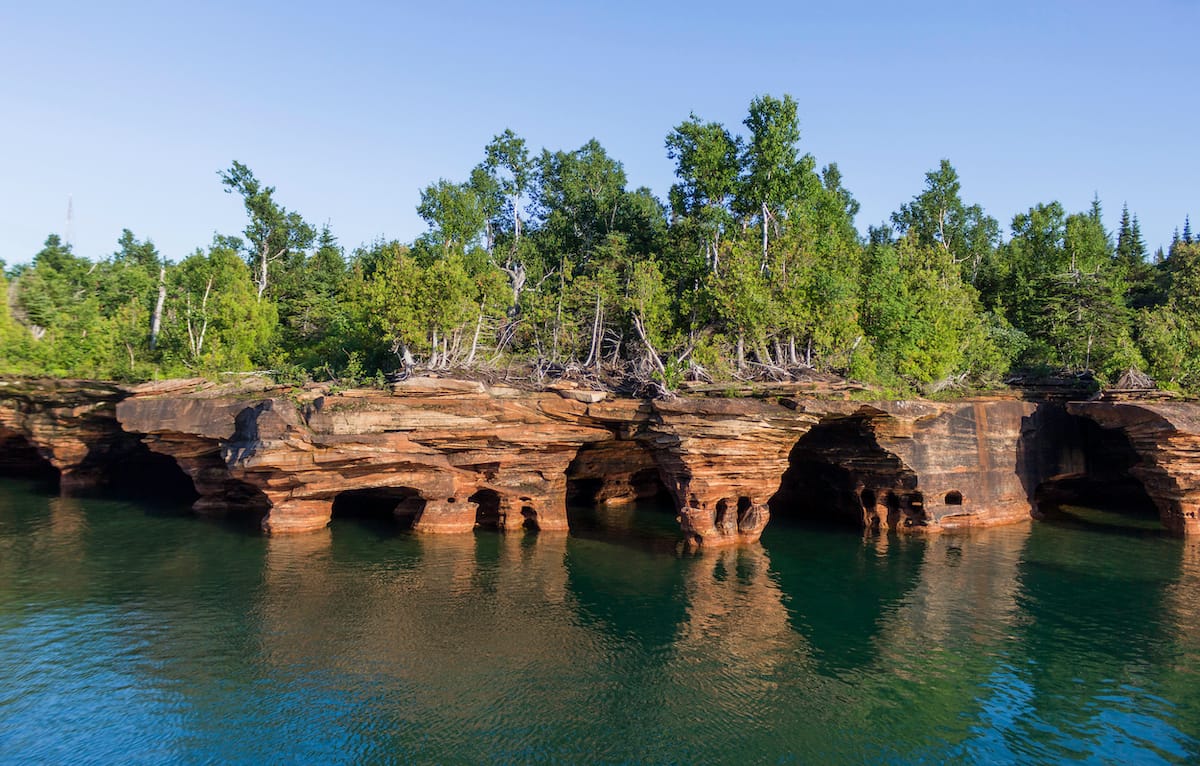 For instance, there is the 55-mile Grand Tour, which travels through the lighthouses on Raspberry and Devils islands, as well as the famous sea caverns.
Another type of recreational activity here could be the hike of the Lakeshore Trail, which begins at Meyers Beach and explores the cliffs above the caves.
Did we miss any amazing places to visit in Wisconsin?
Let us know your top Wisconsin bucket list destinations in the comments!
More Wisconsin Travel Guides
Pin this Wisconsin Bucket List