Joshua Tree National Park is a perfectly located park for those wanting to take a day trip there or stay for a short weekend. You can easily see a lot in one day in Joshua Tree or you can stay there for a week and still keep occupied.
It truly is one of my favorite US national parks to visit in winter and nearly 3 million people find their way there annually. This is a Joshua Tree itinerary for those who only have one day in the National Park.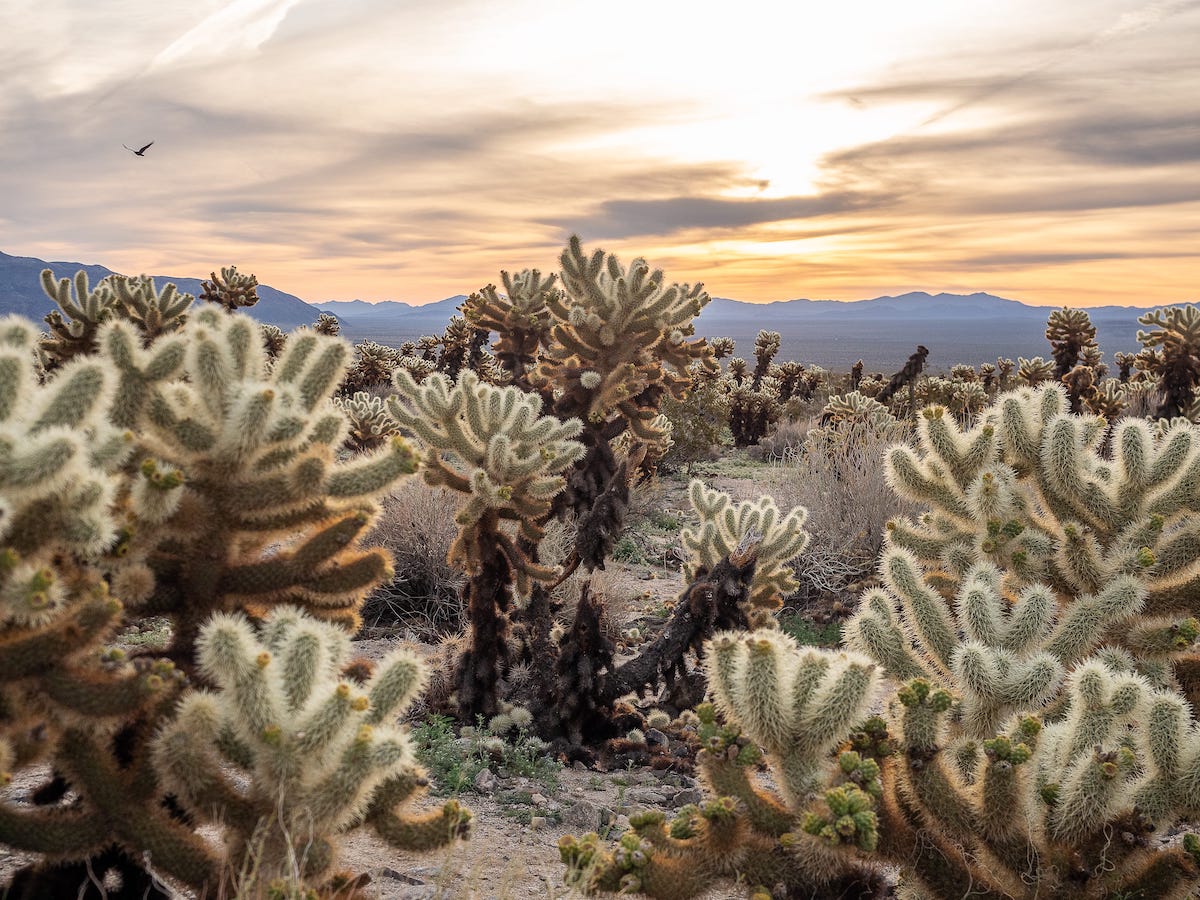 While we recommend staying at Joshua Tree for either the night before or after your day in Joshua Tree to maximize your time there and do some stargazing, it is not imperative if you're visiting as a day trip from LA or somewhere else.
If you have any tips for Joshua Tree in one day, please leave them in the comments to help others plan their day trip to Joshua Tree! Thanks.
1 Day in Joshua Tree National Park – Overview
This post will contain a mixture of things to know before visiting Joshua Tree as well as what to do when there, visitor's center information, the best hikes in Joshua Tree, and more.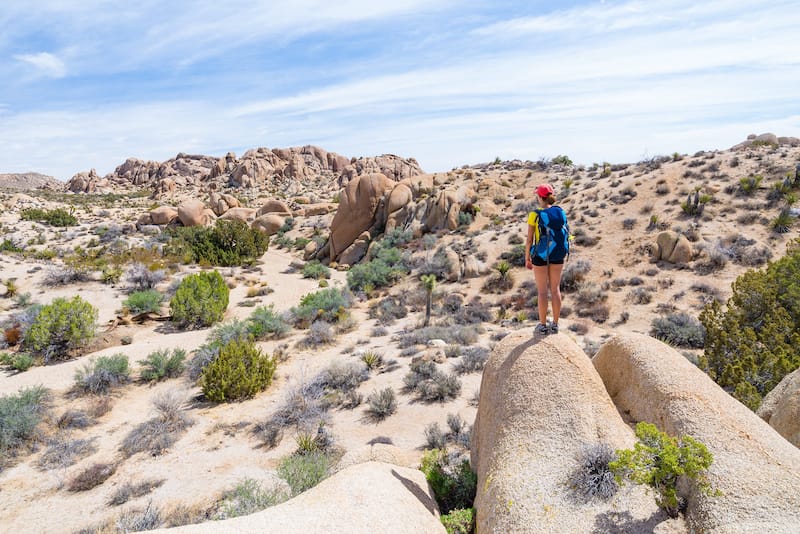 At the end of the post, it will give our suggested itinerary for Joshua Tree, complete with a map of all the places we mention throughout.
We are not listing any difficult hikes on here or anything that would take up a large portion of the day.
We are listing mostly short hikes or walks, in addition to places in Joshua Tree and Twentynine Palms that are unique or a great Joshua Tree National Park attraction worth visiting.
Best Time to Visit Joshua Tree National Park
I think that the best time to visit Joshua Tree is from October until April. The fall and spring seasons are comfortable and highs are around 85F with lows in the 50s. The winters can get rather cold with highs merely in the 60s (which is comfortable to me!)
If you want to see the desert wildflowers, opt for a visit in spring. There is very little shade in Joshua Tree and visiting the park in summer can be a bit dangerous if you're not used to excessive temperatures and heat.
How Many Days Do You Need in Joshua Tree?
This is a 1 day Joshua Tree itinerary so it will only list a bunch of activities and sights to keep you occupied for a single day there. However, if you can arrange more time for your trip to Joshua Tree – DO IT! It is a stop on many California road trips, so you know it is epic and worthwhile!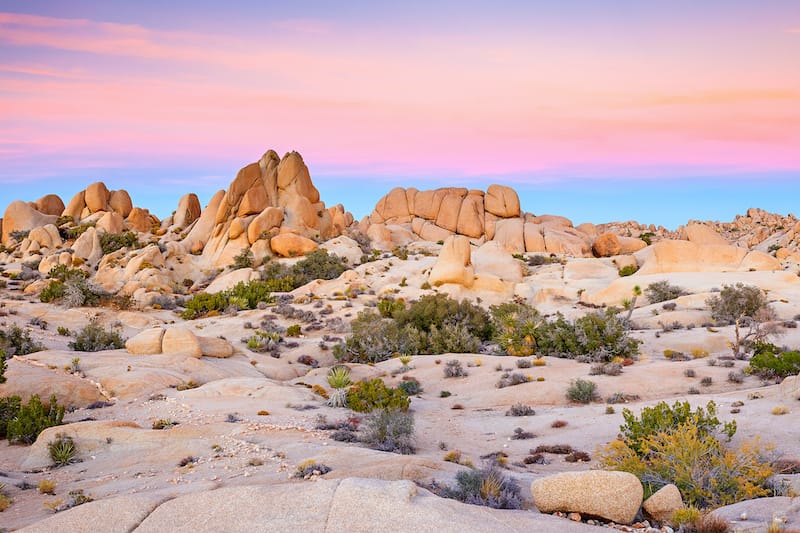 Ideally, I think 2 to 3 days in Joshua Tree is ideal if you're active and love hiking. You need to get early starts on the hikes in order to beat the heat and sun, so spreading your days out really helps.
Joshua Tree 1 Day Itinerary – Map
I have created the following list of things to do in Joshua Tree for those with only one day. I curated it to be a mixture of easy hikes (and Instagrammable ones) and unique roadside or town attractions.
Joshua Tree Itinerary
1. Hike the Arches Rock Trail
One of the most popular and recognizable sights in Joshua Tree is the Arch Rock and you can easily walk on a 1.2-mile trail to reach it and witness it yourself.
The out and back trail is located near Twentynine Palms and is brimming with wildflowers if you visit Joshua Tree during the spring months.
You can climb the rocks there but this is a very heavily trafficked trail! People are also allowed to camp around this area of Joshua Tree.
It is a fantastic place for stargazing and it is not uncommon to see hikers head out that way during the night to catch a glimpse of the Milky Way with Arch Rock.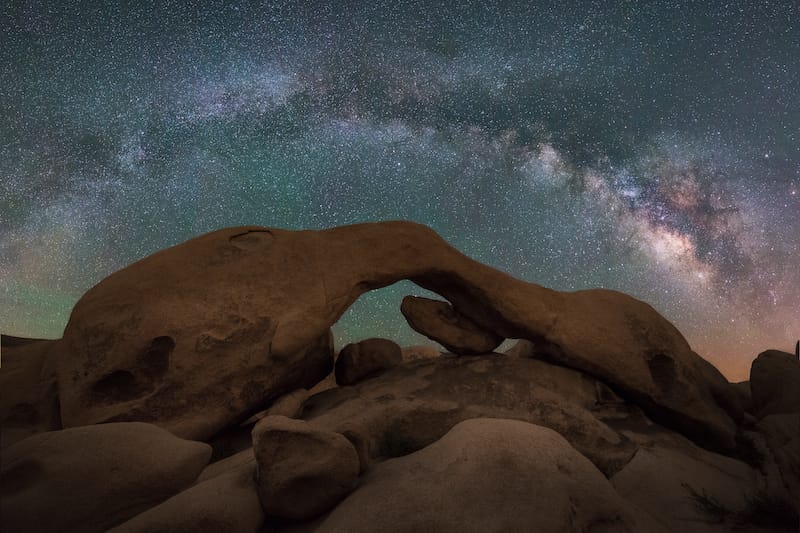 2. See a Movie at Smith's Ranch Drive-In Theater
If you're visiting California with kids and you happen to be in the park in the evening on days when they are open, you should definitely consider visiting Smith's Ranch Drive-in Theater!
Smith's Ranch is located at 4584 Adobe Road and it is open Thursdays through Sundays starting at 8:00pm (showtime is at 8:30 pm).
This cash-only theater is only $10 per person and plays new movies every Friday!
3. Visit Noah Purifoy's Desert Art Museum
One of the best sights in Joshua Tree National Park is Noah Purifoy's Desert Art Museum. It is displayed across 10 acres of land and all pieces were created on-site between 1989 and 2004.
In order to access the museum, visitors will need to drive down a dirt road. There are brochures available at the entrance that detail the sculptures and when they were built.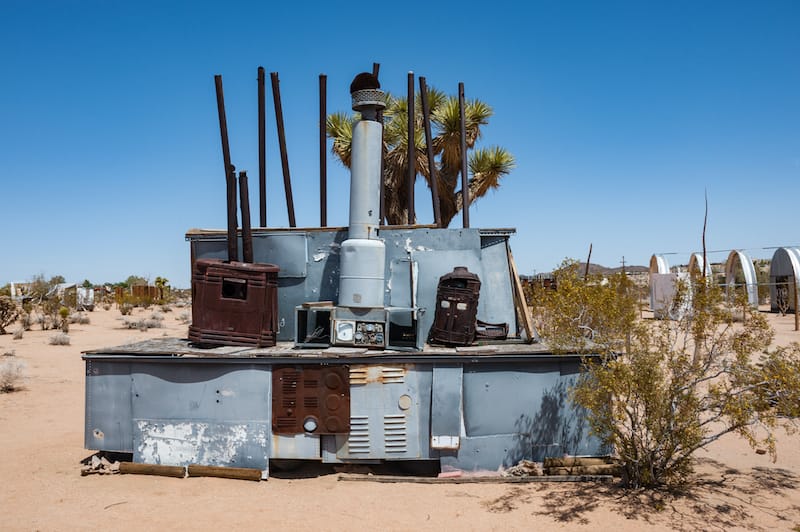 Purifoy was inspired by the barren Mojave landscapes when creating the pieces and he calls them 'environmental sculptures' as he believes they should be displayed amongst natural landscapes.
This Desert Art Museum is a must-visit on your Joshua Tree day trip!
4. Check Out the World Famous Crochet Museum
The World Famous Crochet Museum used to be a photo stand in the California desert but has since been converted into a shrine to all things crochet.
The museum was started by Shari Elf, a collector of crochet items since the early 1990s. She eventually moved the museum out to Joshua Tree and painted it lime green.
In the museum, you will find everything from crochet bears to abstract signs and more. It truly is a quirky place to visit in Joshua Tree and one that should be on your park itinerary!
The museum is free and located near a vacant lot near the Joshua Tree Saloon. Parking is also free.
5. Take a Stroll on the Cholla Cactus Garden Trail
A fantastic Joshua Tree trail is the short, but very sweet Cholla Cactus Garden Trail. At only 0.2-miles in length, it is an easy walk for pretty much anyone and as the name suggests, it is brimming with Cholla cacti along the trail.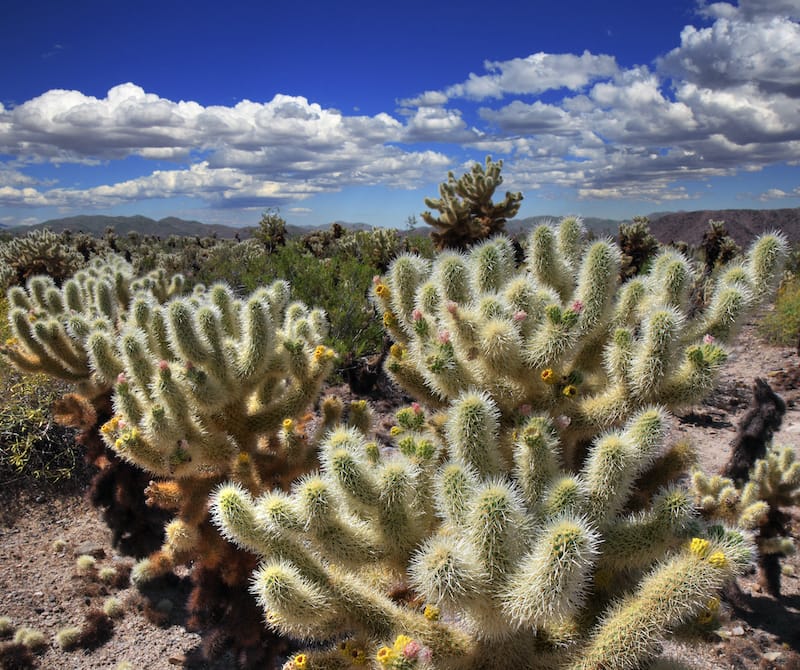 There is very little shading along the trail, so be sure to bring some water and try to walk it earlier in the morning or late in the evening.
6. Grab Breakfast at Crossroads Cafe
There are quite a few good places to eat near Joshua Tree and one of the best breakfast spots (and places to eat, in general) is the Crossroads Cafe in Twentynine Palms.
From the outside, it resembles an old Western saloon. And on the inside, you will see plenty of tables and a rustic vibe.
The joint gets crowded on the weekends but is worth the wait!
The menu is diverse and is renowned for its breakfast. There is everything from banana bread to polenta and eggs and more. They are also known for having some delicious mac and cheese!
Opening hours:
Mon to Thu: 8:30 am – 9:30 pm
Friday: 8:30 am – 5:30 pm
Sunday: 12:00 pm – 9:30 pm
Address: 61715 Twentynine Palms Highway, Joshua Tree, CA 92252
7. Go Back in Time at Keys Ranch
A favorite attraction in Joshua Tree National Park is Keys Ranch, an early settlement in the area. The ranch was founded by Bill Keys and it showcases just how ingenious and resourceful the early settlers to the area actually were given very little on the land.
Today, you can see the abandoned settlement and how life was back in the day. There is an arrastra and stamp mill mining equipment, as well as a barn, schoolhouse, sheds, cemetery, and homes.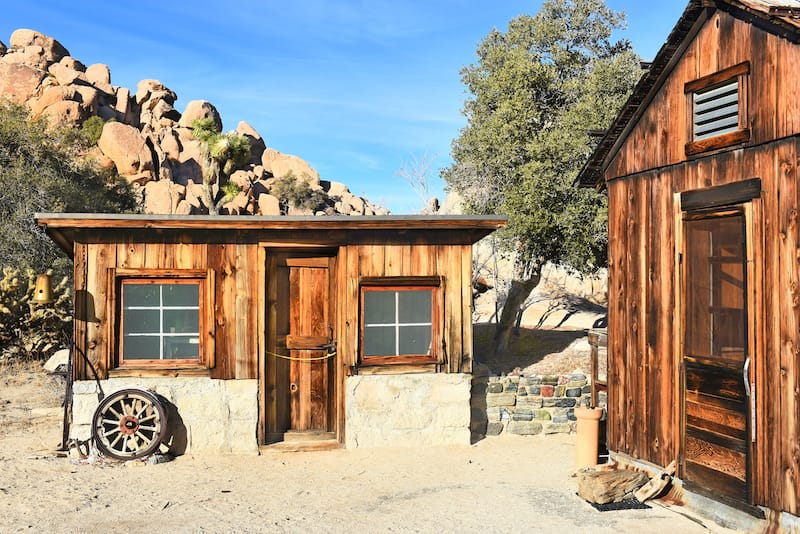 If you really want to learn more about Keys Ranch during your day in Joshua Tree, the NPS offers guided walking tours from October until May. Click here to learn more.
Address: Twentynine Palms, CA 92277, United States
8. Go Stargazing in Joshua Tree National Park
Finally, one of the most epic things you can do in Joshua Tree National Park is to go stargazing! It truly is a magical spot to see the Milky Way and it all photographs so well amongst the rocks.
A fantastic place to stop is the Sky's the Limit Observatory in Twentynine Palms near Joshua Tree. The observatory is usually unmanned and you can scan a QR code in order to get an explanation of what you're seeing.
It is located at 9697 Utah Trail in Twentynine Palms.
Otherwise, you can head to Joshua Tree during the night at gaze on your own! If you can manage this independently, it is one of the best ways to experience Joshua Tree in all of its glory.
It really comes to life at night and is worth sticking around for in order to see the park underneath a sparkling, starry sky.
9. Visit Pioneertown
If you're traveling to Joshua Tree with kids, a can't-miss site is Pioneertown, an unincorporated community in the High Desert. This small town in California was actually created to resemble an old Western town in 1946, so it does not really date back to the 1880s aesthetic it gives off.
But, it is a great place for family travelers if the children are not avid hikers and need a break from their Joshua Tree trip.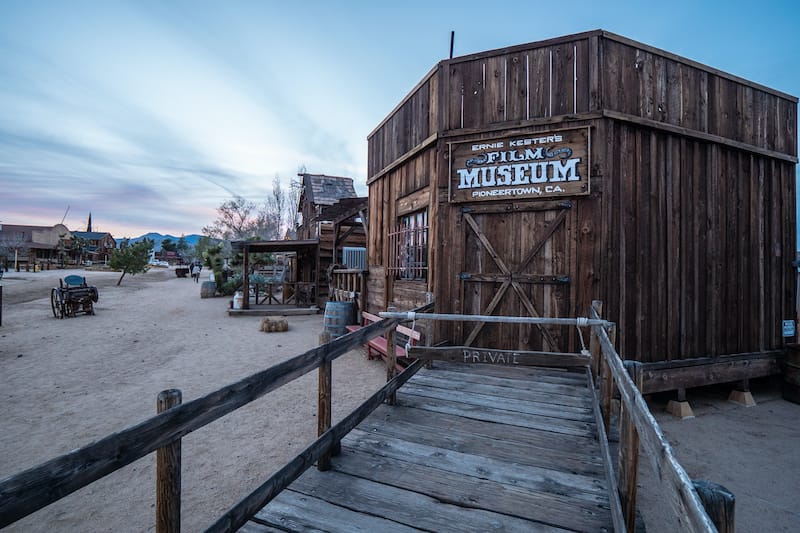 Pioneertown has been used as a backdrop for several movies over the decades and was most recently used as the setting for Lil Nas X's hit, 'Old Town Road'.
One Day in Joshua Tree – Suggested Itinerary
To be honest, this itinerary will change depending on your group and who you're traveling with. And, as mentioned before, we do recommend planning your Joshua Tree day trip as an overnighter on one side so that you have a chance to stargaze.
If you are keen to hit up most of what is on this list- here are our recommendations for 1 day in Joshua Tree itinerary:
Have a huge breakfast at Crossroads Cafe as soon as you arrive.
Right beside the cafe, you will see the World Famous Crochet Museum with lime-green paint.
Drive just a tad north to visit Noah Purifoy's Outdoor Desert Art Museum (spend about 1 hour there).
Head back down south to Keys Ranch and explore for a couple of hours
Go back to Twentynine Palms for a lunch to get you through the rest of the day. Head to La Copine if it is open!
Optional: if you're traveling with children, you might want to venture to Pioneertown to check things out. Otherwise, there are plenty of trails in Joshua Tree to check out, weather permitting (2-3 hours)
Once the day cools off a bit, grab a quick dinner and go to the Cholla Cactus Garden Trail for some photography and more (1 hour)
Optional: if you're with children, you can visit Smith's Ranch Drive-in for a movie if it is the right night of the week.
Wind down the evening by stargazing! Visit Sky's the Limit Observatory before making your way to Arch Rock Trail to wander beneath the stars.
While this itinerary for Joshua Tree is not really too action-packed, it is meant to leave a lot of room for checking out thrift stores, other trails, rock climbing, and more! There are some quirky, yet cool places all over Joshua Tree and waiting for you to visit.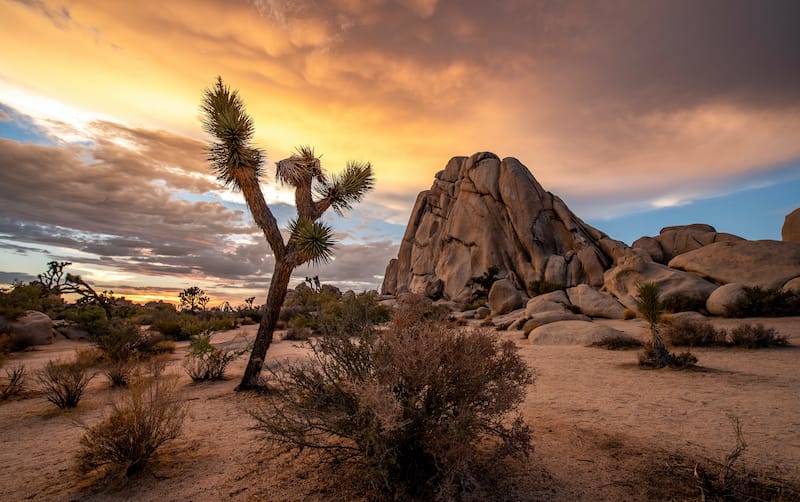 What to Know Before Visiting Joshua Tree NP
There are many things to know before visiting Joshua Tree and here are some of our top tips, including National Park information, parking, Visitor's Centers, and more.
Joshua Tree Visitor Centers
There are four main visitor centers at Joshua Tree National Park. You can find them in the following locations:
Oasis Visitor Center (8:30am to 5pm): 74485 National Park Drive, Twentynine Palms, CA 92277
Joshua Tree Visitor Center (7:30am to 5pm): 6554 Park Boulevard, Joshua Tree, CA 92256
Cottonwood Visitor Center (8:30am to 4pm): Pinto Basin Rd, Twentynine Palms, CA 92277
Black Rock Nature Center (October through May from 8am – 11 am & 12 pm – 4pm): 9800 Black Rock Canyon Road, Yucca Valley, CA 92284
Joshua Tree Entrances
There are three entrances that you can choose from when spending the day there. The west entrance is the main way to access the park. It is the closest to town and you can see the rocks and trees as soon as you enter it.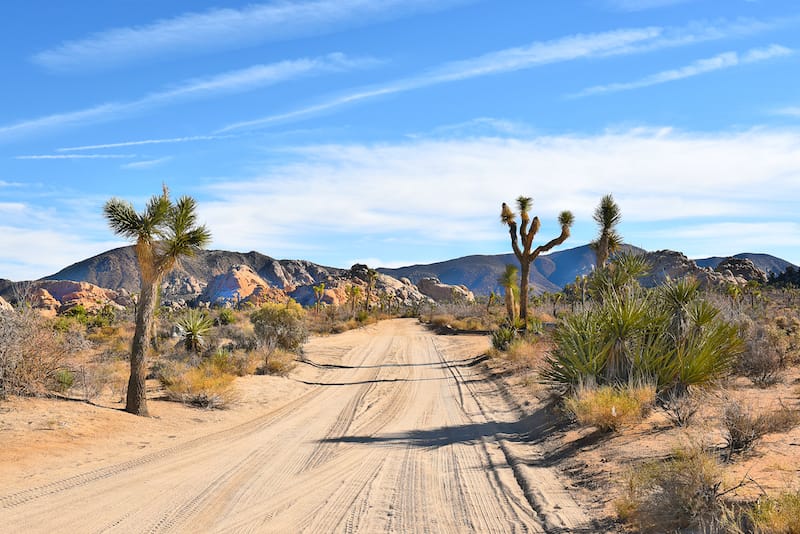 Joshua Tree National Park Entrance Fee
To enter Joshua Tree National Park, it is $30 per car. This will give you 7 days in Joshua Tree. Alternatively, you can purchase an annual pass for Joshua Tree for $55.
However, I highly recommend purchasing an America the Beautiful Pass for $79.99. This pass gives you access to over 2,000 US national parks and monuments all for a one-time fee! It is so worth the money!
>> Click here to purchase your National Parks Pass for $79.99!
What to Bring and Wear
Hiking boots: I swear by my Keen Targhee hiking boots and they are an excellent choice for traipsing the wild trails at Joshua Tree National Park. They are also good for walking to all the sights on this one day in Joshua Tree itinerary. Click here to see the Keen hiking boots I use.
Reusable water jug: Water is so essential if you're spending a day in Joshua Tree and you definitely need to remain hydrated. I always tote along a Klean Kanteen water jug with me for the journey.
Sunscreen: Lather on up as there is very little shelter from the sun in Joshua Tree! The California desert sun is ruthless and you definitely need to put sunscreen on before your day trip!
Light-colored clothing with long pants: Make sure you wear something that is light-colored and preferably, long, that covers your body from head to toe. Even though it is hot, you need to protect yourself from the sun and insects in the California desert.
Park map: I recommend downloading an offline map from Alltrails before taking to the hikes mentioned above. While most are short, if you end up straying off the path a bit, you will be thankful you have something downloaded offline!
Where to Stay Near Joshua Tree
If you're planning to stay overnight and make this more than just one day in Joshua Tree, below are some recommendations for your stay.
If you're camping and are not a member of Hipcamp, also be sure to use our code here to receive $10 off your first booking!
We have broken this down into a few hotels and camping options:
Hotels:
Camping and Glamping:
We hope that this one day in Joshua Tree itinerary has helped you plan your trip and given you an idea of all the fantastic things to do in the famous California park!
It really is the perfect trip from Palm Springs and other places in California!
Be sure to check out our California to Arizona road trip guide if this is merely the first stop on something bigger!
ABOUT THIS LAND
Joshua Tree National Park is on the unceded land of the Serrano, the Cahuilla, the Mojave, and the Chemehuevi peoples. We ask you to join us in acknowledging their communities, their elders both past and present, as well as future generations.
We also acknowledge that Joshua Tree National Park was founded upon exclusions and erasures of many Indigenous peoples, including those on whose land these US National Parks are located.
⇒ Do your research before visiting National Parks and places in the US. Native Land and Whose Land are good starting points.
⇒ Hire Native guides when possible and encourage National Parks and government organizations to start hiring them.
⇒ Donations matter. Part of the proceeds from this blog is donated monthly to the Native Women's Wilderness.
More Southern California Travel Guides