Is Stanley on your Idaho bucket list? This is a guide to the best things to do in Stanley, Idaho – from hot springs to the mountains and beyond!
Are you planning your trip to Stanley last minute?
If you're traveling to Stanley last minute, you want to ensure you have lodging ahead of time! Below are some of our top picks in town!
🛌 Top Stanley Lodging Options (& Nearby!):
🚗 Looking for the best way to get around Idaho? Click here to check rental car rates for Idaho!
Stanley is pretty much the gateway to the awesomeness that is Idaho. The small town of about 70 people sits in Custer County and is a great place to visit if you're looking to see some of the region's best attractions.
The Sawtooth Mountains are one of the best places to visit in Stanley (and nearby). But, for such a small town, there are many things to do in Stanley that really give light to the history of the frontier town.
This guide touches upon what to do in Stanley if you find yourself in the area or even visiting as a day trip from Boise. It will discuss natural sights in Stanley and the local area, as well as places to eat at and museums to visit in the town.
There are also some wonderful hikes in Stanley listed. If you have any recommendations of things to do in Stanley, Idaho… please leave us a comment! Thanks!
Stanley Things to Do – Map
To add this map to your Google Maps account, click the 'Star' icon next to the map name. You can then view it on your cell phone or computer by heading to your Google Maps account, click the menu and add it to 'Your Places'.
Best Things to Do in Stanley (+ Hiking!)
Here are the top things to do in Stanley, Idaho – from local hot springs and day trips to the tastiest food in town (and, of course, where to get a hot cup of coffee)!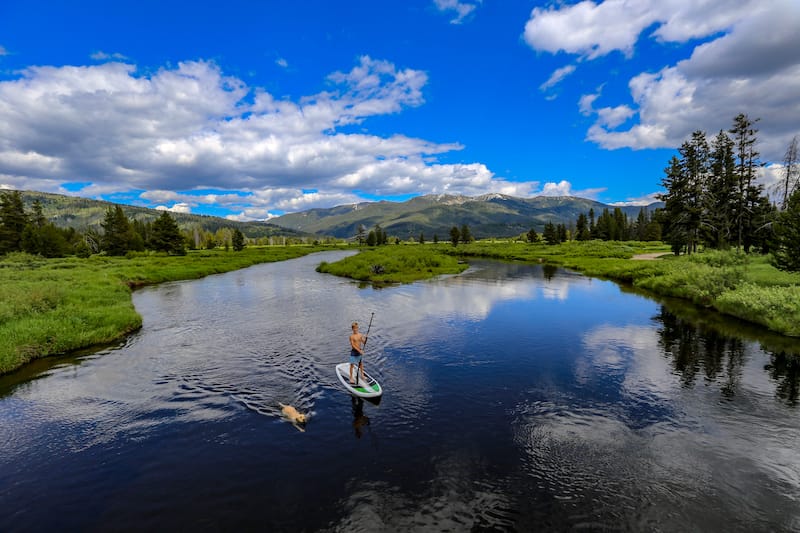 1. Visit the Gerheim Gallery
Address: 250 Niece Avenue, Stanley
Website: https://thadgerheimgallery.com
With a talent to capture some extraordinary snapshots of awe-inspiring landscapes, Thad Gerheim opened the Gerheim Gallery in Stanley.
Founded in Stanley Town Square in 2012, the gallery has managed to gain a lot of interest and reputation from the public and is one of the best things to do in Stanley.
Before establishing the gallery, for more than 20 years, Thad Gerheim and his partner in life shared a mutual passion for landscape photography. He pours his heart into every piece presented in the gallery and is very passionate about what he does, and it is really evident when you're there.
According to Mr. Gerheim, his photography is not about the simple documentation of the travel experience.
He says that "The process of photography is a slow journey of feeling and contemplating the surroundings, of that connection within oneself, and then arranging that feeling through the lens onto a latent image."
The Gerheim Gallery is a perfect place to visit in Stanley to feel how the local landscapes inspired someone in their artwork.
2. Fishhook Creek Trail
Distance: 4.4 miles
Type of Trail: Out and back
Elevation Gain: 275 feet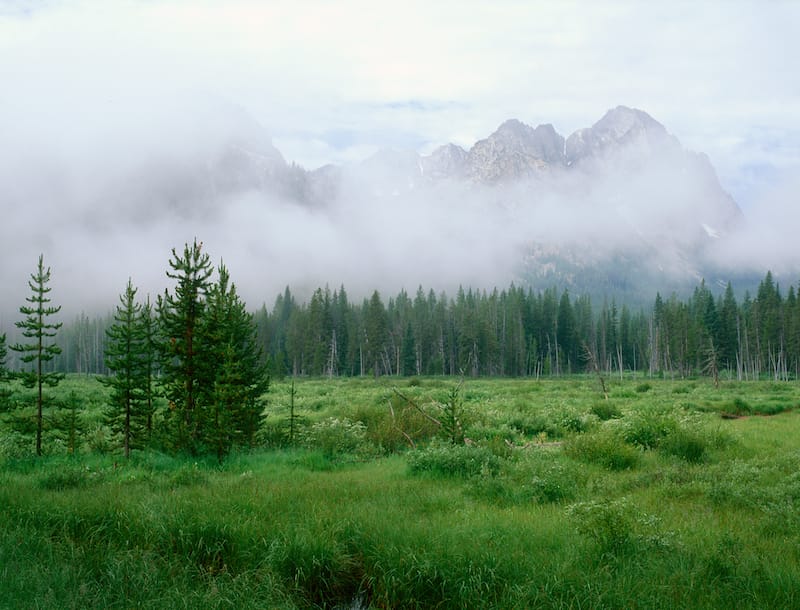 Fishhook Creek Trail is located near Redfish Lake. It takes you through meadows and gifts you with beautiful views of the Sawtooth Mountains. This trail is very much comfortable to visit with friends and family.
Just keep in mind that you might need to take some snacks with you, as you'll most probably have some stops at different spots of the trail.
There are no age restrictions for Fishhook Creek, but some portions of the trail are within the Sawtooth Wilderness, so the visitors should obey Wilderness Area regulations. There are a few campgrounds located closeby, so you can check them out as well!
3. Horseback Riding with Mystic Saddle Ranch
Reservations: 208-774-3591
Facebook: https://www.facebook.com/MysticSaddleRanch
Mystic Saddle Ranch has been offering guided horseback excursions since 1969. It is a family-owned and operated company that was founded thanks to the owner's passion for horses and the outdoors of gorgeous Idaho.
With remarkable horseback experiences that can take from a few hours to multiple days, the ranch offers guided scenic trail rides at Redfish Corral.
Read more: Best things to do in Whitefish, Montana
Guests are free to enjoy all the spectacular views that the Sawtooth Mountains have to offer!
There are a lot of customized trip options for visitors to choose from, making this place one of the best choices for a family getaway.
4. Enjoy Redfish Lake
Redfish Lake is located in central Idaho in the Sawtooth Mountains. The easiest access to the renowned lake is from Highway 75 out of Ketchum.
Situated about 60 miles north of Ketchum, this lake is one of the most picturesque alpine lakes In the US and is an essential thing to do if you're in Stanley or the nearby area.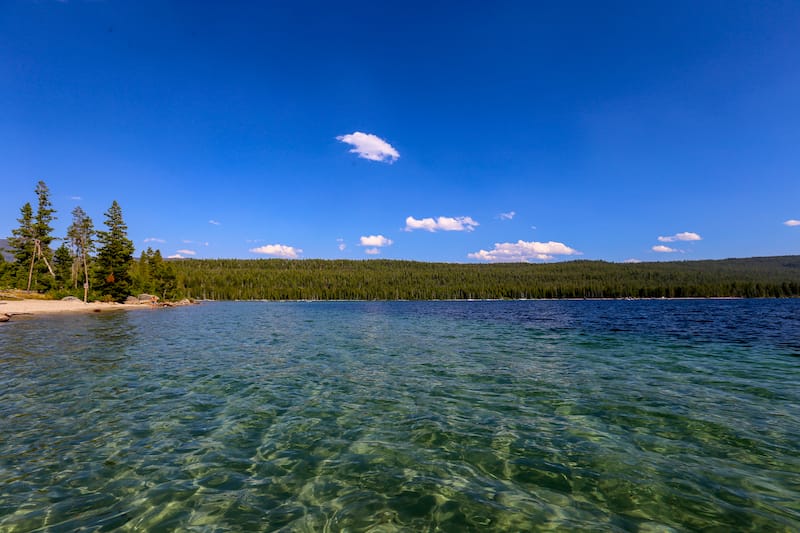 There is a lot to see and enjoy at Redfish Lake. You can get a sunset wine and appetizer cruise or rent a paddleboat and paddle around the beach and marina. All different kinds of boats are available for rent on Redfish Lake.
5. Enjoy Craft Beer and More in Ketchum
Address: 280 North Main Street, Ketchum
Website: https://drinkwarfield.com
In Ketchum, you can enjoy high-quality beer made with organic ingredients like malt, botanicals, and whole-leaf hops right in the heart of Idaho's mountains.
Warfield Distillery & Brewery is set to deliver the best organic beer to the people of Idaho, and beyond. They have a variety of beers from their 'Killing Norman Price' kellerbier to their 'Still Thinking' blonde ale.
Warfield is the only combination of a brewery and distillery in Idaho. In addition to beer, the restaurant is also known for its tasty kitchen, serving the public as a social epicenter of a community.
This place is known to serve exceptional quality beer, food, and spirits like no other and it is definitely worth a stop if you travel down to Ketchum or decide to make Ketchum your base for exploring the region.
6. Camp or Hike at Stanley Lake
Stanley Lake is yet another stunning alpine lake located in Custer County, Idaho in the Sawtooth National Recreation Area.
The lake is located approximately 7 miles west of Stanley, accessible via a 3-mile spur road from State Highway 21. The recreational area includes campgrounds (with nightly fees), a boat launch, and hiking trails.
This is truly one of the best places to visit in the USA – it is so untouched and pristine!
7. Stop by Mountain Village Resort for Food
Address: 3 Eva Falls Avenue, Stanley
Website: https://www.mountainvillage.com
Mountain Village offers breakfast, lunch, and dinner all year round except on Thanksgiving and Christmas and is one of the premier places to grab a bite to eat in the region.
They serve everything from homemade cinnamon rolls to Wild West omelets for breakfast and everything from bacon-pecan salads for to prime rib for dinner.
Read more: Best Wineries in Walla Walla, Washington
Be sure to try their 'Stanley Mule', a signature cocktail made of Idaho nectarine vodka, Memphis BBQ bitters, lime juice, and ginger beer.
They have gluten-free, vegan, and vegetarian options.
8. Visit Boat Box Hot Springs
Boat Box Hot Springs is a natural hot spring near Stanley that is located on the Salmon River. While the name may not sound appealing at first, it truly is a must-visit and one of the top things to do in Stanley!
The name comes from the 'tub' that sits here that you can soak in to enjoy the warm natural phenomena. The water temperature remains around 110F and it only holds a couple of people at a time.
Being merely a short drive from the tiny town of Stanley, Idaho, Boat Box Hot Springs is one of the nicest of several hot springs along the Salmon River.
During the summer months, there are almost always a few cars parked, but surely this is the kind of place that deserves more attention and popularity.
The coordinates for Boat Box Hot Springs are 44.2448647,-114.886138.
9. Check Out the Stanley Historical Museum
Address: State Highway 75
Website: https://discoversawtooth.org/museum-ice-house
Being located near the confluence of Valley Creek and the Salmon River, Stanley Historical Museum displays photographs and artifacts depicting the early times of the Sawtooth Valley, offering a glance into the pioneer life in this not-so-gentle or forgiving of landscapes.
In 1972, the Sawtooth Interpretive & Historical Association gained a special permit from the Forest Service to operate the area as a museum.
The operational hours of the museum are from 11 am to 5 pm, daily. Currently, the Stanley Museum welcomes artifact donations that involve elements of the early settlements, commerce, and lifestyles.
10. Go to Sunbeam Hot Springs
Sunbeam Hot Springs are among the list of the most famous thermal springs along the Salmon River. Bathers make a stop around the spring during trips to the Salmon River and the Sawtooth Mountains.
Since the nearby towns are small, usually there are not a lot of people in the pool area and it never feels too crowded. The place is just excellent to visit after a long hike or raft trip!
Remember to take your swimsuit with you in case you plan a visit to these hot springs, as the waters are crystal clear and extra-warm.
11. Alice Lake Trail
Distance: 11.2 miles
Type of Trail: Out and back
Elevation Gain: 1600 feet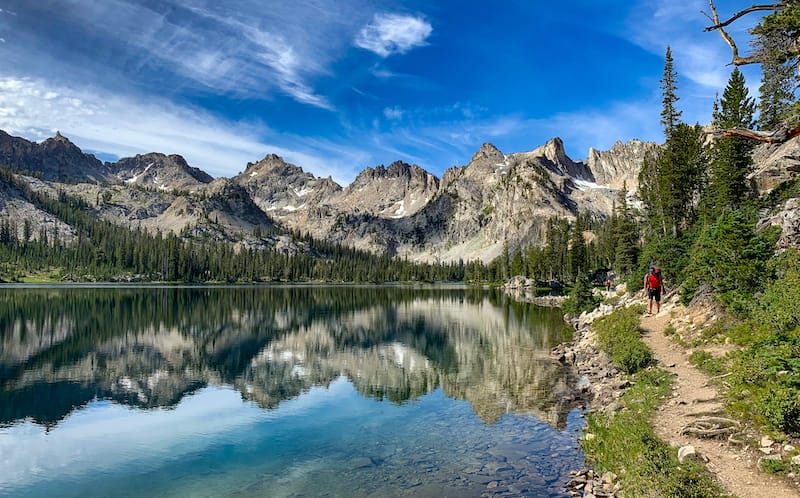 Sawtooth National Forest's Alice Lake Trail is situated in an awe-inspiring location widely known as "Dragon's Back." Along the famous Tin Cup Hiler's Loop, this trail can either be your first or the last stop, depending on which direction you're heading from.
Mainly because of snow, hiking in this location can be a bit difficult in the months of spring and early June. However, if you're planning a visit to this spot, the best season would be July, August, and September.
The start of the trailhead is at Petite Lake Campgrounds, and there are no fees to enter. This place is a great option both for a destination and a stop for a backpacking trip of 2-3 days. Dogs are also allowed in here but on leash only.
12. Breakfast at Stanley Baking Co. and Cafe
Address: 250 Wall Street, Stanley
Website: https://stanleybakingco.com
One of the best places to start your day is at the renowned Stanley Baking Co. & Cafe. They serve breakfast and lunch but nothing is better than starting your day off here!
One their menu, you will find everything from a classic breakfast consisting of eggs, meat (bacon, sausage, veggie sausage, etc), hash browns, toast and more to Migas (tortilla chips, hash browns, and more baked in a New Mexico enchilada sauce topped with tomatillos.
They have gluten-free, vegan, and vegetarian options making this rustic spot a fantastic choice for all of those passing through Stanley.
13. Sawtooth Lake via Iron Creek Trailhead
Distance: 10 miles
Type of Trail: Out and back
Elevation Gain: 1800 feet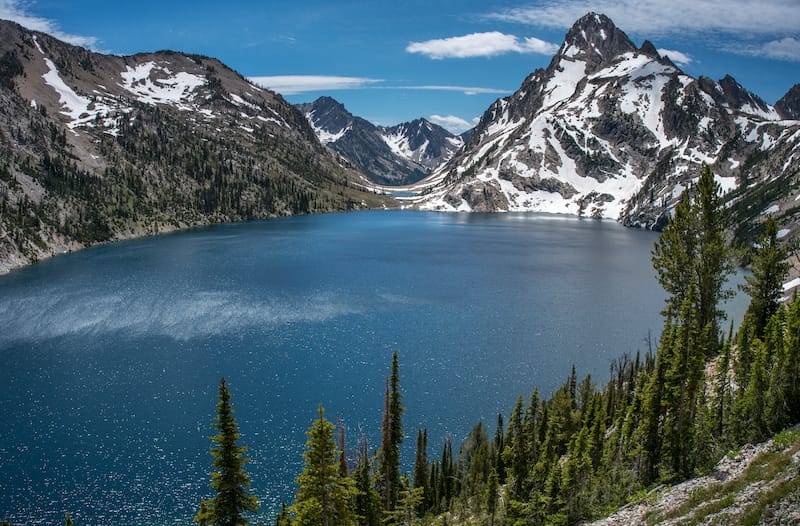 Sawtooth Lake is considered to be one of the best locations for a good summer hike. Hikers and basically everyone who enjoys outdoor activities will most probably take a lot of pleasure from the visit.
The overall hike is 10 miles in total, has moderate difficulty, and jaw-dropping views of mountains.
The elevation rises to 1,800 feet, so photos taken there are coming out just spectacular! After the hike, you reach the largest alpine lake in the Sawtooth Mountains. You can do the hike in a day or choose to do some camping and enjoy a mesmerizing night full of stars by the lake.
The trails are pet-friendly, so don't hesitate to take your buddies with you. Also, there are no permits and fees required to enter the spot.
14. Elephant's Perch (Saddleback Lakes Trail)
Distance: 6.8 miles
Type of Trail: Out and back
Elevation Gain: 6580 feet
The trail begins at Redfish Lake Creek Canyon Trailhead. Elephant's Perch, formerly called Saddleback Peak, is located above the trees in the Sawtooth Wilderness.
The place altogether is full of amazing views, so taking a camera with you will definitely be the right choice. The best appropriate season to visit the trail is from July to September.
Read more: Best day trips from Boise
Know that self-administered wilderness permits are required and available at the trailhead. Also, as the route to Saddleback is not an official Forest Service trail, there are no maps available.
Dogs are allowed, but with a restriction of having them on a leash between July 1 and Labor Day. This is one of the best trails near Stanley but please note that it is steep.
15. Redfish Lake to Alpine Lake
Distance: 18.6 miles
Type of Trail: Out and back
Elevation Gain: 2011 feet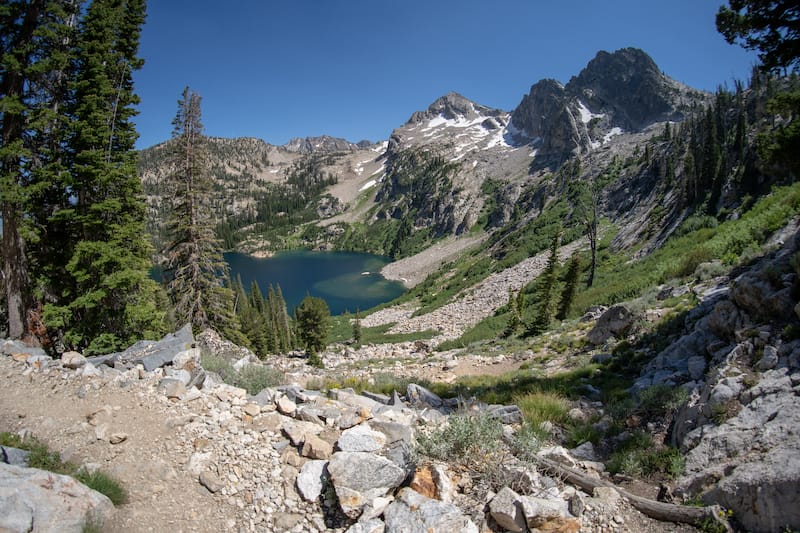 Redfish Lake to Alpine Lake is a moderately trafficked out-and-back trail located near Stanley, Idaho. The location is full of beautiful wildflowers, but the route overall is rated as difficult.
Activity options like backpacking, hiking, bird watching, and camping are all available here.
Note that a ferry is required to reach this trailhead for $14. Google directions will guide you to Redfish Lake Lodge, and from that point, you can take the ferry.
The best season to get here is from May until September. Also, again dogs are allowed, but only if they're kept on leash.
Lodging in Stanley
There are a lot of options for places to stay in Stanley. Here are some of our top picks for Stanley hotels that we think you should consider booking for your upcoming trip!
If you're looking for other hotels in Stanley, you can see the top-rated ones here.
We hope that this guide of fantastic things to do in Stanley helps you plan your Idaho trip and it exceeds your expectations!
If you have any tips about worthwhile attractions in Stanley, please leave them below!
Best Things to Do in Stanley – Pin for Later!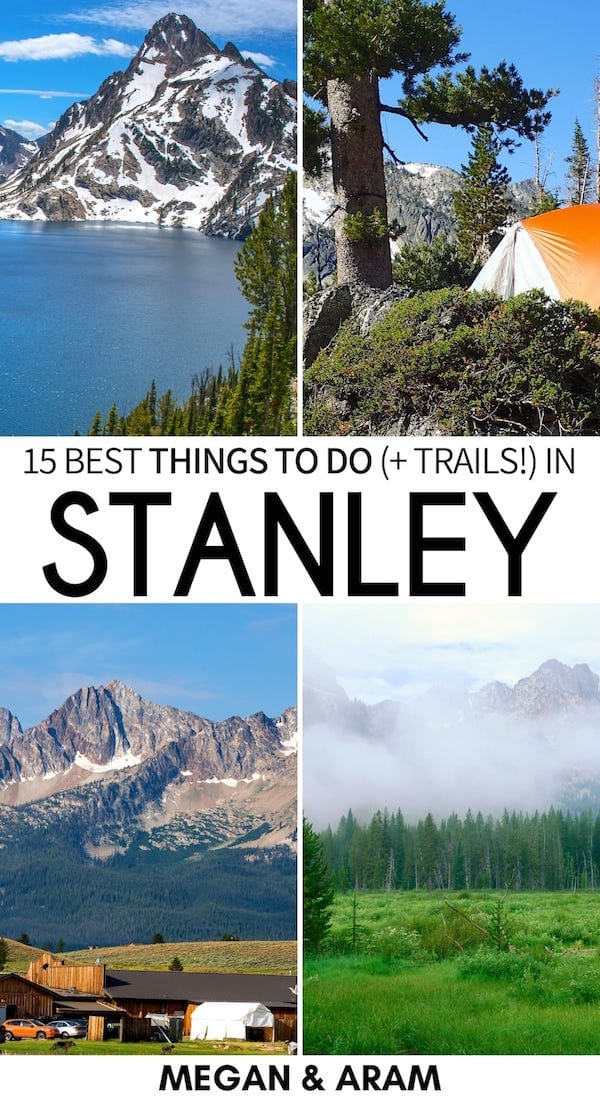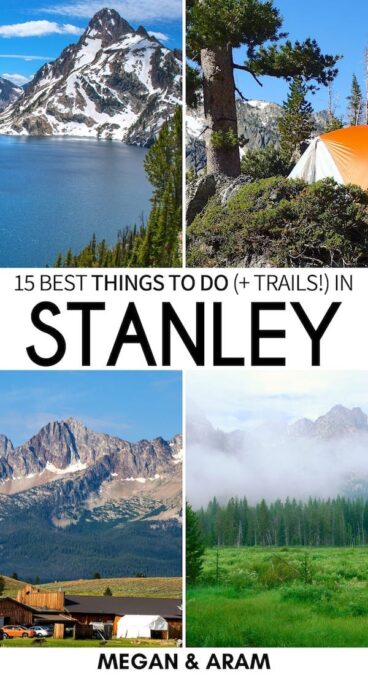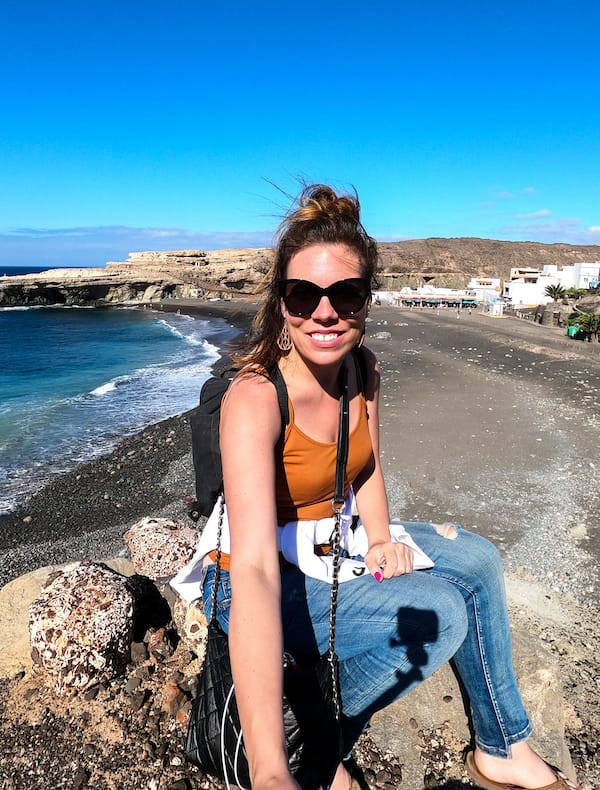 Megan is a travel blogger and writer with a background in digital marketing. Originally from Richmond, VA, she now splits her time between Frankfurt, Germany and Arctic Finland after also living in Norway, Armenia, and Kazakhstan. She has a passion for winter travel, as well as the Nordic countries, but you can also find her eating her way through Italy, perusing perfume stores in Paris, or taking road trips through the USA. Megan has written for or been featured by National Geographic, Forbes, Lonely Planet, the New York Times, and more. She co-authored Fodor's Travel 'Essential Norway' and has visited 45 US states and 100+ countries.