I have been fortunate enough to visit Tromsø more than once and each time I visit, I am amazed at how many people head to Northern Norway's capital without a plan! This Tromso itinerary will give you details on how to spend 2-5 days in Tromso.
Planning your trip to Tromsø last minute?
Below are some of the top tours, hotels, and more! Donʻt forget to plan ahead when visiting Tromsø and nearby!
🇳🇴 Top Activities and Tours in Tromsø:
🛌 Top Hotels in Tromsø:
Radisson Blu (luxury)
Thon Hotel Tromsø (mid-range – I have stayed here!)
Smarthotel Tromsø (budget option – I have stayed here too!)
🚗 Visiting Tromsø independently? Be sure to book your Norway rental car ahead of time to ensure availability!
It will give you a step-by-step itinerary of tours, what to see, and more. Let us know if you have any questions in the comments. Thanks!
Tromso Itinerary for Winter: How to Best Spend 2-5 Days
Located high above the Arctic Circle is the picturesque Norwegian city of Tromsø.
Known as the gateway to the Arctic, the city has historically been the starting point for intrepid explorers trying to reach the North Pole.
Today, the city still acts as the starting point of the modern traveler's exploration of the Arctic, although it often acts as a final destination because of the many things to do in Tromsø, especially in winter.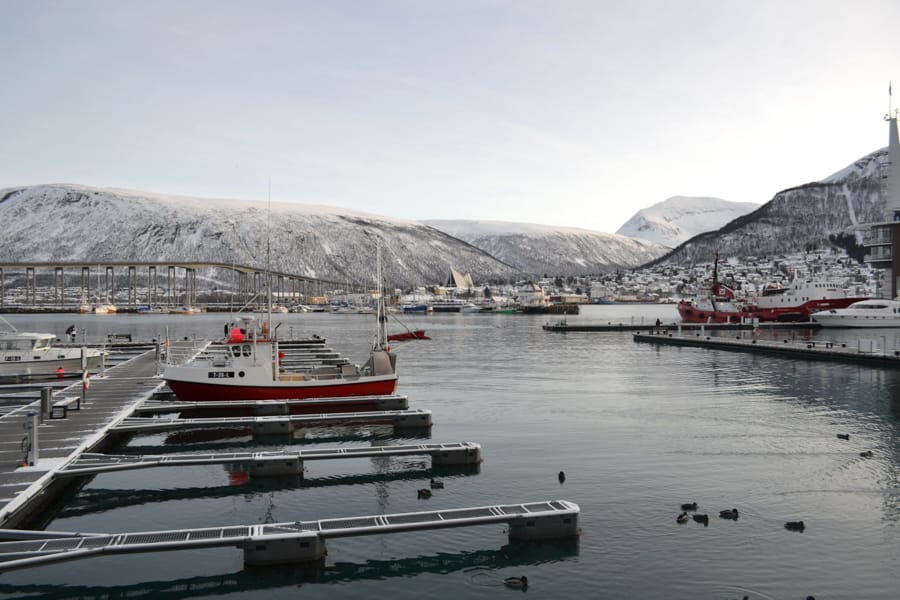 One of the biggest challenges that face those visiting Tromsø during winter is how to fit in all the amazing activities that are available, especially if you only have limited days in the city.
Whether you get there by looking at last minute cruise deals or with a trip you've been planning for years, Tromsø is definitely not a destination where you can just 'wing it'.
There are plenty of organized Tromsø tours available in the surrounding wilderness which makes planning the trip far easier as you can simply book the tours you wish to do in advance and all logistics will be taken care of for you.
The other perfect thing about the tours in the area is that they often last around 4 hours, meaning you can enjoy multiple tours in one day and get the full Arctic experience.
This is perfect for those looking for something active to do during the day and spending the nights hunting for the elusive northern lights. To help you plan your trip I have curated a Tromsø itinerary that makes the most of the activities on offer and will help you maximize your time in this dream destination.
The itinerary makes the assumption that you will have two to five full days to enjoy the wonders of Tromsø and the Arctic.
💥 INSIDER TIP: First of all, I want to address the misconception about the lack of daylight during winter in the Arctic. Many people believe that the whole of the Arctic endures 6 months of darkness, however, this is untrue. During the middle of December, the sun does not technically rise but there is a constant 'sunset' on the horizon that provides enough daylight for some of the day. This small amount of daylight means you can utilize the whole day for exploration and make the most of your visit.
This itinerary for Tromsø is broken down day by day.
Whether you have two days in the city or five, the best way to maximize your time there is to follow this Tromsø itinerary day by day, starting with day one (which will include two highly sought-after tours.
Please leave a comment if you have additional questions or concerns! Thanks!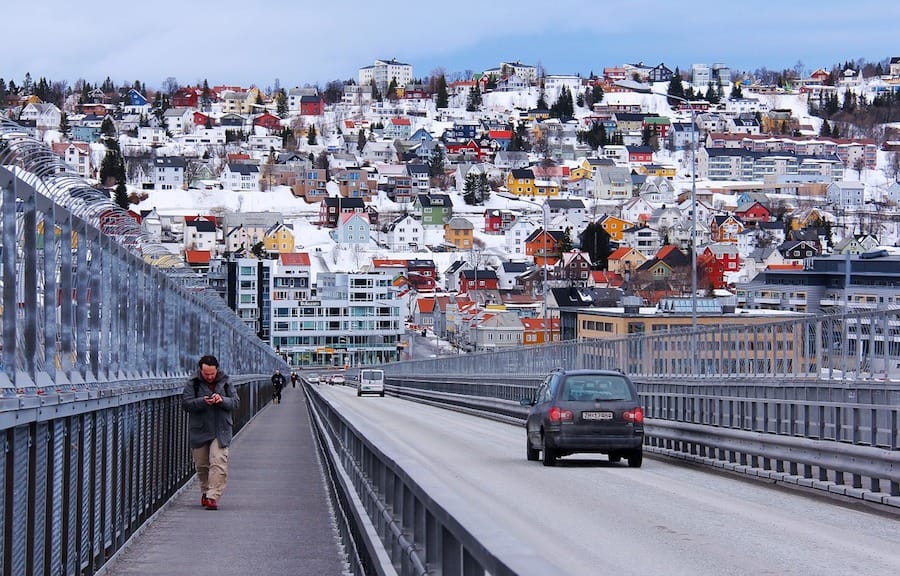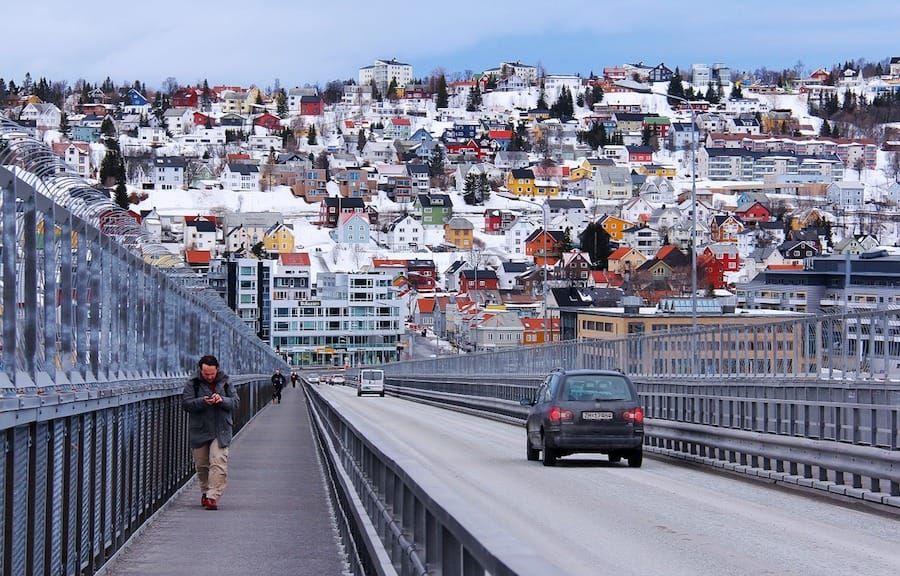 Day 1 in Tromsø
Day 1 summary: The first day of your Arctic exploration will be a long one as you start the day off by learning about the unique form of transportation available in winter as you try your hand at dog sledding.
This is followed by a late-night hunt to see the elusive northern lights.
Dog Sledding in Arctic Norway (Day-time)
Start the first day off with one of the most top-rated activities available in the Arctic – dog sledding.
There are fewer things in this world more thrilling than taking charge of a team of dogs as you charge through the Arctic wilderness.
When you reach the husky center, you will be greeted with the raucous noise of hundreds of huskies excited to get the opportunity to run and pull the sled.
Before having the opportunity to try dog sledding in Tromsø myself, I questioned the ethics behind it, however after taking part and seeing firsthand how excited the dogs were about the chance to work and pull the sled, I realized that in many cases this is an ethical experience.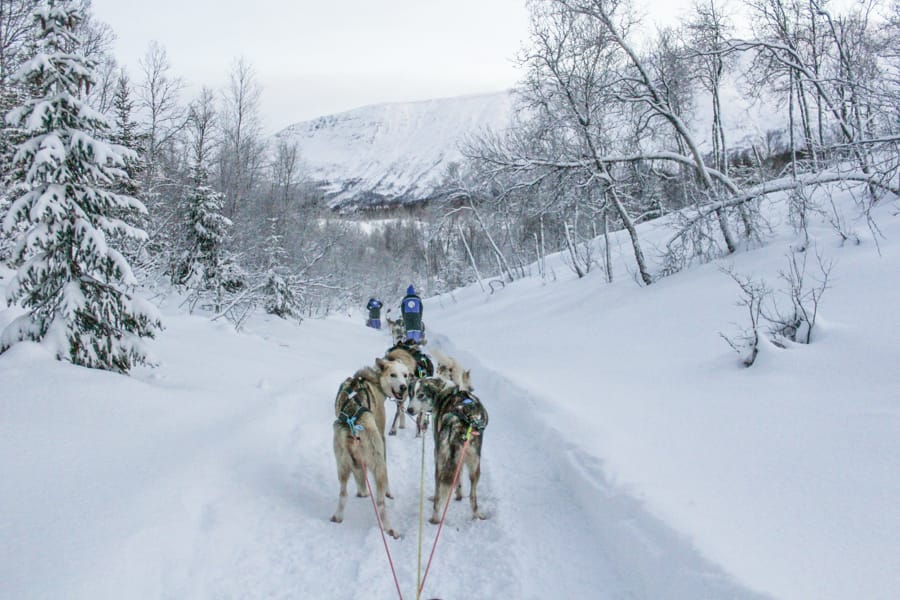 There are two types of dog sledding experiences available in the Tromso area: self-driving or with an experienced musher.
I, personally, recommend taking the self-drive experience if you are in good physical shape as you will get to enjoy the full experience of dog sledding.
Working in a team of two humans and a team of dogs, you will cross the Arctic wilderness and help each other reach the end of the course.
Throughout the short course, you will form a bond with your dogs, quickly knowing to sense when they need help and how each of the dogs will act.
After finishing the course, you will have the chance to sit and reflect on just how amazing the experience was while you warm up with a hot drink by an open fire.
For those wanting a slightly more relaxing experience, you can choose a tour where an experienced musher will take control of the sled and the dogs while you sit back, relax, and take in the scenery as it passes by.
Husky tours tend to last for about 4 hours and include an introduction, a trip around the course, some playtime with the dogs, along with a hot drink and some cake in a Lavvu.
This is a must-add activity to your Tromsø itinerary.

Where to Eat in Tromsø (Day 1)
Between day one's two activities, you will find that there is a decent amount of time to rest up and find a place to eat.
Norway is known for being painfully expensive when it comes to food and drink, however, it is possible to find reasonably priced food in the city, along with some high-end options.
Burgr (budget option): One of my favorite places to eat in Tromso is Burgr, a cool little burger bar that serves up juicy burgers for an affordable price.
The restaurant has a hip vibe with retro game-themed decor and menu. Along with the awesome burgers, they offer a range of decent craft beers.
Verthuset Skarven: This small complex is home to two restaurants and a bar.
Both Tromsø restaurants serve regional dishes, with the choice of a fish or grill restaurant.
The grill restaurant is a great place to try some of the more interesting proteins available in the Arctic, such as reindeer.
The Tromsø eatery serves incredible, fresh fish from the frigid waters surrounding northern Norway.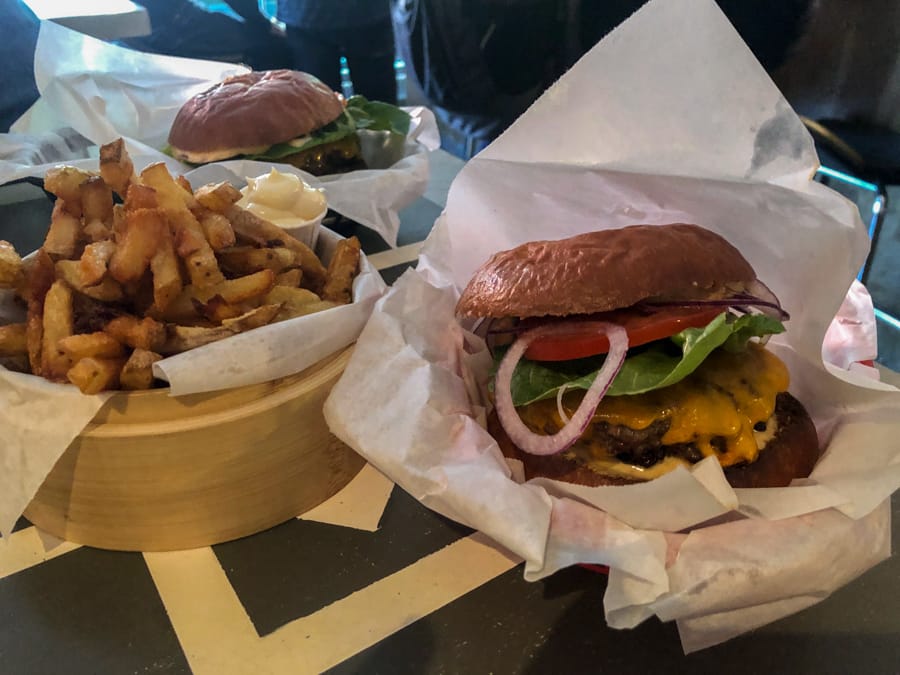 Northern Lights Tour (Night-time)
Spend the night chasing down the most phenomenal natural display in the world. The Tromsø northern lights are one of the biggest draws to the Arctic!
There are plenty of ways to see the northern lights and those who are very lucky may have the chance to see them dance above the city itself, although light pollution means these displays need to be incredibly strong to be visible (I got lucky when there).
The best way to see the lights is to put an organized tour on your Tromsø itinerary.
This will put you together with a company that will have spotters waiting in key locations where skies are often clear and light pollution is low.
Northern lights tours will take you into the depths of the Arctic crossing the borders of Finland and Sweden trying to find the perfect spot to see the awesome lights.
Expert guides will help you spot the aurora, which is not always as clear as videos and pictures make them seem.
The professional guide will also help you take photographs of the lights which isn't as easy as it would seem and camera settings must be adjusted accurately in order to get a perfect picture.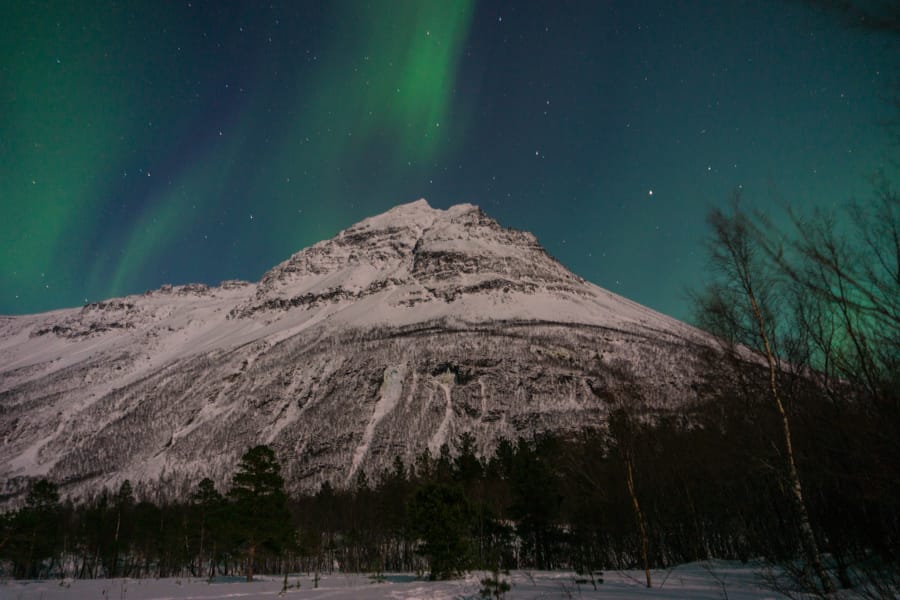 Even though it is not a 100% chance of seeing the lights, the tour will give you a much higher chance.
Tours tend to last late into the night and hunts can last until 1am, so make sure you pack some warm clothes and snacks to keep you awake.
Day 2 in Tromsø
Day 2 summary: The second day of your Arctic exploration will involve seeing the city of Tromsø and having a coffee at a Norwegian cafe before you head out for a Sami experience at a reindeer ranch where you will learn more about the indigenous culture, have a traditional meal, and possibly (if you're lucky!) see the northern lights.
Explore Tromsø (Day-time)
After a long night hunting the northern lights, spend the day exploring everything Tromsø has to offer during a limited amount of daylight.
Despite the city's small stature, there is plenty to do to occupy your time.
Spend time walking around the harbor where little fishing boats bob gently in the water and fishermen return with their latest haul.
Warm up with a visit to the Polar Museum and learn all about the early Arctic settlers who established the first overwinter settlements in Tromso and the expeditions to the North Pole that departed from Tromsø as they ventured north.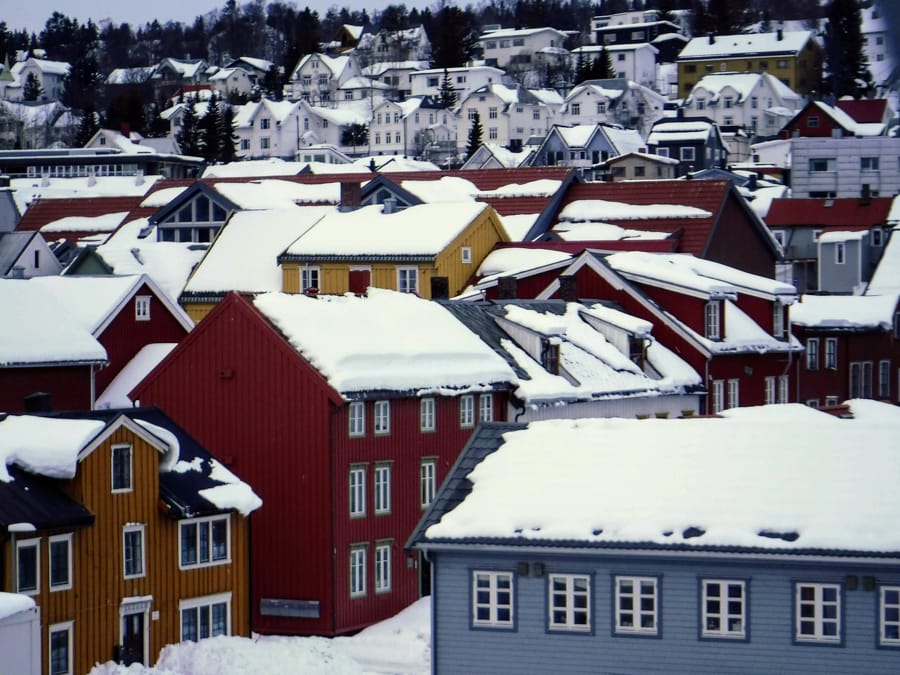 The Arctic city is also home to some stunning modern examples of architecture with the Arctic Cathedral and Tromsø Library being the best examples and well worth taking the time to visit.
To make the most of your time in the city, you can take a tour of the city where an expert guide will show you the best sights and teach you all about the culture of Tromsø.
The private tour can be suited to your needs and the things that interest you, be it food and drink, museums, or culture.
The local guide will be able to curate the perfect tour for your desires.
Tours can last between two and six hours, depending on how much you want to see. They can also go outside of the city but this will incur additional costs for transportation.
Where To Eat in Tromsø (Day 2)
If you book the Sami experience, it includes a full meal so you will not need to head into the city for food as you will be fed on the tour.
However, I do recommend that you check out Norwegian cafe culture and enjoy a soul-warming, hot beverage to escape the cold.
I recommend checking out Smorkringla Cafe, which is a cozy cafe serving a range of drinks and delectable cakes.
If you are looking for something a little more lively, head to the Tromsø Magic Ice Bar and enjoy a drink inside the ice bar, where everything, including glassware, is made from ice.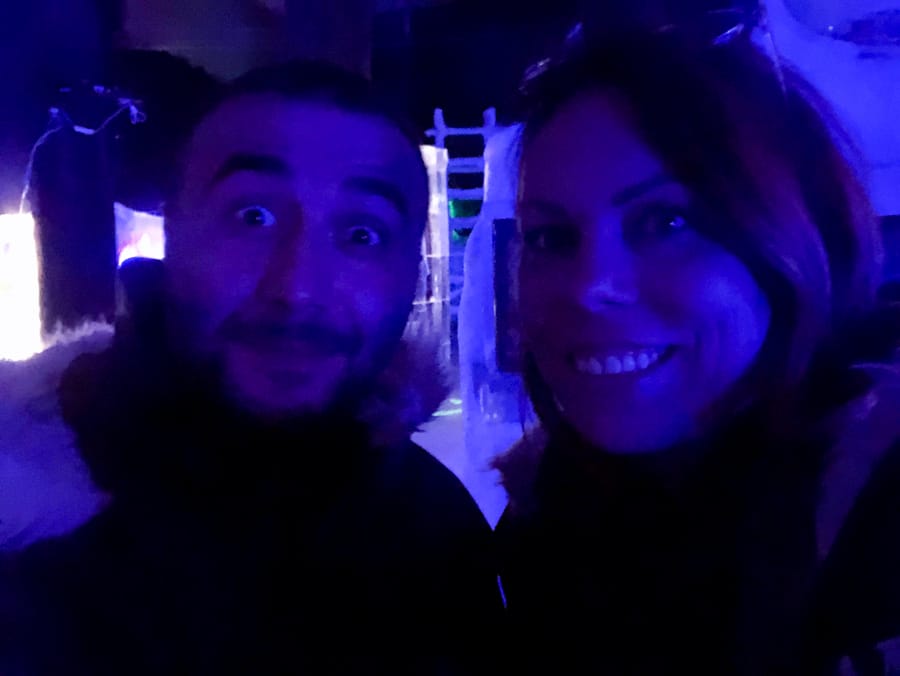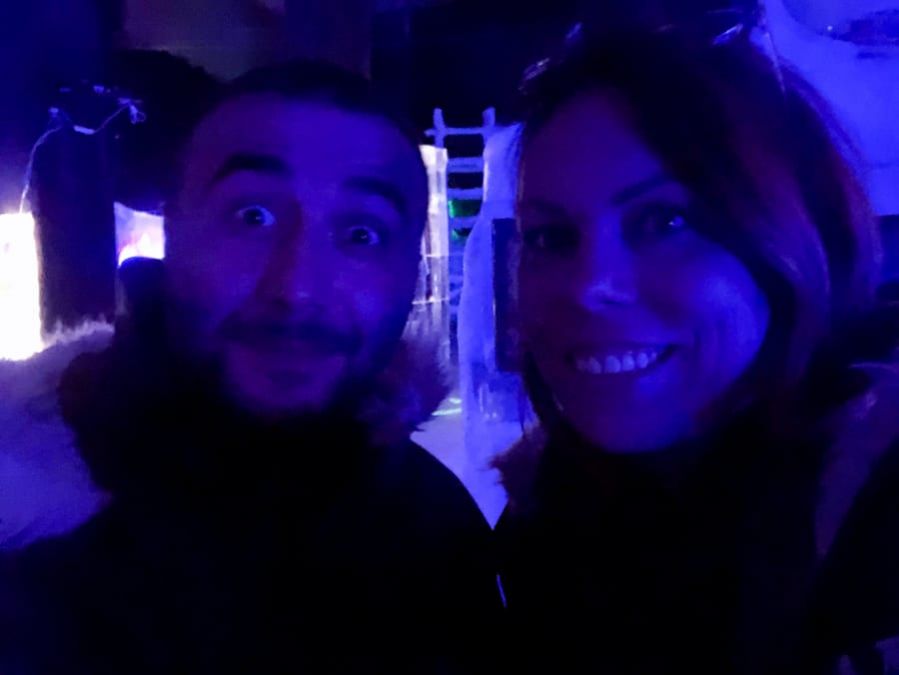 Sami Experience at Reindeer Farm with Possibility Of Northern Lights (Night-time)
On your second evening, head out to one of the Sami reindeer ranches that surround the city.
During the winter months, the indigenous Sami people traditionally bring their herds of reindeer south to better feeding grounds.
Even though the camps now often remain stationary, visiting one can be a magical experience, nonetheless.
Spend time getting to the giant herd of reindeer, feeding and petting them, while you learn all about what it takes to rear these beautiful animals.
After feeding the reindeer, you will enjoy a special, 3-course meal that is usually served at special Sami events, such as weddings.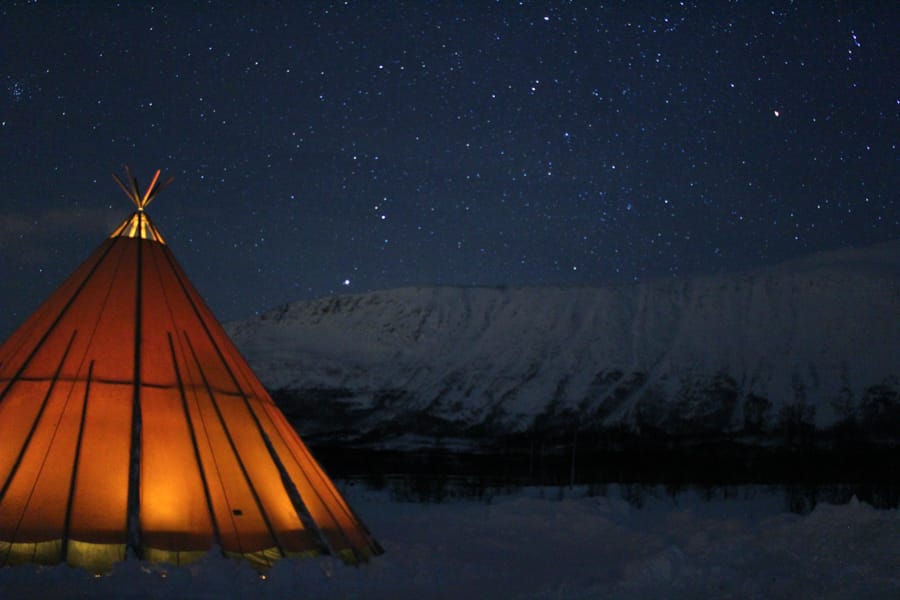 The main course of the meal is Bido, a stew cooked over an open fire and consisting of reindeer meat and various seasonal vegetables (vegetarian option available upon request).
After the delicious meal, you will head into a traditional Sami Lavvu, a type of tent, to hear stories about the Sami myths, culture, and history.
Your Sami hosts will also perform awesome examples of joik, a traditional type of singing used to pass on stories and impress possible partners.
If you are lucky and the night sky is clear, there is a chance you will get to witness the magic of the northern lights hanging above the Sami camp.
The northern lights have played a special role in Sami culture and having the chance to witness them after hearing all about the stories of previous Sami generations will make the event even more special.
Day 3 in Tromsø
Day 3 summary: The third day of your trip will include an ethical whale watching tour in Tromsø along with a dinner eating some of the finest seafood in the city at Fiskekompaniet.
Many people merely go for a weekend in Tromsø but if you're heading there for longer, I have added a few extra days into this itinerary to help you figure out how to best spend your days in the city.
Whale Watching Tour to See Orcas (Day-time)
One of the best things to add to your Tromsø itinerary is an ethical whale-watching safari. This whale-watching tour in Tromsø is a way to see animals in their natural habitat.
Something I will note is that you should make sure the whale watching tour you choose to take is an ethical one.
I had some horrible mishaps and experiences on a Tromsø whale-watching tour in the past and I would never want anyone to recreate that experience as it was unfair and unethical to the animals we were supposed to admire in their natural habitat.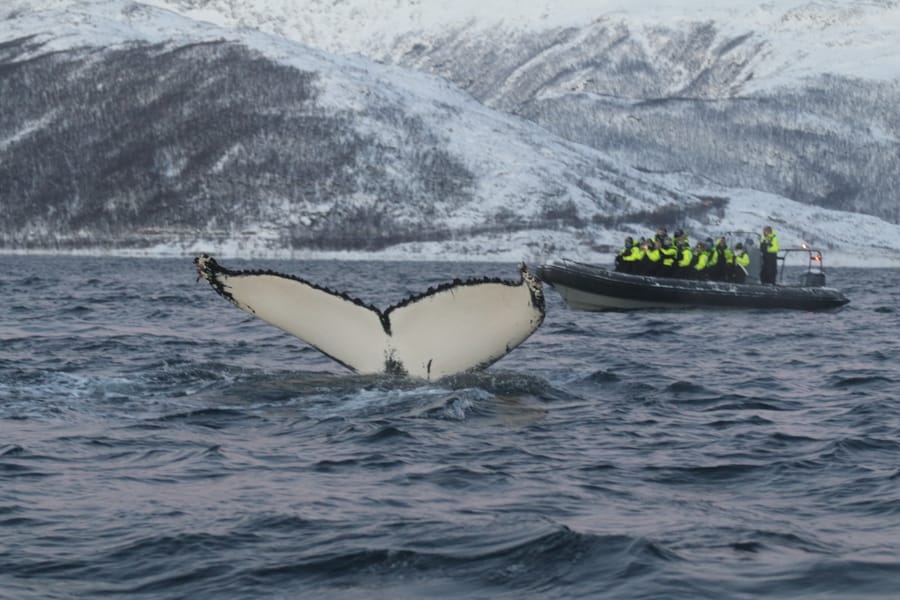 This electric catamaran whale watching tour has a good reputation and ethics and comes highly recommended in the area for such.
You will depart for an entire day's journey to Skjervøy, an area far from Tromsø where the whales are currently feeding on herring.
The entire tour lasts for around 11 hours, so be prepared for an adventurous day.
Where to Eat in Tromsø (Day 3)
If you're wanting to try some local fare in Northern Norway, particularly the fantastic seafood the Arctic is known for, look no further than Fiskekompaniet, one of the best restaurants in Tromsø.
With a modern interior and traditional dishes plated and prepared with a modern dish, the restaurant is known for its soups and hearty food that will keep you warm and happy even on the coldest Tromsø winter days.
You can find Fiskekompaniet at Killengreens gate close to the harbor.
Day 4 in Tromsø
Day 4 summary: The fourth day of your Tromsø trip will take you to the Tromsø Ice Domes outside of the city.
The five-hour tour will give you the opportunity to enjoy a nice meal in the city and also its nightlife.
Tromsø Ice Domes: Ice Hotel (Day-time)
One of the coolest things to do in Tromsø in winter is to visit the Tromsø Ice Domes, one of the most famous ice hotels in Norway.
This Tromsø itinerary stop will have you marveling at the detailed construction of the Ice Domes and how this process takes place annually.
You will have the opportunity to walk around the ice hotel and ask questions while learning about the construction process.
You will get a chance to also have a non-alcoholic drink at the ice domes and pay a little extra for a full meal at the hotel.
In my opinion, one of the best things about the Ice Domes is the drive there.
You will spend 75-minutes driving through the jaw-dropping, Arctic landscapes. This is definitely a Tromsø tour worth partaking in.
Where to Eat in Tromsø (Day 4)
Stop everything you're doing and eat cod! Especially if you haven't enjoyed Norway's famous fish yet.
One of the best places to enjoy Norwegian cod is Full Steam Tromsø, a top-rated restaurant in the city.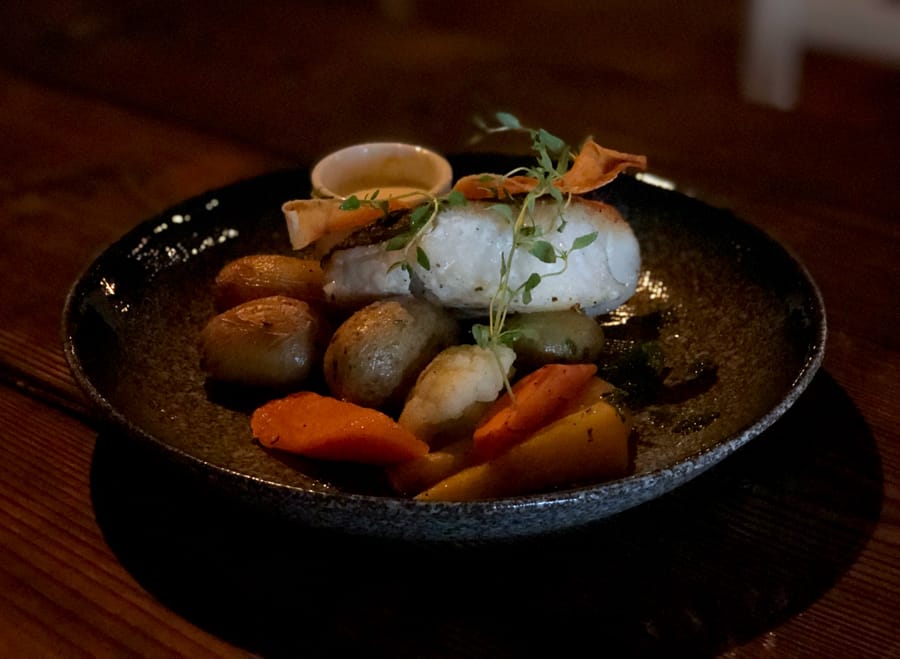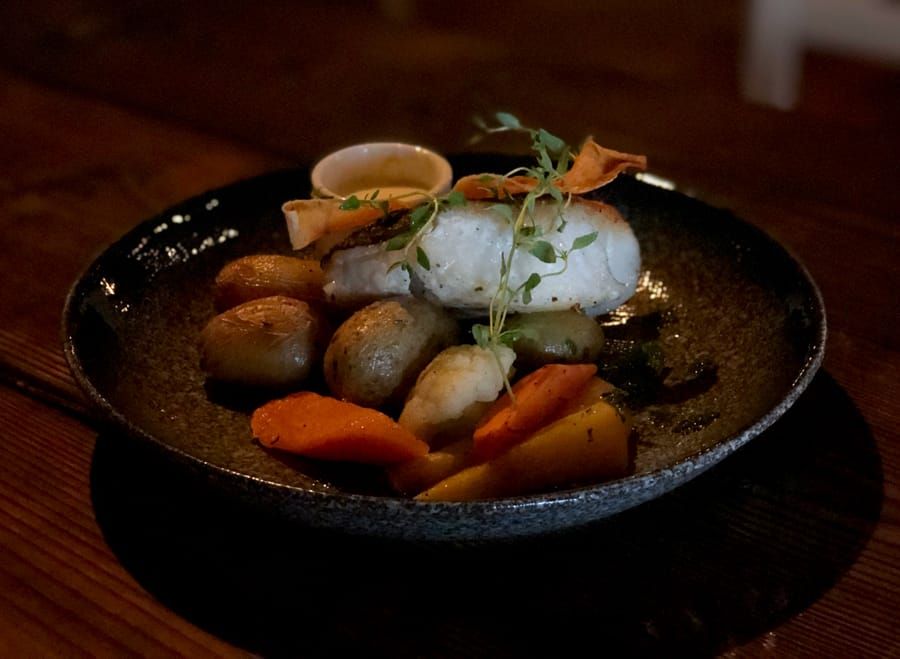 One of the best things about Full Steam is its epic location.
Located on Bangsund Pier, a pier along the harbor that dates back to 1902, you can find an array of delicious seafood dishes and more at the Tromsø eatery.
It is recommended to book a table ahead of time and you can find the options to do so here.
Please note that Full Steam is closed on Mondays.
Visit Ølhallen (Night-time)
The local beer in Tromsø is Mack and their Ølhallen Pub is the oldest pub in the entire city.
It is absolutely worth a visit. You will find over 72 Norwegian beers on draft and it is the perfect place for beer lovers to congregate.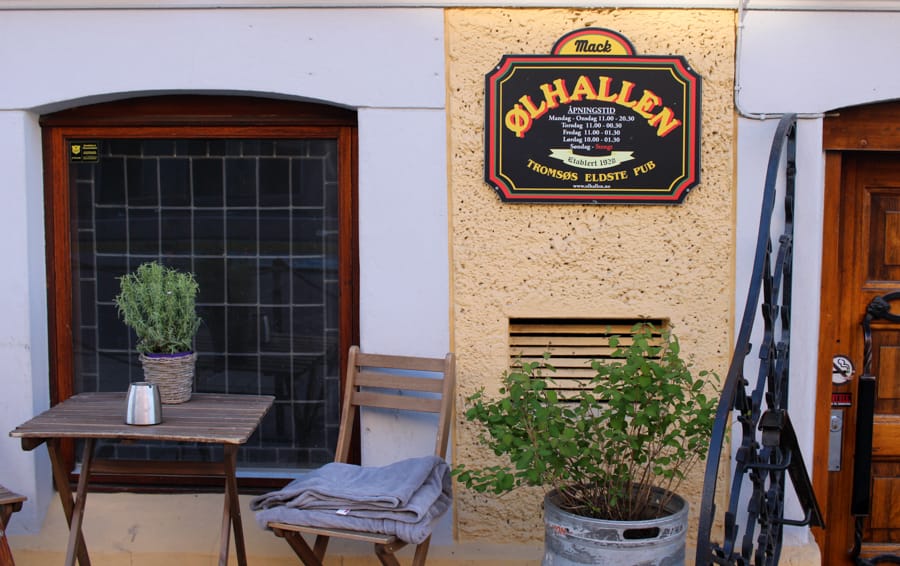 Do be aware that Norwegian beer is pretty pricy and this is not the place to go if you're looking to be on a shoestring budget.
However, just enjoying a drink or two is not so bad, and is worth it to learn more about Norwegian beer and to try some samples of brews from across the Arctic.
You can find Ølhallen at Storgata 4 in Tromsø. Please note that the bar is closed on Sundays.
Day 5 in Tromsø
Day 5 summary: The fifth day of your travels to Tromsø will be a kind of 'bespoke' day where you will choose an activity that is perfect for you.
The recommended Tromsø excursions are snowshoeing, a nature photography tour, or a snowmobiling tour.
At the end of the day, you will head to Mathallen for a delicious dinner where you will also get the choice of a variety of 'stalls' with different options.
Snowshoeing in the Arctic (Day-time Option 1)
If you're an active traveler and love a bit of hiking or unique activities, one of the must-do things in Tromsø is to go snowshoeing.
The first time I went snowshoeing I didn't have my shoes on right and it was extremely difficult (I was also in painfully bad shape).
The second time I went, it was a breeze and offered some killer views of the wintry landscape I was in.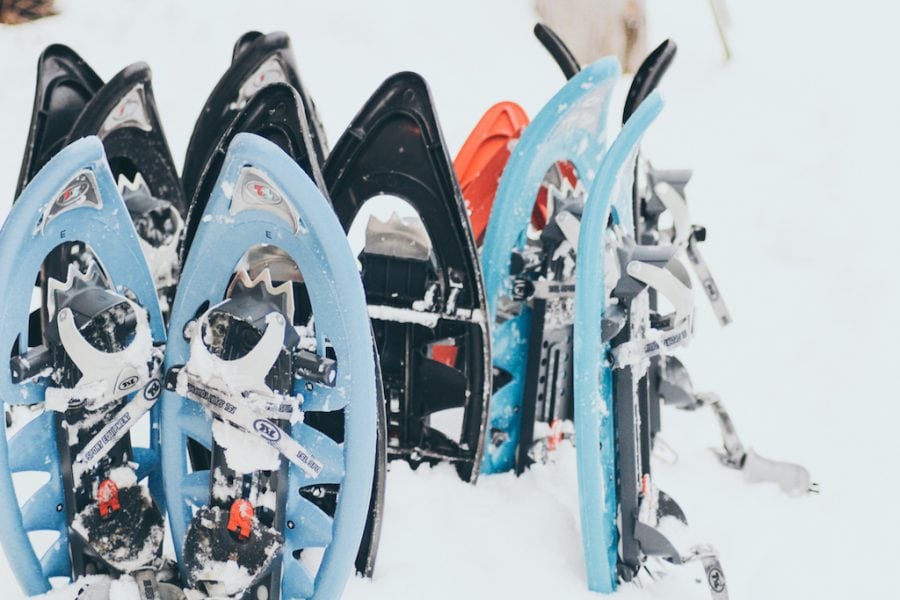 This snowshoeing tour lasts for five hours during the day and has a chance to be canceled if enough participants don't sign up. They will be very communicative with you regarding everything, however.
Snowmobiling in the Lyngen Alps (Day-time Option 2)
An alternative option for your last day is to go snowmobiling across the Lyngen Alps.
This 7-hour tour will pick you up at a meeting point in the Tromsø city center and drive you into the wilderness where you will embark on a snowmobile journey through the Arctic.
The tour will provide snowsuits and warm clothing for those going.
You will need to have a driver's license in order to drive a snowmobile, so please do note that this tour is not for everyone.
Arctic Nature Tour from Tromsø (Day-time Option 3)
A third alternative for your fifth day in Tromsø is to embark on an Arctic nature tour around the area with an experienced guide who also will take you to some great photography spots outside of Tromsø where you can admire epic views and have the possibility to see wildlife.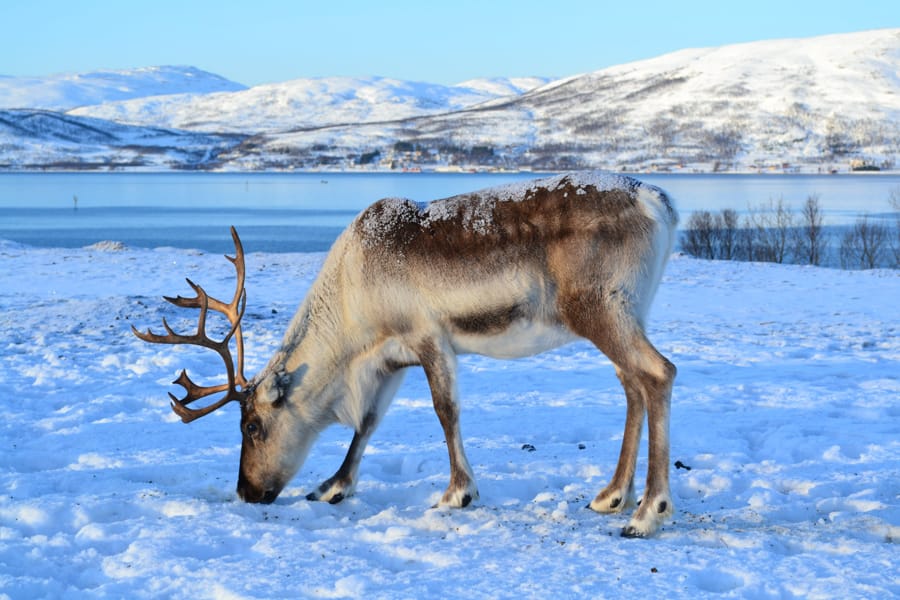 You will be picked up in the Magic Ice Bar late morning and will be able to see the landscapes at the prime hour of the day (peak-daylight!). The guides will also have tripods that you can borrow.
Where to Eat in Tromsø (Day 5)
There are several options left of where to eat, but I strongly suggest checking out Mathallen.
Mathallen literally translates to 'food hall' and it will give a variety of different options for those who are traveling in groups and everyone will want something different.
I used to regularly go to Mathallen in Oslo and when I went to the one in Tromsø, I noticed that it was much smaller but offered the same concept and dining experience.
Prices vary depending on what you order or which stall you eat at.
How to Get to Tromsø
There are a few options regarding how to get to Tromsø but I think the best way to get there is to fly or come on the Hurtigruten.
Both are not environmentally friendly, but you're visiting Tromsø and the city is not easy to access from other parts of Norway.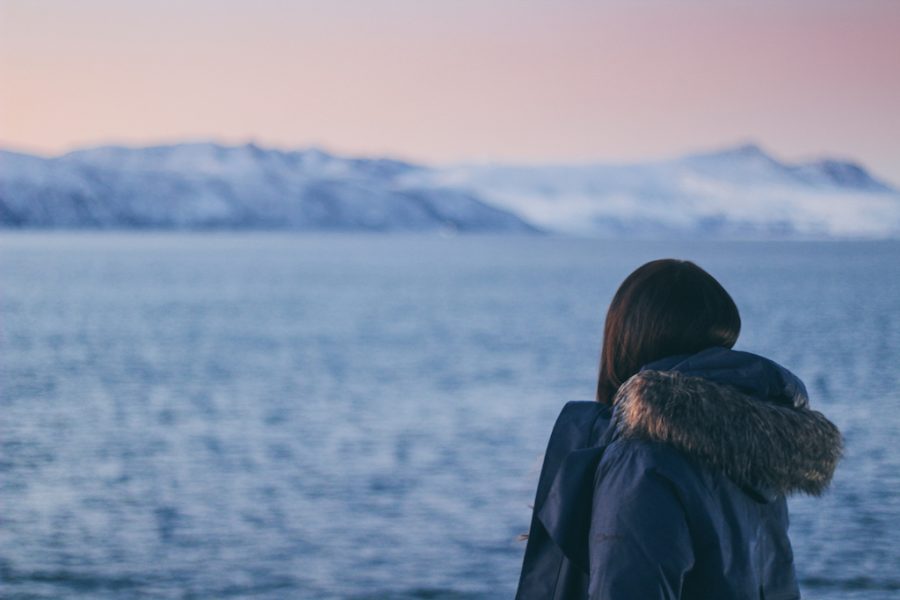 Regular flights connect Tromsø to the rest of Norway (particularly the bigger cities) and even some of the larger hubs in Norway. My suggestion is to fly to Oslo, enjoy Oslo in winter for two days, and then head north to Tromsø. Alternatively, you can combine a trip to Tromsø with the Lofoten Islands.
If you decide to take the Hurtigruten to Tromsø, you will be looking at a slower journey, naturally.
How Much Time to Spend in Tromsø?
If you're asking yourself how many days you need in Tromsø, it truly depends on the activities you're interested in doing.
I have been there more than once and I think you need at least 3-4 days in the city, personally.

During the winter, you will experience shorter days and your visit to Tromsø will be all about the excursions and activities.
However, I created this itinerary with the fact that two days can cover a lot in Tromsø.
If you're coming from London or even domestically in Norway, you definitely can see a lot in a weekend in Tromsø.
Where to Stay in Tromsø
There are a variety of places to stay in Tromsø.
We have written a guide to the best Tromsø hotels here, but if you want a quick few options that we recommend depending on your budget, here are our top choices:
Do You Need Travel Insurance for Norway?
We highly recommend getting travel insurance for Norway, particularly if you're going to be participating in tours and activities in Tromsø.
Our suggested insurance provider is SafetyWing, a Norwegian company with an international presence that specializes in coverage for travelers and those with an active lifestyle.
>> Click here for a Norway travel insurance quote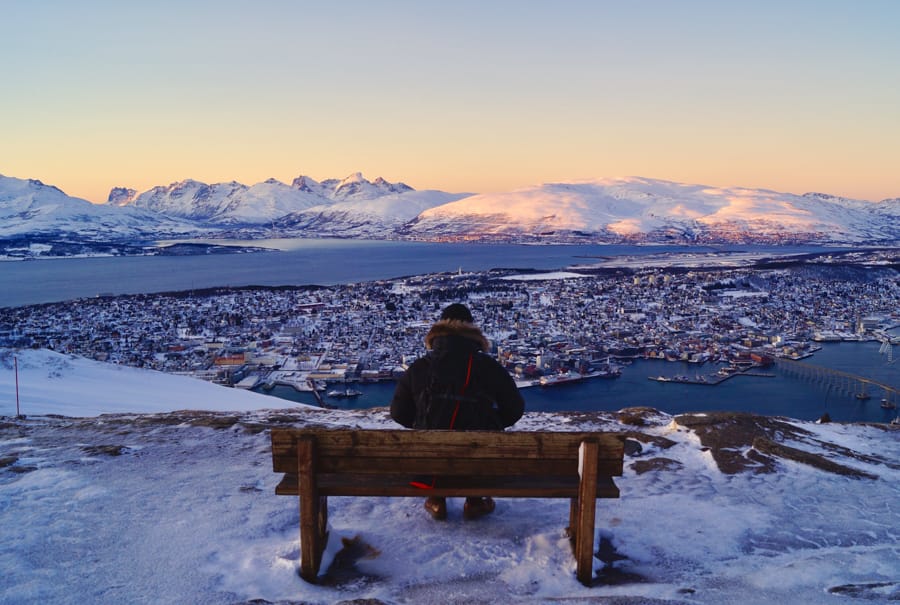 If you're planning a trip to Tromsø, we hope that this itinerary has helped you determine how many days are optimal for you in Tromsø.
The city is not large but the excursions and Tromsø tours do require some planning effort and will make for a busy few days.
If you have questions, please reach out to us! Thanks!
More Norway & Tromso Travel Guides