Are you looking for the best things to do in Honningsvåg, Norway's gateway to the North Cape? If so, keep reading!
Are you planning your trip to Honningsvåg last minute?
If youʻre booking your trip to Honningsvåg last minute, we have you covered. Below are some of the top tours, hotels, and more!
🇳🇴 Top Experiences and Tours in Honningsvåg:
🛌 Top Places to Stay in Honningsvåg:
Scandic Bryggen (best place I stayed there)
Nordkapp Vandrerhjem (I liked it – budget-friendly)
🚗 Looking for the best way to get around the North Cape? Click here to check rental car rates for Norway!
If you were to show me photos of Honningsvåg prior to arriving there, I am not sure what I would have said about the place other than it had a photogenic harbor and looked a bit otherworldly.
To be honest, it appeared to be just another Norwegian fishing community. After traveling there with Megan, I am completely enamored by Norway's northernmost city- Honningsvåg.
Not only is its location special but it is also unique because the city has a lot to offer for a place that is still so small.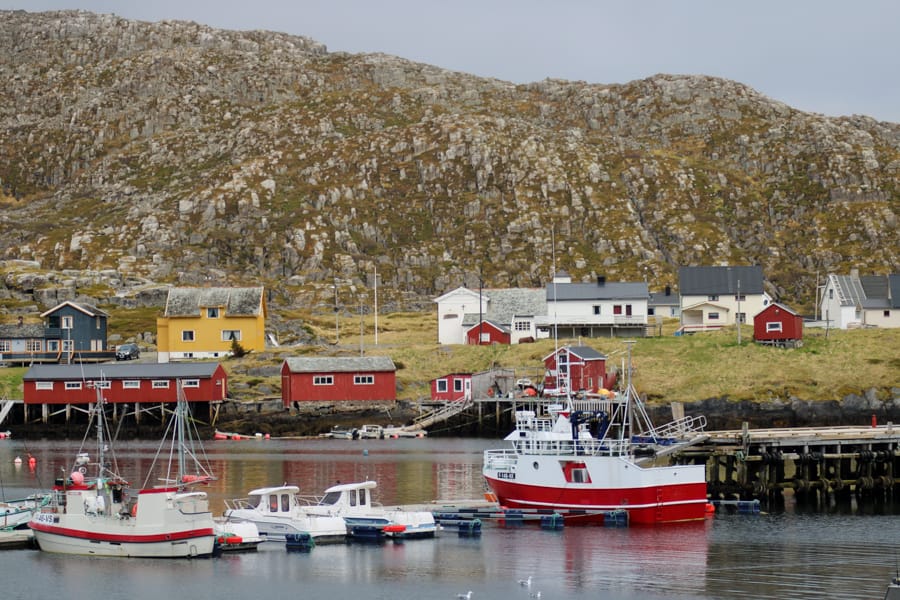 Honningsvåg is truly in the tundra and there are no trees and even in the middle of summer, it was pretty cold.
Honningsvåg is also the gateway to visit Nordkapp, a place that is, more or less, identified as being 'the top of Europe' (although many places contest this).
I thought it would feel like a generic place that would be a bit of a letdown, but Megan and I can't even begin to express how surreal our visit there felt. Honningsvåg came at the end of our trip and it was pretty perfect.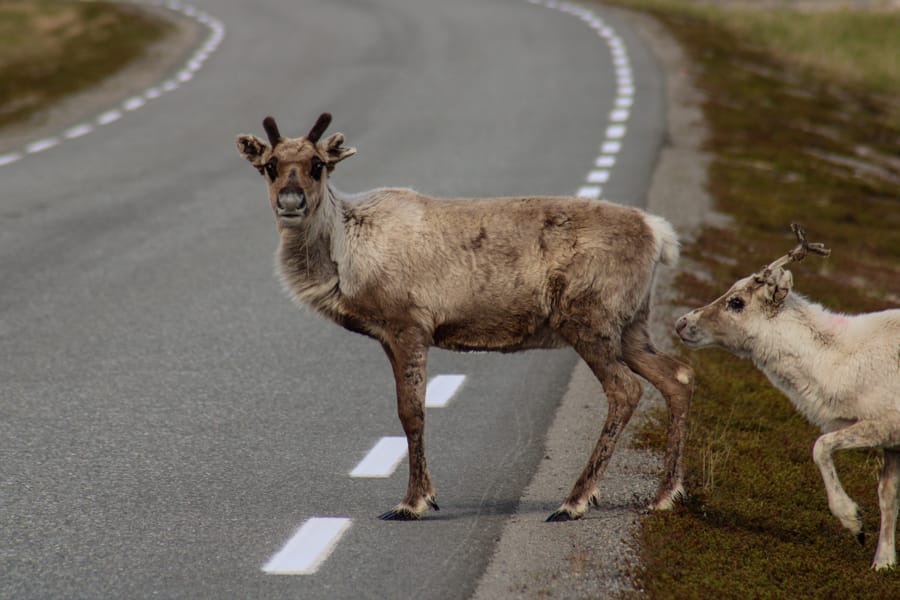 This is a guide that will detail more about what to do in Honningsvåg for those that may be using this city as a launchpad to the Nordkapp.
Or maybe you're just visiting Honningsvåg to visit Honningsvåg. Either way, I hope this guide gives you an idea of what there is to do there and what is in the region and area surrounding the Arctic city.
We found Honningsvåg to be a bit more lively than expected. It seemed as though the city was having a party when we arrived and locals and tourists were out on the harbor drinking long into the night (midnight sun 'night').
There was music around and Honningsvåg was anything but sleepy and boring for us.
There are cruise ships coming through and docking, so there were always people walking around the harbor area and enjoying themselves.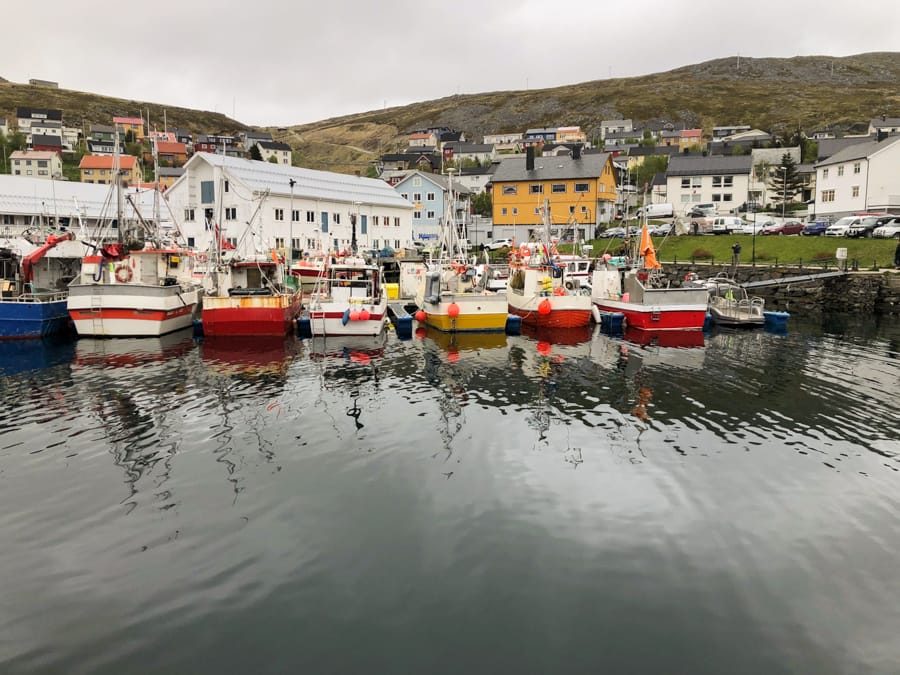 Another thing we loved about Honningsvåg is how easy it was to drive to the surrounding areas during summer. The roads kept the city well-connected to local villages, Nordkapp, and beyond.
The highways were kind of narrow and seemed never-ending… but they were all easy to drive. The area is also teeming with reindeer. It was just awesome, in my opinion.
Here is a guide to things to do in Honningsvåg. If you have additional suggestions or recommendations, please leave them for us in the comments.
Best Honningsvåg Tours (to Maximize Your Time!)
If you're looking for something more organized when in Honningsvåg and the surrounding area, here are some awesome Honningsvåg tours you should check out.
These tours will help you maximize your time, which is especially important if you only have a short amount of time in the city! We listed a variety so that you can pick which one is most suitable for you (and many include multiple places!):
Best Things to Do in Honningsvåg
1. Visit Nordkapp (the North Cape)
Okay, it would be remiss of me to not put this first as this is what brings most people to Honningsvåg anyway. The mindblowing North Cape was easily one of our highlights when visiting Northern Norway.
Megan and I were clashing a lot by this point of the trip (as we often do) but our visit to Nordkapp made us put all of that aside and just be grateful for each other and getting to share these moments with a great friend.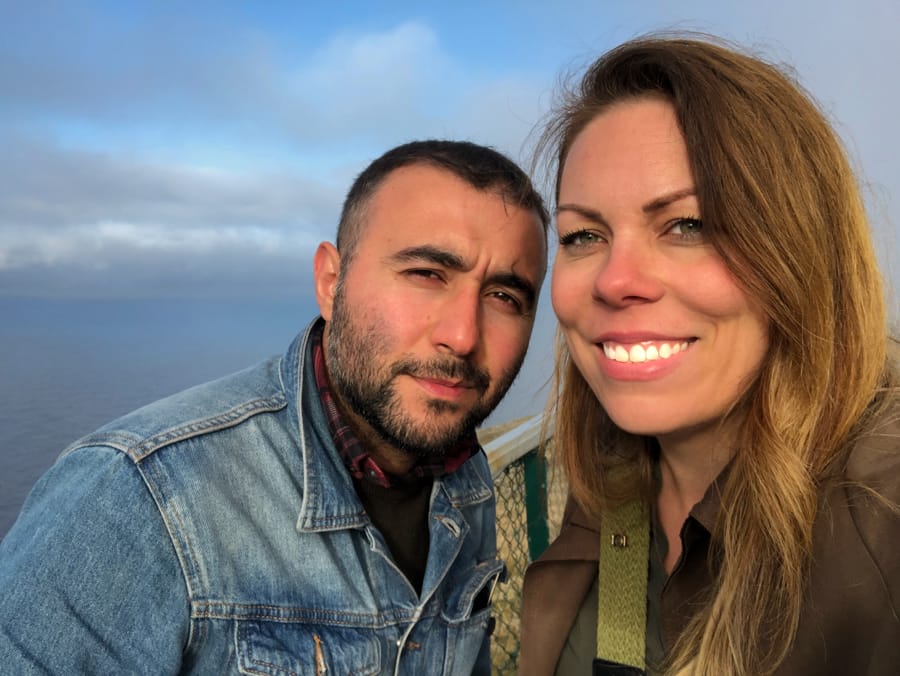 Visiting Nordkapp is something that many people spend their lives dreaming about doing and here we were… getting to do it for our job and then writing about it so that people can fulfill that dream themselves.
It was a very special moment and one we will never forget or take for granted.
Fortunately, we had a rental car that gave us the opportunity to drive to Nordkapp without taking an organized tour.
Despite being merely 33 kilometers from Honningsvåg, it can take a lot longer depending on the weather and how many times you want to stop and scream that you saw a reindeer.
The road can be extremely foggy to Nordkapp and it makes the entire trip feel a bit mysterious.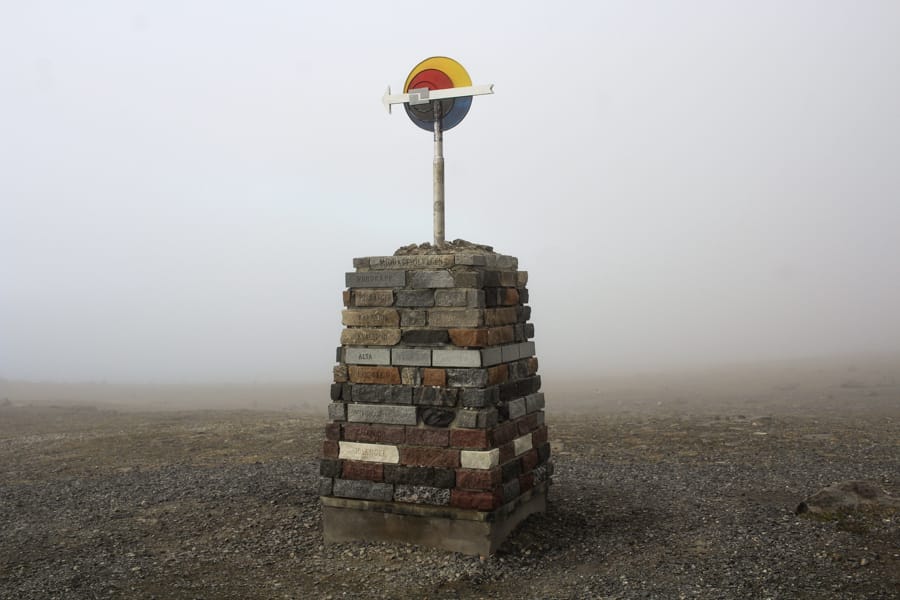 The road is so desolate and the landscape is so barren that you will feel as though you have an island to yourself, especially if it is foggy outside.
Once you arrive, you will need to purchase tickets from a drive-up window and then you can proceed to the North Cape Monument and museum.
It was only 3C that day and it was so cold that we hung out inside of the museum a lot and hoped the fog would lift.
It did in one direction and that was enough for us to get a couple of photographs and then explore the museum.
The museum has various exhibitions in the North Cape Hall before you arrive outside at the globe monument marking the Nordkapp.
The various exhibitions include flora and fauna of the Arctics, a cinema with a really cool video of the North Cape in all seasons, and even a small room and exhibition dedicated to the King of Thailand who visited at the beginning of the 20th century.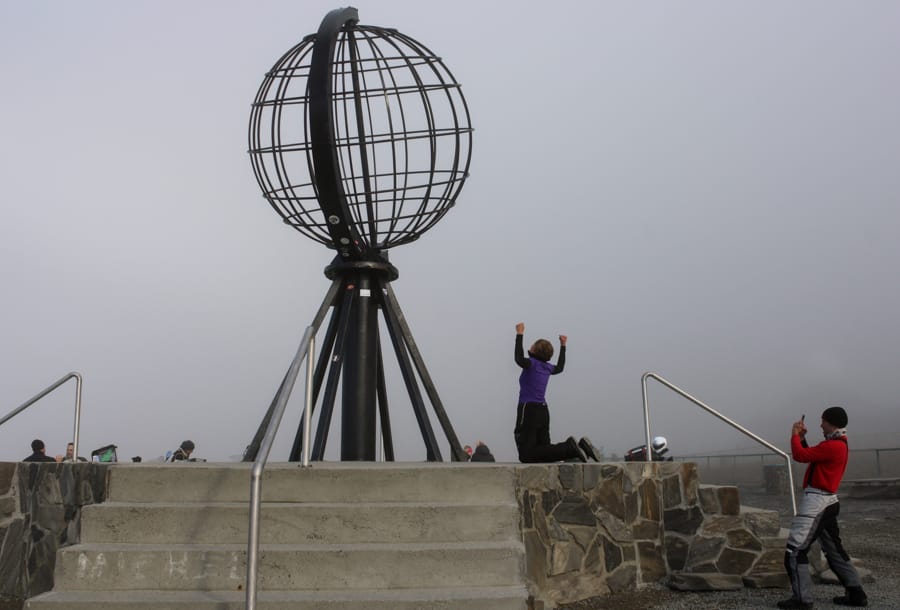 The museum has a gift shop, restaurant and cafe, and much more.
Megan and I actually spent more time in the museum learning more about the area and the people and animals who call it home than we did outside at the monument that marks the Nordkapp.
Welcome to the top of the world. Literally.
2. Peruse the Nordkappmuseet in Honningsvåg (North Cape Museum)
There is also a smaller museum in Honningsvåg itself that is dedicated to Nordkapp.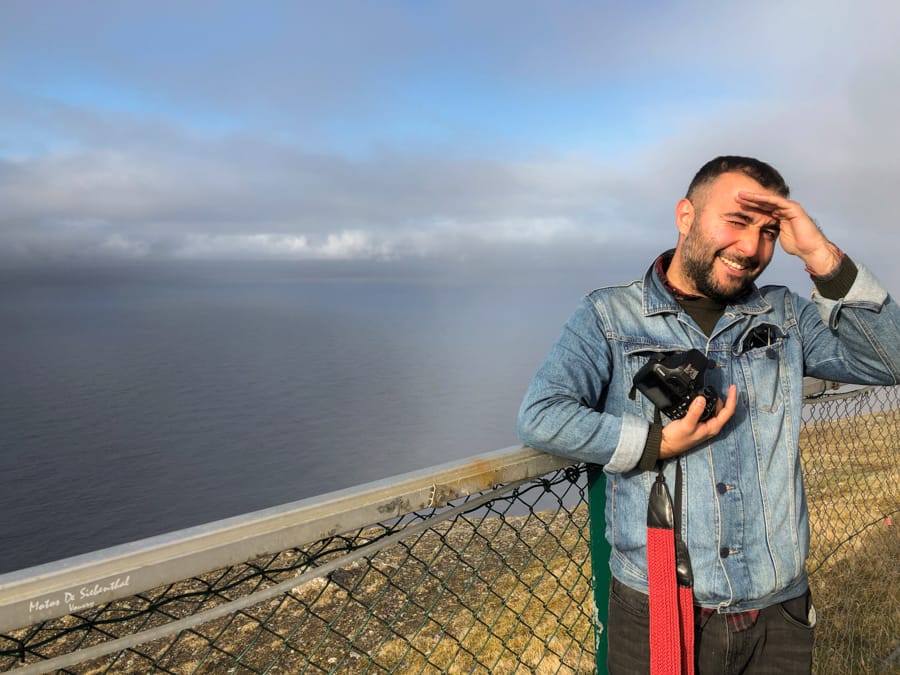 You can learn more about that particular museum here. It is located next to the Hurtigruten Dock.
3. Stop in The Gallery "West of the Moon"
Honningsvåg may be a small town, but it is really rich with art and this museum is a fine example of that.
Local artists showcase their beautiful works at The Gallery "West of the Moon" which was established in Honningsvåg in 2000.
It is decorated with interesting, artistic works and the charming place is a great place to stop in to admire Scandinavian motifs and purchase some local pieces from the artists who call this stunning area of the world home.
You can find The Gallery "West of the Moon" at Storgata 4B in Honningsvåg.
4. Walk Around Honningsvåg Harbor
The harbor area in Honningsvåg is definitely one of the best places to chill out and stroll around at your leisure.
We stayed right on the harbor at Scandic, but we definitely enjoyed walking around this area as it was green, and lively, and there were cool shops and cafes situated in the harbor area.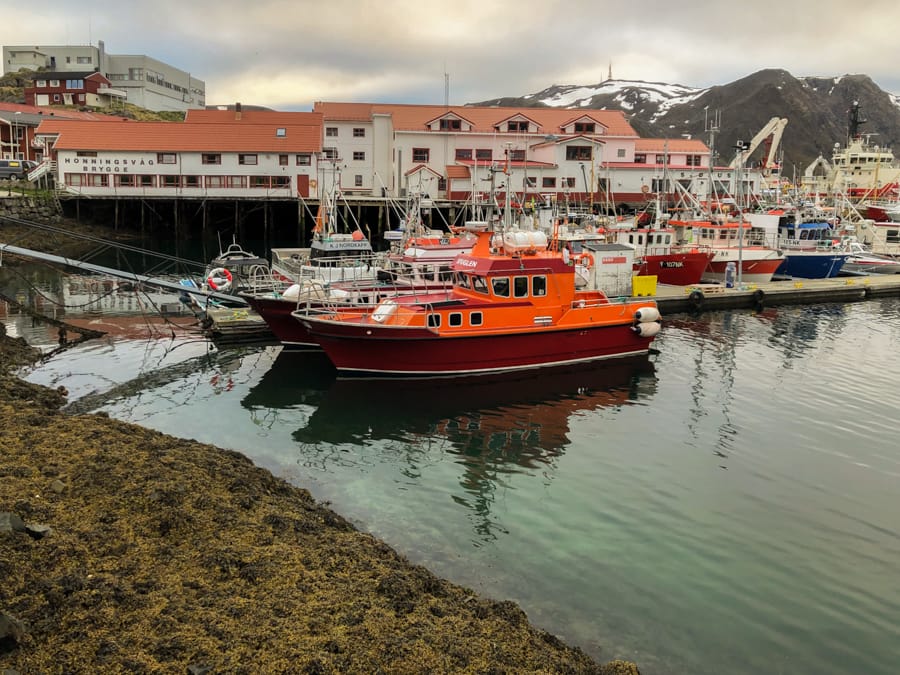 Honningsvåg is small and the city is centered around this harbor and it shows. It is definitely one of the must-sees in the city.
5. Photograph the Honningsvåg Church (or Any Church)
Norwegian churches are a bit lackluster, aesthetically-speaking, and many are known for being minimalistic and, for lack of a better word, boring.
The interesting thing about the churches in the far north is that the surroundings make them extremely pleasing to the eye.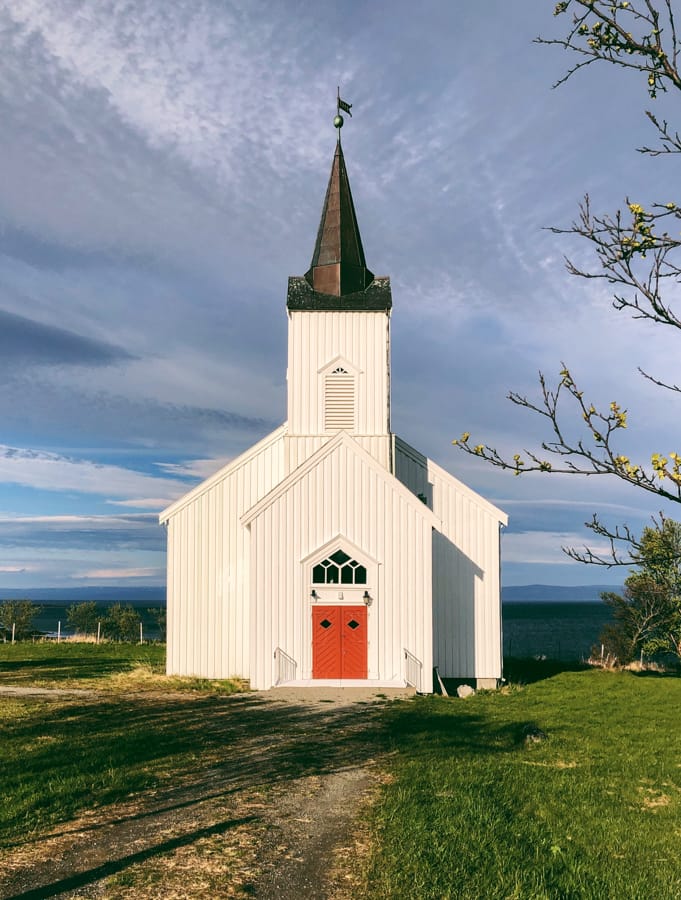 The Honningsvåg Church is a small, yet charming building that was built in 1885. It stands on a little hill and from there, it is possible to get a nice view of the town and the Barents Sea.
The church lights up the dark skies during winter and can be seen from far away.
6. Visit the Bamse Statue in Honningsvåg
Every small town has its interesting stories and the Bamse (Norwegian word for 'teddy bear') Statue is Honningsvåg's.
This statue is dedicated to the story of a local hero that just so happens to be a St. Bernard dog. This statue honors his service during WW2 and he was very loyal to his job and helped save the lives of two sailors during the war.
He was a member of the crew and ended up dying in 1944. Over 900 people came to his funeral to say goodbye and thank you to the local canine hero.
This statue was placed in Honningsvåg by the Scottish in 2006. It is one of the essential things to see in Honningsvåg.
7. Feast on King Crab in Honningsvåg
Not a lot of people know this, but this part of Norway is renowned for having exceptional King Crab and you can get some of the very best in Honningsvåg.
Almost every restaurant sells it but we can definitely suggest enjoying it at King Crab House Brasserie & Bar in the city center of Honningsvåg.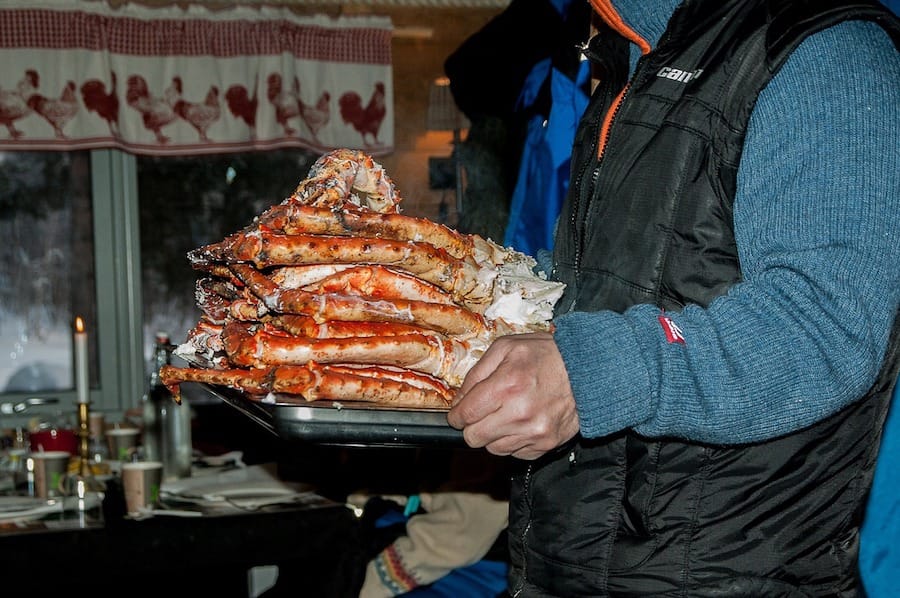 You can find King Crab House at Sjøgata 6 in Honningsvåg. It is one of the best places to eat in Honningsvåg and comes highly recommended.
Want to learn more about King Crabs and Arctic Norway's fishing industry? This tour will teach you all you need to know.
>> Click here to check King Crab tour rates and availability
8. Have Coffee in Honningsvåg at Honni Bakes
We decided to find a cafe in Honningsvåg one morning before our road trip to Stabbursdalen National Park to get a coffee and cake for the trip.
We ended up at a French-inspired bakery and cafe called Honni Bakes and we grabbed a coffee and a cookie instead of a cake.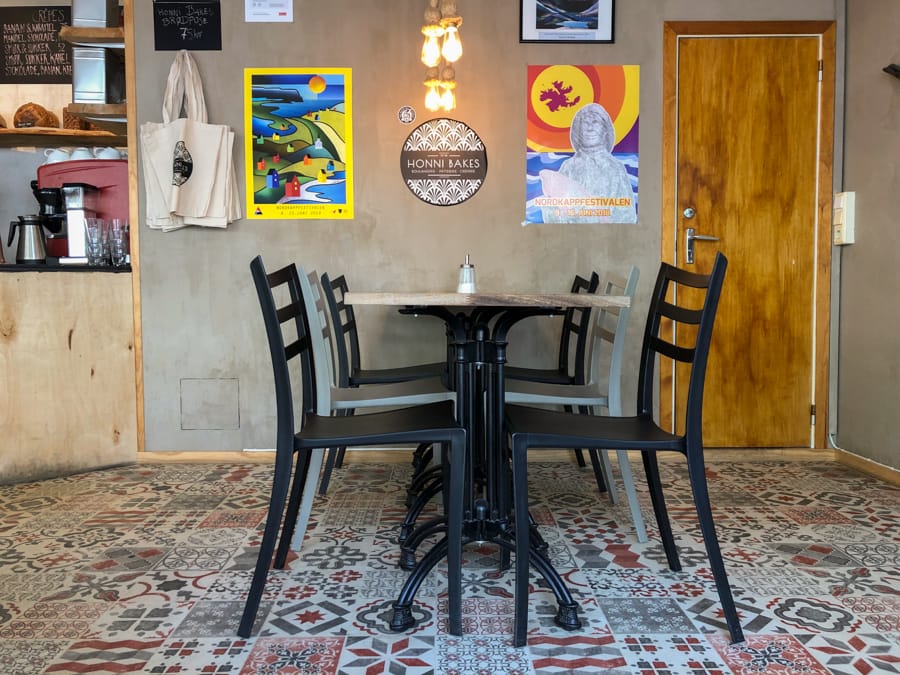 The decor was cozy and cool and the young French woman working was extremely friendly. We definitely recommend Honni Bakes to those visiting Honningsvåg.
You can find the cafe at Storgata 1B in the city center near the harbor.
9. Enjoy Refined, Delicious Food at Havly
Noted for its friendly staff and refined dishes, Havly is one of the best places to eat in Honningsvåg and it is definitely one of the best places to grab some local, Northern Norwegian fare.
They have regular specials that the chef whips up and they are always plated with elegance and detail.
If you're keen to try one of the best restaurants in Honningsvåg, definitely stop by Havly and try out one of their specials. They can be found at Storgata 12 in Honningsvåg.
10. Visit Stabbursdalen National Park (World's Northernmost Pine Forest)
We actually decided to stay in the Nordkapp and Honningsvåg area an extra day because we knew we would regret leaving prematurely without getting to see everything the area had to offer (which we learned is impossible and we really needed a full month there).
We opted to make the most of our extra day and we ventured to Stabbursdalen National Park.
Stabbursdalen National Park is completely different scenery and nature than what exists around Honningsvåg at Magerøya island.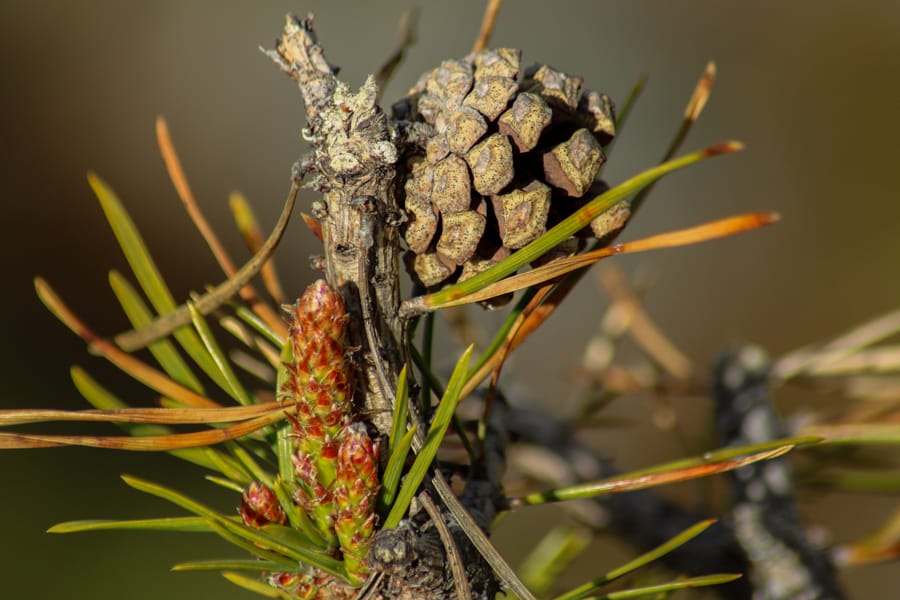 The scenery around Magerøya is a treeless, frozen tundra. Stabbursdalen is actually the northernmost pine forest in the world.
There is nothing as epic as driving through treeless scenery only to suddenly see a massive forest appear out of nowhere.
The National Park has a welcome center where you can learn more about it and they even have interactive videos and displays.
Located around two hours south of Honningsvåg, it is possible to ski, camp, hike, or chill out in cabins in the park and the surrounding area. There are lakes, waterfalls, and marked trails inside of Stabbursdalen.
There are even grills and places to BBQ inside. If you have a car and are looking for a different type of Arctic adventure near Honningsvåg- we highly recommend heading to Stabbursdalen National Park.
11. Go on a Bird Safari in Gjesvær
Honningsvåg is surrounded by charming, tiny old fishing villages and Gjesvær is one of them.
Located on the other side of Magerøya about 34 kilometers away, Gjesvær is renowned for its bird safari and the opportunity to see puffins, gannets, white-tailed eagles, and other birds in the wild at the top of the world.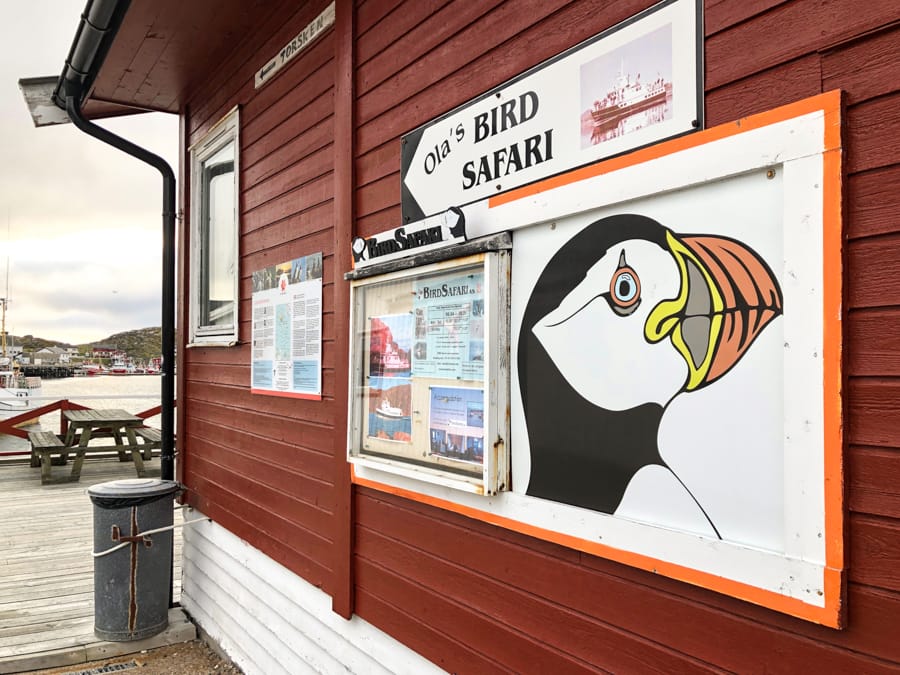 While Gjesvær is known for being a bird-watching paradise, we actually found the sleepy village to be just as photogenic and beautiful as anywhere else in this tundra landscape.
We were taken aback by the views from the harbor and more. There is also a dead tree that protrudes out of the group that the treeless village is known for.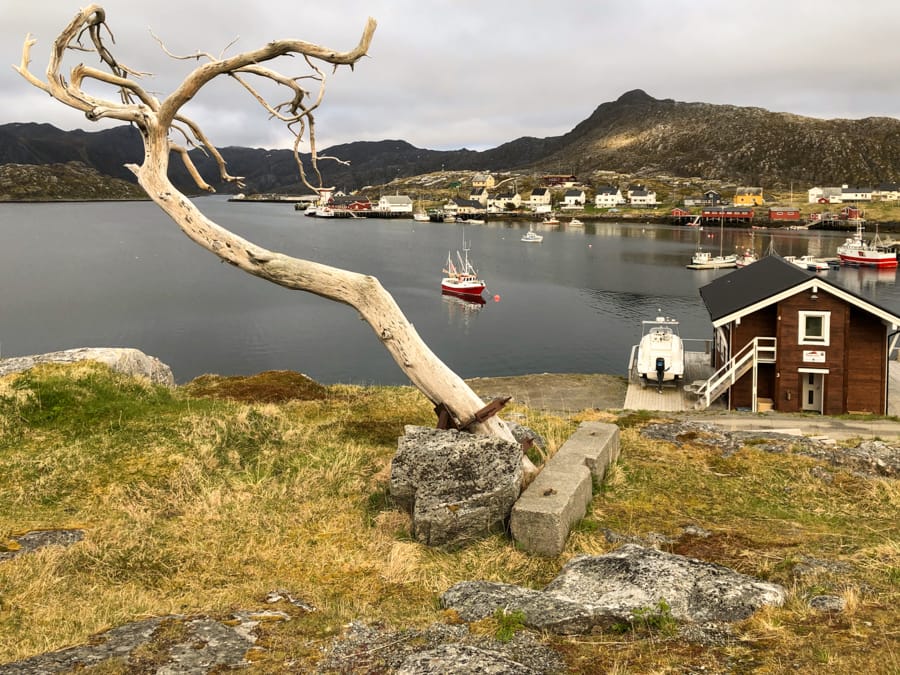 Visting Gjesvær is definitely one of the essential things to do in Honningsvåg for those that rented a car in the Nordkapp.
To find out more about a bird safari in Gjesvær, click here to view more about Ola's Bird Safari there.
12. Drive to Skarsvåg Village on Magerøya
Skarsvåg is a small fishing village 15 minutes away from Honningsvåg. It is a very calm place where is possible to view many boats by the harbor, walk around, and then also photograph the nature that surrounds it.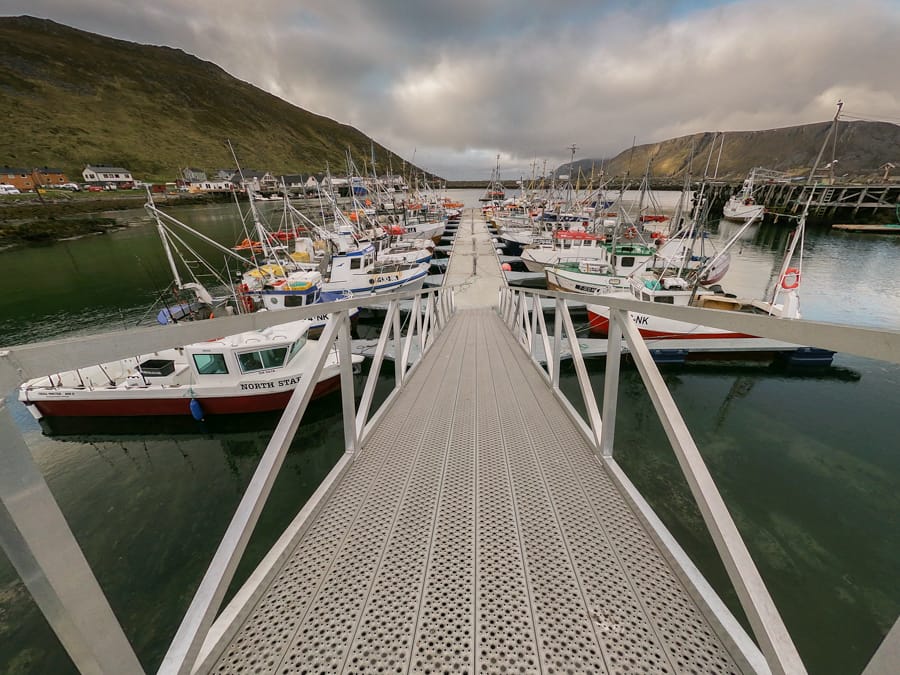 There is not much to do there, but if you have a rental car, it is definitely worth a quick stop to check out.
13. Admire the Landscapes of Magerøya
I really recommend renting a car (as if I didn't state that enough throughout this post) when you're visiting Honningsvåg and the North Cape.
And then, take your car and just drive all around Magerøya, the island where everything is situated and a place that is home to a lot of reindeer.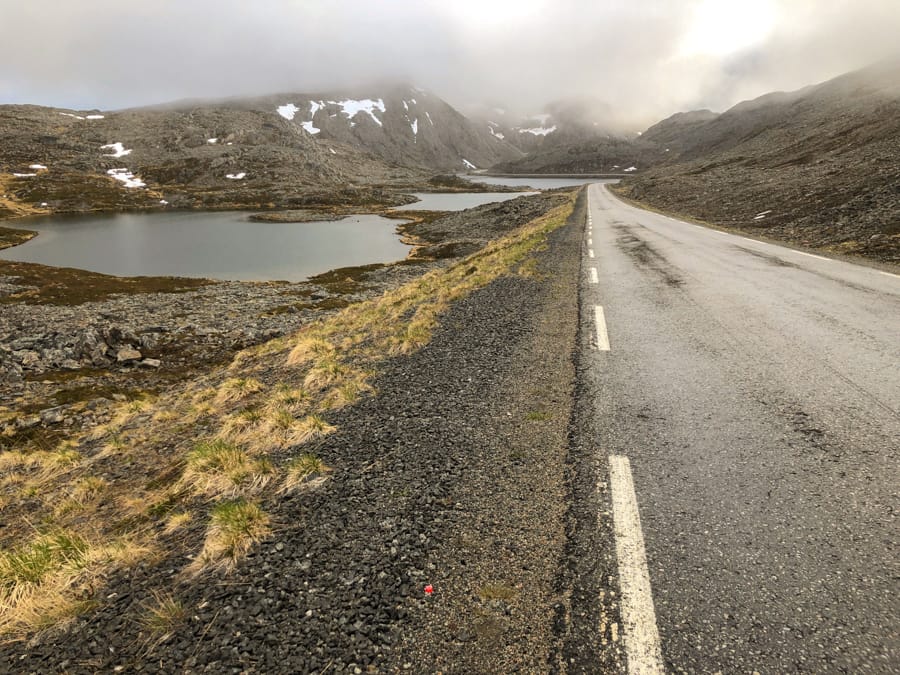 We just cruised along listening to music and never taking a second of our time in the Nordkapp for granted.
How to Get to Honningsvåg, Norway
There are a few ways to get to Honningsvåg. We flew there and had a rental car waiting for us upon arrival. We highly recommend renting a car when you get there.
The scenery is so out-of-this-world and magical… you will want to have the freedom to navigate the island and area at your will and not someone else's. Below are the options for getting to Honningsvåg.
Bus to Honningsvåg
Depending on where you're coming from, you can take a bus to Honningsvåg. The bus connections come from Alta and Hammerfest. Do be aware that these can take a few hours and will pass through Skaidi (if you're heading that way).
Also, be sure to check bus connections multiple times because we missed ours because we were given the wrong information from two sources (our bus was from Honningsvåg to Hammerfest, however).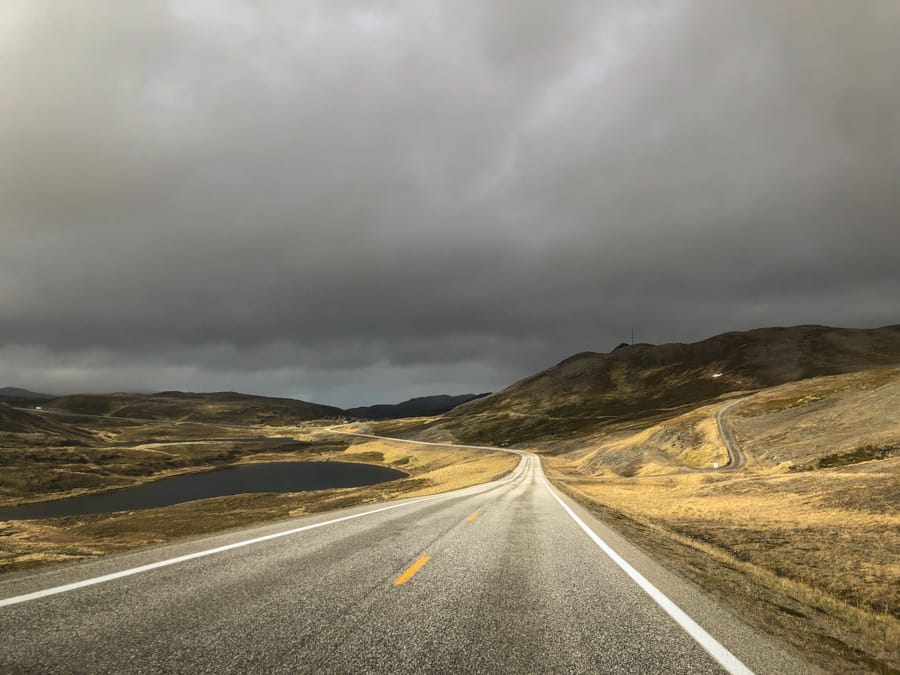 We hitchhiked and you can read about a bit of our things to do in Hammerfest guide.
Click here to check out Snelandia's Bus Schedules for Honningsvåg and the north.
Hurtigruten to Honningsvåg
You can also take the Hurtigruten ship to Honningsvåg. You will likely be aboard a ship with other passengers who will be on a long Norway journey, so be sure you book correctly and are just doing a port-to-port hop.
You can not book this journey on the English website, but you can on the Norwegian one. Click here to see how to take the Hurtigruten to Honningsvåg.
Renting a Car in Honningsvåg
The best way to get around the far north of Norway during summer is by renting a car. It may not always be delightfully cheap, but the reindeer aren't going to photograph themselves and you will need to make frequent stops.
Fortunately, if you're sticking around Magerøya, the main island where Nordkapp and Honningsvåg are, you will not use too much gas.
We used far less than we imagined and we even drove south a few hours to Stabbursdalen National Park.
>> Click here to check Honningsvåg rental car prices and availability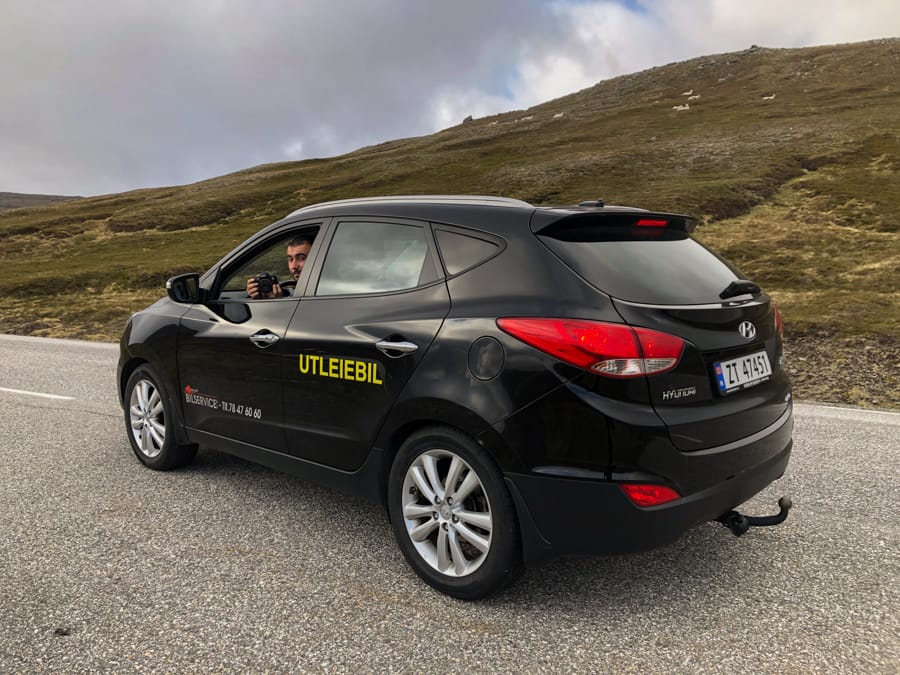 Flights to Honningsvåg
If you're flying to Honningsvåg, congratulations, you probably chose the easiest way to get there. The airport is small and serviced by Widerøe.
You can find fairly cheap flights if you book in advance… but beware, these flights sometimes come with like seven layovers.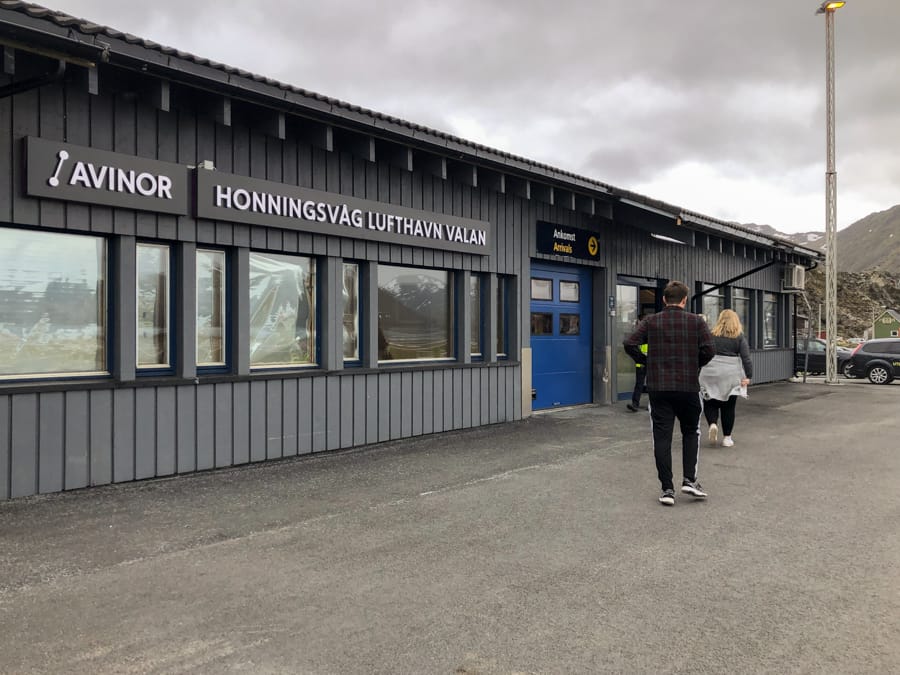 This is part of what the Norwegians of the far north call the 'milk route'. Nevertheless, that is why we flew into Honningsvåg and out from Hammerfest.
>> Click here to check Widerøe for flights to Honningsvåg
Where to Stay in Honningsvåg
We stayed at two different places in Honningsvåg. Our first place was Scandic Bryggen and it was located directly on the harbor and even had its own restaurant. It was one of the nicest places to stay in Honningsvåg.
The second place we stayed at was Nordkapp Vandrerhjem. It was a mix of a hostel and hotel… but definitely had more of a hostel vibe to it. It was cheaper and had shared bathrooms.
The walls are thin, so bring earplugs. But otherwise, it was a great place to stay for the night.
Click here to check out all hotels in Honningsvåg and Nordkapp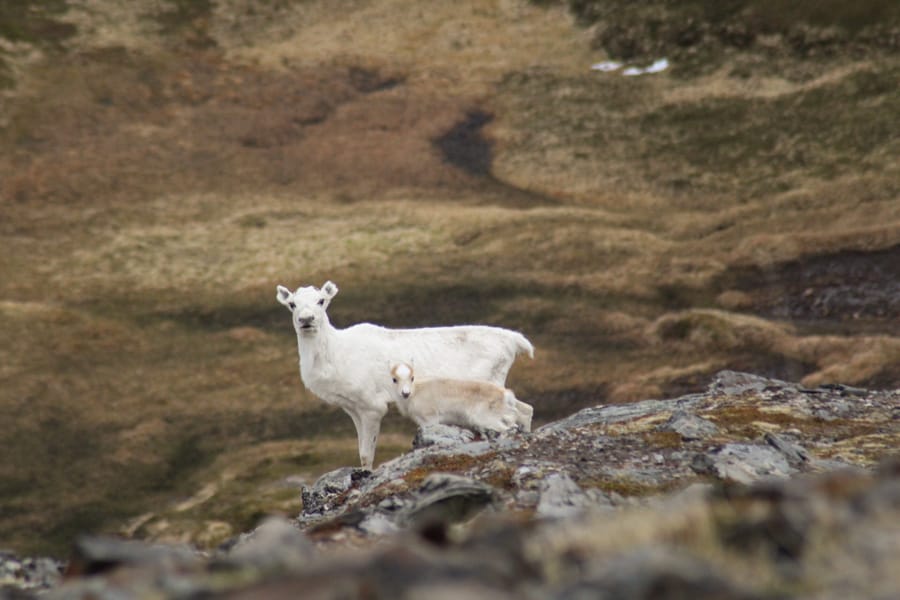 We had such an incredible time in the north of Norway and found so many amazing things to do in Honningsvåg. We have a Nordkapp guide coming soon, so be on the lookout for that.
More Northern Norway Travel Guides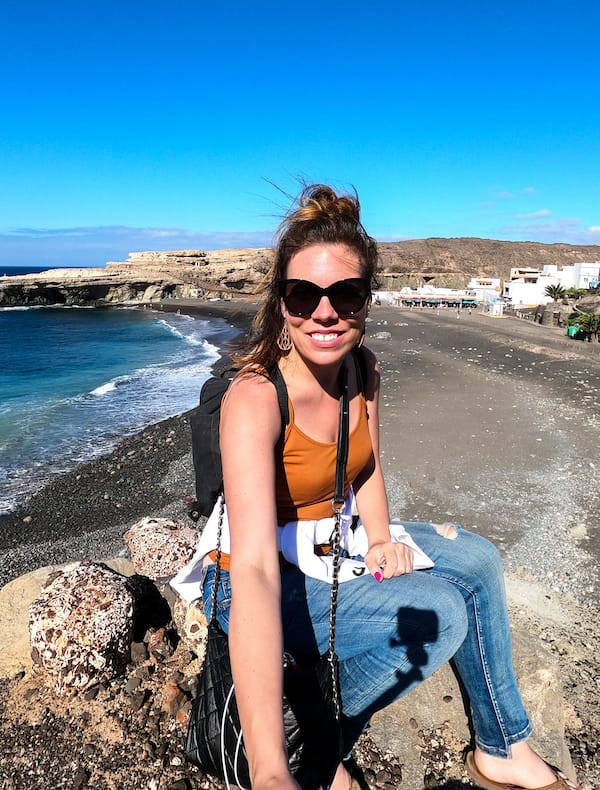 Megan is a travel blogger and writer with a background in digital marketing. Originally from Richmond, VA, she now splits her time between Frankfurt, Germany and Arctic Finland after also living in Norway, Armenia, and Kazakhstan. She has a passion for winter travel, as well as the Nordic countries, but you can also find her eating her way through Italy, perusing perfume stores in Paris, or taking road trips through the USA. Megan has written for or been featured by National Geographic, Forbes, Lonely Planet, the New York Times, and more. She co-authored Fodor's Travel 'Essential Norway' and has visited 45 US states and 100+ countries.