We recently had the chance to visit Hammerfest, Norway… one of the most northern towns in Europe (and in the world). The town may be small but there are still a fair amount of things to do in Hammerfest!
If you're looking for what to do in Hammerfest to plan your trip to Norway's far north, this guide will get you started.
Did we miss any of the top places to visit in Hammerfest? Let us know in the comments. Thanks!
How to Get to Hammerfest
There are a couple of ways to get to Hammerfest. I ended up there on two different occasions and one mode of transportation was reliable and the other was not too reliable.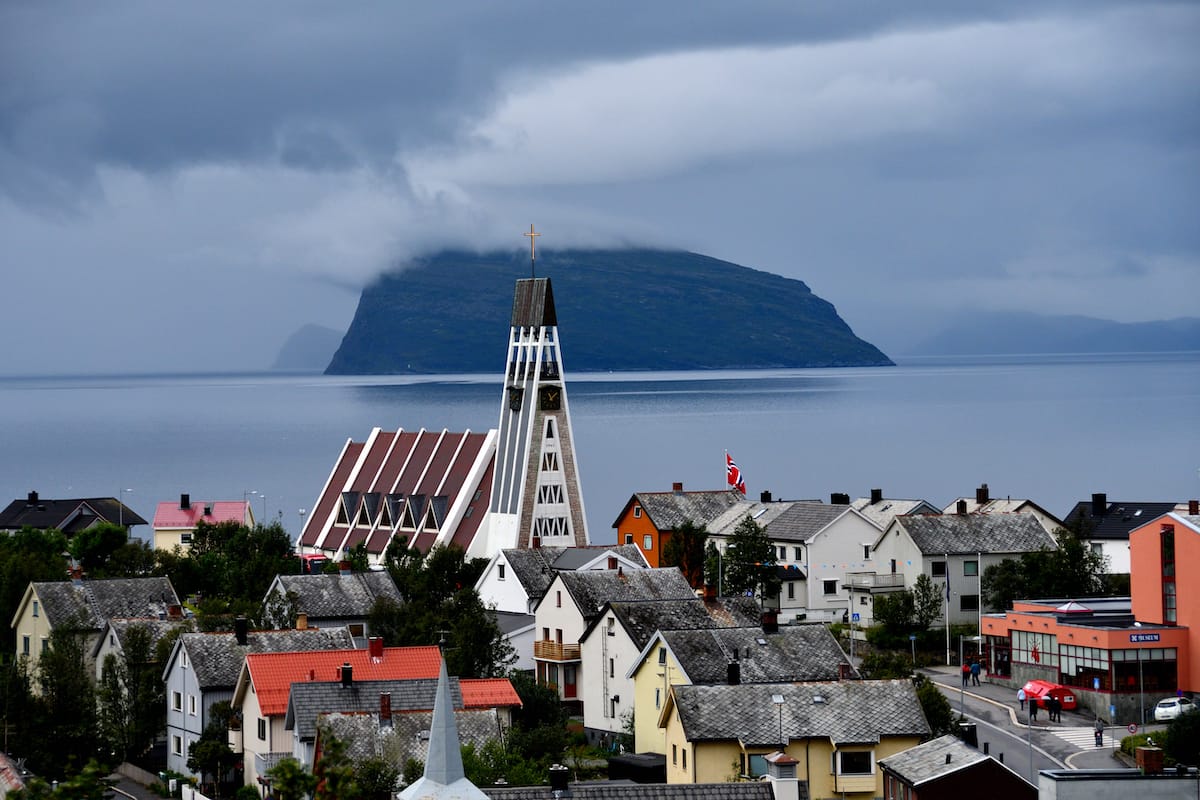 I flew in by plane from Tromsø (via Hasvik) the first time and hitchhiked from Honningsvåg near the North Cape the second time.
You can also arrive by bus depending on where you're traveling to Hammerfest from. Do be aware that there are no trains up this north (Norwegian trains end at Bodø).
Bus to Hammerfest
You can take a bus to Hammerfest from Honningsvåg, Alta, and Skaidi. These journeys take 3.5 hours, 2.5 hours, and 1 hour, respectively.
Unfortunately, the times can often vary and you may even get lucky and miss the bus because the tourist information center in Honningsvåg gave you the wrong times. I know from experience.
If you're looking to take the bus to Hammerfest, check the timetables and additional information here.
Drive to Hammerfest
You can also get to Hammerfest in a private vehicle. This is the best way because you will get to witness extremely beautiful scenery, no matter where you're driving in from.
We ended up hitchhiking to Hammerfest after our bus ordeal and got to drive these roads with strangers. It was beautiful. But, do consider renting your own car to do so.
>> Check rental car rates and availability for Hammerfest
Fly to Hammerfest
Hammerfest Airport is surprisingly large compared to many of the other ones I was in on this trip. And by large, I mean, it has a kiosk to buy a hot dog inside.
The flights that go to Hammerfest Airport are all operated by Widerøe and the destinations that connect with Hammerfest are Alta, Berlevåg, Båtsfjord, Hasvik, Honningsvåg, Kirkenes, Mehamn, Sørkjosen, Tromsø, Vadsø, and Vardø.
We flew in from Tromsø via Hasvik on the way there just back to Tromsø directly on the way back.
>> Click here to check flights to Hammerfest with Widerøe
Hurtigruten to Hammerfest
Another option you will have to travel to Hammerfest is to arrive by Hurtigruten, a large cruise ship that goes up and down the Norwegian coast through the fjords.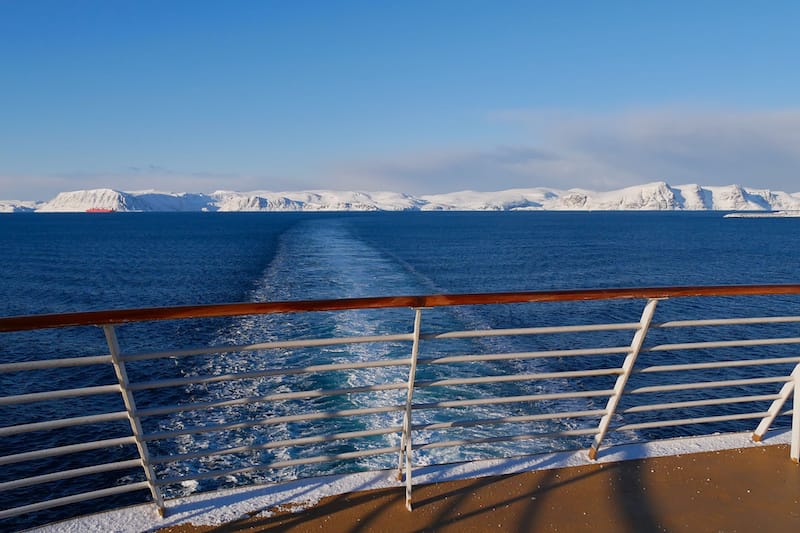 Most people on the ships are partaking in long journeys, but you can book a port-to-port transfer. Unfortunately, this option is currently disabled on the English website and must be done via the Norwegian one.
Click here to check Hurtigruten options to Hammerfest.
Hitchhike to Hammerfest
Megan and I had our first experience properly hitchhiking in order to get to Hammerfest, actually. We arrived in Hammerfest after hitching rides with a couple of different people along the way (hitchhiking in Northern Norway was pretty fun, I might add).
We missed our bus by just minutes in Honningsvåg after being given the wrong times by both the tourism information center and the hostel we were staying in.
It was a Sunday… probably the worst day to have a mishap in Northern Norway. We had a flight out late that evening from Hammerfest, a 3.5-hour journey away.
We met an older Austrian traveler who took note of our dilemma and insisted we hitchhike.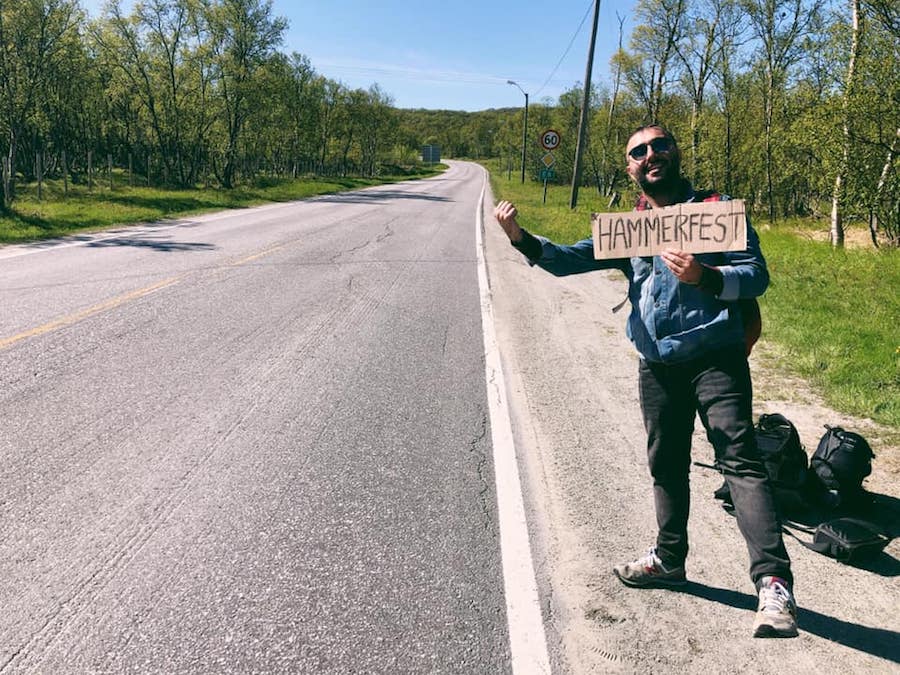 We were reluctant because we needed to catch a flight and the uncertainty left us a bit pessimistic. Fortunately, the man found us a ride with a friendly Dutch couple.
They took us to Olderfjord and then we were on our own again. We made a sign and tested our luck on our own. We were picked up by Veigar, a younger man from Lakselv living in Tromsø.
He drove an incredible 1961 Volvo that we had the opportunity to ride in.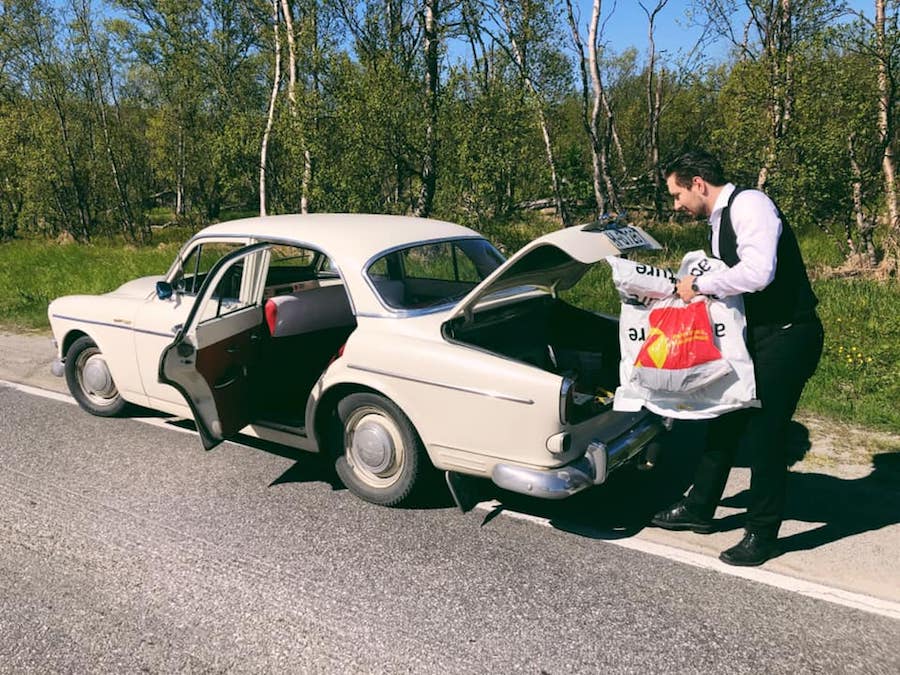 He dropped us off in Skaidi and we struggled to get a quick ride in Skaidi, but a friendly, older gentleman from Hammerfest pulled up in a large van and happily accepted our company for the remainder of our journey.
Once in Hammerfest, I was able to get a ride to the airport by a stranger.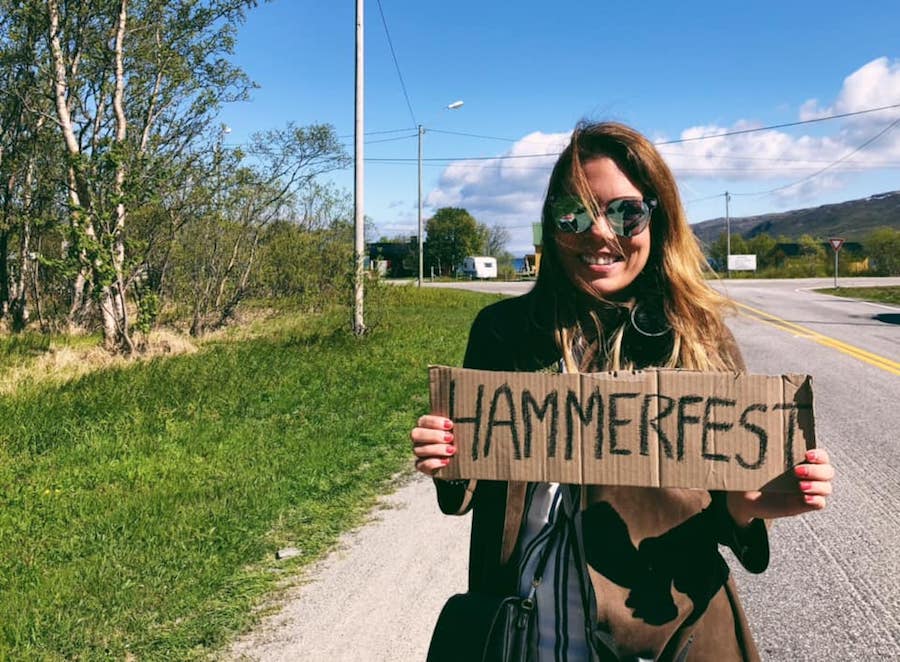 Northern Norwegians are some of the friendliest people I have ever encountered traveling and they made our otherwise dismal situation a pretty good story to tell for years to come.
So, yes, hitchhiking is an option in Northern Norway and a pretty good one at that.
Best Things to Do in Hammerfest
1. Watch the Northern Lights in Hammerfest
And, naturally, this guide would not be complete without mentioning the ever-elusive Northern Lights over Hammerfest on it.
Hammerfest is so far north that there is complete darkness during part of the winter and this is when the northern lights really take the time to illuminate the skies over the town.
You can see them anywhere where light pollution is not a problem.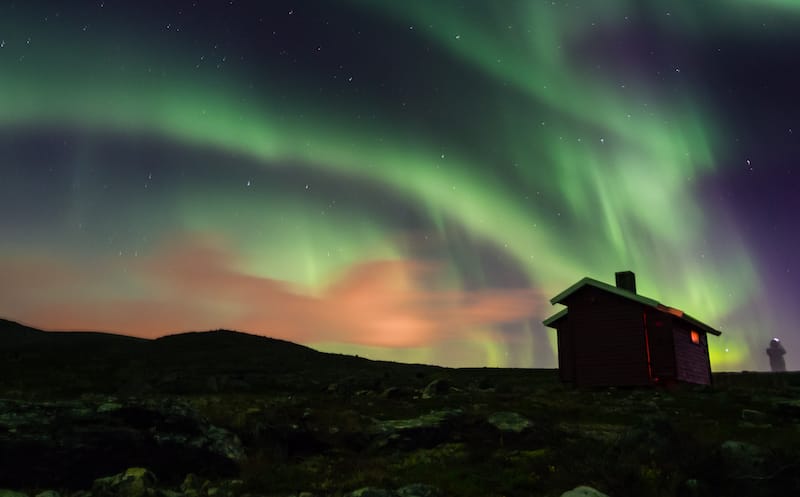 Hammerfest northern lights were made famous by Bill Bryson in his book 'Neither Here Nor There'. The book is a great read and you can purchase it here. I suggest purchasing it before your trip to Hammerfest.
For many years I was not sure how to recommend a tour of the northern lights in Hammerfest, but I have found one all these years later that will take you away from the city's light pollution and into nature!
>> Click here to check northern lights tour rates and availability
2. Visit the Hammerfest Museum of Reconstruction
Located in Hammerfest town center is an important museum that offers a look back at the history of Hammerfest and of the region as a whole.
Norway, like many other European countries, took a huge hit and faced immense destruction during WW2.
The Hammerfest Museum of Post-War Reconstruction showcases the restoration process of cities in Norway, particularly Hammerfest, after it was destroyed in WW2 by the Nazis.
The Museum of Reconstruction has a two-floor exhibition that displays many artifacts and photos of how the city was reconstructed and brought back to life.
You can find the museum located at Kirkegata 19 in Hammerfest. The Museum is 50 NOK for adults and free for kids under 16. It is open daily from 1000-1600.
3. Go to the Royal and Ancient Polar Bear Society
Before discovering oil and creating one of the best infrastructures in the world based around it, Norway survived on hunting, fishing, and trading with nearby and distant countries.
The Royal and Ancient Polar Bear Society Museum was established in the early 1960s and has since displayed the wildlife of the Arctic, especially the polar bear, and how the Arctic's inhabitants were going about their traditional hunting and fishing ways.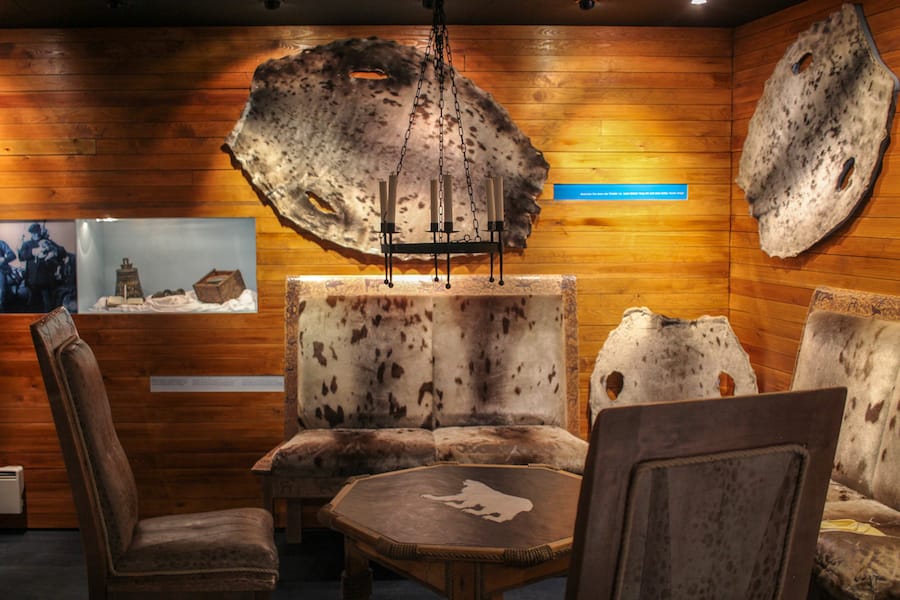 The Museum also focuses on the isolated times of Northern Norway during the 17th century and details more about how the locals during that era hunted, fished, traded, and lived.
The museum offers membership certificates to those who have visited stating that they visited one of the most northern museums in the world. This is definitely one of the best things to do in Hammerfest.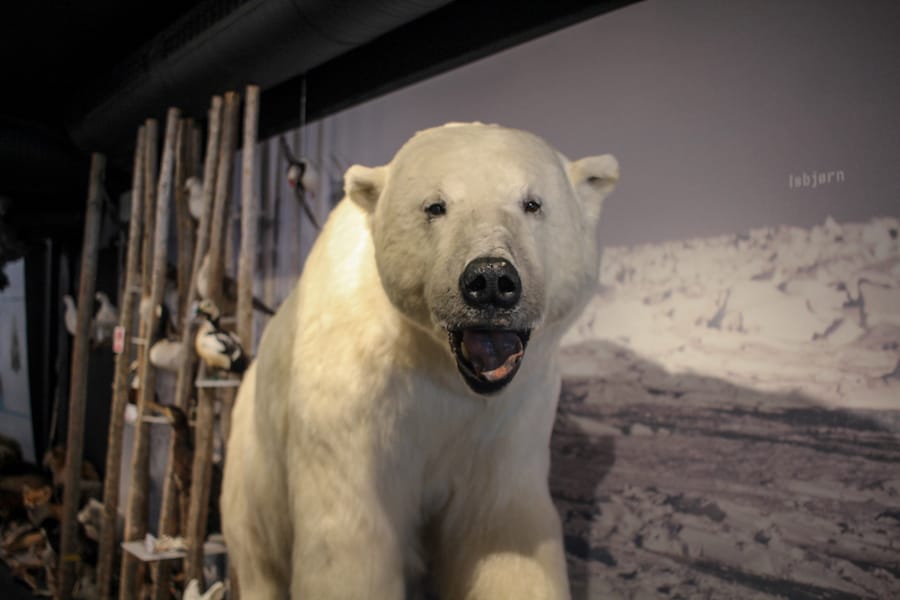 You can find the Royal and Ancient Polar Bear Society at Hamnegata 3 in Hammerfest. A one-time membership is 220 NOK and the museum is open Monday through Friday from 0900-1600 and weekends from 1000-1400.
These times vary depending on the season. Check the Isbjørnklubben website for additional details.
4. Check Out the Hammerfest Church
The main church in Hammerfest was built in 1961 and has a modern design aesthetic. The church is one of the first historical things in Hammerfest that will catch your eye once you enter the city by car.
In my opinion, it was one of my favorite pieces of architecture in Arctic Norway after the Tromsø Arctic Cathedral.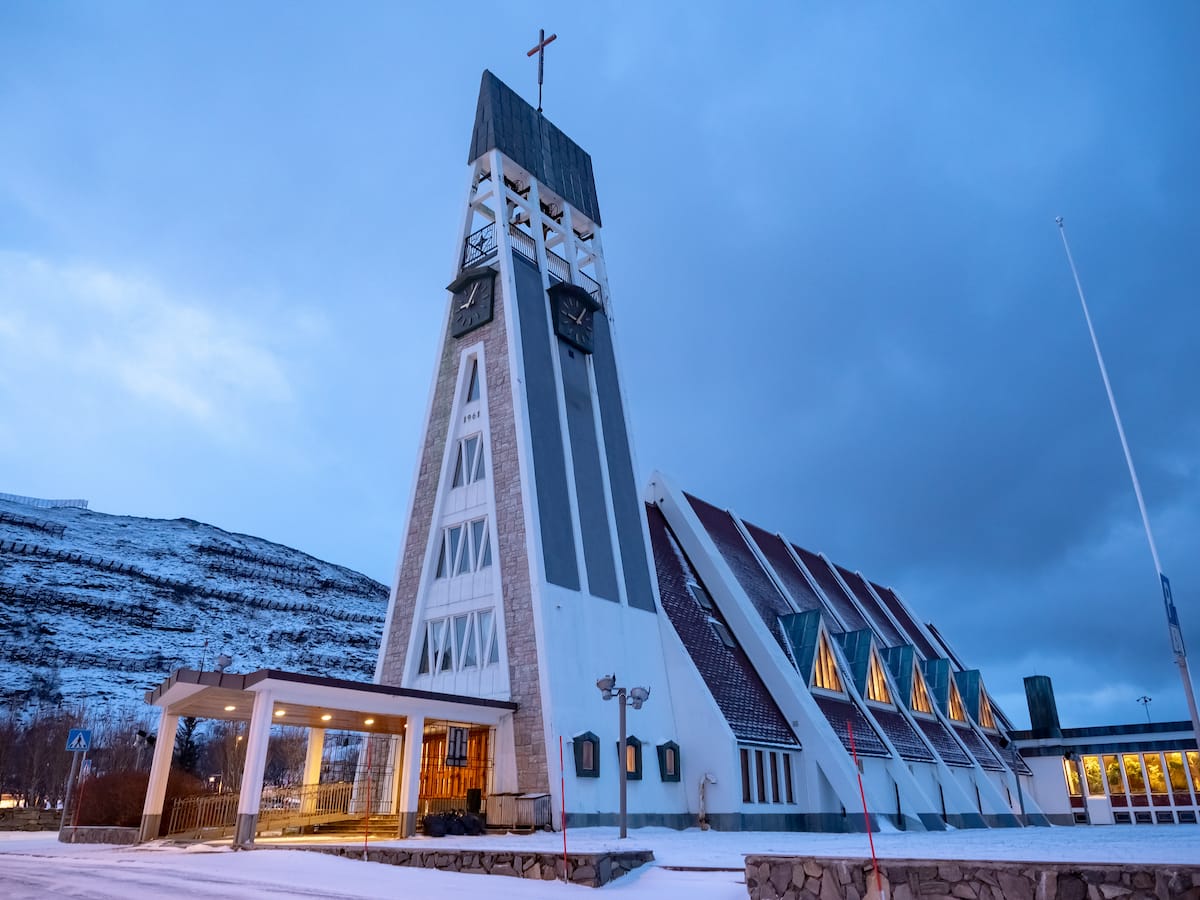 The Hammerfest Church can hold 525 people and was also part of the reconstruction efforts after WW2.
You can find the Hammerfest Church at Corn Moes Gate 9600 in Hammerfest.
5. Hike to Mount Tyven
Hammerfest is surrounded by beautiful nature and mountains and if you're into hiking, be sure to hike up Mount Tyven to get a great view of Hammerfest during sunset.
The 7.7, intermediate-level hike is the ideal activity to partake in when you visit Hammerfest. I recommend taking your camera with you because the sunset and views will be nothing short of magical.
6. Enjoy Seafood at One of the Many Hammerfest Restaurants
Hammerfest is located right on the sea and there is no better place in Norway to enjoy fresh seafood and the local catch than in Hammerfest.
One thing that is cool about Hammerfest is that there is a diverse array of restaurants for the place being so small. You can grab sushi at Niri Sushi & Dinner or a pizza at Boden.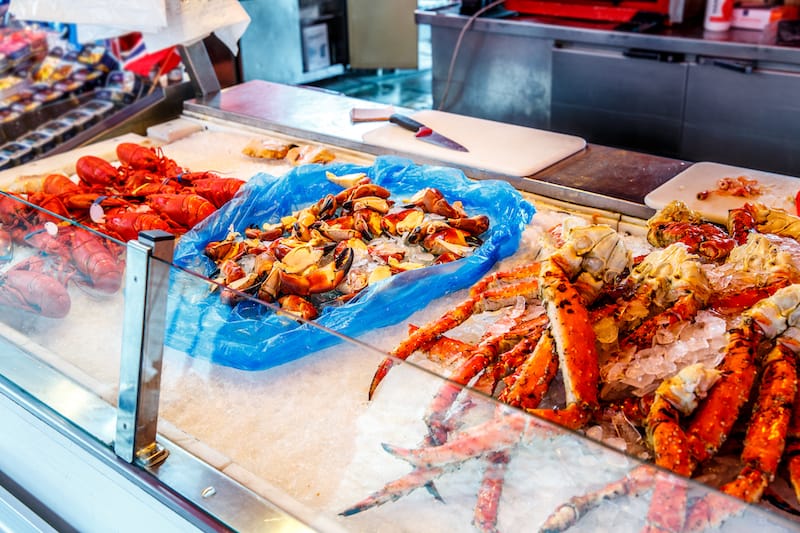 Or, you can head to a fishmonger or shop and grab the local catch and create something yourself!
There is a pretty solid selection in Hammerfest and you won't be hard-pressed to enjoy some tasty, local food when you're up there.
7. Trek to Tarhalsen on Sørøya
Because you can never get enough of the raw nature of Hammerfest and the local areas, I definitely recommend trekking to Tarhalsen on Sørøya as one of the best things to do in Hammerfest.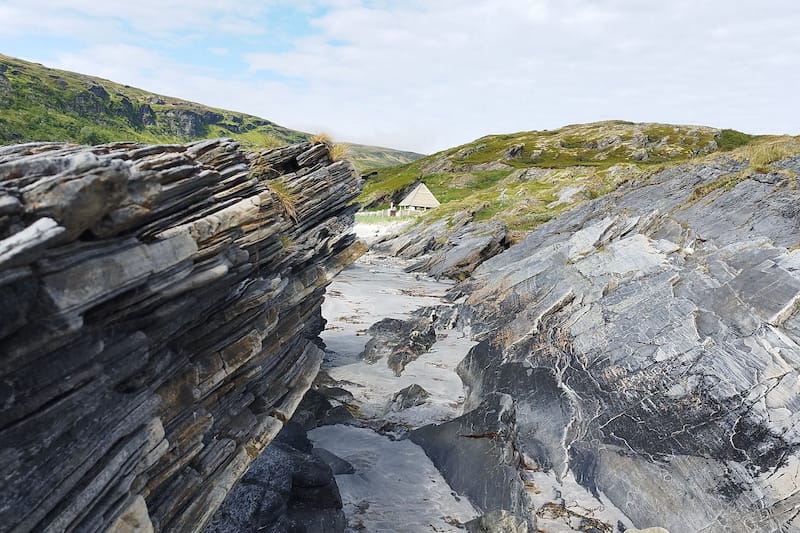 Sørøya is an island near Hammerfest and it shows off dramatic mountains and scenery as it looks out to the Barents Sea. The trek itself will take you to an old lighthouse at Tarhalsen.
The hike is 12 kilometers and starts at Akkarfjord… the hike takes around 5 hours one-way.
8. See the UNESCO World Heritage Site Meridianstøtten
Meridianstøtten, or the Struve Geodetic Arc, is a series of monuments dedicated to an effort to measure the world and distances in the 19th century.
This monument was erected by Wilhelm von Hanno and all of these became UNESCO World Heritage Sites in 2005.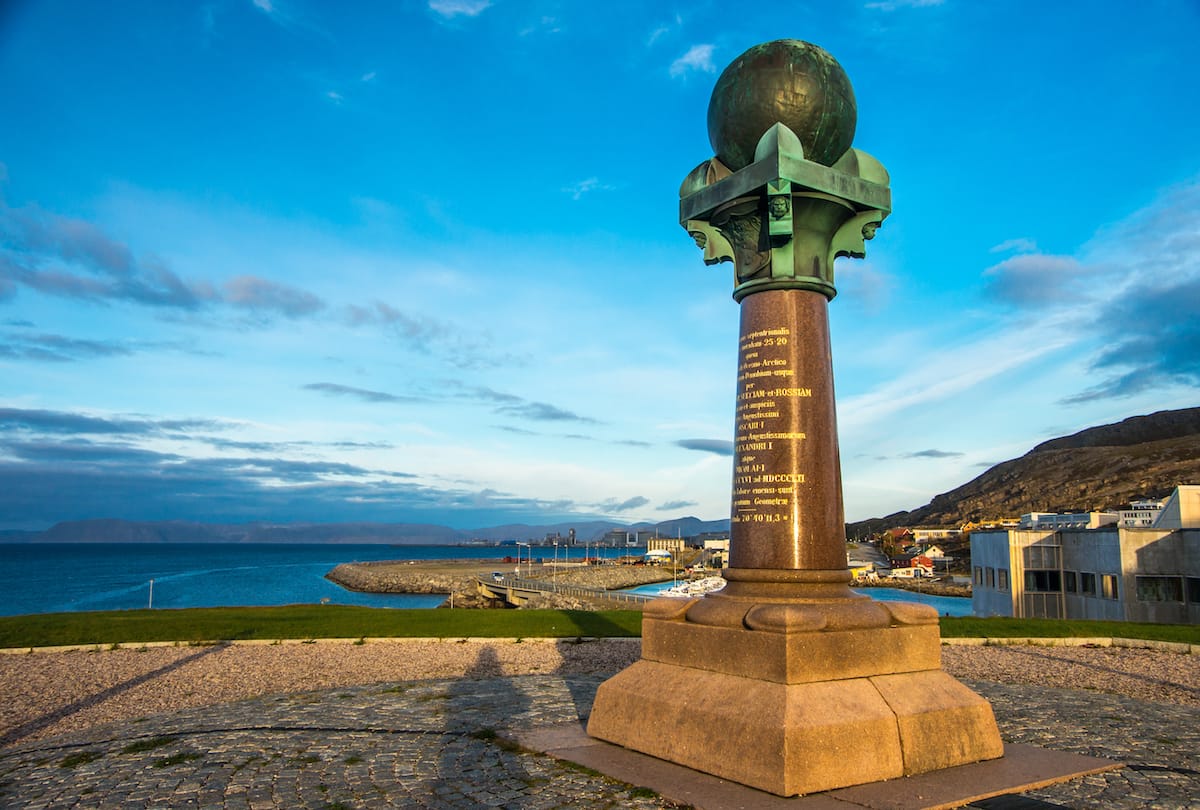 There are ten nations that are part of the Struve Geodetic Arc and Norway is one of them. The other measuring points in Norway are in Alta and Kautokeino, cities that are both in the high-Arctic.
You can view this one in Hammerfest in the area of Fuglenes. This is the first technical-scientific site in the world to be placed on the UNESCO World Heritage list.
9. Visit Fountain Mother and Children
Located in the town center in Hammerfest, you will find a fountain of a mother surrounded by children.
The fountain, aptly named 'Fountain Mother and Children', was given to the city as a gift from former United States ambassador Charles Ulrick Bay.

It symbolizes his mother, Marie Hauan Bay, who was originally from Hammerfest, surrounded by her four children.
The fountain is one of the most popular sights in Hammerfest.
10. Have a Beer at Jernteppet
The best way to find and feel the mood of a city is through its social scenes and nightlife.
Jernteppet is a centralized bar in the town of Hammerfest that has a variety of beer, an enjoyable outdoor terrace, and great socializing, and they even sometimes have open-air concerts there.

If you're looking for a taste of Hammerfest nightlife, definitely check out Jernteppet.
Jernteppet is closed on Sundays and can be found at Strandgata 24 in Hammerfest.
11. Learn About the Sami at Mikkelgammen
In Northern Norway, the natives are Samis and they are known for their closeness with nature and reindeer.
You can educate yourself more on the lifestyle of the Samis by going to Mikkelgammen.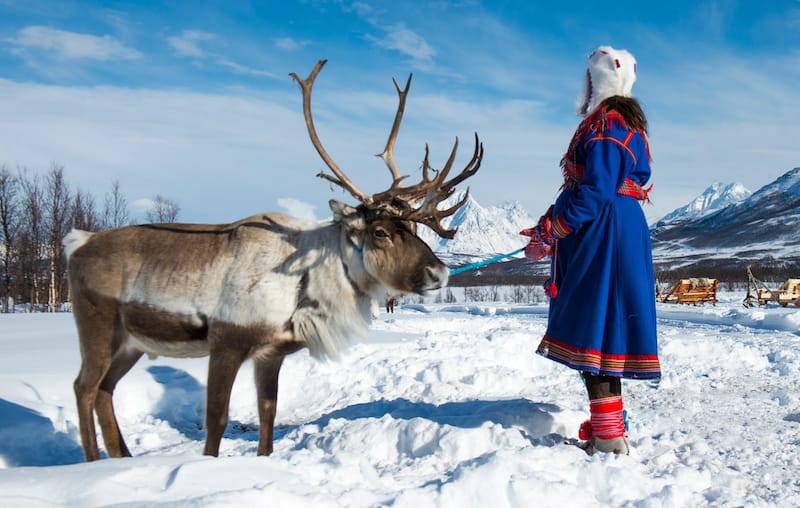 You will be able to see a traditional lavvo and taste local Sami and Northern Norwegian food like dried reindeer meat, cloudberry jam, and smoked salmon.
During the experience, you will get to witness a great view of Salen Mountain.
12. Pay 'Hvaldimir' (Whaledimir) a Visit at the Hammerfest Harbor
Disclaimer: Hvaldimir is no longer there. He somehow ended up in Oslo. But, this was such a cool memory that we will be leaving this here if you want to read about our experience with him!
One of the most random things to recently put Hammerfest on a map globally has been the arrival of 'Hvaldimir', or 'Whaledimir', to the town.
You can read more on RFERL about how this beluga whale ended up in Hammerfest here. I will share my experience meeting this famous whale below.
I was traveling around Northern Norway with Megan working on content for this blog as well as a separate project which was the reason we ended up in Hammerfest in the first place.
After our hitchhiking experience I detailed above, Megan decided to head straight to the Hammerfest Airport to work while I opted to stay in the town and explore it.
I went and checked out what we were planning to put on this guide (as you can read here) and then I had some spare time before heading to meet Megan at the airport.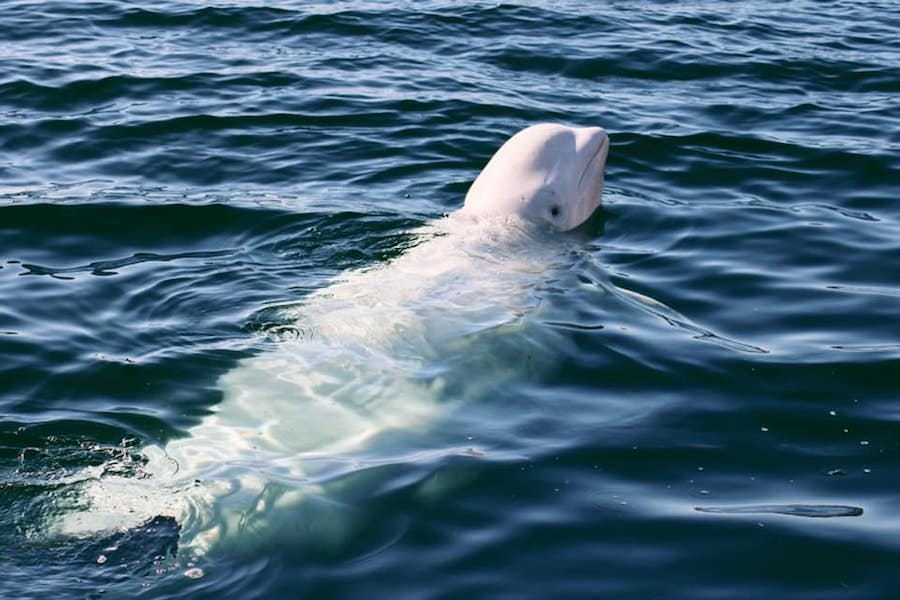 As I started making my way to the airport, I saw many locals gathering at the harbor and getting excited about something. What I saw blew my mind.
Before coming to Hammerfest, Megan kept telling me a story about some alleged Russian spy beluga whale that escaped from somewhere around Murmansk and made the journey to Hammerfest.
When found in waters outside of its home area, it was apparently found to have a GoPro camera attached to it for underwater recording and it was specially trained.
I don't really pay much attention to what Megan says because she sometimes rambles on about irrelevant stuff, but seeing this whale in front of me in Hammerfest brought back her stories about the whale.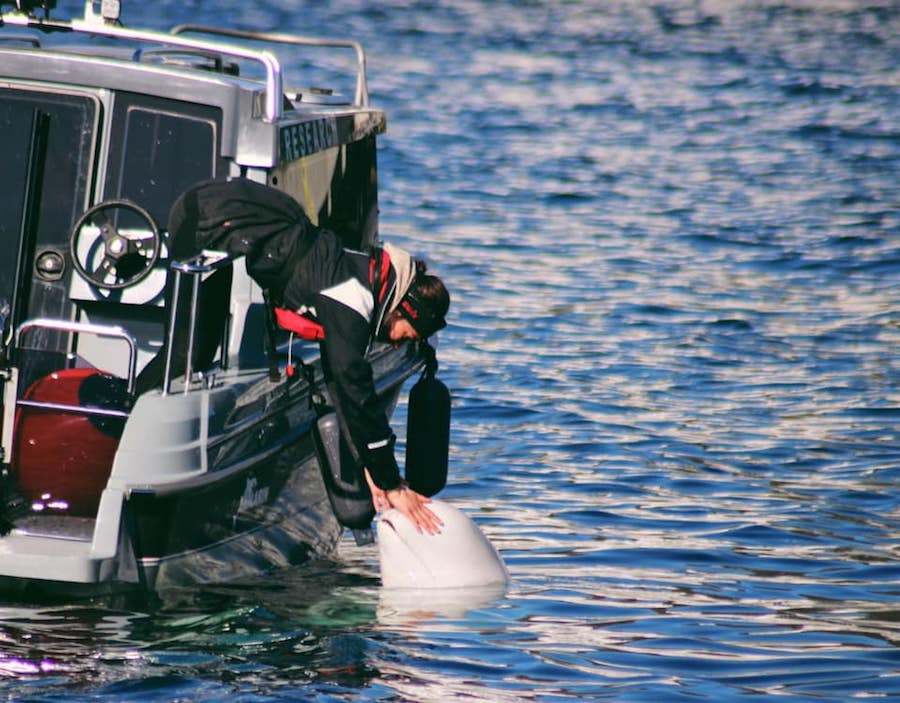 Apparently, he was brought to the harbor on Sundays to have a feeding. Researchers were with him there and he was in a safe area with trained specialists.
I knew Megan would be irate and upset that I got to see "Hvaldimir" (the locals named him that after Vladimir Putin… 'hval' means whale in Norwegian) and she didn't. I was right.
If 'Whaledimir' continues to call Hammerfest home, it is worth paying this famous beluga whale a visit during his Sunday feedings at the harbor. He was truly a spectacular and beautiful animal.
Where to Stay in Hammerfest
There are a few places to stay in Hammerfest, but based on my experiences in other Norwegian cities, I would highly recommend any Scandic or Smarthotel in Norway.
Both are practical and offer all the basic amenities.
Hammerfest is a great and comfortable city to add to your Northern Norway itinerary.
While there may not be as many things to do in Hammerfest as in places like Bodø, Tromsø, or Alta, you will find a friendly and inviting city with enough to occupy you for a couple of days.
More Northern Norway Travel Guides