One of the best things you can do when visiting Norway is to sleep in the wilderness. This is a guide to everything you need to know before camping in Norway.
It will include practical tips, advice, and some of the rules and regulations in place for Norway camping.
Camping in Norway – Practical Tips
Norway is a country that is unprecedented in its beauty and no matter how hard you try, it is impossible not to find this country totally awe-inspiring.
While the fjords cut inland, mountains rise out of the murky depths creating dramatic scenery before giving away to the tundra in the north.
While many countries limit you to staying in official accommodation or campsites, Norway gives travelers and all of its citizens the right to explore the land and wild camp pretty much anywhere.
I'll admit, I was never much of a camper in my younger years, and to be honest, I am not much of one now.
However, I throw caution to the wind when it comes to Norway and revel in the experience of pitching up my tent in the middle of nowhere and taking in the gorgeous views that surround me.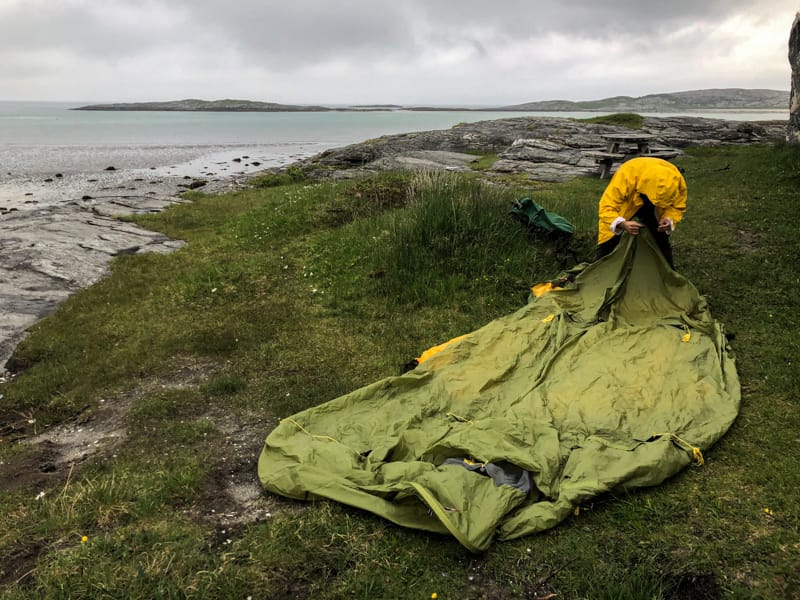 Should You Consider a Norway Camping Experience?
Camping atones for the fact that Norway is beyond expensive and the ability to pitch up a tent for free means you can save hundreds of dollars in accommodation costs in a country where a basic hotel can run around $150 a night!
The stress of removing the financial burden allows you to enjoy nature even more while spending your money on gas or eating out the occasional meal.
Is Camping in Norway Safe?
For the most part, yes! Norway is generally a pretty safe destination anyway, and camping is no exception. You can even rent an RV from a local with Goboony and it is safe!
However, the terrain and temperatures in Norway do pose a threat to travelers, so please know your surroundings and always prepare for the worst. It's also best if you can bring with you some survival tools for your safety.
In eastern Norway, bears exist. In the west, you won't find too many animals that are a threat. Your biggest threat in Norway is the elements themselves.
Wild Camping in Norway
The freedom of wild camping in Norway is permitted by the Allemannsretten law, which roughly translates as every person's right, allowing you to camp on and hike through all public land without (many) limitations.
This freedom means that as you travel through the countryside, you can simply stop your car or finish your hike, pitch your tent, and camp for the night before moving on to the next site.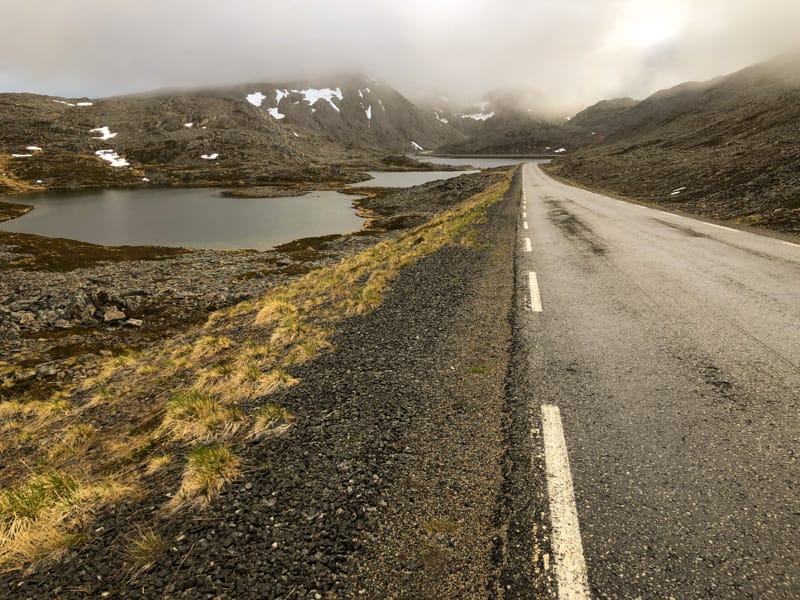 The beauty of Norway wild camping is that you can really get in touch with your wild side- there is nothing in this world like crawling out of your tent in the morning and making a coffee while looking out over a fjord hoping to catch a glimpse of an orca in the waters or a sea eagle swooping down to catch a fish.
While I am not an expert camper by any means, this guide will take you through my top tips for surviving camping throughout Norway.
Along with these Norway camping tips, I will provide some valuable information about your right to wild camp in Norway and the rules you will need to follow.
What Is the Allemannsretten Law?
Allemannsretten is a law that allows the free use of all public land, meaning that everyone has the right to use the land for their own leisure whether it be for hiking in Jotunheimen, bike riding near Stavanger, or camping close to Ålesund.
Essentially, the law gives you the right to enjoy the land of the country but there are a few rules that need to be adhered to.
You can camp on any public land, providing it is 150m away from private property or land, including cabins and general use buildings.

Land that is being cultivated or used for the regrowth of flowers should also not be camped on.

You can stay for a maximum of two nights, however, you can ask local authorities for permission to stay longer. In the Arctic, you can generally stay as long as you want as long as it's not too close to tourist attractions or blocking any paths.

You should not impact the view of any of the main tourist attractions and your camp shouldn't impact the routes to reach the areas.

You must ensure you leave no evidence of your stay behind, taking all trash with you.
Other than these few rules, Norway is your oyster and you can fully explore the fjords, mountains, and expansive tundra.
Norway Campervan Information
Obviously, taking a campervan through Norway is one easy way to get around the country, especially if Norway is just one stop on your itinerary when touring Europe in a campervan.
For the most part, you will need to adhere to the rules of the road but also take mind that while you can pitch a tent in Norway anywhere, you can't just park a caravan anywhere.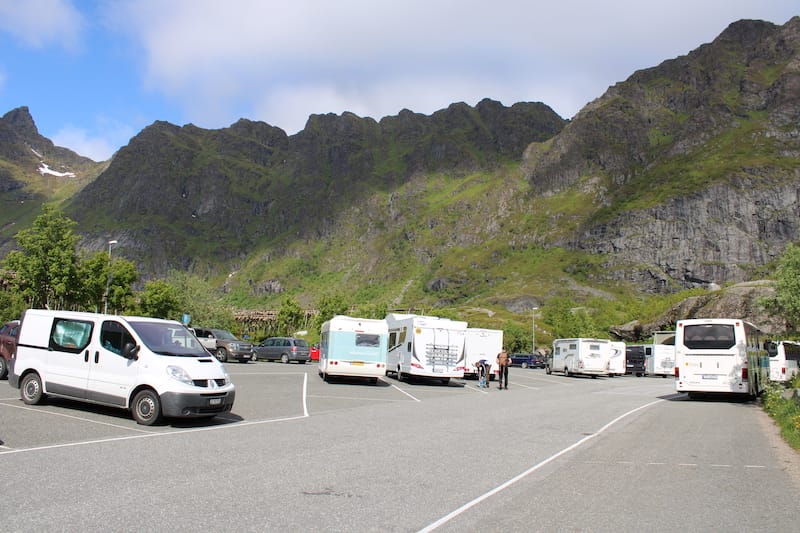 If you're in a parking lot somewhere and you see a sign that states 'no camping', generally it will be referring to campervans and RVs, not particularly tents.
Camping Seasons in Norway
Camping in Norway is a seasonal activity for the average person. From late autumn to early spring, darkness enshrouds the country with only the southern areas of the country experiencing a few hours of daylight each day.
With the never-ending darkness comes extreme cold and snow, meaning that camping during this period is only advisable for those with experience camping in the extremes with all the proper equipment.
Winter
The temperatures in winter are deadly cold and inexperienced campers with the wrong gear could easily find themselves in trouble.
However, during this time, it is possible to rent winter cabins and enjoy a more glamorous life on the wild side and keep an eye out for the elusive northern lights hanging above.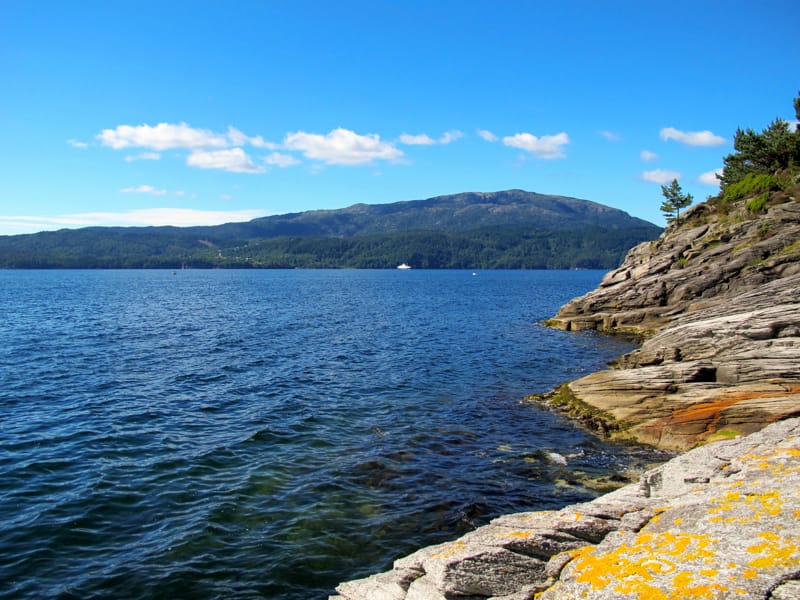 Summer
Between late spring and early autumn, the land opens up and camping becomes feasible again. During this period, long days means you can maximize your time exploring the land and seeing as much of the country as possible.
Temperatures during this time remain pleasant and perfect for spending the day being active but during the night, temperatures will drop significantly.
As you travel further north, you will find the days get longer and longer and above the Arctic Circle, the days never end as the sun fails to fully dip below the horizon.
While the days in the north are long, the temperatures remain cool and the weather can be slightly unpredictable.
Hunting Season
Throughout the year, there will be various hunting seasons for different animals. While hunting season is happening in the area you're visiting, wild camping tends to be banned for your safety.
These seasons change year by year depending on wildlife stocks and before embarking on your trip, you should speak with local authorities to see where and when camping may be banned.
What to Bring for Norway Camping
Camping in Norway can be a challenge due to the extreme elements. The elements will battle against you constantly as Atlantics winds blow in various weather systems.
You will need to bring gear with you that will hold up to the weather, especially when it comes to being water and windproof.
First of all, your tent will have to hold up in the weather which means you may need to sacrifice a few comforts when choosing the perfect tent.
The wind in Norway blows in hard and you will want to have a tent with a low ceiling to avoid the possibility of it collapsing on you during the night.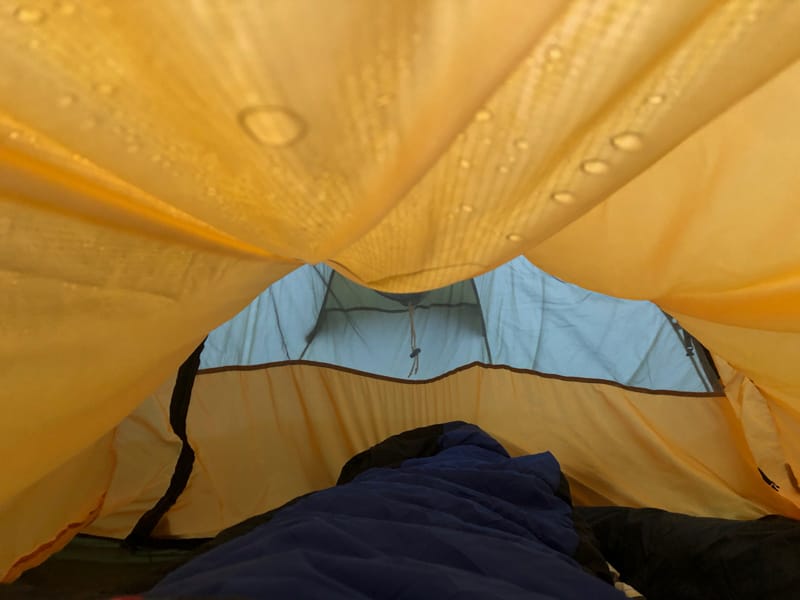 In addition to a low ceiling, you will want to ensure you have only one entrance to avoid the tent becoming a wind tunnel. Double-walled tents, although heavier, will provide additional protection from rain and also provide a much needed extra layer of insulation. It is one of the best tips for staying warm while backpacking through Norway's luscious (and cold!) landscapes.
Tents with an outer shell tend to keep cool when the sun starts to shine on them while also locking in the warm during colder nights.
You should also invest in a decent ground mat since the ground below will get very cold and uncomfortable during the night, especially in the winter (if you're brave enough to camp then!)
Finally, invest heavily in a sleeping bag because the night time temperatures will drop significantly, especially if it rains heavily for an extended period of time.
I noted what I think you will need to successfully camp in Norway, but here are some quick links to products and equipment that I think will help you on your journey:
In this guide, I have curated a list of things I knew or was aware of before heading on my first experience camping in Norway.
If you have any additional tips please leave a comment below!
Camp in Norway: Rules, Tips, & More
Picking the Right Spot is Everything
I quickly found that choosing the right spot is everything when it comes to camping in Norway.
Thoroughly inspect the ground you have chosen as I have found that I am an expert in finding the rockiest and most uncomfortable spots.
As the weather changes, the ground can be somewhat difficult to judge and softer spots may reveal a rocky base that a camping mat struggles to cover up.
Your spot should also be sheltered, especially if you are camping along the coast, as you may find yourself fighting to put your tent up against the elements.
I find camping relatively stressful and nothing increases my level of stress like trying to put a tent up in the wind.
Beware of Mosquitoes
Mosquitoes love me and I have to be honest, it's not a reciprocated love as I hate them.
In Norway, they are unfortunately prevalent and even more so in the north! The boggy lands of Arctic Norway are the perfect breeding ground for these blood-sucking insects and while they don't carry any deadly illnesses, they are annoying as hell.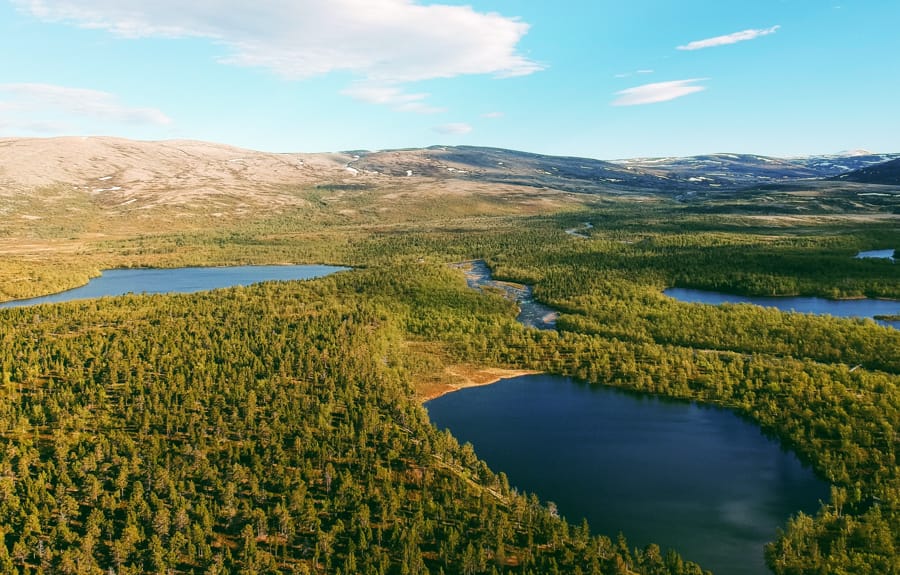 I recommend taking plenty of bug spray with you to try and stop them from eating you alive. If you are planning to camp and hike in the north, like at Stabbursdalen National Park, its fully advisable to wear clothing that covers as much skin as possible to protect yourself as they are truly relentless.
Thankfully, mosquitoes are pretty much the only animals you need to worry about with only a handful of wolves and bears in the country.
However, in the south of Norway, be wary of the European Adder, a breed of poisonous snake that lives south of the Arctic Circle.
Pack Plenty of Layers
Packing for Norwegian weather is something I find impossible (almost). I am, by no means, a light packer and tend to massively overpack and then wear less than three percent of the clothes I pack.
However, while camping, I quickly realized I needed to layer up with thin, light layers that can be easily removed or piled back on quickly.
Weather changes faster than a blink of the eye and you can quickly find yourself in a rainstorm that transforms into glorious sunshine and extreme humidity.
A rain and windproof jacket in the end though will be the most important thing you take as this will provide you the most protection from the elements. In the evenings, make sure you have a decent sweater for relaxing by the tent as the temperatures do drop significantly.
Click here to check out our guide to packing for Norway in winter (if you happen to be brave enough to go camping then!)
Try Your Hand at Fishing
For those looking to earn their dinner, Norway's coastal waters are full of fish that are waiting to be caught. I have always found fishing in Norway peaceful and a relaxing way to spend some hours with your thoughts while you admire the surrounding beauty.
Fishing in Norway's coastal waters is free for anyone to try without a permit or license (unlike in freshwater where it is strictly regulated).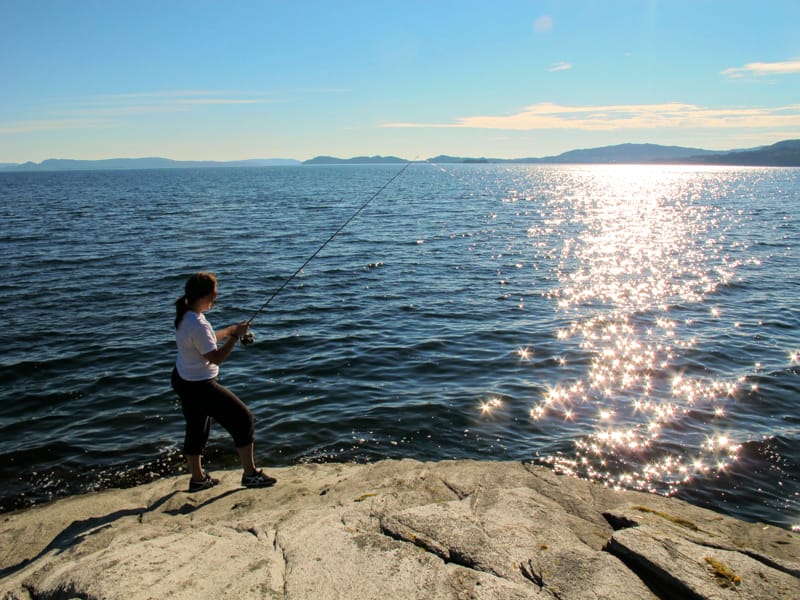 There are a few rules you need to bear in mind. For example, you cannot fish near a fish farm and all protected fish species must be thrown back as well as any undersized fish.
Fresh fish is one of my favorite meals and I have fond memories of catching my own fish and grilling it shortly after, especially on some of Bergen's best day trips.
My Aeropress is My Lifesaver
I love to start my day off with a coffee and even more so when I am surrounded by breathtaking scenery.
Norway has many impressive cafes that sell and brew some of the world's best specialty coffee, however, when you are emersed in the wilderness, finding a cafe is no easy task, so I like to have my Aeropress handy so I can brew a cup of coffee with beans I have picked up before setting off.
I tend to make a cup to enjoy as I sit taking in the fresh morning air before brewing some more to fill my flask up for the day.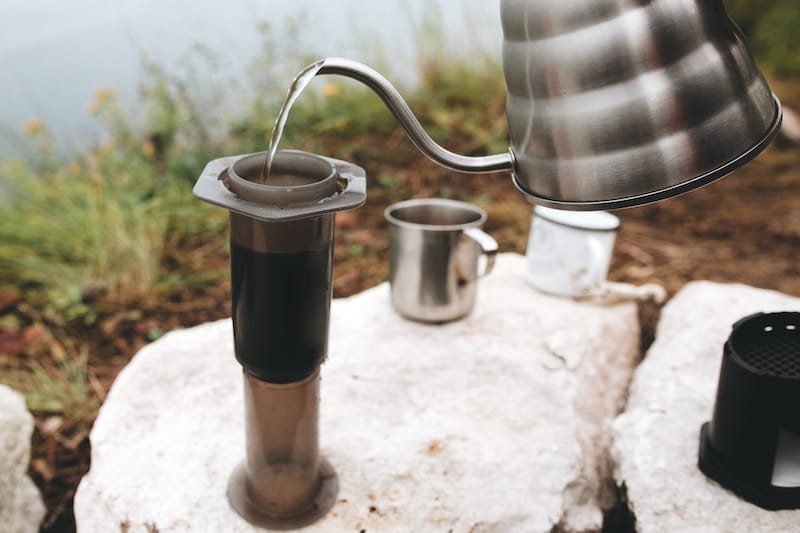 The reason I love using my Aeropress while camping is because it's light, space-efficient, and makes outstanding coffee.
In addition to bringing an Aeropress, I also recommend traveling with a reusable coffee cup, such as this Keep Cup. It is the exact one I use when I am on the road and I swear by it!
Invest in a Decent Sleep Mask
While in Southern Norway, the sun does set but it is not until late at night and soon after it rises again. This can make getting a decent night's sleep difficult, especially if you're camping in Oslo or Bergen.
I realized quickly that if I was going to get any sleep, I would need a sleep mask and a good one at that.
While they are not perfect, they really do help, especially if you are planning to camp in Northern Norway, where the sun rarely sets in summer and the lack of darkness can be somewhat disorientating.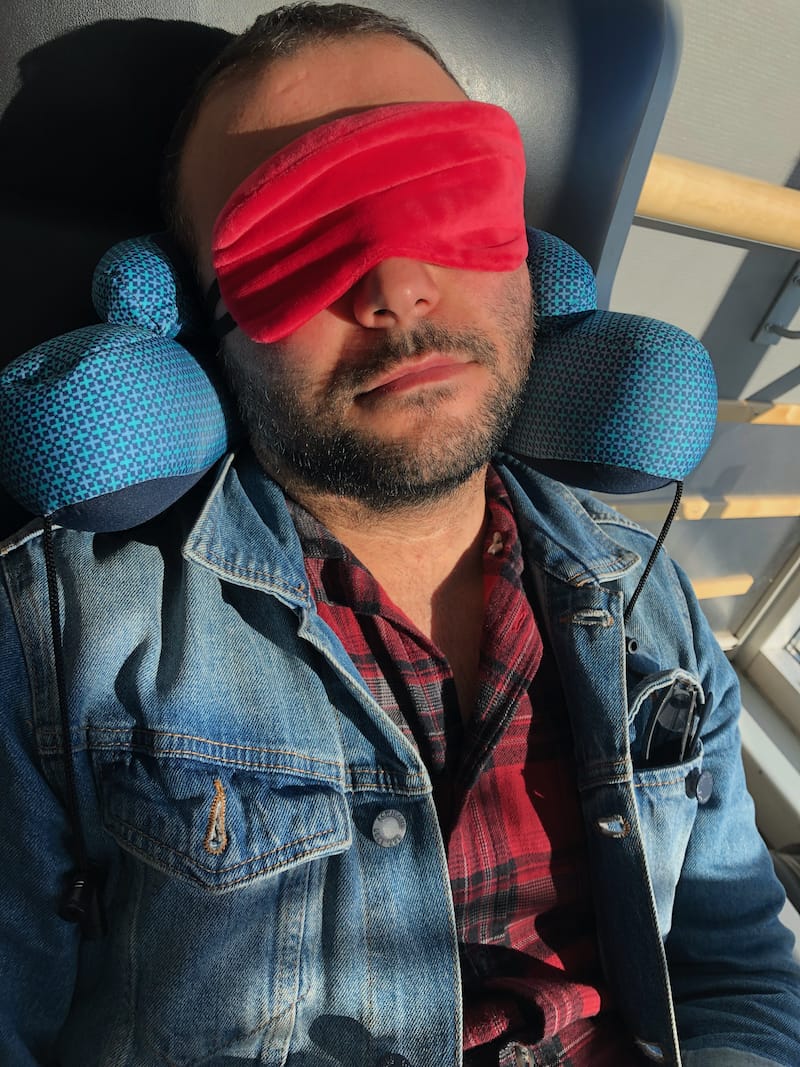 I am a light sleeper and pretty much anything can wake me up, but I find that using a sleeping mask at least got me a few hour's sleep, which was enough to feel refreshed and ready for the next day.
Bring a Portable Gas Stove
Restaurants in Norway are expensive and one of the best ways to save money is by cooking.
I bring a small gas stove with me where I can heat up small dishes and grill up some fish (if I am lucky enough to catch one).
If you are traveling around by car, you have the opportunity to bring along a heavier and more sophisticated grill.
Throughout most of Norway, open fires and disposable BBQs are illegal, so a gas stove will be a lifesaver, even if it's just for cooking up some soups or Spaghetti-o's.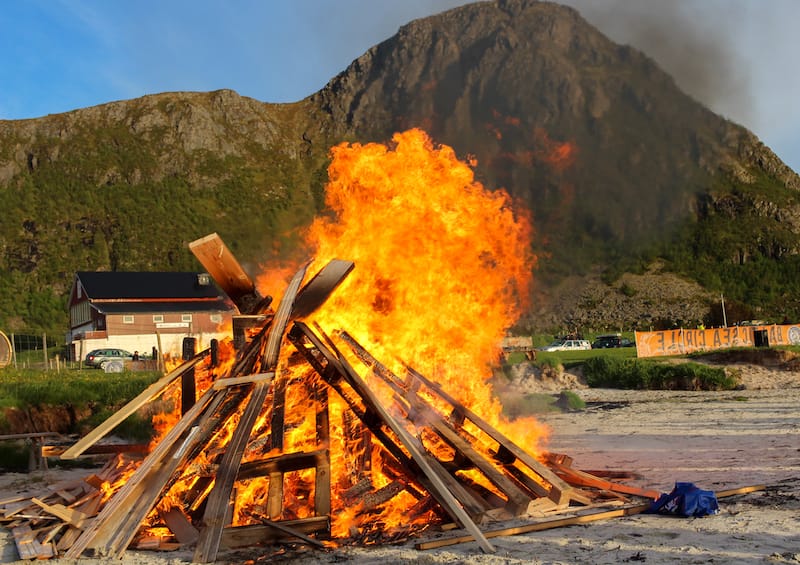 For those wanting to cook over an open fire, it is possible on beaches to have a small fire, as well as places that there is no chance it could cause a wildfire.
If there is a spell of dry weather and drought is declared throughout Norway, all kinds of fire will be banned, including gas stoves.
Sandwiches are King!
Norwegians love open-faced sandwiches. Head to any cafe or bakery and you will see a fantastic array of sandwiches ready to buy and eat straight away.
I like to take this idea with me when I camp as they are easy to make and the toppings hold well while transporting, especially if you have a little bag with you.
One of the reasons I love Norwegian sandwiches is that the bread in Norway is some of the best in Europe, even if some countries may disagree with me.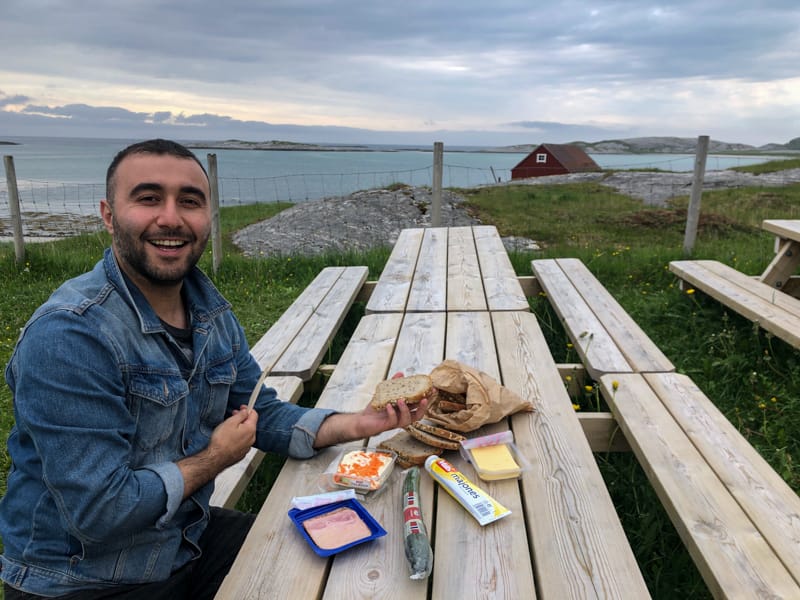 I tend to simply use delicious Norwegian brown cheese and jam to top sandwiches, or I purchase a yellow cheese with cucumber and mayo for another alternative.
💥 INSIDER TIP: A cheap and easy option is to purchase a cheese slicer (invented in Norway!), some Wasa knekkebrød crisps, and cheese. To give more flavor, buy a cucumber or a red bell pepper, and a tube of mayonnaise. It is a lifesaver!
Forage for Berries
One of my favorite activities in Norway, even when not camping, is foraging for wild berries. There are plenty of delicious berries that grow naturally in the wild and they are free to pick and consume!
Take some Tupperware with you so that you can store the berries you see and pick along the way. You'll find delicious varieties such as wild strawberries and blueberries… both of which can be found in abundance.
In the north, you can also find cloudberries. These delectable berries are a sought after ingredient and in some cases, the picking of them is reserved to farmers only as they are a valuable source of income.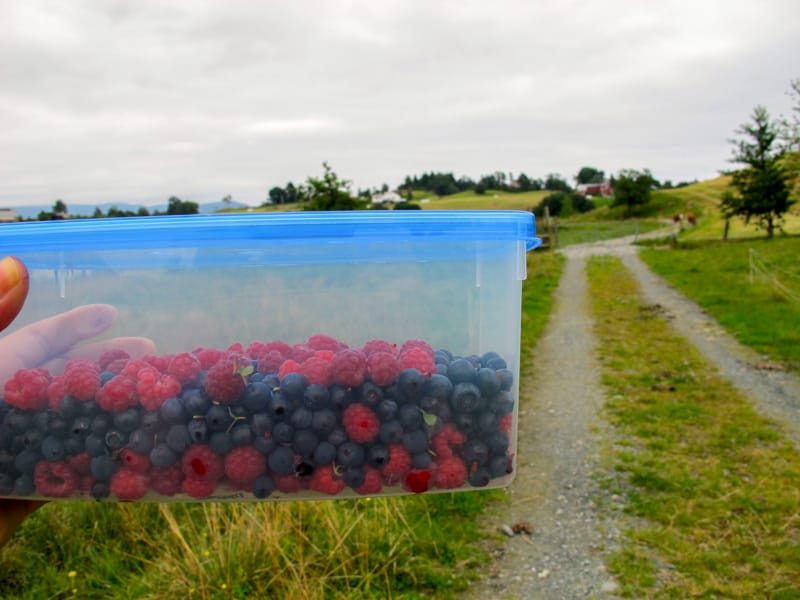 There are also plenty of wild mushrooms growing around the country that can be picked. However, you should be sure you know what you are picking as there are some poisonous varieties out there.
💥 INSIDER TIP: While this may be common knowledge for some, it won't be for everyone! Berry season is summer. You will likely find wild strawberries (very small and hard to spot on the ground), blueberries in the forest, raspberries on bushes, and lingonberries galore. Blackberries are not as common.
Don't Feel Bad if You Need a Break from Camping!
I will be honest, I can only stand camping for a while before I need some more comfort in my life.
However, I don't think this anything to be ashamed of, even if it is just a few nights at an official Norway campsite.
There are over 1,000 campsites in Norway, each with their own star rating based on their amenities. These provide a perfect place to rest up enjoy some additional comforts and grab a warm shower.
Some of the higher rated campsites will have on-site restaurants and cabins where you can grab a comfortable nights sleep in an actual bed. We actually planned on camping one night at Nordkapp but ended up just getting a hostel instead!
If you're hanging around the Lofoten Islands, I definitely recommend taking a break from tent camping in Norway and enjoying a night in one of the famous rorbuers in the Lofoten Islands instead.
Don't Forget To Pack a Few Power Banks
I never leave home without at least one power bank in my bag. While camping, I tend to tote my whole collection with me, which consists of about 4 power banks that each can fully charge a phone about 5 times.
Though they are heavy, they reduce your need to find power sources to charge your phone. Keeping your phone charged is very important as if you are out in the wild you may not see other people for a few days and your phone will be your lifeline if you get into trouble.
Power banks are also great for charging other products and I have a USB charging device for my camera batteries so that I can keep all running while I am in the wilderness.
Bring Sunscreen
Even though the temperatures are not scorchingly hot, you should not be deceived by the power of the sun in Norway.
Sitting high in the sky, the sun's rays beam down just as intensely and you can quickly find yourself getting burnt. If you are spending the majority of your trip by bodies of water, you can find that the power of the sun is double as it reflects back on you from the water.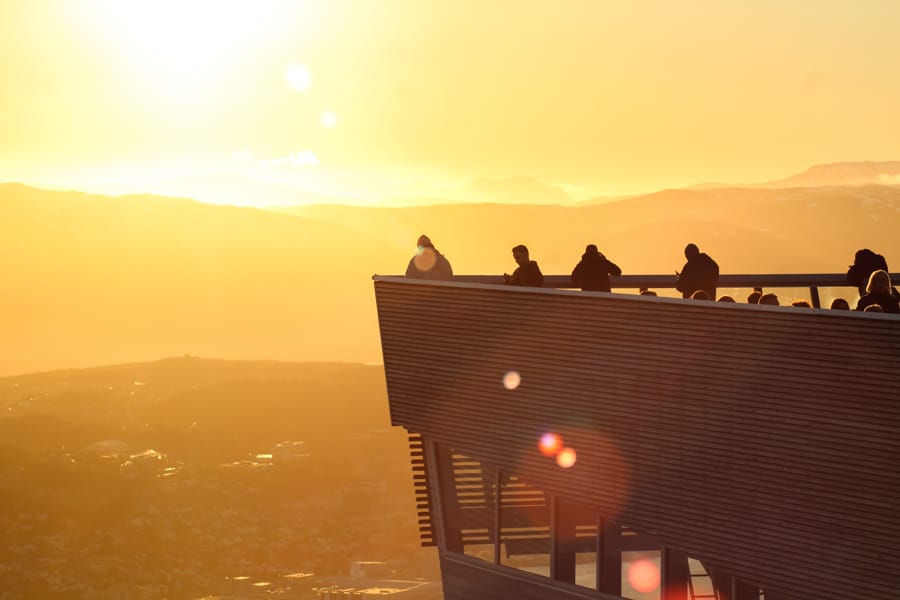 In addition, during Norwegian summers, the sun is closer to the Earth than in other places around the globe and it is easy to fry your skin without even noticing because the cooler temperatures will deceive you a bit!
I am personally not someone who burns easily, but I am fully aware of the discomfort it can cause and how that discomfort will be amplified while trying to sleep on a hard floor.
Here is my recommended vegan and reef-friendly sunscreen from Sunbum that I suggest toting to Norway with you.
Norway's Water is Clean, Drinkable, and Awesome
While I highly recommend bringing some water with you, Norway has some of the best natural water sources in the world.
There are plenty of streams running off of the mountains, constantly being topped up by fresh clean meltwater.
The water in fast-moving streams is perfectly fine to drink. Bring along a couple of reusable water jugs to stock up on water as you work your way through the countryside.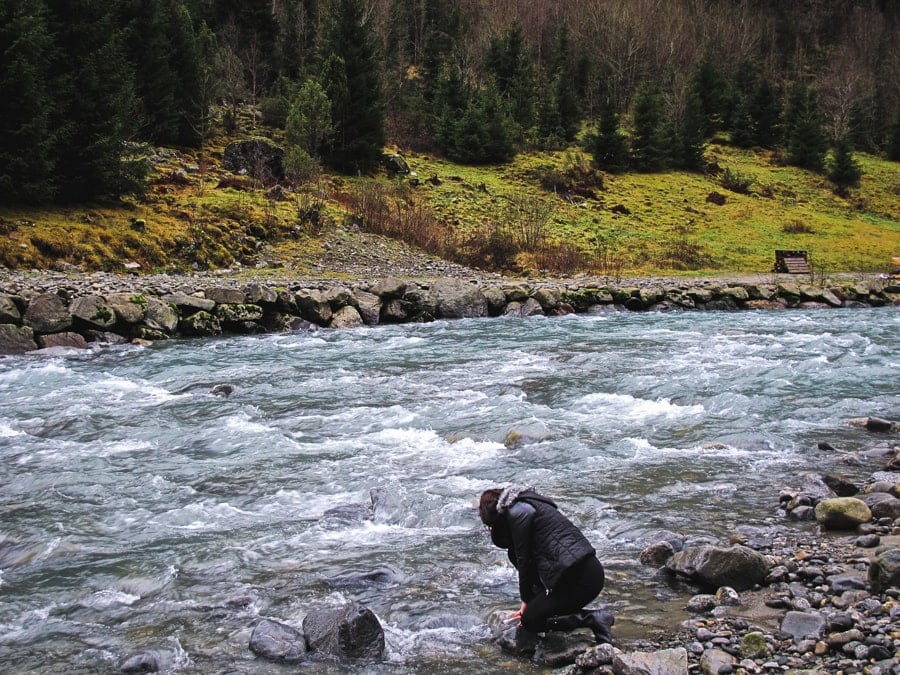 Utilizing these water sources can be a lifesaver if you are planning to spend a prolonged time away from civilization as you will not have to lug too much water with you from the start.
When you find a decent stream to drink from, it's best to walk about 50 meters upstream to just make sure there are no pollutants in the stream (ie: sheep poop).
Click here to shop for the exact Klean Kanteen water jug I travel to Norway with!
Freshen Up With Wet Wipes
I always bring a pack of wet wipes with me when camping because showering and cleaning yourself is not an easy task while out in the wilderness.
Wet wipes are great for freshening up and wiping off any dirt and sweat from the previous day's activities (even though not the best for the environment- so try to use a washcloth and clean water from a source as a priority, please).
Alternatively, you can swim in lakes and open bodies of water to clean off, although you must make sure they are not used for drinking water as it is illegal to swim in these bodies of water.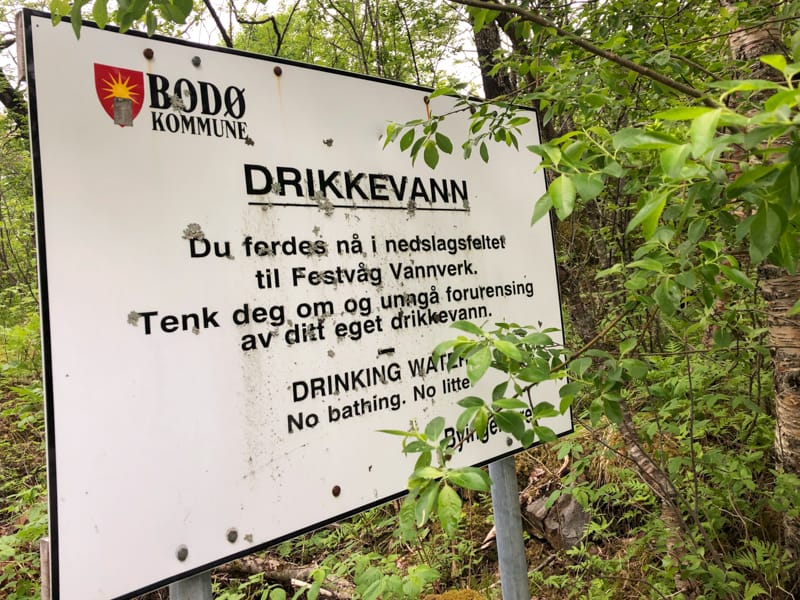 It is important to note that if you do use wet wipes you should take them with you after use and dispose of them properly as they do not biodegrade easily.
Bring a Flashlight
Though the nights are not long during the summer, when it gets dark, you do not want to find yourself scrambling around to find something in the tent or a place outside to urinate.
Therefore, bringing a flashlight is highly recommended! I tend to get up a lot throughout the night and found that having a flashlight, or headlamp, really helped me navigate the tricky terrain and find my way back to the tent in a somewhat dozy state.
Flashlights are also very useful if you end up delayed setting up camp and need to do so in the dark. Here is the exact headlamp I use when traveling through the Nordics.
Finding a Campsite in Norway
If you're seeking out a designated campsite in Norway, you can check out this map that details where they are all located and the amenities at each.
Take mind (as noted earlier in the post) that wild camping is allowed for two days maximum without special permission, so these Norway campsites will help you continue your journey!
Renting a Car in Norway
One of the best ways to get around Norway is to rent a car! The country is larger than you probably expect, so do know that before taking to the roads!
>> Click here to check Norway rental car rates
We hope you found our guide to camping in Norway helpful and useful for your upcoming trip! If you have any Norway camping tips, please leave a comment below or send us a message!
More Norway Travel Guides