If you're exploring Tromso Airport to city options when planning your Northern Norway trip, this guide is definitely for you.
It will list 5 easy options and detail which one is the most affordable.
Planning your trip to Tromsø last minute?
Below are some of the top tours, hotels, and more! Donʻt forget to plan ahead when visiting Tromsø and nearby!
🇳🇴 Top Activities and Tours in Tromsø:
🛌 Top Hotels in Tromsø:
Radisson Blu (luxury)
Thon Hotel Tromsø (mid-range – I have stayed here!)
Smarthotel Tromsø (budget option – I have stayed here too!)
🚗 Visiting Tromsø independently? Be sure to book your Norway rental car ahead of time to ensure availability!
We hope that you find the option that fits your budget and the people you're traveling with best.
This guide includes Tromso Airport transfers if you're seeking an easy and quick way into the city.
Tromso Airport Transfers – Summary
Here are the airport transfer options we cover in this guide:
• Public transportation
• Flybuss Airport Express Coach
• Booking a private transfer
• Taxi options
• Renting a car
If you know of other alternative options for getting to Tromso city from the Airport, please leave us a comment.
Also, do note that many hotels offer airport shuttles for their guests.
Before considering one of the options we list, you may want to check with your hotel to explore that option!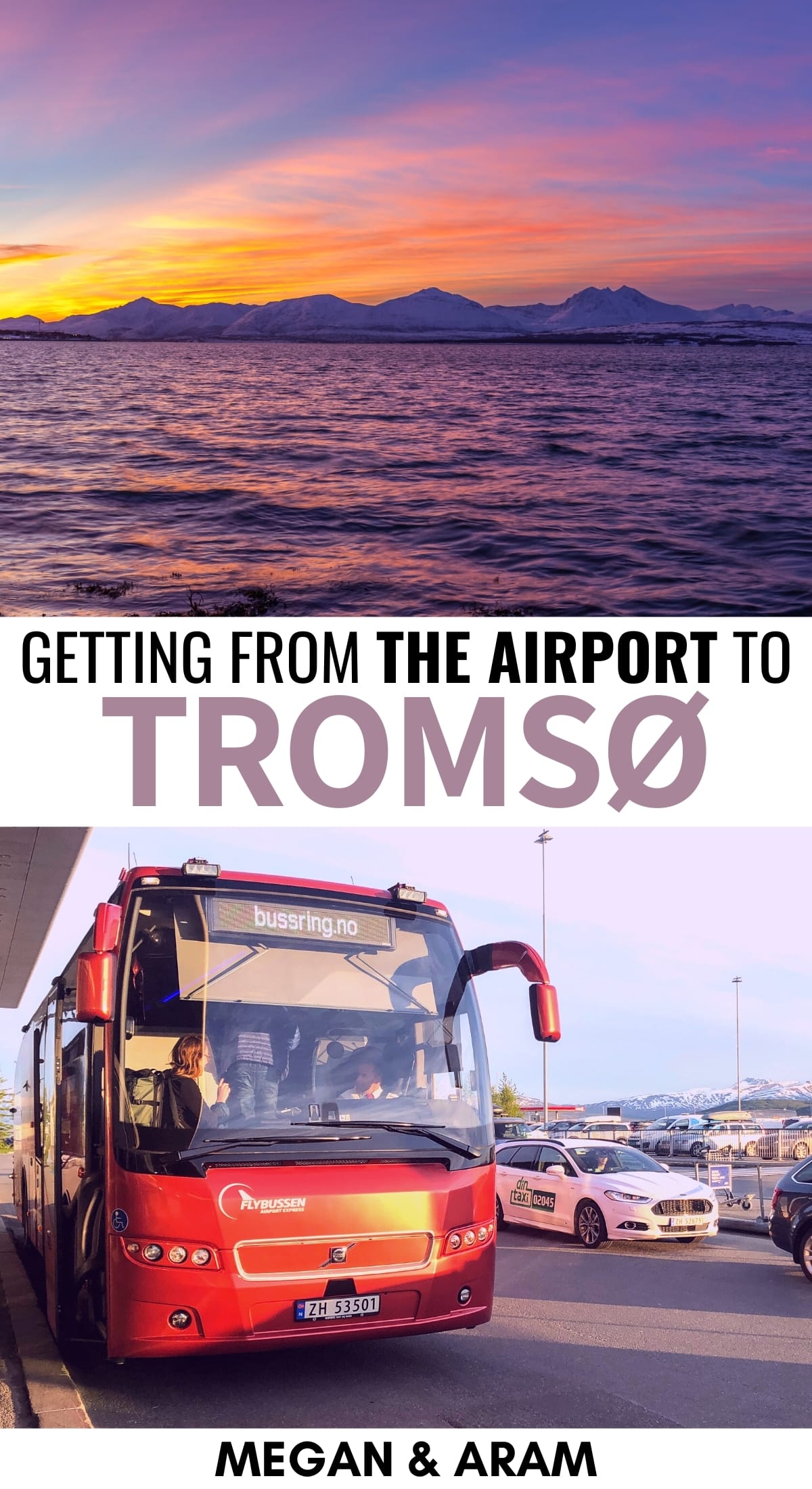 About Tromso Airport
The Tromso Airport is also known as Tromsø Airport Langenes (TOS) and is situated in Langenes and has international airport status.
Tromsø Airport Langenes is located approximately 6.4 kilometers away from the city center and the ride will take you a maximum of 10-15 minutes.
The medium-sized airport was established in 1964 and annually accepts millions of passengers.
And, of course, most of them arrive during the winter months.
Tromso Airport to City Options
After you arrive and leave the airport, there are two options for public transportation available and waiting for you just outside of the Tromso airport that you can take depending on your budget and wishes for getting into the city.
The first public transportation option for getting from Tromso Airport to the city is a bus (numbers 24, 40, and 42) and the second is the Flybuss Airport Express Coach.
However, the ticket prices that you have to buy on the spot are different from each other based on the quality of service and time.
Public Transportation from Tromso Airport
Based on our experience from when we were visiting Tromso, this may have been the cheapest option but it was not convenient for us as the Flybussen was already parked and waiting (we discuss it next).
However, this is a great budget option for getting from Tromso Airport to the city center.
You can take buses 24, 40, or 42 that leave frequently from the Tromso Airport to the city (and vice versa). It is a short and easy ride if you're not toting around much luggage.
The ticket prices for public transportation to and from Tromso Airport are NOK 23 for toddlers and children and NOK 39-60 for adults. But, there are discounts if you prepay on their app or travel outside of peak hours (so it might be cheaper)!
For more information, visit their website.
Flybuss Airport Express Coach
The option we used on our last trip (and the one Megan used on a previous trip during winter) was the Flybuss Airport Express Coach.
While it is definitely more expensive than the public transportation option listed above, it is super convenient.
It will take you directly from Tromso Airport to the city without stops.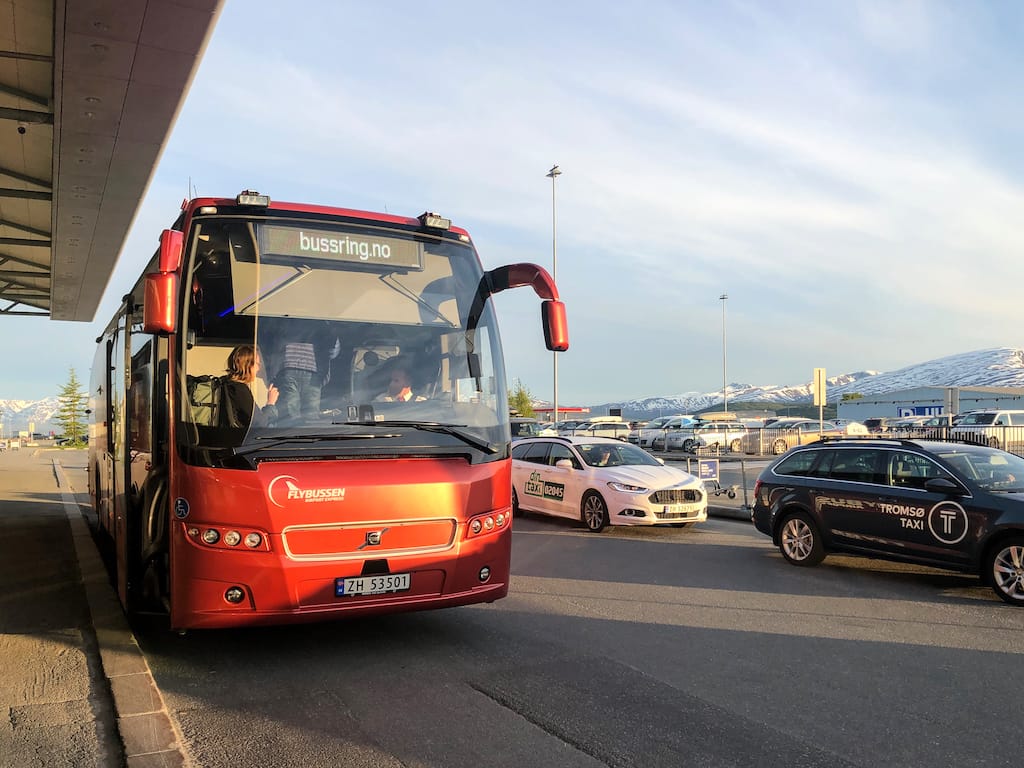 You can find the bus next to the arrivals hall and it will be waiting after the arrival of flights.
The ticket price for the Flybuss Airport Express Bus is NOK 80 for children and NOK 125 for adults. That is for a one-way ticket
If you wish to purchase a return ticket on the spot, it will run you NOK 200 for adults and 130 NOK for children. Just save your ticket!
Click here to check out the express bus schedule from Tromso Airport to city.
Helpful Tip: Be sure to have Norwegian currency with you if you're going to pay with cash.
You can pay the driver on the spot. But, because it is Norway, you can always use your credit card to make the payment. You are also able to use the app 'TFT Mobillett'.
Tromso Airport Transfers
A more expensive option, but one that is reasonable if you're staying outside the city center, is to book a Tromso Airport transfer.
These may not seem affordable if you're arriving solo, but if you're in a group, it is definitely reasonably priced!
The transfer service will pick you (and your group) up at the arrivals hall and will be waiting upon your flight landing.
They will have your destination information and enough room to put luggage in the vehicle.
>> Click here to book a Tromso Airport Transfer
Tromso Airport Taxi Options
Taking a taxi is always an option and it can be a fast, comfortable way to get from Tromso Airport to the city center.
However, it is one of the more expensive options for the journey.
It's very easy to catch a taxi after you get out of the arrivals hall where the taxi ranks are located.
We saw heaps there in the off-season and they are also there in abundance during the high season.
The trip will last approximately 10 minutes to reach your preferred destination and the cost will be from NOK 180-NOK 200.
Nights and weekends will often have escalated fares.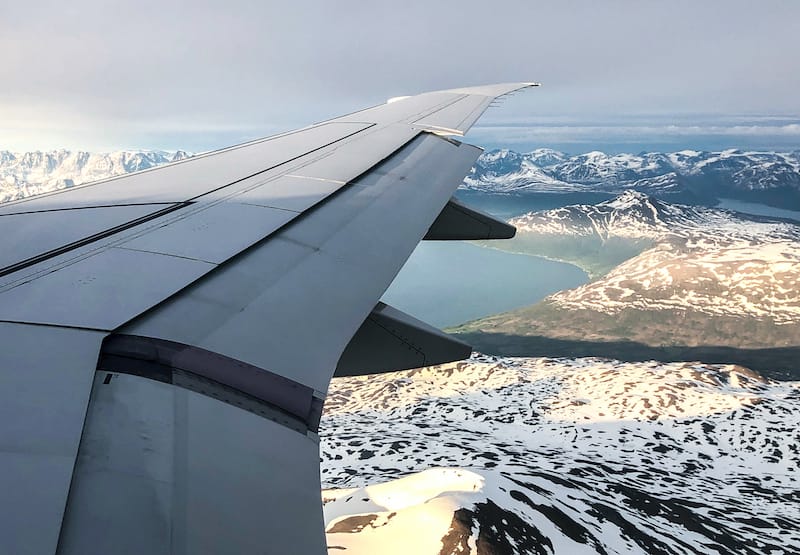 Renting a Car at Tromso Airport
If you want to just get to the Tromso city center from the airport, renting a car is also an option.
At Tromso Airport, you will find the standards- Hertz, Europcar, Avis, Budget, and more.
However, most people arriving in Tromso during winter opt to take tours and forego renting a car.
We highly, highly recommend booking your car ahead of time if you're landing in Tromso. We use Rentalcars.com for car hire on the road and they are a great option for Tromso.
>> Click here to check rental car rates in Tromso
If you're looking at returning from Tromso city back to the airport, it is super simple!
If you're at a hotel, ask for the schedule and the nearest bus stop to them (or just get back on where you hopped off when arriving!).
The city is very small and super easy to navigate.
We hope you found this guide useful for making a trip from Tromso Airport to the city center.
If you have any tips for a Tromso Airport to city journey, please leave a comment to help future travelers.
More Norway & Tromso Travel Guides
PIN IT FOR LATER!