This site uses affiliate links, meaning that if you make a purchase through our links, we may earn an affiliate commission.


Tromsø, Norway is undoubtedly a winter hotspot in Europe. This is a guide of where to stay in Tromsø, Norway and it includes the best Tromsø hotels and accommodation for all budgets.
Where to Stay in Tromsø: Tromsø Hotels and Accommodation
High up in the Norwegian Arctic sits the gorgeous city of Tromsø, Norway. For centuries, the city has acted as the gateway to the Arctic and the starting point for intrepid explorers who were trying to reach the North Pole.
Tromsø is the third-largest city located above the Arctic Circle in the world and is a vibrant metropolis with a rich cultural history and some of the most stunning nature on the planet.
This Arctic wonderland can be visited throughout the year with summer bringing the joys of the midnight sun and as the night skies darken the mystical northern lights dance high above.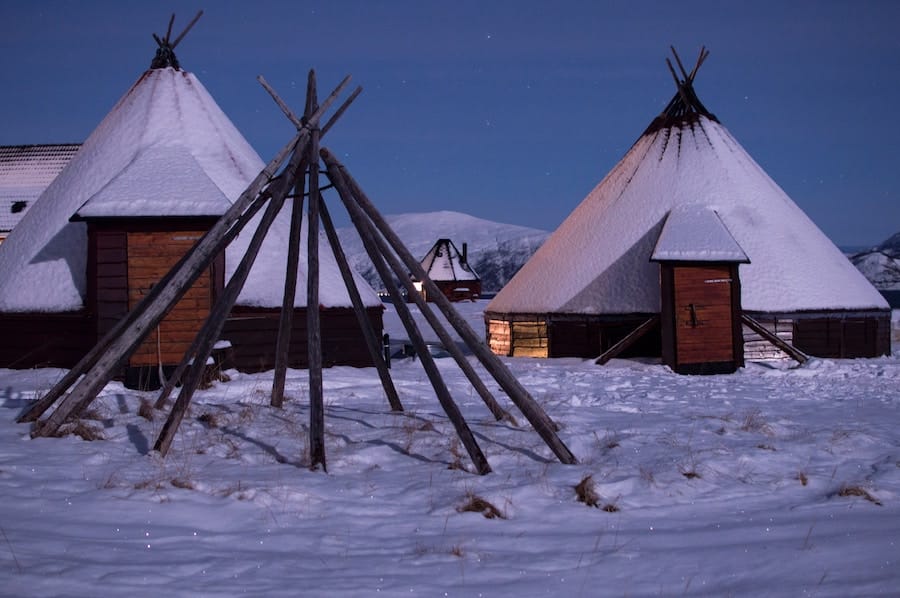 Dubbed the Paris of the North, you will absolutely find that any trip to Tromsø will be action-packed and nonstop fun. The only downside to this is that Norway is famous for being incredibly expensive and a trip can easily get out of hand cost-wise.
Luckily, there are plenty of options available in the city for all kinds of travelers, from the most budget-conscious to those who are looking for Nordic luxury… the city will not disappoint.
The small Northern Norway city is easy to navigate and everything is centrally located, meaning you will not need to shell out on expensive taxis or work out the public transport.
As the city has long been the gateway to the Arctic, there are also plenty of places to stay within the city center.
This guide lists the best places to stay in Tromsø, Norway… from upscale Tromsø hotels to budget-friendly Tromsø accommodation. If you have any questions about where to stay in Tromsø, please send us an email or leave us a comment! Thanks!
Do You Need Travel Insurance for Norway?
Yes, you should definitely book yourself travel insurance for your trip to Norway. The country is extremely expensive and if you're heading to Tromsø during winter, you're likely engaging in some type of activities that would be nice to have some coverage for.
We recommend SafetyWing, a Norwegian travel insurance company that has worldwide coverage at affordable rates.
What to Pack for Your Tromsø Trip
We have created an entire guide dedicated to what to bring to Norway in winter, but if you're looking for a few quick suggestions, here are some things we think you should bring to Tromsø with you (we assume you're visiting in winter as most people are!)
Looking for a trusty, additional resource for your trip?
We recently wrote the Arctic Norway chapters for Fodor's Travel 'Essential Norway' and covered everything from the Lofoten Islands to Tromsø to Nordkapp and beyond. We highly recommend purchasing a copy to take with you on your trip!
Bestseller Tromsø Tours
If you're still in the planning stages of your trip to Tromsø, these recommended tours may help you get the next stages of the trip booked.
I have written many guides for Tromsø tours and you can see them at the end of this Tromsø hotel guide. Here are some quick recommendations of bestsellers in Tromsø:
Luxury Accommodation in Tromsø
Radisson Blu Hotel Tromsø
Located directly on the harbor, the Radisson Blu is one of the best hotels in Tromsø. Throughout the hotel, you will enjoy the charms of Scandinavian design, with each of the rooms finished to a high standard.
The luxurious rooms all come equipped with a flat-screen television, free wifi, and wonderful private bathrooms, ensuring you have the most relaxing and comfortable stay possible.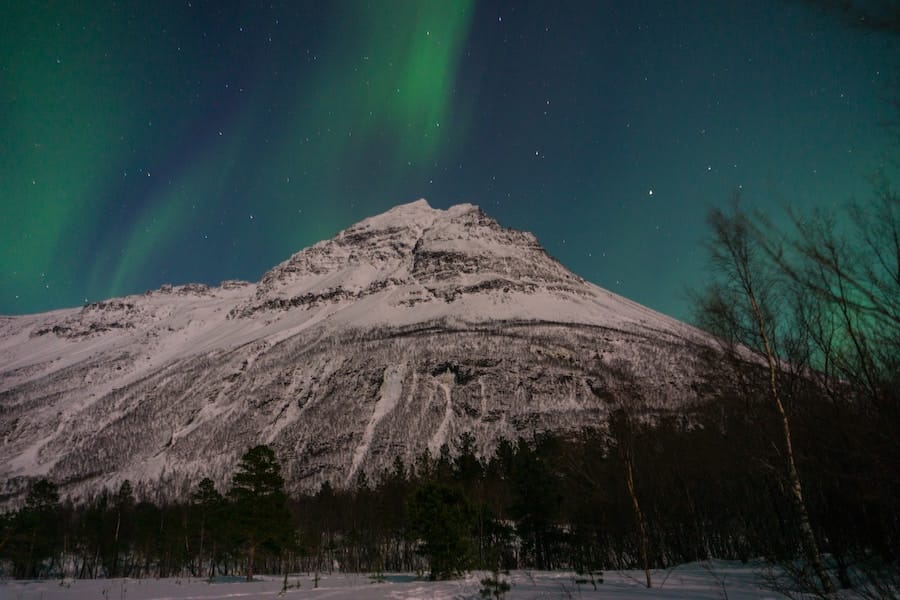 On-site at the Tromsø hotel are two restaurants. Charly's Restaurant and Bar serves delectable local dishes. Alternatively, there is Yonas Pizzeria, an amazing 40-year-old pizzeria.
On the 10th floor of the hotel is a free to use fitness center and sauna, where you can workout, relax, or enjoy the views out over the city. During strong northern lights displays in winter, you can witness the magic from the hotel's beautiful glass bridge.
One of the best things about the hotel in Tromsø is that it is the starting point for many of the tours that depart from the city.
Be it Tromsø whale watching or northern lights hunting, they are likely to start in the foyer or within the direct vicinity of the hotel.
Tours, including Tromsø northern lights tours, can also be booked directly in the hotel as many of the main operators have little kiosks in the hotel to help organize your tours.
>> Click here to see rates and availability | Click here to see reviews on TripAdvisor <<
Clarion Hotel The Edge
The Edge is a fantastic hotel by the Clarion Hotel group, with a sleek and sexy building overlooking the harbor and the Arctic Cathedral.
Care has been taken to ensure the design of each room is well-thought-out and modern. All rooms include large TVs and all the necessary appliances needed for a comfortable stay. The ensuite bathrooms are spacious and clean.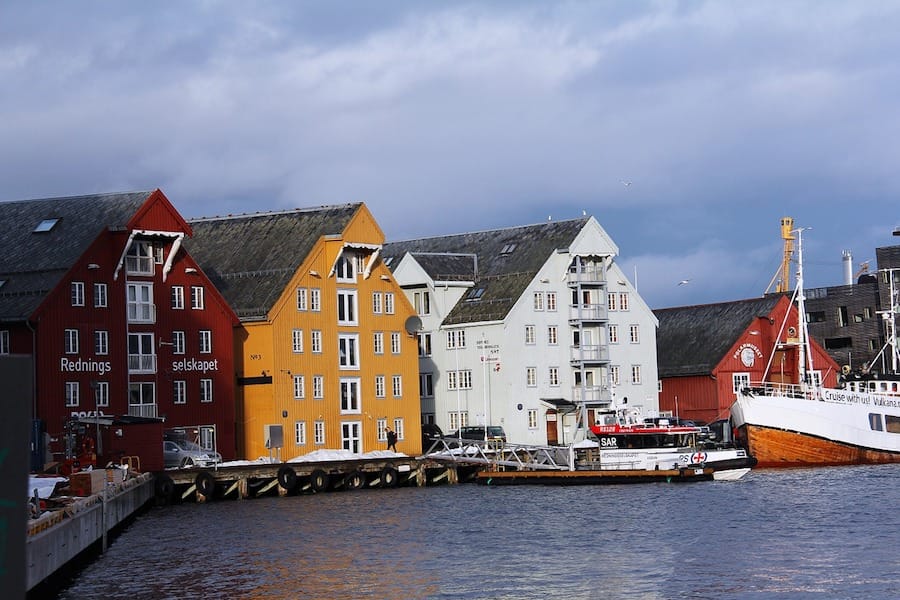 On-site, you will find the restaurant Kitchen & Table by Marcus Samuelsson, one of the world's leading chefs, utilizing local ingredients to make some of New York's most classical dishes.
On the top floor, you will find the epic Sky Bar where you can look out over the city and harbor while sipping on a drink from their extensive bar. The neighboring Sky Gym offers hotel guests free use of their facilities.
The centrally-located hotel has free wifi throughout the building and a 24-hour reception.
If your flight does not depart from Tromsø until later in the night, there is also luggage storage available on the premises so you do not need to stress about your baggage on your final day.
>> Click here to see rates and availability | Click here to see reviews on TripAdvisor <<
Mid-Range Hotels in Tromsø
Comfort Hotel Xpress Tromsø
The Comfort Hotel Xpress is a wonderful hotel that offers great comfort at an affordable price. Delightful rooms have been finished with a wooden flooring the exudes Scandinavian warmth and a homely atmosphere.
Each room contains a flat-screen television, a desk, and a private bathroom with a shower. Some rooms have amazing views out over the city and the sea.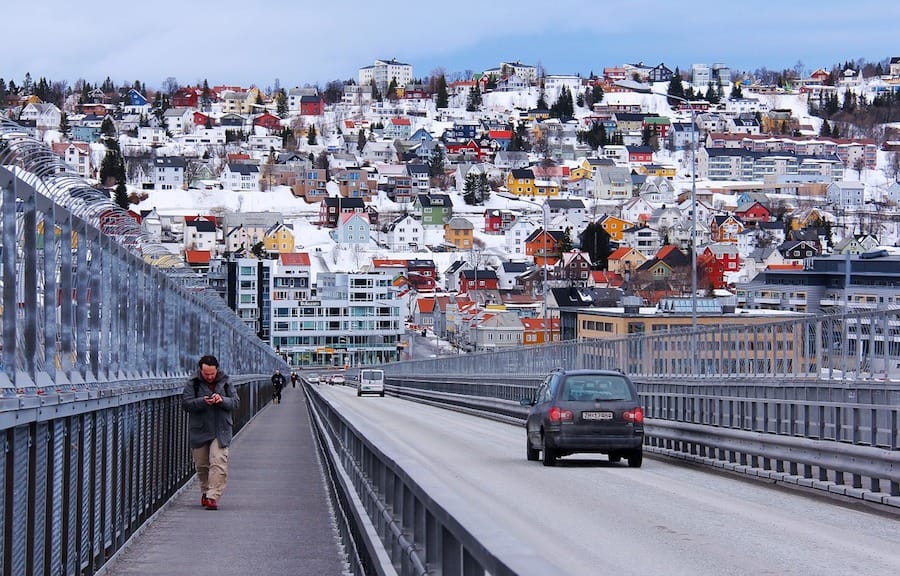 At the Comfort Hotel, there is a 24-hour shop where you can buy snacks, breakfast items, and a range of drinks that can be enjoyed in your room or the comfortable hotel lobby lounge.
Alternatively, the hotel's central location means you are a stone's throw away from some of Tromsø's best cafes, shops, and bars.
There is a 24-hour reception at the hotel and for those leaving later in the day, there is luggage storage available for guests of the hotel.
It is important to note that if you are looking to purchase anything in the hotel, you will need to do so by credit card as the hotel is a cash-free company.
>> Click here to see rates and availability | Click here to see reviews on TripAdvisor <<
Thon Hotel Tromsø
Located in the heart of Tromsø, the Thon Hotel Tromsø is a great place to stay and enjoy what the city has to offer. The large, spacious rooms are super comfortable and make for a great place to relax and unwind from a long day of exploring.
Each room includes a large smart TV, where you can log into Netflix and watch in comfort. The bathrooms are nicely designed and free toiletries are available.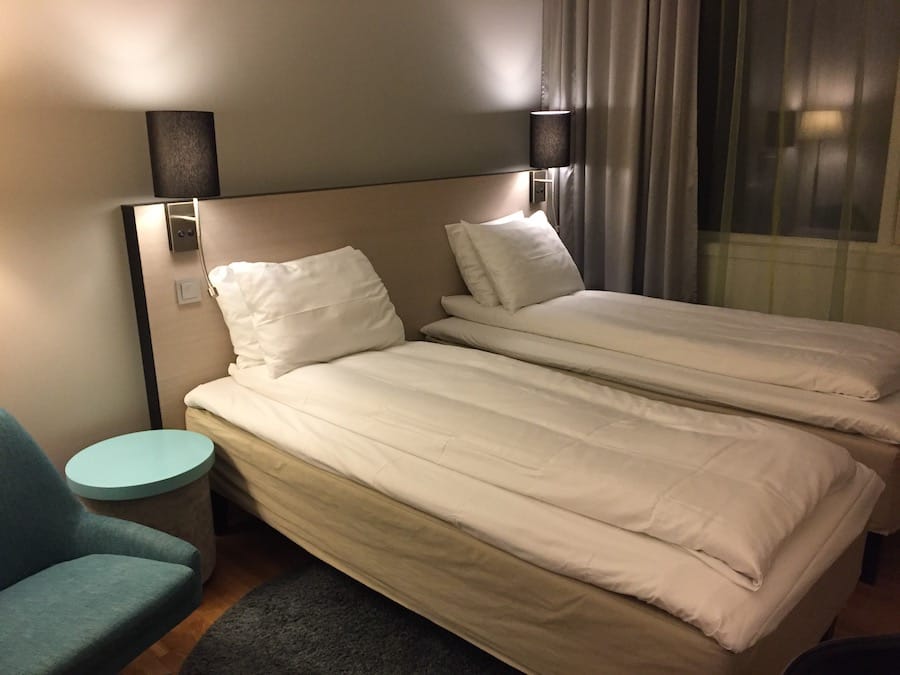 Every morning, you can enjoy a delicious breakfast buffet that includes both hot and cold items and is included in the room rate.
In the evenings, you will need to venture out into the city and revel in the delights of the Tromsø restaurant scene with plenty of options available close by to the hotel.
Many of the main sites can be quickly reached from the hotel with the Hurtigruten terminal a short walk away. For those looking to head out on excursions, you can easily reach the Radisson Blu hotel where many of the trips start within a few minutes.
>> Click here to see rates and availability | Click here to see reviews on TripAdvisor <<
Quality Hotel Saga
Situated in the heart of Tromsø, the Quality Hotel Saga offers amazing rooms and service for a great price. Each of the modern rooms comes equipped with coffee/tea making facilities, a desk, and TV.
Many of the beautifully designed rooms feature stunning views over the surrounding areas, such as the harbor or the mountains that tower above the city.
There is a delicious breakfast buffet that is served every morning and is included in the rate of the room. In the afternoon you can venture back to the hotel and enjoy a hot drink and some waffles free of charge, a great way to warm up during the winter months.
There is also an evening dinner buffet available on some nights of the week, offering up a range of light dinner options, although this does come at an extra charge normally.
There is free wifi available throughout the hotel. For those heading to and from the airport, the shuttle bus stops right outside of the premises meaning you will not have to wait too long out in the cold for the bus to turn up. Luggage storage is also available onsite.
>> Click here to see rates and availability | Click here to see reviews on TripAdvisor <<
Budget Tromsø Accommodation
Tromsø Activities Hostel
For a great budget option, the Tromsø Activities Hotel is a fantastic choice. Situated in a traditional wooden building in the center of the city, the hostel has a charming and friendly vibe.
As you enter the premises, you will be greeted by a friendly pup who will do his best to welcome you. There are a mixture of dormitories and private rooms available, all of which are clean and comfy.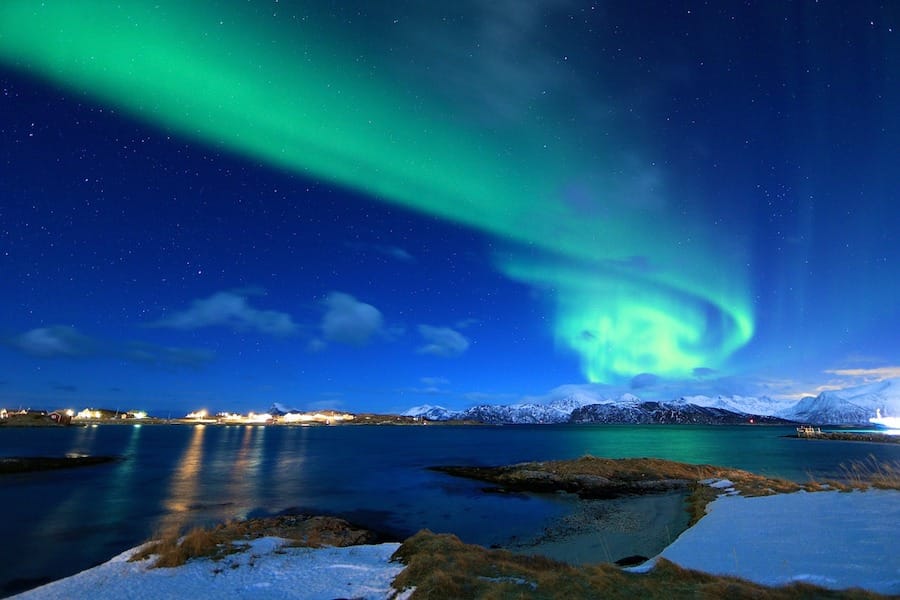 There is a shared kitchen available where you can cook your own meals using fresh local ingredients, especially great for those who do not want to have to eat out at restaurants all the time. Staff at the hostel will happily direct you to all of the sites and attractions in the city.
At the front desk itself, you can directly book northern lights tours in winter and various hiking tours during the summer months.
Late check-in is available via a self-service machine. If you need to do laundry, there are free facilities in the hostel. There are also communal areas where you can meet others who are staying at the hostel and socialize or simply relax.
>> Click here to see rates and availability | Click here to see reviews on TripAdvisor <<
Smarthotel Tromsø
Smarthotel Tromsø is a great, budget-friendly hotel where you can enjoy a comfortable night's sleep. The bright and clean rooms are no-frills with only the basic items contained within the small and cozy rooms.
Each room includes its own private bathroom and desk.
The hotel offers simple facilities such as a 24-hour front desk and wifi throughout the building. There is also a shop in the front lobby where you can purchase light snacks and beverages.
Each morning, you can enjoy a delicious breakfast buffet for an additional charge. The hotel is a cashless business so you will need to ensure you are able to use your card in Norway prior to traveling.
Location wise, the Smarthotel is right in the center of Tromso and you can quickly reach many of the city's main attractions. There are also plenty of places to eat and drink in the area and sample the Arctic's nightlife.
>> Click here to see rates and availability | Click here to see reviews on TripAdvisor <<
If you're looking for where to stay in Tromsø, we hope this guide gets you sorted and started on finding your perfect Tromsø hotel.
If you have any questions regarding accommodation in Tromsø, shoot us a message and we will do our best to answer!
In the meantime, we have some other guides that may be helpful when planning your trip to Tromsø. This guide will help you find ethical whale watching in Tromsø tours.
If you're looking for dog sledding in Tromsø, be sure to check out the linked guide. If you are curious about Tromsø reindeer and the Sami culture, our guide to the best reindeer experiences (ethical) in Tromsø will get you sorted. And of course, we have a guide telling you how to book the best Tromsø northern lights tour, too.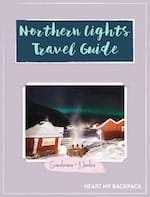 ON THE HUNT FOR THE NORTHERN LIGHTS?
There are many things to do in Tromsø during the winter, but one I highly suggest making sure you do while there is to check out the northern lights. This comprehensive guide from a Norwegian local, Silvia, will
help you discover the northern lights
and how to photograph them as beautifully as she does!