One of the most important things you can do is when traveling to Norway in winter is to make sure you bring the right clothing.
Having lived in Norway for four years, I definitely know what to wear in Norway in winter.
This is a winter Norway packing list for both men and women based on my experience living there and my many travels since.
What to Pack for Norway in Winter: A Packing List for Men and Women
I spent four years living in Norway. I spent one year living in Bergen and another living in Oslo.
While both are in the south, the climates of them were kind of similar to that of the North in winter (Bergen was like Lofoten in winter and Oslo more like Tromso and some places slightly inland)… so I definitely know how to pack for this time of year in Norway.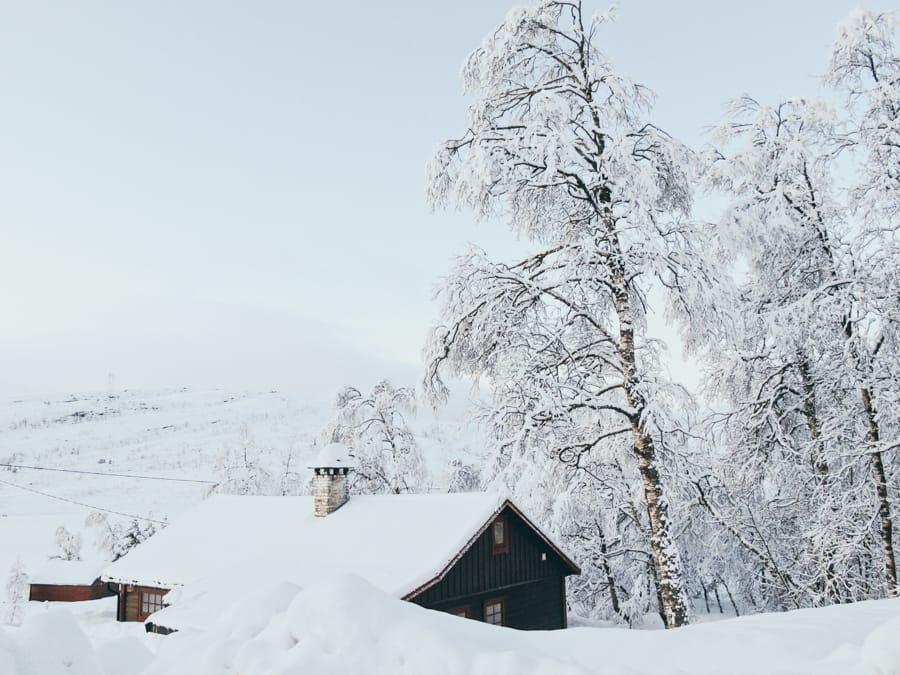 This guide will include what to wear in Norway for both men and women.
I am not including items that are specific to a destination, however.
These will mostly be clothing items along with a few other suggestions that will help you have a great trip to Norway.
If there are any other items you recommend for your trip to Norway in winter, please drop them below in the comments. Thanks!
What to Wear in Norway in Winter (Women)
Naturally, it is a bit more challenging to pack lightly for Norway in winter than it is in summer.
Large parkas, sweaters, and snow boots make packing a true delight (sarcasm).
But, it is better to bring your own stuff than purchase in Norway due to the exorbitant prices.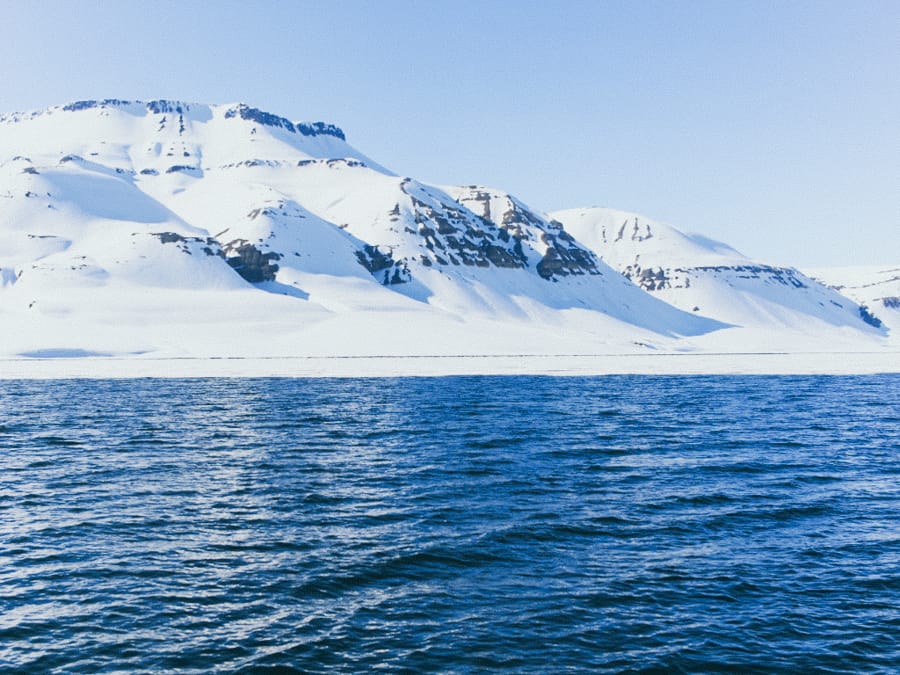 When I traveled throughout Norway in winter during the years, I really strategically learned how to pack and what to wear for the season.
This is a compilation of the things I think you need.
While I don't wear some of them myself (I rarely wear scarves with parkas because it makes me feel claustrophobic), these are all things I think a person traveling to Norway should bring with them.
I usually pack a large suitcase when I travel to Norway during the winter months. I also bring a small carry-on with some essentials just in case my larger luggage ends up lost.
I also can squeeze some equipment in the carry-on if my backpack (my third bag) becomes too full.
Here are my two carry-on pieces.
One is from American Tourister and the backpack is from WANDRD, a company from the US that specializes in bags for camera equipment. This is the WANDRD 31L bag.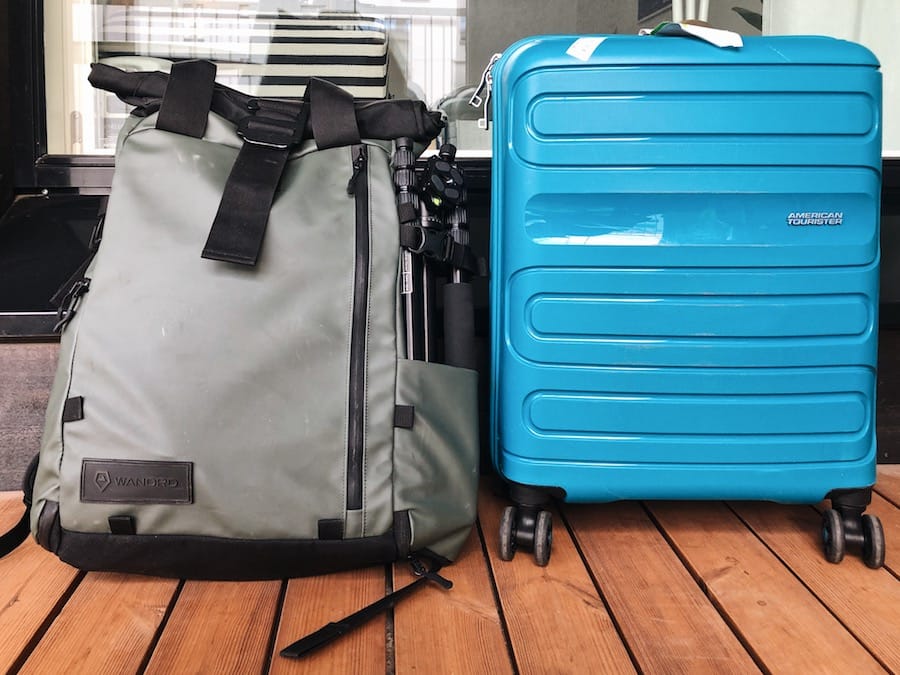 What's in my Check-in Bag (Backpack or Suitcase)
I have used a variety of suitcases throughout the years but I have recently purchased a Samsonite Neopulse Hardside Luggage with Dual Spinner Wheels in Metallic Blue.
I purchased it pretty much because I love the color but the hardshell suitcase is pretty good in its own right and is extremely spacious but still lightweight enough that the case itself doesn't add much to my weight allowance.
Regarding clothing, I tend to pack two sweaters that I will wear multiple times.
I don't do Instagram photoshoots and need new items for each day. Usually, I will have on a heavy parka, anyway, so no one will see anything underneath. I would suggest bringing one 'semi-nice' outfit for a dinner out.
Norway is super laid back and a pair of jeans and a sweater and boots will suffice for the nice outfit.
Having lived in Norway for a long time, I tend to wear a lot of Scandinavian designers and brands (some listed below).
Feel free to support these designers too, or just opt for whatever makes you most comfortable.
Here is what I suggest packing for females looking for what to wear in Norway in winter (an asterisk '*' means that the item is pictured in the photo):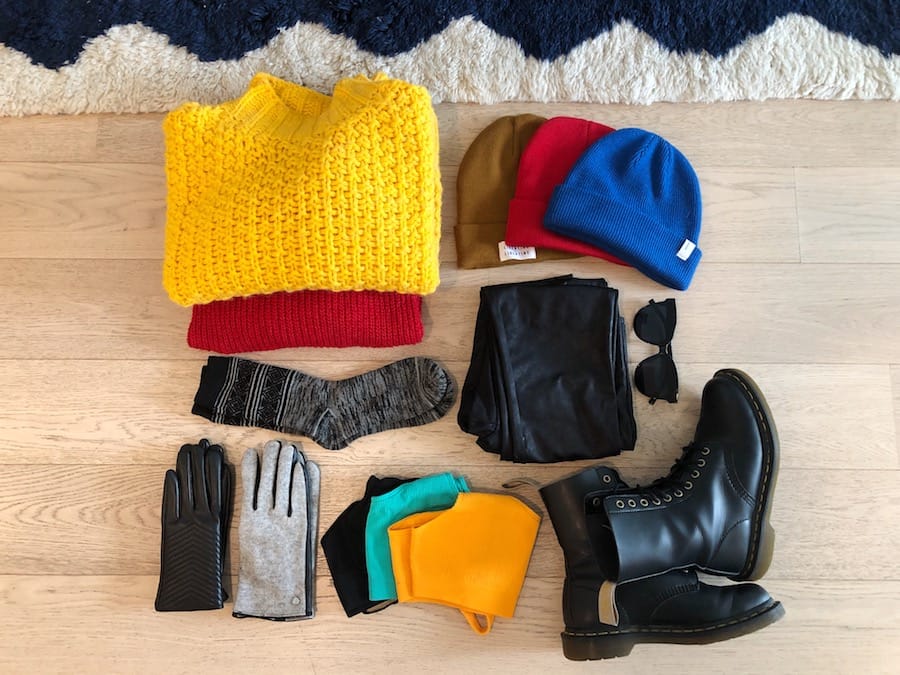 What's in My Carry-on
Because I am a travel blogger, I have to haul around an absurd amount of things that other travelers don't need to tote around.
I tend to drag along two carry-ons if the airline permits: this American Tourister suitcase (also a certified carry-on for Ryanair and Wizzair) and my WANDRD 31L photography bag.
You can, of course, omit one if you're not hauling around a lot of electronics like me.
In my WANDRD 31L bag is the following:
What's in my Toiletry Bag
I actually carry around an absurd amount of makeup when I travel.
I don't even wear it all and I usually wear the same lipstick over and over despite packing about 15 of them. Here are some crucial pieces to pack for Norway in winter:
What am I happy I packed for Norway?
Tripod – There is nothing I hate more than toting around a heavy tripod.
There is also nothing I hate more than being ill-prepared and not having one. If you're keen to photograph the northern lights in Norway in winter, you best have a nice tripod.
Also, be sure to have a remote! Here is the tripod I use when I travel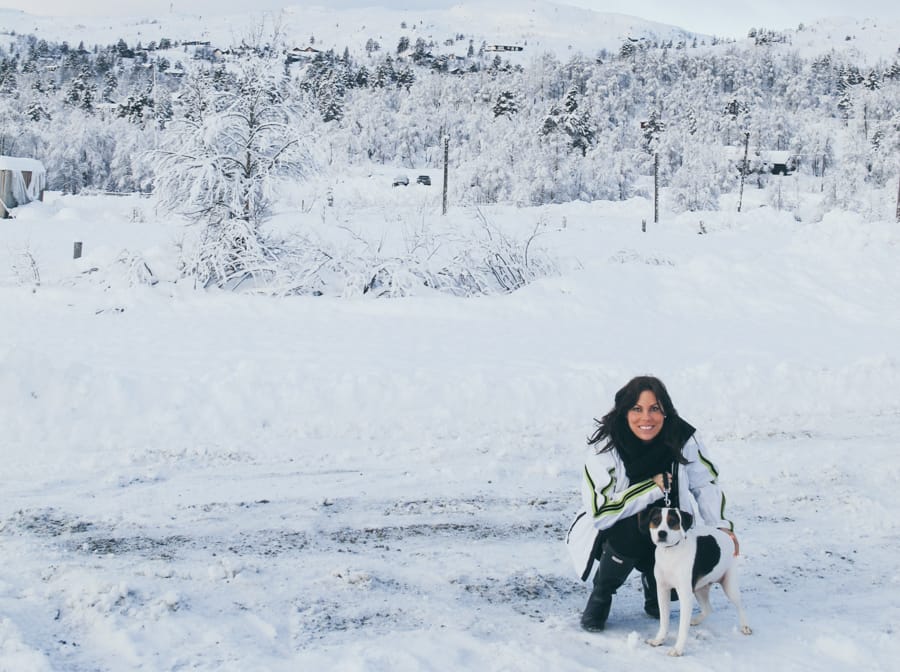 Sorel Snow Boots – A pair of Sorels may not be the most fashionable snow boots in the world (although they are quite trendy right now), but they will keep your feet exceptionally warm and you will be grateful you brought a pair with you to Norway.
They also dress up well if you allow them to. Trust me! Shop my Sorel snow boots here
Mittens – I love how cute gloves are and still travel around with them on most trips, even to Norway.
But, I do compromise a bit of warmth in order to do so.
Mittens are much warmer than gloves. Just trust me on this.
You can find good mittens almost anywhere and I can assure you that the extra body heat inside of them will make you grateful you switched out gloves for them.
Headlamp – A headlamp!? Well, it is dark in Norway in the winter. And in many areas, the sun never rises above the horizon.
In addition, if you're keen to get photos of yourself in front of the northern lights, you will need the best bright flashlight or headlamp.
You may also need to wear one for some tours, so you can just use your own. You can check out inexpensive headlamps here
What Should I have Left Behind?
Most makeup – It is cold and your face will freeze. You don't really need 13 eyeshadows and 15 lipsticks.
Trust me. It is not worth it.
You also don't need too many pairs of shoes- snow boots are worn regularly by people and you will blend in if you wear those or just a normal pair of other boots.
I also would leave behind backcountry and camping type of gear, like a pocket knife or compass… of course, unless you'll be intentionally out in the wilderness in winter.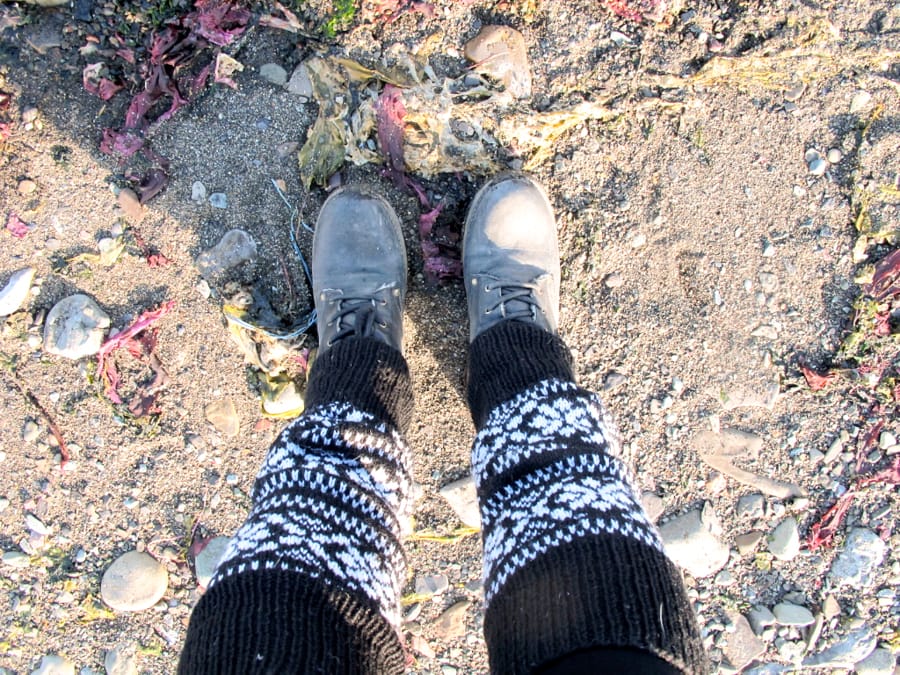 Packing for Norway Based on Location
This is kind of a weird topic to write as I do think Norway is mostly pretty cold. But, geographically speaking, some areas are milder than others.
This will give some climate insight into different areas of Norway which may help you decide what to pack for Norway and what to leave behind.
Stavanger, Bergen, and the Lofoten Islands
The weather in Stavanger, Bergen, and the Lofoten Islands is actually a bit milder than in some other parts of the country, including Oslo.
I lived in Bergen for a year and the winter saw occasional snow.
The temperature hovered around freezing and it mostly just rained. As soon as you drive inland a bit, it does get snow. Kvamsdal area was buried in snow! But Bergen usually wasn't.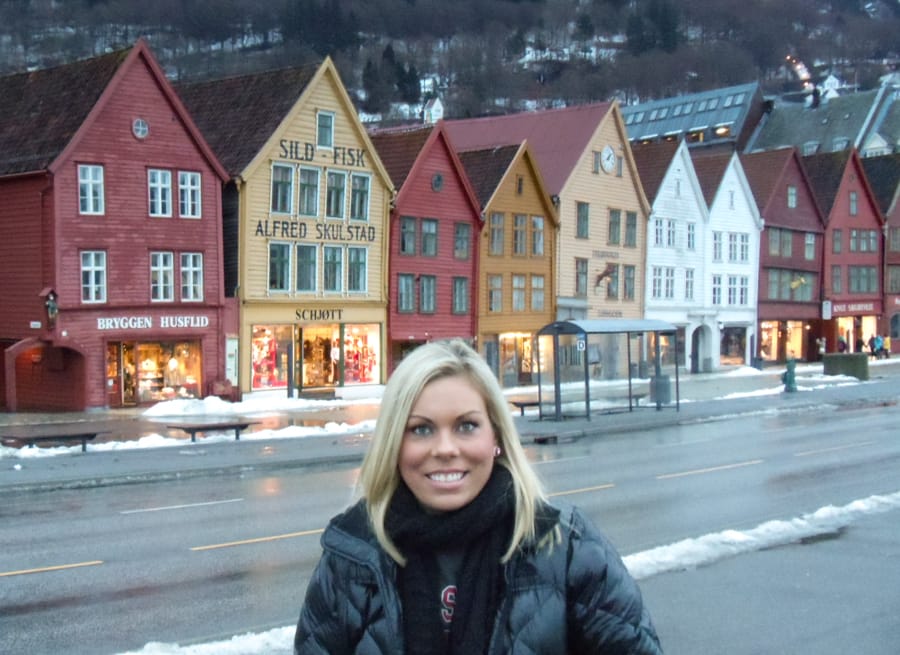 I found the climate in Lofoten to be a bit similar. It was cold, but kind of like Bergen cold.
There was snow but not massive amounts and it wasn't disturbingly uncomfortable. But, a Lofoten winter is darker than a southern Norway winter, so that kept things pretty chilly.
While the climate is milder than the places below, do dress warmly!
I find parkas to be too much sometimes in Bergen as I have a lot of tolerance for the cold. If you're from a warm country like the southern US, India, or Australia, you may still want that thick parka.
If you're from somewhere colder, like Canada, you may find it rather pleasant in winter.
Oslo, Tromsø, and the Far North
One could argue whether Oslo and Tromsø have the same climate in winter, but I found it about the same temperature… especially when I drove away from Tromsø city center a bit for tours and excursions.
Oslo is cold. I remember learning what a frozen nose and frozen hair feel like from living there. I also learned this in Tromsø in winter.
You will definitely need a heavy parka in both. Longer the parka, the better.
I also love mittens, a hat, wool (long johns), and legwarmers when in these parts of Norway.

What to Wear in Norway (Men)
I have traveled to various parts of Norway with men over the years and especially in winter. Here are some recommended items to bring for you gentlemen:
Travel Insurance for Norway
If there is one thing you should definitely pack for Norway, it is travel insurance!
Norway is not a cheap country and you really should make sure you have a policy with a reputable company before going there just in case the unfathomable happens.
We use SafetyWing for travel insurance… and they are actually a Norwegian company that provides coverage everywhere in the world.
They are top-quality and will get all of your needs covered.
>> Click here to get a Norway travel insurance quote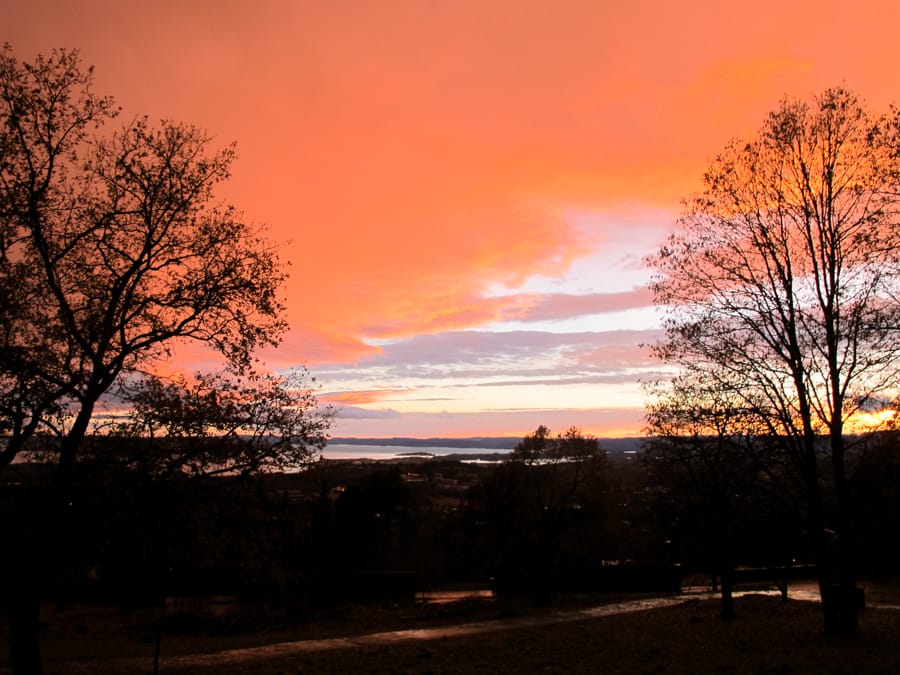 Have you been to Norway in winter? What was something on your Norway packing list?
Please drop me a comment and let me know what was essential for your trip!