One of the best activities and excursions in Northern Norway during the winter is visiting a Tromsø reindeer farm and learning more about the Sami culture and their relationship with reindeer.
This guide will showcase ethical Sami tours and places where you can see reindeer in Tromsø.
Planning your trip to Tromsø last minute?
Below are some of the top tours, hotels, and more! Donʻt forget to plan ahead when visiting Tromsø and nearby!
🇳🇴 Top Activities and Tours in Tromsø:
🛌 Top Hotels in Tromsø:
Radisson Blu (luxury)
Thon Hotel Tromsø (mid-range – I have stayed here!)
Smarthotel Tromsø (budget option – I have stayed here too!)
🚗 Visiting Tromsø independently? Be sure to book your Norway rental car ahead of time to ensure availability!
If we missed any Tromso reindeer tours youʻd recommend here, let us know in the comments! Thanks!
Sami Tours and Tromsø Reindeer Farms (in this Guide)
Below, we have selected the best Sami tours and ones where you can see (and feed!) reindeer in Tromso. We have also given a few blurbs about each!
Most popular and booked Sami reindeer tour in Tromso:
Other worthwhile reindeer tours in Tromso:
About the Sami and Reindeer in Tromsø
Unlike Antarctica, the Arctic has long been inhabited by humans with settlements and traces of human activity dating back to around 10,000 BCE.
The Sami people have had a constant presence in the Arctic and Sub-Arctic areas of northern for at least 3,500 years.
The semi-nomadic people heavily relied on fishing and reindeer herding to support their communities, with herders migrating huge herds of reindeer from their summer feeding grounds in the north, further south to where the snow is less deep and the reindeer are able to dig out the lichen.
As modern society and culture have crept into the Arctic (my way of politely saying that colonization and attempts to endanger the culture and traditions of the indigenous people of Northern Scandinavia DID exist despite being a very taboo topic), the Sami people have managed to keep a few traditions afloat, even if just for showcasing them to curious tourists.
The importance of Sami culture in the region has led to some of their activities becoming protected, such as reindeer herding may only be done by the Sami people.
These permissions hardly justify actions that were taken in the past, but at least it is giving the Sami a chance to carry on with some of their traditions.
Today, you can experience many aspects of the Sami culture in and around Tromsø, with the herders still bringing the reindeer south to the traditional overwintering grounds in the Tromsø area.
Although, modern life has moved in with snowmobiles revolutionizing the way they travel and has made communication much easier these days.
The Sami still practice the traditional methods and ensure they pass down the stories and methods of their forefathers to the younger generations.
To help preserve and teach people about this extraordinary culture, there are plenty of tours you can take from Tromsø to learn all about the Sami way of life and reindeer herding.
Tours normally include visiting a reindeer ranch, where you will spend time feeding and learning about the reindeer followed by a traditional meal in a lavvo (a special kind of Sami tent) where your informative Sami guide will teach you all about the culture and share stories of the Arctic.
The following guide will take you through some of the best Sami tours to learn about the unique culture of the indigenous people of the north.
Best Tromsø Sami and Reindeer Tours
1) Reindeer Feeding and Sami Culture Tour from Tromsø (Most Popular!)
Duration: 4 hours
Languages: English
Seasonality: November-April
Meeting Point: Radisson Blu Hotel
CHECK PRICES HERE
Head out to one of Tromsø's magical reindeer camps. You will spend time with the reindeer- giving them food and learning how they are taken care of.
There is optional reindeer sledding that you can do if you wish to do so.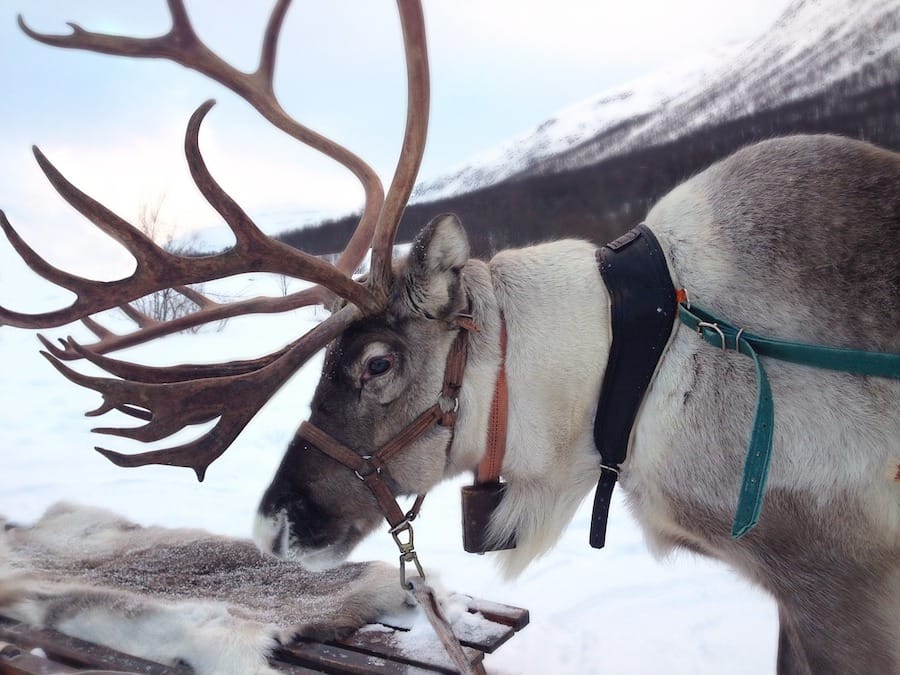 After playing around with the reindeer and lassos, you will go inside a lavvo for a delicious bowl of bidos, a delightful soup made from reindeer meat.
As you enjoy your lunch and some cake, you will be told stories about the rich cultural history of the Sami people and hear amazing examples of the typical joik singing.
2) Tromsø: Reindeer Camp Dinner with Chance of Northern Lights
Duration: 4.5 hours
Languages: English
Seasonality: November-April
Meeting Point: Radisson Blu Hotel
CHECK PRICES HERE
Spend the evening at a Sami reindeer camp where you will enjoy an amazing three-course meal that is traditionally served at Sami weddings.
Prior to the meal, you will have the chance to help feed the herd of reindeer that are overwintering in the region.
The friendly animals will come up close and eat directly from your hands. While spending time outside, keep an eye out for magical displays of the northern lights that, if you are lucky, will come out and play.
The evening will end in a Sami lavvo listening to stories of the Sami people and performances of joik, a form of traditional chanting.
3) From Tromsø: Reindeer Ranch and Sami Culture Tour
Duration: 4 hours
Languages: English
Seasonality: November-April
Meeting Point: Radisson Blu Hotel
CHECK PRICES HERE
Depart from Tromsø and drive into the surrounding countryside where you will visit a traditional Sami reindeer ranch.
You will have the opportunity to get up close to several hundred partly wild, but friendly reindeer who will gather around you to get some of their preferred food, lichen.
After feeding the Tromsø reindeer, you will head for a traditional meal that has been stewed over an open fire.
The meat included in the stew is normally reindeer, however, for those who don't eat meat you can request a vegetarian option in advance.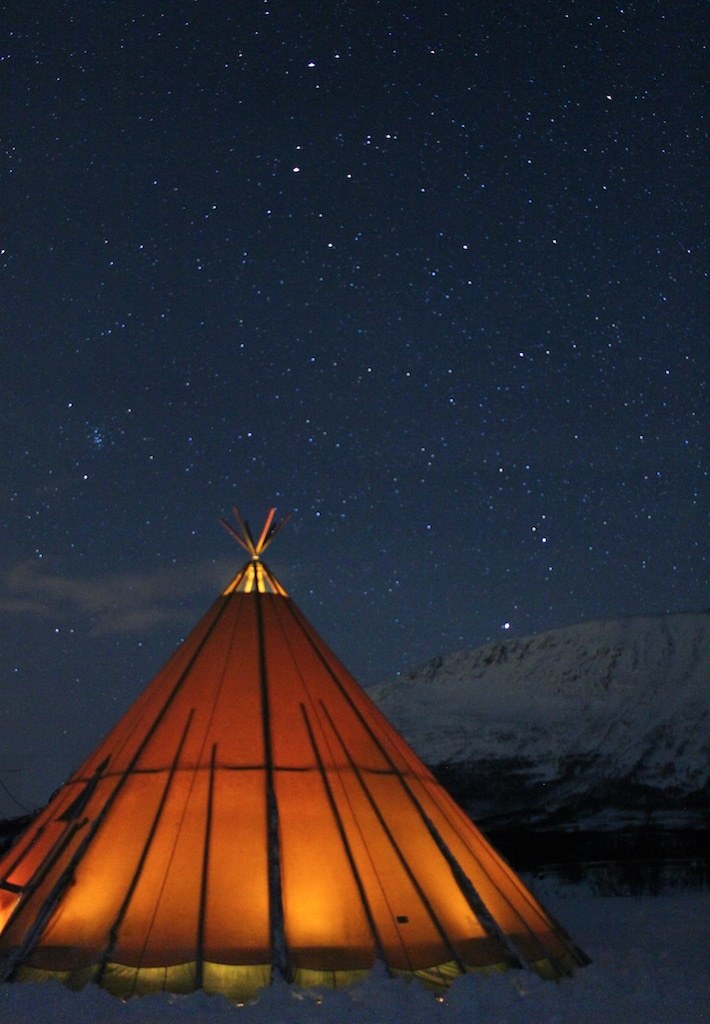 Following lunch, you will head into a lavvo and sit around a fire to learn all about the history of reindeer herding and the Sami people.
Your welcoming hosts will also perform traditional joik songs that have been passed down through the generations.
4) Sami Reindeer Experience w/ Northern Lights
Duration: 4.5 hours
Languages: English
Seasonality: November-April
Meeting Point: Radisson Blu Hotel
CHECK PRICES HERE
Venture out to a traditional Sami camp and enjoy a delicious meal around a fireplace while your Sami guide tells you all about the indigenous culture and its connection to these mystical lights that light up the Arctic skies during the dark winter months.
Your expert guide will explain to you in detail how to capture the magical lights on your camera and the settings you will need.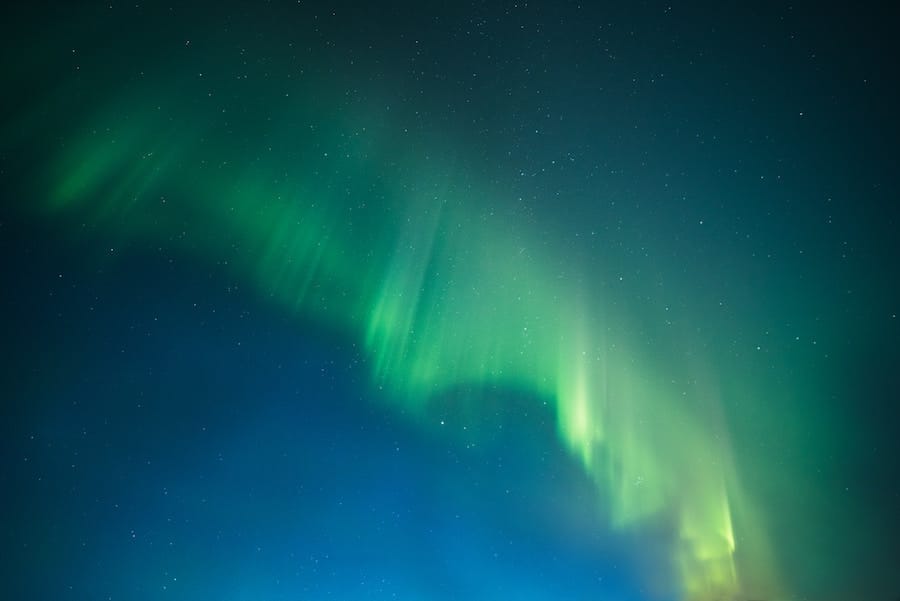 You will then head out into the Arctic wilderness to hunt down the elusive lights. As they are a natural phenomenon, it is not guaranteed that you will be able to see them on the given night.
If you are looking for more information about taking a northern lights tour, check out my northern lights tour guide. It gives a variety of options for northern lights tours in Tromsø.
Is Reindeer Sledding Ethical?
I feel I need to add the following part to this guide. One of the most common things to do in Tromsø is to enjoy a Sami experience and go reindeer sledding. Is it ethical?
I don't think so and here is why:
Unlike dog sledding in Tromsø, the reindeer looked miserable when I saw them dragging people in sleds around.
I have been on two different experiences where I witnessed this- one in Norway and one in Finland.
Both times, the reindeer were lured around following a person carrying an apple or food as they slowly pulled along a sled of tourists.
Something just felt wrong. I went dog sledding in Tromsø and I was expecting that to be the Tromsø tour I didn't agree with. But, the dogs were stoked about their work and were eagerly running around enjoying themselves.
Some of the tours recommended above do include reindeer sledding but it will always be optional.
And please note, this is not to condemn any Sami traditions of using reindeer for work… this is merely them being used for tourism purposes in a way that didn't sit well with me.
What to Wear to a Tromsø Reindeer Farm
You can actually view my entire guide to what to wear in Norway in winter here. But, here are a few things I suggest bringing with you if you visit a Tromsø reindeer farm:
Will You See the Northern Lights?
It is very likely that you will witness the mesmerizing northern lights in Tromsø during your Sami experience at a reindeer ranch! I did, at least.
Make sure you bring your camera equipment and be ready to see the skies dancing.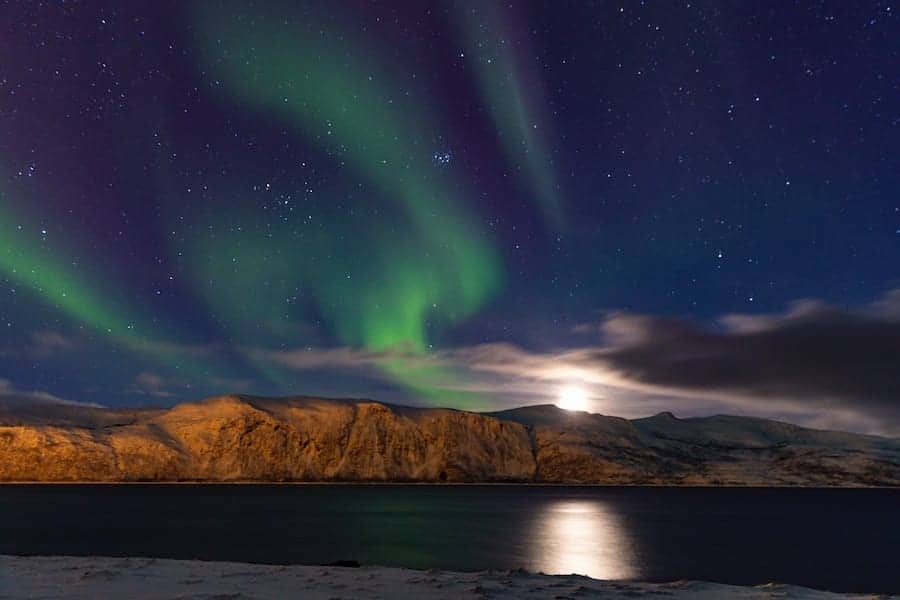 Other Amazing Tromsø Tours
If you're going to Tromsø for a few days, you will want to make sure you take advantage of the many tours and excursions the capital of Northern Norway has to offer.
Here are some of our favorite recommendations for those traveling to Tromsø in winter.
Where to Stay in Tromsø
You will find several options for where to stay in Tromsø but many of them tend to be around the same price range.
I have stayed at two different hotels there and I can recommend both of them to people visiting Tromsø.
One is a mid-range hotel and the other is a bit more on the budget side (take in mind that ʻbudgetʻ in Norway is not budget in other places!)

Thon Hotel Tromsø (Mid-range)
Confession: I love Thon Hotels because I love their breakfast buffet. I'm not even ashamed to admit that and I will sit there for multiple hours making the most of what they offer to travelers.
The rooms are also usually pretty modern and are always extremely comfortable. I have stayed in Thons all over and this one in Tromsø is amongst my favorites.
>> Click here to check rates and availability for Thon Hotel Tromsø
Smarthotel Tromsø (Budget)
One of my favorite affordable recommendations for those traveling to Norway is the Smarthotels that exist in many cities throughout the country.
There is a Smarthotel in Tromsø and its affordability and great amenities make it one of the best places to stay in Tromsø for budget travelers.
>> Click here to check rates and availability for Smarthotel Tromsø
There are many tours available that offer reindeer sledding in addition to Sami cultural experiences but I truly think that activity is unnecessary and pointless when you're visiting Tromsø or anywhere in the Arctic.
More Norway & Tromso Travel Guides