Tromso is one of the most popular towns in Norway and one of the most famous Arctic cities in the world where thousands of travelers flock to take bucket list tours, see the northern lights, and watch majestic whales.
These are the best things to do if visiting Tromso in summer!
We visited Tromso in winter and Tromso in summer.
This guide breaks down how to still love the Norwegian city even in the off-season… and why we think Tromso really shines during the summer months and is worth your visit!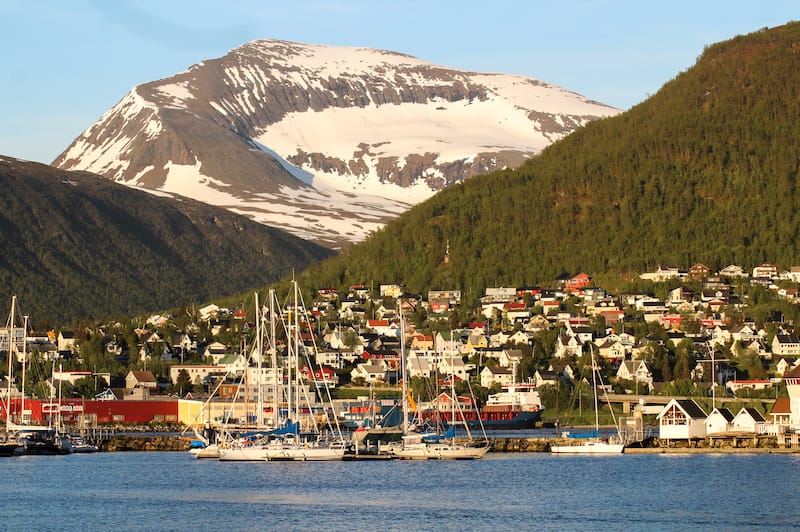 We will discuss things to do during summer in Tromso as well as some frequently asked questions.
If you have any additional questions (or recommendations), please let us know in the comments! Thanks!
Tromso in Summer – Overview
Norway is a large part of this blog because the country is fascinating, beautiful, and Megan used to call the country home and has been writing about it for a decade.
Megan has visited Tromso in multiple seasons but I have only experienced it in summer… but I was instantly sold.
Fresh off of a trip to the Lofoten Islands, I didn't think anywhere could be a desirable 'follow up', but Tromso surprised me!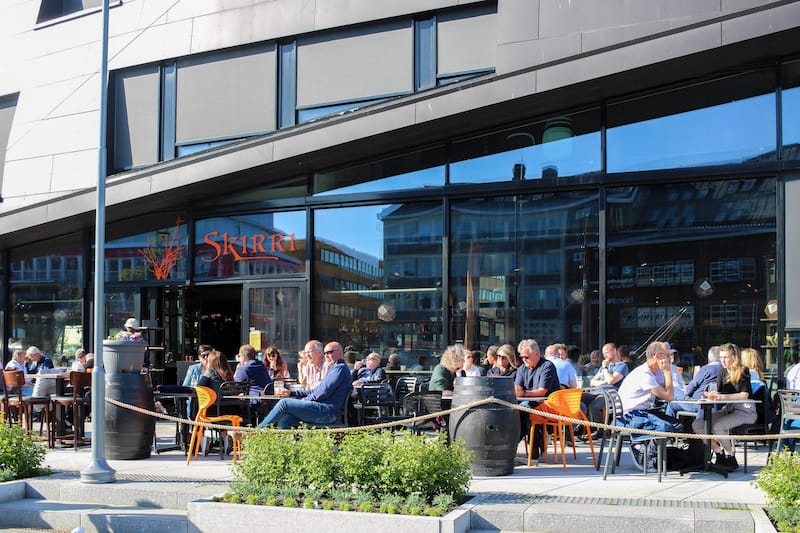 Tromso was the first place I truly felt the magic of the midnight sun. And while I saw it in Lofoten, it just hit differently in Tromso than in Lofoten.
From first seeing Tromso from above on the plane to seeing it from above after a trip up Fjellheisen, this is why I think you should book a trip to Tromso in summer.
And, of course, what to do there and some quick tips!
Is Tromso Worth Visiting in Summer?
Summer in Tromso is a great time to see and experience many activities that aren't as comfortable (and cheap) to do in winter… or just simply aren't possible to do in the winter.
Another perk is that the tourists just simply aren't around during the summer months. Why?! It is so beautiful and the city has so much to offer.
Accommodation in Tromso is easier to find and it is significantly cheaper than during winter. Even flights are cheaper.
Not to mention, the long days (ok, endless days) will allow you to maximize your time there and be able to do activities, hikes, and excursions in a shorter amount of time than if you were to head there during winter.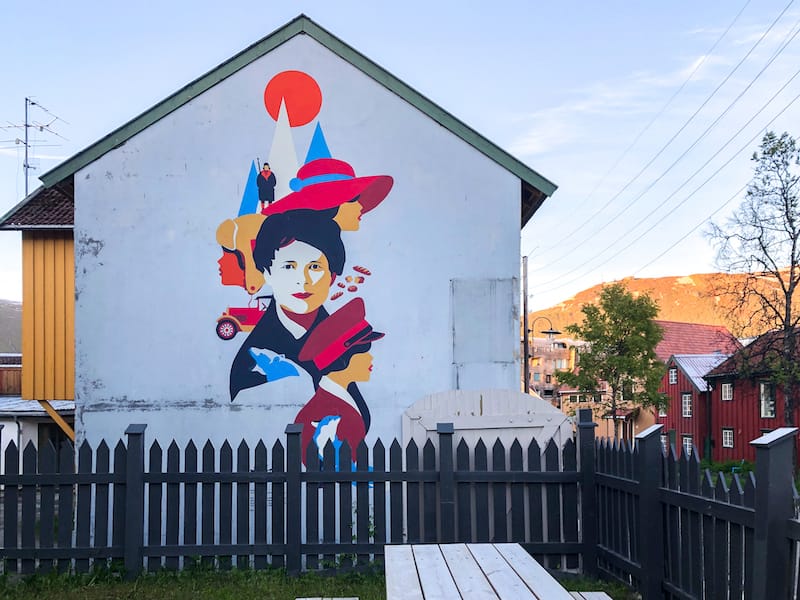 Tromso Summer Temperatures
Summer temperatures in Tromso are not as warm as one might think but they can vary from year to year.
Here are the summer averages (we are starting summer in 'May' just because that is when the Midnight Sun starts!).
Tromso in May: Highs of 48F/9C ; Lows of 37F/3C ; 10 rainy days
Tromso in June: Highs of 56F/13C ; Lows of 44F/7C ; 10 rainy days
Tromso in July: Highs of 62F/17C ; Lows of 49F/10C ; 12 rainy days
Tromso in August: Highs of 59F/15C ; Lows of 48F/9C ; 12 rainy days
Tromso is not 'warm' during the summer, but Northern Norwegians will think that it is! Don't be surprised to see people swimming or wearing shorts even though the temperatures are not extremely hot!
💥
INSIDER TIP:
You may not find the temperatures warm, but the sun will be stronger than if you were anywhere else – trust me!
Because the sun is 'closer' to Earth in the Arctic during summer, it will still burn you with ease. Do not forget to wear good sunscreen!
Midnight Sun
From May 20 until July 22, you will experience the midnight sun in Tromso. Summer solstice is June 21, which is the 'longest day of the year' in Tromso and the closer to that exact date you'll be in Tromso, the more 'light you will have'.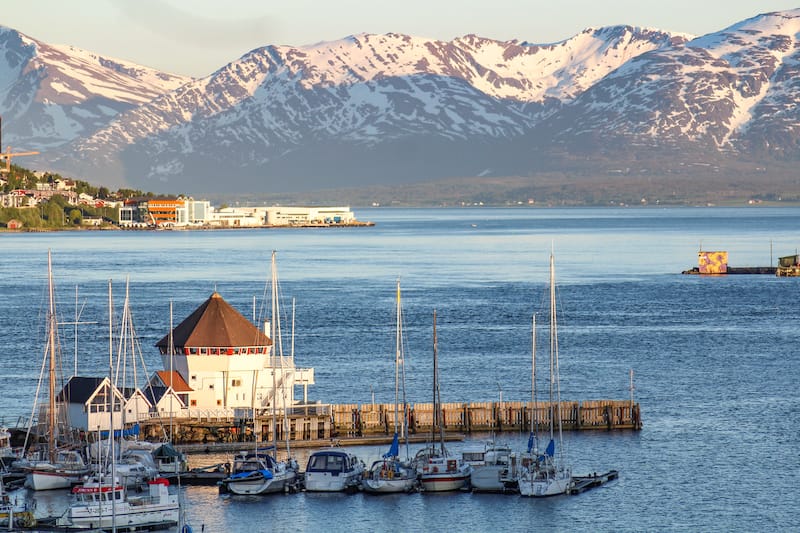 The midnight sun is mind-blowing but will definitely throw you off just a bit! Fortunately, most hotels and Airbnbs in Tromso will have blackout blinds to help you sleep. Also, bring yourself a sleeping mask just in case!
One perk of the midnight sun in Tromso is that you will have such long days that you can pack so much into them! It will give you a chance to explore the area surrounding Tromso with ease, as well.
If you don't quite understand how the midnight sun works, this graphic may help explain things just a little bit!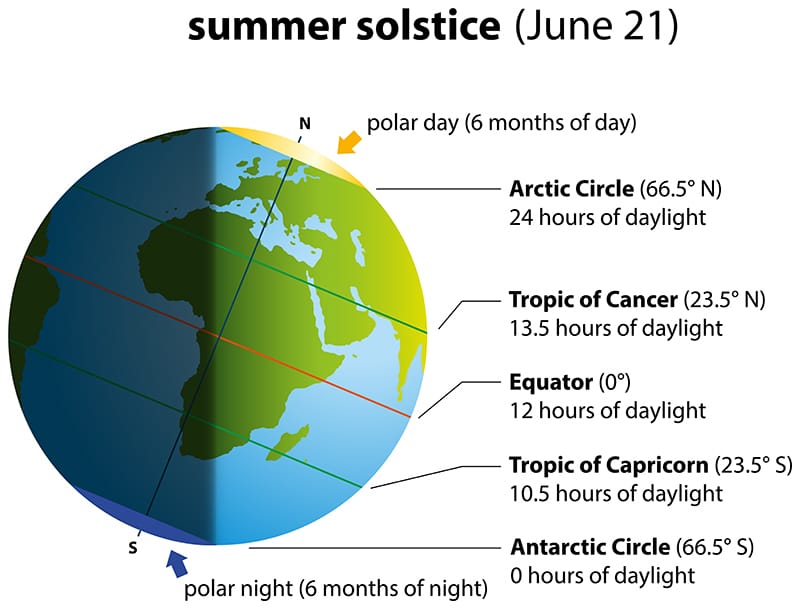 Best Things to do in Tromso in Summer
There are so many things to do in Tromso in summer!
We are covering some of the more obvious ones, and ones you can also do during winter, but we are also adding some new ones in there like boat trips and hikes.
If you have any suggestions, please leave us a comment and let us know!
1. Stop by the Arctic Cathedral
Probably one of the most famous and beautiful cathedrals in Norway, the Arctic Cathedral quickly piqued my interest due to its unique architectural design and elements.
I knew I wasn't going to leave Tromso without paying it a visit!
Despite its modern and futuristic design, the Arctic Cathedral, or Tromsdalen Church as some refer to it as, was built in 1965.
It is located on the eastern part of Tromso in the Tromsdalen Valley and if you like walking, then it is fairly easy to reach from the city center by crossing over the large bridge.
Opening hours in summertime: June 14 – August 31: 11.00 – 17.00 h. (Sun 13.00 – 19.00 h.)
Address: Hans Nilsens vei 41, 9020 Tromsdalen, Norway
2. Take in the Views from Fjellheisen
When we were flying into Tromso Airport, we got to witness the fantastic scenery from the plane. Fortunately, we had another chance to 'get above it' once we arrived in Tromso.
That place is Fjellheisen, or the Tromso Cable Car. It really offered the best view over the city and it took our breath away!
To get to the Tromso Cable Car, you can take public transportation from the city center (number 28 bus).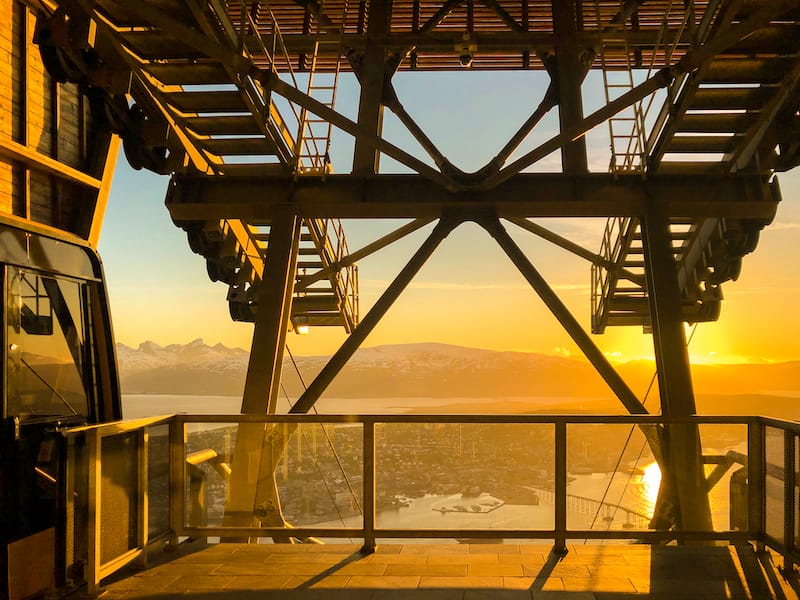 As you will enter the cable car and start the ascent, you will get a view the entire way and then arrive at the top where you'll find a restaurant/cafe, some trails, and a spectacular view.
We actually went just before midnight when we were there!
We saw other groups popping bottles of Champagne and celebrating the midnight sun and it remains one of my favorite experiences from my summer trip to Northern Norway.
Working hours: 10 AM–9 PM
Entrance: For adults NOK 140, for children NOK 60
Address: Sollivegen 12, 9020 Tromsdalen, Norway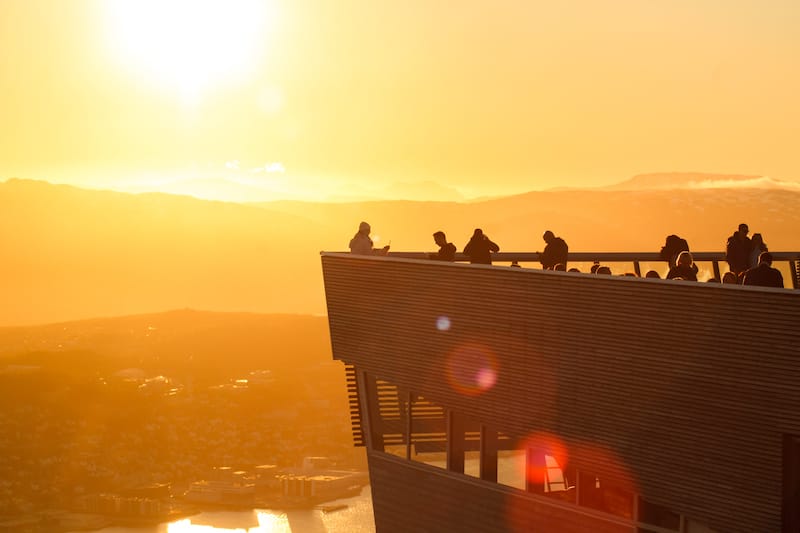 3. Peruse the Arctic-Alpine Botanic Garden
One of the most fascinating places to visit in Tromso in summer is the world's northernmost botanic garden.
It is called the Arctic–Alpine Botanic Garden, or Arktisk Alpin Botanisk Hage in Norwegian.
The University campus garden has many plants that grow only in the Arctic and the complex was founded in 1994 and has since collected northern hemisphere plants and flowers.
You will be blown away by the diverse array of flora that surrounds you and will be excited to photograph it all.
The garden is always free and one of the best cheap things to do in Tromso. To get to the Arctic-Alpine Botanic Garden, you can take bus 20 or 42. The ride takes only 5-10 minutes in total.
4. Walk Across Tromso Bridge
As I quickly learned, Northern Norway has so many bridges because driving is one of the main ways to get around up there. Trains don't go further north than Bodo and even bus schedules are minimal compared to the southern parts of Norway.
I found the Tromso Bridge, built in 1958, to be rather impressive, even after driving on some beautiful ones down in the Lofoten Islands.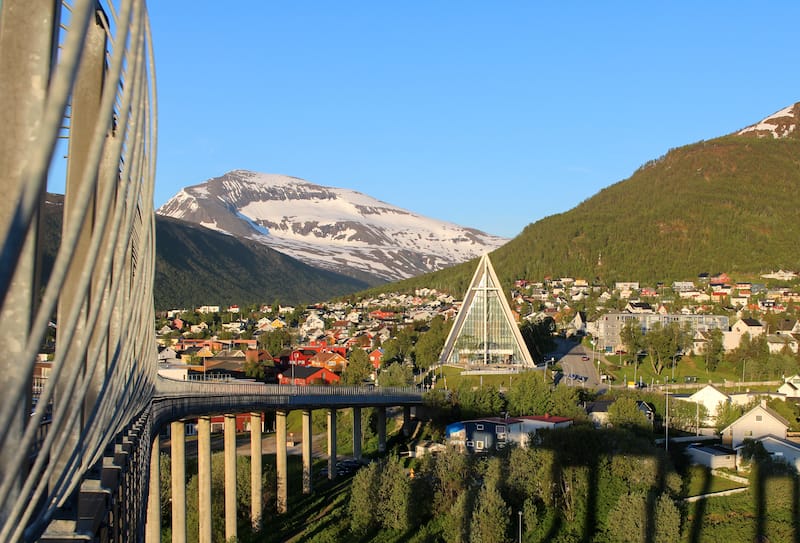 You can easily incorporate a stroll across the Tromso Bridge on your way to walk to the Arctic Cathedral and Fjellheisen. Don't forget to bring a camera as there are many great views from the bridge!
5. Take a Midnight Sun Hiking Tour
From around May 20 until July 22, Tromso experiences the midnight sun and it makes Tromso day trips easier as you have enough sunlight for anything you'd like to do!
It lengthens days and gives you many opportunities for great and unique tours to take during this time.
One of the best ways to truly experience the midnight sun is by taking a hiking tour at night!
On this tour, you will go out of the city toward the coast and do a gorgeous hike with an expert guide.
It will give you a chance to experience the Norwegian wilderness and Midnight Sun up close and personal while learning about the flora and fauna of the region.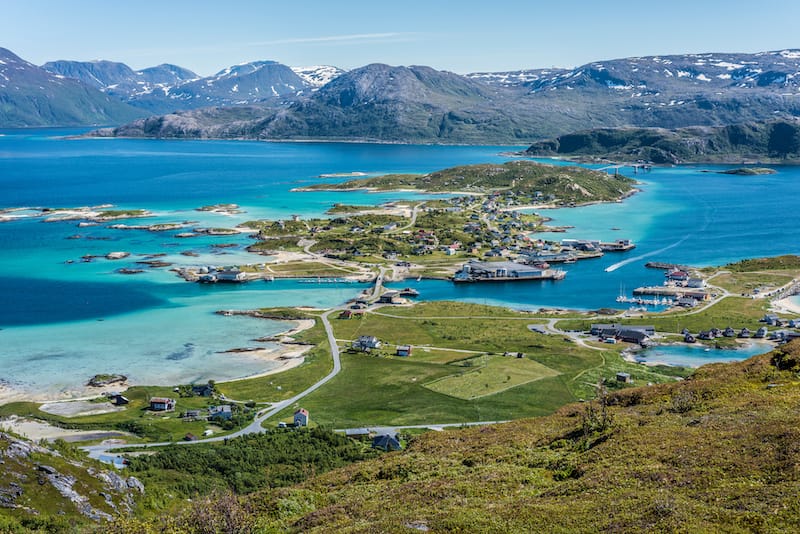 The Tromso hike is easy and up a small mountain. You will be provided sandwiches (vegan and vegetarian options are available), a sitting pad, hiking poles, and a small backpack for the journey.
You will also have photos taken of you throughout the hike. Hotel pickup is NOT included, but hotel drop-off is.
>> Click here to book this Tromso summer hiking tour
6. Check Out the Polar Museum
One of Tromso's most fascinating museums is The Polar Museum and we highly recommend you add it to your list for your Tromso summer visit!
The museum looks like a big red barn and is located right on the Tromso harbor facing the water.
You will get to learn how Tromso was the 19th-century gateway to the Arctic and how animals were trapped and what an important part of life that was for old Tromso.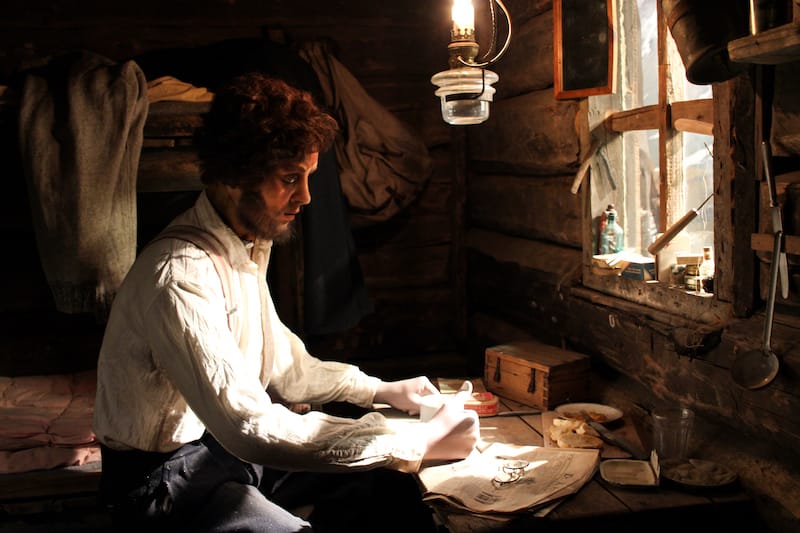 In the museum, I got to see replicas of the polar explorers experiencing daily life, including many original tools, weapons, graphics, scenes, and more.
Address: Søndre Tollbodgate 11B, 9008 Tromsø, Norway
Open all week: 11 AM–5 PM
7. Walk around the Town
While this is likely going to happen anyway, it is definitely one of the main things to do in Tromso in summer.
You will find many wooden buildings dating back to the 18th century in this part of Tromso and you can even have dinner or a coffee inside of them (or on the outside if it is sunny).
The older part of Tromso also is home to the prolific Tromso Cathedral, a neo-gothic style church, as well as Torget (Square) which is an area with many wooden homes and the area where festivals take place during the warmer months.
8. Photograph the Tromso Cathedral
As you walk along the central street in Tromso, you will notice a 19th-century, Gothic Revival-style church that you can enter and admire.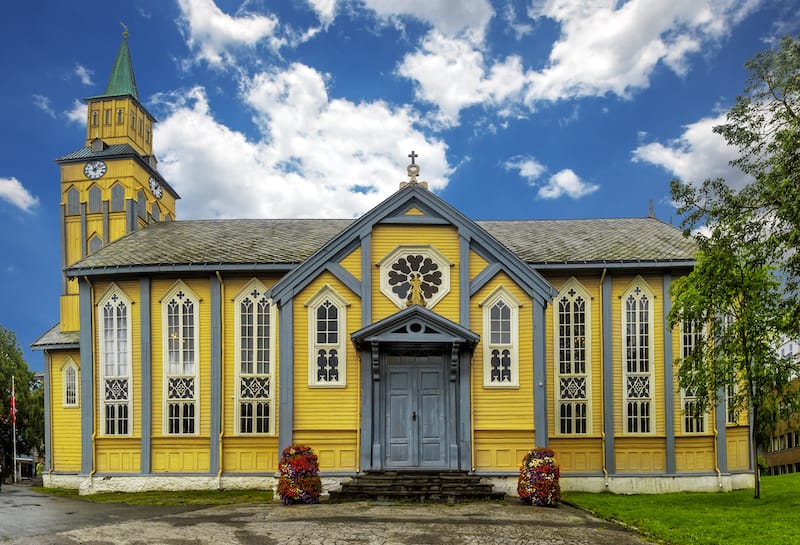 The Protestant Cathedral, known as the Tromso Cathedral, has more than 600 seats and is the northernmost Protestant Cathedral in the world.
The church is simple, yet extremely photogenic!
Summer in Tromso is a great place for hiking enthusiasts because the Arctic town offers several easy hikes for the active traveler.
Below are two of our favorite hikes in Tromso in summer!
9. Go Summer Hiking in Tromso at Floya
Usually, tourists take the cable car to reach the top of Floya Mountain. This is a 5-minute, easy journey. However, you can reach the top of Floya by hiking there if you're looking for a little excitement!
The path to the top starts by taking the first right after you arrive at the cable car station (Fjellheisen). There is a sign that will guide you there.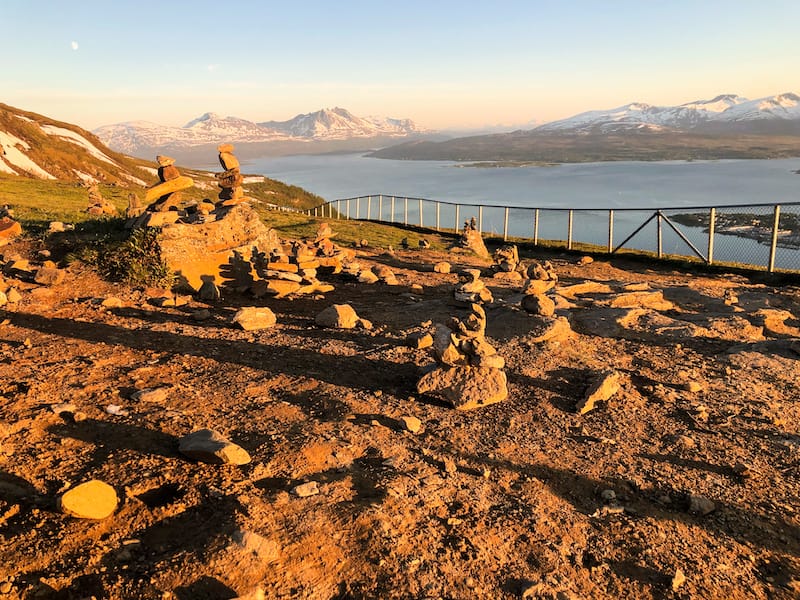 Alternatively, you can walk up the Sherpa Staircase, which is a path that goes from the left side of the cable car station to the top of Floya.
This path will guide you to some breathtaking views and you'll also possibly be able to see Kvaloya Island and the Lyngen Alps from afar!
The total hike is about 7 kilometers, or 4.3 miles (both ways), and it is considered a very easy one to manage.
10. Go Hiking at Brosmetinden
This is another easy hike that starts from Tromso to Brosmetinden Mountain and has a fabulous view of the ocean over the Northern Norwegian landscapes.
The path is well-marked. To get to the trailhead, you will need you head to the parking lot in Eidkjosen (about an hour's drive by rental car or you can take bus #425 from Tromso to Rekvik/Tromvik).
The hike is around 4 kilometers, or 2.5 miles, in total and will offer truly spectacular views.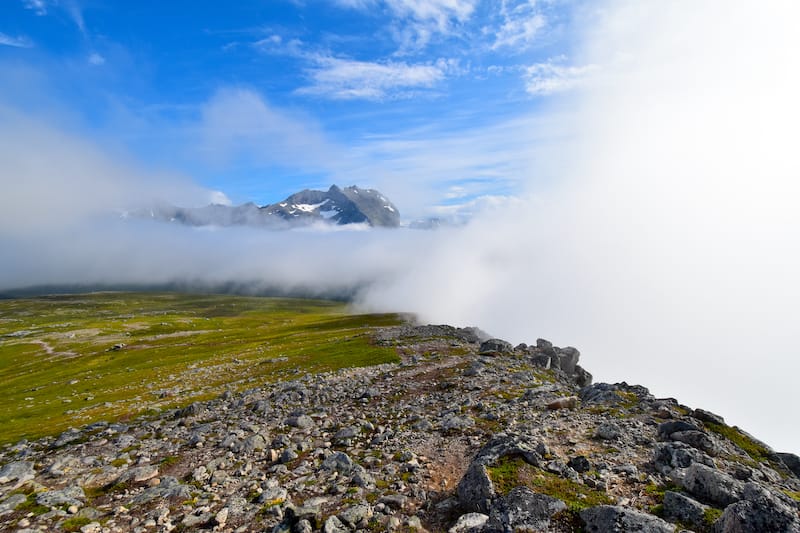 Where to Stay in Tromso
There are a few choices of places to stay in Tromso in summer. You can opt for a hotel or an Airbnb, or you can go camping.
Please see our specific guides below with our top recommendations:
Are you considering camping? Be sure to read up on how to go camping in Norway before heading out into the wilderness!
Our Thoughts about Summer in Tromso
We LOVED summer in Tromso. So much that we wanted to head back last year, but travel didn't exactly work out for anyone in 2020, did it?
While this guide is aimed at those who are visiting Tromso for the first time, please note that this is just an introduction.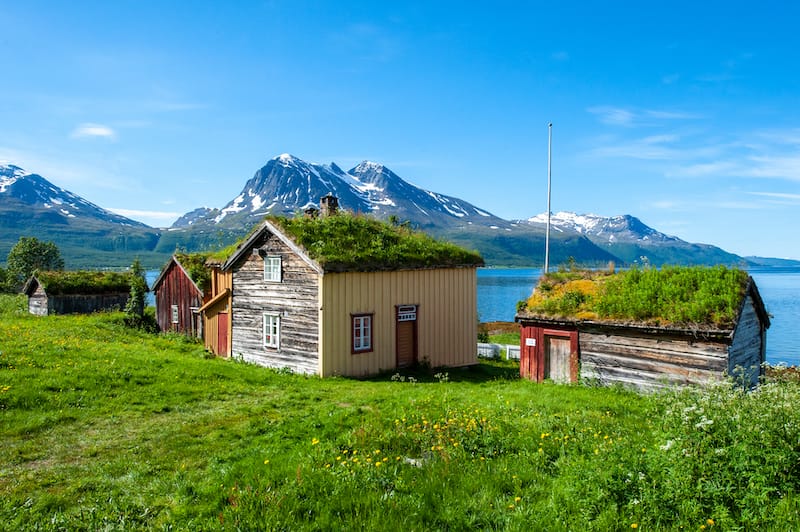 There are hundreds of trails in the surrounding area as well as many views and beaches (Sommarøy is a popular favorite)!
There are also many tasty restaurants in the city (you can see our favorites on our Tromso winter itinerary).
We hope that you consider a trip to Tromso in summer – yes, winter is fantastic, but summer has SO much to offer! Let us know if you have any questions or recommendations.
More Norway & Tromso Travel Guides
Pin this Tromsø in Summer Guide!