I had just arrived in Norway. In between seeing bleached-out messes on Paradise Hotel on Norwegian television and the constant running of news, I would sometimes skim through channels to see a large cruise ship slowly drifting its way down a narrow fjord. I remember frequently asking myself how someone could be so harebrained to keep tuned into such a thing for any duration of time.
As the months passed, I slowly started to leave that channel on for a few minutes longer each time I passed it. Eventually, I left it on and it would become a relaxing backdrop to whatever else I was doing. The phenomenon of slow television in Norway somehow inflicted me with the desire to take a Hurtigruten cruise in Norway and through those illustrious and mystical fjords.
But, as it turns out, it took me years to actually do it, and I only did it from Svolvær in the Lofoten Islands to Tromso. I full-heartedly believe that everyone should take a Hurtigruten Cruise in Norway at least once in their lifetime. This is a recap of my experience on the Hurtigruten.
Getting on the Hurtigruten in Svolvær
I had had the roughest travel day of my life that day. I had been sick throughout the entire trip, but that day is when it hit 'I just want to die' mode.
Fortunately, I was completely hoarse and no one got to hear how horrible it was (until now) that day. I woke up like a truck had hit me and we went to ride Icelandic horses on Gimsøya and then to the Lofotr Viking Museum, activities that were actually perfect for how I felt that day.
We arrived back to Svolvær fairly early and rested up in our cabin at Svinøya Rorbuer until 2200, when we had to leave on the Hurtigruten for Tromso. We had a taxi take us to the docks and the boarding process was seamless.
We arrived on board and headed straight for our cabin, which we were assured was one that was in a good place and wouldn't receive too much movement (I was worried about getting seasick). We laid our things down and I passed out within a matter of minutes. My partner went to explore.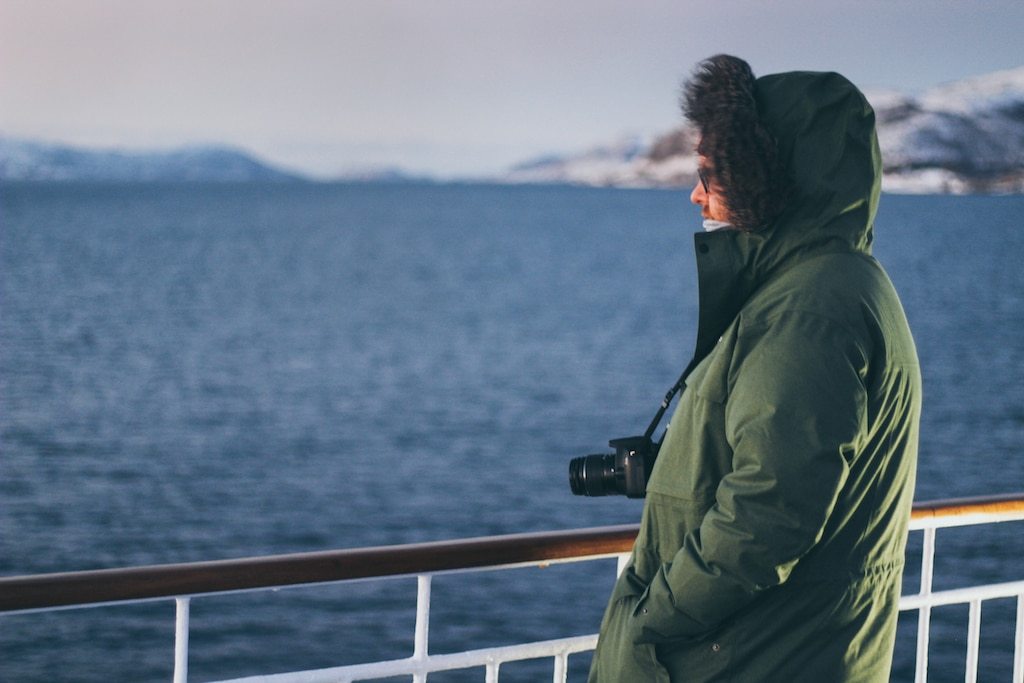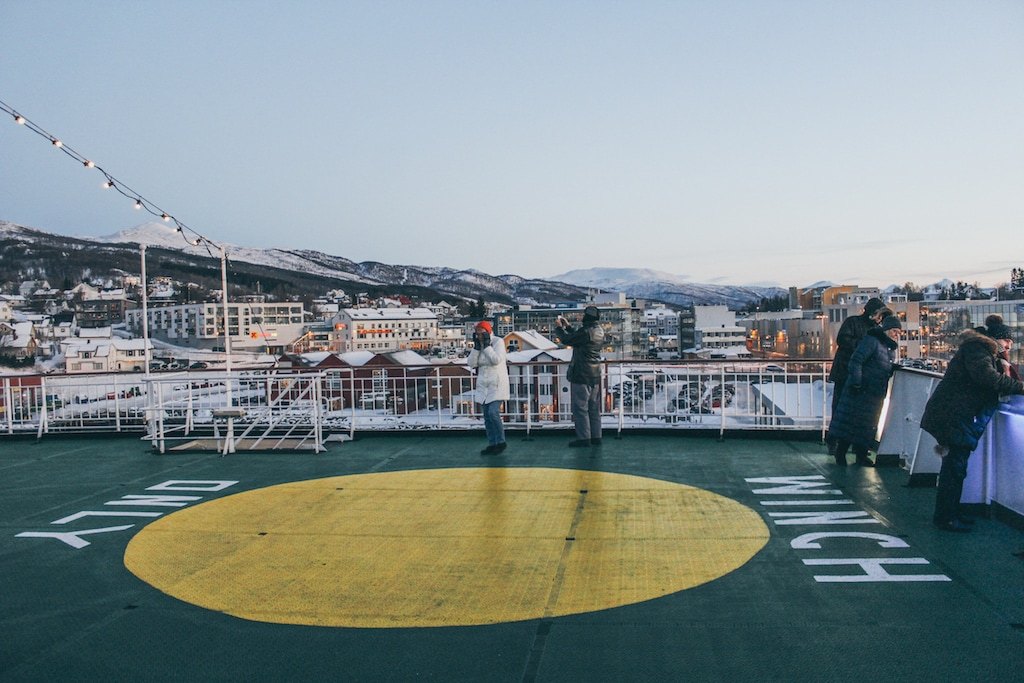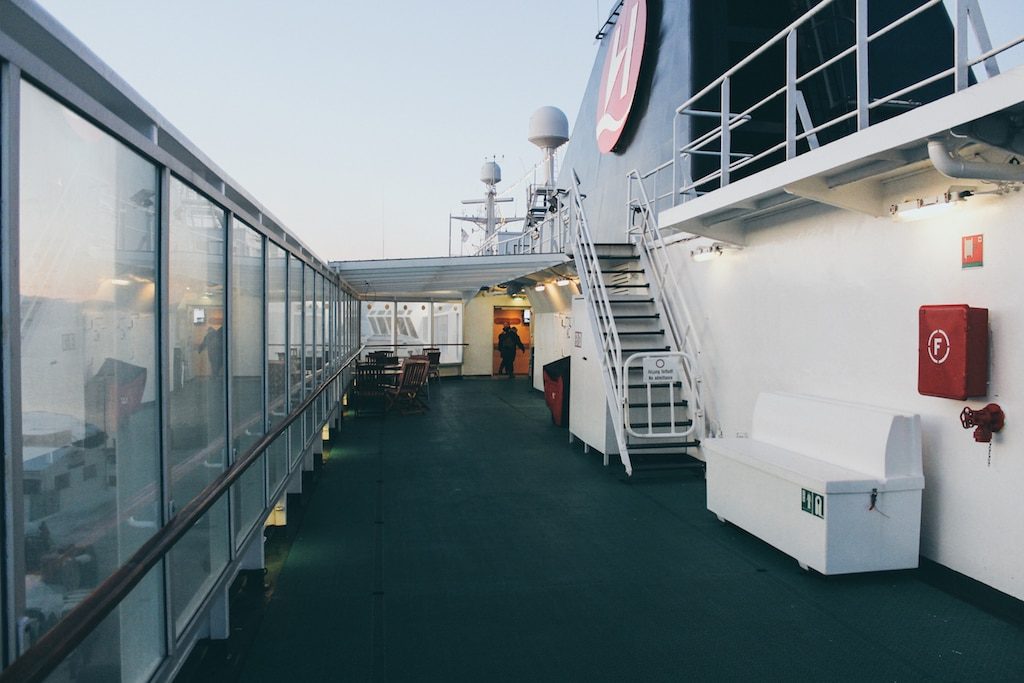 What to Do on the Hurtigruten
I must admit, I had never taken a cruise before. And the ferries I had taken were not usually equipped with much more than a duty-free shop and restaurant. On the Hurtigruten, however, it was like a new world. There was a lot to keep passengers occupied and having fun throughout their trip.
We were on the MS Richard With and the boat had a cafe, bar, sundeck, many panorama decks and areas, library, fitness room, and shops. It was kind of like its own little town but conveniently located on a boat. The ship also had a large restaurant area where breakfast and other meals were served.
I think I got the breakfast leftovers and scraps when I was there, but I suspect that is because I woke up like five minutes before it was done being served and ran down to get some.
The food seemed to cater to the Brits and Germans on board (which was a vast amount of the passengers on our ship) and ranged from sandwiches to baked beans to blood sausage. This was the only meal I ate on board and I heard that the dinner and lunches are delicious.
In addition to eating on board the ship, you can also take part in the many cultural activities and shows that are put on by staff. To find out what is available on your ship, ask for a program upon check-in. There is something new and entertaining every night and during the day!
Hurtigruten Excursions
Like activities, excursions are available for guests during the day while docking at a port. In Lofoten, you can head out to the Lofotr Viking Museum and learn about local history in addition to enjoying a sizeable Viking feast. You can even take a tour of a local brewery there.
Different excursions exist in different Norwegian cities and trust me, there are plenty (and most are pretty affordable!) To check out the different excursion options while on a Hurtigruten cruise through Norway, click here. Also, click here to read more about Tromso whale safaris.
Watching the Northern Lights on a Hurtigruten Cruise
The Northern Lights were extremely active the night I was on my cruise. Sadly, I was so sick and because I was passed out, I stood no chance of hearing the intercom announce that they were out and visible from the viewing platforms that evening. So gutting as it would have been the icing on the cake on this trip.
And yes, you can see the northern lights during the right months on the Hurtigruten. On the contrary, during summer, you can witness the sun not setting. I can't imagine that there is a bad time to be aboard the ship!
Click here for the best Tromso northern lights tours.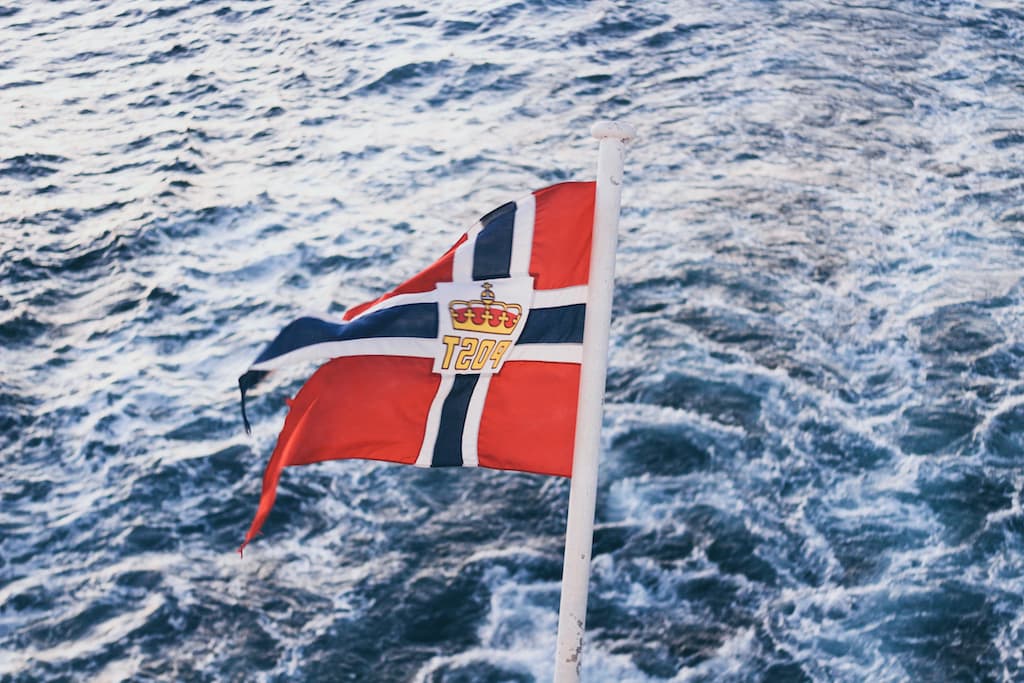 Tips and Things That Surprised Me on the Hurtigruten
I have to note this first and foremost- I was surprised that I didn't get seasick. I tend to get a bit queasy on boats. And, shockingly, not when the water is rough (I'm fine then)… but when it is smooth.
The Hurtigruten cruises through fjords, so the water is usually pretty smooth. And I never once felt queasy or like I was going to be sick on board. I even brought seasickness tablets along with me and never once even gave thought to them.
I was also surprised to not see a wider variety of ages of passengers. Most of the passengers were older. I don't get it. The Hurtigruten cruises are seriously made for any age group- particularly for people around my age (early to mid-thirties).
There are active excursions at each port, bars on board, and nice cabins… I am determined to get all of my friends to venture up to Norway to take this trip and they can thank me later.
Not that this was super surprising, but the customer service on board was exceptional. Everyone was so friendly, spoke multiple languages, and really made my time there memorable. They also kept my boyfriend entertained while I was passed out sick in bed.
Another random surprise was how the boat was decorated for Christmas. One of the things I miss most from living in Norway is the Christmas season (shame I didn't appreciate it more when I was living there!), so whenever I see Norwegians decorate for the holiday nowadays, it brings back a sense of nostalgia that transplants me back to my time spent in Norway.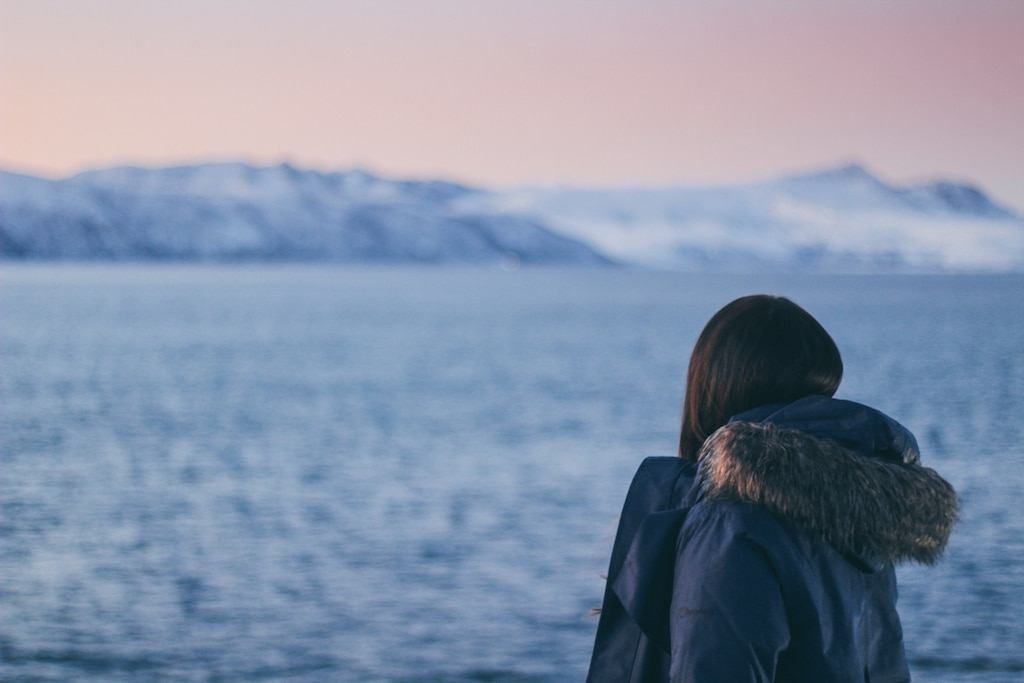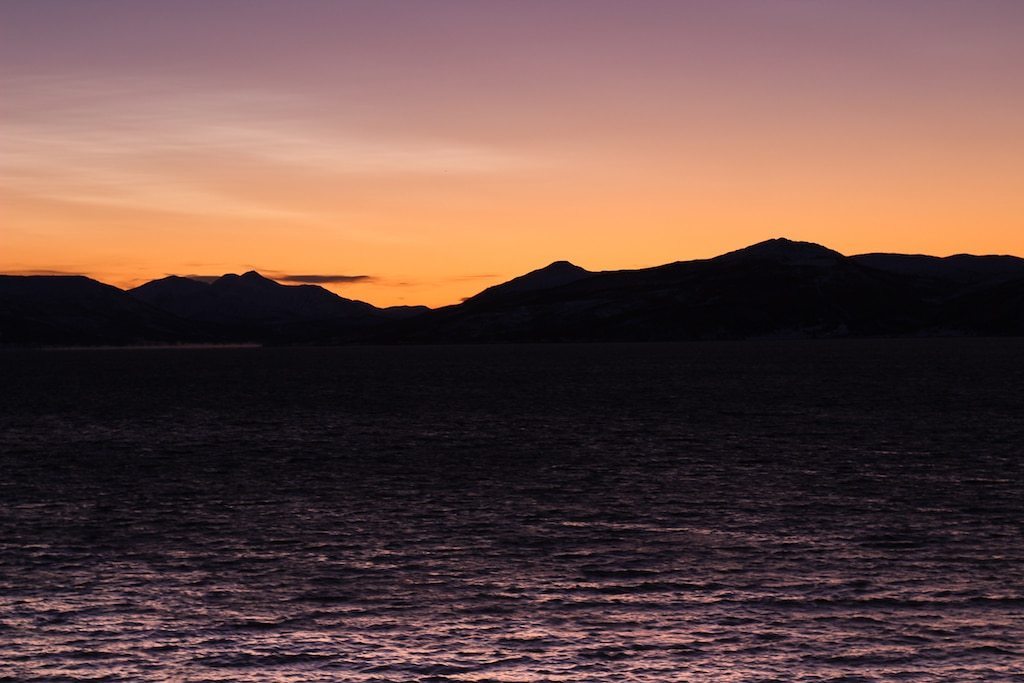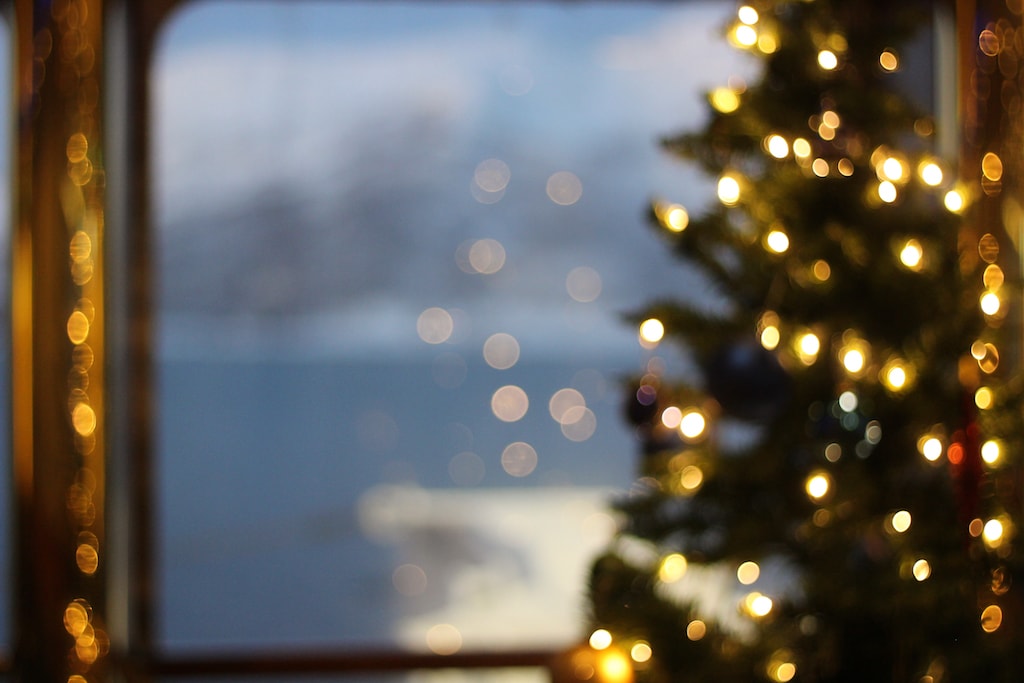 Who Should Go on the Hurtigruten?
I think the Hurtigruten is a perfect trip for people of all ages, but especially people around my age looking for a different type of holiday. Norway can be rather pricey and difficult to organize as a result, but having accommodation squared away on the Hurtigruten is a good way to get a taste of the fjords and west coast of the country.
While I didn't get quite as much time as I would have liked on the Hurtigruten, because I really could have spent a month on board, I did get a good impression of the voyage and highly encourage others to find a way to incorporate it into their Norway travel plans.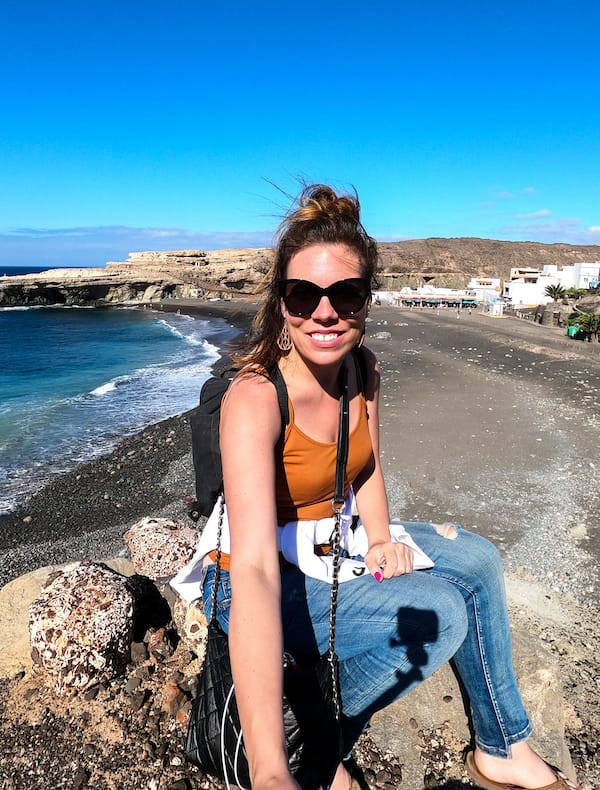 Megan is a travel blogger and writer with a background in digital marketing. Originally from Richmond, VA, she now splits her time between Frankfurt, Germany and Arctic Finland after also living in Norway, Armenia, and Kazakhstan. She has a passion for winter travel, as well as the Nordic countries, but you can also find her eating her way through Italy, perusing perfume stores in Paris, or taking road trips through the USA. Megan has written for or been featured by National Geographic, Forbes, Lonely Planet, the New York Times, and more. She co-authored Fodor's Travel 'Essential Norway' and has visited 45 US states and 100+ countries.