Are you looking for the top ways to spend 2 days in Bordeaux? This Bordeaux itinerary will show you the best way to maximize a weekend in the city! Keep reading!
Bordeaux has something for everyone and is especially a great destination for wine lovers!
This guide will show you the best way to spend a weekend in Bordeaux, including extra options if you happen to have more than just 2 days there!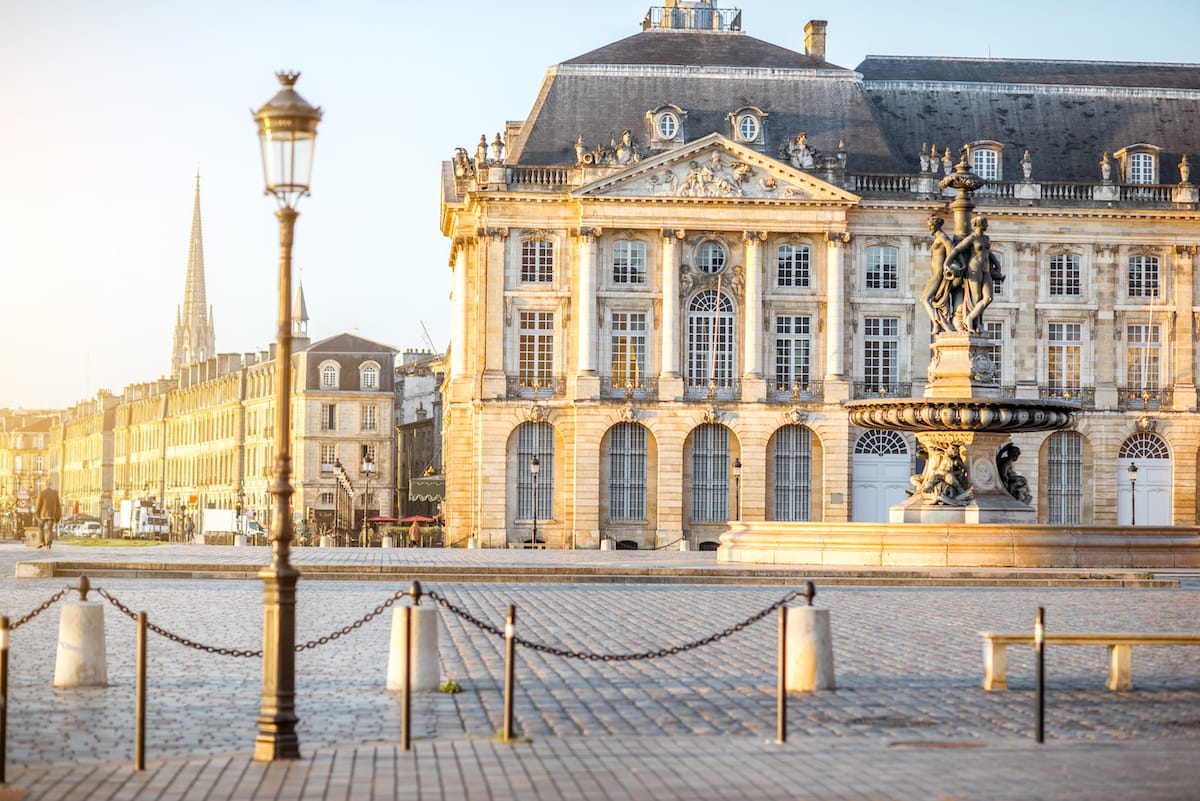 Did we miss any essential things to do or places to visit on this Bordeaux 2-day itinerary? Let us know in the comments!
How to Get Around Bordeaux
There are so many public transport options in Bordeaux, so you'll have no problems getting around the city.
Although Bordeaux isn't suited to cars due to its narrow streets, there are ample day trip opportunities from the city. If you're wanting to head out and explore, then check out Discover Cars for the best rental availability and deals.
When it comes to exploring the city, the tramway is one of the most efficient ways to get around. Trams are frequent and they operate from 5 am to 12 am/1 am (depending on the day).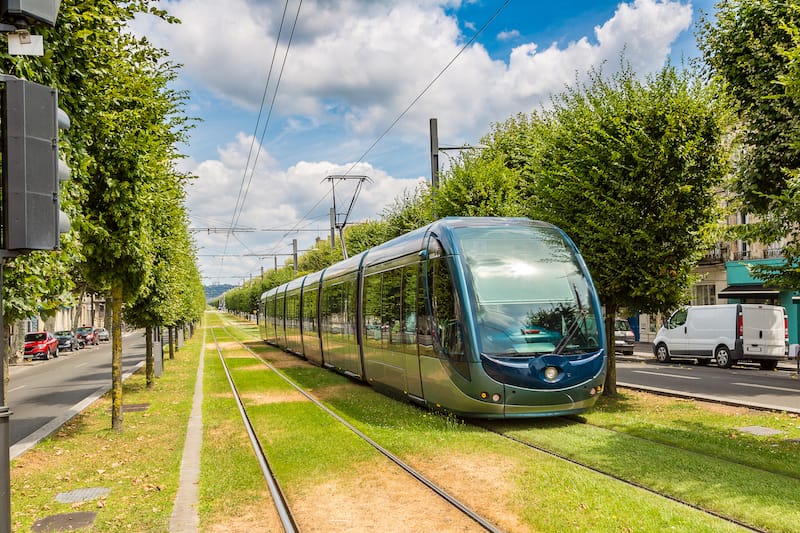 There are also 65 different bus routes in Bordeaux, and this includes a shuttle directly to and from the airport.
Lastly, there are river shuttles too which you can take advantage of. These shuttles offer an extremely quick way to cross the river and you can use the normal transport card as payment for them.
Best Time to Visit Bordeaux
Weather-wise, the best time to visit Bordeaux is between July and September. During this time, temperatures can reach up to 28 C (82 F) and precipitation levels are low.
However, this is the peak season, so it can feel very crowded, especially as the summer months coincide with the school holidays!
If you'd prefer a quieter experience but still want pleasant weather, then we'd recommend visiting in April-June or October. You'll still get plenty of good weather, and you'll find that accommodation prices may be cheaper too.
Many people also choose to visit during the winter months of Nov-Jan, but you'll encounter much higher levels of precipitation so just keep that in mind.
2 Days in Bordeaux Itinerary Overview
Day 1 Overview
Place des Quinconce
Cathédrale Saint-André de Bordeaux
Have lunch in Bordeaux
River Garonne Cruise
Place de la Bourse
Day 2 Overview
Jardin Public
Musée Mer Marine
Les Bassins des Lumières
La Cité du Vin
Have dinner in Bordeaux
Day 1 in Bordeaux
Place des Quinconces
The first stop on this Bordeaux itinerary is Place des Quinconces. It's one of the largest city squares on the European continent and is considered to be the beating heart of Bordeaux.
Dominating this square is Monument aux Girondins, which is a popular historical monument. This large fountain has been around since 1902 although it's still not finished to this day.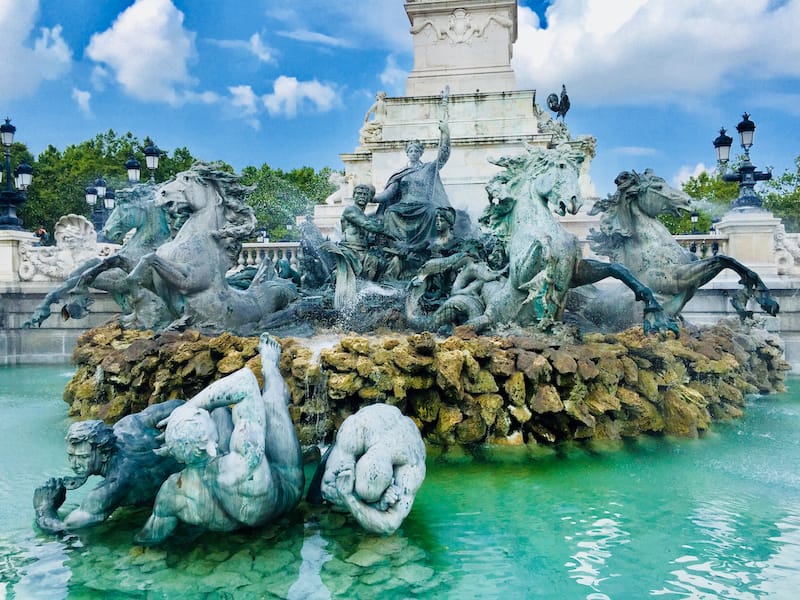 Monument aux Girondins is dedicated to the Girondins parliamentary group who were beheaded in 1793 during the French Revolution. That's why it's such an important place to visit.
Throughout the year, Place des Quinconces holds a variety of events including the popular Bordeaux Wine Festival, which takes place every two years.
However, even if there's nothing on, you'll still want to wander around this square as it's simply beautiful. There's also a huge Ferris wheel here which may take your fancy!
Cathédrale Saint-André de Bordeaux
Cathédrale Saint-André de Bordeaux is just a 15-minute walk from Place des Quinconces. Also known as Bordeaux Cathedral, this striking building is one of the most spectacular religious monuments in the city.
Although the majority of the cathedral that you see today was built during the 13th and 14th centuries, part of the building dates back to 1096. Now, that's impressive!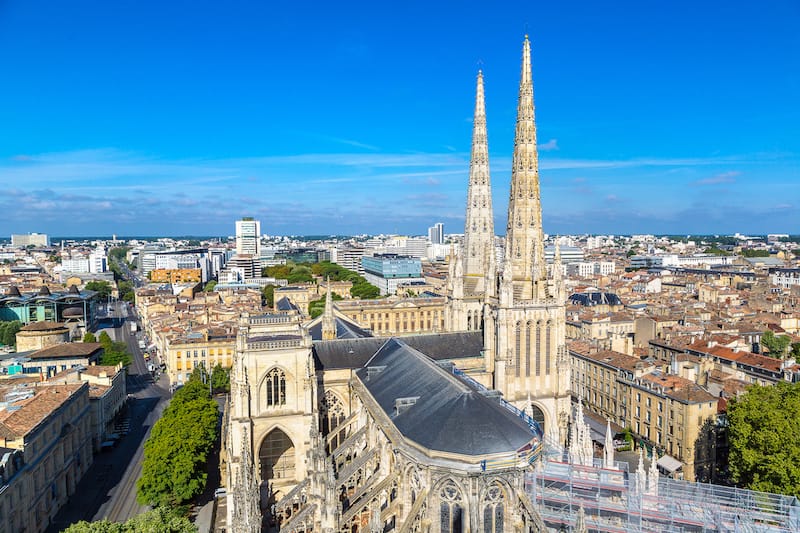 Bordeaux Cathedral will undoubtedly take your breath away with its huge Gothic arch, Pey-Berland Tower, and Romanesque features. There are also two sculpted portals that lie just outside the cathedral; the North Portal and the Royal Portal.
Inside Cathédrale Saint-André de Bordeaux is just as impressive, with its huge arches, incredible paintings, and stained-glass windows.
During your visit, don't forget to walk up the Tour Pey Berland Tower. This iconic piece of architecture dates back to the 1400s, and you can actually climb to the top. From here, you'll be treated to epic city views!
Have Lunch in Bordeaux
After spending the morning exploring Bordeaux, we're sure you'll be hungry. Luckily, there are tons of fantastic eateries in the city so you'll have no shortage of options.
We're going to offer some recommendations for restaurants near Place de la Bourse as you'll be spending the afternoon in this area.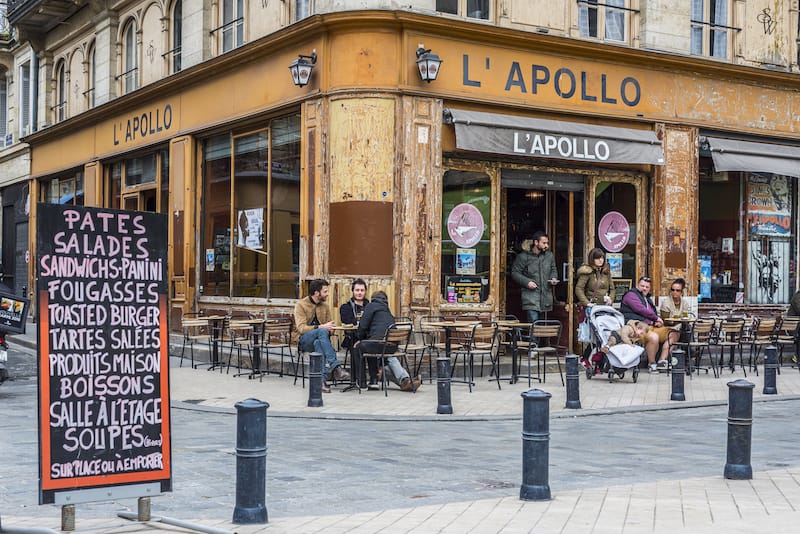 This means you won't have to rush your food, as you've got an exciting activity to get to!
Here are some great restaurant options:
River Garonne Cruise
After lunch, it's time to appreciate the city from a unique angle! Those looking for what to do in Bordeaux in 2 days will love booking a cruise of the River Garonne. It is undoubtedly a must for any Bordeaux itinerary.
The Garonne River flows from the Pyrenees Mountains and eventually makes its way to the Atlantic Ocean, through the Gironde Estuary.
This River Garonne cruise departs from the Yacht de Bordeaux dock at 3 pm. You'll spend 1.5 hours heading along the river and soaking up all the sights!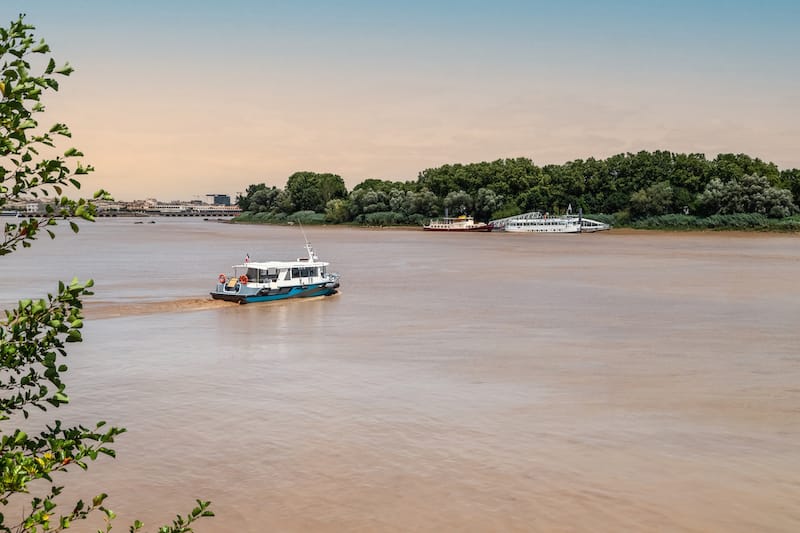 As you admire the city's striking architecture and popular tourist attractions, you'll listen to live commentary that will go through the history of Bordeaux. This is a fascinating (and rather relaxing) way to learn about the city's past.
Better yet, this river cruise includes a free glass of wine or soft drink and a piece of canelé cake. So, what are you waiting for?
>> Click here to check cruise rates and availability
Place de la Bourse
The last stop of day one is Place de la Bourse. It's just a 3-minute walk from where you'll get off the boat, so you won't have far to wander.
Place de la Bourse is another popular square in Bordeaux.
It was created by an architect called Ange-Jacques Gabriel and dates back to the 1700s.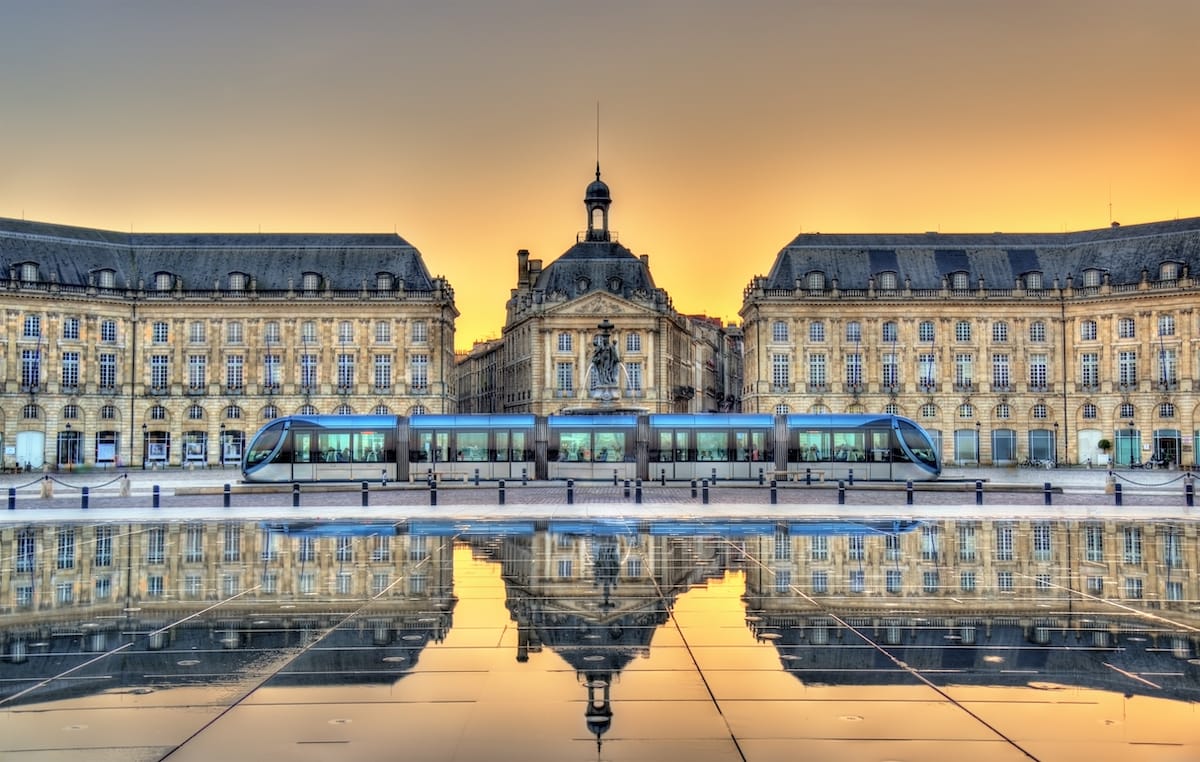 Originally, there used to be a statute of King Louis XV in the square's center. That was destroyed during the French Revolution, and in 1869, Fontaine des Trois Grâces (Fountain of the Three Graces) became the central attraction.
You'll also find some spectacular buildings surrounding this square, including the Palais de la Bourse and the Hotel des Fermes. However, the highlight has to be Miroir d'eau.
Miroir d'eau is situated right in front of Place de la Bourse and is the world's largest reflecting pool. It's an excellent spot for taking photographs!
Day 2 in Bordeaux
Jardin Public Garden
To start off day two of this Bordeaux itinerary, you'll want to visit Jardin Public.
This public garden is the perfect place to escape the city's hustle and bustle, so you don't want to leave it off your list.
Jardin Public has been around since 1746 and covers an impressive 10.8 hectares. It was designed by Ange-Jacques Gabriel, the same architect who laid out Place de la Bourse.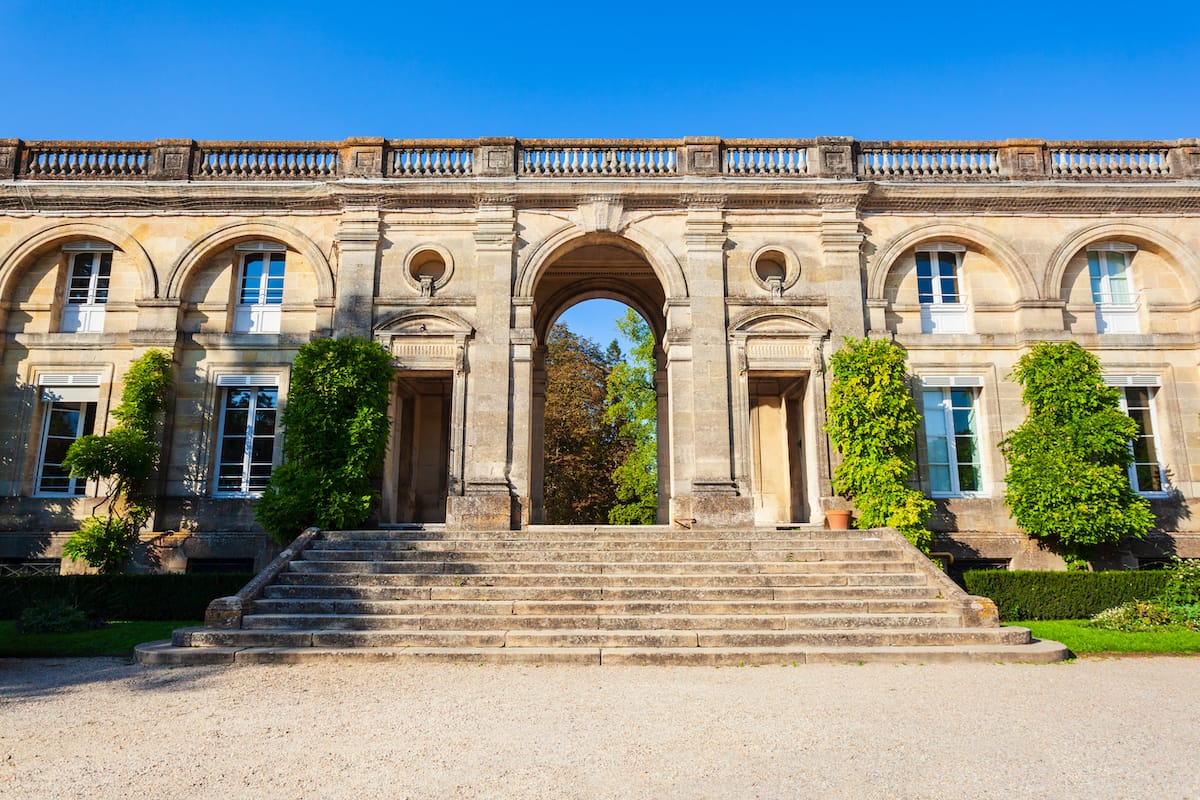 Home to several interesting statues, an original wrought iron gate (which has been listed as a historical monument), and a wide variety of plant life, this place really is special.
In fact, it used to be home to the old botanical gardens, until a new one opened back in 2001.
Today, this public park is home to a children's playground, a puppet theater, an arboretum, a Natural History Museum, and a library.
Musée Mer Marine
Musée Mer Marine is a 45-minute walk from Jardin Public, so you may want to catch public transport here to make the most of your time.
This incredible museum is dedicated to maritime history and it's located on the shores of the River Garonne which used to be one of Europe's biggest ports. The building itself is impressive, but just wait until you get inside.
Musée Mer Marine's main attraction has to be its permanent exhibit 'Beyond the Horizons'.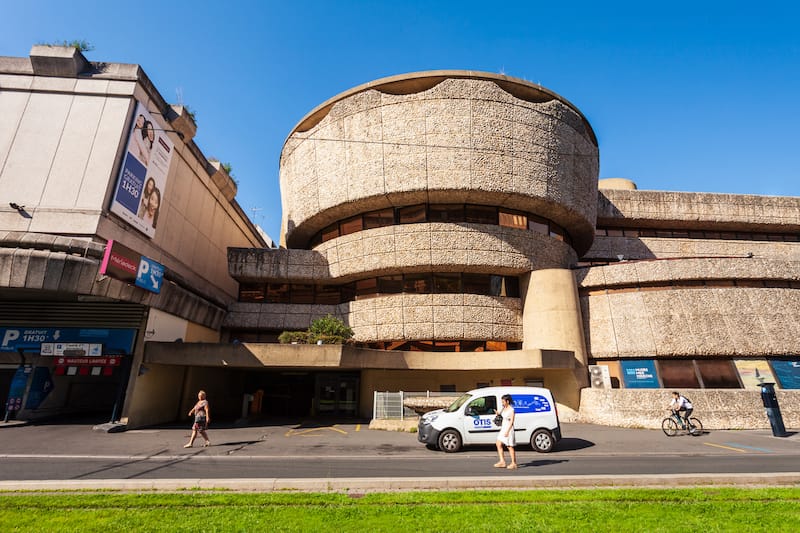 Here, you'll get to learn all about mankind's relationship with the sea throughout the years, so it's certainly worth a visit.
Within this exhibit, you'll get to learn about the history of navigation techniques, explorations, and contemporary art during this period, as well as admire a variety of ship models.
This museum also hosts temporary exhibits throughout the year, so it's worth checking what's on during your visit.
Address: 89 Rue des Étrangers, 33300 Bordeaux
Les Bassins des Lumières
Next up on this Bordeaux itinerary is Les Bassins des Lumières. It's the world's largest digital center and is situated within a WWII submarine base.
Les Bassins des Lumières offers a variety of visual and audio experiences and focuses on contemporary art and its history. The exhibits here fill the space of the submarine base and will take your breath away.
In fact, the pieces here are well reflected within the four huge water basins at this museum. This adds a whole new dimension to the experience and is part of the reason why this place is so special.
There are six areas to explore at the museum; Le Cube, the "Citerne", Large Mooring Buoys, A Museum Space, An Education Floor, and the Mezzanine Floor.
You can purchase your museum entrance ticket in advance if you'd like to be organized.
Address: Imp. Brown de Colstoun, 33300 Bordeaux
>> Click here to check ticket rates and availability
La Cité du Vin
La Cité du Vin is a 29-minute walk from Les Bassins des Lumières or you can choose to catch public transport there.
This unique museum is dedicated to the culture and heritage of wine and has been ranked as one of the best museums in the world.
There are 18 different modules here for you to learn about, and you'll get to journey through time, to see how this alcoholic beverage has shaped people's lives. Try to allow at least 2-3 hours for your visit so you're not rushing the experience.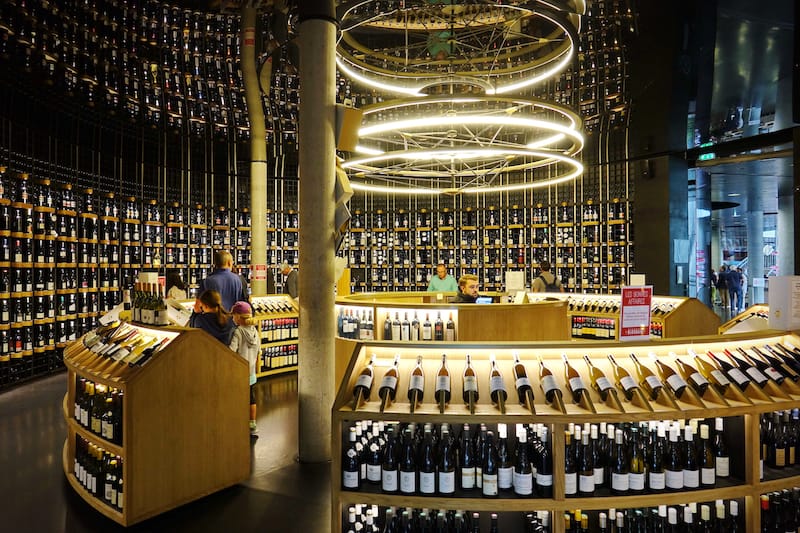 While at La Cité du Vin, you don't want to miss out on the museum's restaurant either and it offers fantastic views of Bordeaux.
For the best experience, we'd recommend purchasing your tickets in advance.
This skip-the-line entrance ticket includes a wine tasting, a digital guide, and access to the building's 8th floor, so you'll be able to appreciate panoramic views of the city.
Address: 134 Quai de Bacalan, 33300 Bordeaux
>> Click here to check ticket rates and availability
Have Dinner in Bordeaux
After visiting La Cité du Vin, it's time to head back toward Jardin Public along the river and partake in one of the most popular things to do in Bordeaux – EAT!
You'll find a variety of fantastic restaurants in this area, so there are plenty of options to choose from (if you've not already eaten at the museum's restaurant).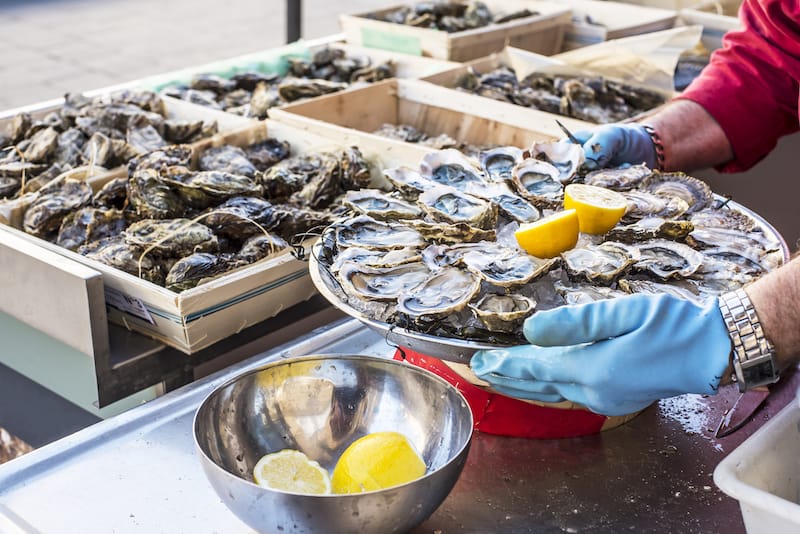 We've gone for restaurants that are all located in the same area; around a 30-minute walk from the Wine Museum. Of course, you can always take public transport here if you wish.
Here are some great restaurant options:
Do You Have 3 Days or More in Bordeaux?
Take a Wine-Tasting Trip to Saint-Emilion
If you've got more than 2 days in Bordeaux, then make sure you head out to Saint-Emilion. This beautiful medieval village is located within the area's famous wine region, and it's a perfect day trip from Bordeaux.
Saint-Emilion is a UNESCO World Heritage Site and is home to some rather impressive architecture as well as vineyards. The wine here is of fantastic quality, which makes it the perfect destination to do some tasting.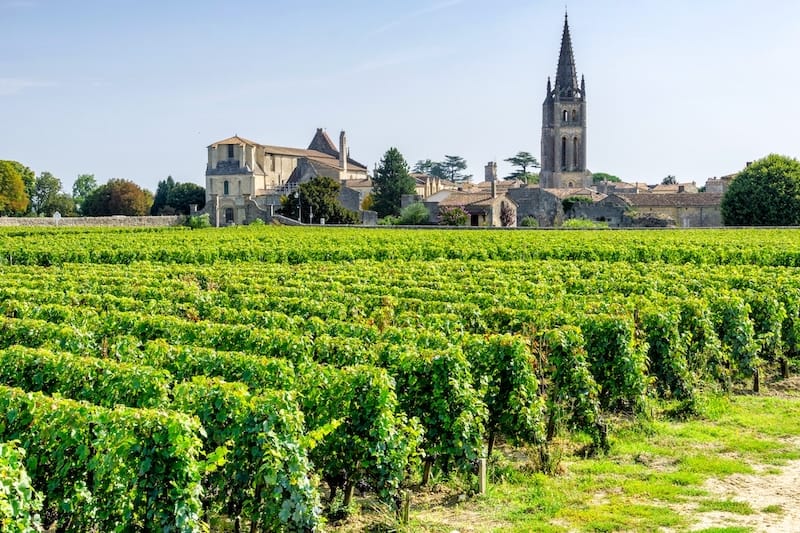 This 5.5-hour day tour will allow you to spend an afternoon wine tasting in Saint-Emilion. You'll visit two gorgeous châteaux along the Dordogne River, where you'll get to learn about the wine-making process.
This tour also includes 4-5 wine tastings, your entrance fees, and a French appetizer platter. Afterward, your guide will take you around the charming village of Saint-Emilion.
>> Click here to check wine tour rates and availability
National Opera of Bordeaux
If you've got some extra time, then consider adding the National Opera to your Bordeaux itinerary.
The opera is located within The Grand Théâtre; an incredible building that is certainly something to marvel at.
The exterior alone is enough to take your breath away as the building dates back to the 18th century.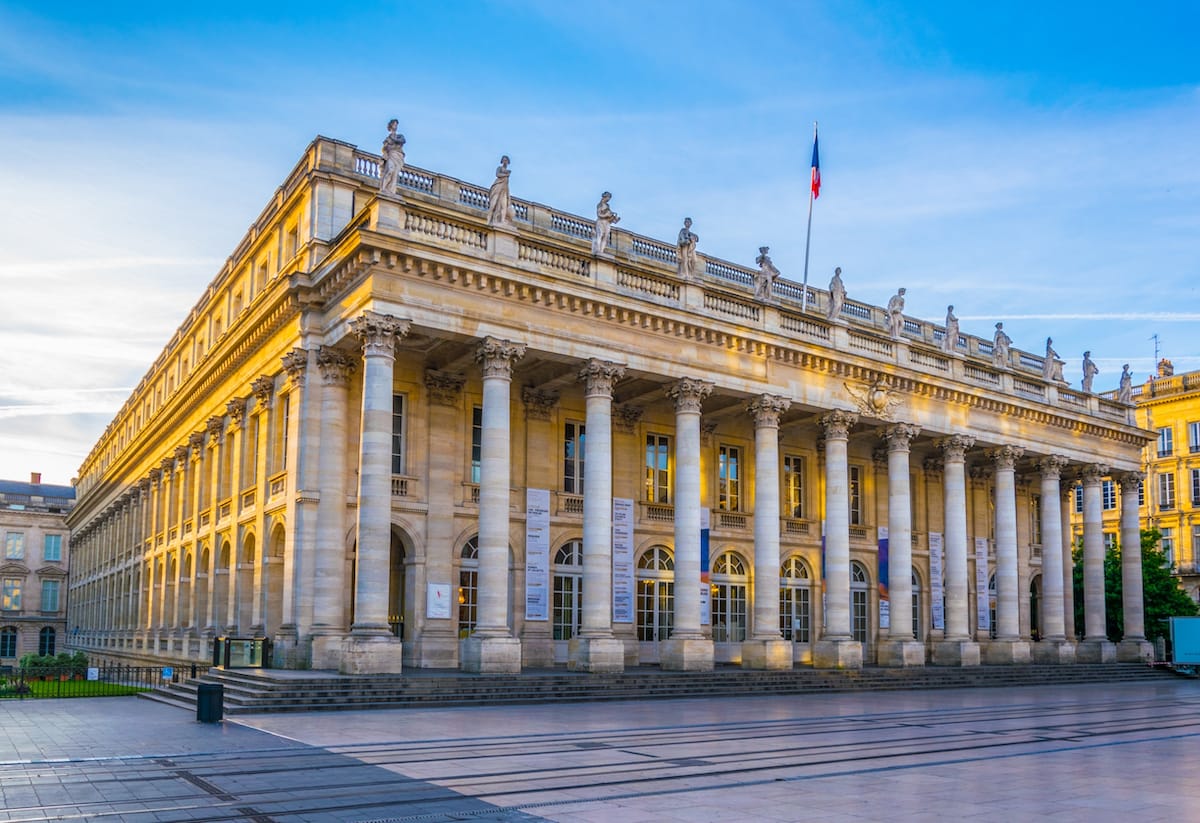 12 columns open the building up onto Place de la Comédie, and each one features its own statue.
The Grand Théâtre's interior is somehow even more impressive, with its neoclassical architecture, stone sculptors, and frescoed ceiling. Once you visit, you'll see why it's one of Europe's most beautiful theaters.
If you don't fancy watching the National Opera of Bordeaux, then you can usually go on a guided tour instead. However, these currently aren't running, although it's hoped that they'll resume soon.
Take a Trip to Arcachon Bay
Arcachon Bay is just over an hour's drive from the city of Bordeaux. This bay is located along the Atlantic Ocean and is one of the country's most beautiful areas.
You'll find plenty of things to do at Arcachon Bay, with a highlight being the Dune of Pilat. These are the highest sand dunes in Europe and once you're at the top, you'll be treated to panoramic ocean views.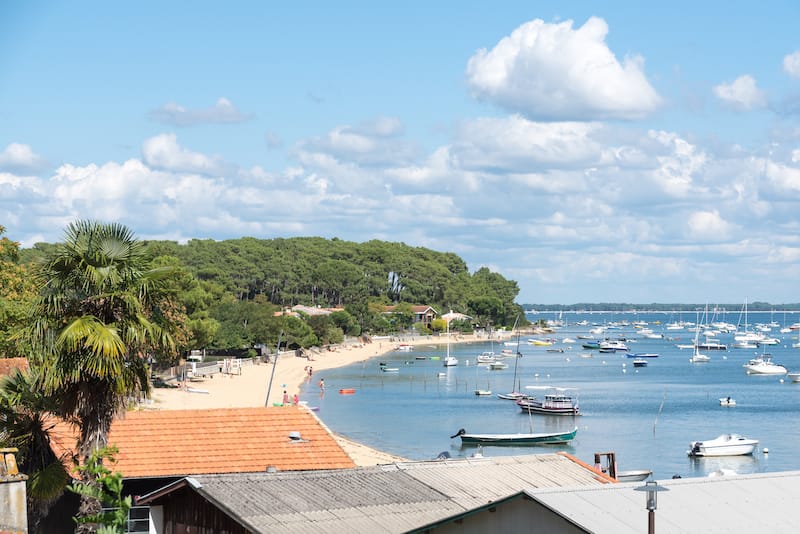 While here, you can relax on the beaches, go on a boat tour of the bay, explore the local towns, and try some exciting activities, such as paragliding.
This Arcachon Bay morning tour starts at 8:30 am and lasts for around 5 hours. On this tour, you'll get to visit the Dune of Pilat, go oyster tasting, and admire the views of Landes Forest.
Having your own vehicle does allow flexibility, but this tour is a great option for those who don't have that luxury!
>> Click here to check Arcachon Bay day tour rates and availability
Porte Cailhau
Now, you won't need to go out of the city for this attraction. Porte Cailahu is just a 5-minute walk from Place de la Bourse and is another great spot to visit if you've got longer than 2 days in Bordeaux.
Porte Cailhau is an incredible historical monument that dates back to the mid-1490s.
It's a huge city gate that stands an impressive 35 meters (115 feet) high, and it acts as the entrance to Bordeaux's medieval center.
The gate was built to honor King Charles VII, after his victory at the Battle of Fornovo in 1495.
Not only is Porte Cailhau striking from the outside, but you can actually walk up to the top of it.
From here, you'll get panoramic views of the river. Trust us, if you've got the time, don't leave this place off your itinerary.
Go on a Guided Bike Ride
If you have some extra time, you may also want to add a guided bike ride to your Bordeaux itinerary!
This is a popular activity in the city and there are plenty of options to choose from.
Bordeaux is a large city and you'll find that the attractions are scattered around between neighborhoods.
Heading out on a bike, allows you to make the most of your time, as it's much quicker than walking.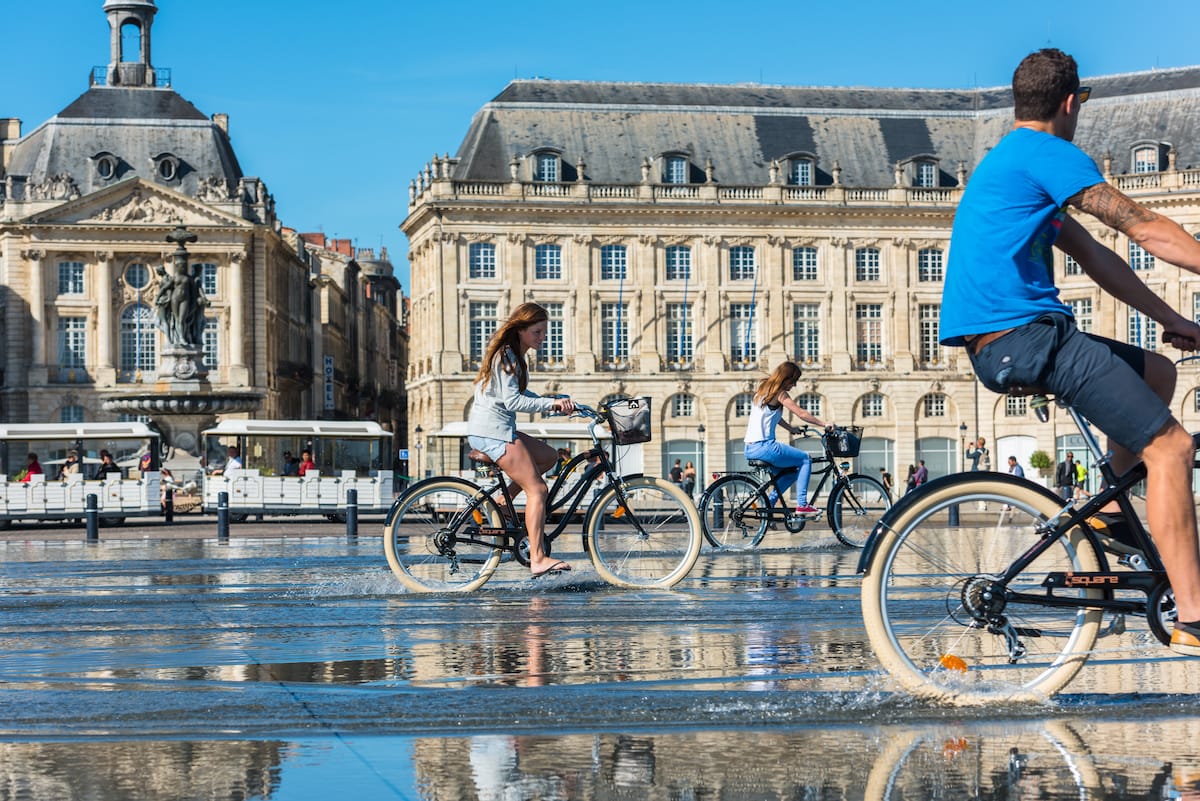 This essential 3-hour bike ride is just one of those choices! It will help you to discover the best of the city, and you'll have a guide with you at all times, who will detail Bordeaux's history and the monuments that you cycle past.
On this tour, you'll head past some of the city's most popular attractions including Saint-Andre Cathedral, the Garonne River, and Porte Cailhau. Along with your bike rental, a helmet, and water are included.
>> Click here to check bike tour rates and availability
Where to Stay in Bordeaux
If you're looking for the best place to stay in Bordeaux for your trip, these are some of our top recommendations!
Did we miss any of the top things to put on a Bordeaux itinerary?
Let us know your tips for a stellar weekend in Bordeaux!
More Bordeaux Travel Guides
Pin this Weekend in Bordeaux Itinerary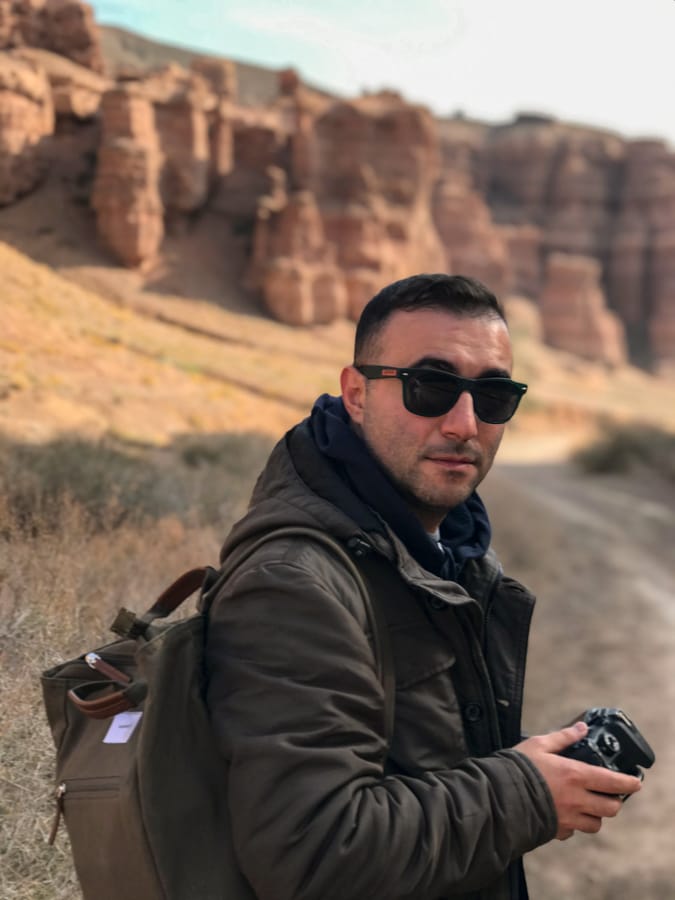 Aram is a travel blogger and writer from Armenia who spends his time between Spain and his home country. He is passionate about music and football (the European kind) and covers a lot of Western European destinations on the blog. Aram is a laidback traveler who enjoys meeting new people and finding the best food in each city that he visits (hence his frequent trips to France, Italy, and Greece!). He has been featured in (or written for) Forbes, BBC, The Guardian, Fodor's Travel, and more.