Some of the gorgeous beaches in Iceland often land on lists of the world's most beautiful beaches annually. And, for very good reasons!
This guide lists some of the best Iceland beaches that you can visit on your trip to the country in the North Atlantic.
Some, like Reynisfjara, are more famous than others… but they are all absolutely spectacular in their own right!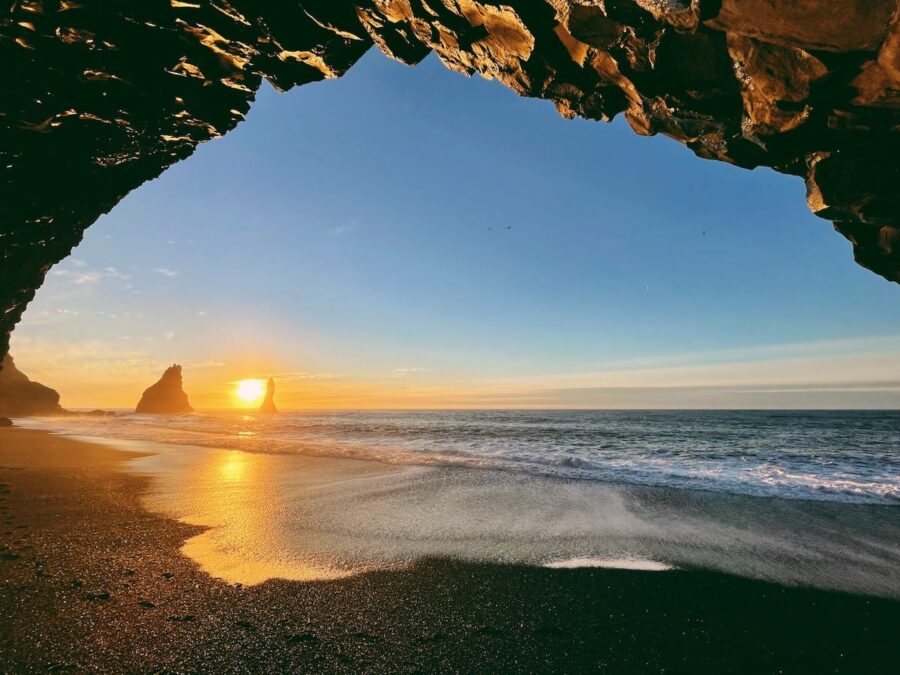 In your opinion, what are the best beaches in Iceland? Let us know in the comments.
Best Beaches in Iceland
Reynisfjara
Reynisfjara, also referred to as Vik Beach by tourists (beware – Vik actually has a black sand beach so just ask for clarification), is Iceland's most popular black sand beach that draws visitors with its magnificent vistas and basalt columns.
Dark and moody Reynisfjara Beach is nestled on Iceland's south coast near the coastal village of Vík í Mýrdal.
The Iceland beach's main features are the majestic Garðar basalt columnar formations over a stunning cave carved by huge waves and fine-textured soft jet black pebble sand.
Easily accessible from the famous Ring Road is what makes this destination one of the busiest beaches in Iceland.
In the distance, towering Reynisdrangar basalt formations jutting out from the Atlantic waters create almost apocalyptic scenery.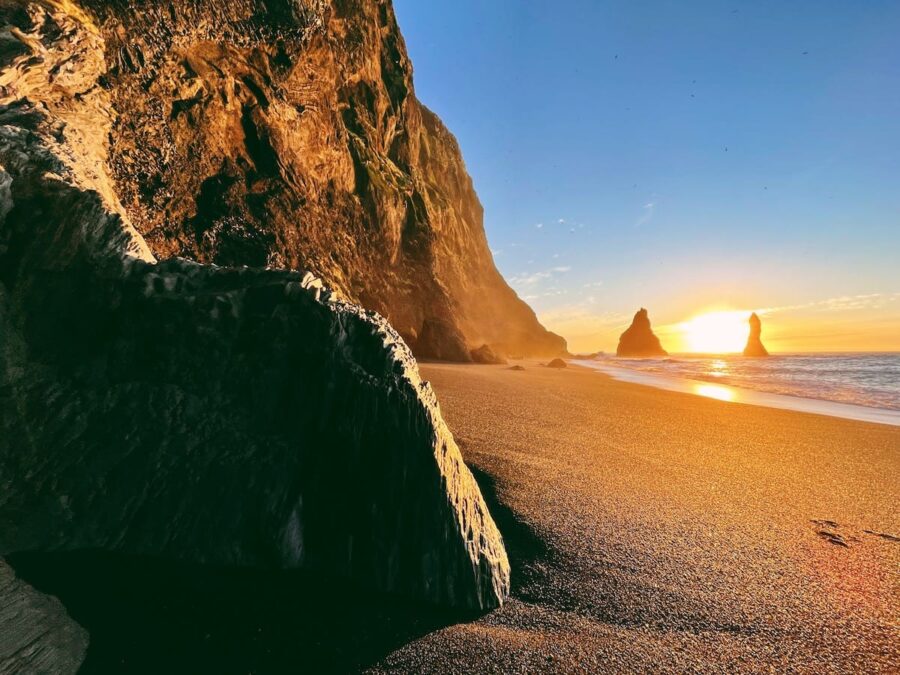 Icelandic legend has it that those stacks were once trolls who were permanently turned into rocks at sunrise while dragging a huge ship towards the shore.
Nature lovers can also bet on seeing puffins (during the summer months), fulmars, and guillemots nesting on the cliffs of Mt. Reynisfjall.
Please bear in mind that Reynisfjara is one of the most dangerous beaches in Iceland. According to Iceland drone laws, you are also not permitted to fly a drone here.
It has many rules and warning signs that should not be ignored when strolling along the beach, as even in calm conditions, sneaker waves can appear unexpectedly and pull you out to the sea.
Stokksnes Beach
Stunning Stokksnes Beach (also known as Vestrahorn Beach), located on Iceland's southeast coast, offers you a secluded retreat in the midst of marvelous pristine beauty.
Splendid vistas will make you feel like you just stepped on another planet.
The vast black sand beach in Iceland is backed up with giant Batman-esque mountains called Vestrahorn, which during sunset hours, create hypnotic real-life scenery which has that feels otherworldly.
Located far from the capital of Reykjavik is one of the things that makes this place a hidden gem far removed from the hustle and bustle of some other beaches in Iceland.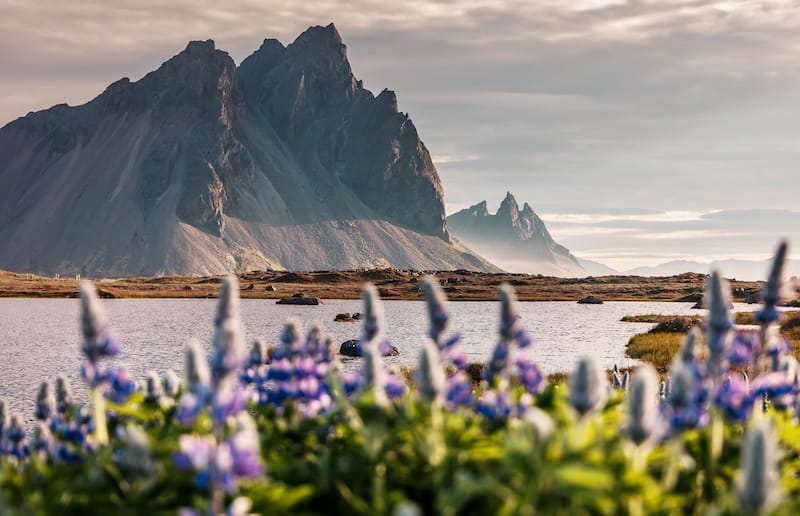 If you visit during the shoulder season and winter months, you may be able to see a magical northern lights show with the gorgeous mountains in the background.
This place also served as a significant site for the British Army during World War II.
Just note that a small fee of 800 ISK is required from you to visit Stokksnes Beach. When hungry, head to the small cafe located at the pay station area to recharge.
Dark green grass tufts on black sandhills, foggy clouds on top of majestic snow-capped 1490 ft peaks of Vestrahorn, and crashing waves with a mirror effect make this place a photographer's dream destination.
Diamond Beach
Diamond Beach's astonishing scenery will leave you absolutely breathless. This beach, also known as Breiðamerkursandur, is located 231 miles from Reykjavik, right off Iceland's Ring Road.
Walk among the shining "diamonds," which are chunks of icebergs sitting atop a strip of black sand that have broken off from the nearby Breiðamerkurjökull Glacier.
The beach got its name from those small ice diamond rocks that put on a sparkling show when struck by sunlight.
The contrast of icy blocks and black sand create a majestic scenery that attracts thousands of visitors annually.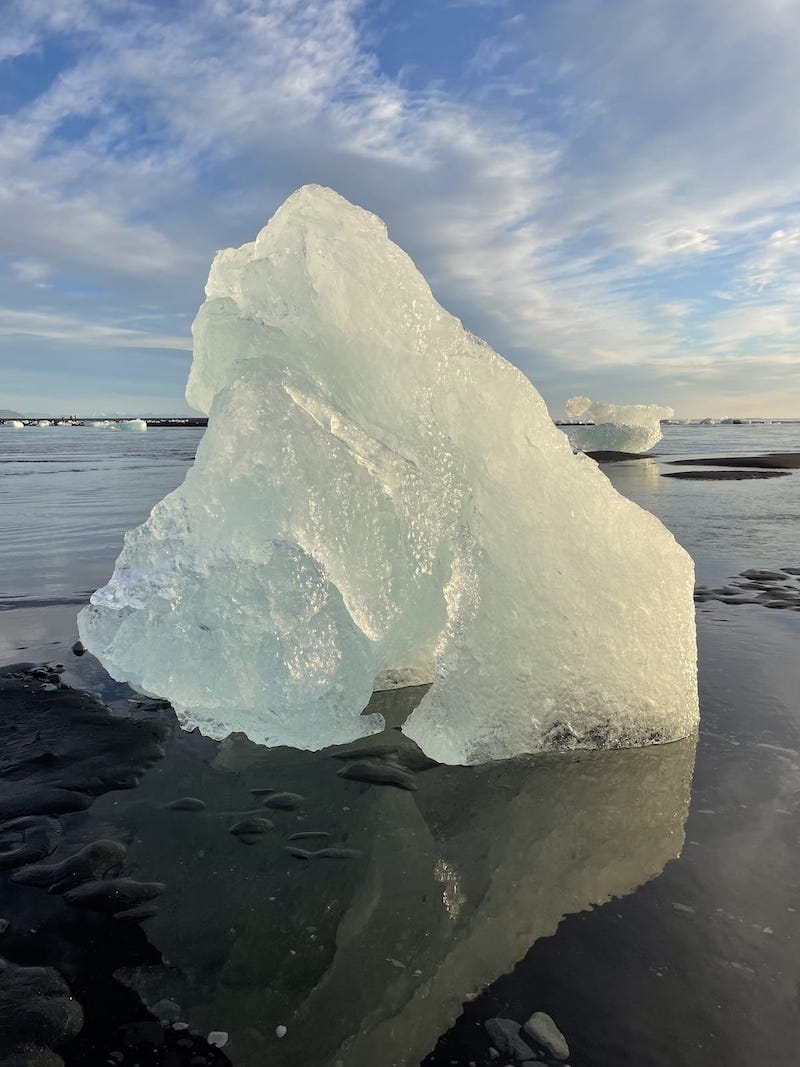 Right next to the beach, you can see the Jökulsárlón Glacier Lagoon, where small opalescent chunks of ice come from, detaching from the huge glacier (some of them are more than 1000 years old!) and floating towards the shore.
The stronger the tides, the bigger the chunks of the ice. You can even see those gemstones scattered around during hot summer months, which makes this place even more magical.
You should not climb or venture out into the lagoon to get up close and personal with the chunks of ice. They are dangerous and can flip and trap you underneath.
If you're lucky, however, you may get to see seals swimming in the waters or relaxing among shimmering ice shards on a coal-black beach.
Álftanes
Nestled between Kópavogur and Hafnarfjörður, Álftanes is the closest beach to Reykjavik on this guide.
The Icelandic beach has everything for enjoying a laid-back vacation with family. It features a fine white sand spit studded with lava rocks and is surrounded by picturesque mountains.
Standing amidst this coastal scenery will make you feel like you have just reached the edge of the world. Having a rich history connected to an old kingdom makes Álftanes an excellent location for history buffs, as well!
Álftanes is also home to Bessastaðir, where once king's men and chieftain lived, but now it is the official residence of the President of Iceland.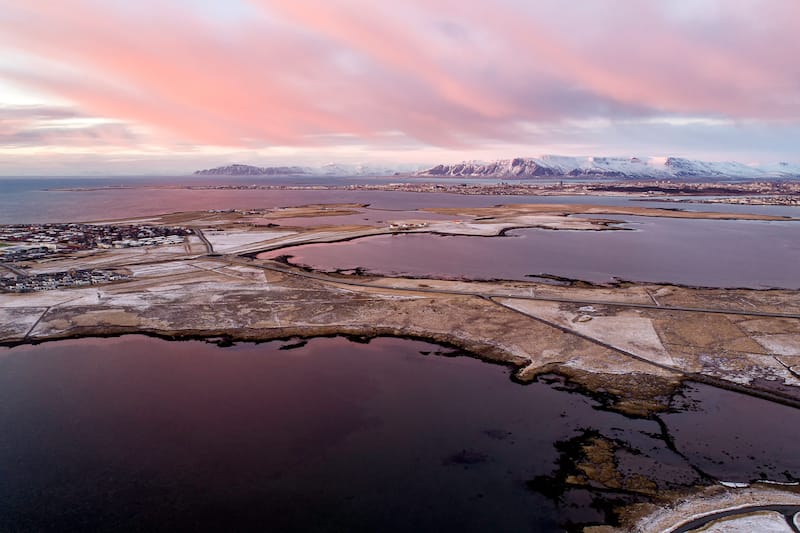 On the outskirts of Álftanes, you can also find Skansinn, where a fortress was built to protect the Crown's men from pirates.
Once you're done soaking up the view, you can go beachcombing, fly a kite, or visit nearby Álftaneskirkja Church.
Only a stone's throw away, you will find the Álftanes swimming pool filled with warm water and a wave machine, perfect for daily relaxation and entertaining the family.
While taking a refreshing dip in the pool in the heart of this natural oasis, you may gaze out over the magnificent views of the volcanic plateaus and the crashing waves of the Atlantic.
Solheimasandur
If you are after surreal landscapes, then Solheimasandur, with its jet black sand, should be on your Iceland bucket list!
A few centuries ago, eruptions from the still-active Katla Volcano caused an enormous glacier outburst flood that swallowed Solheimasandur Beach, transforming it into a desert of black sand.
Offering science fiction movie scenery at every turn, Solheimasandur Beach is a photographer's paradise.
Here, you can witness ghostly scenery of a famous plane wreck, an abandoned US Navy DC-3 aircraft that crashed in 1973 due to icing issues. Fortunately, everyone on board survived.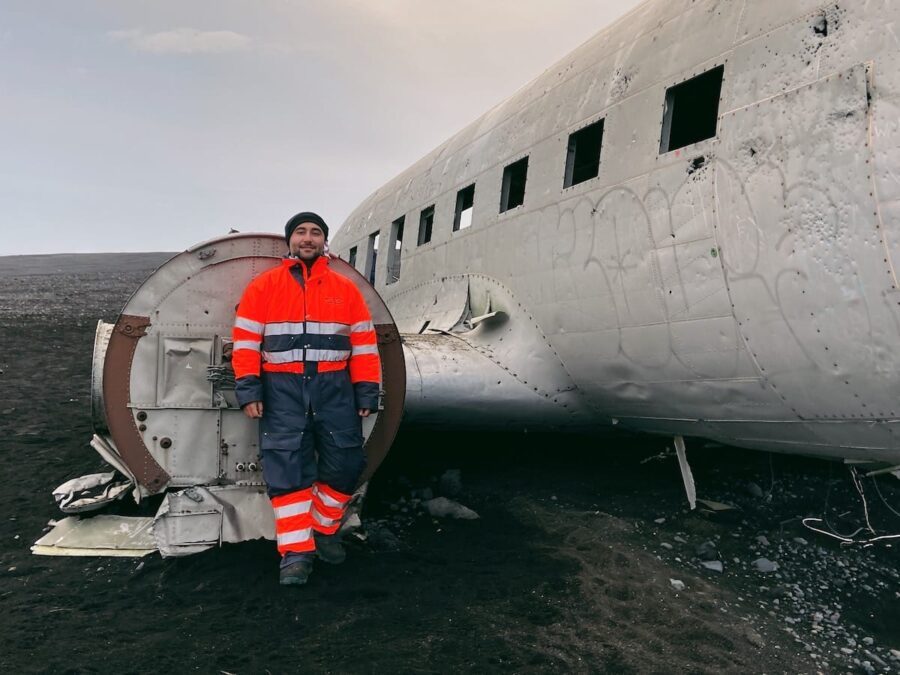 For a one-of-a-kind experience, you can hike up the wreck, get inside, and take cool Instagram shots with mesmerizing ocean scenery in the backdrop.
Alternatively, you can take an ATV to the wreck which is actually a way more adventurous way to see it!
As the soft black sand and surrounding flora are very fragile, it is prohibited to drive up to the wreck in order to protect the delicate landscape from irrevocable track marks.
So make sure to take your hiking boots with you as you will have to hike 4 miles of sandy black sand from Ring Road (if you opt to forego the ATV tour).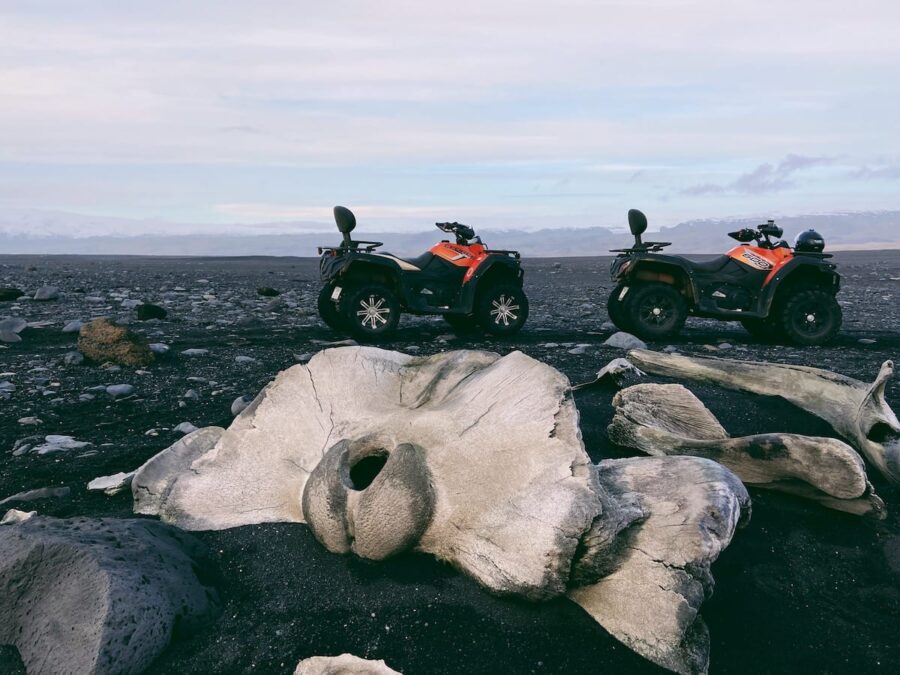 After experiencing this mysterious landmark, head to admire nearby Skogafoss Waterfall, one of the most famous waterfalls in Iceland, or take in the stunning view of Myrdalsjokull.
Rauðasandur
After setting foot on breathtaking Rauðasandur Beach, you will feel like you have just stepped foot on Mars.! Nestled in the Westfjords of Iceland, it stretches for over 6.2 miles from Látrabjarg, Iceland's largest seabird cliff.
The unique beach is covered in velvety red sand, which gets its color from pulverized scallop shells inhabiting the area.
From season to season, you can see how the hues of the sand change from red to brown, orange to yellow; it never stays the same throughout the year.
Here, you will witness an astounding scenery of contrasting red, black, and blue colors from the beach, background cliffs, and ocean together creating an awe-inspiring natural canvas.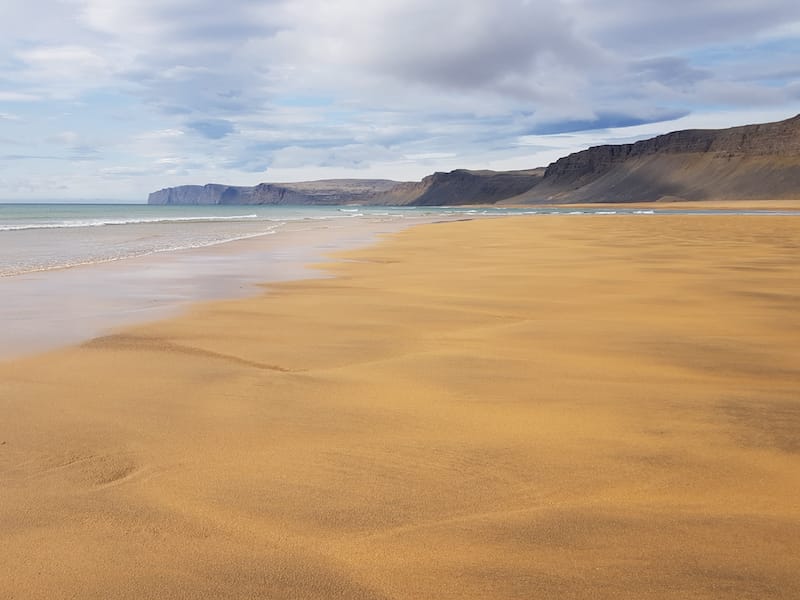 Due to the remote location, it is a little bit of a challenge to get to Rauðasandur which requires hiking for a mile on a steep gravel road and wading through a wide river, but trust me, the final scenery is well worth the effort.
Vast landscapes, less accessibility, unique colors, and tranquil surroundings make this beach in Iceland the perfect spot for unwinding with a relaxing stroll along the water.
If the weather permits, you can even admire the Snæfellsnes Peninsula and one of its main highlights, the glacier volcano Snæfellsjökull.
Djúpalónssandur
Located on the Snaefellsnes peninsula, 124 miles from Reykjavík, you will find Djúpalónssandur Beach, once serving as a prolific fishing village and now offering otherworldly dramatic scenery with some ancient relics.
The sand on the beach is made up of small black pebbles or lava pearls called the Pearls of Djúpalón, which gave rise to the beach's name.
Walking through a rocky citadel of lava along the Nautastígur path, you will see two freshwater lagoons: Djúpulón or Deep Lagoons and Svörtulón or Black Lagoon.
Legend has it that both are blessed by Bishop Guðmundur góði and feature exceptional healing powers.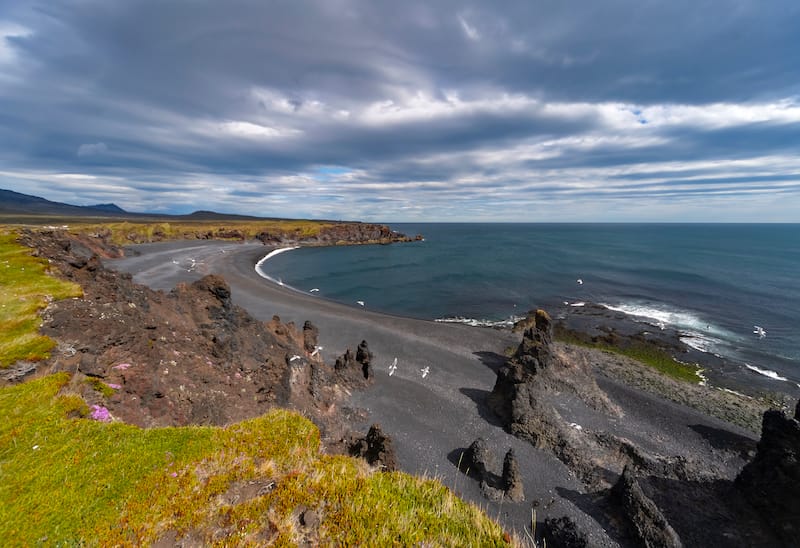 In the background, you can marvel at a few stunning cliff formations said to belong to trolls and elves, including Söngklettur or "singing rock," made from ancient lava flows that jut out from the ground.
Nearby, you can also find four ancient fishermen stones and a monument of the British trawler's wreck that commemorates those who lost their lives during the 1948 crash.
While strolling on the Black Lava Pearl Beach, keep an eye out for the stunning Snæfellsjökull icecap in the distance.
Even though the scenery can be majestic, please keep in mind not to get into the water as powerful waves can come out of nowhere and catch you off guard.
Nautholsvik
Until now, you may have thought that Iceland is packed with wild and pristine beaches, but Nauthólsvík is a bit different than the rest of the Iceland beaches on our list.
Situated merely 2 miles from downtown Reykjavik, Nauthólsvík is an artificial geothermal beach that features imported golden sand and heated water.
Warm water at 59F to 66F (15C to 19C) flows directly into the man-made lagoon, allowing you to enjoy comfortable sea swimming instead of freezing in the chilly waters of the Atlantic.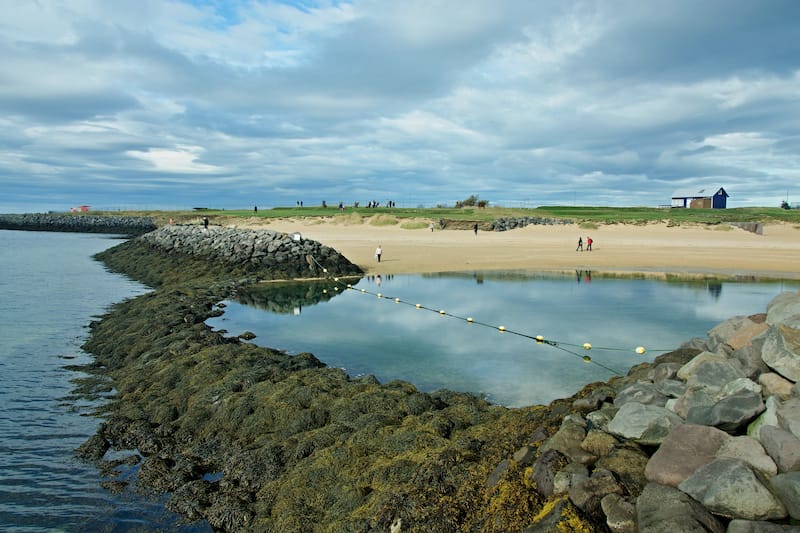 However, if you're looking to recreate your own polar bear plunge, then take a dip in icy-cold waters swimming out from the warm bay.
The beach also offers public changing rooms, showers, steam baths, two outdoor hot tubs, and a volleyball net.
Don't be surprised to see many locals and tourists alike floating in warm waters, soaking up the sun while sunbathing on the golden sand beach and experiencing that tropical feeling during the summer months.
Entrance to the beach is free in summer; however, a small fee is required for bathing and using the facilities for the rest of the year. When hungry, head to Strandkaffi for a fine dining experience with a view.
Nearby, you can also buy drinks and snacks from a kiosk and cook hot dogs on the barbecue.
Grotta
Grótta is a marvelous beach and nature preserve nestled right at the edge of the Seltjarnarnes Peninsula. It features a charming, rugged coastline with dark sand and little stones.
This beach is also a bird watchers' dream destination, where you can see Arctic terns, tufted ducks, and other seabirds.
Just note that the site is a breeding location and the beach is closed from early May through June for primary nesting season.
Don't be startled when you see a few adrenaline junkies braving ice-cold waters to indulge in a thrilling sesh of Arctic surfing!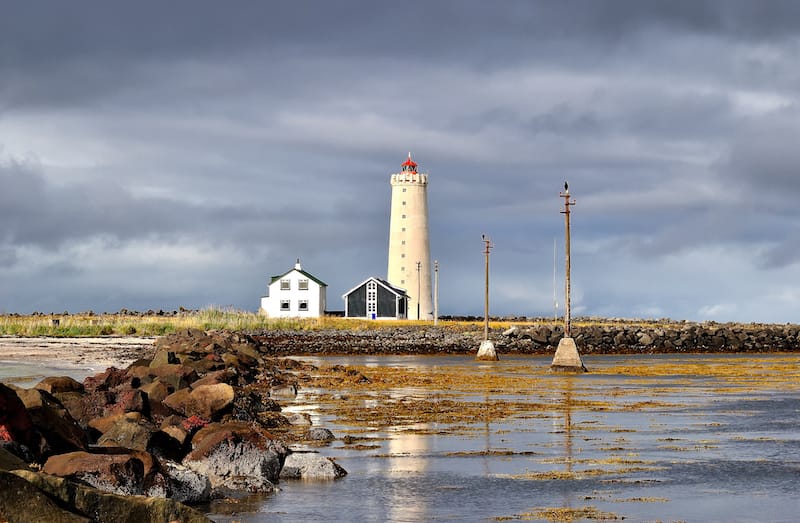 One of the main features of the beach is its century-old Grótta Lighthouse. For a closer view, you can walk up to this 19th-century historic lighthouse during low tide.
Despite being only 10 minutes away from downtown, Grótta offers minimal light pollution, so you will have a totally dark sky all to yourself to enjoy the Northern Lights in winter.
The beach also offers a wooden structure where you can dry your fish and nearby you'll find Kvika, a small heated geothermal pool great for a warm dip after an exhausting day.
If the weather permits, you can even admire the stunning Reykjanes and Snæfellsnes Peninsula in the distance.
Sandvik
Sandvík is another one of the prettiest black sand beaches in Iceland and is outlined by grassy dunes and the relentless waves of the Atlantic.
This beach is known to be a popular site among surfers and bikers, who practice their skills amidst the dramatic landscape.
Since the water is ice-cold and the winds are strong, the waves can become quite savage and one should dig deep into weather and tidal projections before heading to ride the waves.
For heart-pounding adventures, visit Sandvik from October to March to surf these waves during heavy storms.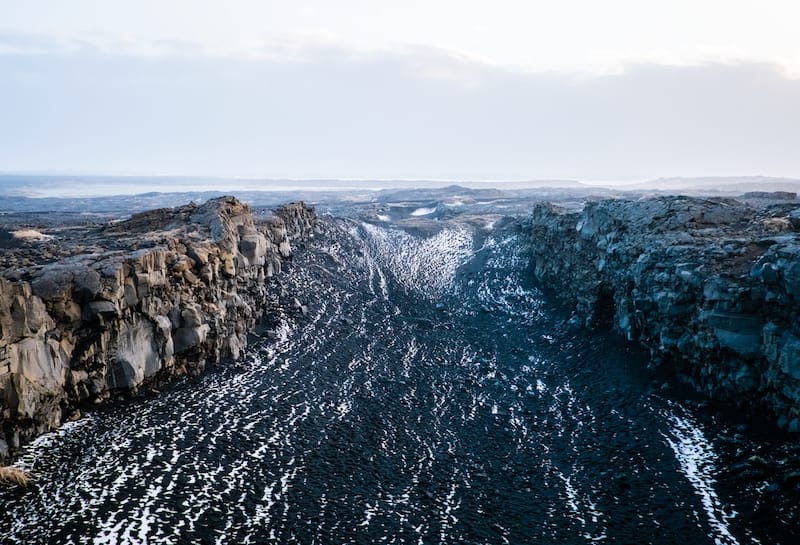 If chasing adventures is not your style, you can simply stroll on the jet black beach, watch dirt bikers offering up free entertainment, dip your toes into the freezing waters, or head to explore the sites where two war/action movies, "Flags of Our Fathers" and "Letters From Iwo Jima," were shot.
When there is low tide, keep an eye out for the glimpses of a supply shipwreck that occurred in 1981. Fortunately, the whole crew was saved!
Nearby, you can walk along a small wooden footbridge that spans two lava cliffs and traverses across the split between two continents, the Eurasian and North American tectonic plates.
Breidavik
The last one on this list is Breidavik, a gorgeous bay of golden sand that stands out from the rest of Iceland's beaches.
The latter is a huge crescent encompassed by the blue waters of the Atlantic and glacier-carved cliffs of Bjarnamupur on each side.
Near the shore, you can find Breiðavíkurkirkja, a quaint white church with a red roof standing alone amidst untouched scenic beauty that will make for picture-perfect backdrops.
Stroll along a 3-mile long beach to reconnect with nature and immerse in the surrounding serenity.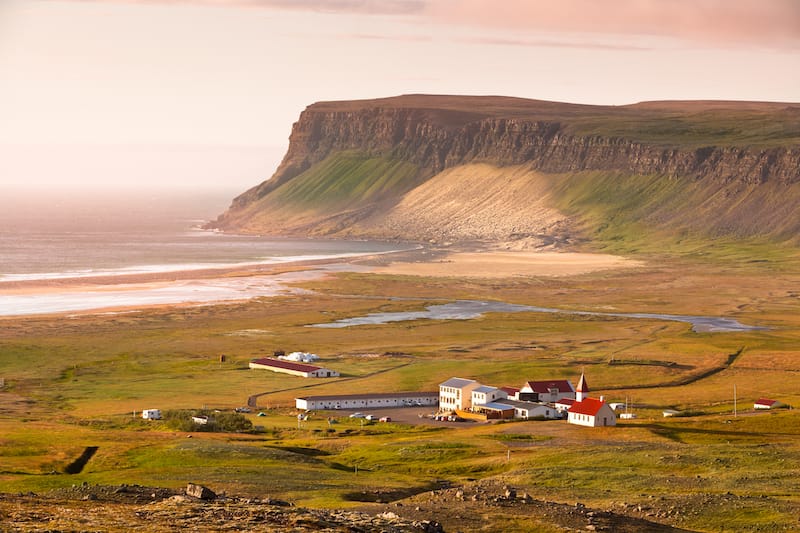 Due to its location close to Látrabjarg, Europe's largest bird cliffs, this beach is a real bird watchers' paradise that gives you the chance to admire an abundance of seabirds putting on an impressive show, and if lucky, you can even see a puffin from May to August.
After spending some time on the beach taking in the stunning views, you can go hiking, trout fishing, camping, and exploring nearby historical sites.
Visit Breidavik during the summer months and stay in the nearby Hotel Breiðavík to enjoy bright summer nights surrounded by North Atlantic Puffins, from where a broad path leads you down to Breidavik.
What are your favorite beaches in Iceland? Let us know in the comments!
More Iceland Travel Guides
Pin this Iceland Beaches Guide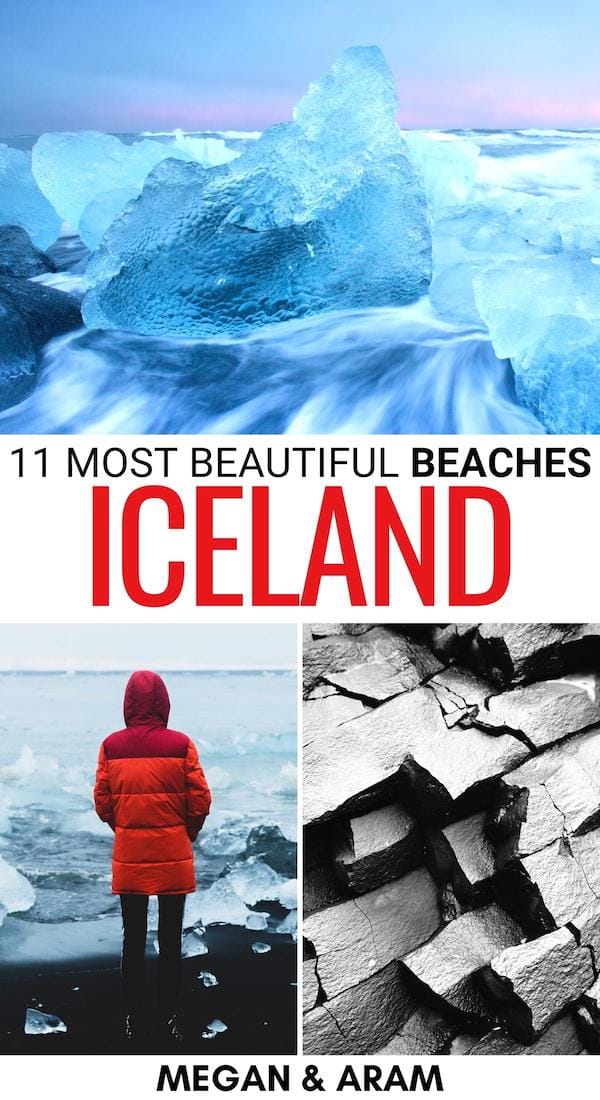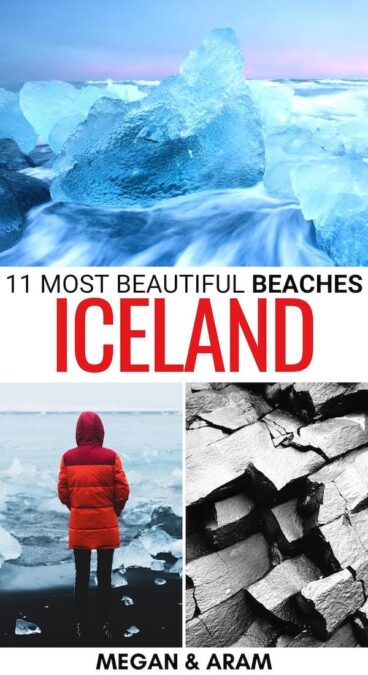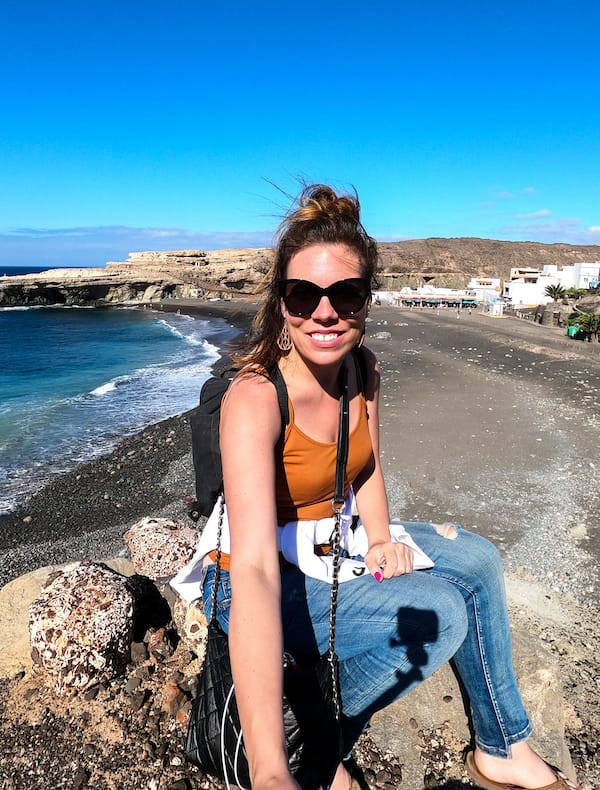 Megan is a travel blogger and writer with a background in digital marketing. Originally from Richmond, VA, she now splits her time between Frankfurt, Germany and Arctic Finland after also living in Norway, Armenia, and Kazakhstan. She has a passion for winter travel, as well as the Nordic countries, but you can also find her eating her way through Italy, perusing perfume stores in Paris, or taking road trips through the USA. Megan has written for or been featured by National Geographic, Forbes, Lonely Planet, the New York Times, and more. She co-authored Fodor's Travel 'Essential Norway' and has visited 45 US states and 100+ countries.