Have you ever thought about snorkeling in Iceland?
This post details everything you need to know about snorkeling in Silfra, including FAQ, how to book the best Silfra snorkeling tour, what to expect, and why you should definitely plan a trip to do it!
Are you planning your trip to Iceland last minute?
If youʻre booking your trip to Iceland last minute, we have you covered. Below are some of the top tours, hotels, and more!
🇮🇸 Popular tours and activities in Iceland:
🛌 Top Places to stay in Iceland:
Sand Hotel (Reykjavik boutique hotel on Laugavegur)
Hotel Kria (best hotel in Vik – hands down!)
Center Hotels Arnarhvoll (stylish w/ Reykjavik harbor views)
✈️ Want to get from the airport to Reykjavik hassle-free? Find the best airport transfer option here!
🚗 Looking for the best way to get around Iceland? Click here to check rental car rates for Iceland!
I recently partnered with Troll Expeditions and Manawa to enjoy this once-in-a-lifetime activity when I was in Iceland and I am still raving about how unique it was today!
This guide recaps my experience snorkeling in the Silfra fissure along with some photos of my time doing it!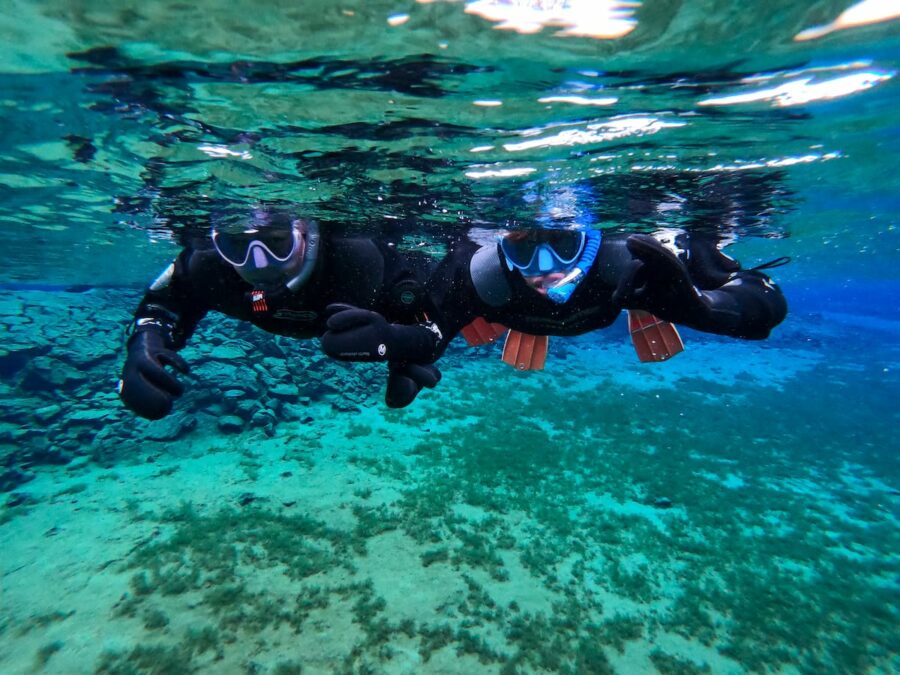 Please let us know if you have any additional questions before booking this tour (which can actually be done year-round, regardless of the weather)!
Let us know if you've taken a Silfra snorkeling tour and how your experience went (as well as some tips for others).
What is the Silfra Fissure anyway?
In 1789, an earthquake happened in the Thingvellir area and, as a result, several fissures opened underground with glacial meltwater from the Langjökull glacier.
A fascinating fact is that the water is filtered through lava rocks for 30-100 years before reaching the actual fissure, making it some of the cleanest water on Earth! The guides will even advise you to drink it when you're snorkeling!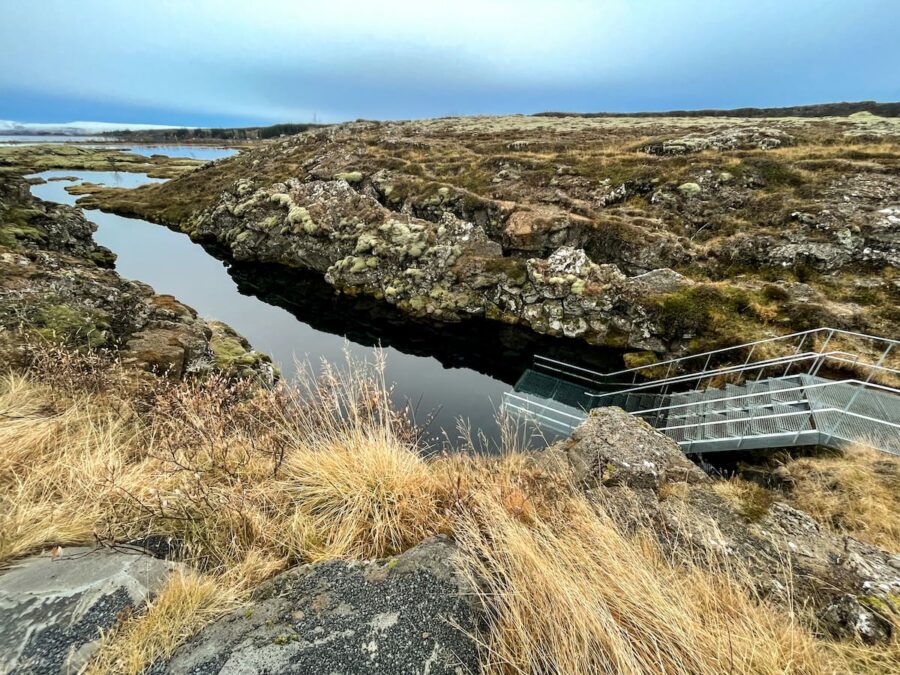 You'll find the Silfra fissure located inside Þingvellir National Park (a UNESCO World Heritage site) in Þingvallavatn Lake between two of the Earth's tectonic plates.
These plates make up the North American and Eurasian continents and this is the only place in the world where you can swim between them, touching both at the same time!
CHECK RATES & AVAILABILITY: Silfra snorkeling tour
Because of the water's purity and clarity, you can see 100 meters below you, offering a perspective and view that is pretty much unlike any other one in the world.
What to Expect While Snorkeling in Silfra
Even though you are going to snorkel in one of the rarest places in the world, it still can be uncomfortable physically and mentally so there are things you need to know before planning your snorkeling experience in Silfra.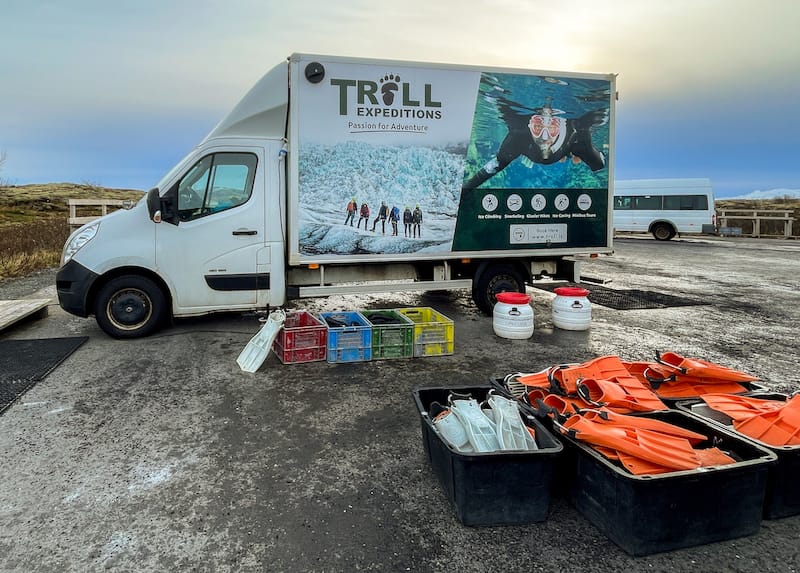 To be honest, I was contemplating in my mind about many aspects of this activity like the cold water, extremely tight gear, and other things, but the briefing made me feel comfortable and prepared to hop into the water.
But, here are some of your questions answered about a Silfra snorkeling experience.
Is snorkeling in Iceland cold?
The water that flows from the glacier never freezes in Silfra and the temperature of the water fluctuates between 2°C – 4°C (35°F – 39°F) year-round. So yes, the water in Silfra is cold.
And, it can be even colder when the outside temperature is below freezing, like when I went. But, the experience was completely worthwhile and the suit kept me dry.
BOOK HERE: Silfra snorkeling tour
When you put on the suit, you will feel like you're going to get wet, and even when you step into the water, it can still give off that feeling. However, you will stay dry.
The only part of your body that will be exposed to the water and get wet is your face. The gloves and sleeves will get a little wet too.
Can you snorkel in Silfra in winter?
Absolutely yes! I did my Silfra snorkeling in November and was informed that there was no difference in the water temperature throughout the year.
And, the water never freezes. However, the outside temperature is cold! So, be prepared for that!
During the experience, your face will be cold but the rest of your body won't be too bad.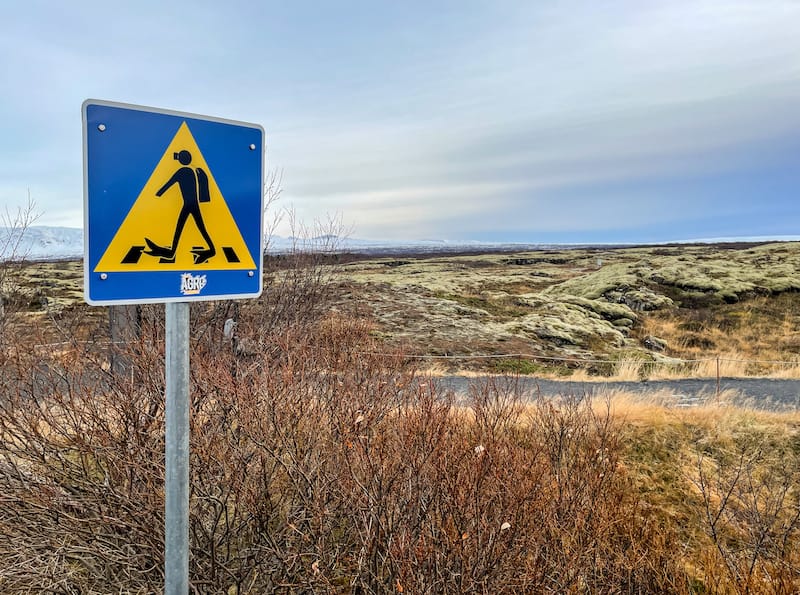 However, if the air is cold outside, you will need to bring some really warm stuff for the briefings prior to the activity (they will put you into the drysuit quickly though) and for after once you change as you will have hot chocolate and a moment to gather yourself before leaving the National Park.
Does the drysuit help you float?
When snorkeling in Silfra, you will be provided a drysuit that is waterproof and will not only protect you from getting wet, it will also help you float! You will stay on the surface of the water like a bubble as you move down the fissure.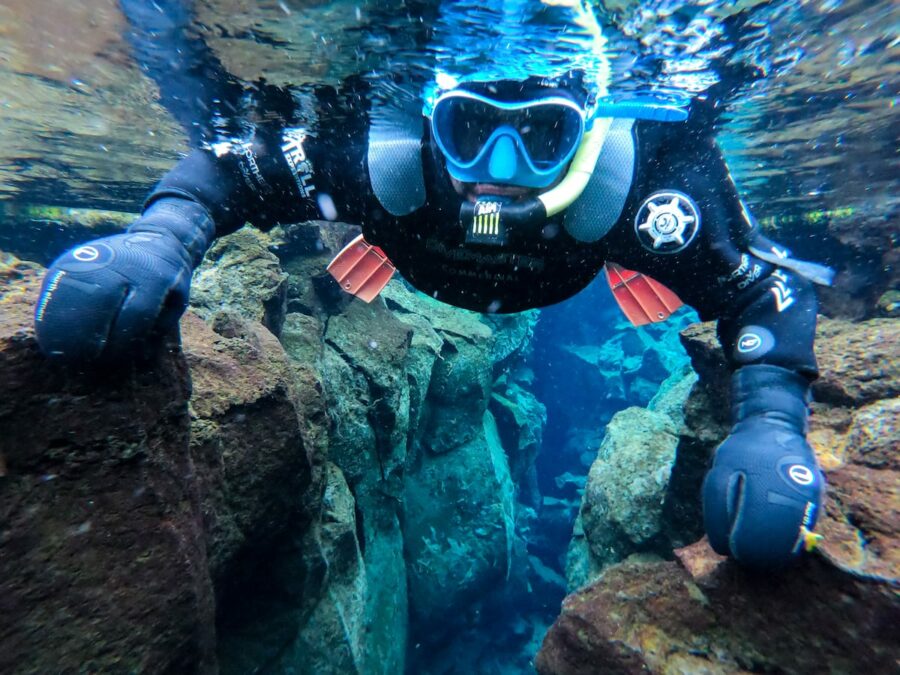 Do I need to be able to swim to snorkel in Silfra?
Swimming is always a useful skill, but to be honest you don't need to know how to swim to do this fun activity. Just know to prepare yourself to roll around with legs and hands. The tour guide will brief you in advance.
Basically, all you have to do is let yourself relax and the drysuit will do its job.
You will start to float and if you want to look down at what is below you, just put your face in the water and observe the beauty below while you kick your arms and legs a bit to move along the water.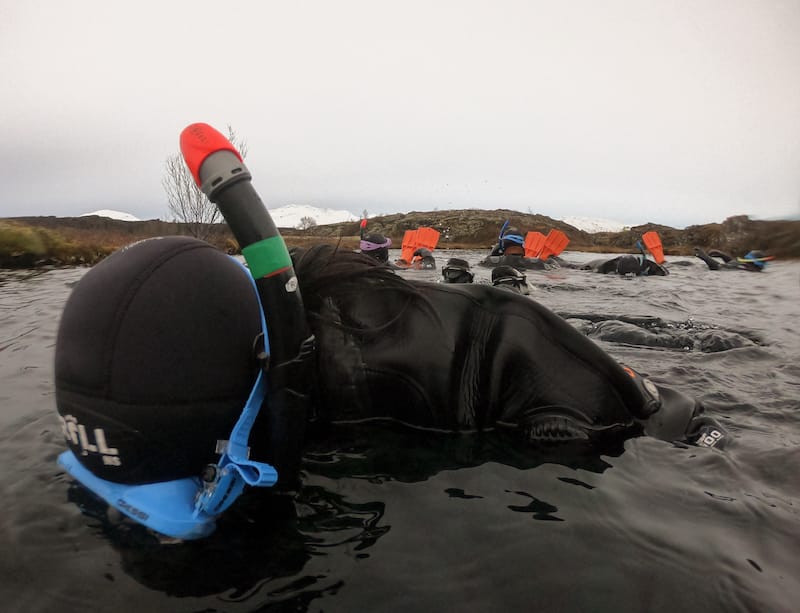 If you are feeling tired or uncomfortable, your safe position is to roll over and lay on your back on the surface of the water. This can all be done without being a swimmer (or having swimming skills at all).
💥 INSIDER TIP: You will genuinely want to lower your face into the water and breathe from the snorkel tube most of the time so that you don't miss any of the beauty along the way – it really is magical!
What is the best way to take photos while snorkeling?
Of course, you can bring your own GoPro with you (we opted to leave ours in the car), but the tour guide will be taking photos of you and the other people on the tour throughout the duration of it.
He or she will send you the GoPro photos via email if you want them. We received them later in the evening and they were free for us to use, even in this blog post!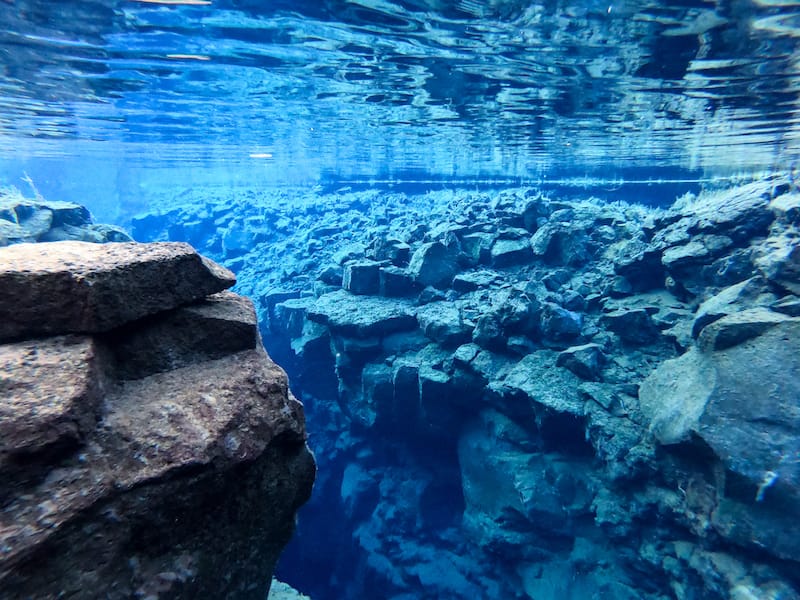 About this Silfra Snorkeling Tour
This tour was one of the most memorable and exciting tours that I did in Iceland and to be honest, I was a bit worried about whether or not I'd enjoy it due to the cold conditions outside, but I quickly forgot about them once the tour started!
Practical Information
The best way to book this tour is to do it online beforehand. They fill up quickly and have a huge potential to sell out!
Be sure to bring your e-ticket with you to the tour meeting point and they will get you checked in right away!
The tour is in English and you will have a certified guide. My guide was from Spain and his colleagues were from Italy, so multiple languages were able to be accommodated at least for the safety briefing.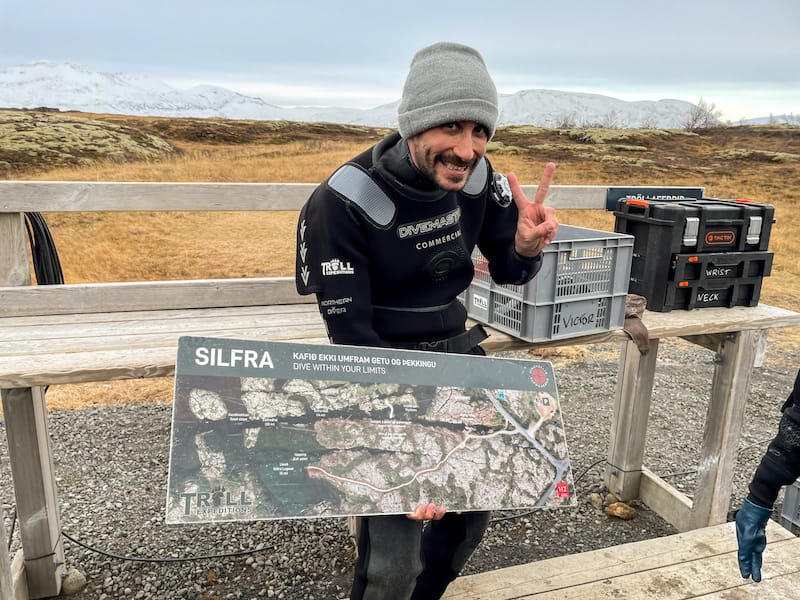 The entire tour lasted about 3 hours but only 45 minutes of that was spent in the water! Do not be late!
Where is Silfra located?
Silfra is located inside of the Golden Circle in Thingvellir National Park. It is located around one hour from Reykjavik.
Please do note that while it is close to Reykjavik, it is essential to check weather conditions beforehand to ensure you leave with enough time (the roads are high quality and good – just be prepared for Iceland's ever-changing weather conditions).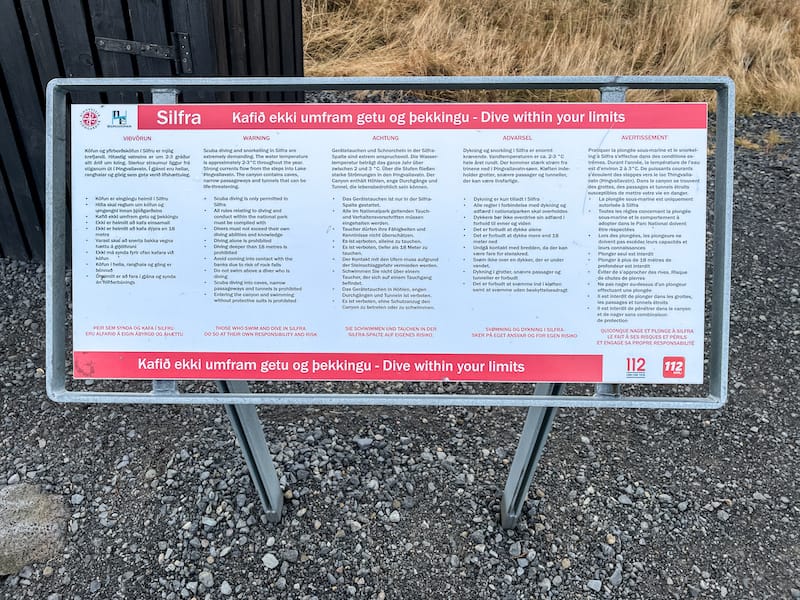 Parking at Silfra
You will find a parking lot near the meeting point right off of the P5 at Thingvellir.
You will need to go past the meeting point just a bit and park in the national park area and then backtrack on foot to the area where you will see all of Silfra snorkeling tour outfitters.
Who can do this Silfra snorkeling tour?
You need to be 12 years of age and older in order to take the tour. If you are older than 60, then medical waivers and a doctor's statement are required.
In addition, you must be between 150cm-200cm (4'11 – 6'6") in height and 45 and 120 kg (99 – 265 lbs) in order to be permitted to do the activity.
If you are pregnant, physically unfit, claustrophobic, or inebriated, you are not permitted to do the tour.
CHECK RATES HERE: Silfra snorkeling tour
In addition, if you have piercings that you can not remove (including ear piercings) that are not flat or studs, you can not do the tour if you can not remove them as they may puncture the suit.
As the tour description states, you will receive a Snorkeling in Silfra Medical Statement Form that you need to get familiar with, print, and bring with you with all of the information filled out.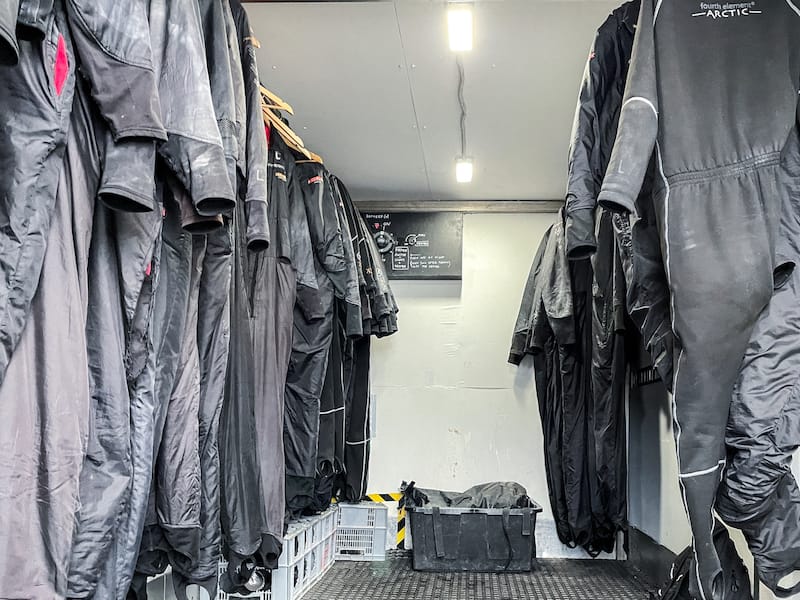 We were unable to do this, so they actually had one on the spot for us to fill out. However, be aware that if you check any of the boxes on it, you may not be permitted to go on the tour due to safety and legal obligations.
After the quick examination and signing of the paper, the PADI Divemaster will find your size in a drysuit, help you to put it on, and get you ready for the safety briefing that will soon follow.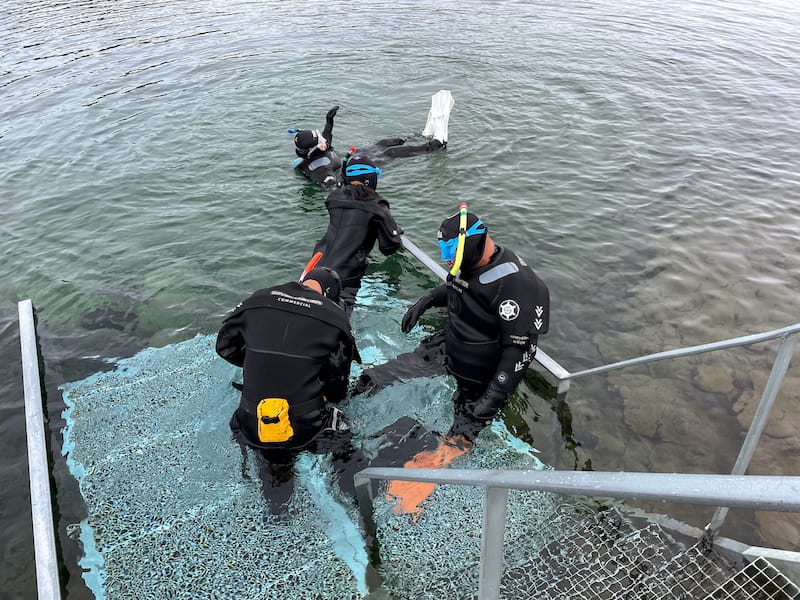 What should you bring with you?
You will see some of our recommendations below for what to bring with you. Please take in mind that they will provide all of the stuff for the actual snorkeling adventure in Silfra!
They will also provide a dry bag to put your belongings in (which will not see the water… it will stay around the changing area and meeting points).
Thick socks
Towel
Long underwear
Change of clothes
Contact lenses if you wear glasses
When you are snorkeling, you will need to wear very thin, yet warm clothes underneath the drysuit. Thick sweaters are not a good option as they will potentially allow water to seep into the suit.
I recommend wearing a layer of thin wool underneath.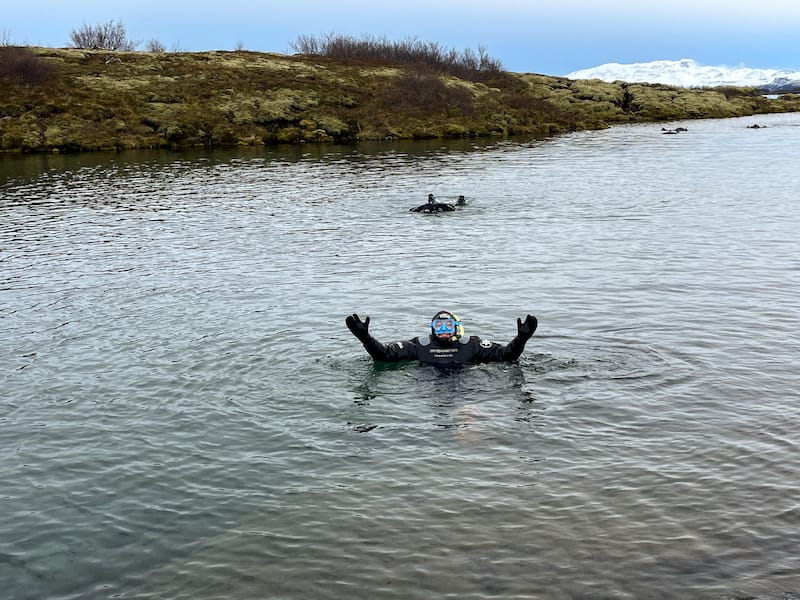 Preparing for the Tour
There is not really anything you need to do before the tour except show up sober and ready to go!
There are tours in the morning and afternoon, so be prepared to do some driving in the dark if you're taking it during the winter months.
Before you go out to snorkel in Silfra, you will need to go to the toilet. They have them on-site… so no worries about that!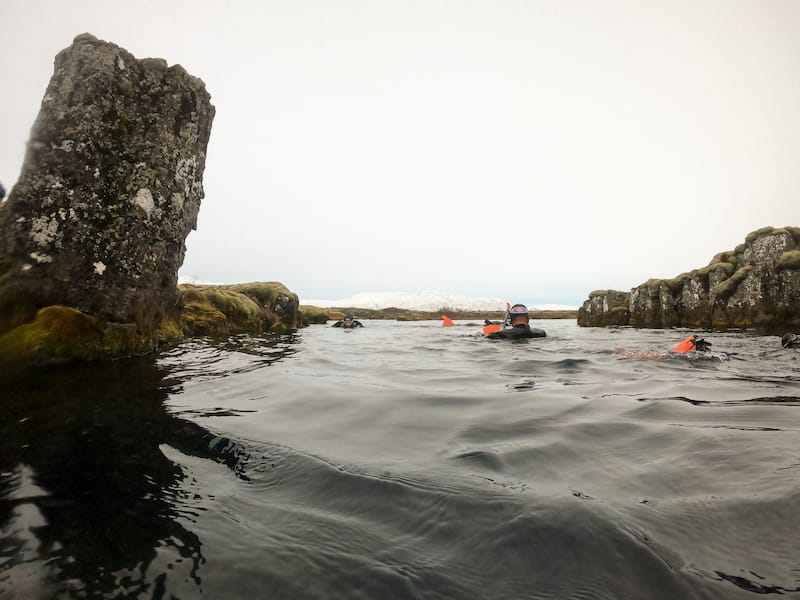 How to Book this Silfra Snorkeling Tour
As mentioned above, the best way to book this tour is to do it online well before your trip to Iceland. It is one of the most popular tours in the country and is likely to sell out!
Just be sure to take your voucher to the tour's meeting point after and everything is done and ready to go!
Have you ever been snorkeling in Iceland? Let us know about your adventure snorkeling in Silfra in the comments! Thanks!
More Iceland Travel Guides
Pin this Snorkeling in Silfra Guide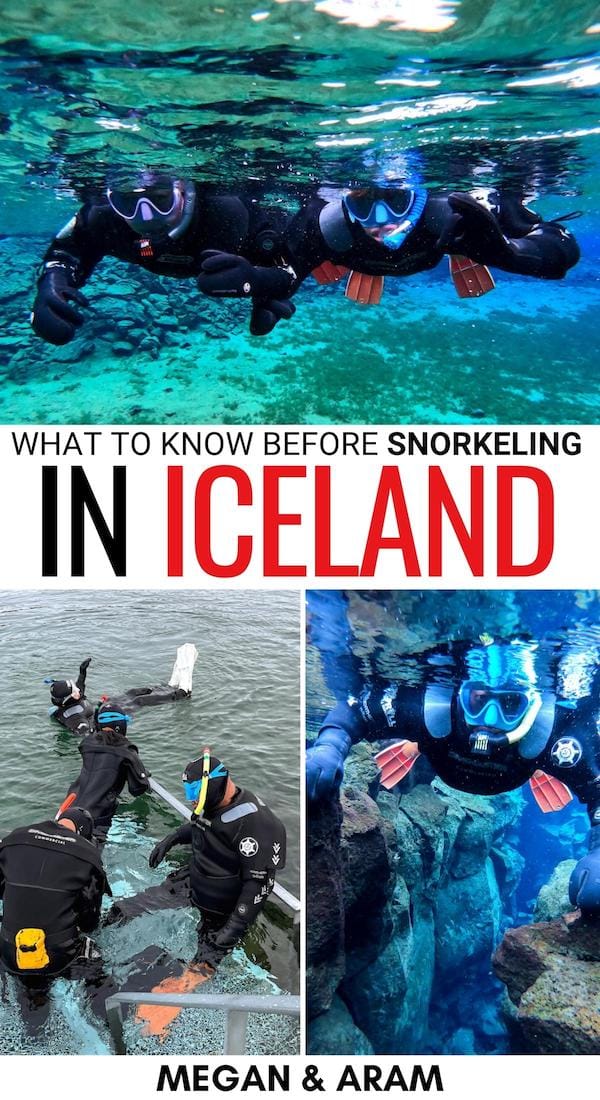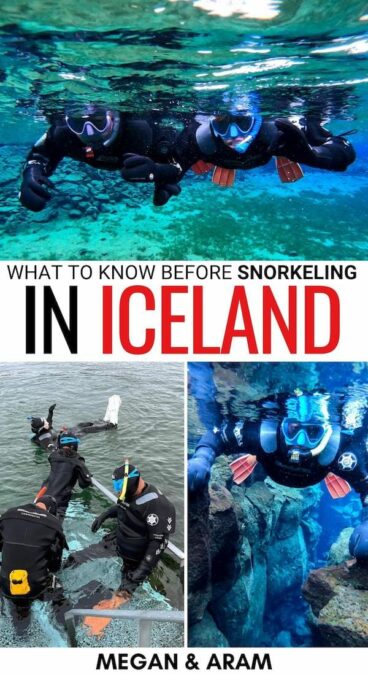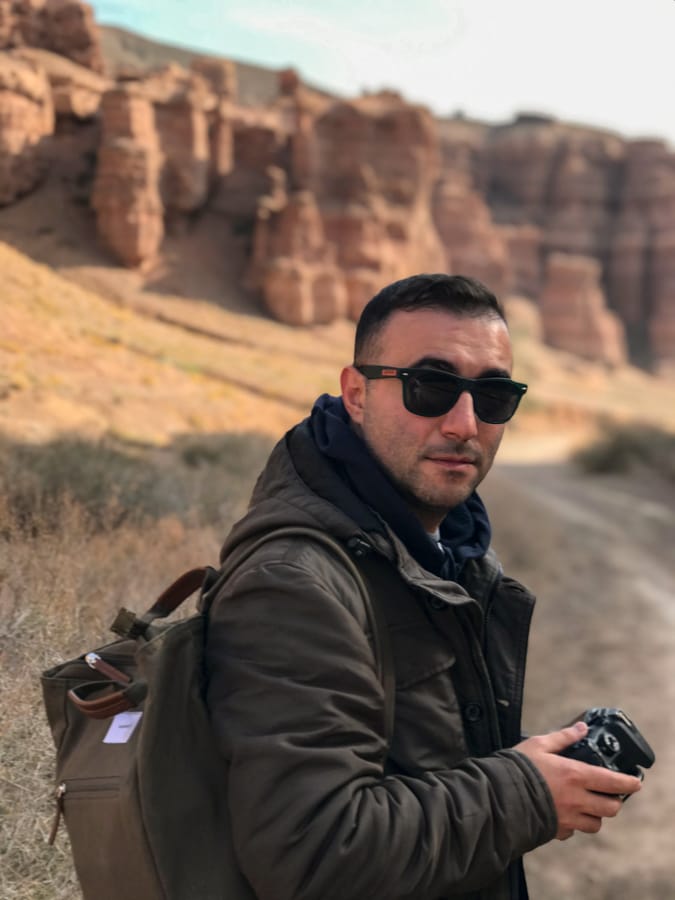 Aram is a travel blogger and writer from Armenia who spends his time between Spain and his home country. He is passionate about music and football (the European kind) and covers a lot of Western European destinations on the blog. Aram is a laidback traveler who enjoys meeting new people and finding the best food in each city that he visits (hence his frequent trips to France, Italy, and Greece!). He has been featured in (or written for) Forbes, BBC, The Guardian, Fodor's Travel, and more.