The Lofoten Islands are associated with some of the world's best scenery. And, more often than not, images of beautiful, overwater fisherman cabins (rorbuer) come to mind.
This post details the best rorbuer in Lofoten and why you should definitely stay in one during your trip to the Lofoten Islands.
Best Rorbuer in Lofoten
Before my first travels to the Lofoten Islands, I had always imagined staying in a rorbuer when there.
I had stayed in plenty of Norwegian cabins throughout my years living in Norway, but nothing really was the same as one of these picturesque beauties.
Fortunately, my first trip to Lofoten included a stay in a rorbuer. And my trips since have also included them.
If you're looking for a unique place to stay in the Lofoten Islands, I highly encourage booking one for your trip, even if for just a few days!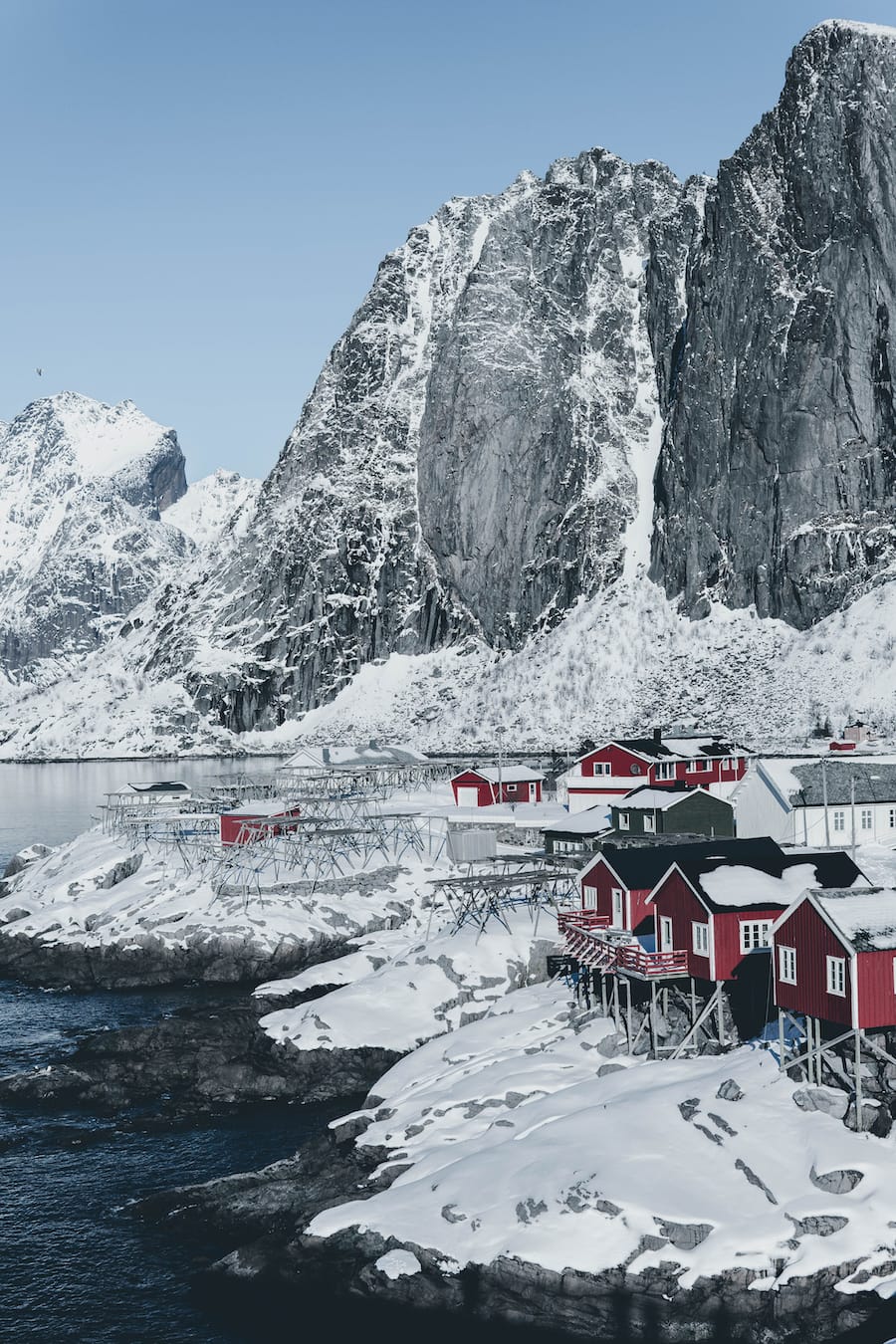 What is a Rorbu?
Rorbuer (plural in Norwegian for 'rorbu') are fisherman cabins on stilts that are ever-present in Nordland, Norway.
However, they have become associated with the Lofoten Islands more than anywhere else in Nordland throughout the years.
These famous Lofoten cabins date back to 1120 when King Øyvind ordered them built for the fishermen in the Lofoten Islands. The earliest traces go back to Kabelvåg, a small town near Svolvær.
While they date back to the 1100s, there is evidence that similar structures were built for fishermen in ancient times in around 900AD.
In translation, rorbuer comes from two words put together. 'Ror' or 'ro' means 'row' in Norwegian and 'bu' was thought to mean the equivalent to 'bo' in Norwegian today… which means 'to live'.
As indicated prior, the -er just makes 'rorbu' plural to mean more than one.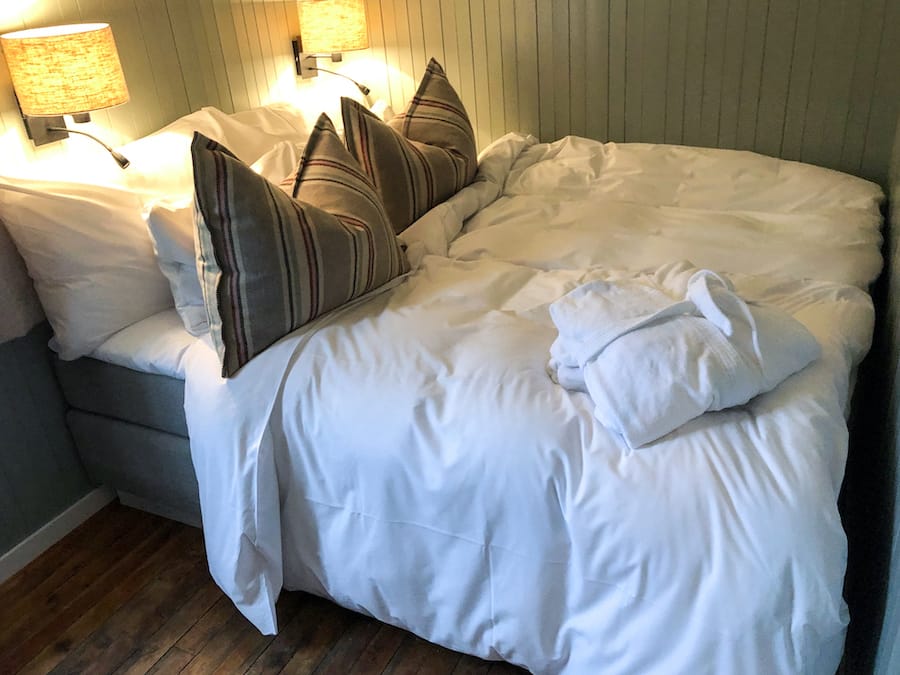 The rorbuer in Lofoten are often painted red which is fairly typical of houses in Norway, especially in the north, as it was the cheapest paint color.
However, you will find rorbuer in a variety of colors these days, but most still tend to be painted red or yellow.
The Lofoten rorbuer today have been transformed into accommodation for tourists passing through.
You will find everything from basic to high-end accommodation in the rorbuer complexes in the Lofoten Islands.
Why You Should Stay in a Rorbu on Your Trip
To be honest, I think it is one of the coolest accommodation experiences I have ever had when traveling.
I have stayed in a lot of unique places, but many of those places didn't have such a significant history that was so crucial to the region. Rorbuer are a piece of Lofoten's past… and present.
Staying in a rorbuer in the Lofoten Islands will give you a chance to connect with that history in a comfortable way. They also are always located on the sea, so you will likely have an epic view.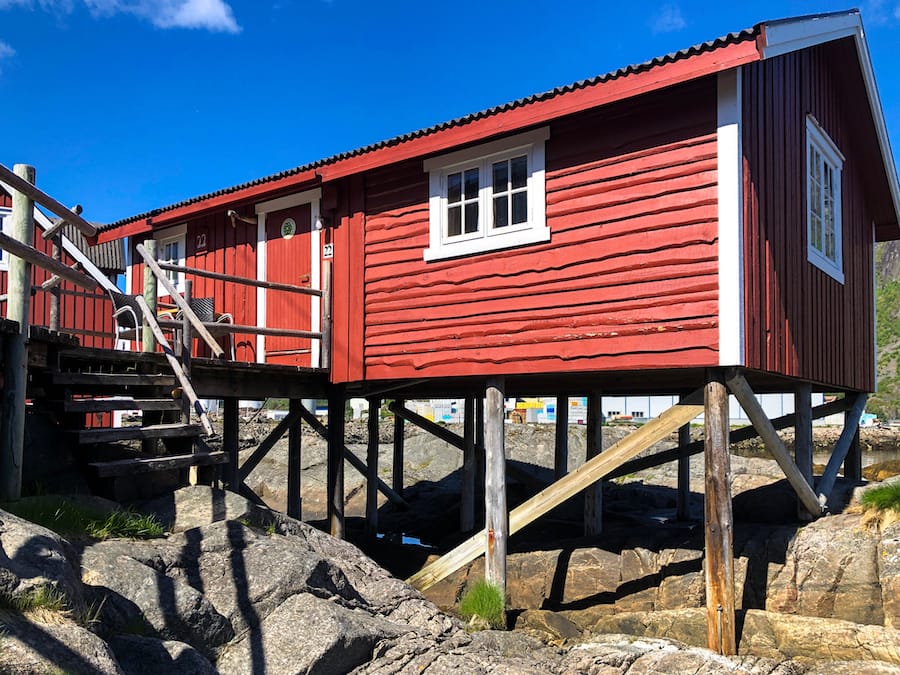 Another plus to staying in a rorbu is that they are usually in complexes. There may be a restaurant, bar, shops, and other amenities on-site.
It was kind of like staying at a resort but with more anonymity and a much prettier location!
Rorbuer are not that expensive to stay in, either. Depending on the season, they range from $100/night to $500/night. Naturally, this depends on the type you stay in and the number of people traveling with you.
The rorbuer I have stayed in could have all fit around 6 people, easily. There were multiple rooms, beds, and couches. They are a very family-friendly style of accommodation, to say the least.
Lofoten Rorbuer: What to Expect
Rorbuer have a range of levels of luxury and comfort. You can find ones that offer basic accommodation needs and some even offer dormitory-style rooms.
They tend to be modest on the outside and cozy and beautiful on the inside (some are modern, some are rustic).
If you're looking for a mid-range to high-end rorbu, you will likely find a room (or multiple), a living room space, kitchen, bathroom (maybe two), and possibly more.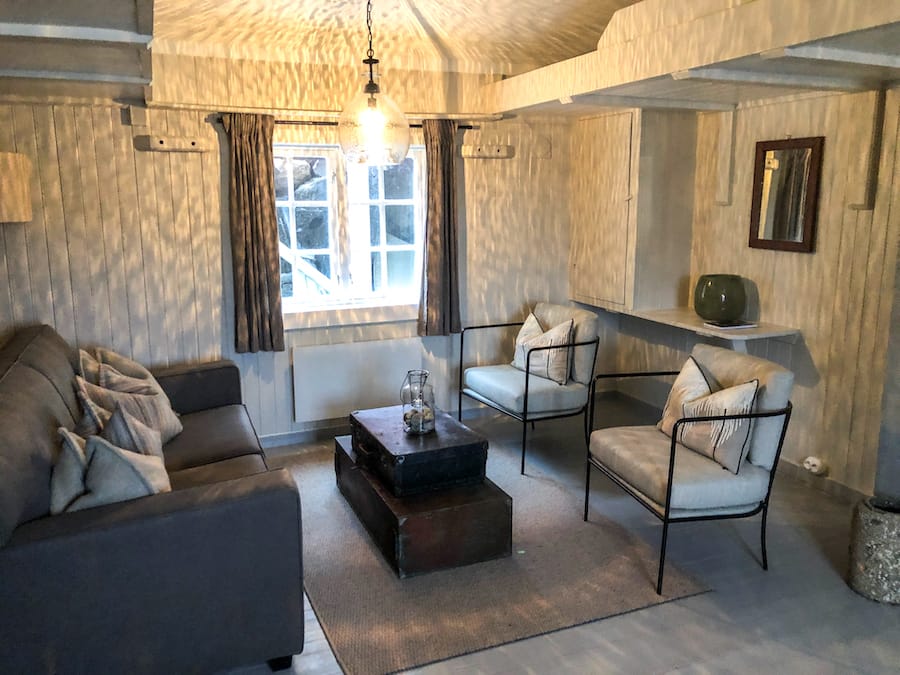 Some of the rorbuer do have multiple floors in them. If you have limited mobility, be sure to contact reception before booking to ensure that they have one that can accommodate you.
While the 2-floor one I stayed in had the rooms and a toilet on the first floor, the kitchen space and living room area were all on the second floor.
The rorbuer are often in resort-like complexes. This means that there may be restaurants, cafes, bars, souvenir shops, and ways to book tours all within the complex. How koselig is that?
Getting to the Rorbuer
The best way to reach any of the rorbuer on this list is with a rental car. Public transportation in the Lofoten Islands is quite inadequate because there are not too many people living there and they all have personal vehicles.
However, some rorbuer are easier to reach than others if you choose to go there by public transportation (or hitchhiking!). Svinøya Rorbuer, for example, is extremely easy to reach. Public buses go there and Svolvær has one of the two airports in the Lofoten Islands.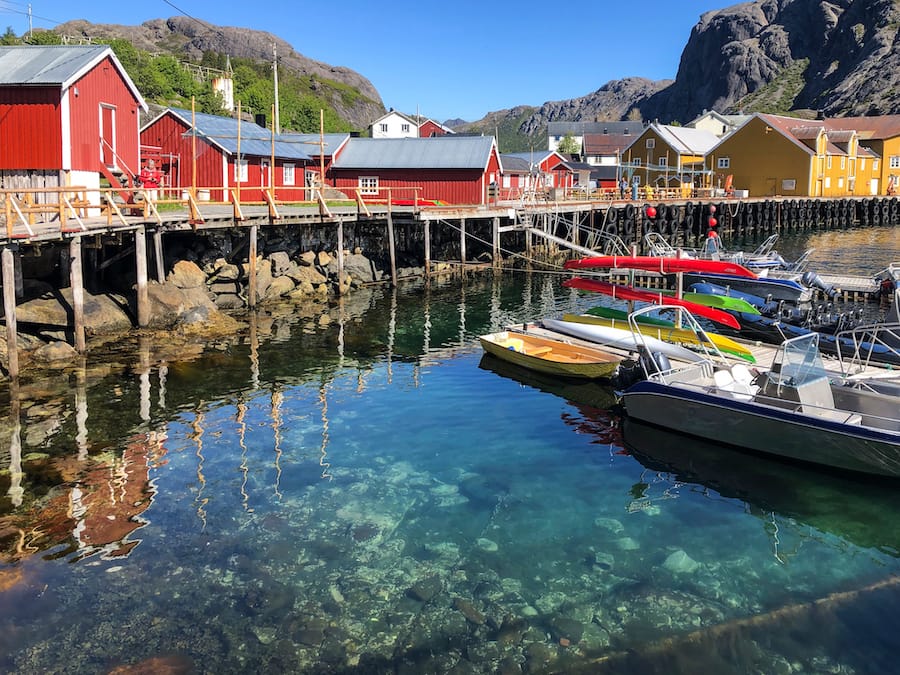 Nusfjord Arctic Resort, on the other hand, is extremely difficult to reach without a personal vehicle.
But, it makes it all the more worthwhile if you venture out there. It was spectacular. You can refer to our map at the end of this guide to see where each rorbuer complex is located.
>> Click here to rent a car in the Lofoten Islands
Lofoten Cabins (Rorbuer) On This Guide
There are many rorbuer throughout the islands but the most popular ones, and the ones we chose for this guide, are as follows:
We also really liked the ones in Å, but didn't get a chance to see much there and their website is a bit messed up so we left it off for the time being.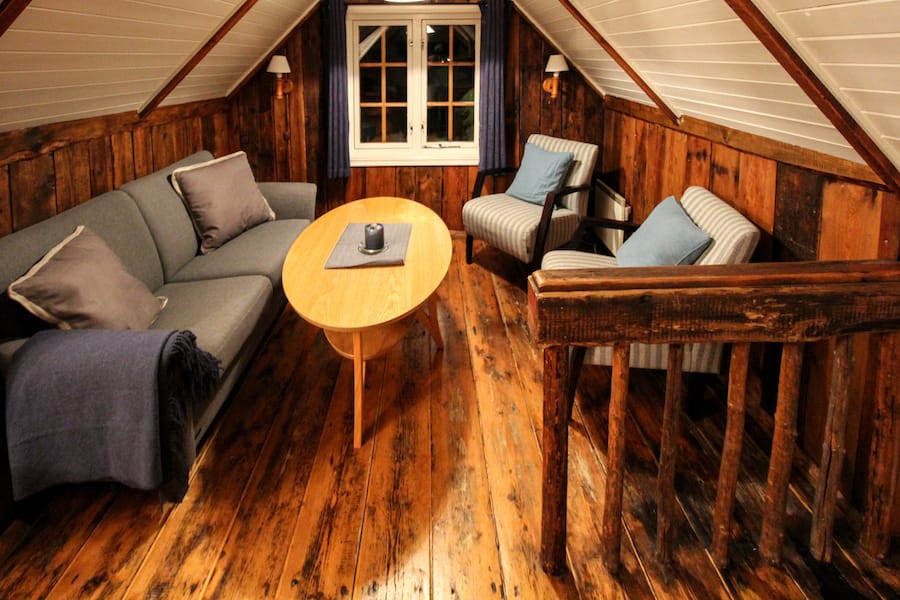 Best Norwegian Rorbuer in the Lofoten Islands
Here are our top five picks of Norwegian rorbuer in the Lofoten Islands.
There are several smaller complexes that you may stumble across when there, but I have visited most of these or stayed in them and they were wonderful places and I can recommend them all!
Please also refer to our map at the bottom to see where each is located.
It takes quite some time to travel the Lofoten Islands from north to south and you want to ensure that you plan your trip the best way possible and pick the right place to stay.
1. Svinøya Rorbuer in Svolvær
In the quaint arctic town of Svolvær, you will find Svinøya Rorbuer.
Located on its own little island, the rorbuer complex contains 59 different accommodation options, from traditional rorbu to stunning, overwater cabins.
The Lofoten cabins come in various different sizes and are able to accommodate different group sizes with the manor house housing 17 different rooms for larger groups and other cabins can house up to eight people.
The rorbuer have all been renovated and fitted with modern comforts, although they have managed to retain their historical feel with the wooden interiors of the cabins transporting you back in time to when fishermen utilized the cabins.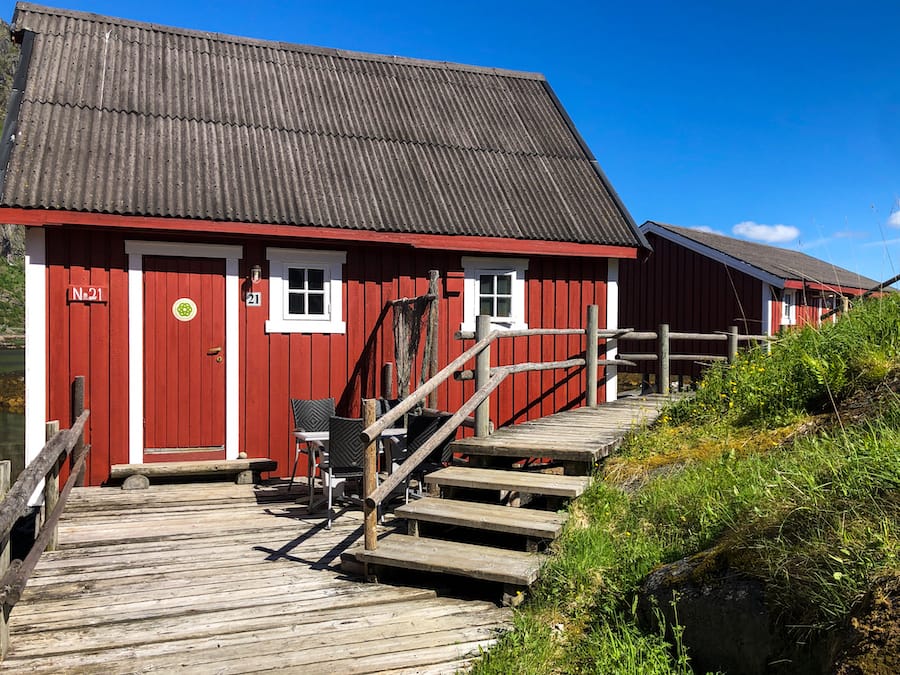 Each of the rorbuer comes equipped with modern amenities, such as wifi and a fully-functional kitchen where you can cook delicious meals or prepare your sandwiches for lunch.
In the evenings, you can relax with cable TV or chill outside of your cabin and look out over the sea or up to the opposing mountains that jut out of the water.
The bedrooms are comfortable and cozy, with large Scandinavian-style beds. Some rooms are fancier than others but they all offer a good night's sleep.
>> Click here to check rates and availability for Svinøya Rorbuer
Insider Tip: Svinøya Rorbuer has a fantastic on-site restaurant called Børsen Spiseri where you can enjoy traditional local dishes in a homely and inviting setting. The menu is seasonal and you can even get a fantastic Norwegian Christmas dinner there if you travel to the Lofoten Islands during winter or Christmas.
All the dishes are created using locally sourced ingredients, with an emphasis on fish dishes – especially the stockfish that is caught and dried locally.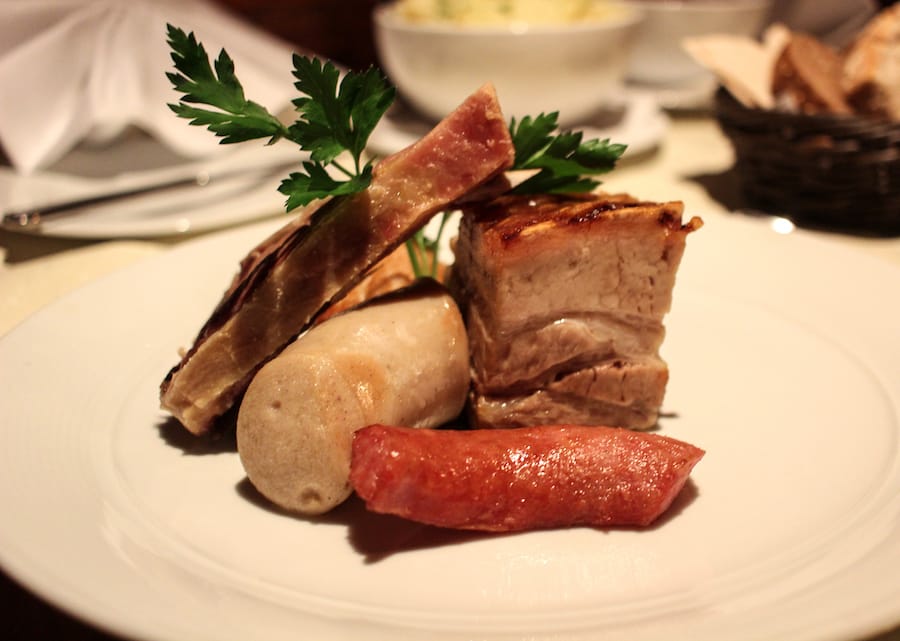 In addition to the on-site restaurant, Svinøya Rorbuer also offers various activities in the Lofoten area such as Northern lights hunting in the winter or surfing during the lighter months, making it the perfect one-stop-shop for all your needs while staying in Svolvaer.
This is the perfect place to stay in the Lofoten Islands if you're engaging in some of the best activities in the area. It is also within walking distance of the famous Lofoten sea eagle safari through Trollfjorden.
2. Nusfjord Arctic Resort in Nusfjord
The small village of Nusfjord is home to one of the Lofoten Islands' most stunning rorbuer complex called Nusfjord Arctic Resort.
Sitting on a small cove right beside the sea, the intimate cabins provide the perfect resting place for those looking to explore these scenic Arctic islands.
There are 20 cabins available in various sizes and spread across three different areas of Nusfjord (the harbor, bay, and village).
The exterior of the cabins retains their charming historical charm while the interior of the cabins have been renovated to meet the requirements of modern living that perfectly intertwines with the history of these Nusfjord rorbuer.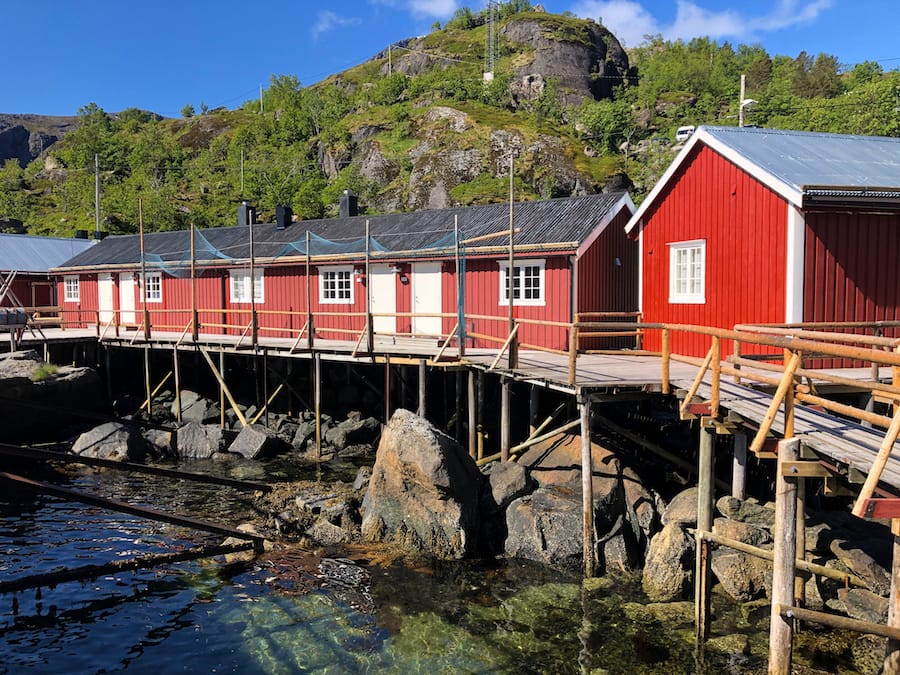 Each cabin comes with a living area where you can chill out in the evenings on comfy sofas. Alternatively, in some of the properties, you will have your own terrace.
The bedrooms are spacious and comfortable, offering an amazing night's sleep before another day of exploring the dramatic landscapes of the Lofoten Islands.
The bathrooms are finished to a high standard and utilize water from a fresh Norwegian spring. Wifi is available throughout the cabin.
There are no large kitchen facilities in the cabins, although there is a small worktop where you can make tea and coffee.
Each morning, you can enjoy an inclusive breakfast at Restaurant Karoline at the Nusfjord Arctic Resort. The restaurant also opens in the evening and serves up delectable local dishes. I had a really tasty cod and veggie dish there one evening.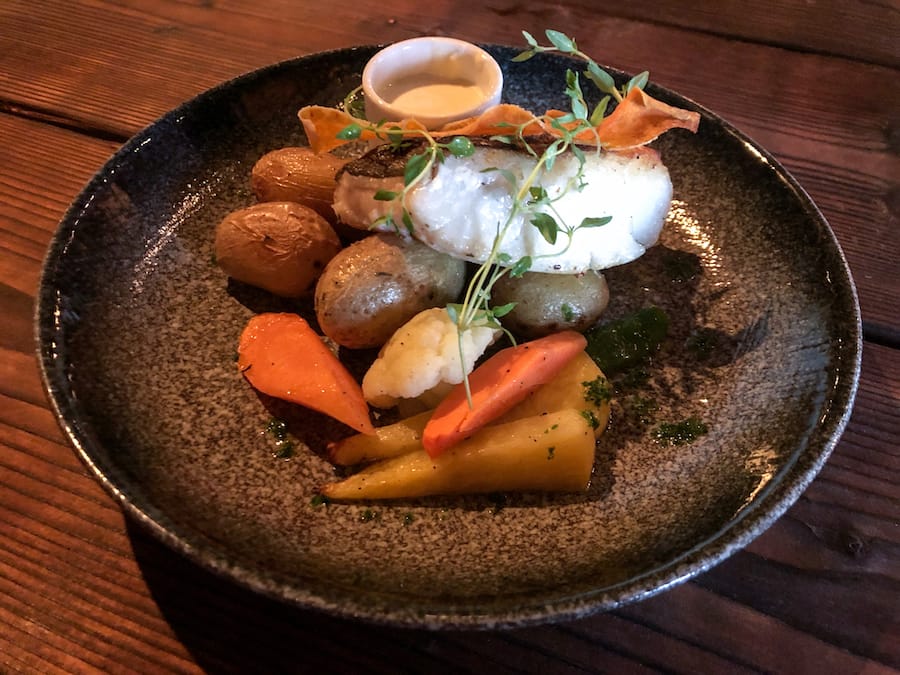 There is also a nice cafe and bar at Nusfjord. If you seem to tire of stockfish, the bar has pretty good pizza!
Nusfjord Arctic Resort also offers various other activities to help you make the most of your time in the Arctic. Included in the rate of the room is access to the Northern Spa.
There are also northern lights tours and skiing excursions available to book directly from the front desk in winter.
During the summer further activities are available such as hiking and surfing courses.
>> Click here to check rates and availability for Nusfjord Arctic Resort
Insider Tip: Nusfjord Arctic Resort is a bit off the path. Getting there is really difficult if you don't have a car or means of private transportation. I recommend renting a car if you're keen to stay there! Public buses don't really even run out to this place.
In addition, reception may be closed when you arrive or leave. They will have everything ready inside, however.
3. Eliassen Rorbuer in Hamnøy
In the darling fishing village of Hamnøy, you will find Eliassen Rorbuer, a complex that covers the northern tip of the village and extends out into the sea.
The scenery around the rorbuer is some of the most dramatic in the Lofoten Islands as the land rises sharply out of the water. During winter, the white snow contrasts with the black volcanic rock.
The cozy little red cabins provide a nice pop of color against the arctic landscapes. The Hamnøy rorbuer are a mix of historic cabins alongside recently built ones (the new ones retain that old charm though- don't worry!).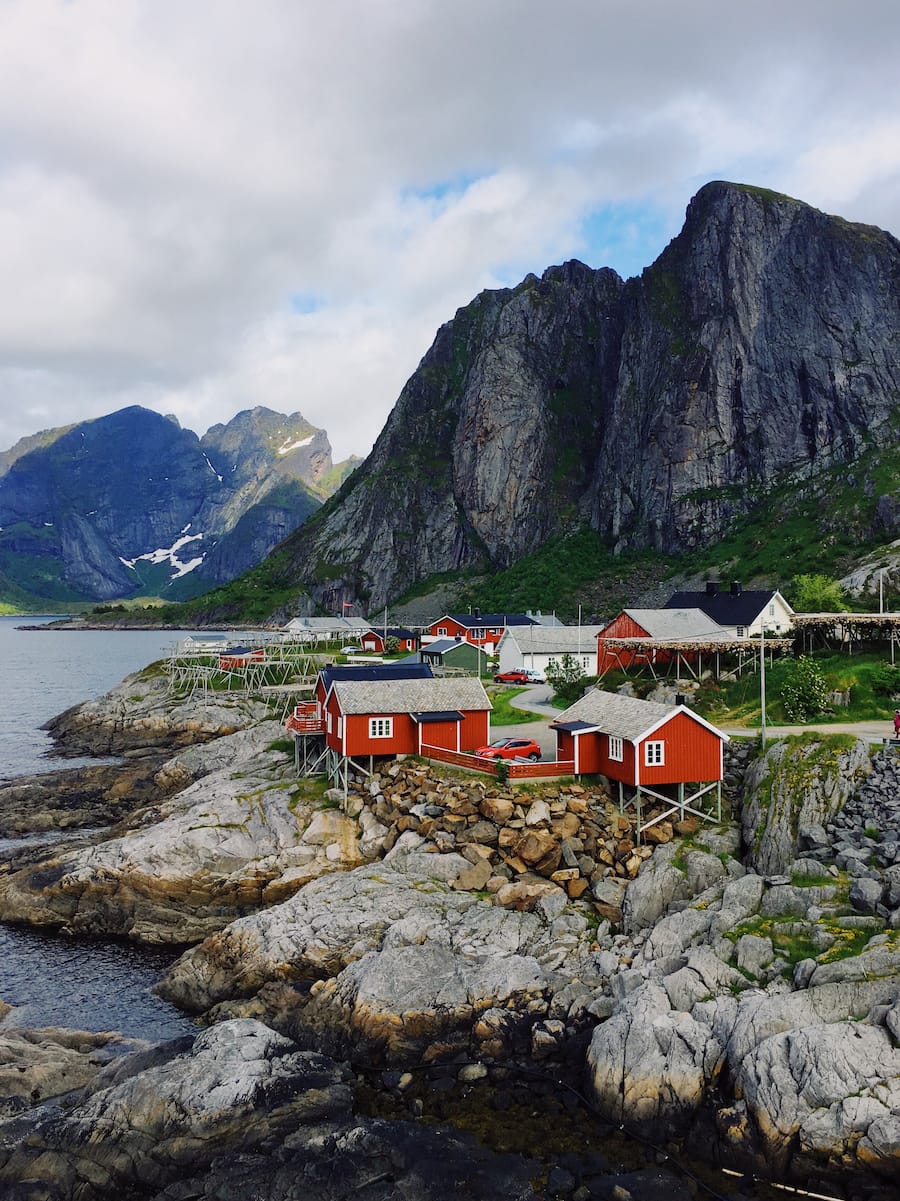 They come in various sizes and the majority sit right atop the water or close to it. You know those famous photos of Lofoten that you see?
These are pretty much the red buildings in that photo. So, yea… they're pretty.
Each of the cabins in Hamnøy comes with a spacious living room and a small kitchen where you can cook up some delicious meals using local produce or store-bought food to make snacks and sandwiches for your lunch.
There are several options for bedroom styles suiting various different group types, with double rooms and rooms with bunk beds available.
Many of the cabins include an outdoor terrace where you can look out over the sea with a drink in hand, giving you the chance to simply admire the incredible beauty in front of you.
On-site, you will find a restaurant that serves up traditional Arctic fare with a slight Mediterranean flair. At the reception, you can also book various Arctic adventures that differ per season.
During the dark Lofoten winters, you can hunt for the northern lights at night while spending the short days out in the ocean looking for a glimpse of killer whales hunting in their natural habitat.
During the summer months, you can enjoy hiking tours such as stand-up paddle boarding and various other adventures while experiencing the long daylight.
>> Click here to check rates and availability for Eliassen Rorbuer
Insider Tip: This is the most 'picturesque' area of Lofoten in most people's eyes. Book ahead. These cabins are also a great place to stay for those without a rental car as they are located almost right off of the main road connecting all of the islands.
In addition, there are great restaurants in Reine and Sakrisøy nearby… and you can walk to them. There is a lot to do in this tiny area and leaving Hamnøy is easy on foot if you're keen to walk.
4. Sakrisøy Rorbuer in Sakisrøy
The small village of Sakrisøy is home to an awesome family-run, rorbuer complex of the same name, which contains a mixture of restored 18th-century fishing cabins along with some newer ones built in the same style.
Sakrisøy Rorbuer has a great range of accommodation, including rooms for the more budget-orientated traveler. Sitting next to the crystal blue waters, the cabins shun the more traditional red paintwork and offer a more yellow finish adding a unique charm to them.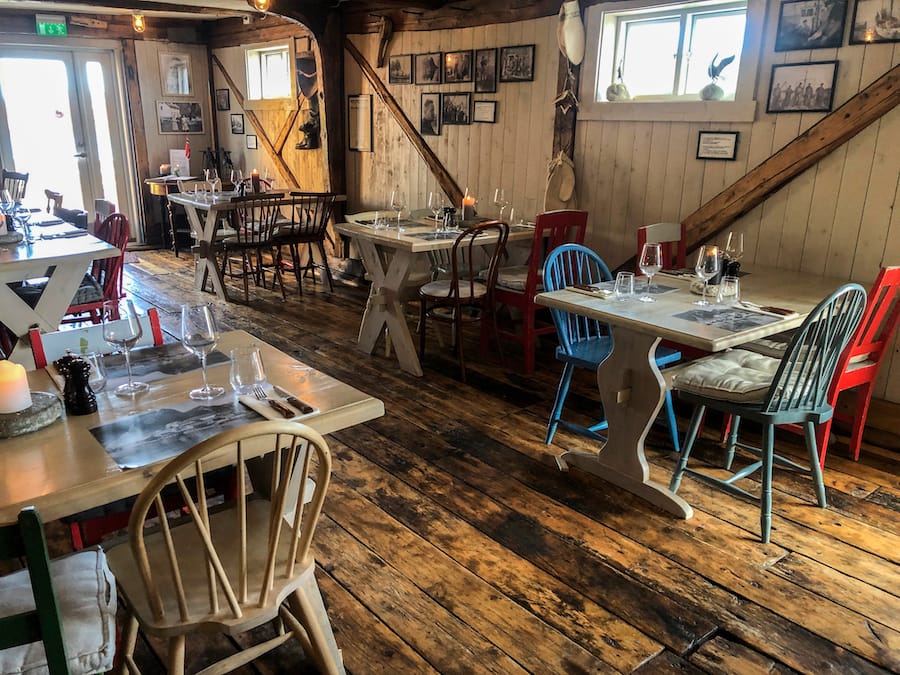 The interior of the cabins is cozy and warm and plays on the history of the buildings, albeit with all the modern conveniences required by today's society.
All of the cabins come with a functional kitchen where you can cook up dishes using fresh Arctic ingredients.
Close to the cabins, you will find a great fishmonger where you can pick up an array of local delicacies harvested from the nutrient-rich Arctic waters.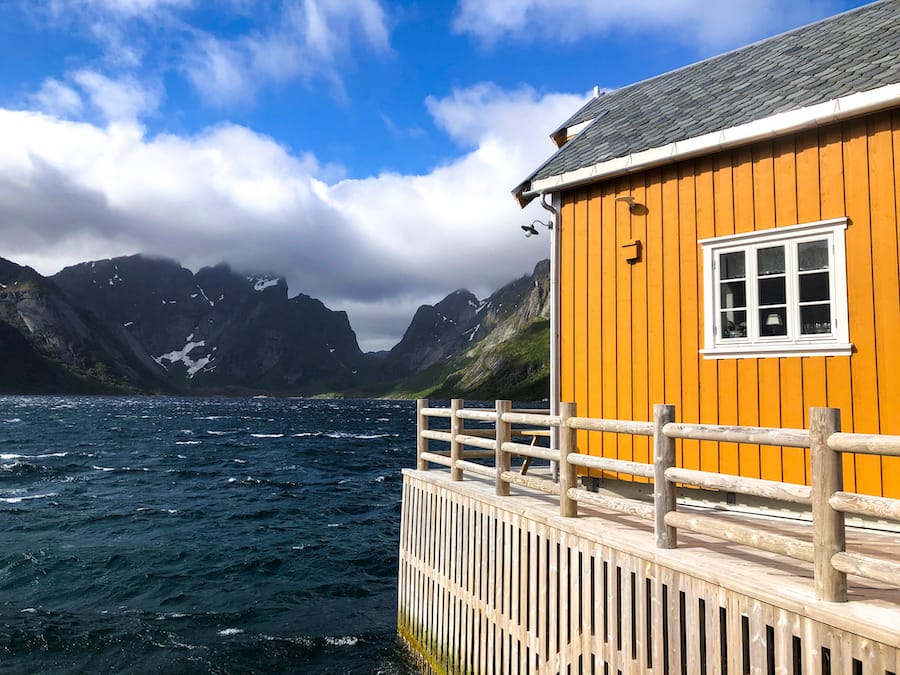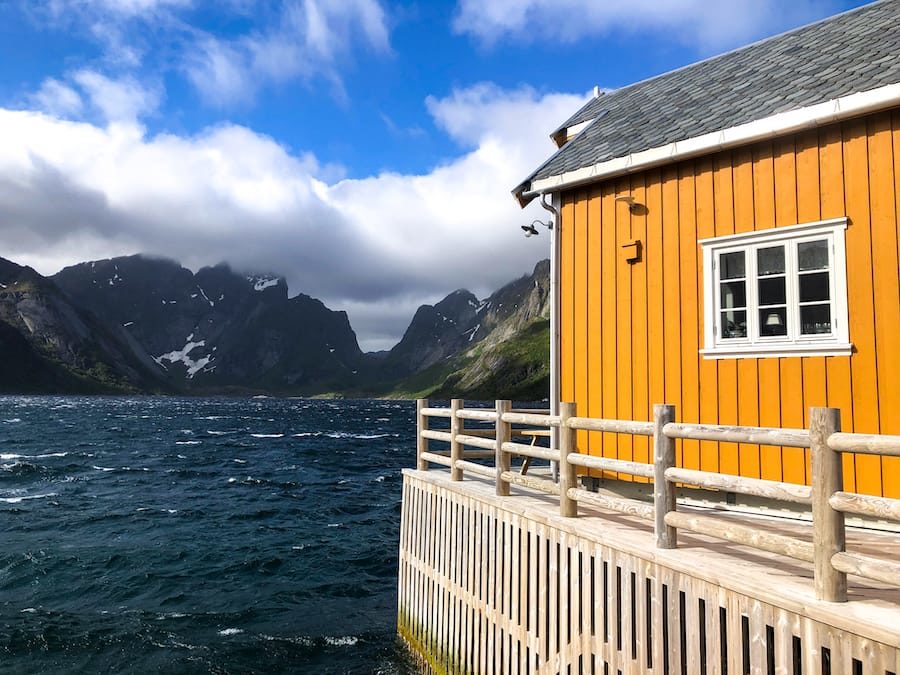 The size of the cabins varies depending on size, although all have free wifi and free parking on site.
In the center of Sakrisøy, you will find the rorbuer's restaurant- Underhuset. Focusing on traditional Nordic dishes, the restaurant curates seasonal menus to highlight the best produce from the region.
During the summer months, Underhuset is also open for breakfast. It is also possible to organize a range of fun activities to make the most of your Arctic adventure at Sakrisøy Rorbuer.
>> Click here to check rates and availability for Sakrisøy Rorbuer
Insider Tip: You will likely notice this on a map, but you're also very close to Hamnøy and Reine and these Lofoten cabins are right off of the main road. This makes them perfect for those using public transportation or hitchhikers.
Also, many people will be set on that famous Hamnøy view and opt for Eliassen Rorbuer. But, these have equally as epic of a view and the backwaters nearby allow for some kayaking and adventures.
5. Reine Rorbuer in Reine
Reine Rorbuer by Classic Norway Hotels is a beautiful complex of 29 cabins that offer some of the most amazing views in the Lofoten Islands.
Nestled between the open ocean and the rugged mountains that dominate the islands, you will feel like you are at the end of the earth.
The deep red cabins perch on their stilts peacefully above the often rough waters below and retain their incredible history despite now being home to more modern fittings.
Reine Rorbuer are comfortable and cozy, with various sizes available from 1 room little cabins perfect for solo travelers or couples to larger, three-bedroom cabins perfect for big groups or families.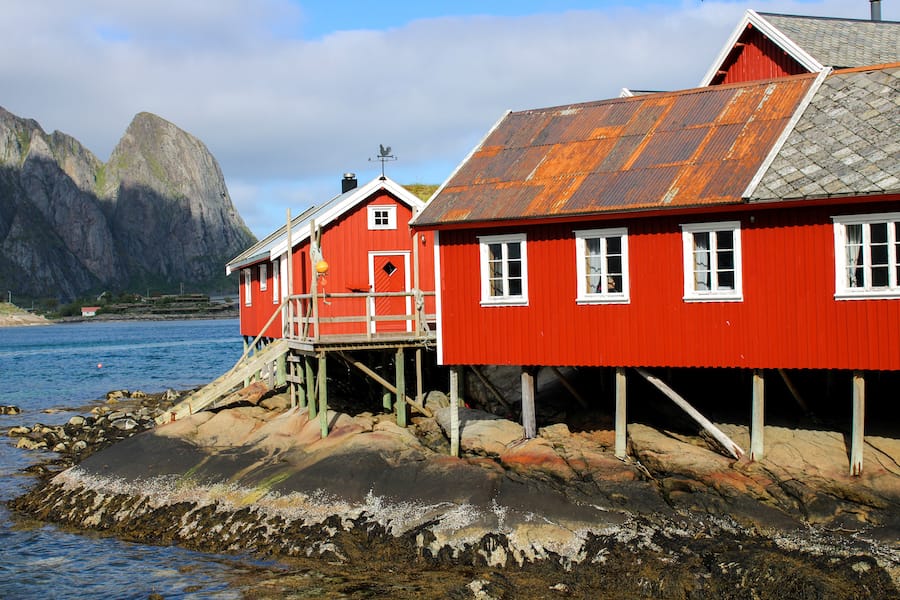 The interior of the cabins retain a rustic feel and the ornaments and fittings have a more antique feel to them.
However, the apartments still all have the modern amenities that people are used to, with most cabins also having a fully equipped kitchen. Wifi is available throughout the whole complex for free.
On-site, there is a restaurant for those looking to try the local cuisine. Gammelbau Restaurant looks to serve the best of Lofoten's produce and seasonal variances.
The dishes are made with traditional ingredients and incorporate international nuances.
It is also possible to arrange amazing seasonal activities, such as northern lights hunting, kayaking, and snorkeling/scuba diving.
A popular option is to head out fishing and take the catch home to cook in the kitchen of your rorbu.
>> Click here to check rates and availability for Reine Rorbuer
Insider Tip: Reine is one of the better places to stay in the Lofoten Islands if you're looking for more to do. You'll find an awesome little cafe called 'Bringen' close by and there are many gift shops, restaurants, and more here. It is also close to the epic views of Hamnøy and Sakrisøy.
Map of Rorbuer in Lofoten on this Guide
There are many reasons to book a rorbuer in Lofoten for your trip to the islands.
I hope that these five rorbuer are on your list of ones to potentially book! If you have additional questions, please reach out!
More Lofoten Islands Travel Guides
PIN IT FOR LATER: