There are many cool Lofoten tours and excursions to take when you're visiting the islands. One of the most popular is inevitably the Lofoten sea eagle safari through Trollfjord.
This Svolvaer activity is quick to sell out due to its popularity, and as someone who has done it, there is a very good reason why!
This guide gives you tips, a review, practical information, and everything you need to know before you take a sea eagle safari in the Lofoten Islands.
Lofoten Sea Eagle Safari in Trollfjord
I have done several activities in the Lofoten Islands, and one of my favorites was the sea eagle safari in Svolvaer. I was very impressed by how ethical the tour was and how the safari actually helped feed the eagles despite their meager food supply in the fjords.
I hope this guide encourages you to book the same tour and check it out yourself!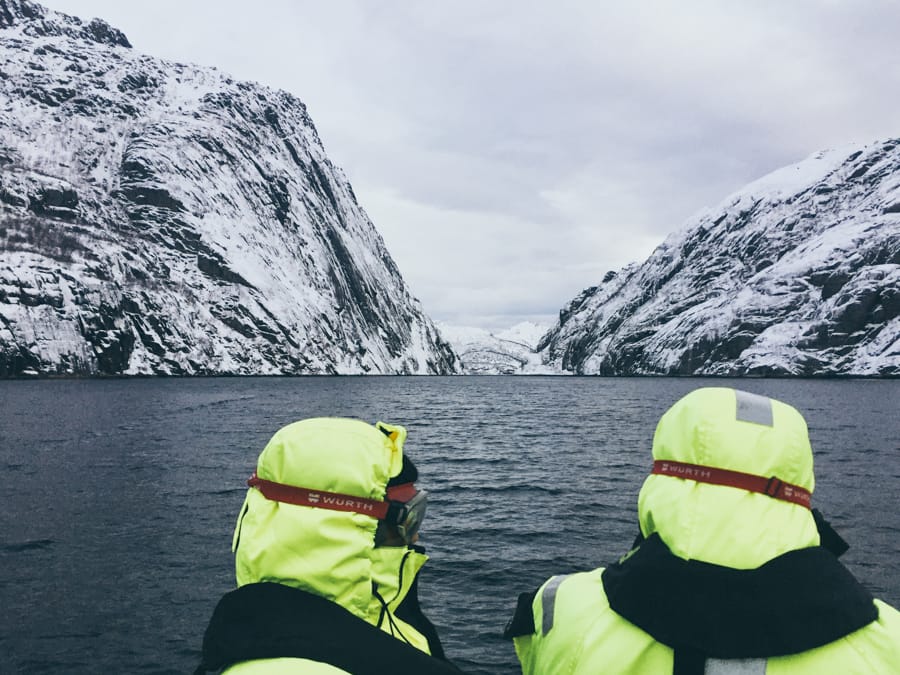 Trollfjord Sea Eagle Safari: My Experience
When I saw that the sea eagle safari in Svolvaer was on my itinerary, I didn't really think too much about it. I am admittedly not a huge bird fan despite loving animals, and I was looking forward to the boat ride through Trollfjorden more than the actual bird safari.
I took my Lofoten sea eagle safari in December when the light was… not really existent. However, the afternoons are like an extended sunset, so there was definitely visibility, despite what most people think about winter in the Arctic.
We met mid-morning by the Svolvaer harbor with the rest of the people taking the tour and had to change into proper attire for the safari. I am claustrophobic, so this was no easy feat, but I still managed it without too much of a breakdown.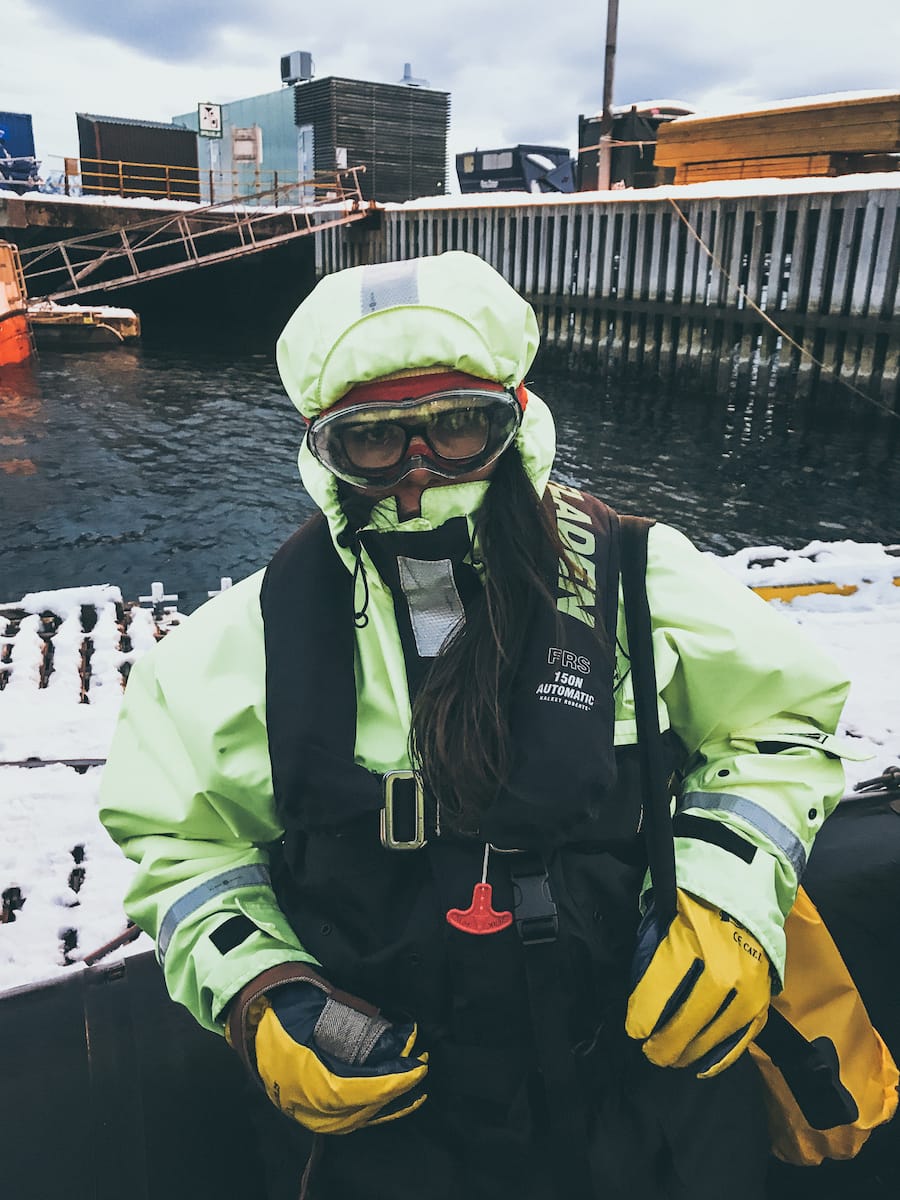 After changing, we got on the RIB boat for the sea eagle safari. We cruised through the fjords at a rapid pace and eventually stopped to feed the sea eagles in Raftsundet.
At that moment, I was amazed at the creatures, and I think it was this tour that turned me into a fan of birds.
Sea eagles have the largest wingspan in the world, and as impressive as that sounds in words, it is far more impressive when you get to witness it in person.
We continued to feed the birds along the journey, and we ended up in a very narrow fjord called Trollfjord.
The landscape was kind of mysterious, as the darkness seemed to hover far below where it did out on the open seas. It was calm and quite humbling at the same time.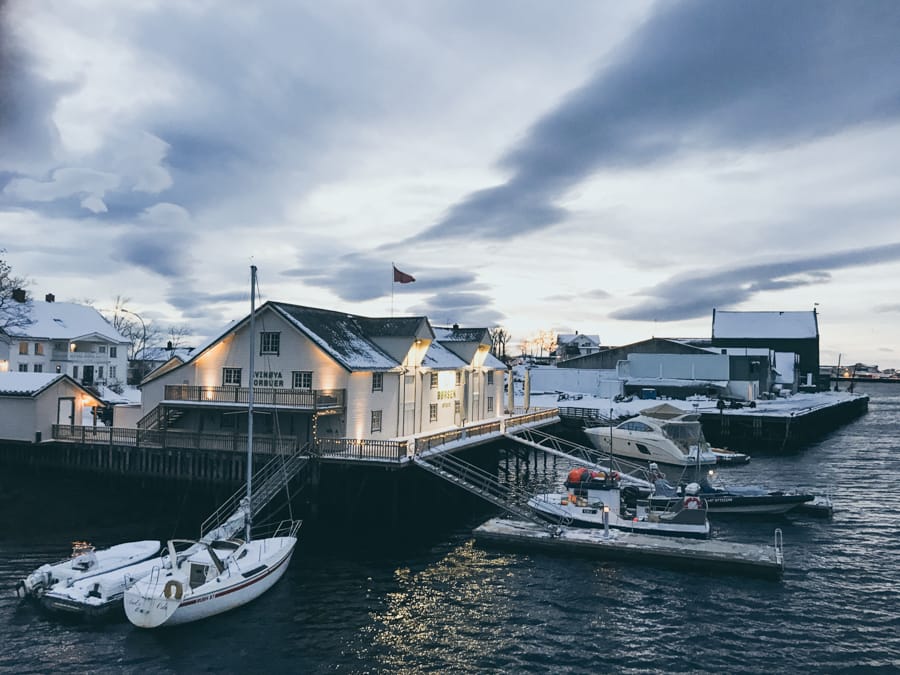 We ended up all the way into the fjord, and we had the chance to do a little spotting for other sea creatures like sea otters. After doing a little spotting, we made our way back to Svolvaer, feeding the sea eagles as we moved along.
Honestly, this Svolvaer tour surprised me. I wasn't expecting too much, as I had never done a sea eagle safari or any boat trip involving birds at that point (I have done some since, FYI).
I highly, highly recommend this tour to travelers, families, and anyone who wishes to take to the seas at any time of the year and see creatures that will blow your mind.
The sea eagles in Lofoten are simply breathtaking. This experience really gave me a much larger appreciation for the islands as I realized how diverse their inhabitants were.
Who Can Take a Sea Eagle Safari?
It is not recommended for pregnant women to take this tour. It is also not a great tour for those with back issues. Being in a RIB boat can be a bit harsh on the back if you have problems.
For those that aren't aware, riding in a RIB boat involves you more or less standing up with a small seat in between your legs. It is not the most comfortable of rides, but it is practical and allows you to fully immerse yourself in the nature.

When is the Best Time to Go?
The best time to take a sea eagle safari in Lofoten is any time you're there! The tours run year-round but are available on fewer days of the week during the off-season in Lofoten.
Do be aware that it is darker during the winter months and the weather will be significantly colder than if you were to go in July.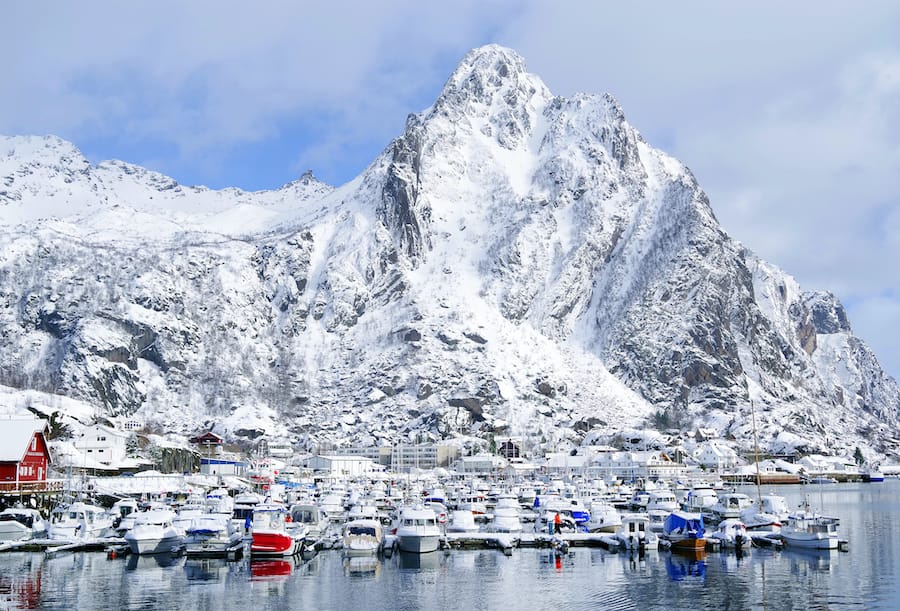 How to Book Your Sea Eagle Safari in Lofoten
Booking your sea eagle safari in the Lofoten Islands is pretty easy and straightforward. We recommend using GetYourGuide, a tour website that offers exceptional customer service and a fantastic 24-hour cancellation policy.
If you get to Lofoten and a major storm unexpectedly comes your way, you can easily cancel outside of that 24-hour window with no issues (we got hit by a storm when I was there!).
GetYourGuide always works with the top tour providers in destinations and does regular audits to ensure that they remain high-quality for all customers. We use them when we travel and have had only positive experiences.
What to Wear on a Sea Eagle Safari
To be honest, it depends on the time of the year that you go.
I went during the middle of winter in December, and I had on a huge parka, a winter scarf, a beanie, and snow boots. Once I arrived at the harbor, I found out that they had suits for passengers to change into.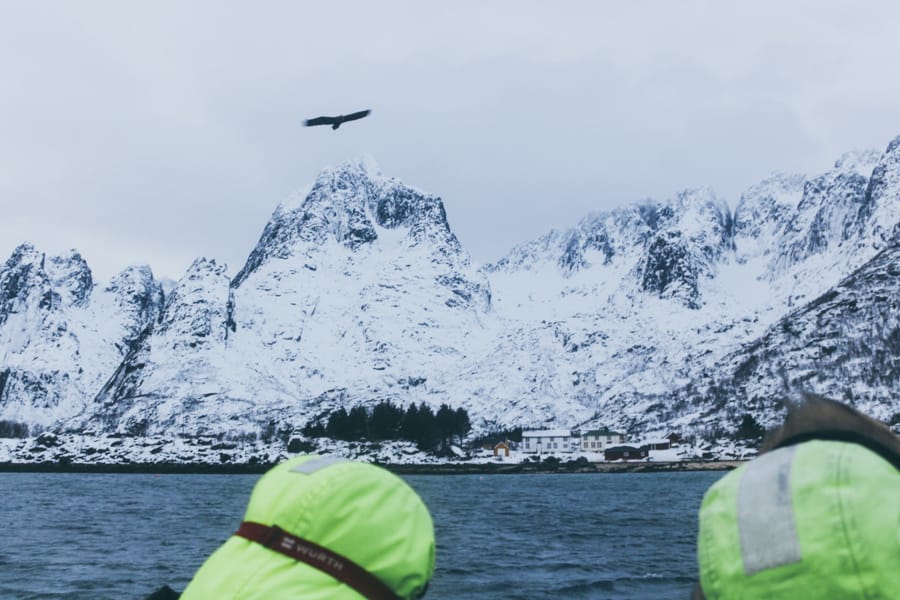 These suits went over our own clothes but they suggested we take our huge parkas off as it would be too hot underneath and would be rather constricting.
I had no issues at all with the temperature in the suit despite being out in the open on the RIB boat.
I have also visited Lofoten in summer, and while my wardrobe changed drastically, it was still a bit chilly. I wore a light jacket at all times during the middle of the day and at night, I curled up in bed with large comforters.
Here are some of my Lofoten winter clothing staples:
Click here to view our Norway winter packing list. It is for both men and women and it gives tips for different parts of Norway and what to expect weather-wise.

Other Items to Bring on the Boat
Now that you know what to wear on a sea eagle safari, you need to also consider what other items you're going to bring along for the boat trip. Here are some of my recommendations.
Please note that I don't recommend bringing your phone unless you have it in a waterproof case.

Lofoten Sea Eagle Safari Details
The Lofoten sea eagle safari can be booked here. This is not a private tour and you will be with others for the journey.
You must show up 30 minutes before the tour begins and you will get a confirmation before the tour from GetYourGuide letting you know everything is good to go.
A sea eagle safari lasts for two hours and runs year-round, even in the middle of winter! If you're there during winter, expect dusk skies. If you're there during summer, expect a lot of light!
Sea Eagle Safari in Lofoten FAQ
Here are a few FAQs that might help you before you embark on a sea eagle safari in Lofoten:
What clothing is included in my sea eagle safari? The included items will be goggles, a life jacket, a cap, gloves, and a knowledgeable guide.
Is it hard to photograph the eagles? If you're good in sport mode on your camera, not really. My biggest issue was that I went when there was no true daylight and I'm a terrible photographer in lowlight situations.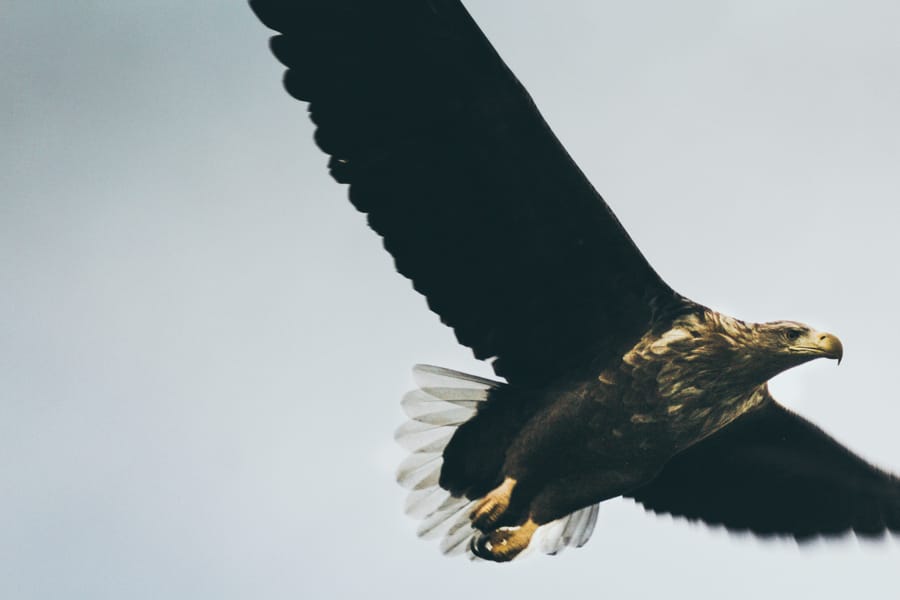 Are the seas rough? The day I went was not rough but we were not in the open seas for long. Once you're in Trollfjorden, the seas will be much calmer as the fjords in Norway are like that (they are not exposed to the rough Atlantic).
Does the tour offer hotel pickup? No. But the meeting point is so centralized in Svolvaer near the harbor that it should not be a problem. If you're coming from another place in Lofoten, you will need to arrange your own transportation.
Is the sea eagle safari year-round? Yes. Just be sure to check the dates before booking as they don't run every day of the week during the winter months.
Can you cancel your tour? If you book your tour through GetYourGuide, yes, you can cancel your tour up to 24 hours before it runs. This is a great option if you fall ill or the weather is not conducive to you wanting to be out on the sea.
How many people will be on your safari? The RIB boat can fit up to 24 people. If you're keen to photograph, try to hop on first and get a really good spot!

Final Thoughts
This was an epic tour and one I recommend to everyone who is visiting the Lofoten Islands. If you're staying in Henningsvaer, you're not too far away, and it is also a great excursion for you.
It is also one of the best tours to do during the Lofoten winter as many are not in business during the low season… but this one is! If you have additional questions or concerns, please reach out to us and we will do our best to help.
>> Click here to book your sea eagle safari in the Lofoten Islands
More Lofoten Islands Travel Guides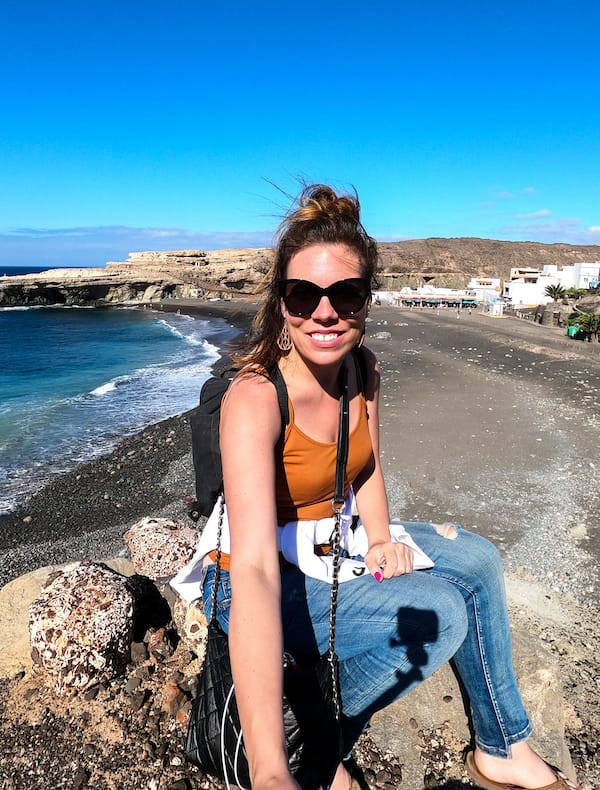 Megan is a travel blogger and writer with a background in digital marketing. Originally from Richmond, VA, she now splits her time between Frankfurt, Germany and Arctic Finland after also living in Norway, Armenia, and Kazakhstan. She has a passion for winter travel, as well as the Nordic countries, but you can also find her eating her way through Italy, perusing perfume stores in Paris, or taking road trips through the USA. Megan has written for or been featured by National Geographic, Forbes, Lonely Planet, the New York Times, and more. She co-authored Fodor's Travel 'Essential Norway' and has visited 45 US states and 100+ countries.