When planning a journey to Svalbard, one of the best things you can do there is to rent a snowmobile! Due to strict laws, the easiest way to do this is to take one of the Svalbard snowmobile tours that are pre-organized.
Are you planning your trip to Svalbard last minute?
If youʻre booking your trip to Svalbard last minute, we have you covered. Below are some of the top tours, and more!
❄️ Top Winter Activities in Svalbard:
🛌 Top Hotels and Places to Stay:
This guide will detail the best snowmobile tours in Svalbard, plus how to book them, what to expect, and some cautionary guidelines to know before you visit Svalbard.
Svalbard Snowmobile Tours – Overview
High up in the Arctic Circle, you will find the formidable islands of the Svalbard Archipelago.
The remote islands are located between Norway and the North Pole and are home to the world's northernmost settlements.
The sparsely populated islands have few roads and the roads that are available do not connect the various settlements across the region.
The most efficient way to get around the normally snow-covered region is by snowmobile.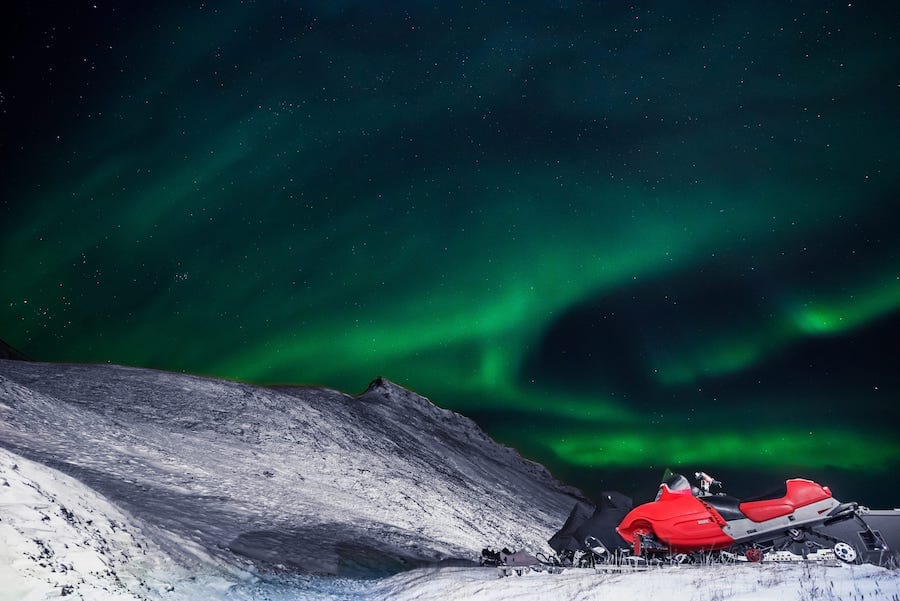 Should You Go on a Snowmobile Tour in Svalbard?
Consisting of a wide range of terrains, Svalbard is an exhilarating place to ride snowmobiles as you explore the mountains, glaciers, and coastal edges of the islands under the watchful eye of an experienced guide.
It really is the best place for active travel adventures in the Arctic.
Along with the challenging terrains, Svalbard has extreme seasons where complete darkness enshrouds the island for 84 days a year and summers endure 24 hours of sunlight.
With the covering of darkness, the world's largest land carnivore, the polar bear, rules the land.
For much of the year, the island is covered in snow and ice but during the summer months, much of the lower-lying snow and ice give way to rock and hardy vegetation but ice and snow remain on the glaciers that slowly carve their way down from the mountains.
Renting a snowmobile in Svalbard is the best way to get around Spitsbergen… but many rules and restrictions are in place as we discuss below.
Can You Snowmobile Year-Round?
Thanks to the generous snow cover, snowmobiling is available pretty much a year-round activity, with tours departing from Longyearbyen to various parts of the island.
During the summer in Svalbard, you will need to travel a little further to reach the glaciers where year-round snow and ice make for the perfect snowmobile highways that reach high up into the mountains.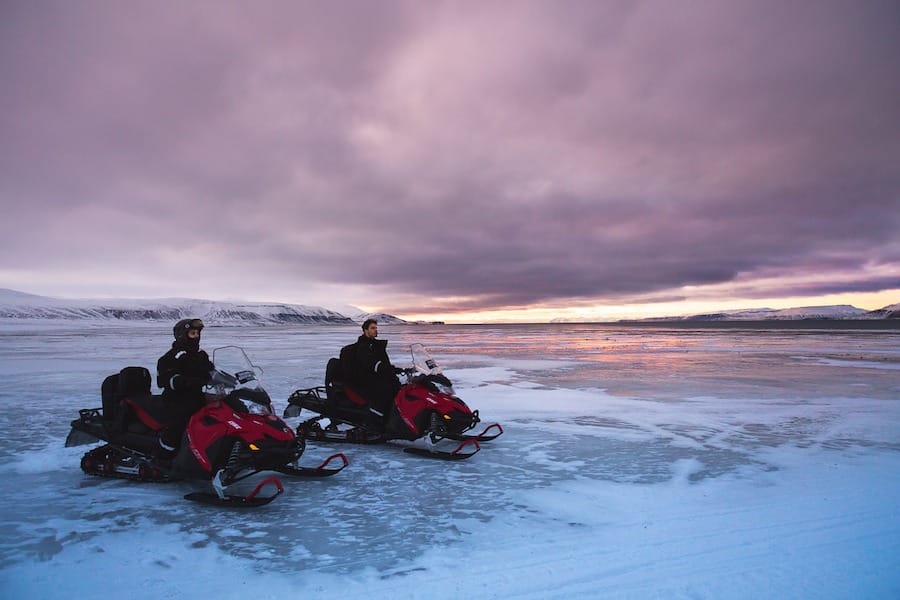 As the archipelago is remote and sparsely populated, snowmobiling will need to be done with an experienced guide who will take you out into the wild and keep you completely safe.
When exploring the Arctic on a snowmobile, there is a chance that you may encounter a polar bear.
For your safety, guides will carry a firearm and flare gun to warn off any bears that dare to get too close.
Driven by hunger, these magnificent creatures will look to eat humans, making them incredibly dangerous.
During the long Svalbard winter, the population of bears on the islands is greatly increased with over 3000 individuals hunting and living on the island and the surrounding sea ice.
During the summer months, fewer bears remain on the islands, as most of them follow the receding sea ice north to the pole, but the bears still pose a great threat and may be encountered.
General Snowmobiling Rules in Svalbard
To take part in a Spitsbergen snowmobile tour and one of the Svalbard snowmobile safaris on this list, there are a couple of general requirements that you need to meet in order to operate the vehicle.
First of all, if you intend to drive a snowmobile, you need to hold a full driver's license that is valid at the time of the trip.
If you do not intend to drive the snowmobile, some tours may still require you to have a license in case you need to drive the snowmobile in an emergency.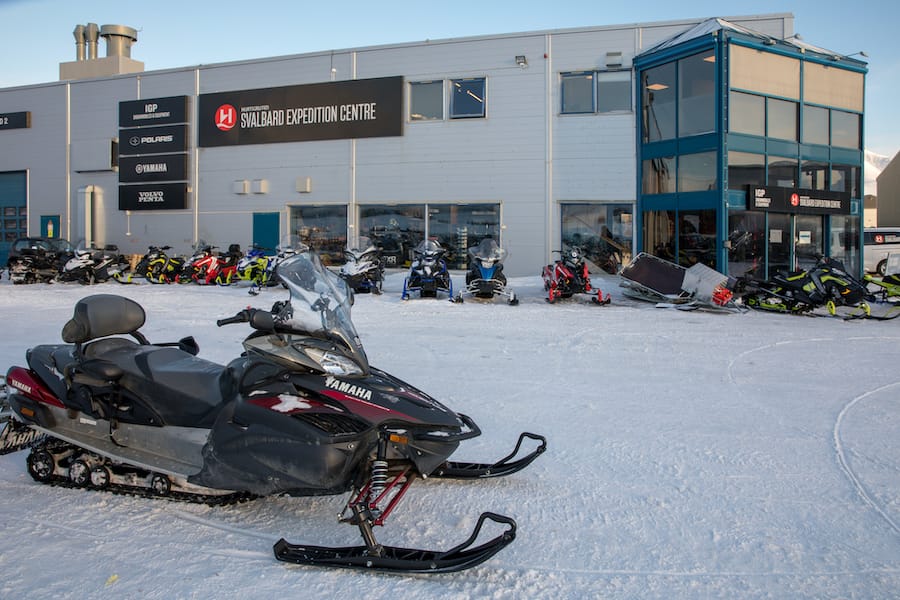 Before joining the tour, you should not consume any alcohol or take recreational drugs.
The police on the island perform random tests and the fines can be super high.
Finally, make sure you fully understand the safety tour and all the information provided by your guides to keep you from endangering yourself or other people on the tour. This guide will take you through the best Svalbard snowmobile tours available from Longyearbyen.
Each of the tours has a unique focus and offers amazing opportunities to leave the town and explore the depths of Svalbard's landscapes.
Best Svalbard Snowmobiling Tours (Quick Reference)
Here is a quick look at the snowmobile day trips covered in this Svalbard tours and excursions guide for snowmobile enthusiasts.
If you have any questions regarding specific tours, let us know by shooting us an email or leaving a comment. Thanks!
Best Svalbard snowmobile tours (on this guide):
Northern Lights

Hunt by Electric Snowmobile

⇒ Duration: 3 hours
⇒ Seasons and Months offered: all winter
⇒ Book tour here

One of the biggest allures of the Arctic is the mystery of the Northern Lights that dance and shimmer high in the winter sky, providing a much-needed break from the never-ending darkness.

This tour will have you head out into the tundra on environmentally-friendly snowmobiles that are battery-powered and charged using solar and wind power.

The silent vehicles effortlessly race across the landscape as you hunt for clear skies away from the lights of Longyearbyen, hoping for a chance to see the magic unfurl.

Lasting around 3 hours, your expert guide will take you out into the wilds searching for the lights as you traverse mountains and glaciers in complete darkness.

You will make occasional stops for your guide to talk you through the history of Svalbard and the surrounding area while sharing some biscuits and hot drinks.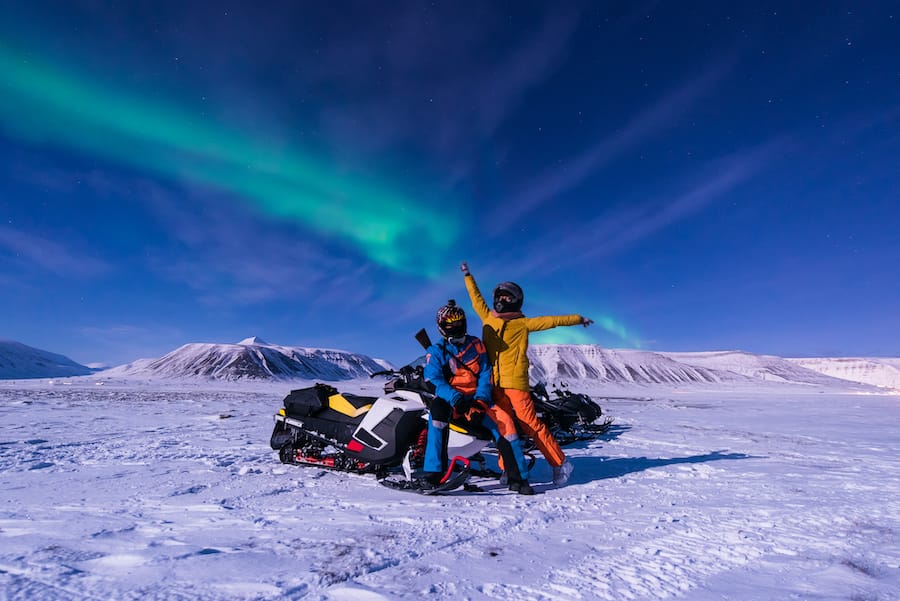 After hunting for the lights and hopefully getting to make memories that will last a lifetime, you will head back to the expedition center, where you will be transported back to your Svalbard hotel.
Snowmobile Trip to the Land of the Polar Bear
⇒ Duration: 10 hours
⇒ Seasons and Months offered: February-May
⇒ Book tour here
In the middle of February, the never-ending night starts to give way as sunlight returns to the high Arctic.
As the days start to lengthen, exploring the area becomes far easier, and the chance to see one of the world's most revered predators increases.
There are no official polar bear safaris, as the animals are strictly protected, but you can take tours like the snowmobile trip to the land of the polar bear where experienced guides will take you to areas where they are commonly spotted.
Of course, don't get your hopes up… the day will be epic either way!
The full-day snowmobile tour is available from late winter to early spring, while plenty of bears are still on the island before the majority of them follow the sea ice north.
You will head through the rugged landscape until you reach the eastern coast of Svalbard where many polar bears spend time hunting.
From a safe distance, you will hopefully be able to observe the magical creatures going about their daily life on this 10-hour-long snowmobile trip. This is, of course, if you actually spot them which is not really too likely.
I highly recommend purchasing binoculars and a zoom lens for your camera for the tour to make the most of your time, as the bears are incredibly dangerous you will have to remain at a safe distance away from them to protect yourself and the bears.
Northern Lights

Snowmobile Trip

⇒ Duration: 5 hours
⇒ Seasons and Months offered: February-March
⇒ Book tour here

Take a five-hour trip out into the Arctic wilderness to hunt down the beautiful aurora in Svalbard.

With a local guide, you will embark on an amazing adventure where you will cross mountains, traverse glaciers, and race through the valleys of Svalbard to try and see the beautiful northern lights.

The tour will be different each time as the guides look at weather patterns and solar activity to plot the best route on the day to maximize your chances of seeing a display.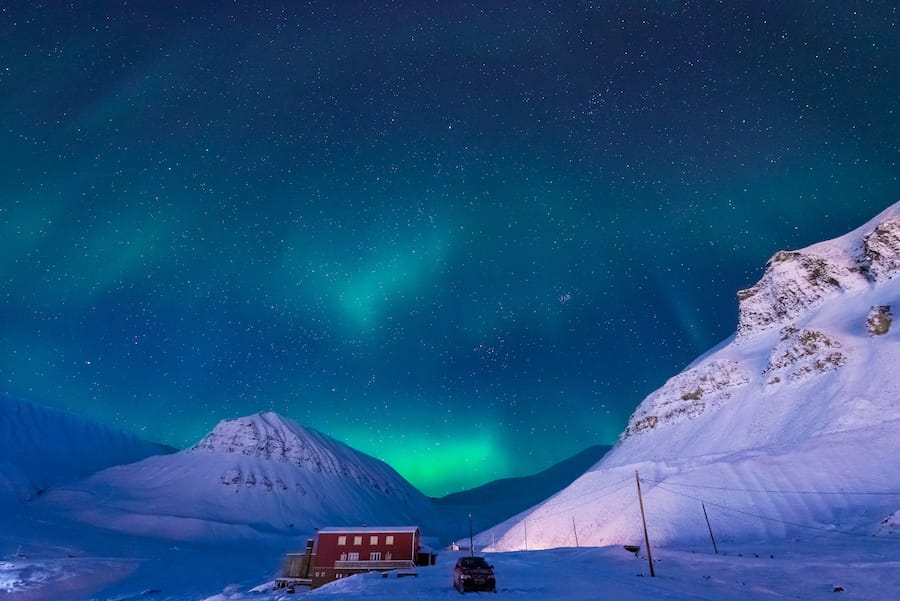 The tour will finish at a cabin where you will gorge yourself on a three-course meal to warm up and recount the amazing adventure you have just experienced. Even if you do not manage to see the lights, this incredible tour through the night will leave you with amazing memories that will last for life.
Snowmobile trip to Barentsburg (Little Russia)
⇒ Duration: 9 hours
⇒ Seasons and Months offered: February-May
⇒ Book tour here
Although officially part of Norway, Svalbard has long had a huge Russian presence on the islands after the Soviet Union set up huge mining communities on the island to stop them from being used by NATO during the Cold War.
At one point, Russians made up two-thirds of the population.
After the collapse of the Soviet Union, many of the Russian citizens left the islands to return home to Russia, but the main Spitsbergen town of Barentsburg, still to this day, remains populated and is the second-largest settlement in the region.
On this expedition, you will set off from Longyearbyen on a 37-mile journey to Barentsburg, crossing incredible terrains as you venture westwards.
Before reaching the final destination, you may stop at the abandoned mining town of Coles Bay if the weather permits.
Once you reach the town, you will enjoy a delicious traditional hearty Russian lunch at Hotel Barentsburg before exploring the town.
On the way back, you will make a short stop at a viewpoint, although once again, this is purely based on the weather conditions of the day.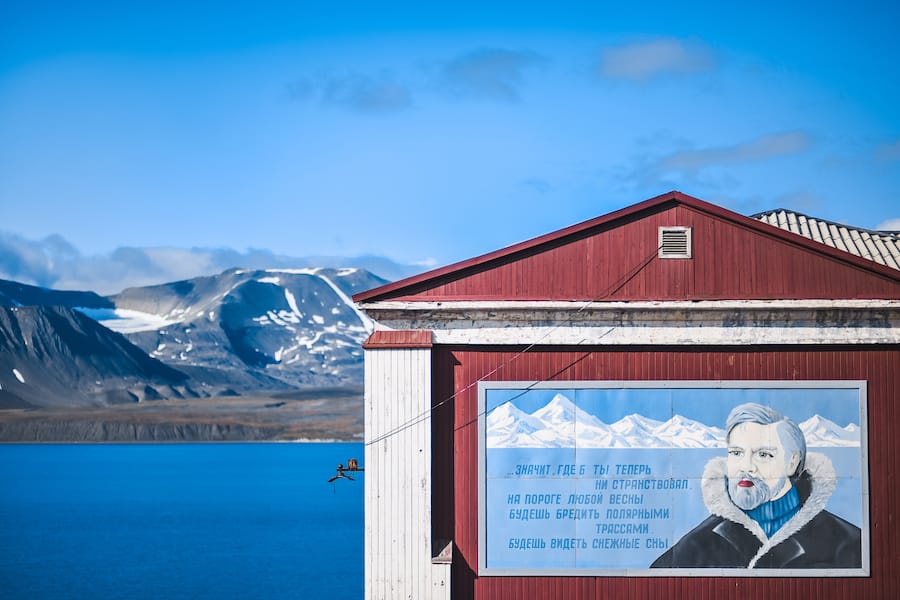 Snowmobiling through the Midnight Sun
⇒ Duration: 4 hours
⇒ Seasons and Months offered: April-May
⇒ Book tour here
The long dark nights of Svalbard's winter are quickly replaced by the midnight sun as the sun rises and continues to shine for 24 hours a day.
During this period, the area awakens from its long winter slumber and the world comes to life with migratory birds filling the air with noise and the next generation of Arctic animals being born.
On this tour, you get to experience the surreal feeling of the midnight sun beating down on you as if it was the middle of the day.
Setting off from Longyearbyen, you will travel through Spitsbergen's rugged landscapes, taking in the extra vitamin D as you race along.
Although the sun is constantly shining, you will need to dress warmly as the snow and ice still lie on the ground and the strength of the sun at the latitudes is not as strong.
Summer Snowmobiling and Hiking
⇒ Duration: 5 hours
⇒ Seasons and Months offered: June
⇒ Book tour here
In the height of the summer, the snow and ice around Longyearbyen melt away, exposing ancient bare rocks that spend much of their existence buried under the snow.
If you are lucky, you will find amazing fossils amongst the rocks. During this time, snowmobile tours can only take place on glaciers and at high altitudes.
This tour will combine both hiking and snowmobiling as you take an easy hike up to the Longyear Glacier, where you will then enjoy a two-and-a-half-mile journey to the top of the glacier where you can enjoy amazing panoramic views out over the mountains and glacial valleys of Svalbard.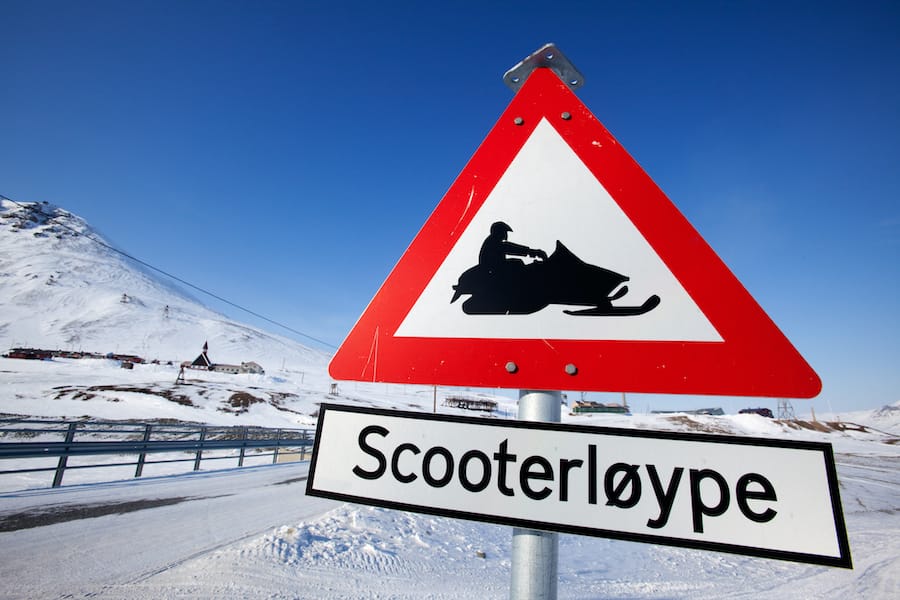 The location is a favorite amongst local snowmobiling enthusiasts so you will likely see plenty of others tearing it up.
At the top of the glacier, you will get to enjoy some refreshing drinks and a light lunch before heading back down the glacier and completing the return hike.
Snowmobile Trip through Svalbard in Spring
⇒ Duration: 5 hours
⇒ Seasons and Months offered: March-April
⇒ Book tour here
Spring in Svalbard is a magical time as the polar nights have loosened their grip on the islands and you can enjoy beautiful days and stunning nights before the constant light of the midnight sun sets in.
This Svalbard snowmobile tour will take place during the sunset hours where you will get to experience the magic of golden hour as the sun dips below the horizon, a surprisingly rare sight in this part of the world.
Once the sun has set, you will make your way to a cabin at the basin of a valley to enjoy a traditional three-course meal.
As night sets in, there is also a chance that you will get to witness the beauty of the northern lights.
The routes will be tailored each day to ensure there is little interruption by the weather meaning it's impossible to tell which viewpoints each tour will visit.
However, as the tour operators know the lay of the land so well, you are guaranteed to have a breathtaking experience no matter what.
What is Included in a
Svalbard Snowmobile

Excursion?

Naturally, every snowmobile tour company is different and each tour will give an idea of what is already provided in terms of gear and equipment, and apparel.

But, you can generally assume that your snowmobile tour will provide the snowmobile, mittens, a snowsuit, snow boots or foot coverings, goggles, and a helmet.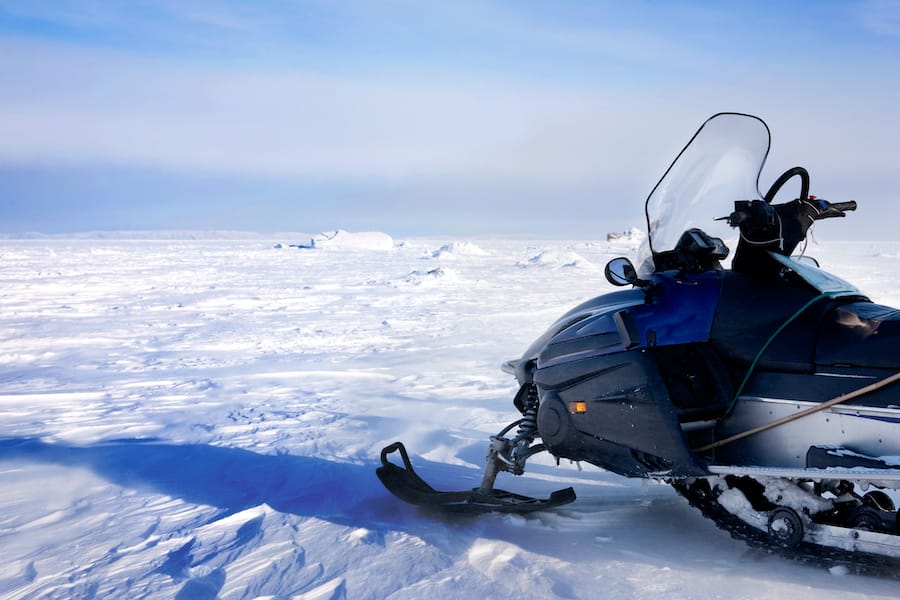 What to Bring & Wear Snowmobiling
We definitely recommend packing well for a snowmobile trip in Svalbard. If you're going there during the winter months, expect extremely harsh conditions. It will be frigid.
Do not forget a good parka! This can be good advice no matter what time of year you go out.
You can see our complete winter in Norway packing guide here.
Here are our top recommendations for what to pack for snowmobiling in Svalbard:
⇒ Helly Hansen 'Svalbard' Parka: This is the parka that I swear by when I am dressing for winter in Norway.
It is thick but not too trendy so you don't have to worry about it not being suitable for multiple trips. It is also just long enough that it covers your thighs and gives you room to breathe.
Helly Hansen is a Norwegian brand so they really do make their apparel suitable for Norwegian locations.
⇒ Valid driver's license: If you're going to be taking a snowmobile tour in Svalbard, it is imperative that you have a valid driver's license in order to drive (or even to participate on most all tours). Be sure to bring it along!
⇒ Good snow boots: Another thing you're going to absolutely want to bring along for your Svalbard trip is a pair of really good snow boots. I wear Sorels when traveling to the Arctic and they work really well.
Your snowmobile will likely provide good boots, but I always like to bring my own just in case (and you'll need them in Svalbard anyway!)
You can see my exact pair of Sorels here.
⇒ GoPro Hero8 Black: You can bring whatever kind of camera you'd like into the wilds of Spitsbergen, but I recommend definitely bringing along a GoPro.
We use the new GoPro Hero8 and it is fantastic. It also has a great long-term battery. Click here to get your hands on a new GoPro for your trip.
INSIDER TIP:
If you don't have
snowmobile gear
, don't worry – the
snowmobile tour companies
usually have gear for guests to use on top of their own parkas, etc. But, do verify this beforehand!
Snowmobiling FAQs and Pointers
Here are some frequently asked questions about snowmobiling that are good to read up on before booking a tour:
Do you need previous experience to go snowmobiling? No, you don't. You will learn the basics before you hop on the mobile. But, you do need an internationally-recognized driver's license.
Do you need to be fit to go snowmobiling? Nope! But, from my own experience, you will need to wear glasses if you have crappy eyesight like me.
The outfitter should have goggles to put over the top of your glasses.
Can you see polar bears on a snowmobile safari in Svalbard? Likely not, to be honest.
You could have a chance encounter, of course, but don't plan on it. You will have a better chance of seeing a polar bear on a cruise than a snowmobile.
Other Worthwhile Svalbard Tours
We have an entire guide based on the best tours in Svalbard that you can check out for additional information, but here are some of the top-rated tours that you should consider in addition to your snowmobile tour in Spitsbergen.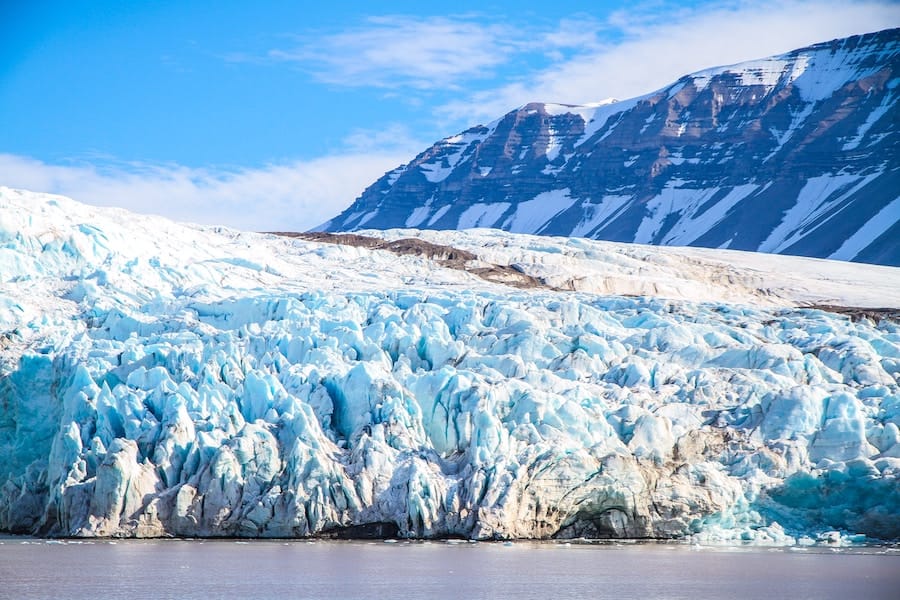 Where to Stay in Longyearbyen
There are many fantastic places to stay in Svalbard and we have a whole guide dedicated to accommodation in Longyearbyen that you can check out for more specifics.
For now, here are our top recommendations of places to stay in Svalbard for all budgets:
We hope you found what you were looking for in this Svalbard snowmobile tour guide.
We listed the best, active tours in Svalbard currently and will add new ones if they are highly recommended and offer something different than the ones above.
If you have any additional suggestions or recommendations for snowmobile trips up north, please let us know!
More Svalbard Travel Guides