Are you heading to the Greek islands and looking for the best things to do in Mykonos? We've got you covered!
Are you planning your trip to Mykonos last minute?
If youʻre booking your trip to Mykonos last minute, we have you covered. Below are some of the top tours, hotels, and more!
🇬🇷 Top Experiences and Tours in Mykonos:
🛌 Top Hotels in Mykonos:
🚗 Visiting Mykonos independently? Be sure to book your rental car ahead of time to ensure availability!
This guide covers the top Mykonos landmarks, attractions, and more! We try to cover some of the best beaches too!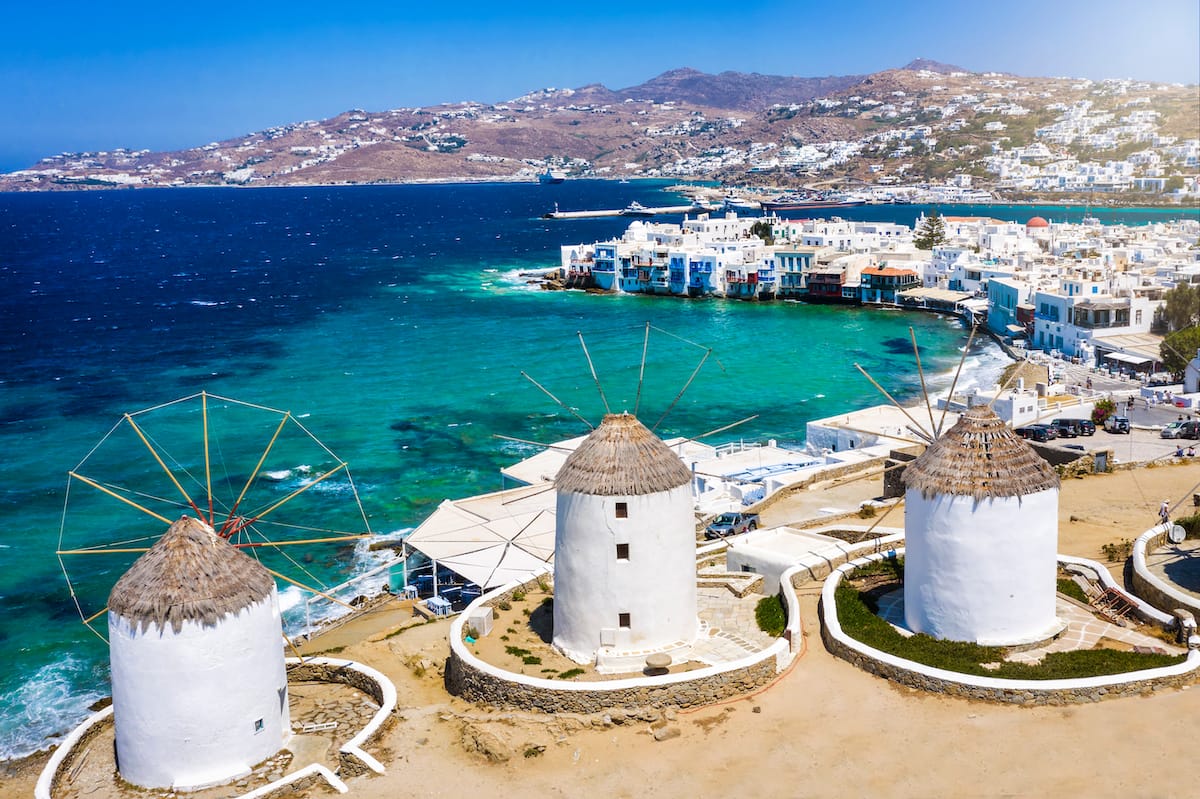 Mykonos has a reputation for being a party island, but it really is a place for any type of traveler and we hope this guide conveys that!
We also note top Mykonos activities and experiences – including why you should book them!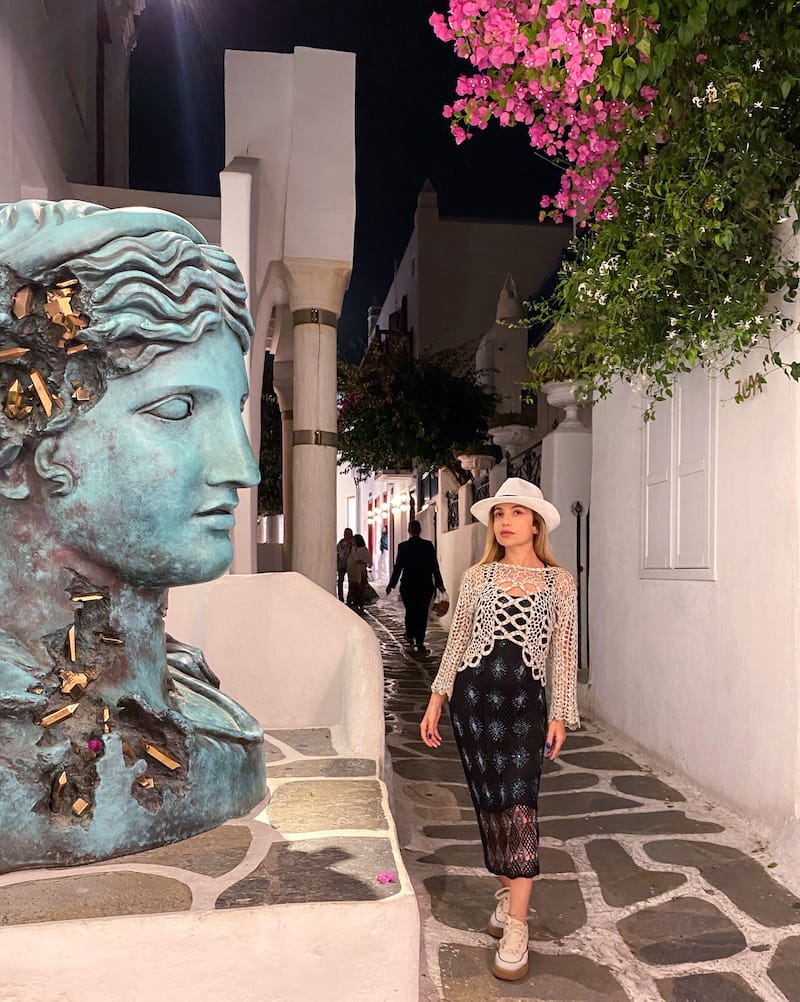 Did we miss any of the best Mykonos attractions? Let us know your thoughts in the comments. Thanks!
Best Mykonos Tours (to Maximize Your Time!)
If you're looking for something more organized when in Mykonos and the surrounding area, here are some awesome Mykonos tours you should check out.
These tours will help you maximize your time, which is especially important if you only have a short amount of time on the island! We listed a variety so that you can pick which one is most suitable for you (and many include multiple places!):
Best Things to Do in Mykonos
1. Stop by the Delos Archaeological Museum
The Archaeological Museum of Delos is a storage for unique historical artifacts found at the Delos archaeological site.
Accessible by boat from Mykonos, Delos island is known as the birthplace of Artemis and Apollo, once the most significant sanctuary in Greece.
After exploring the territory of the island, visit the Museum of Delos, built in 1904. The original museum had five halls, later extended to nine rooms, six of which display exclusive pieces, tomb statues, remains of columns, jewelry, vessels, and more.
Two rooms are specifically designated for prehistoric pottery. The most eye-catching one is an iconic ivory plaque from 1400 BC.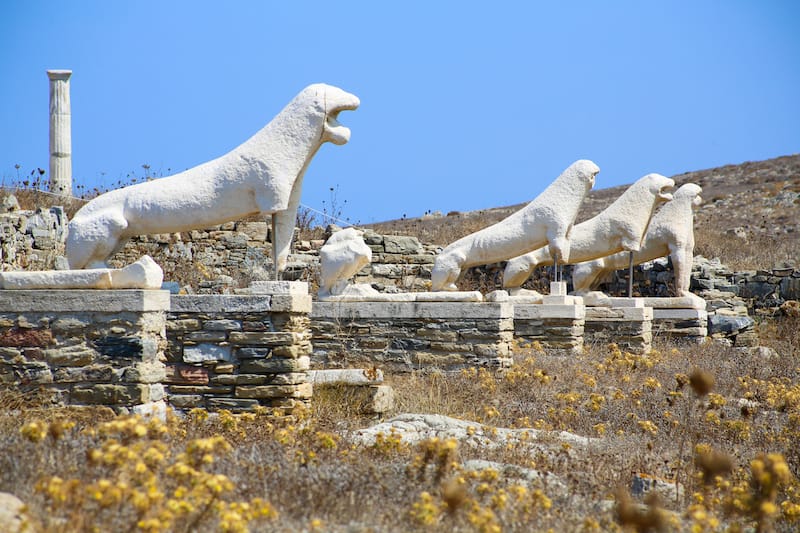 The plaque is decorated with an image of a Mycenaean soldier holding a defensive shield and a spear.
While exploring the rooms, you will find the trunk of a Kouros from Apollo's temple, a marble statue of Boreas, Dioscorides, and Kleopatra, and the statue of Apollo.
Finally, find the bronze mask of Dionysos, the face of a bearded mythological god with an icy garland and a crown.
2. Take a Walk through Alefkandra
Alefkandra, also known as Mykonos Little Venice, is a charming Mykonos neighborhood with cute, car-free alleys in dark marble paving stones, set against white-washed houses with blue windows and balconies.
The neighborhood, with its Venetian-style architecture, once belonged to wealthy merchants. Today, Little Venice is known for its open-air restaurants overlooking the sea.
One of the most popular restaurants is Alefkantra, which overlooks the sea and windmills. The cuisine has everything you look for in Greece: fresh seafood, moussaka, and wine to enjoy under the night sky.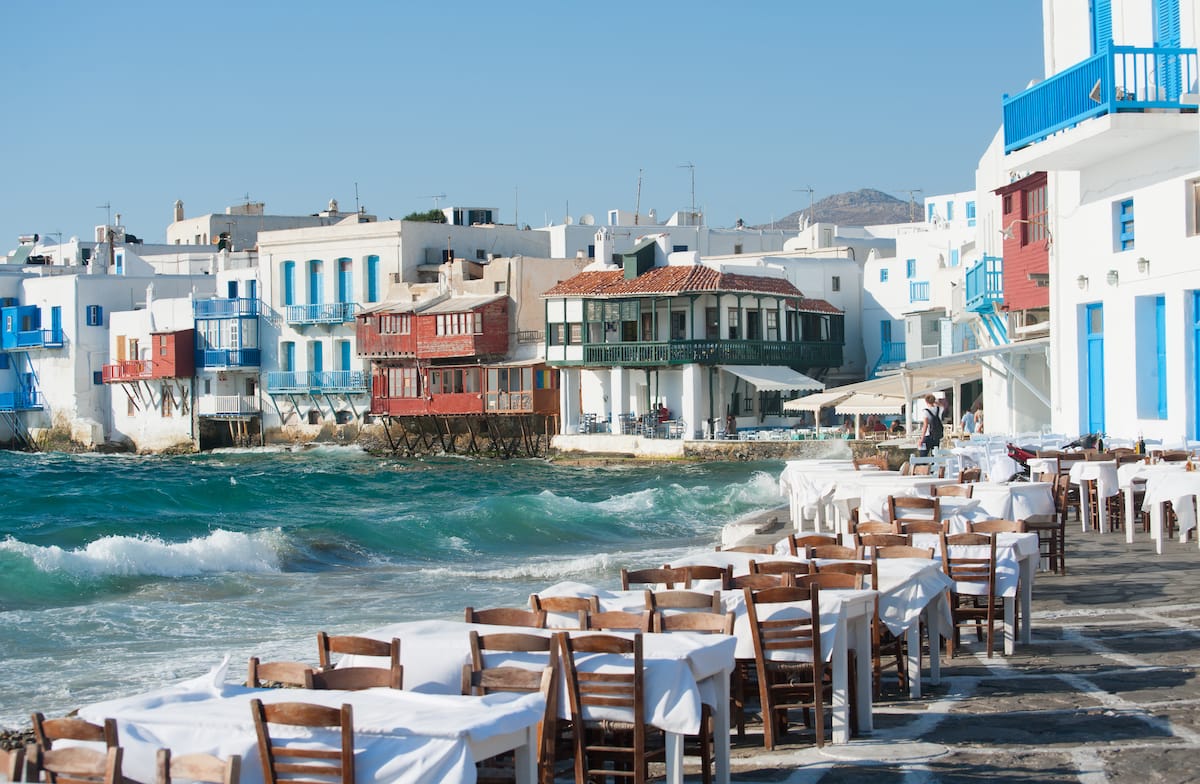 Alefkandra is, for sure, a pristine beach where you can definitely enjoy the sun and waters before it is time to enjoy cocktails at one of the bars in Little Venice.
The harbor of Alefkandra is also famous for the 16th-century windmills on the seafront, making an ideal background for a selfie.
3. Go on a Winery Vineyard Experience with Food & Tasting
Exploring Mykonos with a glass of wine sounds and feels a little more romantic, and the best way to combine both is to take a food and wine-tasting tour.
The most exciting tour includes a renowned Greek winery with strolls in the vineyards and wine cellars where you will watch how wine is produced and stored.
The family-owned winery is an example of Greek traditions and the warm hospitality of Greeks.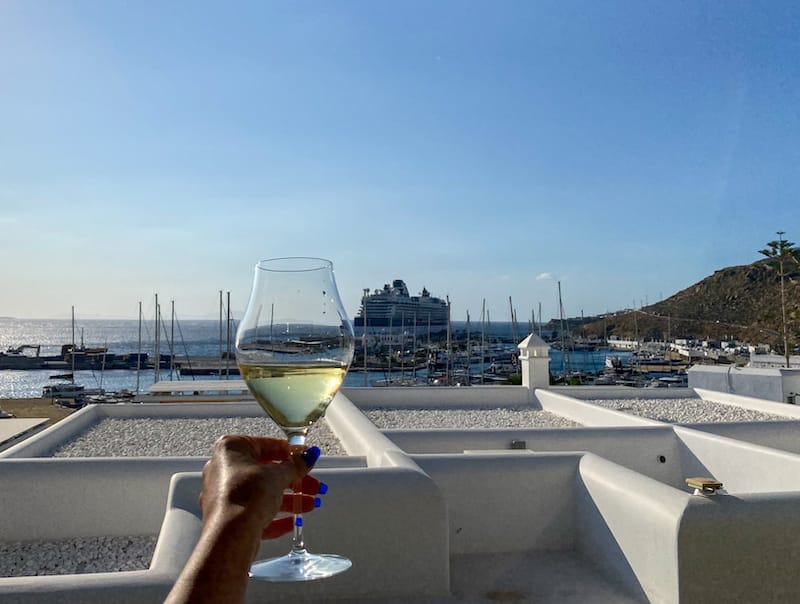 The two-hour tour will be accompanied by stories about wine production in Mykonos and the traditional wines you will taste during your stay.
The most exciting part of the tour is, of course, the food and wine.
You will be treated to local wine and traditional Mykonos appetizers with goat cheese, olives, bread, cold meats, and dessert, and listen to stories and music. All the products are produced on the spot and are always fresh.
Your wine and food tour will also include a visit to an olive grove, an integral part of Greek culture.
>> Click here to check tour rates and availability
4. Check Out the Dio Horia
The exhibition Dio Horia in Mykonos is curated by the Dio Horia gallery and its founder, Marina Vranopoulou.
The contemporary art and culture gallery in Athens brings young artists together and presents their works to the public. Having started as a gallery, Dio Horia has evolved into an art platform that holds exhibitions and shows.
The exhibition in Mykonos has brought together the works of Greek and international artists, occupying two floors of gallery space and showcasing names like Honza Zamojski, Aleksandar Todorovic, Dionisis Kavallieratos, and others.
Visit Dio Horia if you want to be in the center of past and present, where tradition meets the digital world, NFTs, and female empowerment. You will see the works of Greek, Cypriot, and Balkan artists.
5. Enjoy the Old Harbor
The Old Port of Mykonos is located behind the renowned Little Venice district and attracts tourists with its rhythm that never slows down.
The port is no longer used for ferry movements, but you will still find luxurious yachts docked there in the summer. You will also see small boats with fishermen.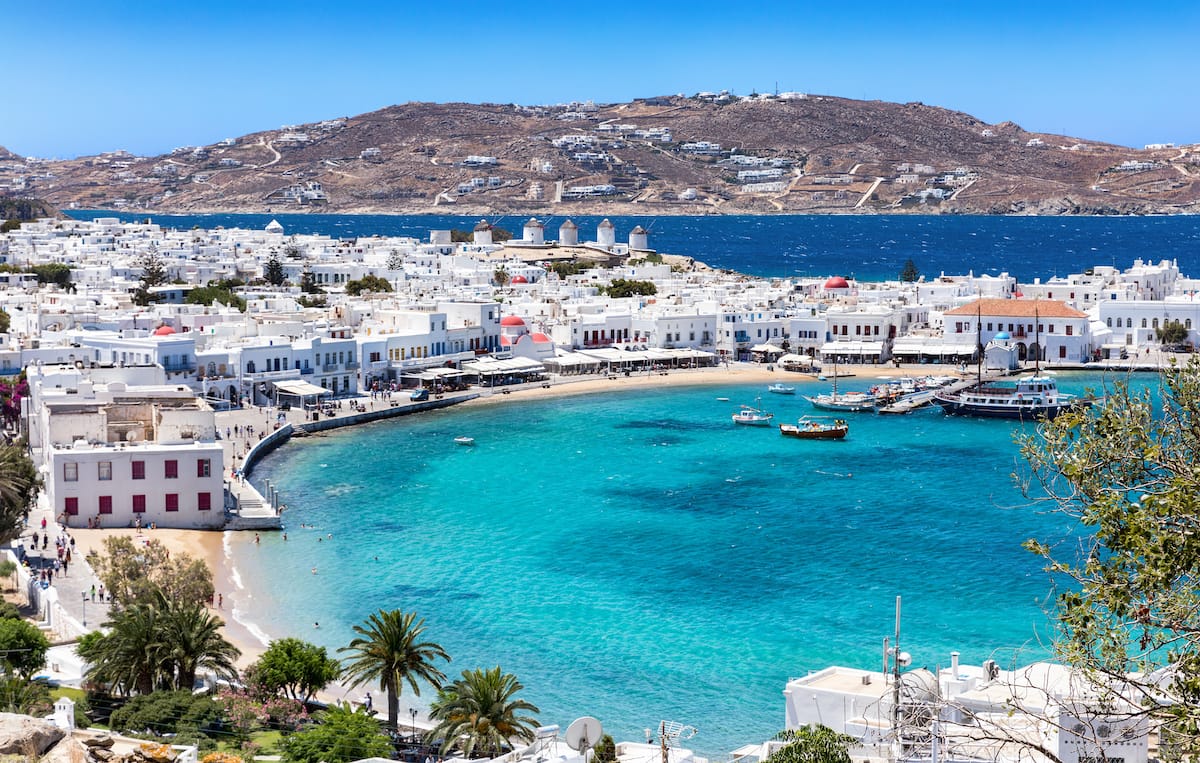 The central location of the harbor, with its multiple restaurants, bars, and shops, is always filled with crowds. The traditional fish market is also located in the Old Harbor and is always overstuffed with fresh seafood.
The Old Harbor is mostly visited for its restaurants and active nightlife, but it also has a small sandy beach for swimming where you can chill during the day and have a wonderful evening before getting back into the thick of things.
6. Admire the Mykonos Windmills
Cycladic islands are known for their natural beauty, history, and, of course, strong and constant winds called "meltemia."
That's why windmills lined along the waterfront are common on Mykonos Island. Today, strong winds are used as a source of energy, but back in the 1500s, they were used to grind grain.
Out of the original 28, sixteen windmills have survived and become popular tourist attractions. They are spread along the Alefkandra harbor, their wooden roofs visible from the town.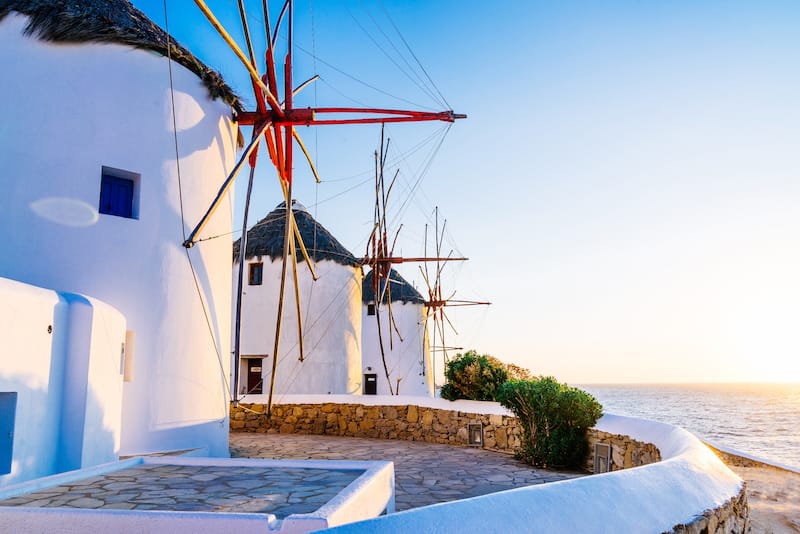 All windmills are three-story structures built in the same circular shape with stone and wood. The grinding stones were located on the roof. The flour poured down on the second floor as the wheel gave it power to grind.
Windmills look impressive, but you should definitely go inside them. Bonis Mill, part of Mykonos' Agricultural Museum, is preserved in its original form and grinding machinery.
You can go all the way up to the roof to learn the whole process of making flour.
7. Book a Photo Shoot with a Private Vacation Photographer
People say that if it's not photographed, then it isn't real: taking hundreds of selfies on vacation proves this.
But it doesn't mean you should spend precious moments looking through the lenses because there is a better way to take fantastic photos while enjoying your vacation.
Simply enjoy your own photographer in Mykonos, who will capture your journey and all your emotions. At the end of the photo shoot, you will have a collection of photos from the most popular sites in Mykonos.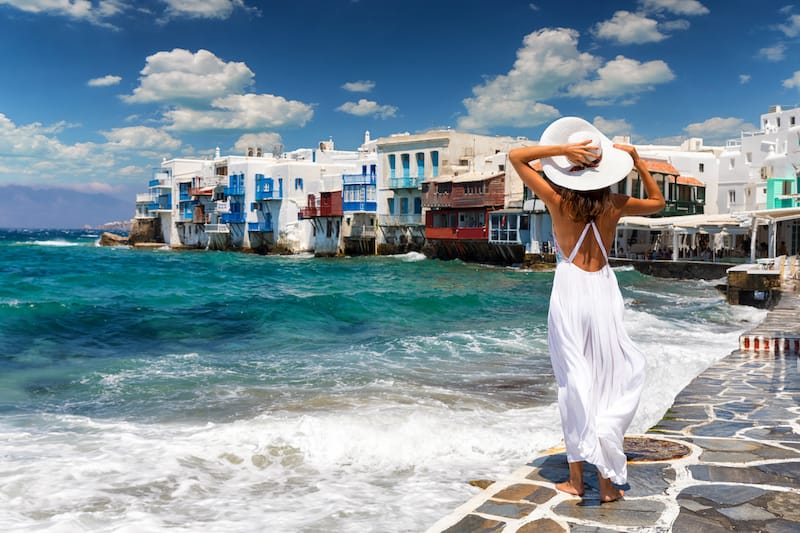 The photographer will suggest suitable locations and scenarios based on your requirements during a 2-hour photoshoot: a romantic trip, glamorous scenes, or family moments.
The tour doesn't include travel costs, admission fees, hotel pickup and drop-off, food, or drinks.
>> Click here to check tour rates and availability
8. Rejuvenate at Kalo Livadi Beach
Kalo Livadi, one of the largest beaches in Mykonos, stretches to the southeast, separating two other famous beaches, Kalafatis and Elia. It is an essential place for every Mykonos itinerary!
The white sand, calm waters, and fewer crowds make the beach an ideal spot to spend the entire vacation. You can rent a sea-facing villa and enjoy the views every second of your stay.
The sandy paradise has everything you may need. Two beach restaurants, Loan and Solymar, offer local cuisine, refreshing cocktails, and entertainment.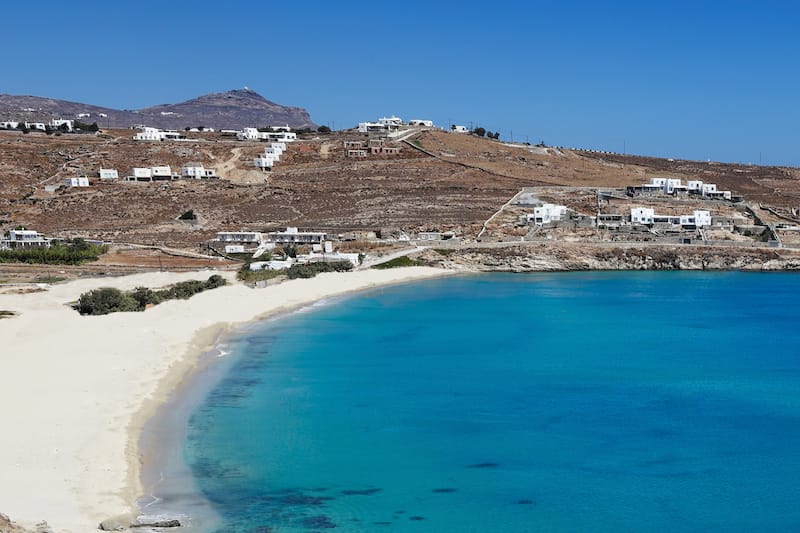 You can find water sports rentals for snorkeling, diving, paddle boarding, and more not far from restaurants. Lose yourself in a sea of sun beds and umbrellas—you're sure to find your perfect spot!
For the ultimate holiday experience, make your way to the front rows of sun beds, where you can feel the waves lapping at your feet.
9. Go to the Rarity Gallery
The Rarity Gallery has been a beacon of contemporary art since its 1994 opening, with a diverse range of works by Greek and international artists nestled amongst some of the most iconic historical sites.
The main goal of the gallery is to raise public appreciation of contemporary art and build the reputation of local artists on international platforms.
The gallery occupies an early 20th-century manor house. It is divided into six halls with different thematic narratives, but they are all part of one concept and idea.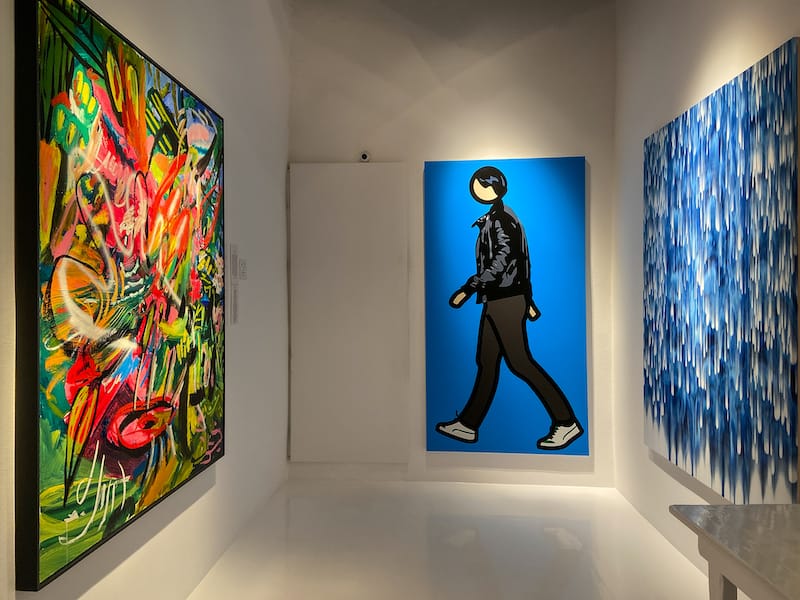 The main exhibits are paintings and sculptures in an aesthetically pleasing interior with huge arches, white-washed walls, a black ceiling, and a floor.
The lighting is fantastic, highlighting the best of each exhibit. The Rarity Gallery has hosted over 80 exhibitions, thematic events, and group shows since the beginning.
10. Take a Full-Day Trip to Tinos Island
Tinos Island is less explored and active than Mykonos, but still worth your attention for a day to visit its small villages, local craftsmen, the beautiful church of the Panagía Evangelístria, and more.
For a day trip, cruise in the Aegean Sea from Mykonos to neighboring Tinos for only twenty minutes and find yourself in a totally different world—calmer, with more original charm and natural beauty.
There are no fancy restaurants and bars, but there are cute little taverns with authentic food.
Start exploring the island with Kardiani village through its narrow alleys with archways and steep steps. Find Dimitra Restaurant to taste a filo tart with tzatziki and salad.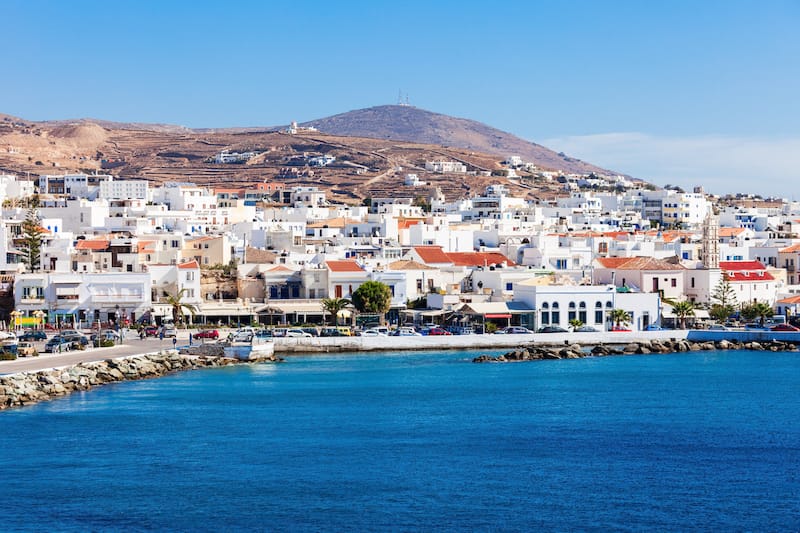 Also, visit T-Oinos Winery to take a short wine tour in the vineyards nestled between rock formations.
Don't forget about relaxation and beaches, because Tinos has really amazing ones. Livada Beach and Kolymbithra are popular names for surfers with over 3 meter-high waves.
If you have time, visit the Museum of Marble Crafts in Pyrgos Village to learn the history of marble and find some unique crafts.
>> Click here to check tour rates and availability
11. Hang Out at Elia Beach
Elia Beach is the largest beach in Mykonos and one of the most beautiful ones. Because of its size, you will rarely see it crowded.
Not officially, the right end of the beach is the only nude beach and a favorite gay beach. Simply search for flags on the territory.
The beach is covered with comfortable sun beds and straw umbrellas, but you can always find a free spot to enjoy the sand.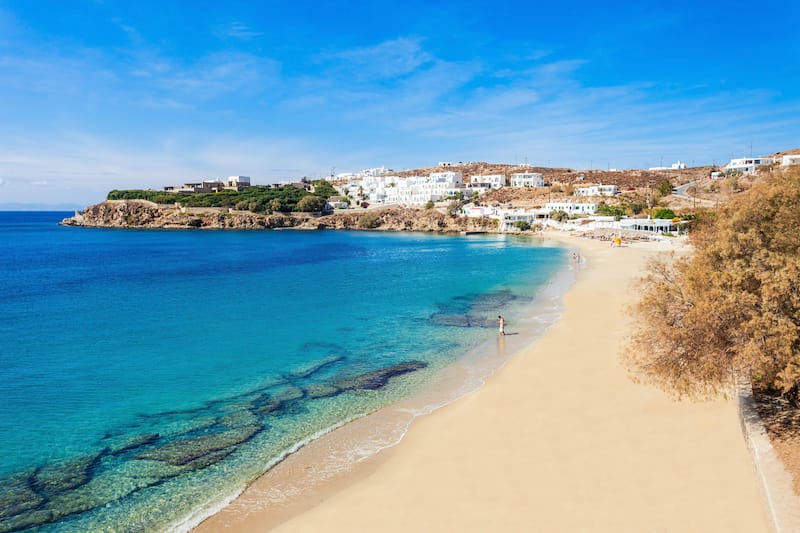 Elia shares a border with two other small beaches and Agrari Beach, which can be reached by climbing over the rocks.
The beach is located 12 km from central Mykonos with well-developed infrastructure, water sports facilities, beach bars, and taverns. Lovers of water sports will enjoy jet skiing, flyboarding, diving, or simply chilling on the yacht.
12. Visit the Archaeological Museum of Mykonos
The Archaeological Museum of Mykonos is a wonderful place to find rare exhibits from the prehistoric to the Hellenistic periods (25th–1st century BC).
The museum is the oldest in Greece, showcasing artifacts found throughout the island, Delos, and Rhenia.
The museum is housed in a 20th-century neoclassical building in Chora's Old Port overlooking the sea.
Start exploring the archaeological museum from the courtyard, moving to the six exhibition rooms one by one.
You will see the statues of Aphrodite and Hercules, antique weapons, and jewelry, followed by a collection of vases.
The exhibits are all valuable, but the most popular one is the Pithos of Mykonos, "a vase with an image of the Trojan horse (7th century BC). The jar is richly decorated with war scenes from the Trojan War.
13. Enjoy Agios Sostis Beach
If you are looking for a quiet place to enjoy the sun and the sea, Agios Sostis Beach is the best option. It is far from central beaches and not spoiled with crowds and amenities.
The beach, stretching for 250 meters, is a favorite among nudists. It is a protected cove with clean waters and not much rubble.
Agios Sostis is located in the northern part of the island, which means winds are frequent on the beach and there are high waves—perfect for extreme water sports.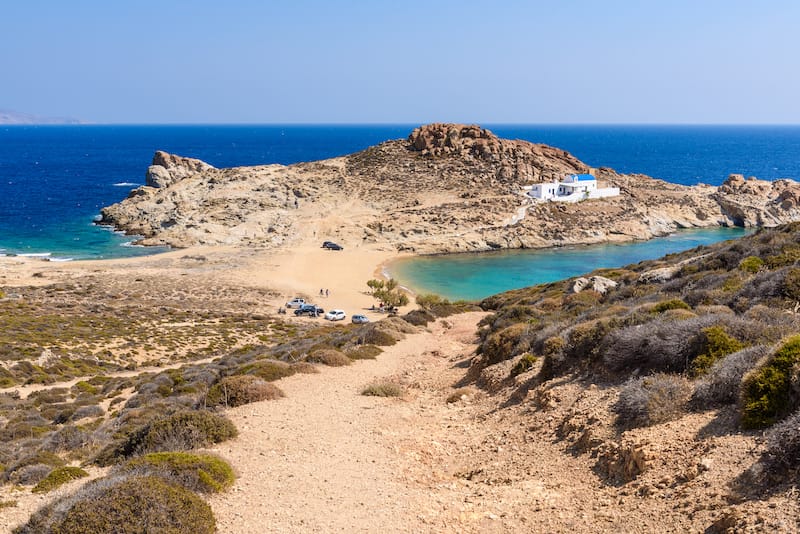 When visiting the beach, keep in mind that there are no sun beds, umbrellas, or cafes for refreshing drinks. Still, there is one great thing about Agios Sostis.
The renowned Kiki's Tavern is located close to the beach and offers one of the best authentic Greek cuisines on the island.
14. Check Out a Mykonos Coffee Shop
Whether you are looking for a morning wake-up coffee or a lunch break, there are amazing coffee shops in Mykonos to spend a couple of hours.
Here are the top 3 places you can visit to enjoy Greek coffee with snacks and pastries.
Lalala: The French may say "oh la la," but in Greek, it is Lalala, a popular café with fusion cuisine. Signature dishes that make this place sought-after are perfectly cooked omelets, chocolate pancakes, and coffee.
Cosmo Café: If you have missed croissants and crepes, Cosmo Café is the place to enjoy your morning coffee with pastries. For lunch, you can order a sandwich and a hearty yogurt.
Odos Araxame: Finally, head to Odos Araxame to taste dishes of Greek and Mediterranean cuisines and, of course, great coffee.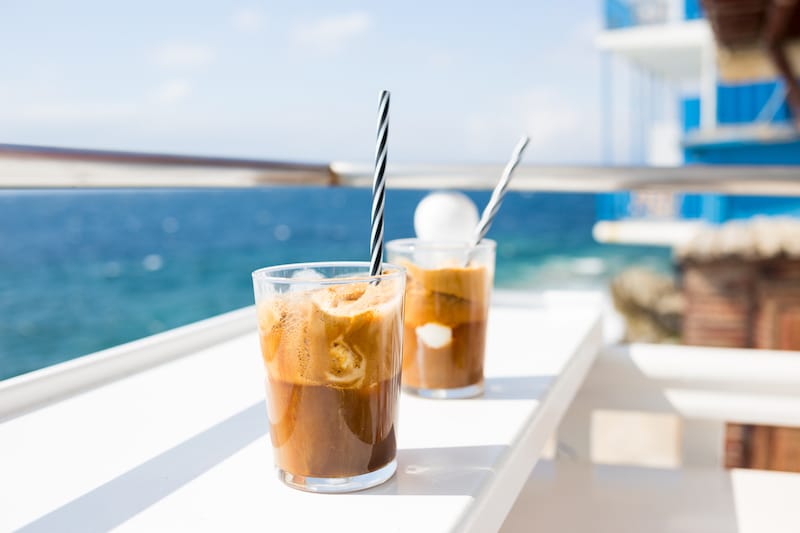 15. Enjoy the Famous Mykonos Nightlife
Mykonos is an island paradise renowned for its stunning beaches and vibrant nightlife.
Whether you're looking for lively beach bars, chic lounges, or trendy nightclubs with top-known DJs, this island offers something for everyone looking to have a great time.
Here are some popular places you may consider visiting during your stay.
Tropicana Club: Tropicana Club is the first place to go in the summer, and it gets crowded around 4 p.m. every day. The bamboo-topped pavilion is always crowded with crazy people gathered to party hard.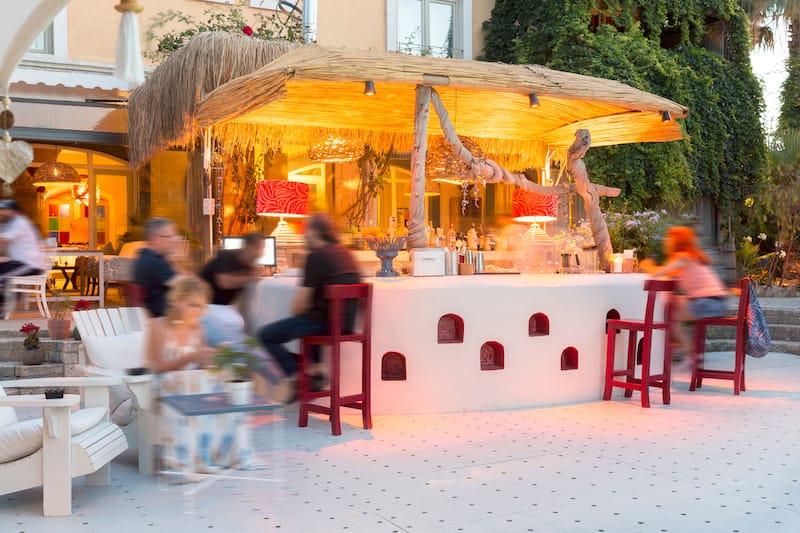 Scarpa: Little Venice lives in its laid-back vibes before sunset, and as soon as the sun goes down, sleepy Scarpa transforms into a noisy party platform until 5 am.
Skandinavian Bar: For classy Greek vibes, Skandinavian Bar with old-school patios and bars that get overcrowded with tourists start partying close to midnight.
16. Stroll Along Matoyianni Street
​​The heart of the island is not only its beautiful alleys, restaurants, and cute cafes, but also the best shopping experience on Matoyianni Street.
The heaven for shopping addicts is packed with designer stores and dozens of souvenir shops with handmade jewelry.
By the way, the most popular Delos Dolphins jewelry shop with reproduction Byzantine jewelry is also located on this street.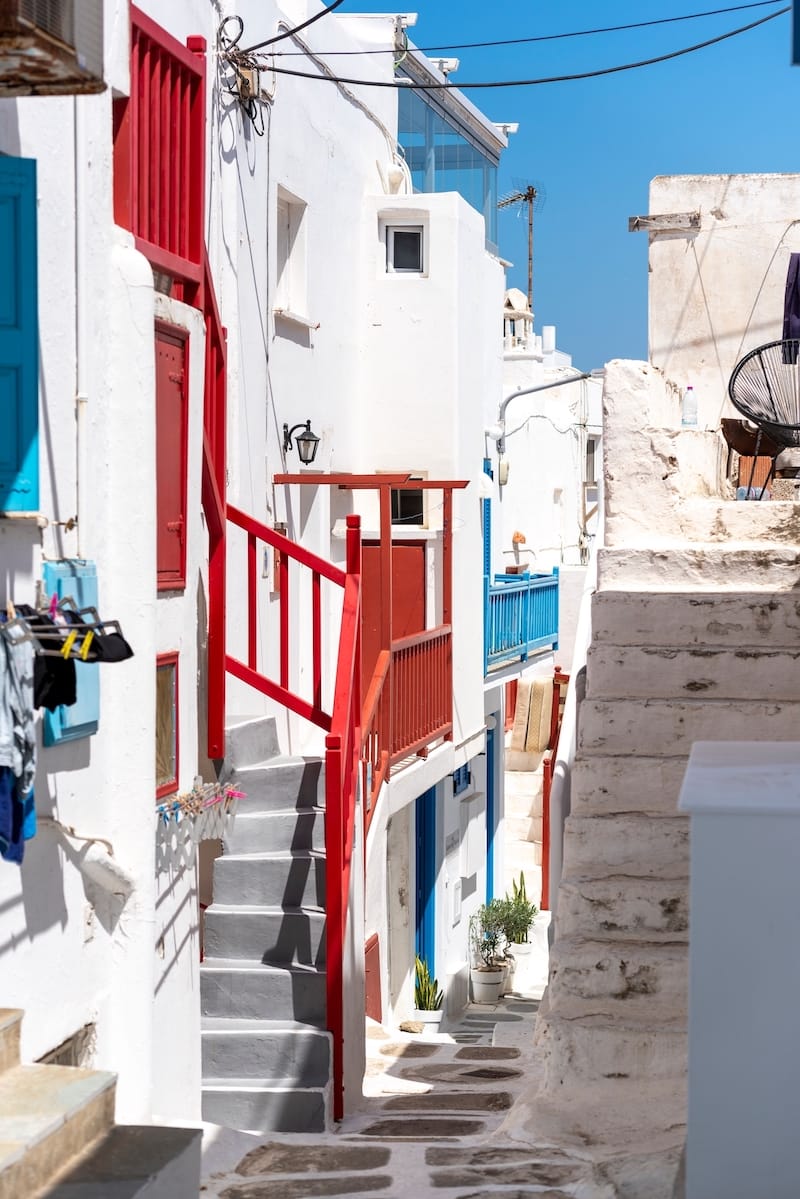 Also, don't miss the Soho-Soho designer store with trendy clothing. The shop is often visited by Sarah Jessica Parker, a famous fashionista and style icon.
For a tasty snack, try the renowned almond sweets and cookies at Skaropoulos. If you are a fan of organic food, visit Pantopoleion, a 300-year-old store selling organic Greek food.
During the high season, the stores on Matoyanni stay open until midnight, giving you more time to wander from shop to shop, emptying your wallet. Once you are done shopping, you can enjoy dinner at one of the restaurants.
17. Visit the Church of Panagia Paraportiani
The church of Panagia Paraportiani (Virgin Mary) is one of the most Instagrammable locations on the island.
The 14th-century church is located in the Kastro neighborhood, overlooking the sea.
It consists of five churches, built in different periods, and is considered one of the finest examples of Cycladic architecture, with absolutely white walls, minimal lines, and smooth corners.
The church has a clean facade, as do all traditional buildings with a large dome.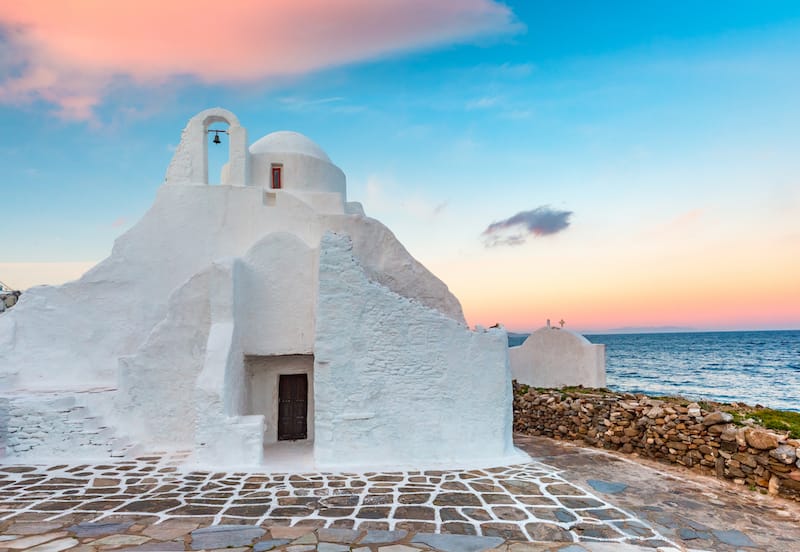 Besides being a historical and architectural site, Panagia Paraportiani was a popular spot for Peter the Pelican.
The pelican had been a symbol of the island since the 1950s, but unfortunately, it was hit by a car a few years ago.
To keep the symbol alive, many people offered to replace Peter, and today several pelicans are visiting the island instead of one.
18. Take a Mykonos Sunset Cruise with Drinks
Mykonos is a romantic gateway, especially when lit with the last sun's rays. To enjoy the beauty of the island, you should definitely take a sunset cruise.
The best time to witness the Mykonian sunset is around 8 p.m. in the summer months. As the sun slowly sets over the horizon, the sky turns a deep orange, and the sky transforms into a beautiful array of colors.
The combination of the orange sky, blue sea, and white-washed buildings makes for an incredible sight.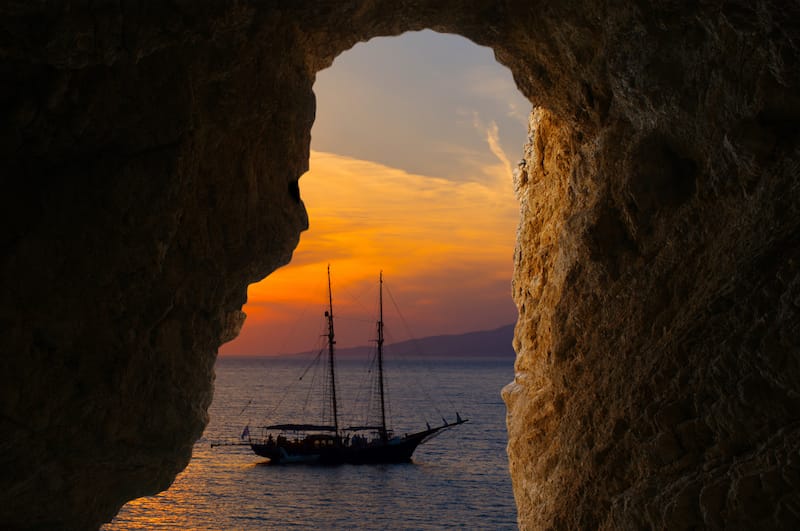 Once you reach the most perfect spot, drop anchor and enjoy the snacks and beverages included in your trip.
You will have 2.5 hours of pure harmony and relaxation as you cruise through Little Venice and its picturesque harbor.
>> Click here to check tour rates and availability
19. Go Back in Time in Delos
Experience a captivating vacation full of divine history and breathtaking views. Delos is a UNESCO World Heritage Site, the birthplace of Apollo, the son of God, and a sacred place not to be missed.
There are no inhabitants on the island. Only ruins remain as living proof of its glorious culture.
The Archaeological Museum is the first place to visit in Delos to give you a better understanding of the history and architecture.
You will see ceramics, bronze objects, jewelry, mosaics, and the marble statue of Apollo.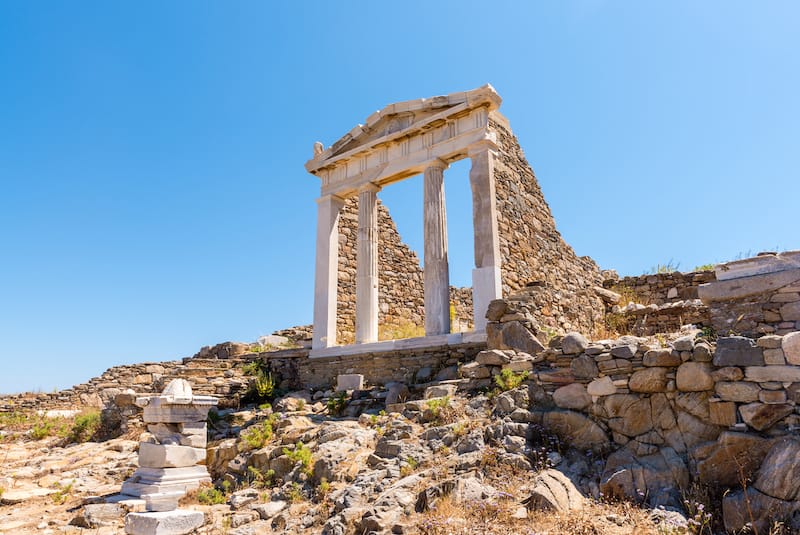 The most photographed site on the island is the Terrace of the Lions, with five remaining statues of marble lions. Anywhere you go in Delos, you will see a priceless piece of history, but you can see everything at once from Mount Kynthos.
A 30-minute hike to the highest point of the island is a rewarding experience. Finally, don't miss out on the House of Dionysus, one of the best-preserved sites dating back to the 2nd century BC.
>> Click here to check tour rates and availability
20. Eat at One of the Best Restaurants in Mykonos
Known for its nightlife, myriad beach clubs, luxurious restaurants, and taverns, Mykonos is a paradise for foodies with its exquisite cuisine.
We have selected the three best restaurants in Mykonos for your "must-visit" list.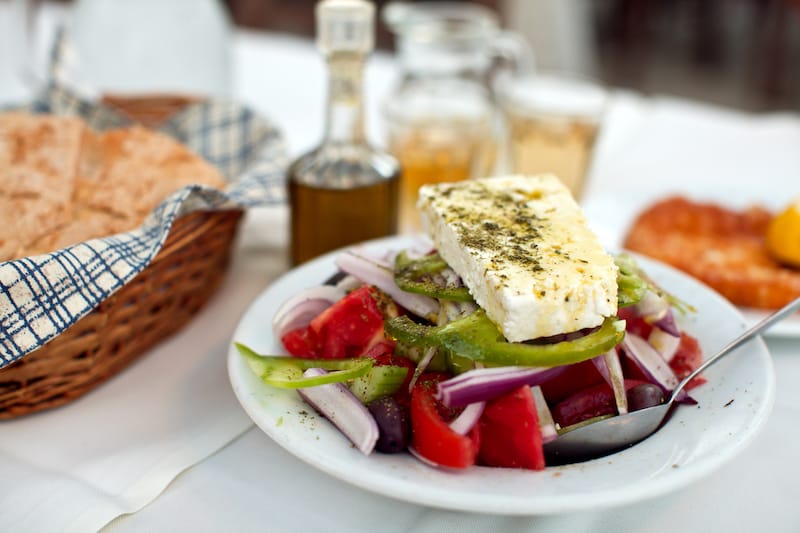 M-Eating (Mykonos Town): The winner on all lists and guides, M-Eating is an amazing place to start your experience in Mykonos. The restaurant is a blend of traditions, offering true Mykonian and Cycladic food matched with Greek wines. Signature dishes include a wide choice of seafood, lamb meat, mushroom sauce, and more.
Rizes (Ano Mera): A rustic restaurant, located on a farmstead is included in the top popular places in Mykonos for its super-delicious meat and vegetable dishes made with ingredients grown on the farm. You can also take a tour of the farm before or after the meal.
Kiki's Taverna (Agios Sostis Beach): It is a legendary small family-run restaurant on the beach of a tiny swimming cove that greets guests with complementary wine, huge portions of grilled pork chops, seafood, baked potatoes, and salads.
21. Relax at Kalafatis Beach
Mykonos is, first of all, flawless sandy beaches, making it perfect for summer holidays. One of the largest beaches to visit is Kalafatis on the southeast coast of Mykonos, a true paradise for windsurfers.
A light breeze, sometimes getting stronger, is ideal for all water sports: jet skiing, water skiing, wakeboarding, extreme tubes, bananas, and more.
When the wind is calm, you can dive and snorkel, enjoying the versatile underworld. There is a hut on the left end, where you can rent diving and snorkeling equipment.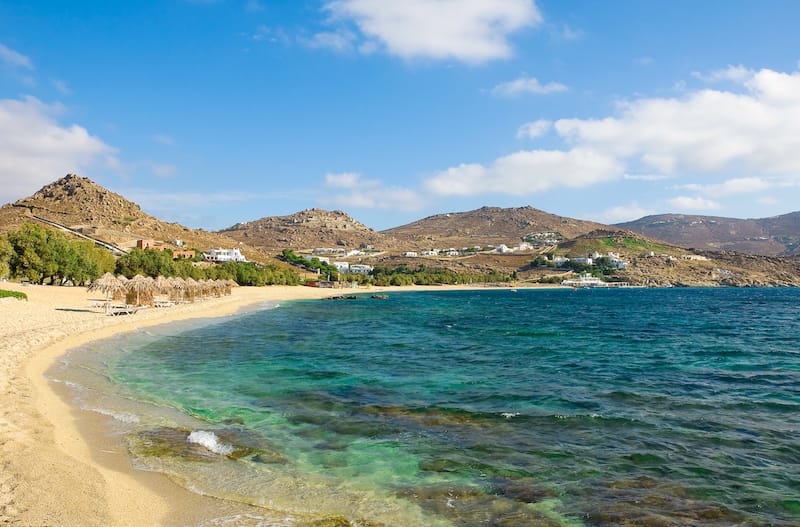 At Kalafatis Beach, you'll find a paradise far from the hustle and bustle of its neighbors—a charming oasis with plenty of sun beds and umbrellas to rent.
For a more authentic beach experience, you can relax in a separate zone without any facilities. And when you need a cool refreshment, head to the beach bar Thalassa—the perfect spot to chill!
22. Take a Trip to Armenistis Lighthouse
Mykonos has many precious spots not to miss, and Armenistis Lighthouse is one of them with the most eye-catching views.
The 19-meter-high lighthouse is located 7 km away from Mykonos to the northwest of the island, overlooking Tinos Island and the Aegean Sea.
It was built after a British steamship sank on the north coast of Mykonos, and since then, Armenistis has become a guiding light in the dark waters of the Aegean Sea.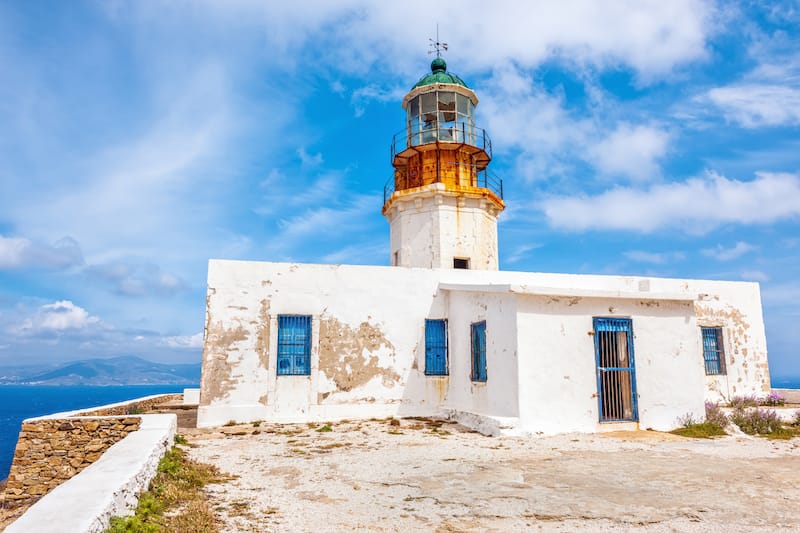 The lighthouse operates to this day, flashing a white beacon every ten seconds.
The lighthouse is surrounded by a neatly stone-fenced courtyard that will lead you to the white-washed tower.
This much-photographed spot has become a symbolic place for romantic meetings and proposals. Plan your visit to the lighthouse at sunset, and you will feel the power of this place.
Where to Stay in Mykonos
You'll find many amazing places to stay in Mykonos – here are some of the best (including the place that I stayed for my trip there)!
Did we miss any of the most amazing things to do in Mykonos?
Let us know your favorite Mykonos attractions in the comments. Thanks!
More Greece Travel Guides
Pin this Mykonos Things to Do Guide